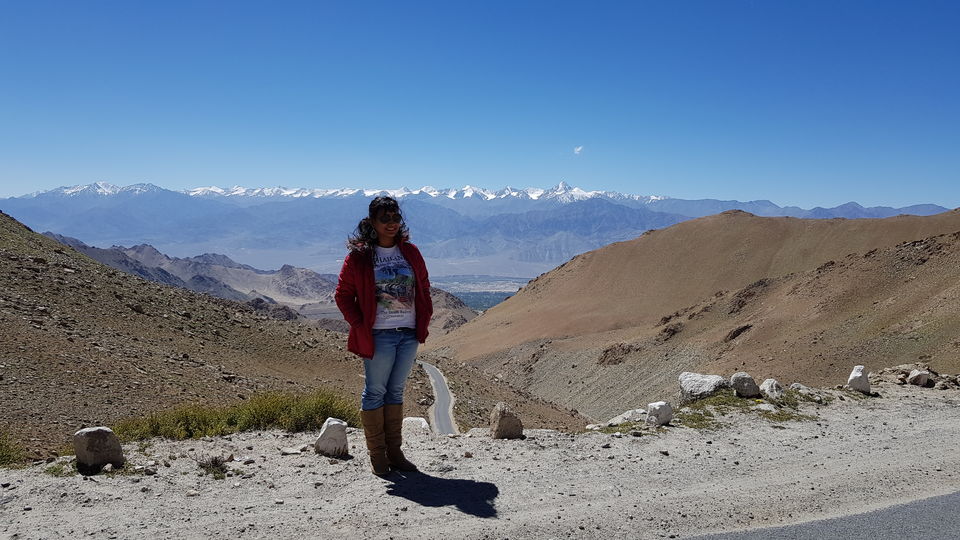 Leh and Ladakh the traveller's paradise in India, is always in the bucket list of every traveller and especially of the young generation. The snow clad mountains, the serene blue water, the peaceful environment and a lot of positivity, there is no dearth of options for the travellers to see and explore here. Well, when it comes to Leh and Ladakh a very common thing that arises in the mind is that it takes a lot of time to explore the place. There are two reasons for the same, one is the distance of the place and the second one is the connectivity. Situated in the Indian state of Jammu and Kashmir, this is a destination that never fails to tempt the visitors. Whether, the adventurous tourism at the place or the natural beauty, one cannot give a second chance to visit this beautiful destination. As already discussed above, that connectivity is amongst the prominent reasons that one needs adequate time to visit Leh, hence I too was in a dilemma that whether in the short span of time of only five days whether I would be able to visit each and every part of the place or not. Well, when there is a will there is a way and with this strong determination I managed to visit the place in September 2017.
This is an article for the people like me who are stuck in their 9 to 5 job but still have the desire to visit Leh within the limited holiday period. It was difficult but believe me it is not impossible, all you need is a good planning and of course, a strong determination. Leh was never easy for me especially getting leaves and exploring the place. I know many out there might be like me, who just wish to travel the place to the maximum and that too in the minimum time frame. Well, I am going to tell you how you can get that. I travelled Leh and explored it all within 5 days, and believe me I haven't missed any major destination. So my travel went like this.
Day01: Delhi-Leh
To make sure, I get the maximum benefit of time, I booked early morning first flight to the destination. I booked the tickets early hence got it only for INR2 2600. Morning 6:30 was flight and I reached the destination by 8:30. I had a pre-booked home stay and hence directly from airport got a taxi for the same. Getting taxi there is not tough because at airport itself you will get pre-paid taxi booths and that too government authorized. We reached the designated place and took rest after having our breakfast. The first breeze at Leh just won won our heart. You need 24 hours time to accimilize your body, make sure on that day you don't travel or just travel whatever is required. Hence we just went to local market at eve to get a taxi for the trip.We planned our trip in September hence luckily got discounts on taxi and thanks to K2 Adventures Leh that provided us the best package. For three days and two nights we have been charged 19500, including our stay at tents at Nubra and Pangong, which was not at all a bad deal. Getting permit is one set of worry at Leh especially if you are travelling to Pangong. Our tour operator managed to get that for us by the earliest.
Day02 : Leh-Nubra
So, here started our journey. After breakfast at our home stay at Jimmy's Home Stay, we started our journey. The mesmerizing roads and scenes around won our heart. Stopped many a places to click good photographs in nature. Khardungla Paas was our first stopage. It is situated at 18000 Ft. and, hence it is suggested that you should spend as less time as you can because you will get breathing problem. Excited about the things we spend almost half and hour there which resulted in headache and nausea. Passing by the beautiful valley we reached Nubra, a place where you can witness mountains and sands at the same time. The place is well known as double humped camel and hence it is suggested that you must have a ride on their back. It costs 200 rupees per head. Hundar village in Nubra valley is a must see and we were lucky our driver was from the same place and hence he took us home, where we got the traditional Ladakhi welcome. So, if you are lucky enough then don't miss the opportunity. That night we stayed at camp at Nubra Valley which costs 1000 per head, including three times meal. We met amazing girl gang from Chennai, who were also traveling to Leh like us.
Day 03 : Nubra-Pangong
This was the most exciting journey and hence something that you should not miss. There are two ways to visit Pangong from Nubra one is through Chang La Paas and another is the Nubra-Pangong route, which opens only when there is no rain because you need to cross rivers to reach the place. Well, as we cannot miss to see the locations of the direct route which is the shortest one, we travelled by that only. As we were travelling in September hence covered the most dangerous journey in the most convenient way. Believe me, travelling from the shortcut is really a great experience but make sure you are lucky enough to get the same. We reached Pangong by the evening 3 O' clock and clicked photos at 3 Idiot Spot. Well, every cafe there is 3 Idiot cafe, hence don't get surprise when you will find many. The first view of Pangong Lake is really mesmerizing. There are many tents at Pangong hence if you have not booked it earlier, don't worry because you will easily find the one. The charge at tent stat was 1000 per head and that too including delectable meals. Night under the stars near to Pangong lake feeling the breeze was really very great.
Day 04 : Pangong-Leh
We chose the Chang La Paas route this time because we have already taken the other way while coming. We had only this day at Leh and hence started the journey early morning at 6:00 clock. It is best time to start as you will get less traffic. Route is really very scaring and clicking photos is what you would love there. More than that, the sign boards of BRO will make your journey. We reached Leh by 1 O clock clicking some good photos on the way. As it was the last day for us at Leh and we had not yet visited the places around Leh hence we again contacted our tour operator for the sightseeing of places around the city. We again managed to get the deal in INR 1800. Pathar Sahib Gurudwara, Magnetic Hill and Zanskar river were the three main attractions we covered there. Speculating Zanskar sangam from the top is a great experience in itself. Don't forget to try to authentic tibetian food there, as you may not get that much good quality anywhere else. Try rafting at Zanskar river, it is a great experience in itself. Tea at Pathar Sahib Gurudwara is a must. Leh Palace, Shanti Stupa are the places that are in the city only and hence you can see them anytime. Reaching Leh back from the sightseeing at 4, we went to Leh market at 7 in the evening. Luckily Leh festival that happens once in a year was happening there and we witnessed that too. Getting some authentic Tibetian stuff way back home for loved ones is what you should do. If you want to try authentic north Indian food then there are few restaurants in Leh Market that will provide you the same. We got our hotel in Leh market itself at INR1000. If you are a Mo-Mo fan then trust me Leh market will not disappoint you.
Day 05: Leh- Delhi
Some last minutes shopping was remaining, hence we did it from the market itself that opens early morning by 8 O'clock. Took taxi to airport and reached Delhi by the afternoon.
So, this was how I travelled to Leh and that too in less than 25K. If you really want to explore the place on your own rules then customize your package, this will always help out. Five days is enough to see the place when you really want to witness the great of it. You need not to take 10 days leave from your office, as only five days will work for you.