MY BUCKET LIST
After watching the Movie "The Bucket List" starring Jack Nicholson and Morgan Freeman , I started making my Bucket List. The list is all about things that will come up in your mind at your last moment of your life Such as: - Wish I would have done or achieved that goal or activity. Those could be relationship/ Career/Travelling/ Family/ Social/Health etc. Goals.
How to Create a Bucket List:-
Just take out your Pen or Pencil or Open your excel Sheet. Start jotting down the things that come in your mind after reading these Questions.
#Which Activities or Adventures you want to try?
#Which experiences you want to have or feel?
#What if you were to die tomorrow? What wishes would you make?
#If by luck, you get to meet Fairy, and she asks about your all Wishes, Which wishes would you make? (So Better be prepared and have the list so you won't miss anything…Hehe)
#What are your relationship/Family goals?
#What skills you wanted to have or learn?
#Any financial goals?
#What would you do if you have unlimited time, money and resources?
#What have you always wanted to do, but haven't done yet.
#Any countries, places, festivals or locations you want to visit?
Here is My Bucket List. It keeps on changing. May be my list would help you in making yours.
ADVENTURES
1. ✓ Skydiving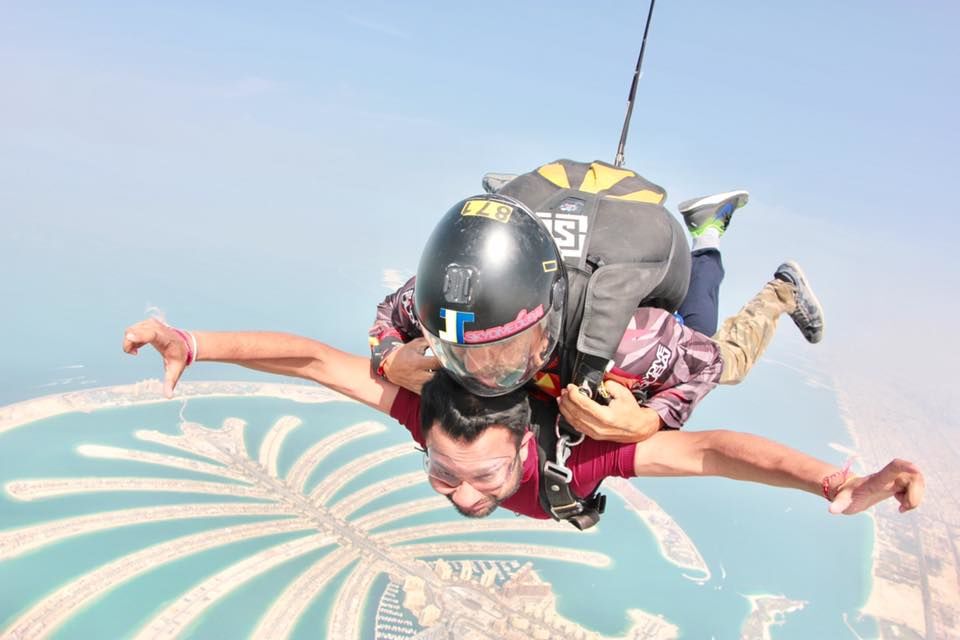 2. Scuba Diving
3. Water Surfing
4. Skateboarding
5. ✓Wall Climbing
6. Water Surfing
7. ✓Zip Lining
8. ✓ Fox Flying
9. Fly boarding
10. ✓Exploring the Cave
11. Jump Off a Cliff
12. Kitesurfing
13. ✓Parasailing
14. Play a game of Paintball
15. Rappelling down a Waterfall
16. Rappelling in a Cave
17. Sail a Boat
18. Kayaking
19. Snowboarding
20. ✓Skiing
21. ✓ River Rafting
22. ✓Desert Safari
TRAVELLING GOALS
23. Travel to 100+ countries. :- 10 by 2018, 15 by 2019, 25 by 2021, 35 by 2022.
24. Do backpack to at least 20 countries.
25. Travel to at least One Country by Train.
26. Camp in the woods.
27. Cover at least One Country on Wheels.
28. Stay in One Country for at least 6 months.
29. Visit to 100 UNESCO heritage places.
ANIMAL AND NATURE
30. Complete 20 treks by 2018
31. Summit Mount Everest Base Camp by 2018.
32. Have a Bath with Elephant
33. Plant a tree and watch it grow.
34. Chase Tornado
35. Visit a Volcano
36. Climb to the top of tree
37. Make a Snowman
38. Swim with Turtles
39. Swim with group of Fish
40. Want to watch lion very closely
41. Watch the Sunset and Sunrise in a day
FINANCE AND LUXURY
42. Believing in Investing than Saving.
43. Have passive Income from Stocks.
44. Have Passive Income from My Blog.
45. Buy Mini Cooper by age of 40,Audi Q7 by age of 45 , and Astin Martin DB11 by age of 55 .
46. Stay in Villa in Kasol after 60.
CONNECTION AND RELATIONSHIP GOALS
47. Be the change in Someone's Life
48. Be the one Parents would be proud of.
49. Be the most caring and loving Husband
50. Attend a School Reunion
51. Will be my Kids' role model
52. Attend a college Reunion
53. Meet a Blog reader in person
54. Visit my Old House
55. Visit my School.
56. Reunion with Old friend
57. Surprise Someone
58. Tell Mom Dad How much I love them
59. Write letter to Future me.
60. Sing Karaoke Duet
61. Receive a Fan Letter
62. Have friend circle from almost 50+ countries.
CREATIVITY
63. Learn 4 new Languages :- French, Spanish, Portuguese and Mandarin .
64. Become a nice cook.
65. Become a Photographer.
66. Do volunteering work in at least 10+ countries.
67. Learn and Follow passion of Stock Investing.
68. Be a Travel Blogger.
69. Publish a Book.
70. Create a Logo for my website.
71. Be a Stock Investor.
72. Create a piece of Art and Sell it.
73. Inspire someone.
74. Learn Pottery.
75. Design a Website.
76. Knit a Scarf.
77. Make Candle.
78. Make handmade gift.
79. Write a Song
FITNESS GOALS
80. Run a 21 kms. marathon by 2018
81. Run a 42 kms. Marathon by 2022.
82. Take Martial Arts Taekwondo Classes from Nepal.
TRANSPORTATION
83. Cruise in a Low Rider
84. Drive a Race Car
85. Drive a Snowmobile
86. Drive a Speed Boat
87. Drive a Tractor
88. Drive a Zamboni
89. Drive an ATV
90. Fly in a Blimp
91. Fly Emirates
92. Fly in a Helicopter
93. Fly in a Private Jet
94. Go in a Submarine
95. Race a Go Kart
96. Ride a Camel
97. Ride a Tandem Bicycle
98. Ride in a Cyclo
99. Ride a Jetski
100. Ride a Segway
101. Ride a Unicycle
102. Ride an Electric Bike
103. Ride in a Dune Buggy
104. Ride in a Gondola
105. Ride in a Limousine
106. Ride on a Cable Car
107. Ride on a Scary Roller Coaster
108. Ride on a Subway
109. Ride on a Tandem Bike
110. Ride on a Train
111. Ride One of the Largest Roller Coasters in the World
112. Test Drive a Sleek Sports car
FESTIVALS TO ATTEND
113. Albuquerque International Balloon Fiesta | USA
114. Battle of the Oranges | Italy
115. Burning Man | USA
116. Carnival of Rio de Janeiro | Brazil
117. Carnival of Venice | Italy
118. Día de los Muertos (Day of the Dead) | Mexico
119. Electric Run | Utah
120. Holi Festival | Vrindavan India
121. Human Tower Competition | Spain
122. Kentucky Derby | USA
123. La Tomatina | Spain
124. Macy's Thanksgiving Day Parade | New York
125. Mardi Gras | New Orleans
126. National Cherry Blossom Festival | Washington DC
127. Obon Festival | Japan
128. Olympic Games | Random Locations
129. Oktoberfest | Germany
130. Climb Mount Kilimanjaro | Tanzania
131. Pingxi Lantern Festival | Taiwan
132. Sandfest | USA
133. Songkran Water Festival | Thailand
134. Sundance Film Festival | USA
135. Up Helly Aa Fire Festival | Scotland
136. Westminster Dog Show | USA
137. Sun Burn Festival | Goa India
138. Full Moon Party | Thailand