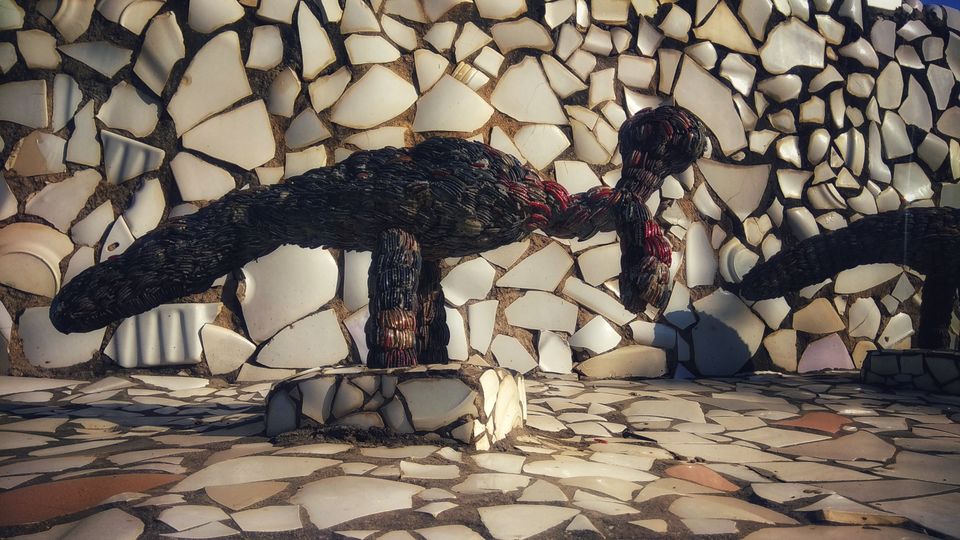 If you think Adventure is dangerous, try Routine, it's lethal.
-Paulo Coelho
I've heard that in a business there comes a high time and a low time, similarly my trip had a high time in Manali and here in Chandigarh it was going down little by little. Coming to Chandigarh from Manali was like coming to hostel from home, with all the emotions of missing things you liked at home and in this case missing everything in Manali. Our first stop was the Rock Garden. But apart from how incredible and historical that garden was, I was most impressed by the first developed smart-city of India. I started comparing Chandigarh with Nagpur and mainly the roads here that were so clean.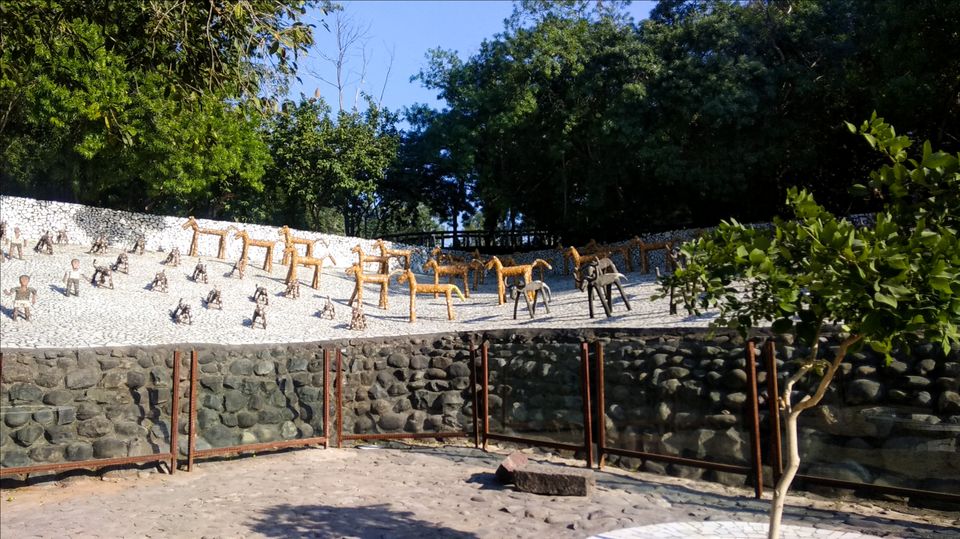 We reached the Rock Garden and literally 98% of it was made with rocks. Even outside the garden rock statues were present. Each and every statue I saw outside and inside of the garden were no doubt at the peak of their perfection. Everything including the walls inside the garden was decorated with rocks, specifically the waste items like pieces of mirror and toilet. Everything inside looked very beautiful and perfect. This garden was scientifically designed to maintain the temperature of their bedrooms and to get appropriate amount of sunlight where they needed. It also had a water fountain that extends to become an artificial river. It had many things to see and if you observe them, there's no chance that you don't get impressed. Everything there was built with utmost hard work and passion. I was very fascinated to see these work of creativity and design. Everything was very picturesque. We clicked many pictures of the garden and with each other. It was more of a palace than a garden. A big screen was also present showing the history and the making of the Rock Garden. It also had a museum that had pictures and awards and paper-cuttings of the person who built this garden. It was good to see about the life of a person who built this beautiful place. Construction was still going on and I thought maybe I will visit this garden again when it will be fully completed.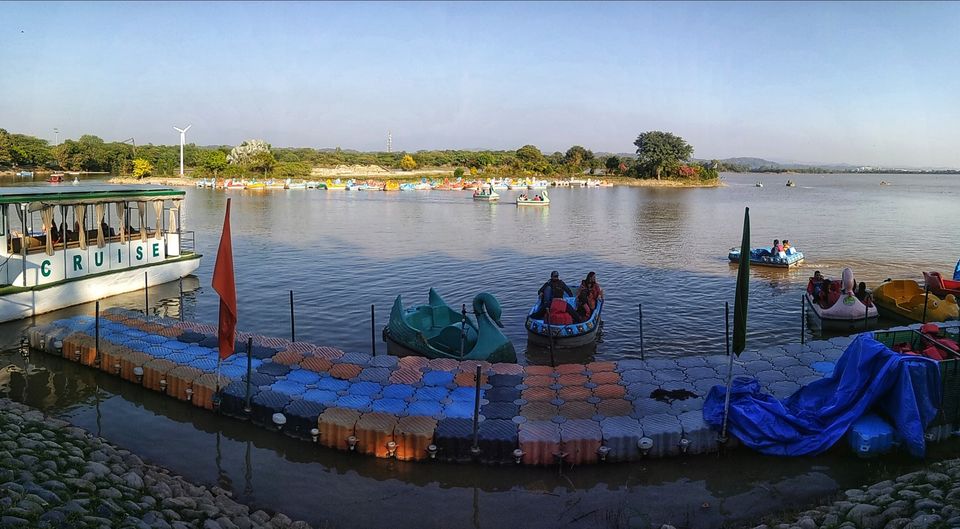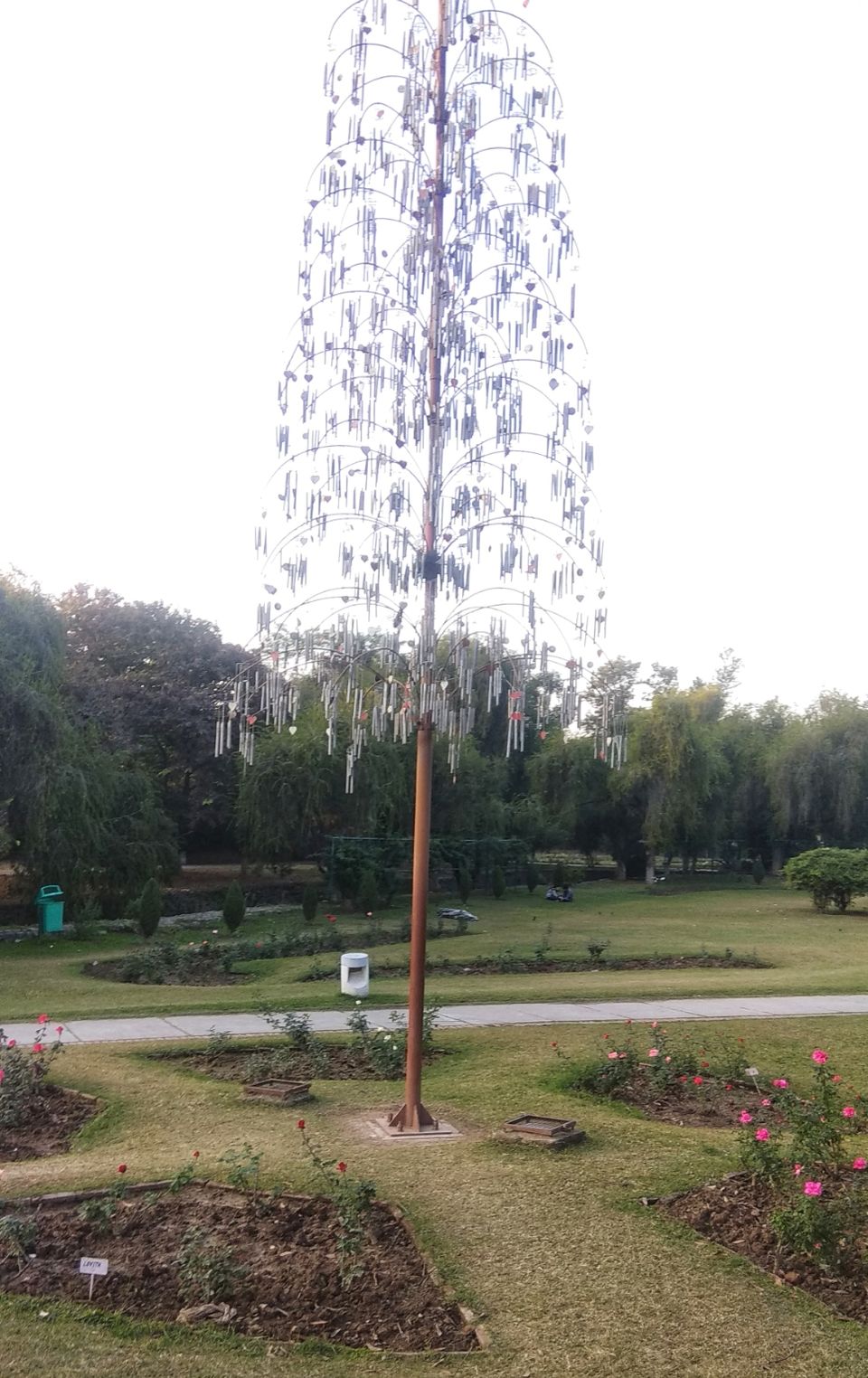 Our next stop was the Sukhna Lake. It was a normal lake with a perfectly maintained garden. It had a separate track for joggers and seats at every certain distance. The lake was clean and people were boating. The view was very satisfying. It also had a cafeteria and an open area to relax and enjoy a meal. Overall the place was the perfect destination if you want some peace and "think". The lake was surrounded by green trees and the wind was very refreshing. The garden had different varieties of flowers, and trees that gave shade from the sun. The weather in Chandigarh was not at all cold, instead it was a sunny day. But still the night was a little chilly. It was almost 6 pm and the Sun was about to go down when we reached our next stop, Rose Garden. From what I expected, comparing to the experience of a Rose Garden of Mysore, this Rose Garden wasn't up to that level. The roses were nearly of same colours, and only the bushes of them were present. And the larger portion of land was used for mere grass area to sit and walk. I was very excited before going here, but then I was disappointed. Maintenance wasn't up to the mark and the variety of colours were very low. Mainly red, yellow, and pink roses were visible on any bush you see. And then we went to see a Laser Fountain Show. And boy that was awesome! But the most awesome thing I felt was the city. Chandigarh was into my heart after this day trip. The city is so well maintained and planned and clean that I wanted to come shift here. I also started imagining my life if I ever get a chance to live here. And of course I was rich in my imagination, which seems hard now because I can predict a little about my financial status if I ever in this lifetime got into Travel Blogging career.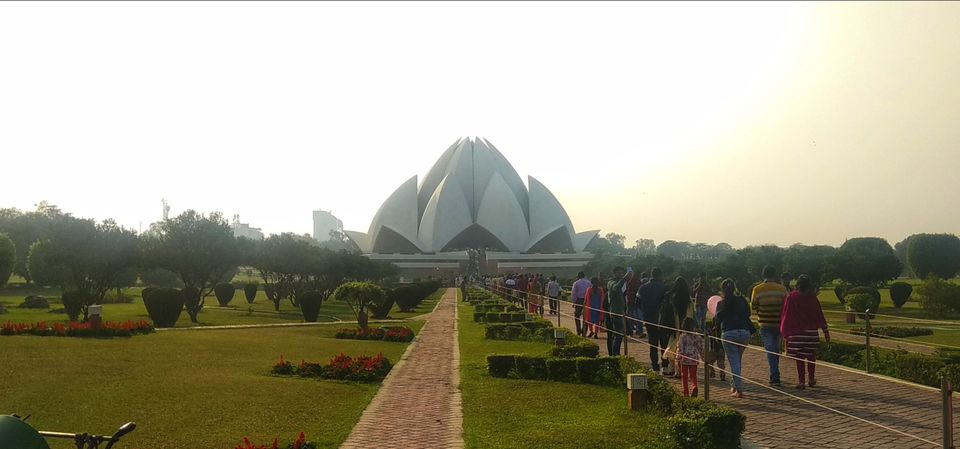 Next morning we took off to Delhi. Again the bus was our only saviour here, or I can say our only drag. Going to Delhi was fascinating for me, but after reaching inside the city, my mood took a reverse gear. The pollution there was non-stop and it wasn't just because of the vehicles but people too. Delhi is the capital of India, but maintaining its cleanliness should be their first priority. Our journey begun right after we reached inside the city. Our first stop was the Lotus Temple. It is a beautiful temple with more beautiful garden. There was pin drop silence inside the temple. Inside the temple is a hollow space only to sit and mediate in dumb silence to clear your mind from outside world. A golden coloured symbol was hooked just in the middle and at the top inside the temple. I don't exactly know what kind of symbol was that, but it looked like a fusion of symbols of all the religions in India. Cameras was not allowed inside the temple, and any kind of noise was prohibited too. And that was I suppose one way to achieve inner peace.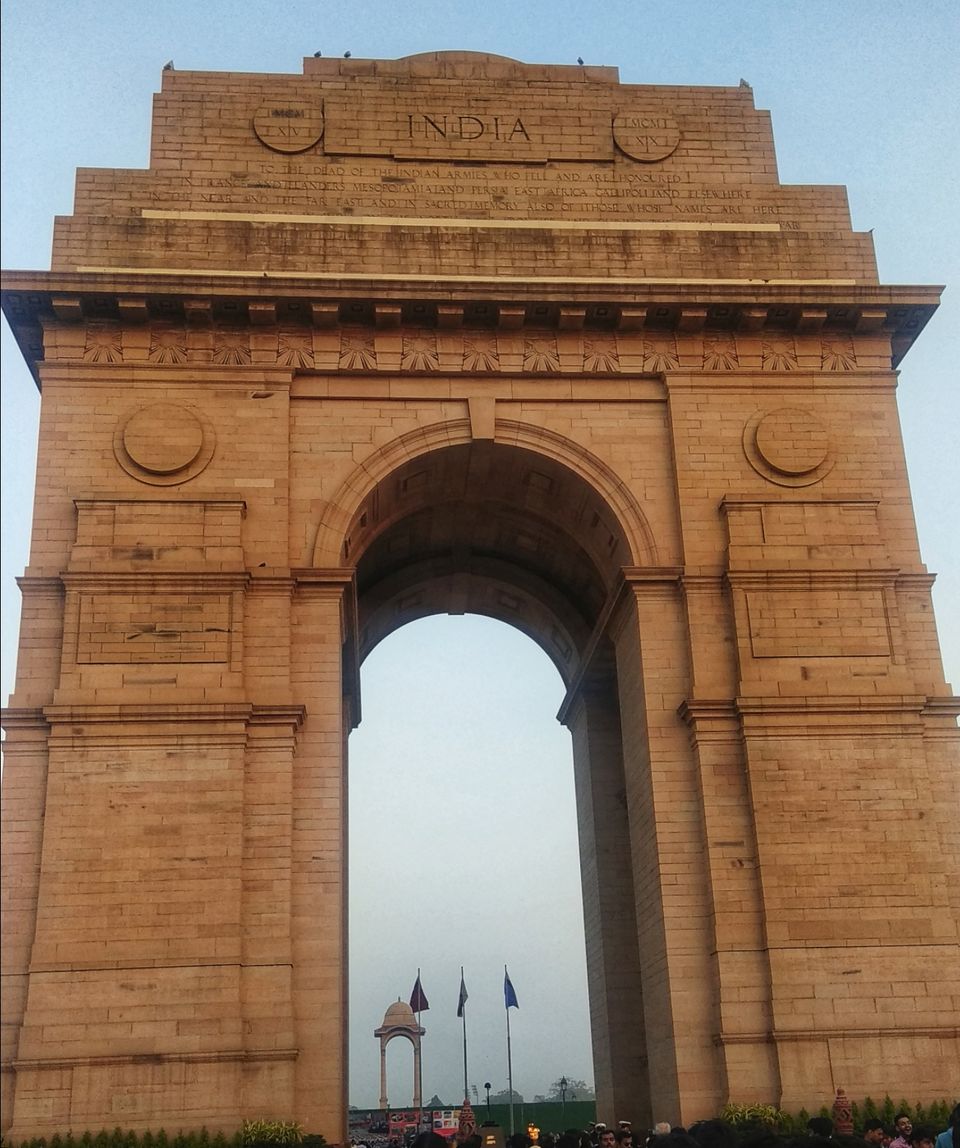 After Lotus temple, we reached India Gate. Even if the gate was the tallest, crowd was the first thing I saw there. India Gate is surely a popular tourist spot. Indeed it should be, as it shows the identity of our country. The names of the martyr soldiers were inscribed on the gate and that shows the uniqueness and a tribute to our national heroes. As the sun was settling down, our next stop was coming closer, and it was the Parliament office and the house of our respected Prime Minister Shri. Narendra Modi. It was night time, thus the colourful lights were doing a marvellous job of shining everything in its vicinity. It was such a satisfaction watching the lights and the government buildings. And later we drove to Sarojini Market. It is a perfect market for middle-class people like us. Everything there was the cheapest. Even if the shopkeeper tells a higher price, we must bargain like hell and bring down the price down by almost 70%. Shopkeepers were selling things by first telling a price like Rs.500 and then landing on Rs.100. Even the girls looking all rich and high-class were present, buying 1st copy of branded items. Believe me, I bought a Gucci sweat-shirt for just Rs.400. We also tried a baked cheese bread and again I heard a thanks from my stomach. We then took a metro and reached our hotel. But that day I wasn't in a mood of eating hotel food, so along with some of my friends we headed to a restaurant which was about to get closed and ate chicken biryani which is one of the dish I love the most. The temperature was again down and the streets were beautiful with the orange street lights giving eyesight to people driving luxurious cars, and some of us walking in a cold night. We returned back around 12 am where some of my friends were sitting in lobby passing time. The experience in Delhi wasn't exactly like I assumed would be, but it was still good as I was around my friends.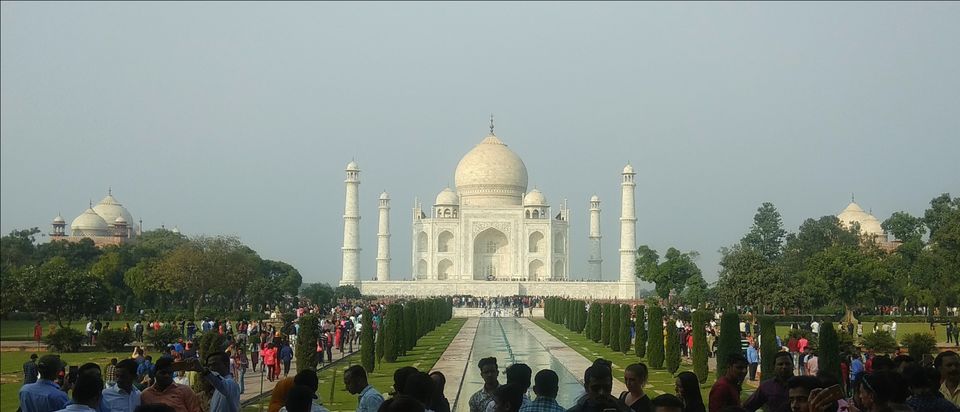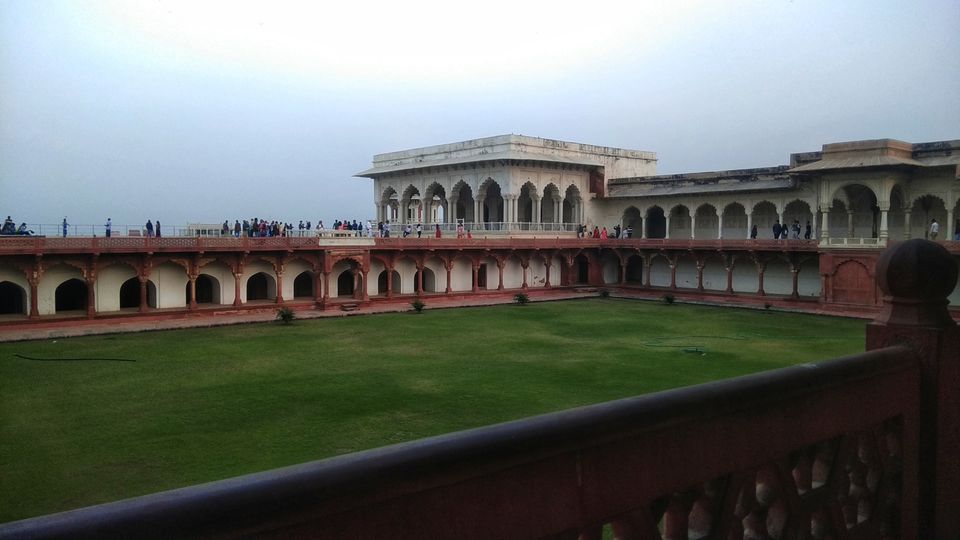 Next day we departed to Agra, the city with one of the Seven Wonders of the World and an UNESCO World Heritage, The Taj Mahal. It may be a world heritage, but the city wasn't. It is like a heaven for pollution and garbage. The famous river Yamuna flowing behind the Taj Mahal is polluted and the air too which results in the change in colour of the white marble monument to yellow. And again it's the people who are responsible for this change. But today governments are doing their best to preserve and clean this Earth to protect what our ancestors have left behind. And so our first stop was the Taj Mahal. It was the second time I am seeing it, but the last time I visited here, it was closed and we had to see it from behind. Thinking about it makes me laugh every time. The beauty of the Taj Mahal cannot be written down on a paper and maybe cannot possibly be expressed even by a poet. According to the guide, words from the Khuraan were inscribed on the marble of the monument. And not only the Taj Mahal, but every monument around it and even the entrance was beautifully designed and built. The garden was superb and it was scientifically created. Crowd was obvious there, and the queue to go inside the Taj Mahal was never-ending. And so we decided to avoid it and go to our next location and another UNESCO World Heritage, Agra Fort. It was the fort of the Mughal dynasty which was then open to public. The fort is now a tourist destination and daily lakhs of tourists visit the fort. The fort is in a close range of The Taj Mahal. In fact, Taj Mahal can be seen from the balcony of the fort. We roamed around the fort along with the guide who was telling everything about the fort including it's history. Some were very much interested about the information he was providing, and some like me were just seeing around the fort and following them.
And this concludes our journey or so-called Industrial Visit. We reached the Agra Railway Station to return to Nagpur, and this was the point where my thoughts struck me with an axe made up of my subconscious mind and some part of my heart. That's when I realized that I didn't want to go back to my ordinary life. That's when I realized that the only thing I loved at that moment was the adventure I was doing and the experience I was gaining by roaming around my country. That's when I realized that the thing which makes me the happiest person on this planet is the thing I was leaving there. That's when I realized that I didn't want to leave this adventurous life, the nature, the mountains, the greenery, the city and the culture of the people living there. I wanted to experience all the things I saw and the things I didn't. That's when everything got clear and I was convinced that I need to think about my future now, about what exactly I want to do, about what exactly I want to pursue, and about what I want to be. Because a person is defined by what they do, and I am definitely not what I think I am but want to be something else. After this journey I realized that I am someone who doesn't want to be static and stay in one place, instead I want to be dynamic and go from place to place to complete my new and only goal to see the real Earth and to experience the beauty of the nature and the culture of the people living here. And I decided that I am going to do exactly that.
This concludes my 5-part blogs about the trip to Northern India. Hope you enjoyed travel story. Please tell me how this series was in the comments and share it with your friends and family. Thank You. This series might be over but my adventures aren't.
Follow me and stay tuned for new blogs about my adventure and my life every week.
Life is either a great adventure or nothing at all.
-Helen Keller
Peace out.