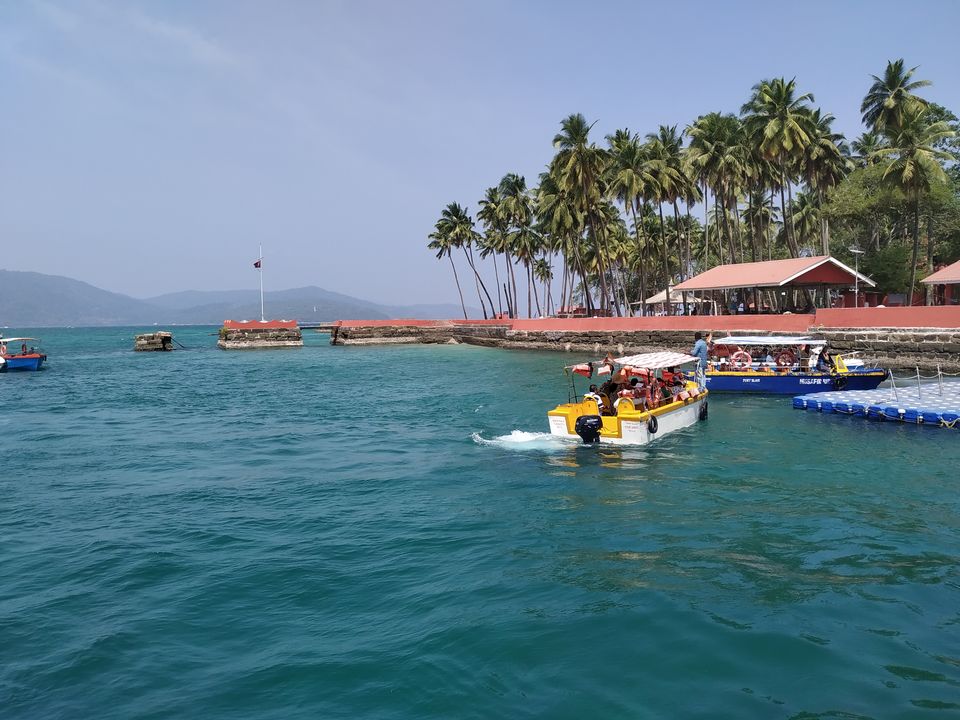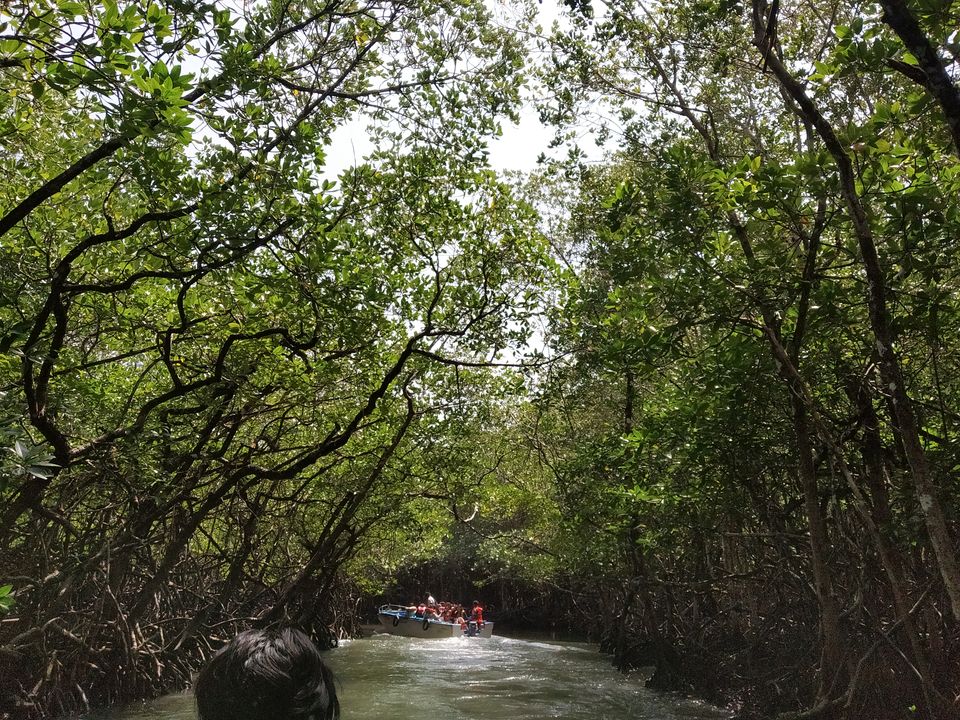 Seeing from high above....
Day 1:
After several aborted plans, my trip to Andaman Islands finally took off in February this year. I took an early morning flight with my family from Kolkata to Port Blair - ours was Indigo. There are also flights of Air India and Go Air. We reached the capital of Andaman around 9.30. Our travel agent picked us up from the airport and took us to a hotel called Ambika Residency. It is a budget hotel serving delicious bengali food and has very friendly staff.
The travel agent arranged for a car and we left for the Cellular jail. The jail is also famously called 'Kaala Paani' and is linked to India's independence movement. The jail has now been turned into a museum recollecting the sacrifices of the freedom fighters. Visiting the cramped cells at the place is quite a numbing experience - as most of them are extremely small, without ventilation and light.
From the Cellular jail, we left for the Corbyn cove beach nearby - it is a popular beach bustling with people. There are also water sports conducted here. It is a great place to view the sunset. After picking some eye-catching jewellery made of shells, we made way back to the hotel.
This was going to be an exciting experience - visiting the famous Limestone Cave and passing through the Jarawa reserve. Jarawas are a protected tribe who inhabit several islands in Andaman and Nicobar. Tourists are dissuaded from interacting with them as locals say that they might turn violent.
Day 2:
We left hotel early morning in a car and it took us around 2 hours to reach the checkpoint of the Jarawa reserve. Tourist cars are allowed to travel through the reserve only three times a day. The driver applied for permits and in the meantime we indulged in some steaming hot dosa, vada and chai at the roadside stalls run by local Tamilians. Andaman islands predominantly house Bengali and Tamilian migrants. On entering the reserve, we saw several groups of Jarawa population going about their daily chores - a group of Jarawa children soaking in the sunlight, a woman taking her infant for a bath and a young Jarawa teaching hunting to a youngling with bow and arrow. Mind you, tourists are barred from clicking their pictures - a move to be appreciated!
We reached Baratang island on a steamer while our car remained parked at the exit point of the reserve. From Baratang, we took a speed boat to reach Limestone Cave - a journey no less enchanting being surrounded by sparkling water and lush green islands. After trekking for 2 km we reached the cave. The cave is dark and the limestone sparkles in it giving a magical look. We took the same route for the journey back to Port Blair.
Day 3:
We visited two islands - Ross island and North bay island. We again got into a speedboat to reach North Bay - the place is known for water sports but I would suggest not doing it there because it is overpriced - Havelock and Neil islands are better options. We booked a trip to see underwater corals on a transparent/glass base boat but the trip was unsatisfying as sunlight got reflected on the base and we could hardly see underwater flora. However, the island is beautiful with crystal clear water and serene environment. From there, we went to Ross island - Netaji Subhas Chandra Boss was said to have occupied this island during the pre-independence struggle. Ross island gives a 360 degree view of the sea and has historical elements to it. Another highlight were a herd of deer who were freely roaming around the place. We returned to Port Blair around afternoon and had a sumptuous lunch of Malabar prawn curry, steamed rice and Surmai fish curry.
In the evening, we visited Chidiyatappu beach in Port Blair that is famous for its sunset view.
Day 4:
Neil and Havelock islands are considered the most beautiful ones in Andaman. To reach them, one needs to take either a government/private cruise from Port Blair. Our travel agent managed to secure govt cruise tickets and we boarded the cruise around 10 am. We stayed at a resort at Neil island and after lunch, visited the Lakshmanpur beaches (1&2). One is a rocky beach while the other is of white sand. After a breezy evening at the beaches, we came back to the resort - usually people don't stay out after sunset there.
Day 5:
We started out with the Bharatpur beach at Neil island in the morning and I tried deep sea snorkelling at this beach. Must say - it was a once-in-a-lifetime experience - it was scary, overwhelming, thrilling and exciting all at the same time. I could get a closer look at the marine life during the 15-minute sport. My family also insisted on another glass boat ride and this time we saw a colourful marine life beneath - from variety of fishes to huge corals!
Then after lunch, we boarded another govt cruise to reach Havelock Island. At Havelock, we stayed at another resort and visited Kalapatthar beach and UNESCO world heritage beach Radhanagar in the evening. Both are unique in their own right, while Radhanagar has more crowd. After witnessing sunset at Radhanagar, we made way back to the hotel.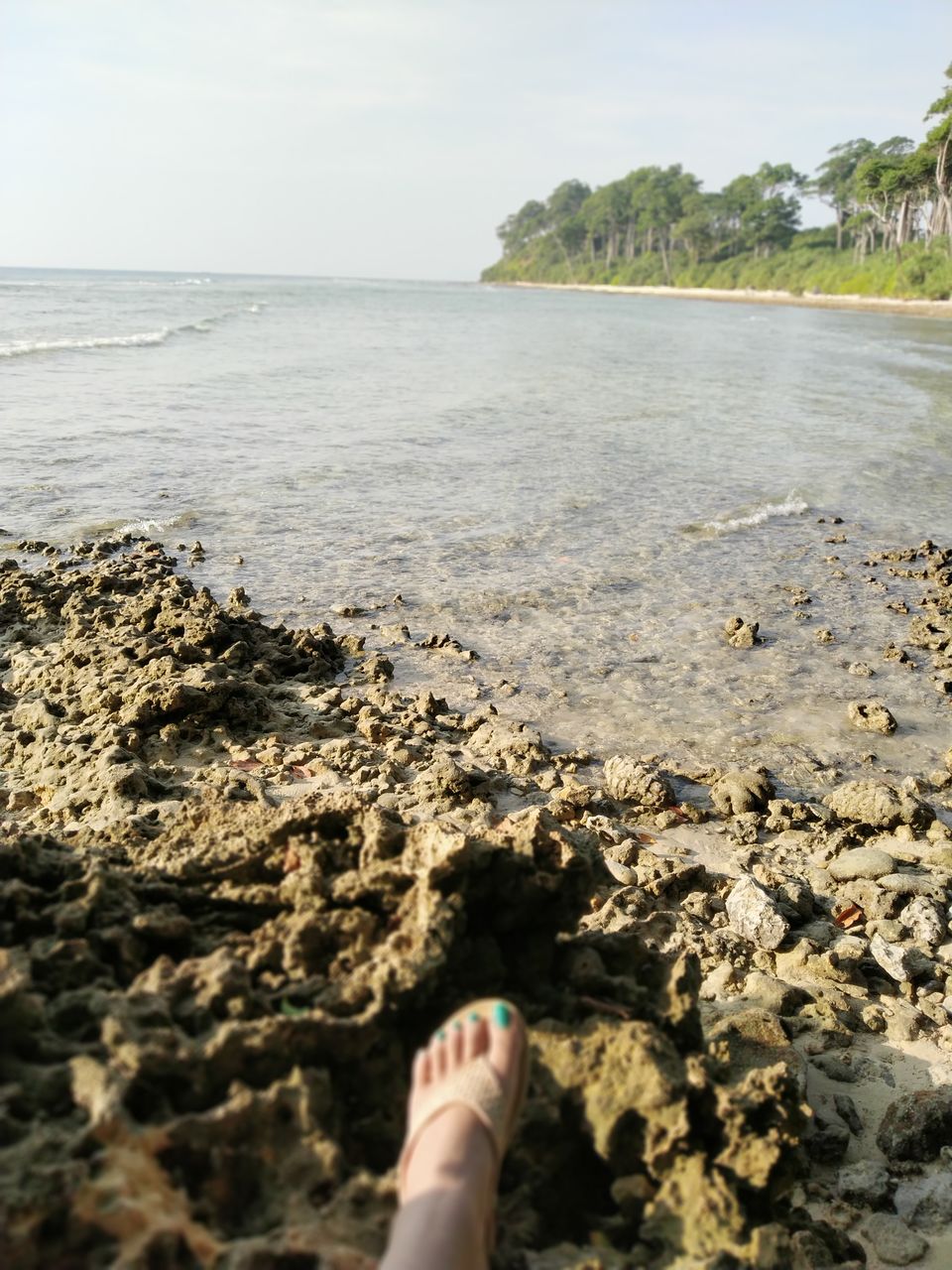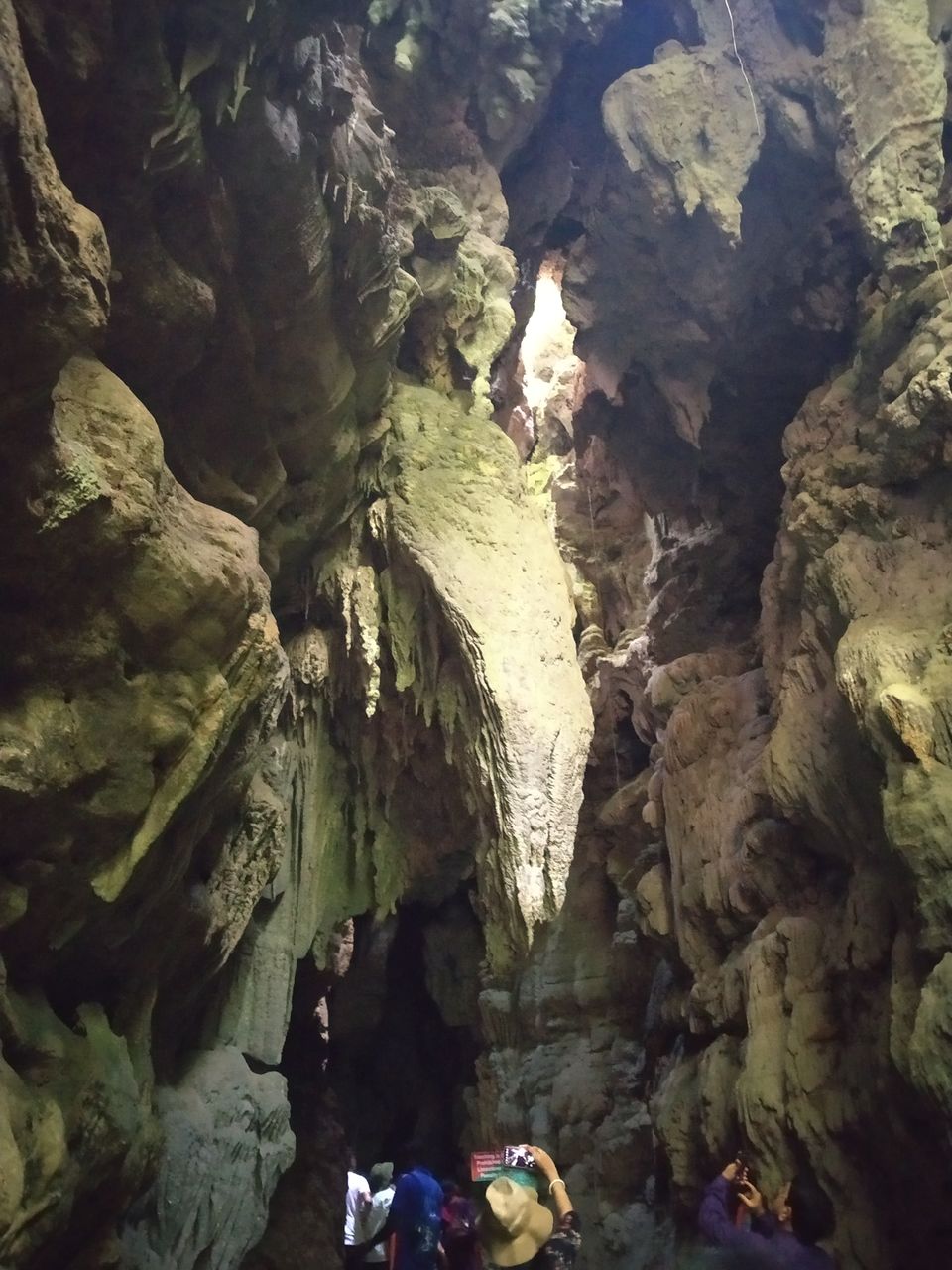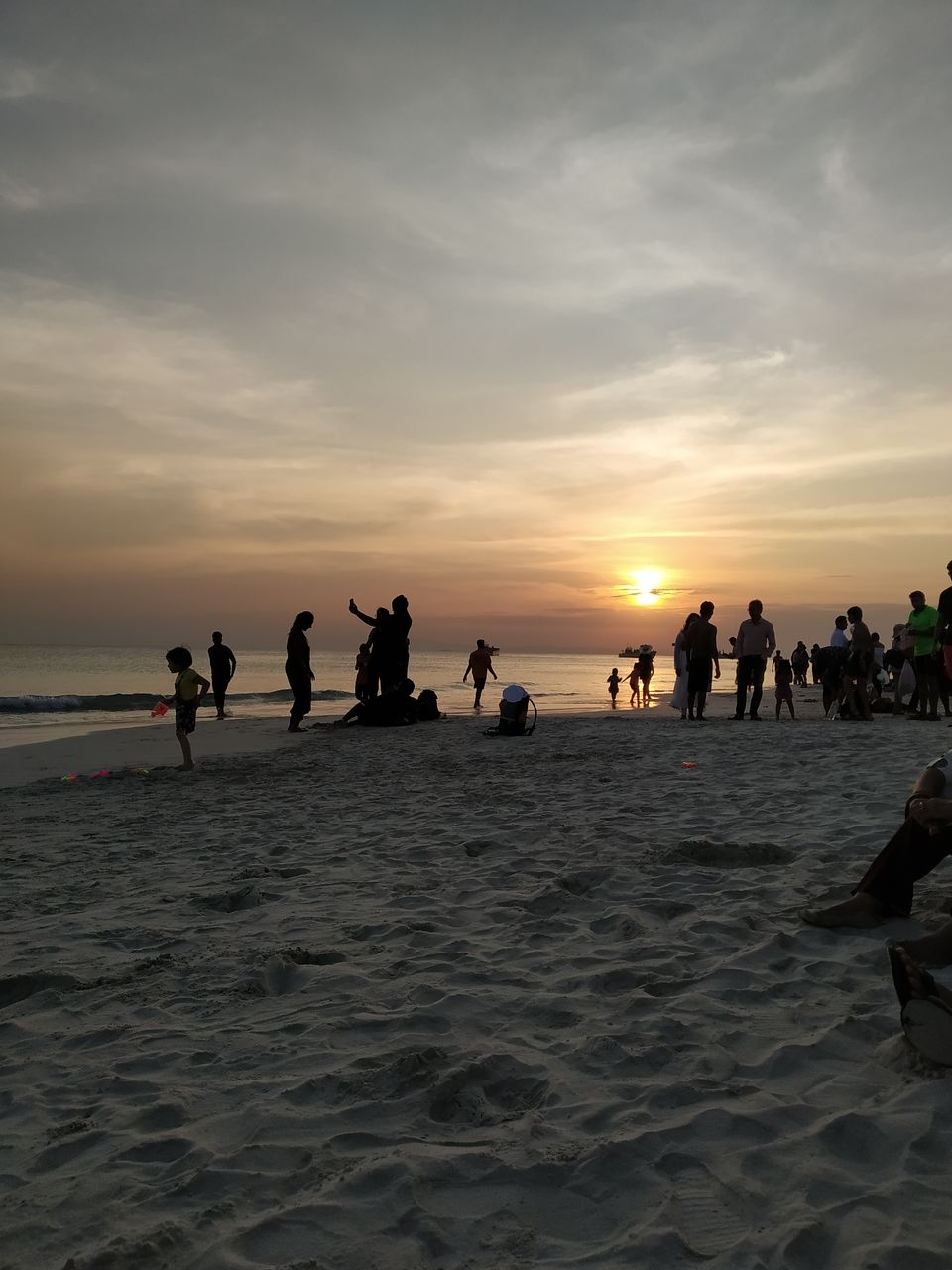 Day 6:
Returned by cruise to Port Blair around afternoon and checked at our previous hotel. This day was not hectic and we spent some time strolling around Port Blair, and also visiting the local market. We bought some relics and memento there and by nightfall started packing our bags for the return journey next day.
Day 7:
We took an Indigo flight and reached Kolkata by 10am with sweet memories of the trip.
Looking back I realise how timely this trip was as the coronavirus pandemic hit India the next month and well, I am now waiting for all of this to get over soon so that I can book my next trip with aplomb! :)