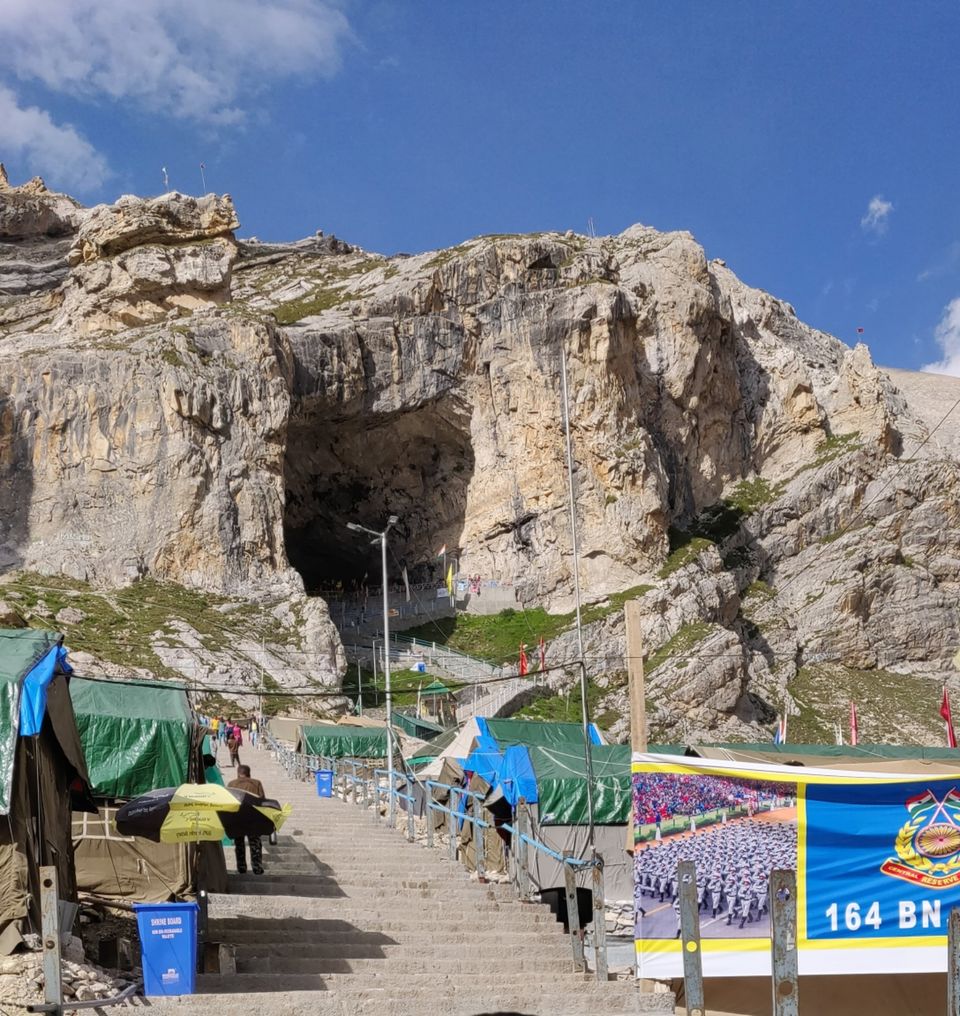 Amarnatha is one of the holiest shrine devoted to Hindu deity Shiva (also known by the names; Bhole naath Shambhu Shivji Shankar Bhoothnath Devon ke Dev Mahadev et cetera) situated on the height of 3886 mtr (12756 ft) in the Ganderbal district of Union Territory of J&K, India.
There is not any ancient brick and mortar temple, instead a totally different phenomenon that's rare to find anywhere else. Here at Amarnatha, a natural conical lingam is made from vertically dropping water splash and due to Extremely low temperature the water drops get freezed that's how amazing formation of Amarnatha Shivalingam is a self built divine structure.
Every year the shrine remain open from 1st July to 31st August. The whole management & facilitation is handled by Shri amarnathji shrine board (SASB) which is set up in in the year of 2000 under the act of Jammu and Kashmir legislative with a governor being it's EX- officio.
There are two ways to reach the holy cave mentioned below separately
1. From Baltal base camp it's 14 km (one side)
2. From Pahalgam base camp it's 32 km (one side)
How to reach Amarnatha?
Via 🚆 - Nearest Railway Station is Jammu which has plenty or direct trains from country, then take sharing State transport bus/private Cab/Sharing Cab from Jammu to Baltal or Pahalgam.
(During Yatra time there are plenty of transportation means available just outside of Jammu Railway Station)
Via ✈️ - Shrinagar Airport is the nearest one. And from the you have to take private Cab or state transport bus.
Via 🚌 - Direct buses to Baltal or Pahalgam from Jammu/Srinagar/Udhampur Bus Depot.
Distance
Jammu to Baltal - 355km
Jammu to Pahalgam - 255km
Mendatory Registration for Amarnatha Yatra is the the first step of your journey towards this holy shrine. The registration begins usually one or two months prior to the actual Yatra commencement date that is 1st of July every year. Visit the http://jksasb.nic.in/ and register yourself pay the registration fee take the printout of your application fees and prescribed medical form then get this medical checkup done from the the prescribed hospital or doctor lists.
Medical certification is a must to get yourself registration pass, due to extremely Harsh weather where sometimes the Mercury drop from -10°c 15°c. Only those who are in the age group of 13 to 75 are permissible for this journey.
The first way to get the registration pass is directly visit any of the Jammu and Kashmir Bank branch in your city with the certified medical certificate aur simply go to the website summit de soft copy of your medical certificate and get the registration done. After any of the two way to get your registration pass the date of your actual journey will be mentioned on the pass and you have to plan your journey accordingly.
Pro Tip:
1. There is also chopper service available for those who don't have any issue in paying bit extra but want to cover the distance as early as possible. Apart from that there are pitthu and ponnies available.
2. Don't forget to carry the winter clothes that will keep you warm even in the minus 15 degrees celsius temperature.
3. Don't carry liquor, smoke and any inflammable material with you.
4. Bring some dry fruits, nuts and chocolates with you for the emergency purpose.
Have a happy journey!
Boom Boom Shankara
🎉🎊✌️