By Nishiraj A. Baruah
"I wear nothing, just my undie, and what bliss, I tell you! Just lie on my back on the grass and keep staring at the starlit sky and the glow worms," says my friend Tausif Zafar Khan, who quit his job in Google, Gurgaon, years ago to live the lahe lahe life in an Upper Assam farm. Lahe lahe, you ask? Oh, it's just an Assamese way of life - slow, lazy and laidback.
The mental picture of his dark near-naked body lying spread-eagled on the ground brings me a grin. So funny, he is!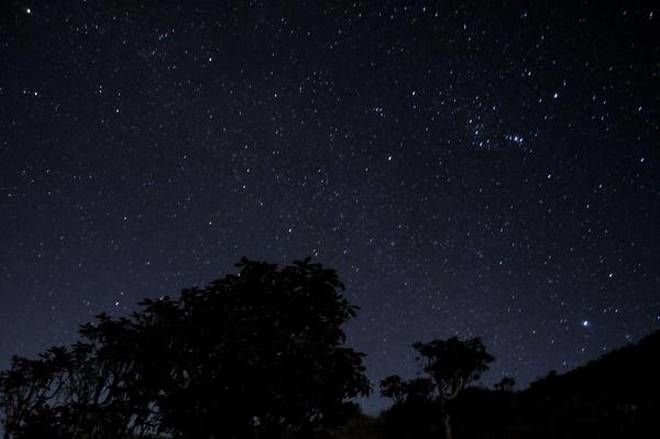 "I'm comming!" I shout on the phone, tempted no, not by his body, but by this whole sense of liberation - no prying eyes, nobody to judge, no rules, no inhibitions. After all, how often do you get to prance around outdoors wearing nothing but an underwear!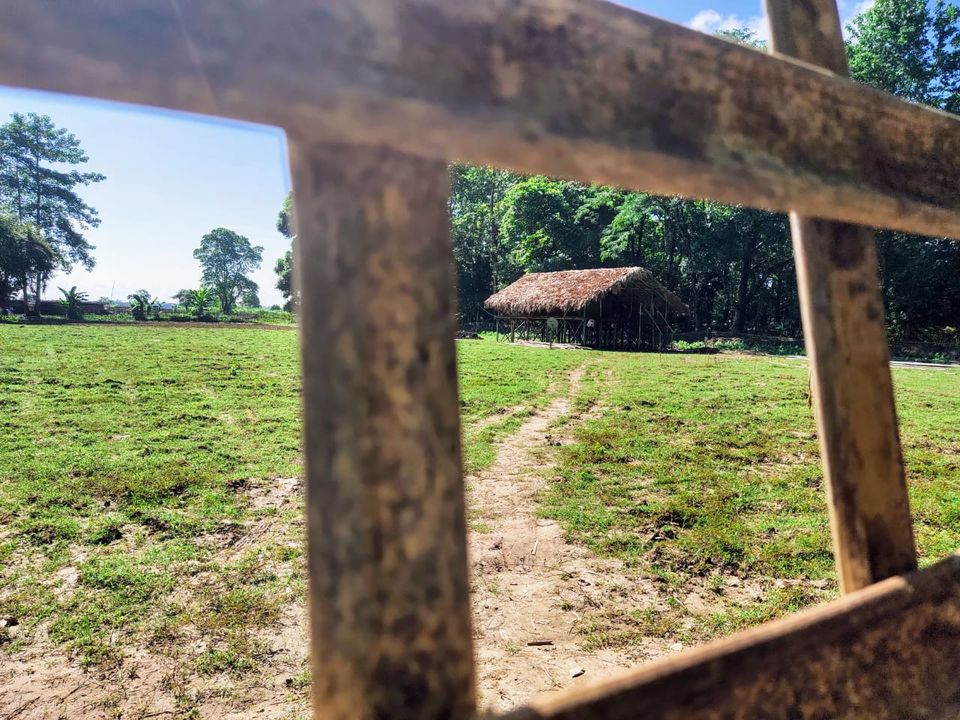 Tausif has been staying with a family at a village called Kulajan Pam in Dhemaji district (Upper Assam). Inhabited by the Mising community, a tribe of Assam known for their weaving skills and enterprising spirit, their two piece sarees, wrap-arounds, scarfs and mufflers have become haute couture statements in the runways of Paris, London and Milan.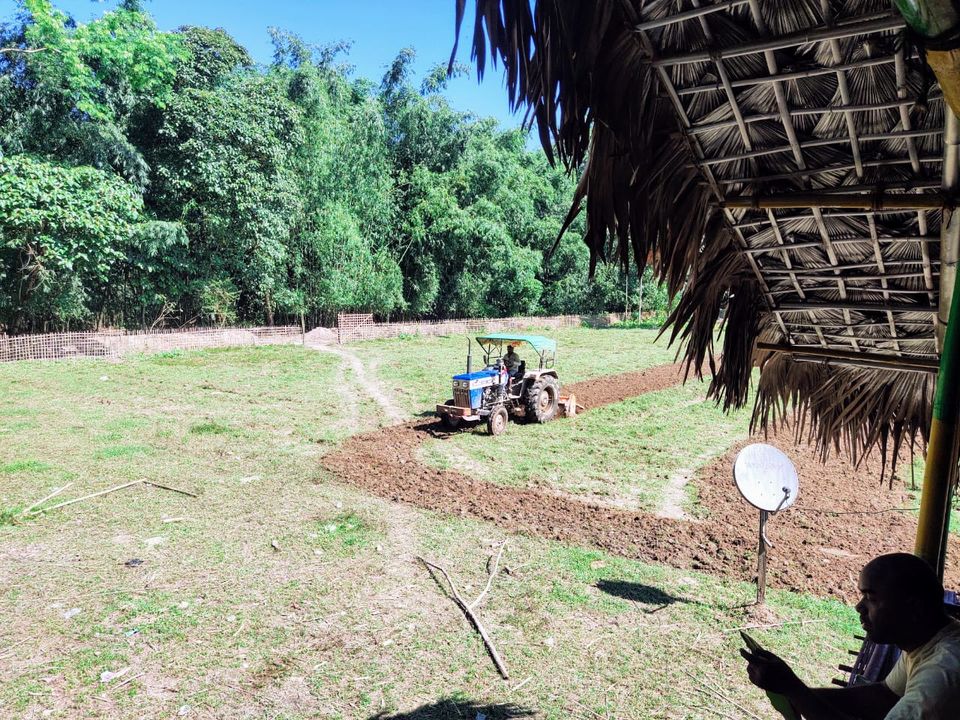 He is helping his friend Milon Taye, all of 26, with 33 acres of land, in setting up fisheries, piggeries, organic farming and in marketing. In the middle of it all, they also want to set up a Farmstay for tourists. Which is why he has been inviting me there for some guidance, what with my experiences in running Homestays in Delhi, Dibrugarh and Goa.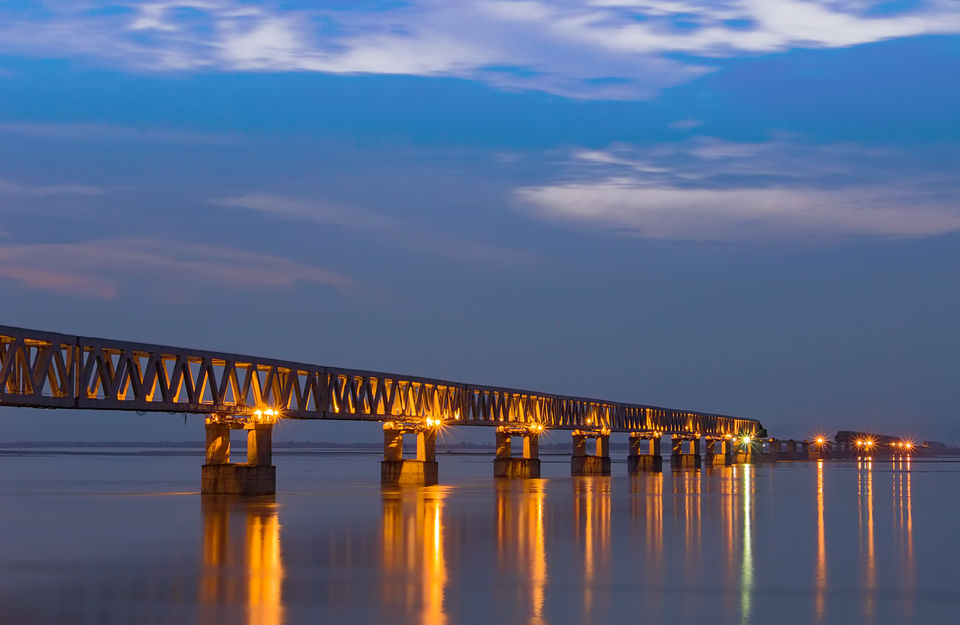 The drive through India's longest rail cum road bridge is easily one of the most scenic in the planet. The Bogibeel over the Brahmaputra. Super highways. Fluorescent-green paddy fields. The sprawling river. Papon on the stereo. 50 odd km from Dibrugarh. 140 kmph on odometer. Chasing the sun. Now crimson. Now sinking. Now disappearing beyond the hills. Dusk.
We reach a T point, just past the popular Maihang Dhaba, and take a right. "Drive for about 15 km towards Silapathar and I will be on the roadside with the indicators on," Tausif instructs us. We slow down. "There! There he is," I tell my chef cum chauffer (actually cook cum driver), seeing a bike on blinkers.
"Follow us," Tausif says and soon we arrive at what is probably a hub to hang out for the locals. No bowling alley, no pool tables, no gaming parlour, no restaurants or movie halls here. A tea and samosa stall, a stationery store, a darzi, a barber shop and a veggie seller are all that make it a hotspot. "This is Milon, but we call him Raja," Tausif introduces me to the soft-spoken youngman.
We have our tea, but we would need something stronger for the evening. "How do we get our booze?" I exclaim. "There is no wine shop here!" At which the head of a dwarf-like man pops up from behind the counter of the grocery store. Standing on a stool, he produces a bottle of McDowell's No. 1. So yes, the grocer is also a seller of high spirits at higher prices. Convenient.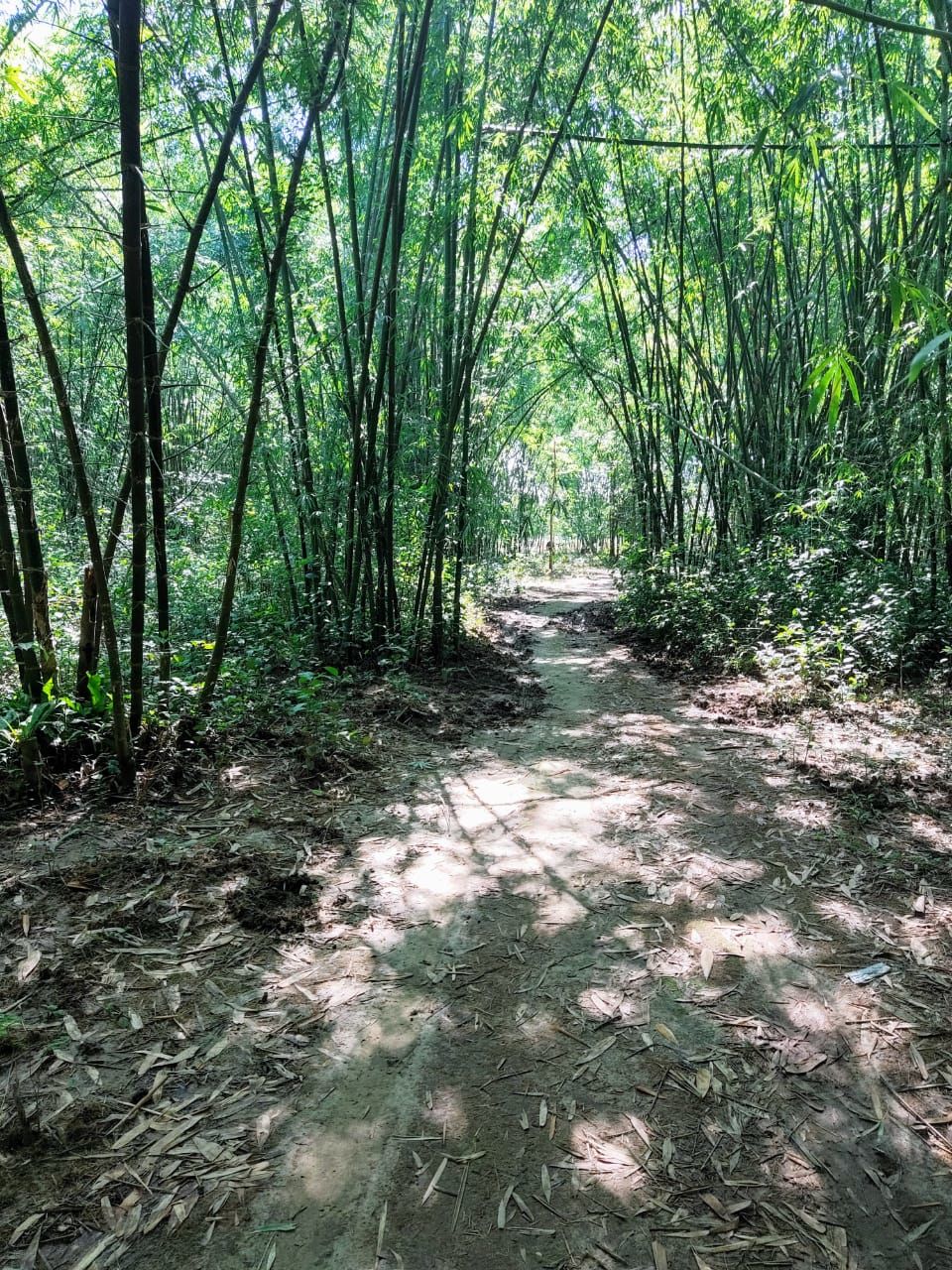 The path across the bamboo forest is pitch dark. We switch on our mobile torches. Still and silent. Except for the rustle of bamboo trees. A gate appears and far beyond, the chang ghor - bamboo house built on stilts - silhouetted against the night sky. We climb up the steps and reach a large balcony that leads to a larger bedroom, all with woven bamboo flooring. This is where Tausif lives with his helpers.
"How cool is this place!" I exclaim. We drop our bags, wash our faces and cozy ourselves on the durries spread all around the floor. The black bamboo forest beyond the sprawling grassy lawn looks ominous. It's dark all around, except for a solar powered bulb. "So this is the place where you lie on your undie, right?" I ask Tausif. "Yes," he smiles. "You can do that too!"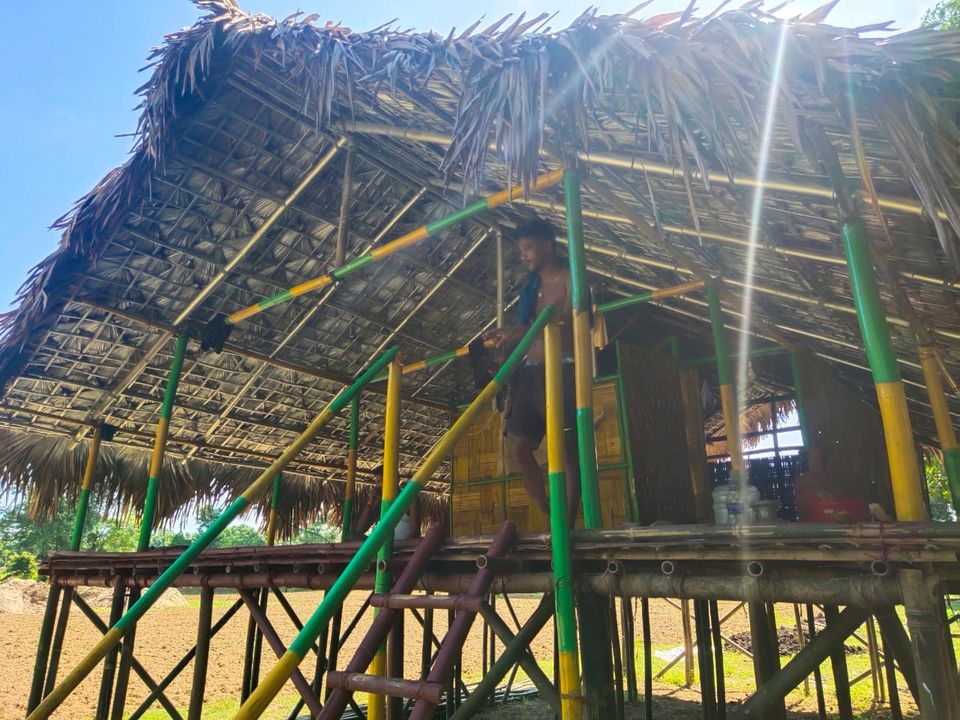 Aroma of pork curry made with elephant apples hits my nostrils. I inhale deep. The resident cook is busy cooking in one corner of the balcony on a gas fuelled stove. I look out into the darkness, so thick and opaque that you can almost touch it.
In neon drenched cities and towns, where do you get to 'see' total darkness these days!? The big dark has actually become a luxury. No wonder, a Paris restaurant is drawing food buffs by hoards with their 'dine in the dark' concept.
Darkness also draws in paranormal beings. Among other 'things' Raja believes that the spirit of his closest friend who died in an accident years ago, also lives in the bamboo grooves - he has felt his presence and seen his shadows. His elder cousin nods. The nearest neighbour's house is a kilometre away and scream you may, but nobody will ever hear your terrified cry for help. Precisely why Raja would never dare to venture into or walk across the bamboo forest at night alone. Forget night, he doesn't even walk that path alone during the day. They aren't joking. They are serious. I get goose bumps.
"Play your guitar no, Tausif," I urge, having had enough of these surreal tales. "Can't," he says, "one of the strings is broken!" But never mind. It's John Lennon's b'day (October 9), and our man of the moment plays "Imagine..." The atmosphere lightens up.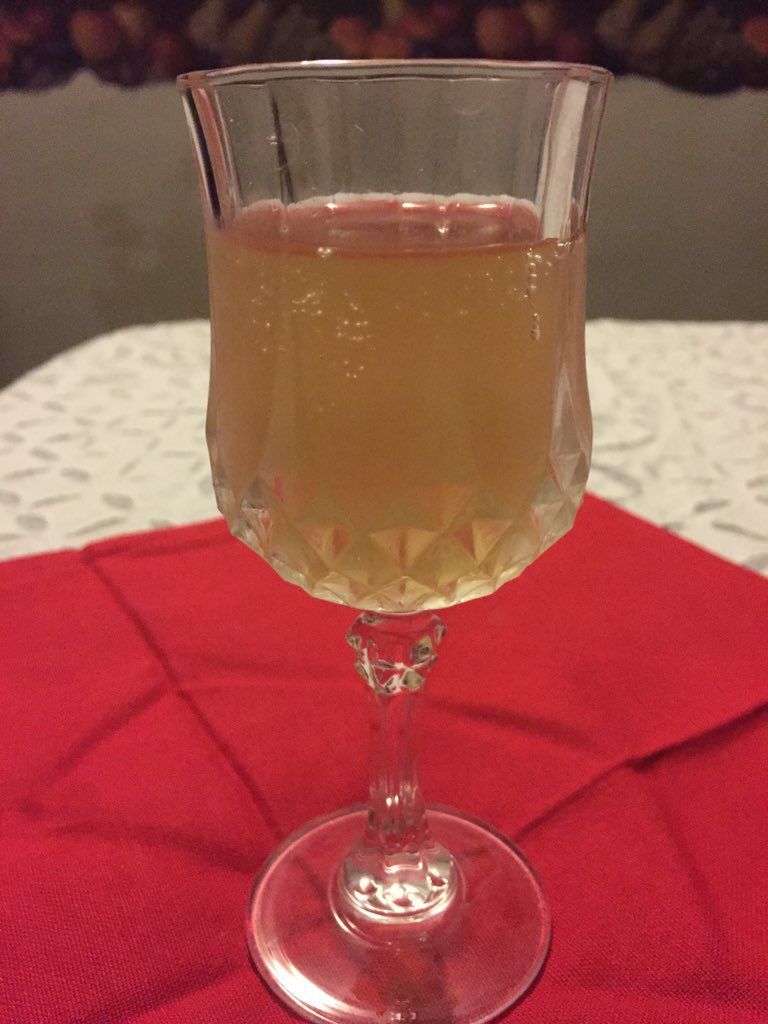 The poison for the evening is Sai Mod, but this traditional drink of the Misings, concocted out of paddy straw, rice and a variety of herbs, turns out to be too sweet for my taste. So McDowell's No.1 be it then, as we puff away a brand of cigarette called Janata that actully are not ciggies but beedis. Available only in this part of the world, and smooth as smoothies, Rs 10 is all you pay for a pack of 10, each stick for just Re 1.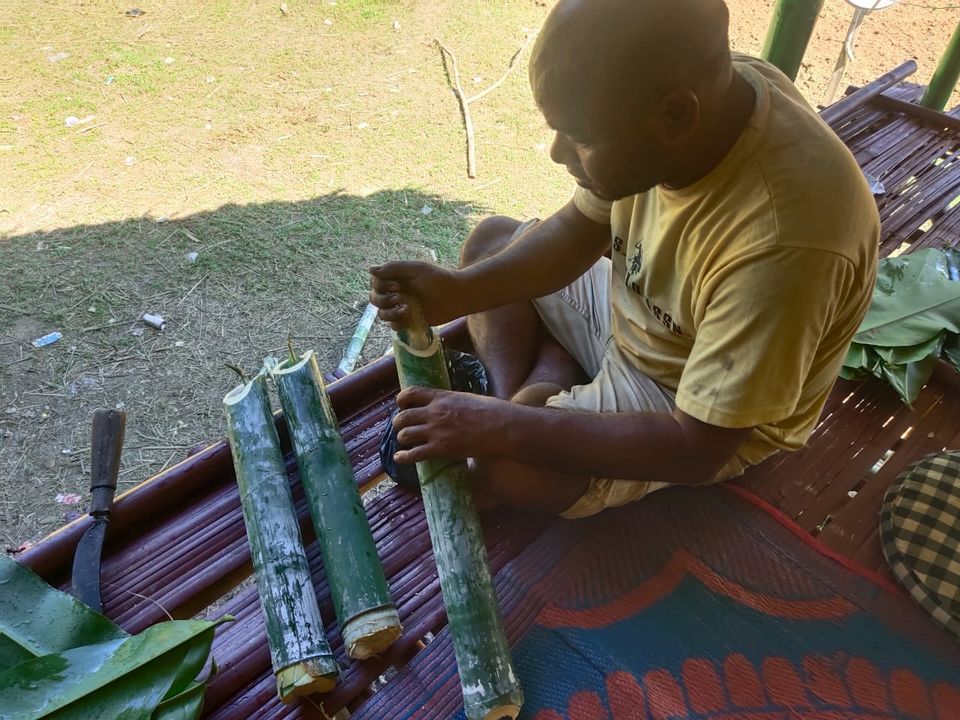 Dinner follows. Rice cooked in bamboo hollows. Boiled pork for curry. Bamboo shoot for chutney. Bhoot Jolokia. Banana leaves for plates. Fingers instead of forks. Divine.
And retire for the night on a floor mattress. Tausif gears up too, his nightwear nothing more than a blue underwear. The tattoos all over his body, I notice, are barely visible on his bare coal-black skin.
At 3 in the morning, abdominal pressure wakes me up. The toilet is 100 metres away but hardly seen in the blackness of the eerie hour. I dare not walk till there. Those sinister, shadowy presence, you never know! Forget it. I unzip myself and pee right down from the backdoor of the bedroom; the trickle breaking the silence of the night as it splashes on the grass below.
Morning next I meet Luknath Taye, Raja's elder cousin, the uncrowned prince of slomo living. Once a logger, his job was to escort domestic elephants lugging timber from the hills of Arunachal to the plains. And then his dad died, which is when he had to return to his village home to be with his mother, now doing nothing for a living, yet living a life happier than most with no ambitions to follow, no races to win, no needs to fulfil.
But then there are his passions to pamper, waking up in the wee hours of the morning to go to the river armed with nets and hooks and baits for a fresh fishy catch. Land rich, yes, but how does he make his cash? "If I need money, I just sell one of my pigs...I get rupees 15-20000," he says. And then there is always a demand for bamboo, each selling for Rs 120. With rice for breakfast, rice for lunch and rice for dinner, and meats and organic veggies which they consume boiled and herbed, there is no need for cooking oil too. Enough to keep him happy and healthy.
He takes me to his house, a modern concrete Assam Type house where I am greeted by an 'apple'. The apple turns out to be his wife, Purnima. She does her 'nomoskar' with a dimpled cherry red smile and disappears into the house. Only to reappear with a scarf which she drapes around my neck in welcome. Called erkong, she has woven that herself! How precious is that!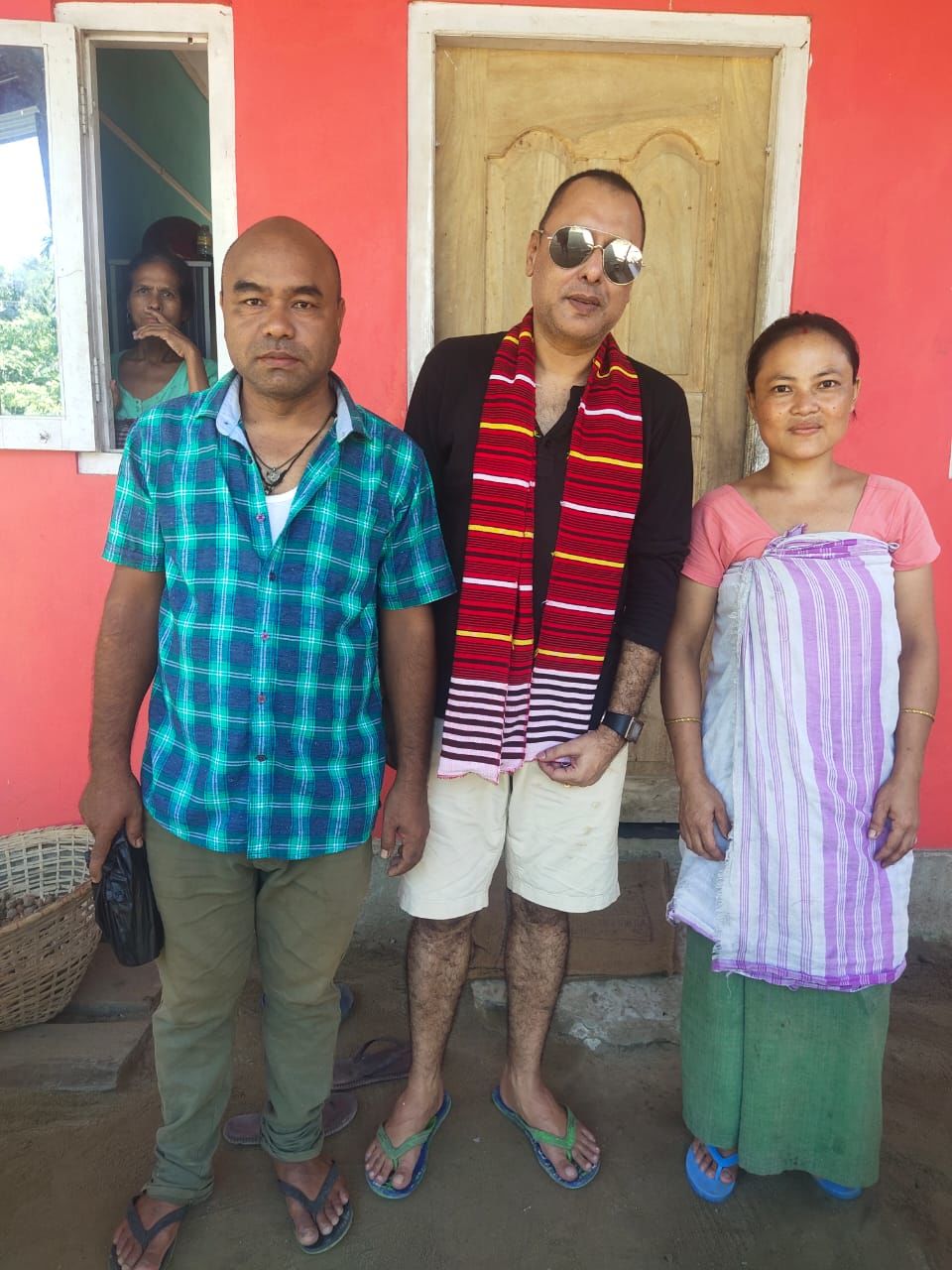 We hit the road again, and land in Arunachal Pradesh - just a few miles from Kulajan Pam. Luknath is taking us to meet his friend in Dipa village. The friend turns out to be some sort of a Veerappam of the East, living in a magnificent mansion in wood and bamboo. No police can enter this village without his permission, even as MLAs and ministers drop by every evening for Apong, their local drink. The wealthy and powerful timber merchant and logger says for every tree he chops on the unreachable mountains, he plants five other saplings. With 27 SUVs, dozens of elephants and massive houses all over Arunachal, he has never been to Delhi and never heard of Goa. Vocal for local?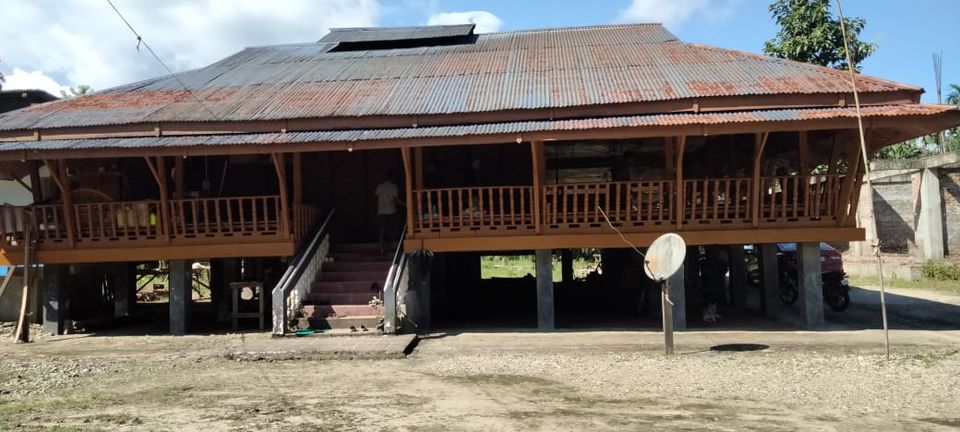 Behind his house is a stream. That's where we are gonna have some fun. But before that Luknath takes my car to the nearby market and returns with something weird: He opens the bag to show six large pieces of hog ears! I am like, what the F! "We're gonna roast them," he says. Apparently its a delicacy, but nope, doesn't seem appetising at all.
At the stream, Tausif is the first one to strip down to his undie as he rests his back on the bed of pebbles beneath the flowing water. I immerse my legs and down a beer. Luknath and friends light up a fire and smoke up the pig ears - salted, gingered, garlicked.
Suddenly, an elephant appears from behind the trees. Oh, thank god, it's a domesticated one. Its lugging a long big tea trunk. We go closer to see the giant. "Stay away! Stay away!" the mahaut warns, "It's pregnant and irritated," Oh dear!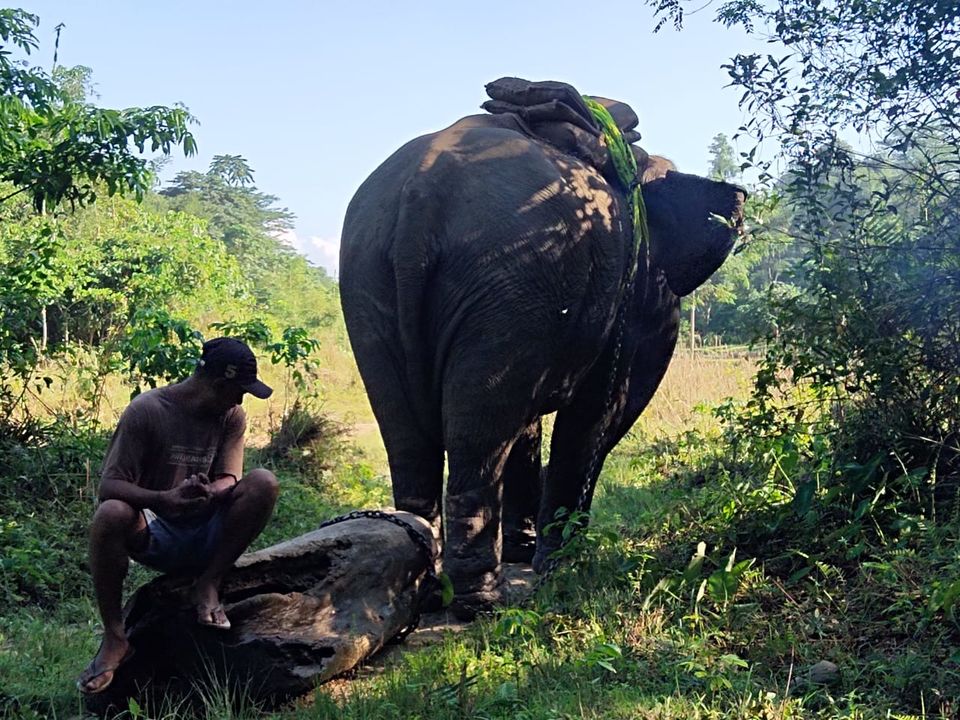 Well, it has been a day packed with precious experiences.
The most priceless experience, however, happens later in the evening. That's when I lie on my back on the grassy grounds and gaze at the stupendous canopy of stars and fire flies. With a waft of bamboo breeze caressing my skin, it's sheer bliss, like Tausif had said, to be connecting with the universe in nothing but my underwear.
Nishiraj A. Baruah is a lifestyle journalist and a travel writer who owns the popular Homestay by the tea garden Dibrugarh in Assam