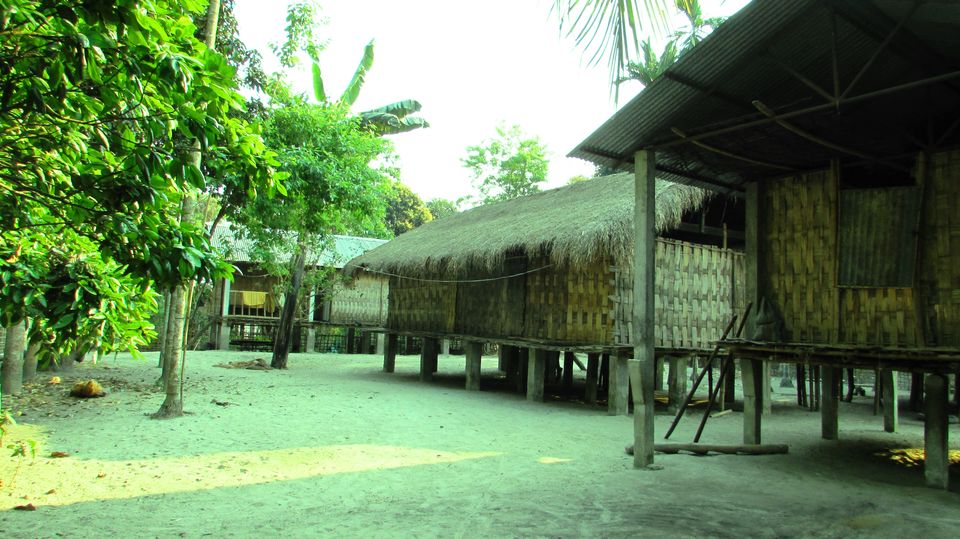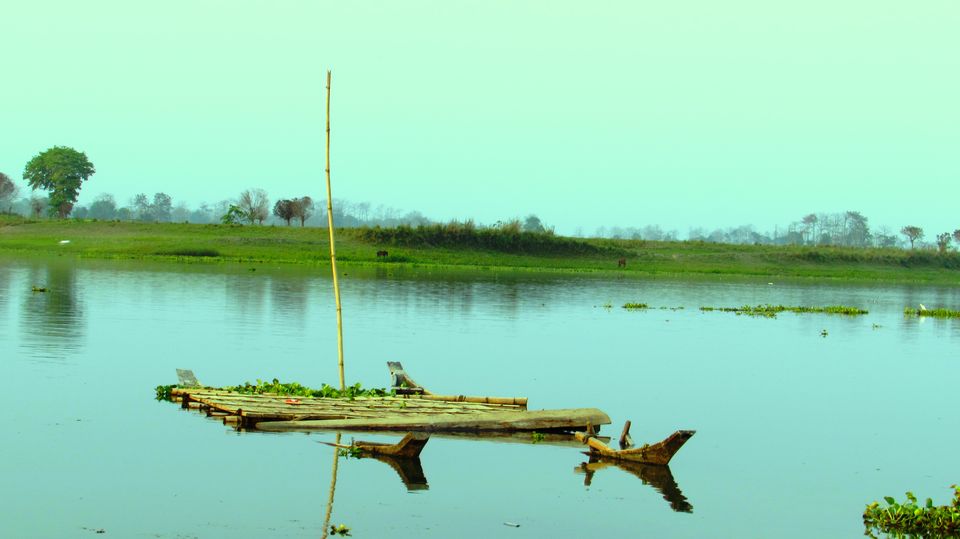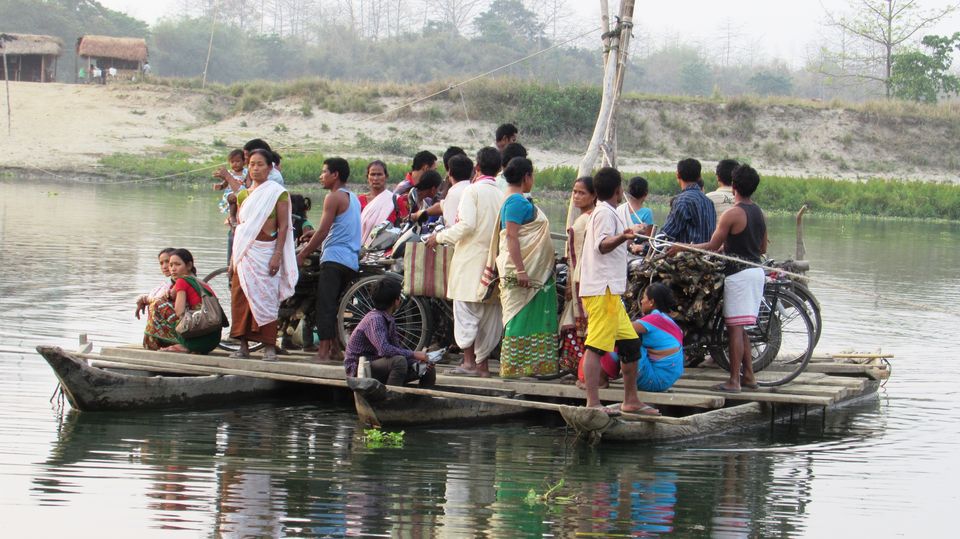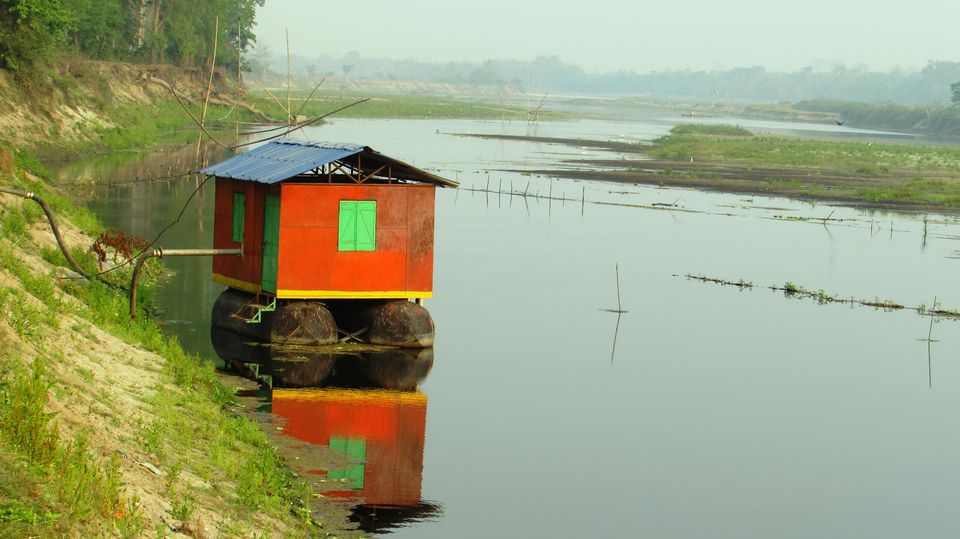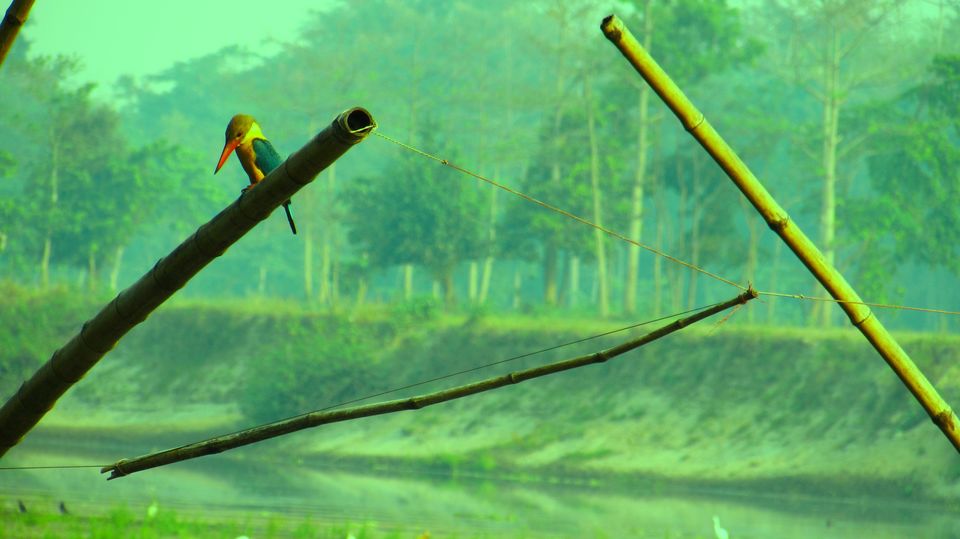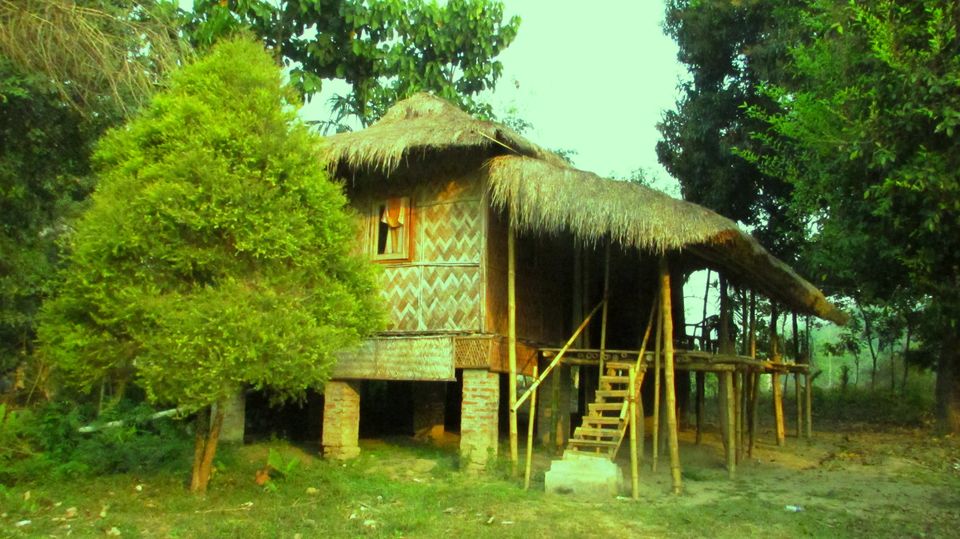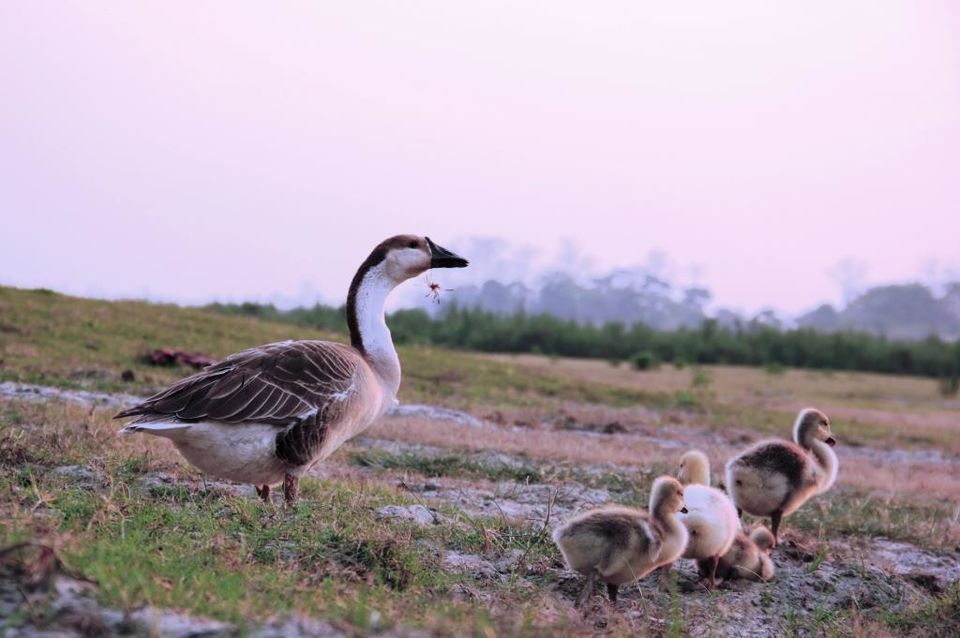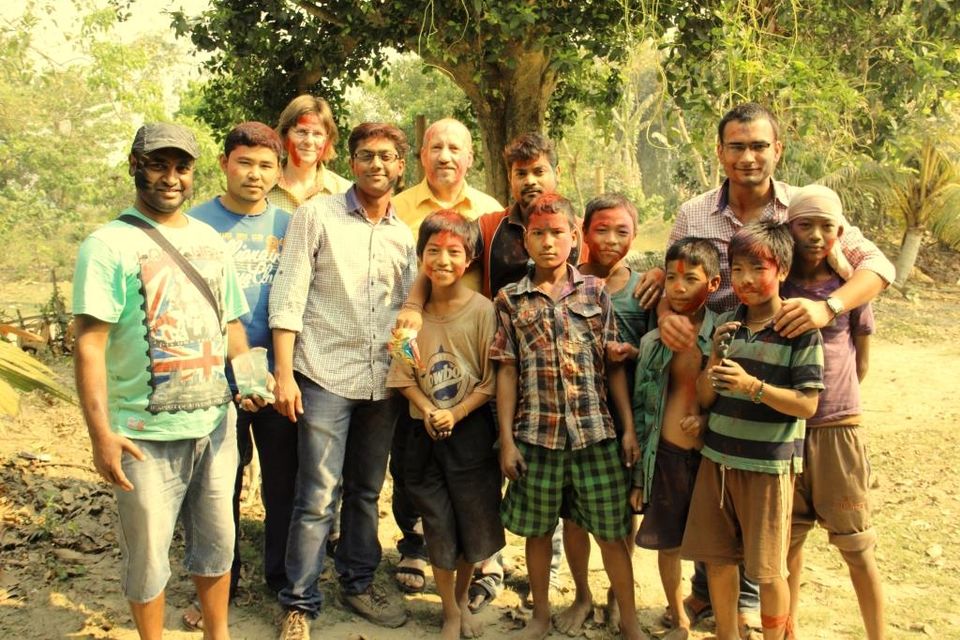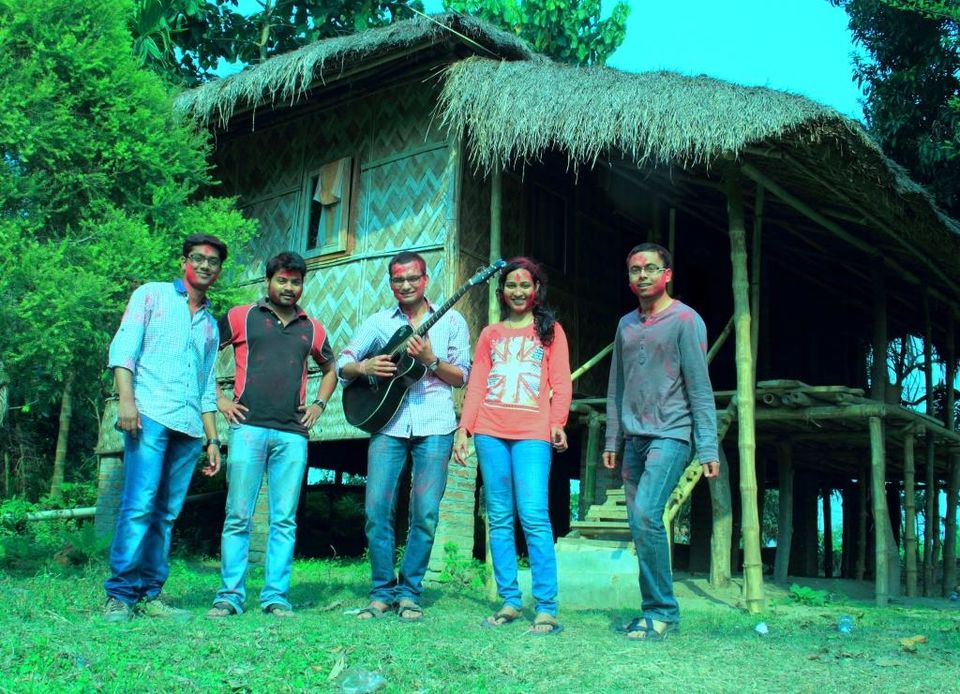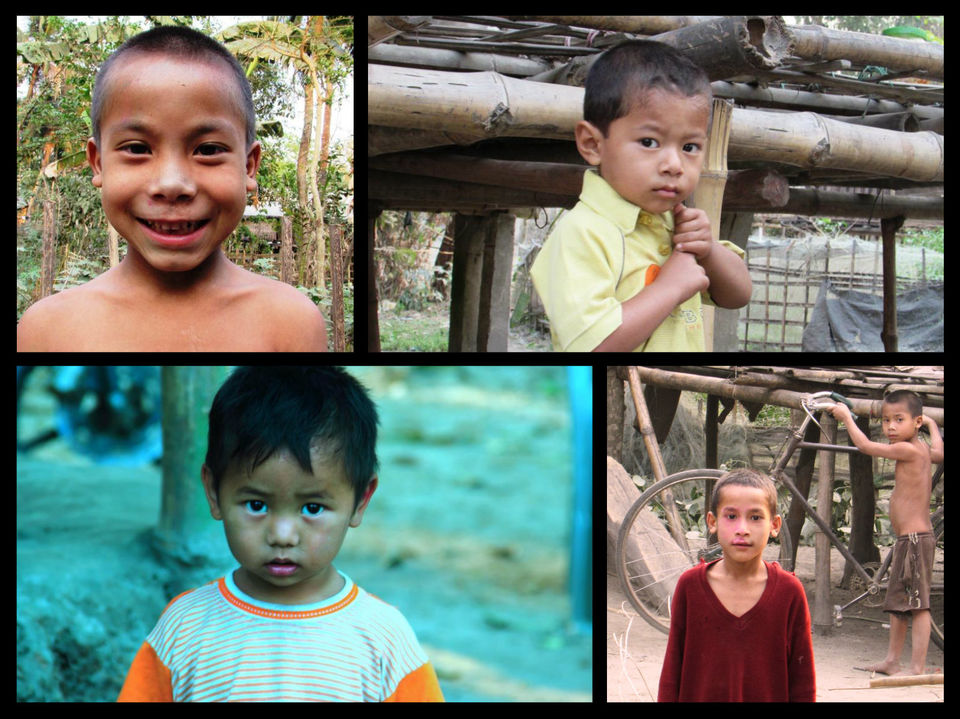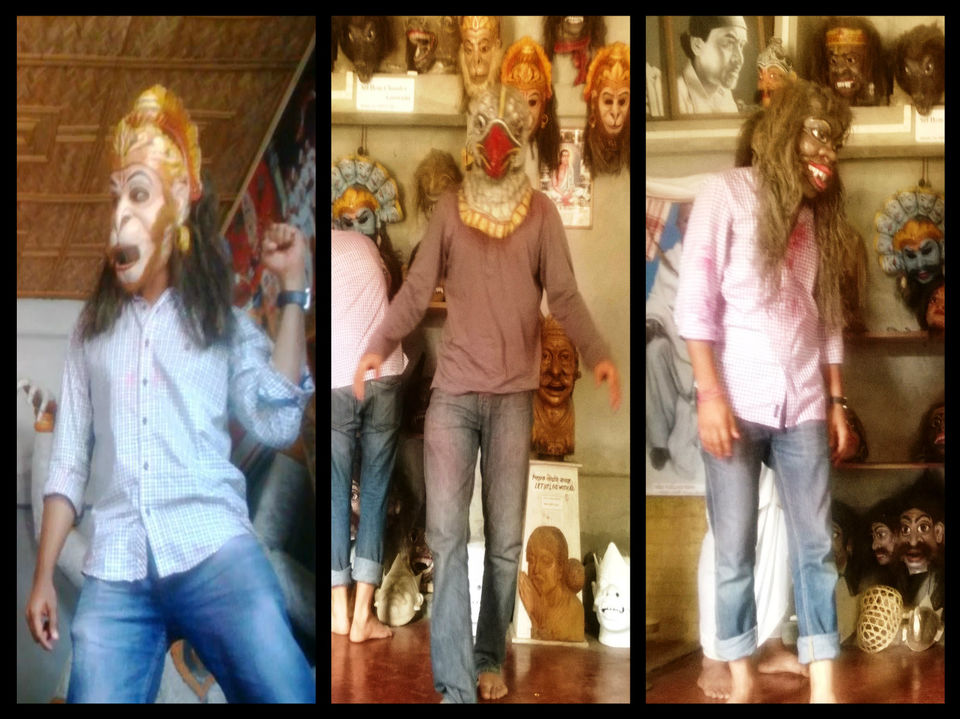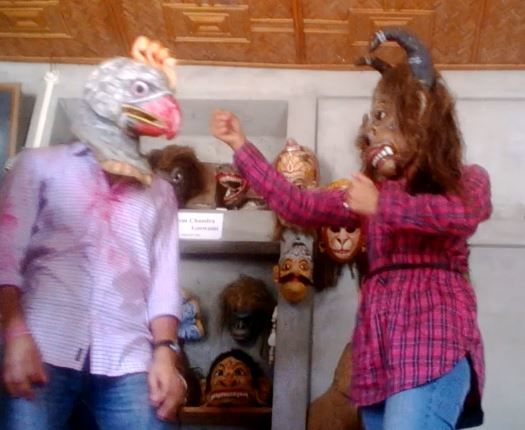 Trip in a Nutshell:-
Booked a cab from Dibrugarh to Jorhat. Left Dibrugarh in early morning (06:00 AM). Drop off at Neemati ghat in Jorhat. Took a ferry from Neemati ghat to Majuli. Drop off at Majuli. That day visited The Missing (Mishing) Village and The Sunset point. One night halt at Majuli in Bamboo huts. Next day visited the Kamalabari satra, Auniati Satra and the Mask maker's house. Left Majuli after lunch (03:00 PM). Back to Dibrugarh by evening (08:00 PM).
Brief Overview of the Trip:-
Majuli is a fresh water island in the mighty Brahmputra River in Assam. The nearest town to Majuli is Jorhat. I came to know about Majuli from the localites here in Dibrugarh.
It was the festival of colours in 2014. Five of us decided to go there. As we all were away from our families, we wanted to celebrate this festival in a unique way. Before leaving for Majuli, I enquired about the tourist attractions and accommodation options in Majuli. After a few phone calls and interactions with localites in Dibrugarh, I was equipped with a list of places to visit in Majuli. We decided to book our accommodation after reaching there only.
It's a bit difficult to grab a day or two from a busy schedule of job. As I am not a professional traveller, travelling is like an escape for me from the monotonous life of an engineer.
So we left Dibrugarh on one bright morning at around 06:00 AM. We had booked a one way cab from Dibrugarh to Jorhat. We reached Jorhat at 09:30 AM and took a drop at the Neemati ghat. There is ferry service at regular intervals for public transport to Majuli from Neemati ghat. We enquired about the next ferry and it was at 10:30 AM. There were a few small chai/samosa stalls at Neemati ghat. As it was the time of Holi, we had bought water guns from Dibrugarh. So to kill time, we started playing with them. Running here and there just to escape was fun.
The ferry was on time and we boarded it. There were seats for passengers to sit but we decided not to sit there and we reached the upper part of ferry. The ferry left Neemati ghat and a few of us started photography. Rest of us were singing songs and just enjoying the air. The day was a bit sunny. A cloudy one would have amplified the atmosphere. We reached Majuli in a ferry ride of one hour. The ferry point in Majuli was a bit outside the town. We took a sharing taxi and reached the town. Now we had to look for a place to stay which was not possible until we had a vehicle to roam around and search. We wasted a lot of time in bargaining with the taxi drivers. Finally we booked a taxi for hotel search as well as local sightseeing. The taxi driver took us to some 4-5 places to stay but we were not convinced by any of them. Finally we reached Eco-Camp Me:Po Okum (Happy house).
It was a beautiful place spread over a large area. It had bamboo cottages, a grassy lawn, a small bamboo structure to chill out and a serene environment. We promptly agreed to stay at this place. After getting refreshed, we took our lunch and decided to visit the Mishing (or Missing) village that day. It was around 20 km from our camp.
The Mishing Village:-
It was a pristine village with stilt houses to survive extreme nature of Bramhaputra in monsoons. Beneath the stilt houses, there was a traditional arrangement to weaving gamochas and Assamese saares. We roamed in the village to absorb as much as we can. We partially interacted with the villagers. None of us could speak Assamese and none of them could speak Hindi or English. But our interaction was joyful. A family invited us in there house. They not only showed us there house but also offered us freshly brewed rice beer. We were impressed by the hospitality of that village. Before leaving the village, we played with some children there, clicked their photographs and left.
The sunset point:-
Then we reached the bank of Bramhaputra River which is a so called sunset point of Majuli. Actually sunset and river is in itself a great combination. We sat there, captured the sunset and appreciated it. Now it was getting dark so we came back to our happy cottages.
We were full of energy when we reached the camp. So we decided to play games we used to play during our childhood. All of us came in the lawn of that camp. We started with ICE-WATER and then played a lot of other games. It was craziness to do cartwheels one after another on an island somewhere on the globe. After getting totally exhausted, we refreshed up and went for dinner. The food was very simple yet very delicious. We tried bamboo chicken. It is cooked in the trunk of bamboo tree and the essence of bamboo penetrates inside the chicken and it was fantastic. After a heavy dinner, we roamed inside the camp for a while and then started an experience sharing session. We were digging our past moments of fun, fear, surprise and a lot more. Late night we slept. It was really cold at night, even in March.
Next morning, we explored the spots nearby our camp. We spotted a lot of different kind of birds there. I was so involved in finding my solitude there that I literally forgot that it was HOLI. Some of my friends started playing with dry colours and then we all started playing. We celebrated Holi with the local children there and a foreigner couple who was staying there in the camp.
Then we left for local sightseeing.
Kamalabari and Auniati Satra:-
There are a lot of satras in Majuli. They are actually linked with the ancient mythological tales of emperors who ruled there. To be frank they were not much more than a temple. But yes there were really interesting museums in these satras. And the priests there were so humble that were excited to show the belongings of those satras such as an old golden jug, coins, beautiful artifacts and a lot more. While visiting these satras, we were totally soaked in the colours of Holi. Actually we travelled that whole day in colourful condition.
After visiting satras, we went to visit a really interesting place which was the house of an artist who used to make masks for stage plays depicting Ramayan, Mahabharat and a lot more.
The Mask maker's House:-
It was an old house with an open veranda at the entrance. The artist was sitting there with his fellow students. He also taught this art of mask making to the interested students there. We greeted him and then one of his students took us to a room full of masks. All of us sat on a carpet and the student started describing different masks. He wore those masks and showed us a glimpse of the actual role played with that mask. The artist and some of his students were multi-talented. Apart from mask masking art, they were professionals in playing musical instruments such as harmonium, flute and a few Assamese folk instruments. Painting was also a part of their interest.
So we were spectator for some time. Then I requested them to allow us to wear those masks. They agreed and we were then again the craziest people in the world. Hanuman, shoorpanakha, garuda, mohini, mahishasur, hidimba…. All of us were literally playing these roles and going mad. There were lots of laughter and we recorded some videos there of our performances. Then we returned back to the happy home. We had our traditional lunch there. We went for the ferry after lunch. Again we sat on the top of the ferry and came back to Jorhat. We arranged our transportation from Jorhat to Dibrugarh and reached Dibrugarh by the evening.
We left Majuli remembering all the fun moments there. This was something which cannot be taken away from us. One more chapter was added to the "Things you remember when you get old" list. One fantasy of escaping the dull daily life and exploring an island was lived. The lovely interactions in missing village, the childhood games and cartwheels in the lawn of happy home, the mask performances, the experience sharing session, the ferry ride…… will always be a part of our colorful trip to Majuli.
Tips for the Travellers:-
Before I went, I read somewhere on internet that rental motorbikes and bicycles are easily available in Majuli. I tried to find but couldn't find any. If you are lucky then you can get them arranged by your hotel owner.
Go there with a personal or hired vehicle. This will save you a lot of time. Just make sure your driver is aware about tourist spots in Majuli.
Another good option to stay in Majuli similar to Eco-Camp Me:Po Okum (Happy house) is La Maison de Ananda. I would personally recommend to stay in bamboo huts.
The last ferry from Majuli is at 3 PM. Plan your trip accordingly.
Don't miss the traditional food in Majuli.