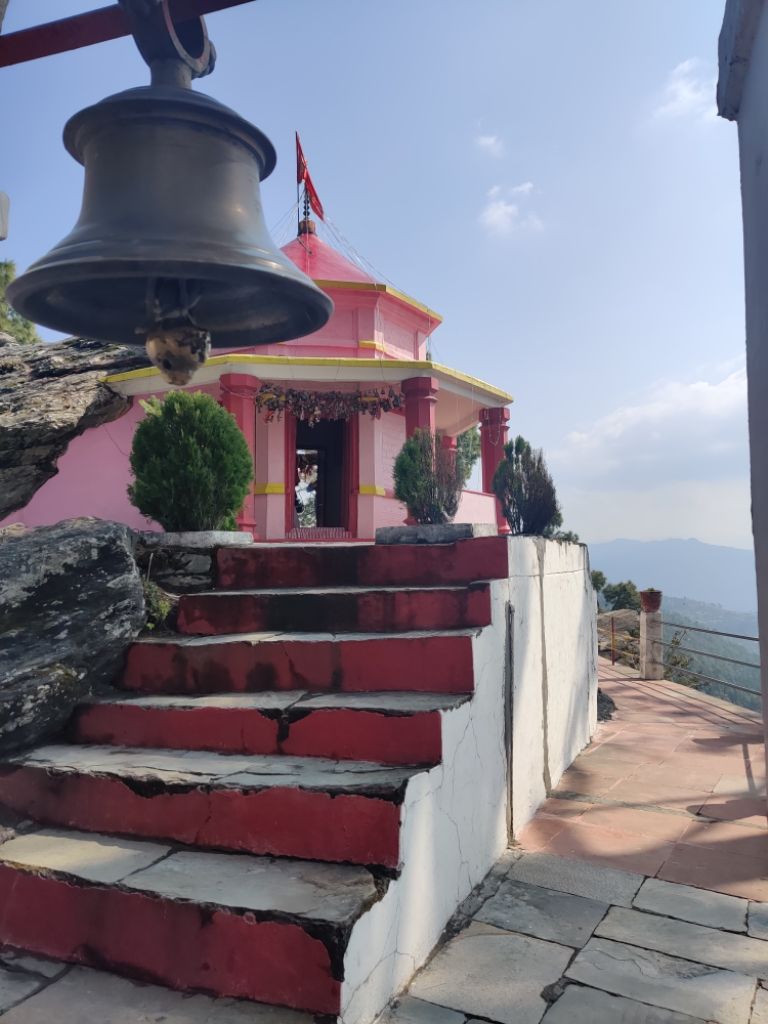 Before starting my motorcycle expedition to Kasar Devi, I was like Delhi to Kasar Devi is going to be an easy 400km motorcycle ride but Mother Nature had some other plans for me.
I started my ride around 5 am in the morning and took first coffee halt at Garh Mukteshwar around 100kms from Delhi. Some historical facts as per Wikipedia about this place: *Garhmukteshwar is an ancient place that is mentioned in the Bhagavata Purana and the Mahabharata. There are claims that it was a part of ancient Hastinapur, the capital of the Pandavas.*
I continued my journey on NH- 9 and it was the golden hour and boy oh boy what a treat it was to the eyes riding on the open highway, cold weather and lush green fields on both sides.
So far so good, everything was going as planned until I reached Haldwani. To be precise, I was some 10-15 kms before Haldwani and it started drizzling but I kept on riding.  Suddenly it started raining cats and dogs and by the time I could realized that I need to stop, I was all wet.  Luckily I had the waterproof riding jacket but my trousers and shoes were all wet. I stopped at a dhaba and had my brunch while waiting for rain to stop. I had to wait there for 2 hours, it was raining so heavily.
I started riding again and and as soon as I entered the Kumaon region, it started raining cats and dogs again but this time I was prepared for it. I had my rain pants on but unfortunately my shoes were not waterproof. I arranged some plastic and covered my shoes with it, jugaad you know.
All set to ride for last 50 kms to Kasar Devi. Rain made it tough to ride but the views were so serene that kept me motivated throughout to ride whenever I thought to quit. And finally around 7 pm I managed to reach Kasar Devi. A 10 hour ride took me almost 14 hours to reach but yeah it was an hell of a ride and adventurous too.
Adventure is not over yet! Each and everything in my luggage was wet though I had the waterproof bags but somehow it couldn't resist the rain, I guess. Somehow I managed that night and prayed for a sunny day so that I can have atleast some clothes to put on next day while exploring Kasar Devi.
Finally a dramatic day comes to an end!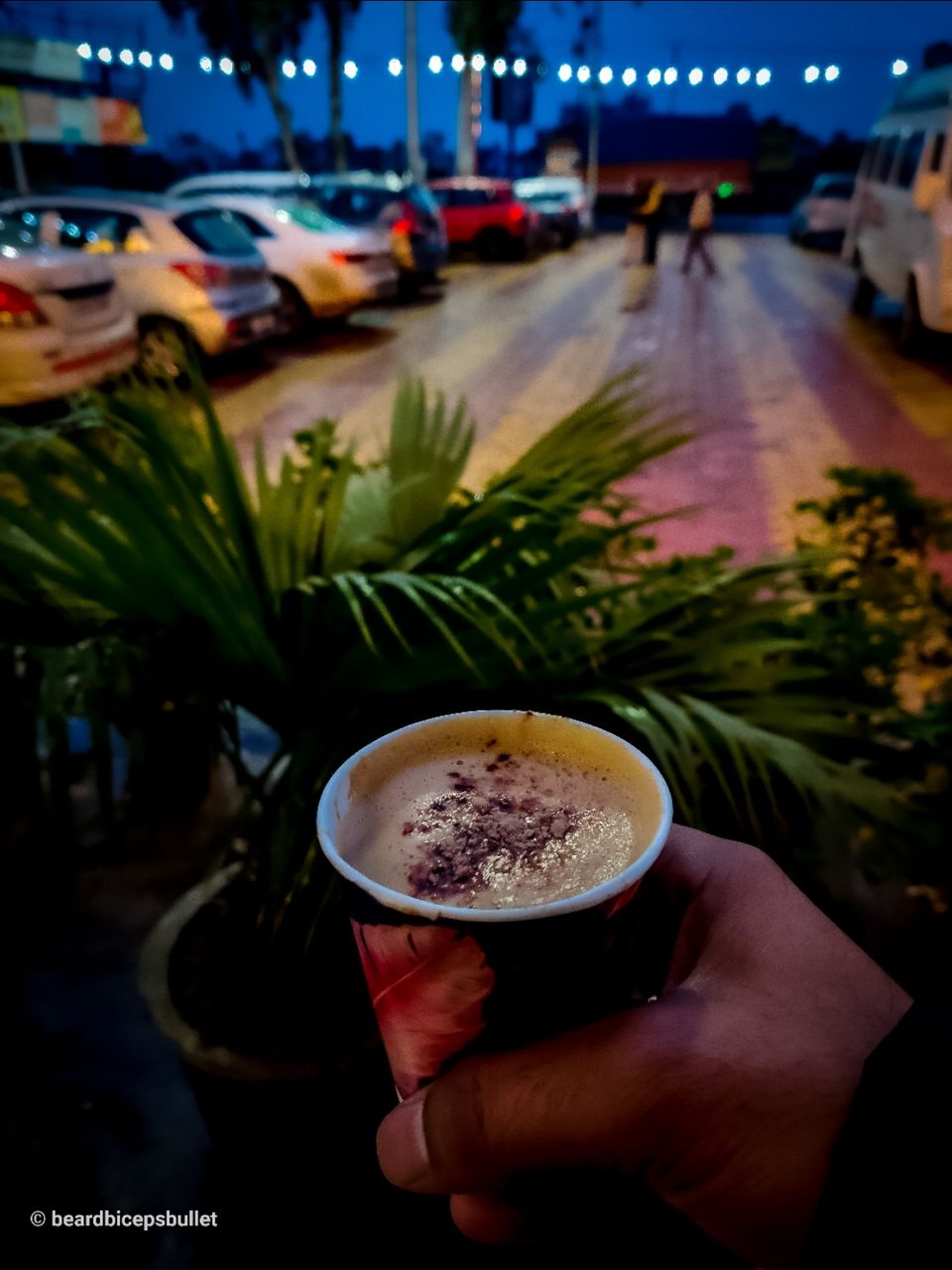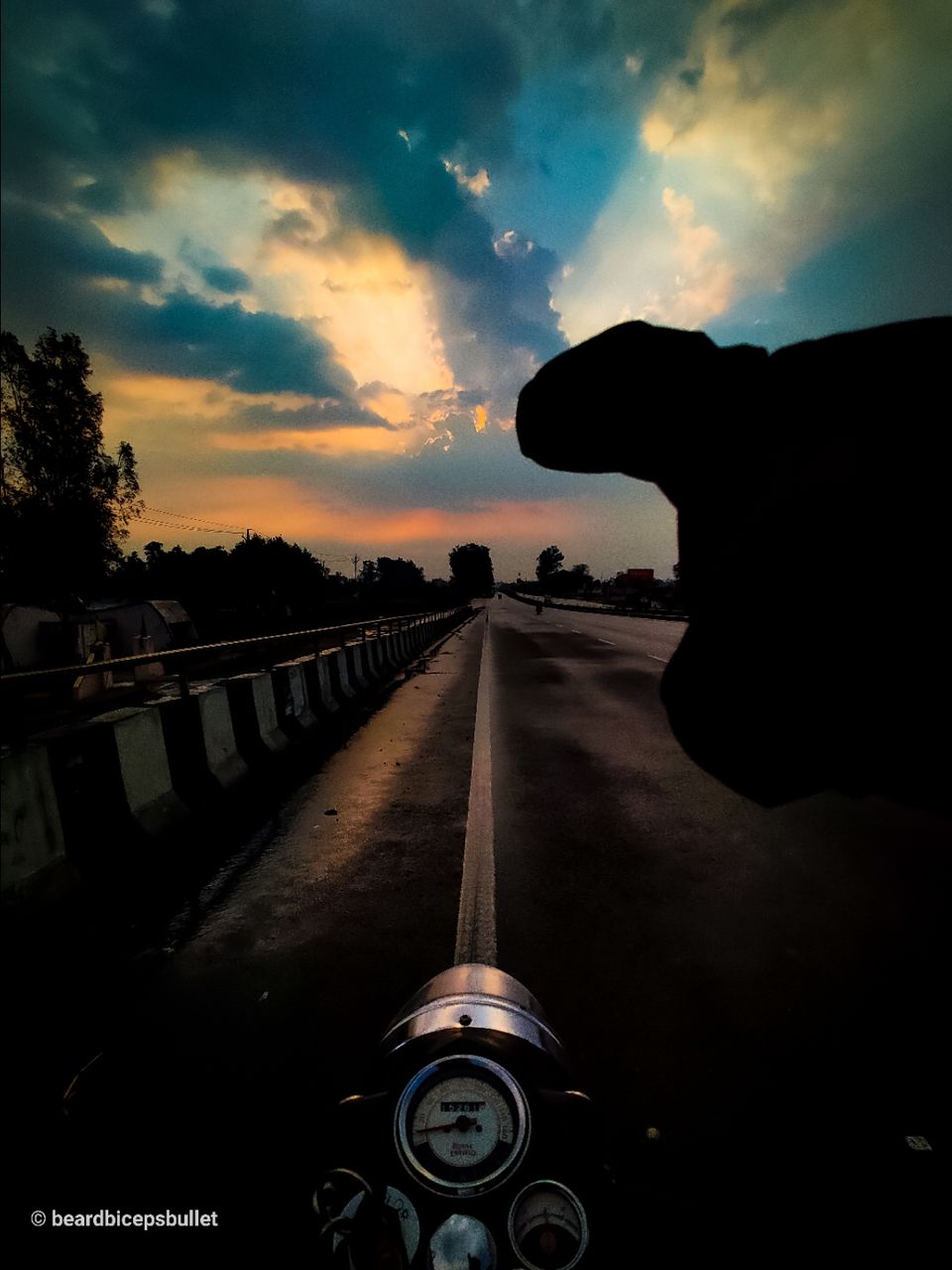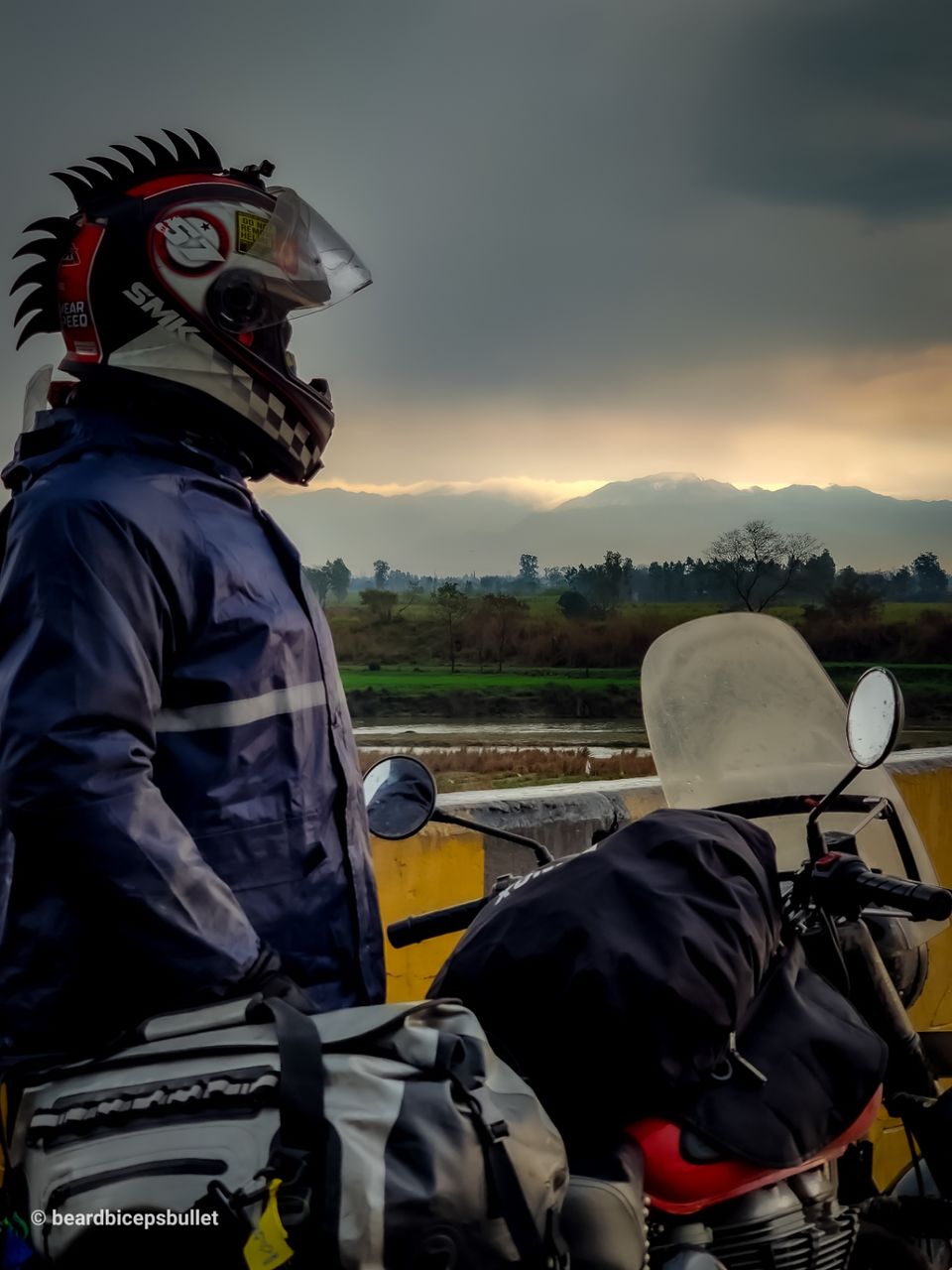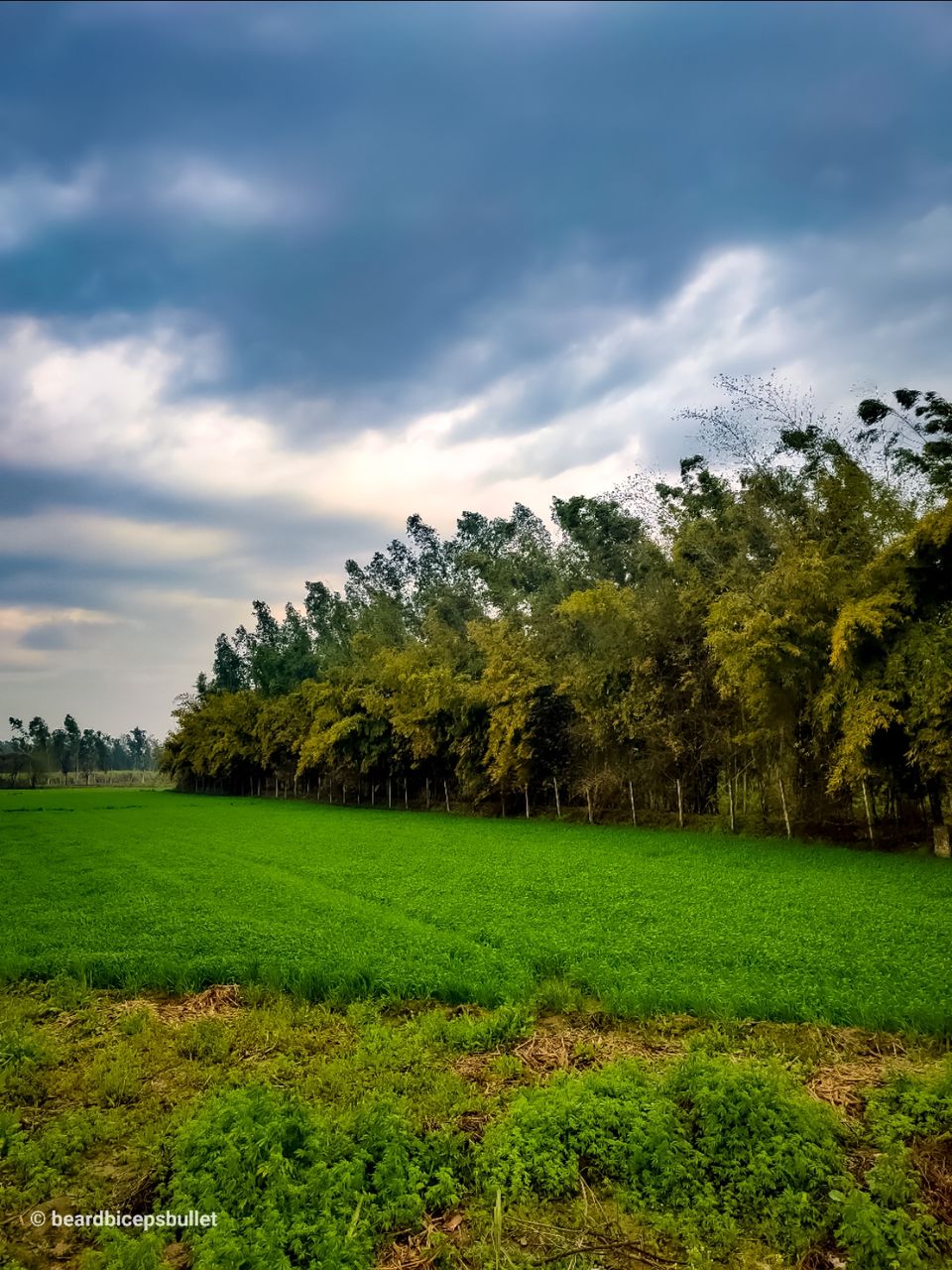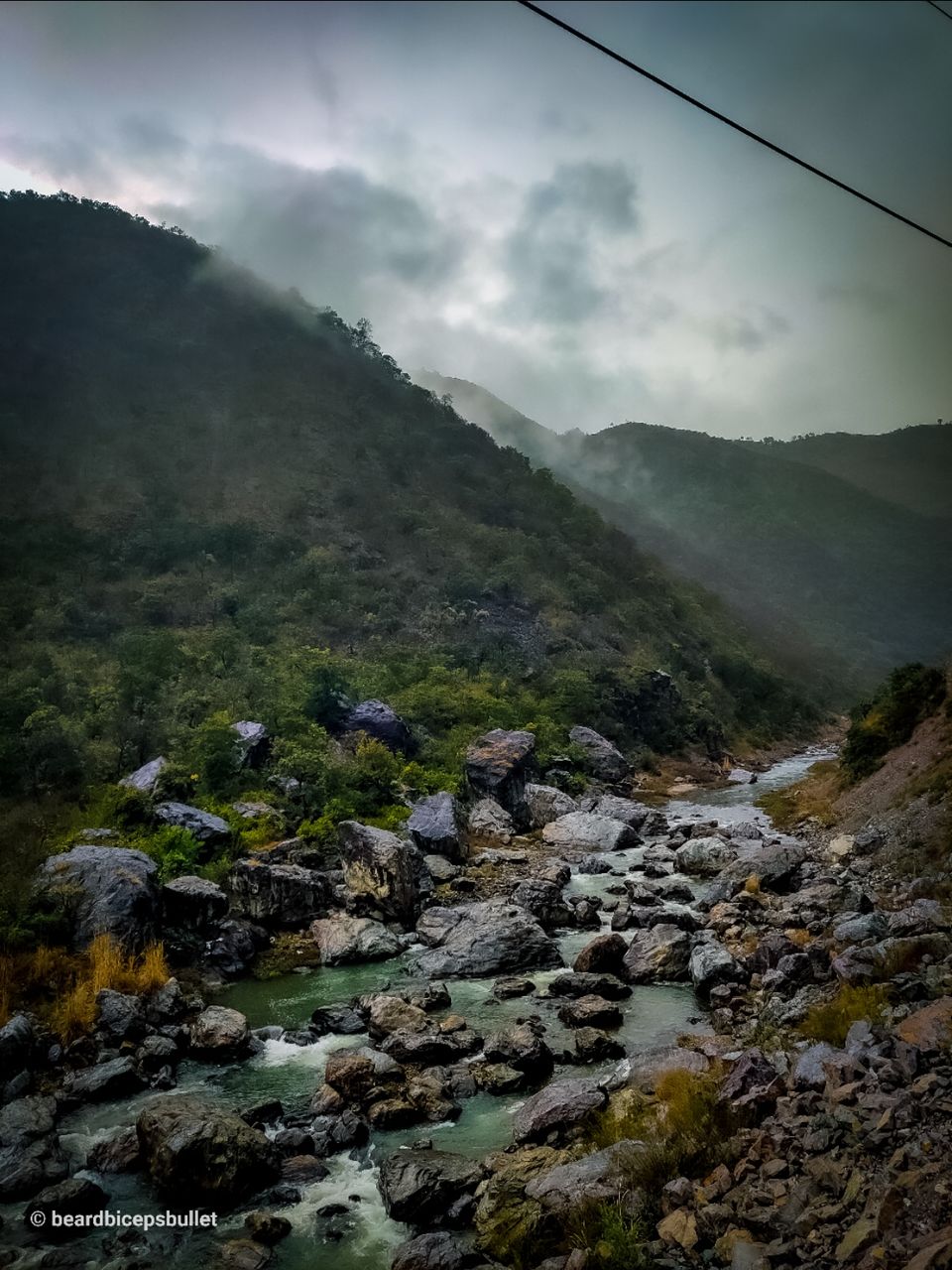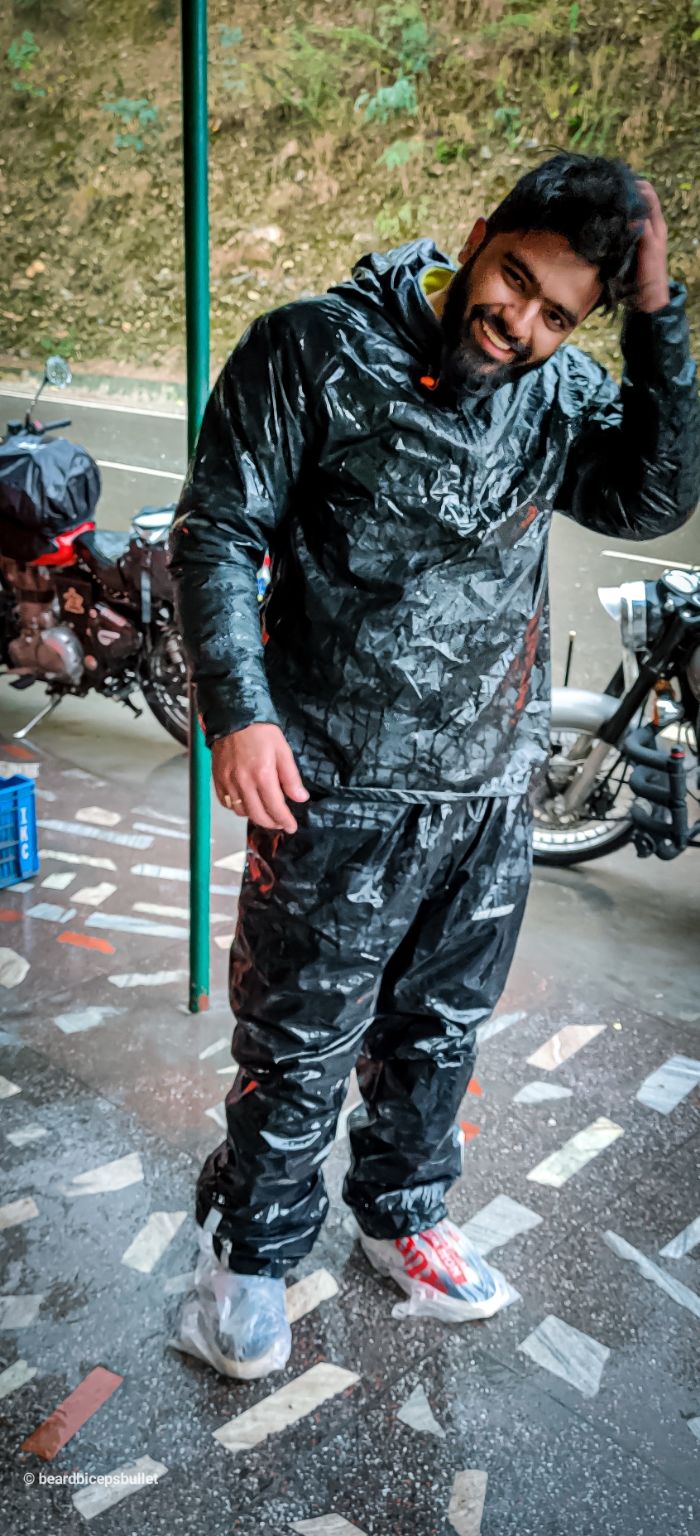 I guess my prayers worked, it was a bright sunny day. I woke up around 8 in the morning and as soon as I open the door of my room of the homestay where I was staying, I was lost for a moment. Boy oh boy I could see the snow capped Himalayan peaks and one of them was the mighty Nanda Devi. I was smiling like a baby out of the joy and sat there adoring the snow capped Himalayan peaks.
The owner of the homestay was kind enough, he let me use his terrace so that I can dry my luggage and it took less than 2 hours as it was so sunny that day. I had my breakfast there with the Himalayan peaks in the backdrop and got ready for the D-day in Kasar Devi.
I started walking down the lane from my homestay for the Kasar Devi mandir and wait a minute what did I just see? Dolma Aunty's momo shop, you must be kidding but considering I just had the breakfast I decided to continue for the Mandir and postponed the plan of momos on way back. It's a 15 minutes walk to the Mandir from its entrance but a quite easy one.
Kasar Devi Mandir, home to geomagnetic field where Swami Vivekananda, Bob Dylan and the endless list of celebrities who had meditated there. It was a different feeling alltogether to be there and doing mediation with hundreds of monkeys around you. There is next level peace and a lifetime experience one could feel.
But meditation could not take Dolma Aunty's momos off my mind and I had mutton momos ans soup there. It was my lunch that day and trust me they were much better than what we have here in Lajpat Nagar, Delhi. To be honest, there is no comparison. I would recommend everyone to try momos at Dolma Aunty's shop.
It was 3 in the noon and I decided to ride to Binsar wildlife sanctuary. It's approx 20kms but it took me almost an hour to reach there. Road conditions were not good but ride through the forest wilderness made it worth. Hardly there was any other vehicle going on that route or may be I was late. I reached there around 4.30 and started my hike to Zero point. It took my almost half an hour to reach there, a pretty easy one but slush made it bit difficult at times.
Zero point is famous for sunset and 180 degrees view of Himalayan peaks and it was already the golden hour. And after sometime I pushed off as I had to ride back to Kasar Devi and it could be a difficult task to ride once it is dark in the forest and road conditions were not good as well. Please note that there is no shop at the zero point or through out that hike so please carry your water bottles with you. Also,carry your empty bottles back with you.
I rode back to Kasar Devi, hungry and excited for pahadi chicken in dinner that I requested at my homestay in the morning itself. And like a boss, I ate chicken with billion stars in the sky. Post my dinner, spent my time doing some stargazing and clicking pictures of stars. One of the main reasons, I travel to mountains is my never ending love for stargazing.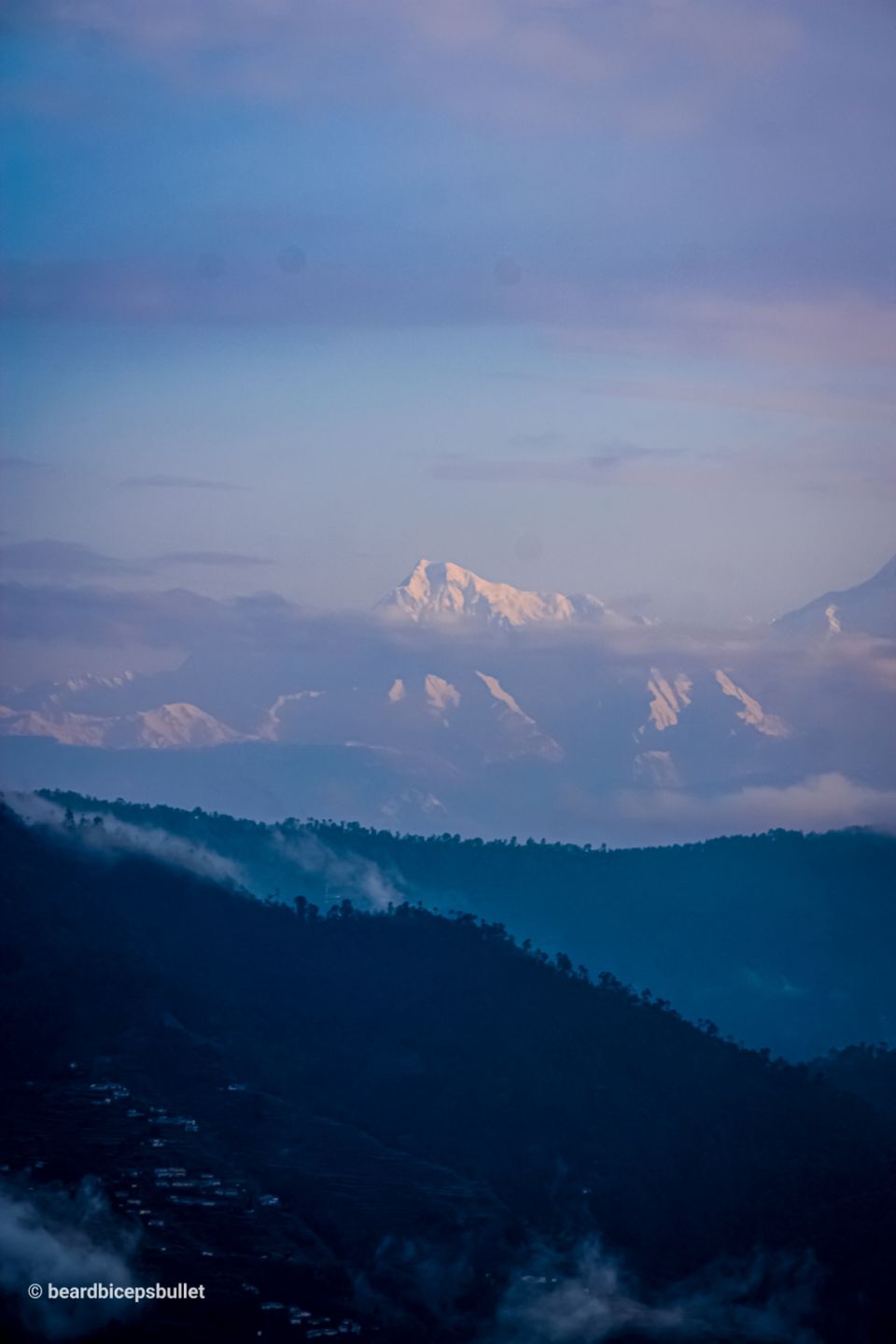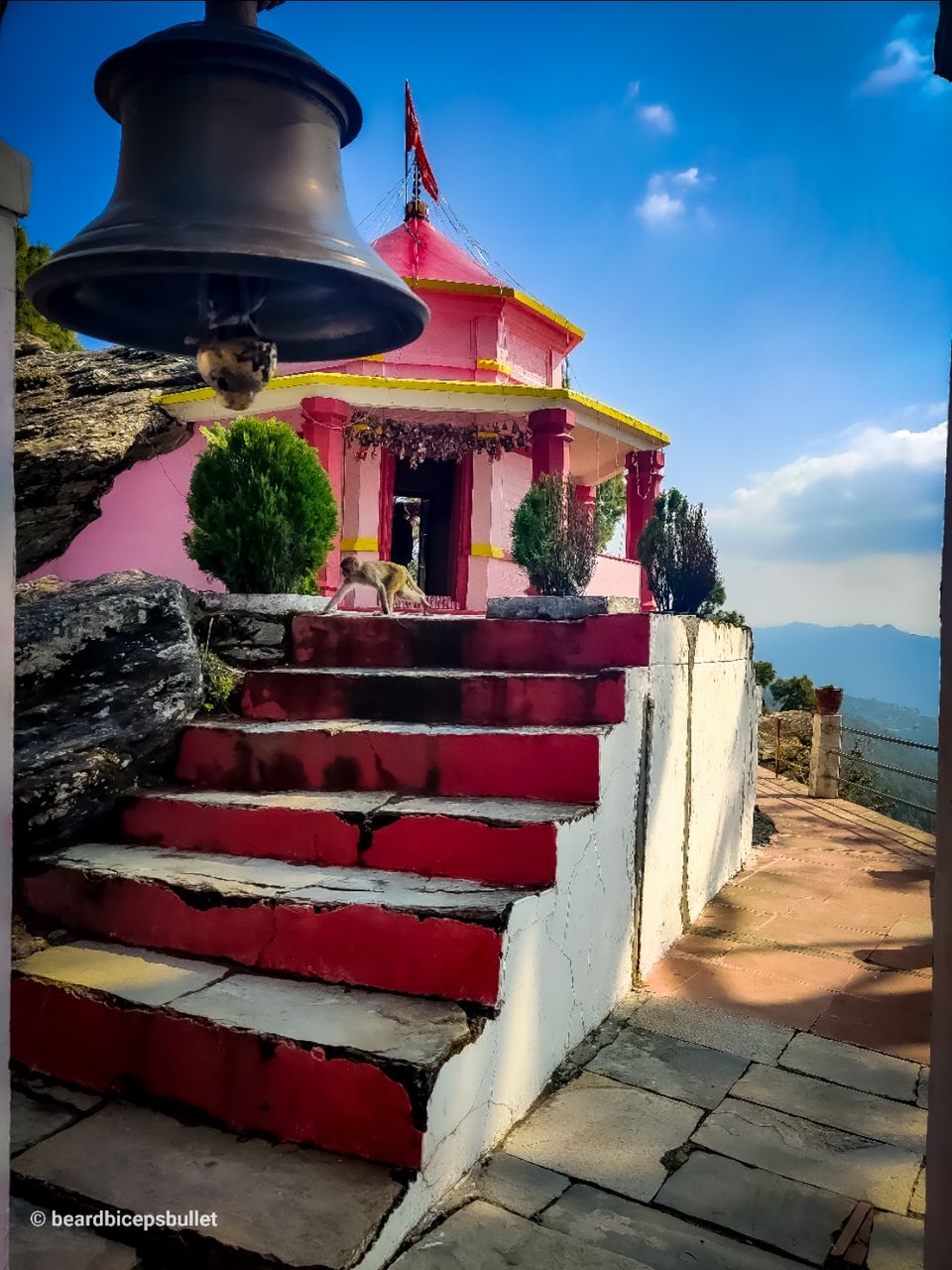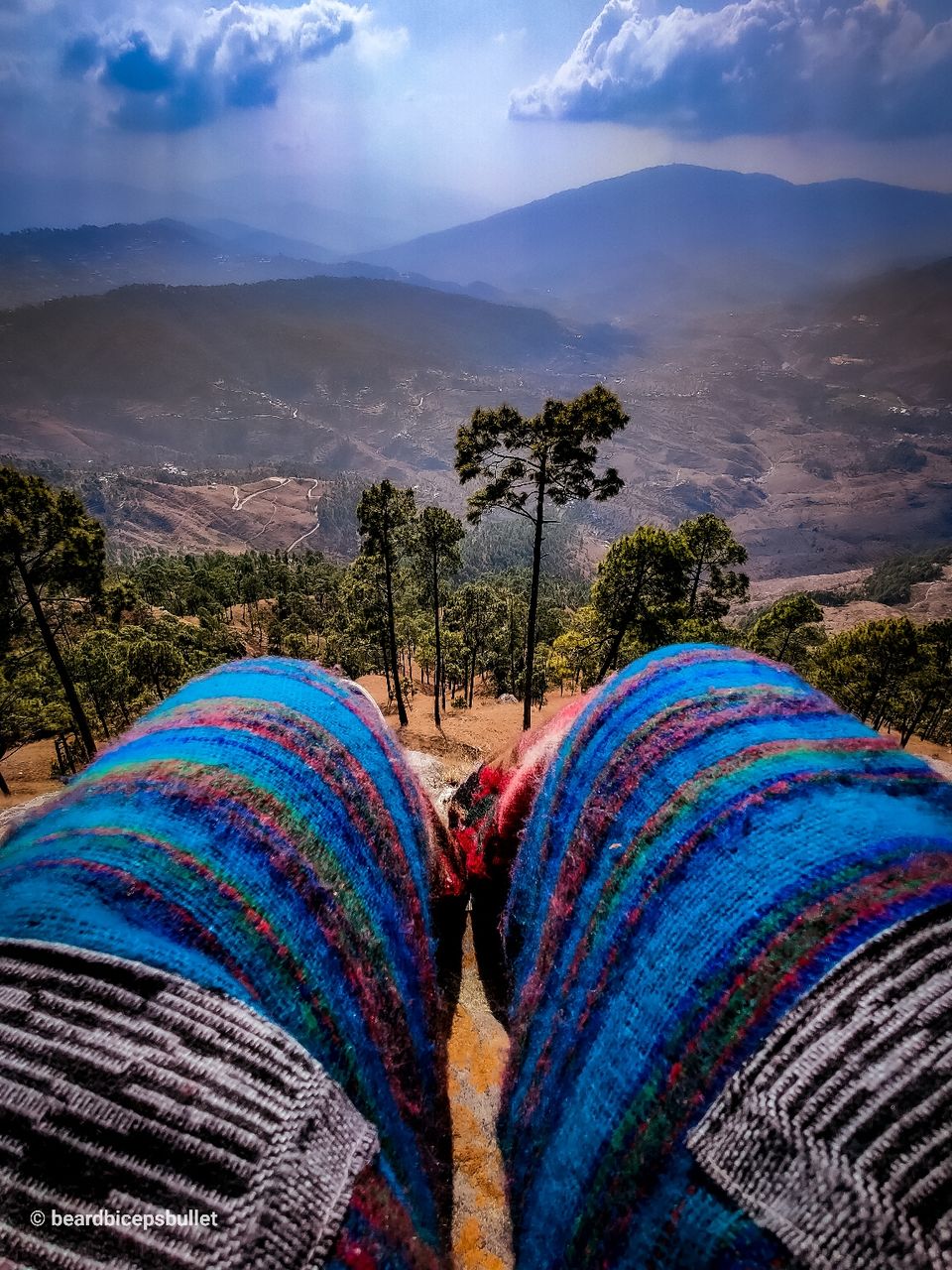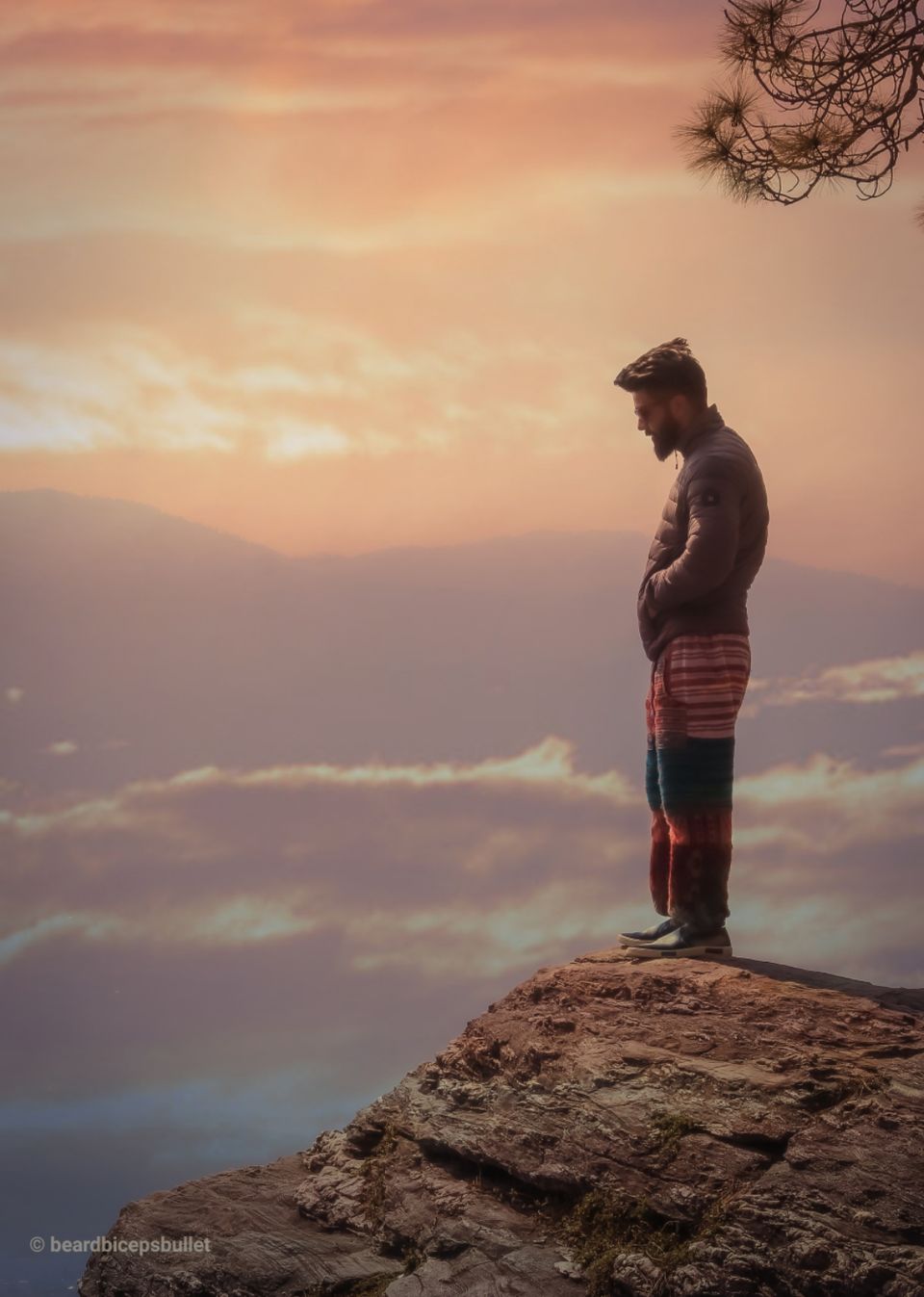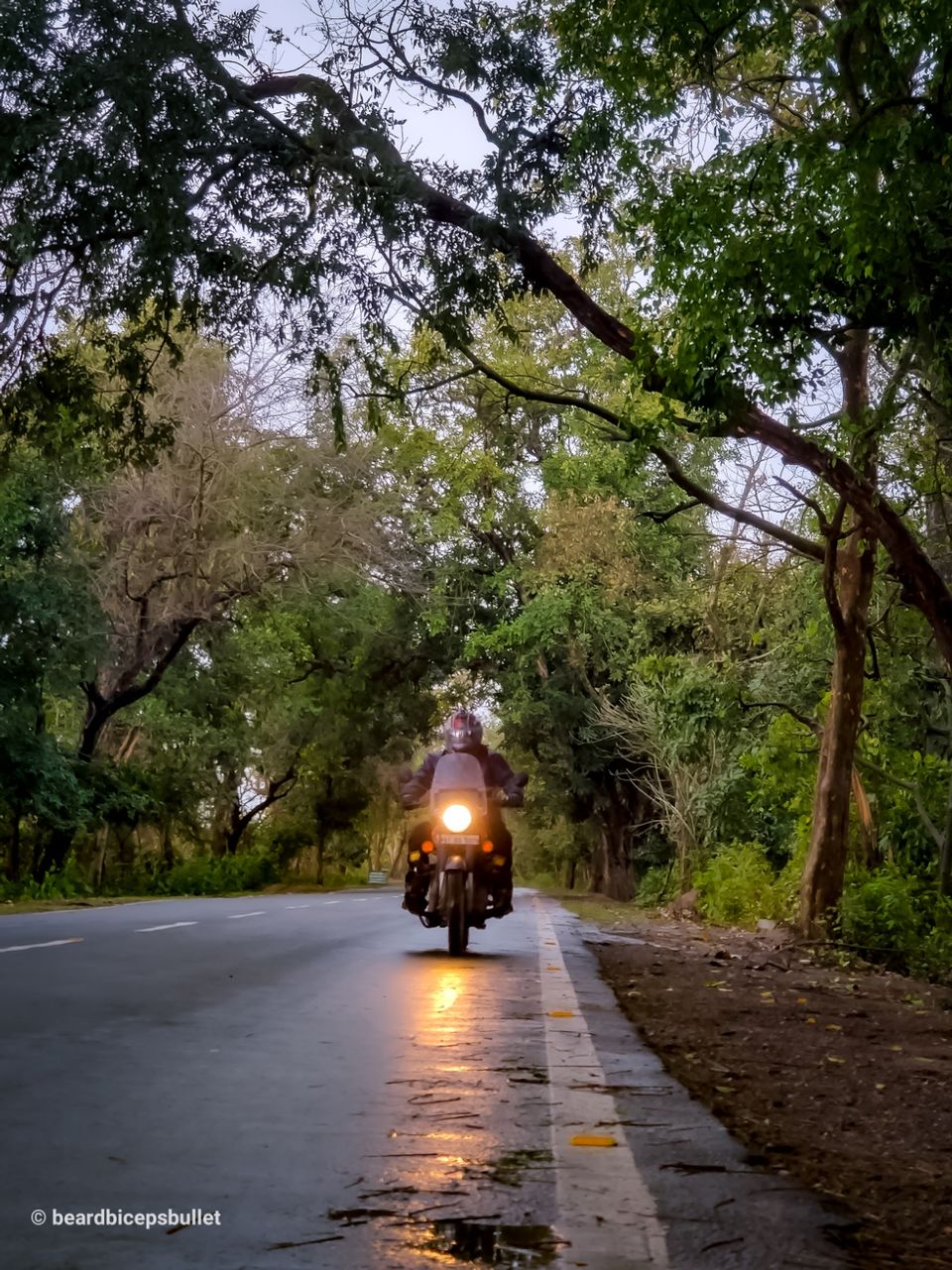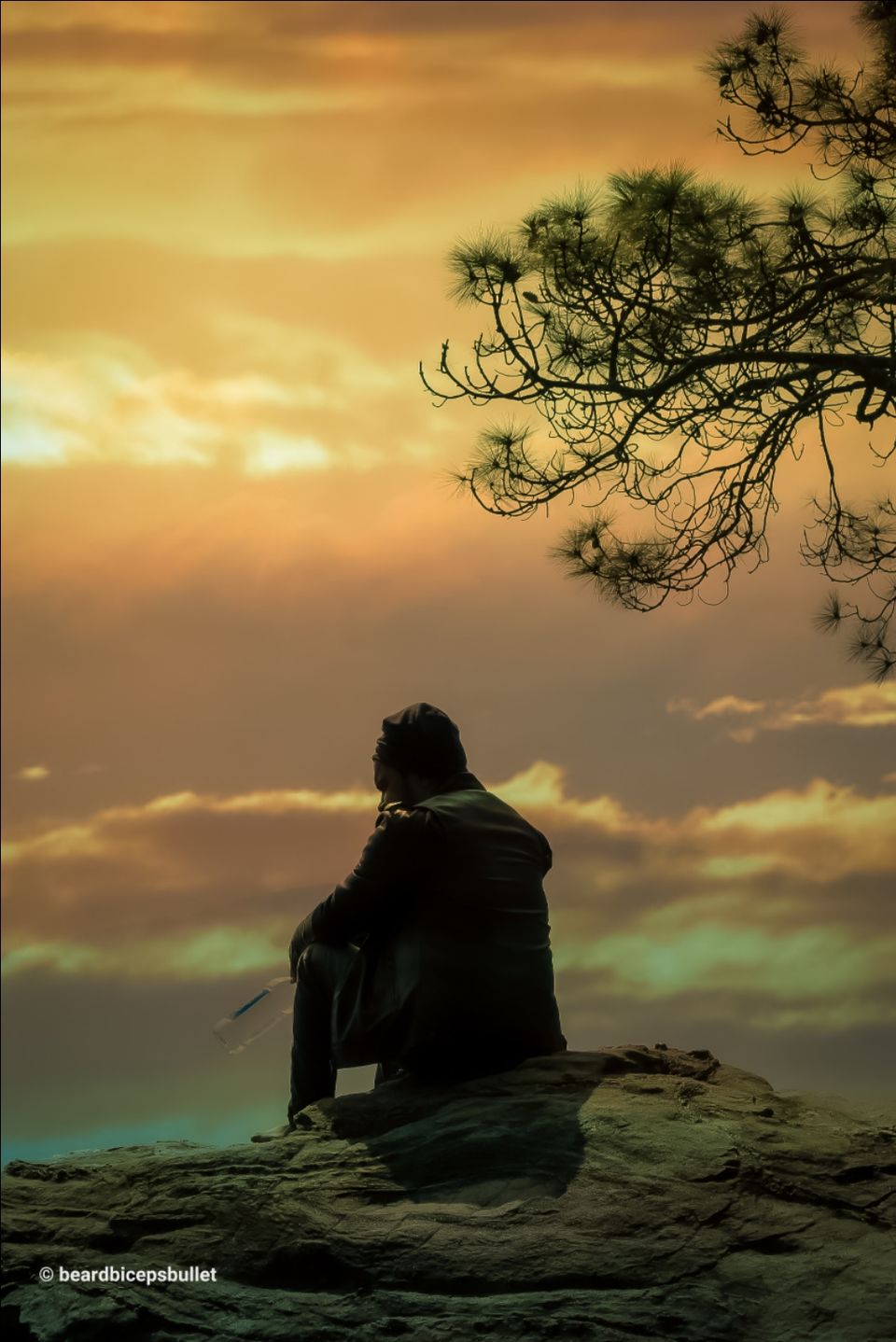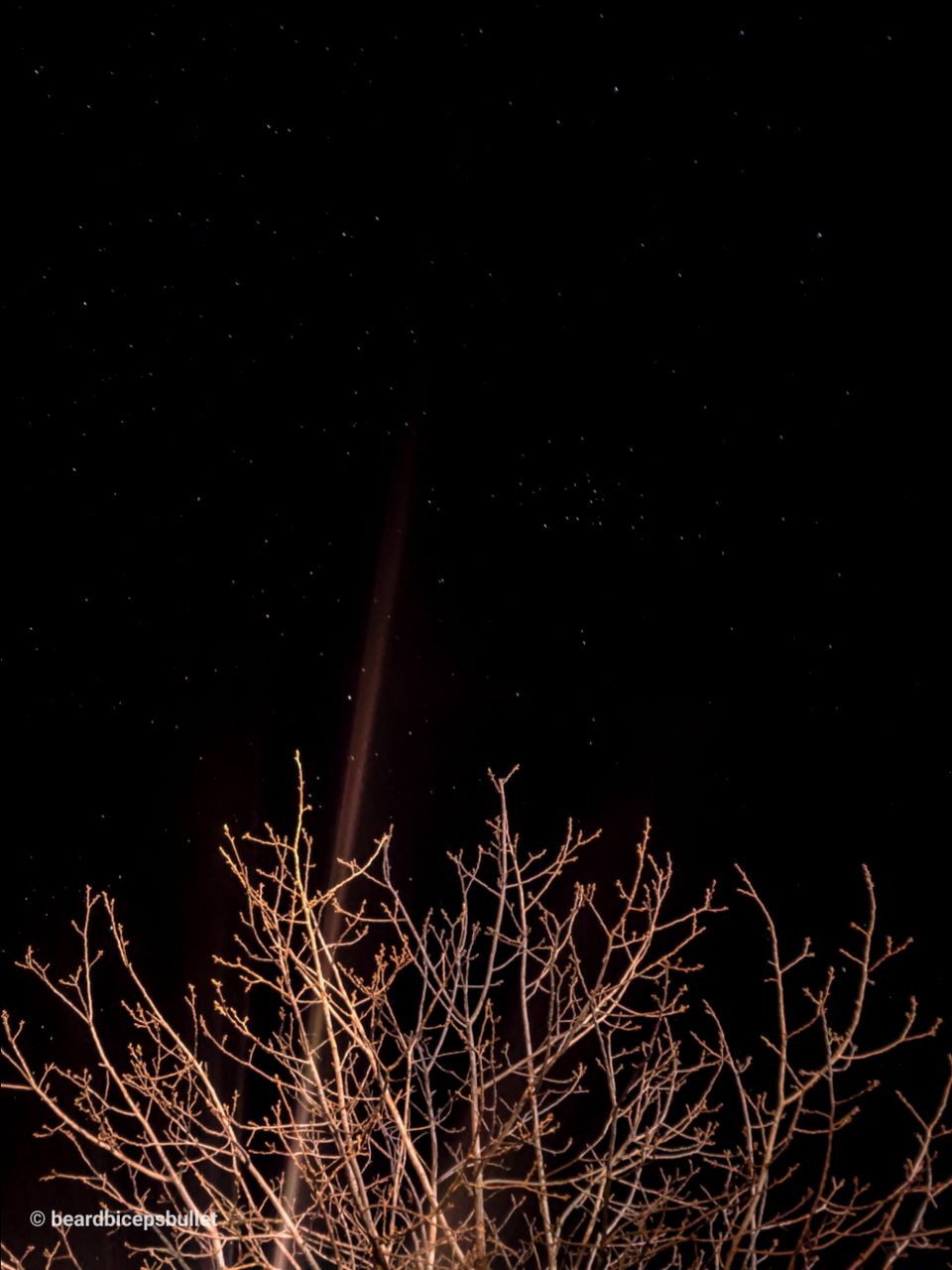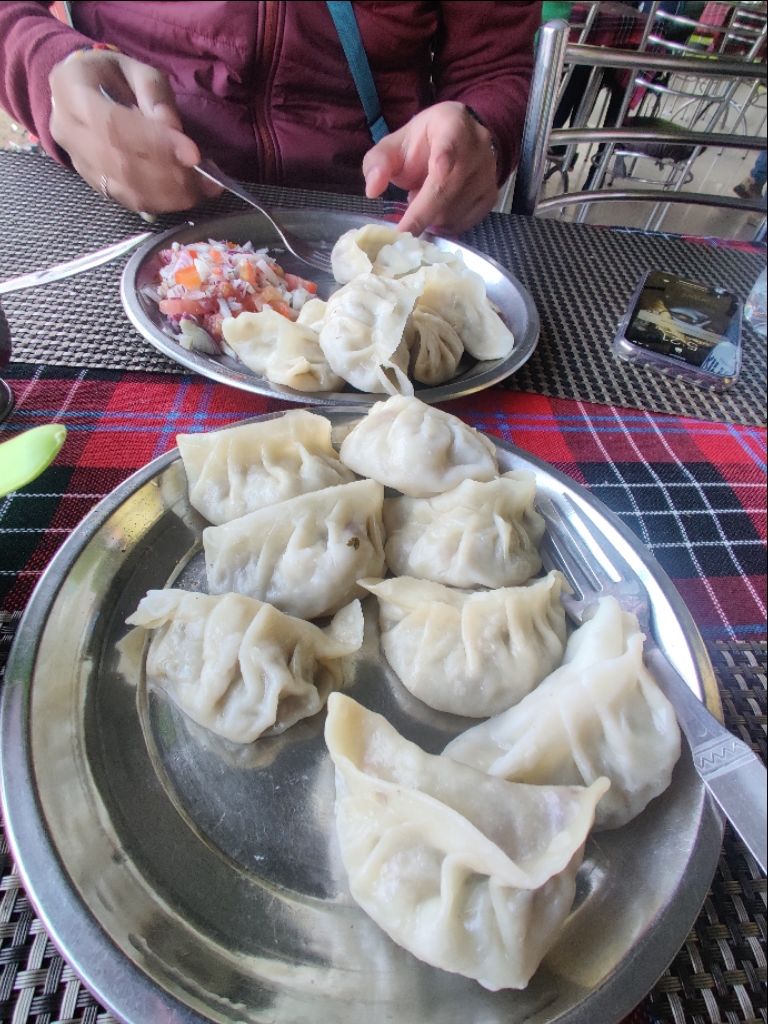 Kasar Devi to Delhi
Plan was to wake up early and leave asap for Delhi but it's the last day of the trip and it's a bright sunny day again. No way, I am leaving in rush, I told myself and sat adoring the Himalayan peaks again. Had my breakfast at the homestay only and planned to chill for another an hour sipping my hot chocolate.
It's 11.30 and I started riding back, everything was going good for first half an hour and as soon as I crossed the Almora, weather started playing games with me. And I started thinking, what if I repeated the same mistake, what if it starts raining again but somehow I convinced myself that I am going back only it doesn't matter if it rains or not.
It doesn't rain at that moment but I had the flat tyre. The worst that could happen to any biker on a ride but luckily there was a shop nearby. I had to waste almost an hour to get it fixed and by the time weather had changed drastically, it started drizzling again. I put all the rain gears at that puncture shop and started riding. I kept on riding and it started raining cats and dogs near Haldwani. Now it was difficult to ride, took a halt at a petrol pump but there was no chance that it's going to stop. I had to take a call and I started riding again and once I crossed the Haldwani, it stopped raining. Moreover, there were no signs of rain at that place, I know it may sound weird even I was shocked to see this drastic change in just 100 metres of distance.
It's almost 5 and more 300kms to go, decided to go non-stop this time. Not a tough task but considering the last day or some last hours of the road trip are always tough but hell yeah I did it and reached Delhi at 10.30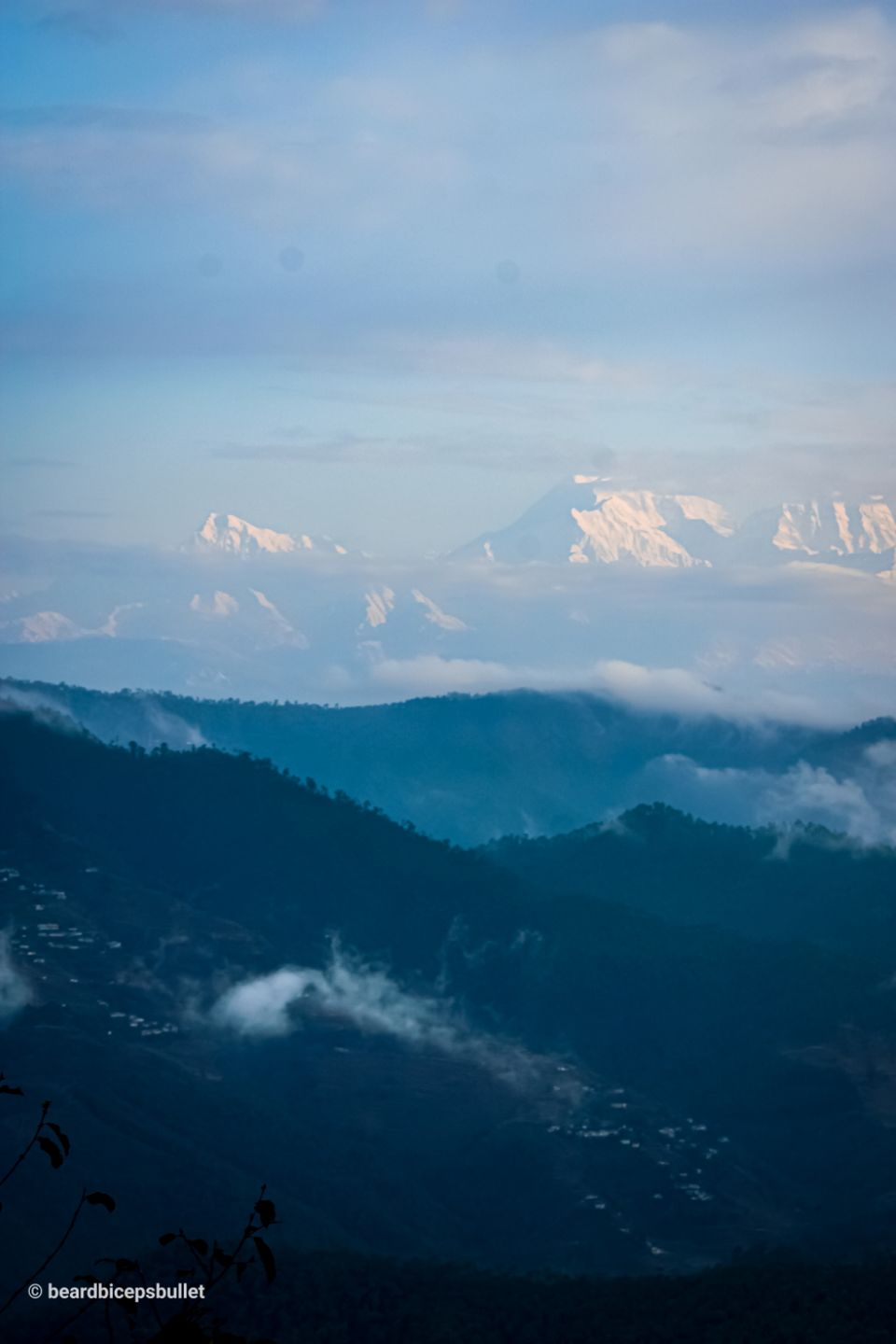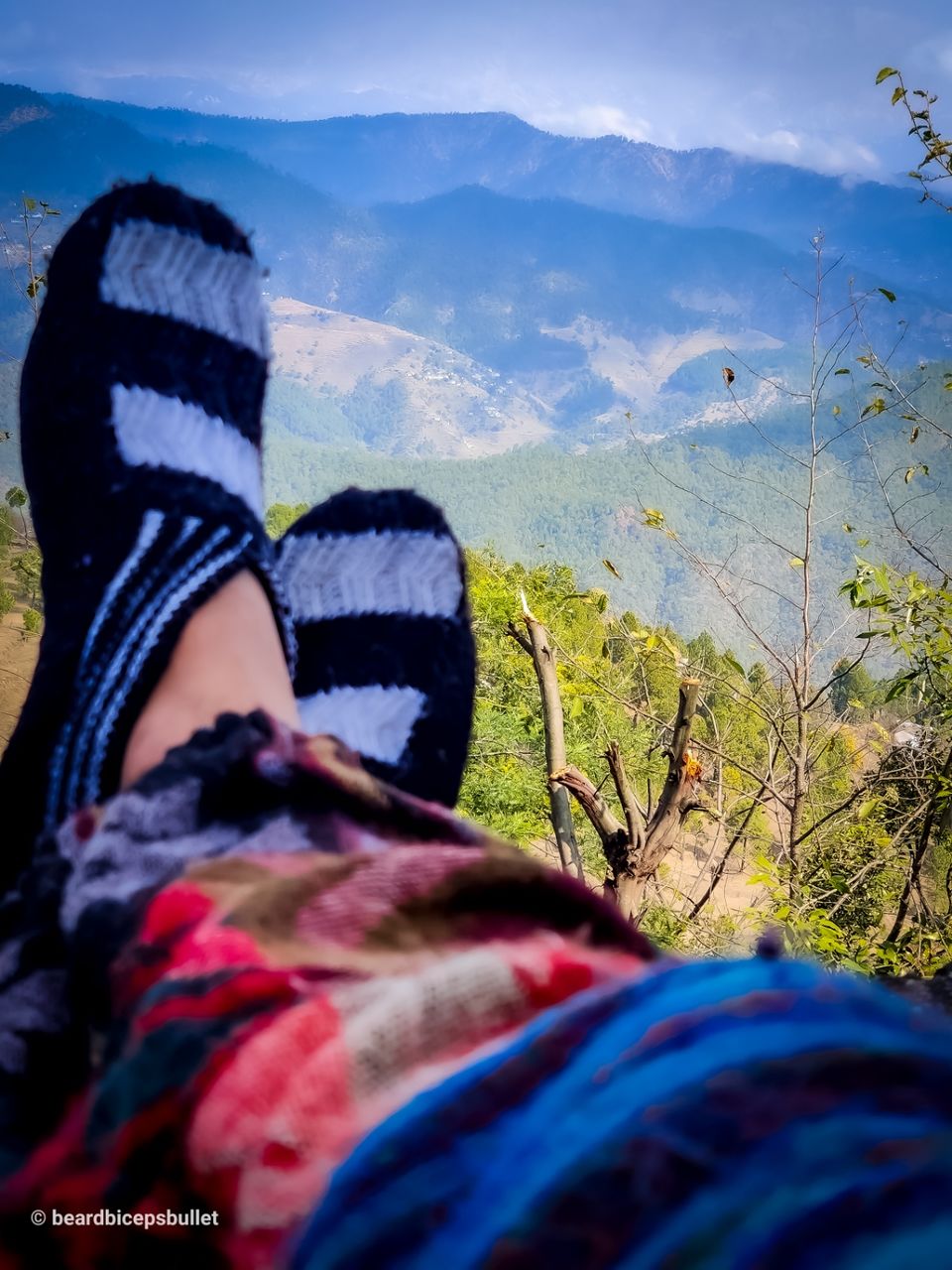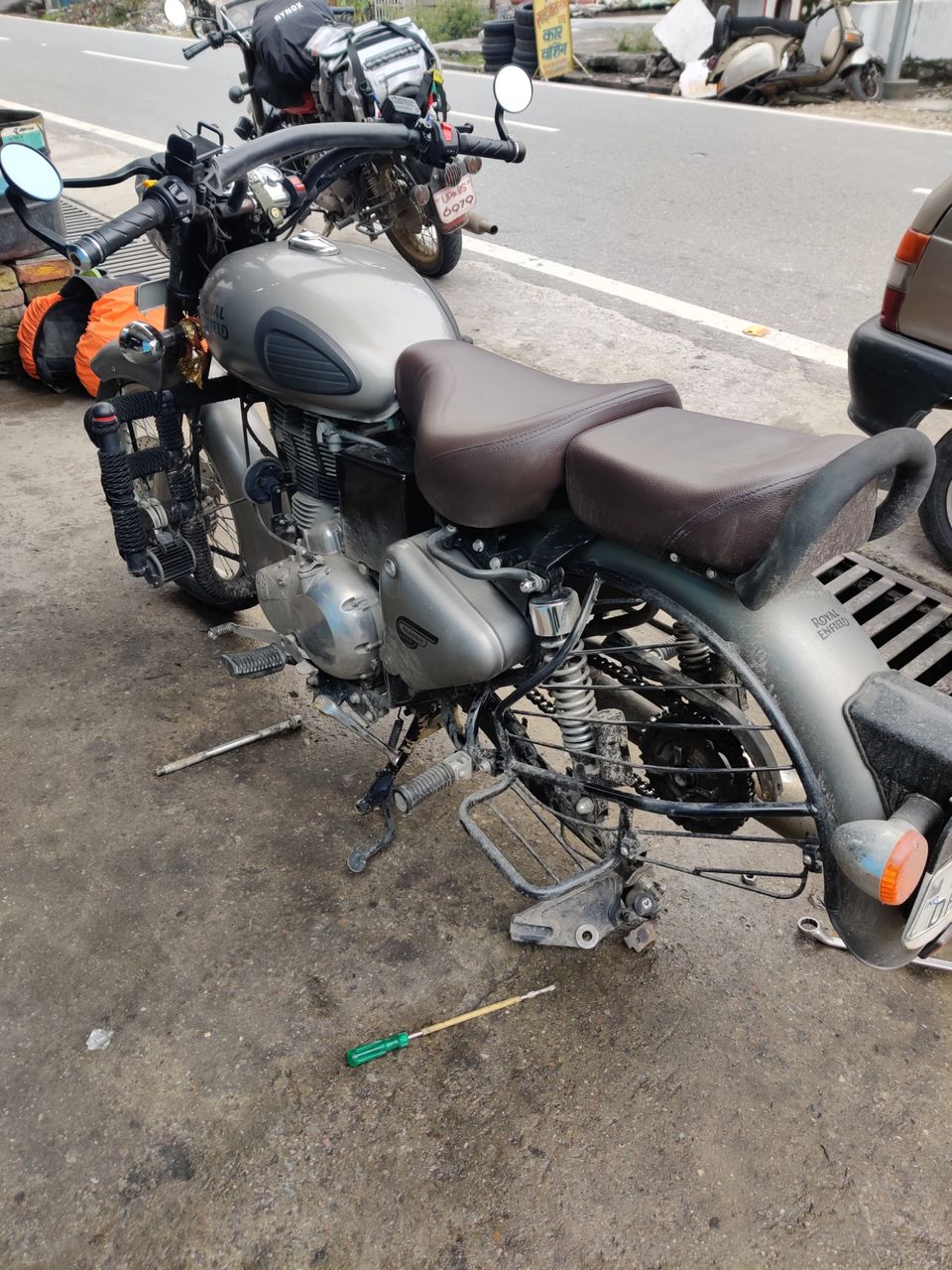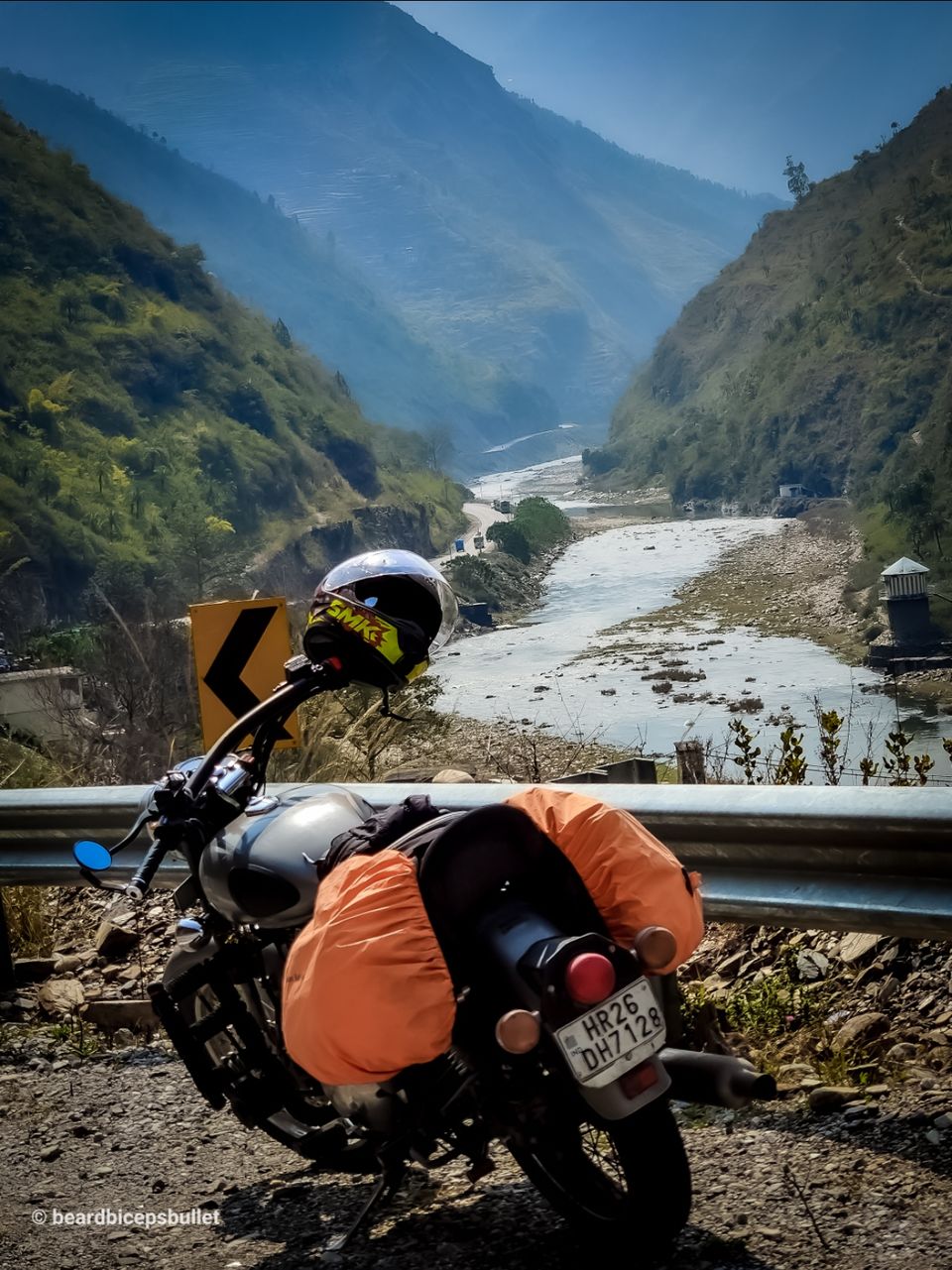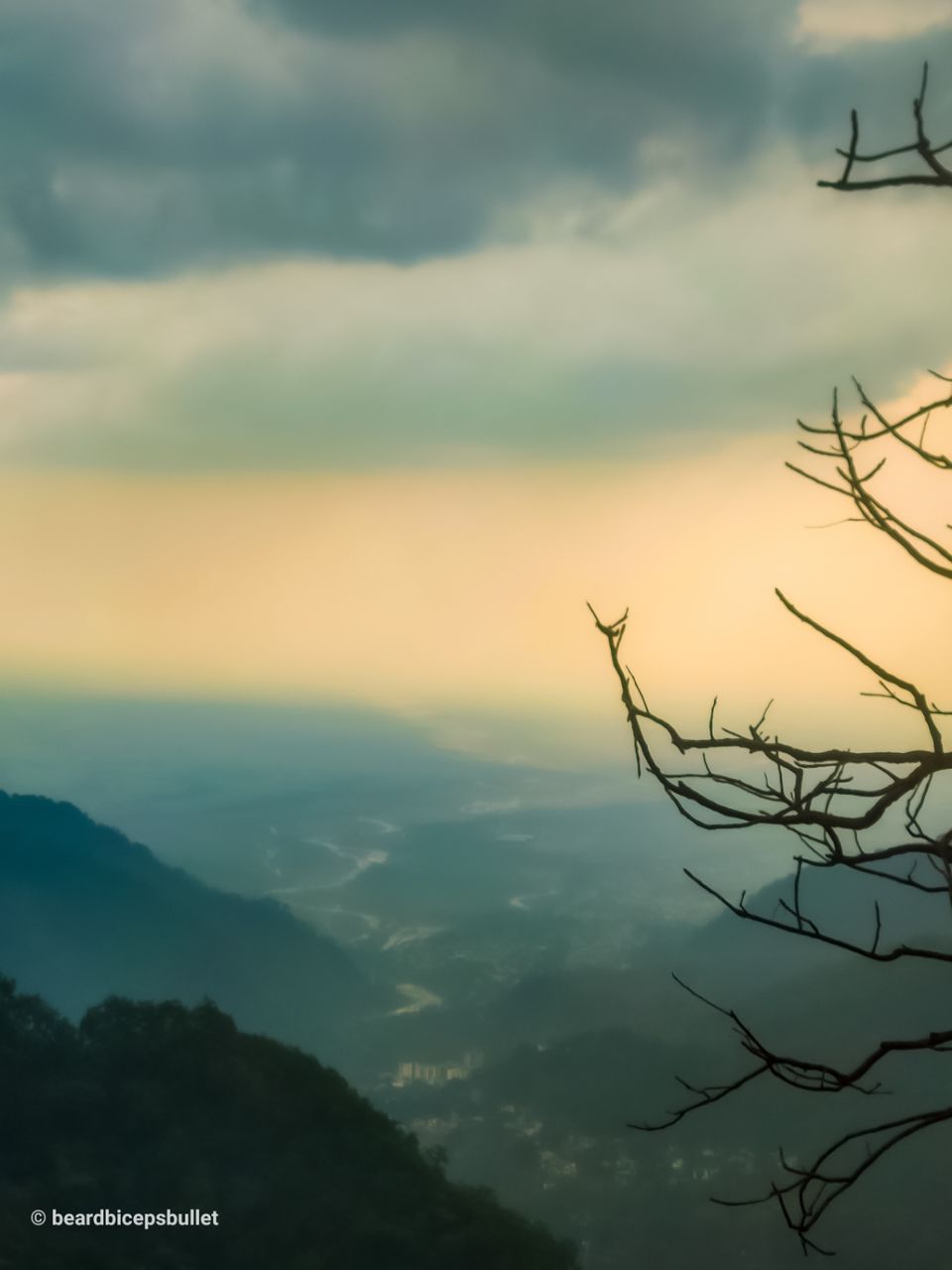 Glad, I had this road trip before the lockdown. I have  some memories to cherish until my next trip.