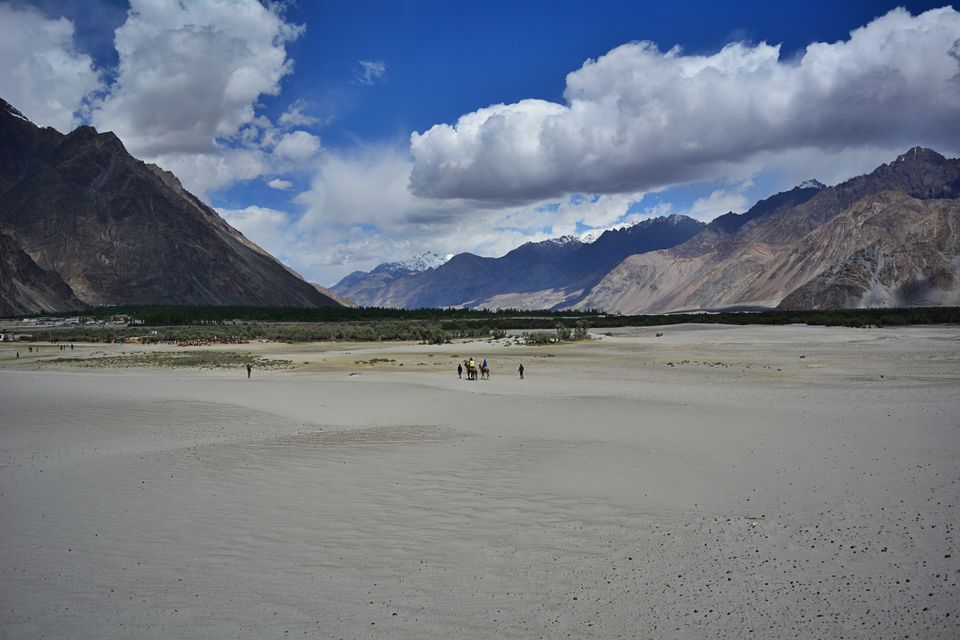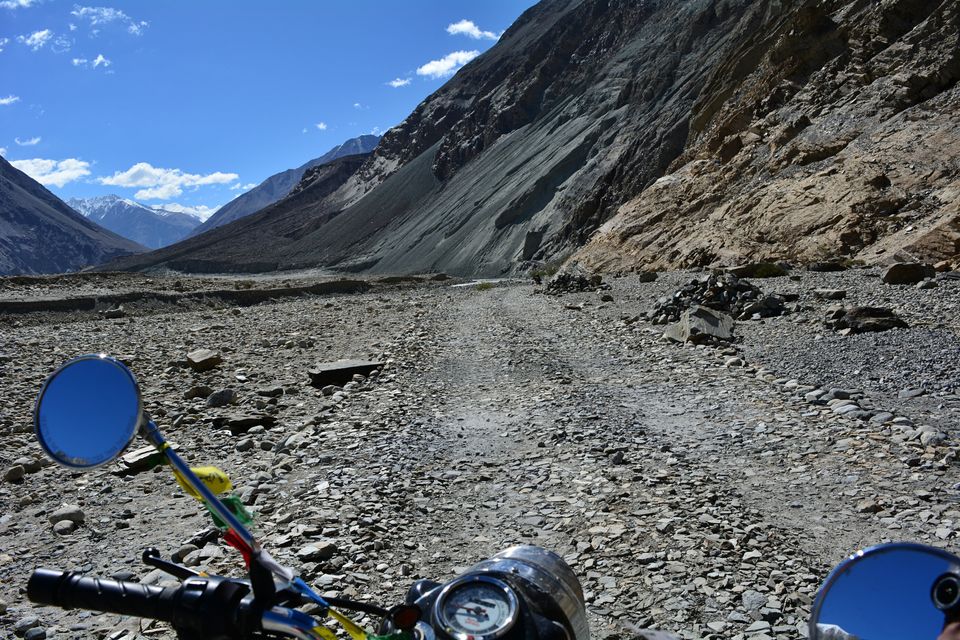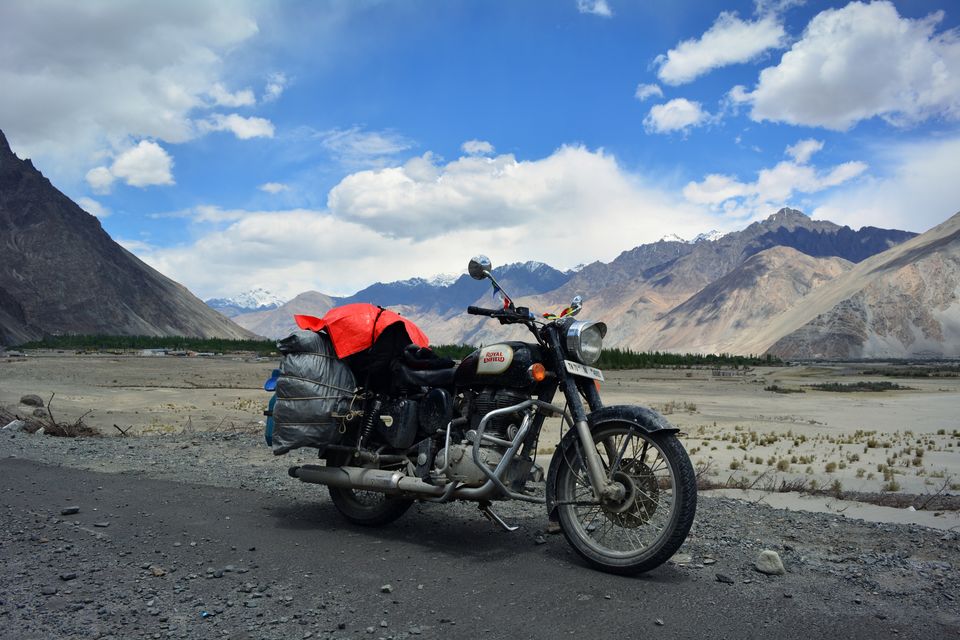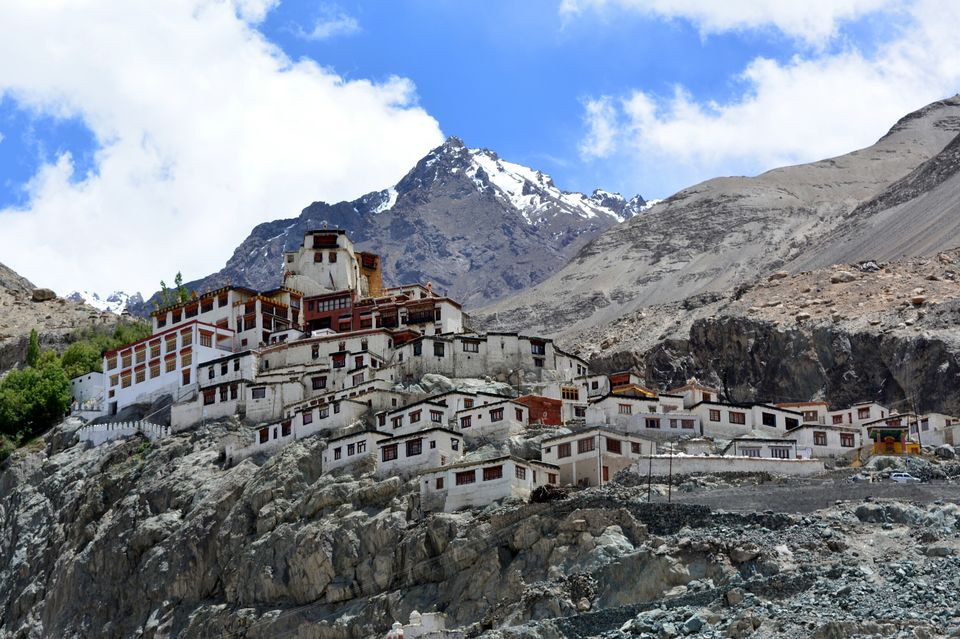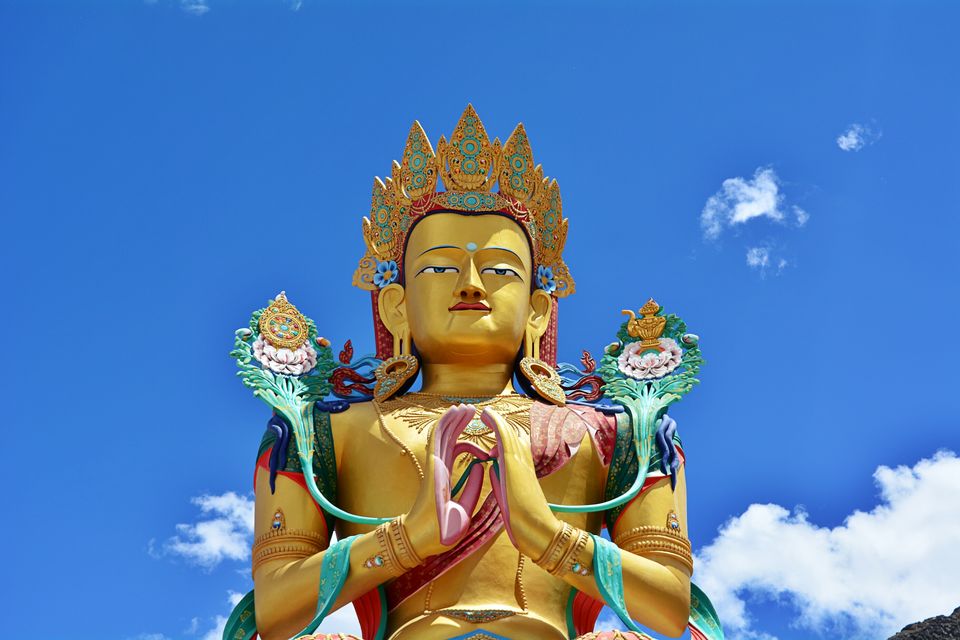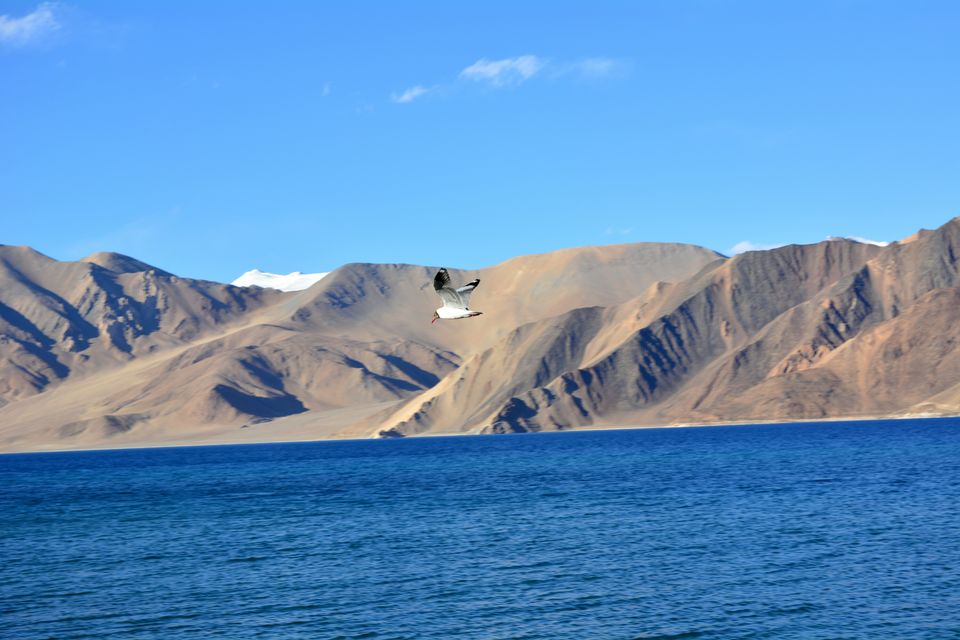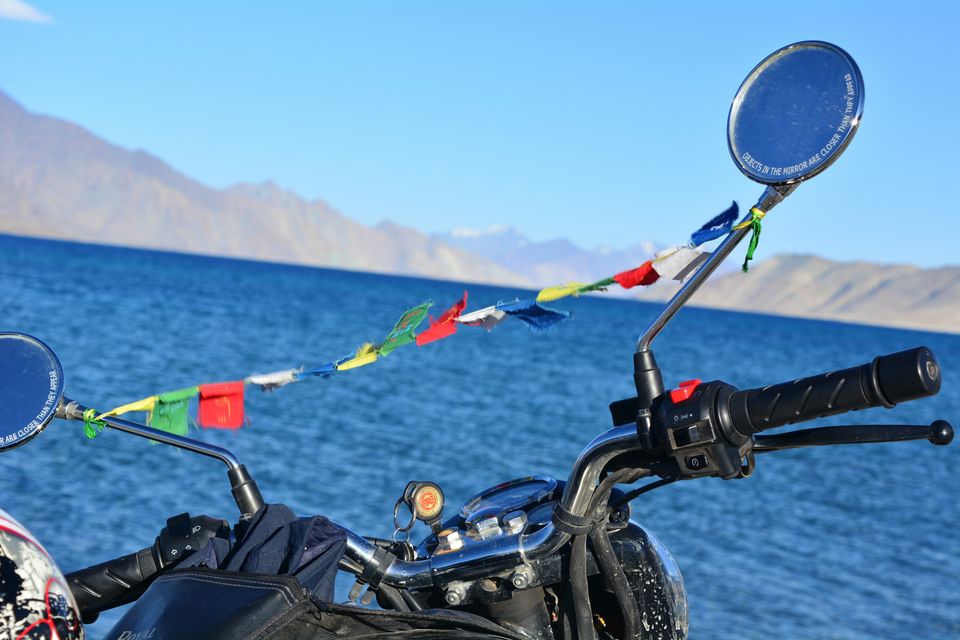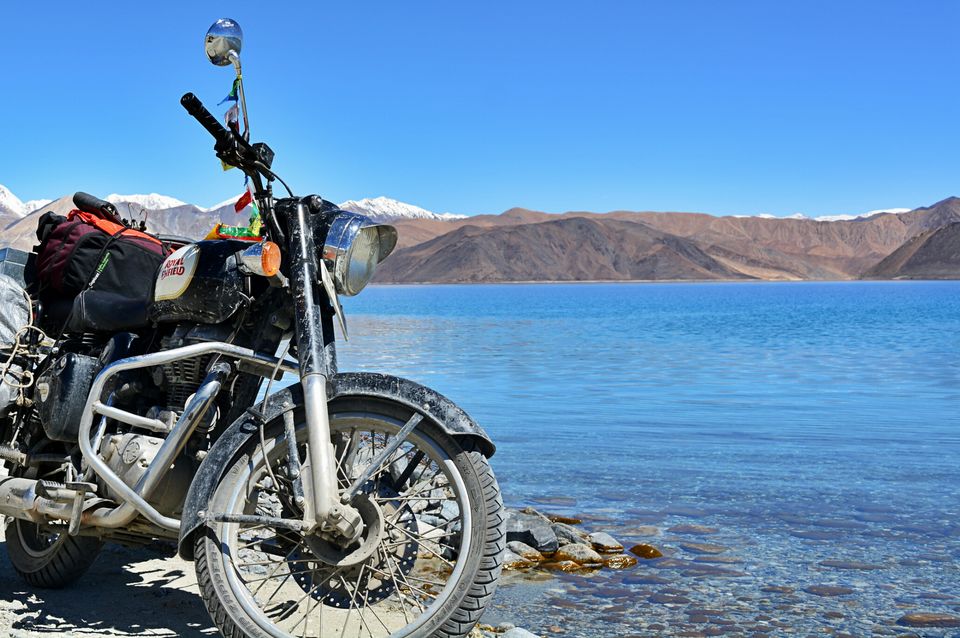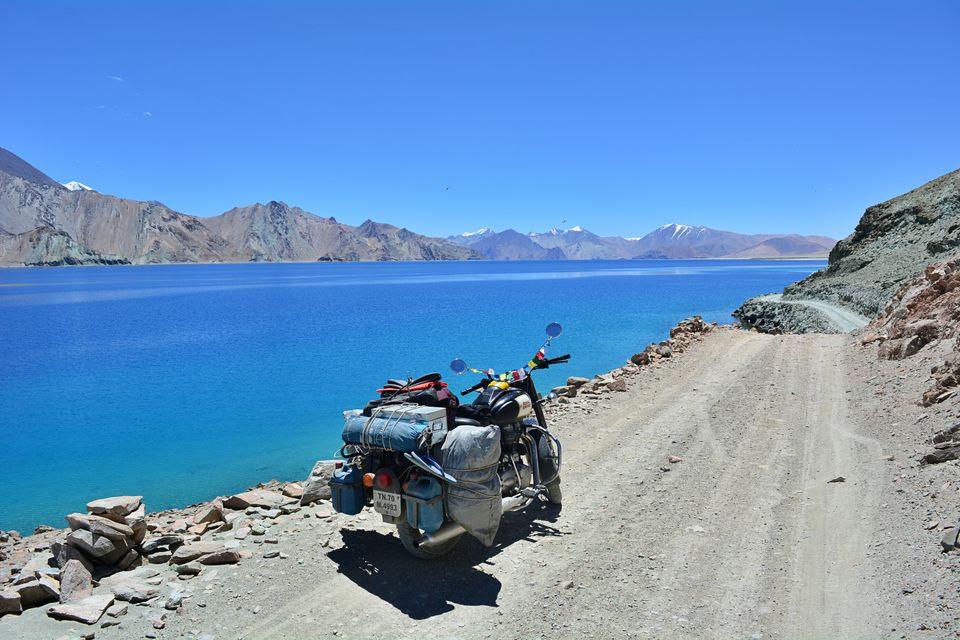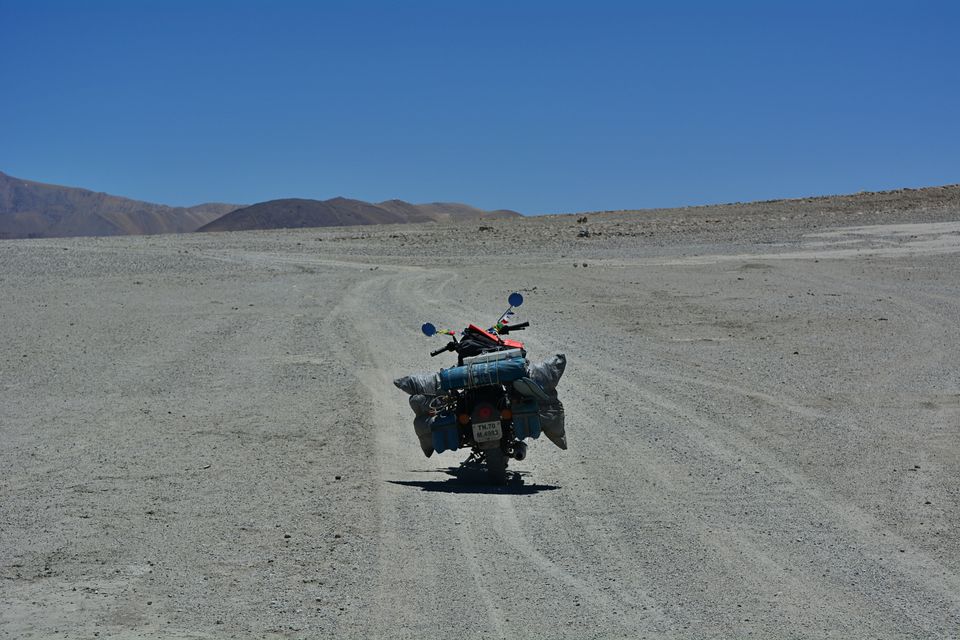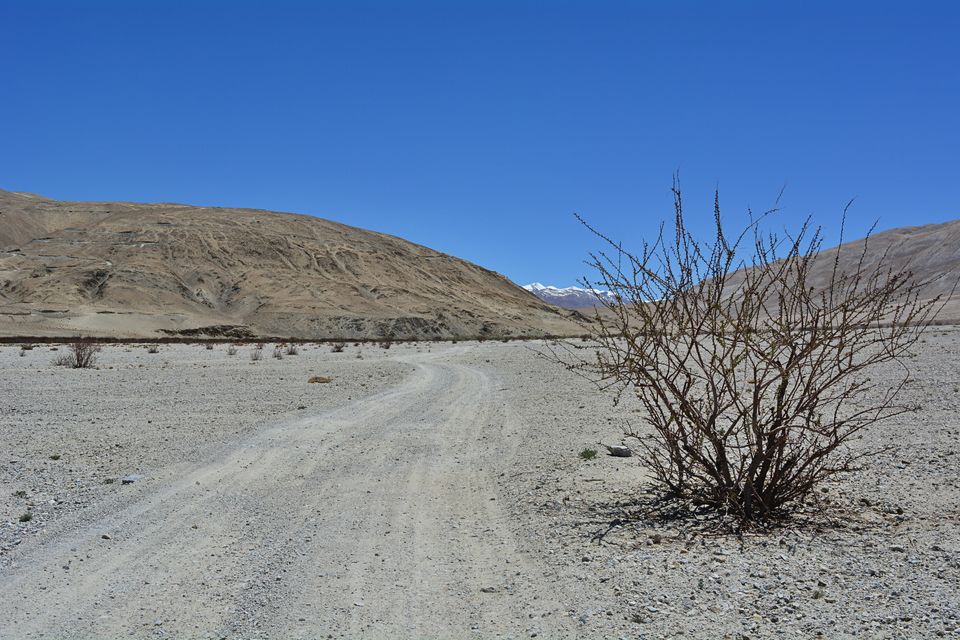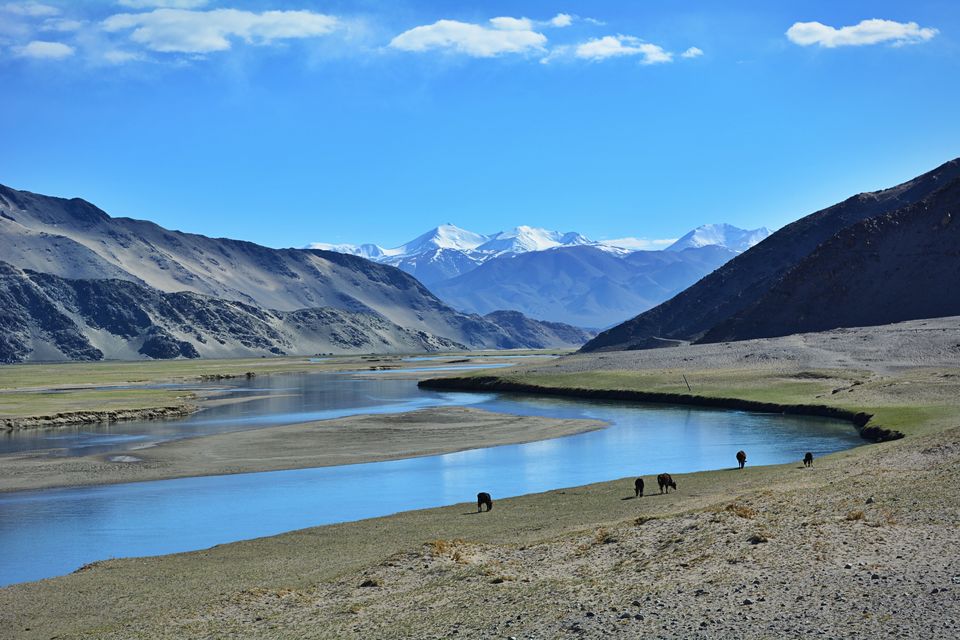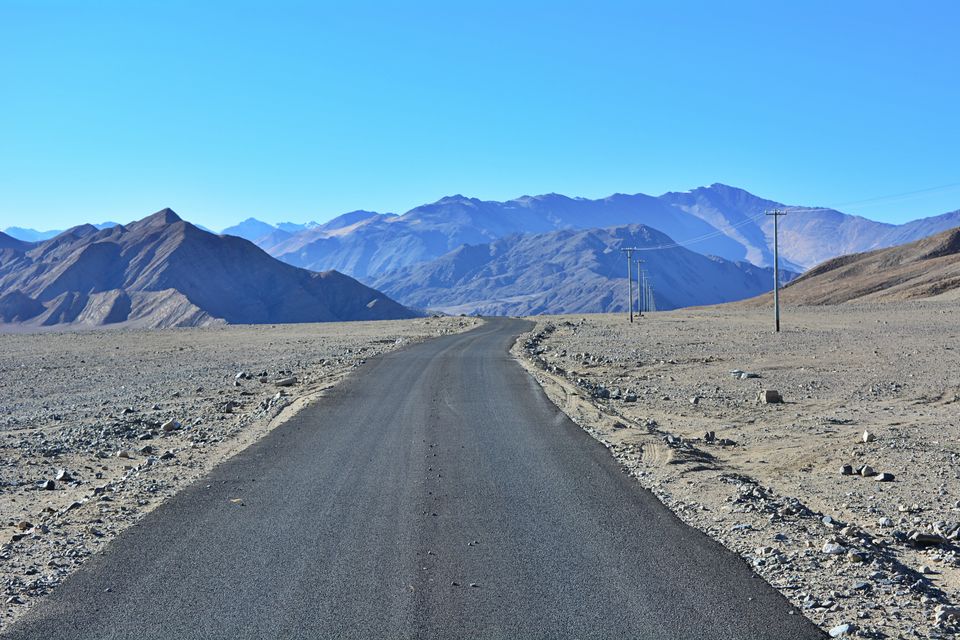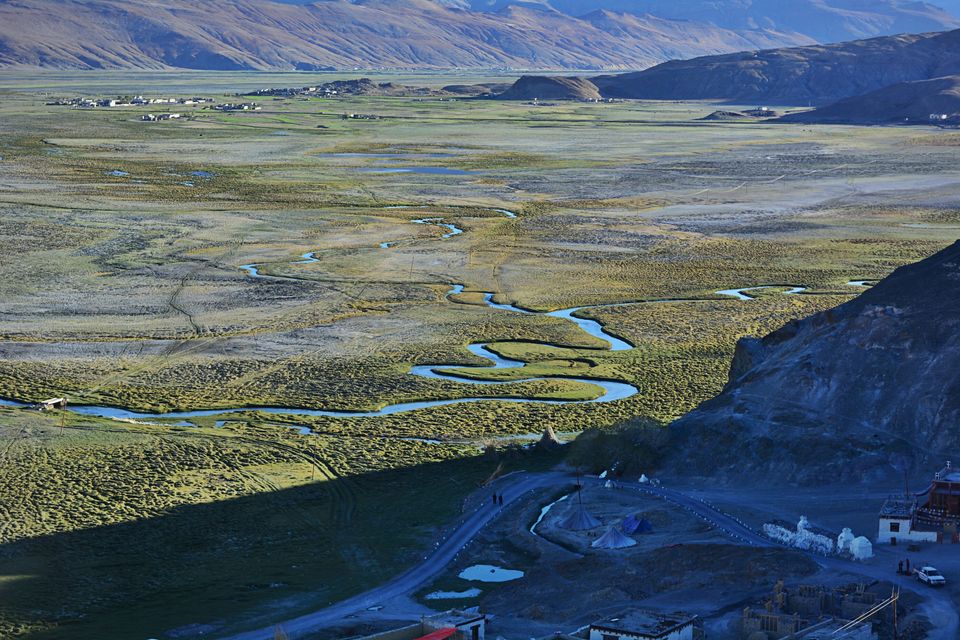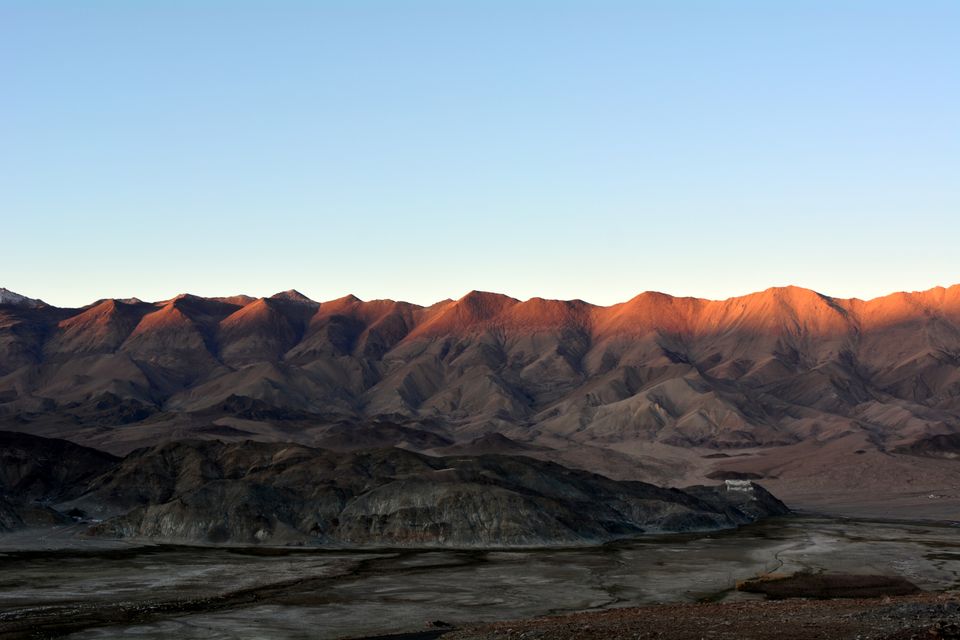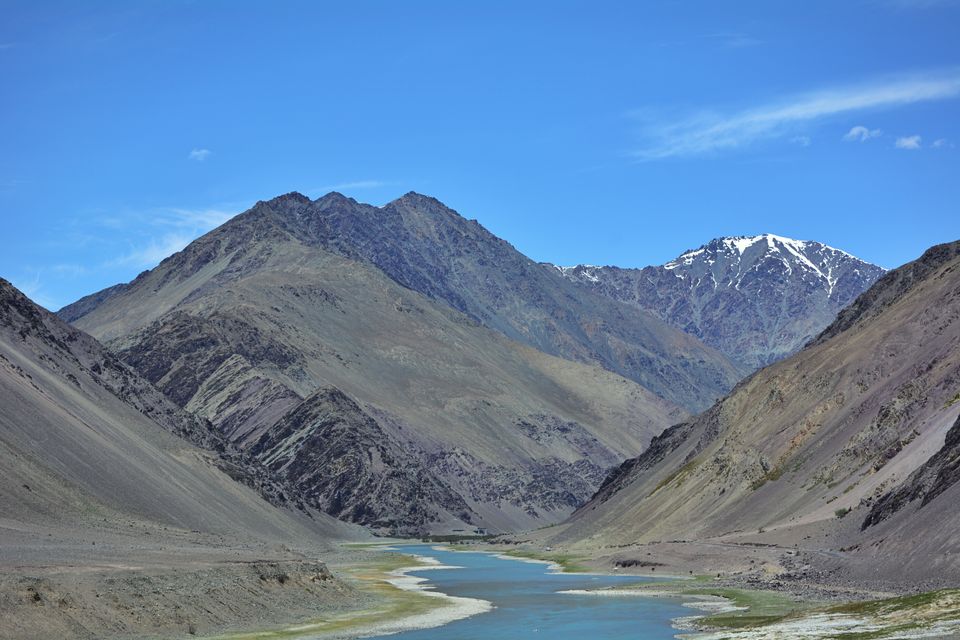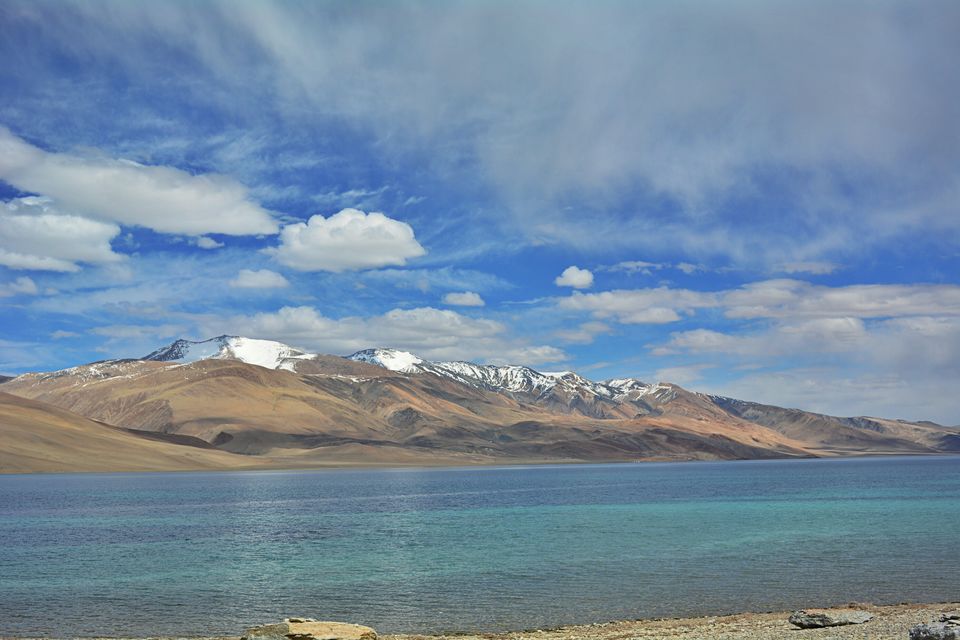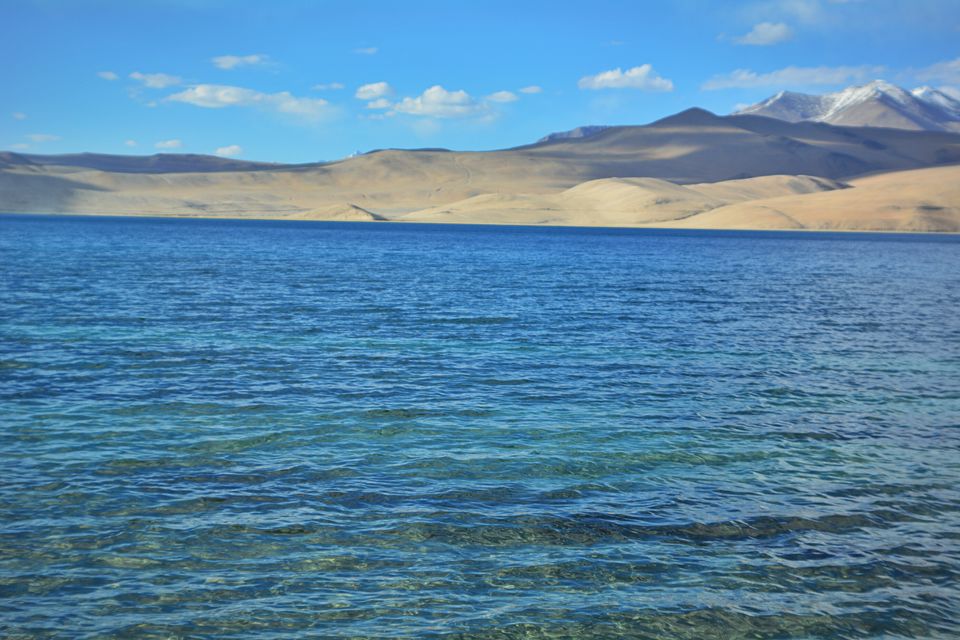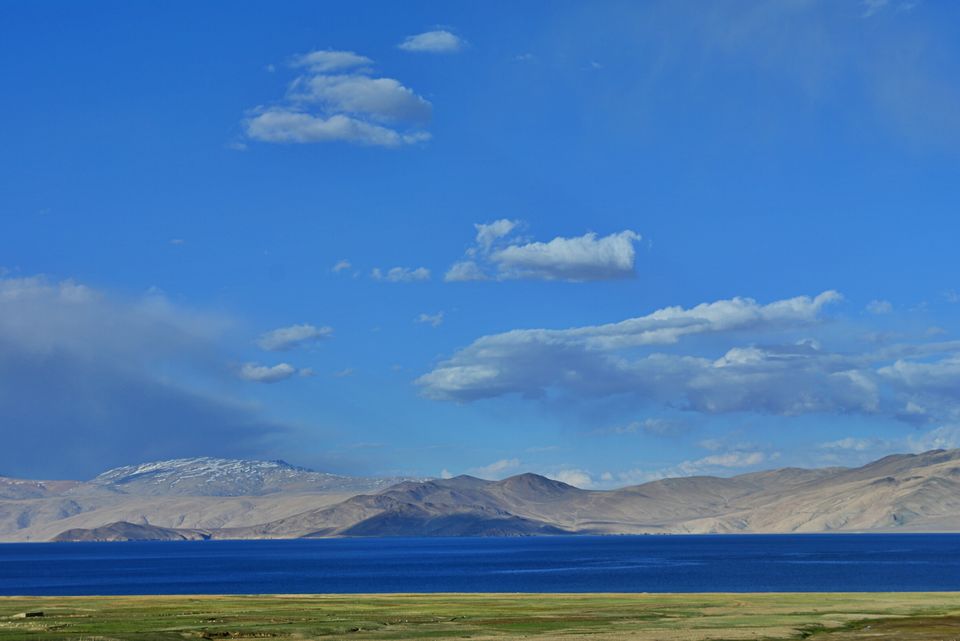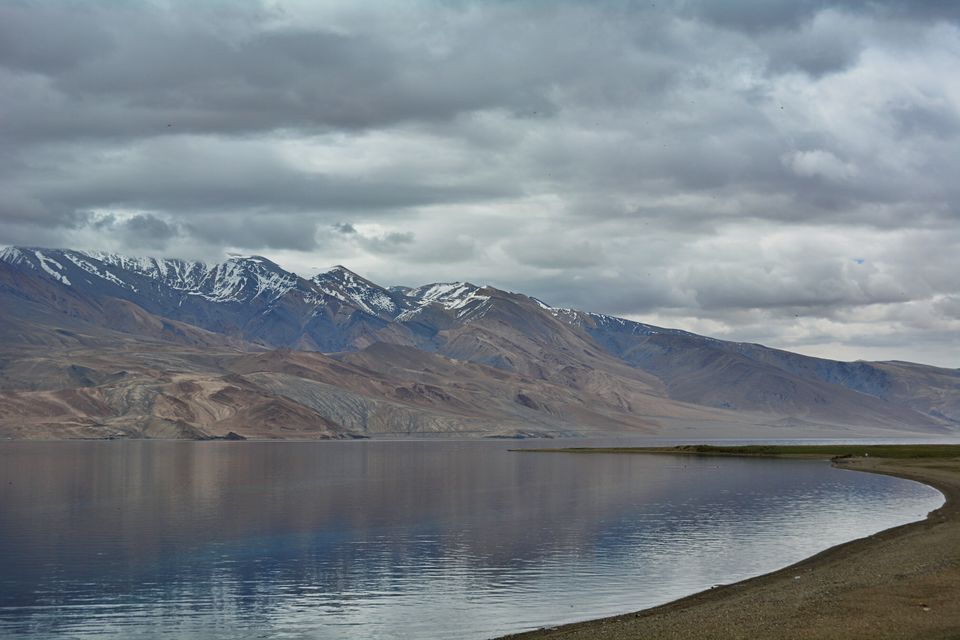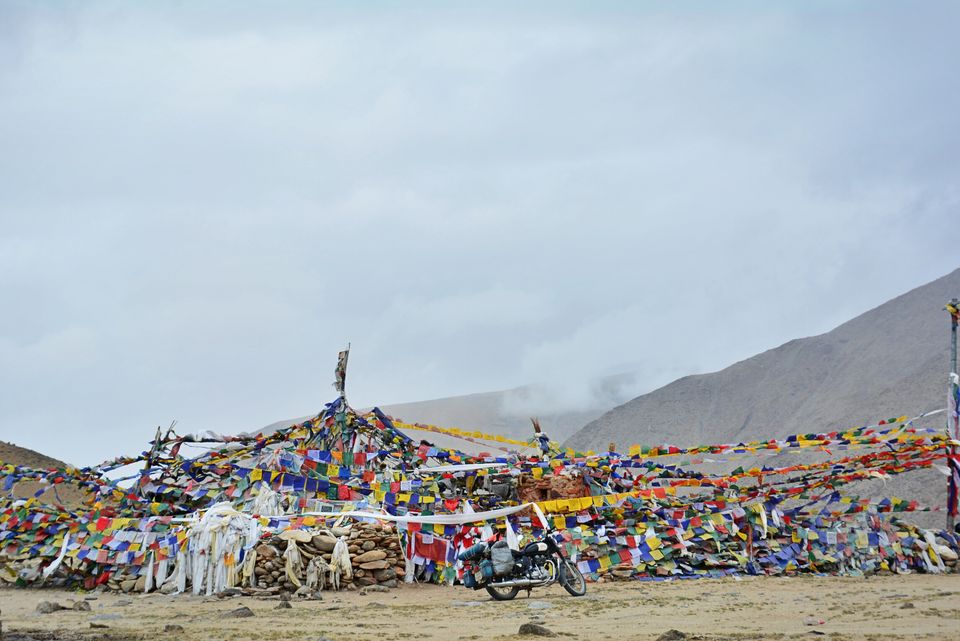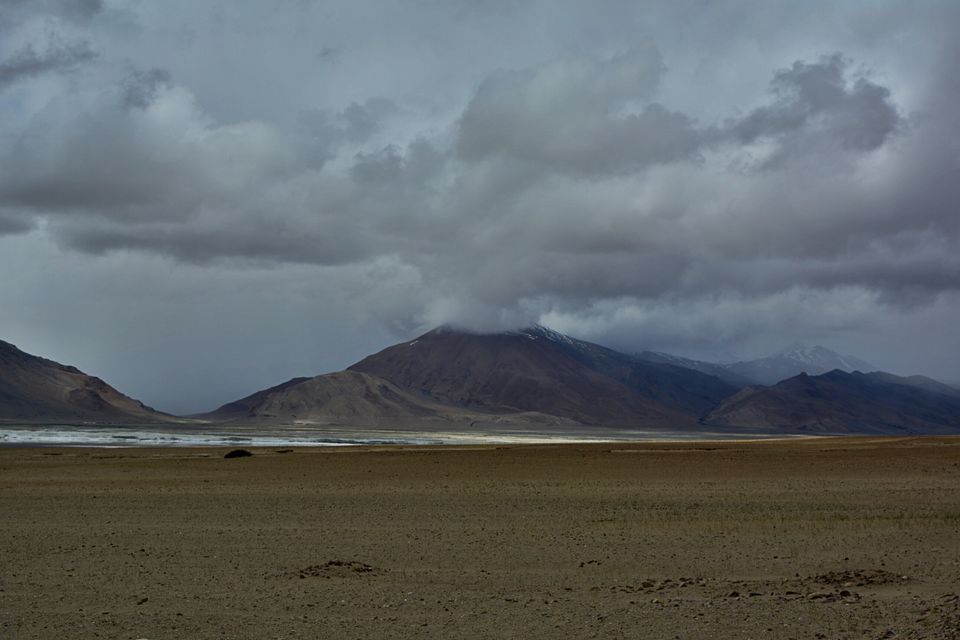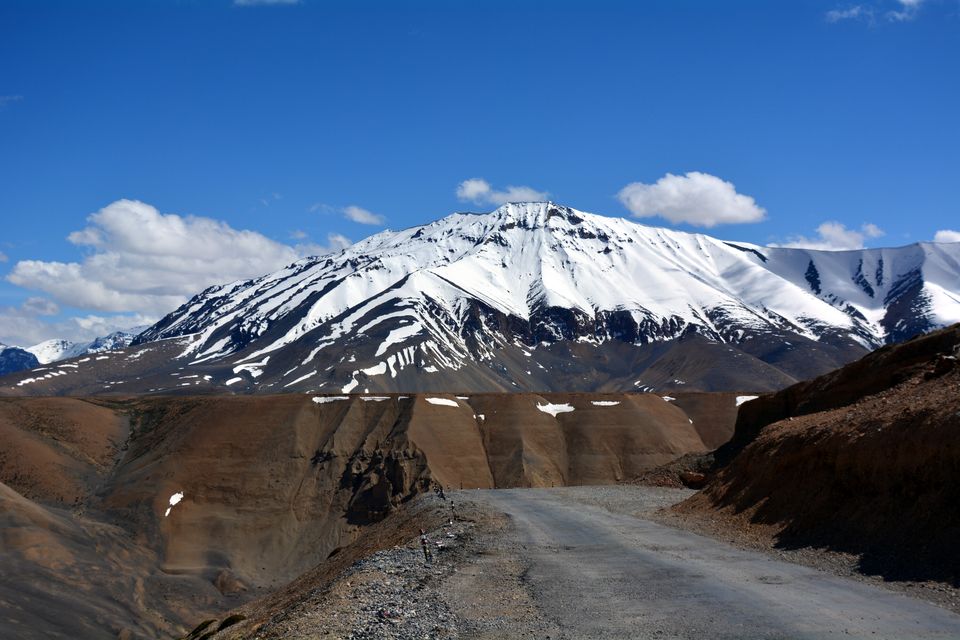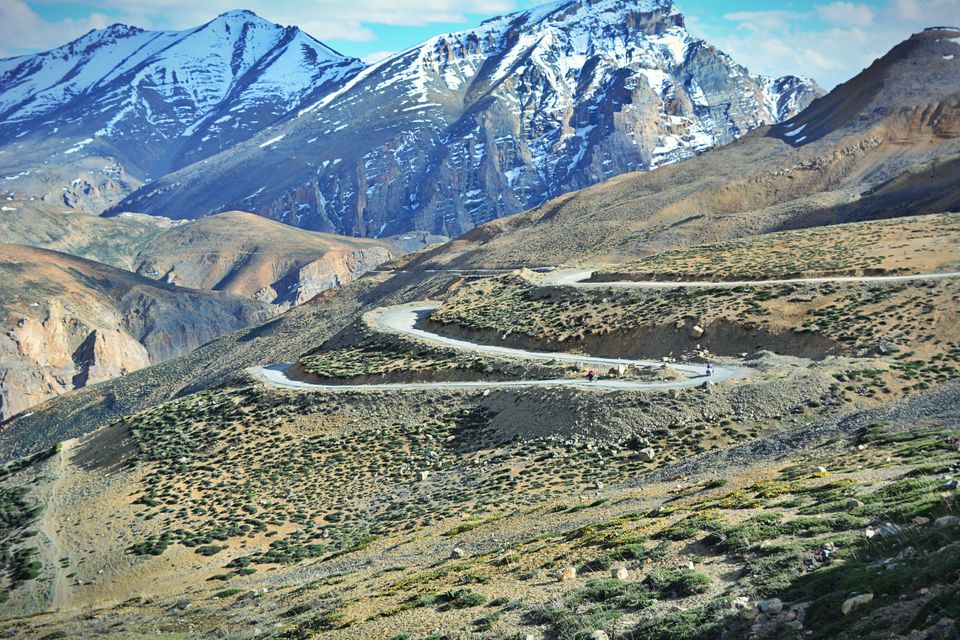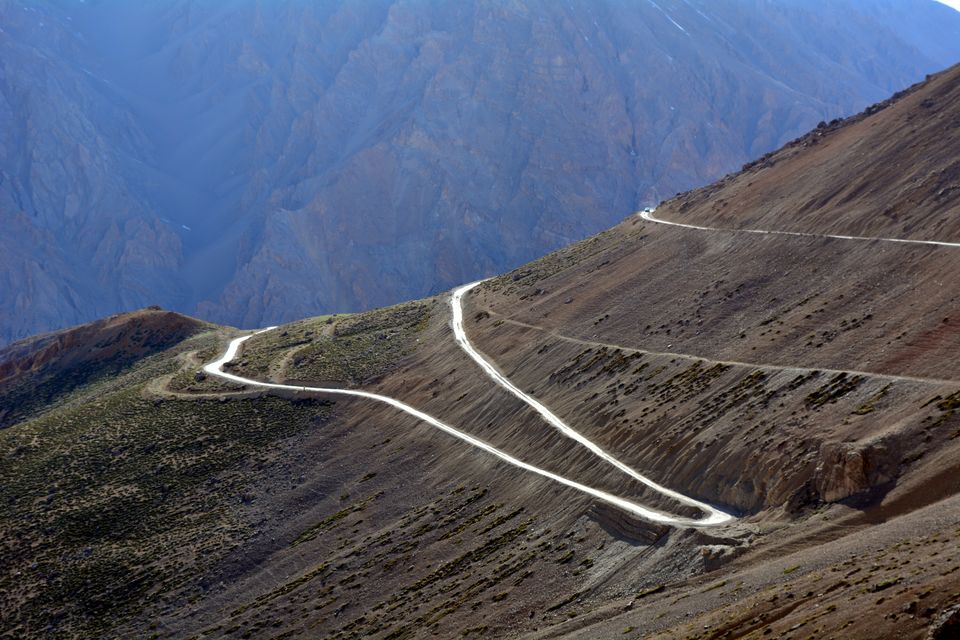 "People don't take trips, trips take people".
John Steinbeck
Story continued...
I wake up, the thought of me "getting Leh'd" rams me like a speeding truck gone berserk at 60 kilometers per hour. After a long shower, I am at the alluring main streets of Leh. The place is adorned with remnants of Buddhism giving way to Buddhist prayer flags and prayer wheels which can be gently pushed to let the prayer rolls inside invoke the almighty. The market place, filled with Tibetan handicrafts and memorabilia as like the military vans and armed soldiers. I, window shop to the level 17000.
I get my inner line permits for desolated places and wend towards Spikut Monastery/Gompa. It has a huge prayer wheel and a Kali Mata temple. I guess I'll never understand religion but the view of rocky, steep mountains which stand tall amidst azure streams, upon which frothy white clouds breath, and the touchdown and take off of planes and choppers remains a common sight here. A visual treat fit for a traveler's dreams.
1 pm. A 16th century, 3 storeyed palace built of mud, stones and wood, having a 7.5 meters statue of seated Buddha, made up of copper and brass plated with gold, silver studded with gems and precious stones, robed by pure silk with astonishing colors, with an enticing valley in the foreground on the banks of which one can spend endless evenings just looking into the vastness of Ladakh and reasonably concluding that it is this virgin nature of the land mostly untouched; I am at Shey palace. Unique in its beauty and unparalleled in its serenity, it is the lastingness I visit Thiksey Monastery.
Hidden in the folds of this mystical land is the monastery complex of Thiksey. One of the grandeur monasteries in Ladakh and Spiti, this complex is perched atop a cliff. An elegant 12 storeyed structure, a 49 feet Maitreys's statue (biggest one in Ladakh), truck loads of rare Buddhist relics like thangkas, impressive headgear, huge swords, old stupas and much more; It's exteriors painted in red, ocher and white, makes it more of a landmark, visible from miles standing tall in an otherwise brown landscape. A vantage point for nature lovers, for inspiring views of the flood plains of Indus valley, Thiksey doesn't disappoint.
I miss Stok and Stakna monastaries on purpose so as to get Leh'd again.
5 pm. Hemis Gompa welcomes me. Quite an ancient, 11th century, Tibetan style, biggest and the wealthiest monastic institution in all of Ladakh. I head, head first into a snazzy looking square (temple complex) and let the monument of unparalleled beauty play its magic on me. Inside, the Buddha's charm totally takes me for a spin!!!, not to mention the phenomenal statue perched on the hill top. The Gompa has a jaw dropping collection of gold and silver stupas, thangka paintings, murals, a museum and an impressive range of artifacts (no wonder the Gompa gives uncle scrooge an inferiority complex).
It's a sunset. There's something unexplainably graceful about the sunset here. It changes every single second but still remains timeless. It creates an awe-inspiring receptivity which makes me realize that I don't really require so many things in life that I crave about. It constructs me to feel big and small at the same time. Watching the sunset over the radiant Stok range and getting soaked in it's exalted aura is something which I'll cherish for a long long time.
Just as I sand the spark plug, plug it back and kick start the motorcycle, a wave of kickassness grip my mind. To bethink "The Highest Motorable Pass in the World - Khardung La" was on schedule, gets me high without getting high. But not before visiting the enticing Shanti Stupa and the alluring Leh palace. My next rendezvous with Lord Buddha is at Shanti Stupa. A sparky white stupa standing against a backdrop of arcane mountains and gloomy clouds, it's nothing less than fascinating. The Stupa overlooks the beautiful town of Leh almost symbolically, expressing the influence of spiritualness over each and every nuance of a Ladakhi.
A nine storeyed structure in dun color, erstwhile home of the royals, a 17th century palace rising up against the setting of the lofty Himalayas, looking more like a painter's muse, looming high in the skyline of Leh, standing guard over this kingdom, built of mud, rocks and wood, it is grand in it's simplicity. The Leh palace; interior, with a rich collection of traditional dresses, crowns, exclusive paintings and ornaments displays a wild profusion of color. I put on my happy face. The best part is the terrace from which I pore over Leh, Stok kangri and the Zanskar range.
While I recover from the awe of the artistry of God, Khardung La strikes me. It gives me goose bumps just by thinking about this great trail. Some claim it to be the highest motorable pass in the world, while others say its not. Whatever be the fact, there is no denying the enigma surrounding it.
I proceed slowly and steadily towards the top beating the heavy winds. I climb the altitude of many 1000s of feet, leaving behind the familiar temperatures and weather conditions. The hill tops seems sprinkled with white dust unevenly, very many peaks of the mighty Himalayas appears just a breadth away, all beautifully snow clad. And riding is like meditating. It makes me feel connected with everything.
The next thing I notice, a huge stretch of stopped vehicles, both military and civilian at the south check post. They say, they are waiting from 7am. It is 2 pm and the weather is too gloomy, feels like a blizzard is ready to be unleashed. I guess the weather Gods are busy indulging themselves in some Russian vodka, wearing only pajamas. well, I'll never know.
They say only the best of friends or the worst of enemies visit the rugged Ladakh. But, traveling all alone, I've known my own self in ways that I've never imagined. It's a beautiful world out there, and some really amazing and helpful people you'll meet along the way. By simply striking a conversation, you will learn that the travelers (not to be mistaken with tourists) are the most interesting people you meet in the world. "They chase life, not a living". With their own adventures to talk about, they narrate their own stories, the best part being the never ending conversations.
I meet Mr. Vishnu Mehta (a veteran biker who holds multiple records at home and abroad, which includes a Guinness world record), a biker who started the riding scene way back in 1996 in India and still rides strong. "People used to think I was crazy back then", he says starting the conversation. The conversation goes on for ages until we are good to go. 3:30 pm, we provide a self declaration form (a from which basically says, no body's responsible if we were to end up dead along the way. It's more of a devil's pact) at the check post and start our engines to get to Khardung La.
There are some who put sugar in their morning tea and there are some who put a drop of adrenaline into it. The latter are the ones who ride to Khardung La - The Highest Motorable Pass in the World, 18380 feet (height disputed). The ride to the top is nothing like just a ride to the top. If you want to make God laugh, tell him you have a plan here. Its more like surviving. Very high altitude, dusky tracks, deadly bends, sub zero temperature, merciless winds, scarce of oxygen, freezed out roads producing zero traction, snowfall and unexpected avalanches is something which has to be dealt with. Well, life's too short to be played safe isn't it??. After all, its the unexpected which delivers the greatest results. And by that, I mean Khardung La is not heaven but you'll die to be here. It should be visited by ones with a penchant for striking off things from their bucket list. The rapidly changing sceneries on the route and the jaw dropping collection of outstanding backdrops are the experiences of a lifetime.
I went, I saw, I stood conquered.
I am at the top. It seems like a welcome from the heaven above, which at such heights feel closer, when the hypnotizing whiff of unadulterated Ladakhi breeze play with the prayer flags. The distant sky in which the dramatic milky clouds float is a vista in which the eyes never get enough of the pleasantry. Snow makes this place even more beautiful while the snow kissed thoroughfare gives way to grandeur of nature in it's prime glory.
After I recover from the awe of the frozen landscape, I see myself piercing through the road (yes!!!, we call them roads) clad both sides with a lush blanket of crystalline water. It just feels absolutely amazing to zoom past the snow instead of dragging myself in the sluggish roadway amidst the concrete jungle. It is NOT a rat race, but a rejuvenating race through a blast of fresh air. Pure bliss is all I feel.
Sunset, I dine at a Homestay in Nubra Valley.
Nubra valley, jaw-dropping scenery, nomadic tribes and lofty mountains; just look majestic even in their barren ness. Hunder Sand dunes, the conjuring dunes turn golden under the rising and the setting sun, I hop on one of those rare Bactrian Double Humped camels and explore the sand dunes. A bumpy safari, reminds me of the Silk Route days.
Perched high up in the Himalayas at an altitude of 10000+ feet, overlooking the plains of Shayok river, stands the oldest surviving (14th century) Monastery in all of Nubra Valley - Diskit Gompa. Famous for it's Maitreya's statue (a staggering 105 feet), this Gompa might just turn Atheists into Believers. As I enter, calm surrounds this ancient Monastery, a feeling that engulfs me as I stand and watch an impressive fresco and hundreds of butter lamps lighting the sanctum. The setting of the gongs is picturesque, so is the approach as I pass through arid flats. And the vista of Maitreya from the top, remarkably imposing, affording many photo ops with the snowcaps as the backdrop.
I start cruising on motorcycle at my own pace to explore the remote corners of Ladakh's Nubra Valley letting the heady Himalayan wind ruffle my hair. Panamik - most stunning sceneries enroute, makes me fall in love with nature all over again.
A mysterious hidden lake happens to be in the middle of nowhere surrounded by hills on all sides. Exactly 6 kilometers from Panamik (towards Khalsar) exists Yarab Tso. Yarab Tso is completely untouched and very few know about it's existence. The holy lake, truly captures the heart and mind of every visitor. Just splendid.
7 pm and I'm in Khalsar (The last place where the food is available). Feasting on whatever available, I ride towards Agham village. It gets really dark and the only option is to pitch tent. I camp for the night in no man's land with a campfire.
In the morning, all I have is peanuts. No seriously, this isn't a metaphor. I am literally eating peanuts. They say you are not on an adventure trip until the danger fits you like a glove. Or like anything else that fits perfectly (One - that - must - not - to - be - named, *wink*). And that's the very reason why I opt for the direct route to Pangong Tso from Nubra Valley.
The Agham - Shayok desolated route is impossible for the most of the "homo sapiens" to accomplish without capturing a wish-granting leprechaun. Riding in this borderline brutal, almost inhuman environment is definitely not for those wimpy ones rescuing fair maidens and scared kittens from falling into a puddle. Some are atrocious others are unbelievable and there are some which are downright frightening - The Roads.
Riding motorcycle is a passion for those who have the guts and the toughest of mind. Where road is just an irrelevant term. But riding on roads like these unequivocally demands testosterones (in truck loads that is).
4 pm. I am at Tangste. I sit down to see one thing which makes my grumpy stomach do cartwheels with merriment. Food!!!.. Chow mein is all that is available. It feels like a banquet.
The undisputed highlight of the region (Ladakh), easily charms the socks off me without even breaking a sweat, also happens to be so surreal that, it almost resembles a dream. Pangong Tso - It just might bring life back to a dead soul. While no words can apt enough to describe Pangong Tso, words like "grandeur and sheer opulence" can be put to use in describing it. This astonishing blue water body, guarded by looming mountains is one of the most beautiful lakes in the entire world (shared between India and China). Sitting on it's shores, getting soaked in it's magnificence and not giving a flying **** about mid 20's crisis is just the most worthiest thing to do there.
Cooped in the midst of high Himalayas, this lake looks too stunning to be true. Talk about gaping at larger than life landscape, Pangong Tso unquestionably gives an out of this world experience. 8 pm. I'm at a home stay. 400 rupees for the night, which includes Thupka (soup noodles made from Yak and Chicken meat), the night's dinner and breakfast for the next day.
The next day, I take this route Spangmik - Man - Merak - Chusul - Tsaga La, "EVIL". It just has scant vegetation and surreal surroundings, redefines offbeat, riding this stretch and getting back to civilization is easily called valiant. No seriously, riding this route involves having a brush with death (literally).
This turnpike definitely has never tasted tar in it's life, the environment is downright scary, takes the danger quotient ten notches higher. And when I say danger, I don't mean catching aimless spiders and beating the hell out of creeping cockroaches. I mean something which can wreck mind bending havoc to a person physically and mentally.
Getting lost here means getting lost forever. The only way I ensure not being lost is, I cling on to the dusty tracks like an engine on a motorcycle. Isn't the motorcycle nimble enough to slide along the tracks?., well, not here. With absolutely no one in sight, my mind starts to play games on me. Not to mention the punishing heat. And the ordeal continues until I reach Loma.
Then comes the first wave of surprise and then a wave of celebration. Surprise because, I am looking at freshly laid asphalt. Celebration because of the surreal pictorial aspect. I'm in Hanle. At the end of the day, after having my fair share of cuts and bruises, I am back down to find a few travelers pitching tents. I camp. We find peace by gazing at the stars. The distant twinkling, the different hues, the warmth which spread afar into our eyes is just splendidly beautiful. We are there when the sky put on a show in all its glory. 10 pm, I cuddle my sleeping bag.
The next day, I spend exploring the other half of the Changthang region. The trail, a combination of adrenaline, danger and fun, leave alone the beautiful natural features to an indefinite extent. I think its all about cage free living, open roads and raw freedom here, until the region throws in a sudden surprise - Kiagar Tso. It awes.
But the real reason for me to head here, is the lesser visited, breathtaking, reserved wet land which is completely in Indian subcontinent - Tso Moriri. Its more like hunting down grizzled bastards harder than the toughest coffin nail, armed with only my wits, guts and whatever trusted weaponry I can carry. The roads are bad, but once I get there, the lake takes me for a spin. While sunshine renders different shades of blue to it's frozen water, Tso Moriri is perhaps more awe-striking than Pangong Tso. I always imagined myself to walk right into a painting one day which was still wet; it's lake brimming with aqua blue/turquoise water. My imagination comes true once I reach the shores of Tso Moriri. This amazing lake can unprecedentedly be called a poet's muse, not only because of the phenomenal view, which turns all the more magical around sunset as shadows encroach the golden looking barren mountains, layer by layer. But because there's something special about it which simply cannot be described in words.
I meet a trekker, we stay at a Homestay, whimsically share stories.
It dawns to be a gloomy day. Even in the obscurity, the lake (Tso Moriri) looks stunning. I take the route to Polokung La, one hardly knows that this road exists. Leave alone being completely isolated and completely wild. Taking this barbarous route proves a little costly for me. It rains, I put on my raincoat and continue. The elevation ridiculously increase, breathing becomes a task, the motorcycle runs mostly on first and second gear until it stops at the crossroads.
I've no clue why it stopped. I try starting, nothing works. I'm in the mercy of the mother nature, all alone, experiencing severe cold, in the pouring rain, not knowing why the engine died. I'm not ready to abandon my motorcycle and walk back to civilization; so in my last attempt, I sand the spark plug and kick start to hear what I was longing for - The engine's thump. Ecstatic.
My happiness doesn't last long; I see the crossroads, not knowing which direction to go. Travails of a traveler ??. Hell no. The idea of cruising around, answering to no man as I doggedly pursue my adventure lust is as badass as it gets. So I wait, in the rain, for 20 more minutes; a local shows up, I quickly ask directions and carry on being the god of the world.
The route which is devoid of anything but dismal sight has Polokung La and Tso Kar. After all the ordeal, I finally cruise on the Manali-Leh highway. The fact that I am able to see the Himalayas in all their splendor as well as get a peek at the gorgeous landscapes while I am at it, is fulfilling. I savor the sights and sounds of mother nature; not to mention the switchbacks which requires a fair amount of grey cells to guide my movements. I traverse the Gata loops; a total of 21 loops so whirling, it literally takes the meaning of a hairpin bend to dizzy new heights. Considering the whole trip, I had ridden on some really trippy roads, but this one absolutely takes the cake. I just love them curves.
Traveling along the richest trails and ranges, I find myself at a small shack near Sarchu, an invigorating resting location. It was no 5 star hotel, but was a 5 billion star hotel (got it mate?). Stargazing after the most enriching motorcycle ride and a vigor dinner means only one thing. "Heavenly".
I head to Himachal Pradesh and a fortnight later, I'm back home.
"I traveled the Himalayas for a month and only felt lost when I came back".