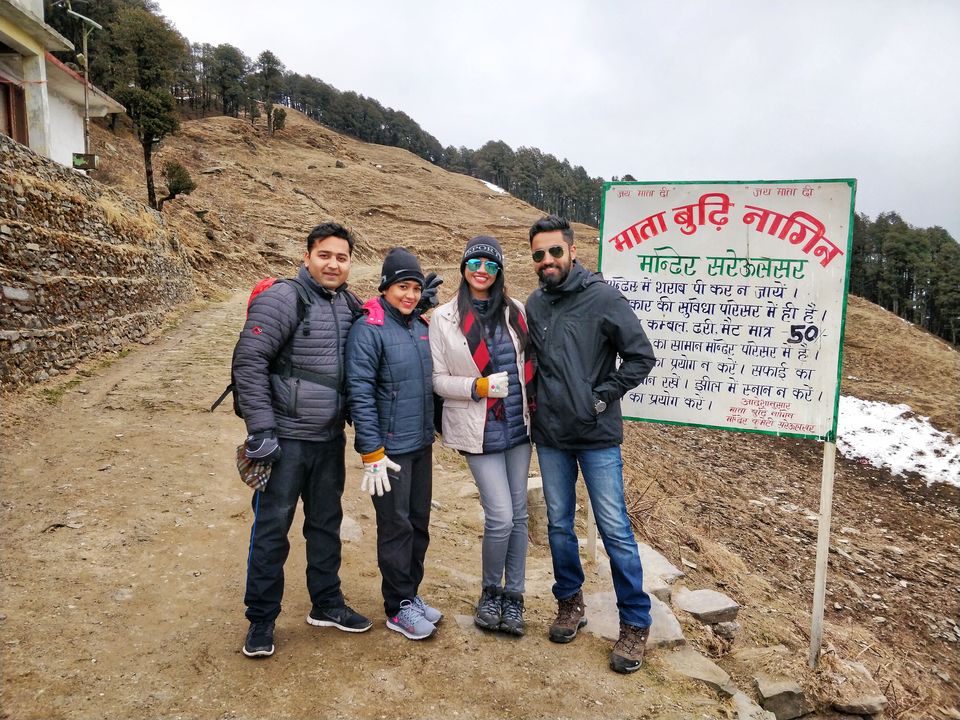 Trip itinerary, planning and photography by CRAVEL

"We vow to love Himachal, and each other forever!"
Our love affair & eternal attachment with Himachal is evident by the fact that our marriage clause involved visiting this wondrous utopia atleast once every year.
Himachal is Home; its people have become family after visiting it 7 times in past 5 years. So post the nuptial rituals, in order to justifiably fulfill bride's home-entrance ceremony, meet the extended clan and adhere to our oath, it seemed pertinent to pay our homage at Himachal.
Having covered Spiti Valley [read trip here], Jibhi-TirthanValley-Bir [read trip here], Kasol-Solang [read trip here] and other popular tripper's delights, me and my wife decided to compile the best pick-outs from our previous itineraries, and added some new ones for our trip to Himachal, meanwhile also considering the places with best chances of snow (since we have a soft-spot for snow).
After reading blogs (mentioned in links above) and listening to our past anecdotes, my best mate along with his wife also agreed to join us which doubled the elation and adventure quotient!
So after our one week of trekking and exploration foray in Meghalaya [read our Meghalaya story here], we thought to seek some respite from extremely hectic schedule and dial it down to average frantic only in consideration of the fact that we have 2 more people to chide us if we brought our hiking love between us and them.
Being a virgin to luxury so far in our honeymoon trip, we booked some of the most exotic home-stays with a sprinkle of our native rustic quirks to prepare a 'quasi-relaxing-luxury-adventure' journey.
Overnight foot on the accelerator paddle from Delhi presented us to a rising sun behind the mountains of Shimla. Revitalized with a sense of newfound enthusiasm on breathing the fresh cold air of hills after a whole night's drive, we hurtled to our first stay and reached there before breakfast.
The homestay was situated at mountain top after covering a narrow winding road of 2 km where sounds of chirping birds and the sweet smell of flowers awaited our arrival.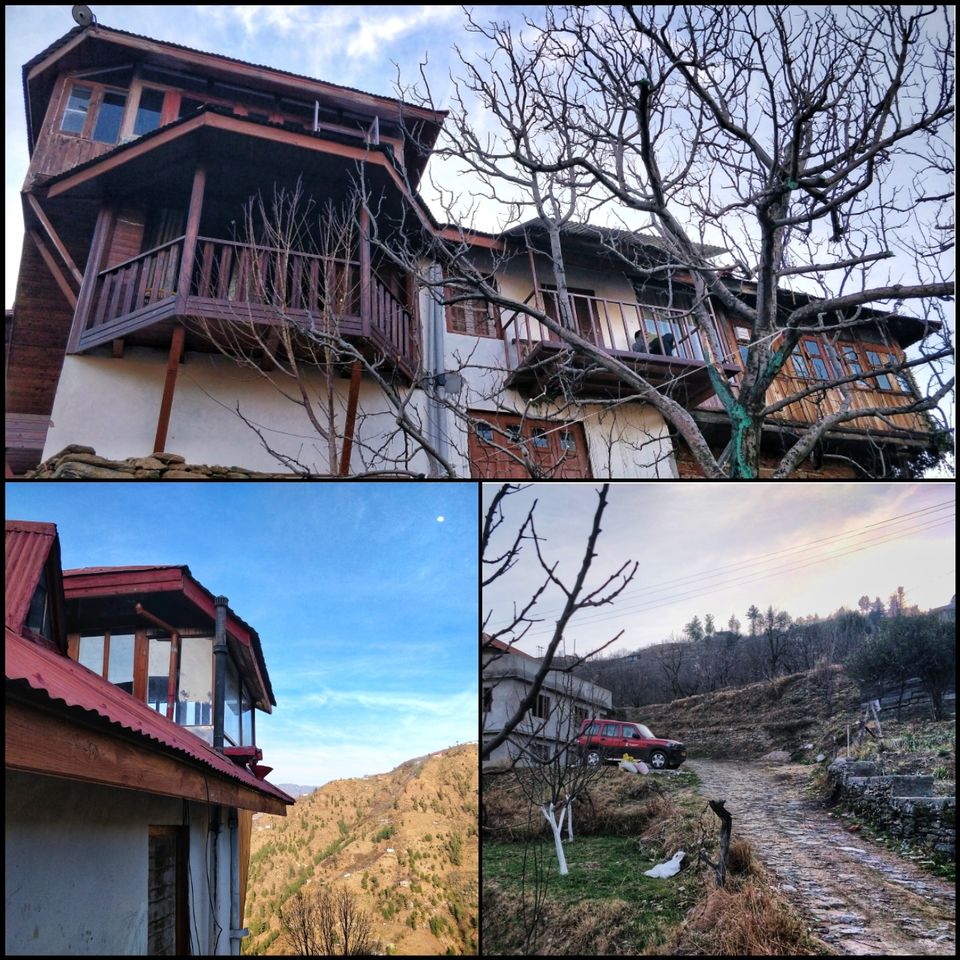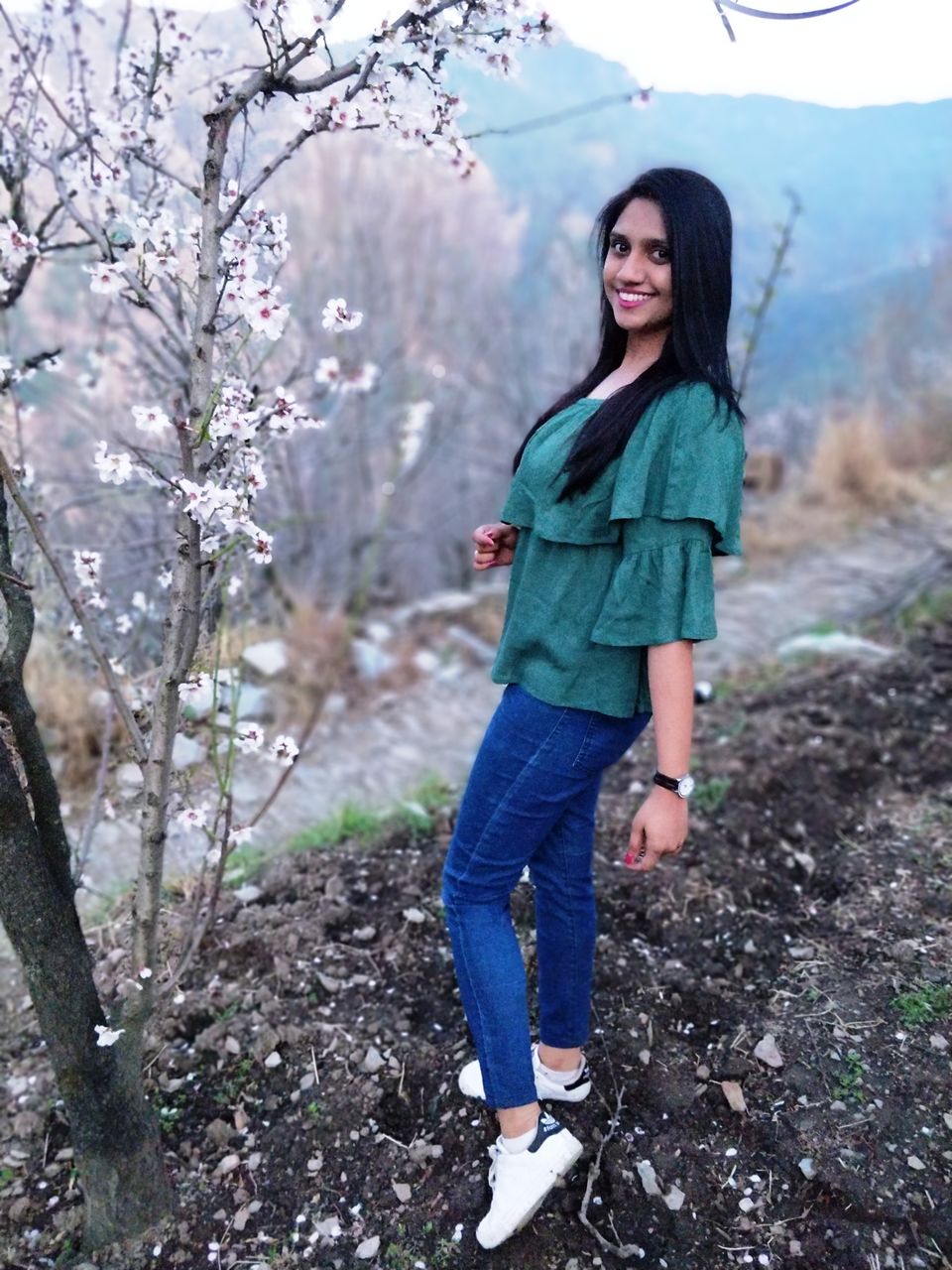 A knock on our room's window jolted us from our sleep as we stood up to find a bird sitting on the window-sill rubbing its beak against its reflection. It was as if the bird was signalling to look through the window because as soon we opened the veranda door, the gateway teleported us straight to dreamland which lay around us: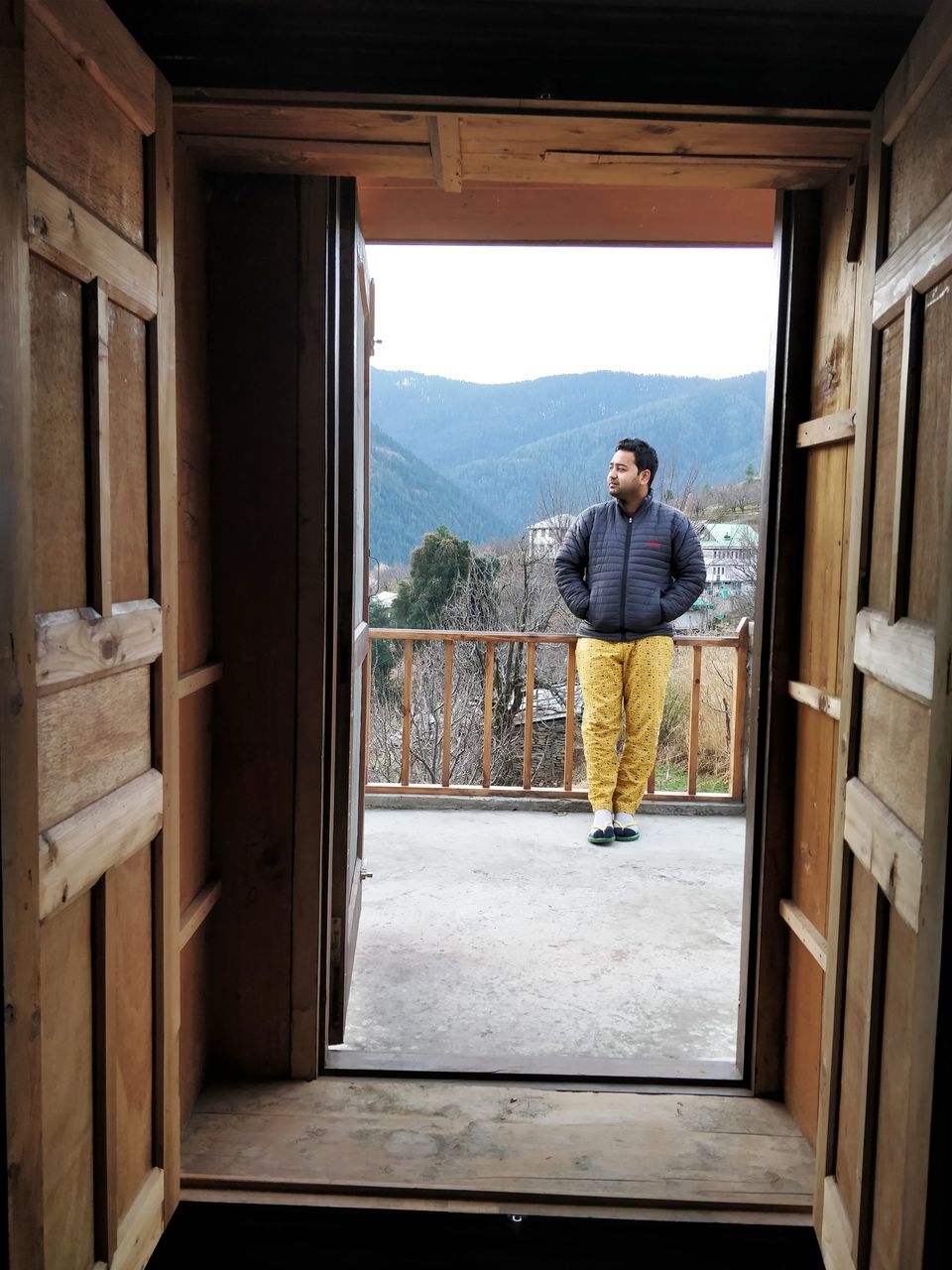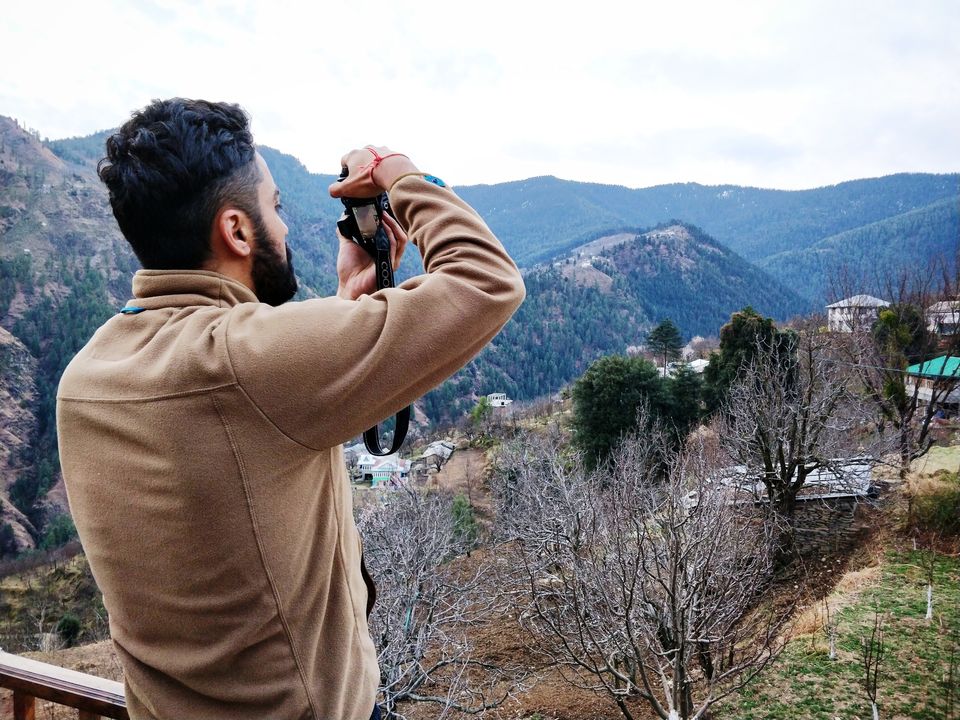 Our next destination was even higher up the hills in Shelapani which we were eager to reach having seen its pictures on the net. On reaching there however, we realized that pictures just can't justify the extent of incredible and hypnotizing scenery enveloping the grand house in its lap: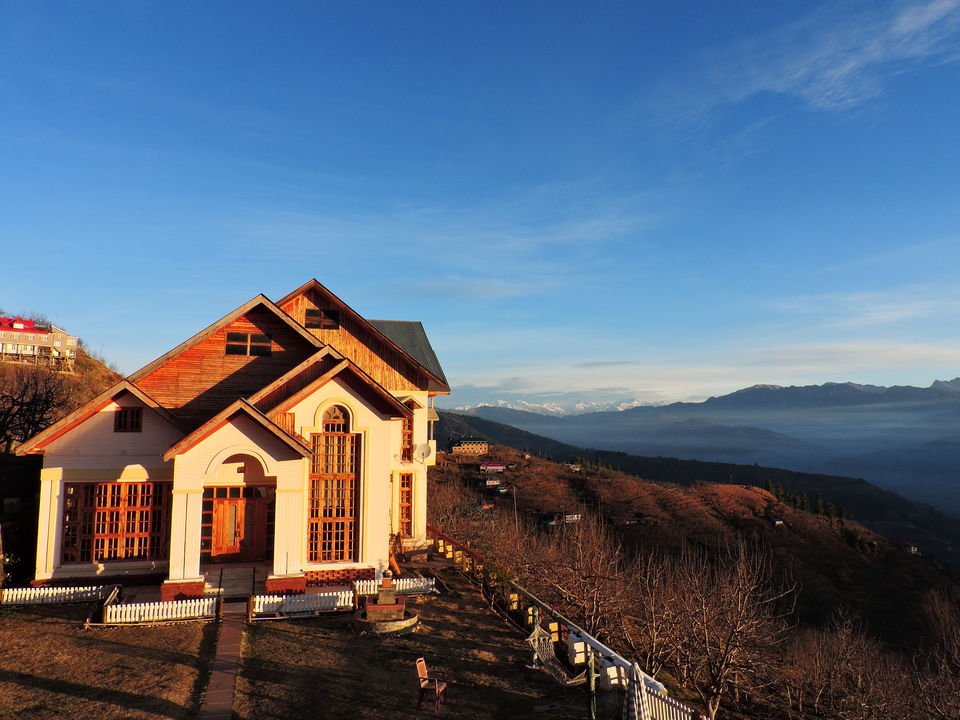 The localites have got astounding capacity to keep on climbing and traverse difficult terrain without breaking a sweat. Seems like my wife had also done a crash course with them because Mr. Chaman and she took off in a jiffy and soon me and my couple-friends were left behind trying to find some shortcuts to get up the hill and reach in time before sunrise.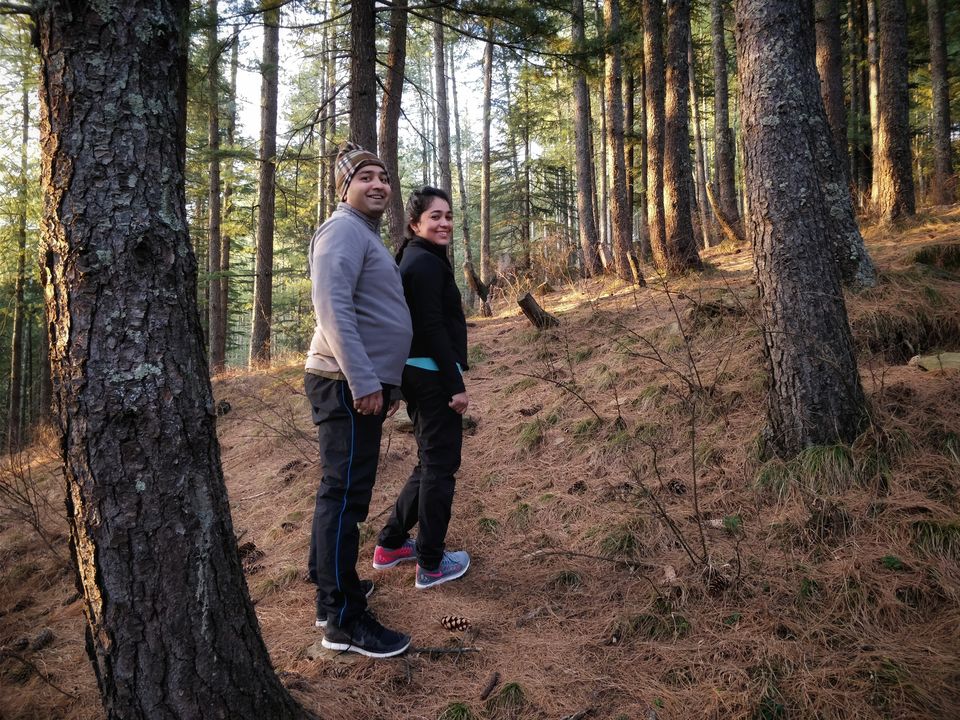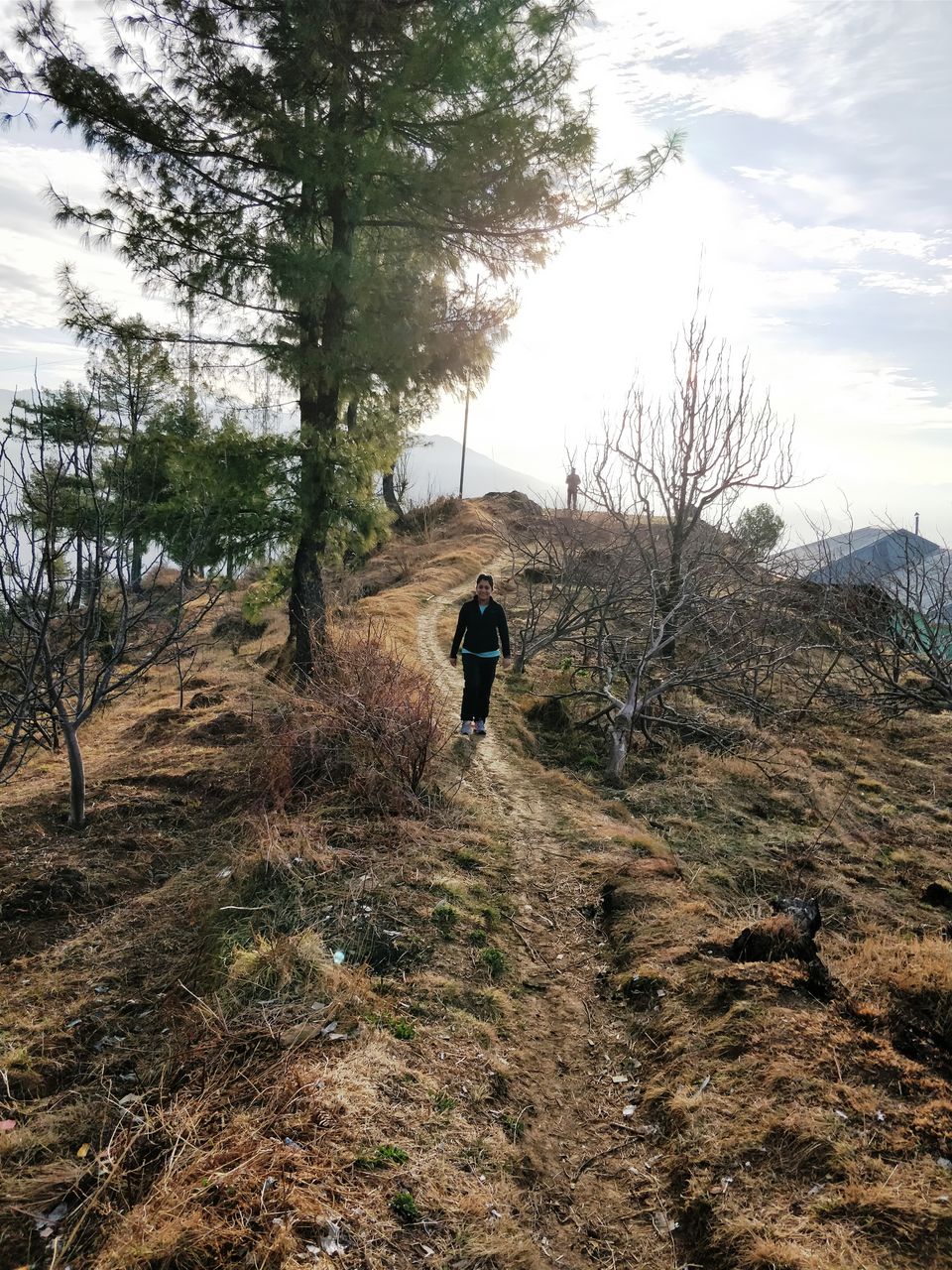 The goal was to reach Jibhi after crossing Jalori pass before sundown. But had it been so easy, then the story wouldn't be as interesting as the reality! A landslide demanded that we take some alternative route to reach Jalori Pass which we were not aware of, nor was google able to efficiently guide as the offroad path suggested in navigation was leaving at an abrupt end point up the hills!
Thankfully a localite spotted our ambivalence about the road and asked to follow them as they were also going to Jalori only. It was imperative that we kept behind him on his trail closely since apparently, we were traversing 'mid-air' on an uncharted route which is not even visible in Google maps, so couldn't afford to lose sight of him otherwise we would have gotten lost somewhere in the mountains!(wow :D)
We were escorted by our caretaker at guesthouse, Ajay, who had also prepared snacks beforehand to gratify us famished souls. The property is surrounded by apple orchards and glorious views all around which can be seen by balconies in every room and a panaromic room at the top: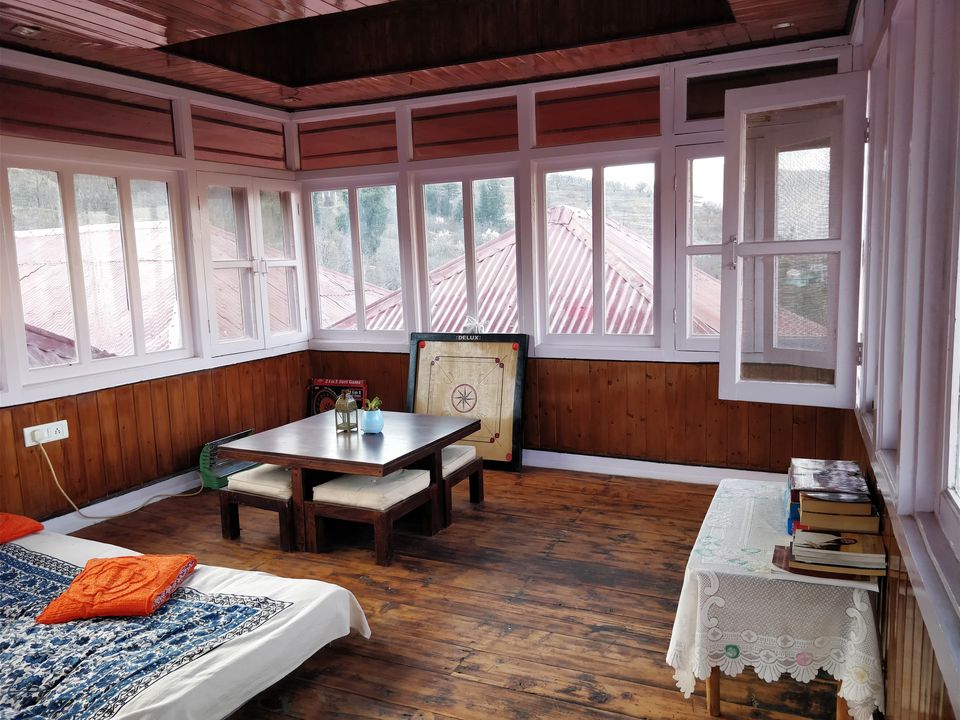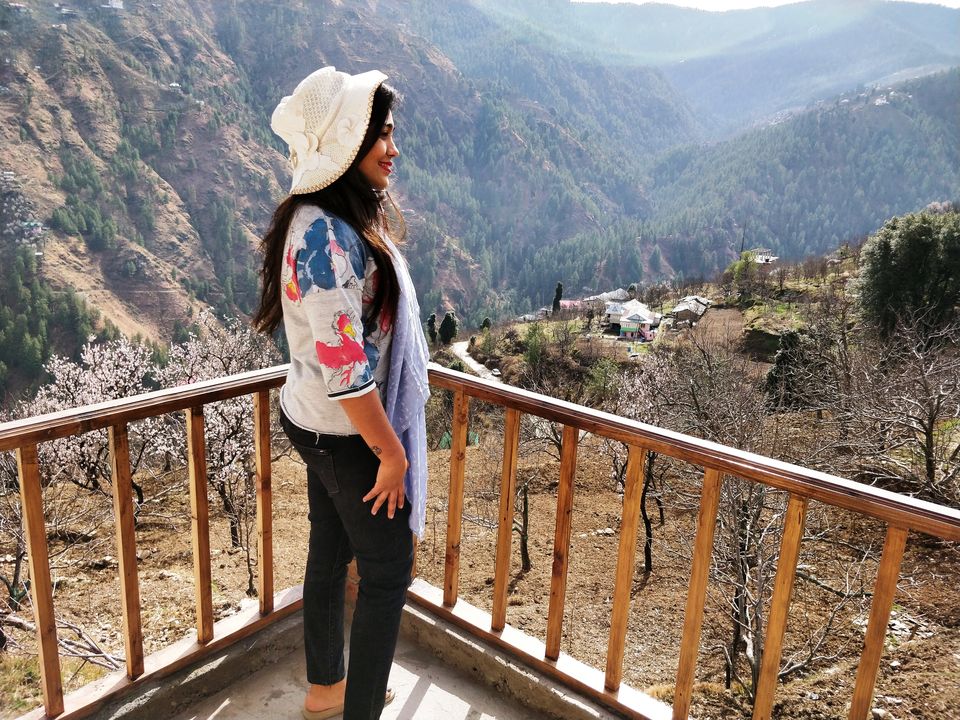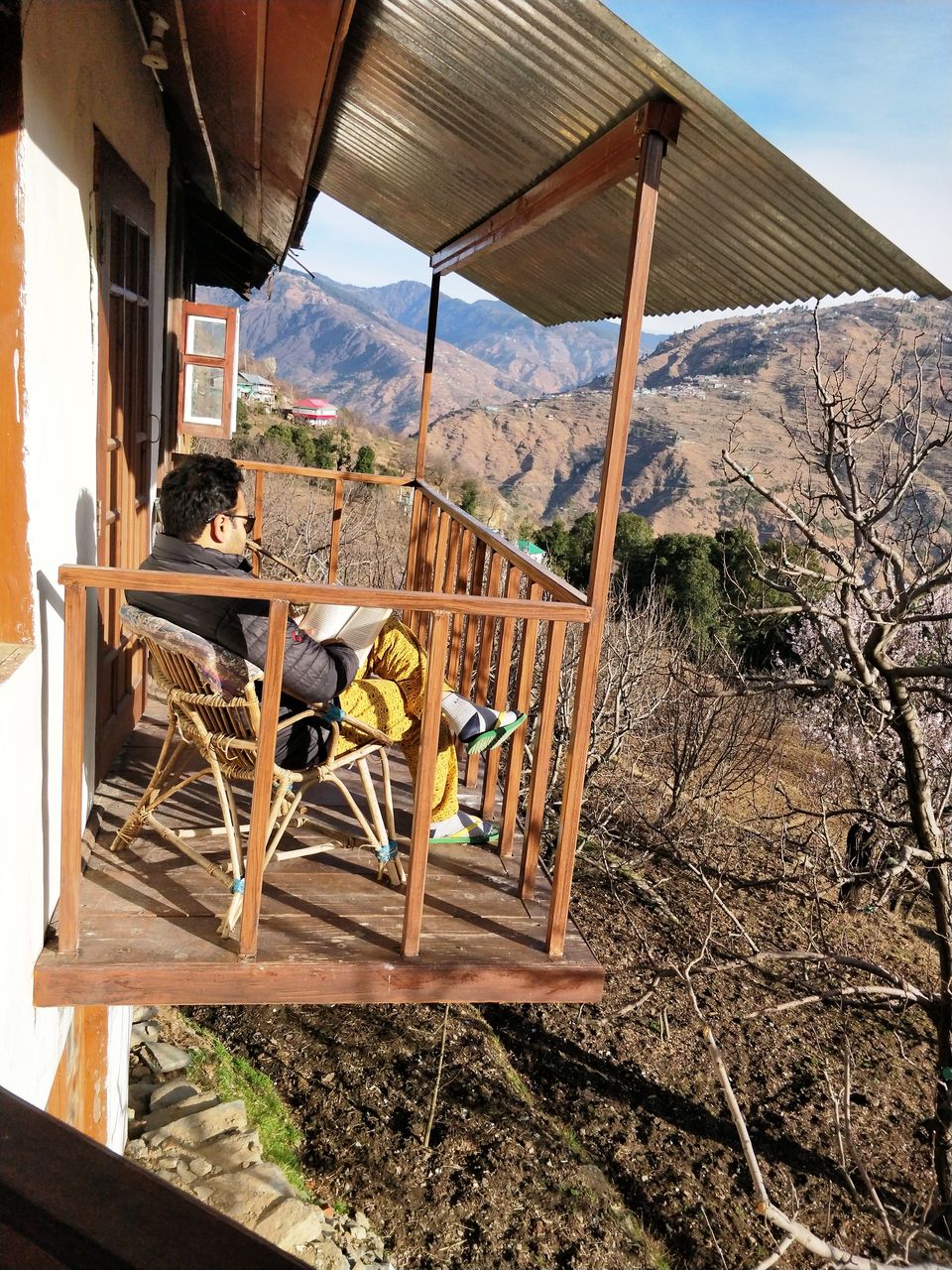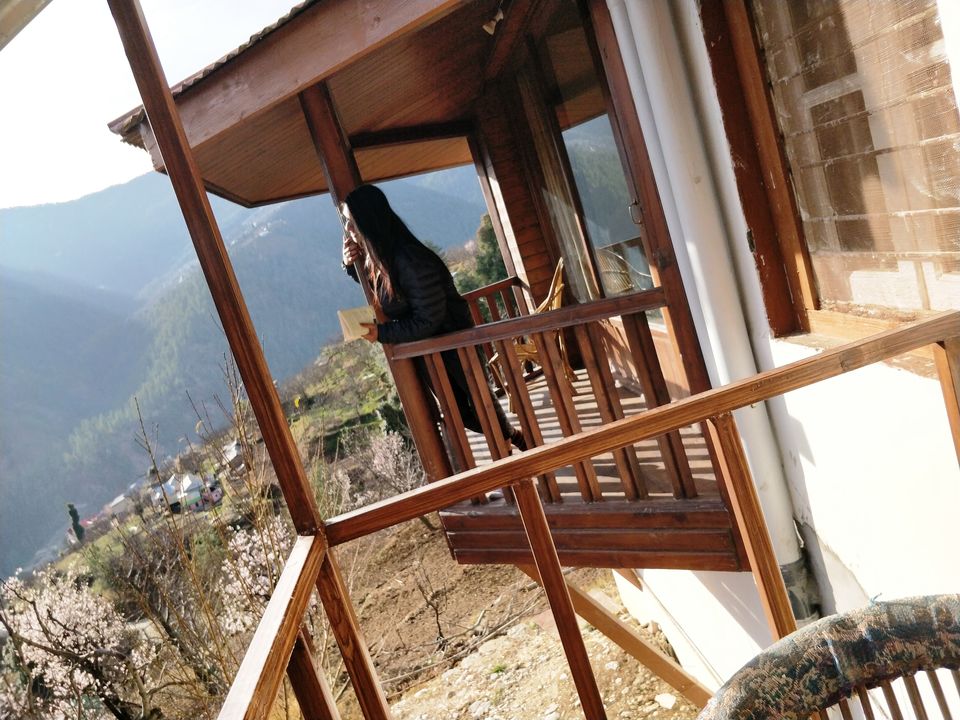 We woke up at 9 am, had breakfast and drove up to Jalori pass: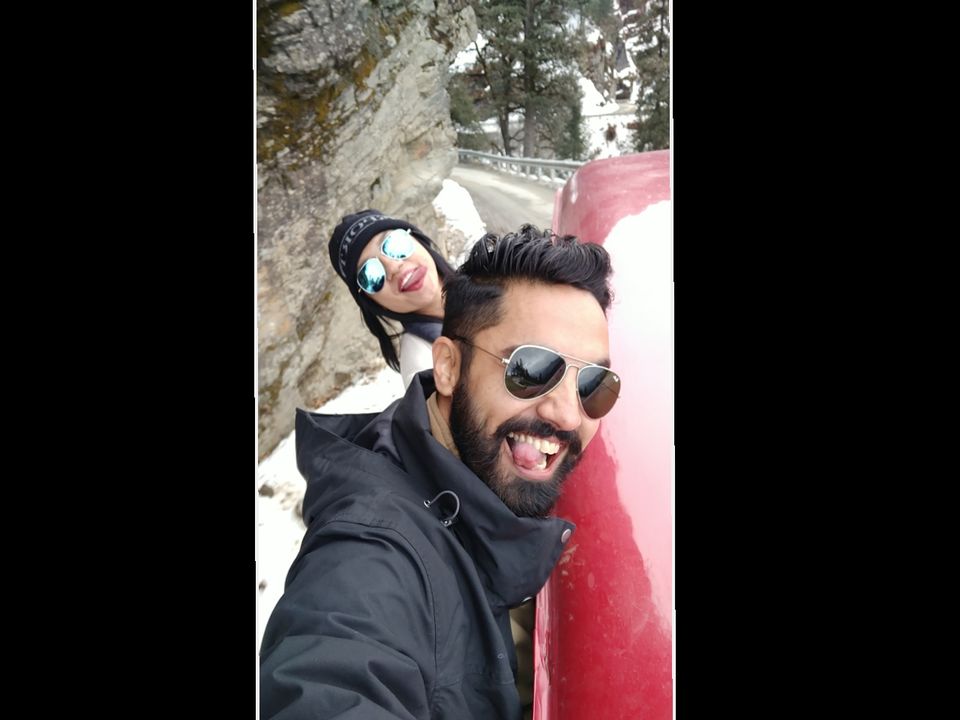 Snow everywhere around..sun trying to peek through the clouds which have now overruled its dominance & united to achieve snowfall merits..only white fog prevailing till horizon and we are enjoying snow-fight in the white-wonderland covered in snow..a little far into the dense white fog a faint flashing light (?) and siren starts moving towards us which gets our attention as to what could be possibly so important for it to arrive now and interrupt this serene ambiance?! Then a person stepped out from behind the lights which started getting intensely bright combining with the snow's luminosity, and yelled - "Wake up bro, got to go!"
The blinding flash from the snow evolved into daylights where my friend stood pointing towards his shiny watch which was reflecting bright sun-rays into my eyes.
Though at Jalori pass we had encountered patchy snow, we were greedy for an abundance of it where we get completely enveloped in its embrace. The 'snow dream' was hitherto unfulfilled and with a hope for finding the eluding Arcadia, we got ready to move to Palchan.
The family at home-stay even packed snacks for route and gave a affectionate farewell after which we proceeded via Banjar - Aut tunnel towards Manali via Naggar road (as its a less traffic prone route and main road had ongoing widening work).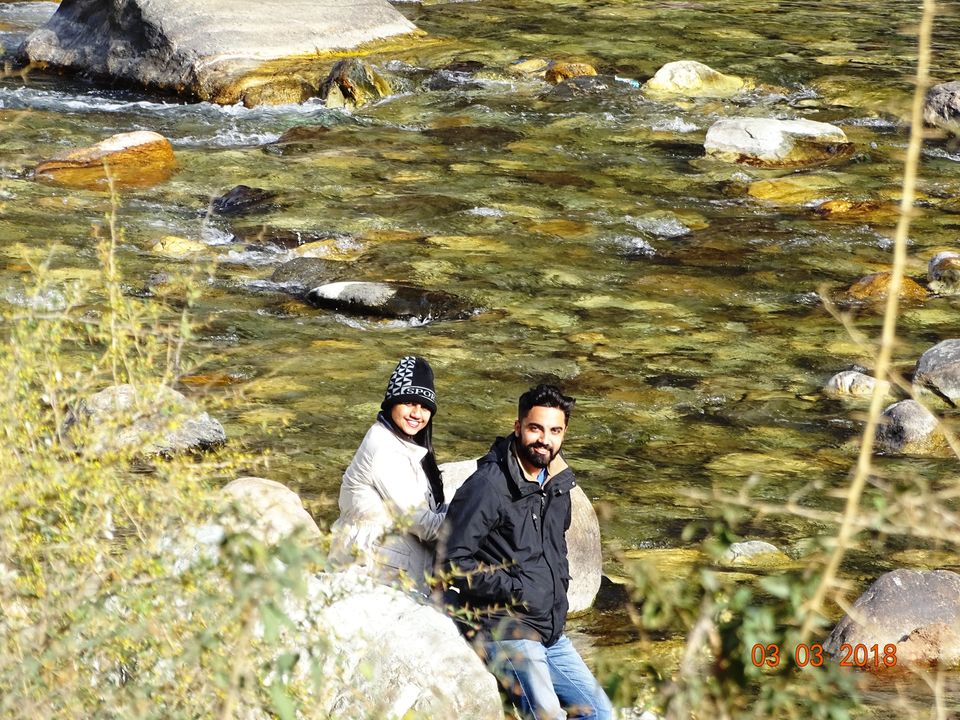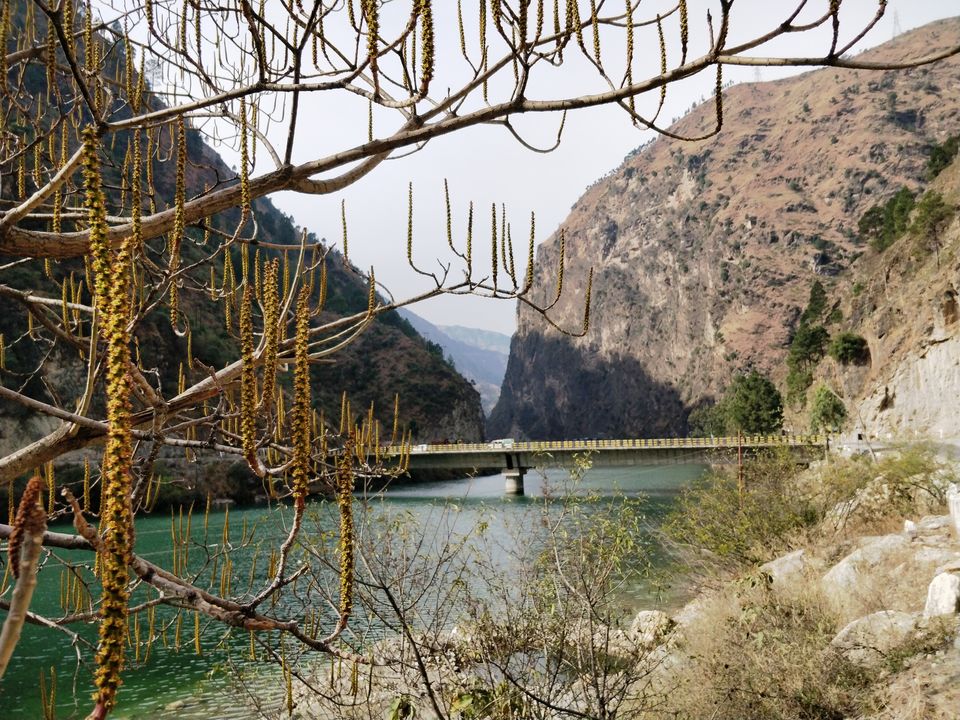 We wanted to immerse ourselves in the essence of Himachal and live our time in hills as much as possible before having to leave for humdrum civilization, so we woke at 4:30am and went for a morning walk. No definite place in mind, just an aimless wander can give you so much perspective; a time for yourself where you can connect with nature and recollect your best moments with leisure: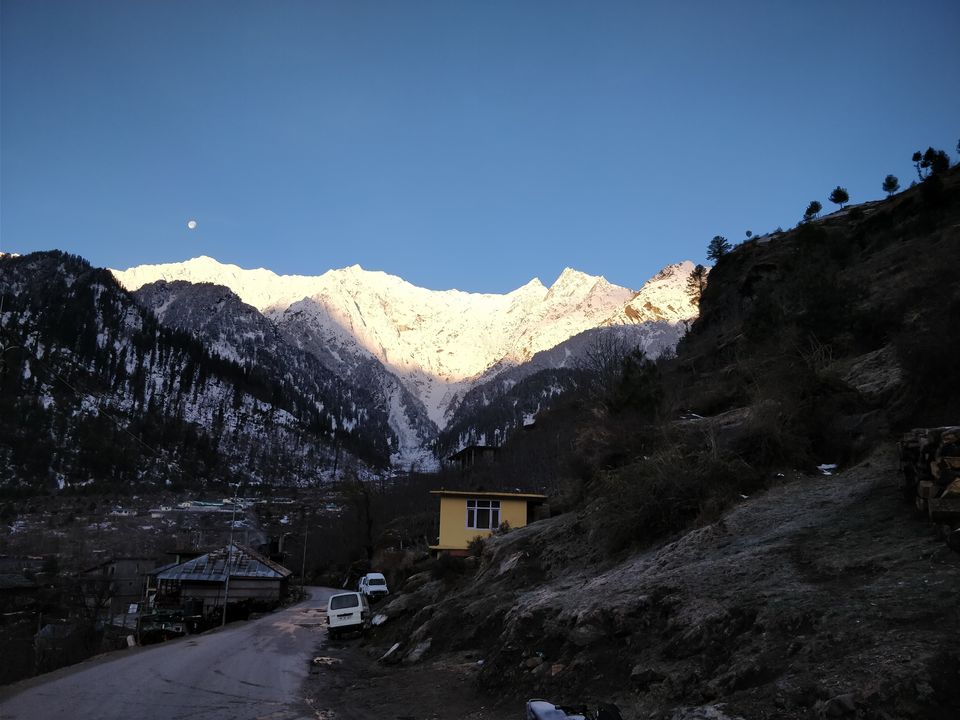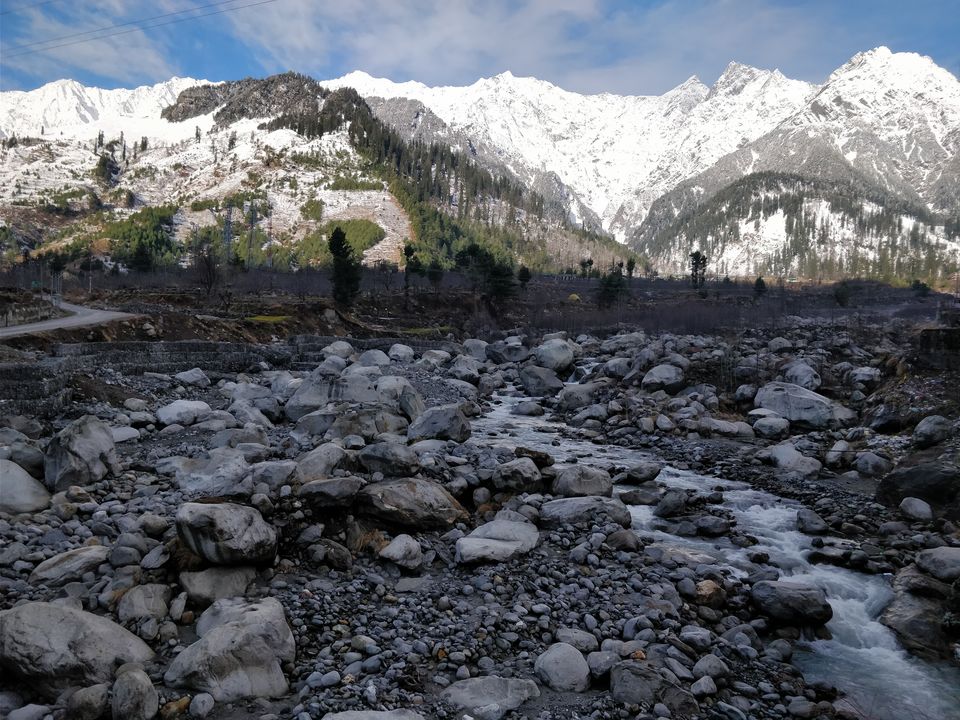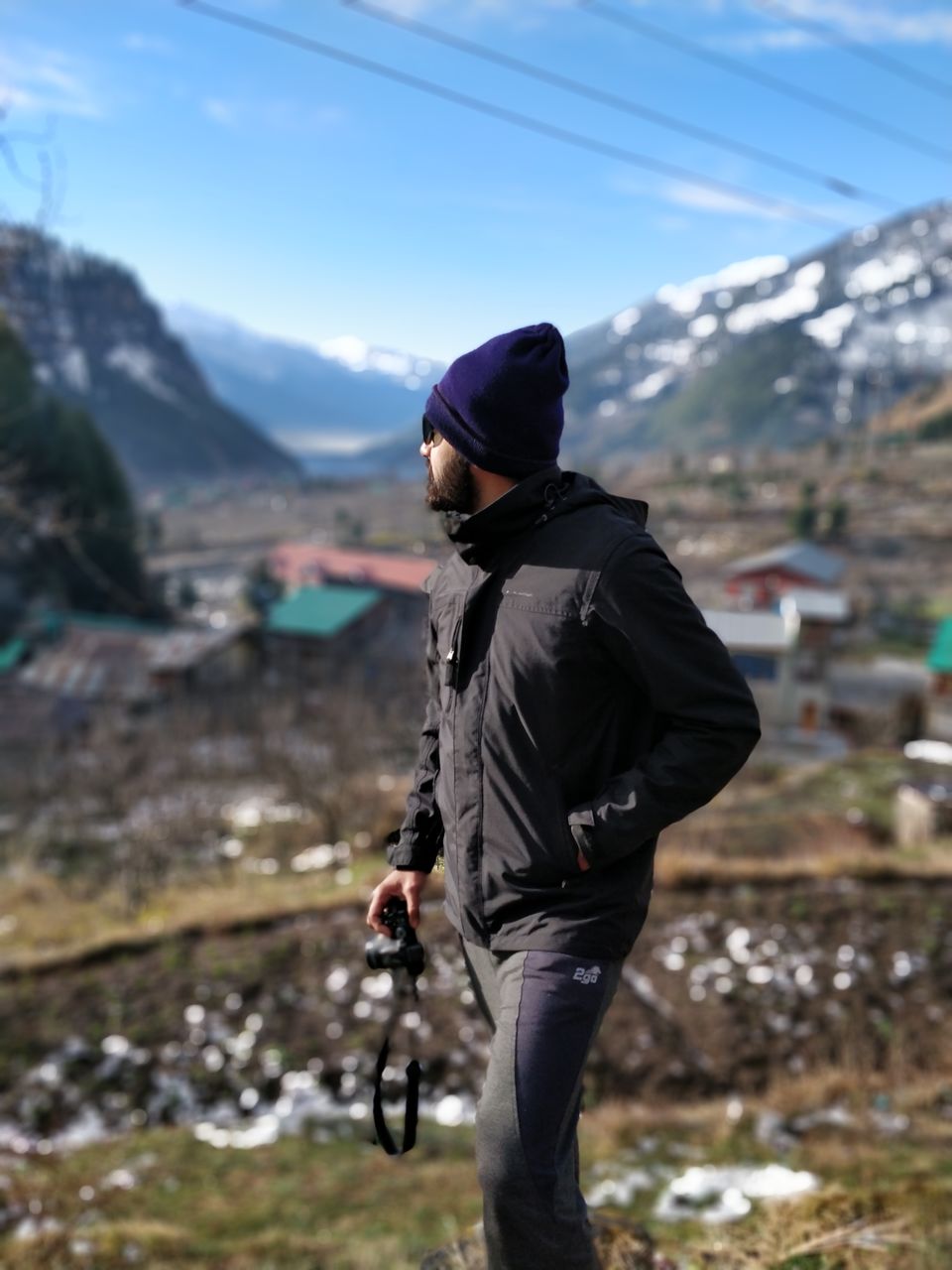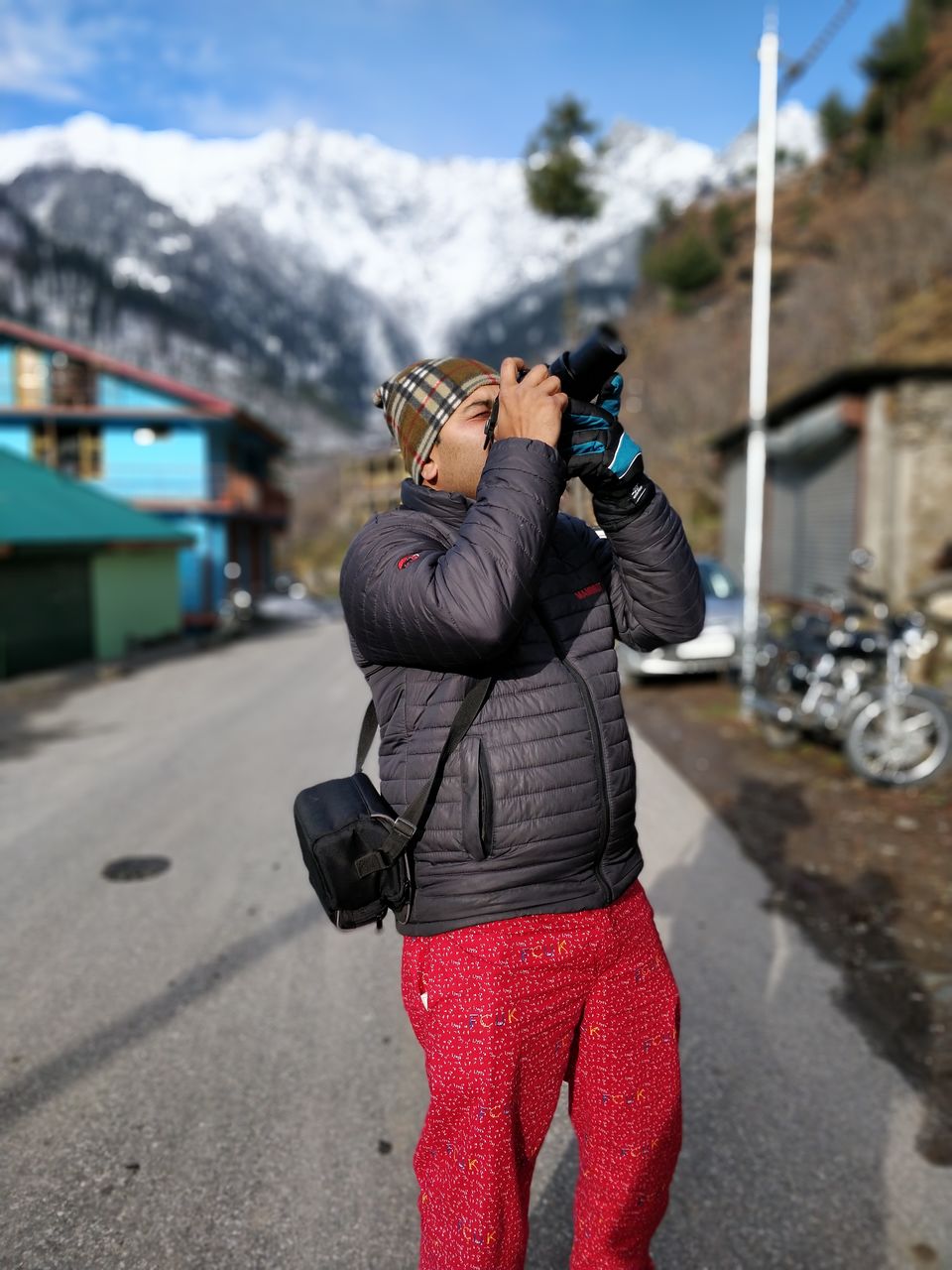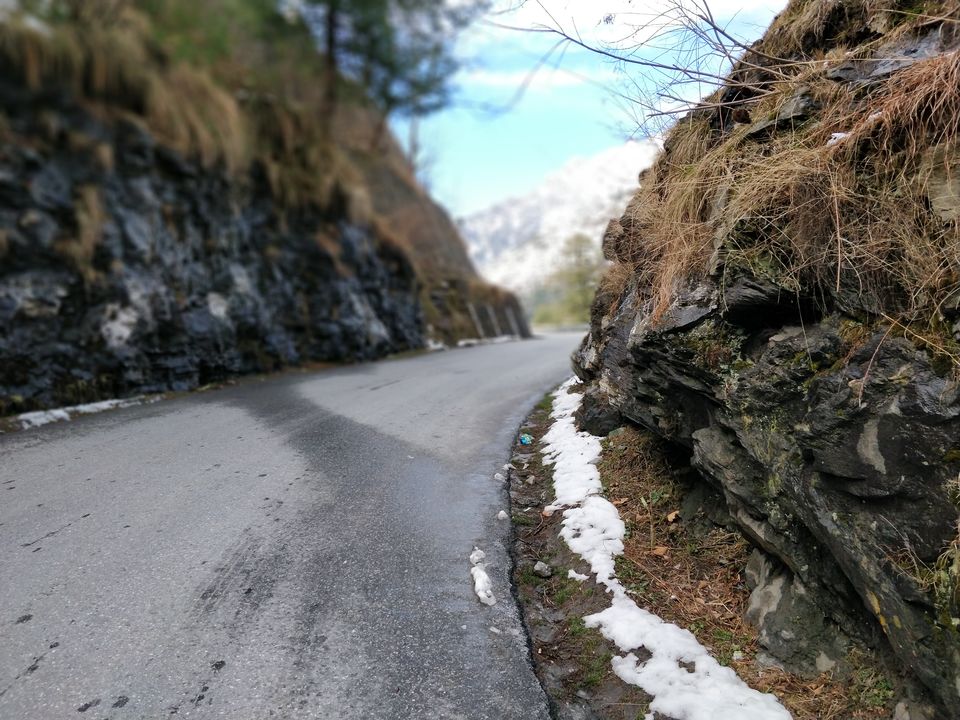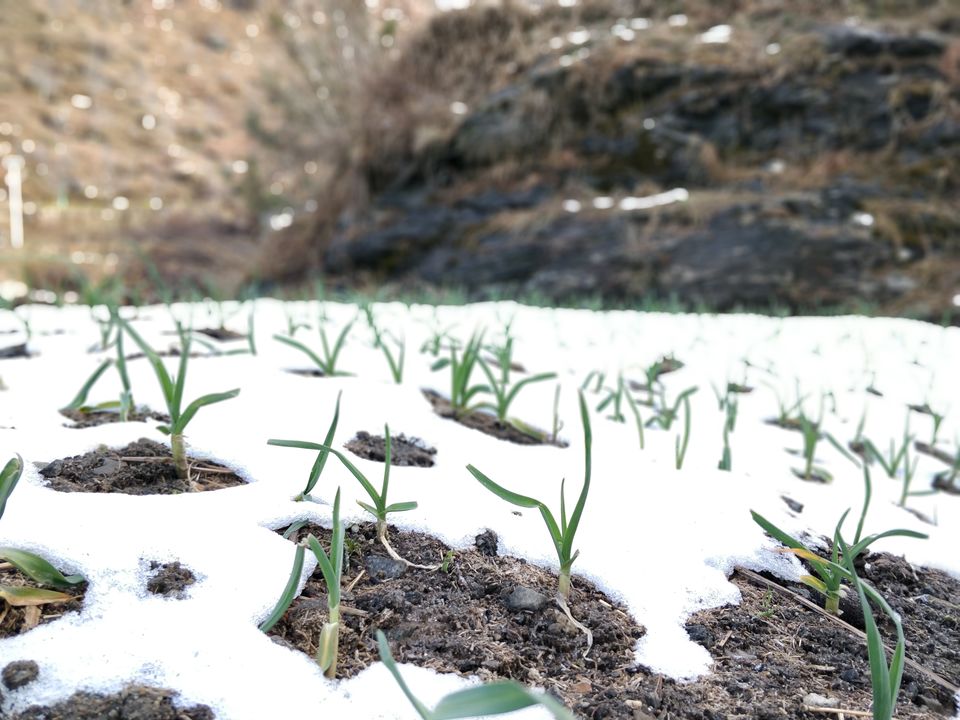 We spent the rest of the day lazing around, playing Table Tennis and hearing stories from Ajay about his family and quickly slipped into our beds as soon as the sun retired into its hideout for the day.
The sun had decided to present itself in its most magnificent form atop the green hills and clear blue skies wrapped like a robe around it: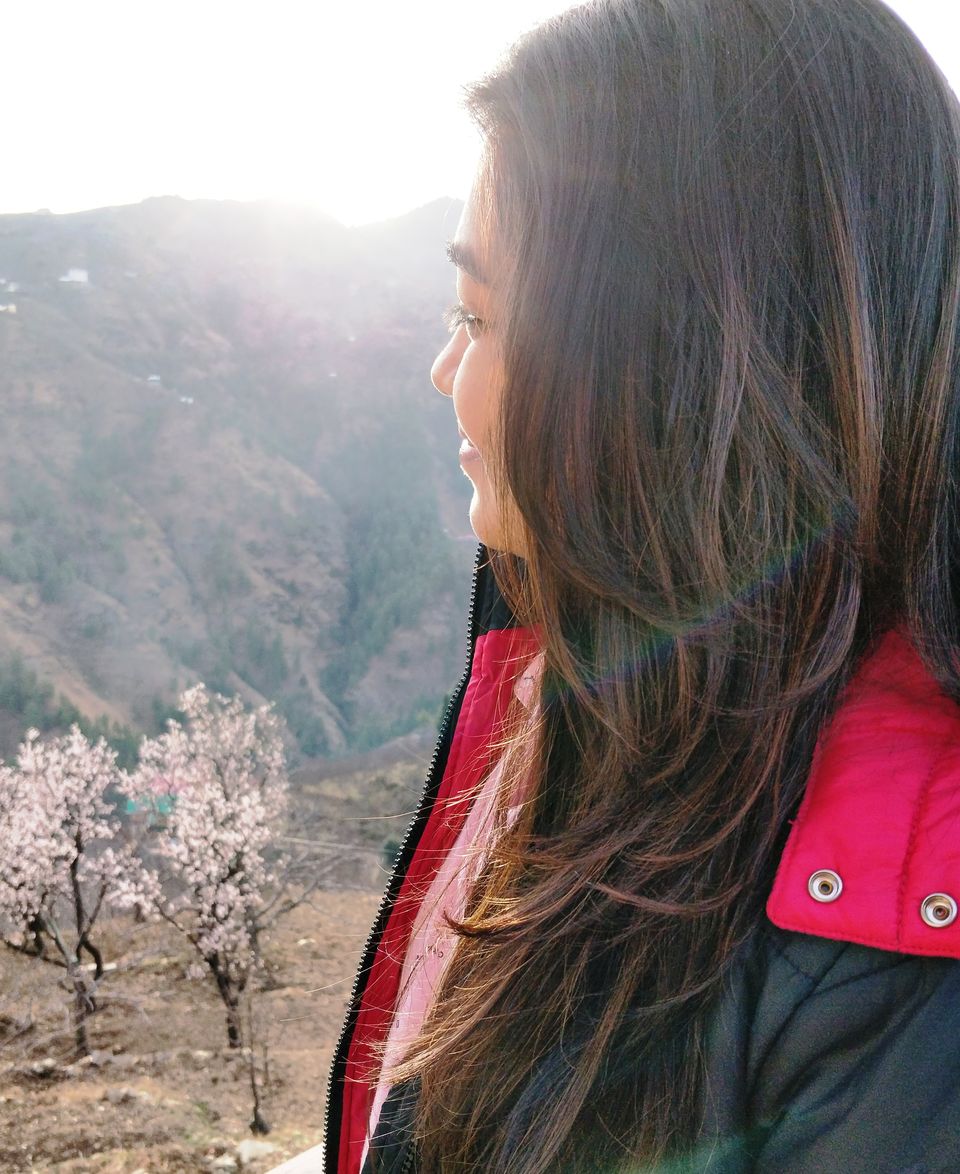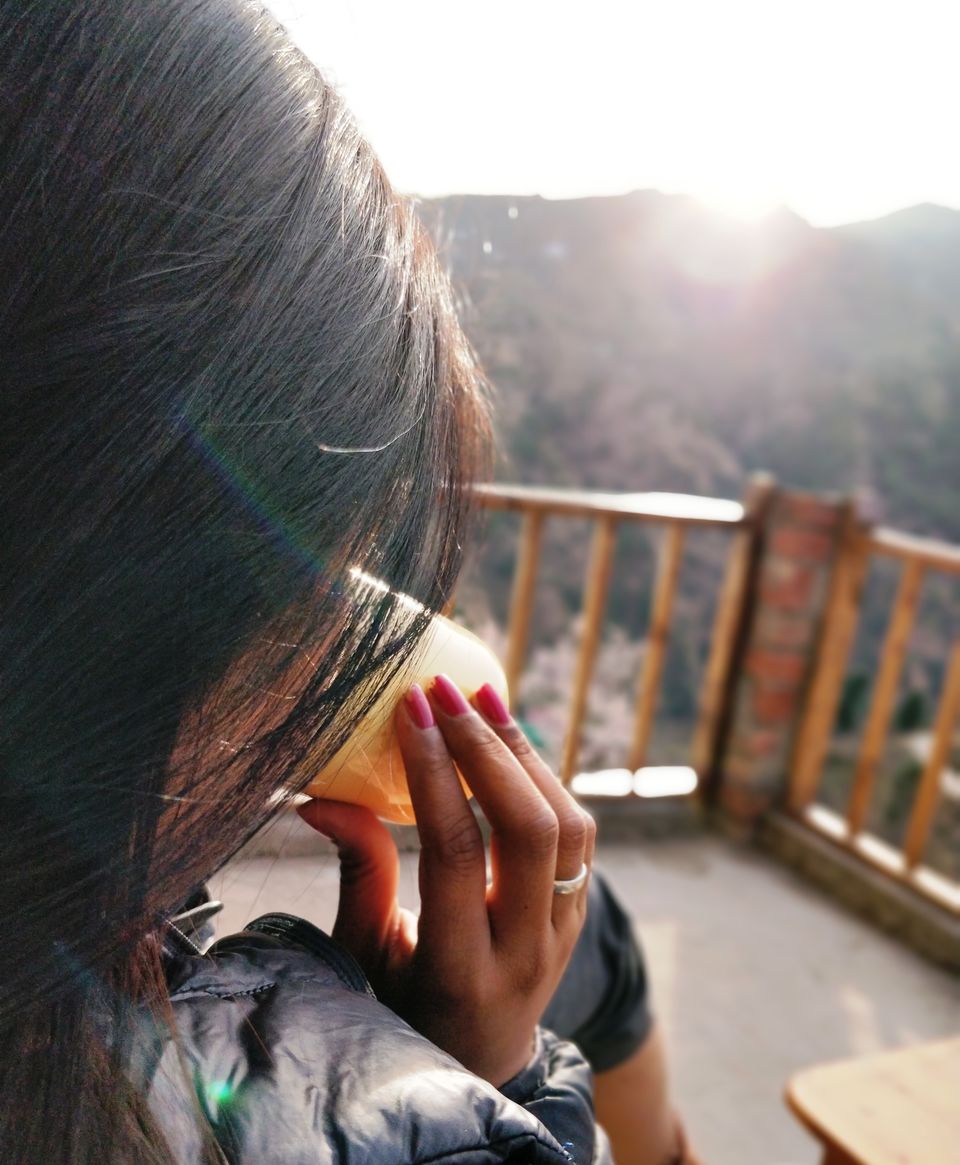 Sipping hot coffee while surrounded by such beautiful landscapes was the perfect start to our day and we readily got ready for our next adventure down the path.
As soon as we entered the house we were shown our rooms and asked our tastebud preferences. After freshening up we went to the extremely well designed living area where our food awaited us.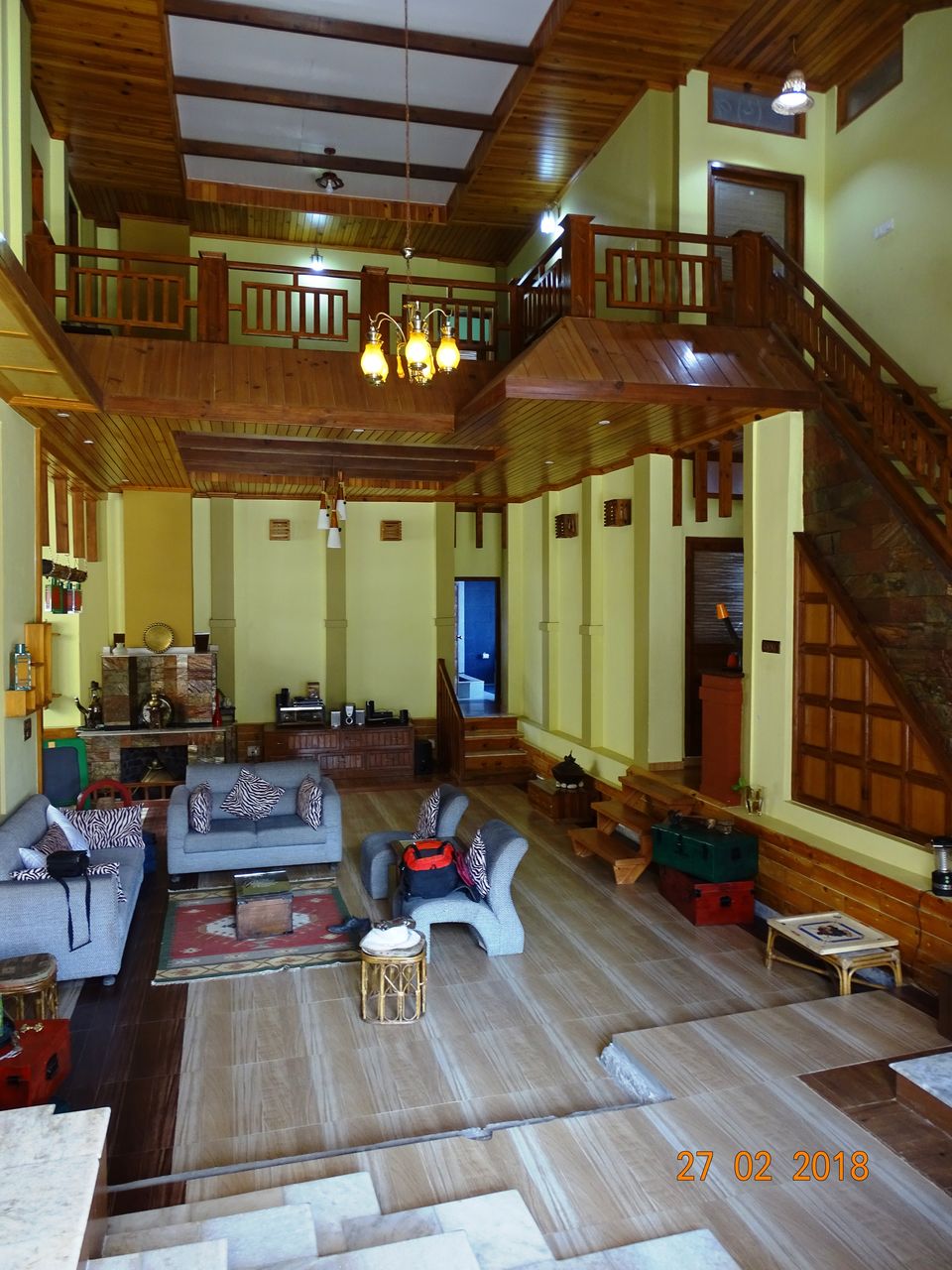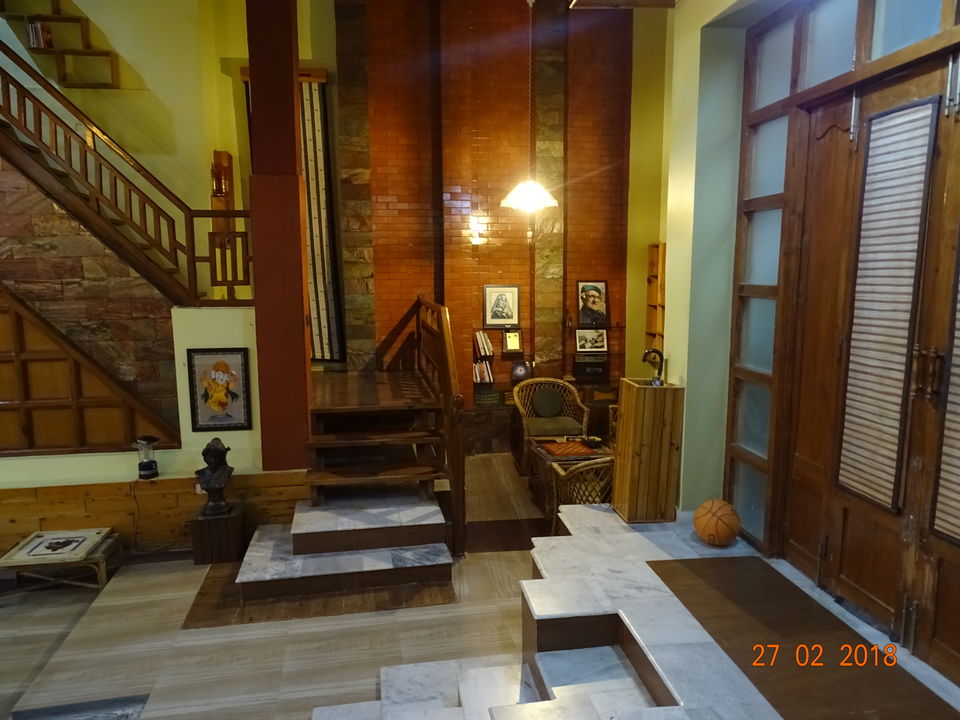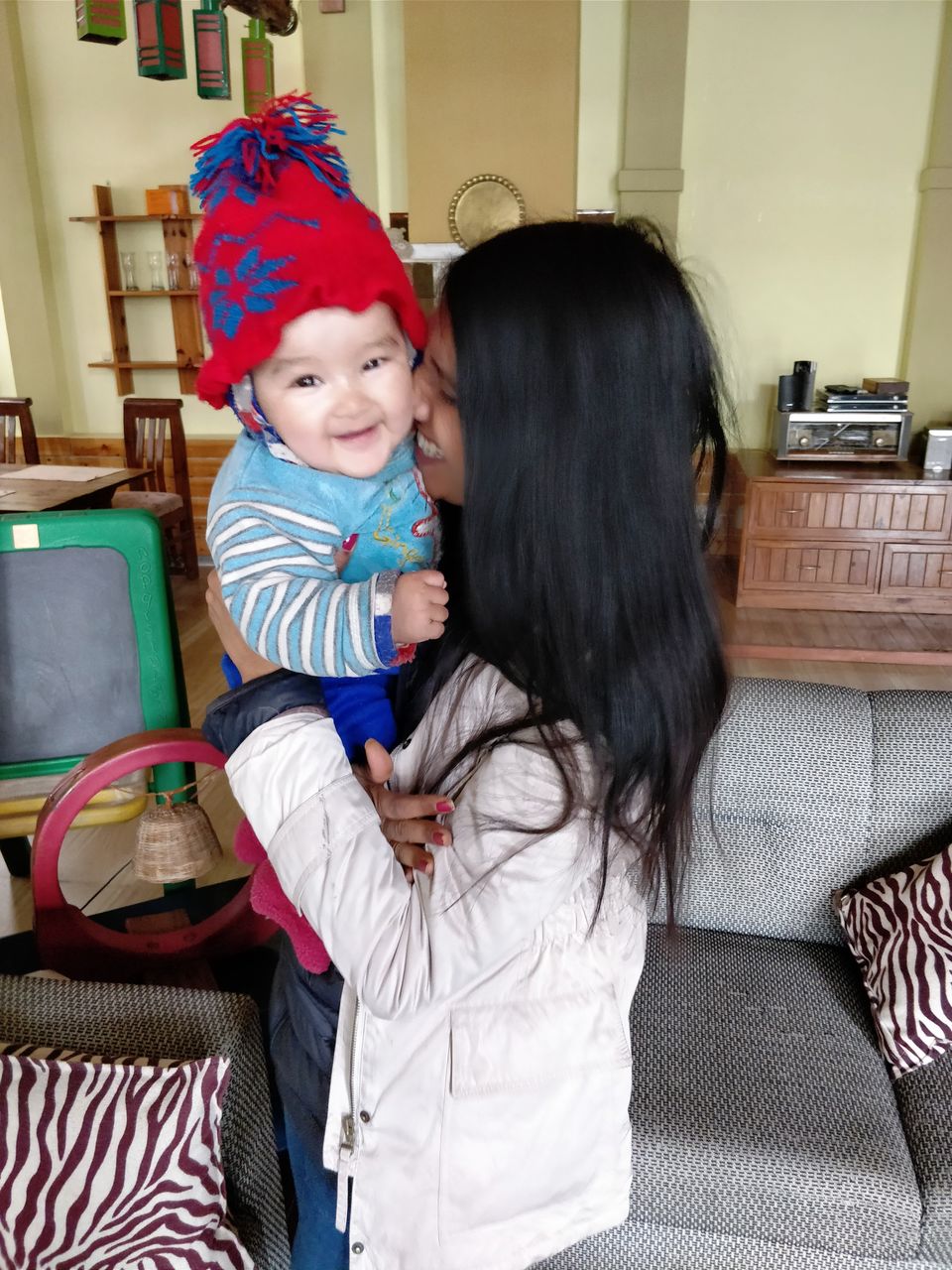 The warmth and love of the people in Himachal also gets reflected in the food they prepare and we couldn't help but gobble up the sumptuous lunch almost twice our diet!
Later, we moved to the lawn to enjoy sun and scenery: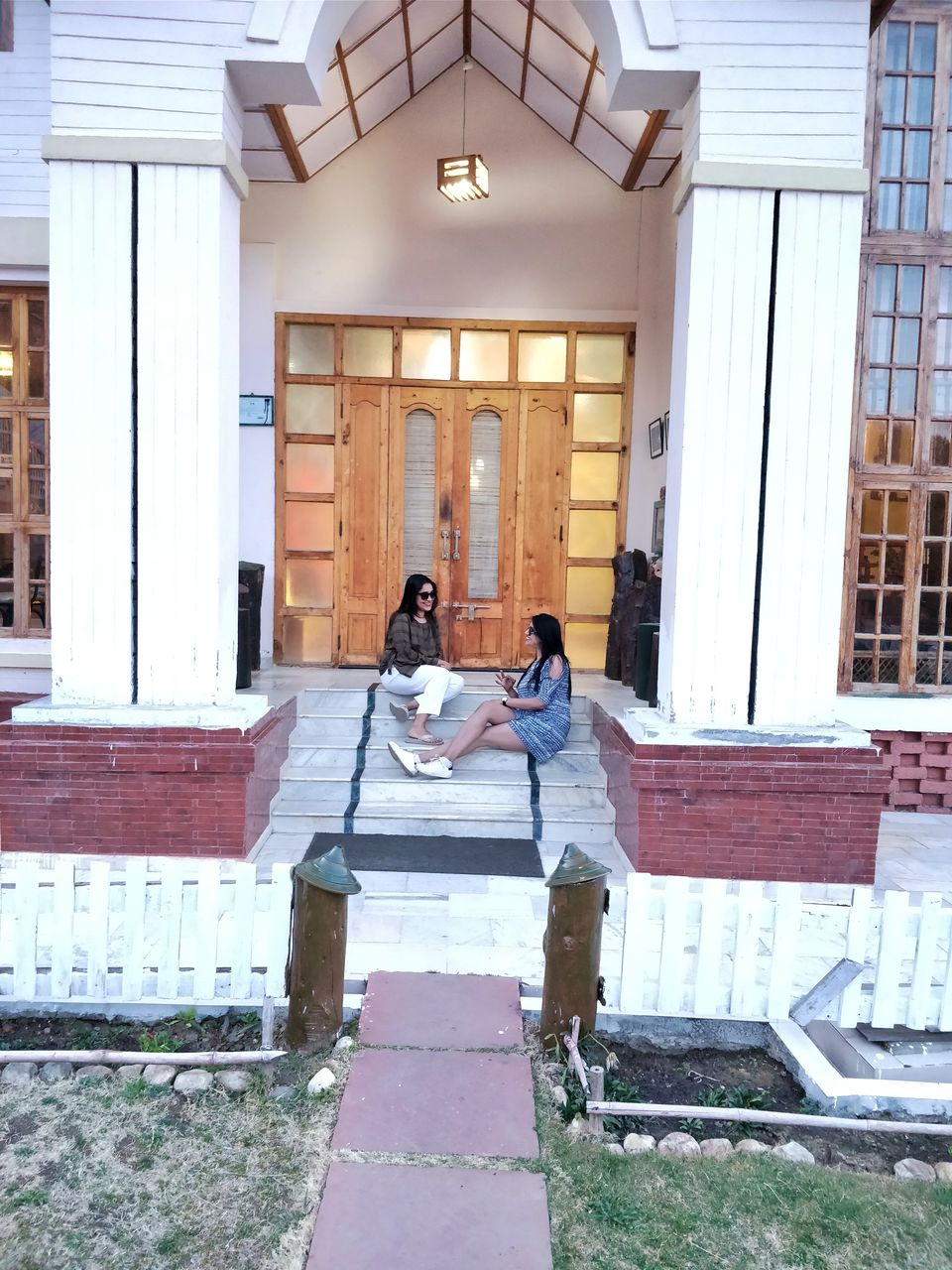 We spent rest of the afternoon outdoors swinging on the hammock listening to the sweet music of nature around us: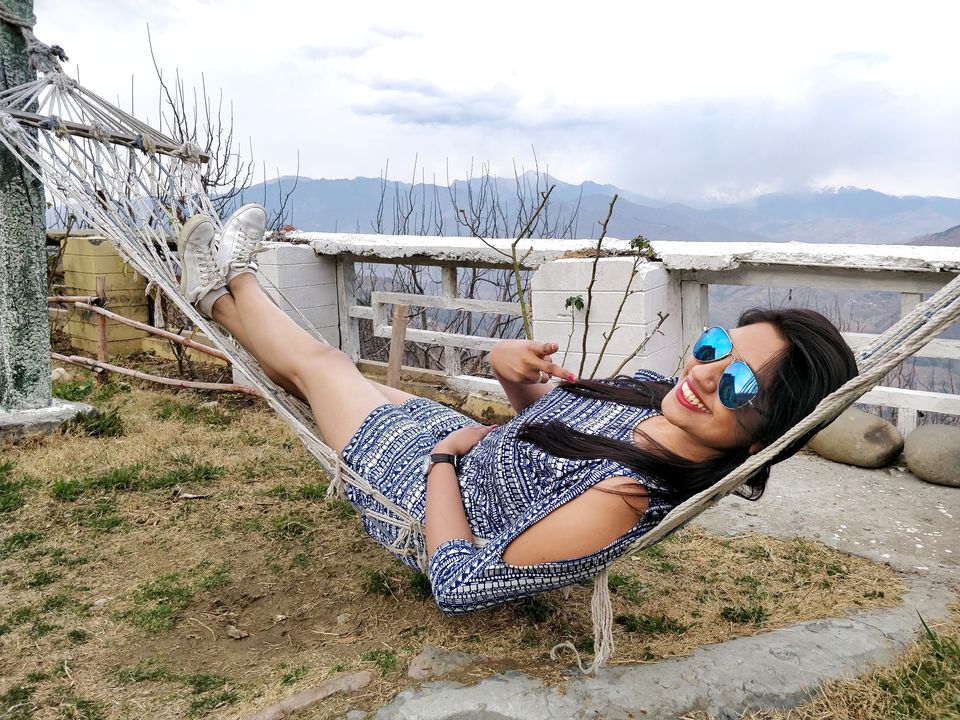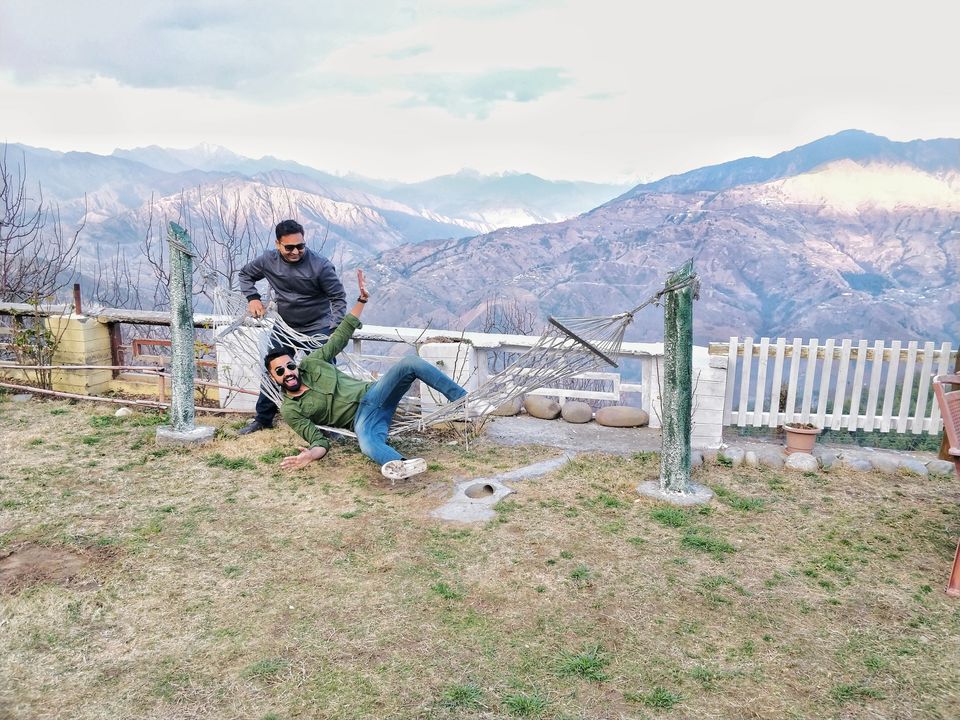 Initially we had booked the villa only for a single day, but the mesmerizing scenery and gorgeous home got us requesting to stay another day to soak in its essence satisfyingly: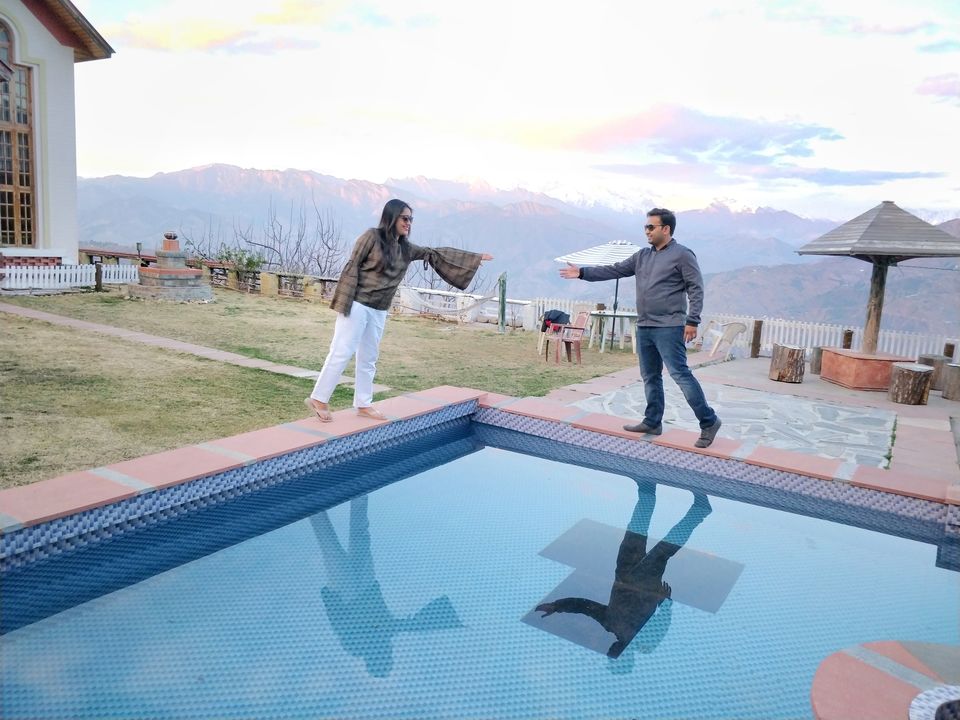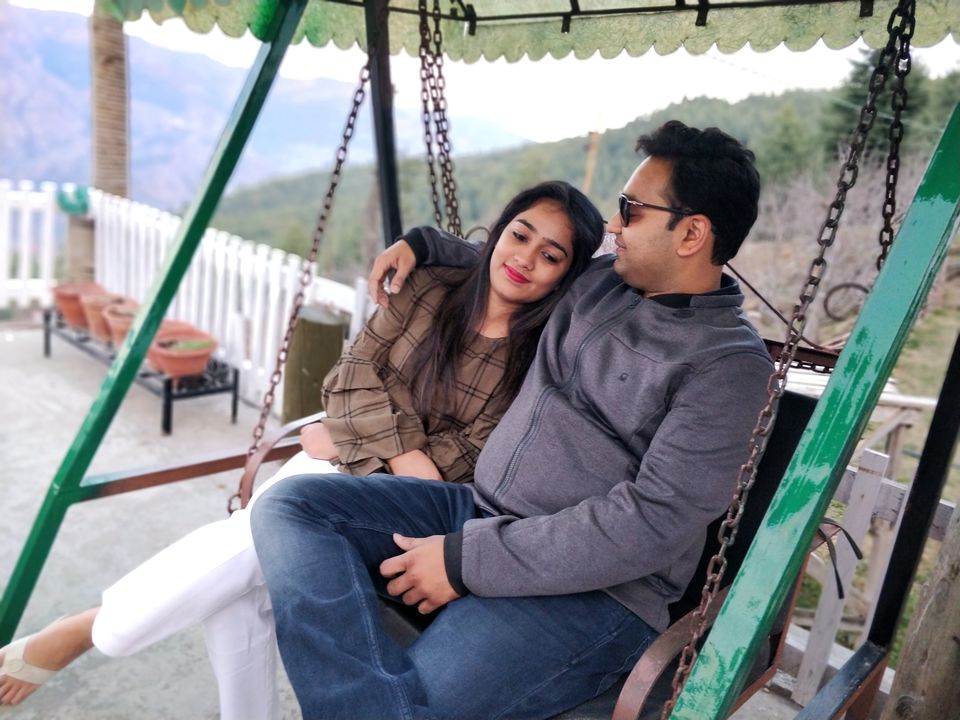 Night arrived with a shining bowl of twinkling stars which seemed to wink at us as old mates, long lost in the dust and crowd of cities, meeting up again to embrace us and shower us with serenity & care.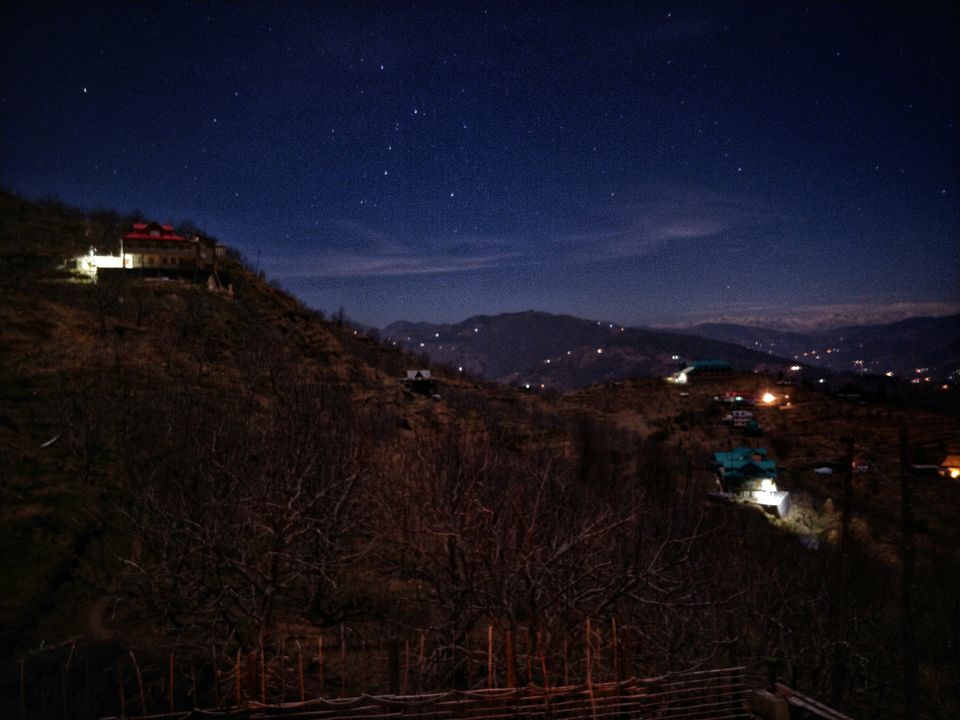 After dinner we sat around a bonfire and celebrated having found such a beautiful jewel of a house: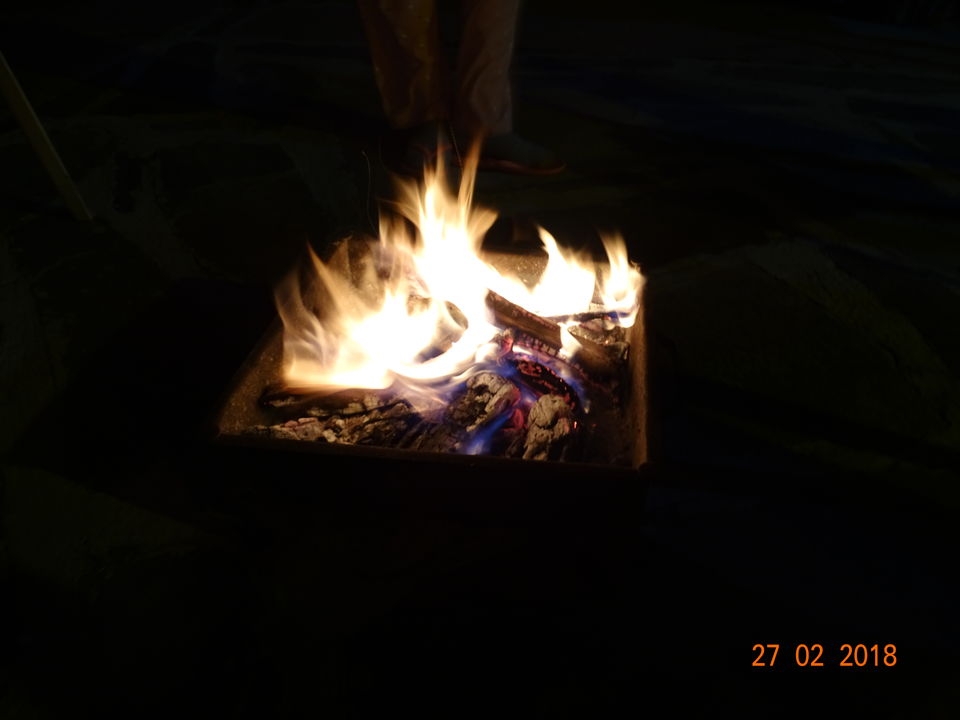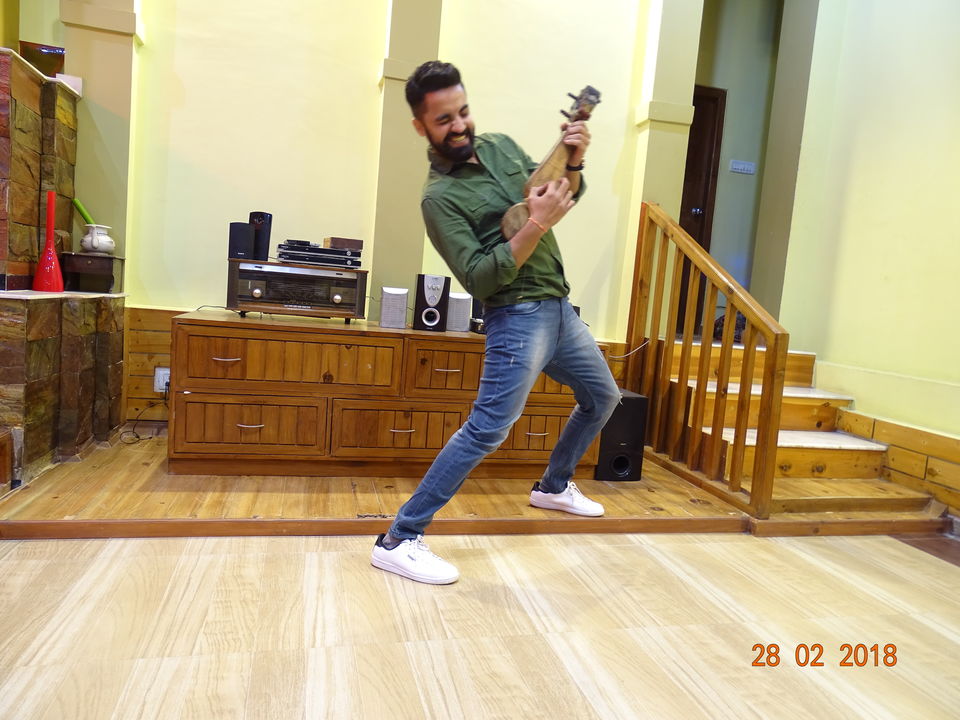 Mr. Chaman, the caretaker suggested some next day plans and we instantly picked a trek out of those options as we were starting to miss the long walks, climb and workout. Convincing our friends to wake up early for trek would have been a task had they not been be bewitched by the good vibes of the house and they approved to climb up to 360 degree platform to witness sunrise next morning. We quickly got ourselves tucked in bed for an early start the next day.
At long last after some heaving and panting, being guided by Mr. Chaman we finally reached the viewpoint at which inspite of the fatigue from climb, we stood breathlessly gaping the unscathed pure nature surrounding our soul and senses, its charm dripping sweetly engulfing us into utopian oblivion! Our shutterbug impulses were bouncing ecstatically in every direction trying to capture a little part of the splendid spectacle around: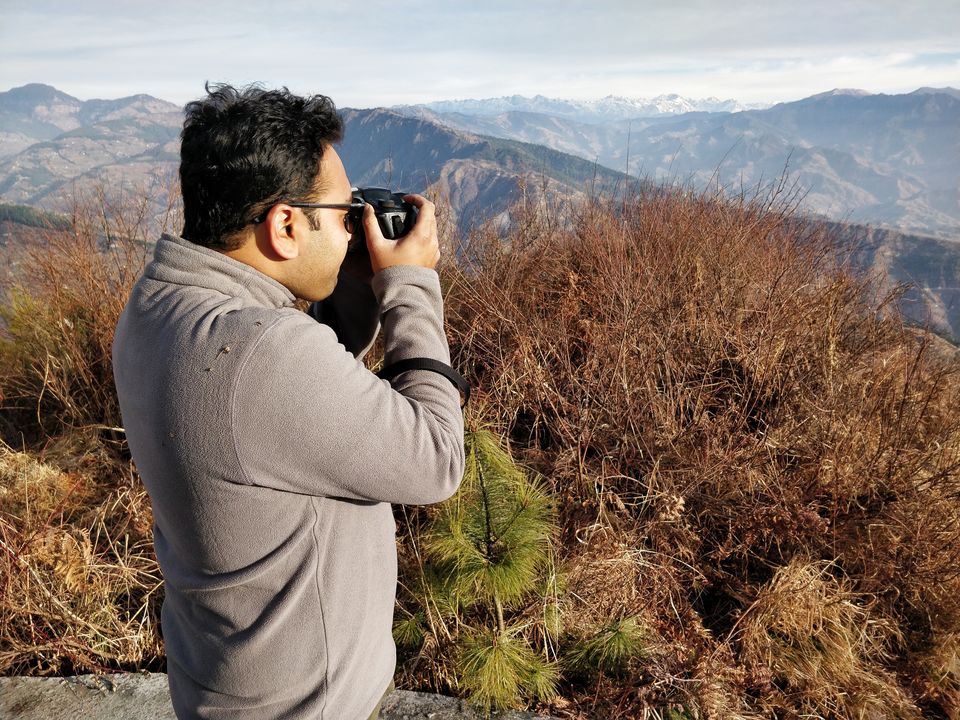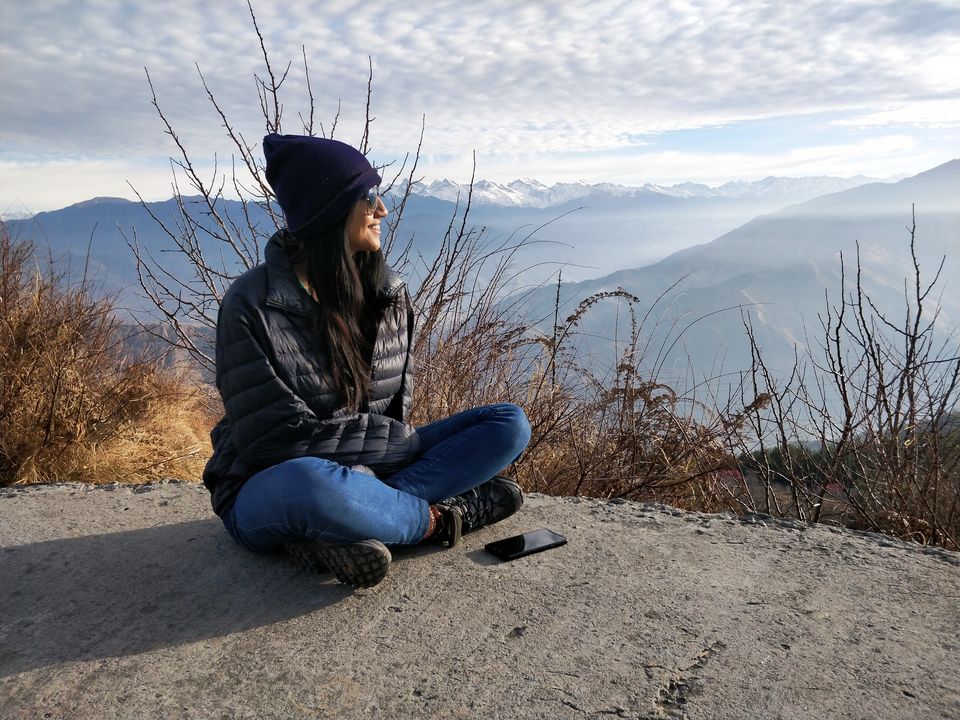 After a long time or what seemed like just an instant we settled down, had some snacks and then began walking down to our humble abode to enjoy the remaining day at leisure. Time slowed down graciously for us allowing to live and remember the moments spent trekking through the forest trails amply, to treasure and boast in our mind's scrapbook of the amazing experiences: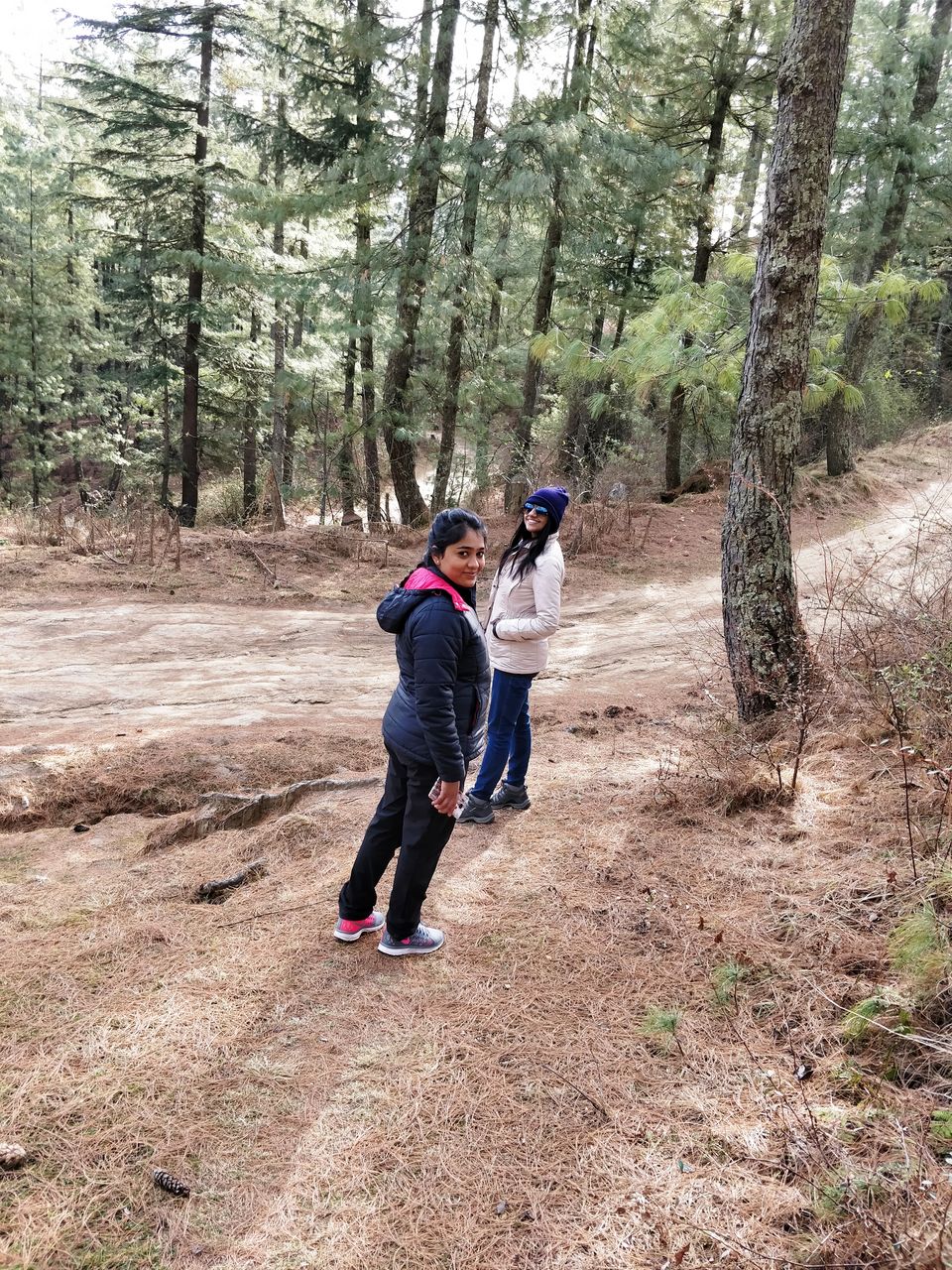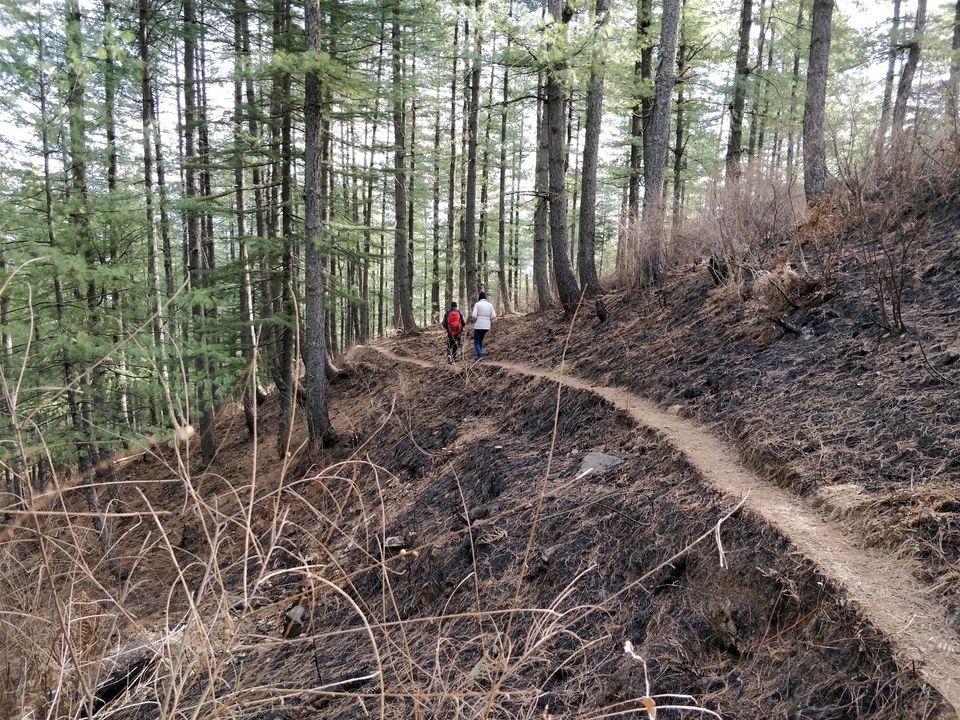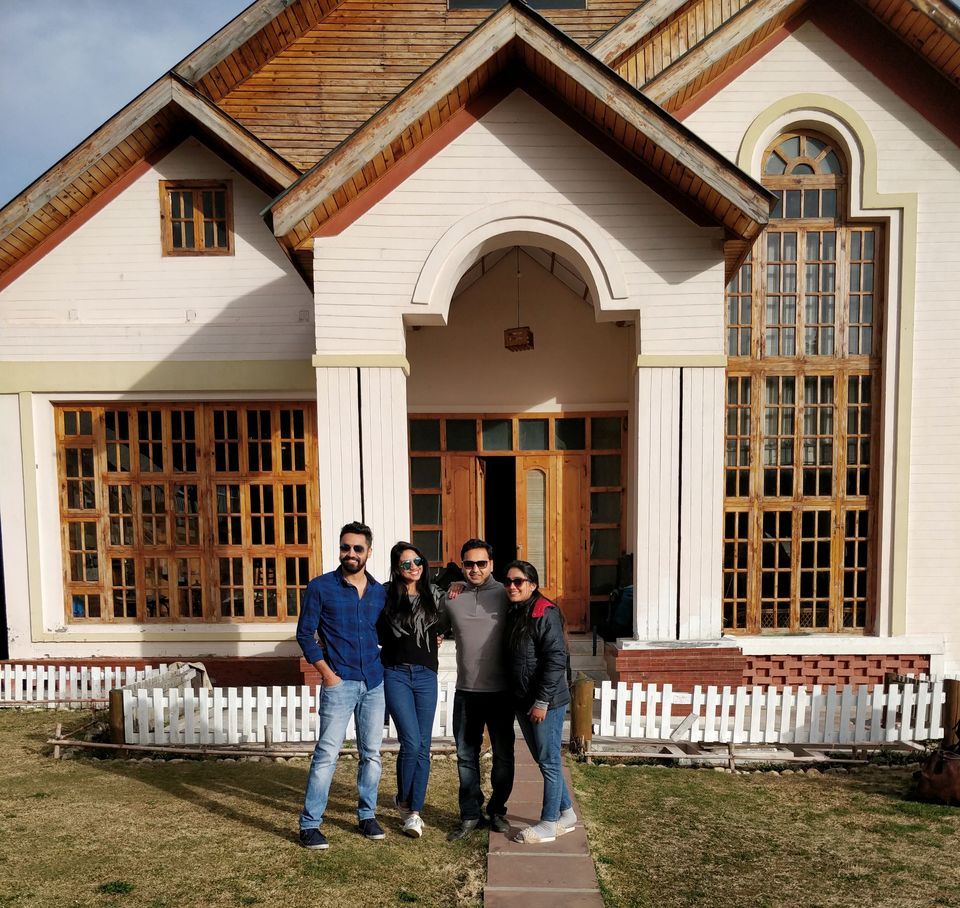 We gradually went into slumber having enjoyed the complete day and in anticipation of the adventure to reach up to Jalori Pass post hoc.
Slowly the virtual google paths intertwined with the real roads and we continued ahead now on the main road climbing steep inclines up to the Pass.
At around 5 pm nearing sunset we reached the snow-swept Jalori pass. We were happy to see snow even if it was in scattered patches wishing for a more elaborate setting, in retort to which nature blessed us with a snowfall as soon as we had ordered chai-maggi at shops there. We could only praise our trip-stars for being so lucky to witness snowfall early in the trip and that too after a hard day's drive in such a lovely ambiance of Jalori pass!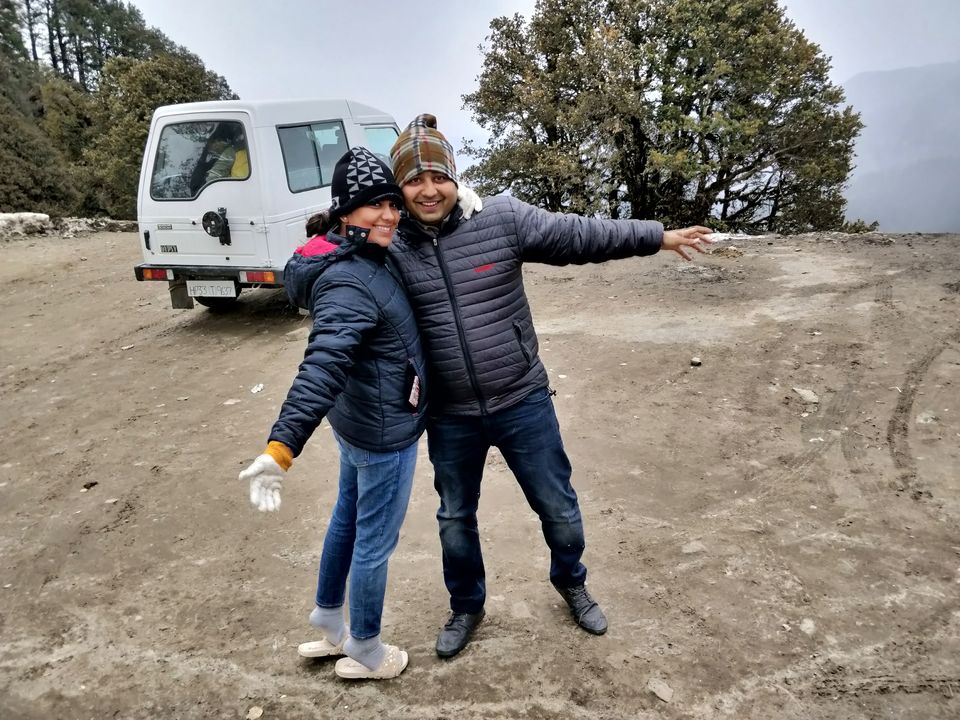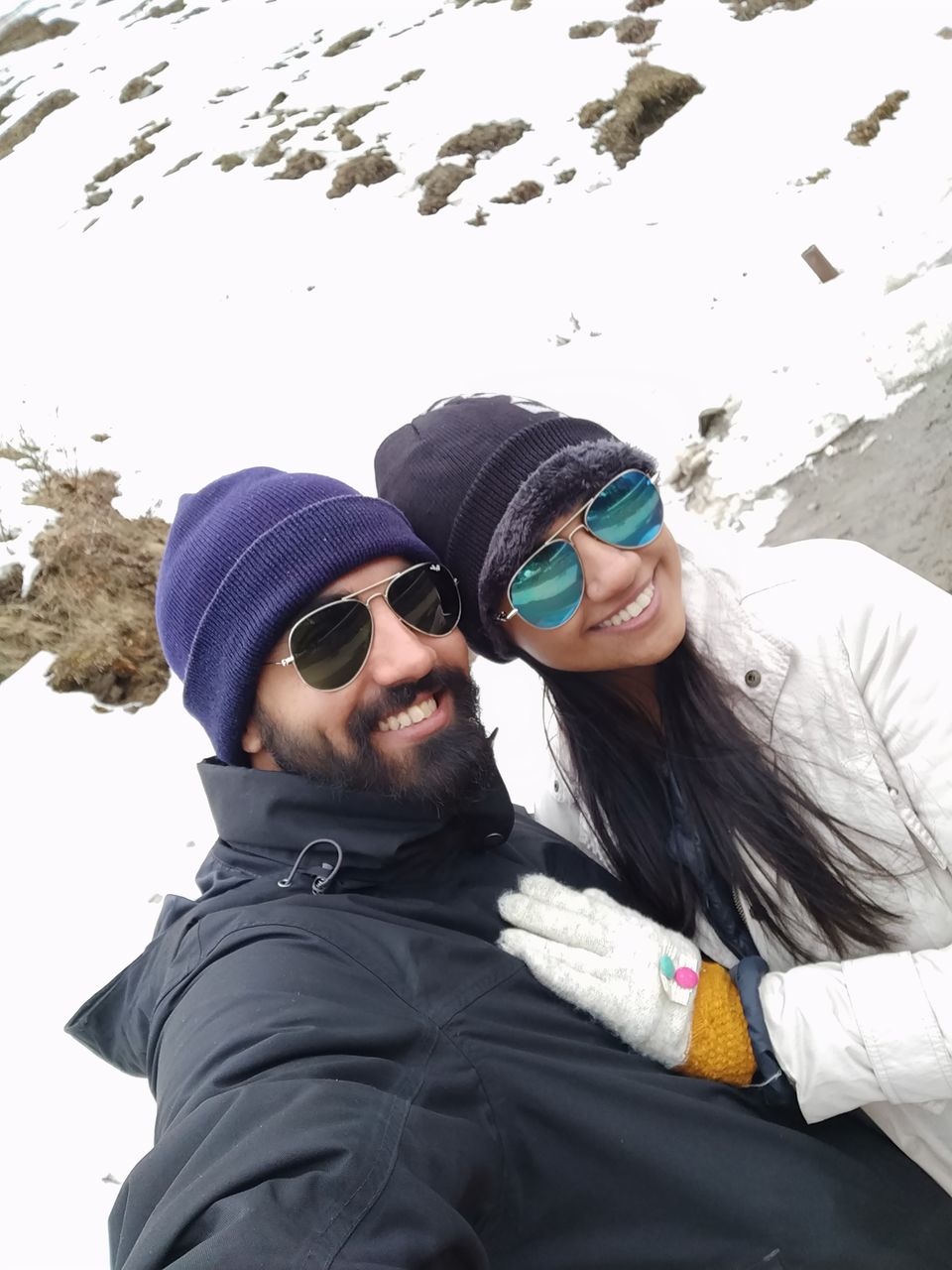 Shopkeepers at the pass suggested to descend for Jibhi quickly in case the weather escalates to snowstorm so with the aim to come back from Jibhi the next day, we drove to our next stay in the quaint village.
The hospitality and respect with which the Himachali's greet their guests in unmatched! The family operating the homestay in Jibhi where we had booked out stay for next 2 nights had prepared snacks and tea anticipating we would need it after coming from a snowy Jalori pass and whole day of traveling.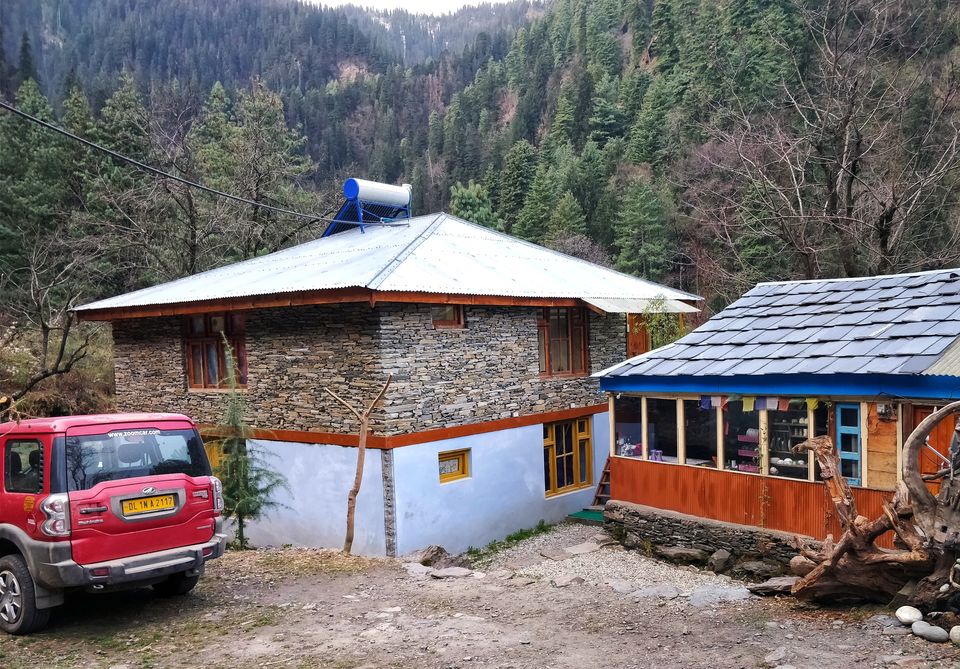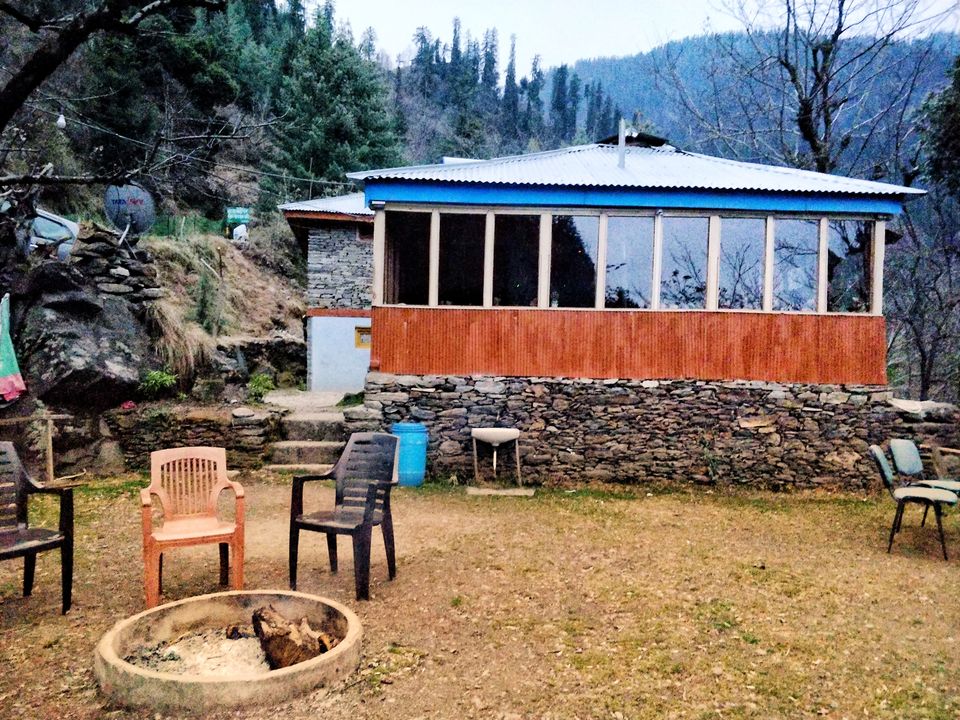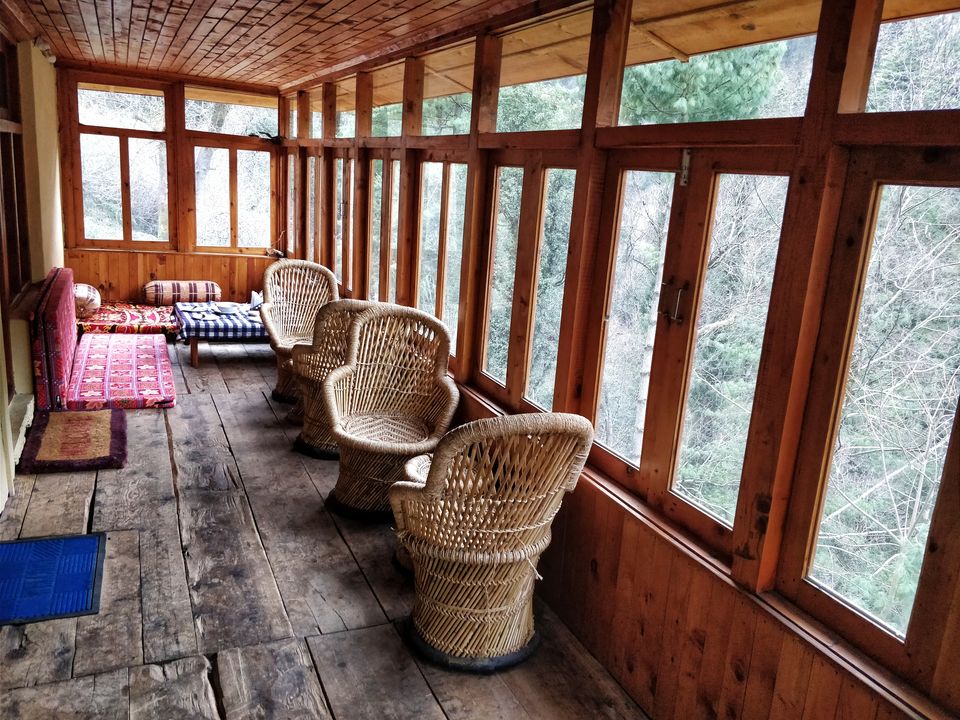 After snacks and tea, we freshened up and went down to a waterfall nearby to end the day listening to the melody of cascade nestled with forest flora: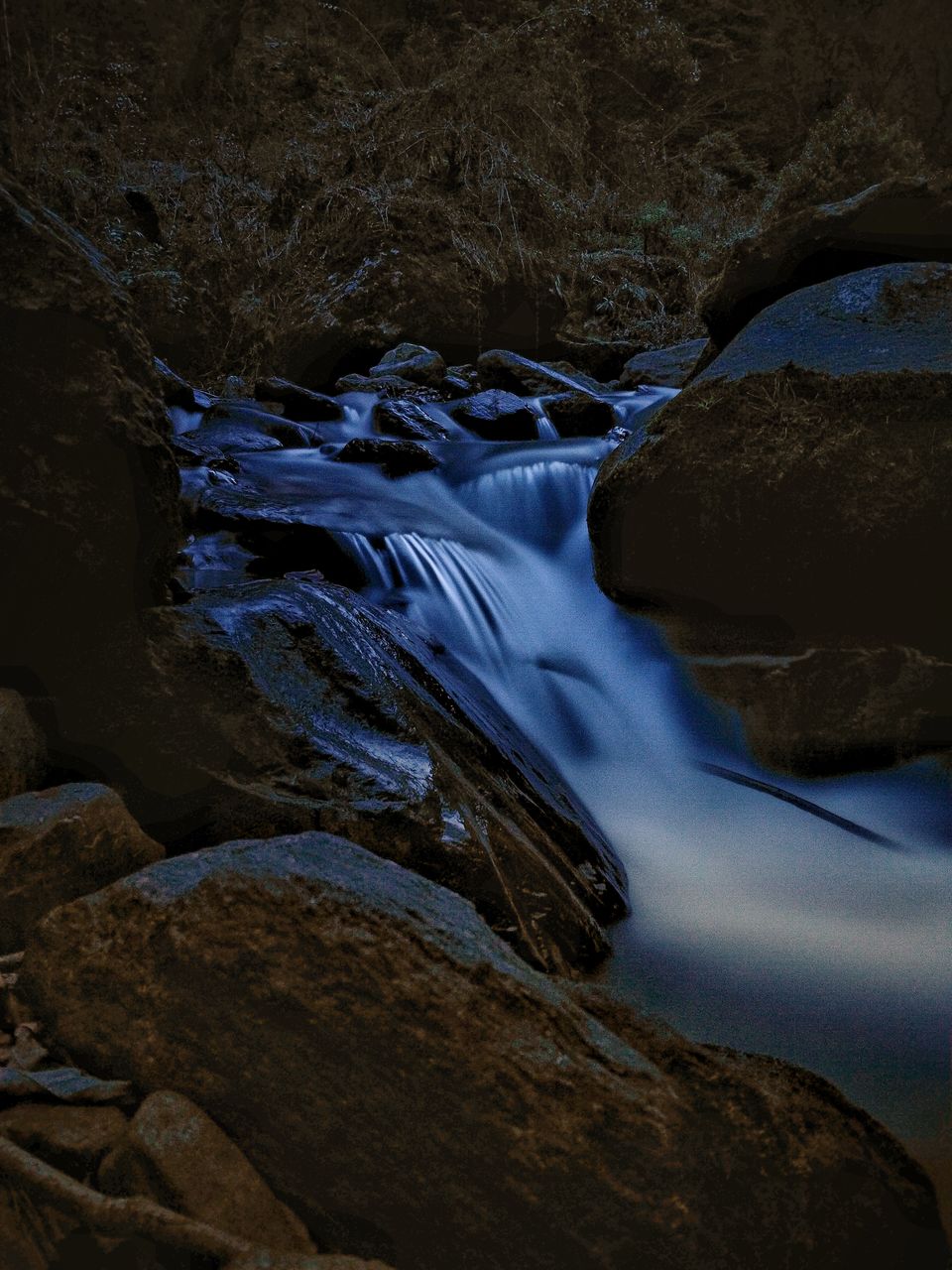 On return, dinner was served and after having a stomach full of delightful food, we retired to our rooms as we had (after a victorious and spellbinding trek at Shelapani previously) planned a trek to Serolsar Lake at Jalori pass the next day.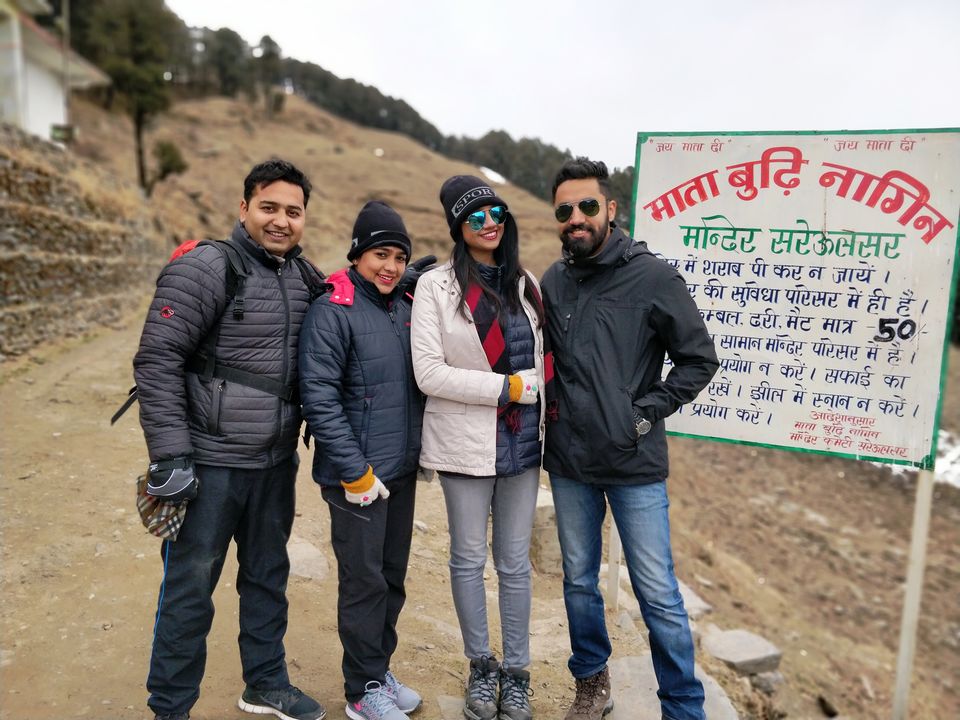 The trek is a 6 km long route which can be covered easily as it doesn't have abrupt elevation variations: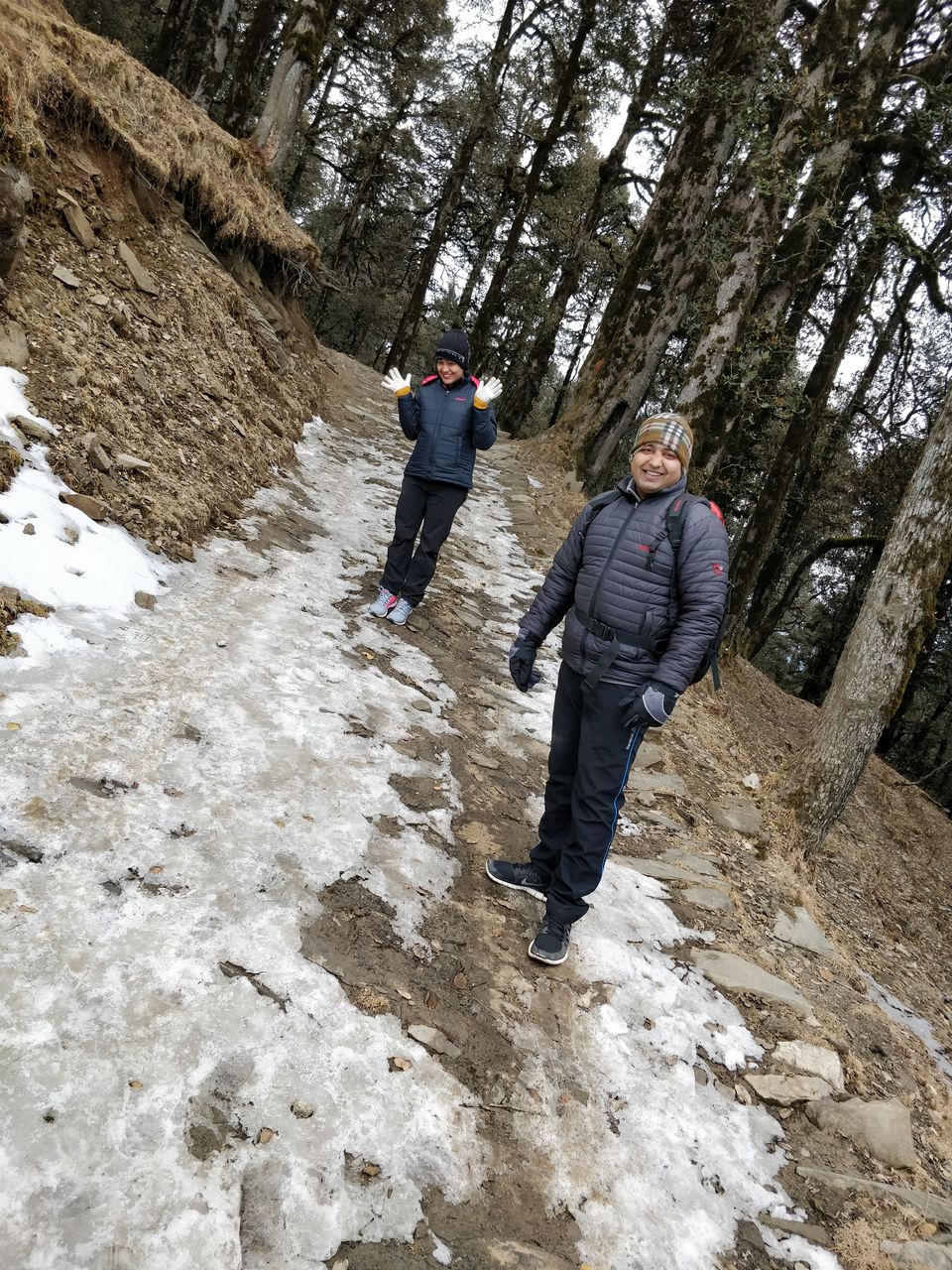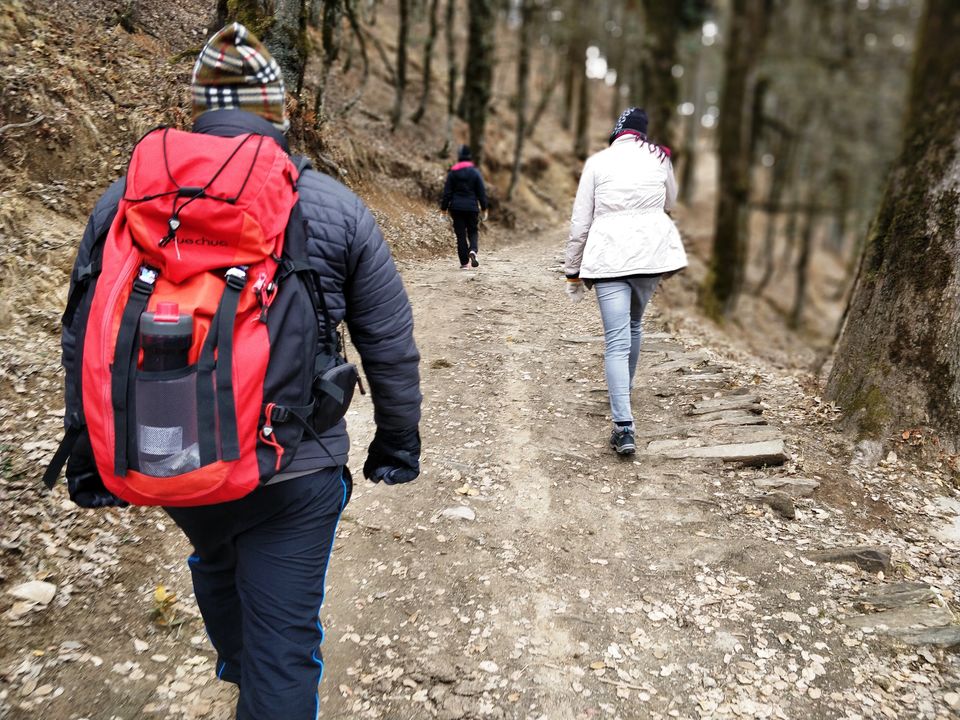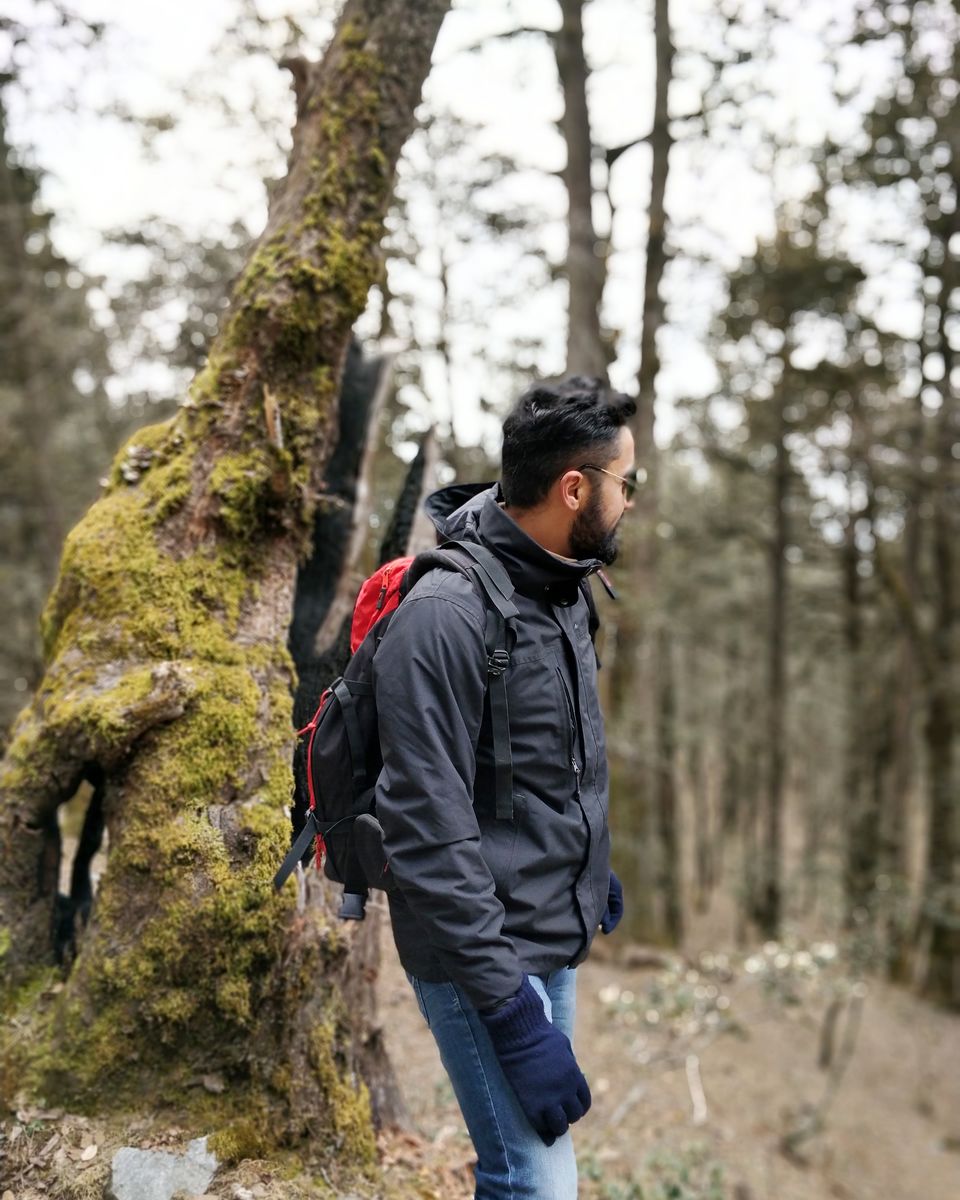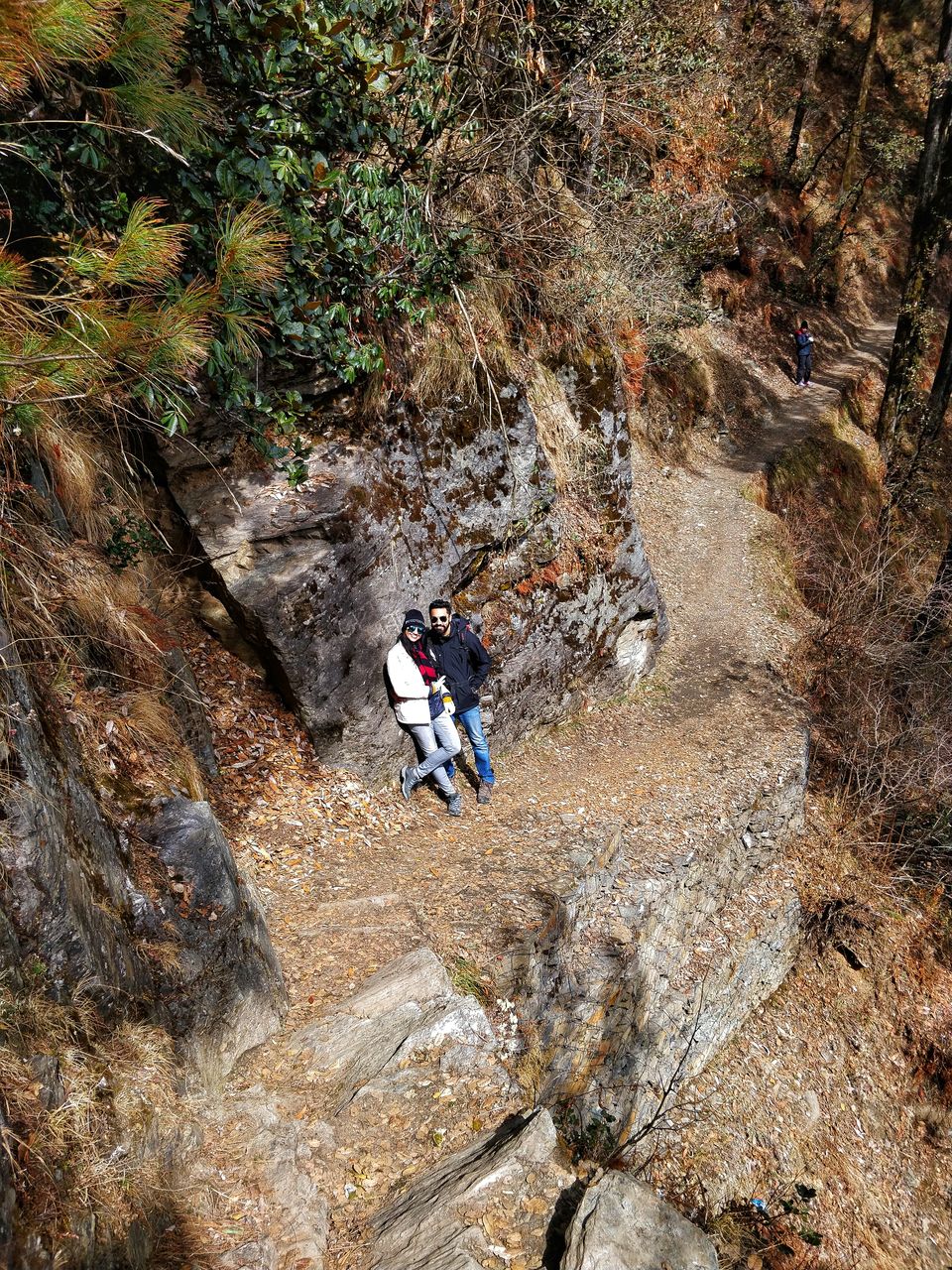 On the route there are many boards stuck on the trees which discursively keep your faith and guide on the correct path out of many trails going haphazardly at some points in the forest: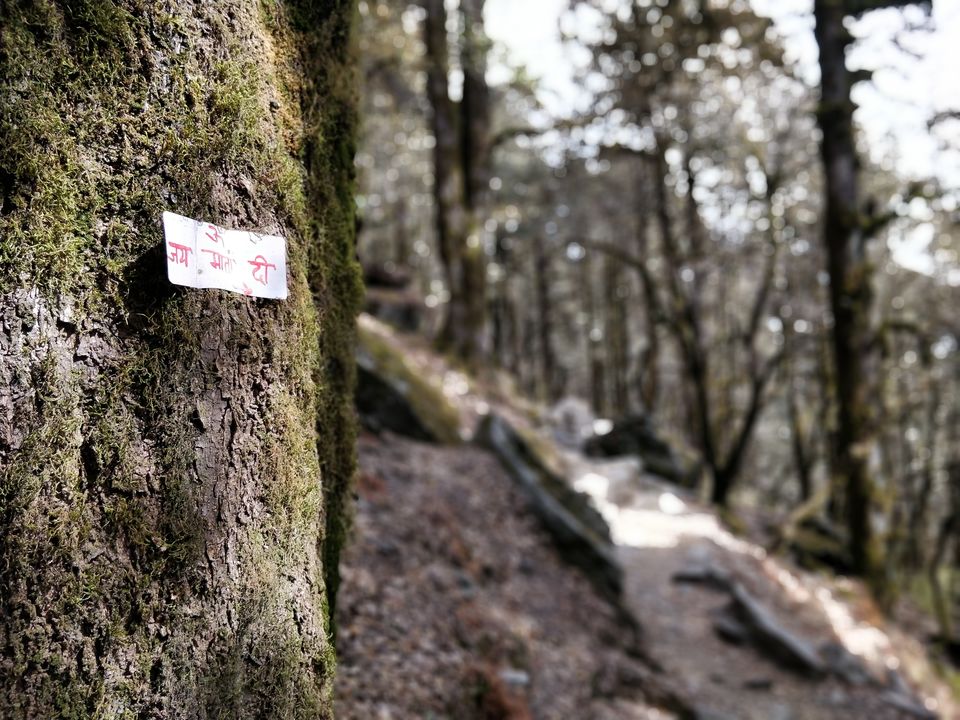 We perpetuated on until we reached some deserted shacks after which we saw a hut dispensing Maggi's fragnance beyond which lay the green lake surrounded with snowy hills. We ordered Maggi and sat besides the lake peacefully releasing our tiredness with its divine secluded charm: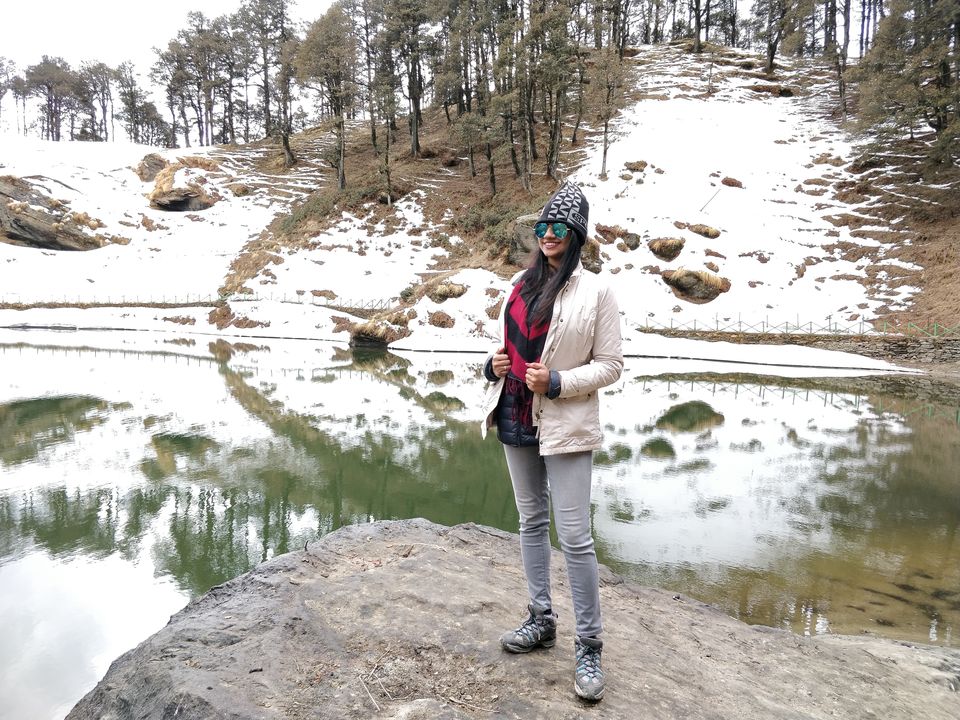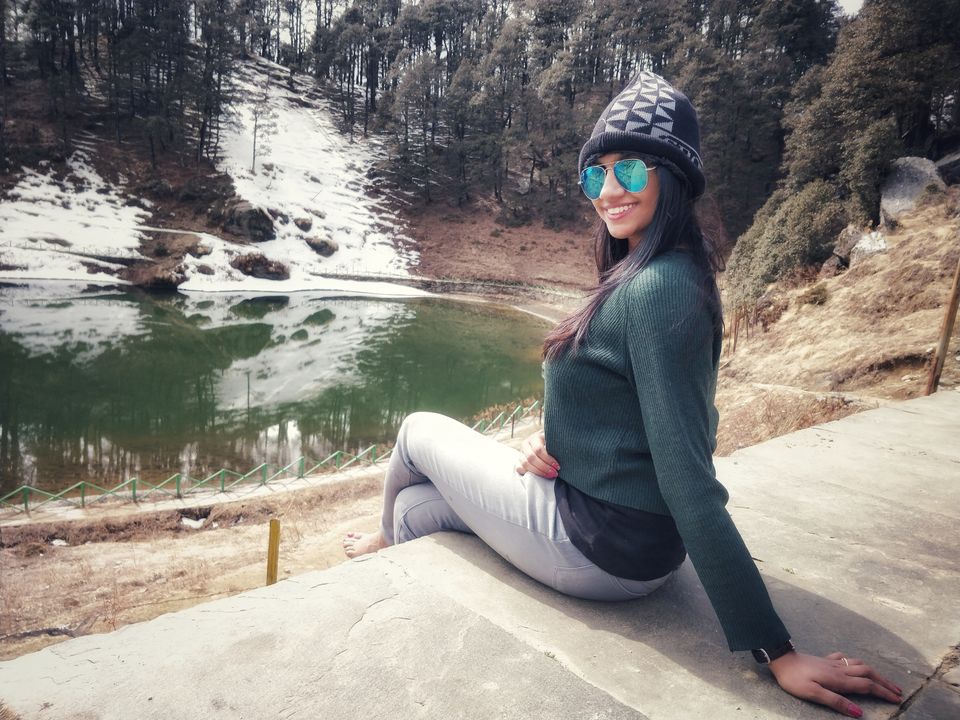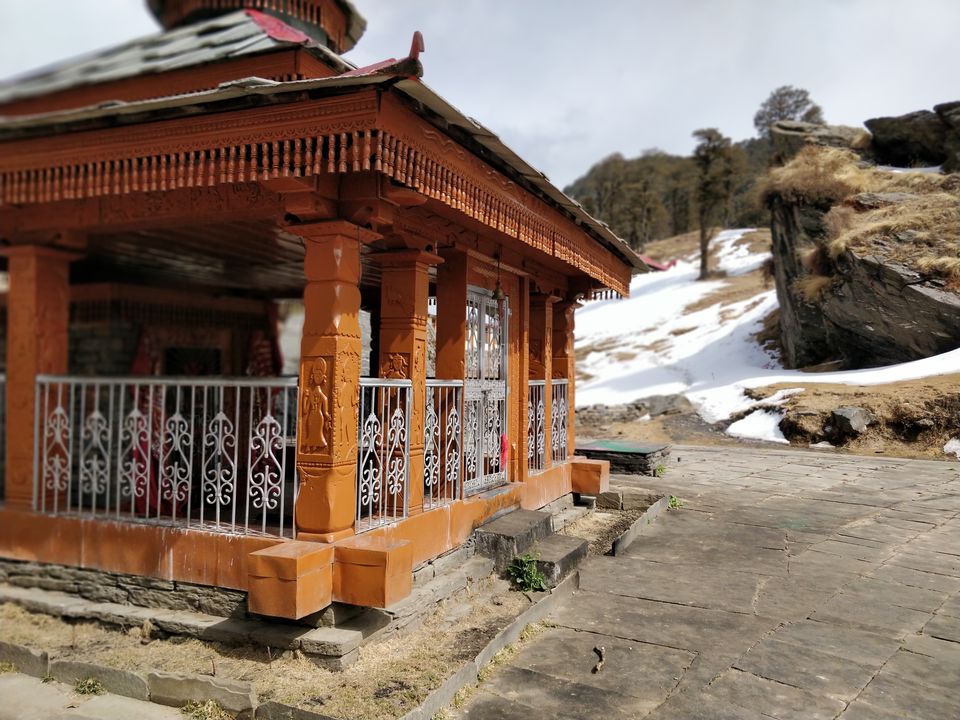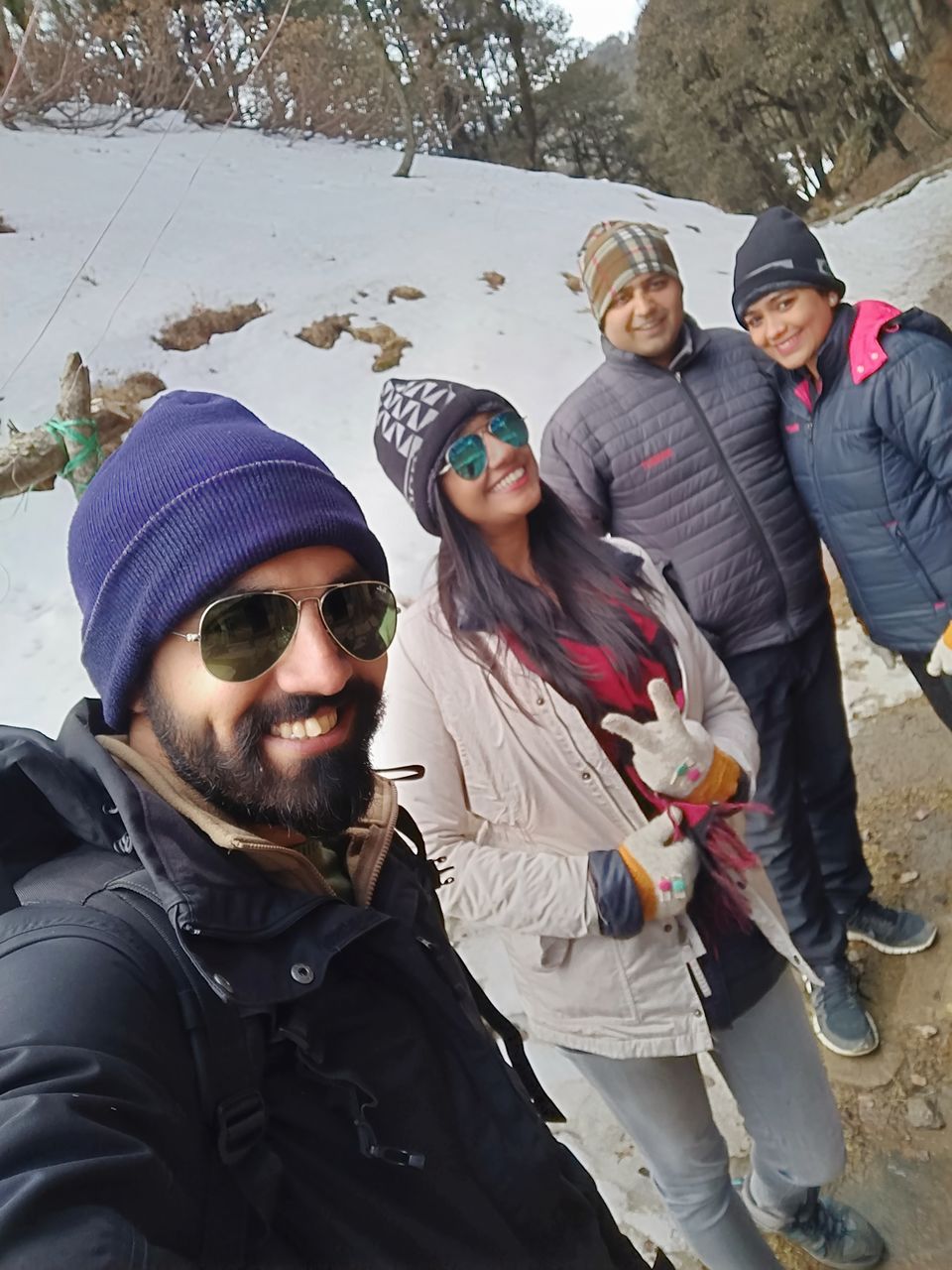 We spent some quite moments after which it was time to retrace our path back to Jalori pass on foot and then to our residence at Jibhi by vehicle.
Fulfilled with tranquility and bliss from the day's journey, we had dinner and bid farewell to the moon shining from our window in the room, and went to sleep.
We reached our final pitstop of the journey - Palchan, at which the weather gods decided to organize a snow-fest gala for us. As soon as we had settled our baggage in the room, little furry flakes started sticking to our room windows welcoming our dreams to transform into reality!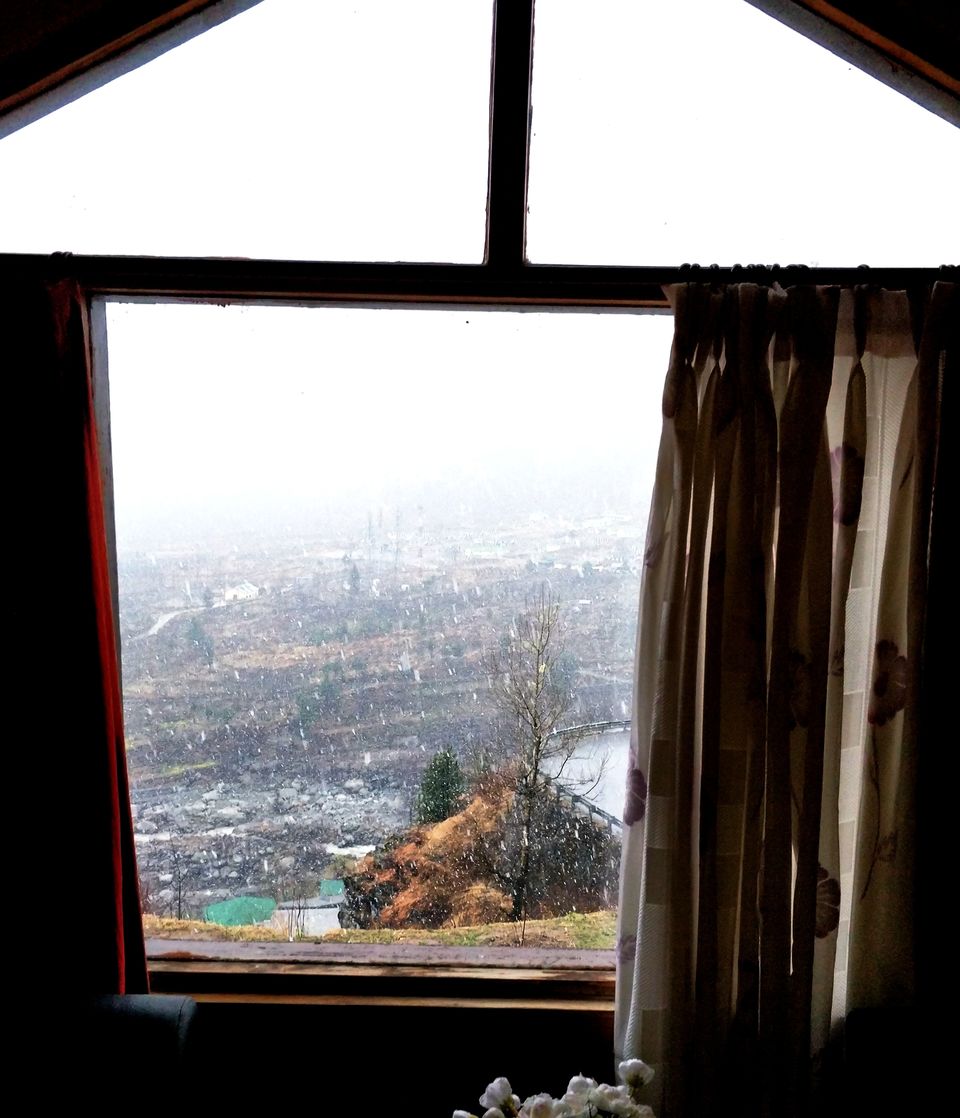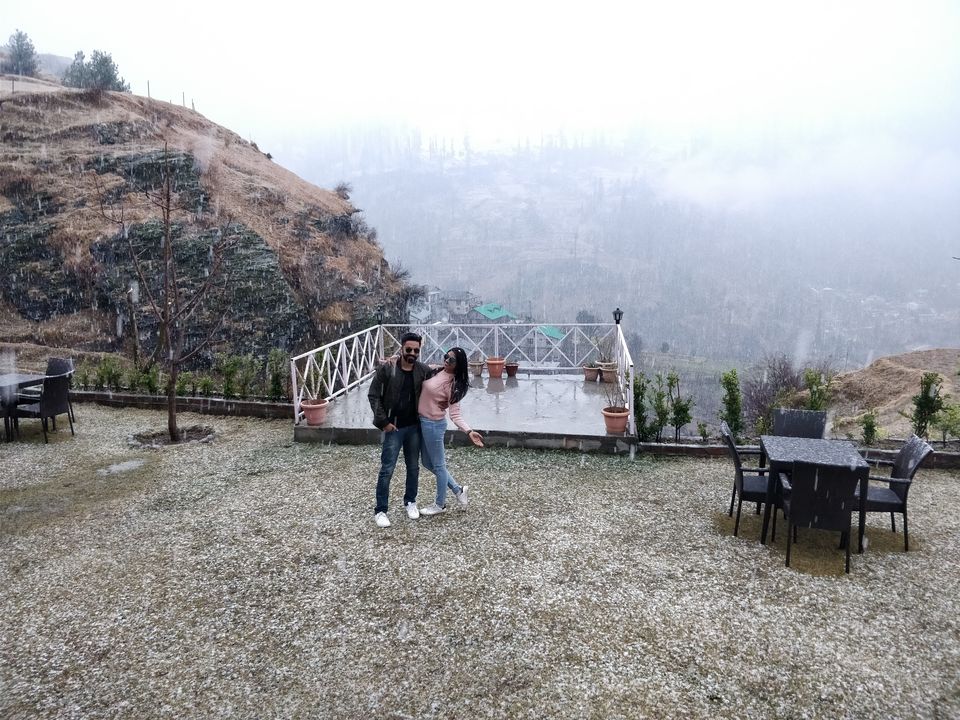 Within a couple of hours, the snow dream had shaped up into a full-blown nirvana with white vanquishing every other color out of the equation.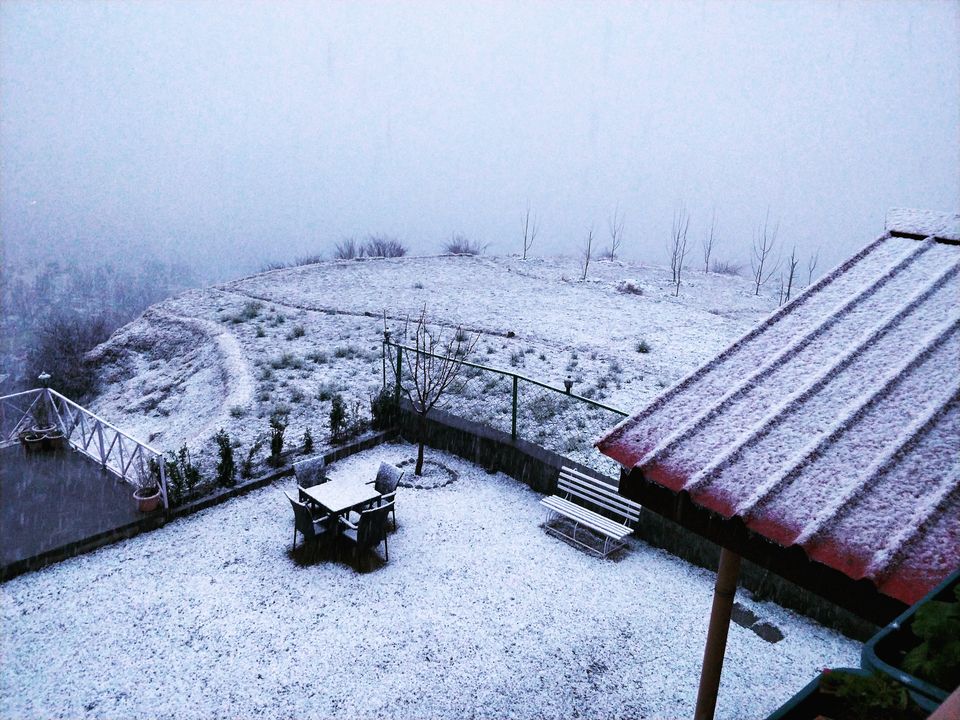 The whole landscape was drenched in snow and it was the absolute perfect setting which we had been wishing for since eternity!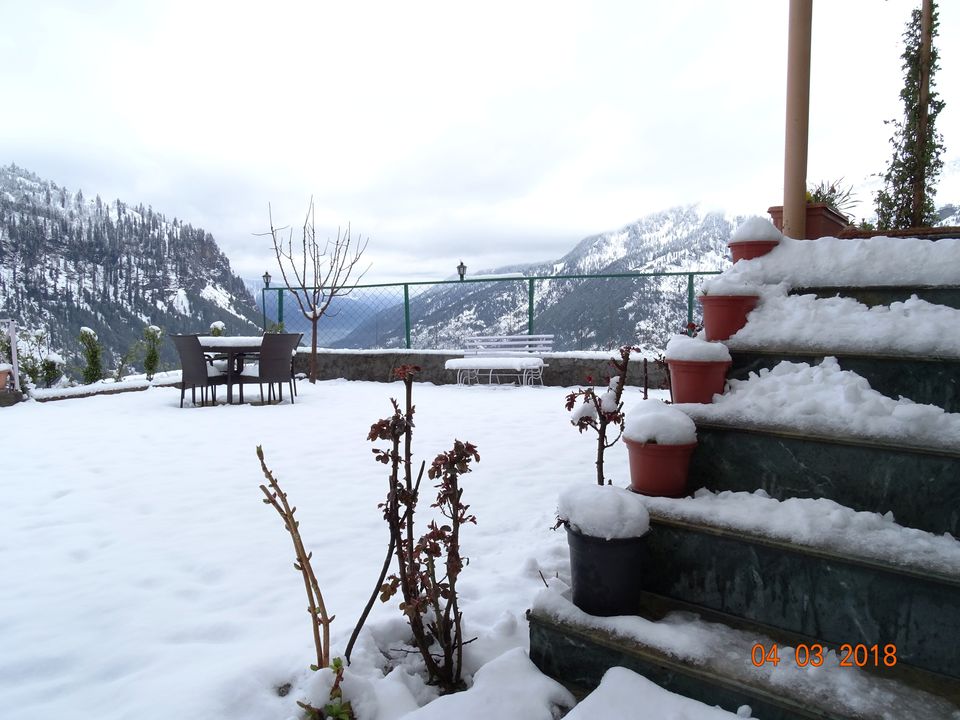 Sitting in front of the enormous glass windows sipping hot tea and eating sizzling pakodas, everything looked surreal as if we were looking at a live-wallpaper on a massive screen.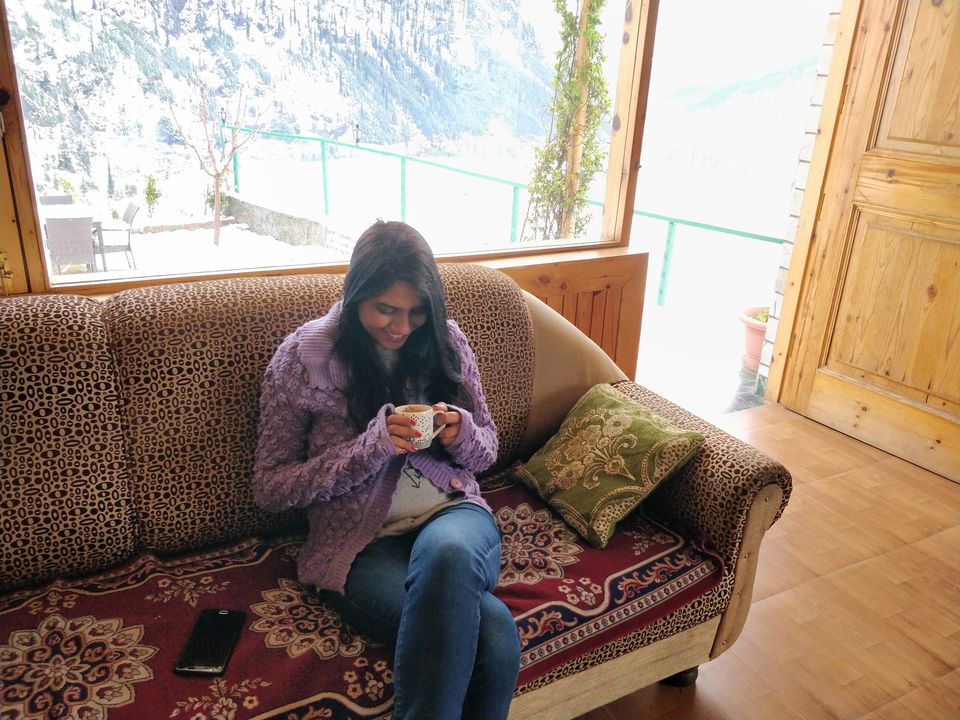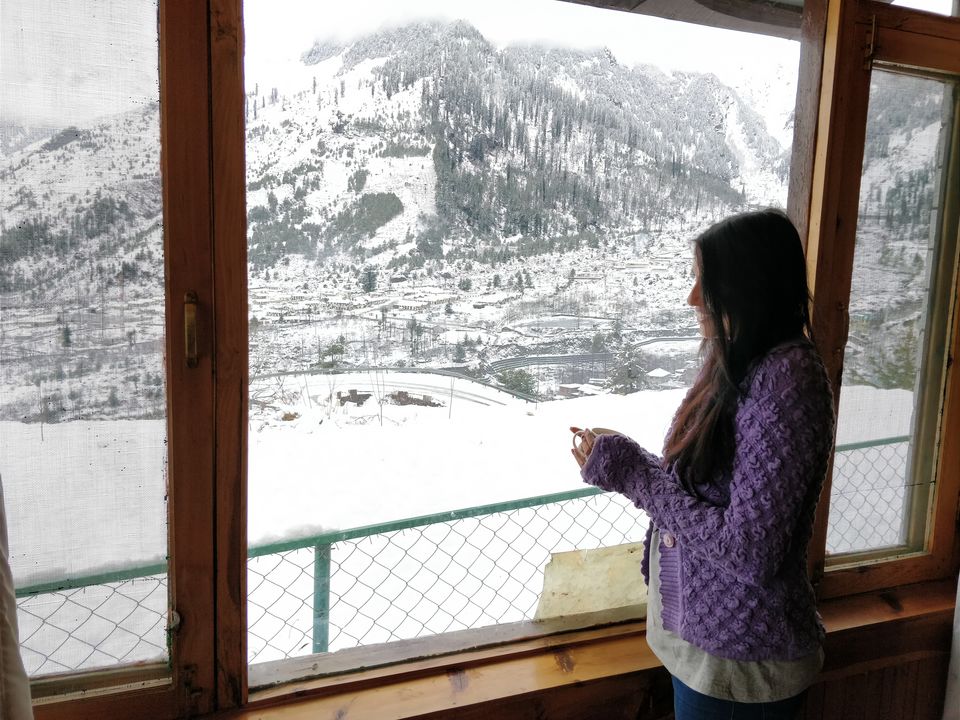 The driver, Mr. Mangal Thakur, was skilled and drifted through thick snow patches on roads finally to hill-top where a 'wall' of snow stood strong restricting us 'wildlings' or anyone else from seven kingdoms to go beyond: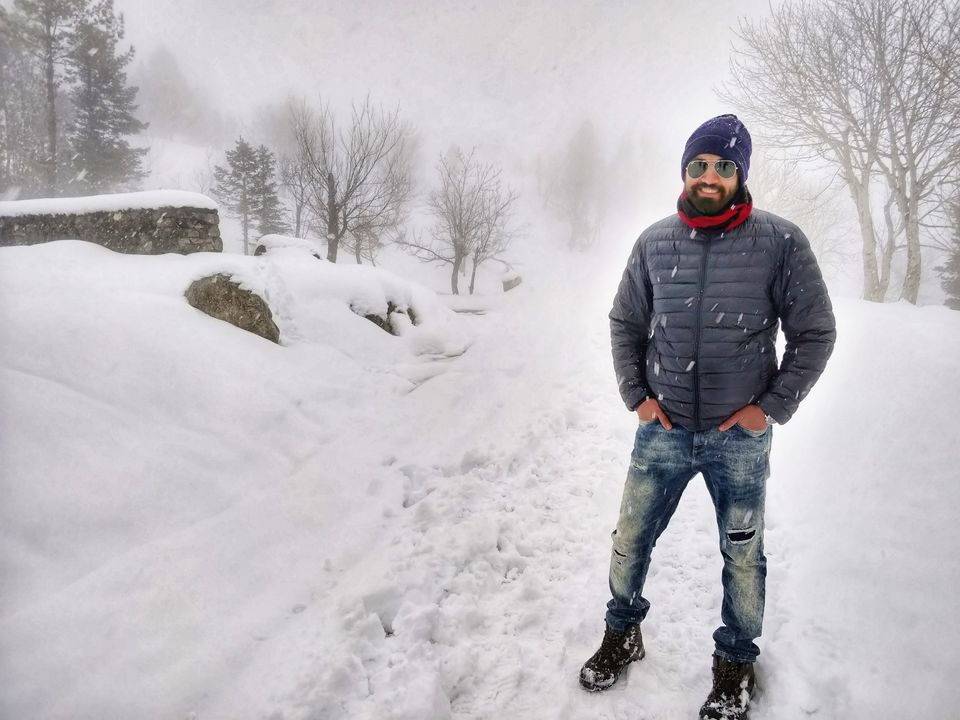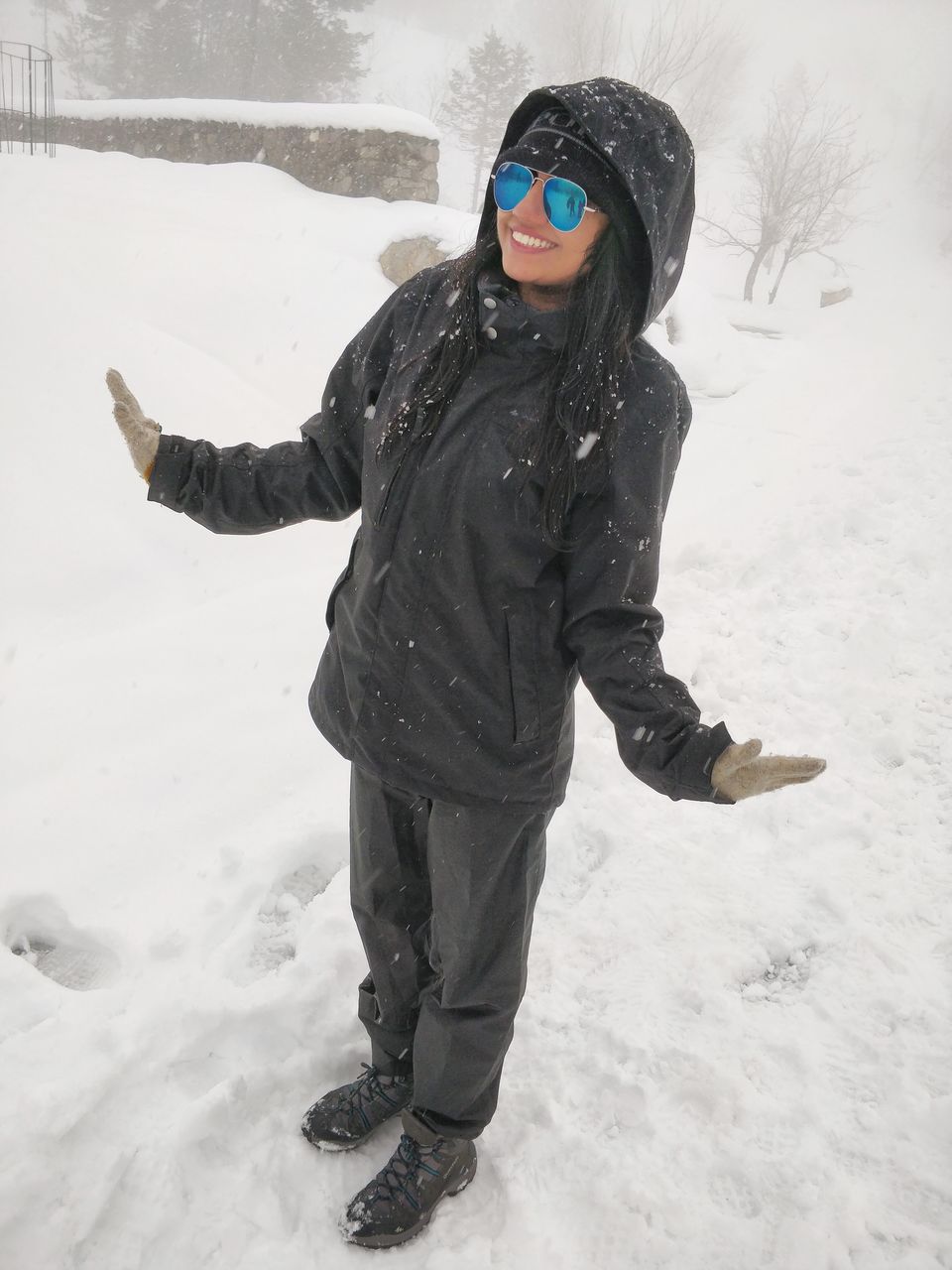 You wait for mornings, more so when you can imagine in your head the would-be-scene after an overnight snowfall. And then again, nature surprised us with even more! The gleam of snow coupled with the first rays of blessing from sun fabricated a magical illusion of tantalizing pulchritude!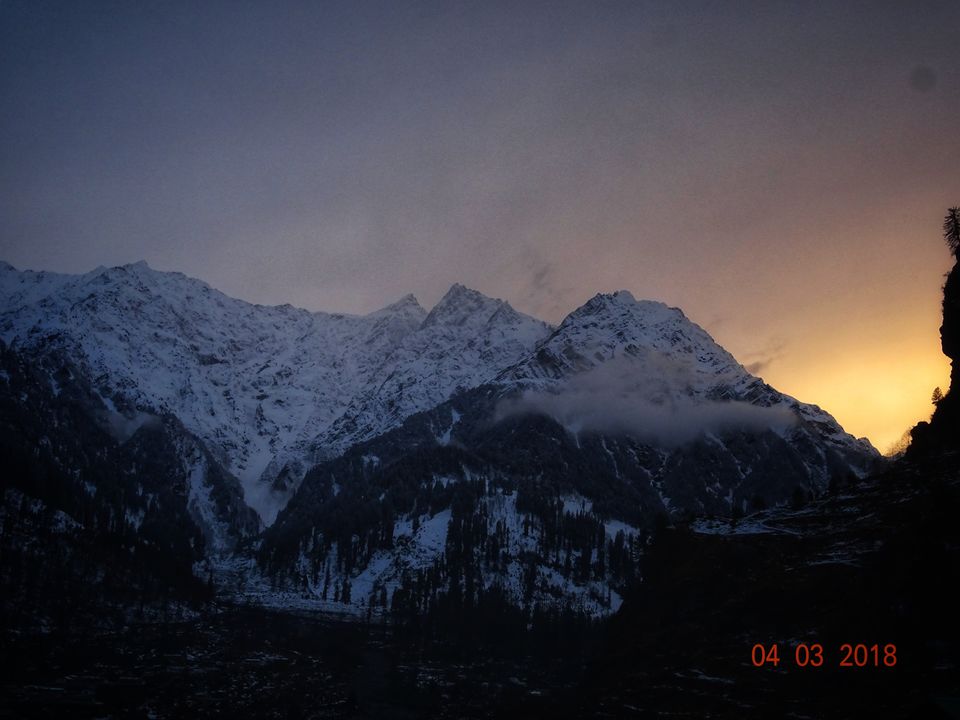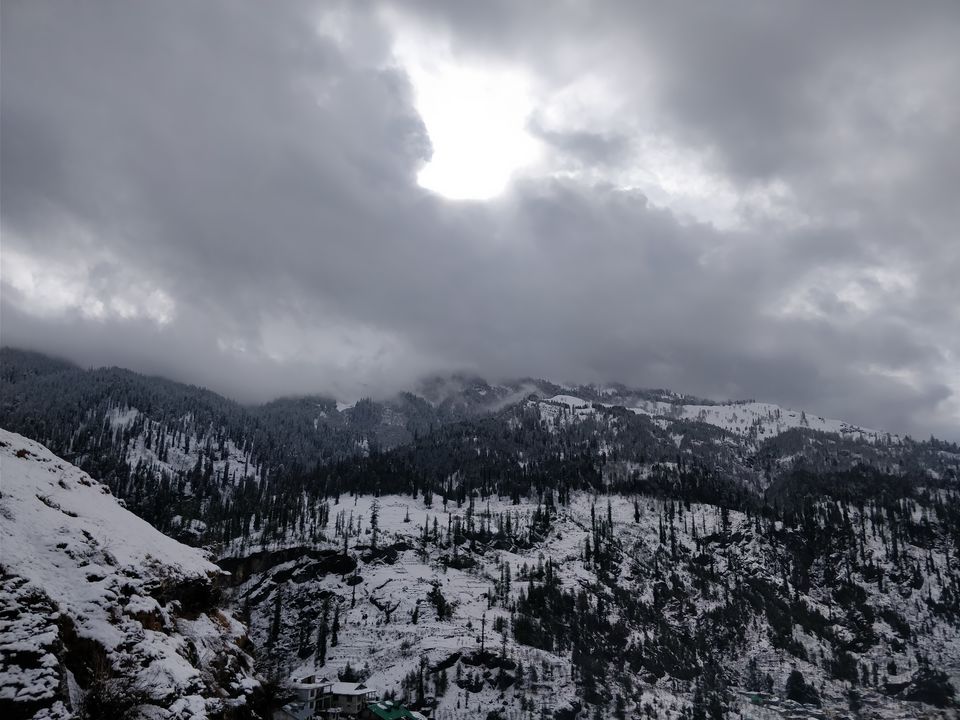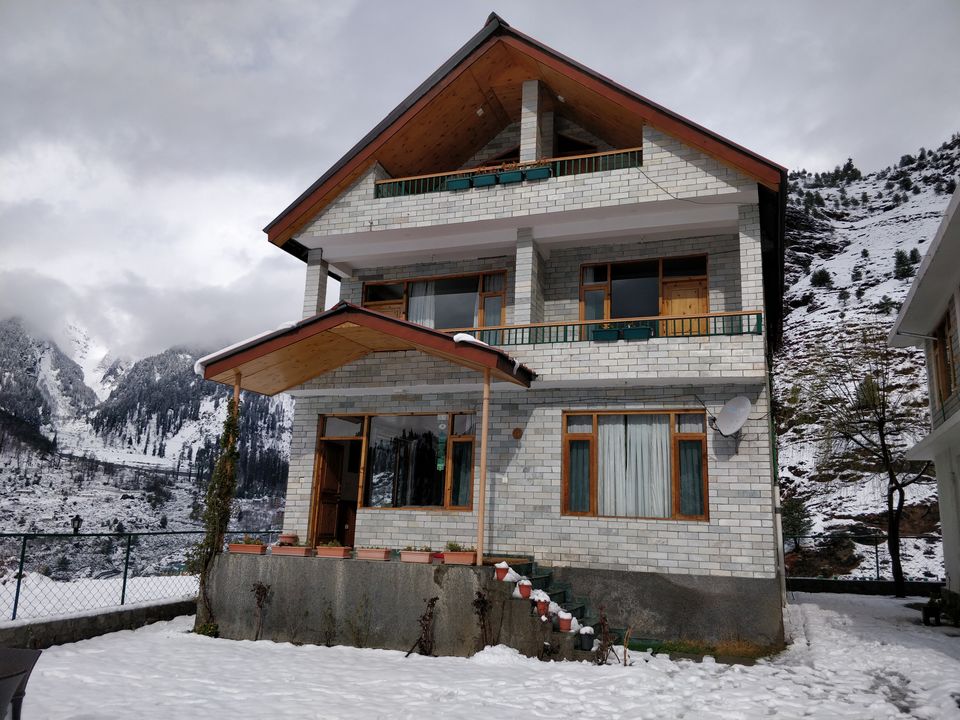 Thankfully snowfall had receded and we found a parking spot at Jalori pass where we parked our vehicle and headed for trek starting besides Jalori mata Temple.
We spent hours marveling at the tiny specks of happiness falling through the sky creating a euphoric downpour of contentment and ethereal amazement.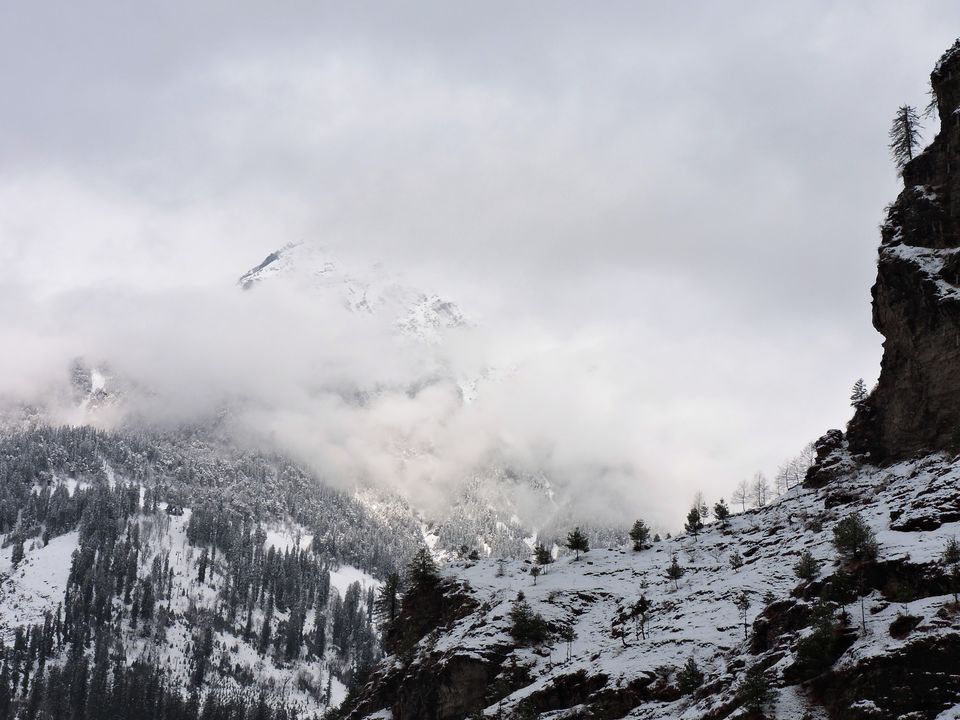 Only when the anatomic limitation intervened that we could no longer see into the night did we finally budge from there & were brought back into the mundane world of having to eat-sleep-breathe! We finally had dinner late at night, after coaxing our DSLRs to capture some more of the impeccable beauty what our eyes could not then, and buried ourselves into 3 blankets in a heated room to counter-balance the -9 degree temperature that night.
DSLR's were interrupted from their charging hibernation and slammed back on duty to get their shutters in gear for morning shooting. The mystical hues hopping over infinite snowlands kissing the horizon was a sight that we will always treasure. Adding this kind of charming milieu at our honeymoon trip elevated the romance magnitude manifold!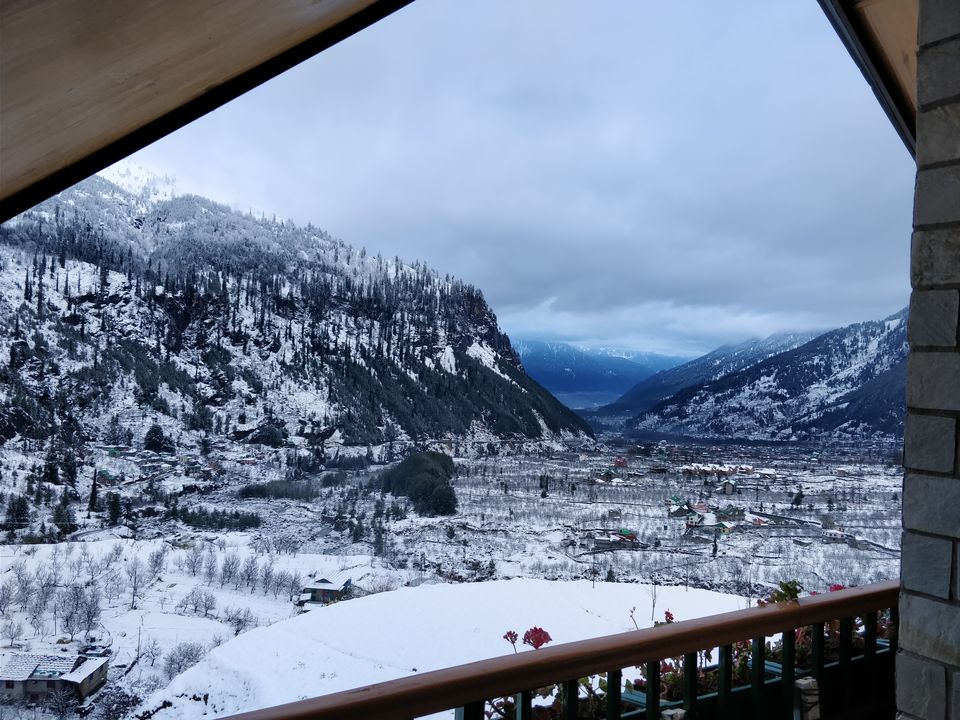 We had breakfast at our homestay after which avarice of even more snow conquered our senses again, convincing to drive further up the hill towards Kothi and Gulaba.
So we drove our beast of a car upwards until the point where civilian cars were allowed, beyond which lay snow's kingdom thus disallowing non 4 wheel drive cars for safety reasons. We spent some time around the checkpost area: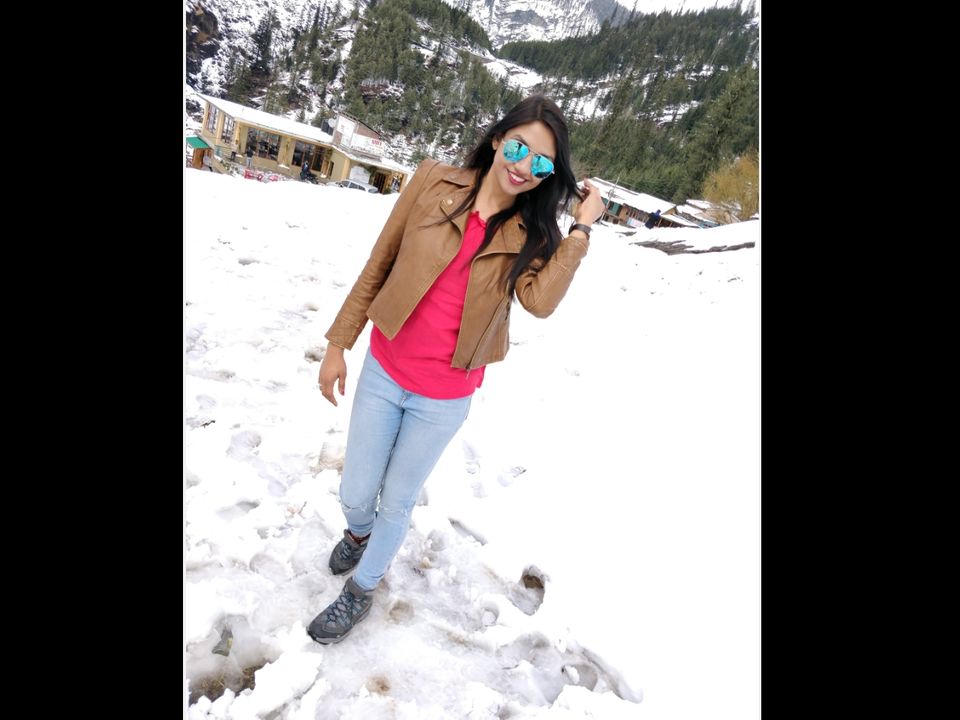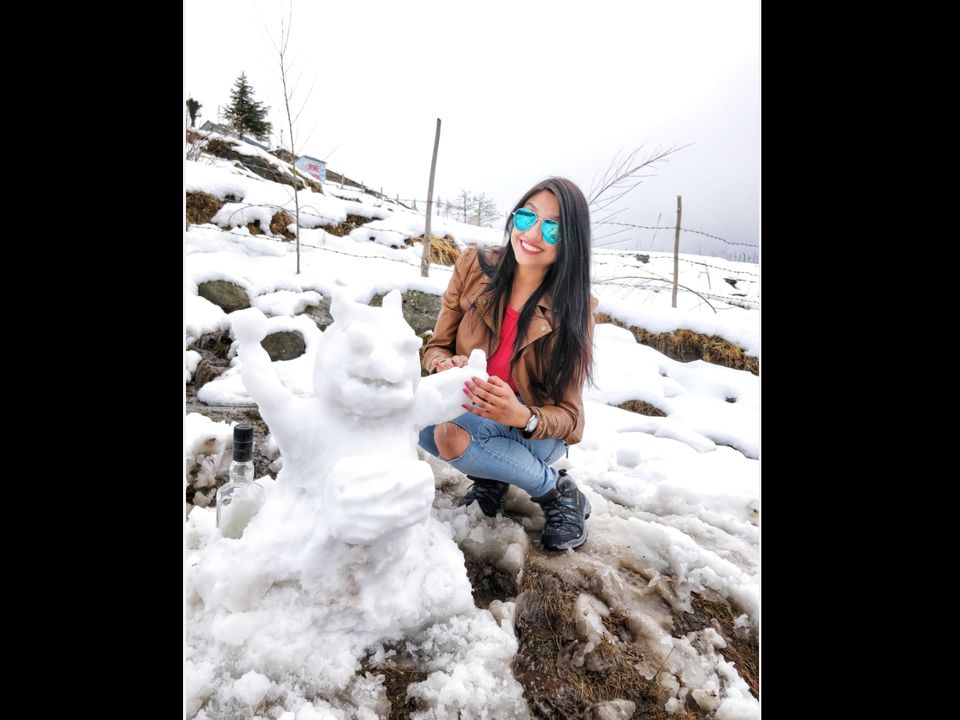 Checkpost area closed further route towards infinite snow: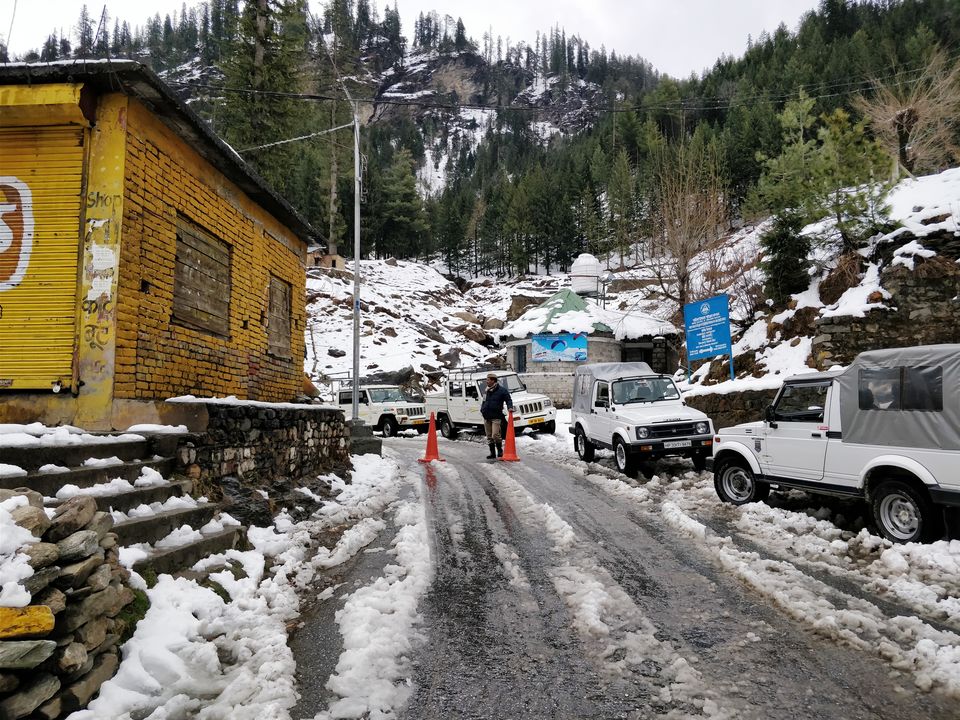 But the itch of adrenaline rush was overpowering any reason of considering this alone as the highest point of our journey. On intricate investigation by talking to localites around, we found that gypsies and other 4*4 cars driven by localites are allowed till Gulaba which is 6 km up from the checkpost. So we jumped at the opportune at once and climbed onto the 'bay area' (rear open flat-bed area) of Gypsy ready for yet another adventure!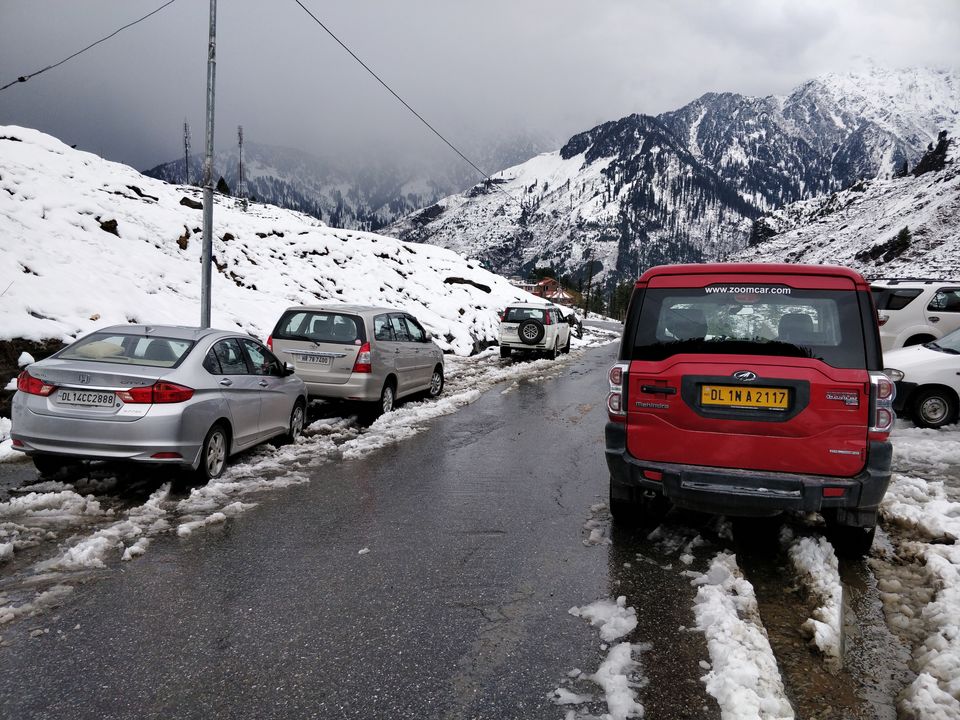 Parked our vehicle and jumped into a gypsy to cover the road ahead: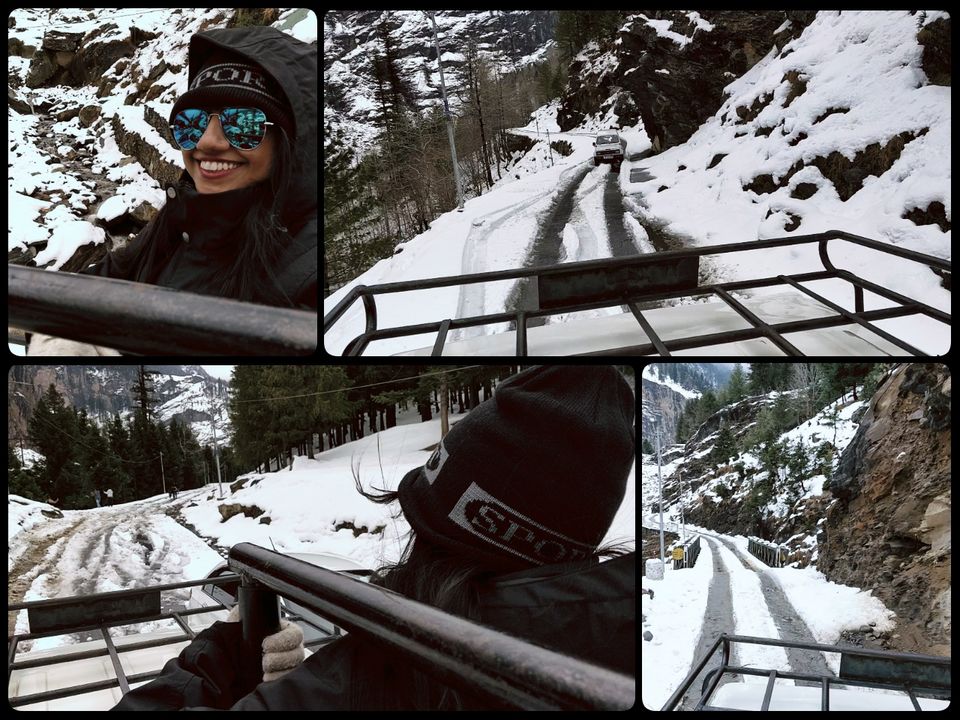 And yet again, snowfall catered to our party: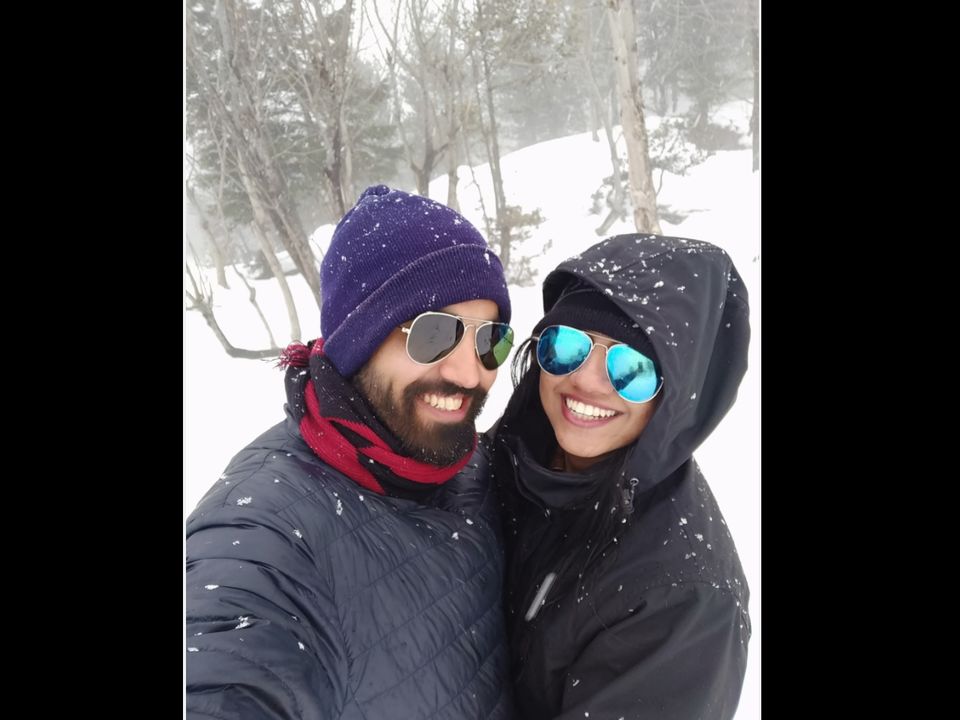 We dived into the snow pool, danced in snowfall, played snow volley and basically fulfilled every crazy & eccentric idea that had ever crossed into our mind when we thought of being in a snow-arena.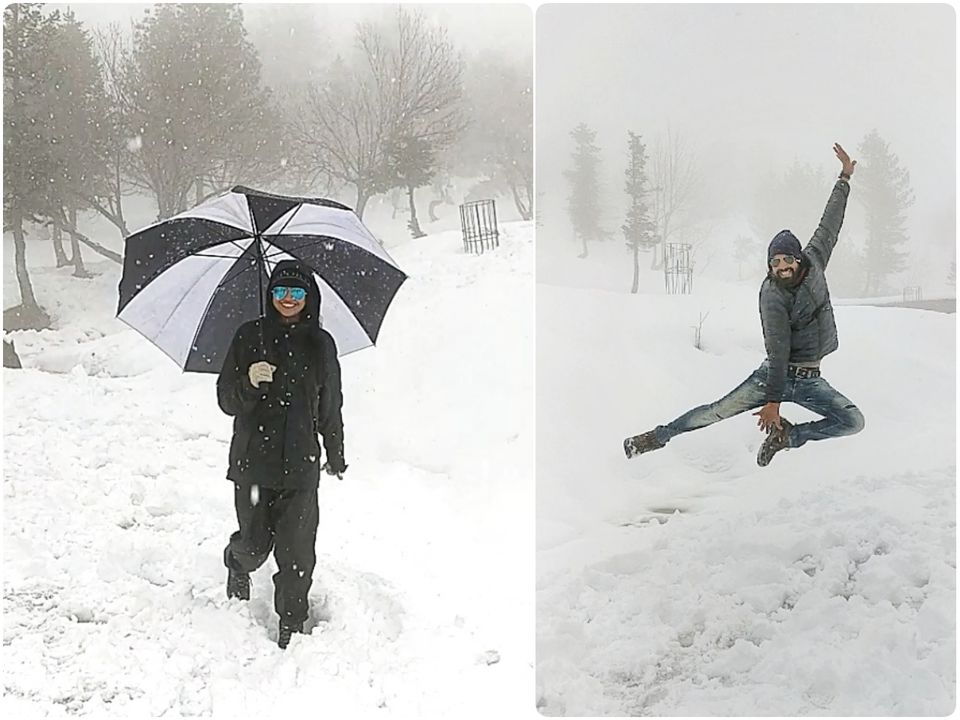 After our serendipitous escapade, we got back into our vehicle, trying to fit the extra broad grins across our faces, elated with our apparent achievement of conquering snow-point. We drove down to our home-stay & slept with dreamless gratification, now that we had tangibly experienced our dream! :)
We came to a bridge on the way and sat sometime looking at the sparkling water flowing underneath, that originated from snow/ice in the high hills and changed its form to liquid on the way down; resonating with our situation where sometimes we have to stick and freeze on some tough decisions, whereas at other times be flexible and go with the flow when it comes down having to leave from such a paradise and ending the vacation.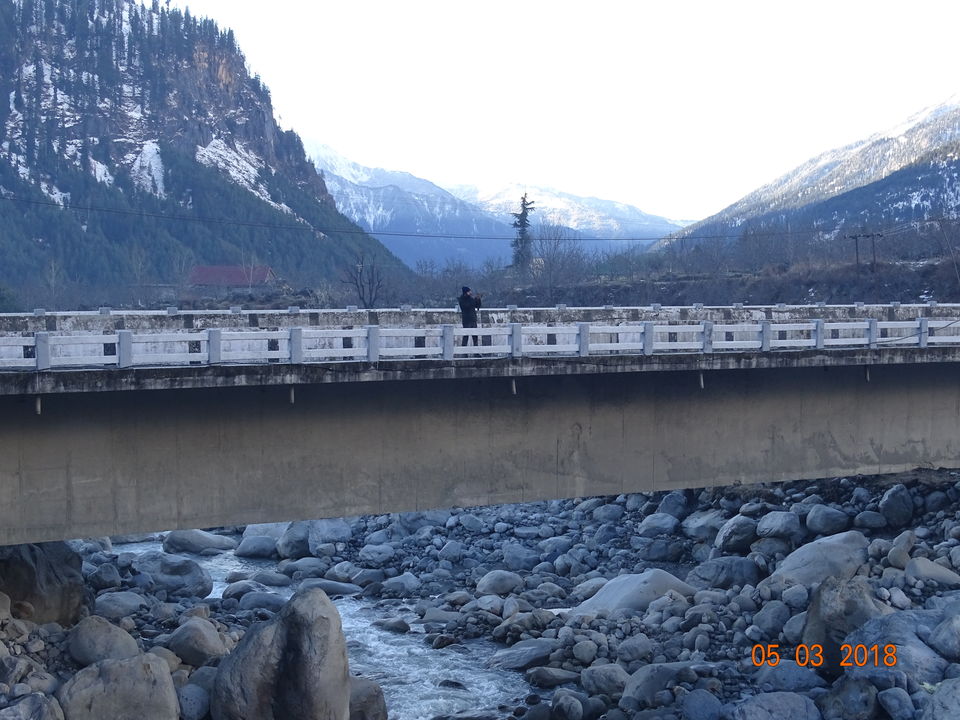 We had breakfast after coming back from our photography trek: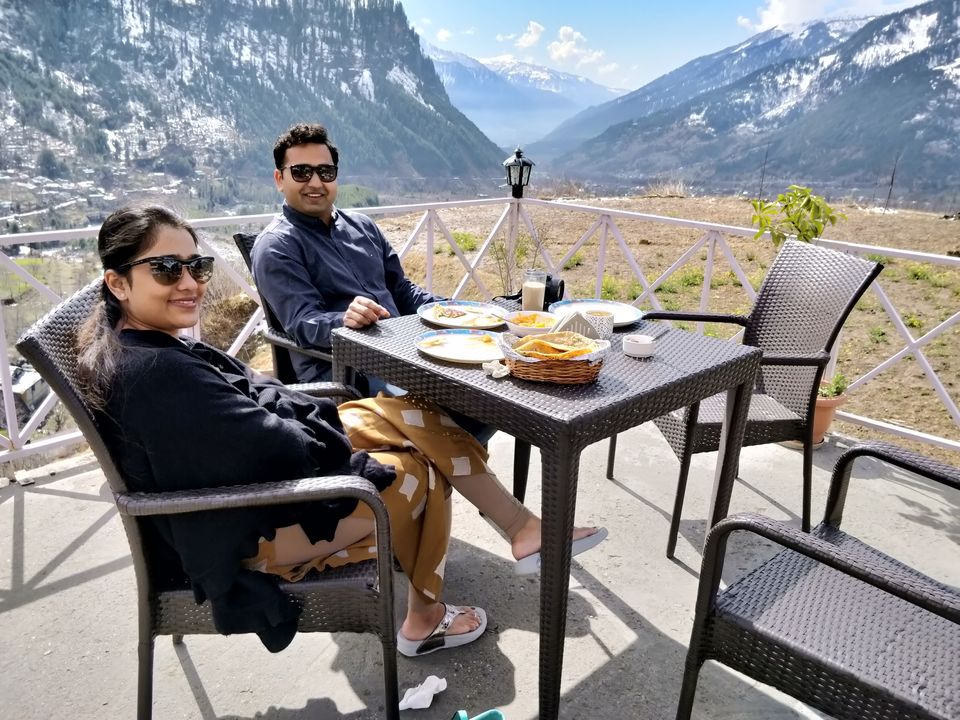 Though we had to drive for next 13 hours to reach Delhi, we were rejuvenated and injected with vigor after breathing in the fresh hills of Himalayas and inspired from the mighty mountains of their humble strength that sheltered and nurtured us every time we came to visit them.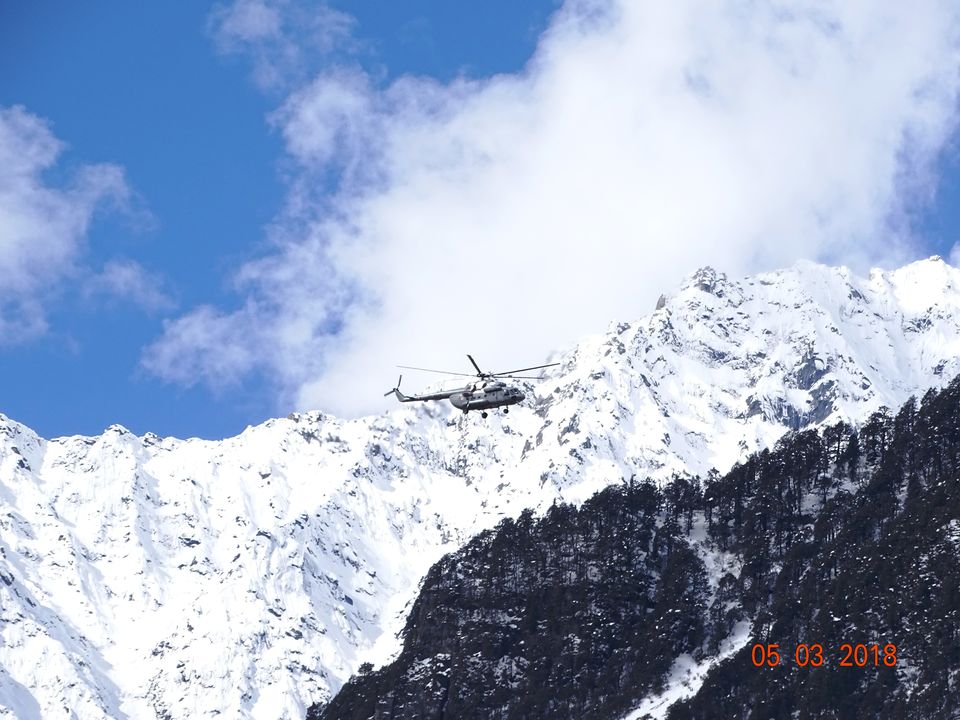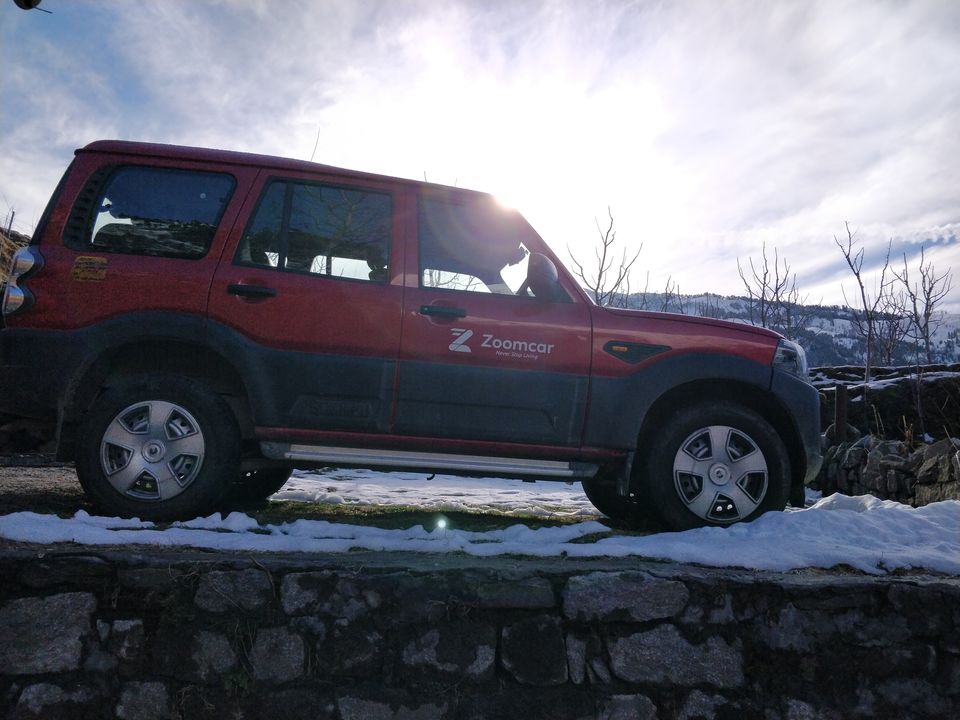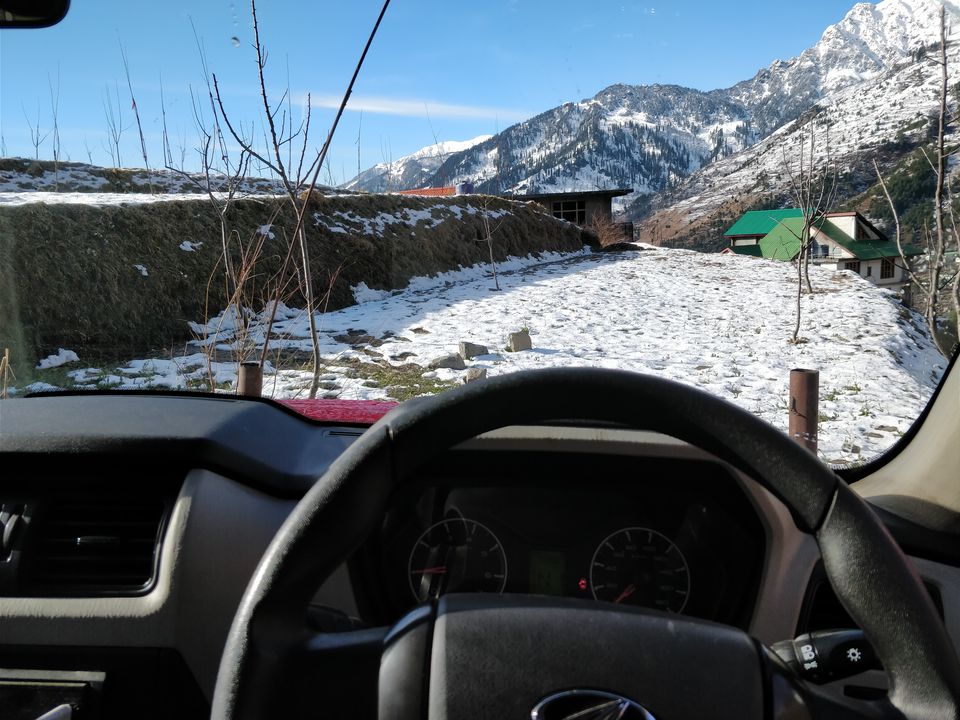 Himachal is home, has been ever since I visited 5 years ago. And every one of the times I have been to this place, it has always welcomed me with open arms and loving penchant that has created a special place in my heart; this time even more so when I came with my better half and got blessings from mother nature in such sublime spirit & beautiful form.
Trip Courtesy : CRAVEL tours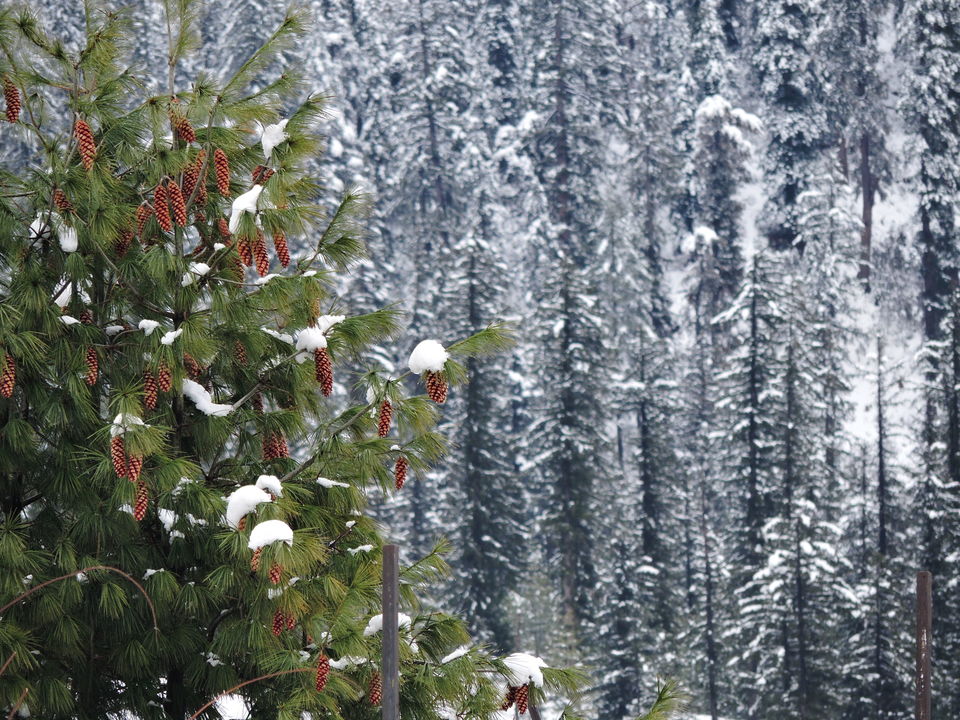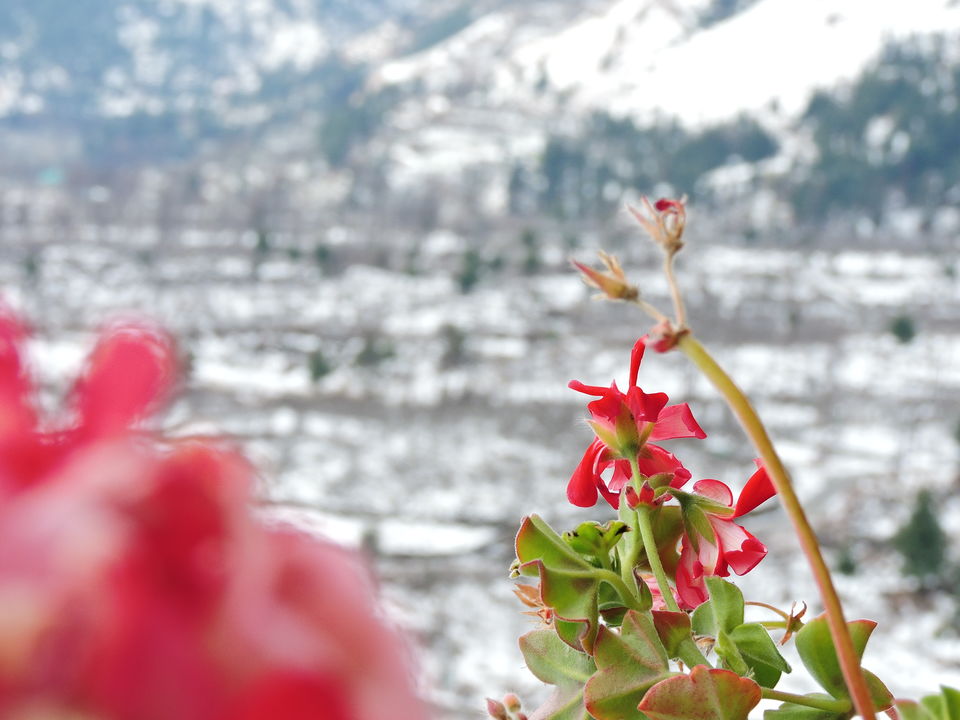 Frequent Searches Leading To This Page:-
7 days himachal tour, best himachal tour operators, honeymoon himachal pradesh india, kullu manali himachal pradesh tour package, honeymoon trip to himachal pradesh, budget trip to himachal pradesh, himachal getaways, all india tour & travel shimla himachal pradesh