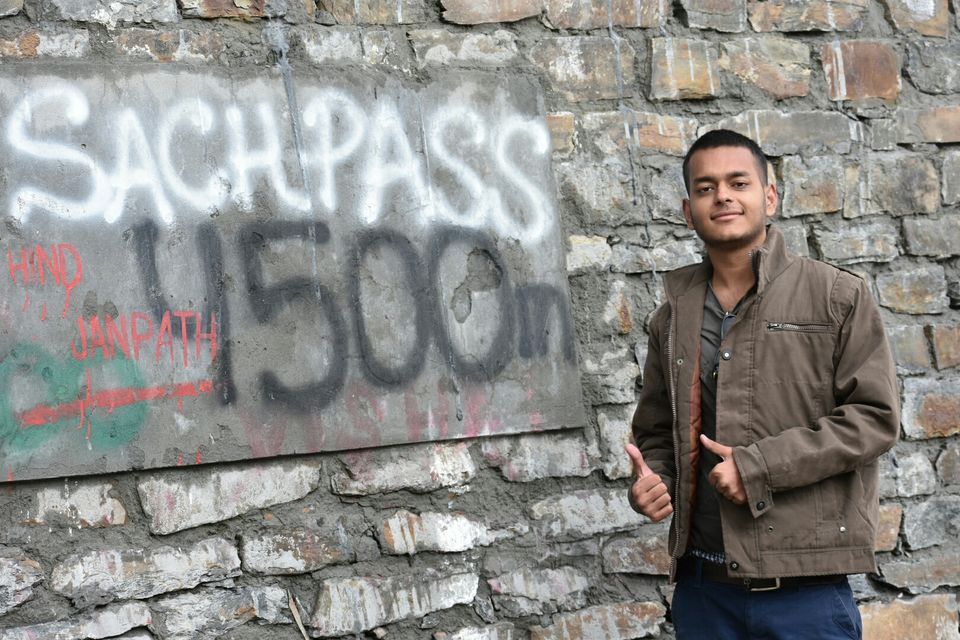 We started from Delhi at almost midnight for a road trip, we didn't planed any itinerary not even the destination for the trip like always, we just decide the destination after starting the car or sometimes while having paranthas at those so called dhabhas, in real they are as premium as any city restaurant on the way to Chandigarh while having coffee we decided to experience the circuit of sach pass this time and headed for that.
At around 6am we reached Chandigarh and after a quick break we headed on the road to pathankot around noon everyone was feeling a craving for breakfast then we saw a decent dhabha besides the road we started having breakfast and ended up by having almost lunch. Everyone got too lazy after that, and road till pathankot is a straight highway and this combination made the day boring but from pathankot when we took the turn for chamba then the hilly road comes and that's the road which for we are on road trip. After some breaks we reached chamba before sunset and we had a clue that chamba has really nice market, then headed for that and after searching for a parking space for almost half an hour we parked our car in no parking zone but the place worth it. It has a really nice garden with an awesome view of hills and a small chaupati was also there nice momos, great ice cream but I think the place did the magic. after some nonsense things we decided to stay at chamba and we did.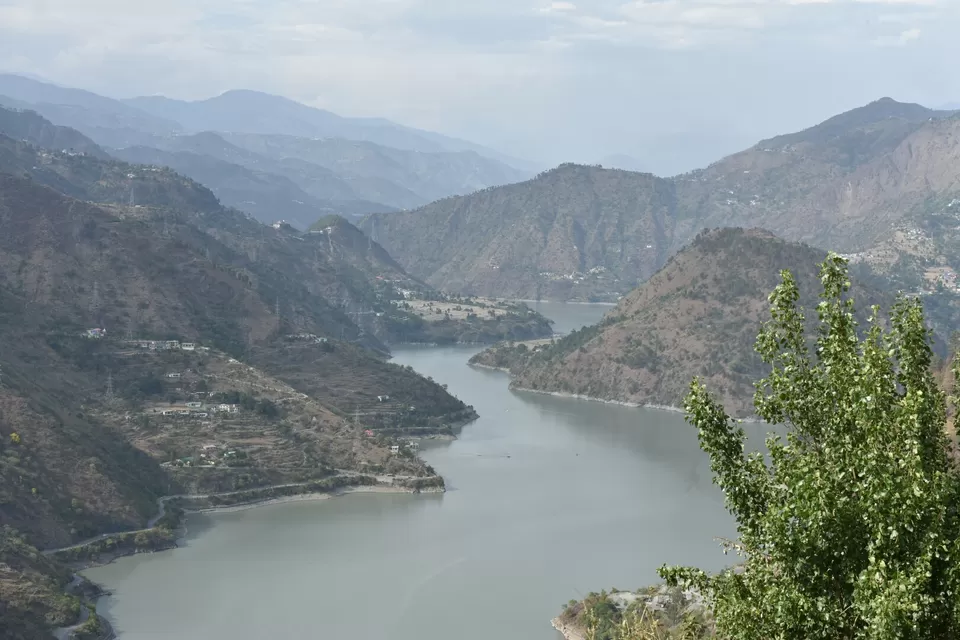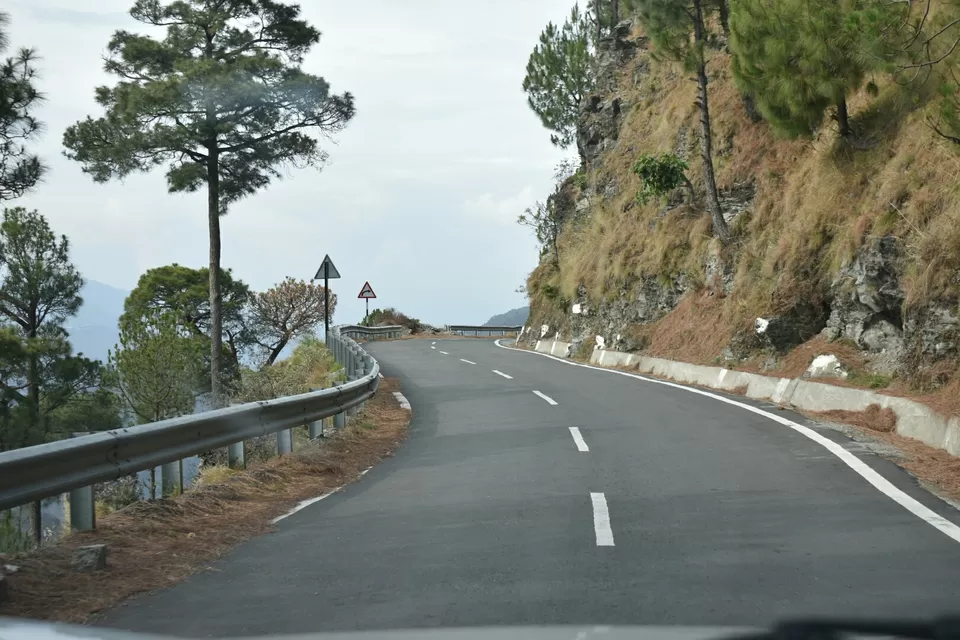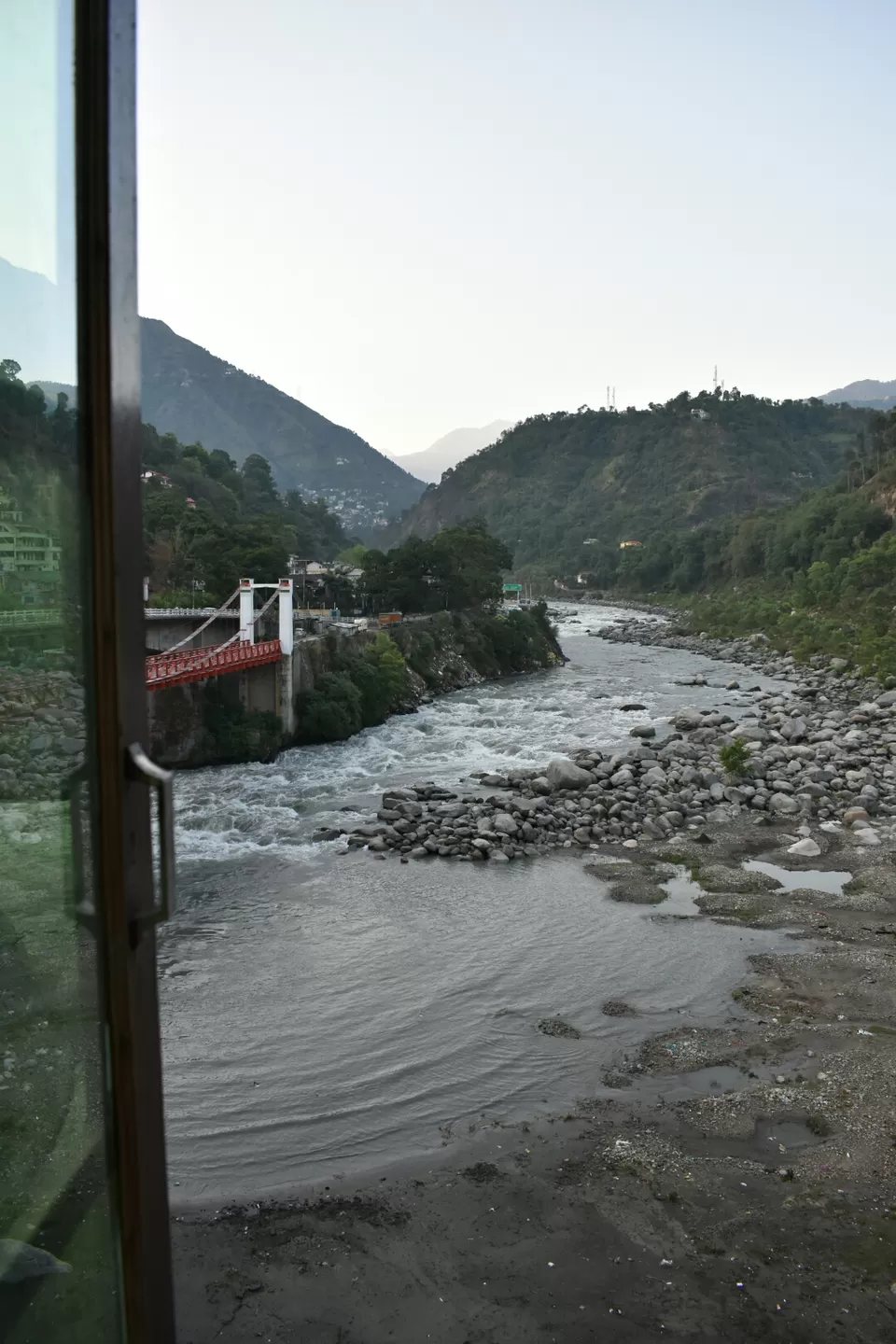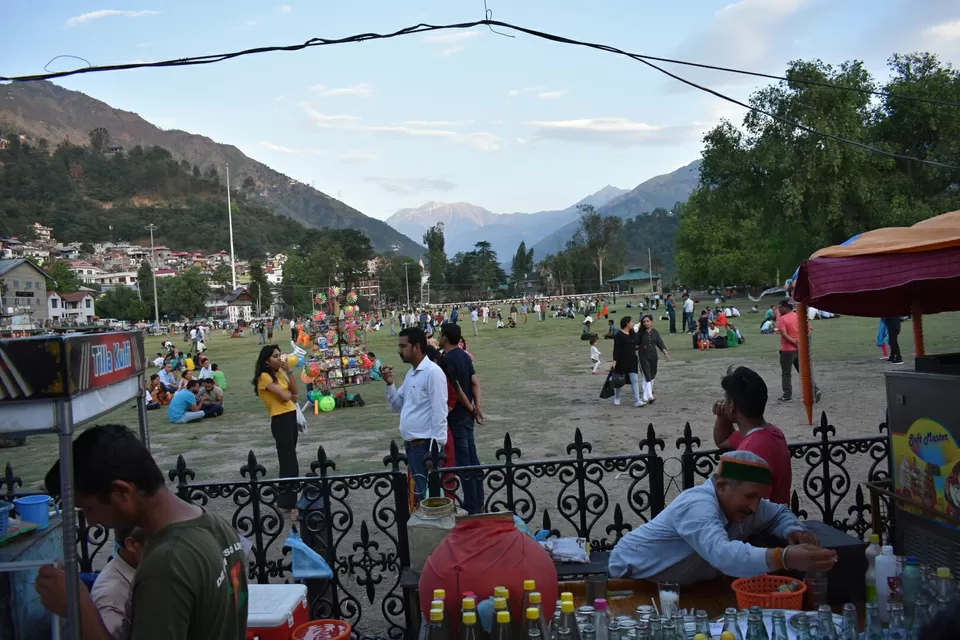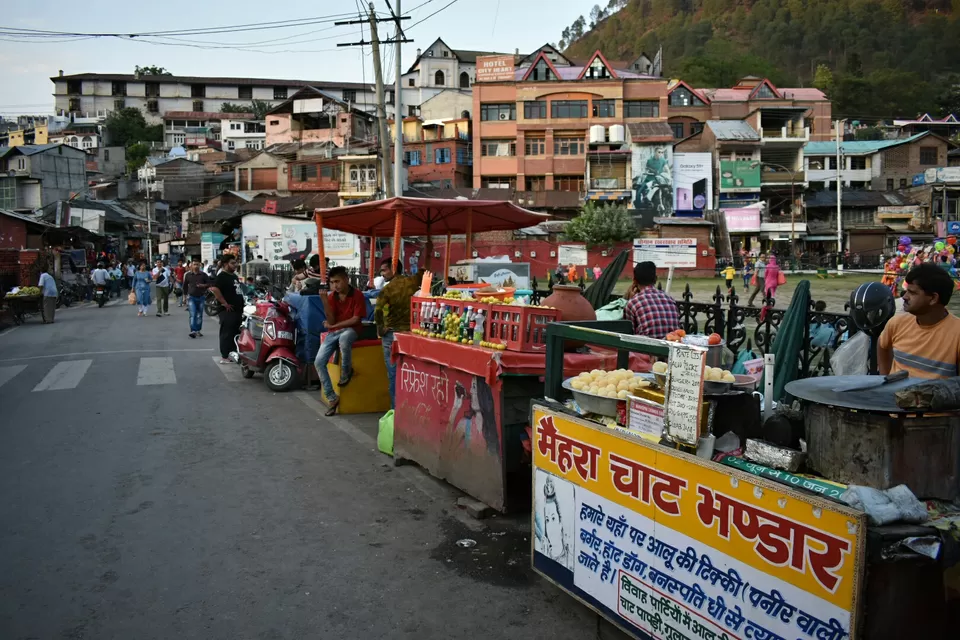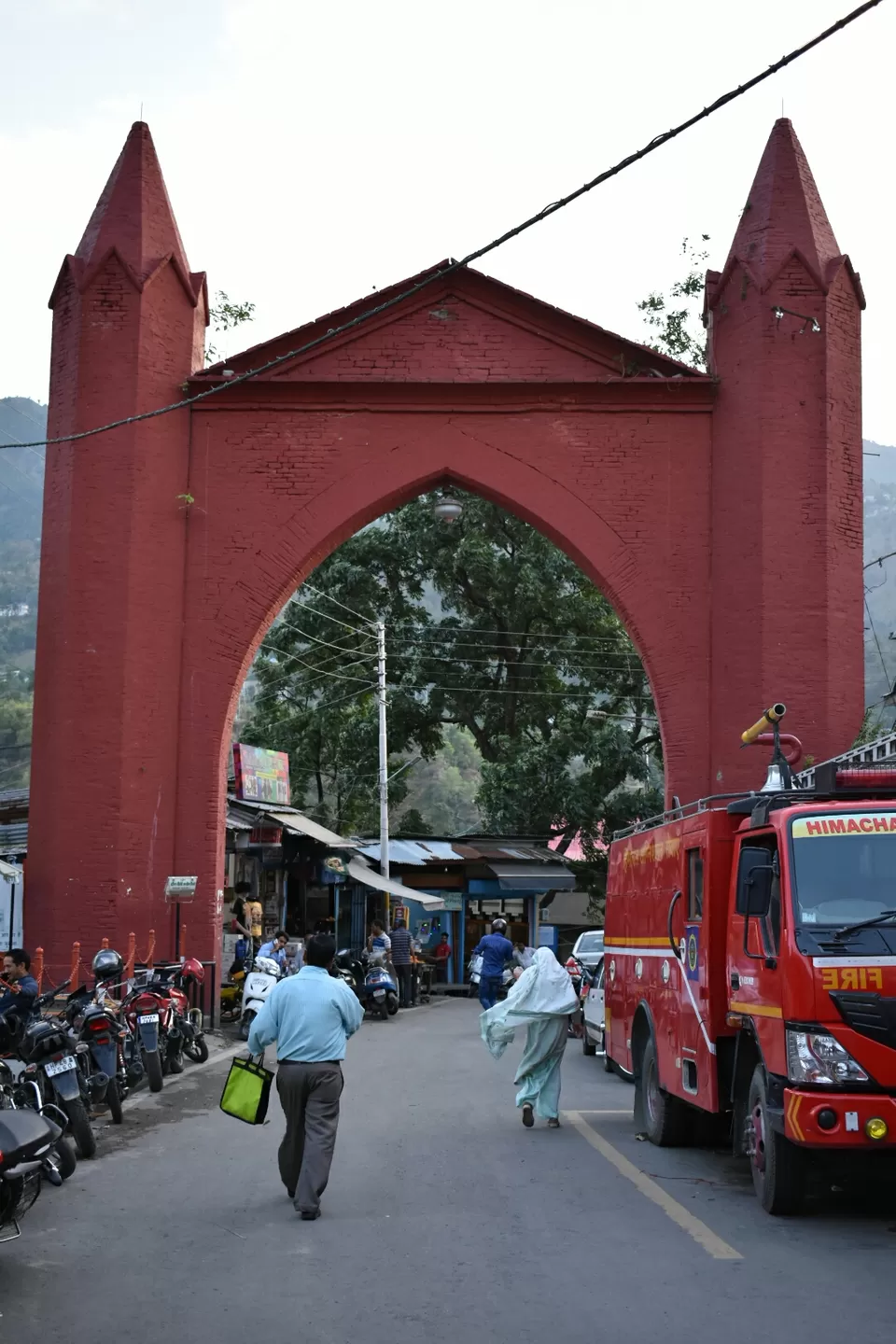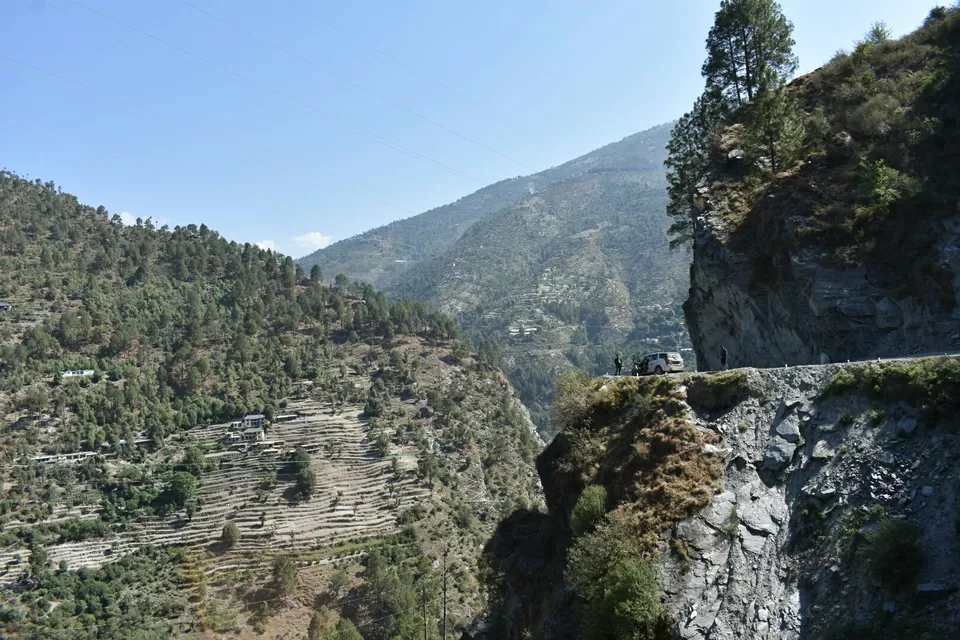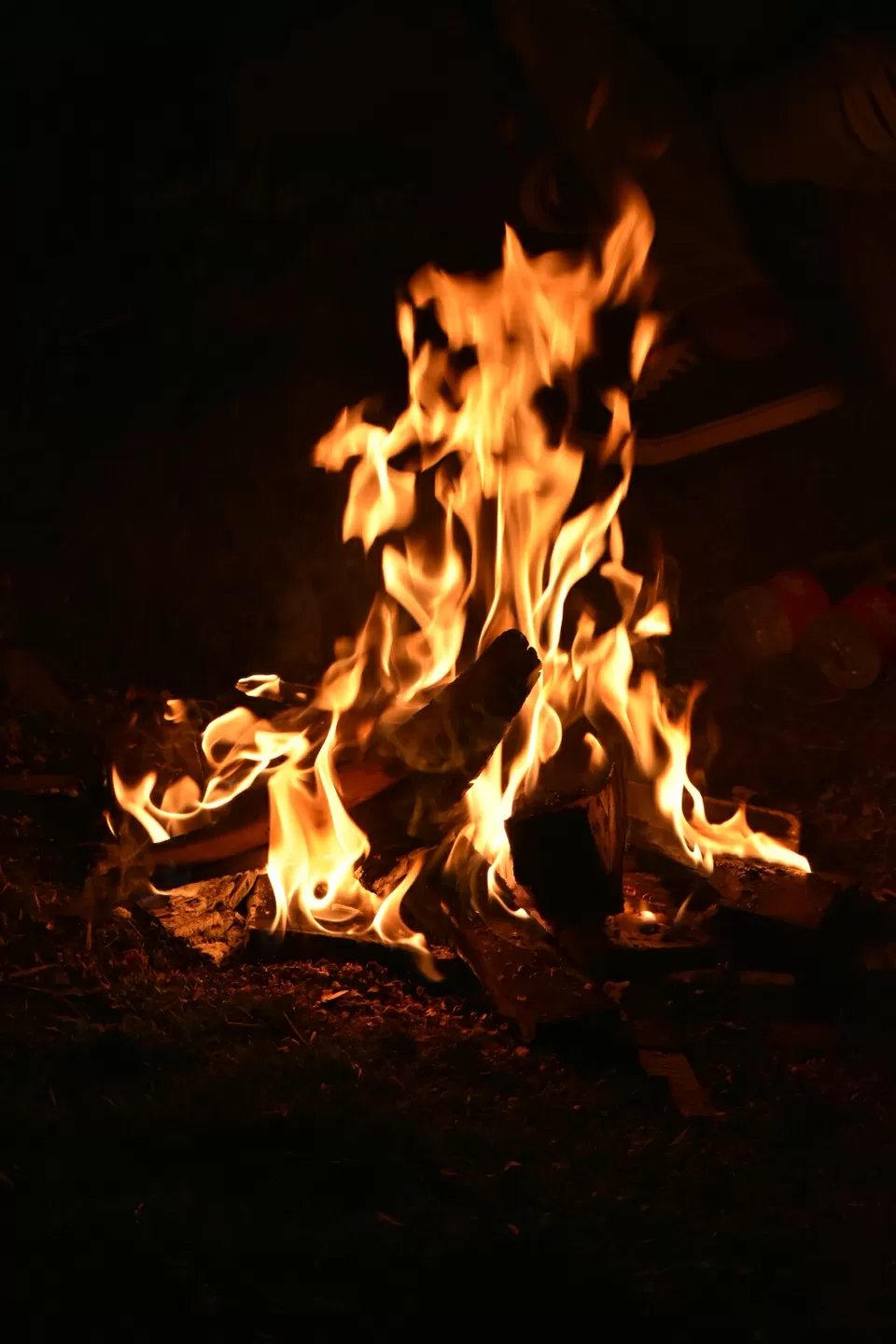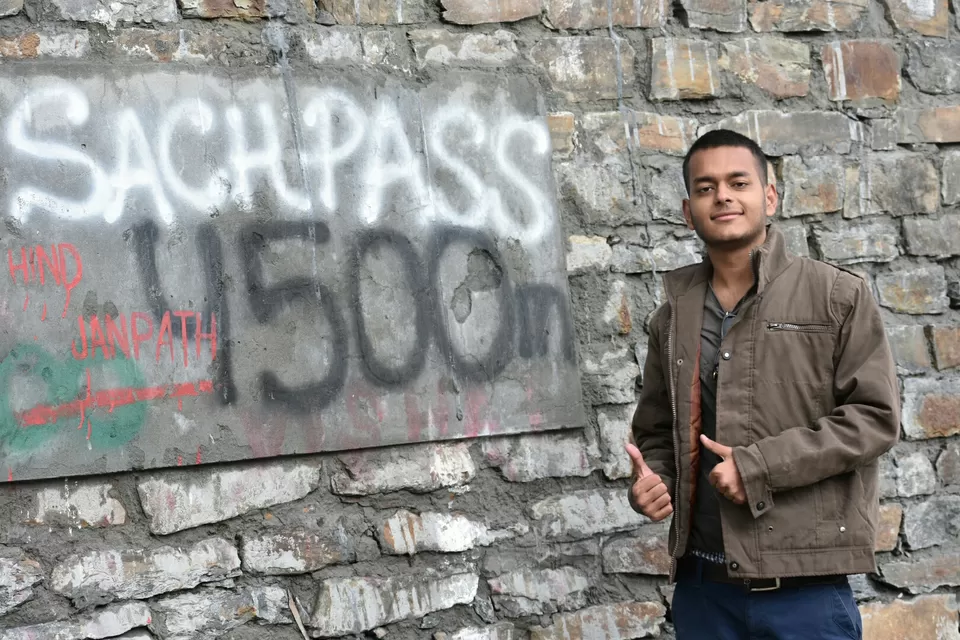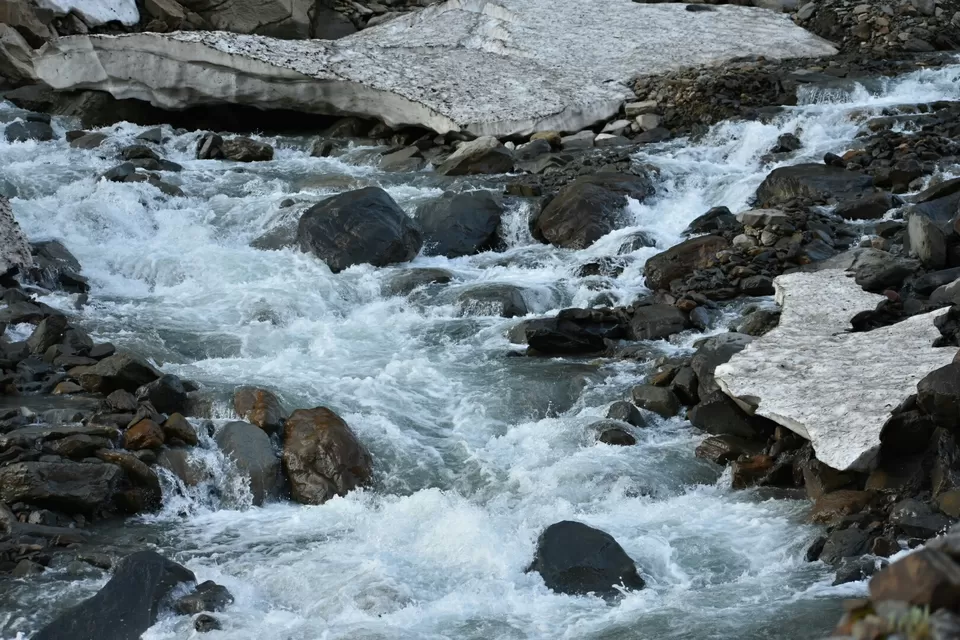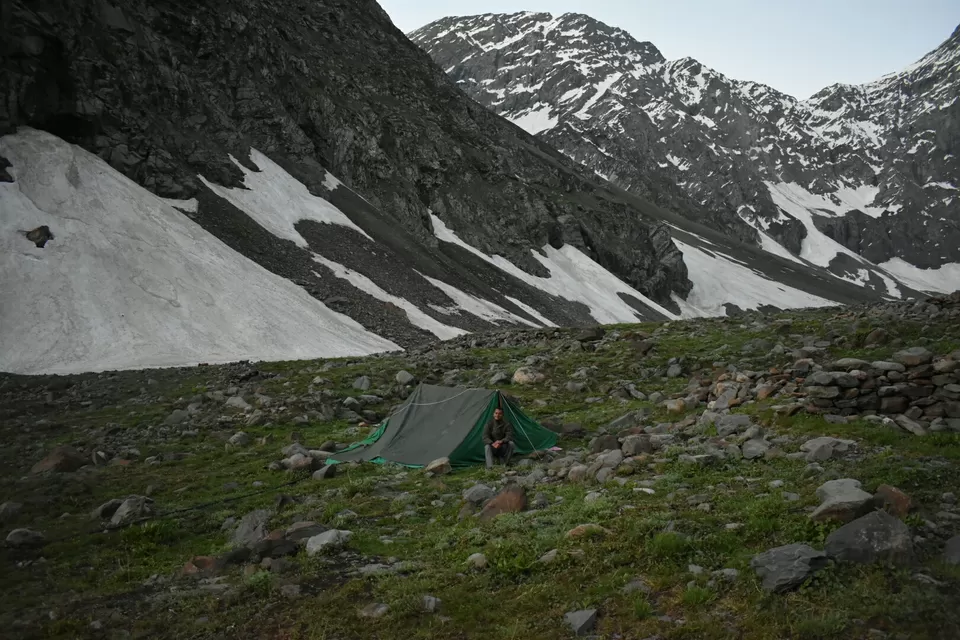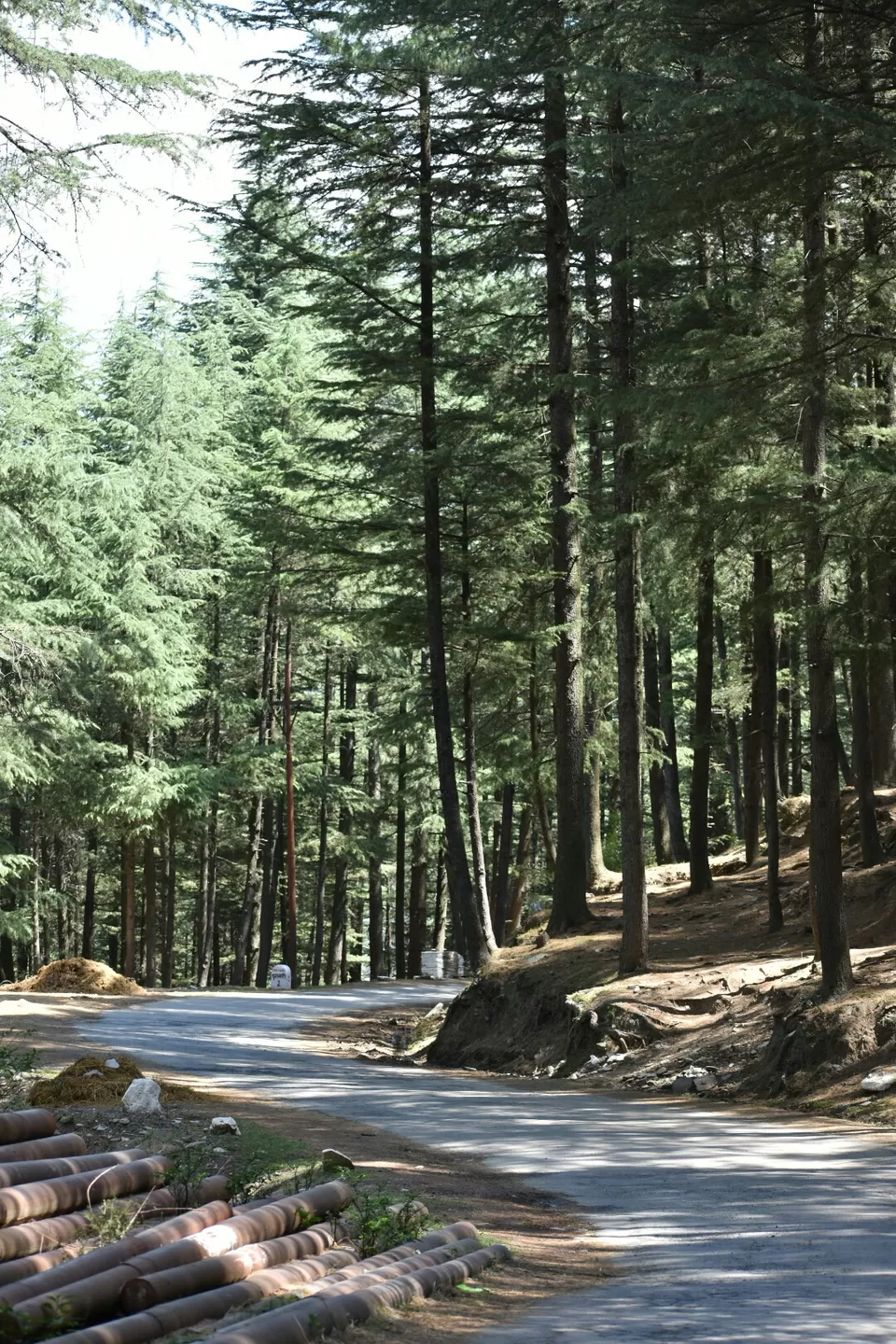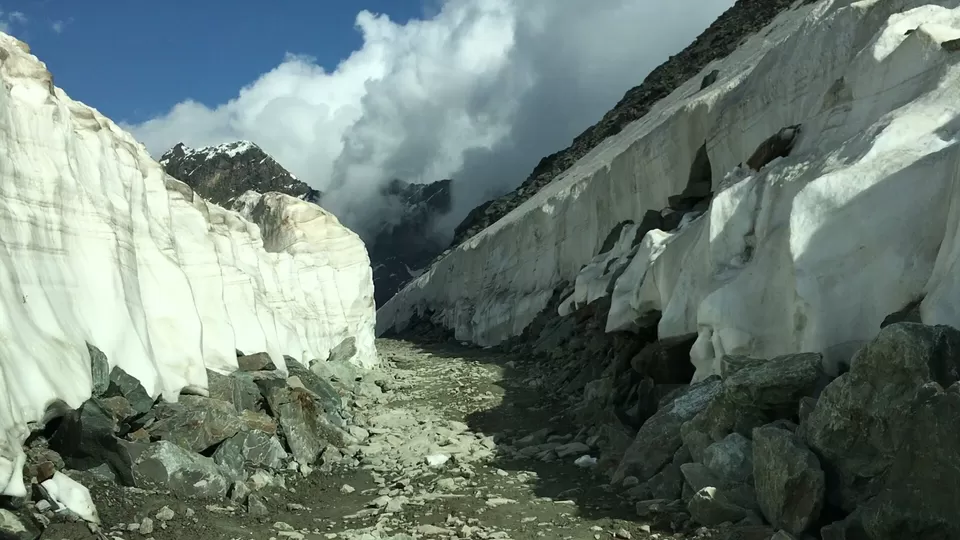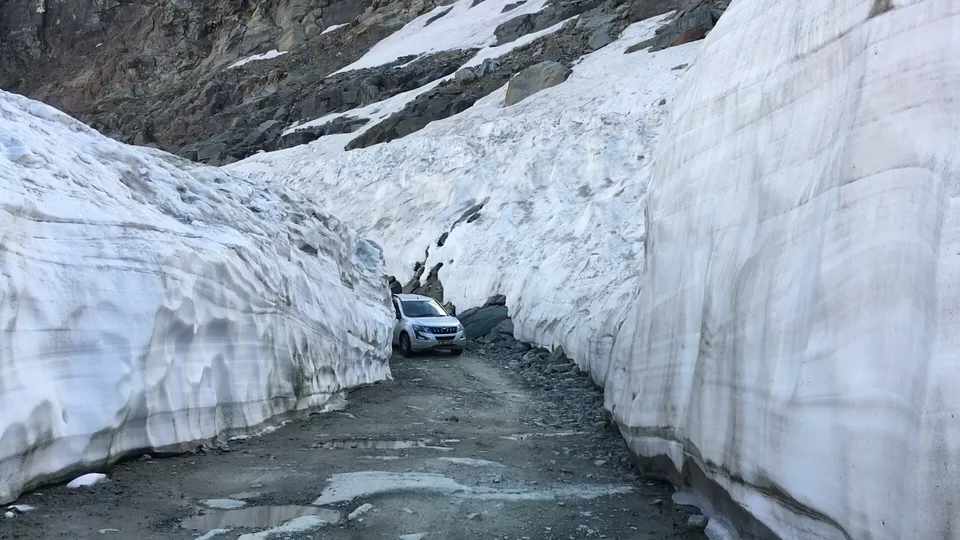 On this day the morning was super cozy in which none of us wants to leave our beds and the sound from river making it impossible. I would say chamba is a place to sit back and relax but we are not here for chamba and with hard heart we started to leave for bharmaur by around 8 am. Roads are still as good as till chamba roadside views are simply awesome.
Then in bharmaur we did breakfast and picked up some things to eat for bad situations and we again started after a while roads were gone too mesmerising long trees all over along the road. literally none of travelers can pass through it without stopping, and we also clicked some photographs not some but many.
After again back on the road we realized that very less travellers are there on the road.
As we are going further the roads were getting bad and for the first time after Delhi we saw a traffic jam, haha just kidding it was just queue for the checkpost 5-7 cars are ahead from us and I realized that this not a normal one because they are taking too much time and asking for ID of all the passengers travelling and they were pretty serious about it and finally when we got the call from officer and they were more serious from my expectations the officer noted down all the names addresses parents name car details and even parents contact no. And guided us that their is no connectivity till killar and if in any case of broke down there will be no options other than towing back and this statement makes one of us really scared then they took a video of all of us with the car and this thing works like cherry on the cake and now he got too much pissed off and we were enjoying that, then after the lot of formalities and some sense and nonsense things we are back on the road but surprisingly there were no road after the check post. Roads were in last bad condition possible we had xuv 500 and that also struggling trust me I drove the car in first gear for almost a hour and there is nothing other than the views but views are more then enough to be there. as we are climbing up the snow started alongside the road and we started feeling cold the winds were in very high speed and after even a small physical activity we started breathing heavy. We and our car both struggling with altitude and that so called road. after almost an hour of struggle finally we made it to sach pass there were hardly 4-5 cars other than ours. There was a small temple of lord Shiva and goddess durga we thank god for being with us till now and prayed to be with us for further.
After clicking lots of photographs and talks with other travellers we met a family from our hometown Bikaner and that is one of very nice feeling if you met somebody from your town in some location thousands of km away I think you got connected with them without any bugs. Then after some more chit chat we decided to leave the place and head to killar.
We thought we came here through baddest road but when we started going down I don't have words to describe the road just imagine the road faced some land slide and no one gives a damm to it but it has side icewalls of over 10 feet and that is the thing for we are on this trip after lots of fun with ice walls we saw a small dhabha and everyone is starving that's why we stopped and ate Maggie and then the dhabhas guy told us that killar is 40 km more from here and the place was extremely awesome for camping that's why we decided to camp there and enjoy the evening by sitting besides the bonfire and we did that.
I can say the combination of nice company and bonfire in mountains is food for your soul just make an extra effort to make it possible.
On this day I woke up by first light of the morning and didn't want to step out because it was too cold outside my sleeping bag I could barely use the phone to see the time because at that time phone was just a watch.
Wait before we go further I'll tell you what happened last night. After finishing all the wood we decided to sleep wait we didn't decided that it's like we don't have any other options because it was too Windy outside and the temperature was dropping heavily after settling down in the tent, In the middle of the night one of us started shivering too loudly maybe because of he was sleeping next to the entrance and faced those harsh winds, for the context I'll tell you we all are from Bikaner, Rajasthan and in June there was around 50 degree centigrade i think that's why this happened. After sometime he got normal but the real challenge is now that one of us have to change his location and sleep next to entrance just imagine in winters while you are sleeping for couple of hours and hardly you got comfortable with your blanket and someone changes it with a new one. ya ya that face, adject the same I was feeling that time but ........ ( I think you can figure out the rest).
That's why I woke up by first light of the morning because I could barely sleep after that. While lying I felt craving for coffee but my mind said ting!! U are at a place where even network don't come how can u expect coffee in bed. then I pumped myself to leave the tent and when I did that it was too mesmerizing too much energy in the environment and it took of my tiredness within few seconds and then I got a chance of yelling on others that "are you guys here to sleep?" Bla bla and they replied modi just go to hell like always ha ha.
After some photography and thinking about to take a dip in that river besides the campsite we decided to eat at that same dhabha because I think shitty ideas comes from an empty stomach then we ran into the place and that feels good because of that tandoor which was keeping the place warm and now its the time to fulfill my craving of coffee with Maggie. After the breakfast and small chit chat with the place owner we left for killar.
While on the road for sometime we faced a road block, not by land slide, by a huge group of sheeps and goats and also a dog who was walking at last I think he was the bodyguard that's why we firstly avoided to mess with them because they have the bodyguard and we don't. After running our car behind them for almost 15-20 min at a speed of nearly 5km/h the driver got really pissed off and decided to mess with the bodyguard and he started honking and nobody gives a damm then he got more pissed then he decided to fight and started rushing the car into them along with honking and yelling in English I don't know why, but the thing worked we passed them and started the celebration, but the war was not over yet while we were busy to celebrate the convoy took a shortcut and we have to go from this all over again and then all of a sudden he pulls the hand break with the statement "bhais charalo #@$@# mai nhi chalata" then the driver changed and we started it again then finally we saw the sheep keepers and they came to us promptly and helped us then we were like saying thank you and meaning it as where the hell have been @#$#@.
After this we reached killar and we saw a garage and decided a quick checkup meanwhile the checkup I got a chance to talk with a nice local person and he shared the things about the place, about his life etc. And after a while our car was ready and left towards udaipur.
While talking with the local guy in guy he told us that killar to mindal yatra was also happening on that day. He also told us that yatra has too much importance for all the killari's that's why everyone goes on this yatra from killar as well as from all the neighbor villages and even from Srinagar too many people came to attend this. By his stress on "too many" my mind started predicating the traffic but this was beyond what I expected. it was really a massive program hundreds of tempo travelers, sumos are there on those roads and all were decorated pretty good. meanwhile when we stucked I asked a driver approximately how many vehicles are here then I got shocked with his reply that "sir Ji hazar gadi toh sirf Srinagar se aaya h" then we thought just to park the vehicle and do some rest and let them pass but then somehow we got a truck just behind us now we had the minister who don't take reverse and all the hassle has to face by the coming vehicle. And after a while with the help of that truck we crossed mindal there was a huge program going on very large scale 'langar' peoples were decorating their vehicles and on on. We decided not stop there because we were already late and we want to reach keylong that's why we did WiFi pranam at temple and moved further.
Then after an hour the mother nature again wants us to stop just because of she damaged a bridge on some water crossing but the good part is officials already started their work and working from almost three hour before we reached. while waiting I met a group of seven whom we are seeing since we were climbing for sach pass till then after couple of eye contacts and wavings it was feeling like I know them since a very long time and we discussed our experiences and further plan And there was nothing to do while waiting then some of them started challenging each other to throw stones from one side to other side and slowly all of us started doing these kind of nonsense things. Then finally the moment came for what we were waiting for the vehicles started moving then we are again back on the road.
While recalling our memories I don't know when a police guy showed his hand to stop us when I realized I stopped the car he called us with the papers I think they were getting borred and stopped us to have someone chit chat guy but the place has also two tinny hotels and the aroma of momos forced us to have some.
Then finally we reached udaipur, after some time pass in market, and seeing some foreigners speaking hindi and after making some calls because their is hardly airtel available before udaipur then visited an old temple and enquired about Trilokinath temple there, and decided to go finally I can say I was driving on road. Road to temple was pretty narrow but it was fun to drive on that. After reaching there we looked for parking space and someone told us that the place has a designated parking lot but some boys were enjoying playing cricket there then we parked almost on the road and went inside the temple to greet lord Shiva then we thanked him to be with us and visited all over his beautiful house then just outside the door we again stopped to ate momos and coffee but this was not like the usual once we ordered three plates one after another I would say these are the best of trip specially the coffee, while sitting we again got lucky to experience some more local rituals maybe it was shiv yatra but I am not sure, after that we left for keylong and we were super late anyway but i think that's the best part of a road trip. While we started finally cruising on road one coming bus driver did some strange action and maybe pointed towards our car's tyre first we were unable to understand that but when we stopped and inspected, our rear type was almost flat then in the middle of those high speed winds we changed it with the Stepney and continued our journey. At almost nine or ten we reached keylong and I saw some people preparing for leh ride that reminded me my trip of leh then we hardly find place to eat and to stay but somehow we managed and while discussing whether to go chandratal lake or not and decided to go because of its mesmerising beauty has worth to travel on that road and bear the pain and I gone slept even while talking I don't know when.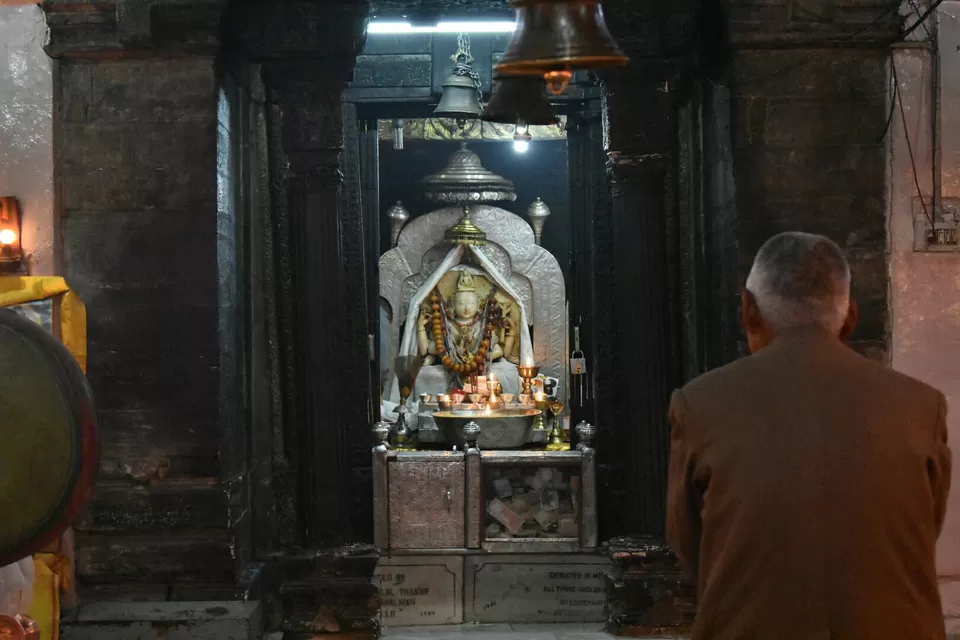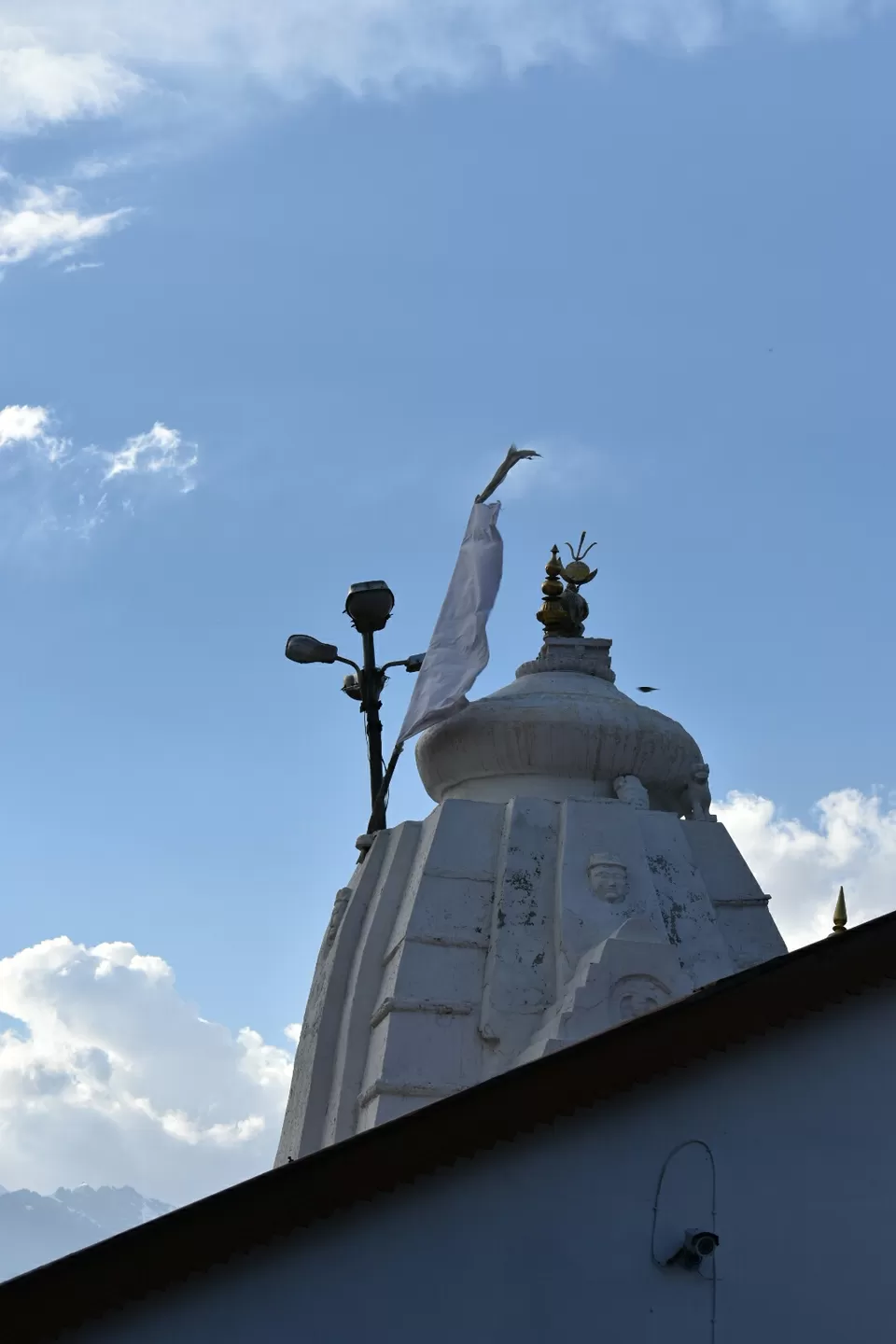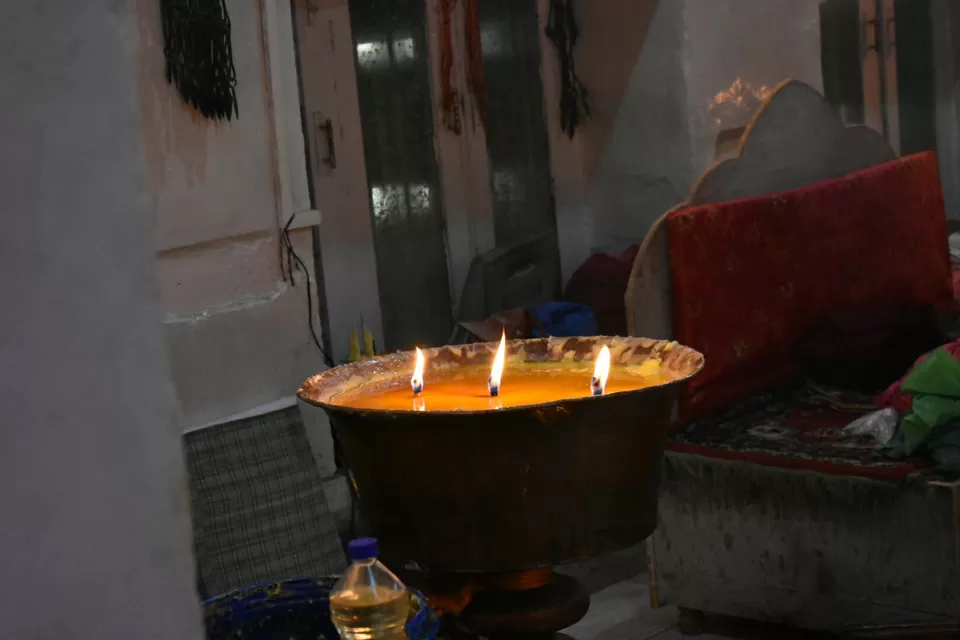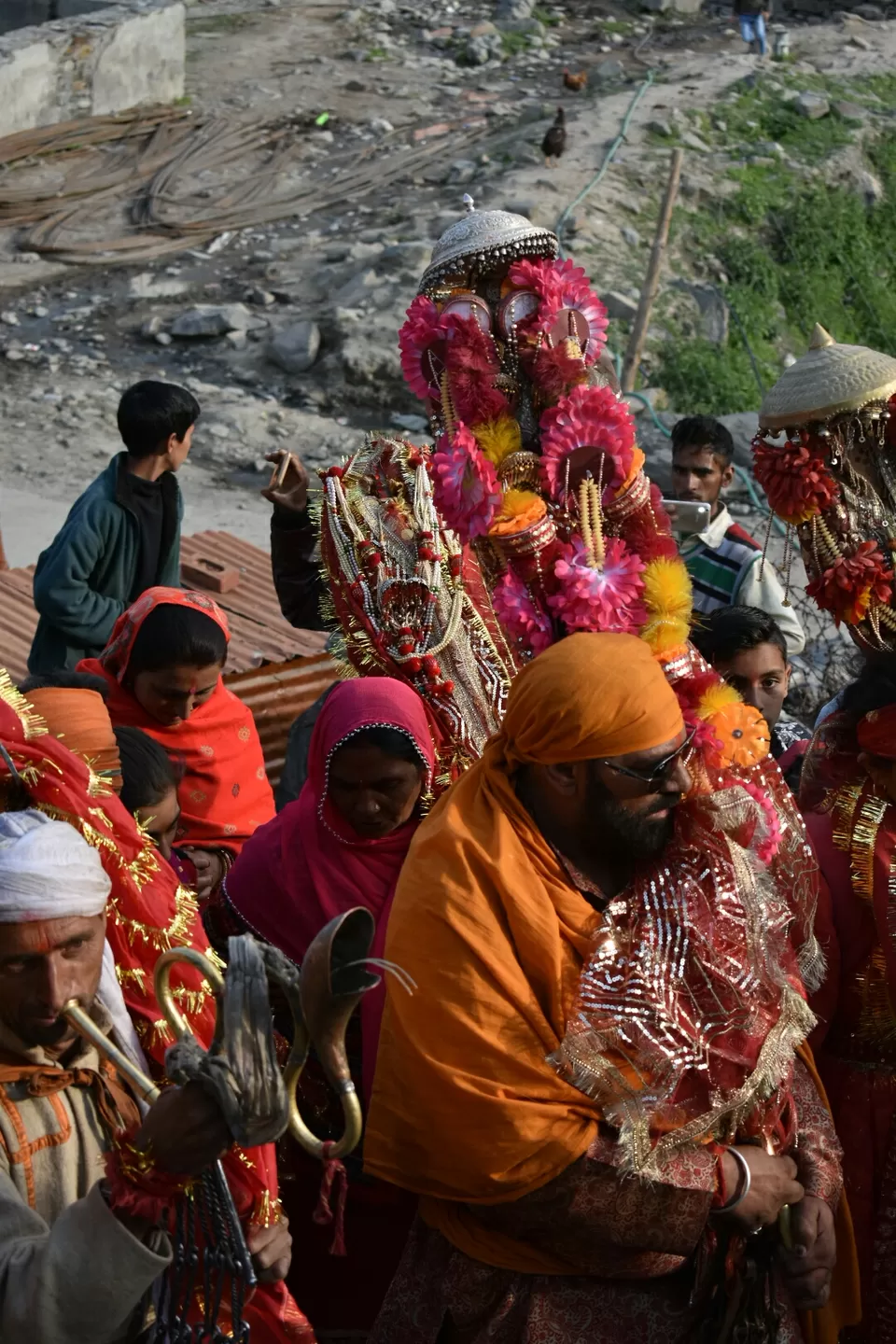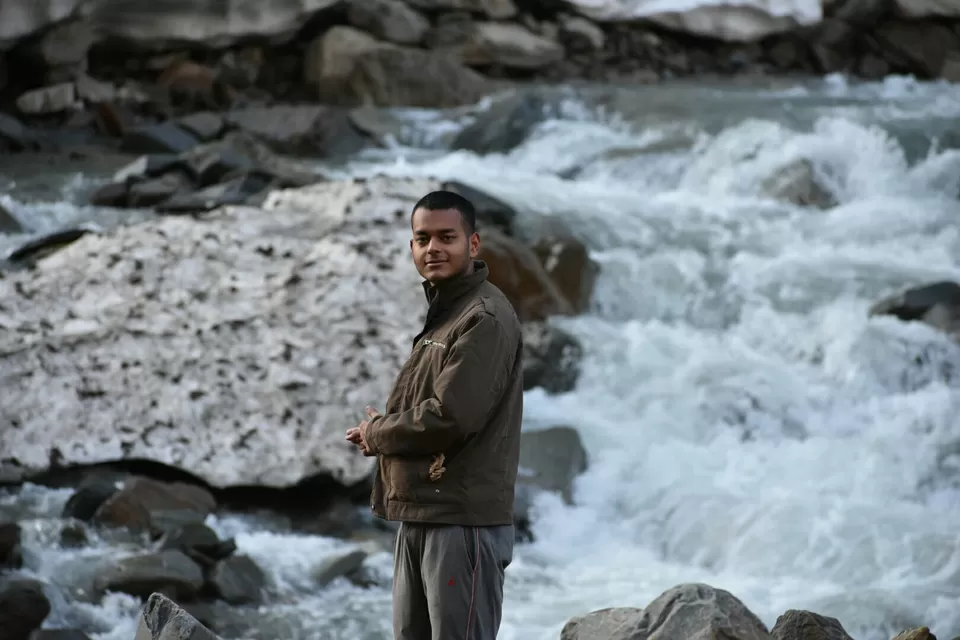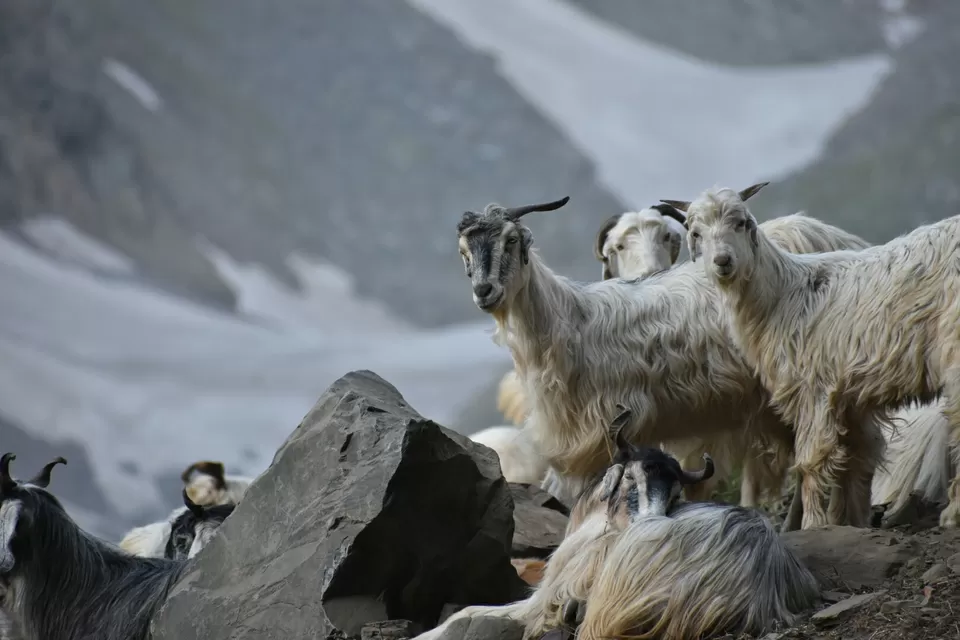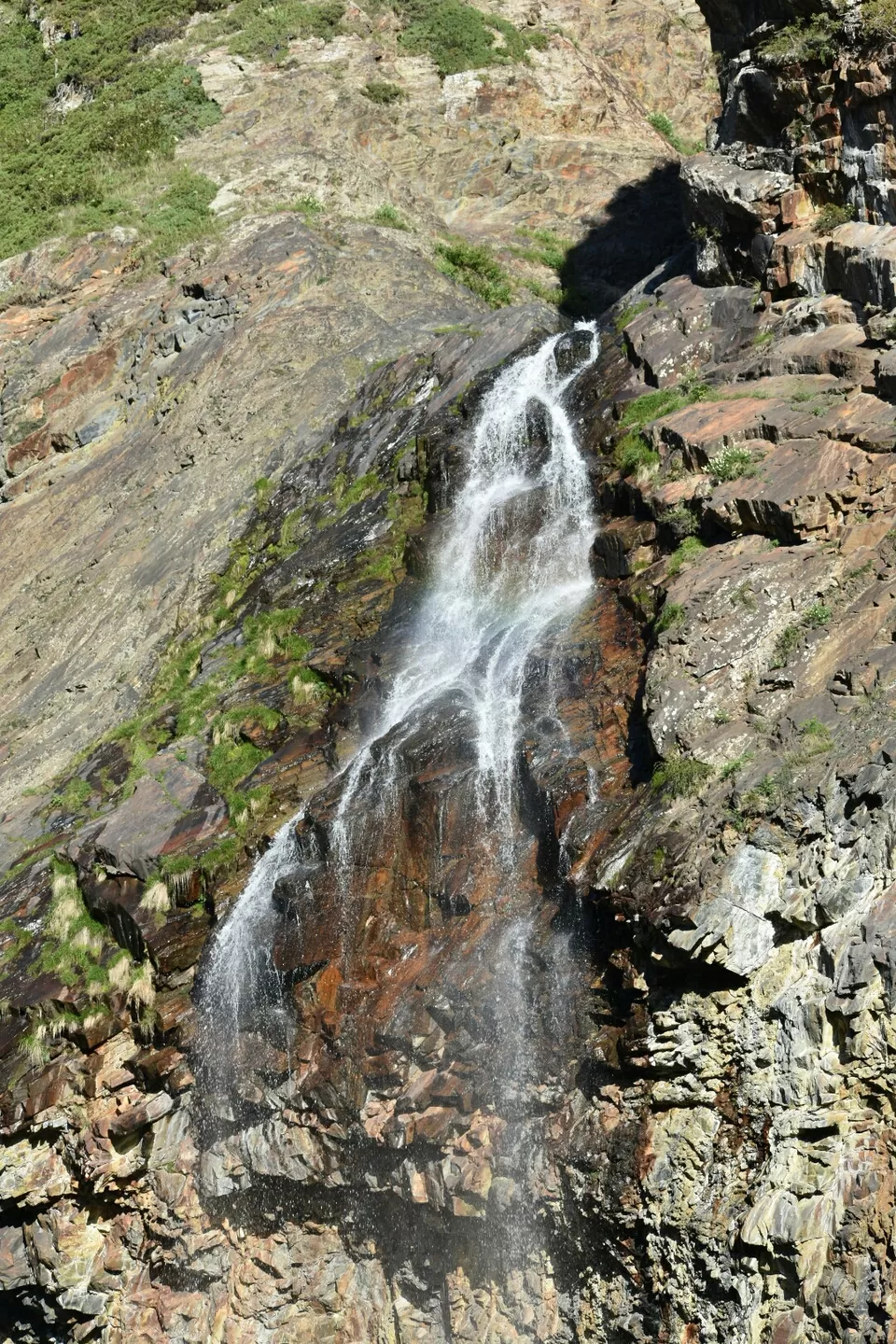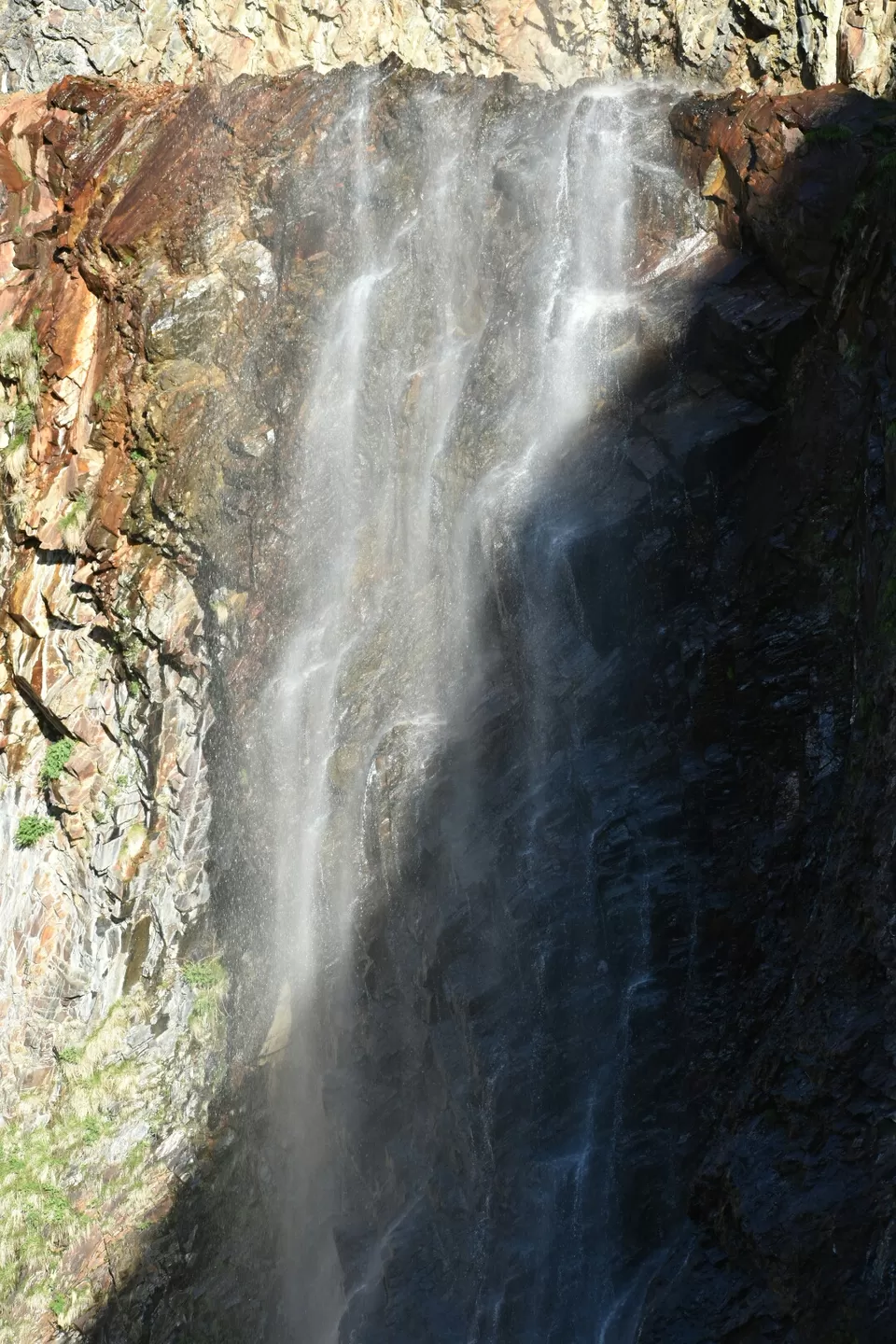 On this day I woke up by a phone call and after almost two days without phone this feels quite abnormal I was like "ohh toh ye bajta bhi h". Then I noticed one of my friends is already on the phone. I can say this morning was at little bit of lazier side, But after thinking about the chandratal lake we got some excitement. For The first time in this trip We made plan because we have to reach Chandigarh by the end of next day and we want to visit and camp at chandratal also. The plan was like we will reach chandratal by the evening and camp there and by the first light of the morning we will depart from there for Chandigarh I know that's quite unreasonable but we need to be there. After almost an hour after woke up we were ready to depart but need the tyre to be fixed and after asking to couple of people for the repair shop I got that there was only one shop and that was one the way, then we fuelled up ourselves and the car too and after waiting for half an hour for the tyre we were ready to be on the road. The roads were pretty wide and in great condition and we reached again at a checkpost but this was pretty much different from the sach pass one, too much travellers are there and very little information needed in comparison. And somehow we missed the turn for spiti at gramphu and we mistakenly climbed the road for about 15 km towords rohtang LA and it took us almost 2 or maybe more because of a whole army convoy was shifting obviously with their hundreds of trucks and their other vehicles, and creation of a traffic jam is a peace of cake for them, and we also had a cherry on the cake a red Datsun redigo maybe of some Rana family from hariyana was just in front of us and I am guessing they were in the mountains for the first time, because he banged the car two time just in front of us and stucked the car in mud that's why they were cherry on the cake and when we realized that we were missed the turn then it was almost 1 o'clock and needs at least 4 more hours to reach, and in mountains you can never take "at least" as the travel time, and on that road there are major water crossings and after 3 o'clock the water level goes high because of all day's heat and we thought it's just gone be a tick mark nothing more then that that's why we decided to drop this plan and it had a nice learning that don't make plan just don't, just decide yes or no on the turn.
After few km we were at Rohtang LA and it was like full from crowd by the word "full" I mean when you pour something in a container with tapping it again and again and again.
We took our car to off road as far as possible and then we decided to trek, within 10 min 2 from us denied to go further then me and my one friend decided to touch the Snow. after a hour of photography from one stone to another finally we touched the snow and again an hour of photography from one place to another finally when we decided to go back then suddenly weather took a u-turn and it got really bad, fog came all over, even we can't see more then 5 feet ahead and the best part was we forgot the way and where our car was after 5 min. Of struggle we decided to go down no matter which side it was, after lot of struggle in that winds without jacket we finally saw a chaat seller we first ate then asked about the way. Within few min after eating we were down but on the opposite side of the mountain then somehow we managed to find our car but it was more then a km far from where we were standing and that I don't know how we came back because we were so tired and shivering but somehow we reached and then we saw our friends and the friend who was with me asked them "why are you standing outside the car instead sitting into the car?" Then they looked at me and then I realized that the car keys was resting in my pocket. Then without any further delay we left the place and stopped directly at a cafe to eat something and specially the coffee. While eating we thought manali is 35-40 km more to go and expected to be their within 2 hours but now we faced a real traffic jam it took us 5 hours to reach manali then its a time for mall road and around 11 pm we saw a very nice Rajasthani restaurant and after eating just momos and Maggie for almost all the trip after seeing the rajasthani food we couldn't stop ourselves and we ate too much with the buttermilk at last and decided to go back to the hotel and sleep.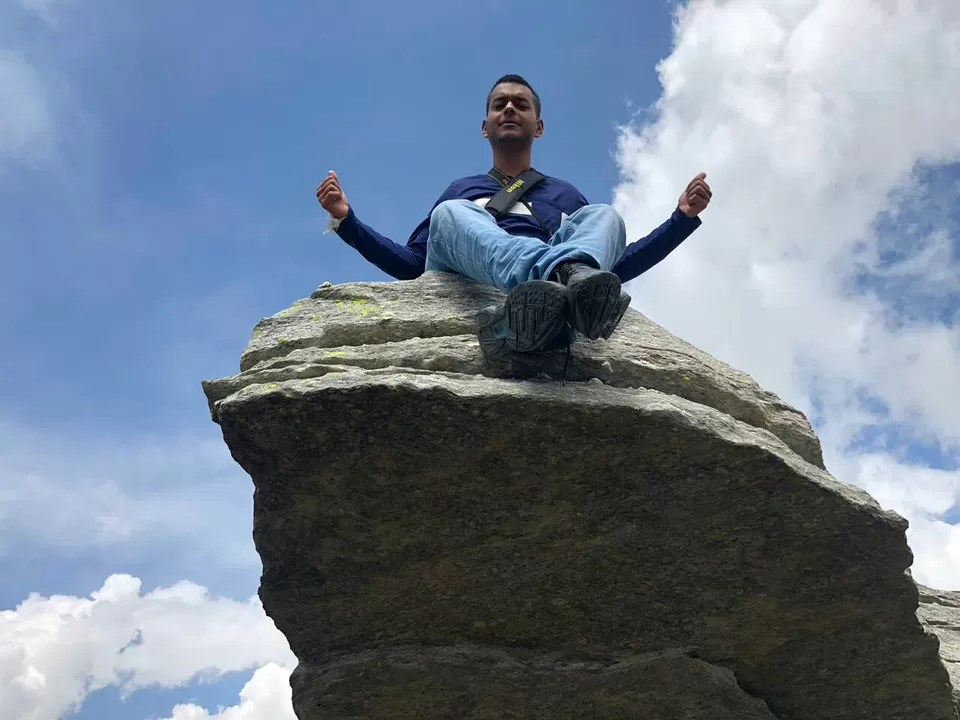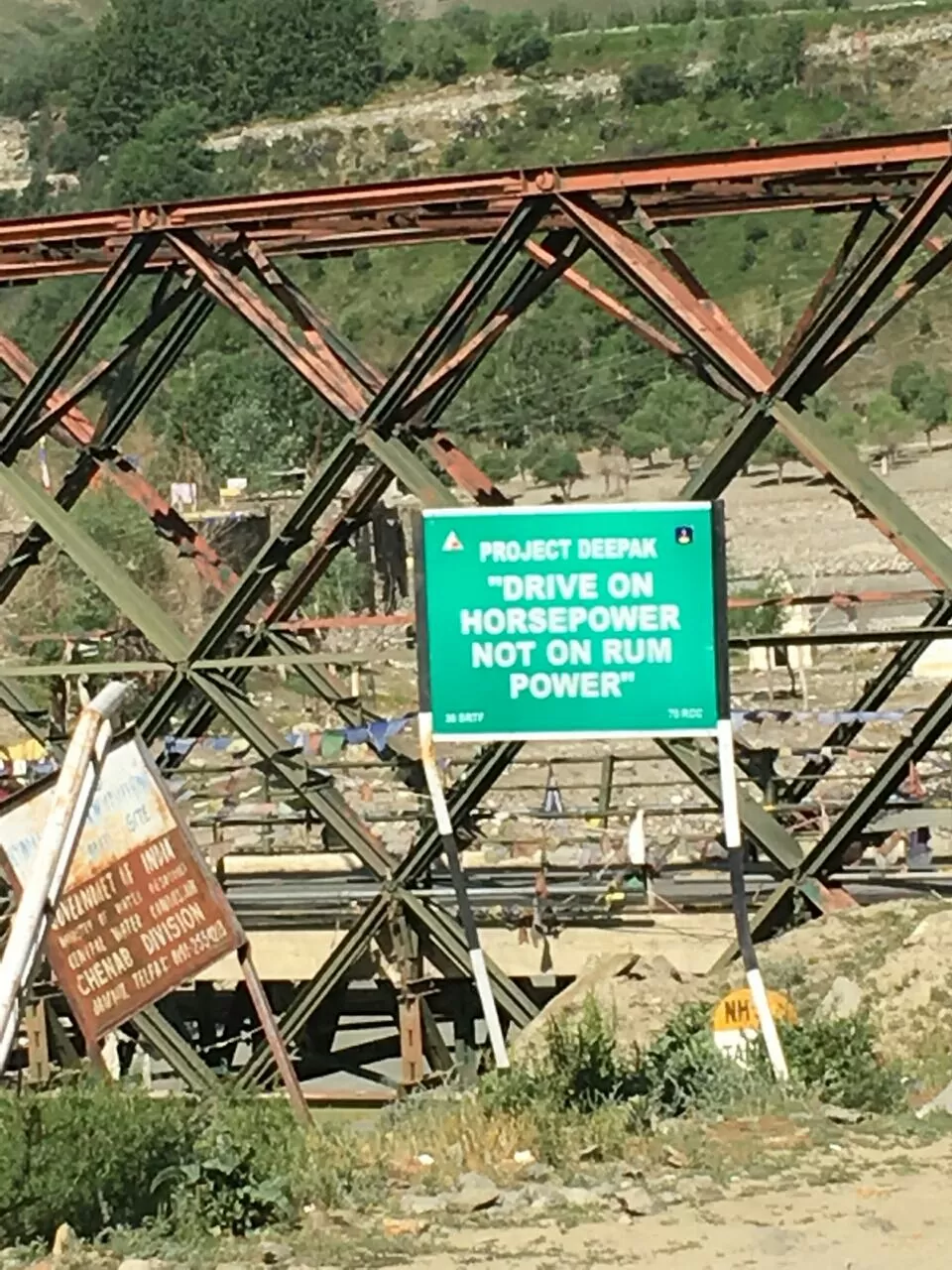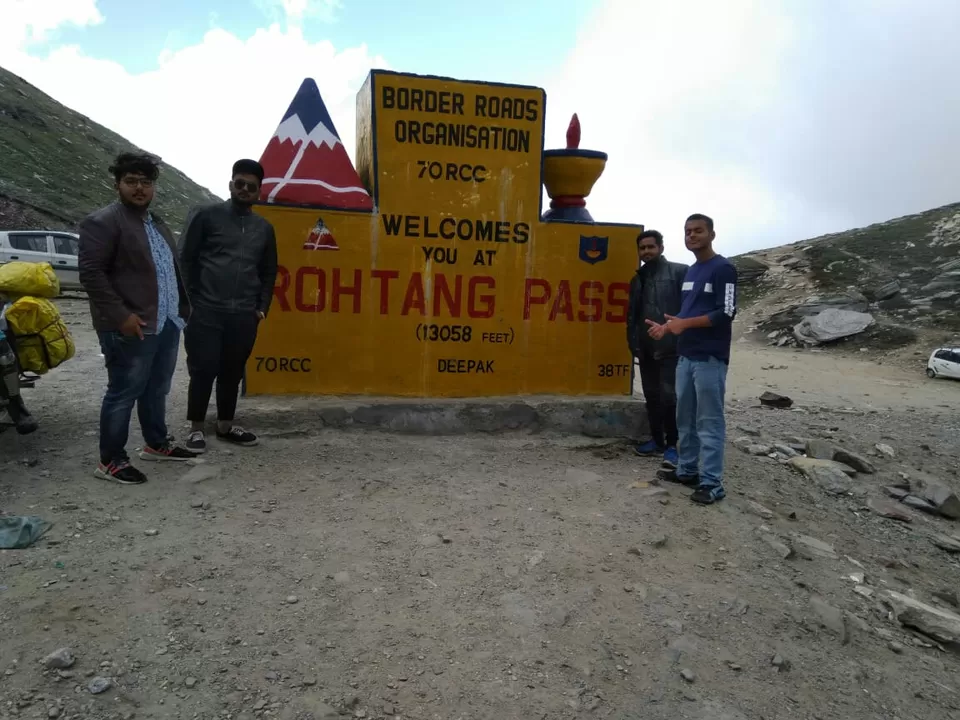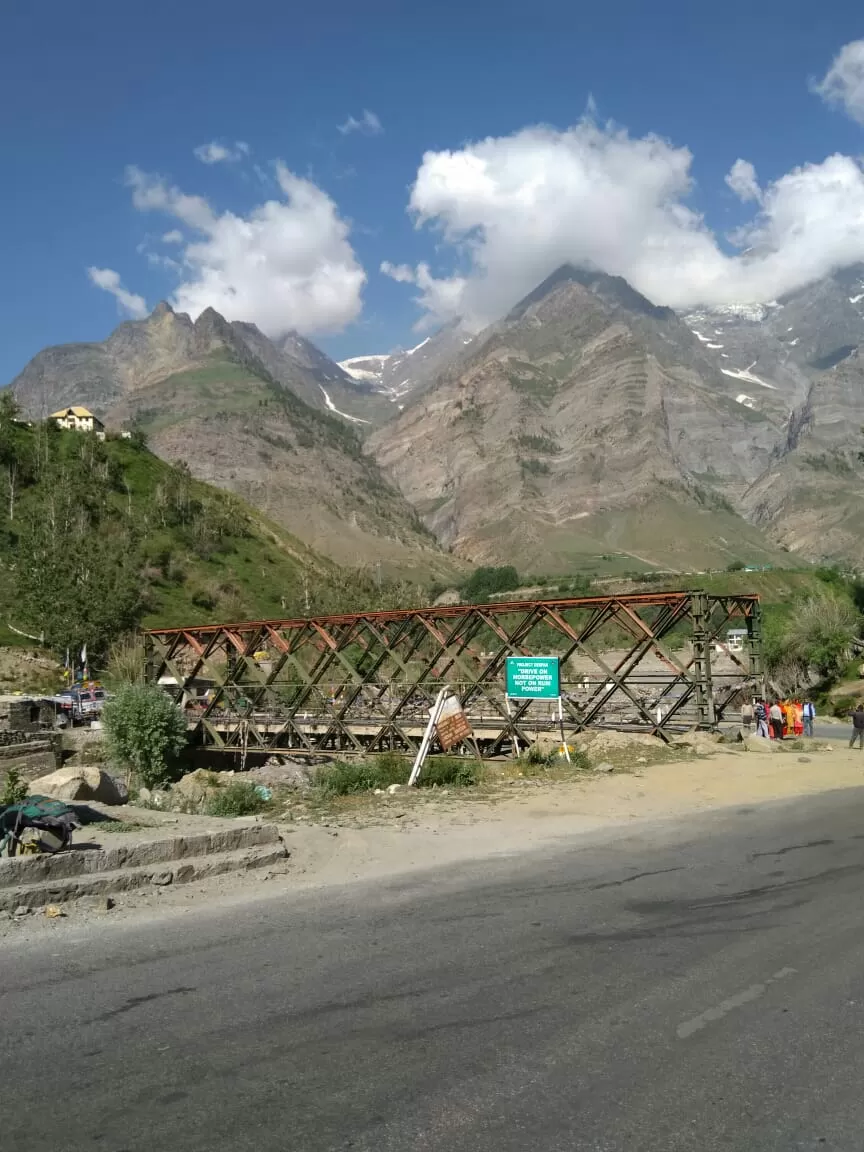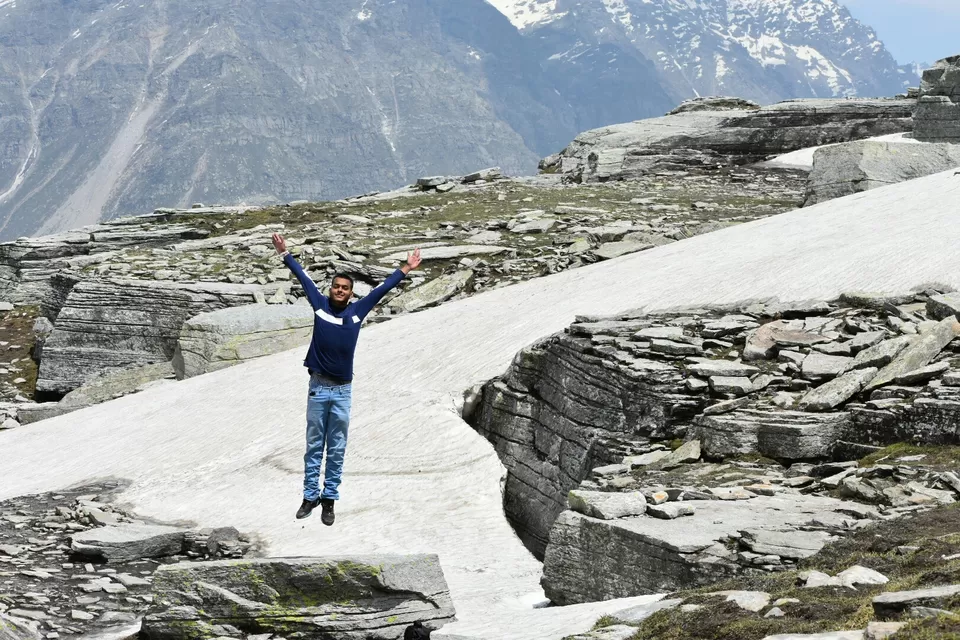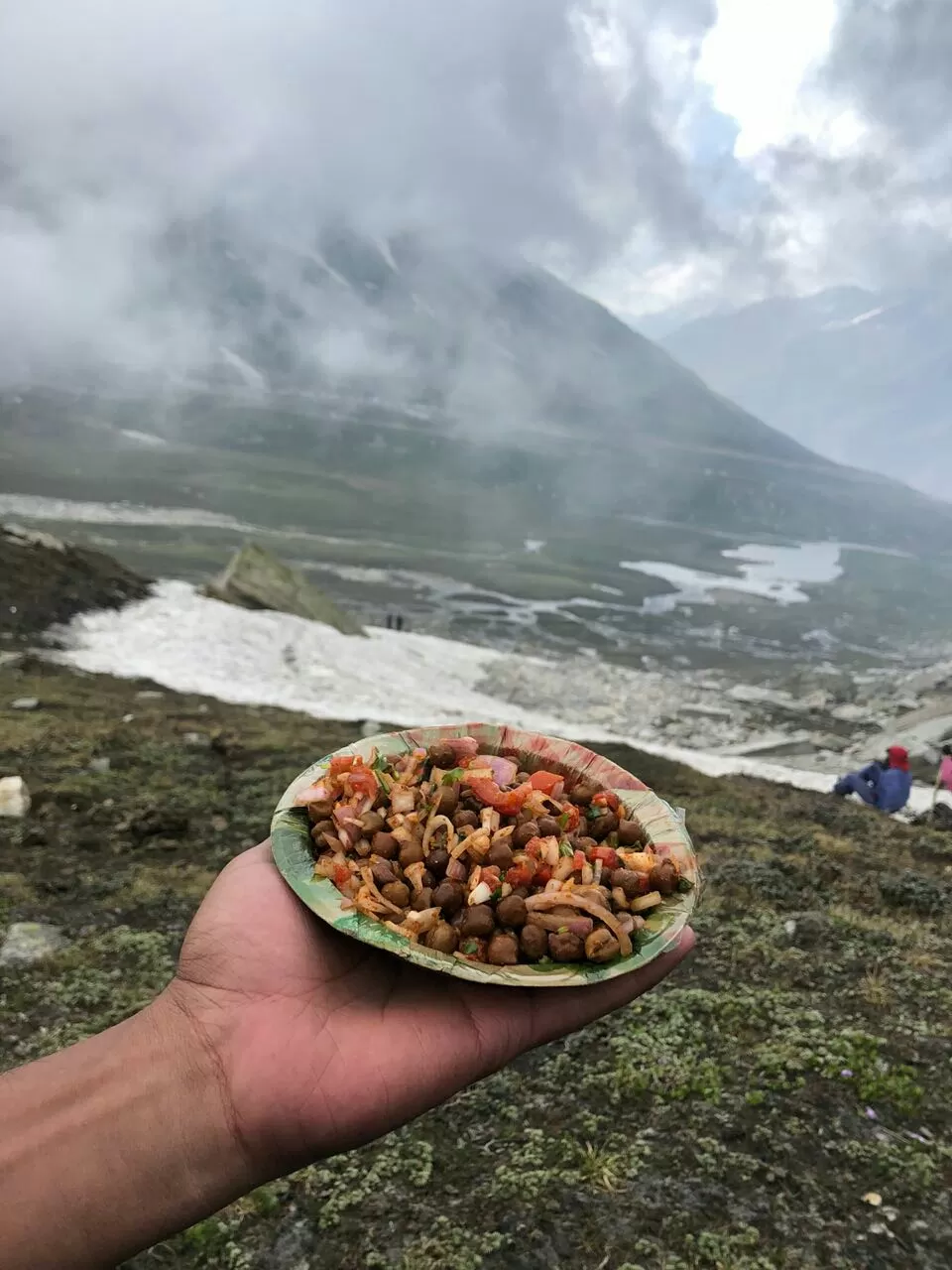 At midnight par after having that heavy and delicious dinner, especially those hot gulab jamuns we reached the hotel. in a quick chat with the hotel owner we told him the situation that we have to reach Chandigarh by the night then he suggested that we should leave manali before 5 am because after that the traffic got started and after the 5 hours of traffic jam experience we don't want that. Its almost 12.30 am and i was also pretty sure if we slept then no power can throw us outside the manali before 5 am its obvious that we all were too tired to even walk but we have to reach Chandigarh and that was non negotiable, that's why we took a tough call and decided to leave manali that time and take rest in kullu just an hour of drive from manali.
I am a kind of person who can sacrifice the sleep and can awake throughout the night easily that's why I thought it's tough but doable.
Then we started from manali and within 5 min the backseat travelers passed out and I was driving and it was too quite outside and inside. After an hour and a break I was feeling bugs in my self but kullu was hardly 10 km more, then I just ignored them and tried to indulge myself into the music but that didn't worked more then 10 seconds, and while trying stupid things like pinching myself or folding my palm tightly we reached kullu BUT there was nobody not even a single drunk men, that's an insult of himachal. I don't know why I was expecting some place to be open and why it should be at 2 am.
Now we don't have any other option instead of driving then after being some time on the road those bugs started again and this time these were longer in duration. These bugs were making my eyes blurr and feels like losing control over my body parts then I was thinking did I ate something next level thing like hashish or weed. But I was still driving that time I didn't thought of it that it can be because of the sleep. After some more km I felt these bugs going longer in duration then I saw a open dhabha and immediately stopped to have coffee but the coffee was c grade but that time I needed that. Then that tunnel came that time I was pushing hard my self to be intact then I don't even remember when the tunnel ended, in the end of it there was a divider and I don't know when I took sharp cut and took the car to the wrong side. but the best part is no one woke up even after that Sharp cut, my mind was too off to think about the blunder. then one more incident happened like this I was driving the car in wrong side and I don't know when I passed the truck then I decided to stop and luckily a patrol pump came then I stopped there till then the day already started now backseat sleeper comes and said he can drive now, then its time for me to sleep. that time mandi was 15 km and then I fall asleep after two hours they woke me and I saw the car was parked in a hotel parking while sleeping I went to the room when I woke up around 12 and asked for where we are then he told me still 8km before mandi. I was like WTF what you were doing for 3 hours he said just after starting he stopped along the road and slept. Then around 12.30 we were back on the road.
Now I started feeling that sad feel which comes at the end of every vacation since I was in school.
Then we bought fruits from sundernagar and enjoyed them specially those huge mangoes.
And there were nothing to tell because we all were quite and basically we don't want to go back but we have to. after having lunch we were back on the highway and by 8 pm we were in Chandigarh.
I just want to say just don't play with your sleep. Under the influence of alcohol and under the influence of sleep both are the same.