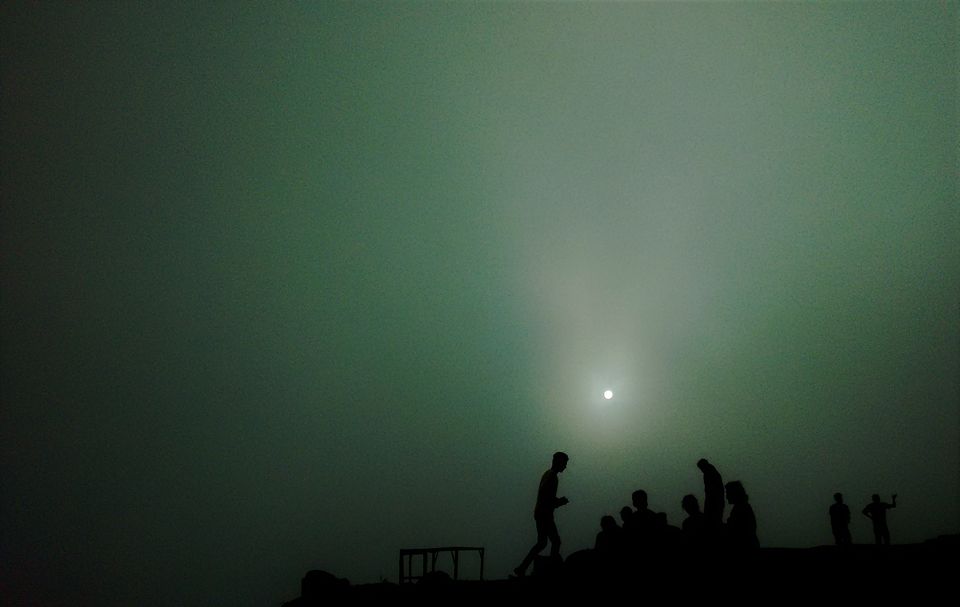 Before we start come along with me on all my journeys here https://www.instagram.com/touringdiaries/
Bored from the daily monotonous routine, to beat the Delhi heat and to celebrate one of our friend's birthday, we decided to move out of city. It was Wednesday already and all we knew was we were heading towards some Hill Station. Yeah, " Some Hill Station " Which, it wasn't decided yet because of the heavy rainfall in Uttarakhand and Himachal Pradesh. It was Thursday morning and we were still looking for options. I could feel what once a great philosopher said " Jitne Mu, Utni Baatein " , yes, the great philosopher is none other than my MOM ! :D The urge with which we wanted to leave the city was so high that we also made a (Escape) plan of visiting Rajasthan in this part of the year. (hahahah ! yes, it was ~45/46 deg in Rajasthan ) Excitement you know, " Josh me hosh kho dena shayd ise hi kehte hai :P " . Thursday night, people were still confused, exhausted, frustrated, leaving Whatsapp group one by one, making it even worse that we had to think would there would be a trip? Then came our saviors, a few masterminds from the groups gathered together, discussed, took decisions and shortlisted a place on Thursday late night ! It was the famous trio " Dharamshala - Mcleodganj - Triund" which won the tough battle of " Best Hill Station to visit in month of June in India :P ".
The Doom's day (Friday it was) - the greatest ever search program of finding a Tempo Traveller was under the hands of laziest person in the group, it was me :P . We were a total of 10 people and it was a tough job to get a Traveller at the last moment and especially with me on the acting committee(suddenly promoted from the relaxing committee to acting committee with obviously no extra perks :-/ ). It made me learn by heart the quote " with great power comes greater responsibilities" :) A person who was more content than the inert gases suddenly became Na(Sodium). I did what every other guy would have done at this situation " Google Baba ki Jai ! " , googled Tempo Traveller in Delhi NCR and The Almighty Baba flooded my screen with a million searches(1,88,000 results to be exact ~ not even close to a million :P). The next one/two hour, it was a surprise test for my superfast Moto G 2nd Gen, contacted every other tempo provider on my screen and finally got a Traveller at 17 rs/km. It was no less than a a great battle win for my Moto G, as it performed seamlessly without getting restarted, the only thing I was worried about was its temperature though :P ( It was so hot that I had to use hands-free after 30 mins/could have cooked maggi in 1 min :P ). The news that we finally got a Traveller spread like wildfire (GOT fans, I feel you), it was a moment of joy for the masses (masses = 10 people :P ).
Note : Please don't mind my chemistry, I was an average student :D
People were so excited for the trip that their bags were already packed before even knowing the venue. Infact, a few of our friends left from Gwalior on Friday Morning (when we didn't even had a cab confirmation) with the hope that they will be at Dharamshala, chilling the next day. So, it happened.
"Believe you can and you're halfway there" We believed, and yes we were on NH1, all the way cruising in our 12 seater Tempo Traveller. We left Delhi at around 11 P.M. and reached Dharamshala by 12 P.M. It was sunny, humid and hot, but as were approaching Dharamshala, it started to rain heavily, making the place perfect for love birds to come out (or they may prefer staying in rajai, '' priorities '' you know ). ;)
TIP : You will not find a decent, hygienic multi-cuisine restaurant after Anandpur Sahib until Kangra open early morning. So, plan accordingly.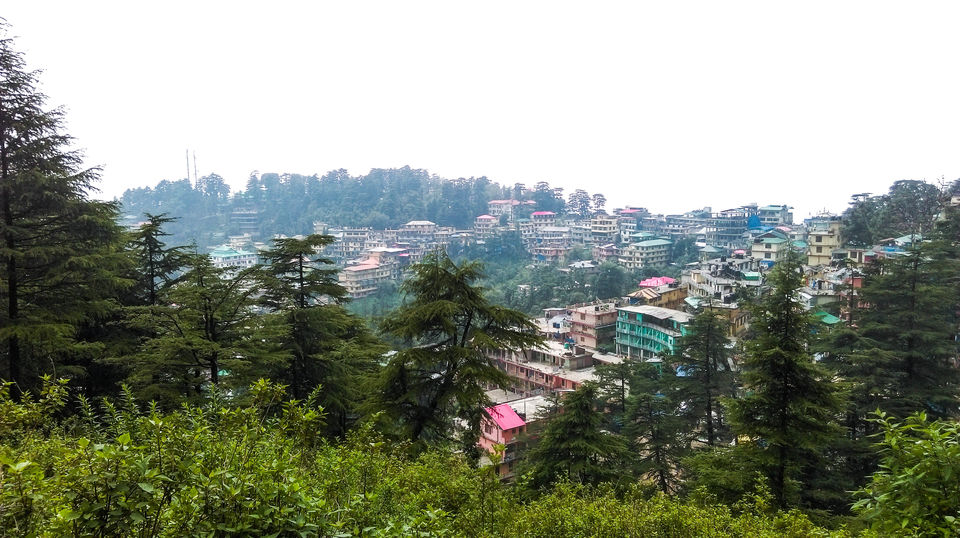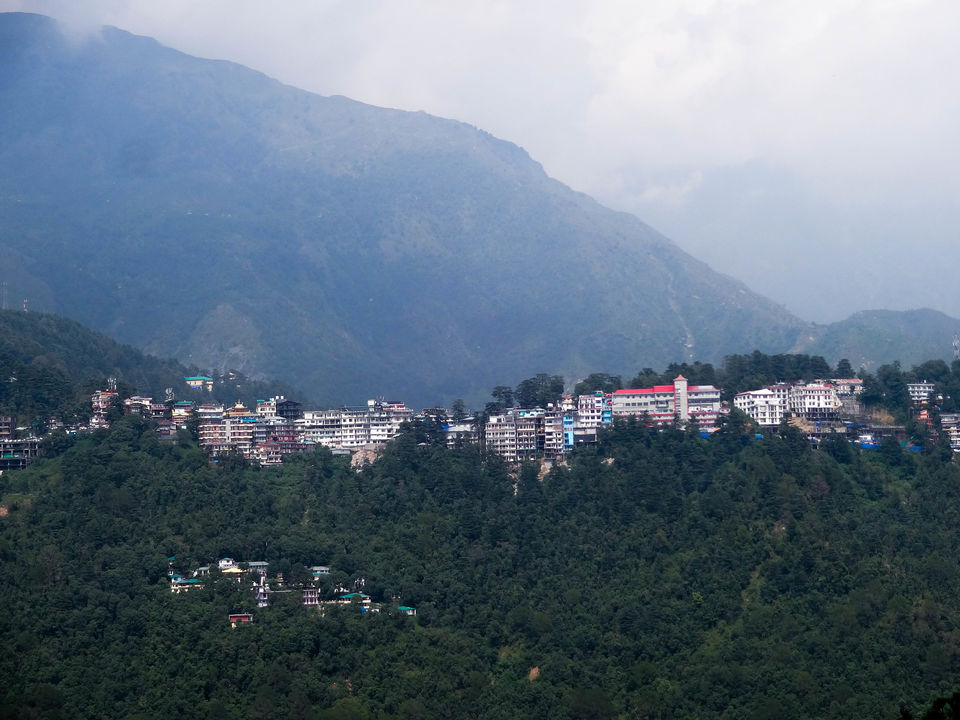 I believe everything God does, there is always a hidden message and by everything I mean anything that any human isn't capable of (neglecting the mutants around :P ). Yes, I'm taking about the rains, it was hot and humid, we were exhausted, tired as it had already been 12 hours journey but the unexpected rain took all the fatigue out of our bodies. We were feeling fresh again, singing songs and the enjoying the great weather and view in front of us until we noticed a long spiral network of cars crawling along the majestic mountains. Yes, we were now in a traffic jam and we could hear people saying it has been the biggest jam they have ever witnessed. Dope Man ! we were making History. :P The rains as I said, gave power to a few of our friends, who decided to move out of the Traveller and take pictures rather than sitting ideally. It was 1 P.M. , the Jam wasn't moving at all. :(
Himachal Pradesh tourism won't mind that at all. ;)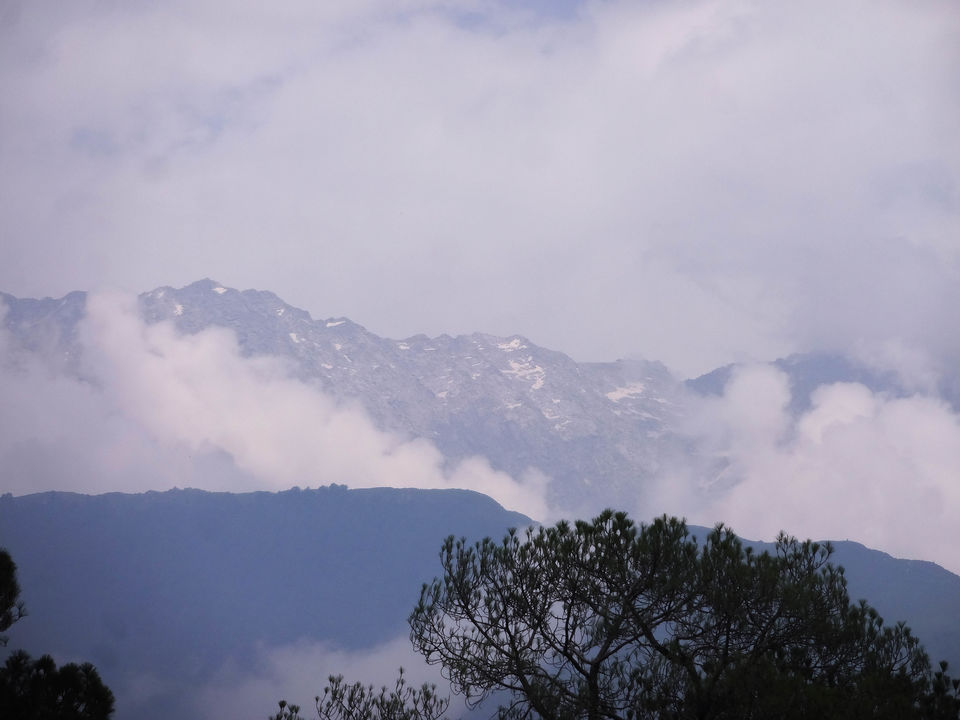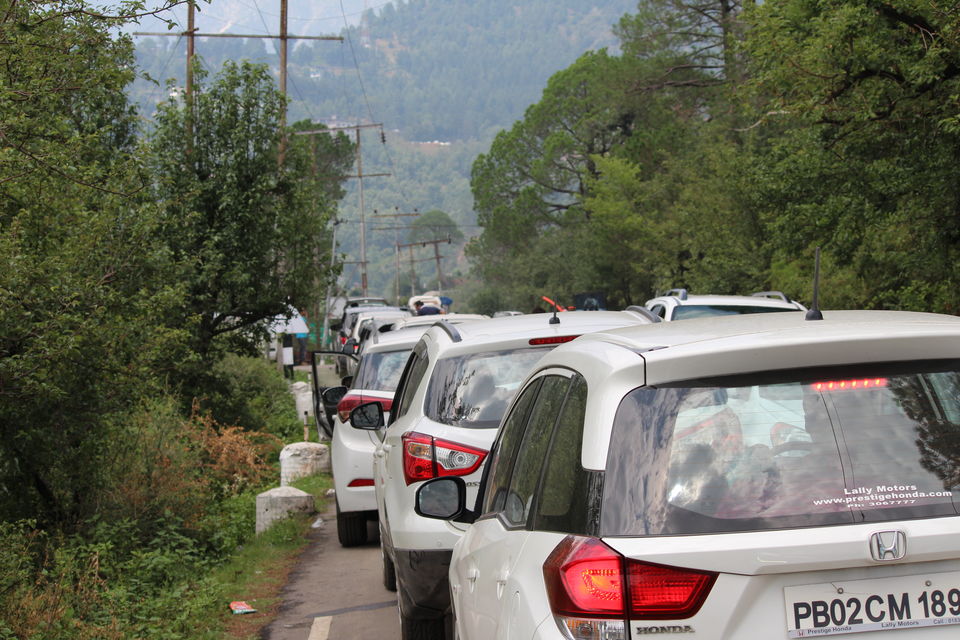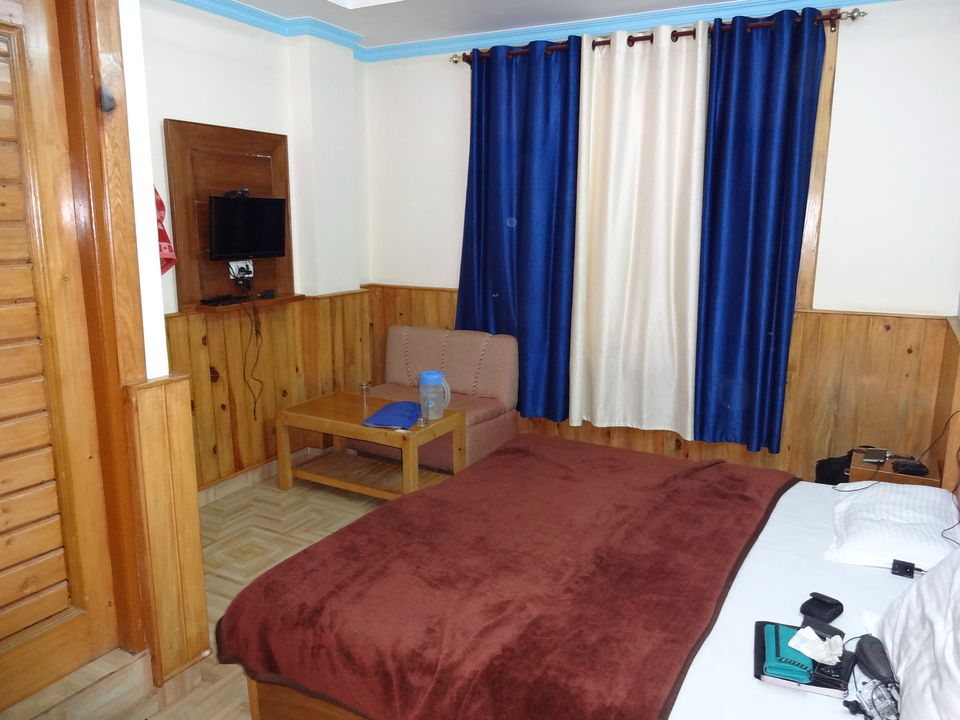 As it was getting dark, we decided to head towards the famous Bhagsunath Falls. We took a cab from main square and the driver dropped us near the Bhagsu Temple. The Swimming pool in the front of the Temple was so tempting that we decided to take bath and then go inside the Temple. As soon as we entered into the pool, the water was so damn cold, it didn't took a second for us to come out (sabke hosh ud gae the :P ). However, everyone of us took bath later on. We dropped our plan to visit the falls and decided to visit the monastery and falls the next morning. We then headed straight to Lhasa Restaurant, above ICICI bank atm, Main Square, had dinner and then came back to our hotel.
TIP : 1) You'll get a lot of taxis to take you to the Monastery , Bhagsunath falls and each will charge you 100/150 rupees.
2) It was a tough time to find a decent family restaurant, Lhasa Restaurant provides you everything you need. The food is delicious, staff is cooperative and economical as well.
3) If you are planning to visit Bhagsunath Temple and falls, do keep and extra pair of clothes.