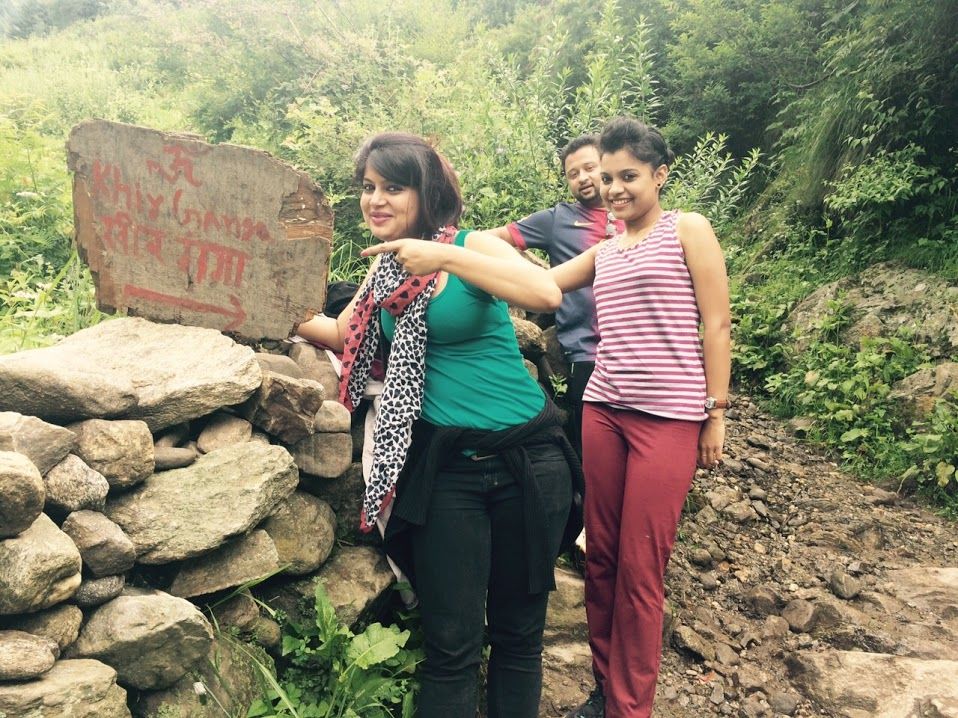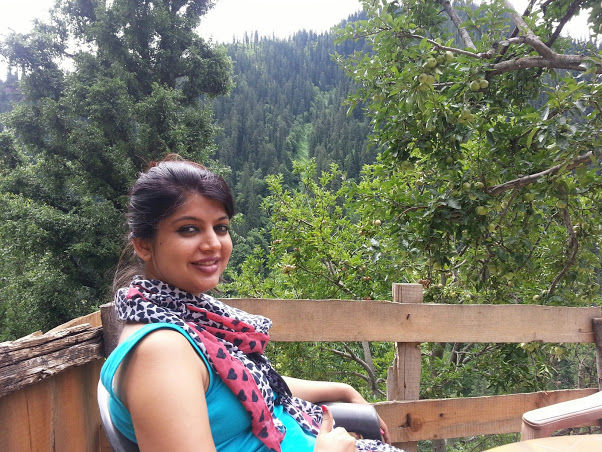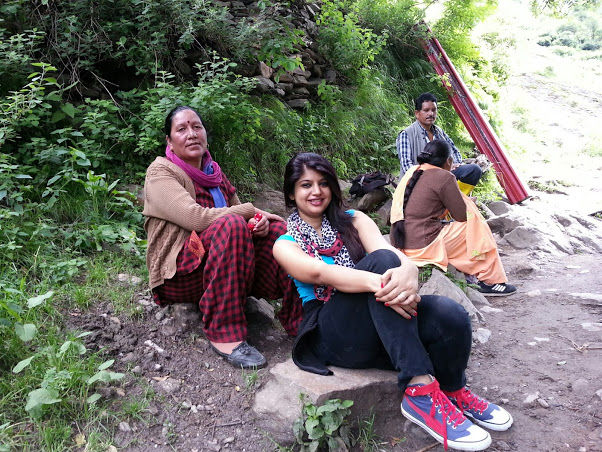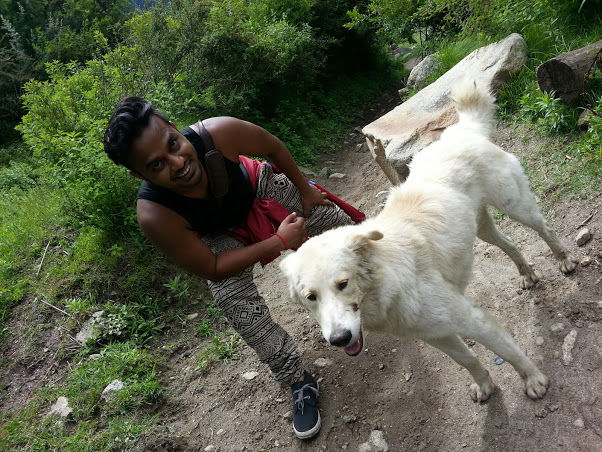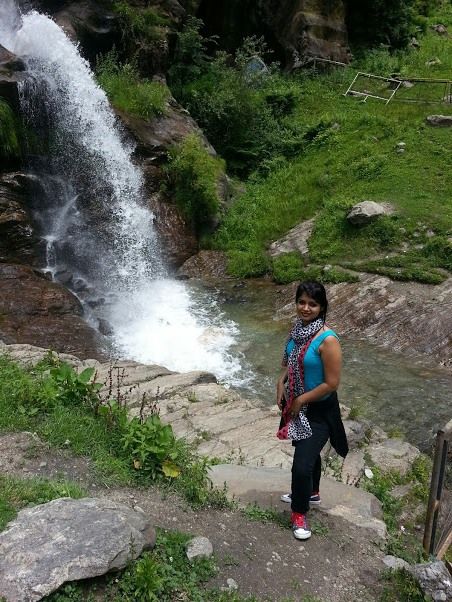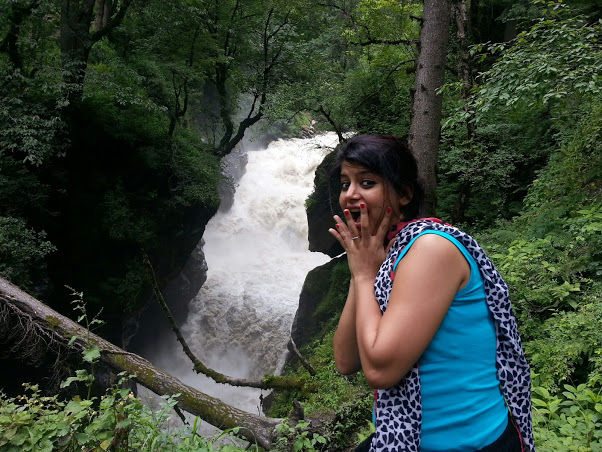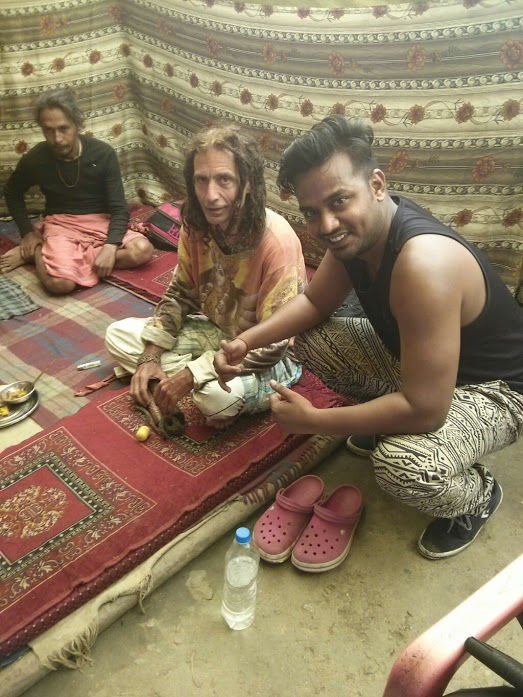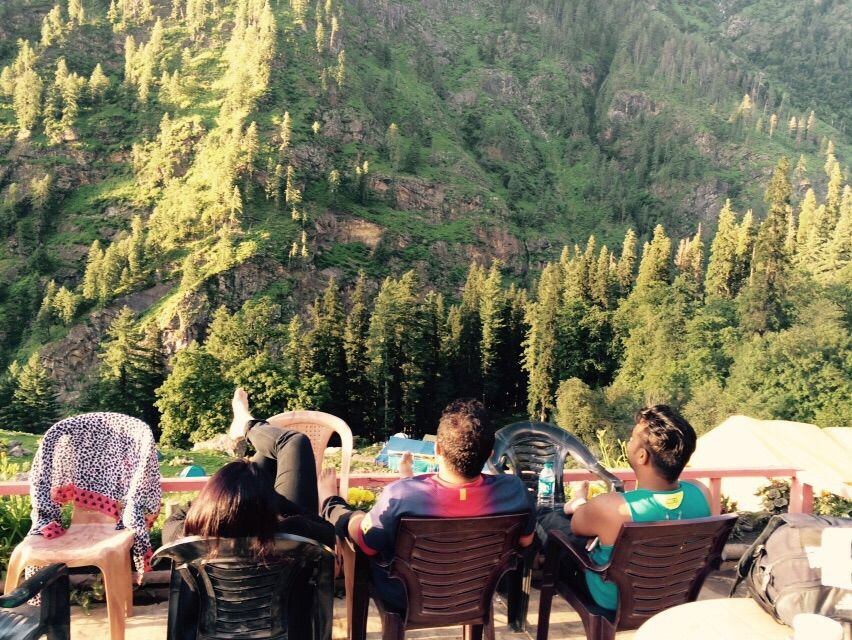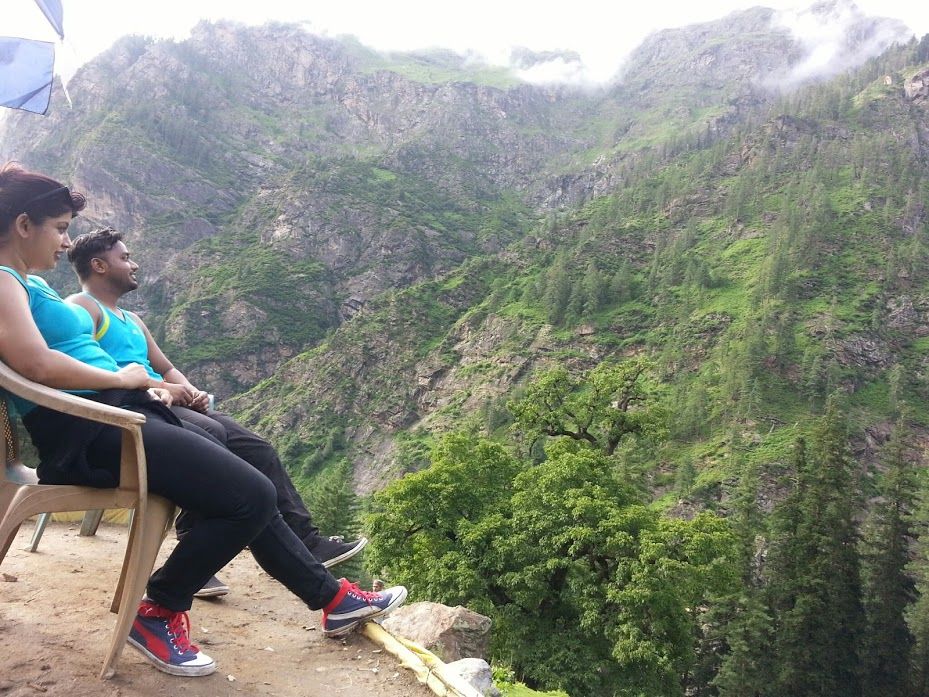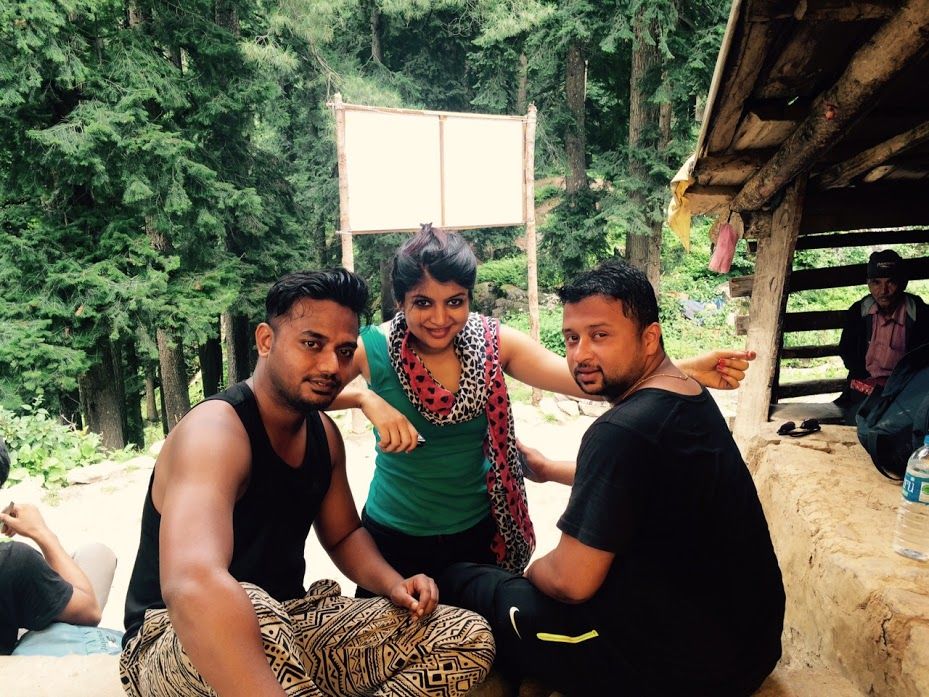 Kheerganga- First time I heard about this trek when we were planning to visit Kasol. I google it about this place and came to know about it is that it is not an easy one for trekking.
This is special to me as we were holidaying during my birthday week and secondly I am with my two best friends, my travel buddies with whom I am more than comfortable :)
We reached Kasol on 25th evening and next day we plan for our adventure trek to kheerganga in the early morning. Our hotel staff has arranged a cab for us till Barshaini. We were lucky we get one awesome cab driver who told us all the highlighted things of Kasol, Kheerganga, Malana and famous cafes in half an hour travel.
We got so excited by seeing the greenery and mountains because till this point we did not know what more we are going to experience. It took around 1 hour 20 minutes to reach barshaini.
So we started "Trek to Kheerganga" around 8:30 am. On doing enquiry we came to know to reach kheerganga it will 6-7 hours and its 8-10 kms trek from Barshaini. The most stupid thing was we were going for trek and we forgot to carry even a bottle of water as if we reached to different world already ;)
We started with full enthusiasm, after climbing few steps, it was like we r draining out because our cab driver was smoking hash all the time and its smell make us bit slow. We were like that we should go back but we motivated each other and we started again.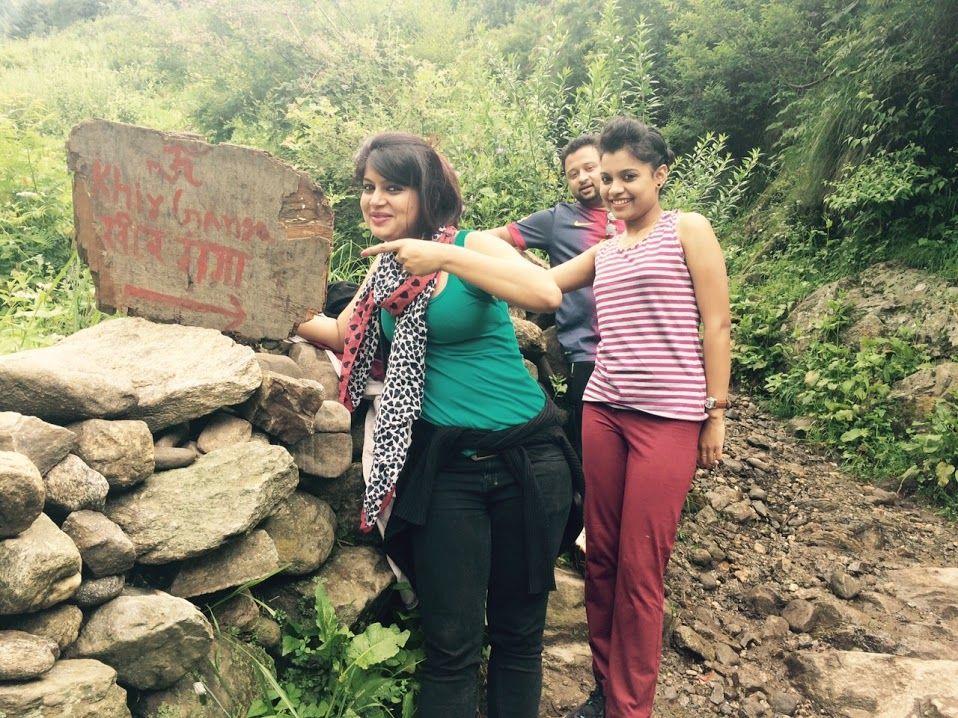 Without water it was difficult, every person who is going up or coming down we ask them where is the place where we can get something to eat or drink. Everyone is so helpful to answer or the amazing thing happened was one of a local person who was going down and we ask them bhaiya khane k liye kitni door me milega( how far is the place where we get to eat something). He gave us all fruits he had at that time. We got so happy as the fruit is juicy and fresh. After eating it we realized they are peaches. 
Then after gaining some energy we continued climbing. One of my trek-mate, very fond of apples and where ever we turn we can see apple trees with sparky green fresh apples hanging o all trees. She plucked few of the apples and eating a bite felt like divine, this is called real, what apples we get in cities like Mumbai is all so unnatural.
Finally after trekking for around 3-4 hours we get a stoppage at a village name as Nagthan. We saw a kind of Tapri (small place to eat) where we had sandwich, maggie, pakodey and what not. We were hungry like dinosaurs. We took a bigger break of around 40 minutes, our tummies were full, we doze off for few extra minutes.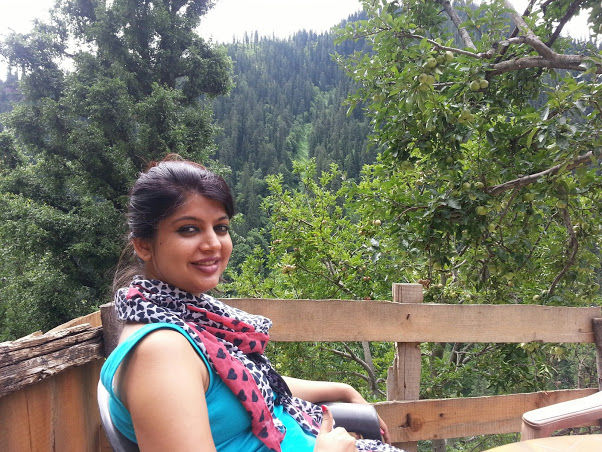 We started our trek from here around 12:45 pm. While trekking we met so many local residents who do to and fro almost daily, many labors who carry iron logs on their shoulder, labors with khachhar (Mule) who helped to transfer food,beverages and cement bags. We sat with those people and gain some more knowledge about the place which we could not find in google. All fellow mates we came across were so helpful.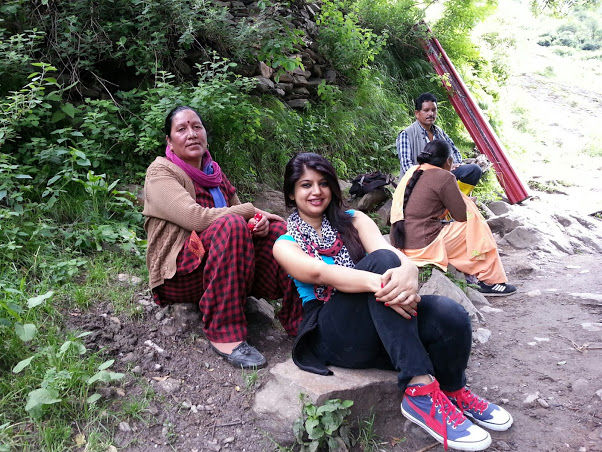 The special one who joins us in our group is cute, fluffy white dog. He was following us in every step, where we stopped he also took rest with us and as soon we stand up to start he starts again following. Surprisingly he showed us the path sometimes when we were not able to see the best and safe path to climb. And here he is.... I started calling him Tufi :P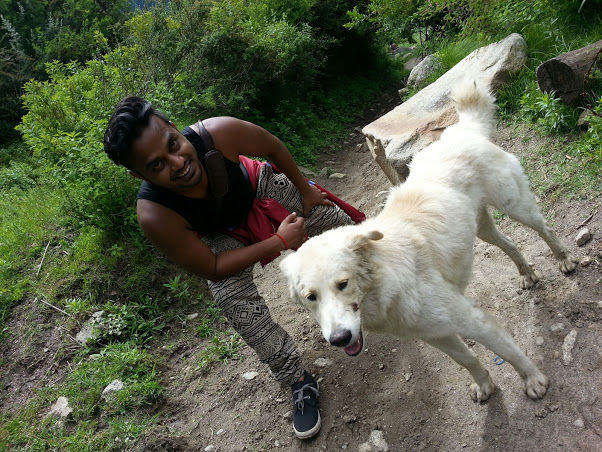 The next exciting stoppage came is "Rudranag" where i saw many people were worshiping a waterfall which is flowing making kind of arc shaped and I understood how the place got name. Lord Shiva always keep snake(Nag) in his neck. The waterfall is flowing in the same way how the nag is placed in lord Shiva's neck.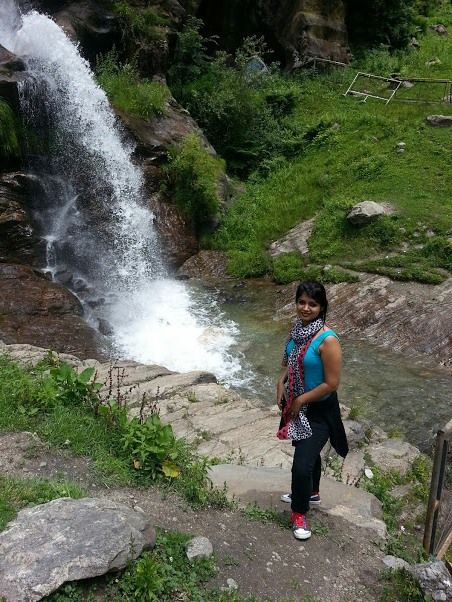 RudraNag has also some small tapris. Some backpackers spend their night here if they have their own tents. Here we had covered around 6 kms. On the entire way to Kheerganga we follow the yellow/white arrow sign which is painted on some rocks showing us the right path. One more arrow sign which is for Tosh a another place to trek.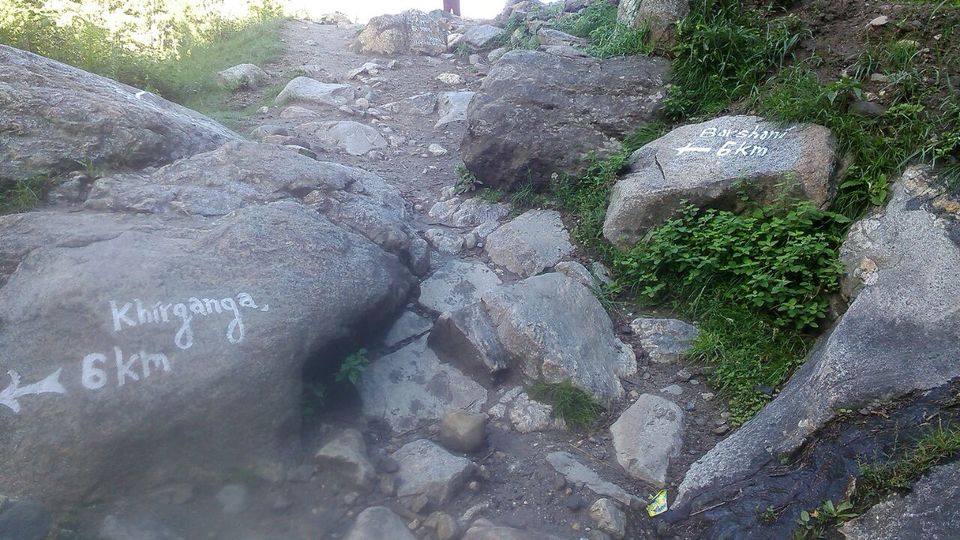 The level of trek got difficult after this. We realized by seeing the path that we literately need to jump and climb, I was remembering the time when I played mountain climbing in Xbox. There was no straight clean path, even  few of the small waterfalls we encountered. We really got slow in our speed here as the other side is abyss.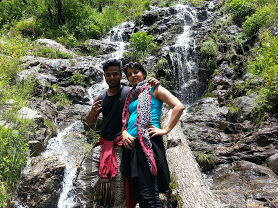 Trench is visible and Parvati river is flowing so violently as these are rainy days. The decibel is so high which is making scared to me. We crossed a steep bridge where the path way is on just a flat base made of wood. And in both sides river Parvati showing its full high tide waves. My crazy buddies were standing on the bridge to take selfies :P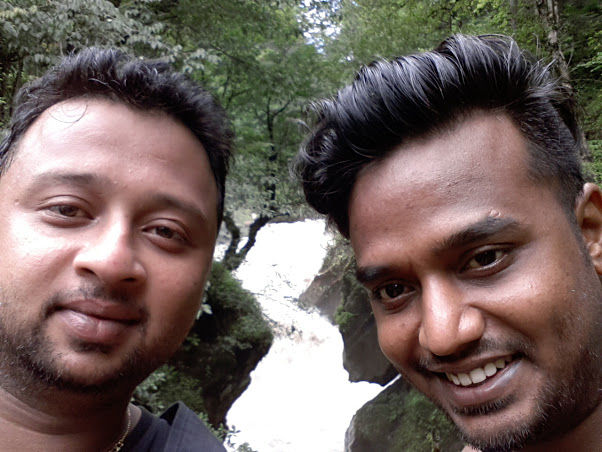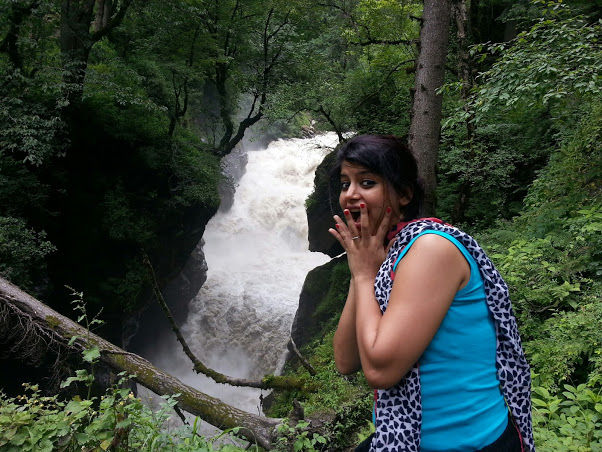 After taking few clicks we started climbing and as we were reaching near we see its all vertical climb now. I am happy because my gym leg day was covered here ;), all the lunges, squats, squat with weights as we had our trek bag packs as well. It was tiring but enthusiasm level was increasing as we were near to our target which helps to boost up our lazy bones.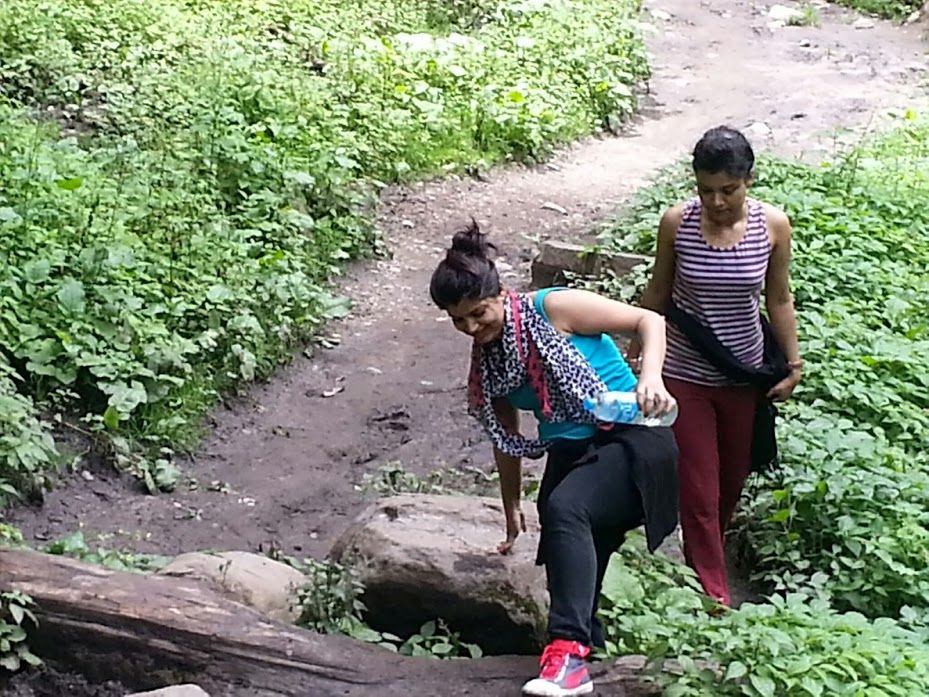 Here local people drinks water from the small water-tects which is flowing all over the place. They said this water is like Amrit( holy water which does magic) and full of minerals. It is as cold as water in freezer. All residents drink this water on daily basis, we also tried but found some rock particles.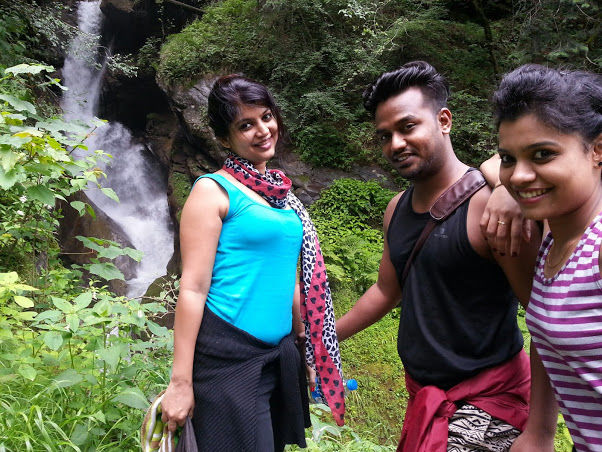 My buddies were too tired so they stop in some tapri to eat some evening snacks ;) but we two girls continued trekking. We both were slowly covering the distance without a break. It seems like getting dawn because big trees were covering the sunlight. So guys covered the distance by running and reached till us. All the way we did one thing asking the people who is coming down or going up how much time is remaining to reach kheerganga top.
Finally we reached kheerganga around 6:45 pm. We were so happy and relaxed. As soon we reached there we saw so many Babas who were actually not Indians but living in Kheerganga from months. We had tea there and then we head for temple.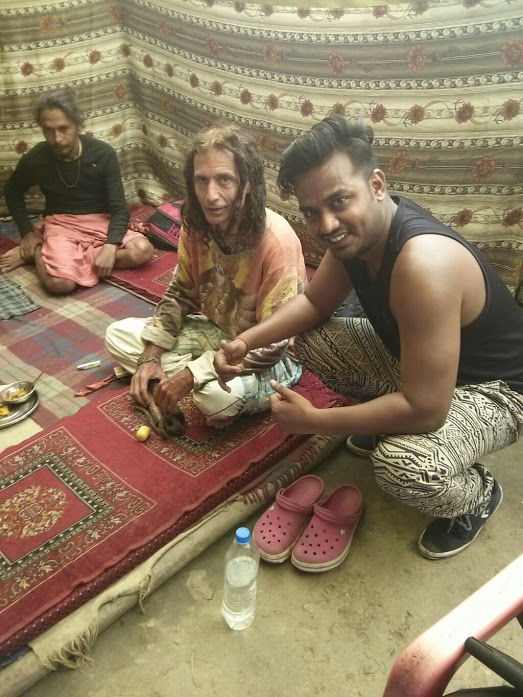 After the climb we were rewarded with release from all pains during the day and get to bathe in the hot spring and rejuvenate ourselves. Even though there is a hot spring at the gurudwara down at Mankiaran, the experience of Kheer Ganga is unique in so many ways. Visiting the temple at early dawn before you proceed to the pool is customary. The biting cold is forgotten once your body is in that sulphur heated water. Its a heavenly feeling.
Temple is of my favorite Lord Shiva. the story is like Lord Shiva and his wife parvati lives here and kheer(made of condensed milk) flows for their children Lord Ganesha and Karthikey. Fight should not happen because of this Kheer in Kalyug, Parshuramji aims the arrow on this starting point of kheer and convert it into water.
The starting point of Parvati valley is more on top named as Mantai.
There are also good facilities for accommodation and food here. The friendly nature of the people is more than the warmth you need as all the things that you can think for are provided for at highly reasonable rates.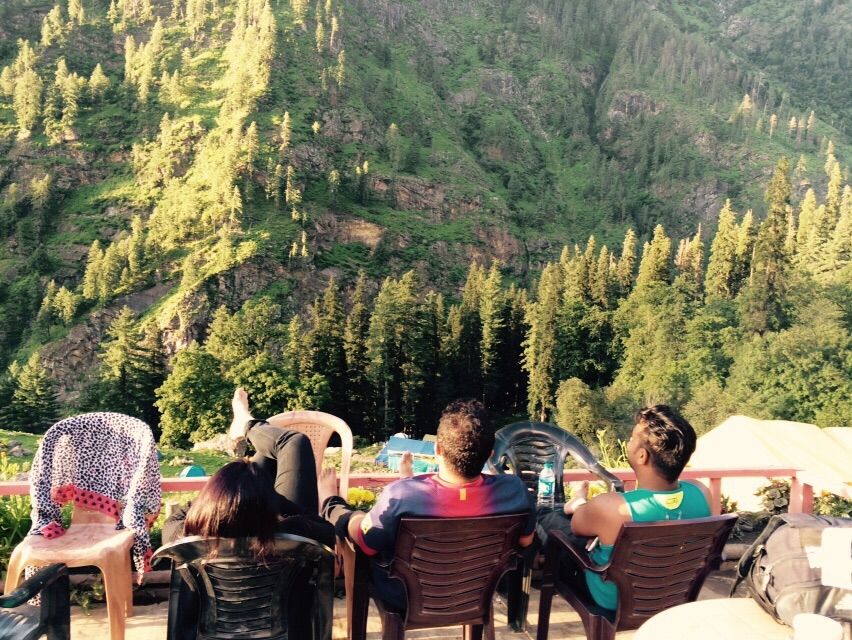 Environment is completely trance. It seems we were in different world. Everyone is so friendly. Most of the foreigners resides here for a week or month as well. It was so quiet and calm. Mobile networks were completely dead here so we were totally disconnected with world in company of mountains. All people smoke hash here and they seems in total peace, enjoying the weather, talking to mountains, making new friends, make local dogs as their pets and take good care of them. We enjoyed trance music. It was around 7:45 pm and it was not yet dawn.
We enjoyed the graceful sunset between two mountains. We took rooms there and stayed for night. As I mentioned it was good arrangement of food and living. They provide us even quilts because without that one can die of cold. 
Whole night it was raining continuously. I got sacred as the path will become more slippery. Even in my dreams I was seeing the whole scary moments while climbing up. 
Next day we started early in the morning around 5:30 am. Sunrises completely and rain has also stopped. The path was too slippery but as the efforts were less as compared to climb so we covered distance till Rudranag in 2 hours. There we stopped for breakfast to have maggie and tea.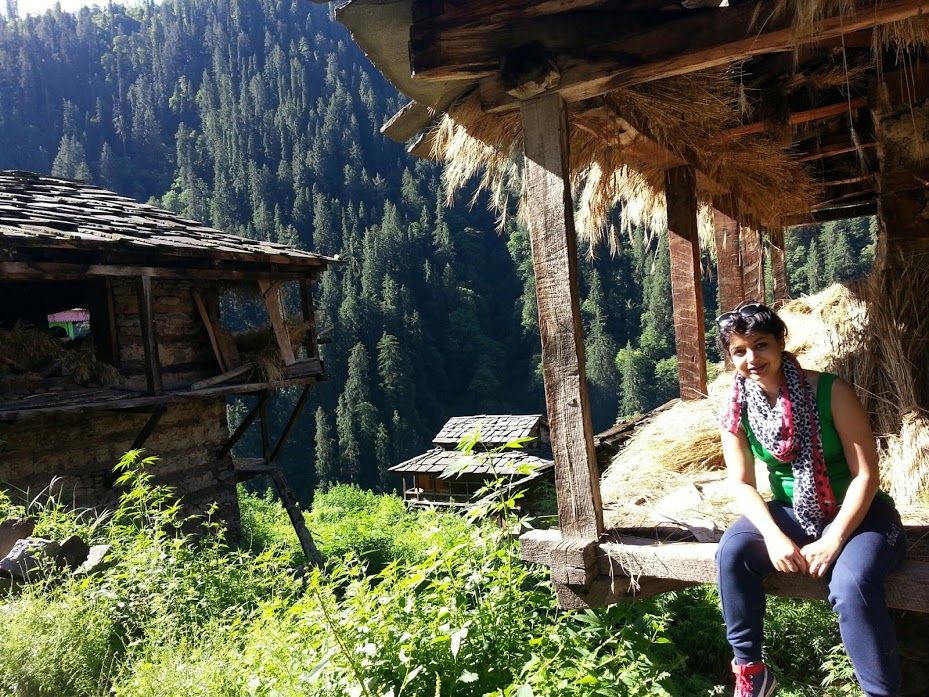 We reached Barshaini around 10am. And as soon mobile networks pops-up in our cell phones. My mom dad and friends started calling that where I was, as I could not able to call them night before. So from here we did cab and reached to our hotel in Kasol with heart full of beauty of kheerganga and inner peace in mind. here we are happy we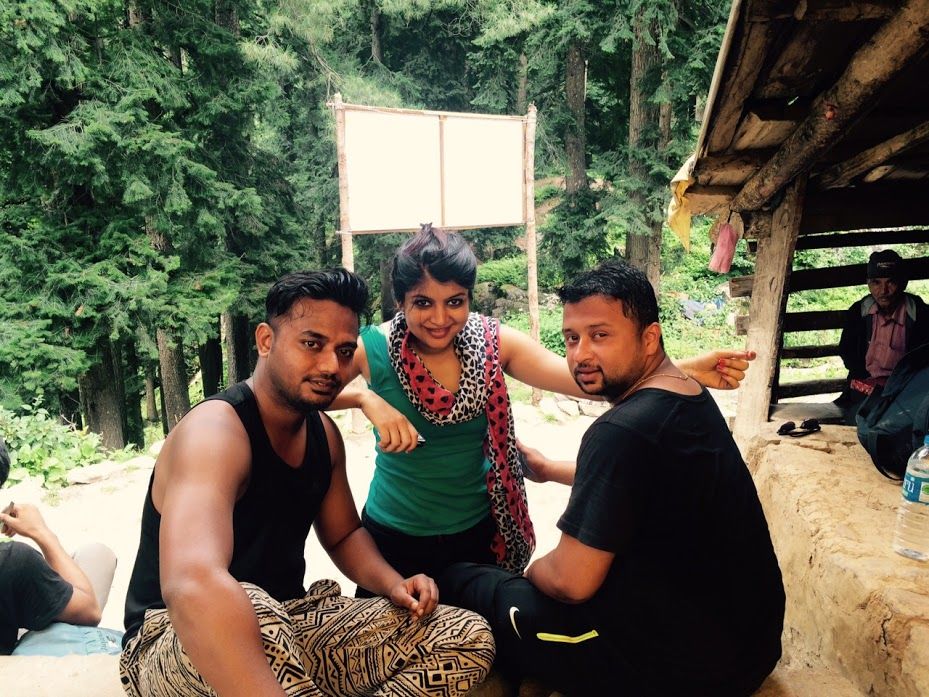 Things to remember while trekking to Kheerganga:
Respect Nature and follow directions
Don't do competition with your fellow trekkers
Avoid plucking apples
Carry water bottle, energy drinks and snacks to eat
Carry extra pair of clothes, foot wear, socks, goggles, napkin, torch, basic medicines
Slow and steady wins the Race is what need to keep in mind
If you are with girls try to accompany them
Watch your steps in hot water place as it is too slippery there