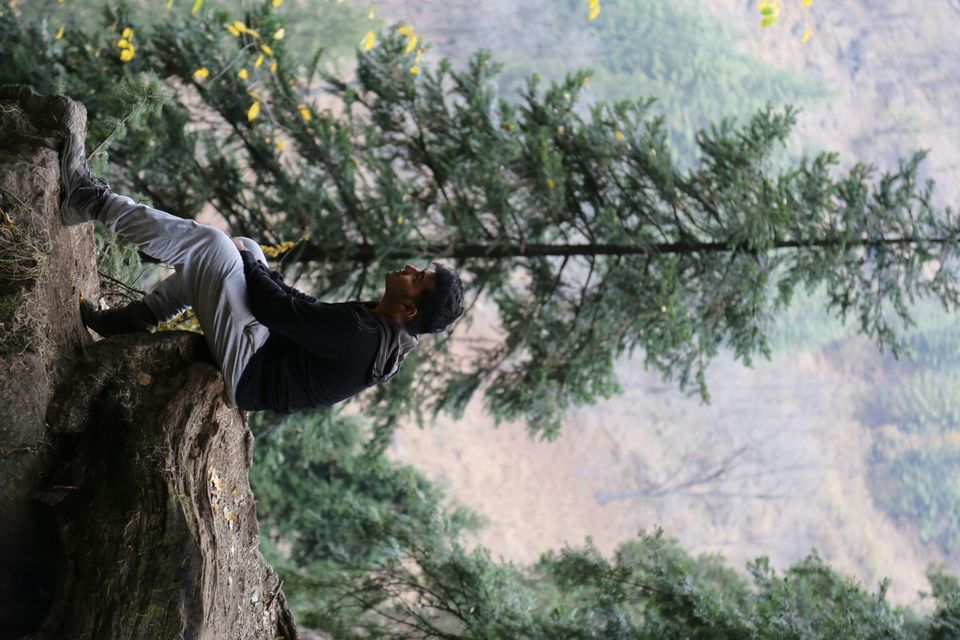 On 8th November Modi Ji took a brave decision by demonetising old 500 and 1000. I had planned a trip with my friend. After this decision we were little dicey whether to keep the plan on or not.
Advantage was it was a off season everywhere. Because of which i managed to bargain and save as much money i can.
On 22nd November'2016,
i left for Delhi from Mumbai. I was all alone. As my group ditched me. So i had decided to go for this kasol trip.
Around 10:30 we headed to Lotus Temple. It is Bahá'í House of Worship. Which is shaped in the structure of a lotus. Spent some time in praying. Where all your stress goes away.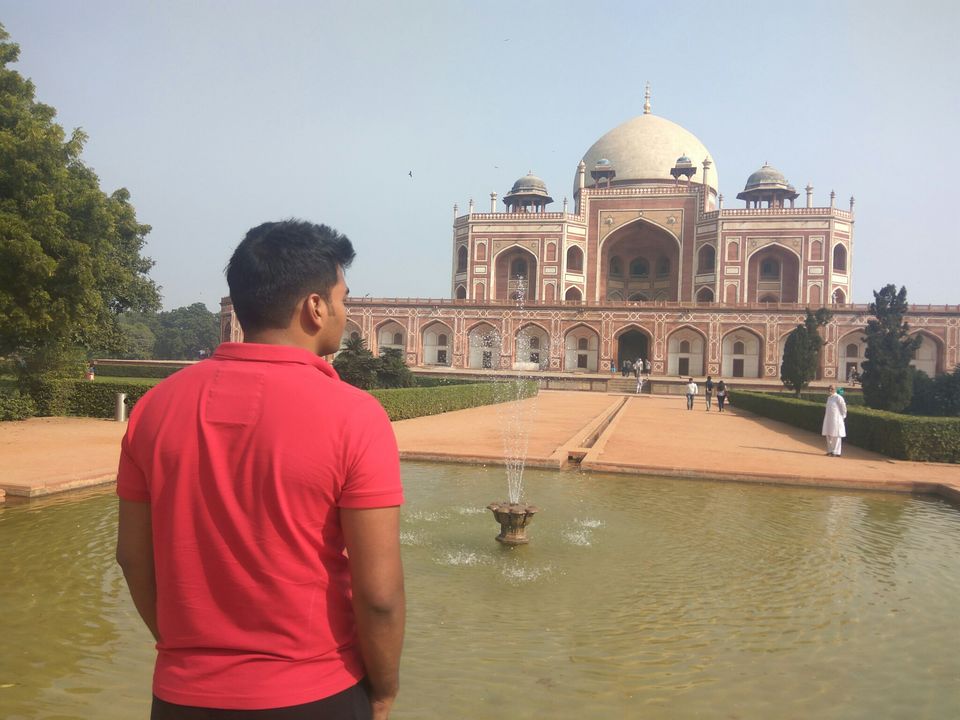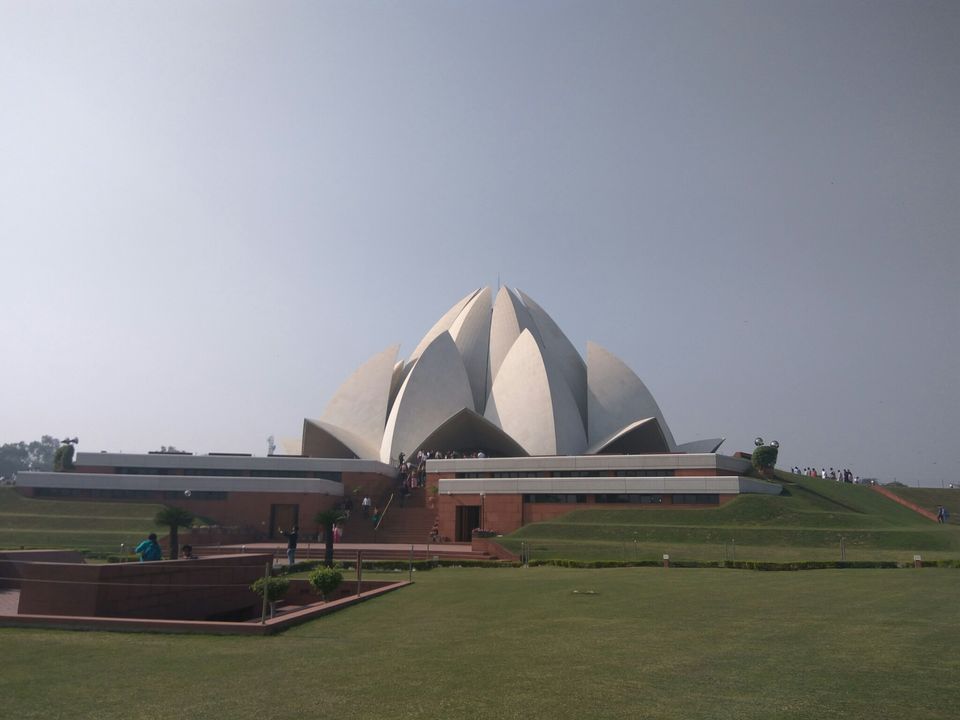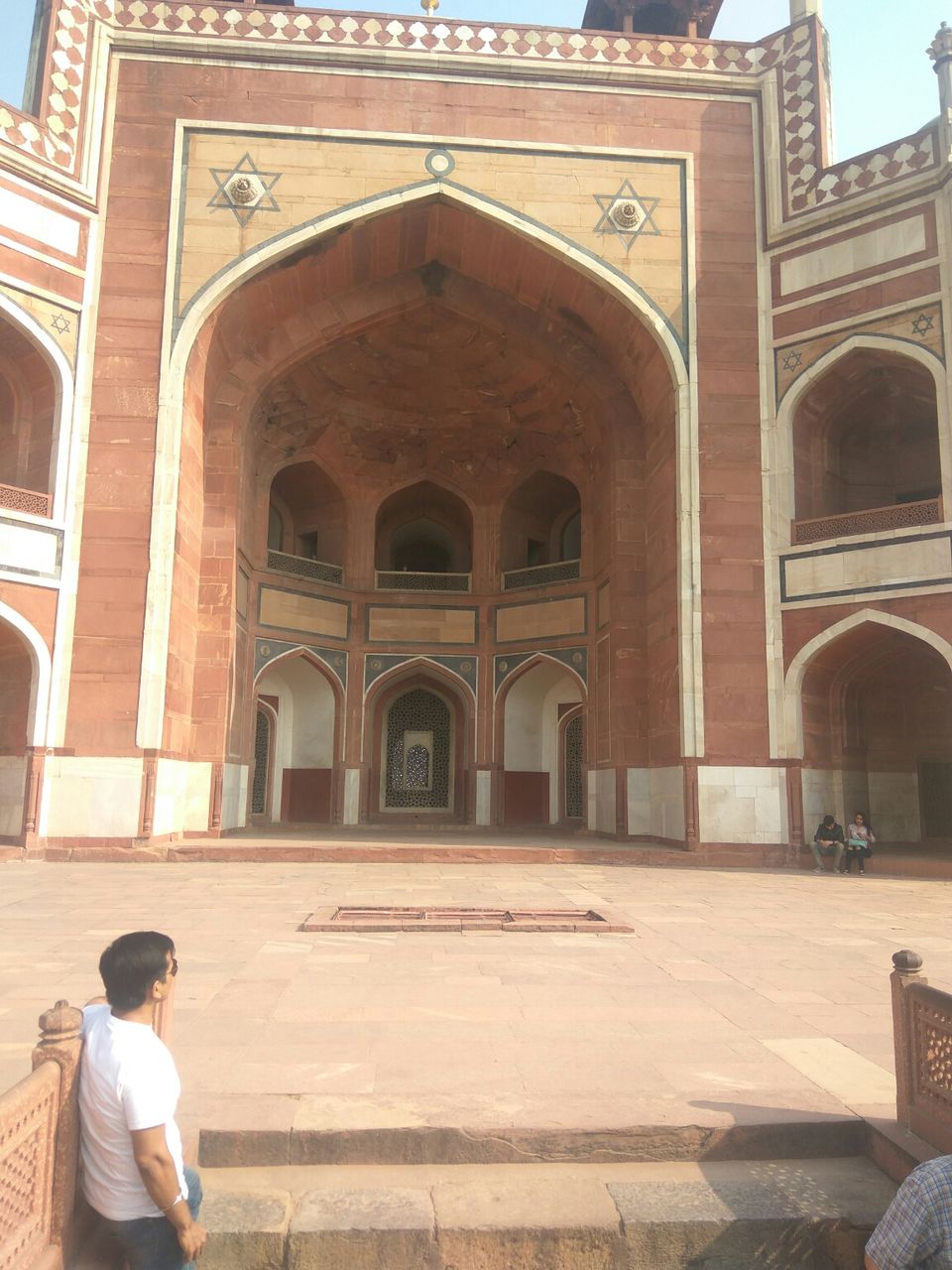 After lotus temple we left for humayun's tomb. Mughal empire structure. Where we clicked alot of pictures.
By late evening around 7, we had a bus from Majnu ka Tila .
We left from Shahdra at around 5:30 for majnu ka tila. And sat in a bus with huge dreams and desire for the most awaited trip. We took a bus of Manali.
23rd November'2016
I reached Delhi where my friend Vaibhav came to pick me up from Nizamuddin station. We headed for sightseeing in Delhi. Places which even Vaibhav was going to see it for the first time.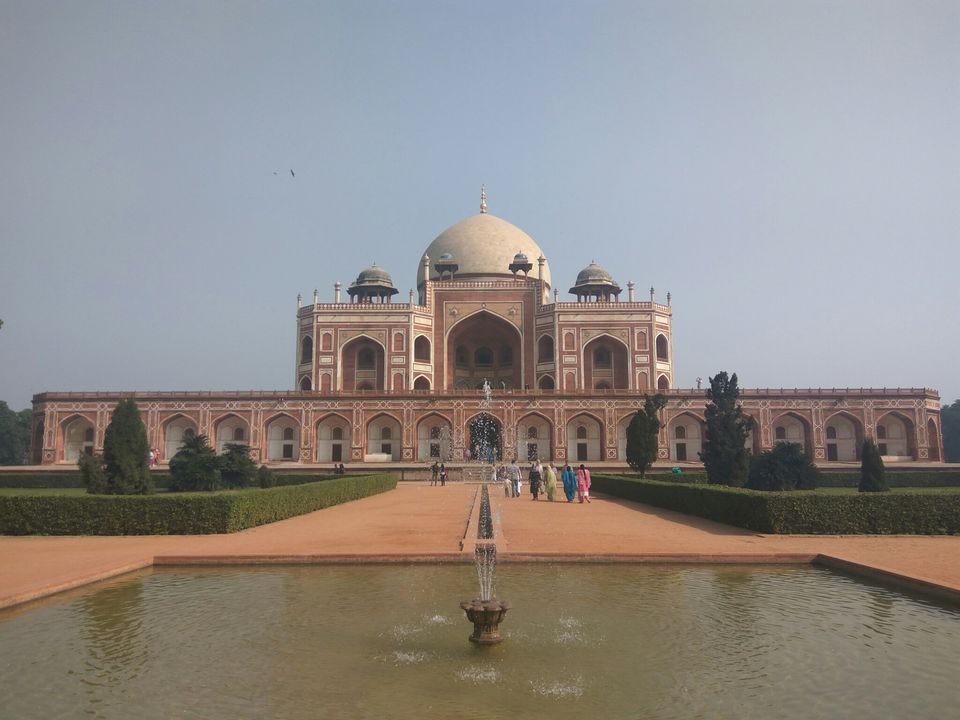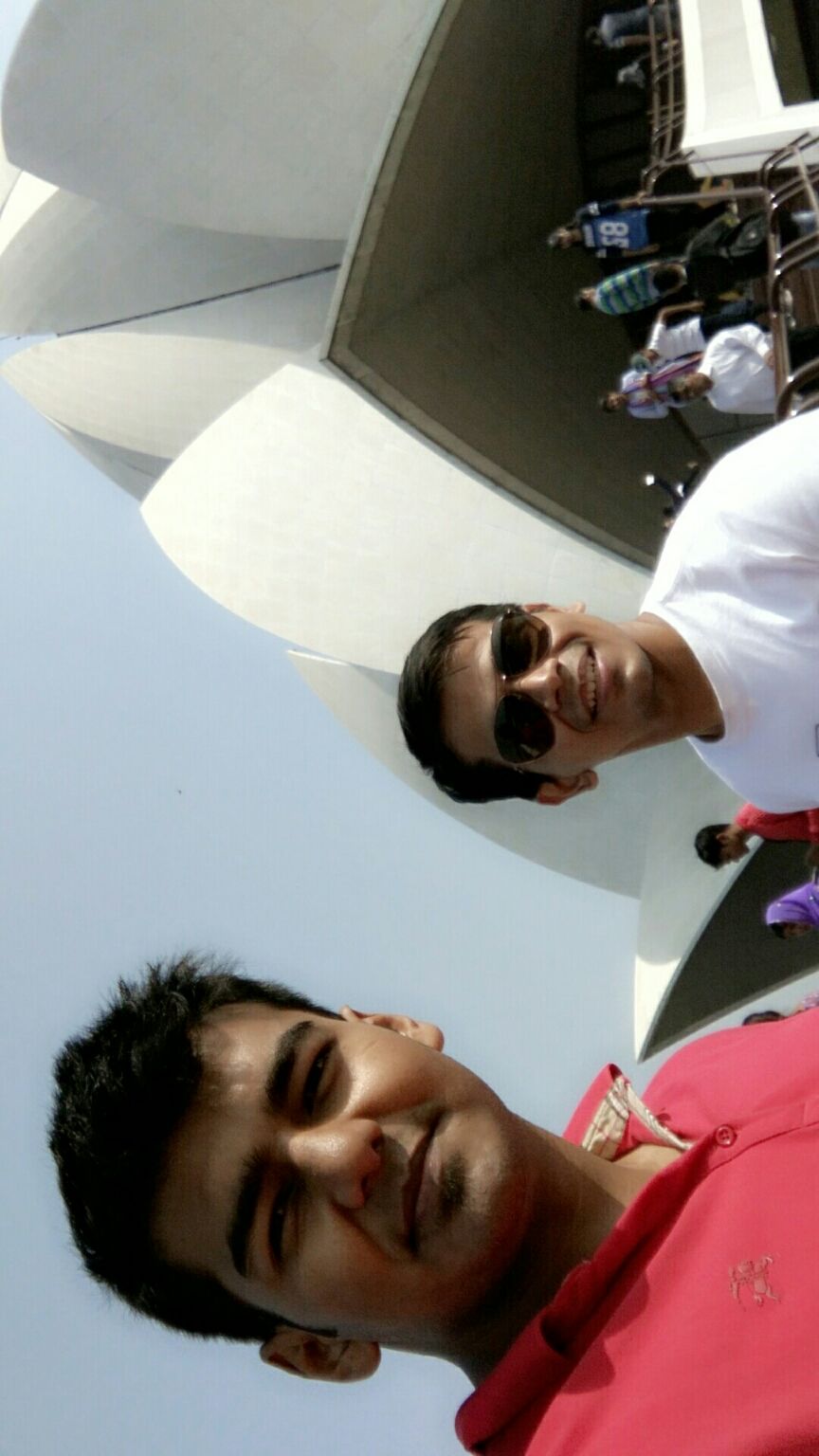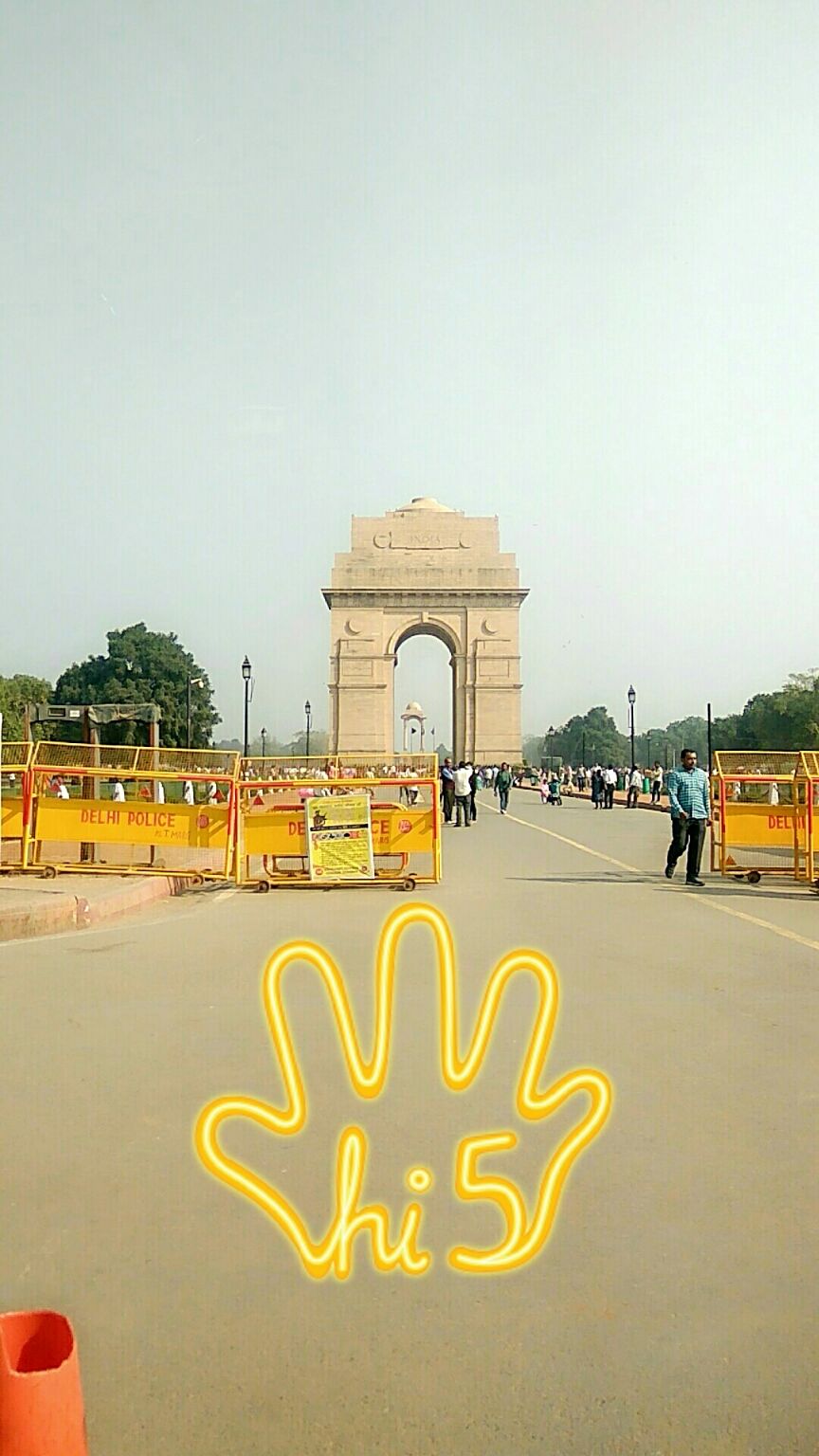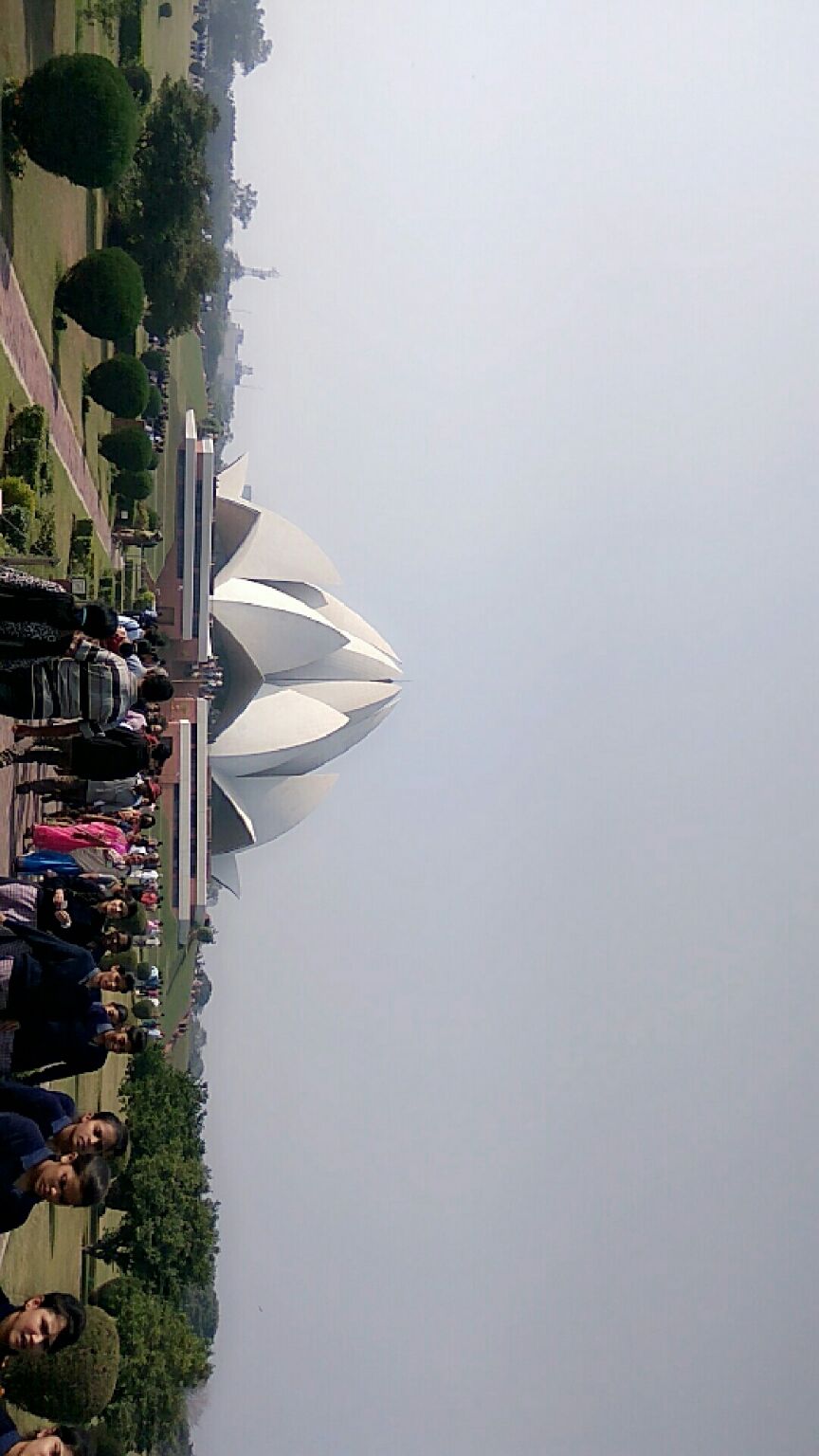 As soon as you get down Bhuntar, you'll find few taxi car guys shouting "kasol, tosh, Manala". Do not entertain them. As they charge really high.
We asked the locals and went near the Bhuntar bus stand. Where we sat in a hrtc bus which goes till Manikaran/ Barshaini.
Trust me go for hrtc bus. Even if they take alot of time still they are quite pocket friendly.
24th November'2016
Early morning by 7, the volvo Ac 2x2 semi sleeper bus dropped me and Vaibhav at bhuntar.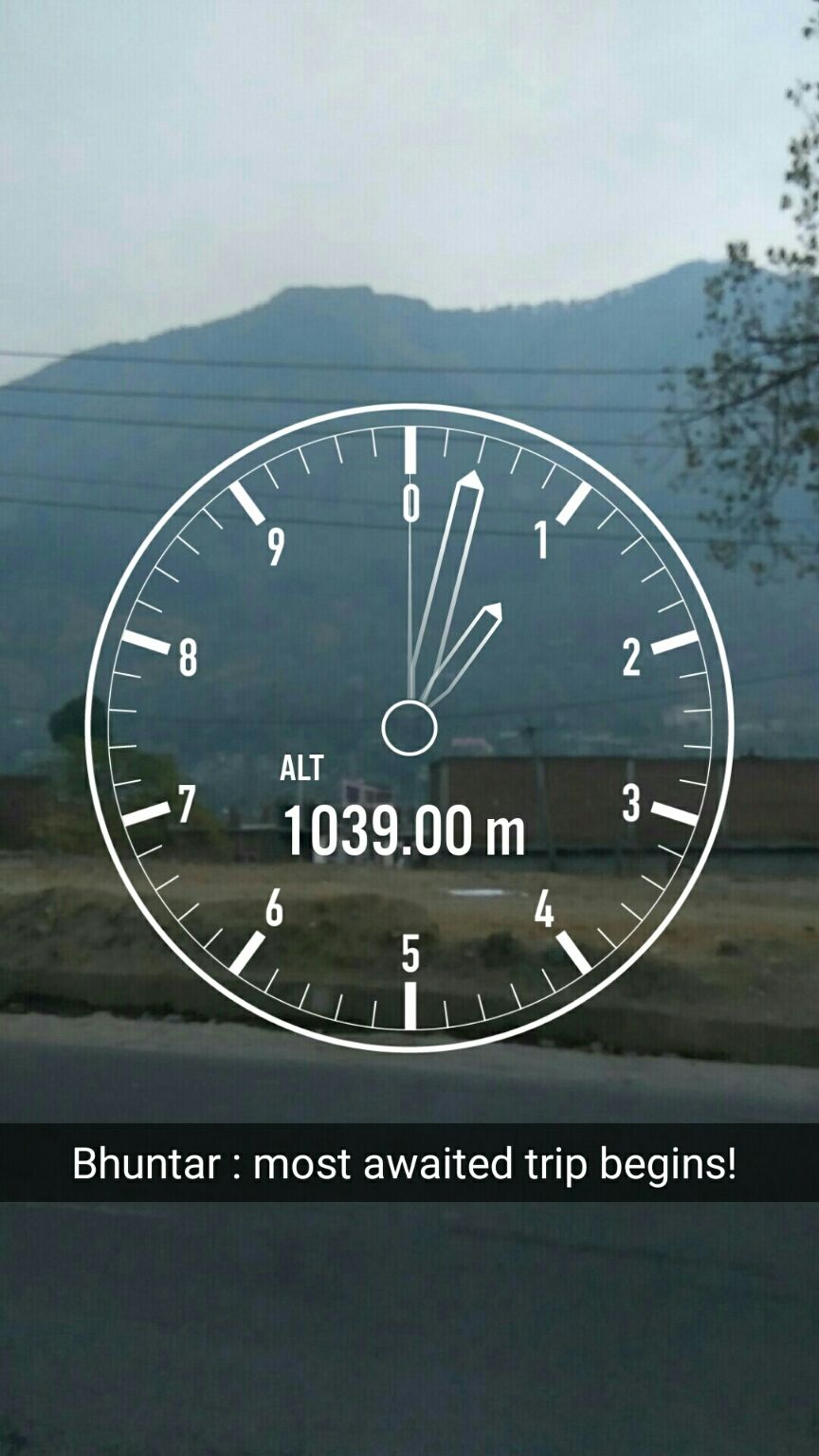 To head towards Manala the best way to reach is get down at Jari. Bhuntar to Jari is 30mins or 20 kms. The hrtc bus charged us Rs. 30/-
While talking to the bus conductor how to reach Manala for cheap he told us,"There are 3 more people who are getting down at jari. So you guys join them and take a taxi to Manala your share would be less."
This was something really helpful. We got down at Jari and i spoke to the 3 guys who got down at jari.
While talking to them i asked their plans and shared mine.
They were from Chandigarh. Rohit aka nannu pedlar, Pradeep aka pebe and Saurav.
There is a taxi union at jari where they have fixed price chart for different places with car price.
We were 5 so we booked a sumo for Rs.1300/- single journey. As we decided to stay in Manala.
Babu bhai- 07807810700
Who manages the taxi union department at jari.
Finally we 5 reached entry point to trek towards Manala. As to reach Manala one has to trek of 1 and half hour. Where The locals cover in 40mins.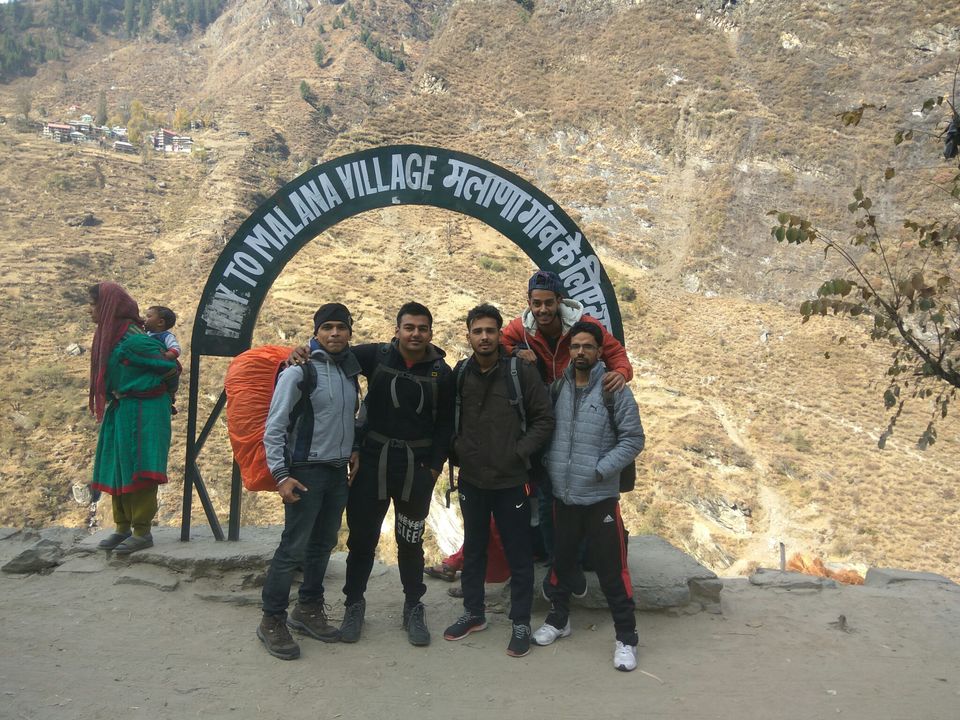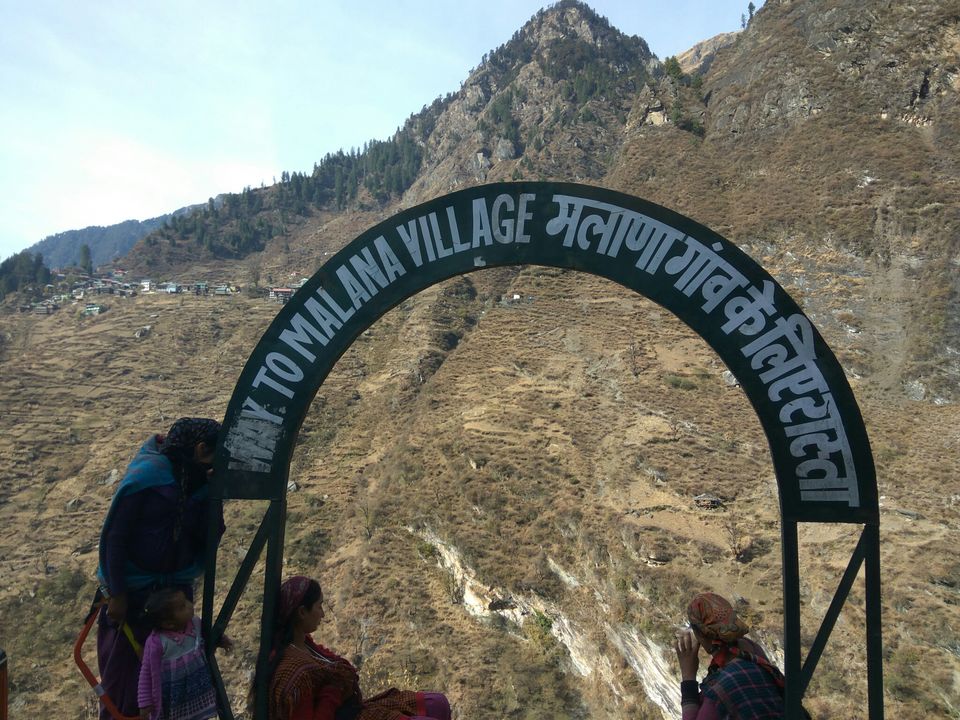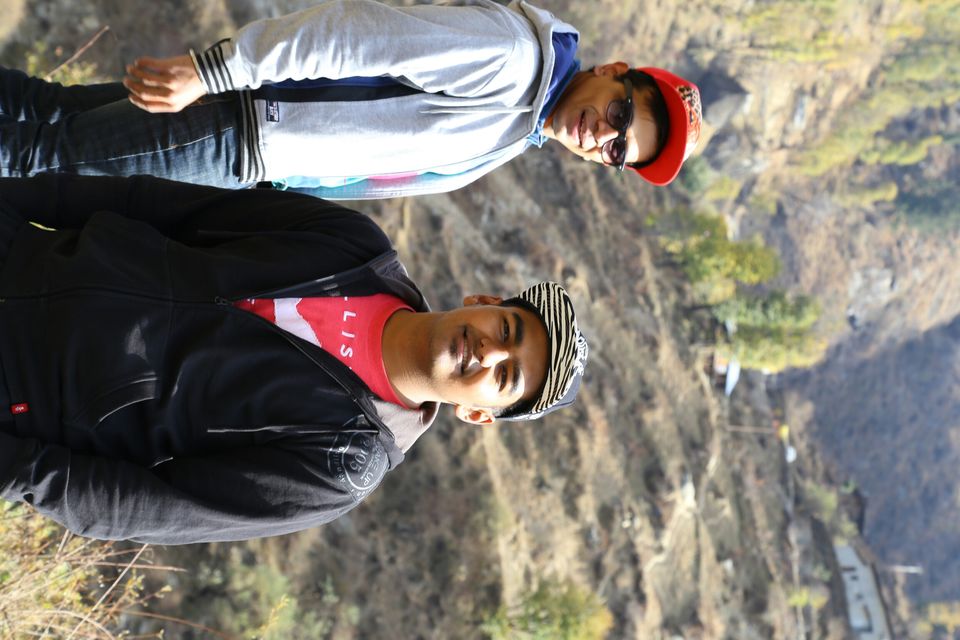 we clicked end no. Of pictures as saurav had got a dslr. We took halts after every 20mins trek.
I had read alot of stories/blogs about the village Manala.
And yes. Let me brief you bit.
This is the oldest village in the world which still follows the untouchable thing. Where you cant touch anyone nor can you touch their temple and their belongings.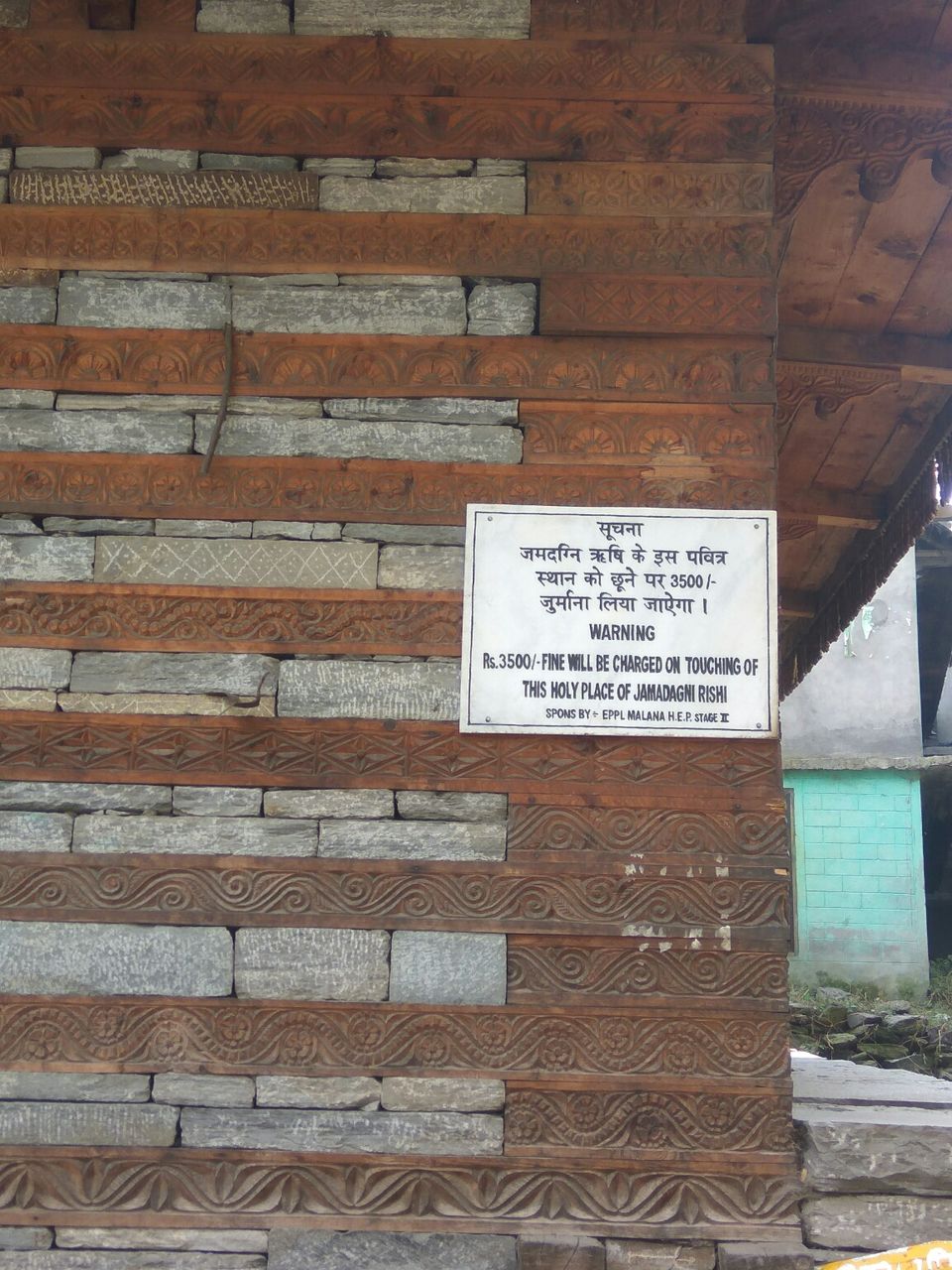 we walked the village carefully. Where you'll find the locals smoking chillum. And keeping a eye on you so that you don't do something which is against their rule.
While walking towards our cafe where we planned to stay in Dragon Cafe guest house.
We took 2 rooms between 5 people. Rs.400/- per room.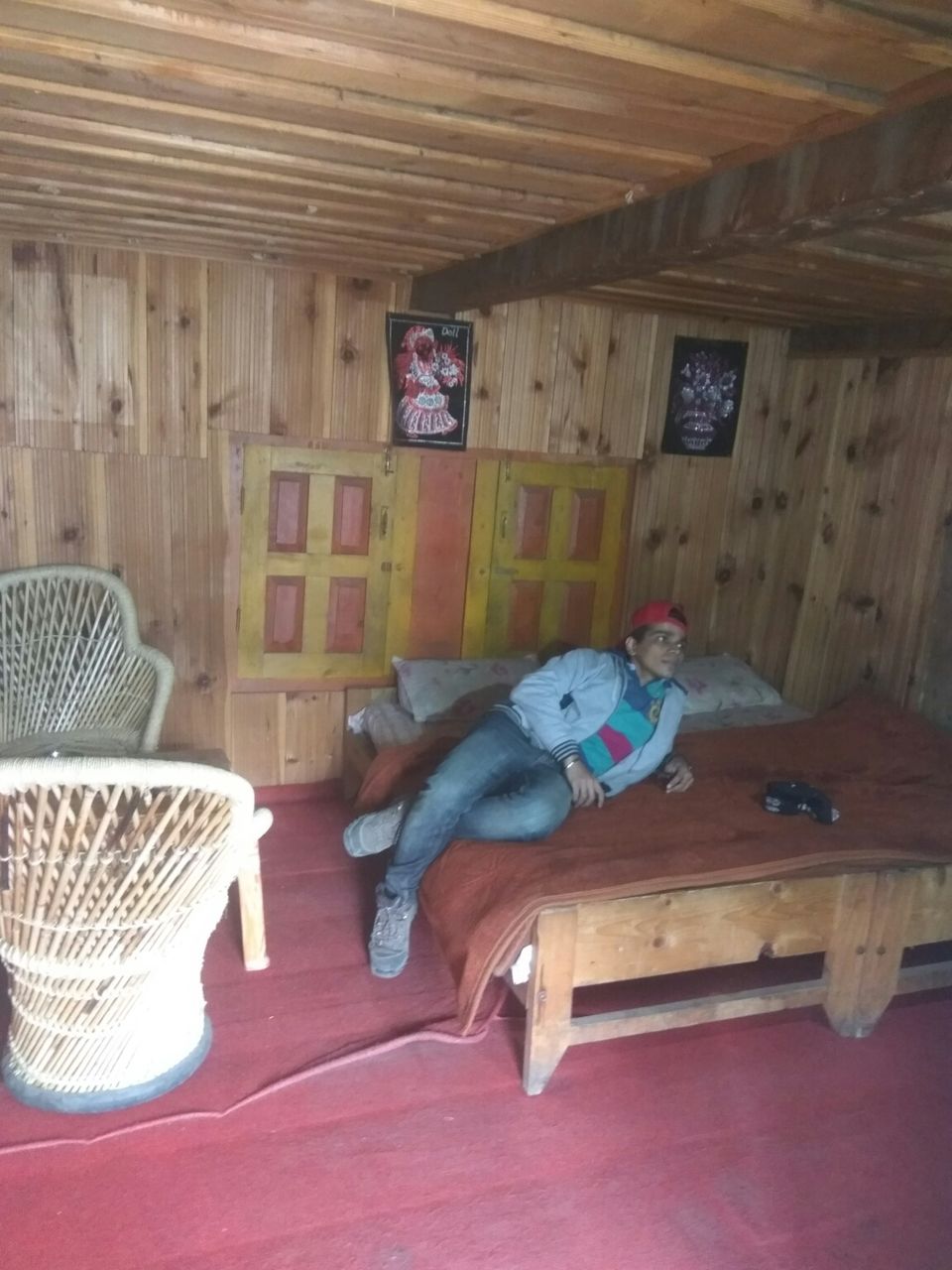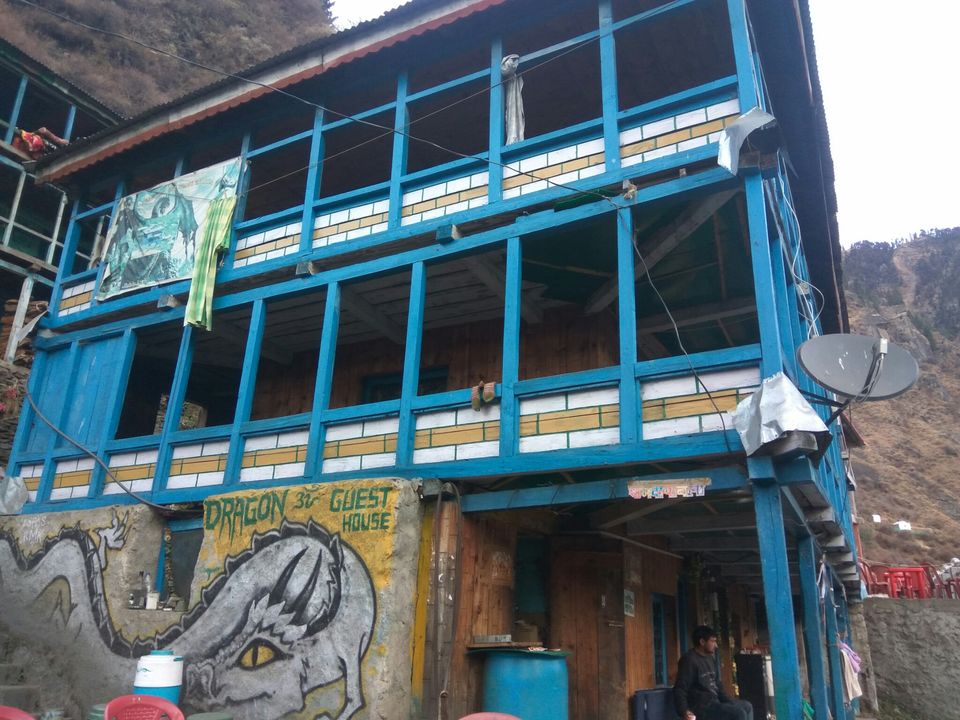 One thing is common in Manala village that is the Super Cream / hash. One of the worlds most demanded or popular hash you can say. You get it here. Where ever you cross theres only one thing asked by every local to their visitors is "Maal chahiye?" or "super chahiye"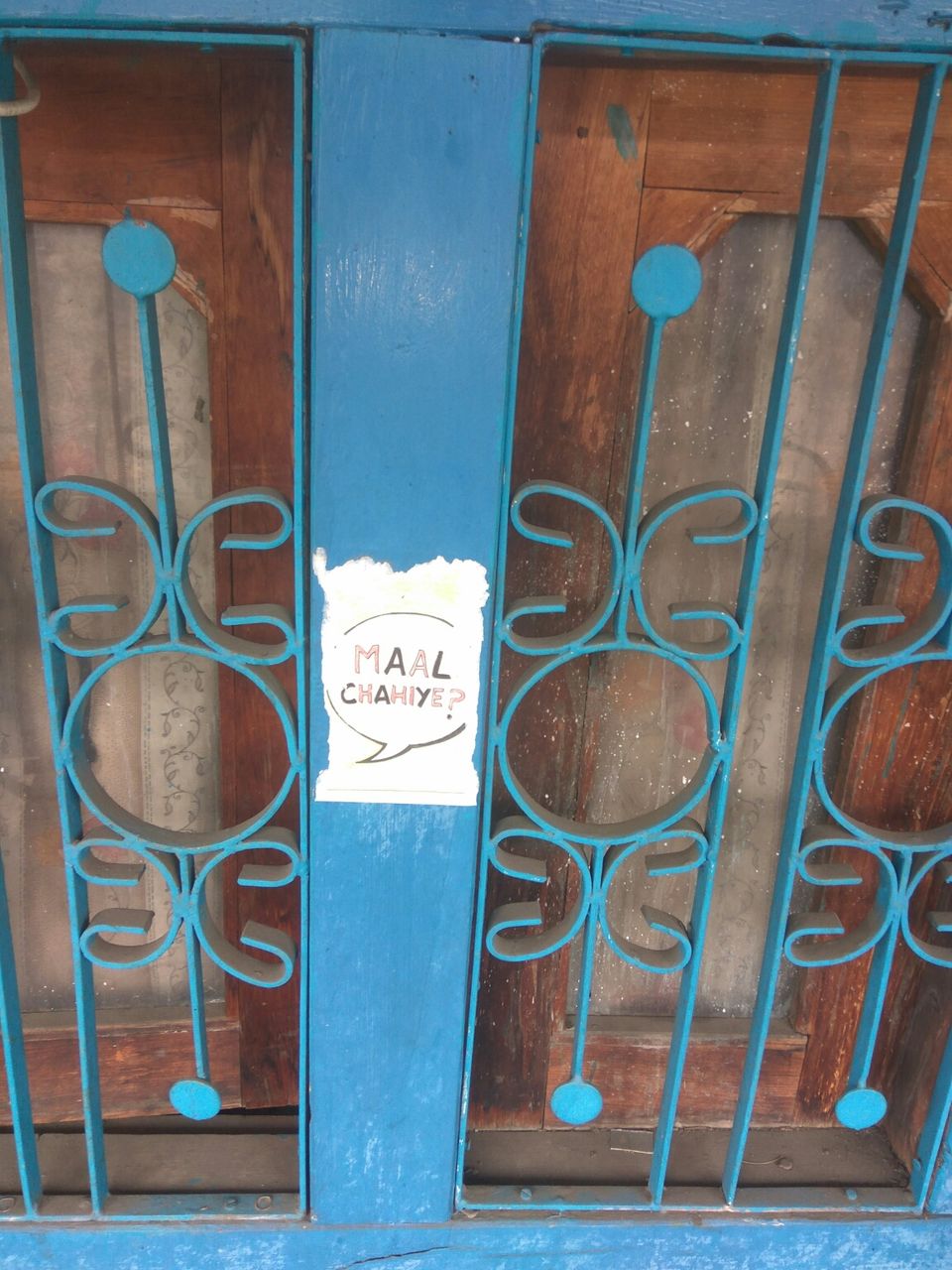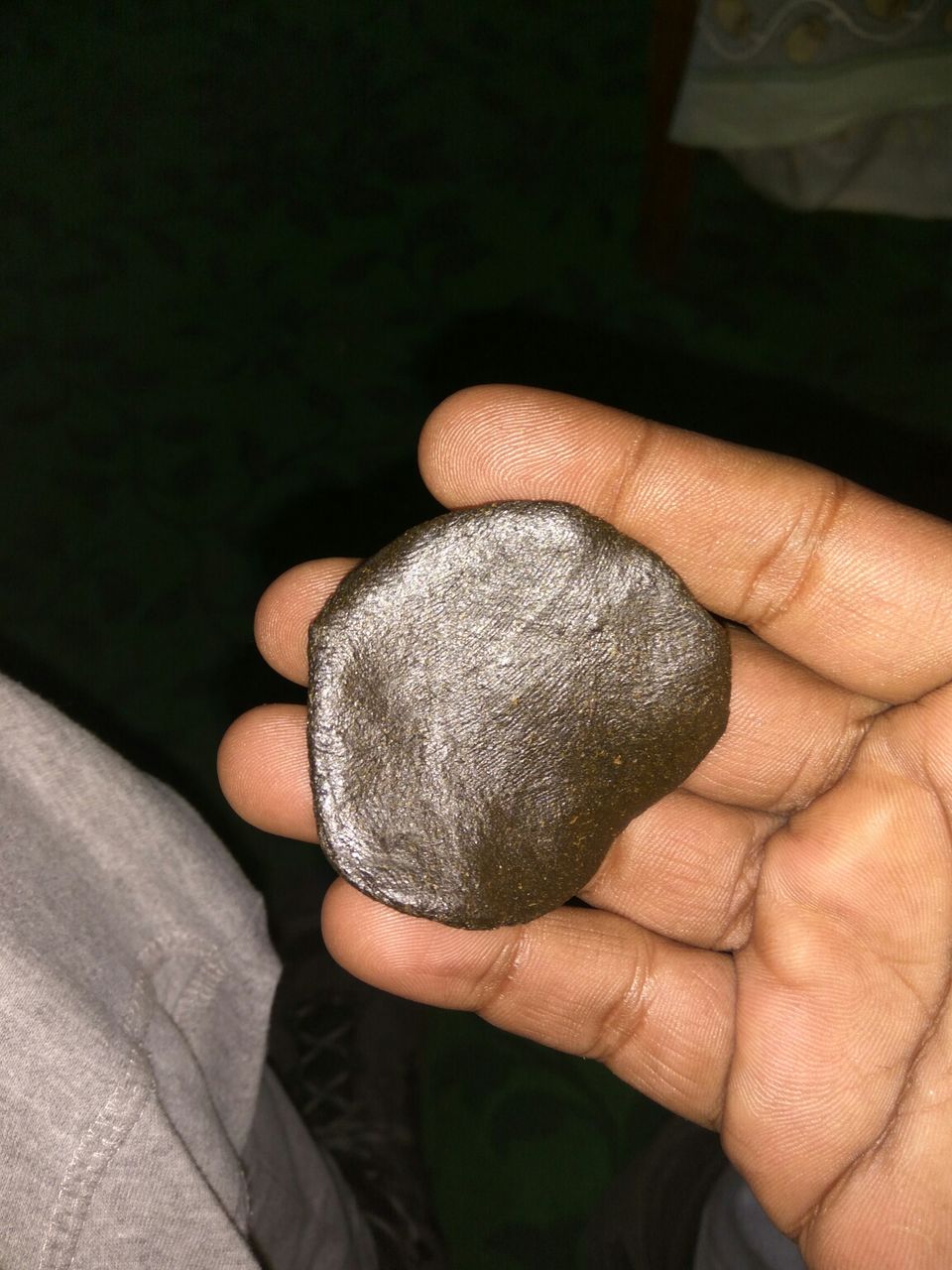 Everywhere in himachal or North region. The night turns around 5 to 5:30 max. So it is preferable to trek and reach your hotel/room before the sunset.
We reached early Manala. So we asked the locals for some near by beauty to check.
They recommended us to go for a waterfall. Which was 30mins trek from Manala.
We left for the waterfall. With steep trails we reached the waterfall. It wasnt huge nor great but yes a good way to pass you time.
We managed to come back to our rooms had dinner and chilled together.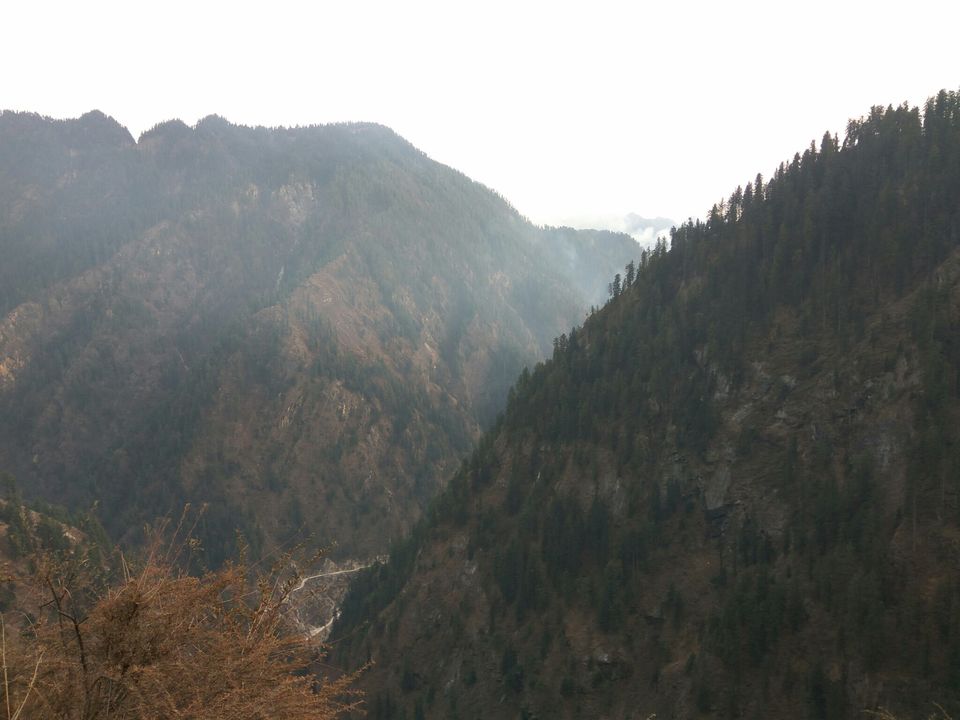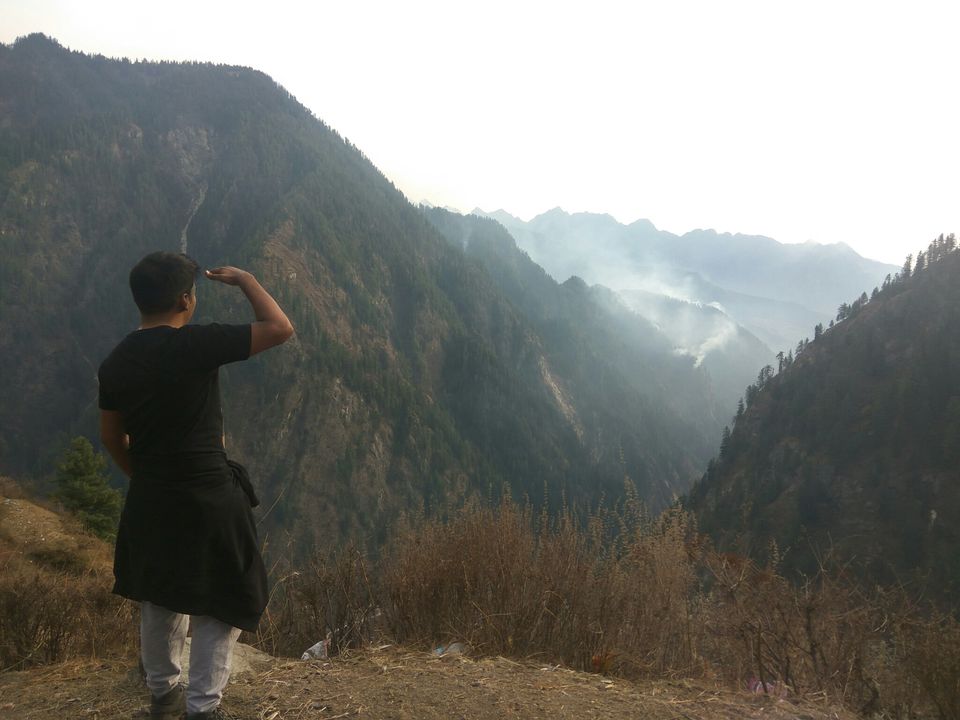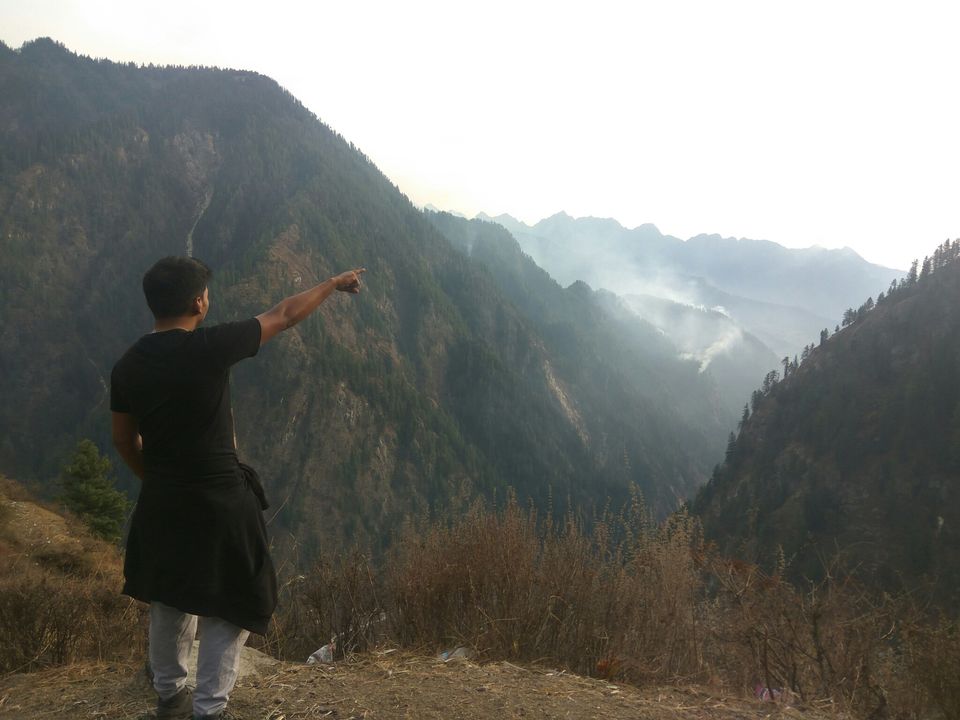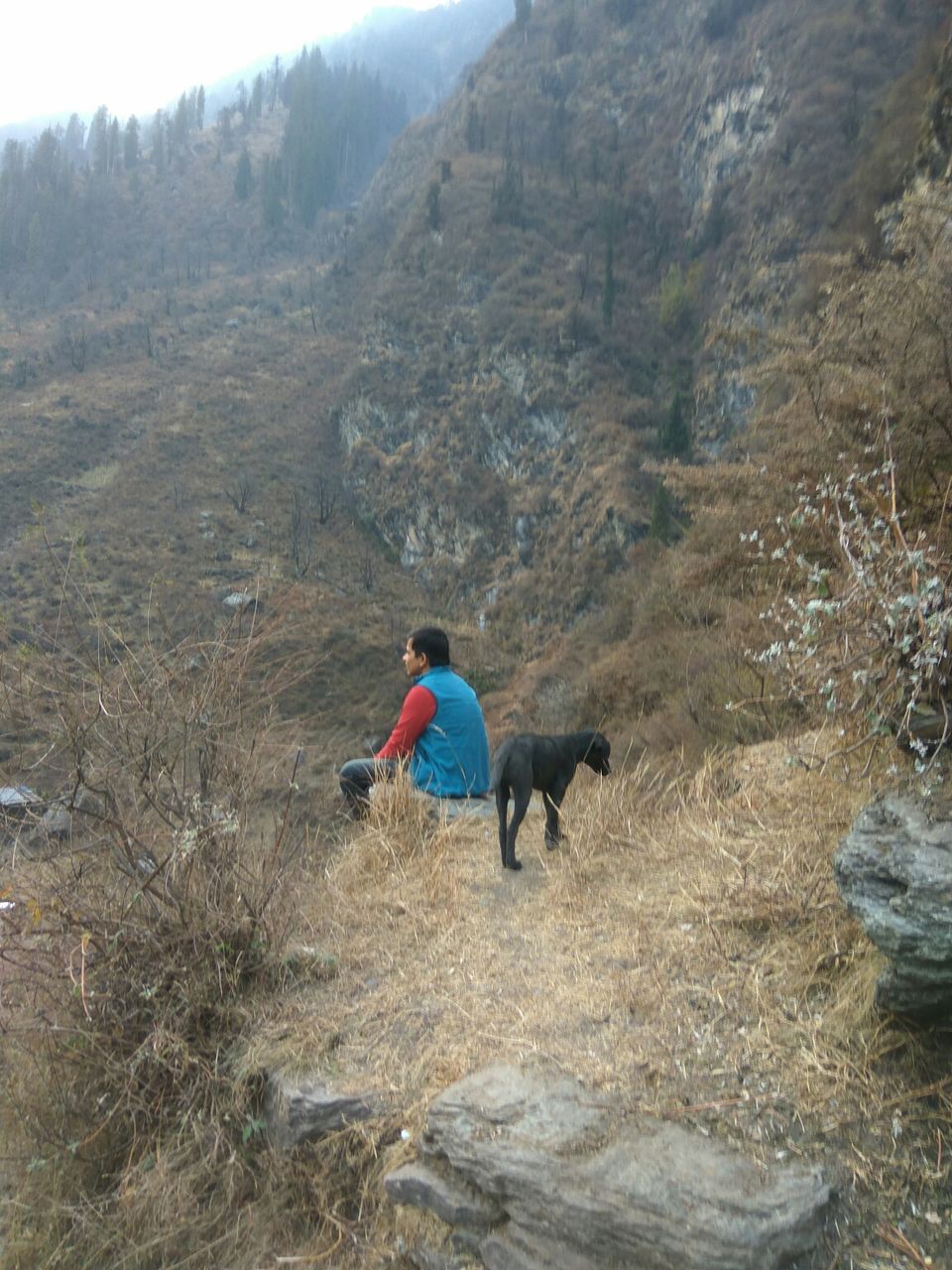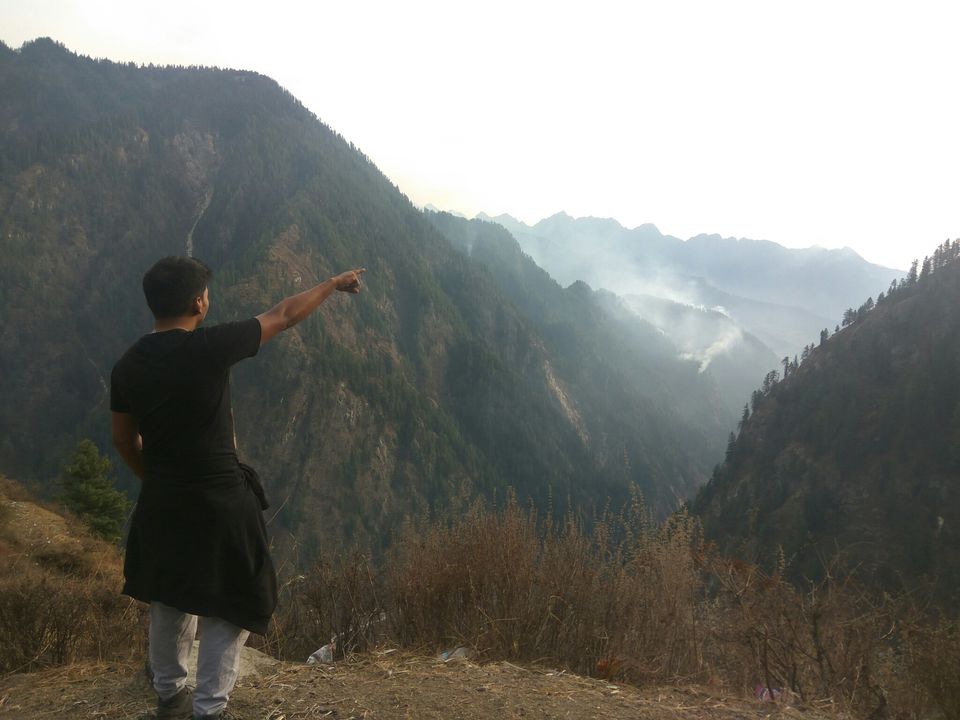 25th November'2016
Morning around 7 we got up and left for Manikaran.
As last night i met a guy from Shimla he told me there is a morning hrtc bus from Manala till kullu. Hearing this was something worth, saving your money.
We rushed down towards the entry/exit point for Manala. We trekked down in less than an hour. Still we managed to click few pictures in the morning.
The bus was of 8:30.
Theres only 2 bus. One which leaves from Manala at 8:30 in the morning comes back in the evening around 5p.m at jari i.e. Reaches Manala around 7p.m.
We sat in the bus and got down at jari. Bus charged us Rs. 32/-. Which was quite cheaper than hiring a 1300/- sumo taxi.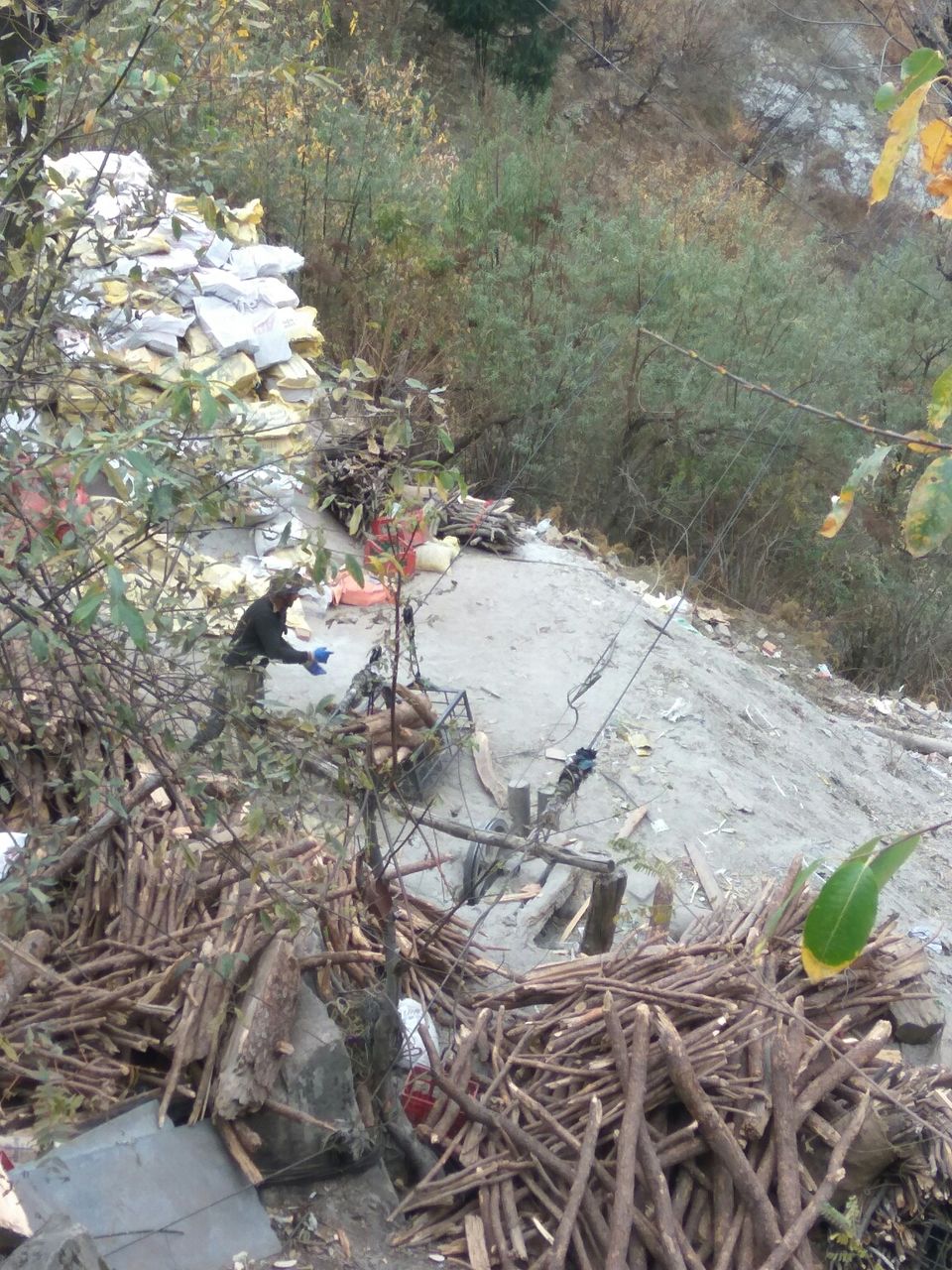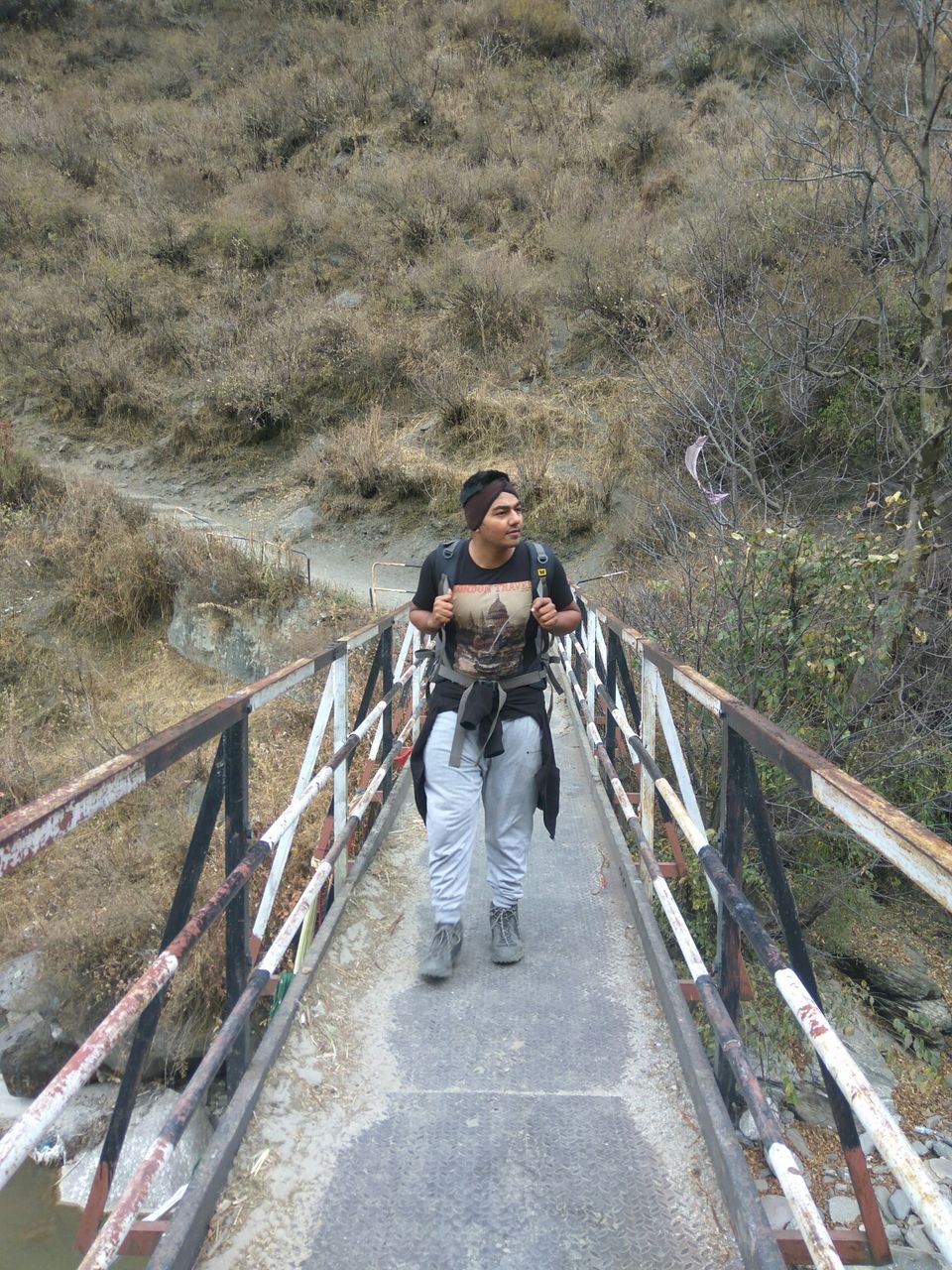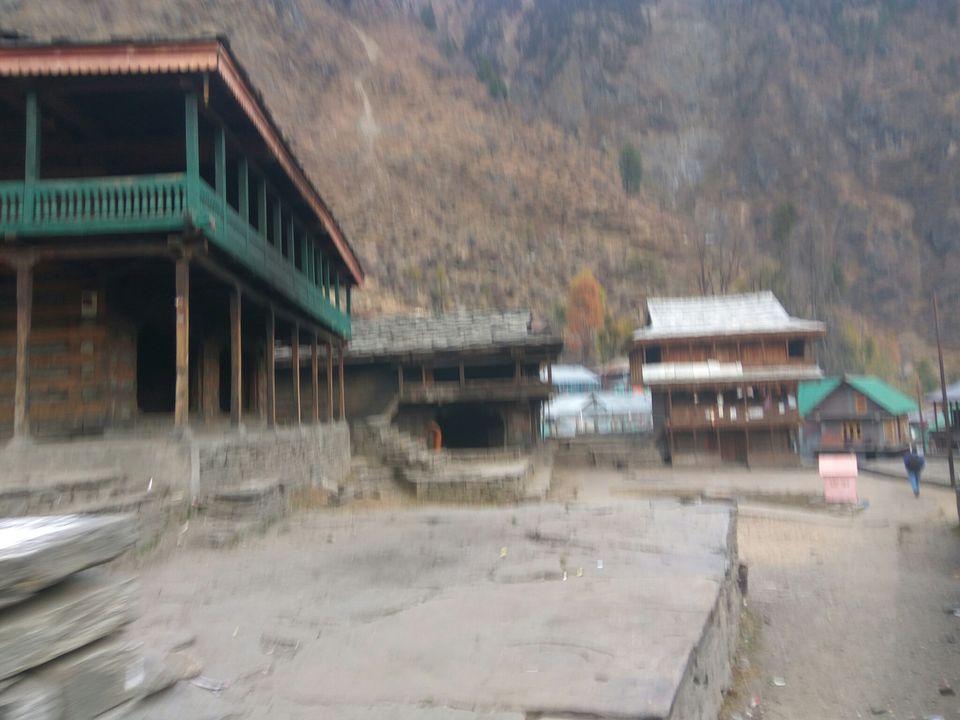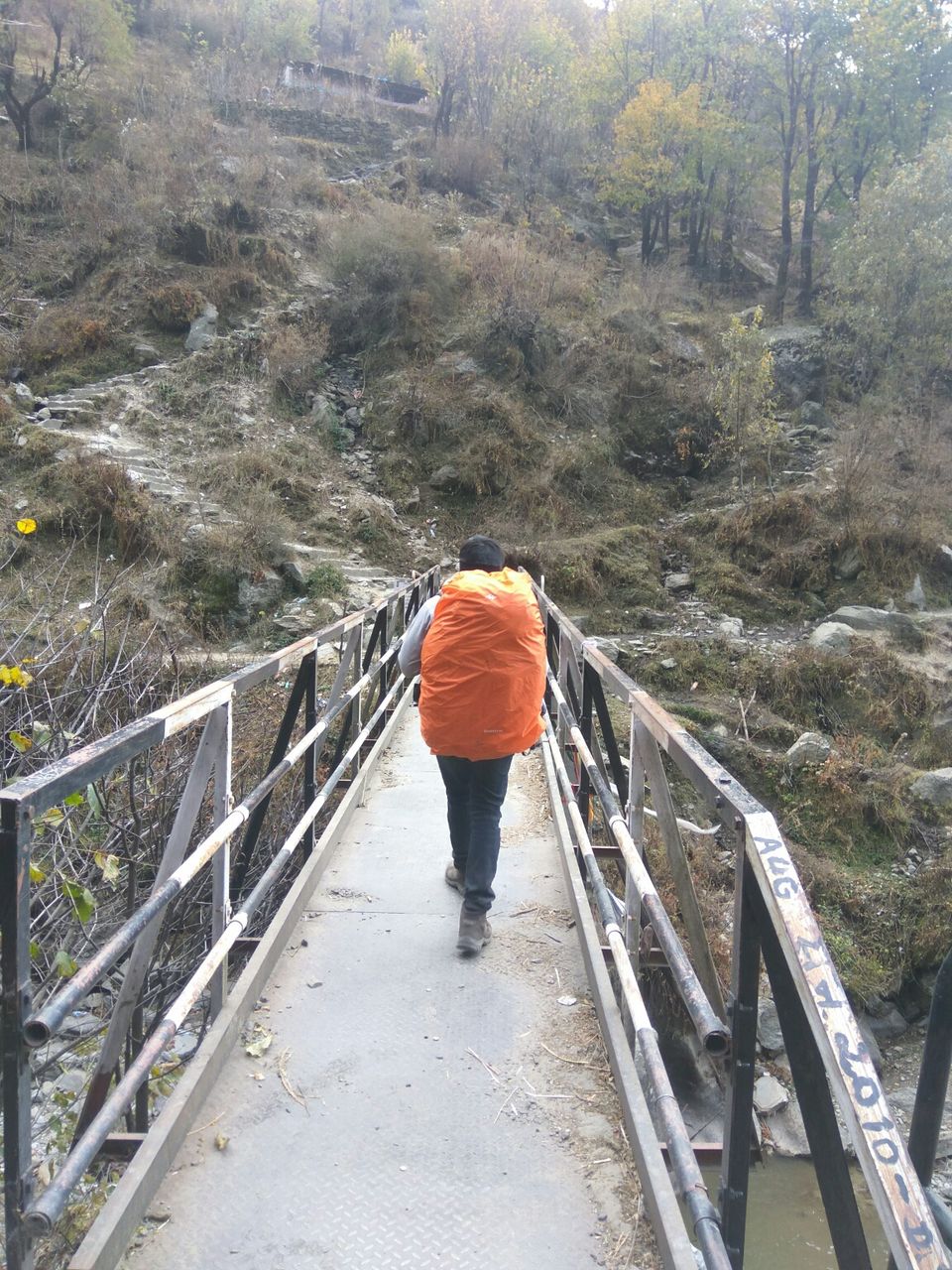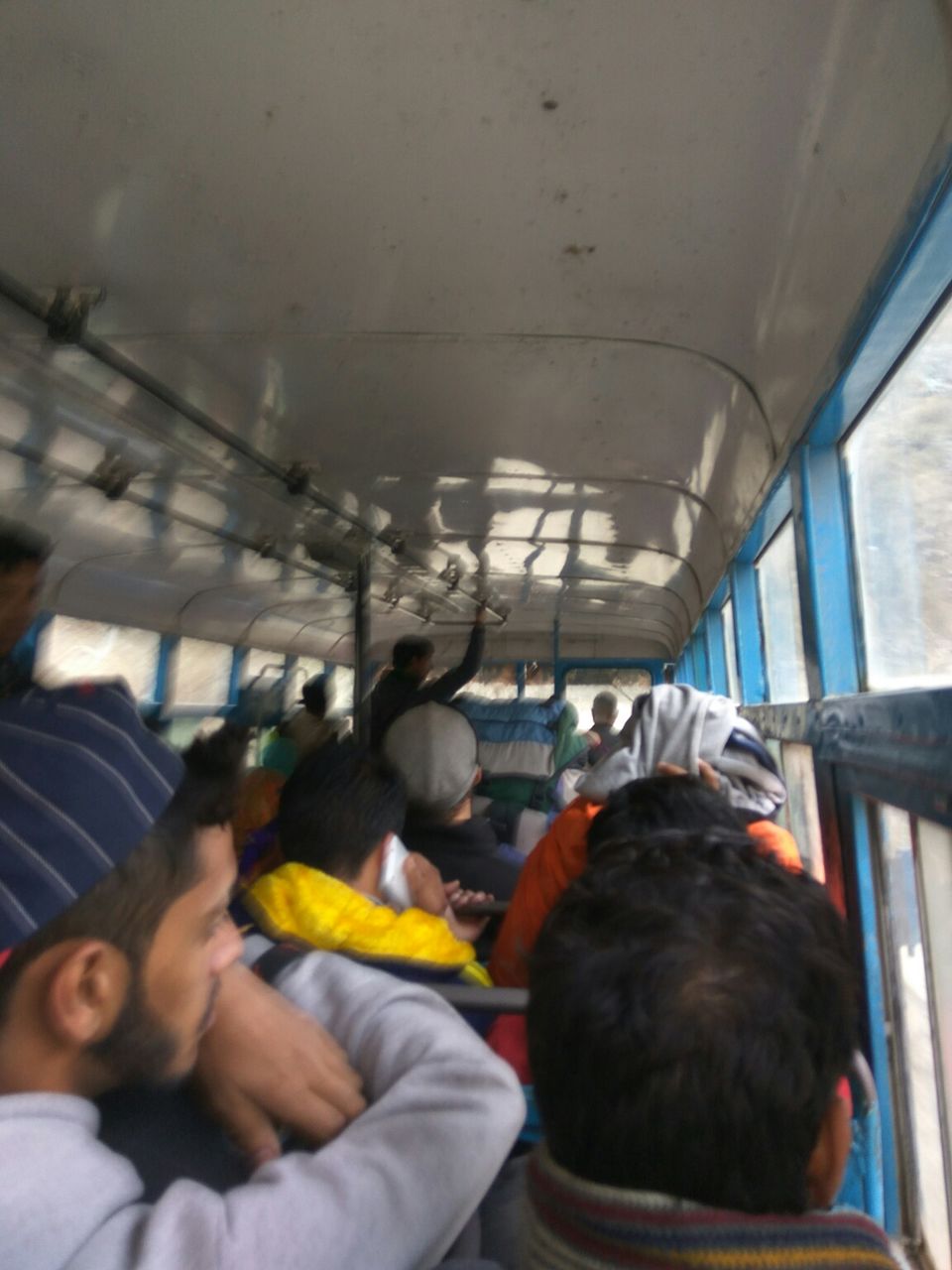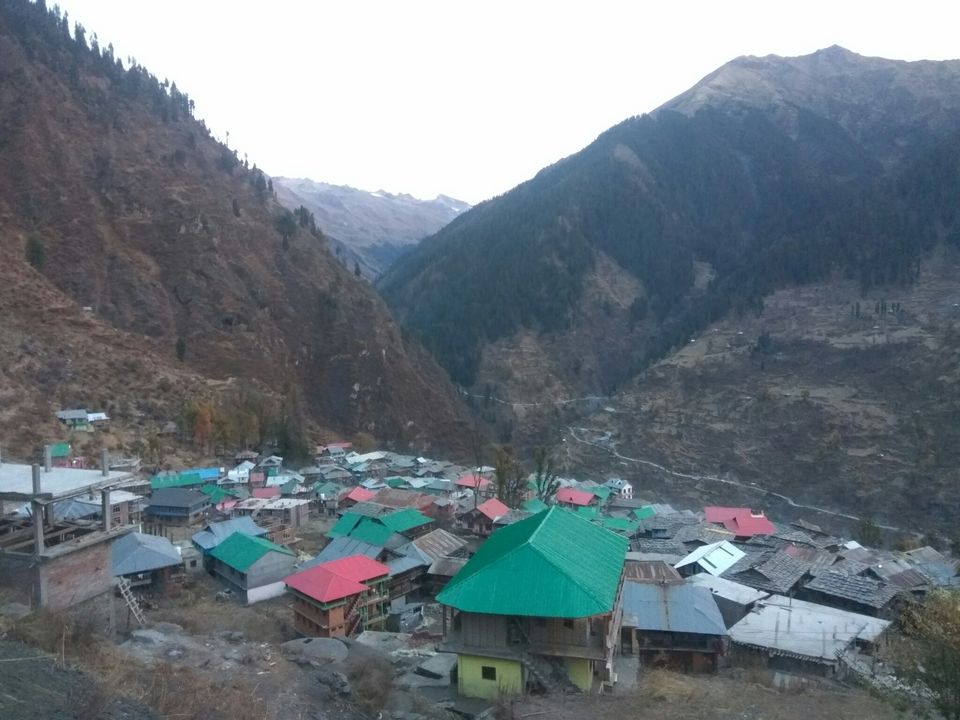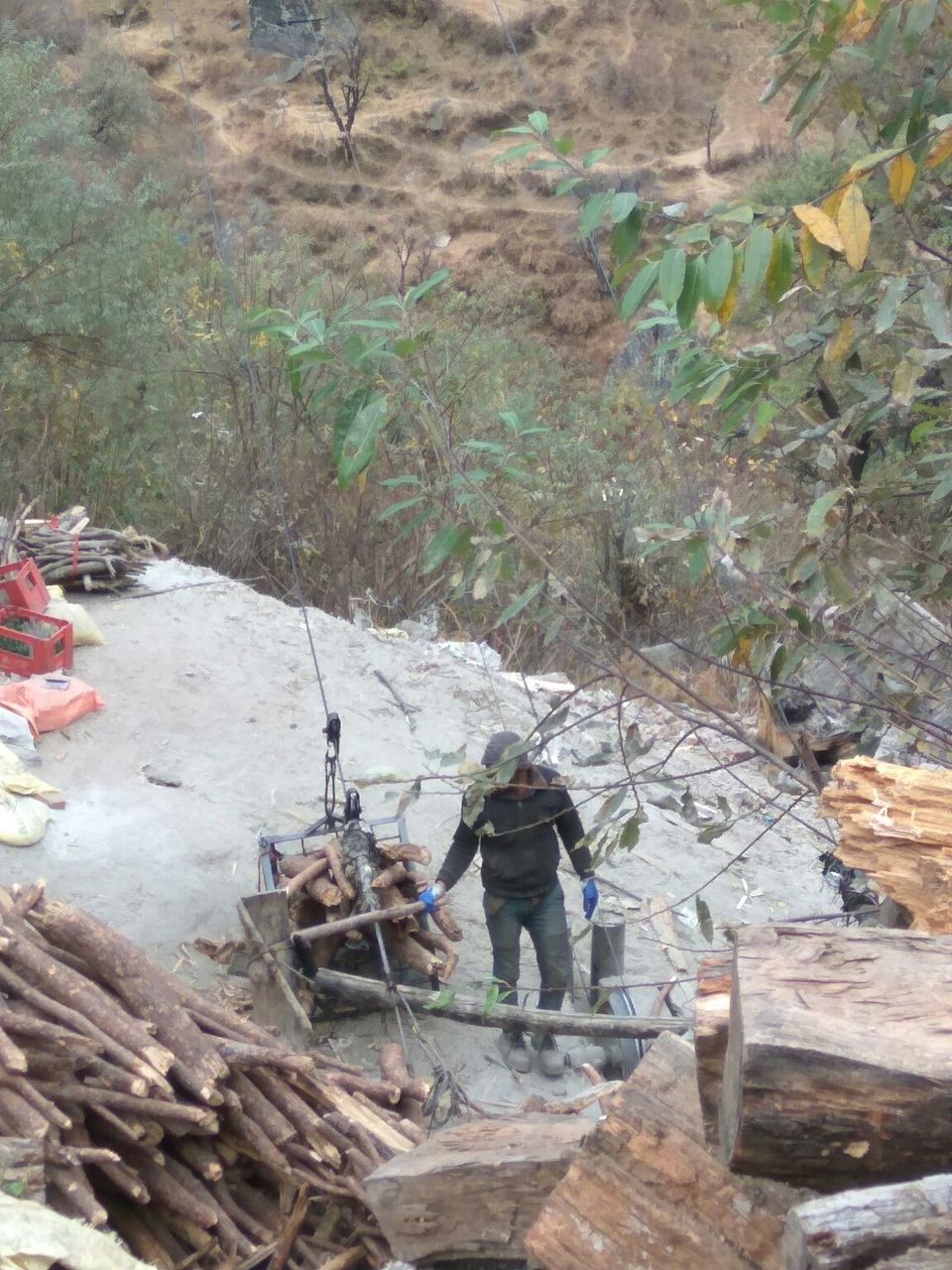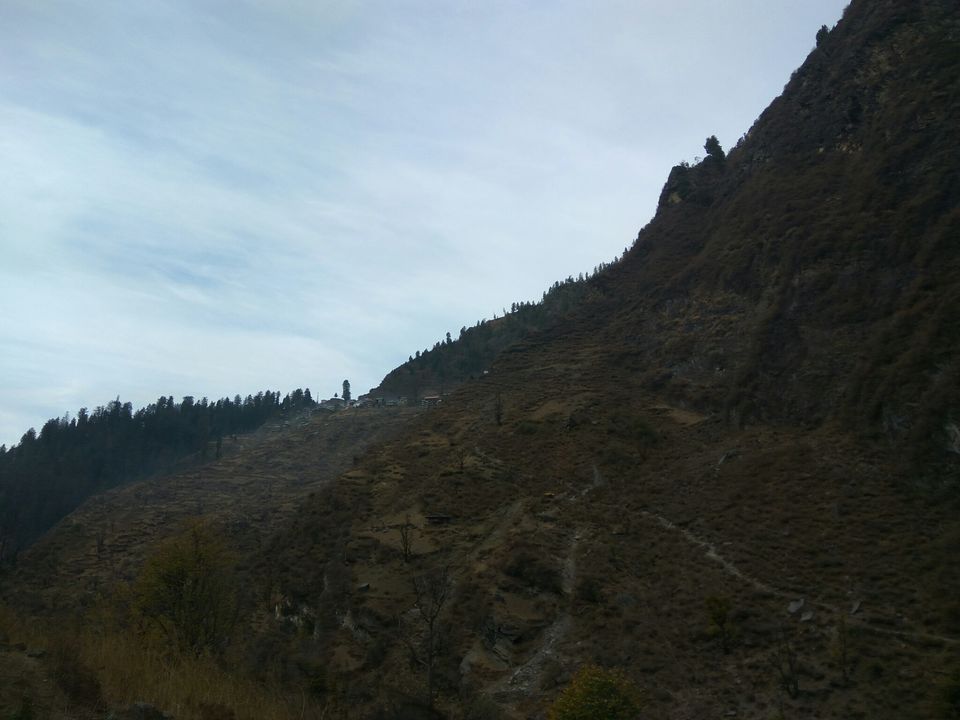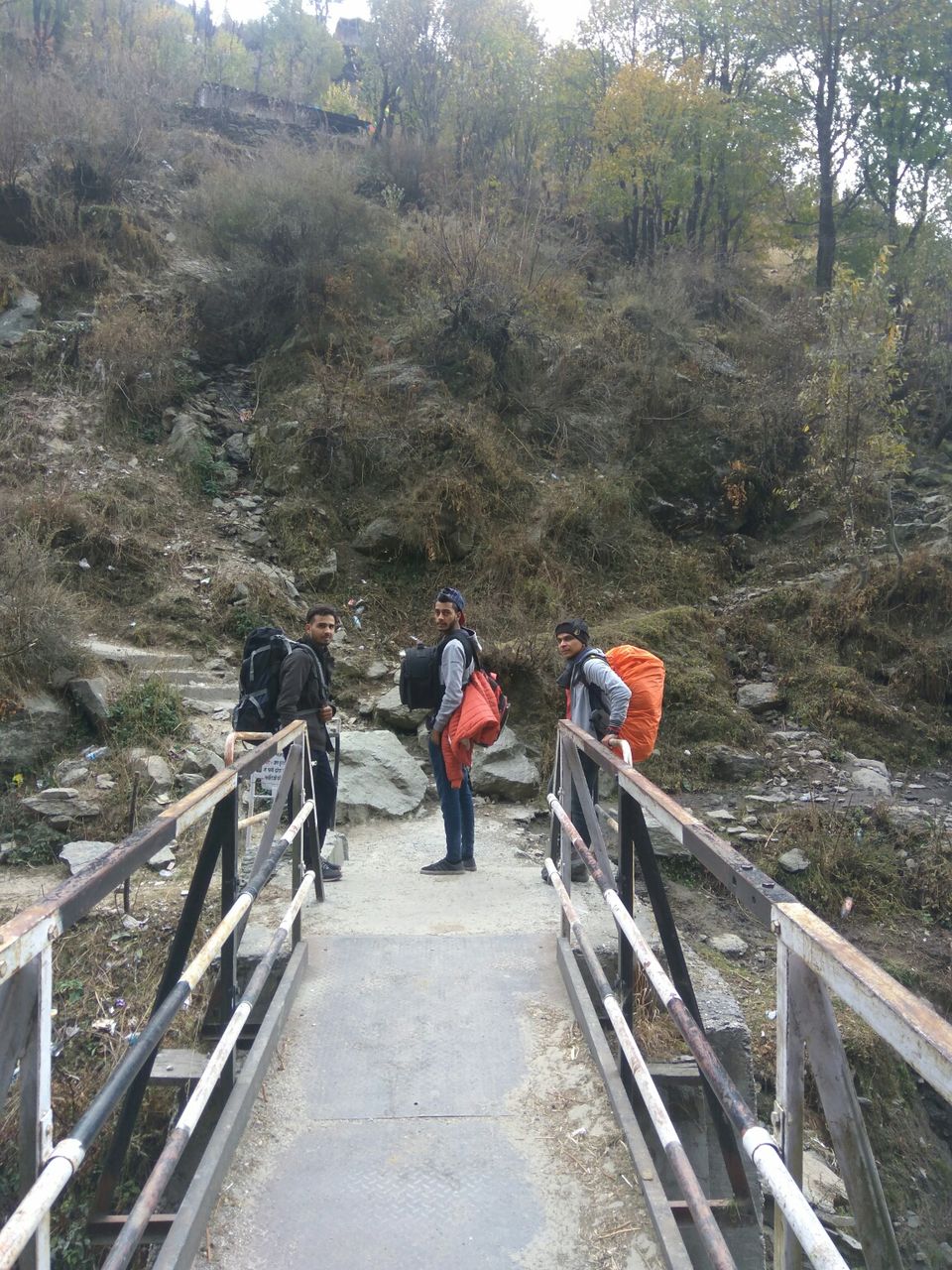 we got down at jari, changed the bus and took a bus of Manikaran.
We went to the Gurudwara, took bath in the holy spring water, had Langar and spent some quality time in the Gurudwara itself for the piece of mind.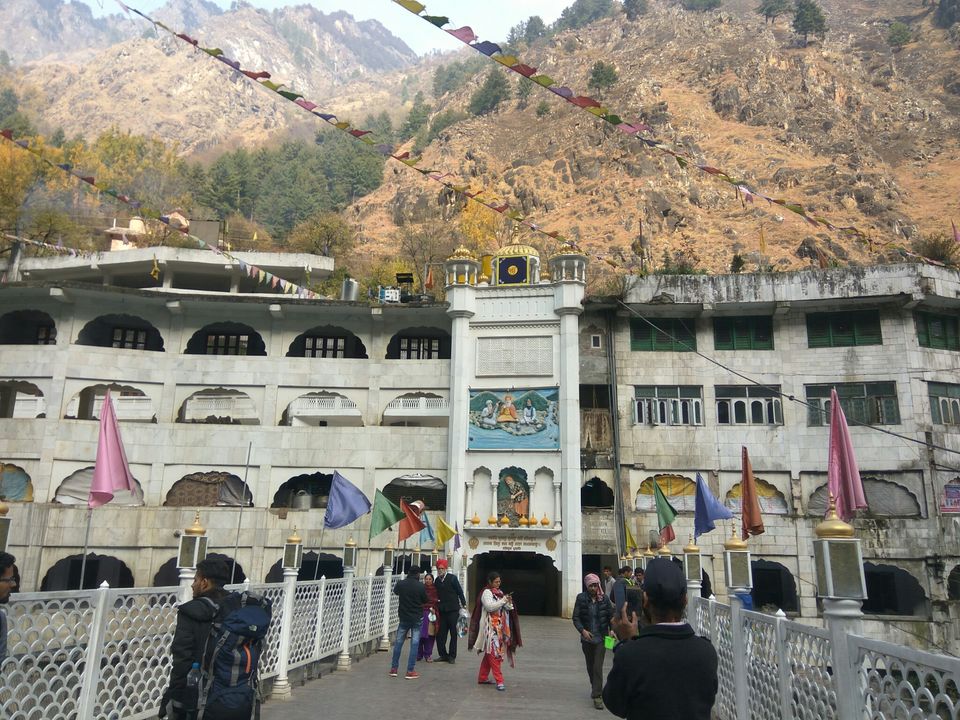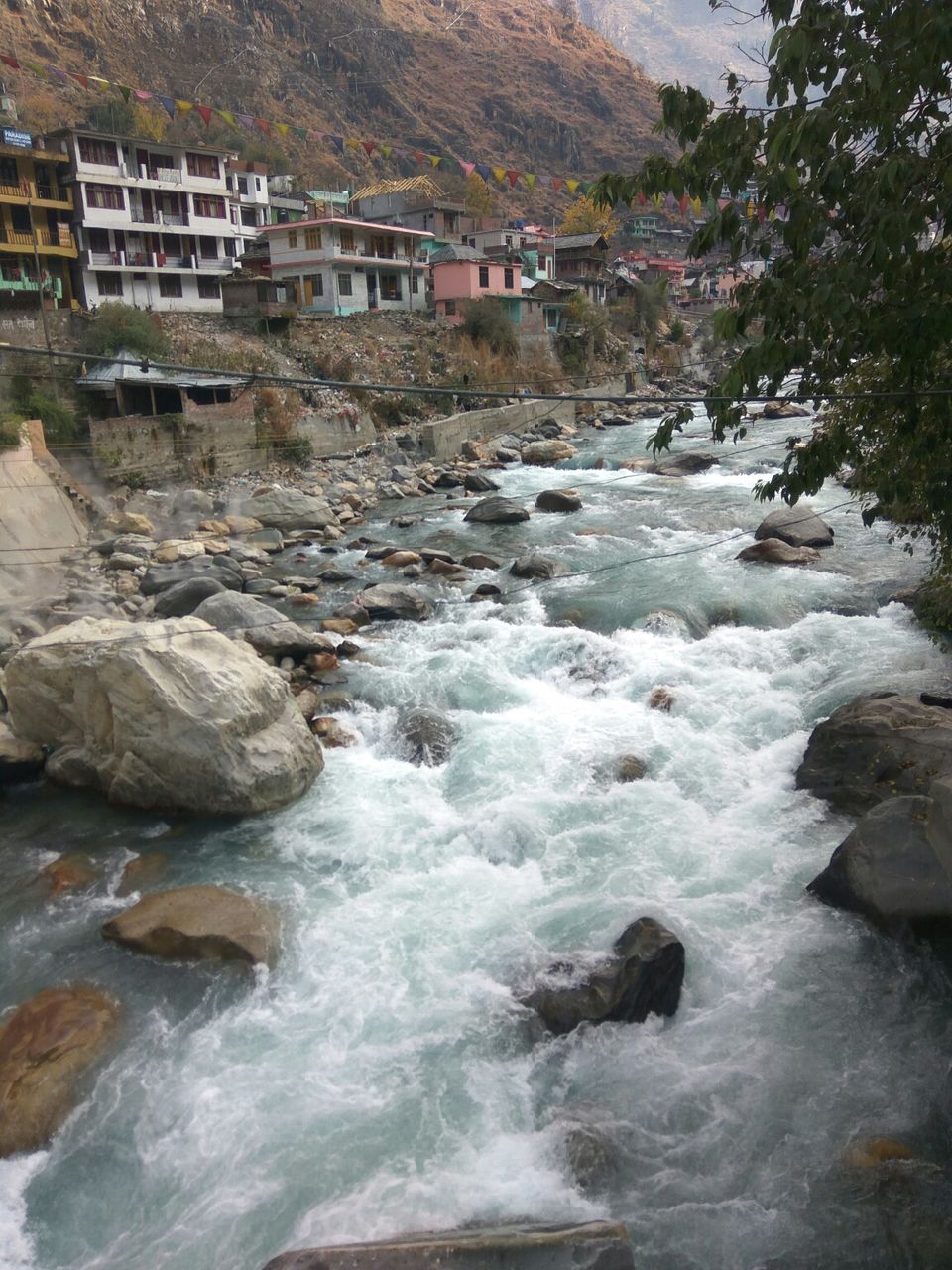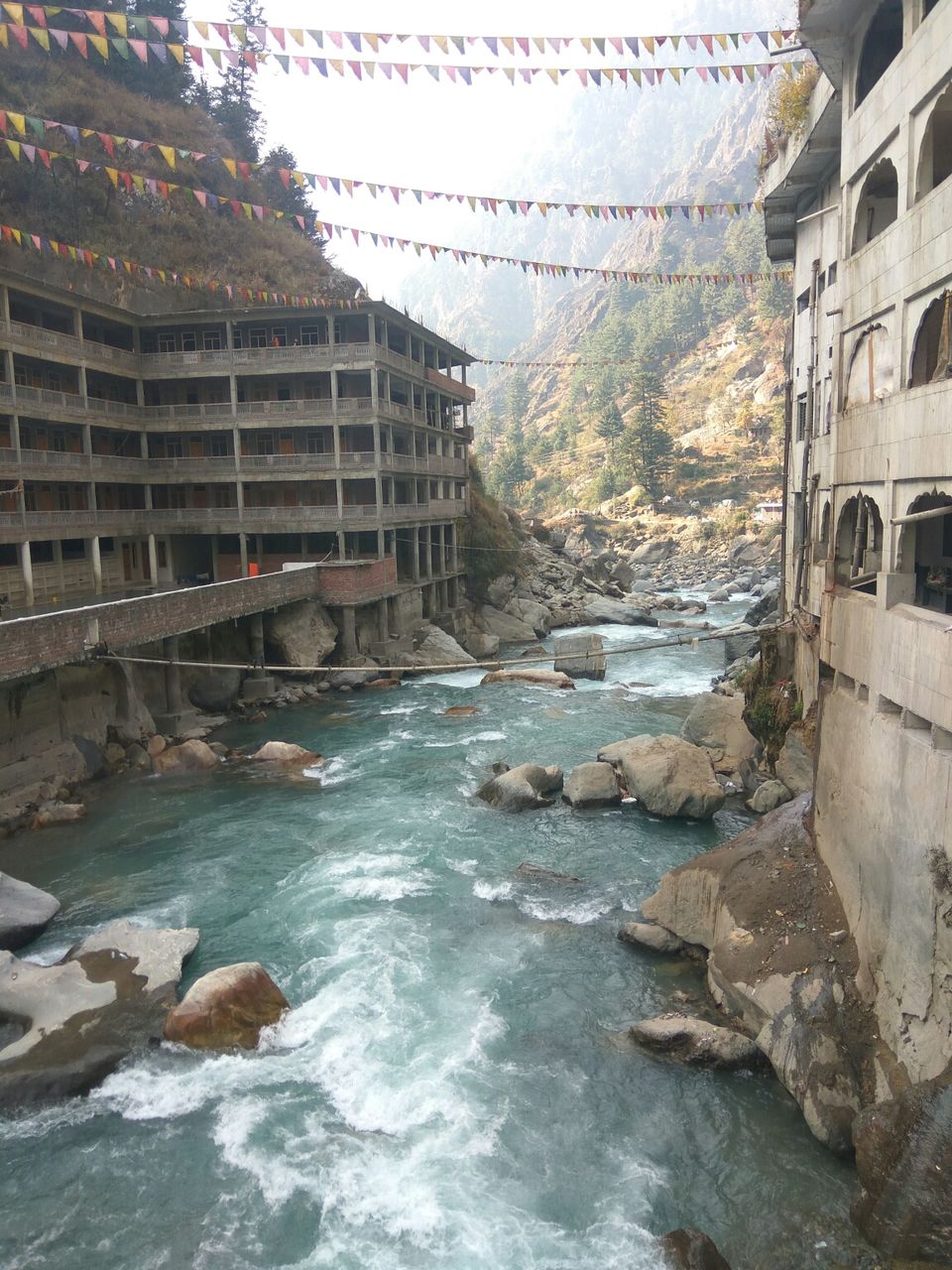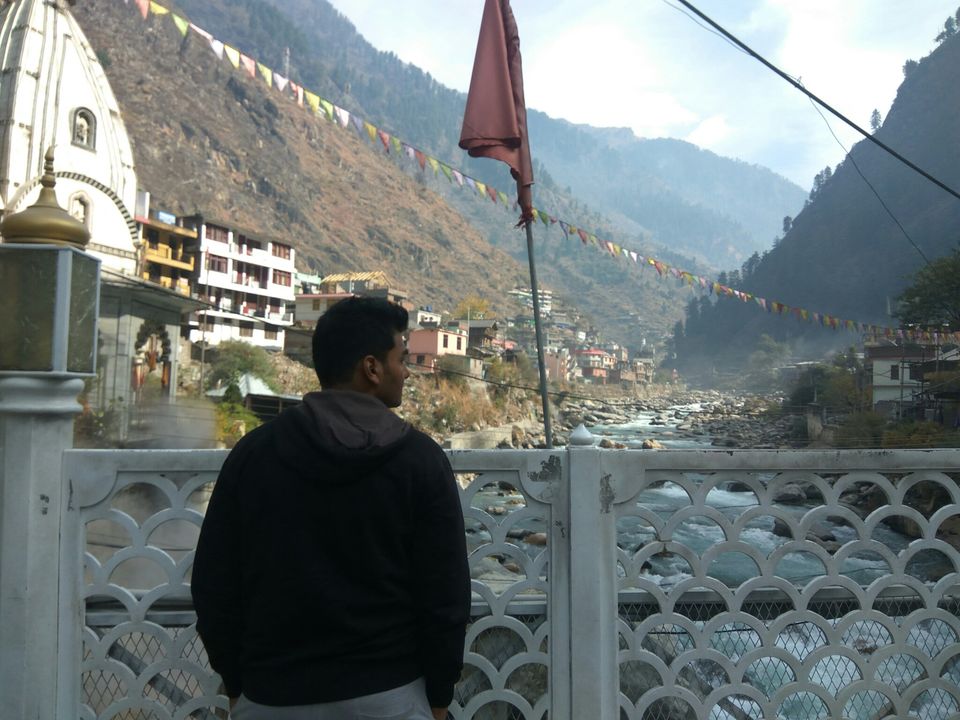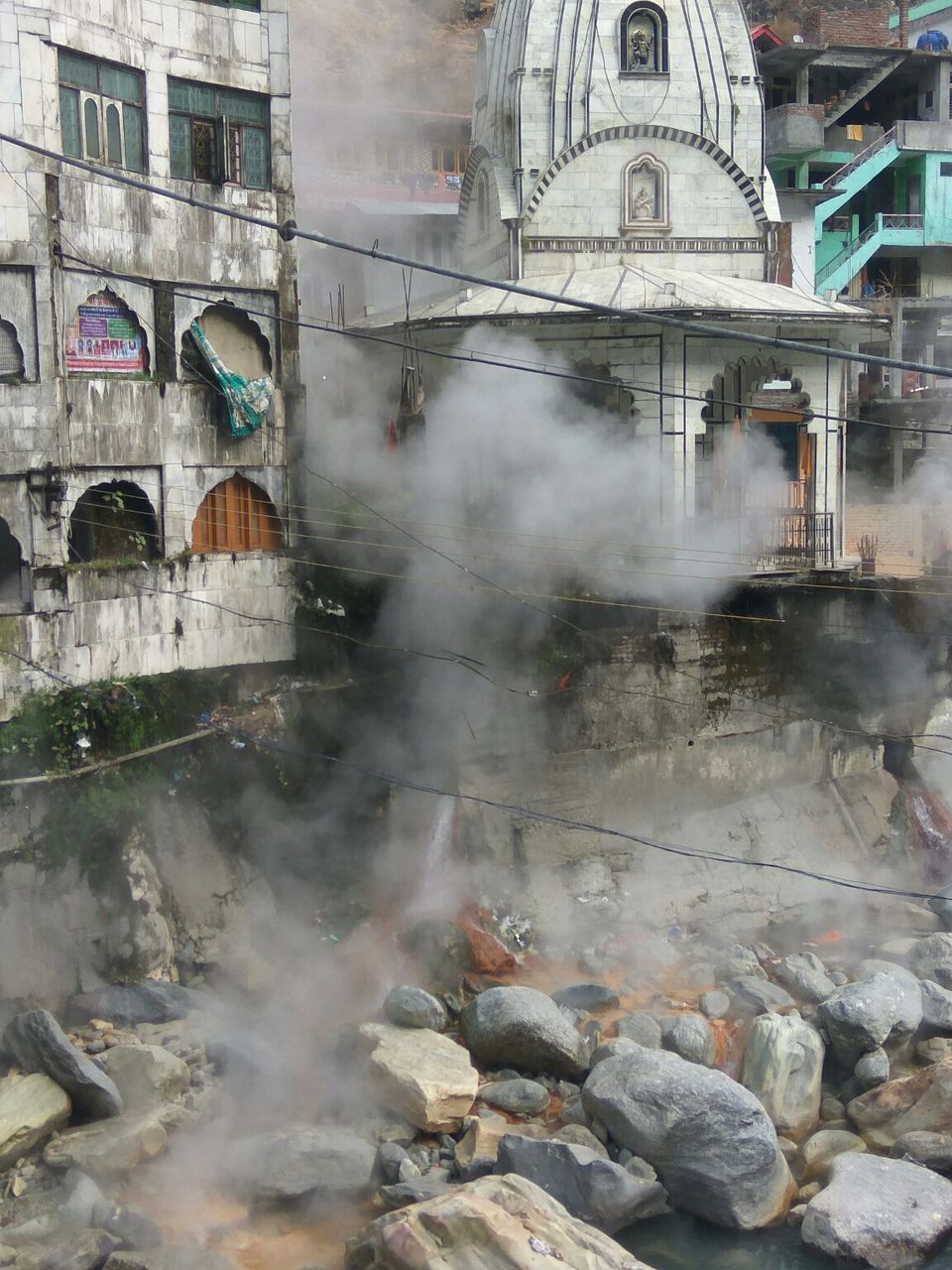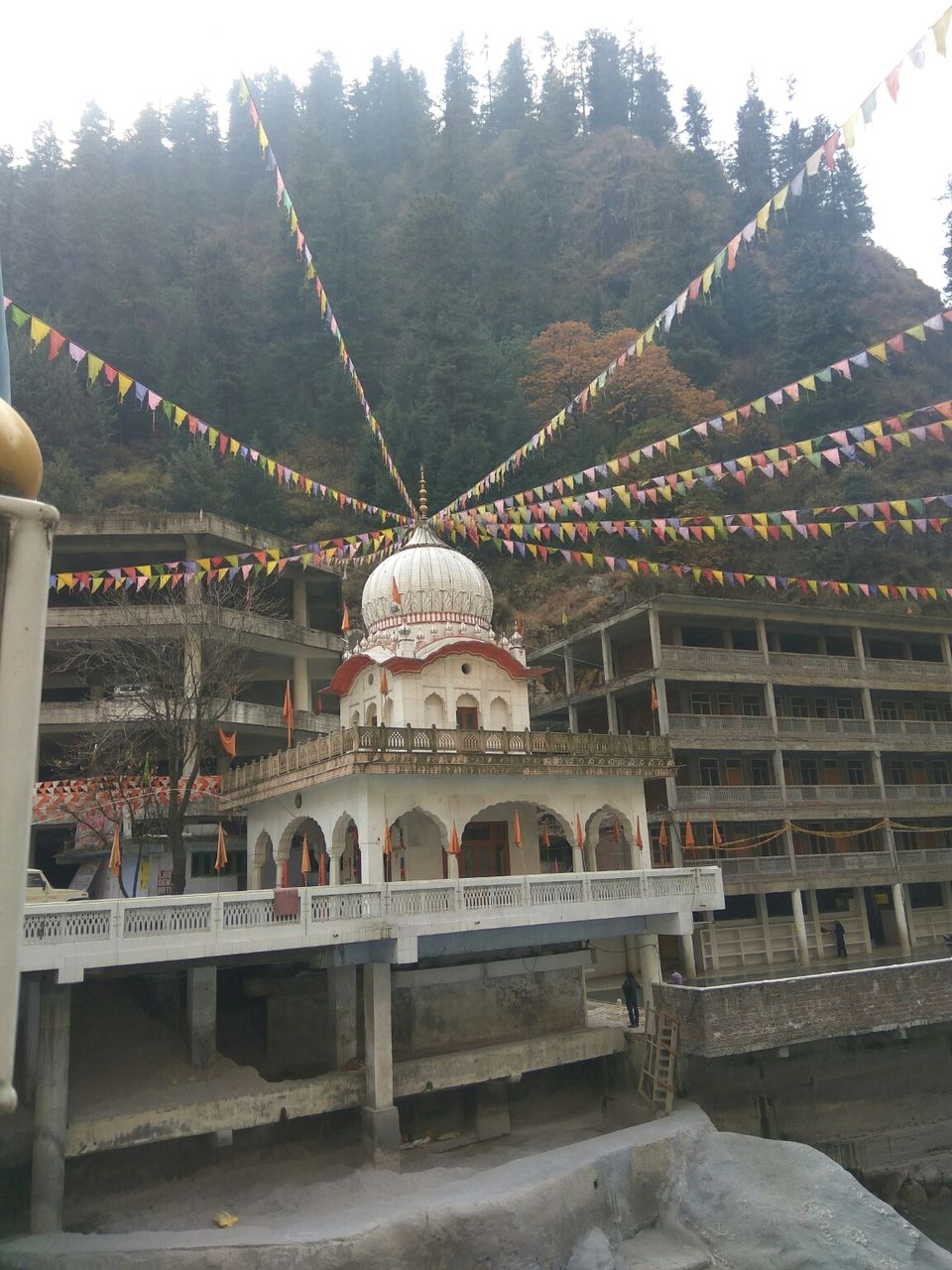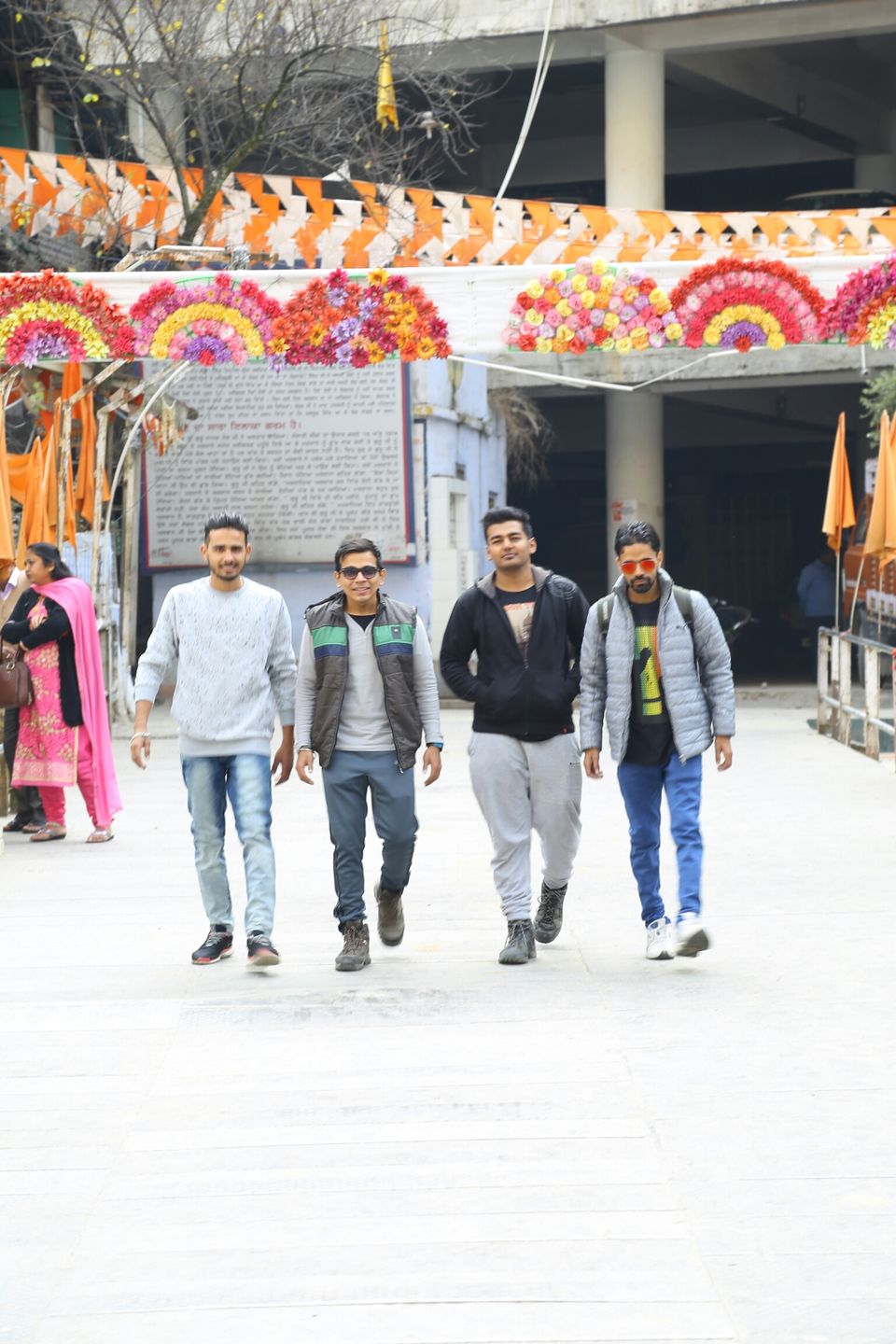 After getting fresh. We decided to head towards Kasol. Took a bus to kasol from Manikaran charged us Rs. 7/-
We tried finding hotels and guest house for cheaper. Finally managed to get a 2 double bed room. In hotel Green valley which cost us Rs. 1000/- for a room for 5 people.
Kept our bags in the room took some rest and left to explore the village Chalal. Which is 30mins walk/trek from Kasol.
This village route is passing by the Parvati River. And there are many cafes and guest house on the way having a river facing view. And are cheaper than Kasol.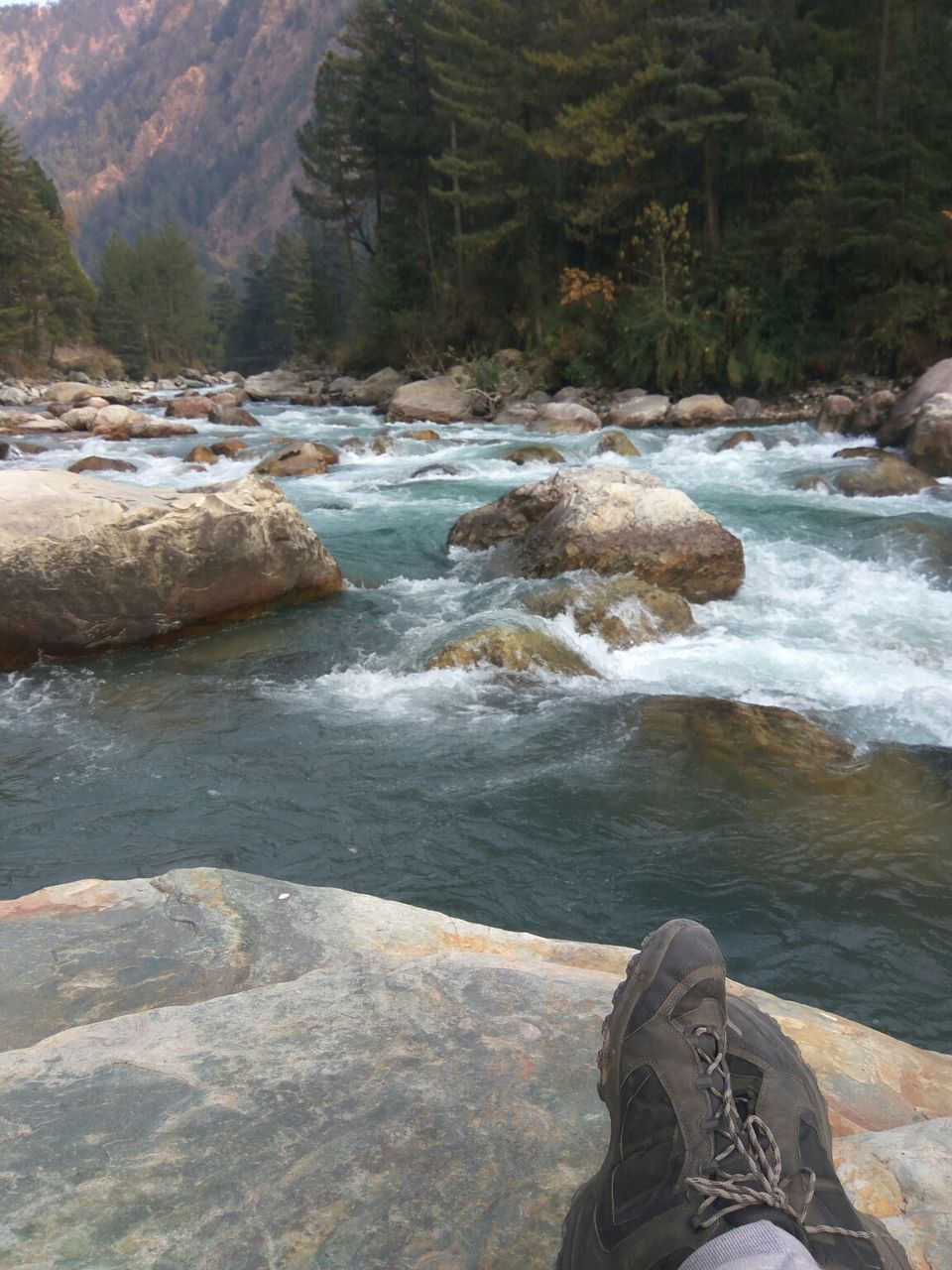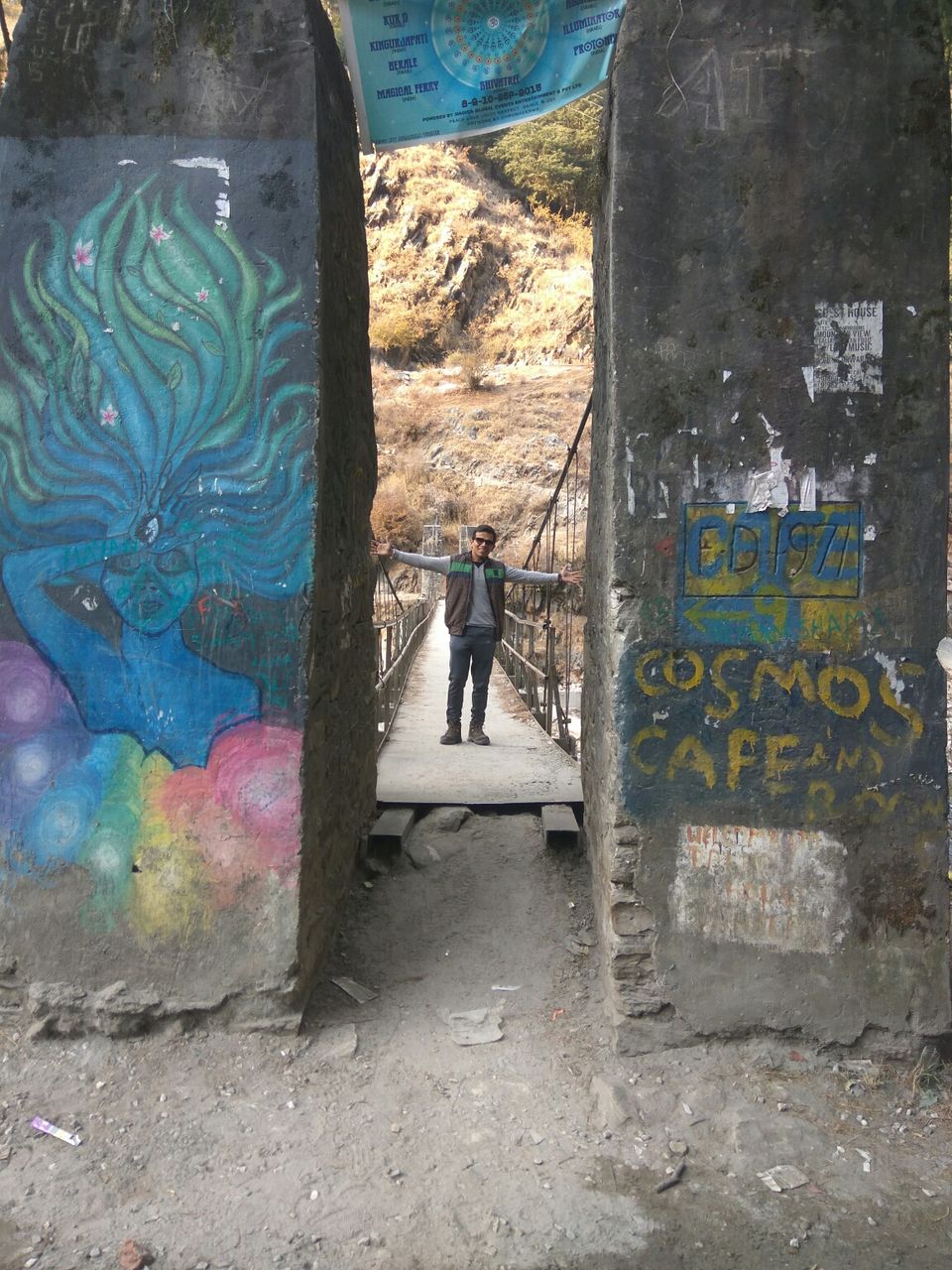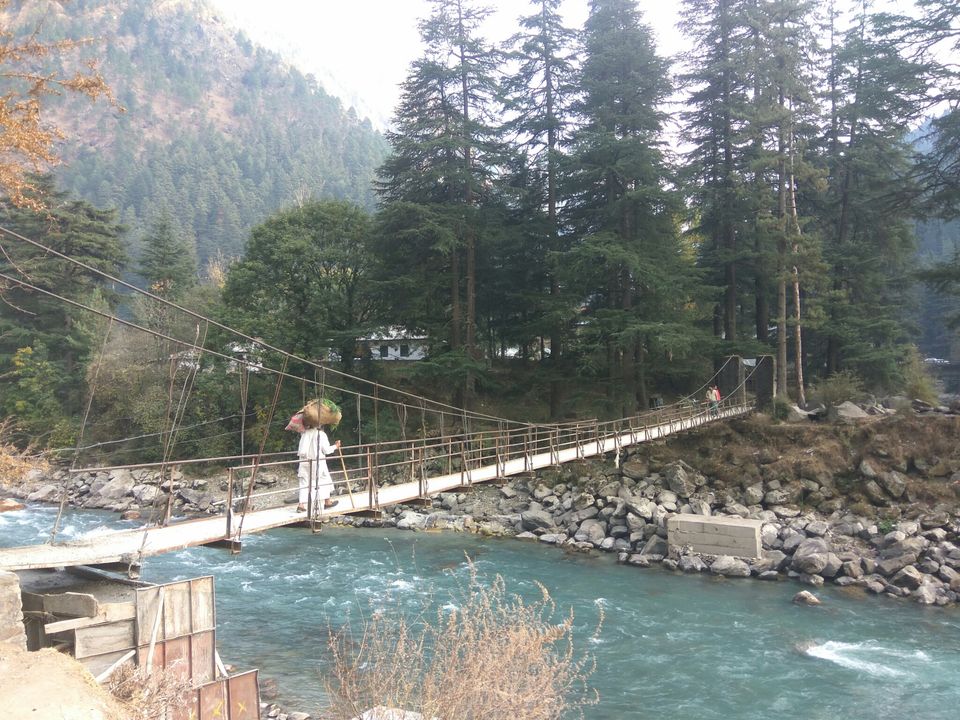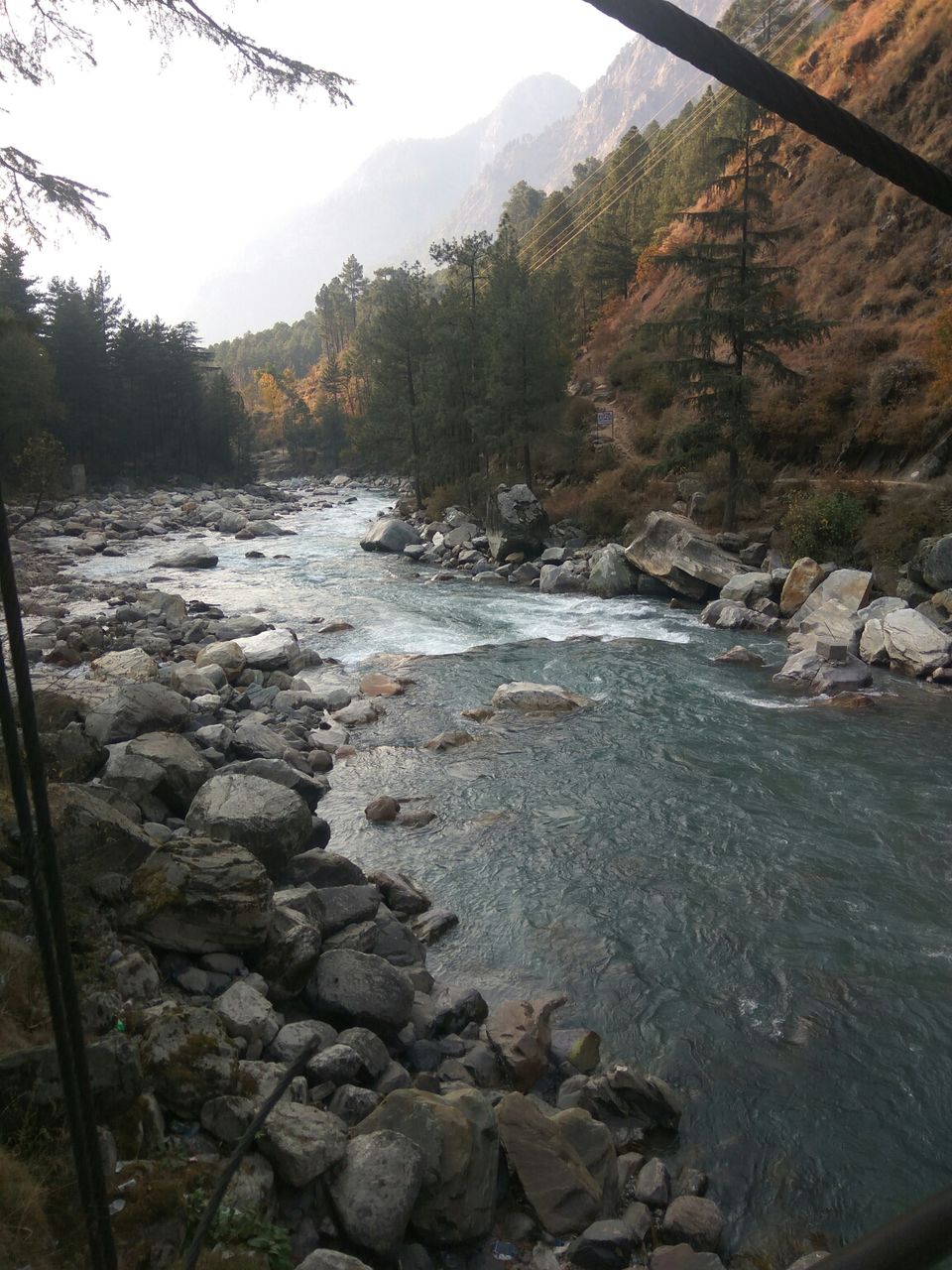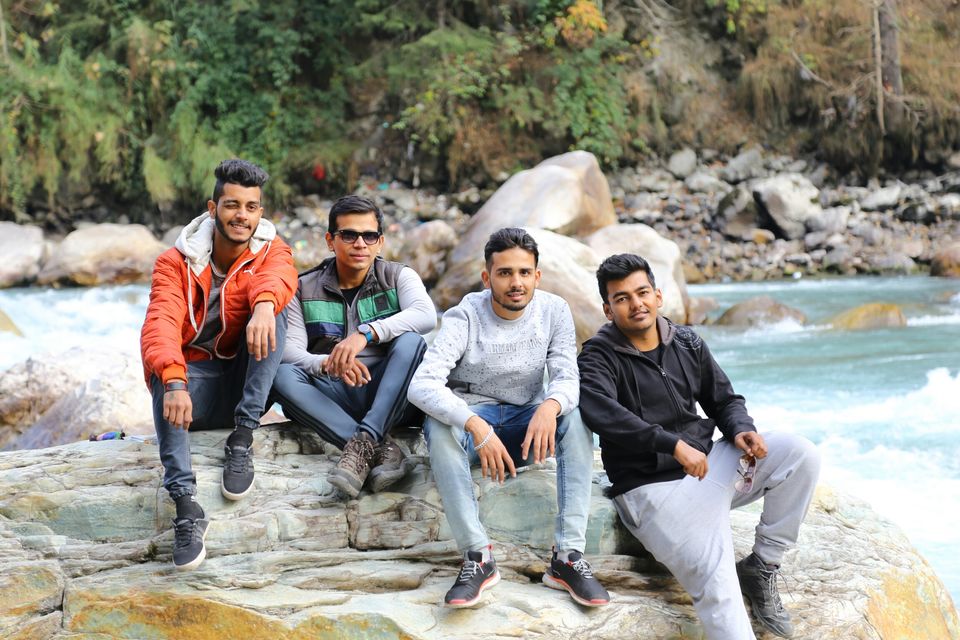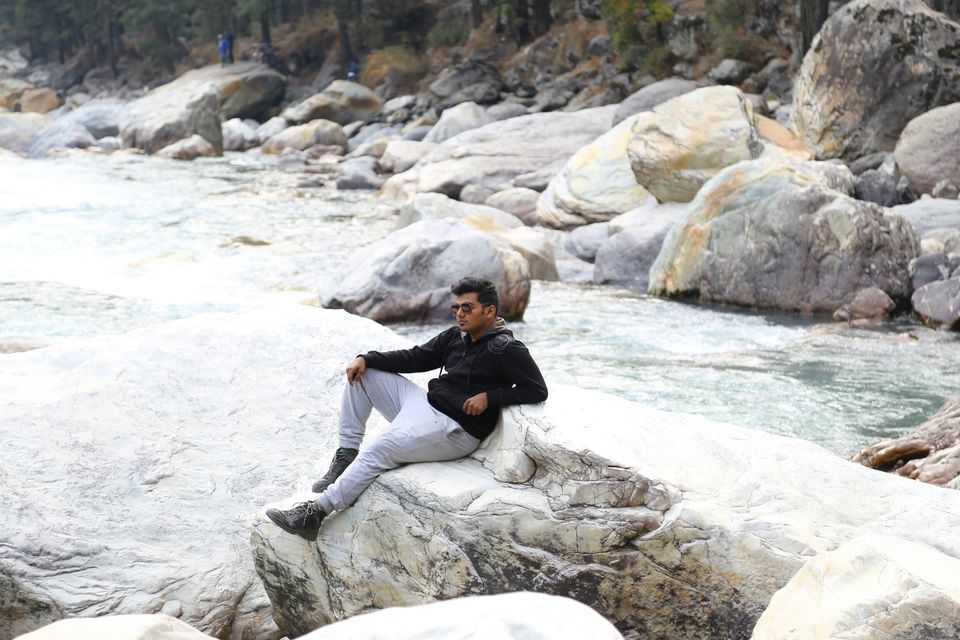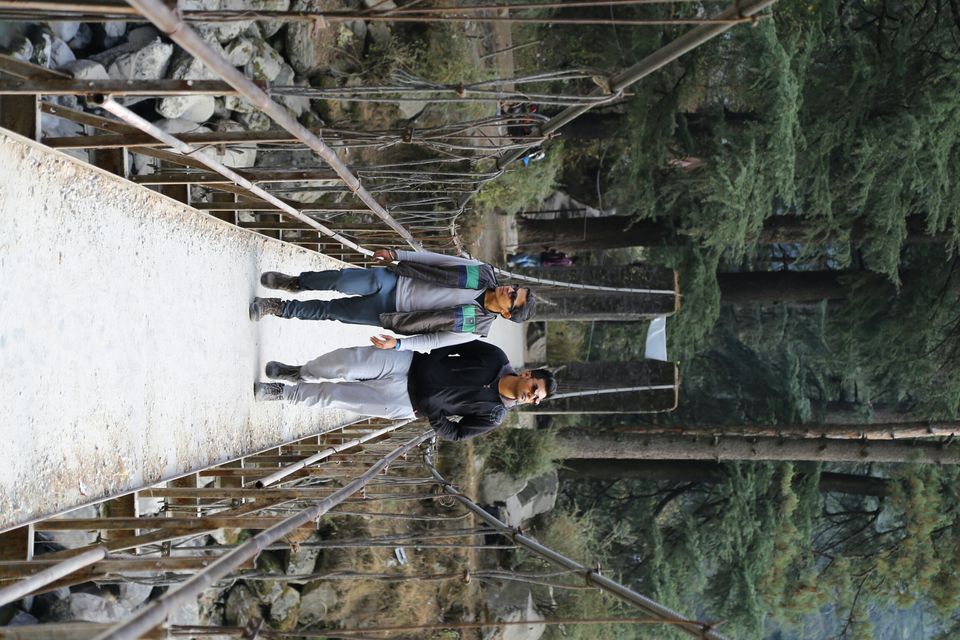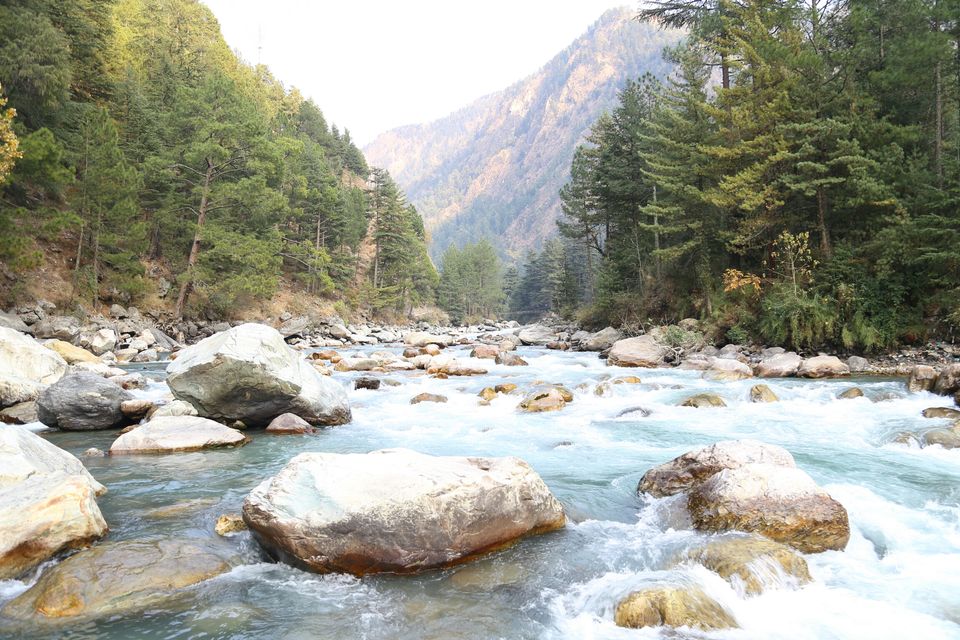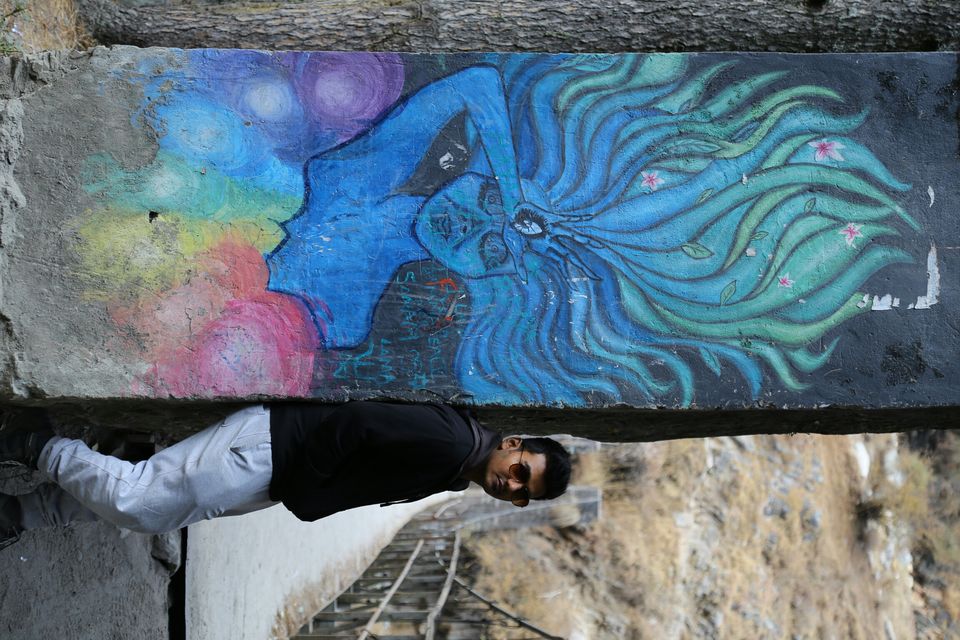 by late evening we came back to kasol.
Took rest and chilled a bit. Everywhere the cafes and restaurants gets shut by 9. So we decided to leave for dinner around 8.
We went to German Bakery which is hyped alot in everyone's blog. Yes, i tried there. Food was good. Not great. But yes the chocolate varieties they have is crazy. I would say a yes for trying in German Bakery.
After dinner we came back to our rooms are it was chilling outside. In the night it was around 6 degree.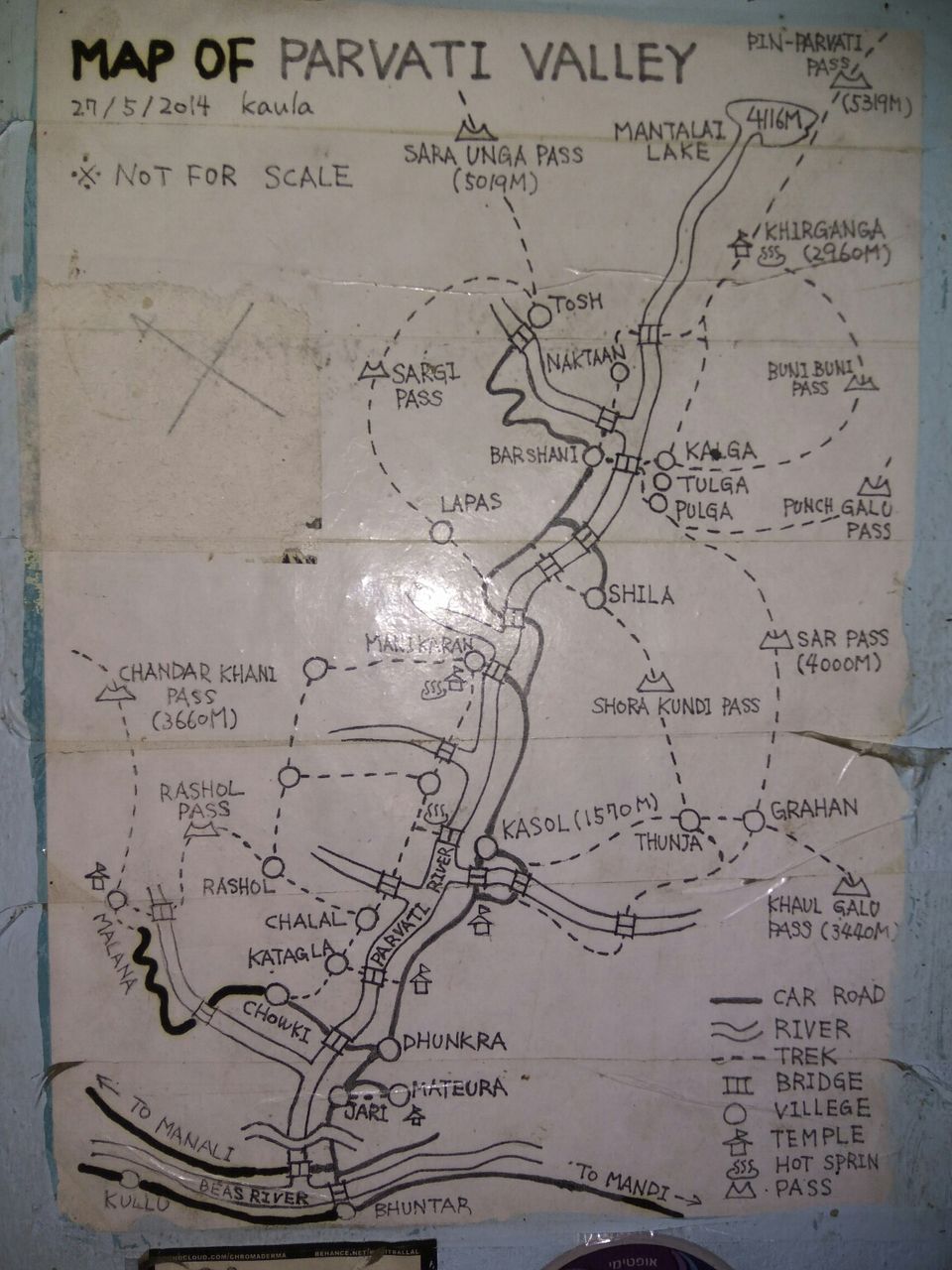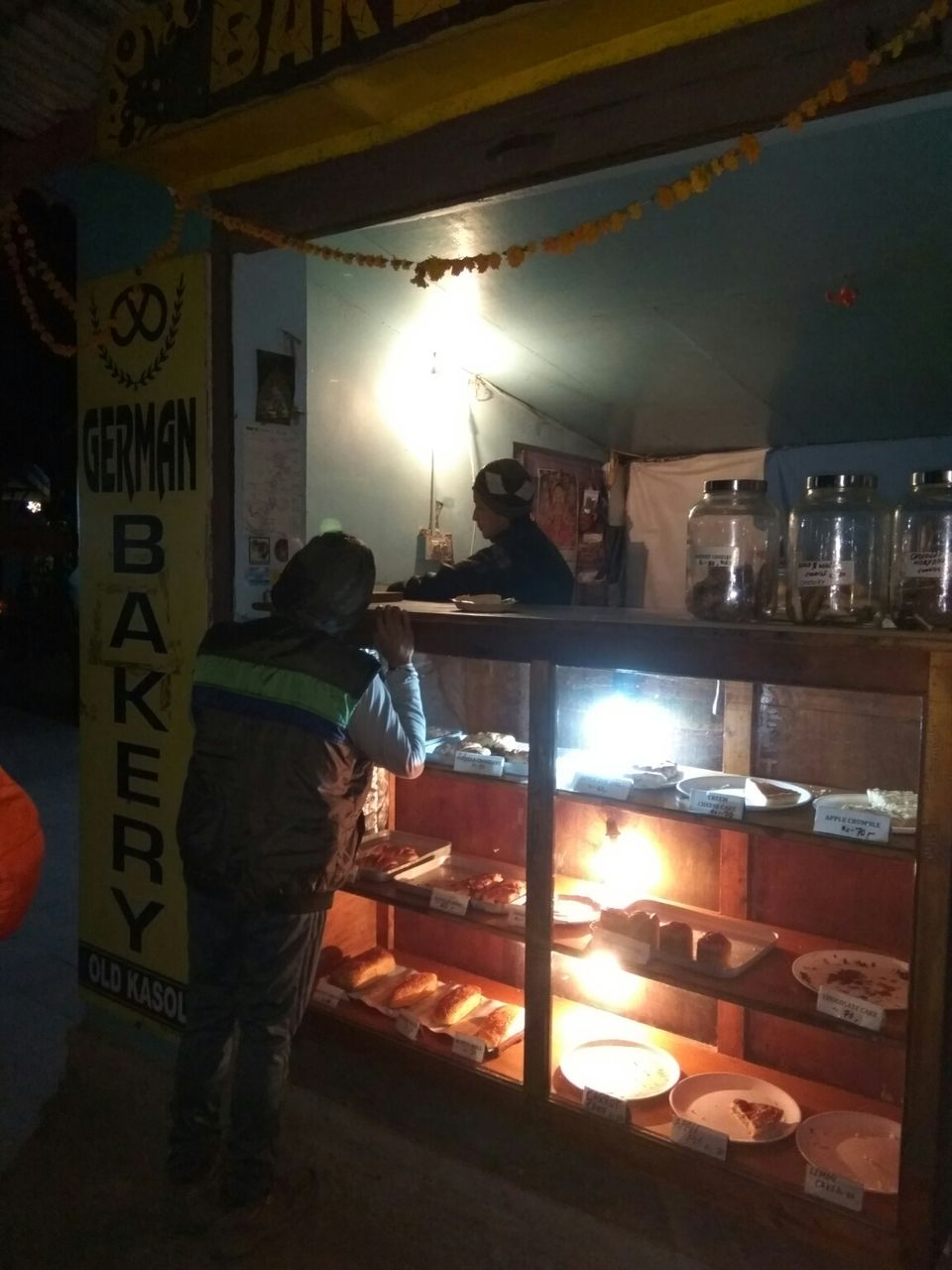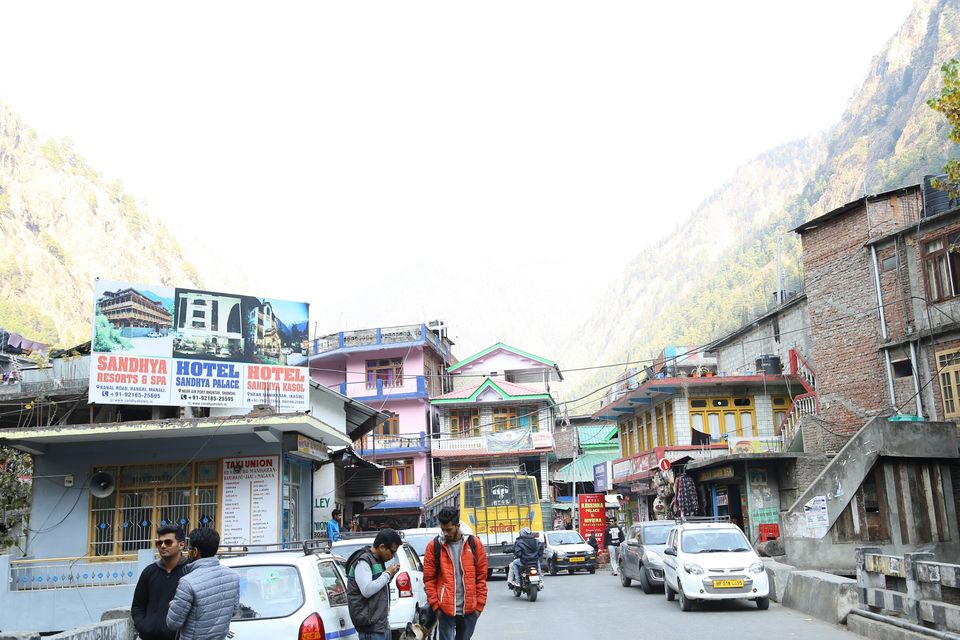 26th November'2016
Woke up little late by 9:30. We got to know in every 1 to 2 hour there is a bus till Barshaini.
And we came to know 10 o'clock bus goes till Barshaini. So we rushed and came near the bus stand of kasol. Which is next to the main bridge in kasol. Luckily we were before time and we caught the Barshaini bus. The journey begin with Kheerganga and its beauty in mind.
The hrtc bus charged us Rs. 35/-
It took us around 1 and half hour to reach Barshaini.
Around 11:30 we reached Barshaini and we started trekking for Kheerganga.
Kheerganga is 12kms. And has 2 routes.
1. Via Kalga
2. Via Nakthan & Rudranag Village.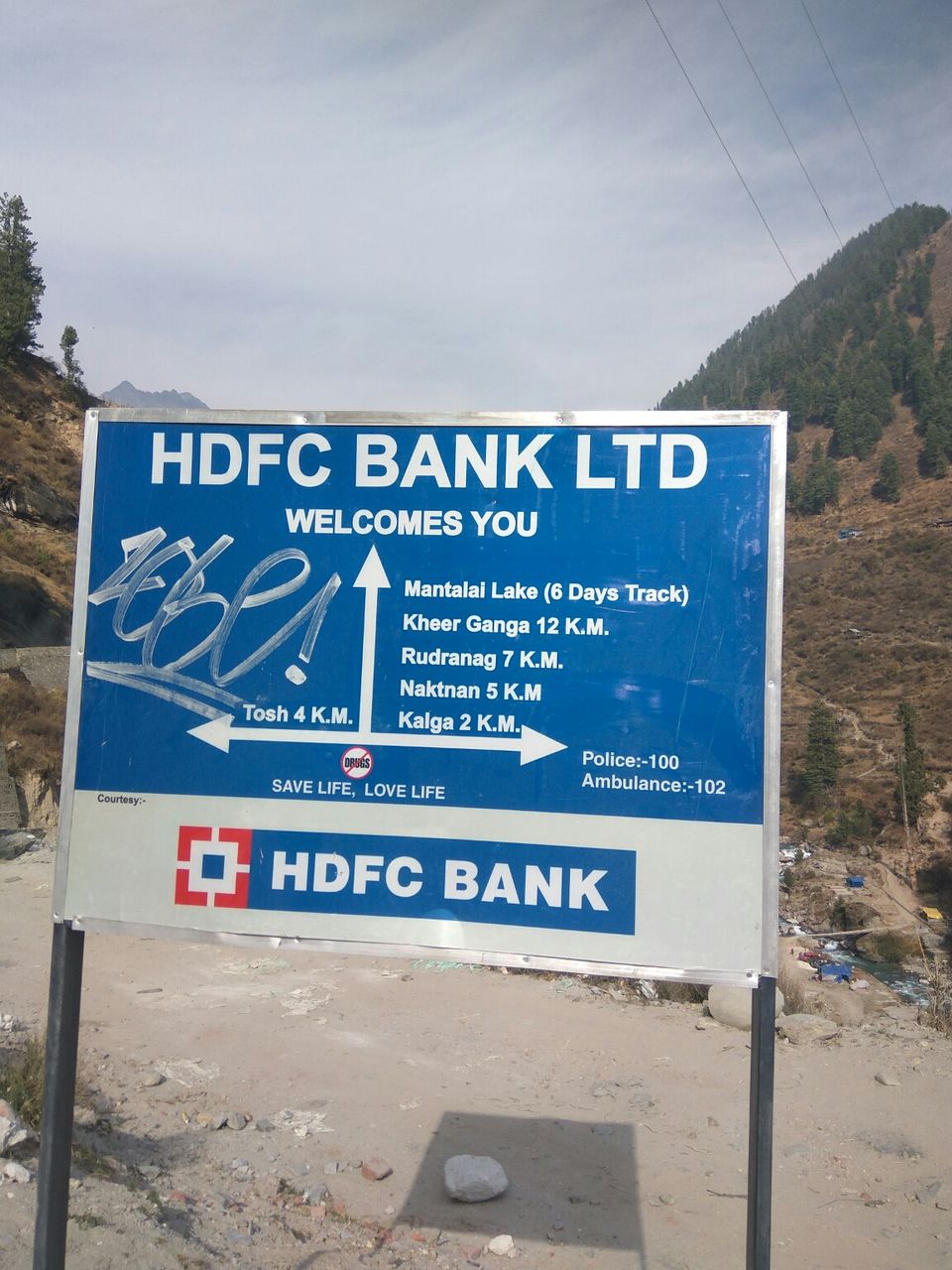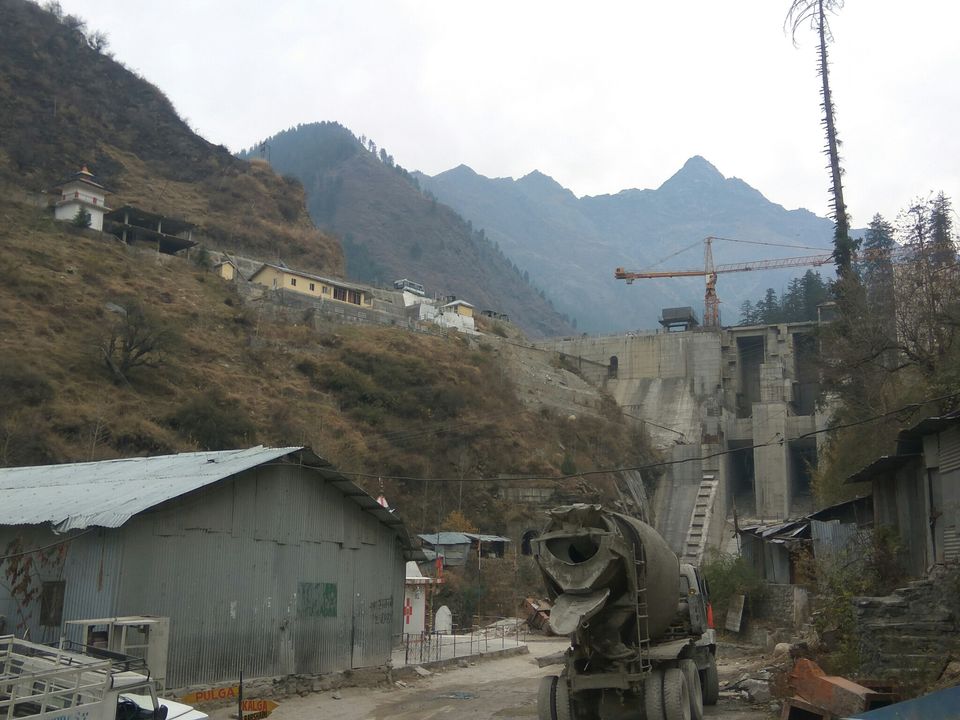 So we 5 mutually decided we would go from kalga route and return would be from nakthan & rudranag.
So after 30mins we reached kalga village.
Note: do not get confused with pulga and kalga. They both are different village and have different route. For Kheerganga go for kalga and not pulga.
Around 12 we reached kalga and we came to know there was a cafe name The Mosse. And it was of rohit's friend cafe.
So we chilled an hour there, had maggi and some cream.
The owner Anand bhai told us and warned us to reach kheerganga before the sunset. As the climate was little scary. As past a month it didnt rain nor any snowfall. So he suggested us to stay in his cafe. But we had kheerganga stay in mind. So we decided to leave by 1 for Kheerganga.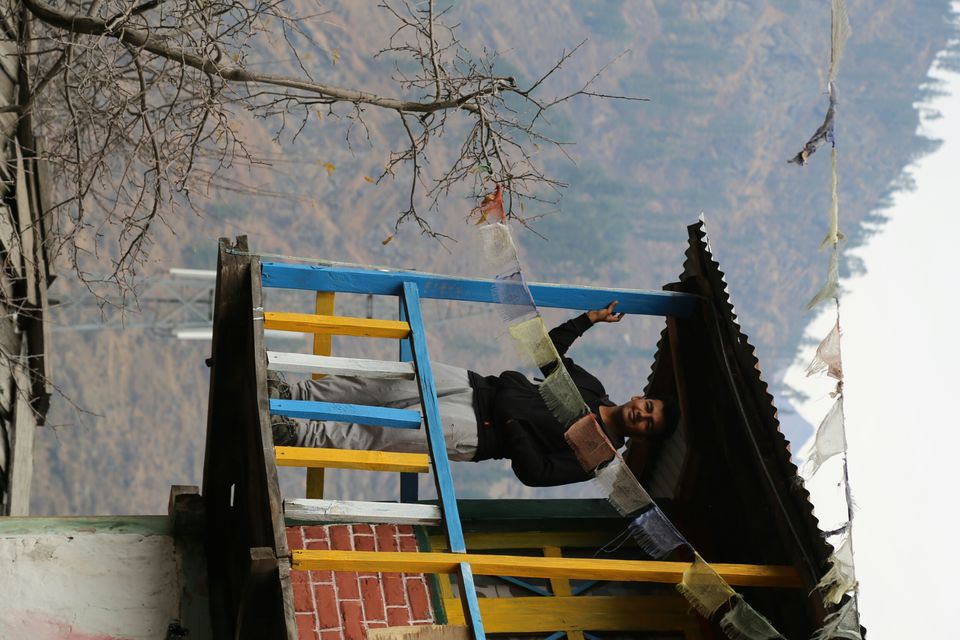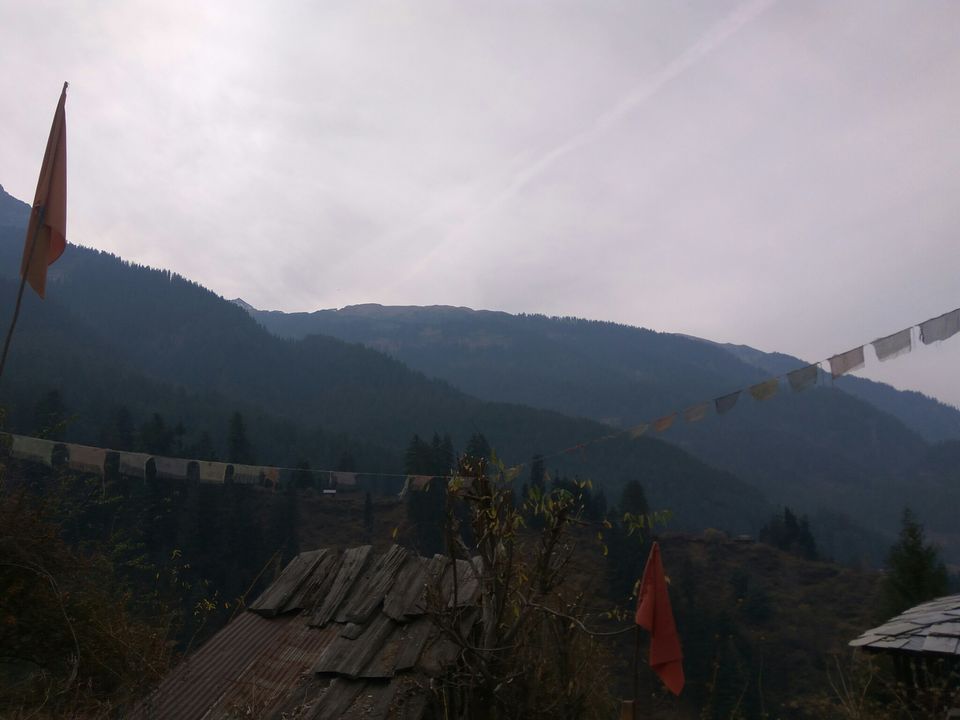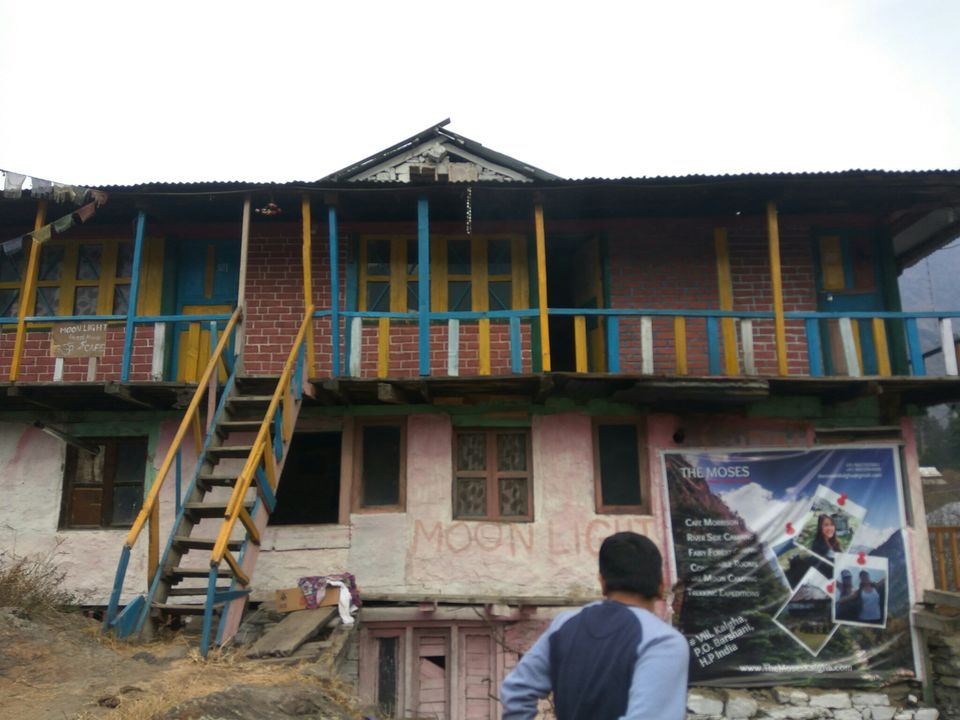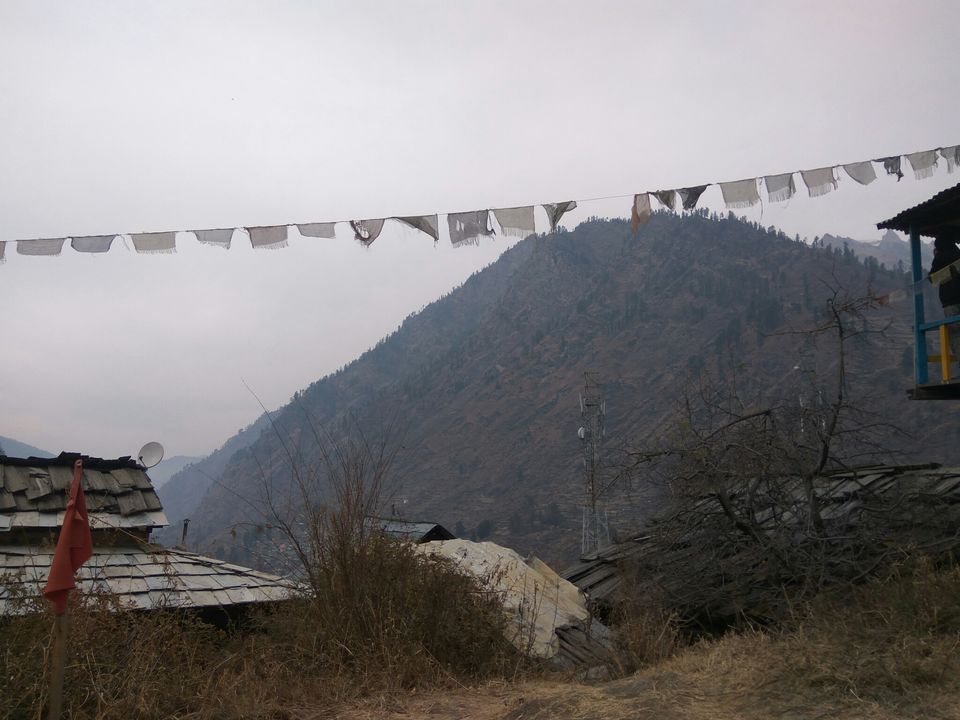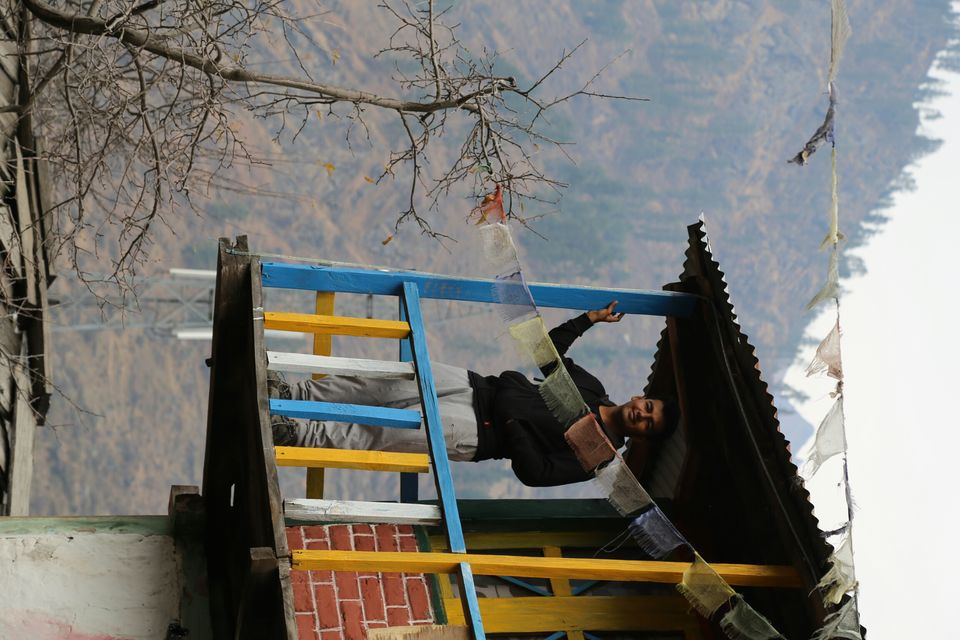 By 1:10 we left for Kheerganga trekking.
People prefer nakthan & rudranag route. But i would recommend kalga route. If you arnt alone. As it goes from the jungle. It Has ups and down, the sound of river can be heard throughout the trek which gives a refreshing vibes.
You'll find boards regarding protecting the nature and even the spot where few foreigners died because of their mistake.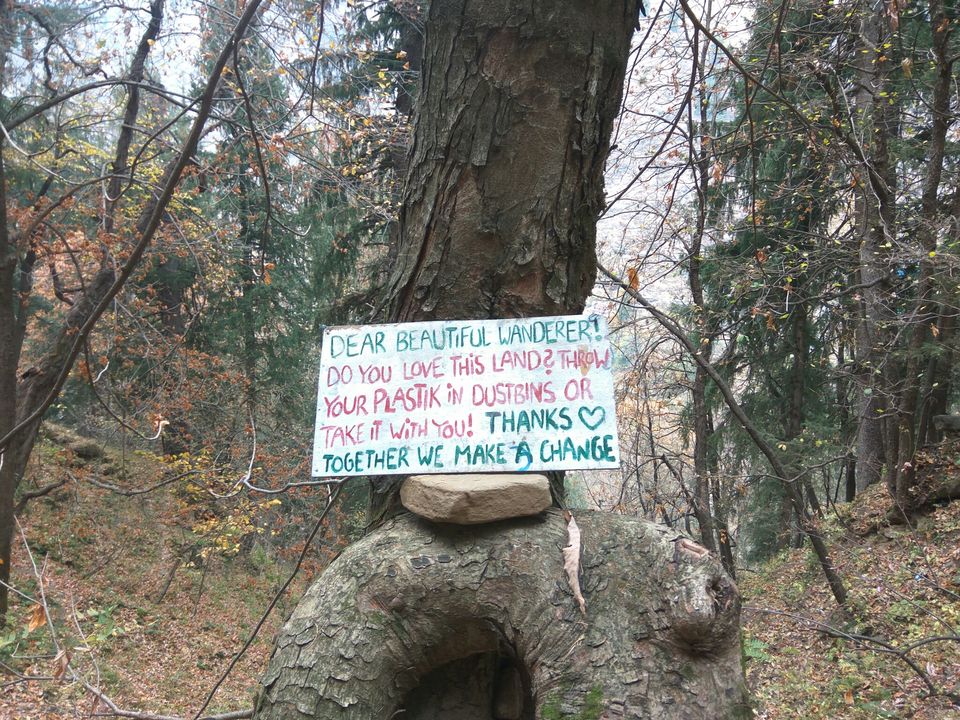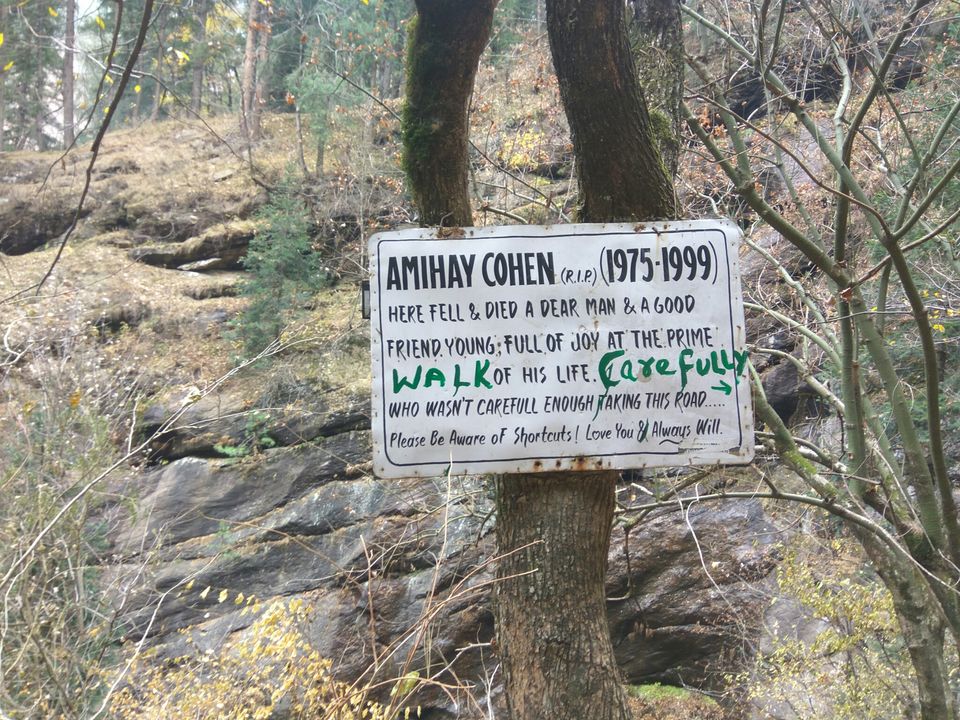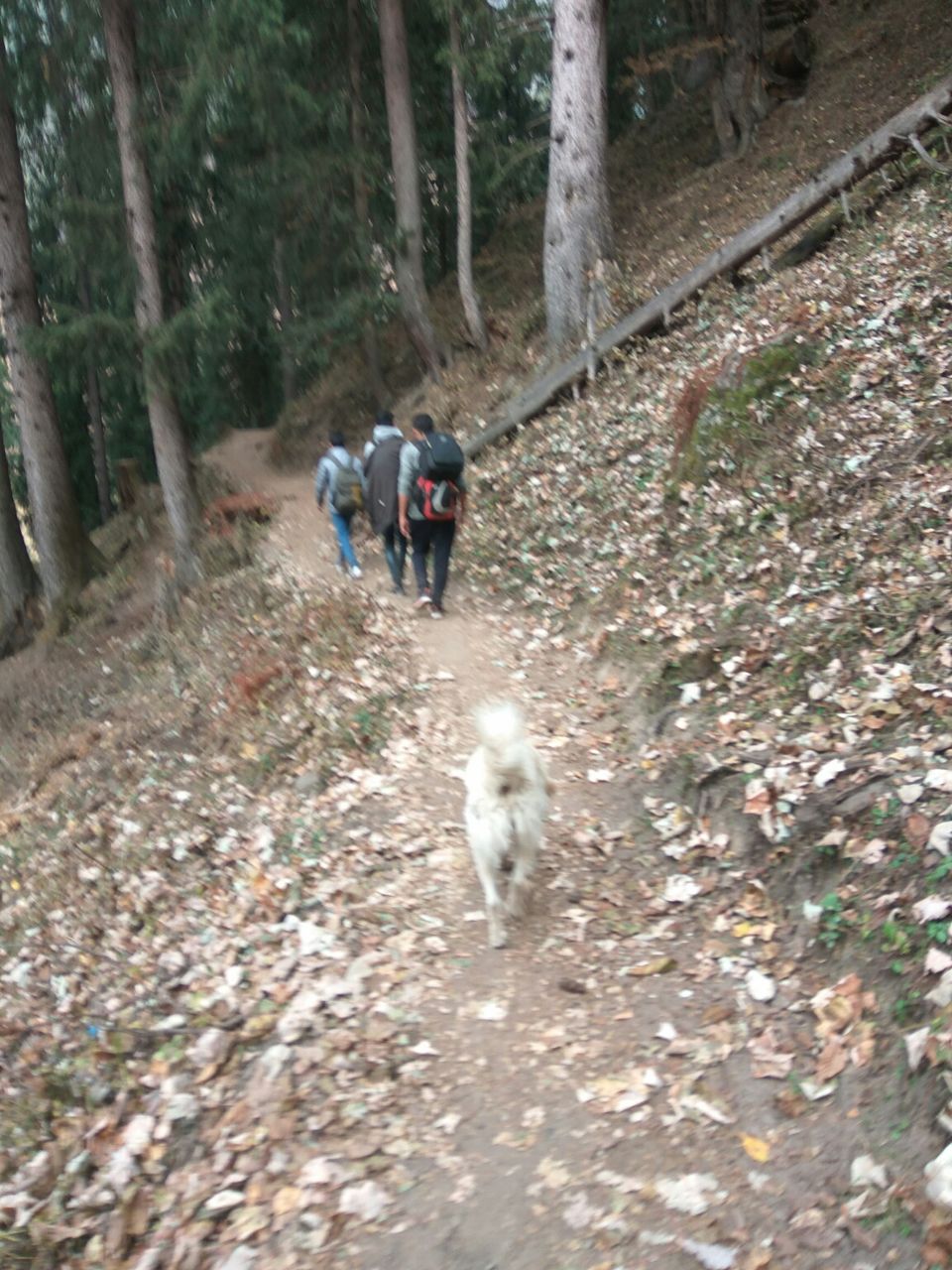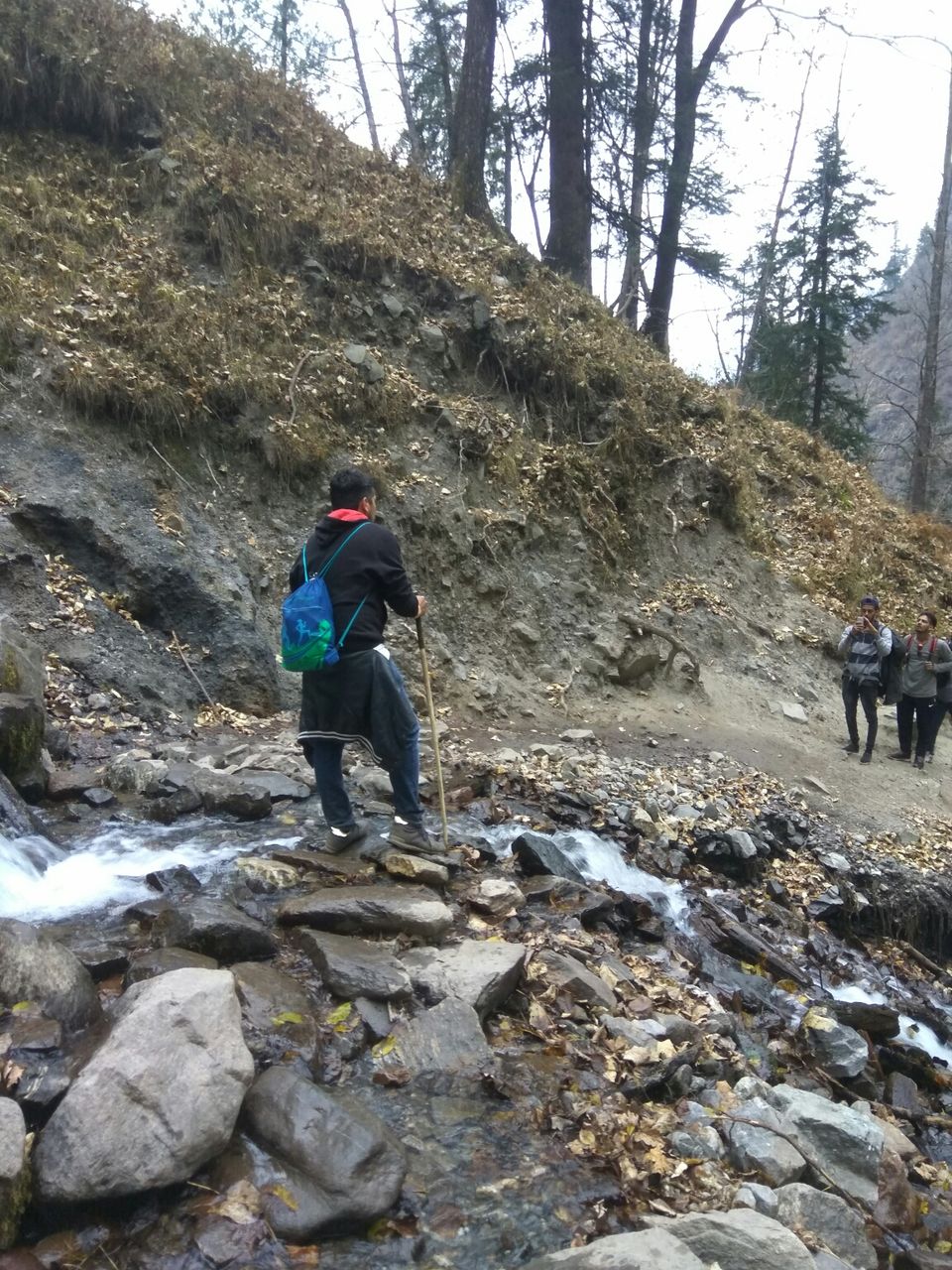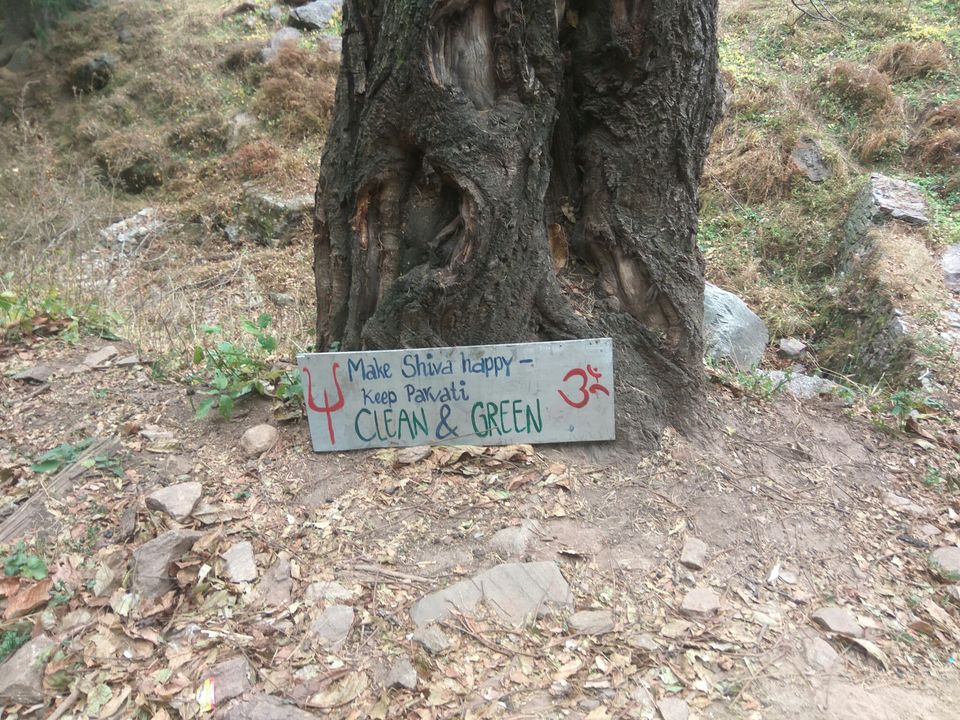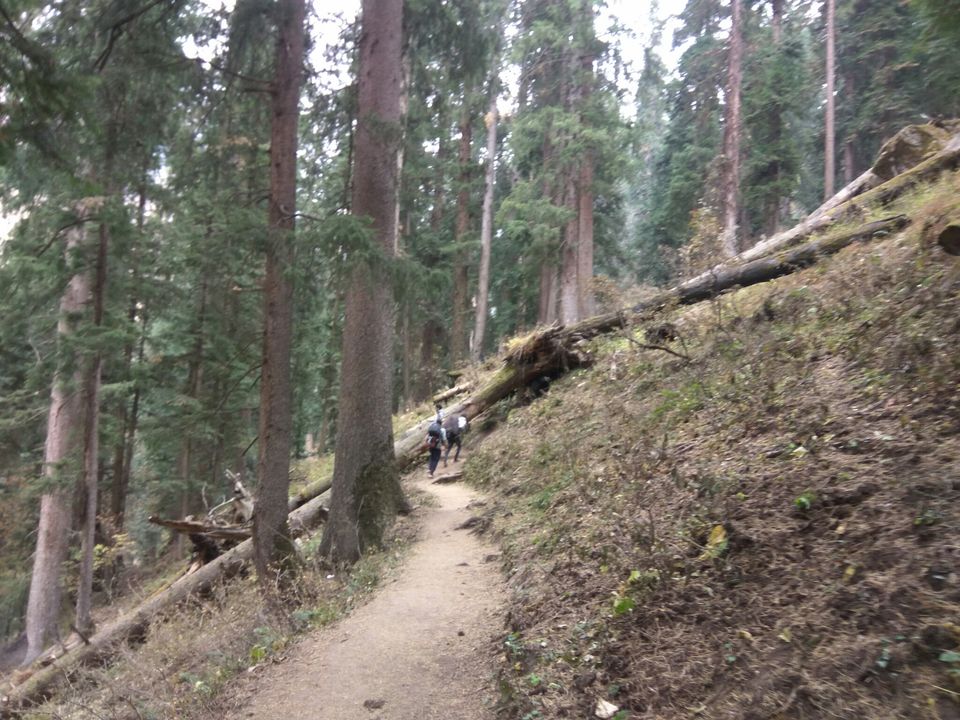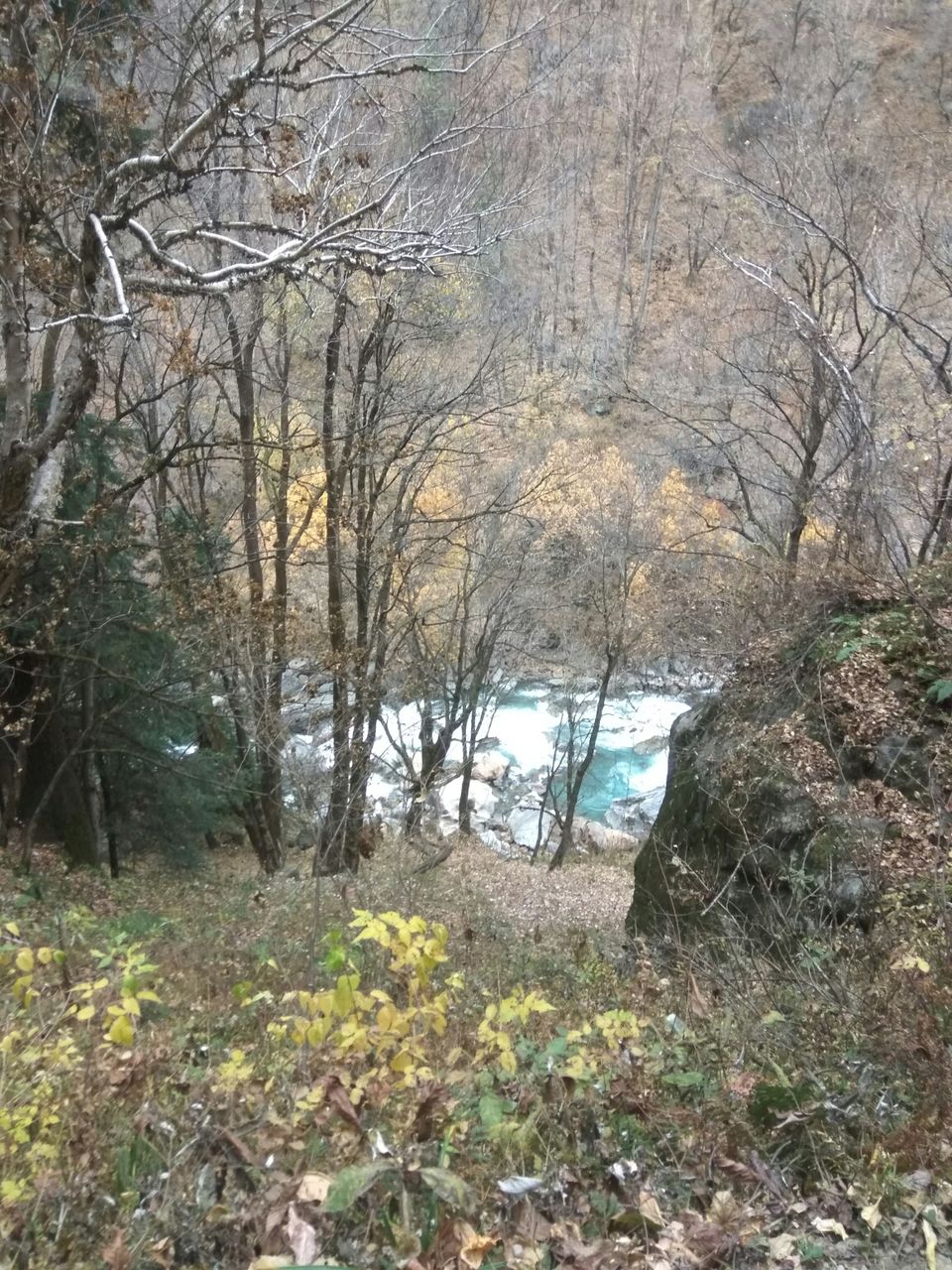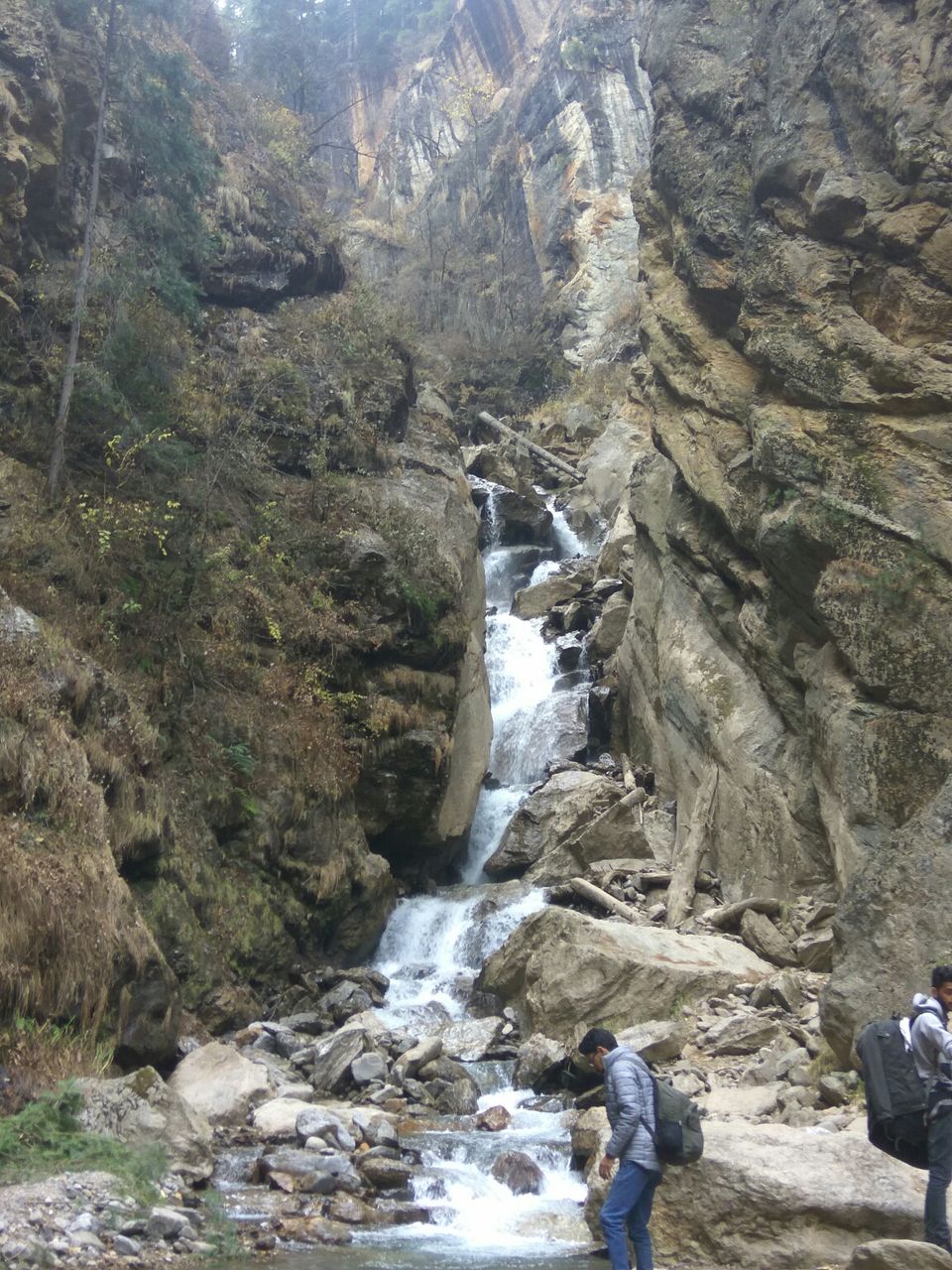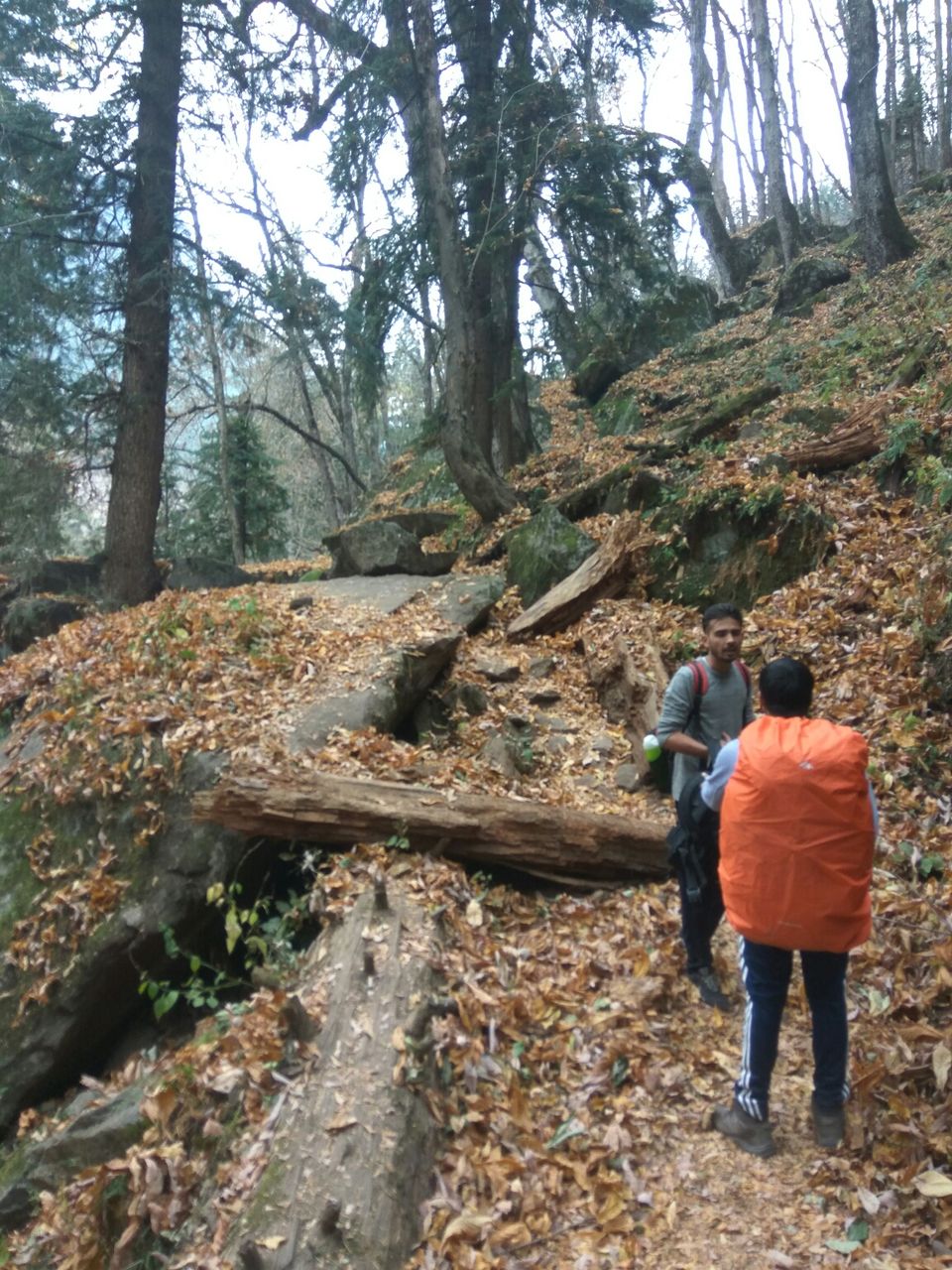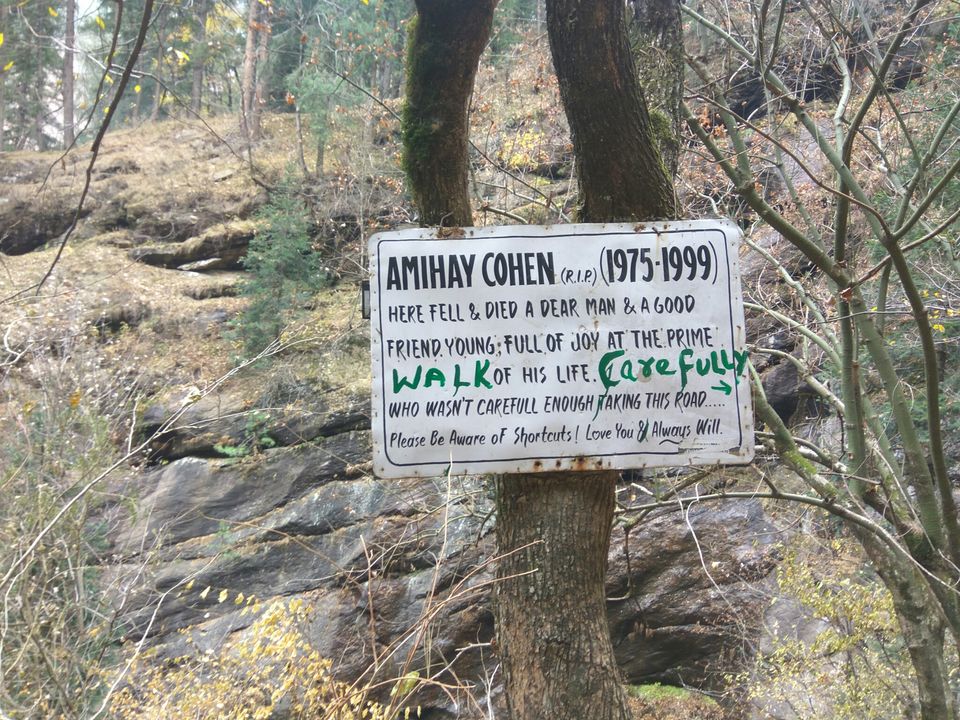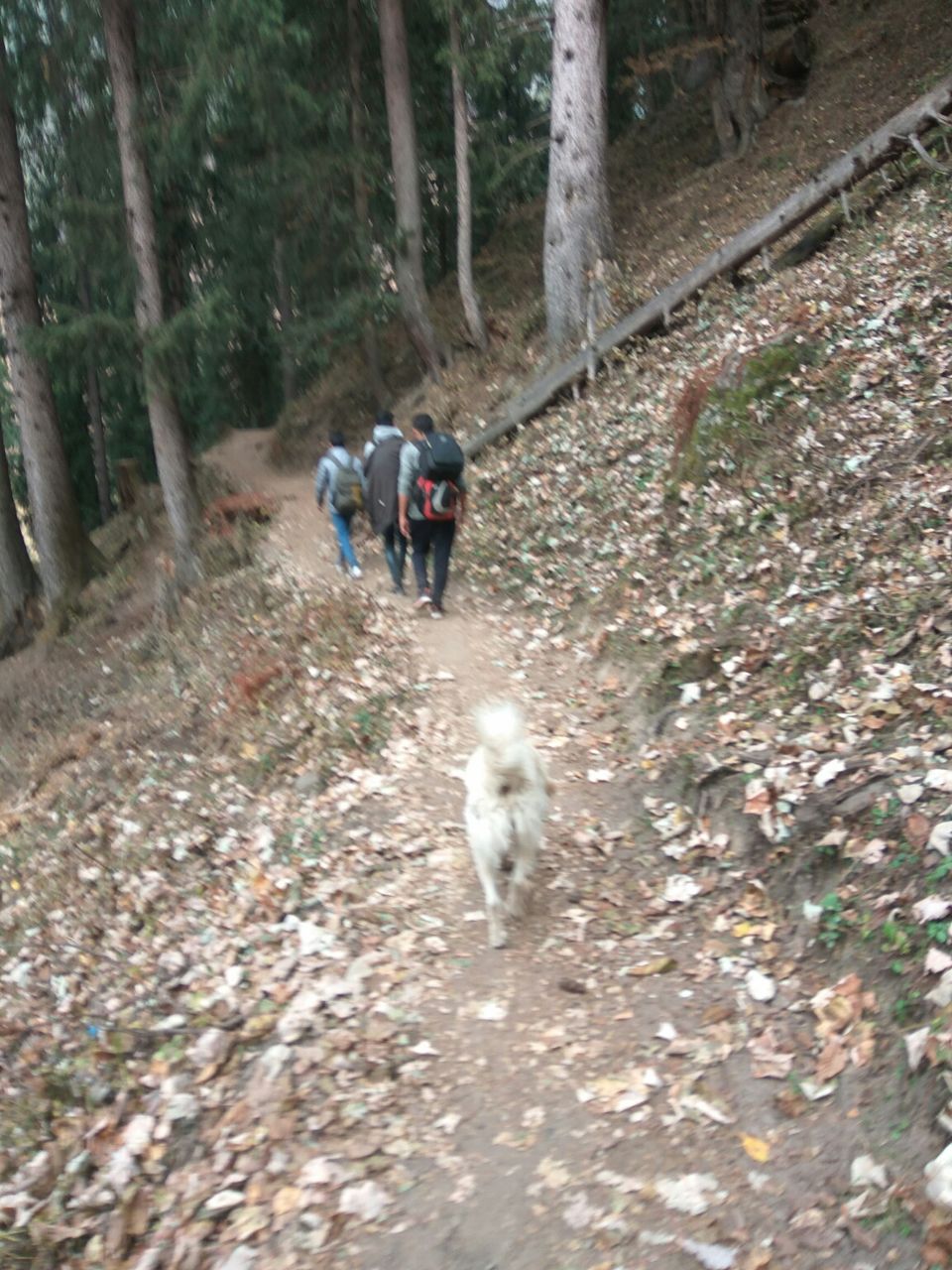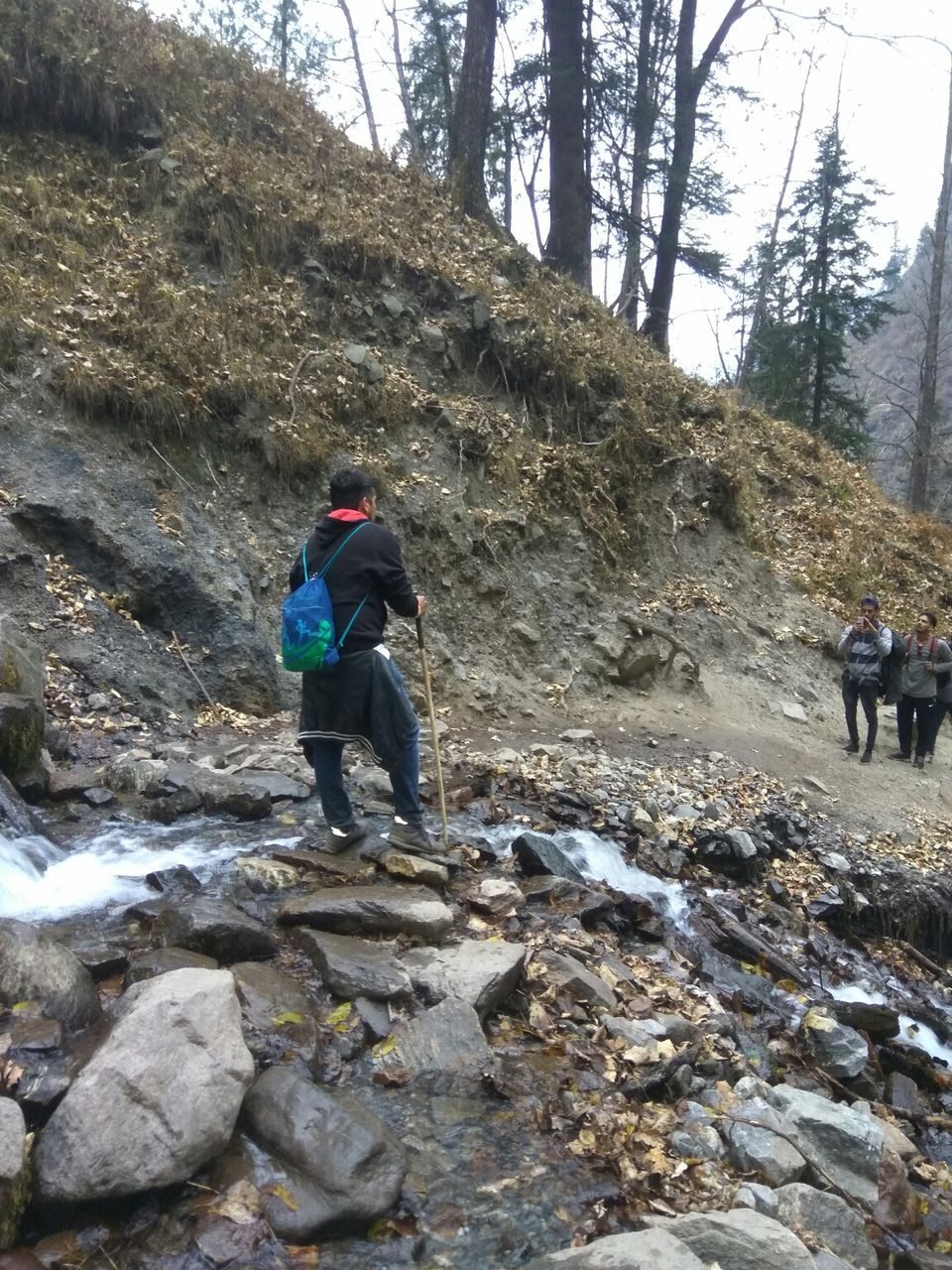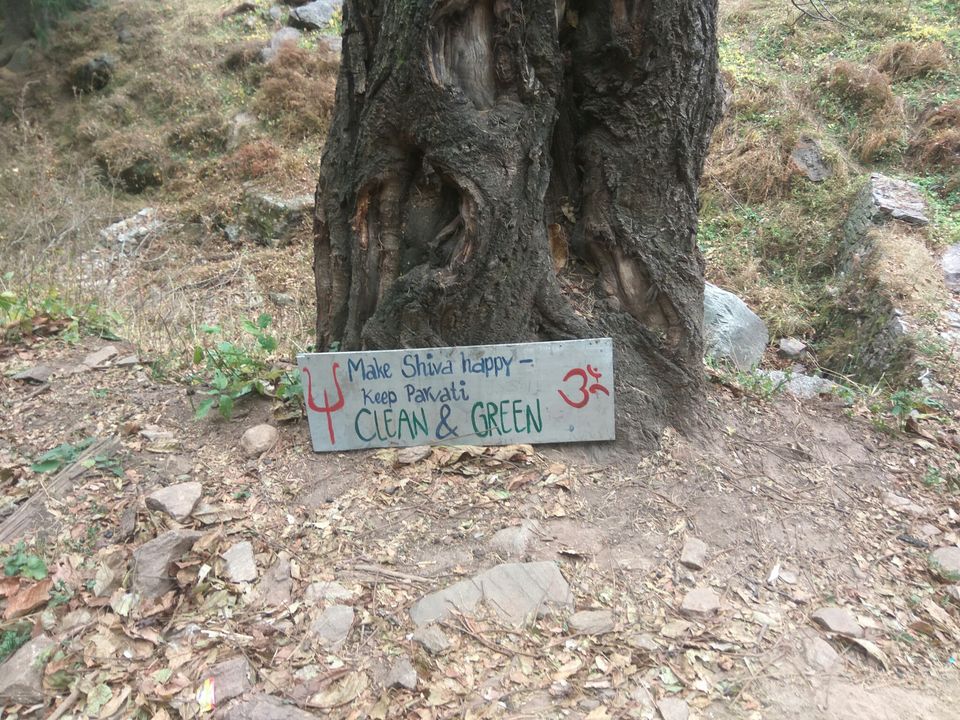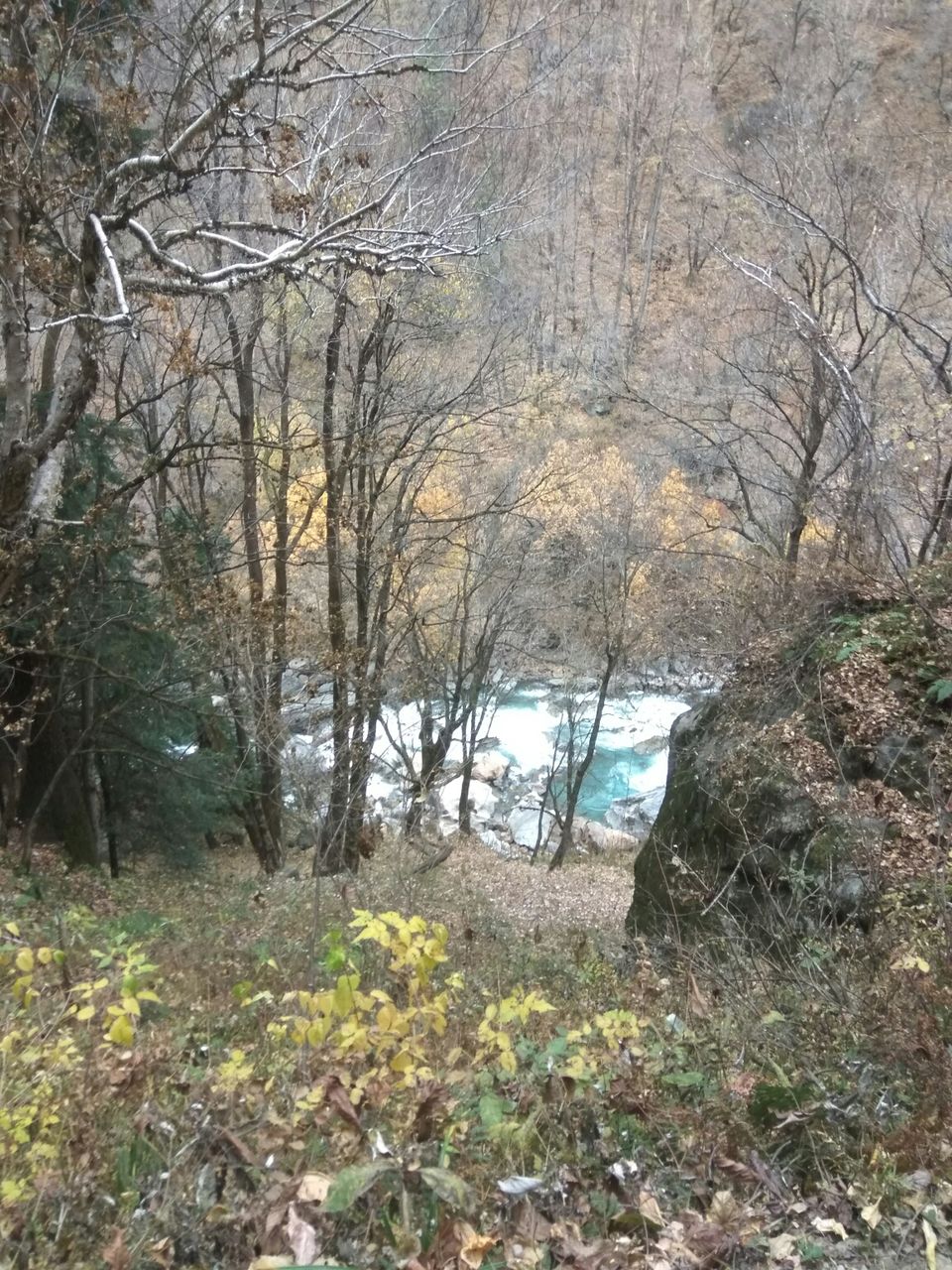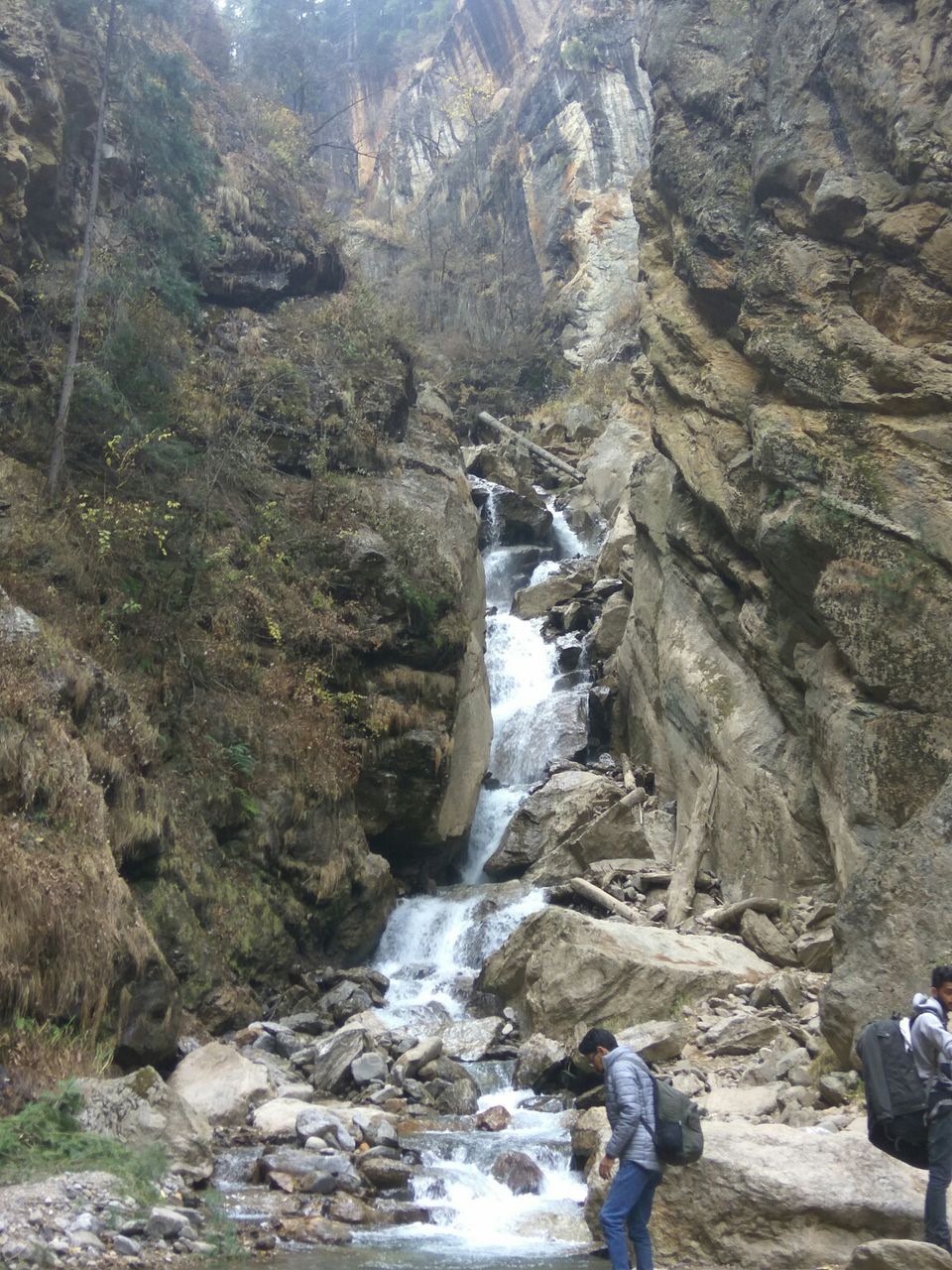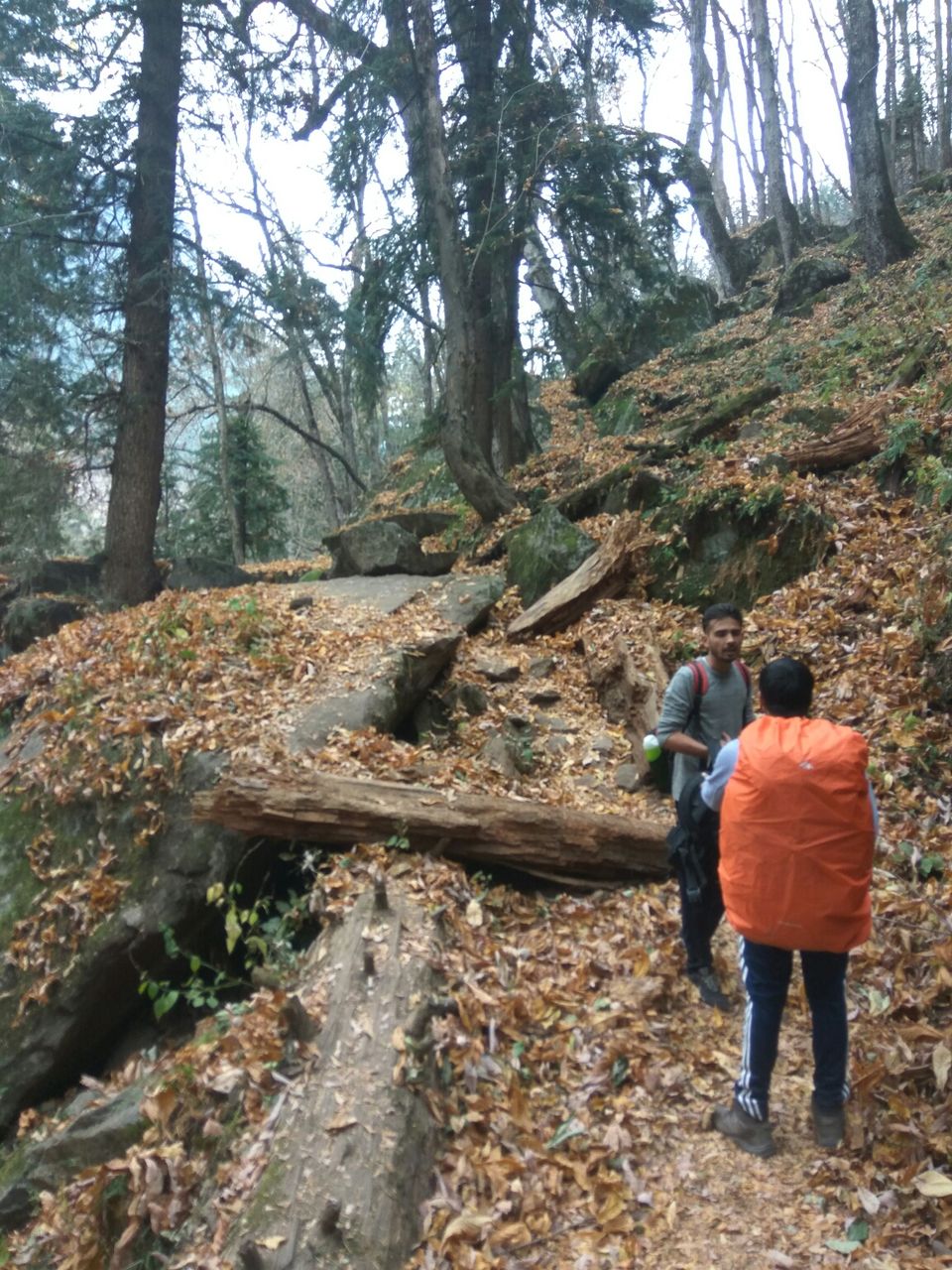 After taking end no. Of halts finally we reached kheerganga. By 5 p.m.
It was about to get sunset. On the way you end up meeting end no. Of people either climbing or returning from Kheerganga. There are small cafes on the way to take rest and to fill your stomach.
The scenario at the height of 3000 metres above sea level. Is something which can't be expressed. The beauty, the cold air.
We took a room for 5 people for Rs.400/- at the lotus cafe.
At Kheerganga there are various cafes with guest house. Having dormitory, rooms, rooms with heater & tents.
One can choose to stay as per their comfort.
We didnt take holy spring water bath in the evening. As we decided to stay in kheerganga for 2 nights. So we went to our rooms and took rest.
27th November'2016
I woke up early. As it was cold out i decided to take a walk in the morning around 8.
You'll find the mountain opposite kheerganga. There the sun rises by 8 onwards where youll see the sun raises falling on the mountain opposite you. And at Kheerganga the sun rays end up coming around 11-12 o'clock.
The best part is you gets those fresh air to breathe, where theres no network in your phone. You are completely away from the normal routine. More like a Vacation meant to filter your body.
I went to take the holy spring water bath in the morning. Where its sooo cold to walk till the holy spring water section. I dont know how to express that feeling.
Even trekked a bit till karthik gufa and temple above the kheerganga temple.
We took a day rest with talking to the locals and the porters about different treks and the climate.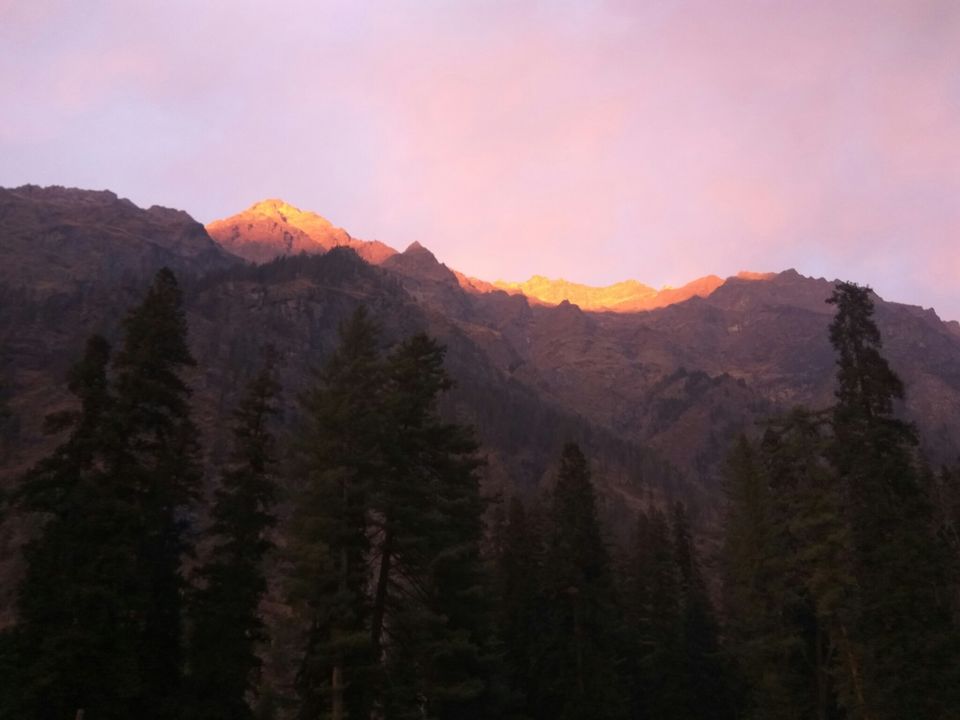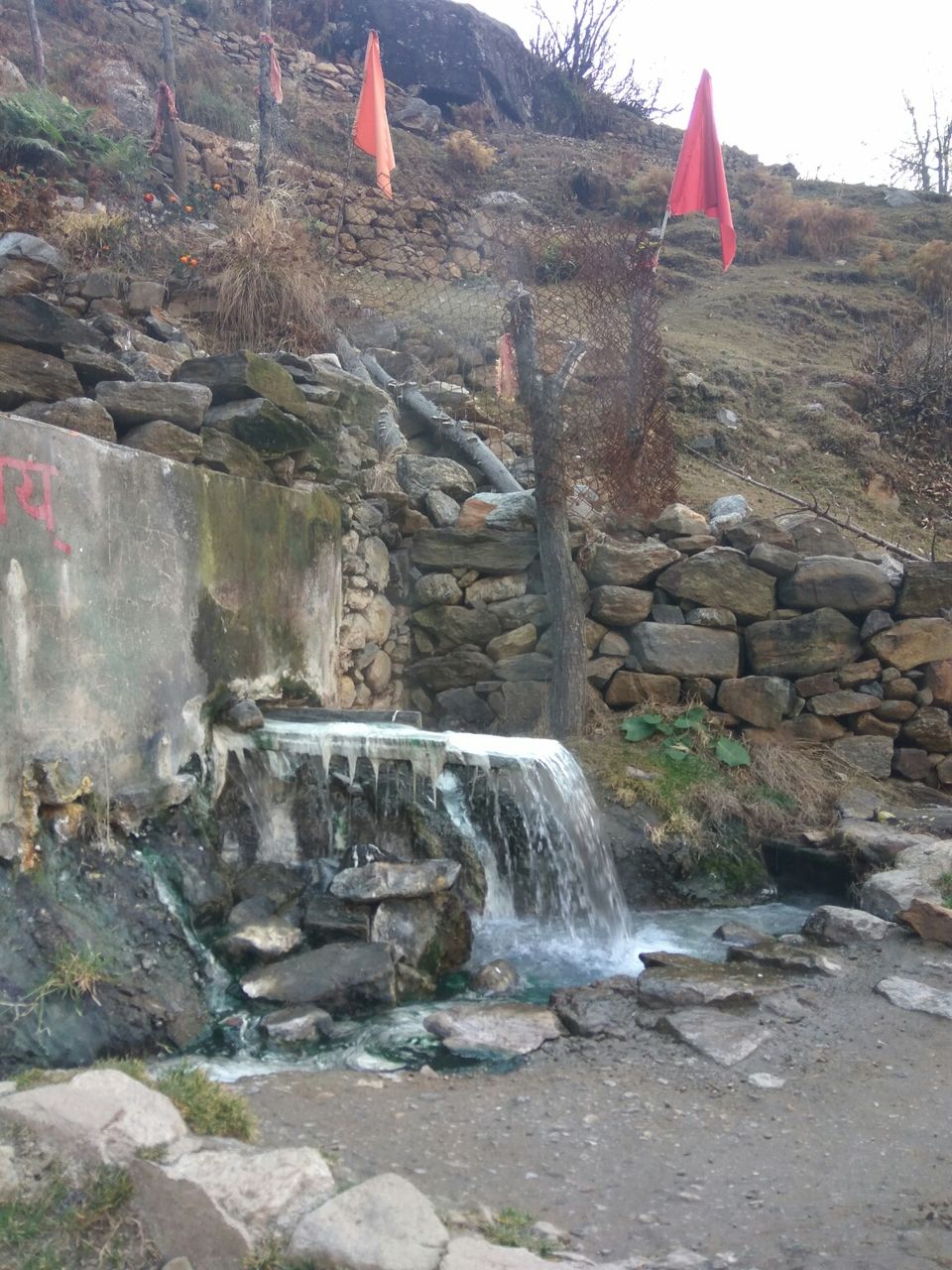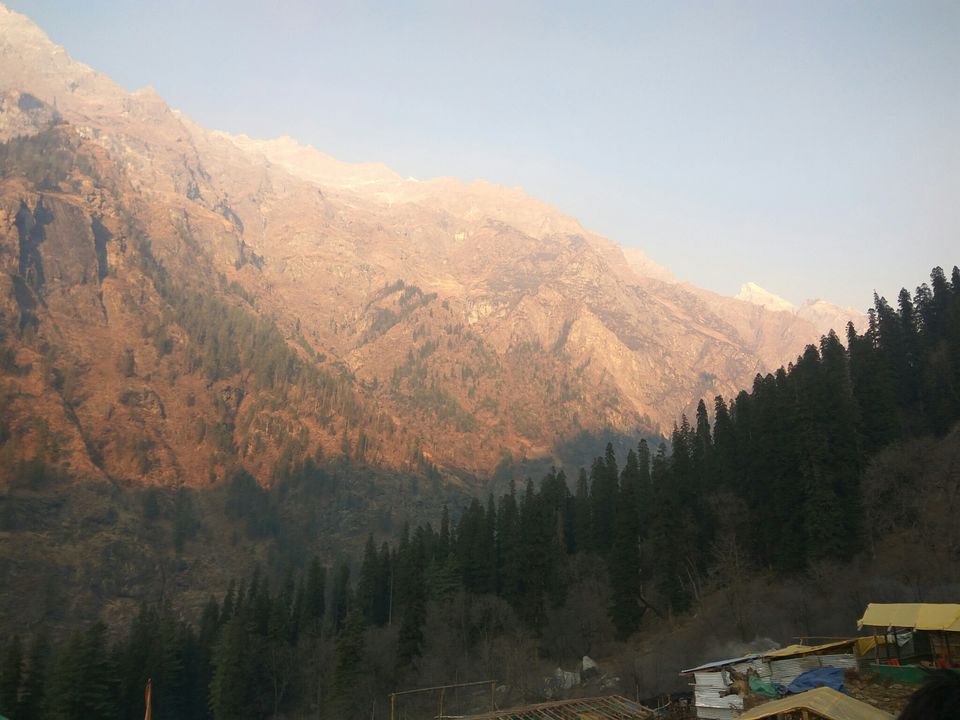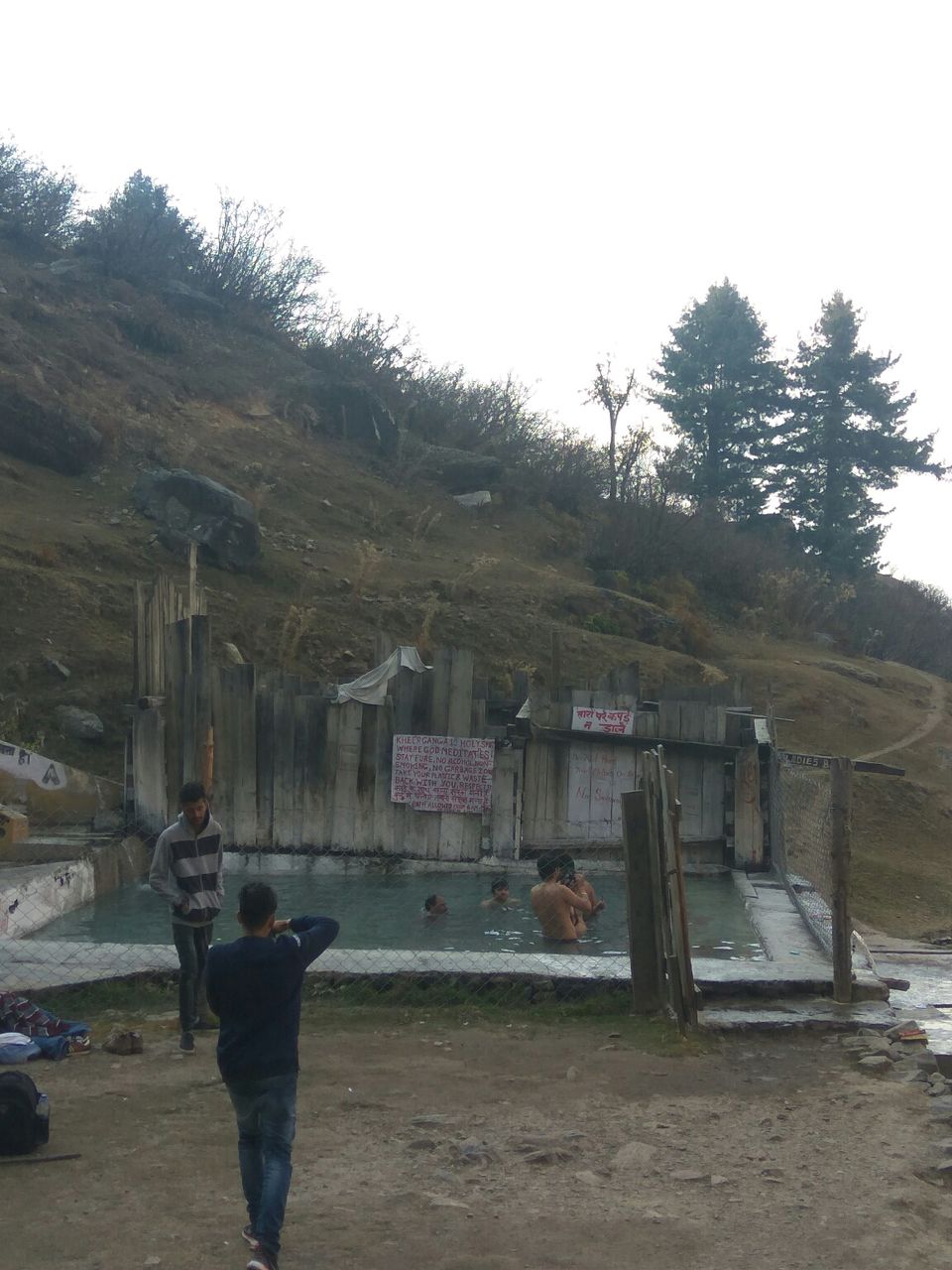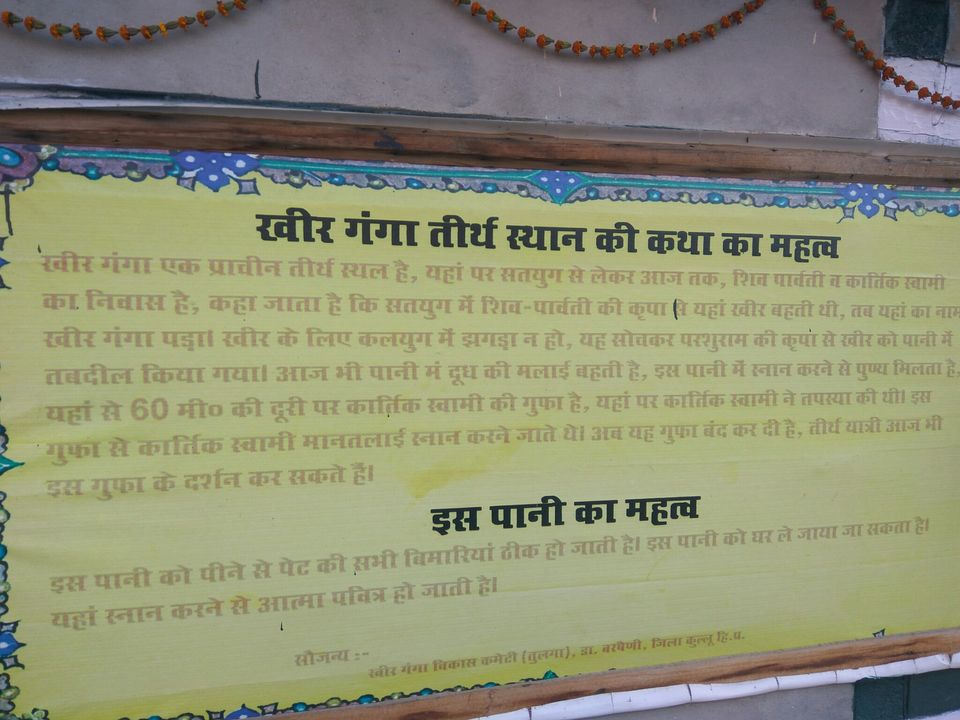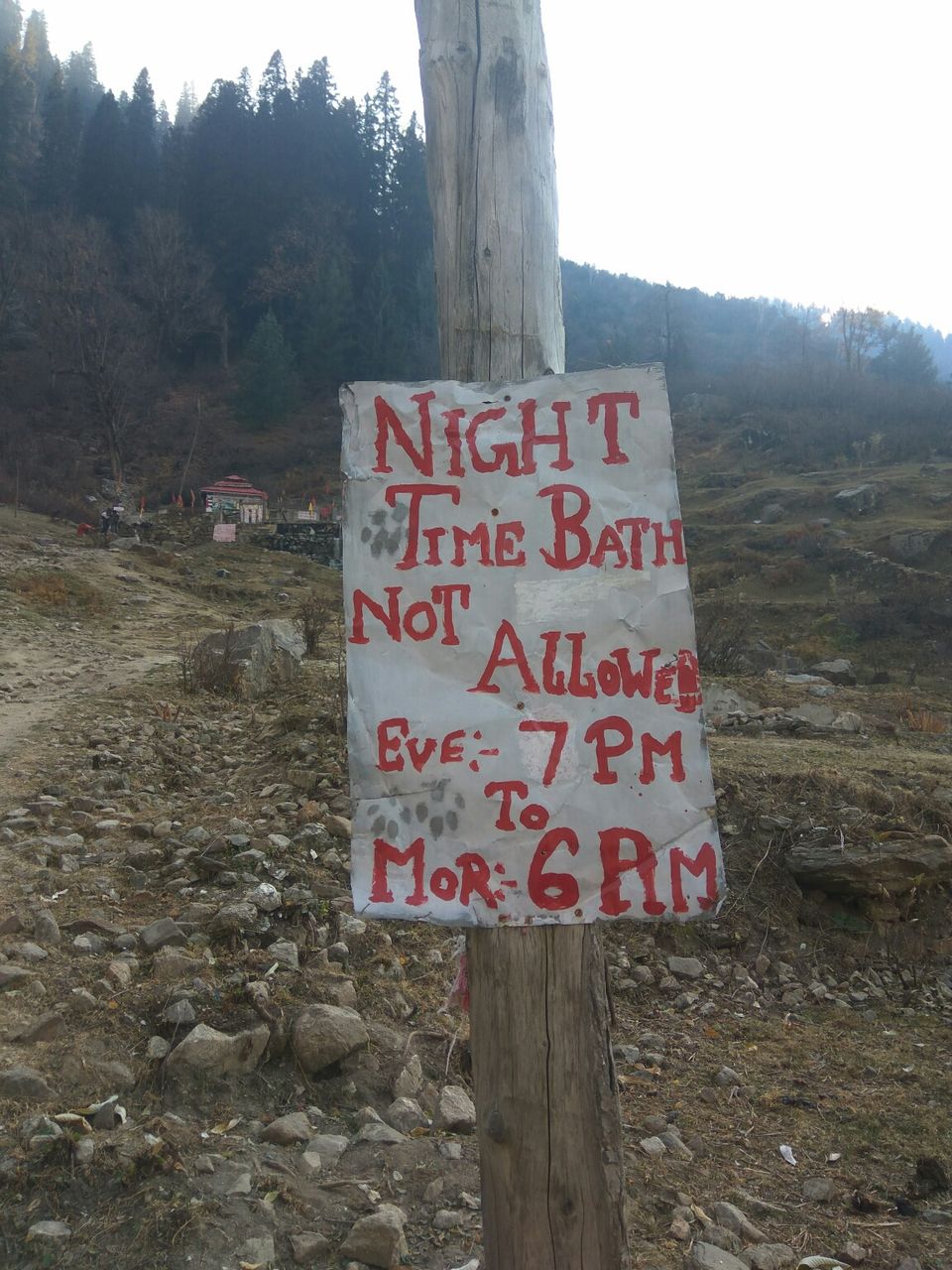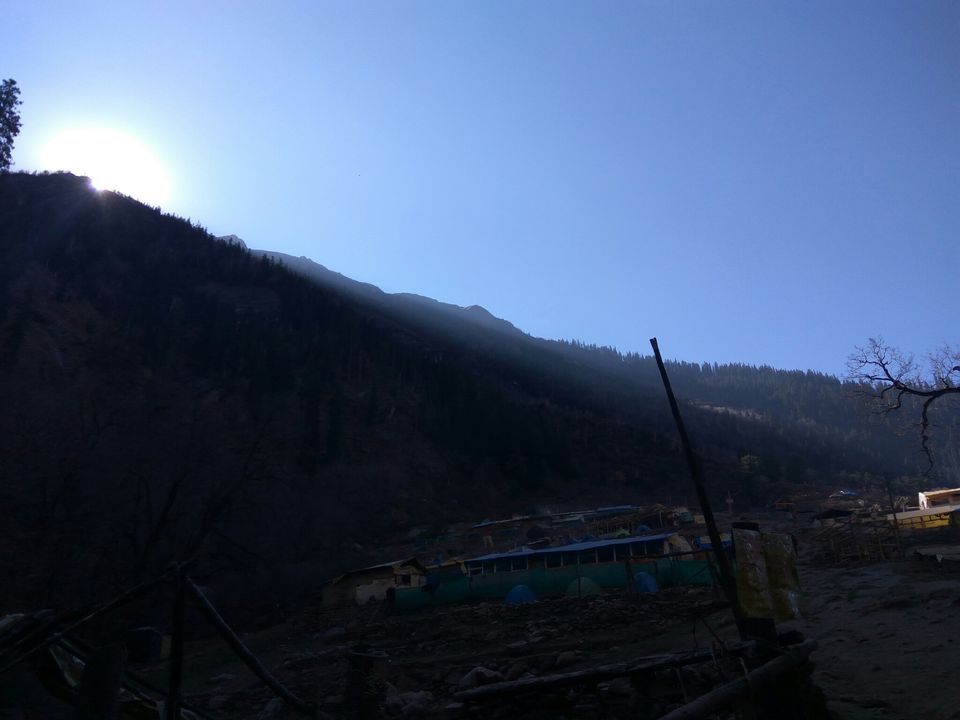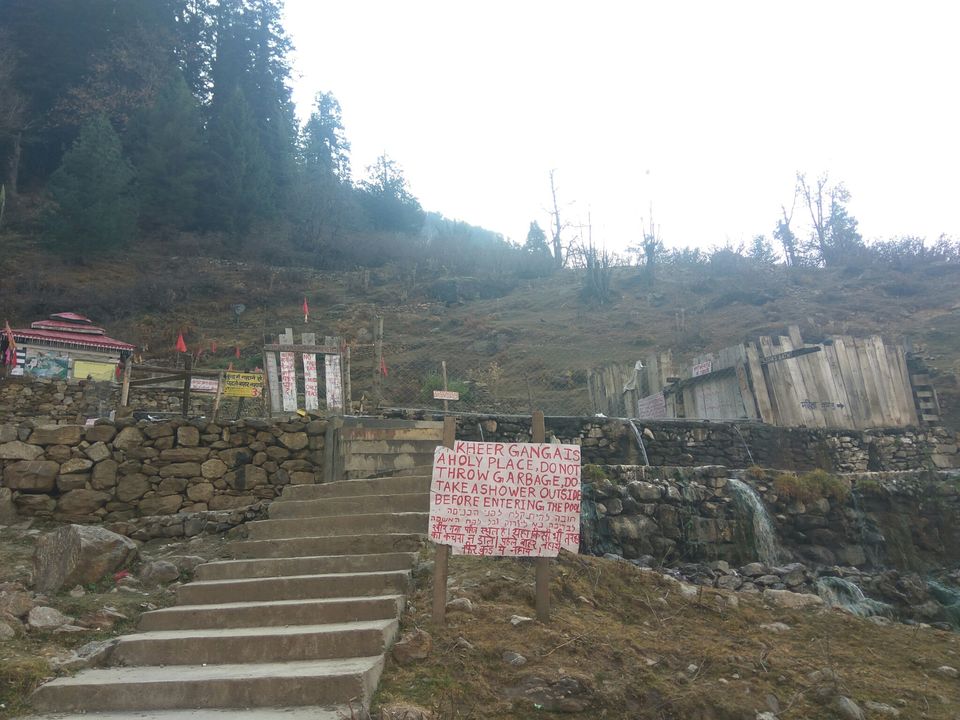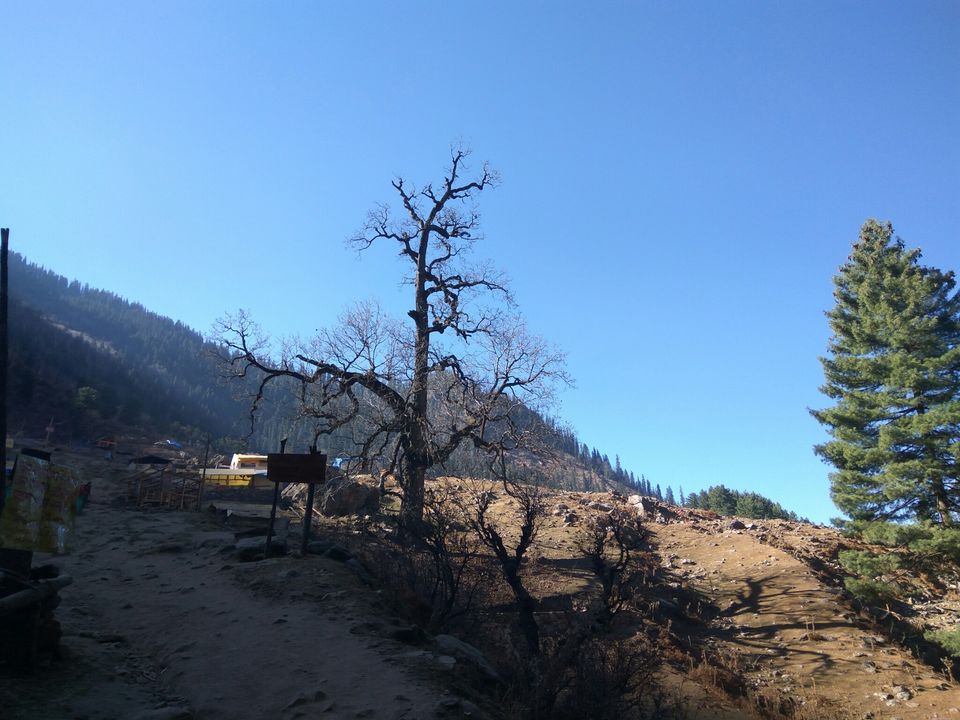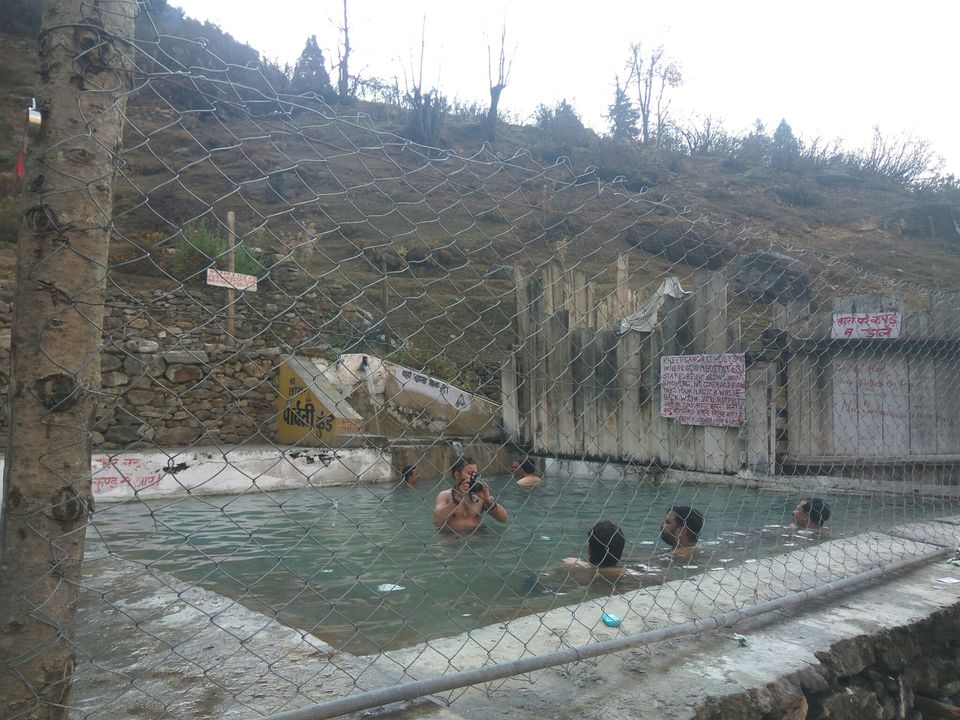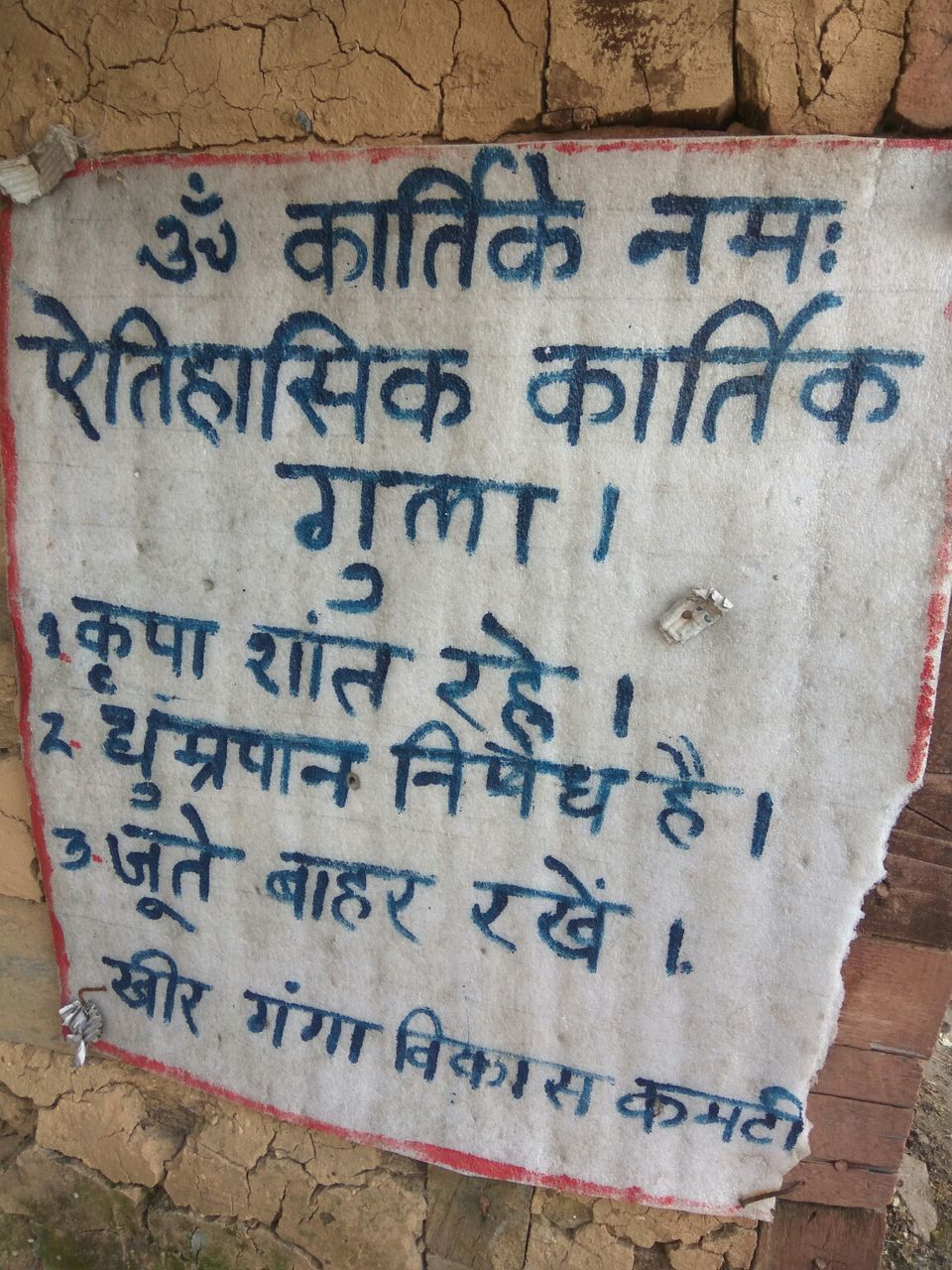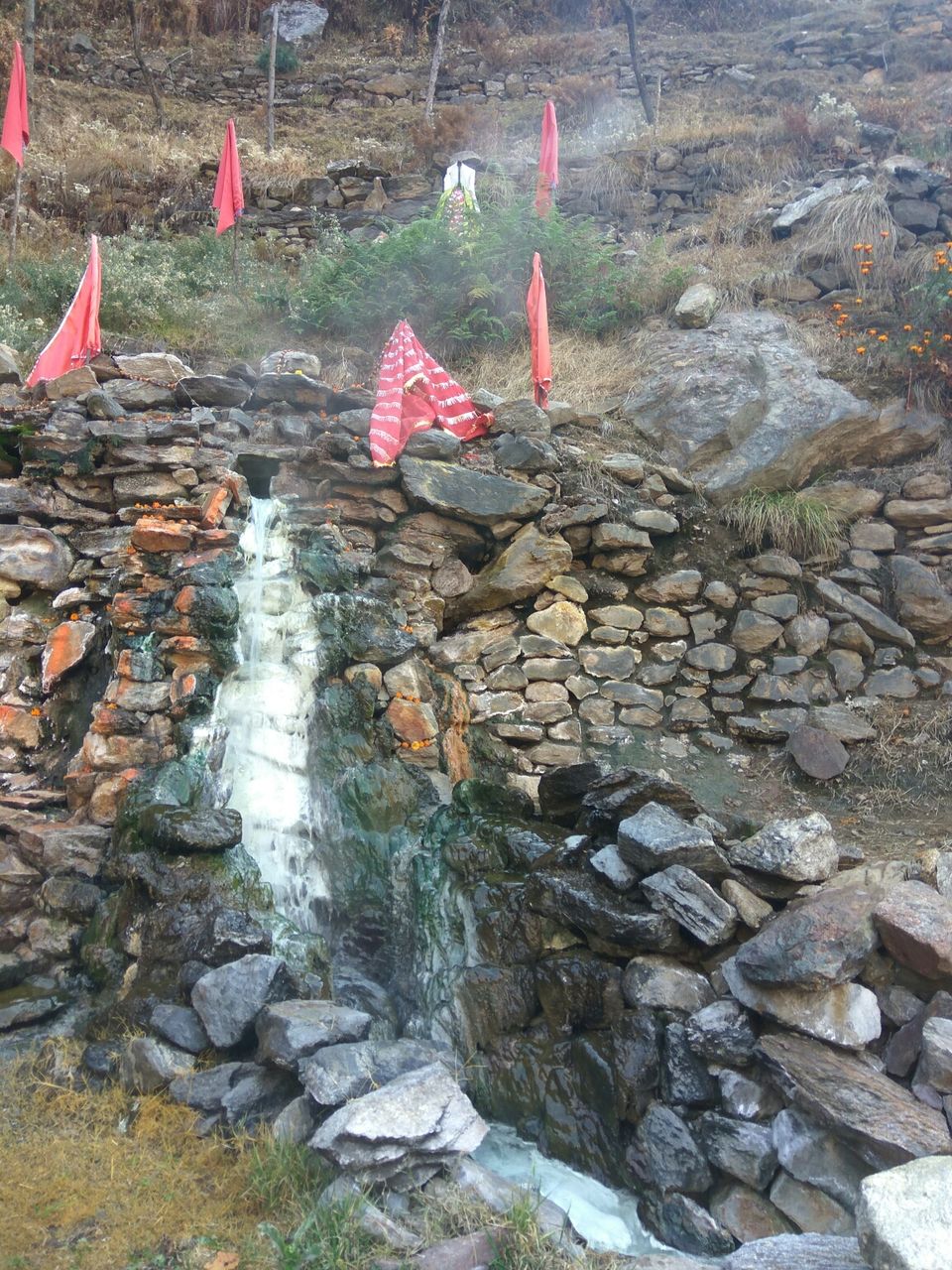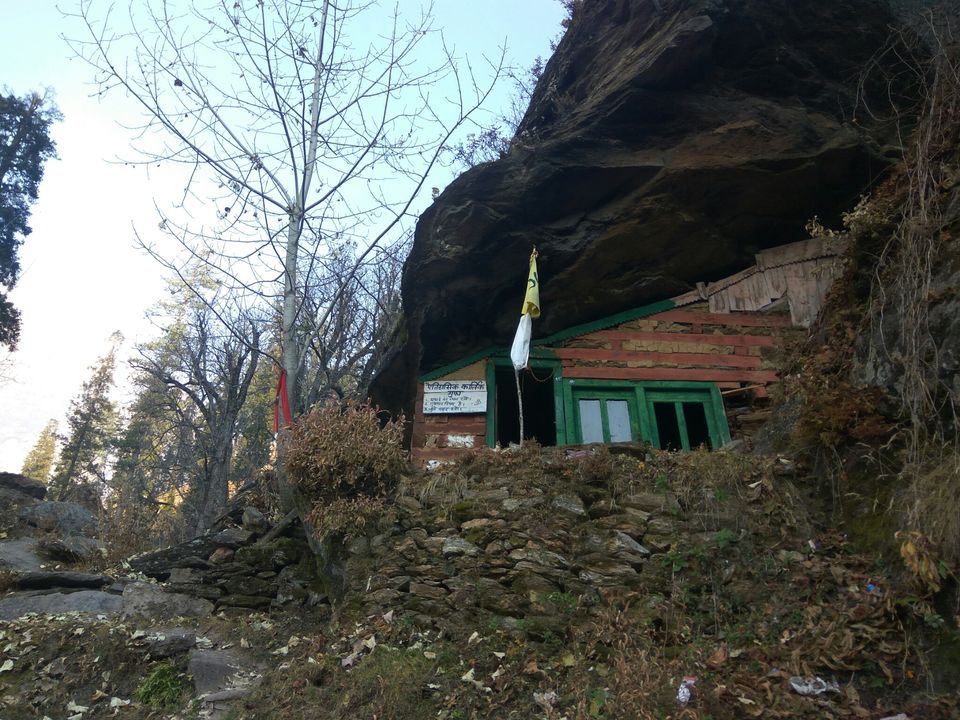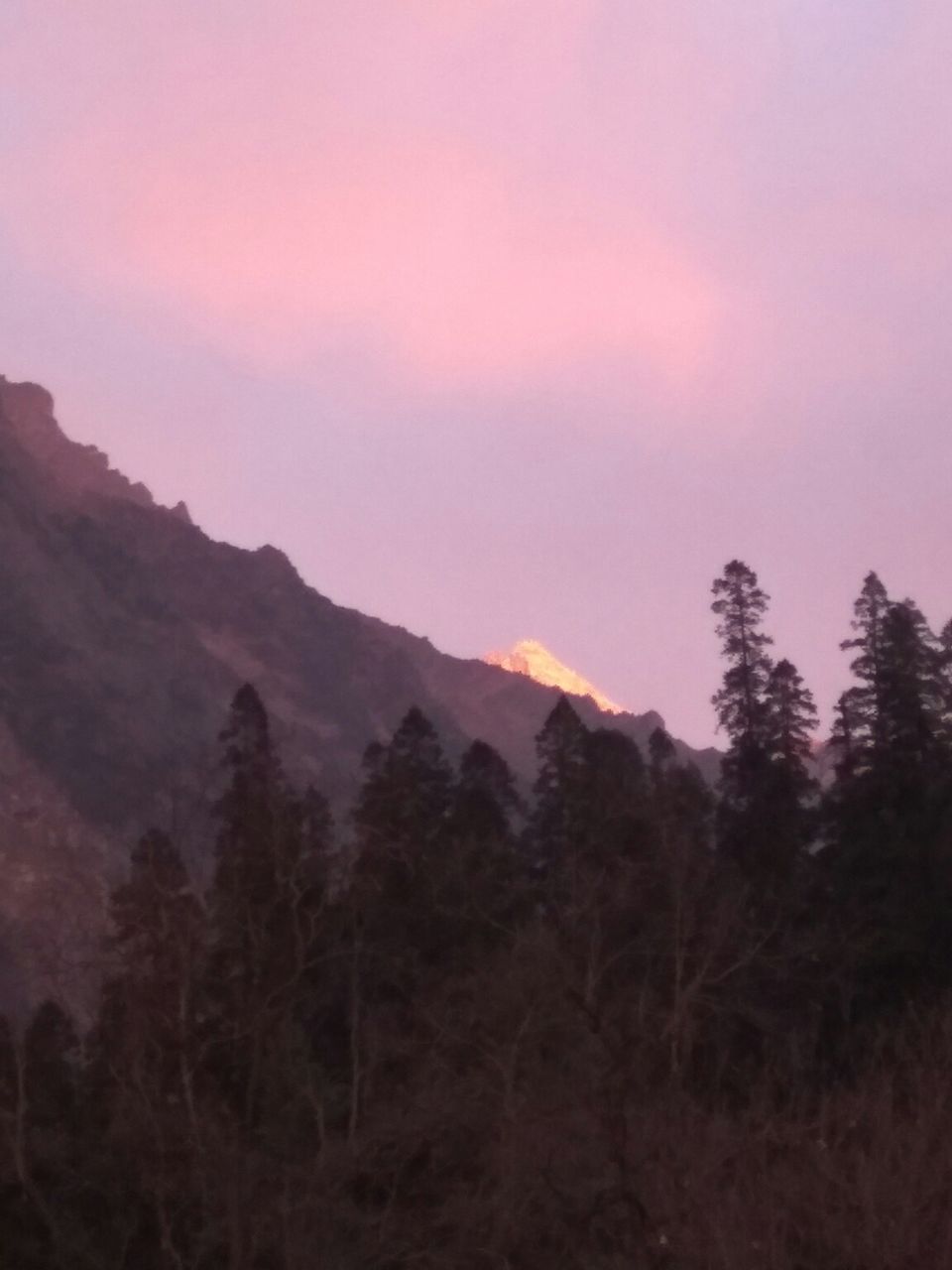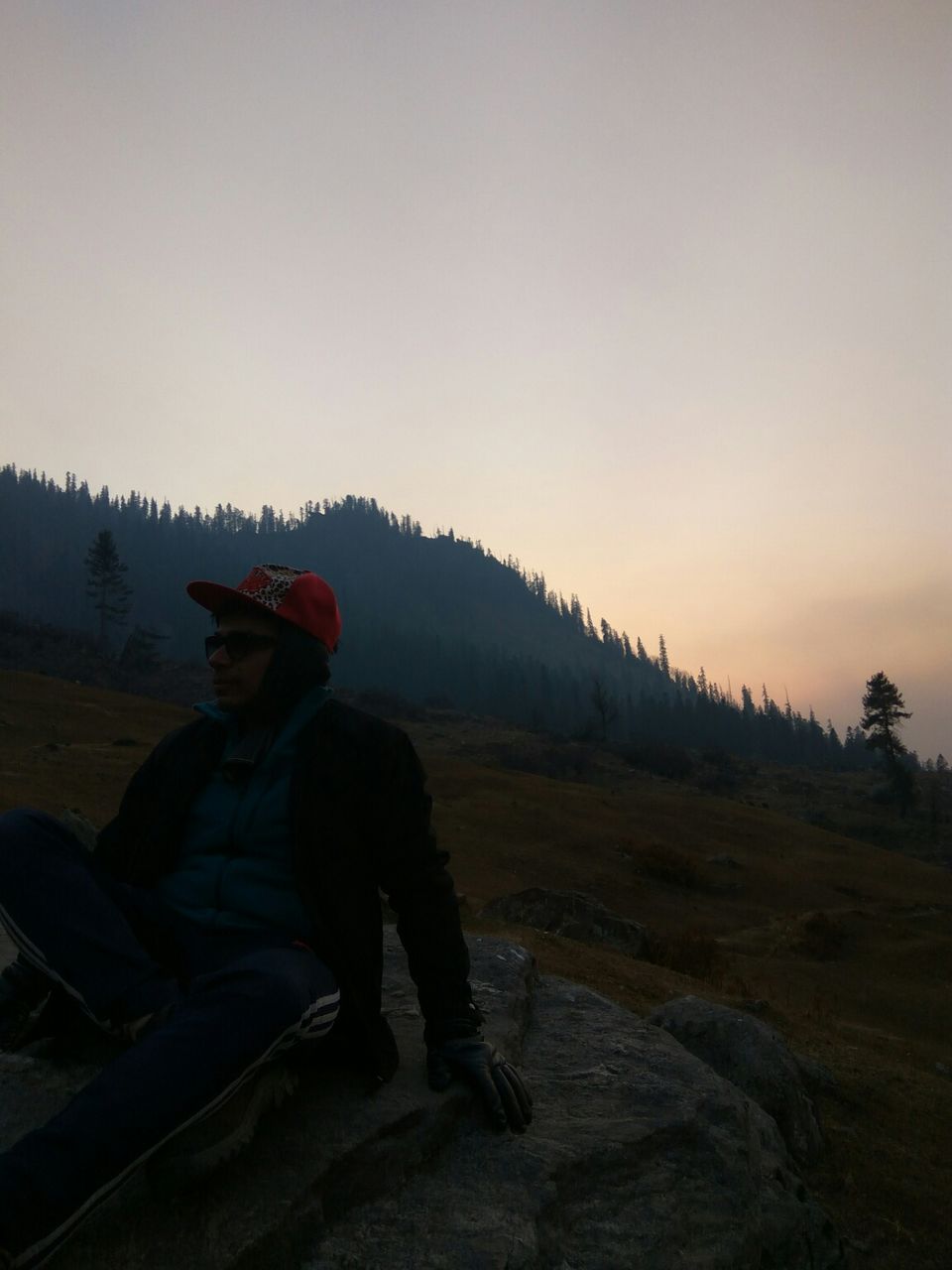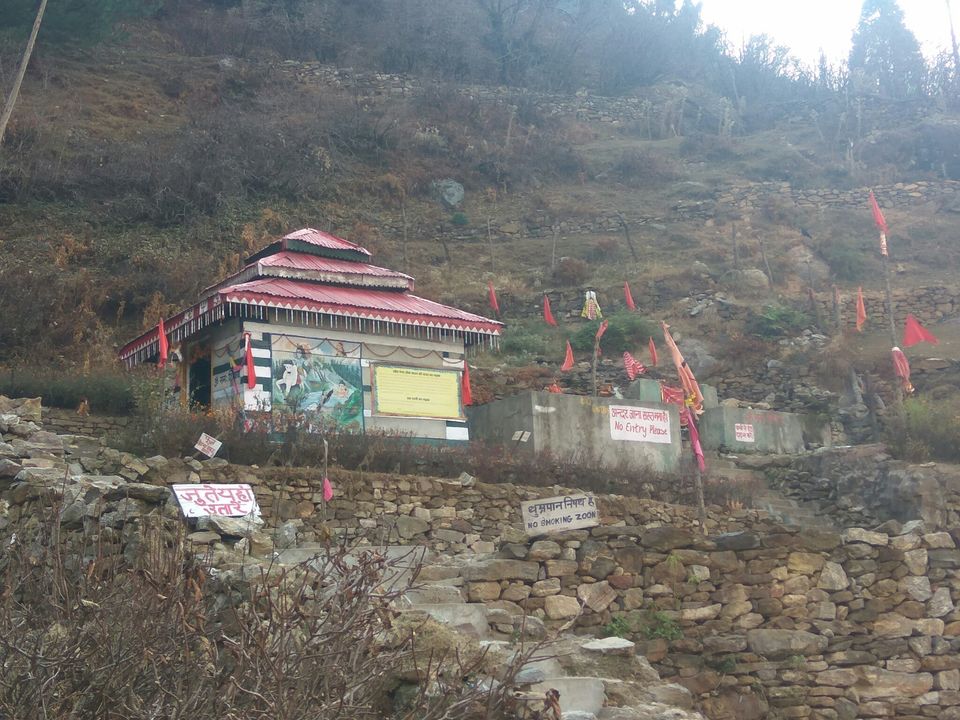 27th November'2016
Got up and took a holy bath. Had breakfast and got ready to get down of kheerganga.
We left kheerganga around 11:30.
We took the second route i.e. Nakthan & Rudranag village route.
We managed to get down in 3 hours. As we got to know theres a bus till manali from Barshaini.
Our chandigarh friends had to leave for home. So me and vaibhav decided to stay a night in manali.
We rushed down clicked few pictures. And sat in a hrtc bus. It charged us Rs.145/- per head till manali. Which is quite cheap. It takes 5 hours to reach Manali
By 7 we reached Manali.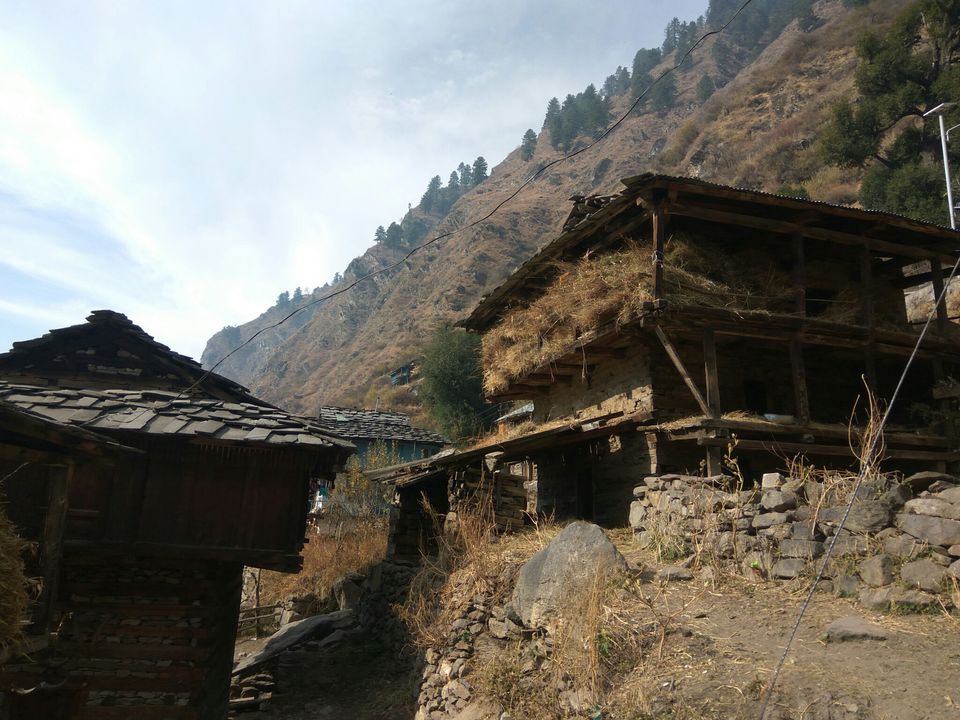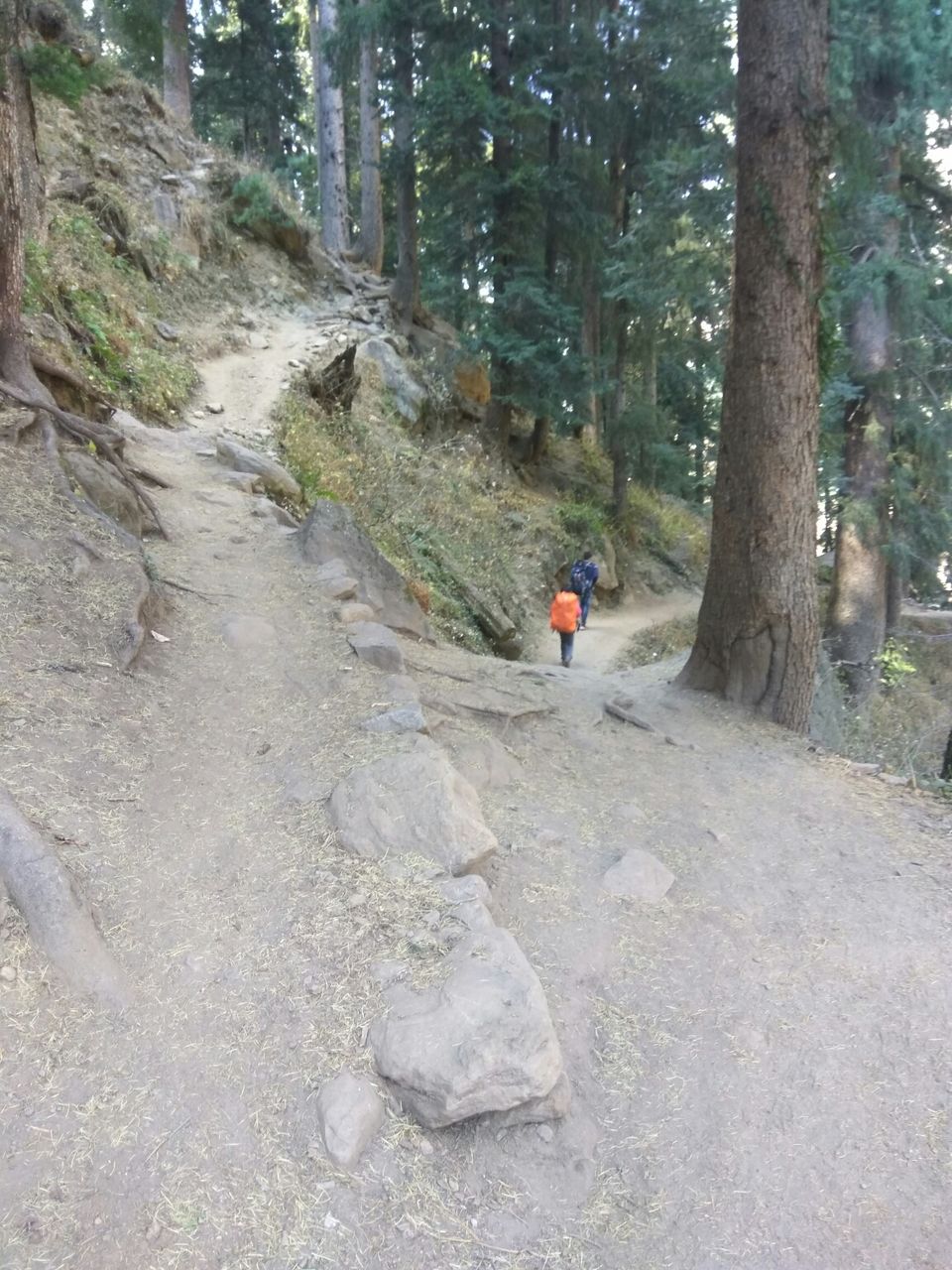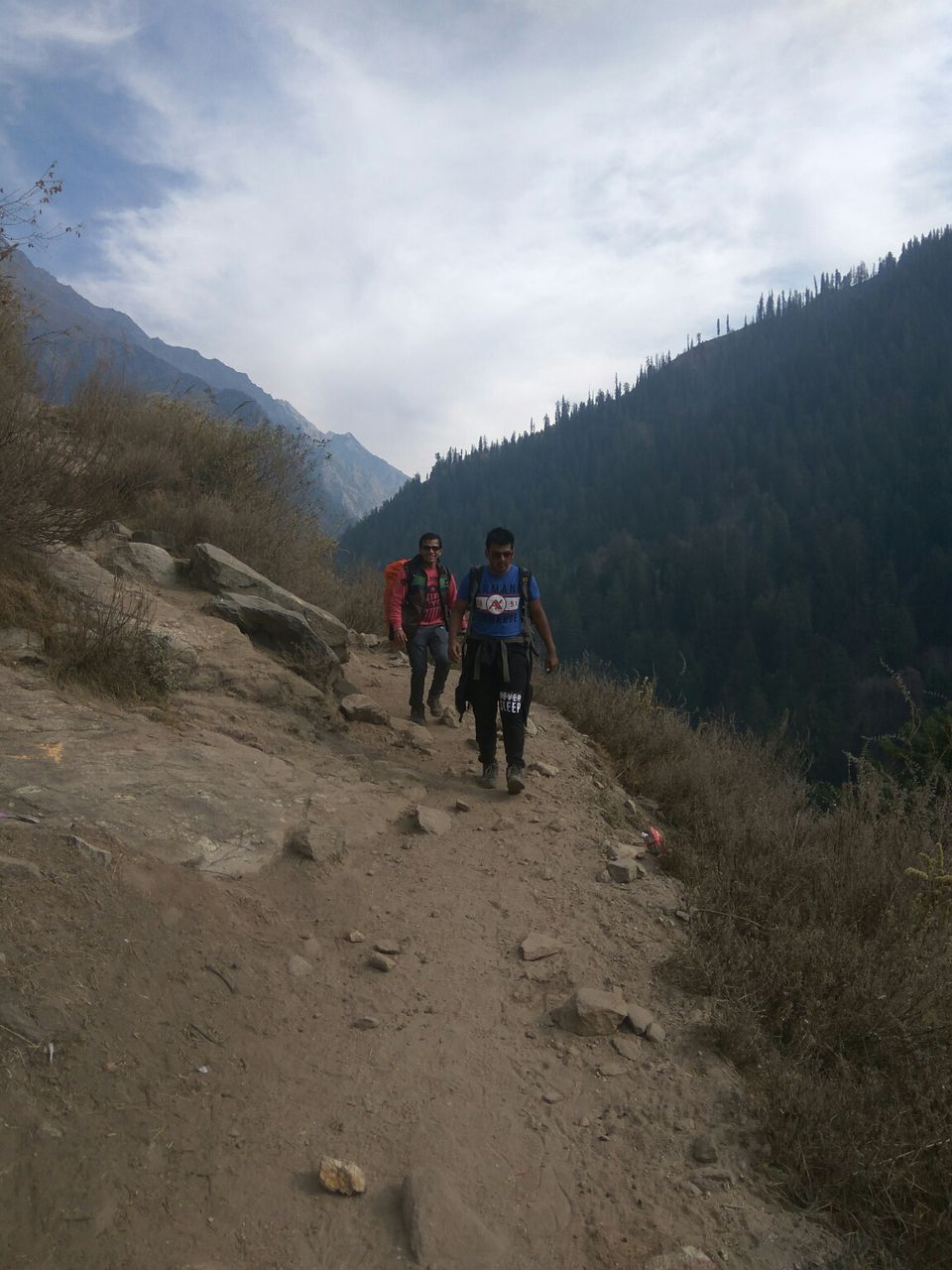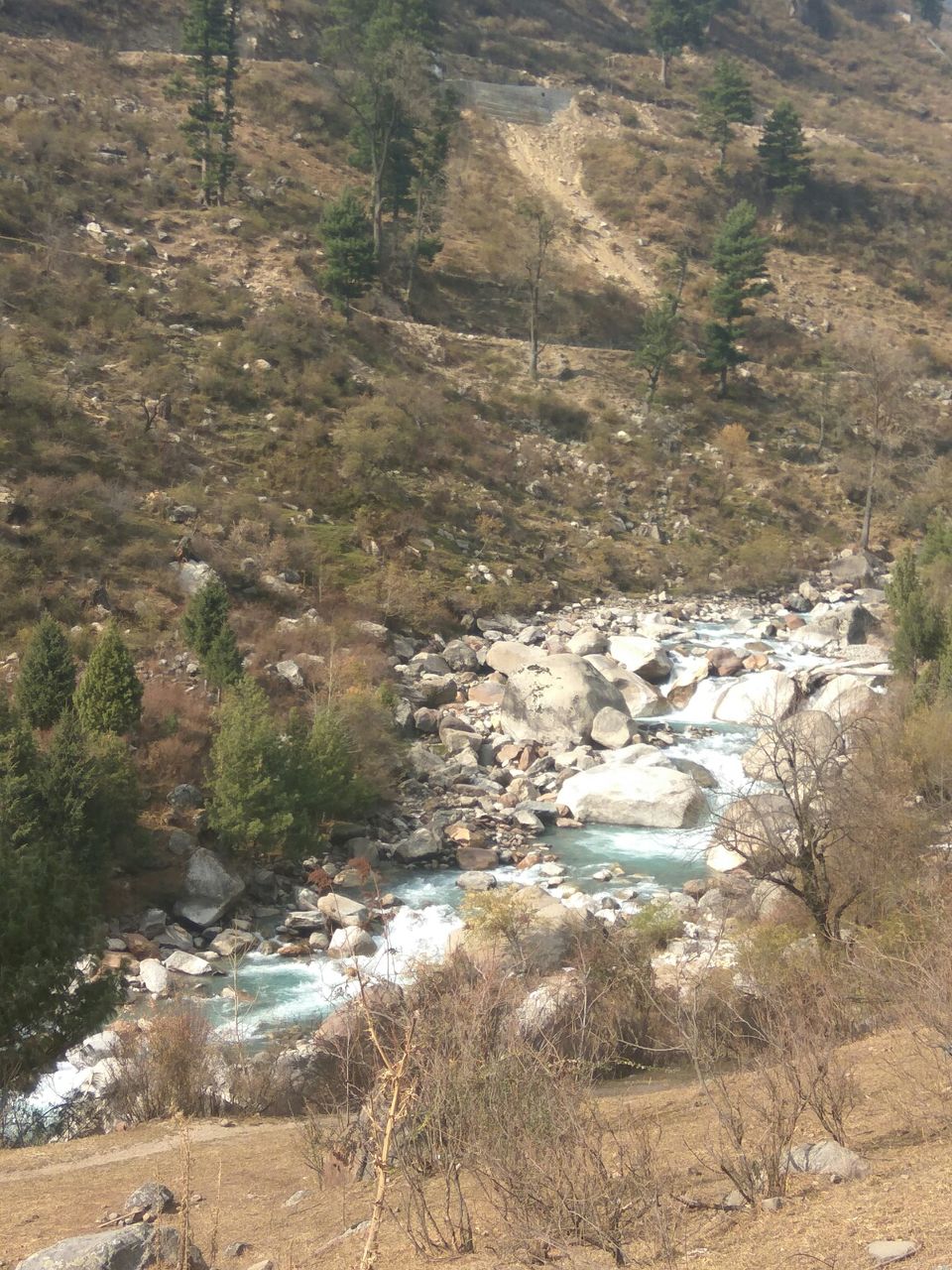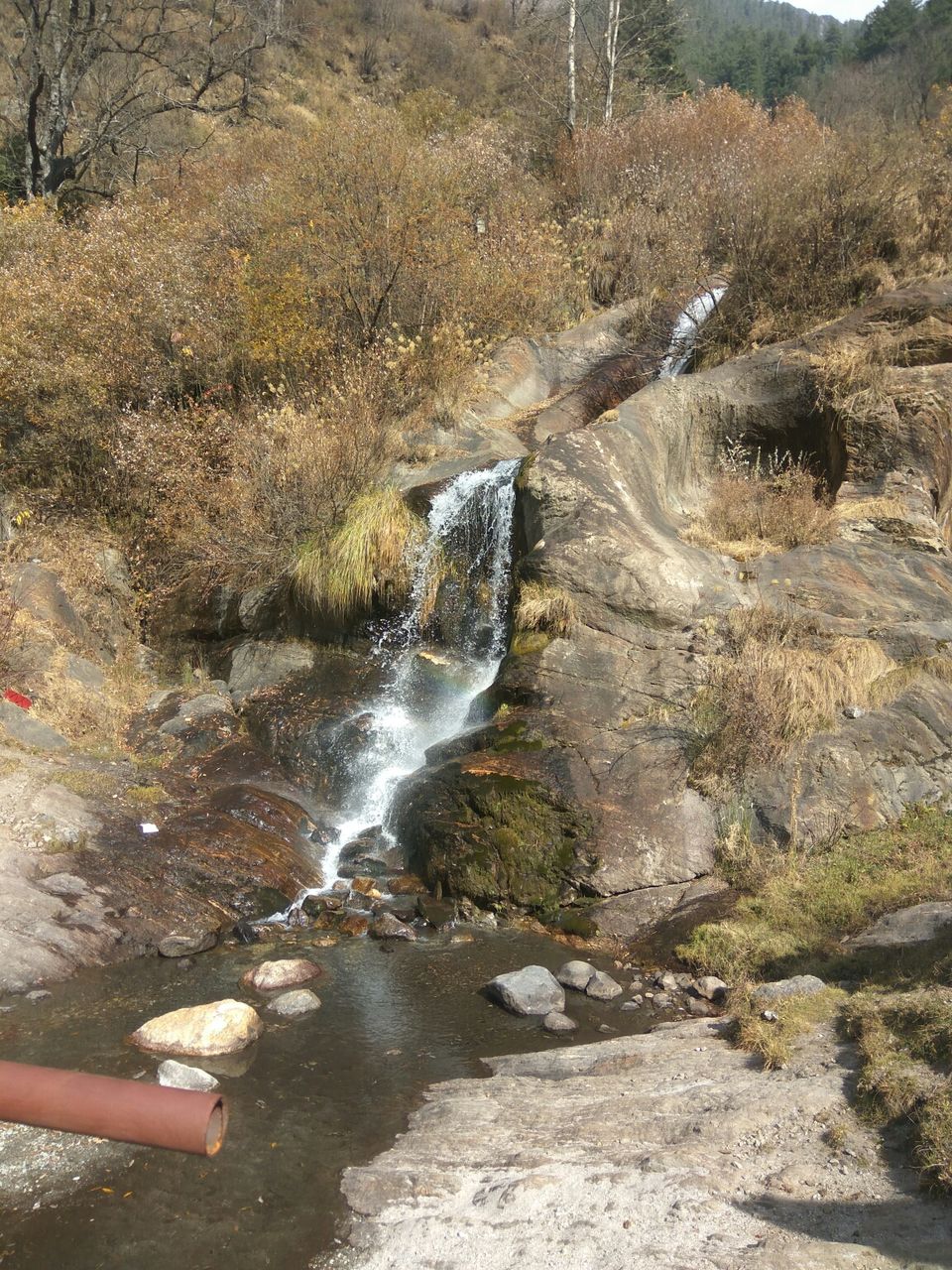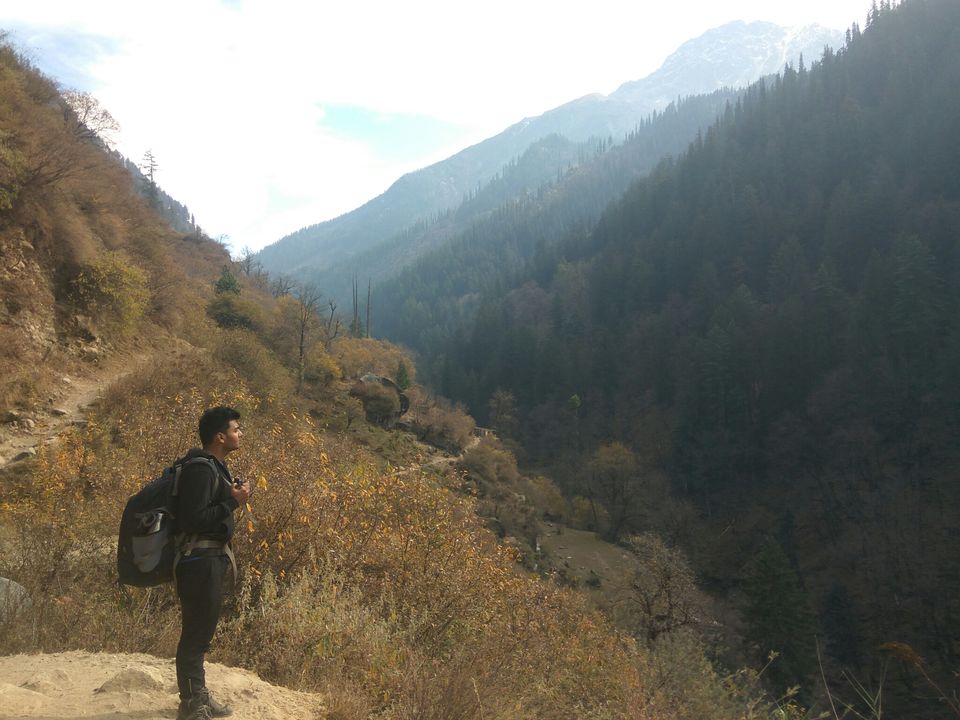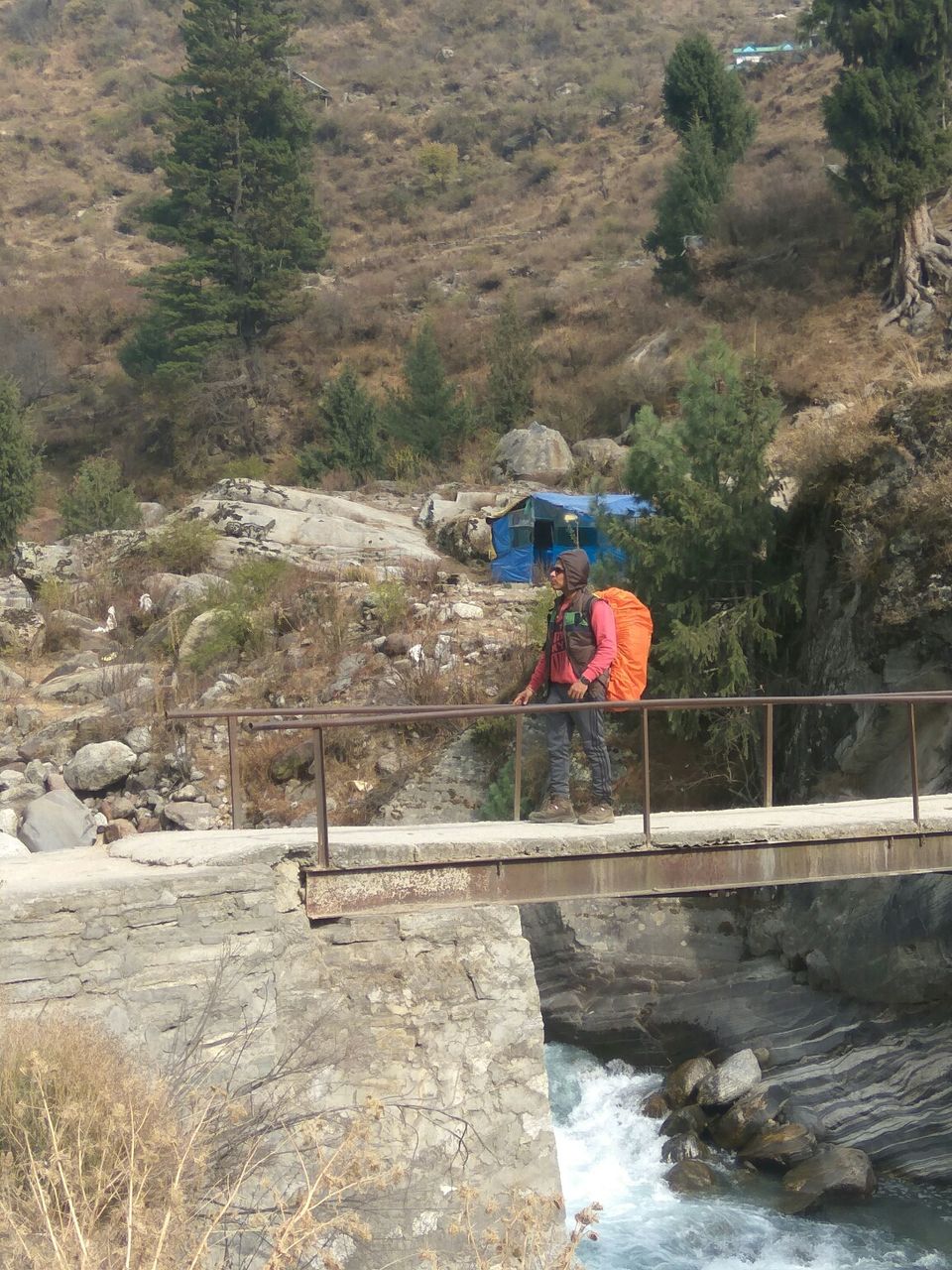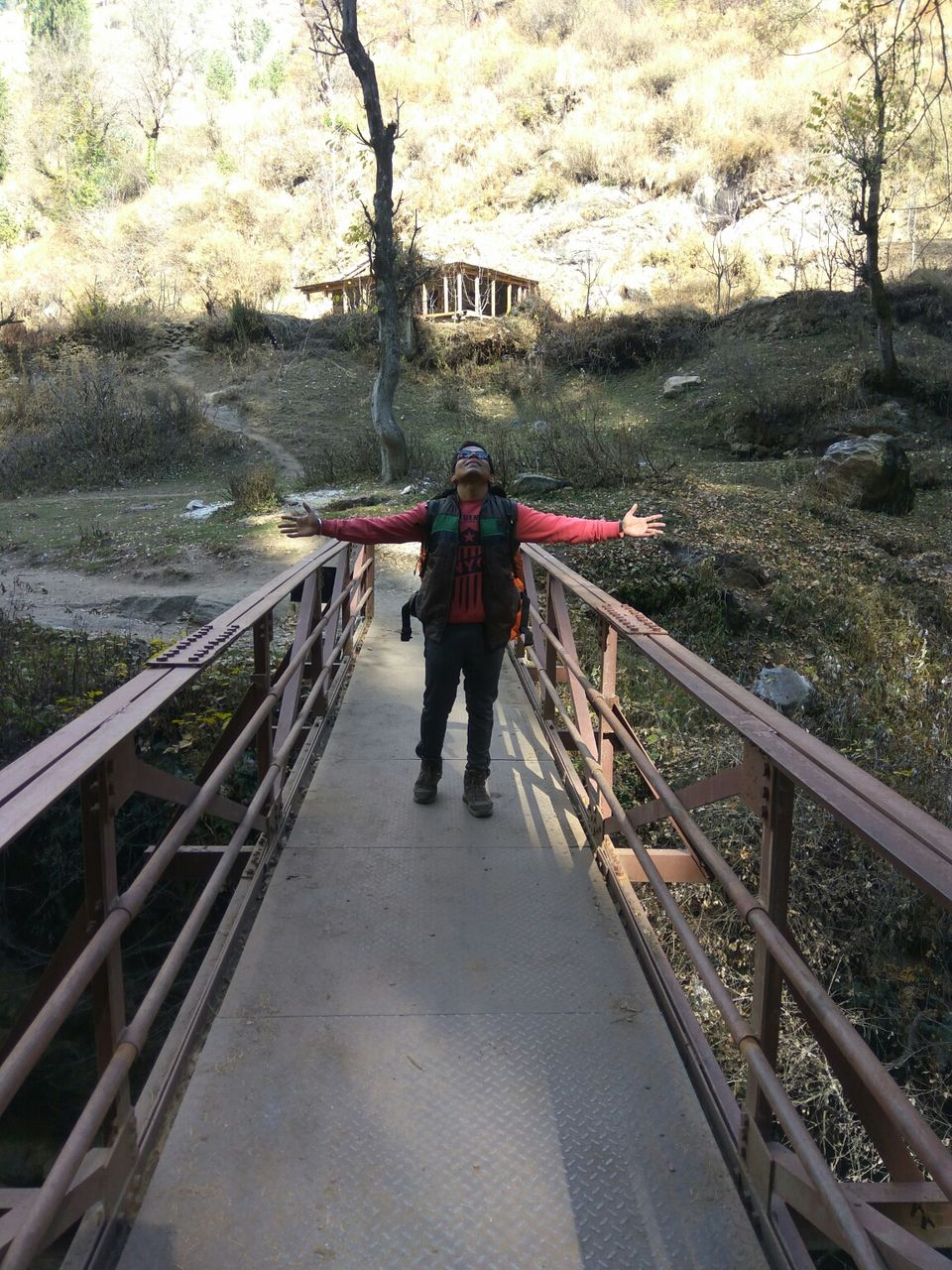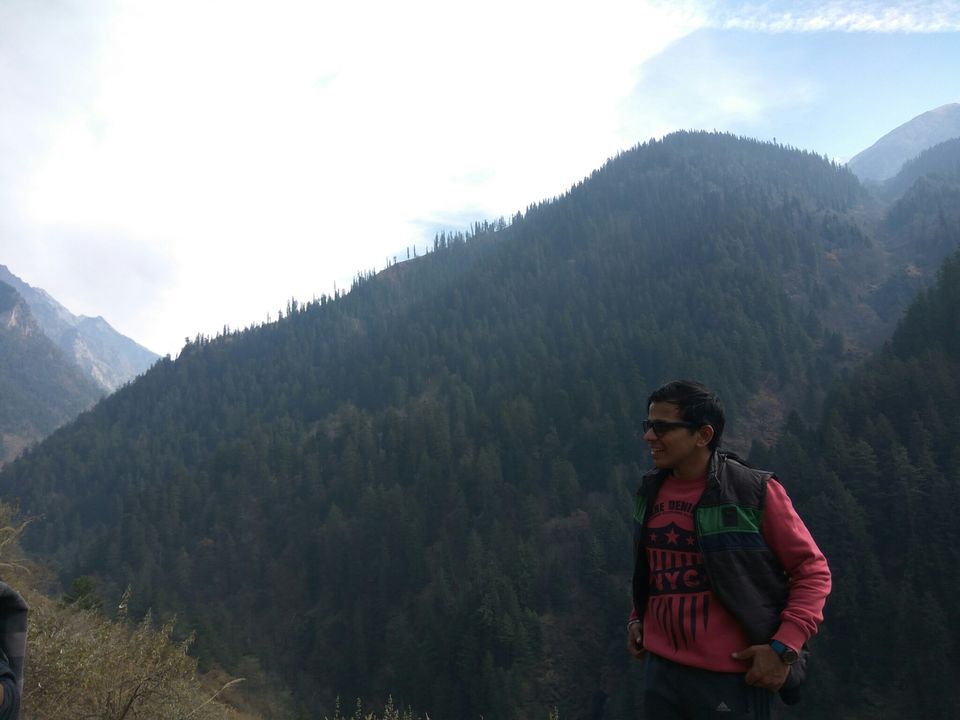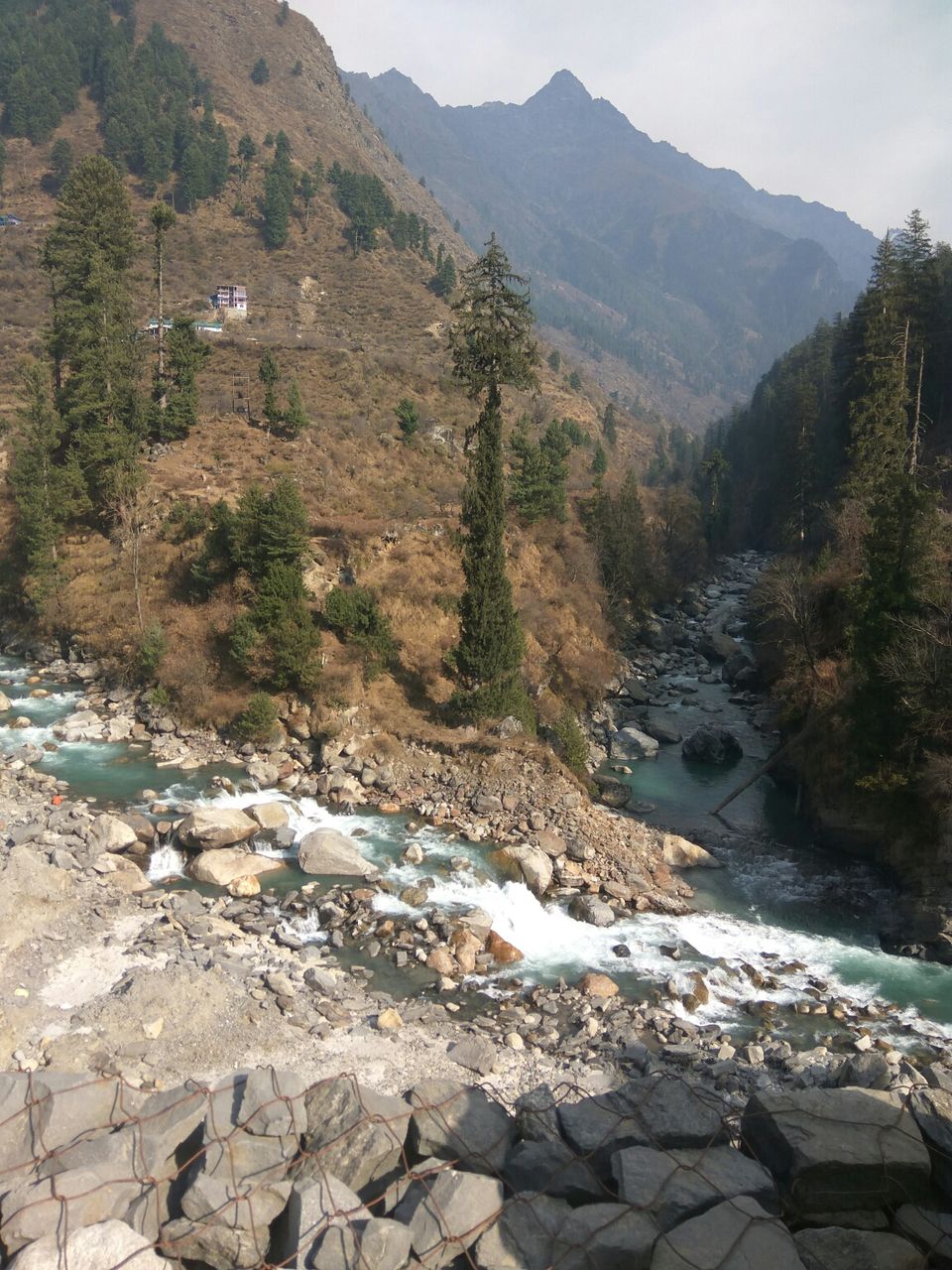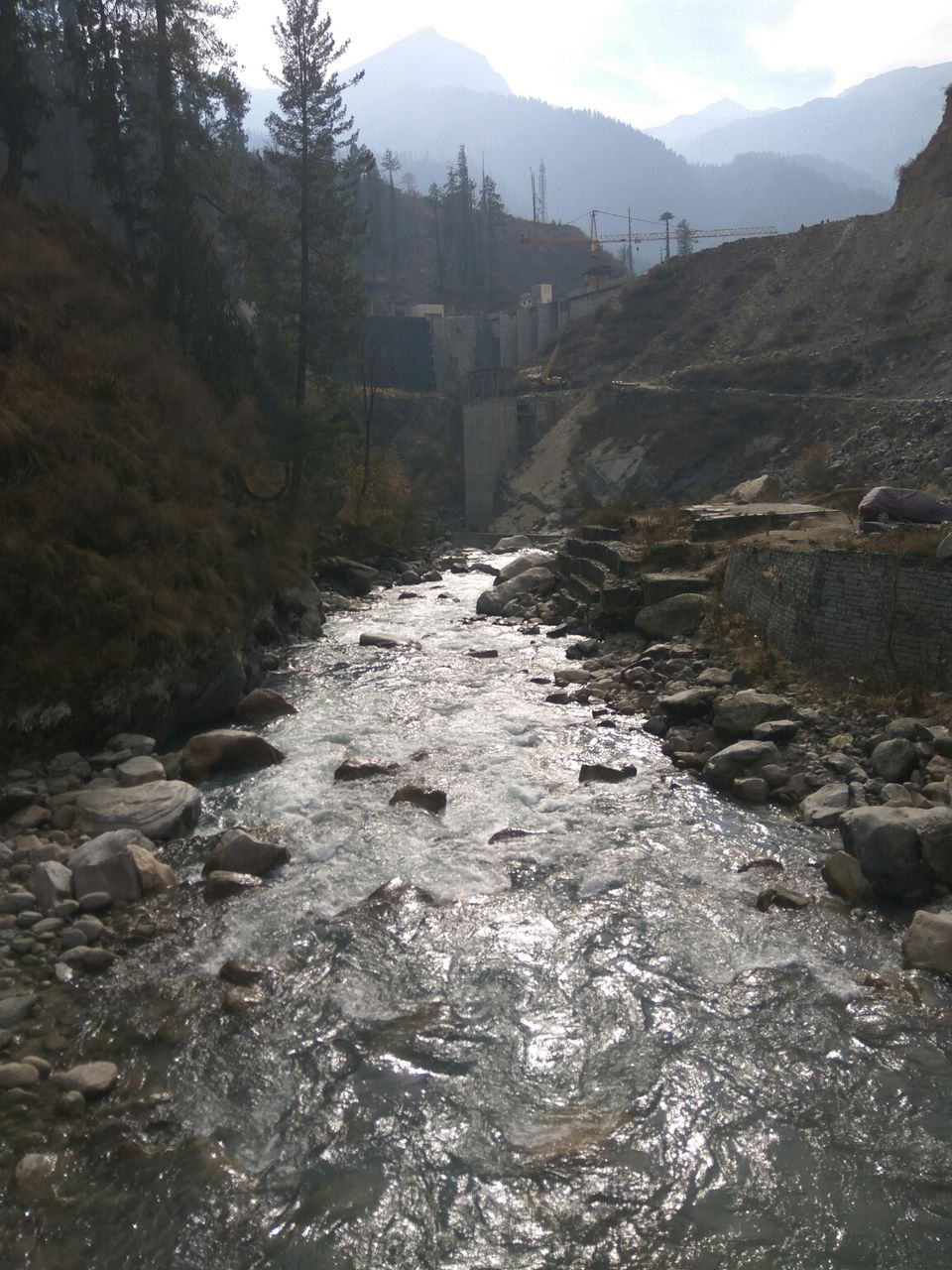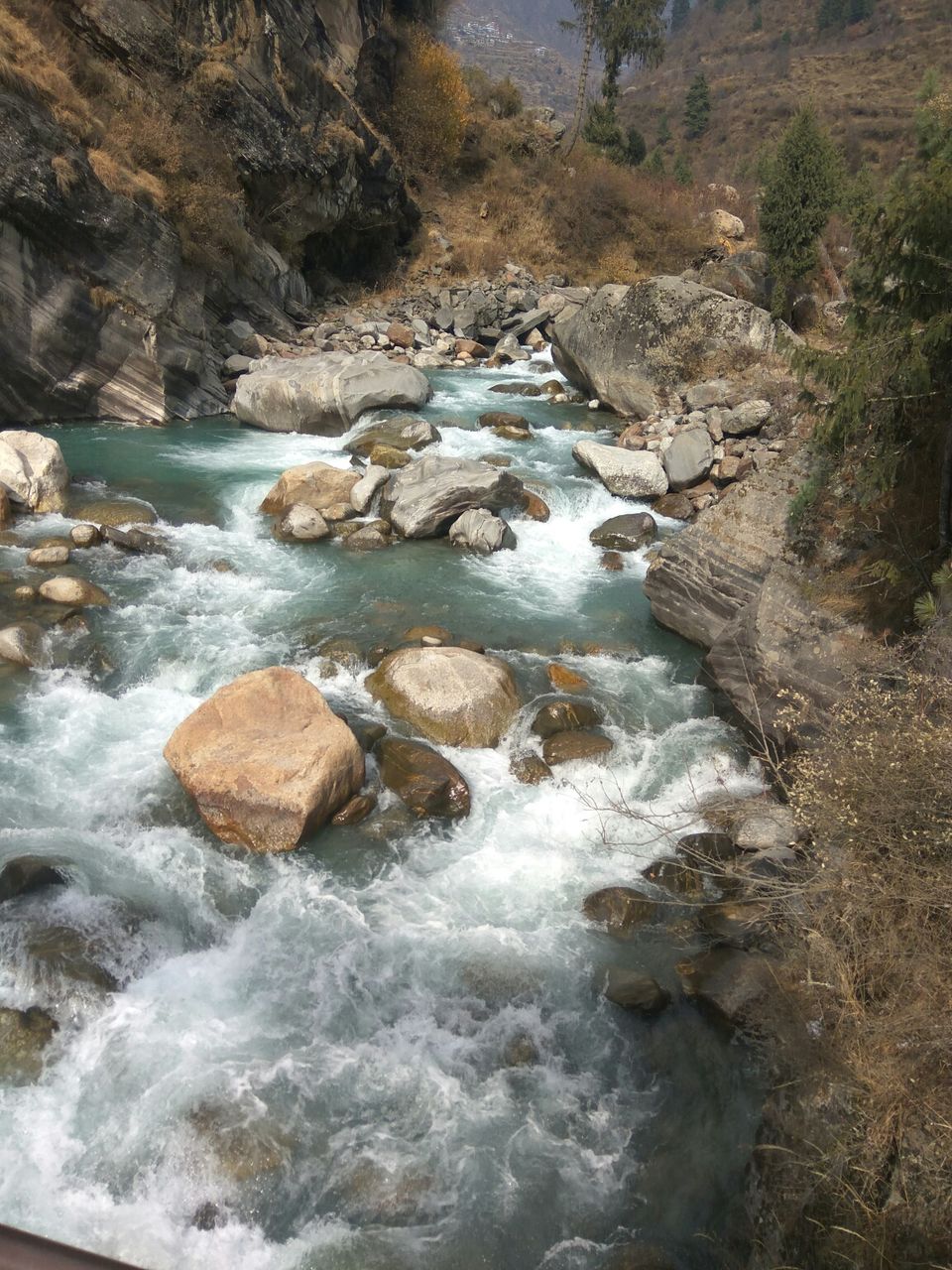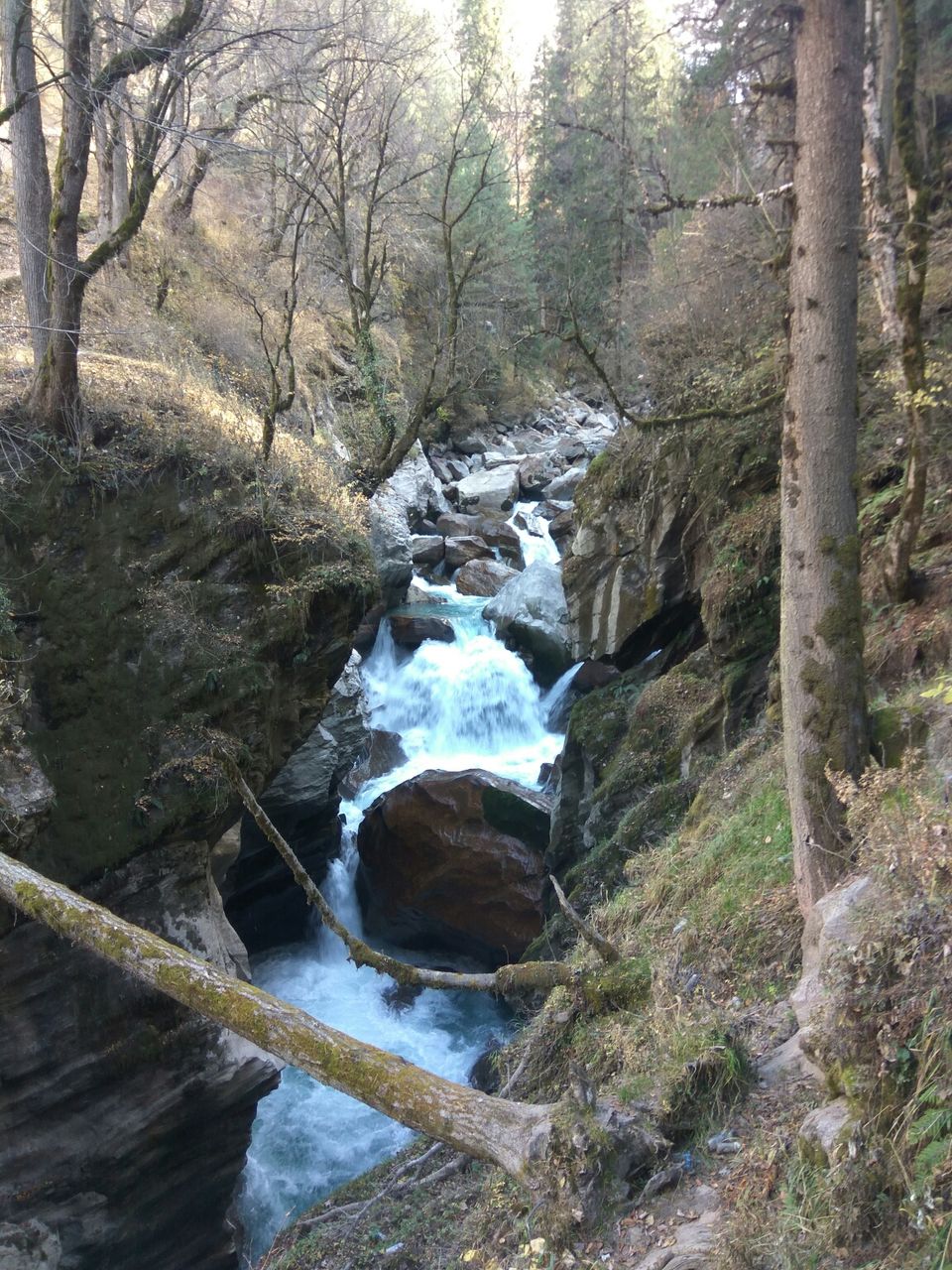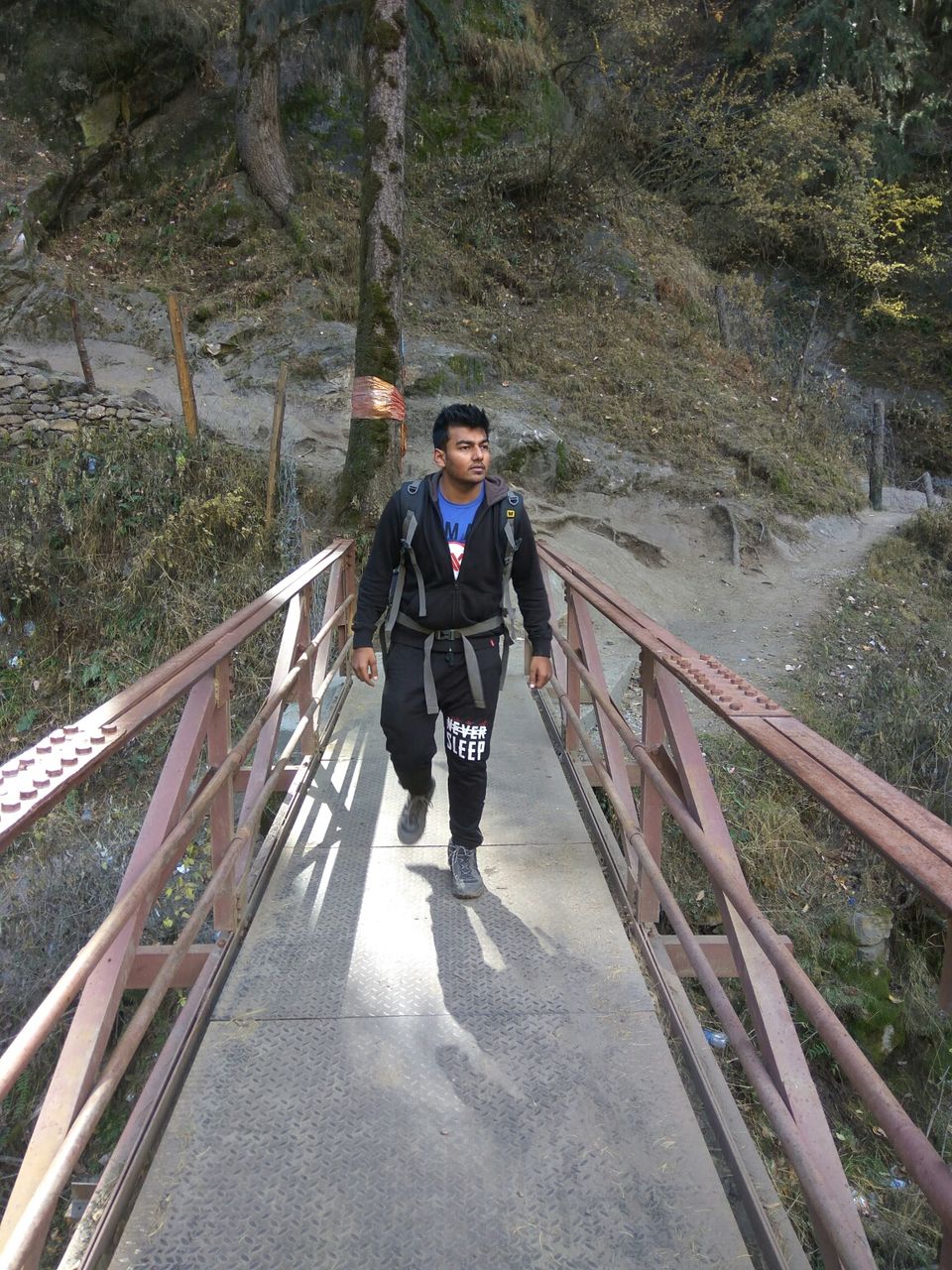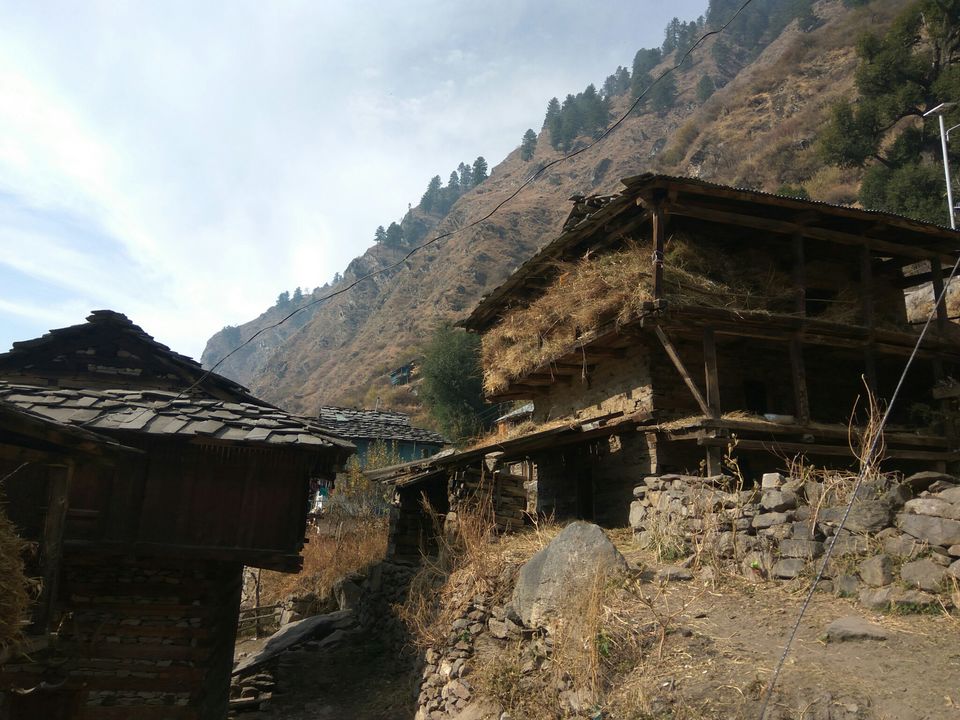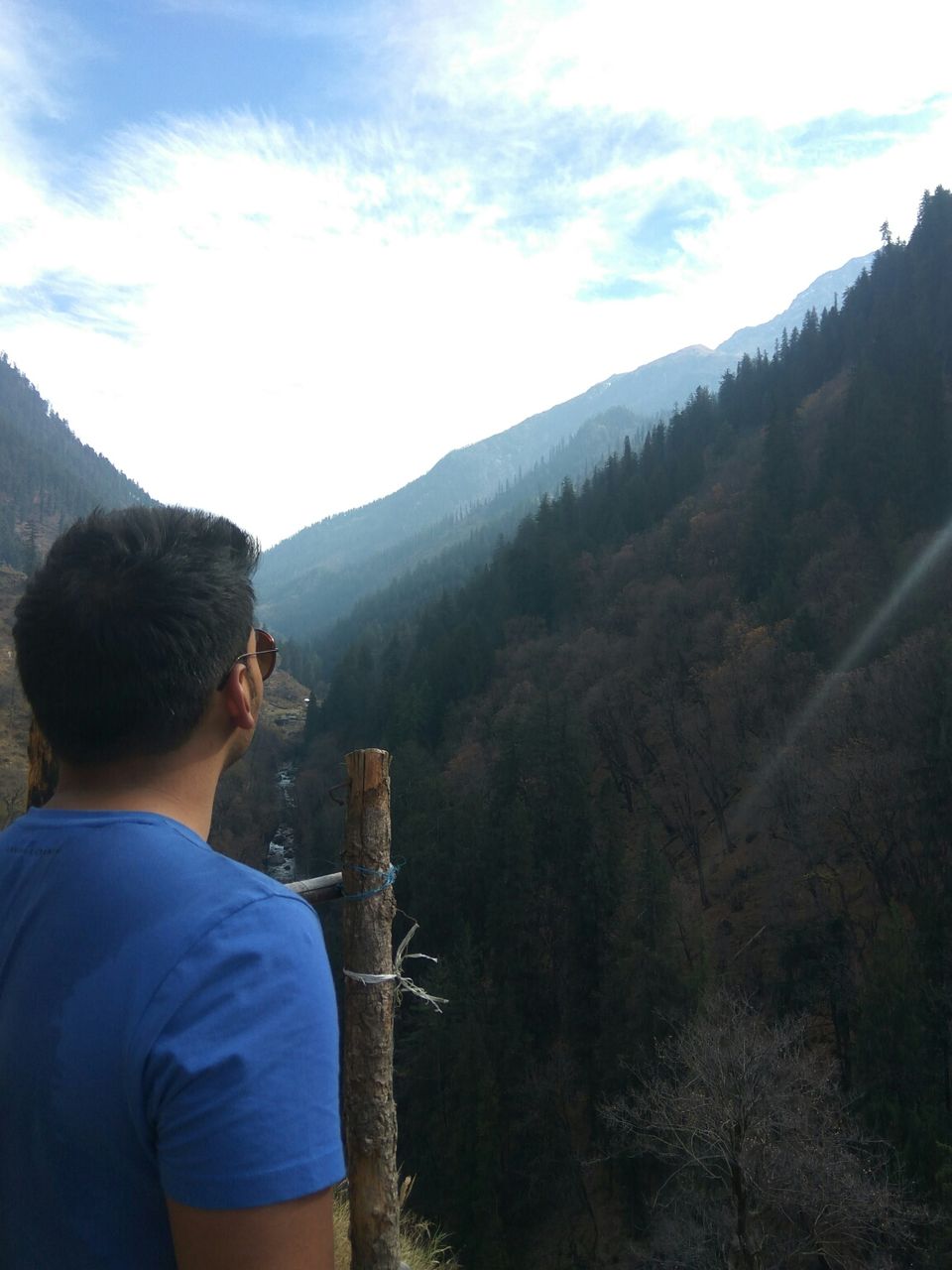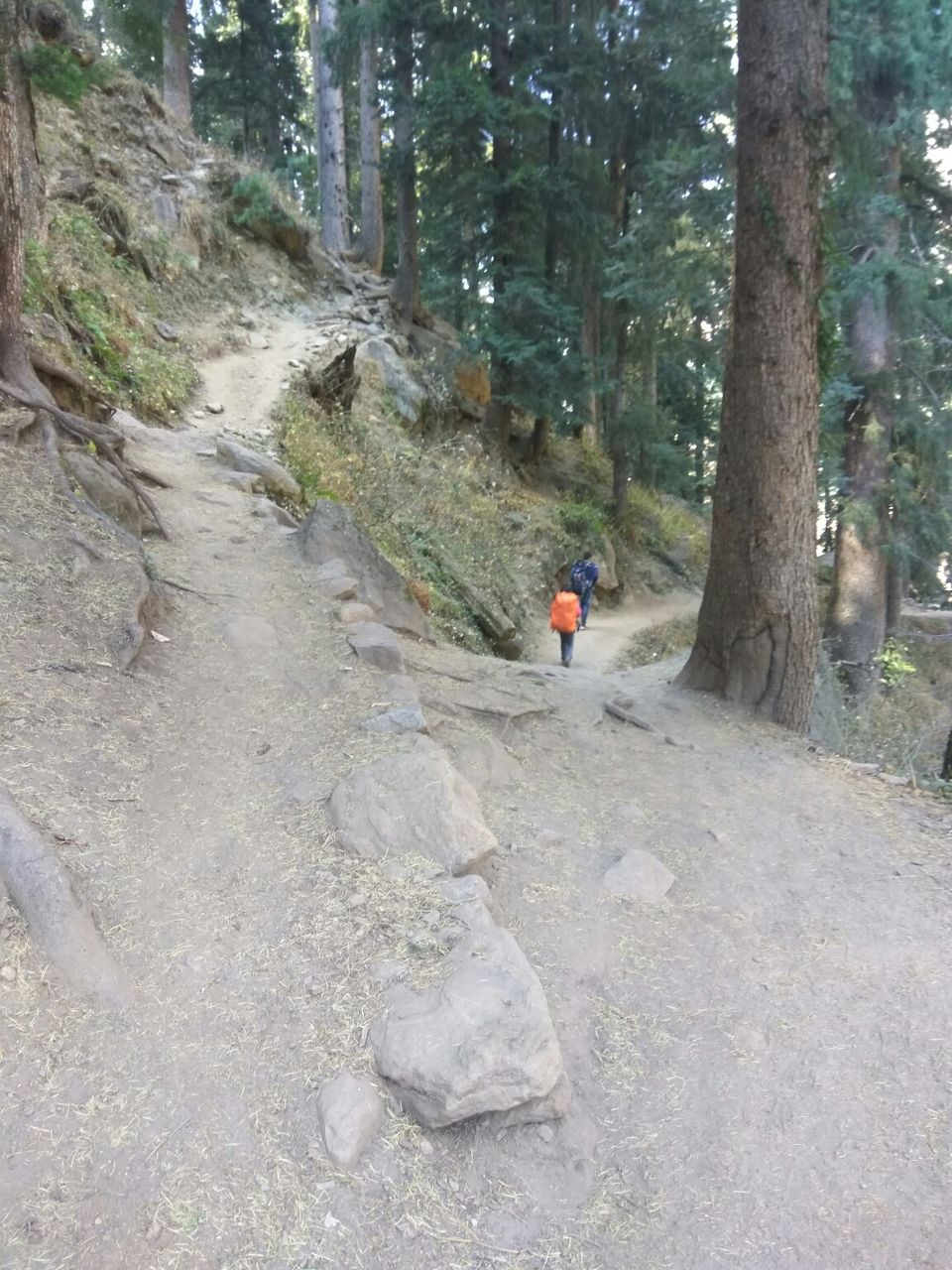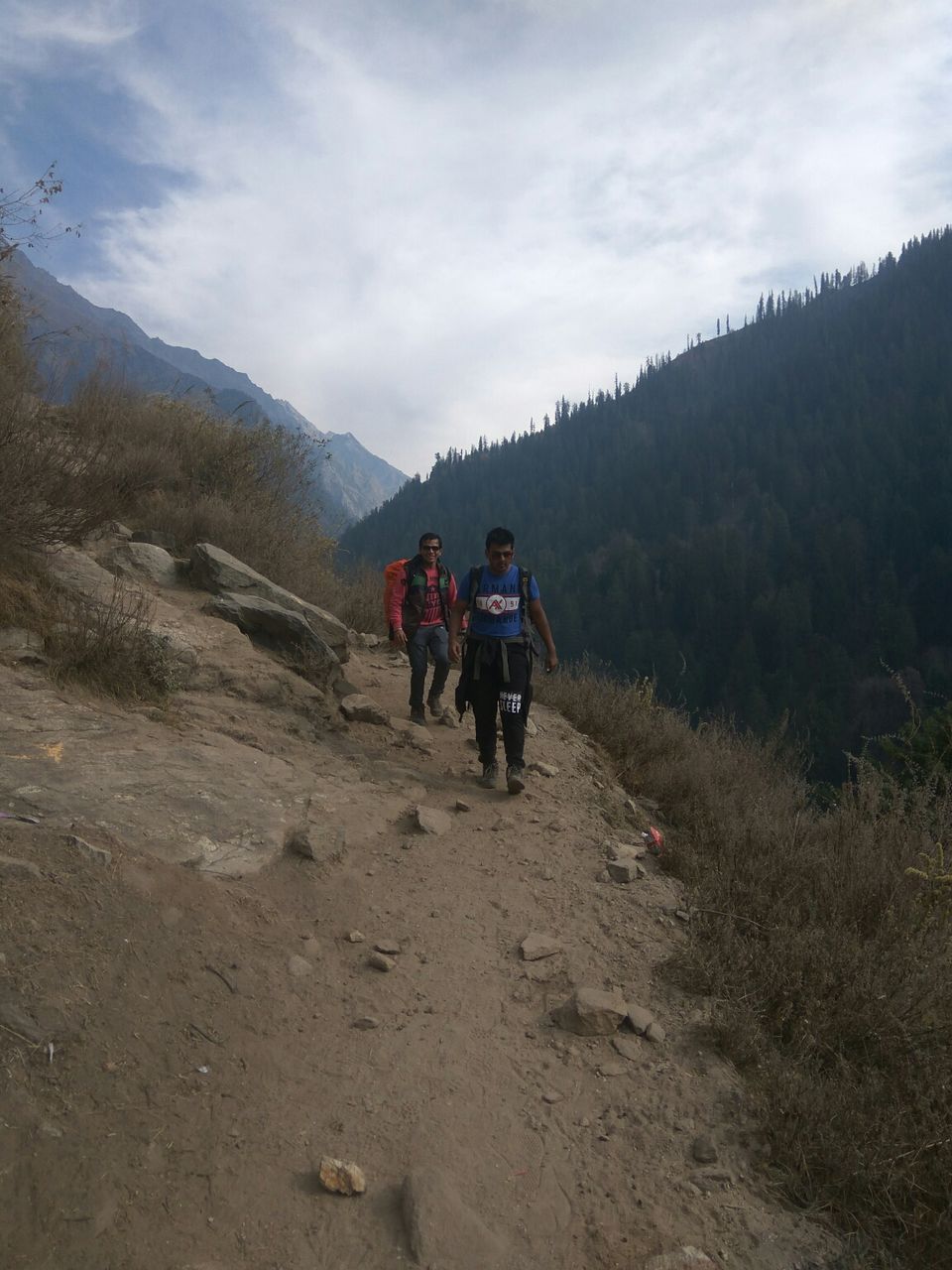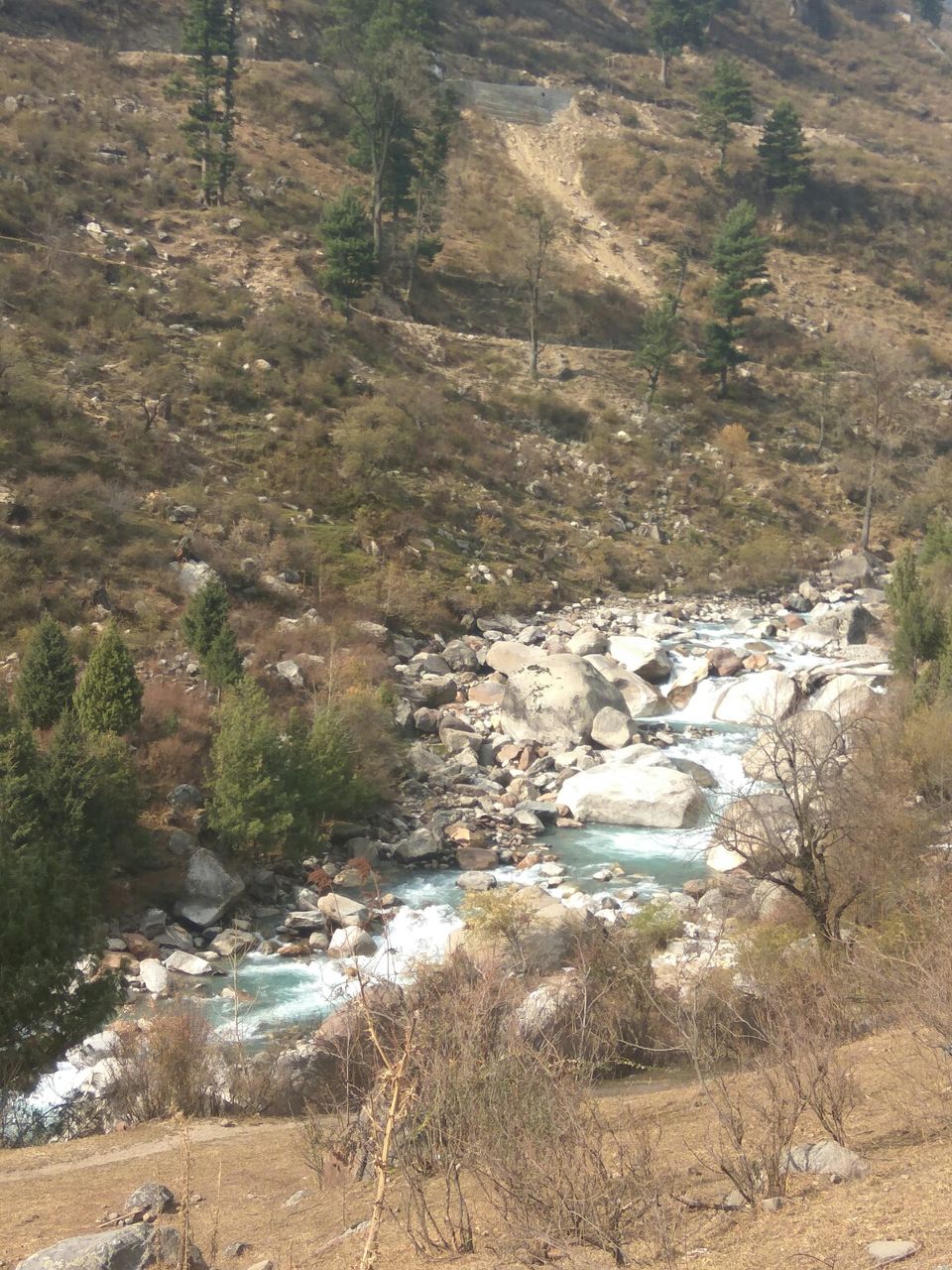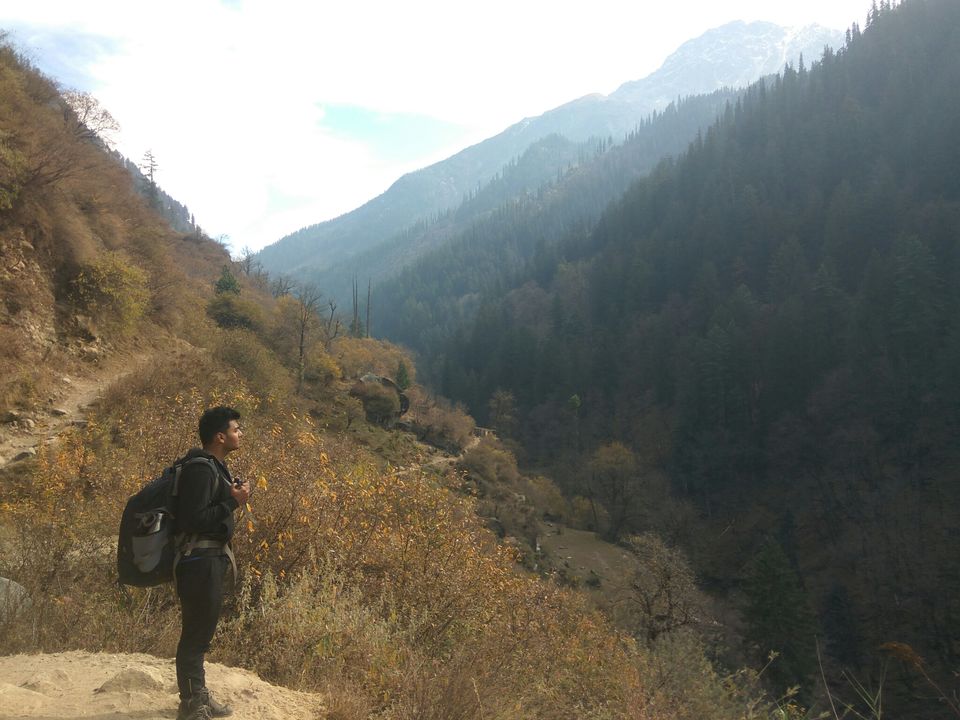 reaching manali we took a room in hotel royal at Gurudwara road. 2mins walking from mall road.
Cost of the room was Rs.500/- for 2 people.
29th November'2016
It was my last day in himachal and had an evening bus of 5:30.
So i decided to make most out of it.
Booked my bus via redbus.com
And thought of sightseeing. Rohtang pass was shut due to snowfall. So we headed to solang valley.
Behind all this Demonetisation everywhere you go was an off season.
Which helped in bargaining everywhere you go.
Bargained a taxi guy for solang valley pick nd drop he charged us Rs.500/- after bargaining for 10mins.
Solang valley we did rope way for Rs.650/- clicked end no. Of pictures.
Reached back to manali by 3:30 so decided to chill at some cafe in old manali.
Cafe 1947
A brilliant cafe located river side. Which has an indoor and outdoor sitting. Along with crazy lips smacking food. Yes, i wrote this because its no less than a sightseeing in manali.
I enjoyed alot in cafe 1947 was there for an hour unfortunately. As i had to rush for my bus to Delhi.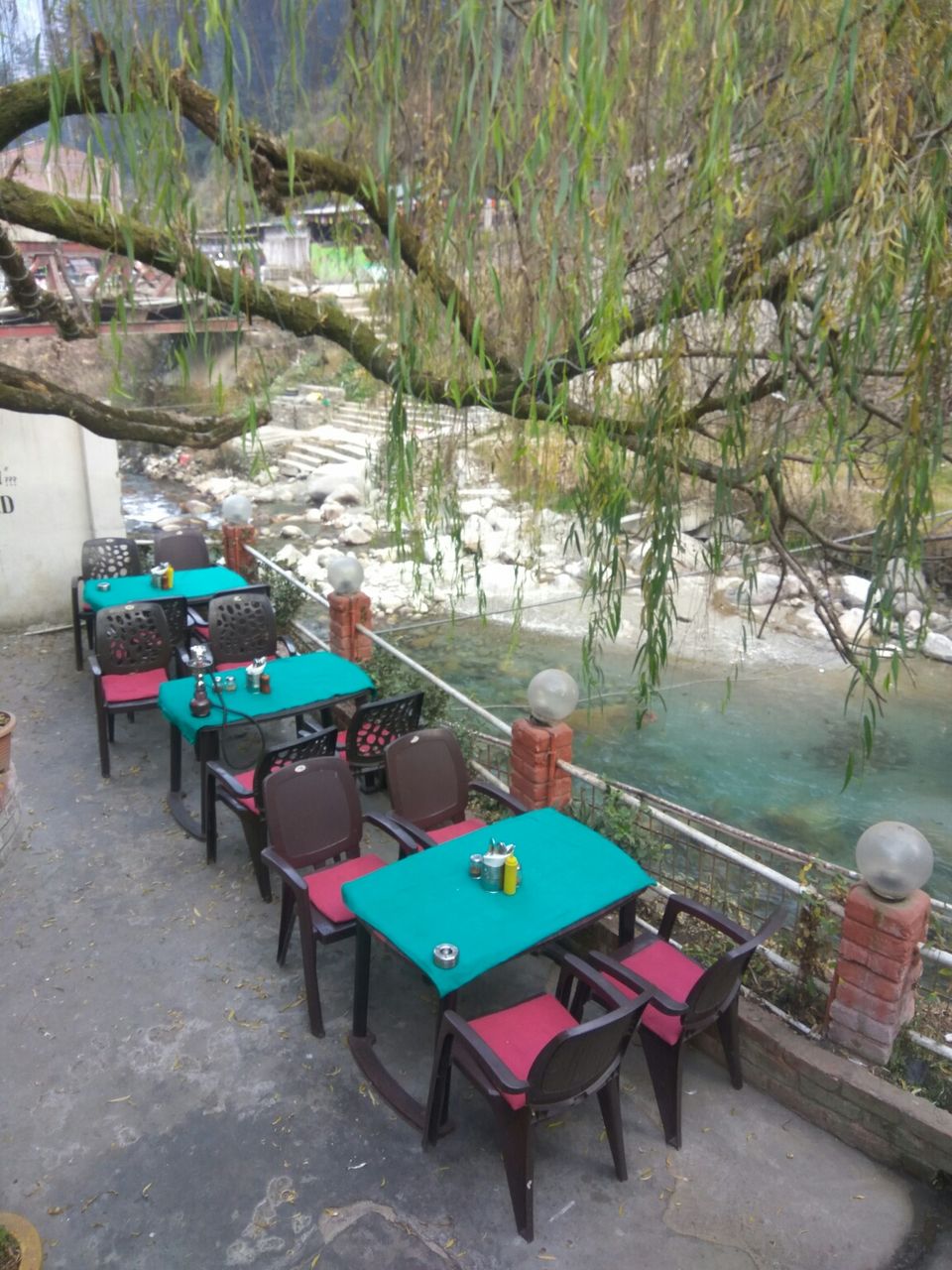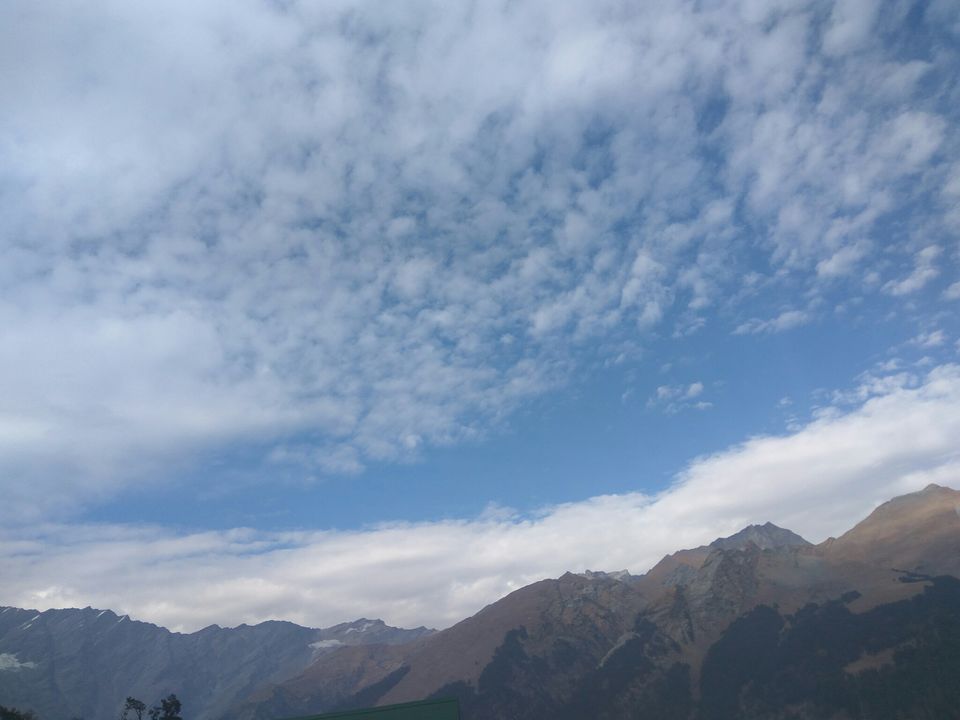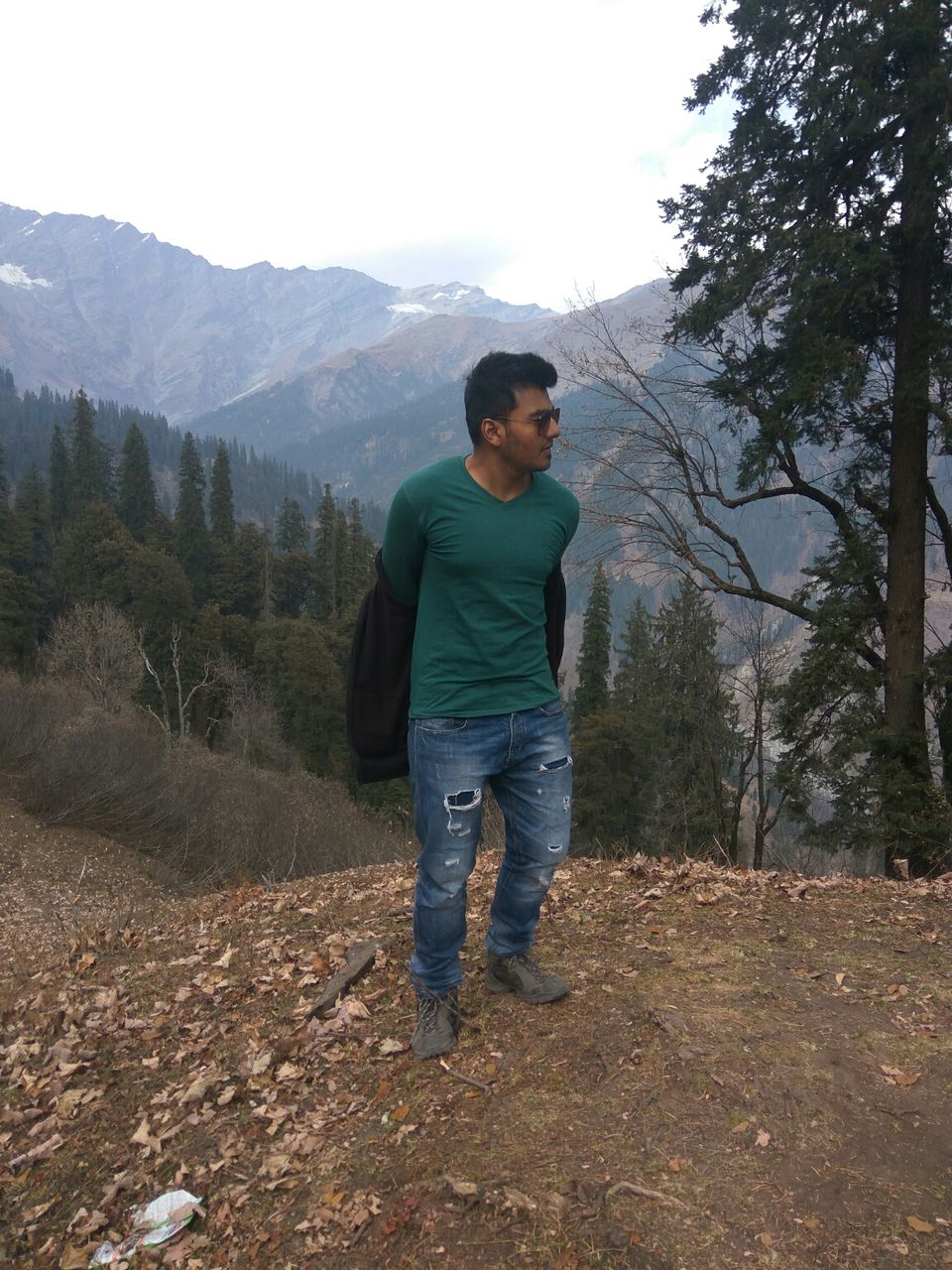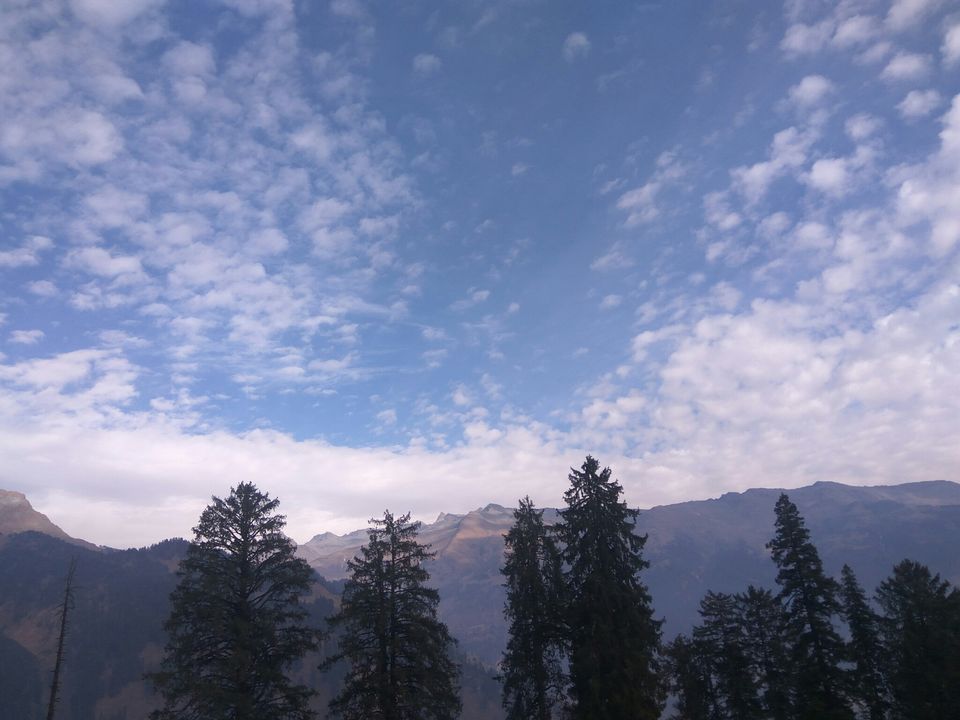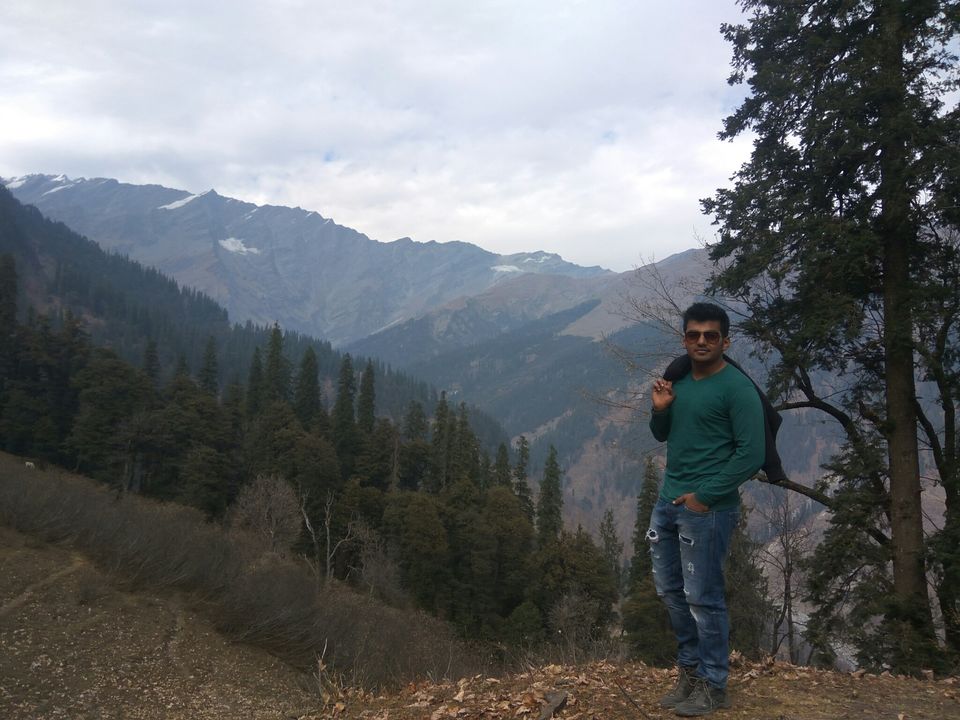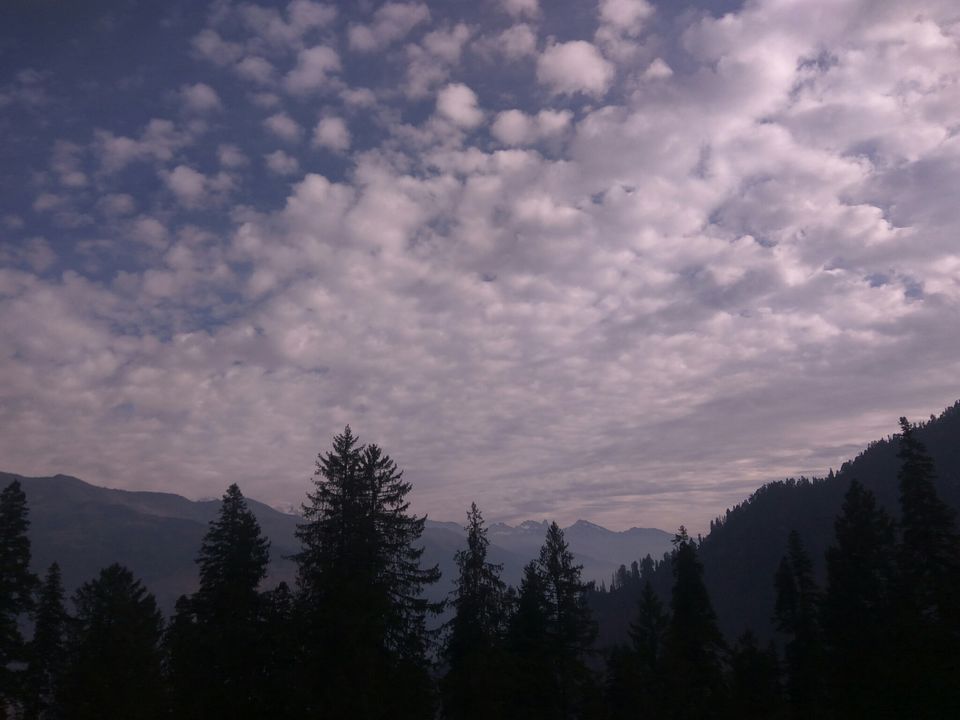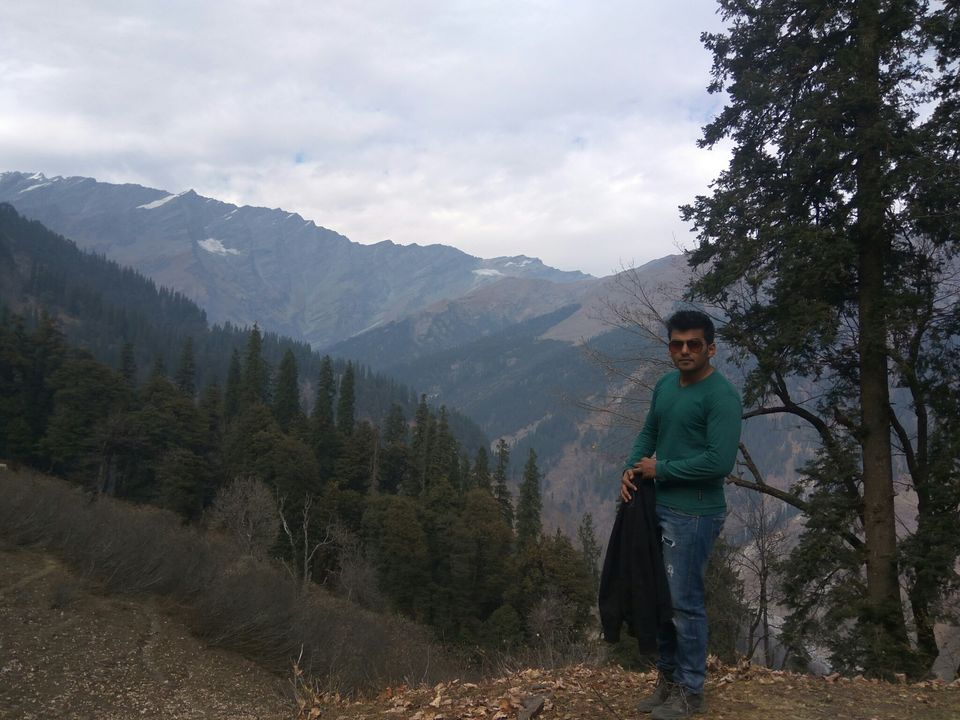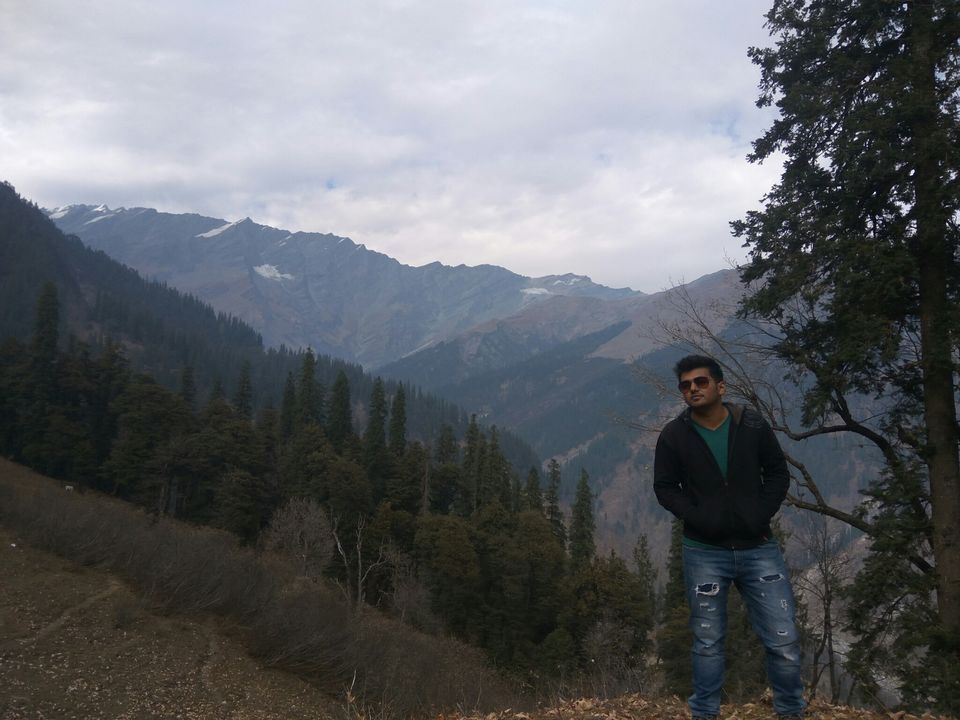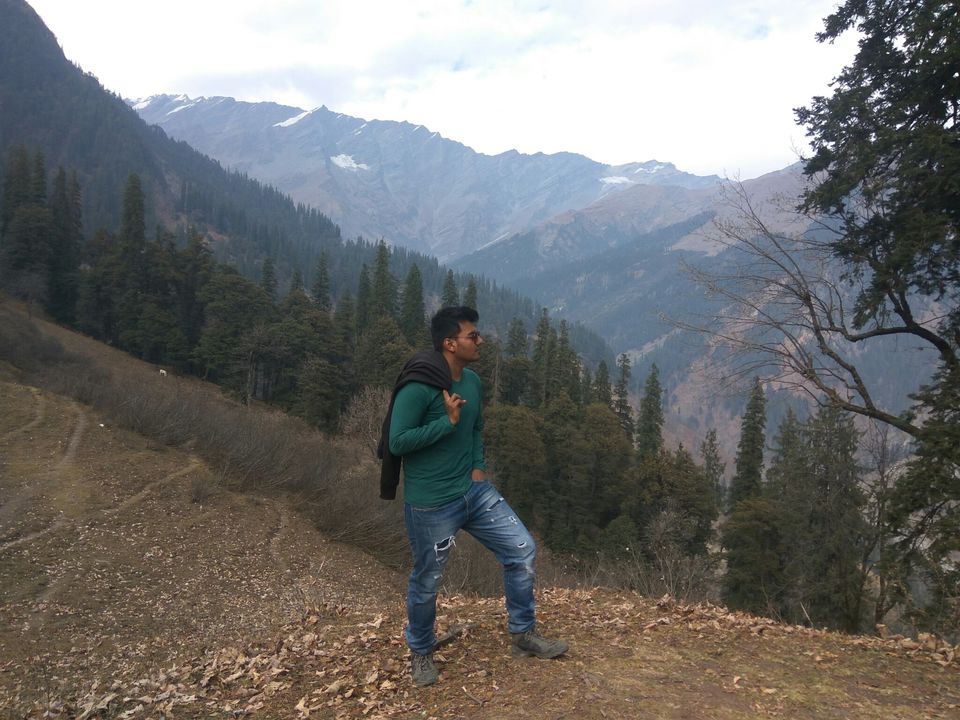 30th November'2016
Last day as afternoon i had my train from delhi to mumbai.
I reached early morning in delhi.
Went to chandi chowk. Tried all famous street food the ones Delhi is known for. Chole bhature, chole kulche, dahi bhalle. Etc.
Hope you all liked my blog.
I would like to leave with a short itinerary.
1 night in Manala
1 night in kasol/chalal/kulga (optional)
2 nights in kheerganga
1 night in Manali.
Overall expense for 5 nights is 5k.
Travelling :
train 2k
Bus 2k
#brotip
1. Avoid buying packaged water bottle . You get various waterfall from where restaurants refill their water.
2. Bargain everywhere you go. I repeat Bargain.
Frequent Searches Leading To This Page:-
Top manali tour packages for couple from delhi, top manali tour package for family, manali tour packages for 2 days, delhi to manali tour package for couple in delhi, manali trip from delhi