All of us would have visited the popular hill station in India Darjeeling and one would have sipped and slurped the famous iconic beverage Darjeeling tea. Down south the legendary temple and sacred place Tirupathi we all would be waiting for prasadam,thirupathi laadu right after the darshan and would have savored the special delicacy what are they?So let us know what exactly it is.
Geographical Indicators
One of the intellectual property which originates in a specific area which possess unique characteristics and belongs to that specific geographical location it may be an agricultural product,handicrafts,foodstuff,manufactured product and textiles.Knowing the definition of GI now lets know some of the important GI's of India.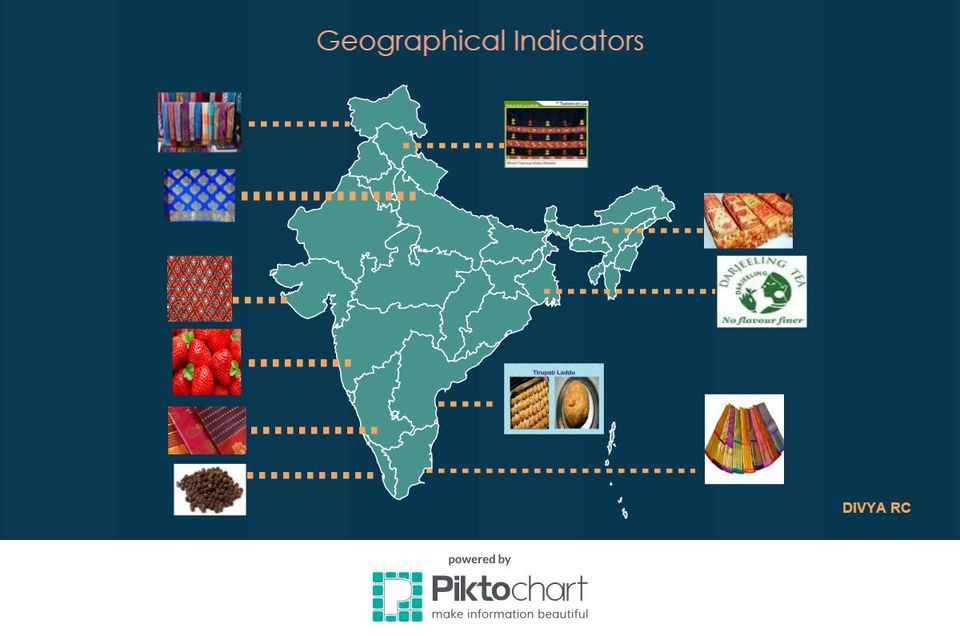 Darjeeling Tea
This tea takes its origination from Darjeeling district in West Bengal.When brewed and left to settle infuses a light colored floral aroma with its unique properties makes it more special and one of the best tea.This was the first one to make it into the list of GI tags.
Kullu Shawl's
Nestled amidst the majestic Himalayas with picturesque landscape lies the Kullu,Himachal Pradesh famous for yet another GI product Kullu shawl with its geometrical patterns and elegant designs known for its fine woolen fabric and quality.
Mahabaleshwar Strawberry.
Grown on the hilly slopes of Mahabaleshwar which constitutes the major contribution of strawberry produce in India.This straw berries are very abundant and are picked fresh from the straw berry farms.Next time when you visit Mahabaleshwar pick in large quantities of fresh juicy strawberries.
Mysore Silk
Mysore silk sari well known for its heritage weaves with its varied hues with the borders with gold inlay is the main feature of this sari.The traditional Mysore silk sari is an elegant brand which the Mysore region produces.Mysore has the highest number of GI products listed.
Kancheepuram Silk
This type of silk sari native to Kancheepuram in Tamilnadu is popular in south India is recognized as the GI.This town has many families involved in sari production and weaving and it's the main source of livelihood.
Thirupathi Laadu
As I already mentioned this sweet offered as prasadam to the devotees after darshan in Tirupathi Tirumala Venkateshwara temple in chitoor district of Andhra Pradesh is prepared by the temple board comes in the GI tags of food stuff.
Pashmina Shawl
This traditional handiwork woven in fine quality cashmere wool falls in the list GI tags.The wool comes from the a typical breed of cashmere goat which are distinct to few specific locations in Kashmir.This handmade products is an most iconic one and major fashion accessories for all the young and the old.
Kutch Embroidery
Kutch Embroidery known for its mirrored work with intricate bead work and extensive needle work deriving its name from Kutch in Gujarat.This classic traditional handwork are done by village women.New trends may come and go but this remarkable stitches remain in trend always.
Muga Silk
This traditional variety of silk which is endemic to state of Assam is one of the rarest varieties of silk in the world.It's one of most expensive silk and a symbol of rich Assamese culture.
Malabar Pepper
This variety of black pepper is widely grown along the Malabar coast of south India.This region has been producing the finest varieties of peppercorns for centuries.
The geographical indicators list in India is increasing and I have put forward in this post the prominent ones.Karnataka has the highest number of GI tag's in India.Few of the products are yet to make it to the GI list.To all my fellow wanderers next time you happen to visit any of the places pick any of the GI tag products with unforgettable memories and souvenir.