It all started with my vague idea of travelling on a cycling event with 6 of my team members to Kolli Hills. As I researched more about the spot "KolliMalai" the great Kolli hills close to Rasipuram in Namakkal district Tamilnadu, I was mesmerized by this mighty giant with 70 hairpin bends spread over 22 kms of distance!! It was supposed to be my first ever mountain biking / usage of gear bike if I would sign up for it  My heart ached for some adventure with the like-minded. There was no self-doubt to sign up for the event, go with your heart when in doubt.
We started to Rasipuram - the base of Kolli on a Friday evening. It was a wonderful drive, with a beautiful full moon accompanying us on our windowpanes throughout. The shades of mighty hills dancing to the silver moon was telling us thousand stories of the great Maurya empire. At the dinner table we were greeted with crisp Paniyaram, Appam and hot coffee. Reached the hotel Shanti Inn by midnight, dreaming of the next day's adventure.
Woke up witnessing the beautiful hill ranges peeking through the hotel window at the first rays of sun. All of us gathered in the basement to get a first look at our bikes for the next 2 days. Switching between the gears and acclimatizing ourselves for the long mountain biking, we were all excited. Our lead Guru from Unventured is a big motivator, his abundant knowledge on mountain biking, safety measures, organic farming, travel and history made him a perfect guide/orator/influencer.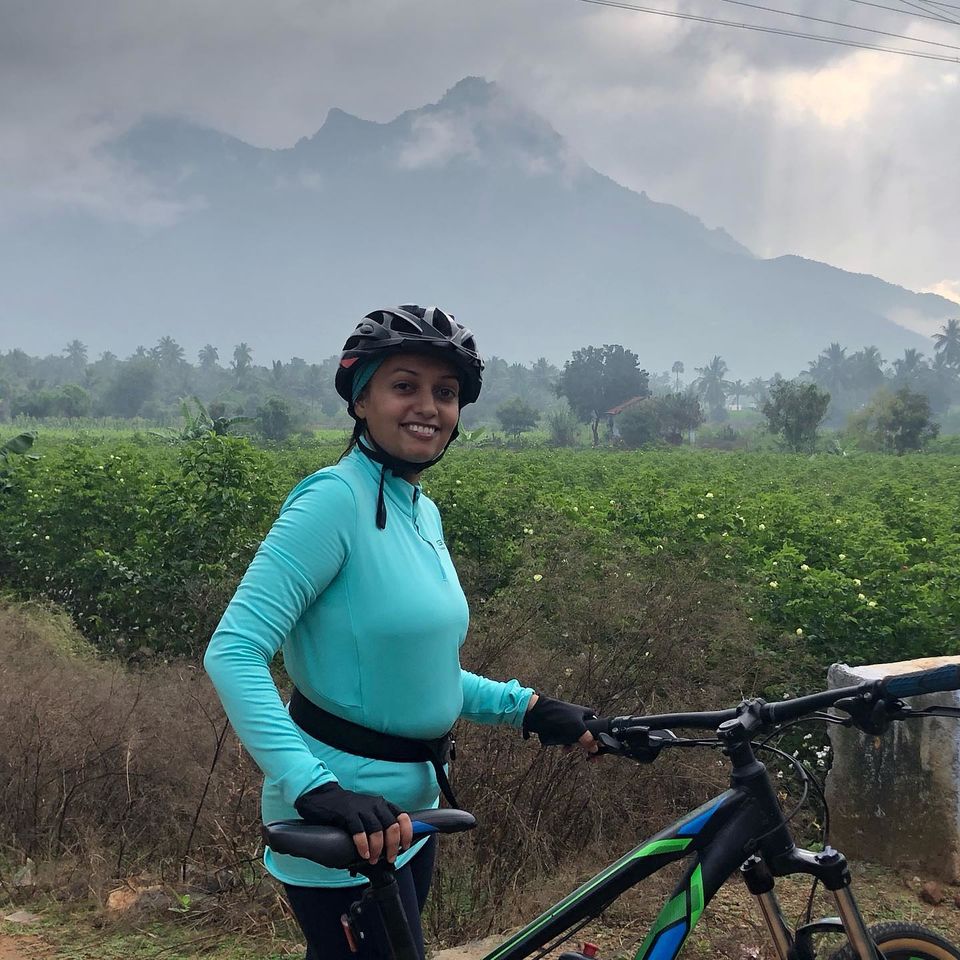 The ride to the base of the hill was a good 35 kms inside the beautiful villages. The locals were awestruck by our idea of cycling uphill all the way through 70 giant curves. Or were they ridiculing our idea of riding for fun, coming all the way from Bangalore!?!  The earth was dressed in green with the embellishment of multiple crops like cotton, corn, turmeric and medicinal plants and herbs. Beautiful parrots and bird species were welcoming us with open arms. Just when we were lost in the lap of nature, Anna hotel anna was waiting for us to taste his delicious Kerala parathas and egg dosai. Looks like there was one more person who had forgotten to welcome us -"the rain" to Kongunadu. Though for a moment there was disappointment on our faces, we decided to go ahead, kicking off with a hot tea in the rain.
We were at the base of Kolli, there was a single thought and goal in all 7 minds. We could aim at our target from the base. With all the enthusiasm we started one behind the other clutching on to our bikes in unison. Our countdown started from one till ten. It was a tough ride, while trucks and bikes struggled to climb the bends, we were progressing constantly.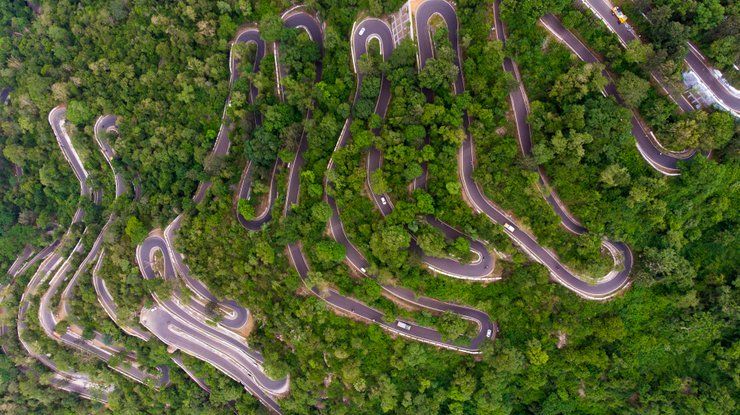 As our bodies had their own learning curve, stretches from 10 to 20 and then to 30 were getting easier. There was a dense cloud around us everywhere, hugging us in their lap. Misty mountain tops calling us to them, chirpy birds singing for us, mountain mama carrying us, lush green leaves showering on us our body and mind in unison we determined 8 barged ahead. Mountains bring civilizations together and better civilians amongst us, we were like a single family supporting each other, encouraging, laughing out loud, appreciating each other's strength, accepting the weakness we learnt a lot together. We had started our climb at 11 am, time was ticking, and our tummy was grumbling at 3 pm  We could spot our supporting van carrying the delicious egg fried rice with the special chilli sauce (not that it was used on top of the peppery fried rice  ). We shared our meal in the lush green Shola forest, treetops were our umbrella and our buffet lunch spread out on the body of the hairpin bend. We were at 62nd Hair pin curve hurray!!With all the residual energy our countdown started. We reached the hill top to witness a beautiful Arpaleeshwar Temple, and beautiful stream next to it, which we could only hear till now was seen for the first time. All the exhaustion vanished at once. Went to a chai shop on top of the hill at 4 pm, had our share with the local delicious sweetmeats.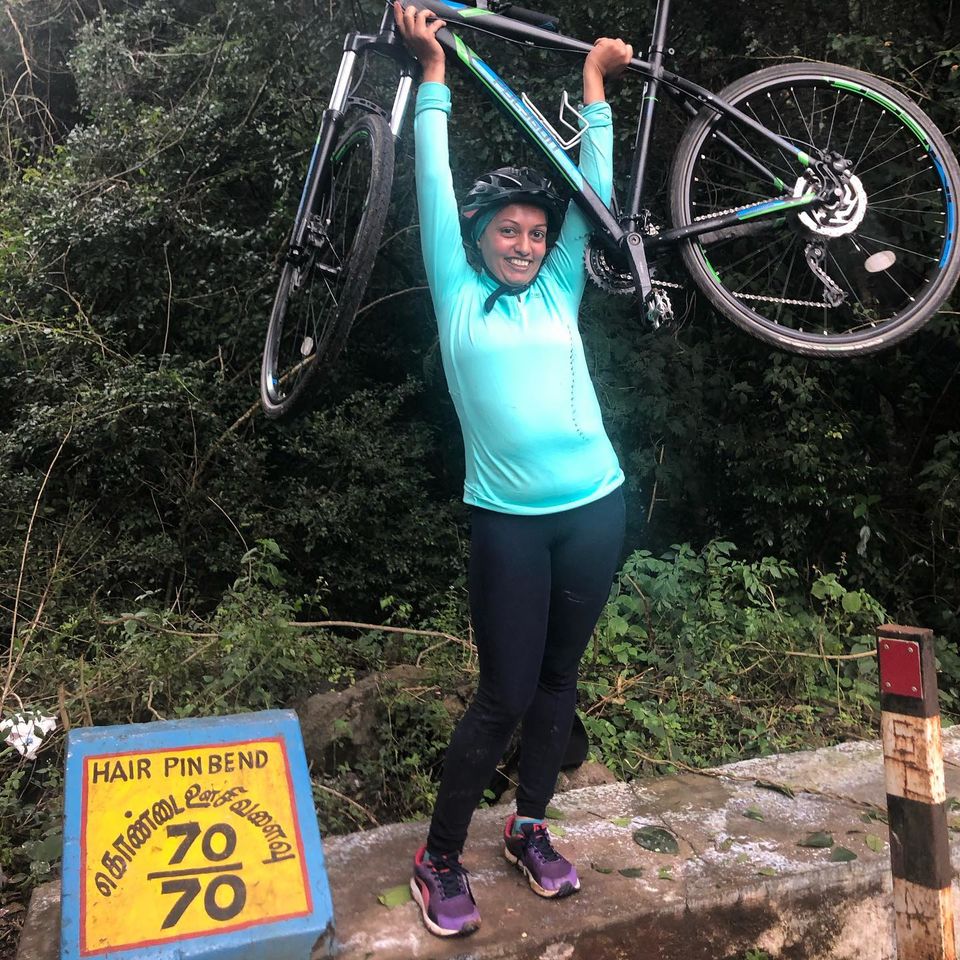 Now came the best part, the descent. Our team lead Guru heading us and Pavan tailing us we went in a single line, signaling each other about the hazards, witnessing the beautiful clear hilltops to our left, patting our backs for the way we climbed up this mighty giant. We were elated when we completed our ride at 6 pm. The feeling of accomplishment the sense of achievement, we beamed with pride. Posted our first pics, photobombing social media, sending the proof of our accomplishment to our beloved  it read 74.2 kms, elevation gain :1943 Meters in 7 hour 8 mins. Of course, we celebrated our triumph with chilled beers and a great discussion on variety of topics. Went to bed only to get up at the alarm shooting in the ear, reminding us of a new day and a new ride.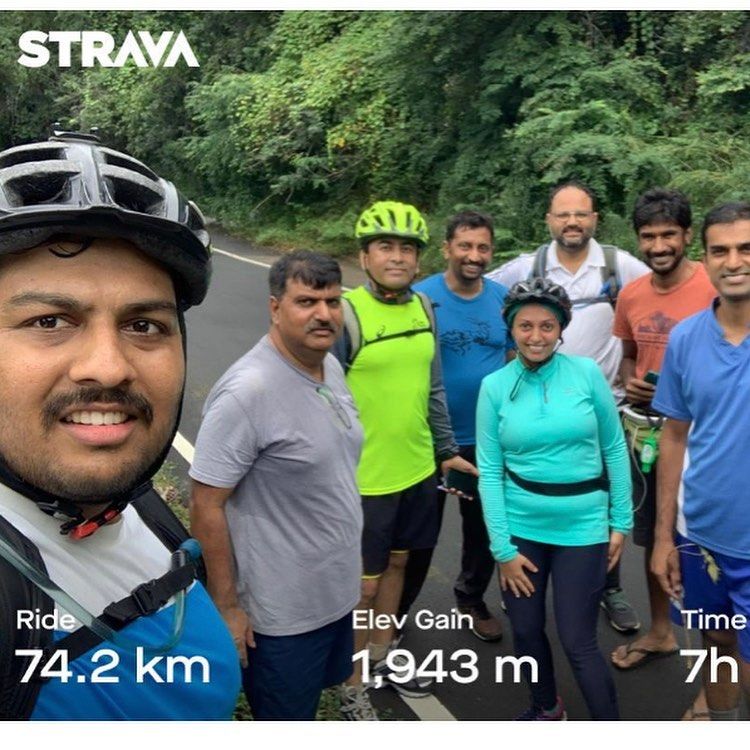 It was a Sunday; we started our ride with hurting butts from previous days ride. All the ache vanished as we started riding through the serene land of Raja(Rasi)puram. Our talks with local farmer and a smart customized Rajdoot rider, guava plantation owner, educated us on the culture. Earth was jewelled with tapioca plants, till, cotton, paper plants, guava trees, drumsticks, wild basil, corn, maize and a lot of medicinal plants. Thanks for educating me Chalapati, my co-rider who educated me on more than 15 to 20 species of medicinal plants on our trail. We spoke to many locals on our way, spoke to their pets and kids, a tinge of jealousy flew through my veins witnessing their peaceful life in that little heaven. We were almost winding up, when our most enthusiastic and high on energy Pavan said he is not yet ready to pack up  They say save the best for last, yes indeed we pushed ourselves for the last 7 kms to the much beautiful, dense forest area, enjoyed every bit of the last ride. With heavy hearts, hoping for the next ride to commence soon we finally packed up and boarded the vehicle. We had completed 103 kms by noon on day 2.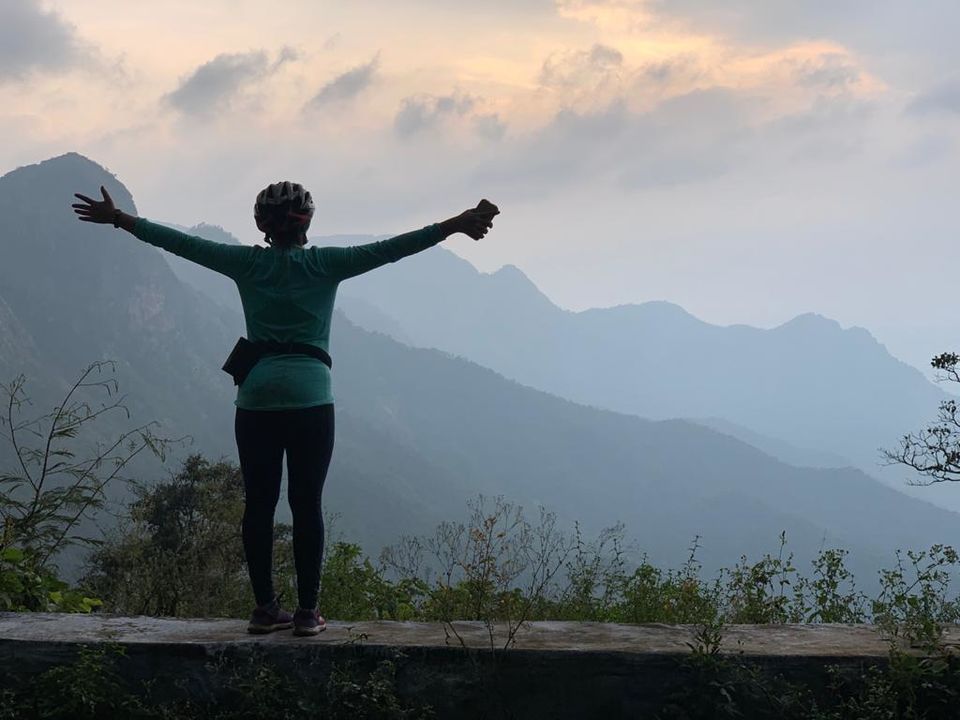 How can I not talk about my fellow riders, the beautiful 6 souls.
Subind our own Vice President at Western Digital, what a great inspiration for all of us, the most enthusiastic, energetic and dynamic, down to earth person. I salute this great person for completing the Kolli ride in his fifties, never once thinking of backing off. Never hesitates to walk shoulder to shoulder with a farmer, eating at ammas small joints, rides with us in heavy rains, posing on a Rajdoot, has a great sense of humor, found a great orator and writer in him. The first one to be ready for the ride, chitchatting with chaiwallah early in the mornings, first one to say good morning to us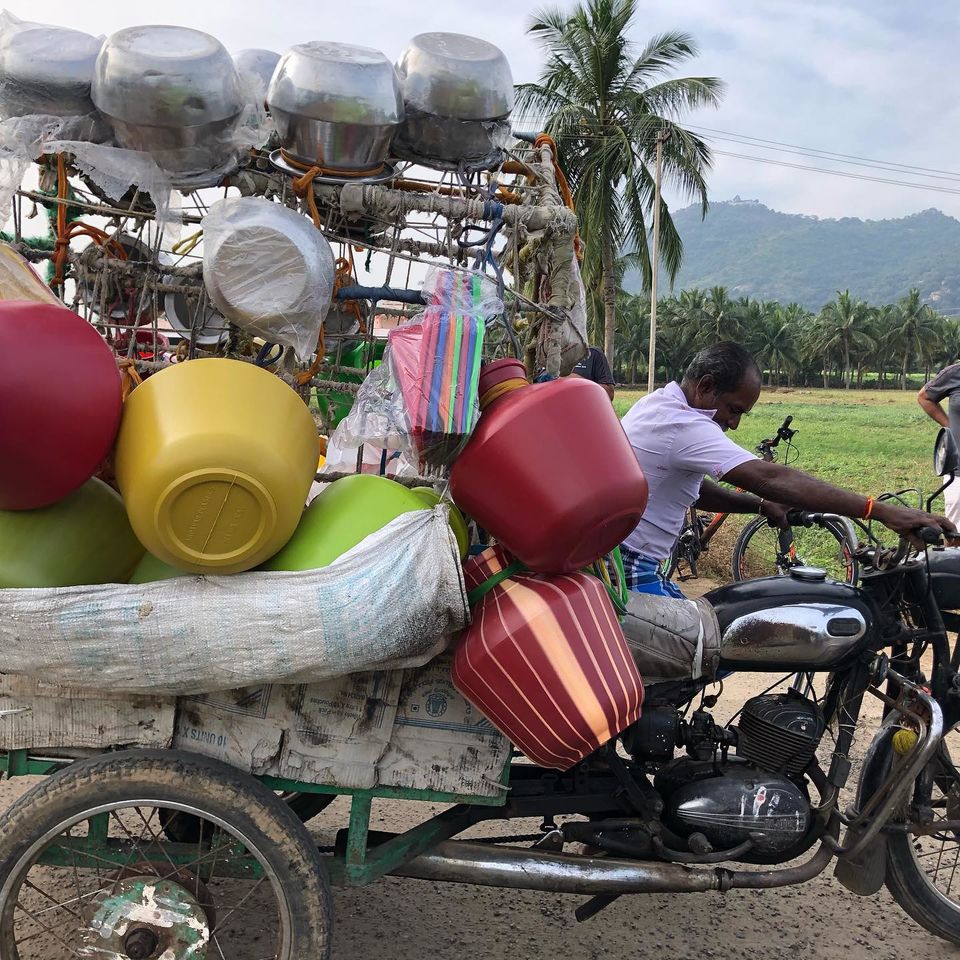 Nagarajan, a fun loving crazy person to drive all the way from Salem to Bangalore and back to Rasipuram on the same day and start to ride with us  this man did not sleep for 48 hrs straight just to be with us and not to let go of his opportunity to do Kolli. Such a considerate person, always serving us on his own in the amma and anna joints where we ate, himself being the last one to eat. Our tamil translator. We bombarded him with queries till his translator was about to crash 
Chandra who has done Everest Base Camp trek independently in the recent past is a great athlete and an adventure junkie. He has run multiple full marathons, n number of treks and motivates his whole team to participate in such activities. It was wonderful talking to him about the fitness gadgets that he has, always recording our miles, targeting the 100 kms completion mark, he is such an inspiration.
Chalapati, helping us identify so many plants, gathering saplings, he was a great educator on local vegetation. Always ensuring everyone's safety and ensuring us to be on the right route, he ensured we were safe.
Ravi -Man with less words and a beautiful soul, was always the first one to hit the target through the different milestones while we crossed 70 hairpins. He has done multiple biking tours, a great writer and loves reading. It was great to hear his stories on a different biking trips he went to.
Last but not the least Pavan, the one who is the reason for us to be doing Kolli. The one who initiated this whole plan and motivated us every single day even before we started our ride. Took care of all the logistics, made sure we were all safe, thought us about the right usage of gears, photographed us. Of course, used his voice to his advantage to tame us  He comes with a great experience of cycling in Manali to Leh, Bhutan, Rajasthan, Yercaud and n number of Nandi climbs.
This is how we 7 bikers created a lifelong memory, everlasting true friendships and educated us in the lap of nature. Waiting for the next beautiful ride to commence soon to add to these beautiful memories. Till then Goodbye….