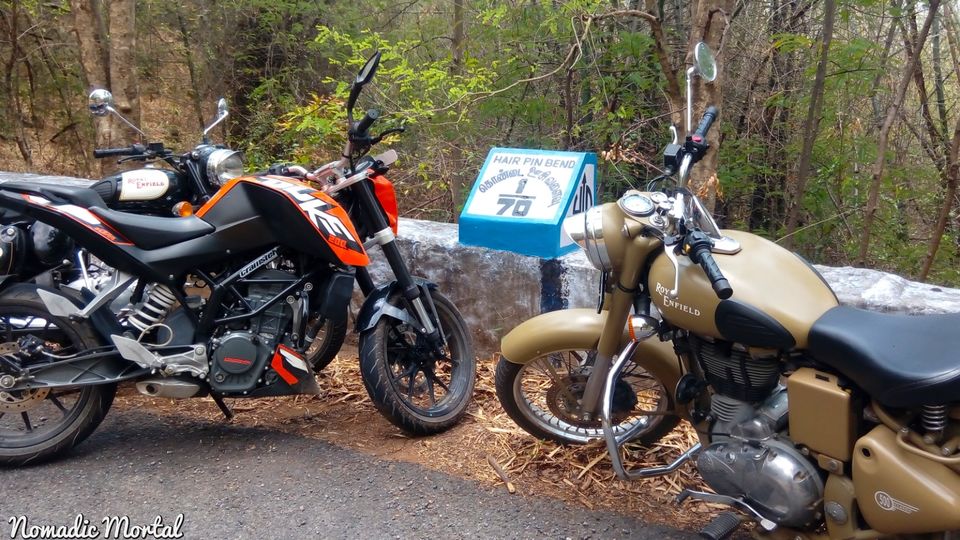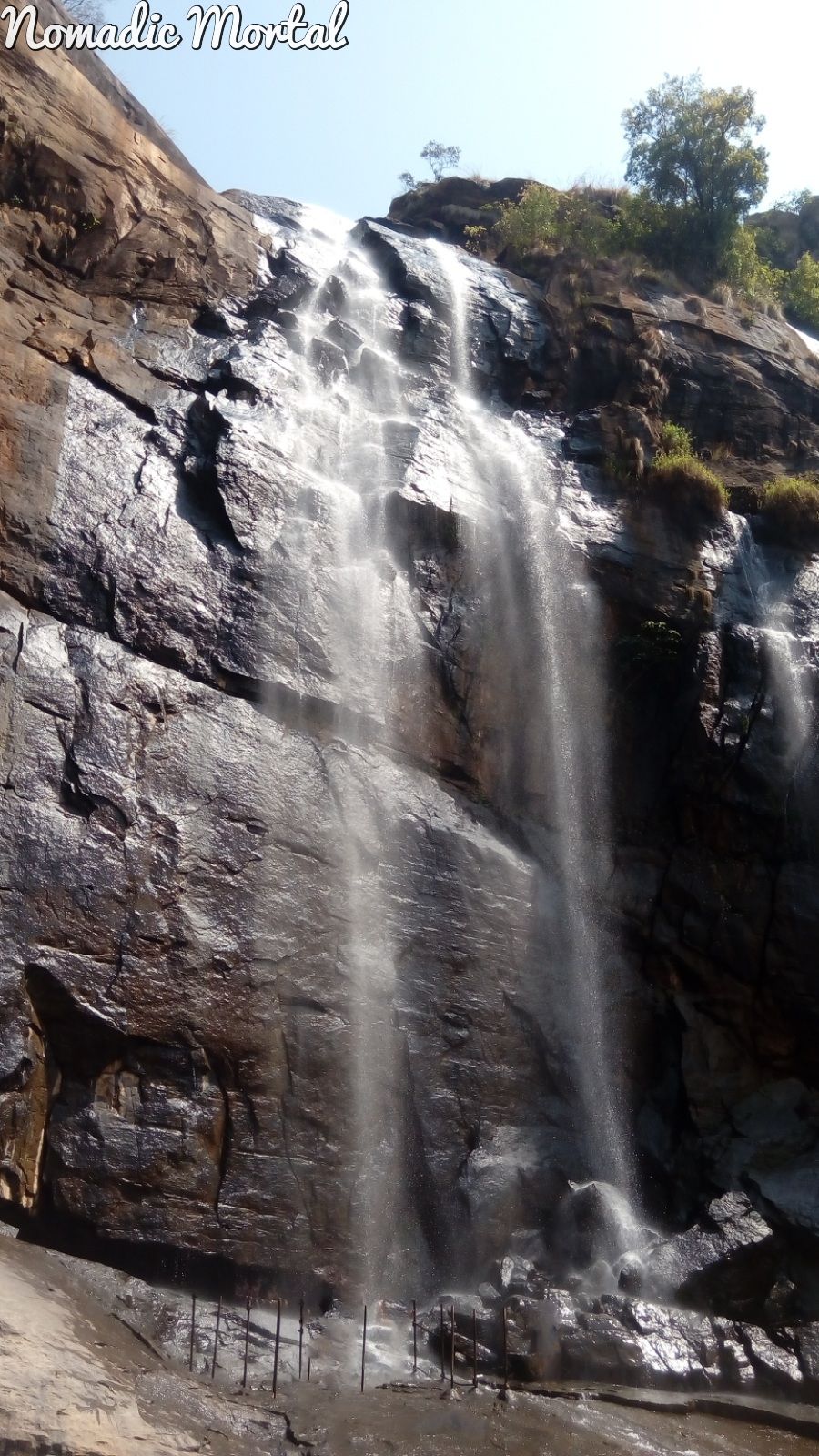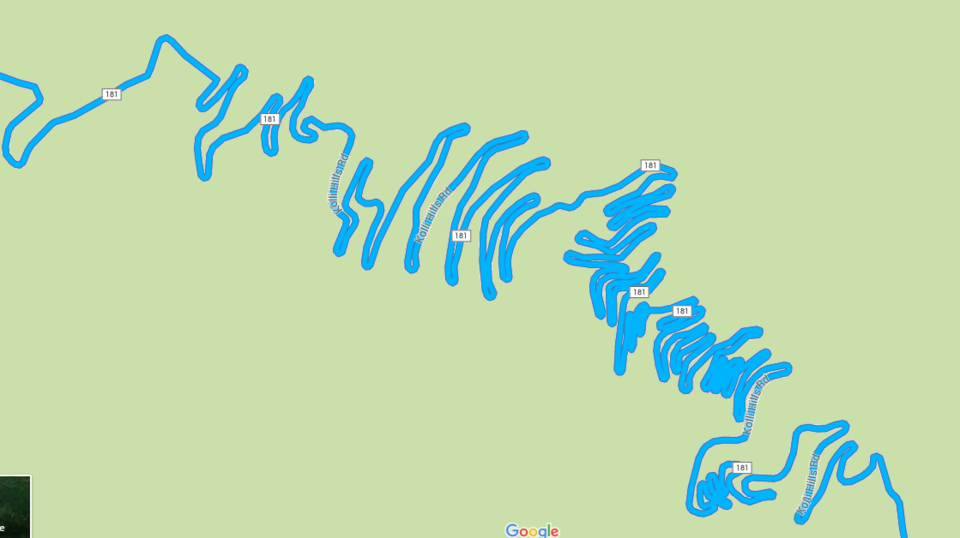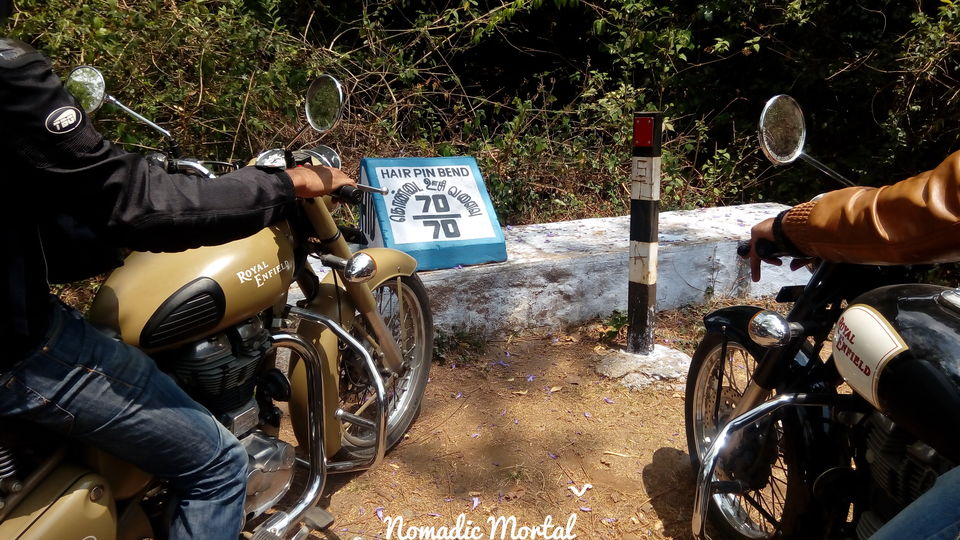 If you've been reading my posts, I'm sure you know by now how much we love Bike Rides. Long or short, it doesn't matter. Like someone once said,
"Four wheels move the body, two wheels move the soul."
One place that has been high up on our Ride-To list for a very long time was Kolli Hills or KolliMalai. This monster of a ride always intrigued us since we have to ride through 70 consecutive hair pin bends to get to the top. The most we had done until now was 36 which was in Ooty. This was almost double that.So naturally we were excited when we finally decided to check this off of our list.
These spectacular series of curves have also made it to the Limca Book of Records for the Most Number of Consecutive Hairpin Bends (Or so I've been told).
Distance from Bangalore: 280 kms Time Taken: Approx 6 hrs.
Day 1:
Bangalore – Kolli Hills:
We started the journey from Bangalore on a cool morning. Watched as the sun rose alongside the road. We have been through this highway (NH7) plenty of times now and it has come to be one of our favorites to ride on. This stretch of 4 lane drive until Rasipuram will keep you longing for more. Pleasant weather, beautiful vistas, and of course the roar of the Royal Enfield. Enough to put me in a better mood any day.
Route: Bangalore – Krishnagiri – Salem – Rasipuram – Semmedu (Kolli Hills)
The road is excellent until Rasipuram. You need to take left from NH7 towards Rasipuram and then ask for directions. A relatively small patch of road just before the Ghat road is pretty bad. But apart from that, we found no reason to complaint.
This ride up the winding roads with beautiful panoramas stretching as far as the eyes can see was mesmerizing. The lush green forests surrounding those monstrous curves added to the beauty of the place. I got to see pine cone trees for the first time ever, oh they are so pretty. The roads are strewn with tiny pine cones. *heart-eyes* We stopped at quite a few places to click pictures and marvel at the beauty around.
Since this quaint hill station is situated about 1300m above MSL, we were hoping the temperature would drop as we ascended the hills. But unfortunately, we were disappointed. The temperature was well above 27⁰C. This was mostly because we visited this place smack in the middle of summer.
Slowly but steadily, we devoured the hairpin bends one by one.The feeling you get when you complete this last stretch is something I cannot put in words. That picture with the last milestone and that smile on everyone's face was priceless.
Stay: We stayed at Nallathambi Resort. There are very few stay option up there and many of them had very bad reviews on Trip Advisor. We managed to book this place in the last minute and thankfully it was a good choice. The food here was pretty bad, especially for vegetarians. But we had to settle for it since there are not many restaurants to go out and eat.
Few Pointers: Best time to visit would be right after Monsoons. Thoroughly look up the Hotel/Resort before you book in order to avoid an unpleasant situation (It is very hard to find accommodation once you reach there).
SeekuParai View Point (Sunset Point):
It is a perfect spot to enjoy the sun setting in the far distance with spectacular views of the valley below. There is a small watch tower of sorts where you can sit and wait for the sun to slowly descend into the horizon. You get to see the sky changing colors ever so slowly, and just like that all the weariness of the long ride vanishes.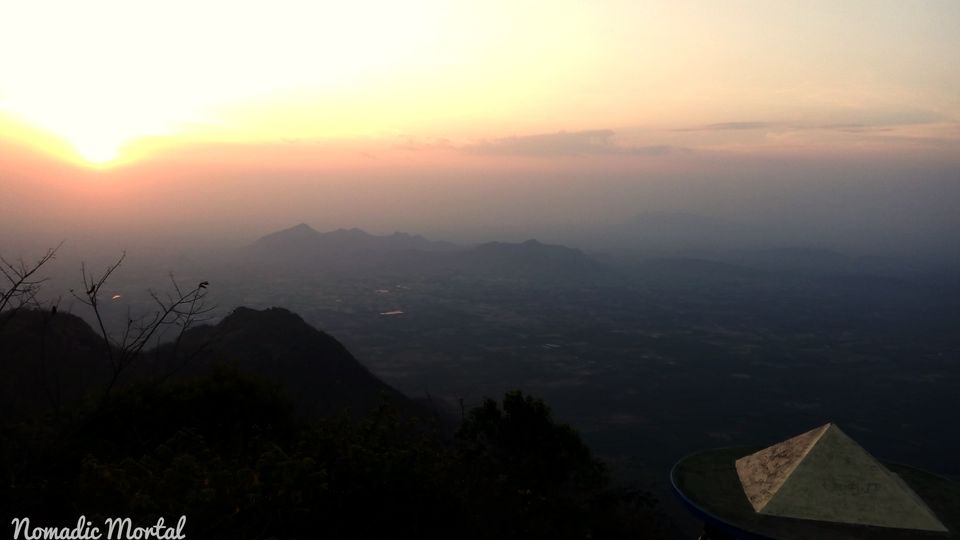 On our way back to the hotel, we stopped by the market and ate steaming hot Paddus (A south Indian delicacy, much like Dosa). We also had some much needed Filter Coffee. Yum!
Few Pointers: It is hard to find the Sunset Point since most boards are written in Tamil. If you ask around, the locals will guide you to it (though language is a barrier). :|
Day 2:
We planned to wake up super early to visit the temple and the falls today. But surprise surprise, we slept in. We decided to head straight to the falls and then on our way back visit the temple.
AgayaGangai Falls:
This is the most famous falls situated atop Kolli Hills. It literally translates to Ganges of the Sky. It is a 300 Feet waterfall which flows into River Aiyaru and is surrounded by mountains and thick forest.
You need to walk down quite a long flight of stairs to reach this majestic beauty. To be precise 1200 odd steep steps. It is a daunting task. The start to this trek is situated right outside Sri Arappaleeswarar Swamy Temple. Nominal fee is charged at the entrance.
Enthusiastic bunch that we are, we started the descent with high hopes that the waterfalls will be in all its glory. But since it was the middle of summer, this possibility was a little uncertain. 500 steps down the way and my legs start wobbling and you realize how steep these steps are indeed. Now you start worrying about how on earth are we going to climb back up? I turn around and look at the steps and they seem never ending. To add to the dismay, we see people huffing and puffing profusely on their way back up. Worried but determined, we move forward. :|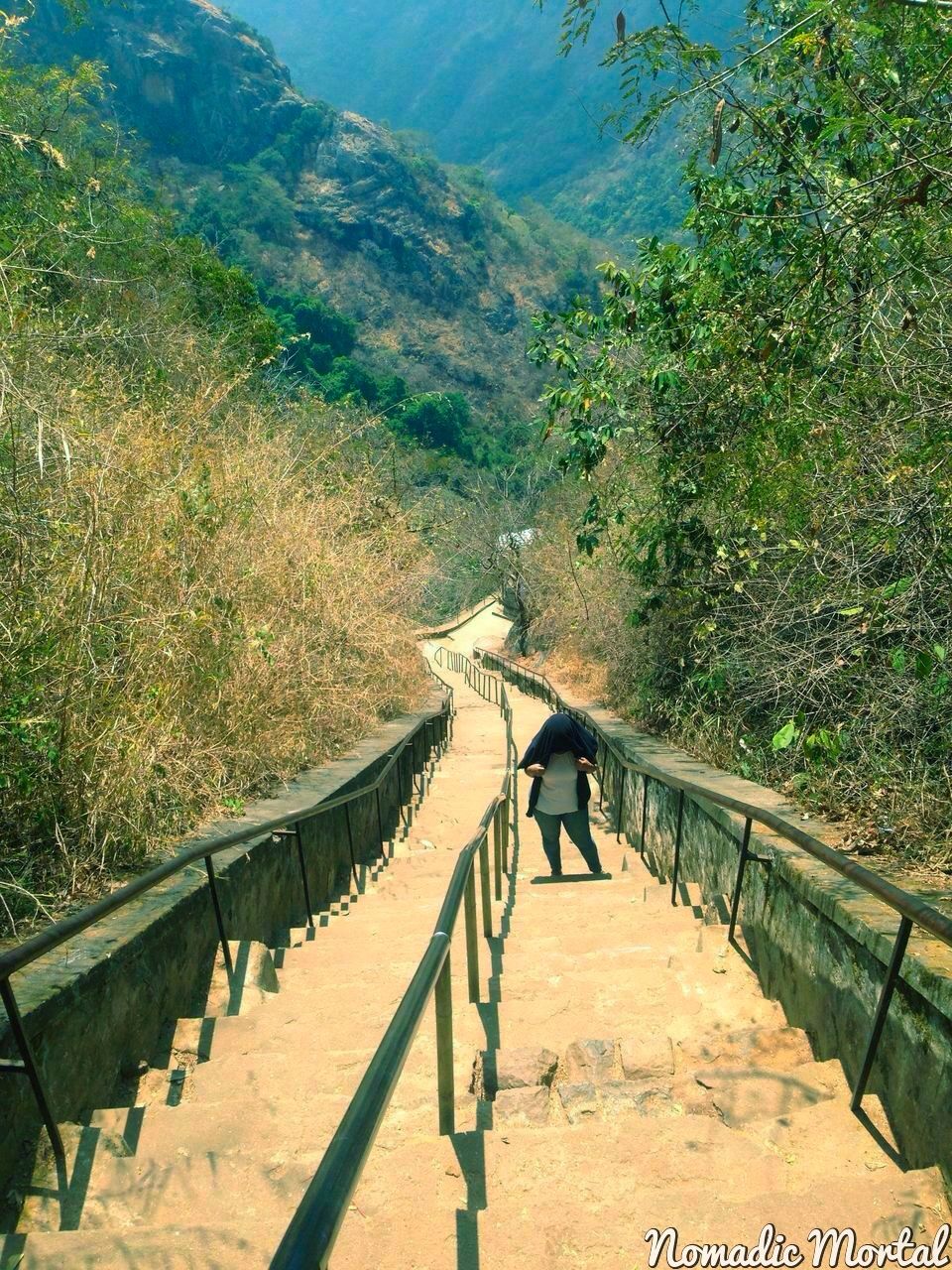 When we finally got to the end of the steps, we had to further tread our way through some large boulders. Right about now you hear the falls roaring. Sweaty and tired, but excited to see this beauty. And she did not disappoint. :) Even in the middle of summer, she was flowing rapidly. I can only imagine her might during the Monsoon season. It was so refreshing to just sit by the falls and stare at this amazing white beauty. She looked so delicate in contrast to the surrounding rugged mountains. Truly breathtaking! The water forms a pool of sorts at the bottom where you can take a dip. There are even railings that take you right under the falls for those brave hearts.
After spending quite some time here, enjoying the cool breeze and the occasional spray of water, we started our ascent back. After about 100 steps, I was out of breath. Even with short breaks and sufficient hydration, I had such a hard time. My legs were wobbling well beyond control. My calf muscles had reached their limit and I was panting like crazy. Well, I thought I was going to die there. No, honestly! But, yeeyyyy I made it back alive!! :D
Few Pointers: This place is not for children, pregnant women and the elderly. Carry enough water since you will be needing it the most. There are no shops or washrooms near the falls. So buy water and maybe an energy bar before you start the trek down. Don't exert yourself too much. Slow and steady does the charm. Also don't drink too much water, small sips should do. Don't carry luggage or even hand bags since they will only bear you down. This place seriously needs to put up a sign board warning people that this is not for the faint hearted. A lot of people who visit the temple start down this path with all their luggage and tiny tots running along, which can get pretty arduous.
After successfully making it to the top, we felt too sweaty and dirty and didn't want to visit a place of worship in that state. So we decided to skip the temple and head back to the hotel. After a long relaxing shower and a hearty lunch, we started our journey back to Bangalore.
Kolli Hills – Bangalore:
The ride down the Ghat section was decent and easily completed. As we reached the bottom, we realized the temperature was soaring above 35⁰C. Riding in that heat with heavy riding gear on was a horrifying task. Even the wind that was blowing was hot. :(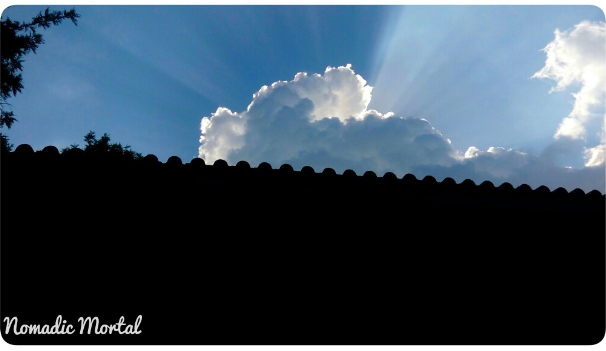 Since we weren't interested in riding post sun down, we sped up, taking very short breaks. Enjoying a splendid sunset along the way, we reminisced about completing this much awaited ride successfully. In times when hill stations are infamous for being over populated and polluted, this rustic little beauty is an eye opener.
Let's be nothing, I heard it lasts forever!- Anonymous
This trip was first published on Nomadic Mortal. Head on over for more photos.
Frequent Searches Leading To This Page:-
road trip from bangalore, bangalore to kolli hills road trip, best bike trips from bangalore, weekend getaways from bangalore, bangalore bike trips on weekends