Trip Route : Chennai - Ulundurpet - Attur - Mettala - Namagiripettai - Karavalli - Kollimalai (70 Hairpin bends) - Chennai
Trip Dates : 29 February and 1 March 2020
Trip Mates : Karthik, Sathish and Siva
Kollimalai had been on the bucket list for a very long time and atlast on short time span of planning, we hit the road. Kolli hills is a part of Eastern ghats and well known for a road trip for the 70 haripin bends it hosts ! There isn't much to see apart from the amazing Akasha Gangai waterfalls and couple of view points.
We started by Friday evening 6 PM and reached Attur by 10 PM. We had dinner near Ulundurpet Toll at Hotel Arya Nivas, idlies and dosas were ok. The plan was to stay put for the night either in Rasipuram or Attur; and, then drive to Kolli hills in the morning. We did not book any rooms because we were concerned about the Friday evening traffic and how much we could cover. Fortunately, there wasn't much of a traffic and we reached Attur by 10 PM. We stayed in Hotel Raj Krishna in Attur. Probably the only one. The rooms were just ok for a night. Don't expect it to be too much for a night rather than basic amenities and cleanliness was just ok.
Day-1
Around 6:30 AM, we started from Attur to Kollimalai. There are several routes that Google maps would recommend; often through the mud roads to Kollimalai. Please do point to a specific location in Kollimalai like a view point or the most popular Arapaleeswarar temple rather than typing as kolli hills. The most important point to note is that the ghat road with 70 hairpin bends is the most exciting part of the journey. Do follow the route recommended on the top of the blog for the best experience.
We woke up in the chill morning, refreshed and checked out. We had breakfast at a small shop near Solakkadu market. We bought some fruits before we started back to Chennai. Nothing more to see and we hit the road back.
We had lunch at Hotel Vasantha Bhavan - simple meals, nothing more, near Ulundurpet toll. One of the bucket list off a very long time !
We reached Karavalli around 8 AM. Few kms before Karavalli, in a small village named Nadukombai, we had breakfast. Hot piping idlies, freshly prepared parottas with sides of Sambhar, 2 chutneys and veg kurma were fantastic. There are few small shops at Karavalli as well. From Karavalli, the forest checkpost lets you to the ghat section of the trip. If one misses Karavalli, you cannot get anything to eat or drink till you reach the top.
Kollimalai is the name of the hill area and it has a number of villages. Most importantly, as tourist, one needs to know couple of names - Solakkadu and Semmedu. Almost all the tourist spots, hotels and resorts are located around these 2 places.
The climb is only 21 kms to Solakkadu but, through 70 hairpin bends ! The roads are fantastic and the whole ride is exciting to see around as well as to drive. Hardly, there are spaces to stop vehicle to see around apart from 5 - 7 places in the stretch - do stop wherever you see space allowing free movement of other vehicles and enjoy the views.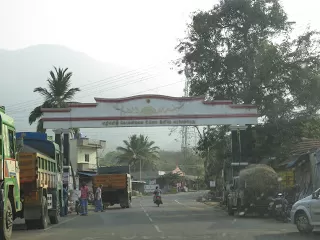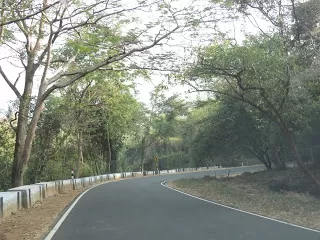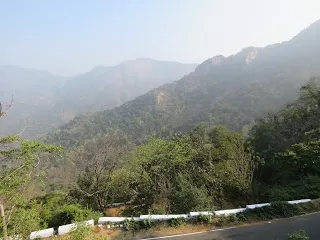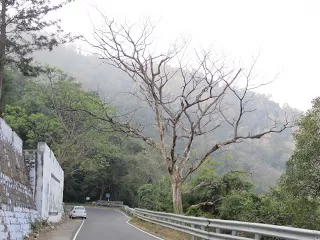 The 34th hairpin bend is very popular to stop by for view of roads below. This is a nice view point and normally all tourists stop here.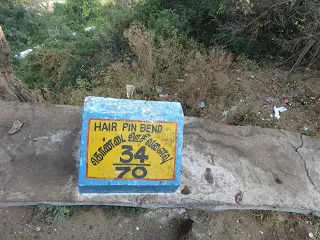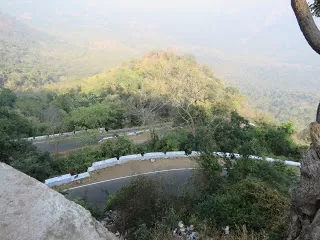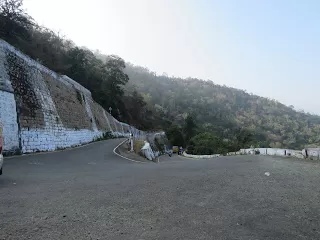 First, once we reached Solakkadu, there are 2 routes - one on the right towards Semmedu and the other towards Etukkai amman temple. We took the left and decided to goto Etukkai amman temple. Enroute, we had phoned and booked room at AG resort and we stopped by to gather the room keys. The room was quite small for 3 people but ok for a night. The room and bathrooms were quite small and clean. No restaurants and parking area for 4-5 cars. The resort (so called) was under construction when we went, however no disturbances for us.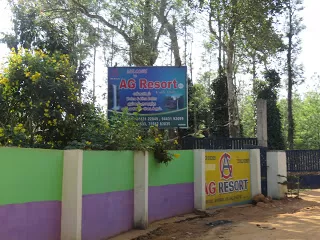 Etukkai amman temple is a 300 m walk from the parking area. Etukkai amman is a local tribal God and popular in the locality. The locals have a tradition of writing the wish in a paper and tying the same to the temple pillar. We spent around 10 minutes around and tasted the local soup (Mudavattukal kilangu) and kuzhi paniyaram on the walk back.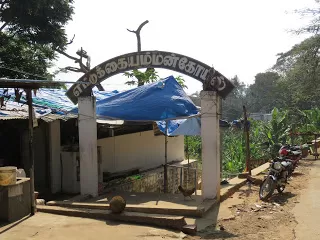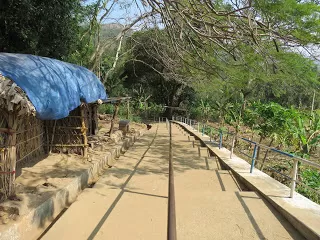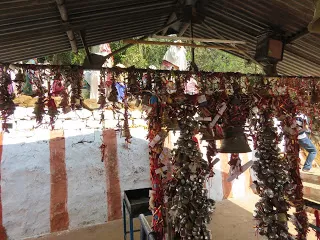 We next planned to visit Arapaleeshwar Temple. The temple is 17 kms from Solakkadu junction. This temple hosts main deity as Lord Shiva . The temple is quite old with some history attached to it. The temple is said to be built by King Valvil Ori. The temple timings are 7 AM to 1 PM and 2:30 PM to 7 PM. There are lot of eateries around the premises of the temple and all are pure vegetarian. Vegetarians, please ensure you have some food here, without which there are no pure veg restaurants in anywhere in Kollimalai. The place has lot of parking around the temple and shops to buy forest agro products like honey, pepper and lots of condiments.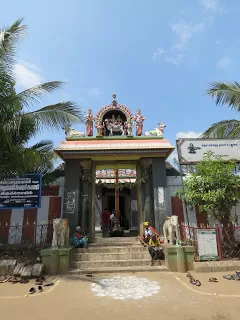 Agaya Gangai waterfalls is 1 km walk down from the sides of the temple. The main attraction of Kolli Hills. One has to climb down (and back) 1302 steps to reach the falls. The steps are steep and can get very tiring. It takes approximately 30 mins to climb-down to the falls and 1 hr to climb-up back. Agaya Gangai waterfalls is the attraction of Kolli hills. Water falls from 300 feet of height and is an amazing view. The water falls on either the rocks or the pond like place near the rocks based on the water flow. One needs to get into the pond of water to get wet in the waterfalls. A rope is tied leading people through the pond towards the waterfalls for safety.
Definitely, a great place ! We spent around 45 minutes in water. Do take snacks when you go down. Once you are out of water, you would feel hungry and need lots and lots of energy to make it back to the top across 1000+ steps !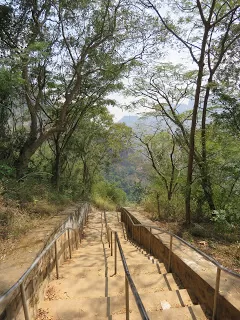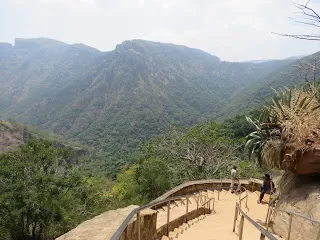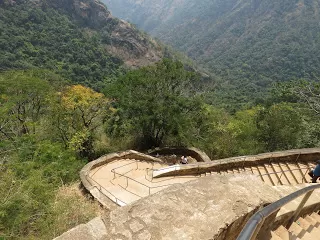 Once we reached to the top, vegetarian food was available around Arapaleeshwar Temple. We next visited, in 1 km from Arapaleeshwar Temple, Valappurnadu View Point. There is a view tower and gives amazing views from the top. The rich colours of Kolli hills and the blue sky make it a wow view point. Do not miss this place whenever you visit Arapaleeswar temple.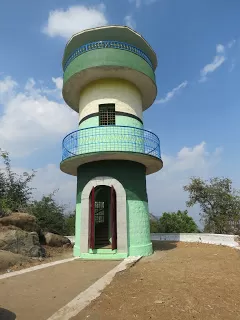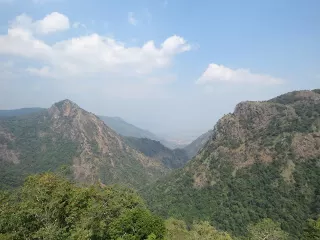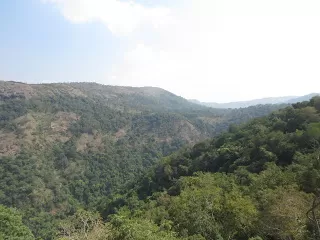 My non-veg loving friends tried to have some non-veg food near the junction coming out of Agaya Gangai falls; however, it is cooked on pre-orders only. They did get some egg stuff, however. We decided to go around the Kolli hills via Arippilappatti - Selurnadu - Vasalur Patti - The hill road. The road was mostly less used apart from few locals and a rare bus we could see. The views at few places were quite good, mostly covered with agriculture and pepper vines all around. We did stop in a couple of places to feel belonging to nature as much as we could! Overall, around a 1 hour drive before we reached the main tourist area.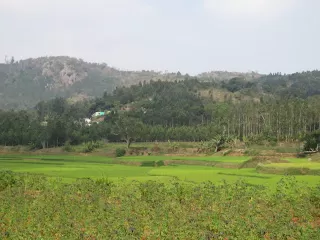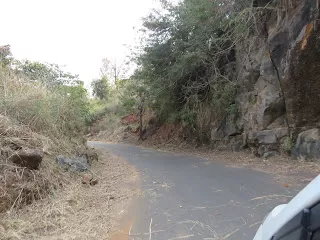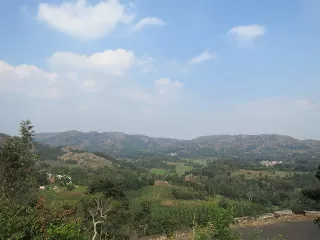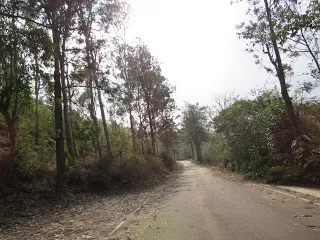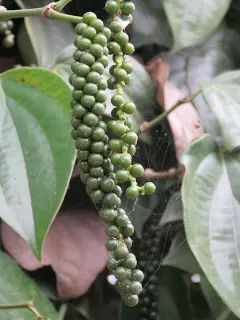 The Boating place is small piece of water and pedal boats for rentals. At Kolli, apart from Agaya Gangai nothing much other than the 2 view points which has special mention in this blog.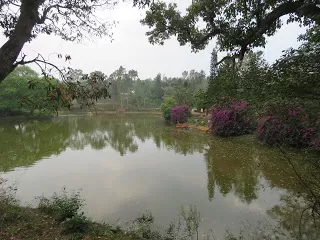 The Kolli Botanical gardens was a great mess. Rs.10 for entry and absolute pathetic with no maintenance at all. The walk ways as well had herbs and shrubs grown all over and give it a miss !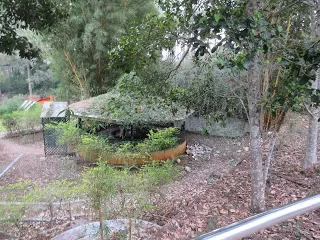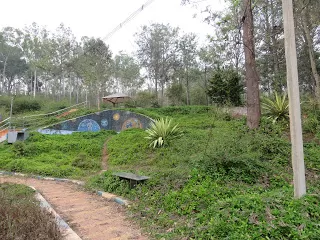 The last place to see in Kolli hills - Seeku Parai View Point. This is around 2 kms from the Semmedu town. The view point is definitely a must visit in Kolli hills. There is a small parking area and a view tower. The view of the valley beneath and the hill above during the dusk was fascinating to see. We spent around 15-20 minutes to enjoy the view before we returned back.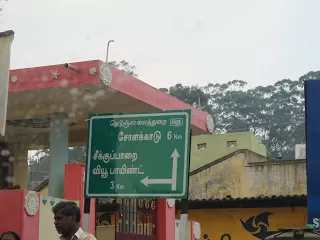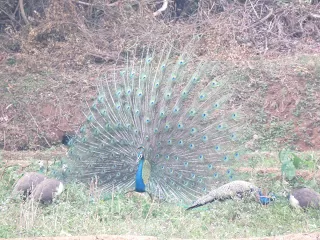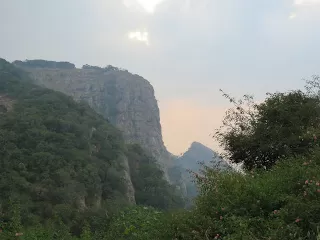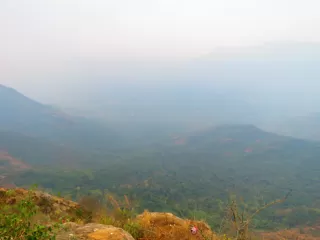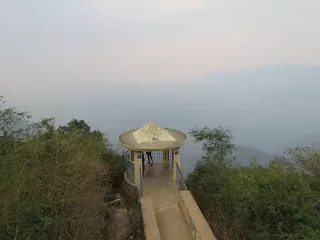 We reached back the hotel rooms. We bought some kuzhi paniyarams, kolli pineapple and some bananas as evening snack. Relaxed for some time and drove from Solakkadu to Semmedu for dinner. Only 2 restaurants are available and both provide non-veg. Vegetarians - be ready to deal with it. The chilling weather and drive down for 6 kms and back was fantastic though ! We spent the night on the terrace for some time and hit the bed.
Day-2