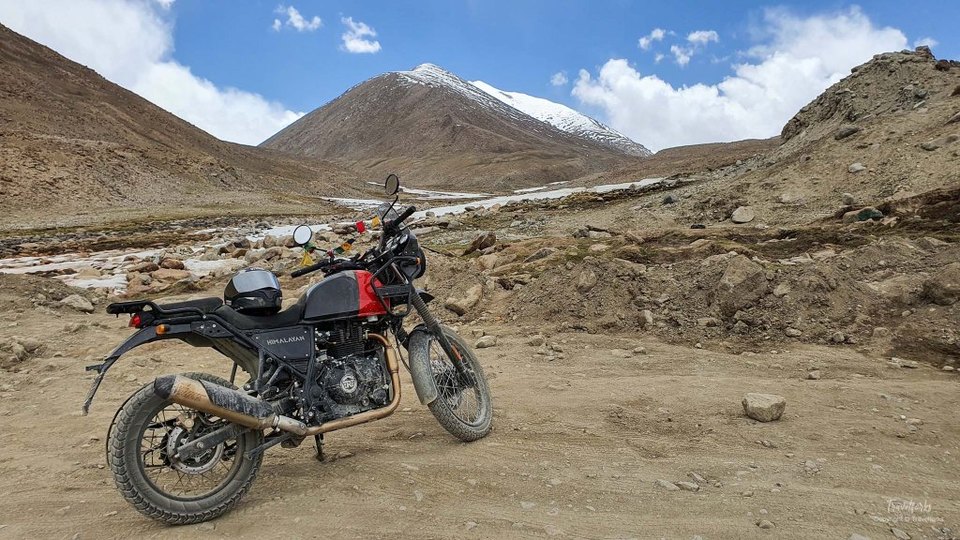 Introduction
Ladakh is a dream destination for many. The raw climate and high-altitude contributes to its highly adventurous nature. Quite honestly there is no place like Ladakh where the fear of AMS and adrenaline are high at the same time. Completing any activity in this place feels like an achievement to remember forever. Wandering across Ladakh on a motorcycle is one such experience.
Why motorcycle?
One may question why to torture oneself in the aried climate of this cold desert when there are other options to explore this magnificent place, like in a comfortable cab. I would say it's true, but this is a feeling only people who love riding would understand. The world seems different on two wheels - the pace, the feeling of freedom, the feeling of control when you grip the throttle, all contribute to a surreal emotion that can't be explained. I've been to Ladakh twice before but trust me, it was the most fun and thrilling on a motorcycle.
How to plan
There are many ways to do this but the easiest way is to book your trip with a group/travel agency to provide these bike tours in Leh. They can be easily found on the internet. They mostly include the basic itinerary, covering places that you would otherwise do in Ladakh. The good thing is that you need to pay them once and right from your stay and meals, bike, fuel and gears are all provided by them.
I went with WanderOn and it was a great experience. They had a mechanic, spare riders, first aid kits accompanying all time during the ride. The bike provided to me was brand new and was only 600 km driven.
You can also reach Leh and rent a bike from Leh market. Bike rentals now are almost everywhere, in fact there are more bike rentals than restaurants there! I would recommend travelling in a group, if you're doing an adventurous bike tour, so that someone has your back.
You can also bring your own bike if time is not a constraint. The nearest railway stations to Leh are Pathankot, Chandigarh and Kalka, so you can transport your own bike up till here and then ride via Manali.
The route
I followed a 7 day itinerary that covered almost all the main routes and destinations in Ladakh.
Day 1 & 2 for acclimatizationLeh lies at an altitude of 13,862 ft. When we travel by flight, our body needs time to acclimatize to this sudden rise in altitude. Usually 1 day is required to rest, where light activity is recommended, like watching TV or something similar. During this rest period it is not recommended to sleep or have any alcohol. I spent 2 days in Leh where on day 1, I took bike from the local market, strolled through the market and went to Shanti Stupa. Not much exertion. On day 2, I rode to different monasteries that included Thiskey, Hemis & Spituk.
Leh to Pangong via Changla pass (World's third highest motorable pass)215 Kms (approx)Leh - Thiksey - Changla - Durbuk - Pangong
This route is the most challenging of all as the roads become narrow from Leh to Changla. The road condition is also not good since at places there are heaps of sand that throw the bike off balance. As you gain altitude, the roads start to become wet and the temperature begins to drop, which makes it more difficult to ride.
Pangong to Nubra valley via Durbuk220 Kms (approx)Pangong - Durbuk - Khalsar - Diskit - Hunder
This is the most scenic ride of the entire trip. The views are breathtaking. The roads are pretty well maintained, though there are some river crossings after Khalsar, but those just add to the experience.
Thang Village (The last village)200 Kms (approx)Diskit - Turtuk - Thang - Turtuk - Diskit
This route is also a scenic one. It goes all along the Shyok river and has a few bridges before you reach Thang. Thang was recently opened for Indians to visit. However, there is military surveillance active all the time and the LOC can be seen from here. This route has some great opportunities to click good photos and create those over-shared Insta reels.
Nubra to Leh via Khardungla pass (World's second highest motorable pass)160 Kms (approx)Diskit - Khalsar - North Pulu - Khardungla Pass - South Pulu - Leh
This is one of the most thrilling routes, it has the most offroading patches but the road is wider. It might take more time to cover the distance but comparatively it is much safer than other Ladakh roads. Also, since it was the last day, I covered the whole distance at my own pace enjoying the whore route. Khardungla top is the highlight of this day. Khardungla was the highest motorable pass until Umlingla Pass was built.
The Delights
The best part of the trip are the people you are travelling with since you start sharing a bond with them through the risks and experiences.The feeling of achievement once you complete the trip.The thrill and excitement that keeps you going and pushing the throttle.Sitting in between the most scenic routes of the world and enjoying it in 180 degree view. Thrill of riding a motorcycle.
The risks
The risk of life is real. There is no harness and it is not a protected environment. One wrong move can cost your life for real.
AMS, since its a ride on altitude, sometimes you might feel dizzy and not feel 100%
Breathlessness, because there is low oxygen, doing physical tasks becomes challenging. Think of lifting your motorcycle after a fall, can't be done alone.
Road blocks. Roads are unpredictable, some watercrossigs can be really hard to cross and on some roads the bike just won't be under your control. The government, nevertheless, is quick in clearing the roads, but you might still have to wait at some places for the road to get cleared.
What to pack
Basic Gear
* A rucksack bag and a day pack. * 1-litre water bladder or water bottle
Clothes* A sun cap and a woollen cap * UV protected sunglasses * At least 1 pair of inner thermals * One long sleeve and 2 short sleeve cotton t-shirts* 1 fleece jacket * 1 heavy Thick jacket/Down jacket * 1 pair of riding gloves with one pair of inner lining* At least 2 long pants (trek pants and cargo pants are favourable) * 4 sets of undergarments * 2 pair of socks * A small towel * A rain jacket or a poncho
Footwear* Above-the-ankle waterproof and breathable hiking boots with good grip * Flip flops/sandals
Medications* One strip of Diamox * Glucose powder * medicines for headaches, diarrhoea, motion and altitude sickness * Dettol * Bandages * Cotton * Sprain relief spray * Crepe bandage * Any personal medication advised by doctor
Personal Accessories* Toothpaste,Toothbrush * Paper Soap/Sanitizer * An SPF 40+ Sunscreen ,Lip Balm, Cold Creams * Body Spray * Led Torch Light*Power bank
Eatable stuff:
*Carry Glucose, chocolates, Nuts and other stuff which u want to carry.*NOTE: Appetite will reduce due to AMS
Motorcycle
The recommendation will be a motorcycle above 350 cc since you may have to use all the power at some places. I did the entire trip on a Royal Enfield Himalayan 411CC, and that also felt underpowered at some places with my 65kgs body weight.
The most commonly used Motorcycle here is Himalayan, since it is custom built for Ladakh. There is only one drawback: the Himalayan has a very soft handle which bends even on a light fall. I would recommend having leg guards on the bike to protect direct impact on the handle.
Other Royal Enfields like Classic and scram can also be good options. The good part about Royal Enfield is that every mechanic in Ladakh knows how to fix it and that comes as a boon unlike bikes like KTM that require sophisticated care.
Snowfall, making it even harder to ride
Overall for me, it was a once in a lifetime experience and I still miss all the people who became family for 7 days. I will cherish this memory for a lifetime.
For short stories follow on Instagram.
Read original blog here