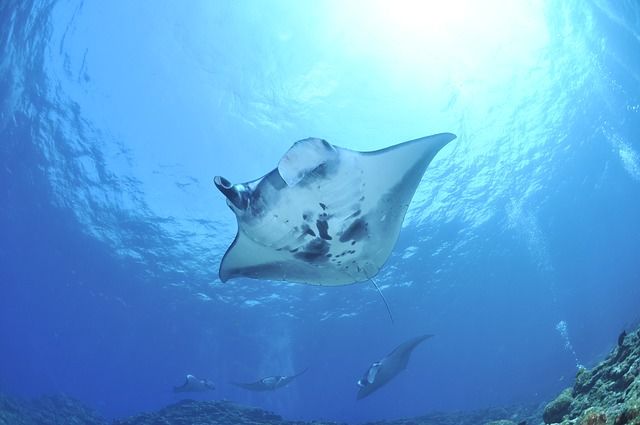 Maldives maybe world famous for its azure blue waters and extravagant underwater villas which costs anywhere between USD 500 - USD 50000 per night. But I'd have to say the best part about the Maldives is underwater. It's an entirely different world altogether and once you witness the magic, there's no going back. Trust me!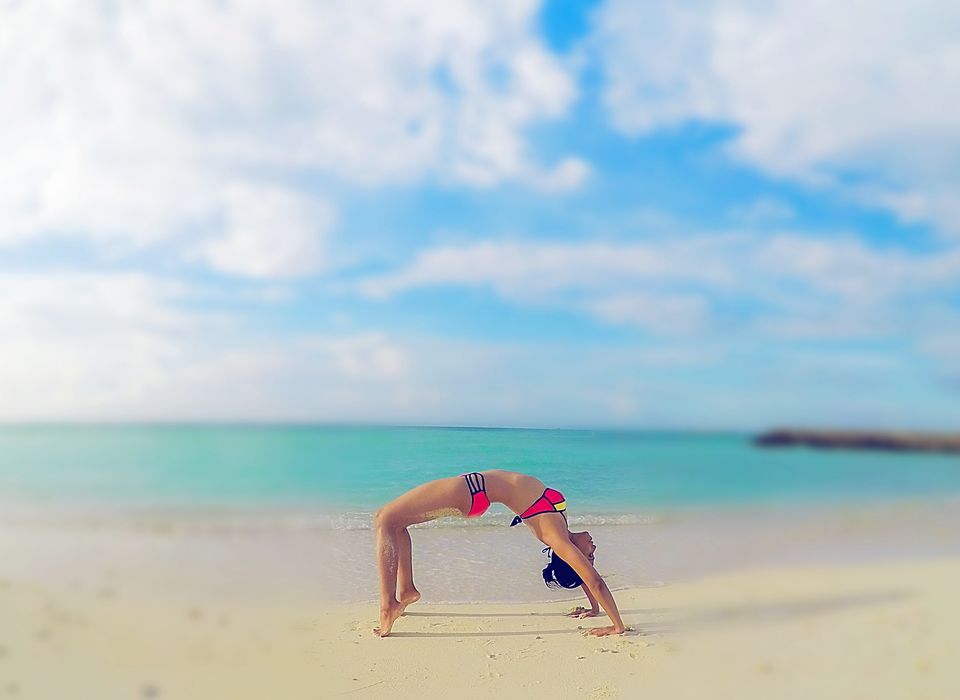 Getting certified in Scuba Diving
A lot of people ask me about how did I ever think of getting certified on diving. Well, I was introduced to this brilliant world of learning scuba diving by my colleague while I was interning in Bangalore. He wanted to get certified as an Open water diver and he signed up for a course right in Bangalore. The institute conducted theoretical courses in Bangalore and then practical diving lessons in Netrani island, off Murudeshwar. I found it so cool that I vowed to do it sometime in the future even if it meant just for that title.
And that was over four years ago.
Now let's fast forward to September 2017. My birthday was fast approaching in a month. Being the perpetual learner that I am, I wanted to signup for a course while traveling.
So, I went through my bucket list and shortlisted two things I would want to do right away. Either learn martial arts in China or learn scuba diving in the Maldives for a week.
Looking for cool and unique bucket list ideas for your next travel? Check it out here!
I had a fair bit of idea with kickboxing at my gym and it seemed enticing as well. However, flights to China were expensive for the coming month - at around Rs. 35,000 from Bangalore, and I didn't find it worth the money, not for China, which is India's next door neighbor, nonetheless.
Scuba diving in the Maldives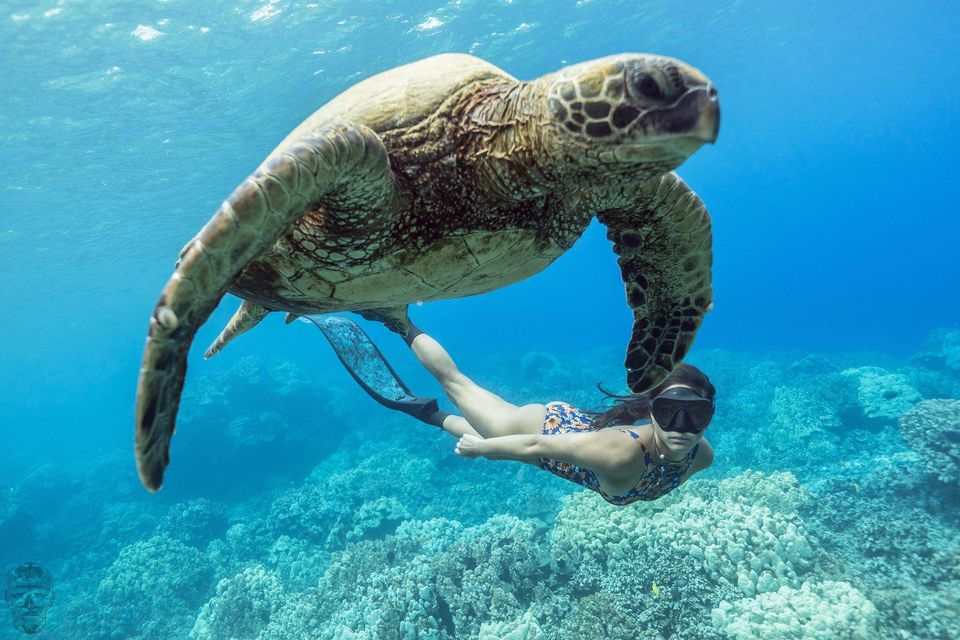 Learning scuba diving was a long pending dream of mine, a lot longer than learning martial arts. And, after all, dreams don't work until you do! So, I thought it was as a good time as any to get certified, and took the leap! Though unlike Phuket, I hoped to see a better marine life this time!
Initially, I wanted to go on a solo trip. But, diving is, after all, a social activity, and I couldn't imagine doing it alone with just the instructors. And my friends didn't seem interested in scuba diving in the Maldives. Hence, I opted to travel with an experiential travel site, which hosts amazing activities and experiences around the world. Which was exactly what I was looking for. So, I gifted myself with a diving trip for my birthday and booked my flights to the Maldives. One week turned into another and soon I was in the Maldives, closer to my dream than ever before!
Read: Best Scuba diving destinations in the world!
Maafushi Island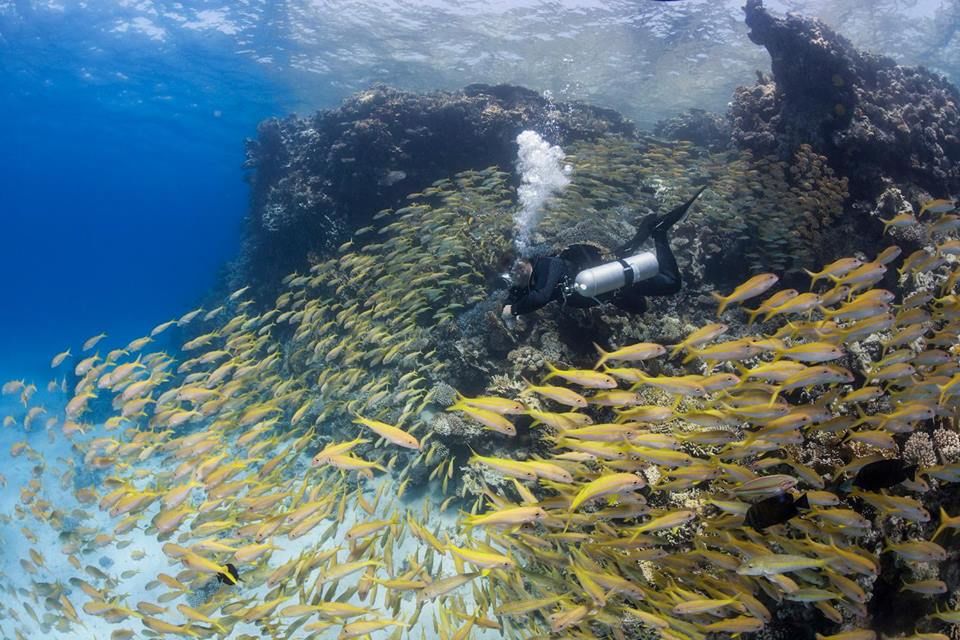 I landed in the Maldives airport, and after a couple of hours, I found myself in Maafushi island. This small island of just around 1km in length was going to be my home for a week. I was traveling with a bunch of eight people. As far as planned trips go, this one had no fixed itinerary, no guide or no one else representing them. We were pretty much on our own, except that the stay and the dive trips were booked prior. So, it was ideal for me, as a traveler, that I had the freedom to venture out on my own if I wanted to and yet have a bunch of fun people for company while diving.
The main agenda for me to visit the Maldives, of course, was getting certified on scuba diving. But soon I found out that Maafushi island has a thriving water sports culture, and there are ample watersports you can try in the Maldives.
Maafushi island Hotels & Guesthouses
Compared to Maldivian standards, where the norm is $500 per night resort stays (that goes as far as $2000 - $3000 per night), Maafushi offers budget accommodation somewhere around $50 per night per person or lesser. Here are some of the accommodations I personally recommend if you're making Maafushi island your base - Triton beach hotel and spa, Arena beach hotel, or Zest Cabana Guest House. You can read more on that here.
Learning Scuba Diving
I dived with Maafushi Dive - a dive center right in Maafushi. They are a bunch of fun folks and they offer PADI certifications for all ranges of learning from Discover Scuba Diving to PADI Divemaster courses. Highly recommend them!
In the process of getting certified as an Open Water Diver, I spent three hours in theoretical video lessons on diving where I learned about concepts like buoyancy, descending and ascending, responsible diving practices, diving equipment. followed by a confined dive (either diving in the pool or a shallow stretch of ocean), it was finally time to test the waters.
Once I'm certified as an Open water diver, I can dive up to 18m with a buddy, and as an Advanced Open Water diver, I can dive up to 30m. Since most of the wreck diving usually begins at 15m, there's a very practical reason to get certified as an Open water diver, and an advanced open water diver as well.
The Open Water Diver course had four mandatory dives and I planned to go on two dives per day. First two dives at 10m depth, and the rest two at 18m depth. Each dive was at a different location, with different marine life inhabiting the region.
Dive Spots around Maafushi
I have wracked my mind long and hard to think back about the first two dives. All I can recall is that there were many tiny colorful fishes on those dives, maybe even Nemo. However, I was more focussed on fiddling with my GoPro, and more importantly, learning the ropes of diving by myself to focus on anything else. Anyway, it wasn't significant, and more of a practice run.
It's the next two dives, that's etched in my memory and I will probably remember for the rest of my life.
Manta Ray Point Dive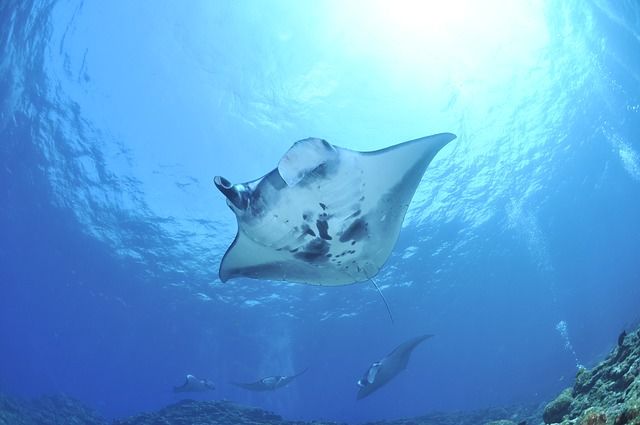 In this picture, you see eagle rays gliding in the ocean. They are similar to manta rays except that manta rays are larger and don't have spots!
The first one was at a Manta ray point. As the name suggests, this dive point had a high probability of spotting Manta Rays. The Mantas swim to the cleaning stations to clean the bacteria off their body by parasitic copepods and a variety of small cleaner wrasse species. We decided to book ourselves a front row seat to catch some Manta action. Kneeling down on the ocean floor right in front of the reefs, we decided to stake out for a rendezvous with the Mantas.
While I was fiddling with my buoyancy adjusting myself on the ocean floor and resisting the strong undercurrent in the ocean, I noticed a creature gliding directly above me. It encompassed me entirely while smoothly and calmly flapping its pectoral fins. It was relatively larger than anything I had seen in the ocean at that point, and it felt surreal! One of those moments where it felt like either time stood still, or I was in a slow-motion movie!
The Manta rays were wonderful, peaceful, and huge creatures. They manicure themselves at the cleaning stations and are filter feeders. They consume large quantities of zooplankton as they swim. And reside in temperate, tropical waters, hence the conditions were ideal in the Maldives.
Kadooma Thila Dive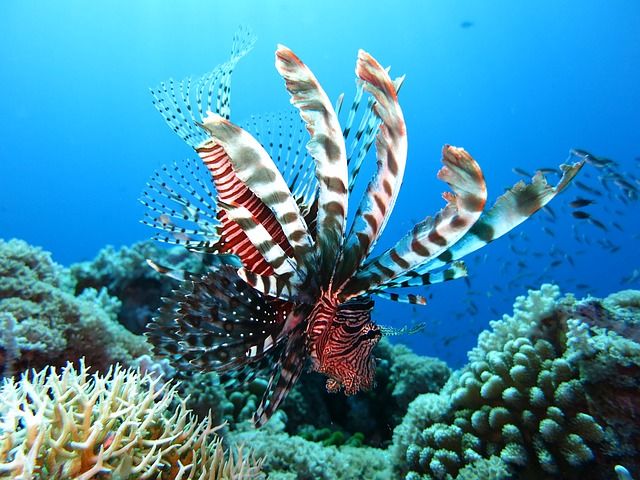 I finally had my Windows screensaver moment in Kadooma Thila. There were colorful corals, fishes of all shapes and sizes, and I was lost on where to focus my attention.
I ended up seeing a lot of grey tip and black tip sharks, nurse sharks, and it was just surreal to witness the pristine ocean in all its glory. It was fabulous to watch schools of fishes go about their daily business in their own world. And it truly is a different world down there, one that we know so little about!
I came out of the water out of breath, dazed and blessed with all that I've experienced so far!
Also, I guess I appreciated my life a little bit more!
Frankly, the underwater world is ruthless. It's not meant for humans and one wrong move can be fatal. Maybe that's what makes it alluring to those who are willing to take the effort to explore!
It's ruthlessly beautiful, no doubt!
Parting Thoughts
It's in the Maldives, that I knew my tryst with the underwater world is only getting started!
Find more about diving in the Maldives here. Get in touch with me on Instagram and Facebook if you've any pressing questions!.