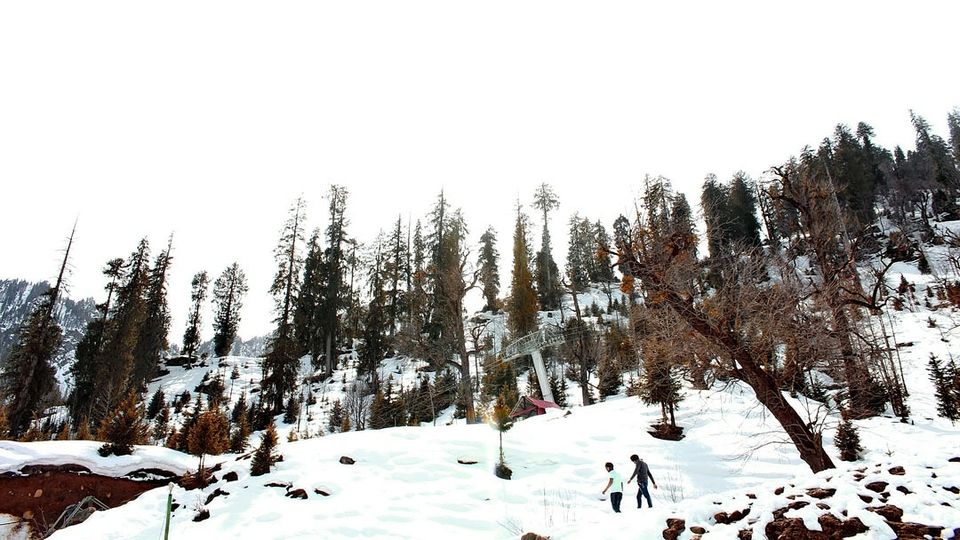 Every journey start with small Step but our journey starts with early waking up in mid night, actually 3 am Saturday 8 July 2017. Our bags are packed yesterday. So, we just put on our gears and head to our meeting point at Majnu Ka Tilla Petrol Pump. We reached about 4 am to the petrol pump. There after a long time other expedition member come around 5 am. Our mechanic also come just to see off. And also for checking our bikes. At 5 am finally we started our bikes to hit the road and aiming to cover Chandigarh by 1 o'clock.
After riding for one and half hour, we took breakfast at 70 Mile Stones. Halting there for half hour we are again full of energy. So, we all started to roar our bikes to the limits and reached Ambala by 10 am. Roads are pretty clean & smooth Everything is going fine then suddenly 20 Km before Chandigarh, a sound come from my bike and it stops there. Firstly, I check myself for the problem after check clutch and gear. They all seams ok. But on leaving clutch the bike is on moving forward even engine is also working time. On seeing the rear wheel, I come to know that chain has been broken or its out of the engine side sprocket. Well it my fault that I have given my bike on service 2 days before starting this expedition. As I don't know anything about repairing it. I tried to call my team mate who are ahead of me. First to my Brother Anuj. His phone is unreachable. Then to one of our team leader Jane Ansari, his phone is also not reachable, Then Kasha bhai, But this time my call connected and I told him that my bike chain sprocket has been broke and give my location. After 10 minutes wait they all come. Jane bhai started to open the sprocket cover using the tools. The lock that hold sprocket on its position was missing. So, on communicating to our mechanic over phone. We do a hack to run bike to nearest mechanic. Then I started my bike and going on 30 – 40 km/h cover about 4 Km and again that sprocket comes out as it is not locked. Then Jane, Kasha and Anuj started to push my bike by there legs. We managed to find a mechanic in Chandigarh after pushing my bike for 10 to 15 Km. This all wasted our 1.5 to 2 Hour.
Its become 12 of noon, and we are at Chandigarh city full of traffic and single road. We are in rush to cover Bilaspur by 3 o'clock. We some how manage to travel at speed of 50 to 60 Km in single lane road. We cover about 30 km on that road. After that we got good highway road. On crossing Kiratpur, we started to climb. Bullets have a speciality that they does not changes with different terrain. But in case of Fazer, there is a huge difference in riding on plane to hill side. I am aware of this and now I slow down my speed so, that my bike will not suffer that power lose. We took lunch after crossing Bilapur at 3:30 pm. We have only moved 20 to 30 km and My brother's bullet one of the rear shock absorber. Then we have to shift the luggage to Jane bhai. And start to find for mechanic so that the shocker got fixed. Ongoing further ahead we got a mechanic, he made the repair. Then again on doing 30 to 40 km his shocker again broke. It his happening again and again just because of that luggage carrier. We have crossed mandi and it is going to be dark. We still had to cover 120 Km. and Anuj bike is broken. So we continuously asking to locals for mechanic and 40 km crossing mandi, we got a mechanic, who told us that these shocker will not do Leh, and we need to buy the another pair of shockers. It's a shock of Anuj as replacing will cost about Rs. 2500. Well he said ok install. But on calling to store, the guy of spare part store does not take call. Then mechanic just fix the Shocker and said that 50 km ahead you can find other repair shop. May be there you find new shocker. So we all started to move on with Anuj bike with 40 Km speed for max. 20 Km before Manali, we got a repair shop. At that time its 10 pm. We got late because of Slow Speed but its part of the journey. Jane and Kasha Decided to Reach Manali so that that will print our permit. As we are going to leave tomorrow for Sarchu early in morning and at that point Printer will not available and tomorrow is also Sunday. So Mechanic asked for 200o for Replacing Shocker of Bullet with the Pulsar One. Well it all took about 30 Minutes.
As the New Shockers are installed we got confidence and Anuj finally speed up his bike and we head to Manali. In between about 5 Km Before Manali, An Incident happen. On seeing that from a Distance we think that How such big Stone are fallen on Road. We got scared that may be this a trap by goons. But going further close. There are so many sheep resting in between road. We corner our bikes and move ahead then. But that is really Horrible. In 20 Minutes we are in Manali. Jane already told us where we are staying so we directly go to hotel side. But we (Anuj & Me) become confused. I call Jane Again, he told to come back to Manali Mall Road for Dinner. Then we gate Dinner there. Then come to Hotel for a good sleep.