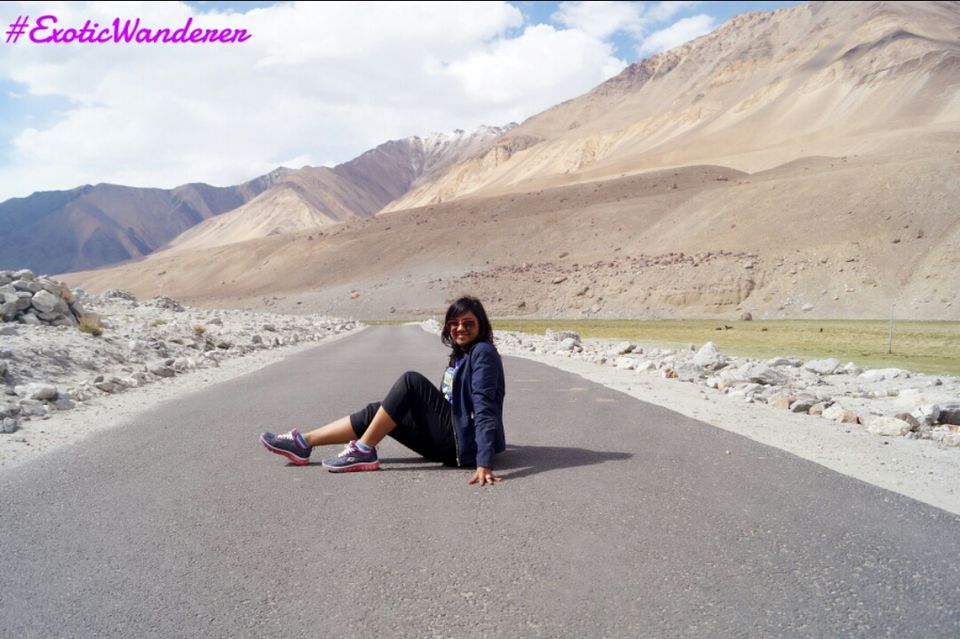 ❣How You Can Visit Leh Ladakh With Out Even Planning❣
Julley! This was the first word we heard when our flight landed in Leh. From zero feet to 11,483 ft. in just 2 and a half hours. Just as this flight took us from nowhere to a fantasy world of barren mountains in a couple of hours, same was our planning process. The Saturday was a usual one. When I returned home after my classes for lunch, I was about to take a nap. My friend called and asked me, Leh chalegi? and I asked him back, when? he replied, Tomorrow. I said WTF! but within seconds I knew there was no way I was missing this opportunity. Permission from mom was my biggest concern. April - Sikkim, May - Europe and June - Leh Ladakh. God! She will kill me!! And with my puppy face I was standing in front of her. It took only 2 minutes for her to say yes. Go, Enjoy and take care of your self. She is such a sweetheart. The pace at which the things followed; flight bookings, packing, parlour, managing all my classes was even faster than the attack of Blitzkrieg. (I would seriously not recommend you guys to follow my footsteps here).
Our flight was next day morning at 4:00 am and we landed in Leh around 6:30. Temperature was 12 degree C. We were in a group of 5. I and my friend flew from Mumbai and rest three from Delhi. Their flight was an hour late than ours.
Leh, has a very small airport with high security and army people all around. We collected the Map and brochure from the Tourist Info centre. Everywhere there was a continuous announcement of High Altitude Sickness and to take rest for 24 hrs before travelling anywhere.
The last minute planning had its nuances. The accommodation with army was full and the hotels which we had searched earlier on google were either full or very costly. One good thing happened, the Army Unit there, gave us a sim card and a list of hotels with their ratings and prices. (Needless to say, it was all because we had some Defence Officers in our group). Sad part is, all outstation pre paid sim cards get disabled there. Only Post - Paid sims from other state work. Within no time we discovered that there is a plethora of hotels and guesthouses at almost every ten steps and for every budget. Surprisingly these hotels and guesthouses do not feature anywhere on Internet.
We checked into Almighty Guest House which was beautiful small bungalow, with a tiny veranda and most importantly WIFI facility. After resting for few hours we left for "Leh Palace."
Leh Palace, once known to be a Royal palace, was built by King Sengge Namgyal in the 17th century. It is a 9storeyed palace and is one of the historical monument of the Ladakh region. Although, in ruins now but still looks good,thanks to the efforts of Archaeological Survey Of India. There was a monastery inside and in one of the many large rooms there was an exhibition hall. It displayed old photographs and paintings of Leh. It had a wonderful Panoramic view of snow capped mountains and landscape from the rooftop. The palace overlooks a beautiful Leh city. One can easily make out the stark contrast which the Indus River was creating in the valley. The greenery and the thick vegetation along the Indus River was a masterpiece example of the life infused in this barren region.
Our driver suggested to visit the stupa but we could not hold our horses to explore the Local Tibetan Market. We did buy a few stuffs.
Later we had a quick dinner and went early to bed. We knew next day is gonna be a really long one.
Just 24 hours ago, I was running helter skelter and packing my stuff without even imagining of where I would land. Like all people, I always dreamt of a road trip to Leh Ladakh. But for those running short of time a direct flight is not a bad option either. You can contest me by saying that in road trips, your altitude increases gradually and you get acclimatise comfortably. But if you land directly, it saves a lot of time and one day of rest is enough to acclimatise comfortably for your further journey. Personally, I was absolutely alright even though I am not a health freak kind of a girl. Although I was cursing my friend for such a hap hazard trip, but in a day I realised that the last minute planning was highly doable. so, all those lazy bums get up from your chair and stop making excuses that you require a months vacation to rendezvous with this un parallel heaven in our Incredible India!
Lots Of Love,
Juhhii Bhatia!