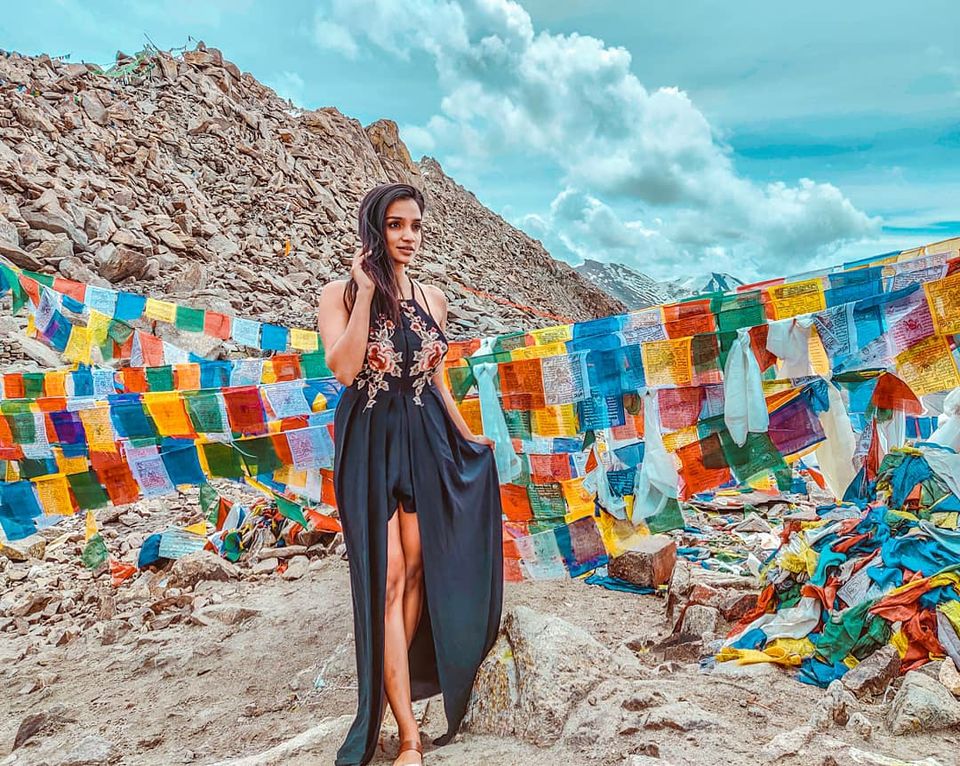 Leh had been on my bucketlist for the longest time, however the accessibility and the ideal time period to visit Leh being very limited kept me from actually planning this one until we decided to go completely impromptu on this one by booking only the flights and Zoomcar from Delhi!
From the two routes to reach Leh from Delhi, due to the J&K article 370 issue only the Manali-Leh road was an option to us as the Srinagar-Leh highway plans to remain shut for quite sometime.
Top Tips-
1. To acclimatize, start taking diamox tablets 2 days in advance when you begin the journey from Manali
2. There is no network beyond Manali once you enter Rohtang check point until you reach Leh, so download your offline maps if driving till Leh
3. Leh city only has BSNL, Jio and Airtel postpaid range whereas Nubra, Pangong have only BSNL network.
4. Most hotels outside of Leh city don't have WiFi and limited electricity timings from 7pm-12 am so keep your battery backups handy and charge your devices
5. Make sure you get your Nubra - Pangong permits a day in advance to not waste your day there - this has to be done once in Leh and cannot be done online
6. Get the Rohtang Pass permit online in advance from -https://rohtangpermits.nic.in/BeyondRohtang/InformatoryScreen
7. If doing the road trip like us, it's better to do impromptu hotel bookings as the road is quite challenging and can get closed at certain points which makes the bookings quite unpredictable. Also, the rates are cheaper when you negotiate in person unlike our overpriced Tier 1 cities!
Snapshot of the itiernary-
Day 1 - Chandigarh- Manali (8-9 hours scenic drive with strictly okay roads beyond Mandi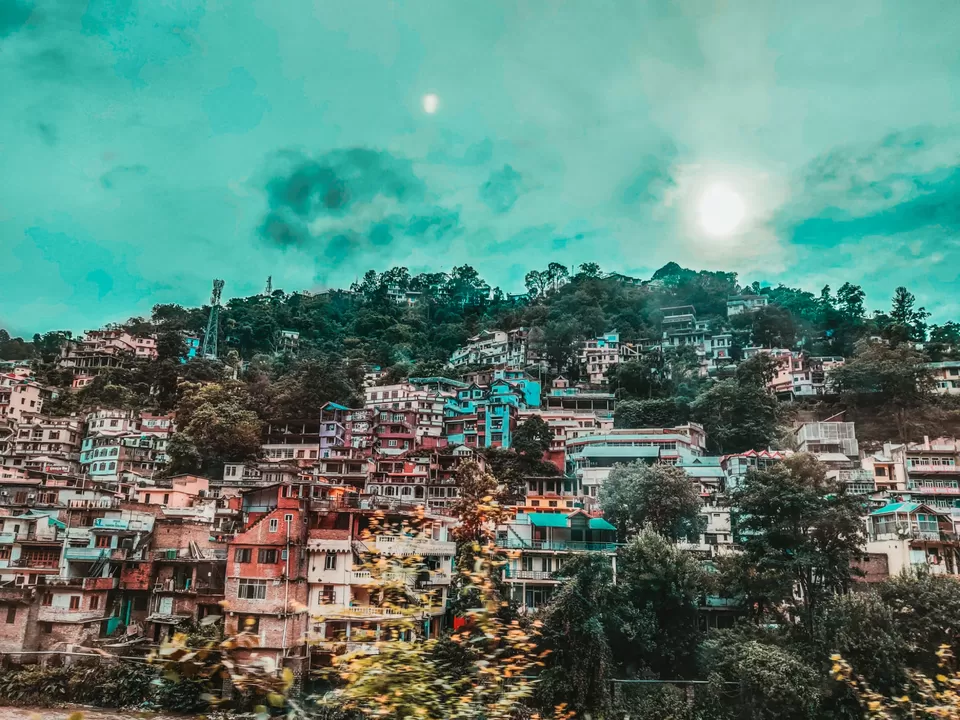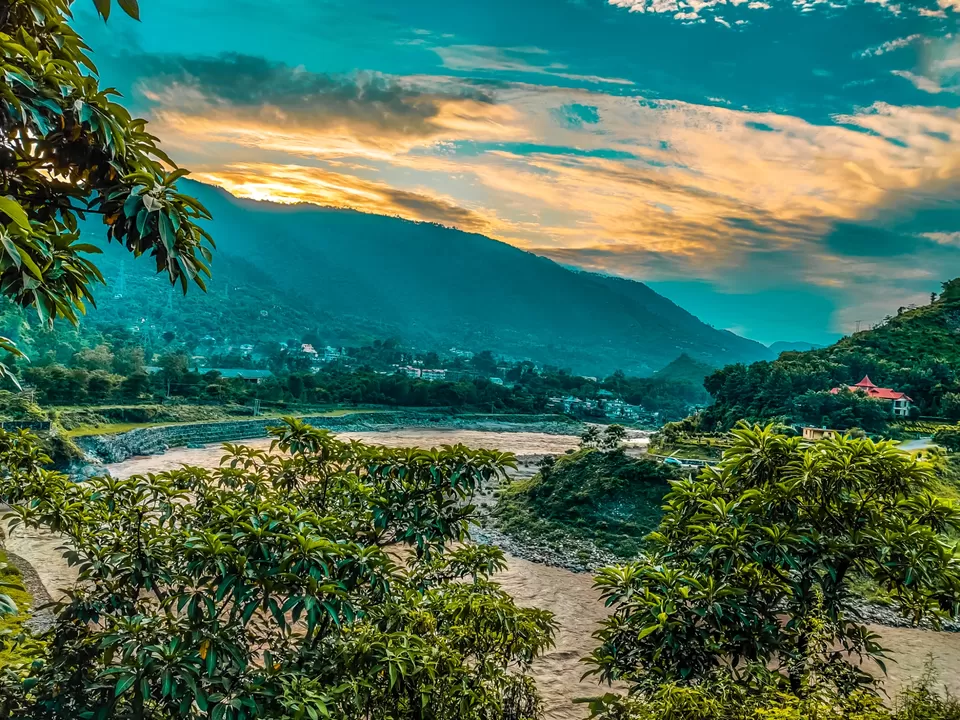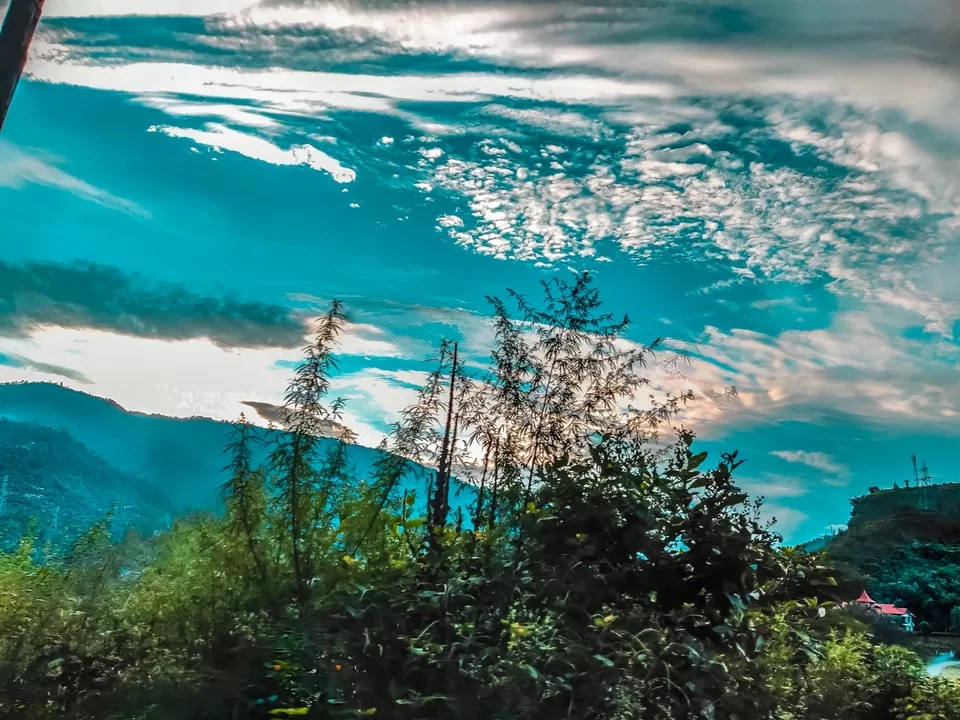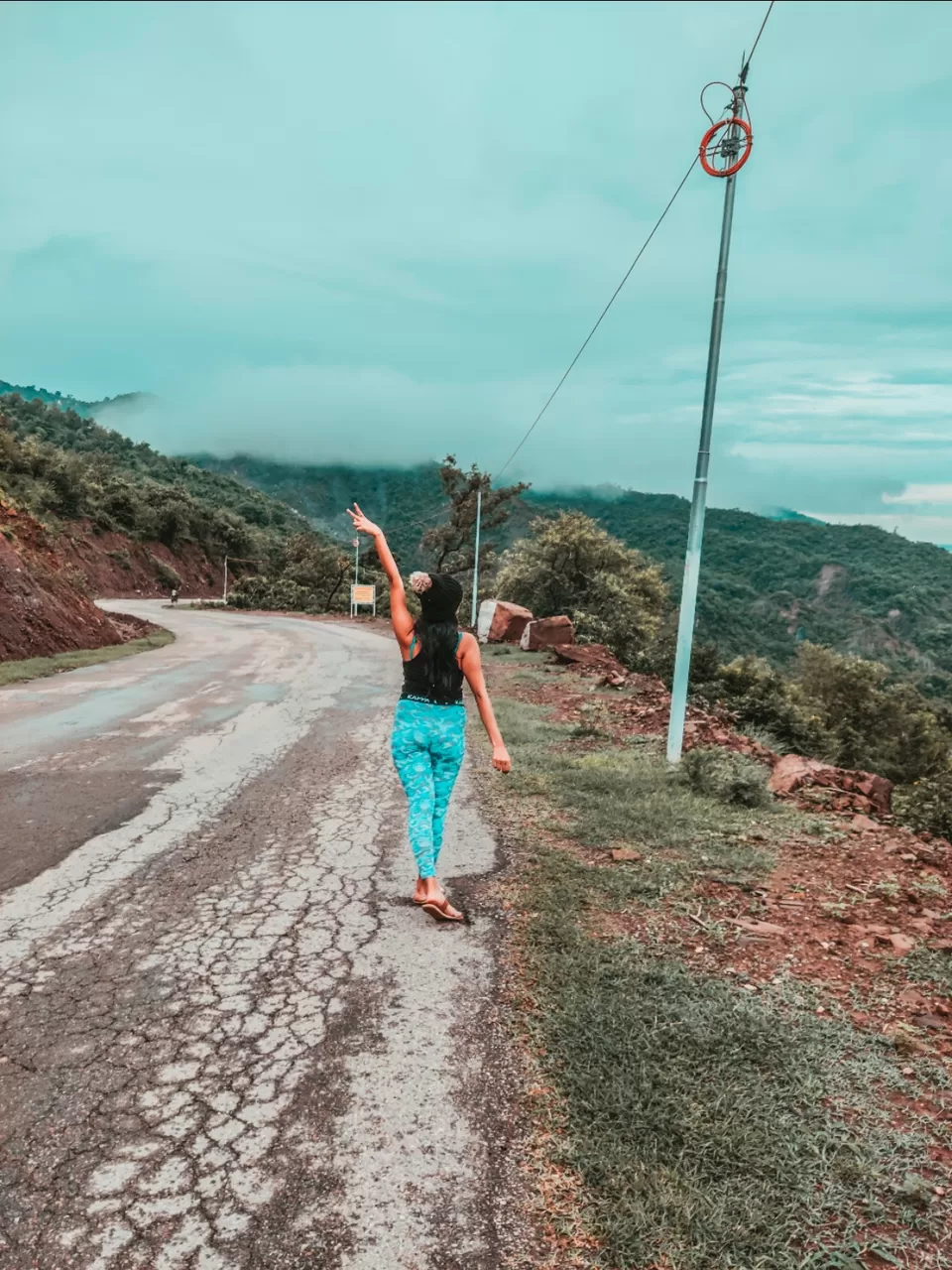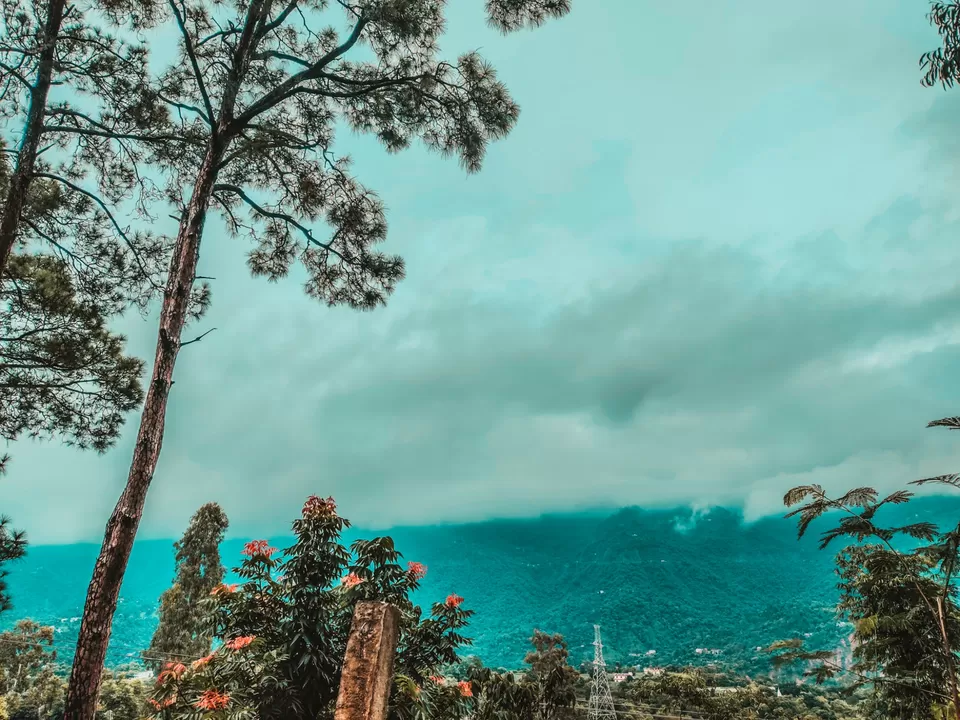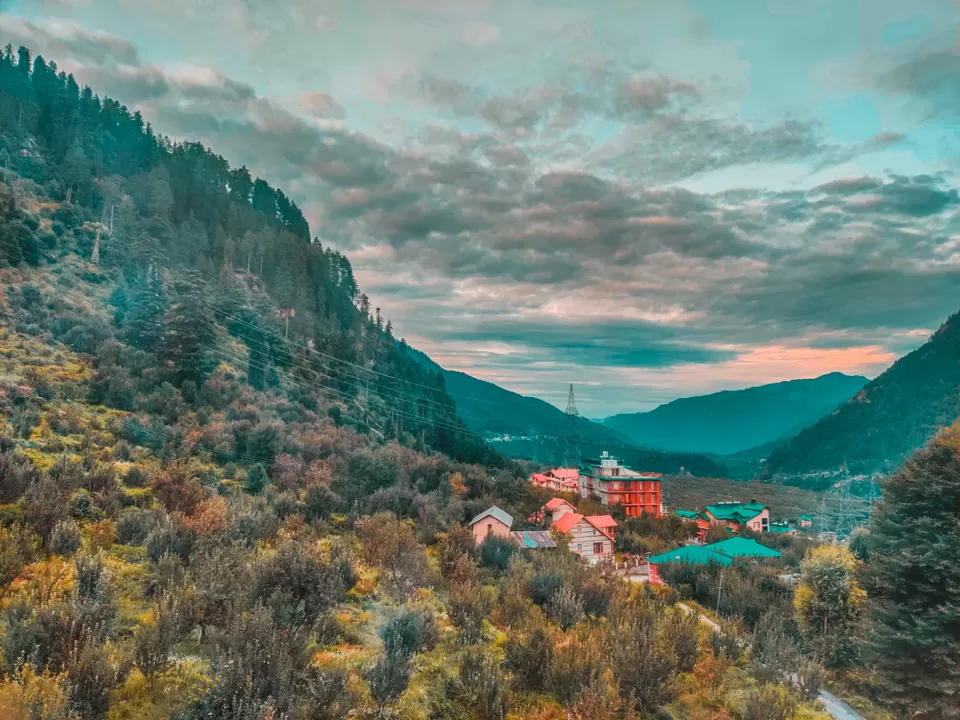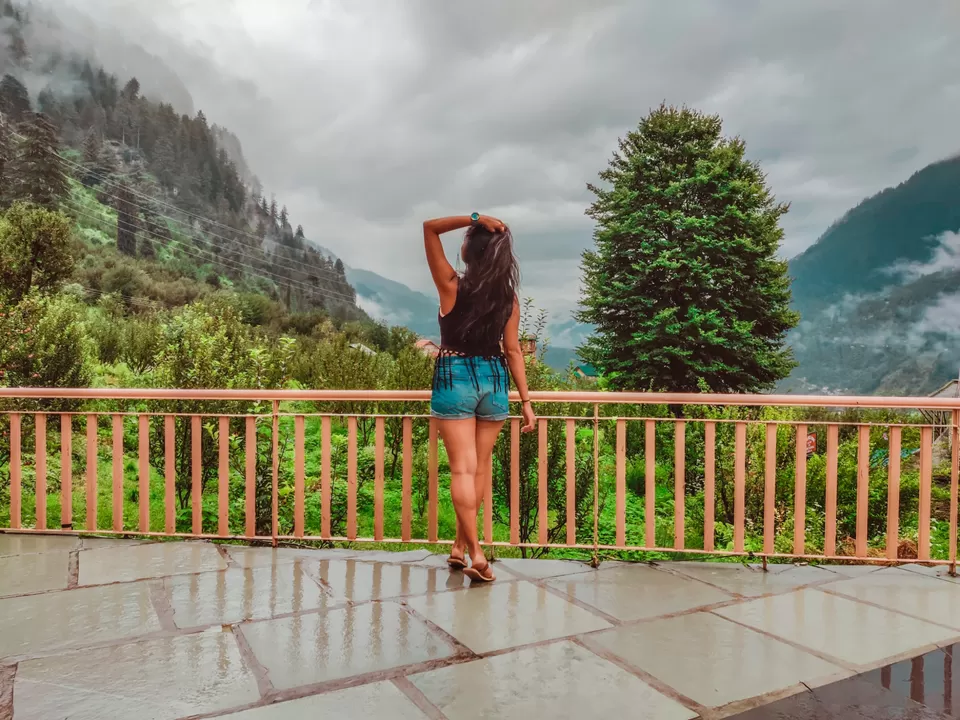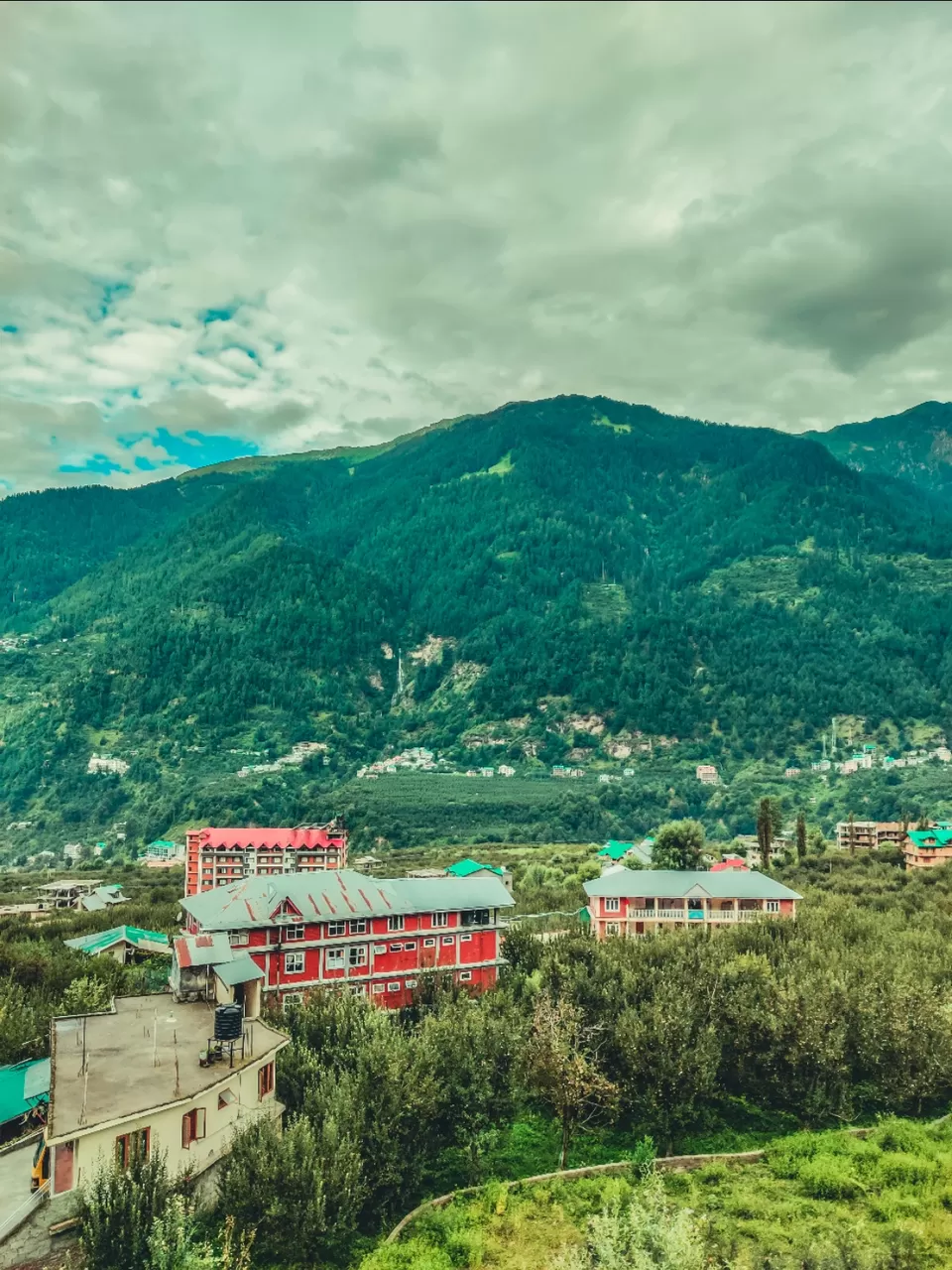 Day 2- Manali - Sarchu via Rohtang Pass, Keylong , Jispa (10 hours drive) one of the most scenic roads driving through the clouds , snow clapped cliffs and some of the most challenging roads with panaromic views on either side.
Top Tips-
1. Jispa can be a stop if you want something closer with less drive. However we thought we can find some accomodation in between Jispa & Sarchu however there isn't any decent option and you are forced to drive till you reach outskirts of Sarchu to find the camps.
After almost 1 hour drive (most dreadful one of the trip - full of challenging roads and water passes to cross in the dark)post sunset starting from Suraj Tal lake we managed to reach Sarchu and stayed at the first camp we bumped across which was quite good- Antrek Camps
Accommodation cost for tent - Rs. 1800 for 2 with breakfast
2. Make a stop at the scenic Suraj Tal lake - we trekked up 10 minutes offroad to find this photo spot!
You will definitely thank me for this photogenic beauty- check pictures to believe!
3. Rohtang Pass permit- this needs to be acquired online prior . The site opens 48 hours in advance and there is no way to obtain this on the spot . Also there are fixed no. of vehicles allowed each day so it's advisable to sort this one out in advance.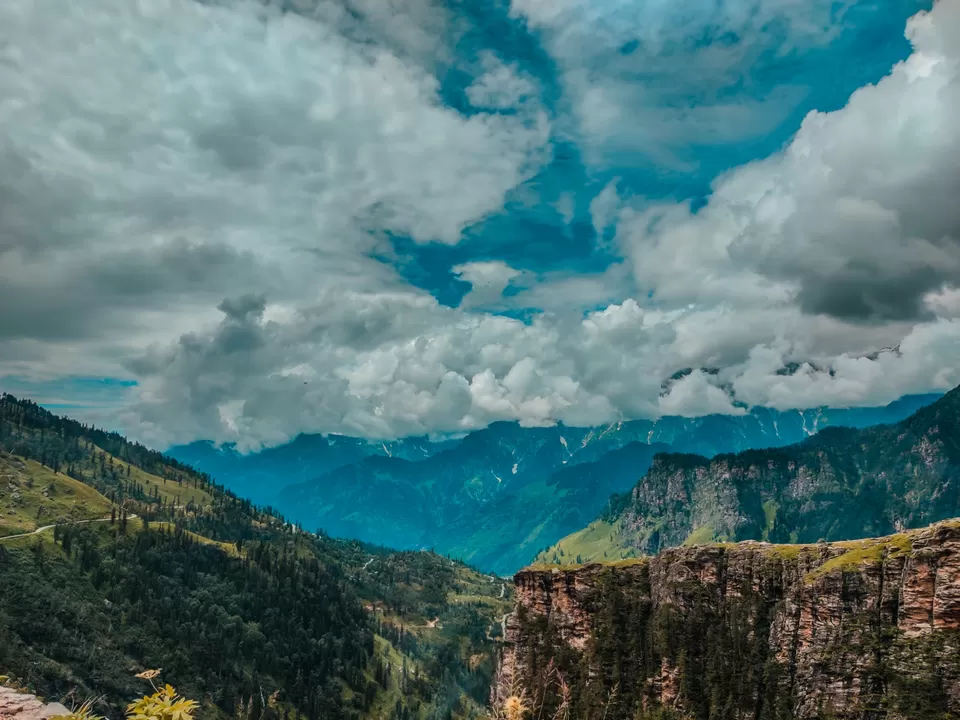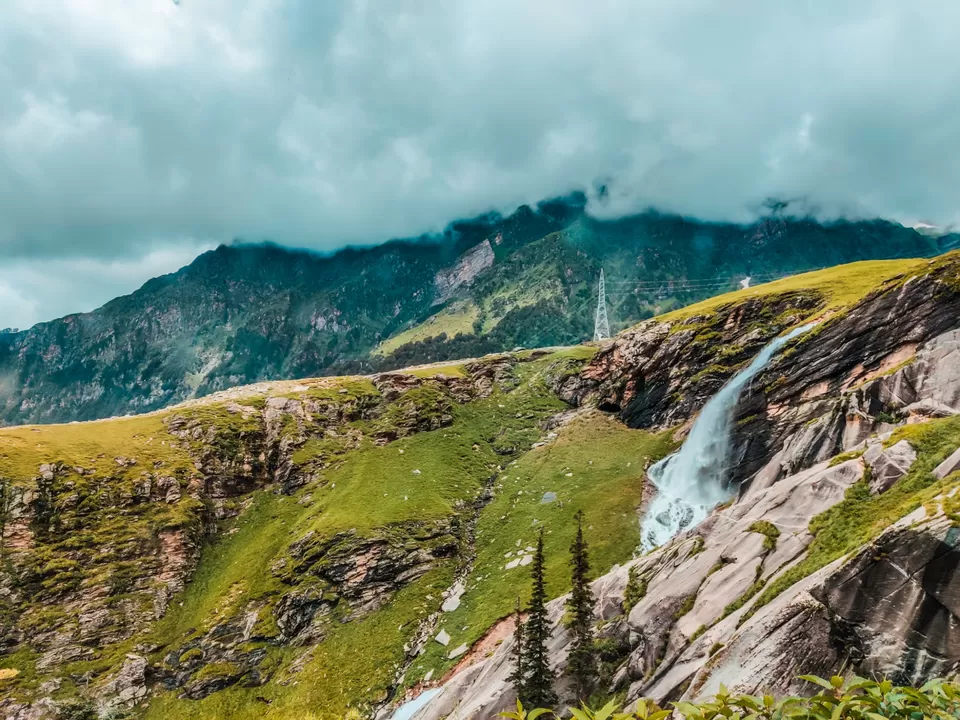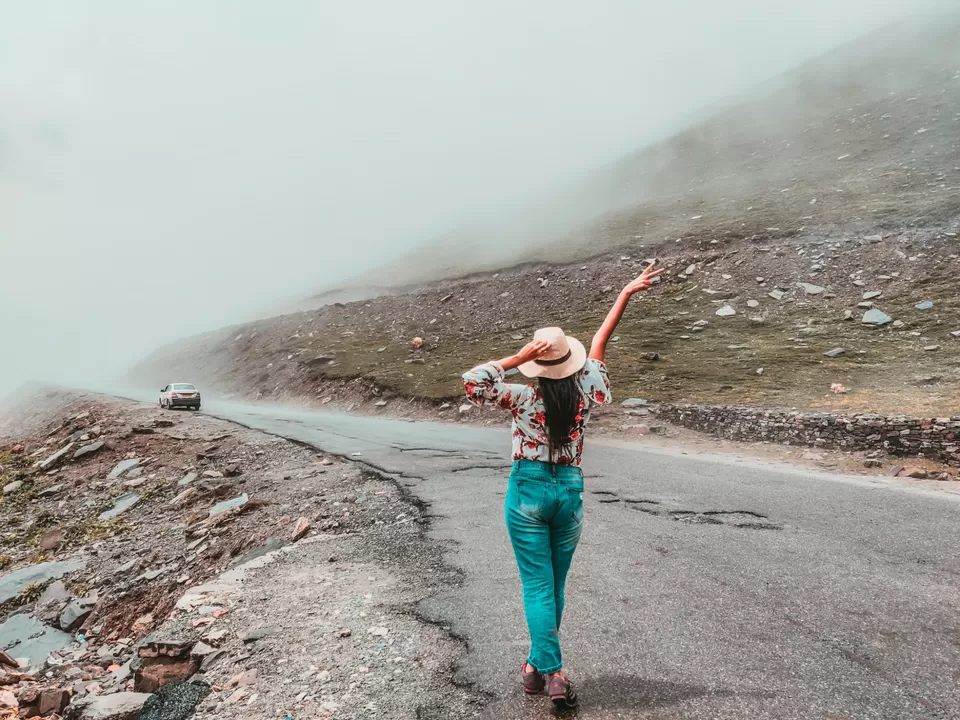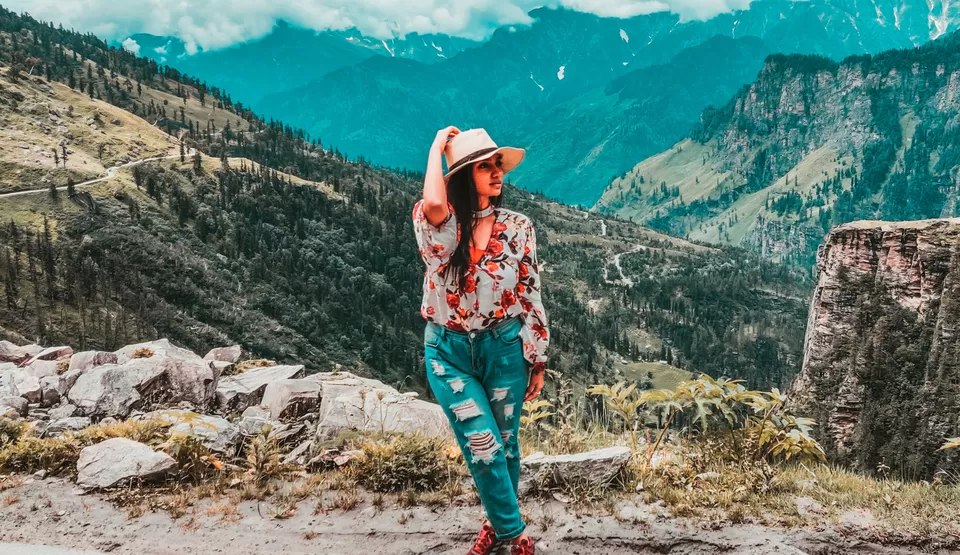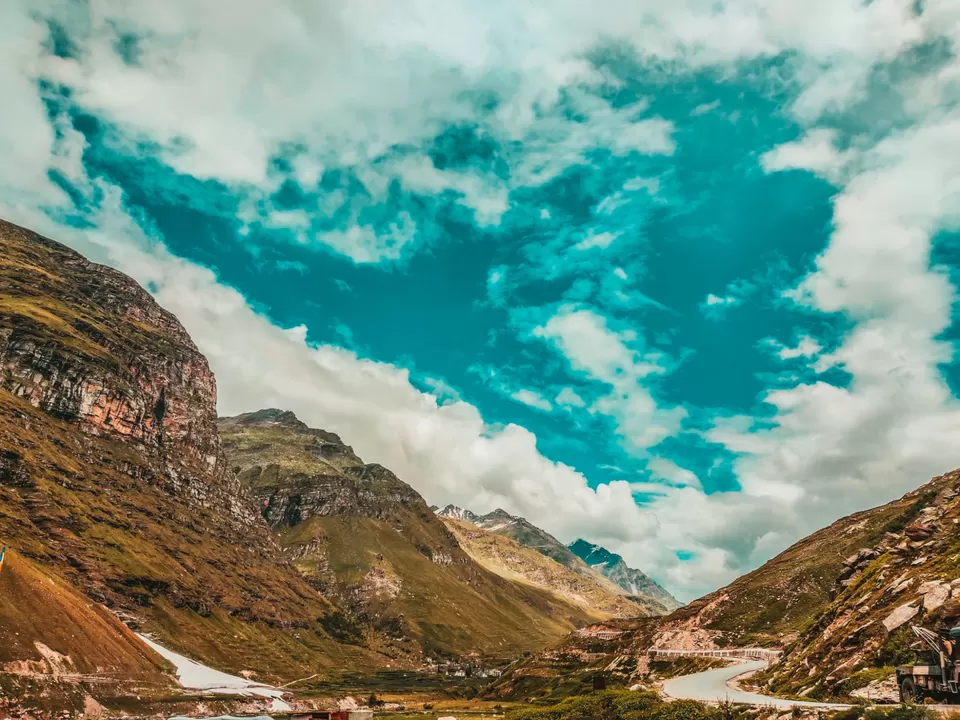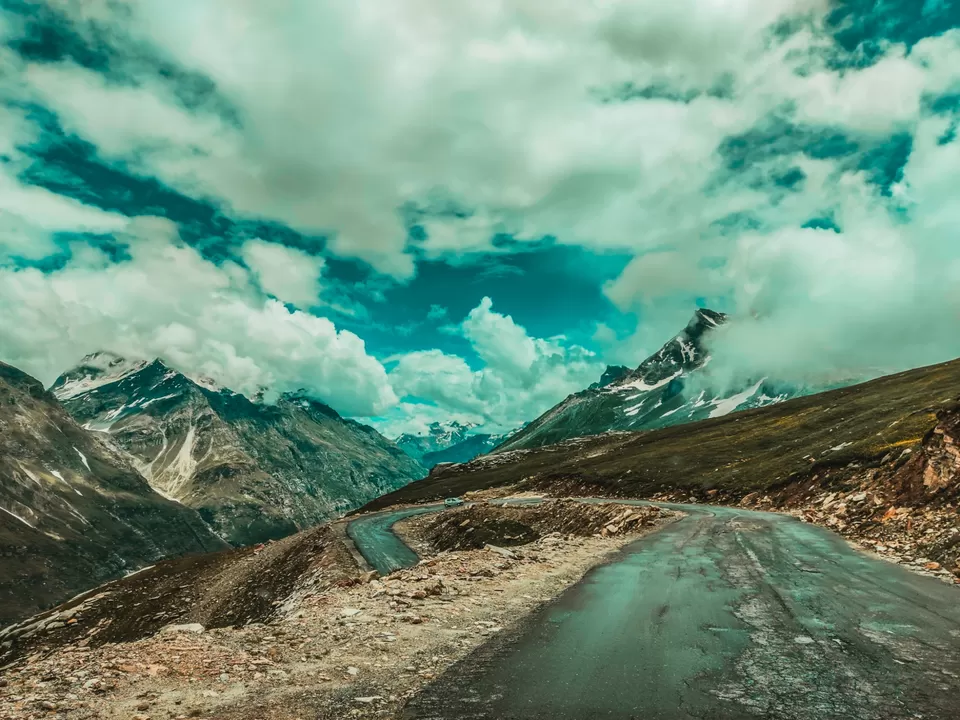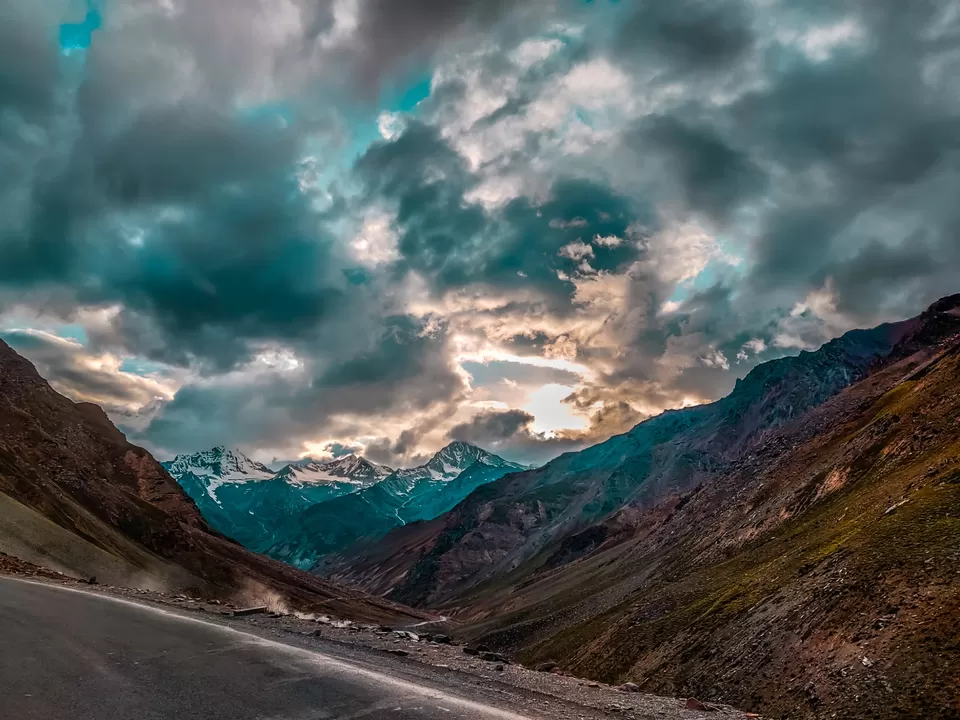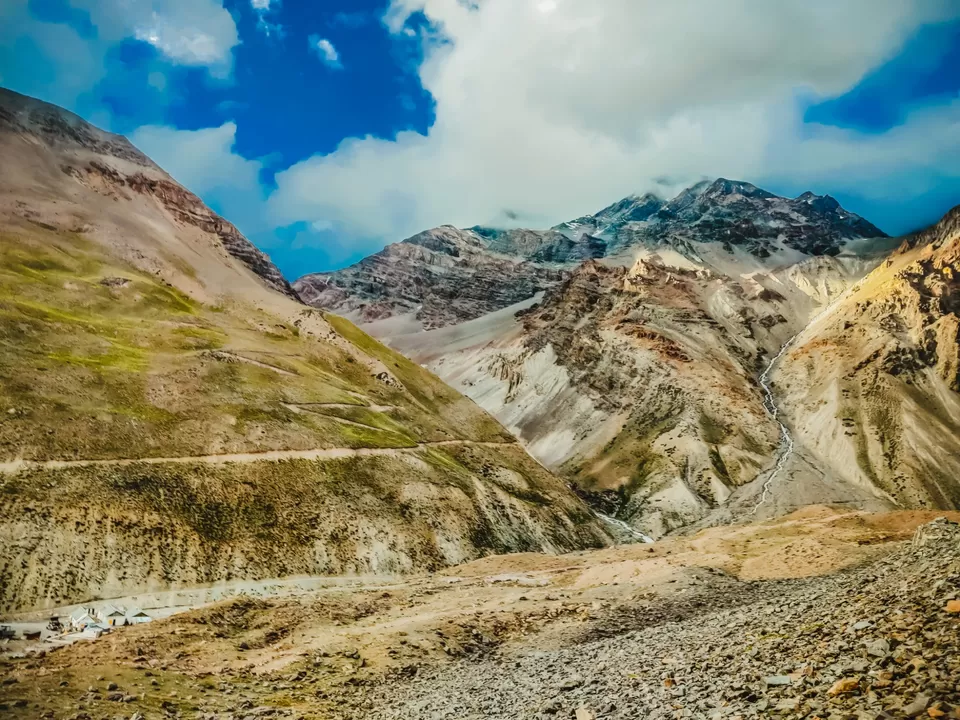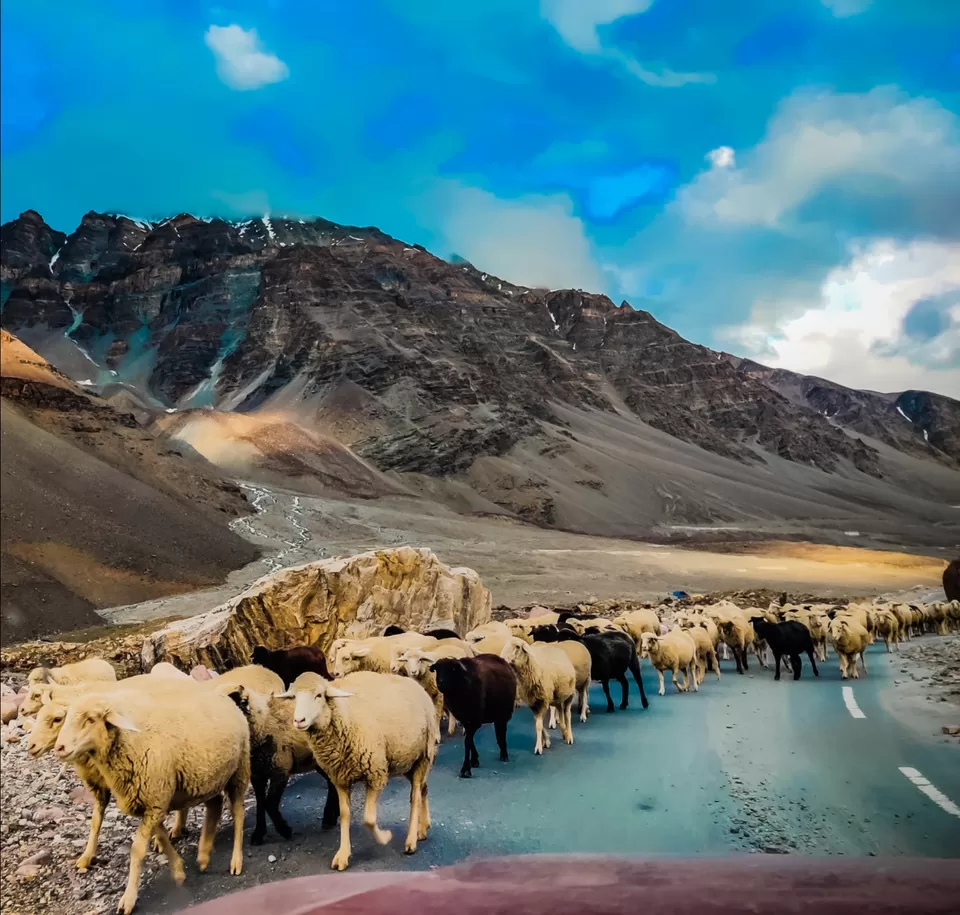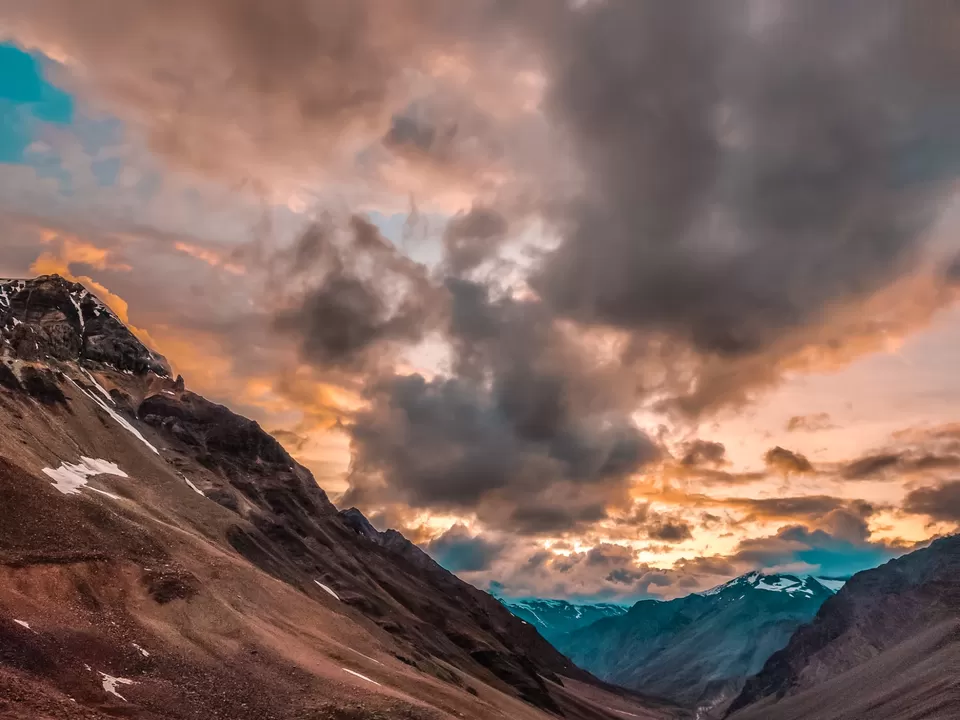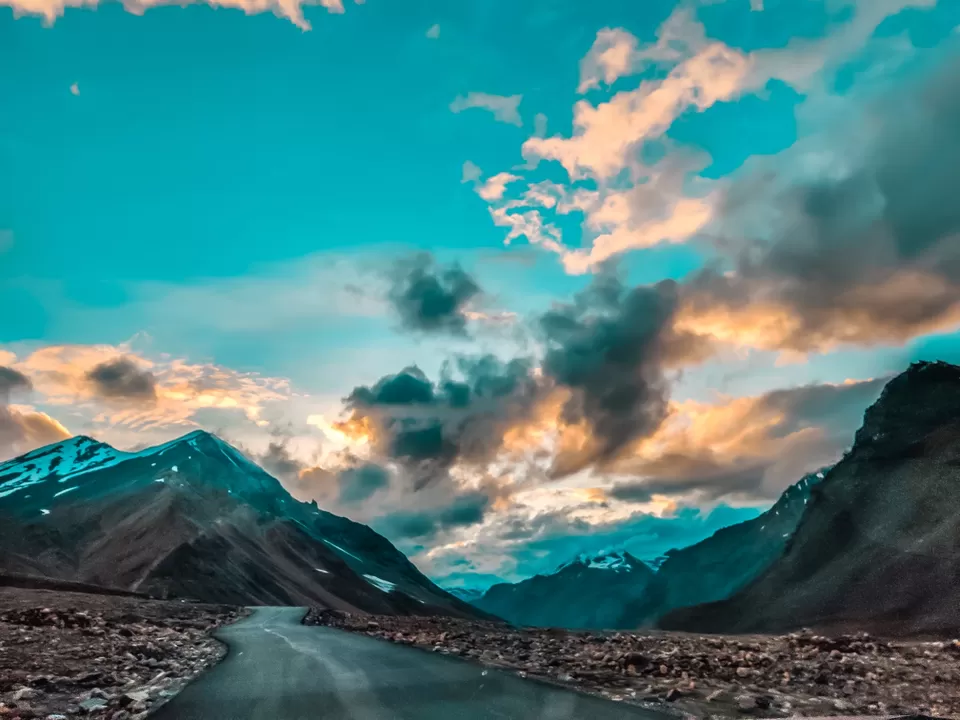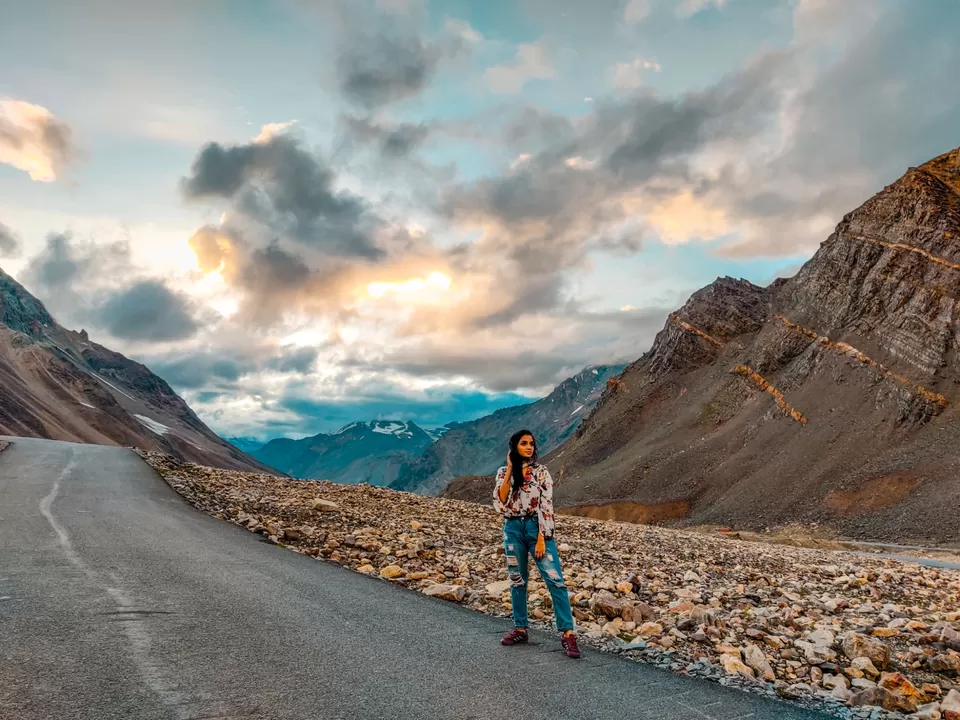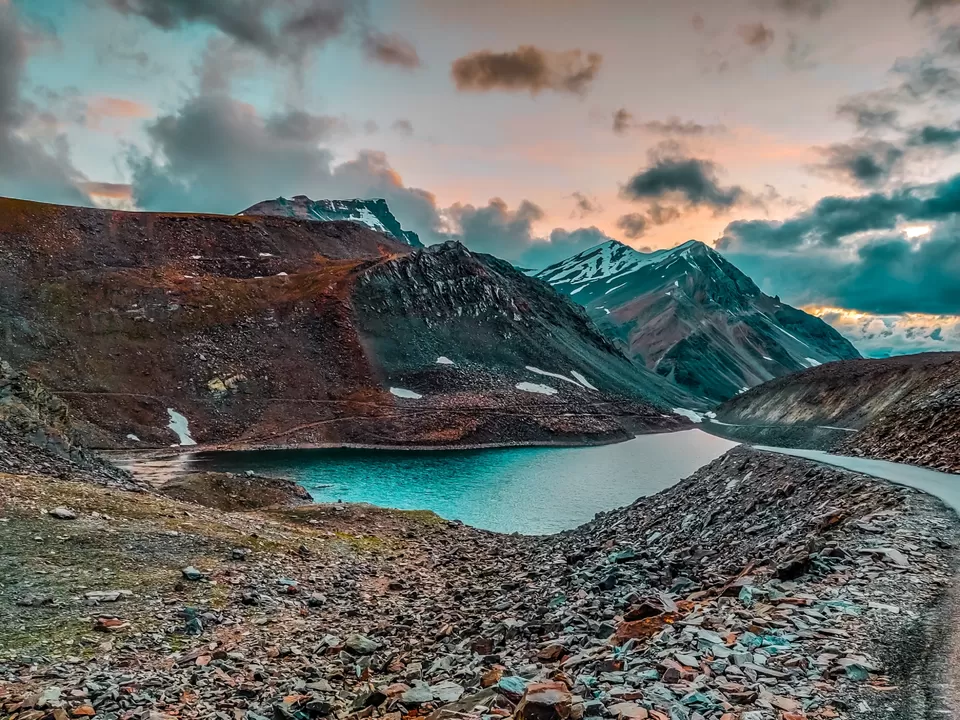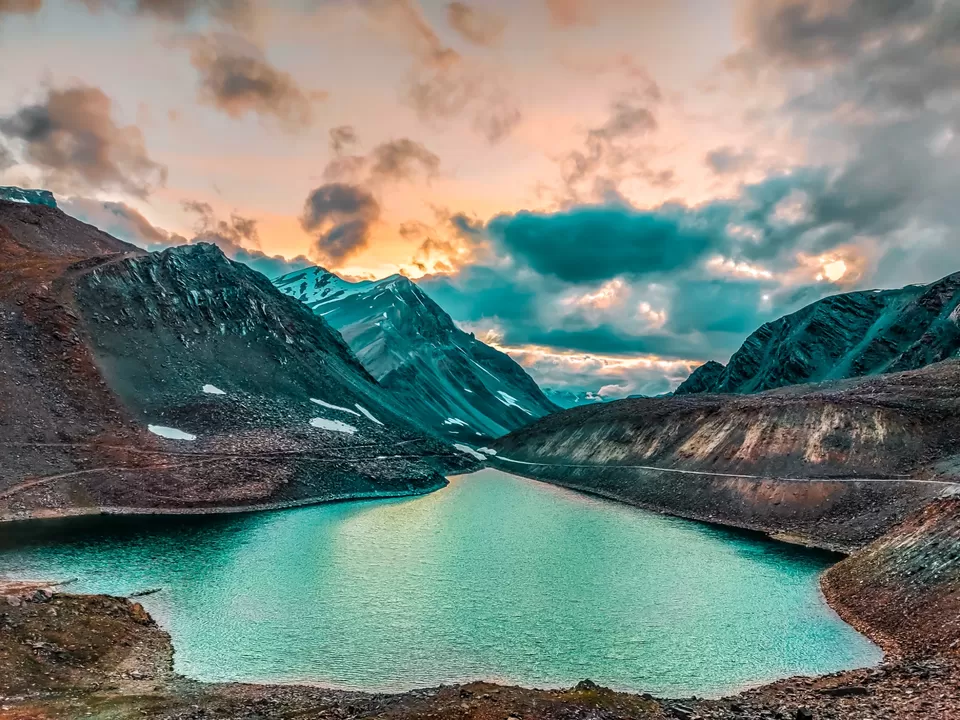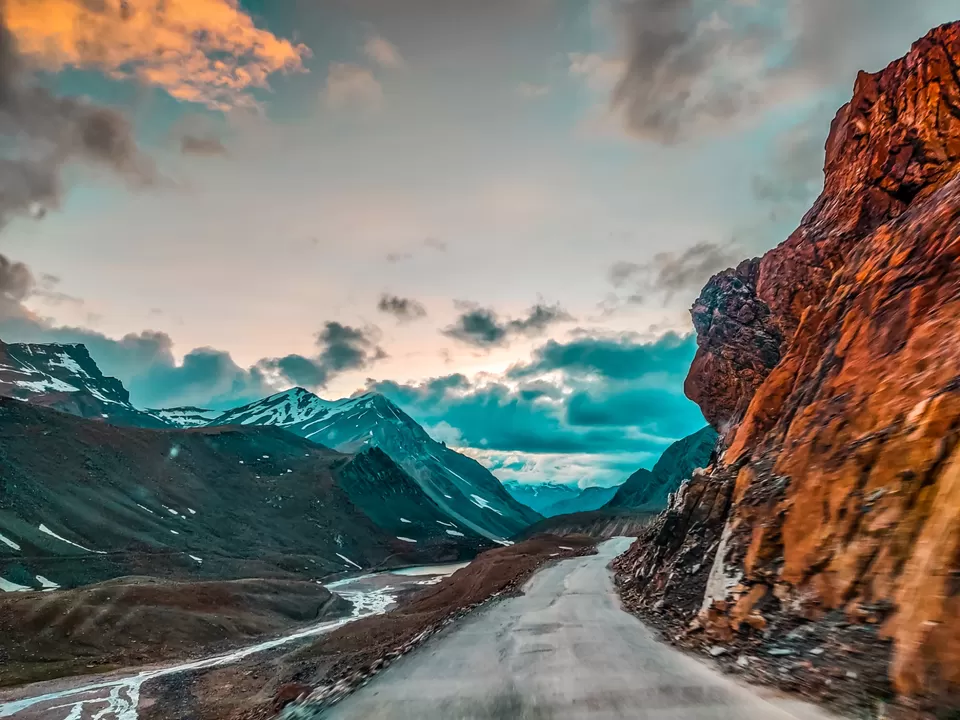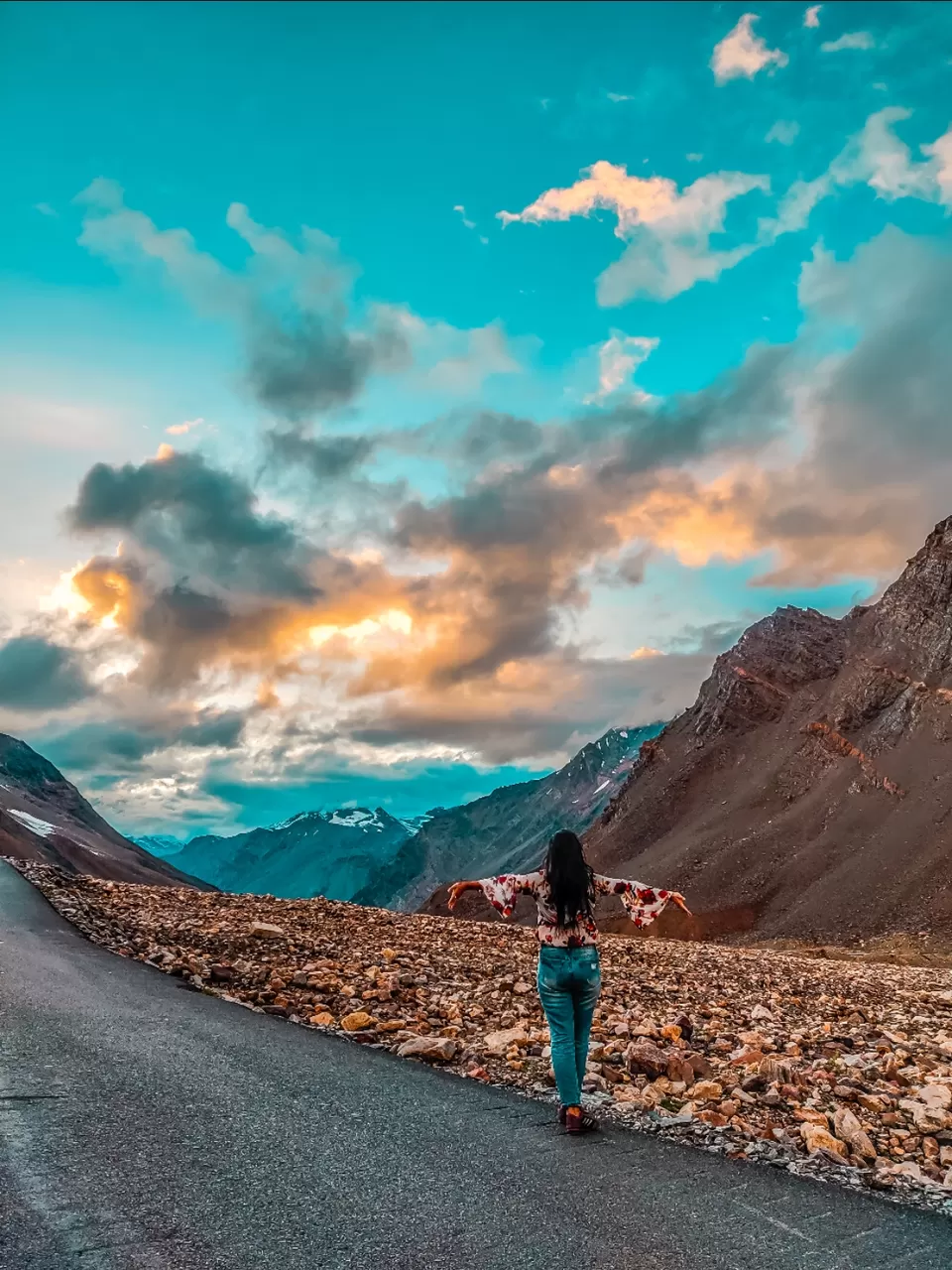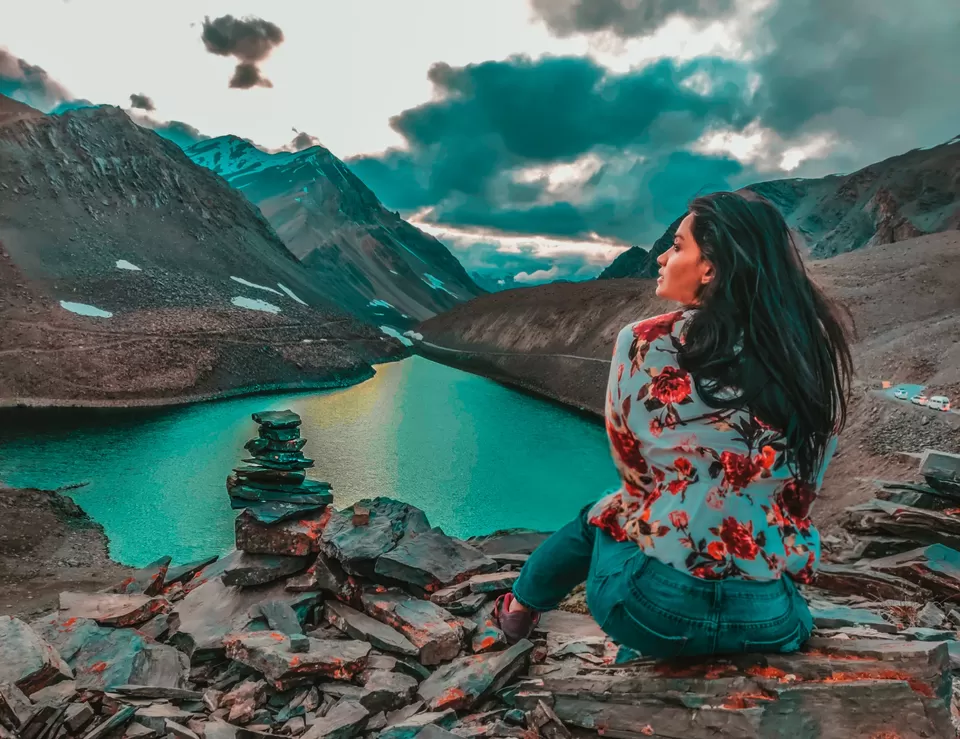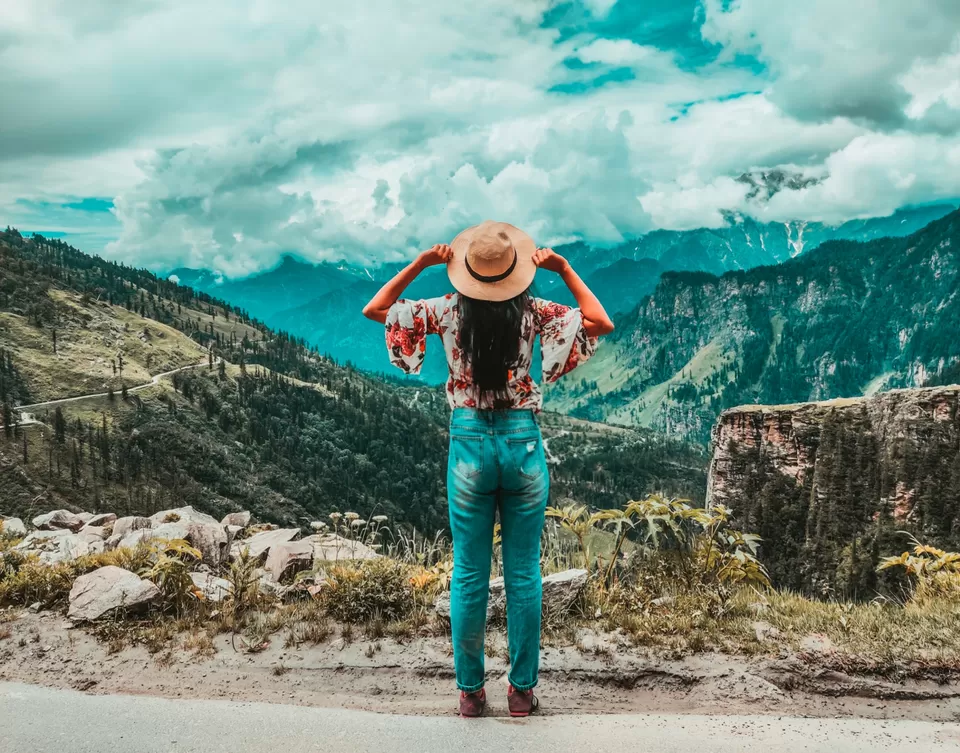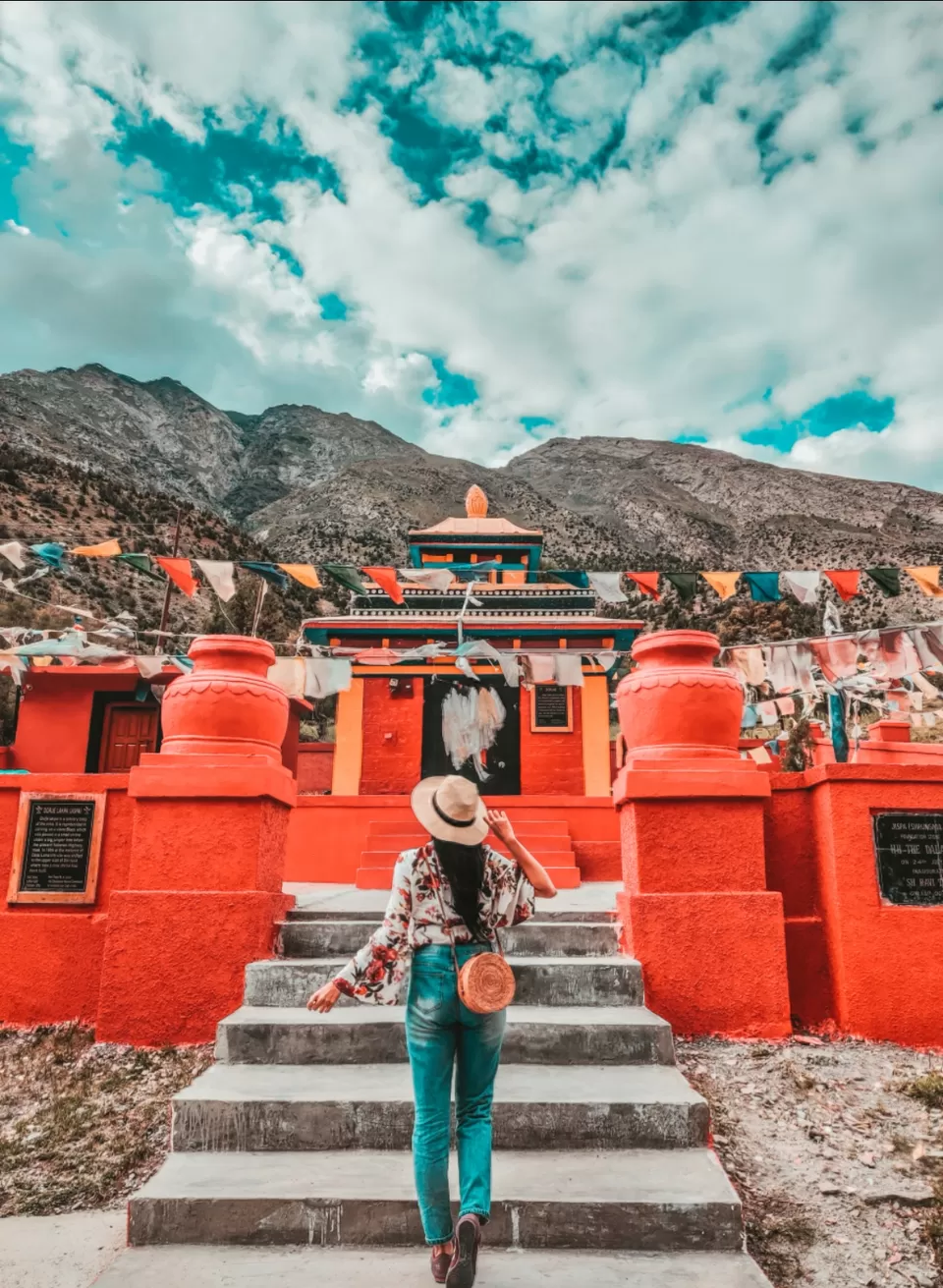 Sarchu - Leh (8 hour drive) with superb roads
Final Day of the trip from Sarchu - Leh was an quite exciting day and we started off early this time to avoid the night driving!
The roads are superb on this route and well maintained by the Indian army! You will pass by a lot of army cantonments and trucks on this route!
This route is what made me thank my desicion of taking the road and not a flight to Leh!
It had a mix of everything from the desserted mountains, snow clapped cliffs at a distance, chimney structured mountains that reminded us of Cappadoica and Egypt mountainous ranges, water streams casually following the road turns, bridges with Tibetian multicolored flags tied all around welcoming you to enroute Leh and finally rainbow coloured hill slopes as you are about to reach Leh!
You will pass by monasteries and see some evidence of houses nearby after a long stretch of 6 hours of no habitation evidence drive as you approach the Leh town!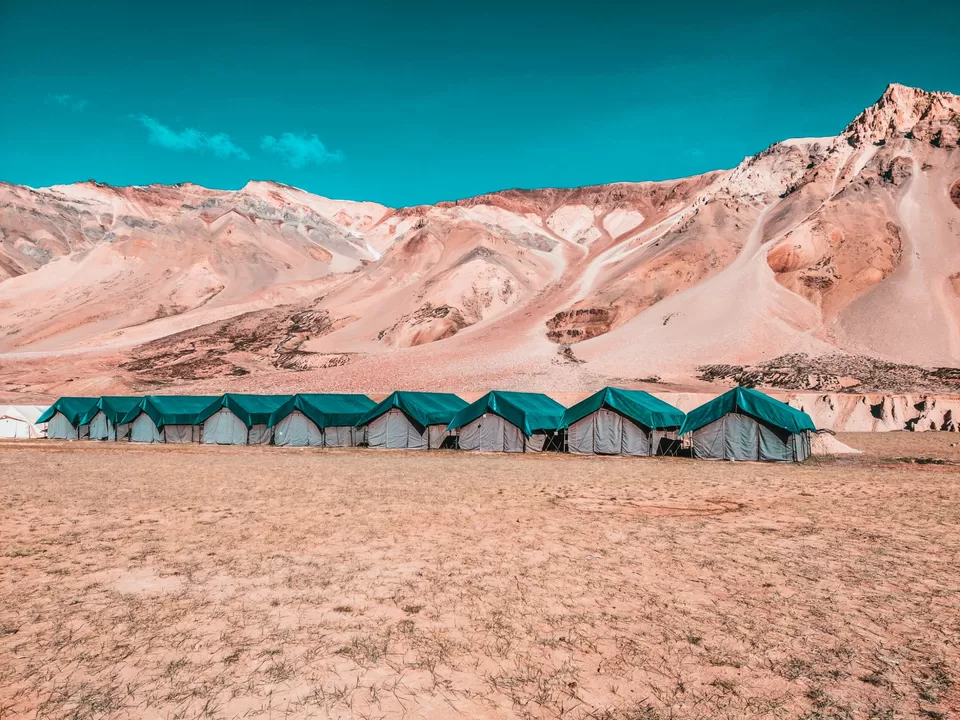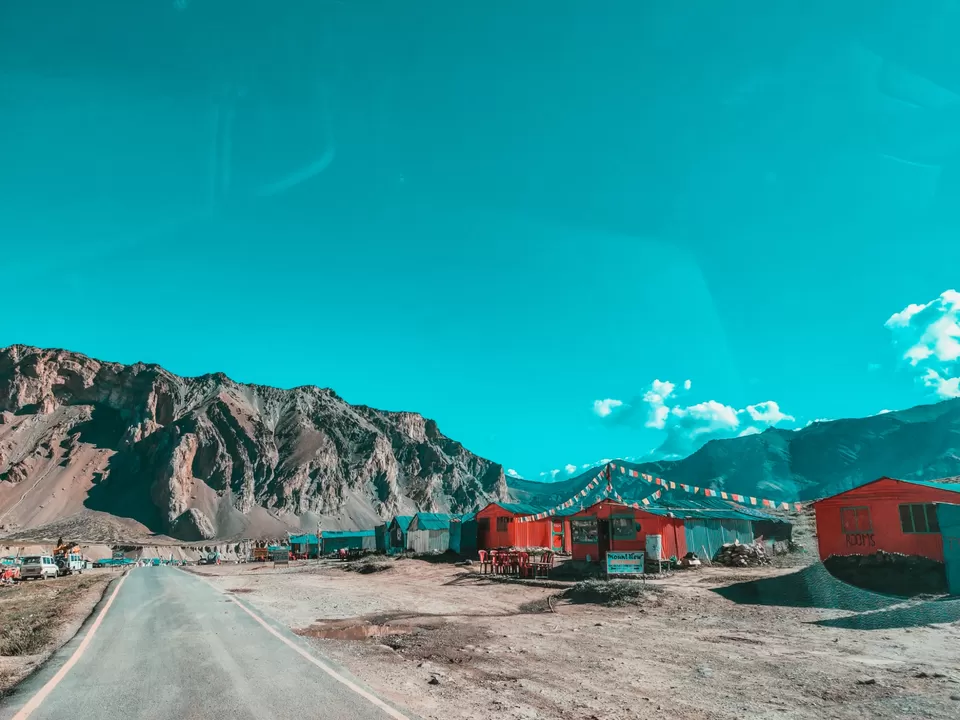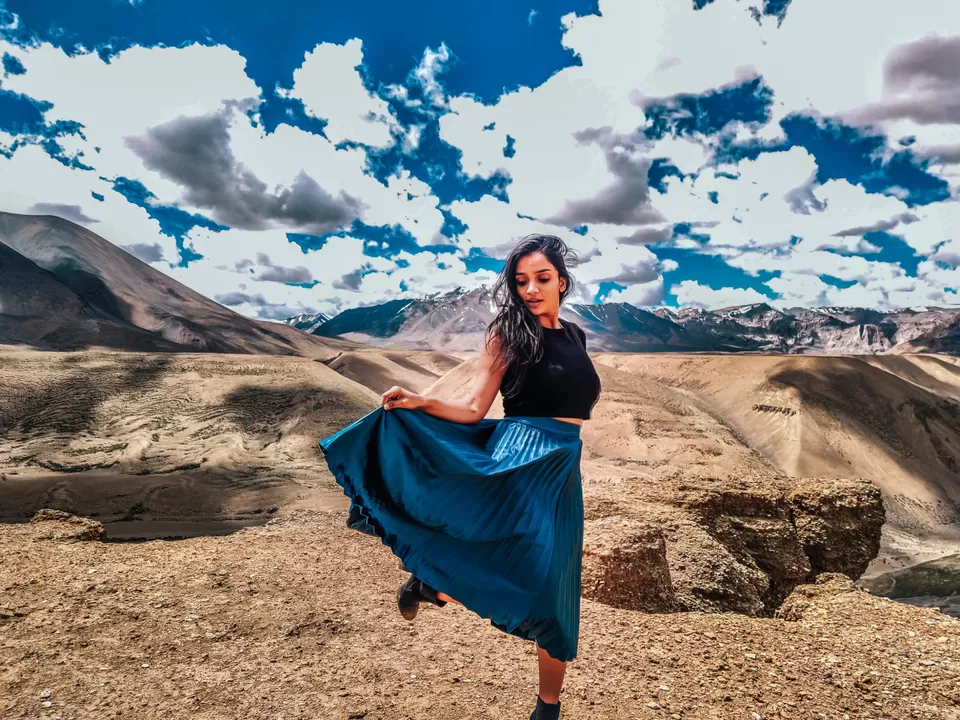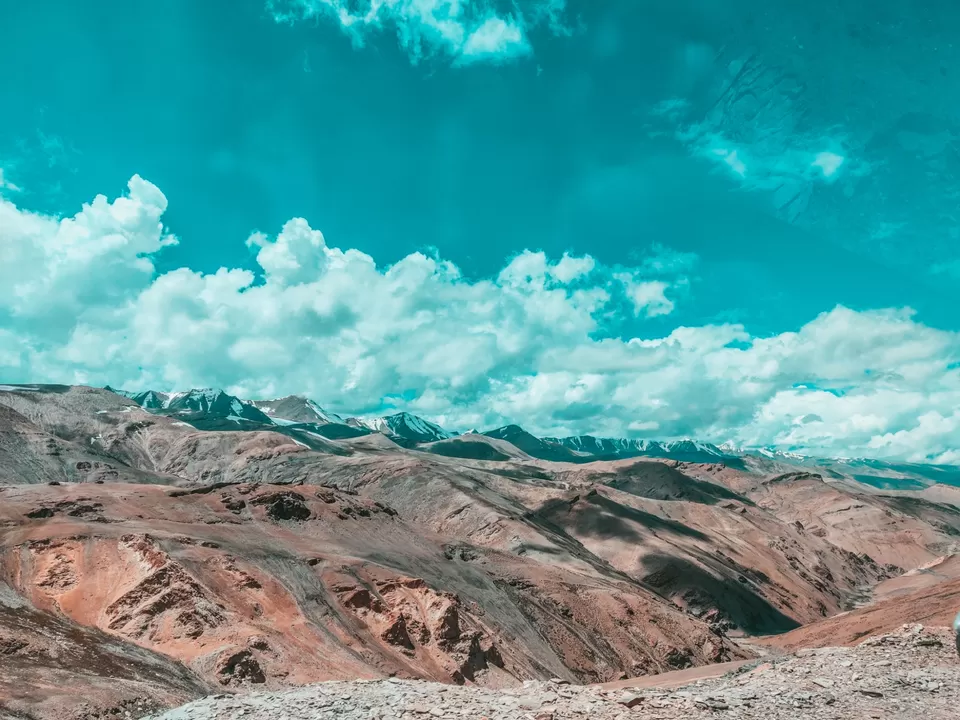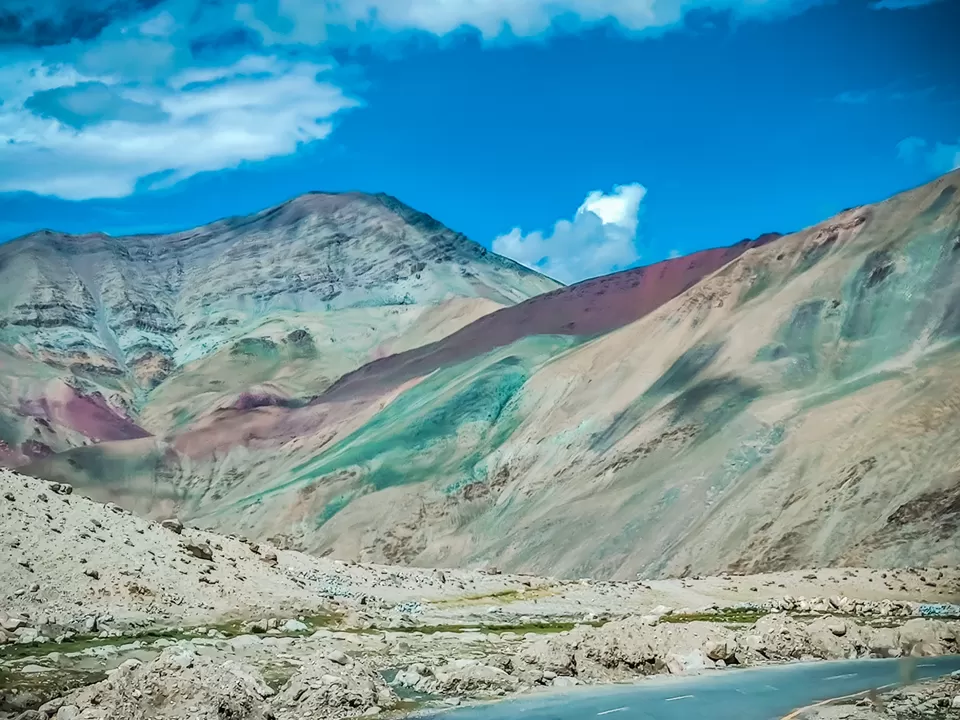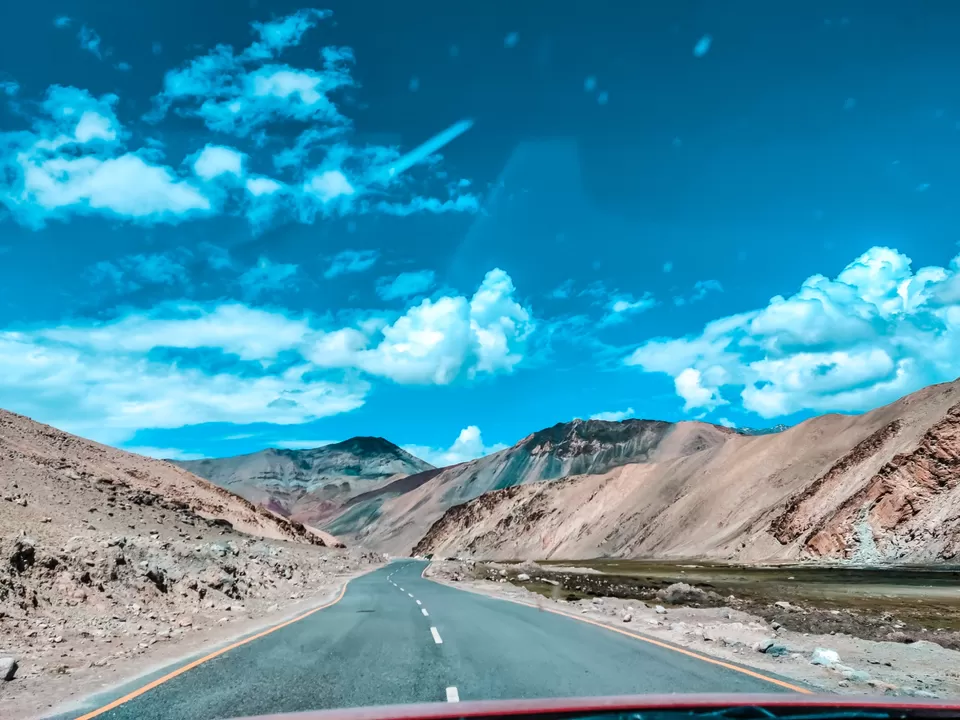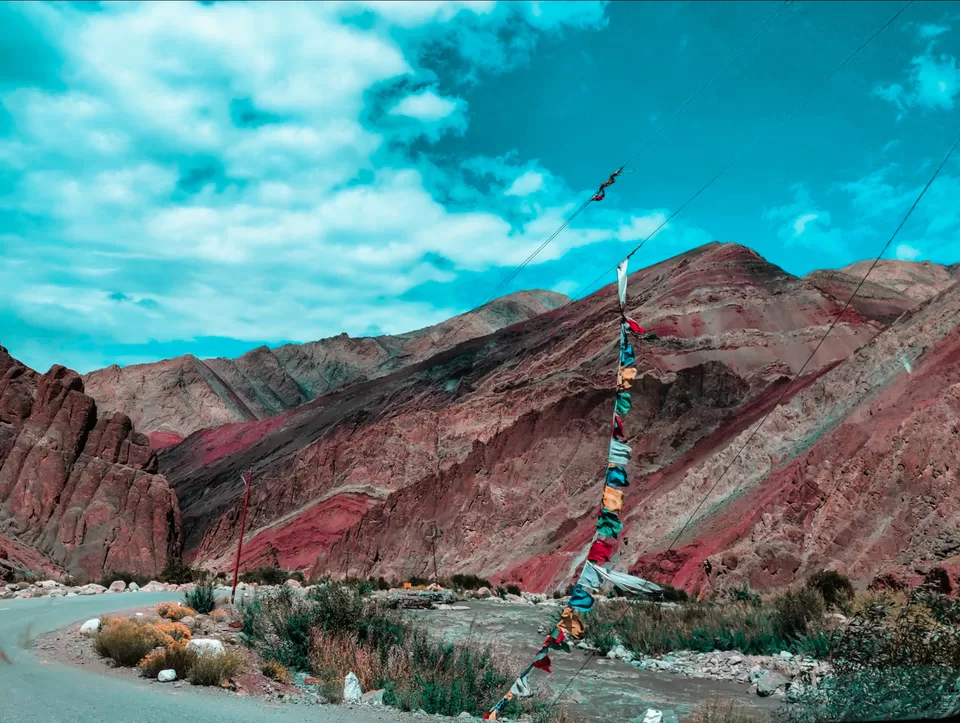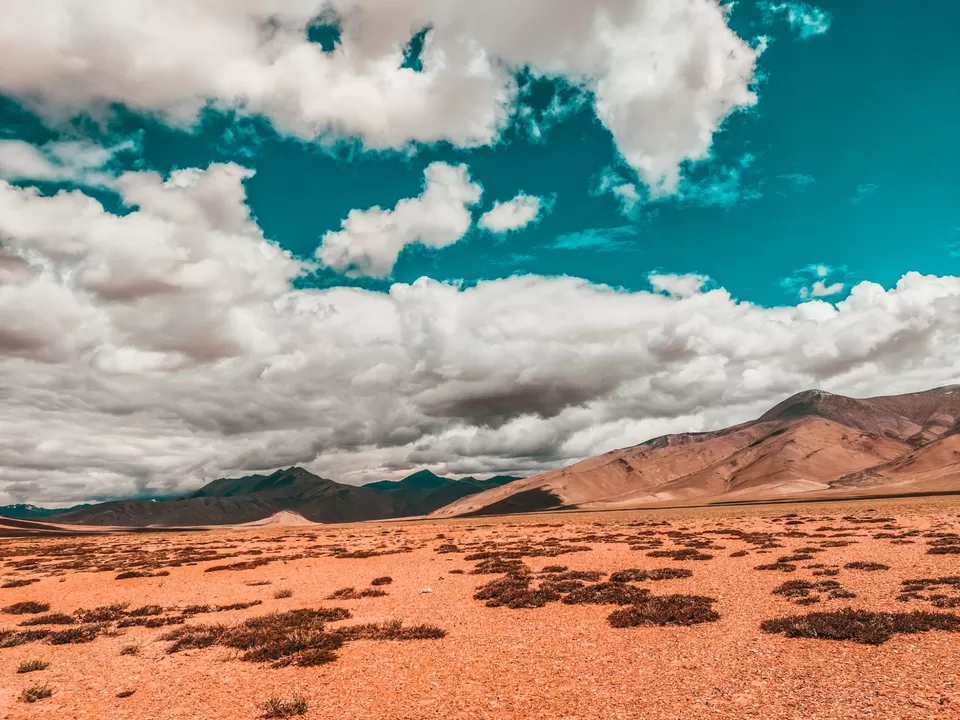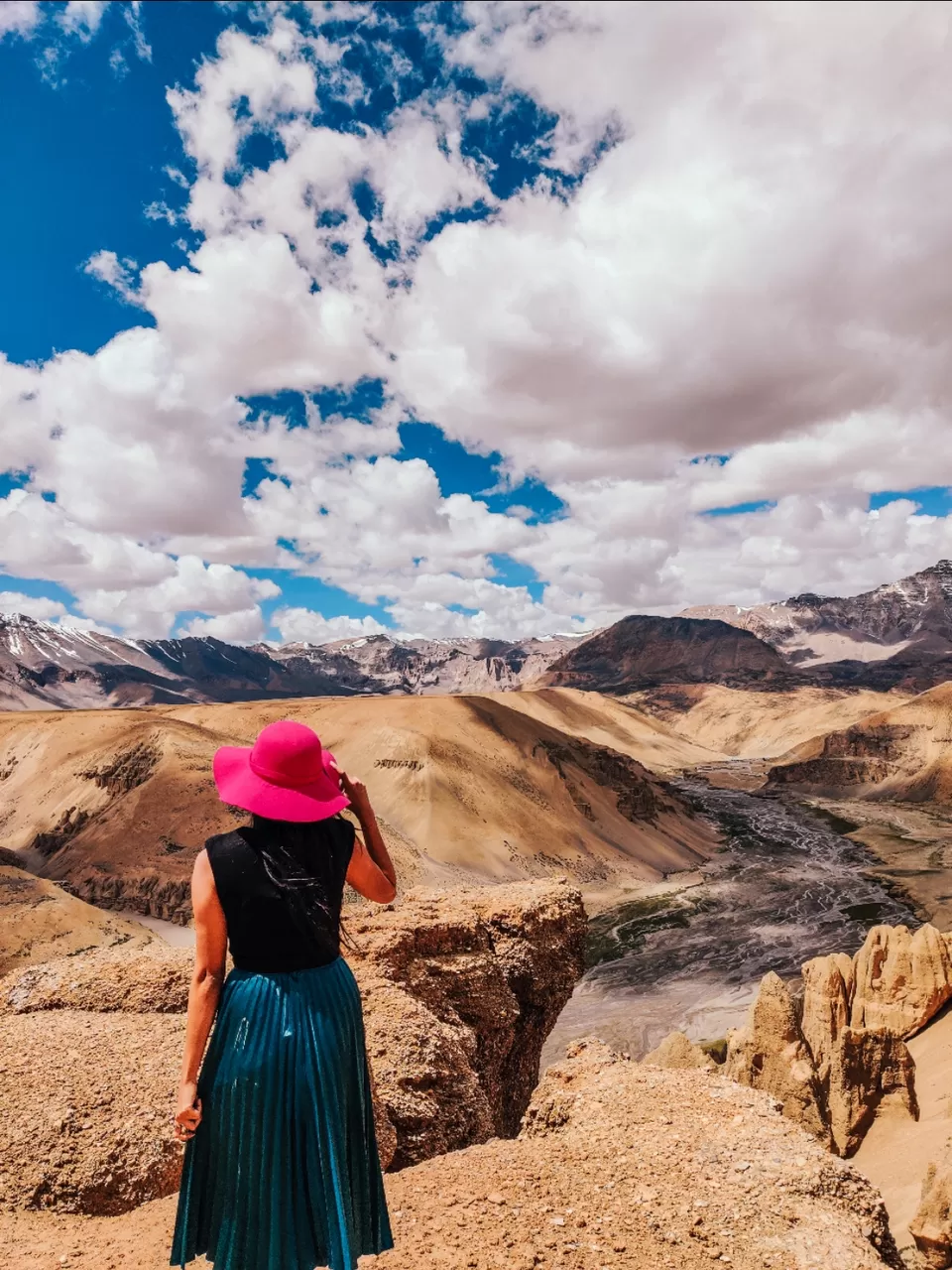 I have tremendous motion sickness and couldn't really eat much along this road so hogged on some of the best Momos at The Chopstick Noodle Restaurant as soon as we touched Leh City!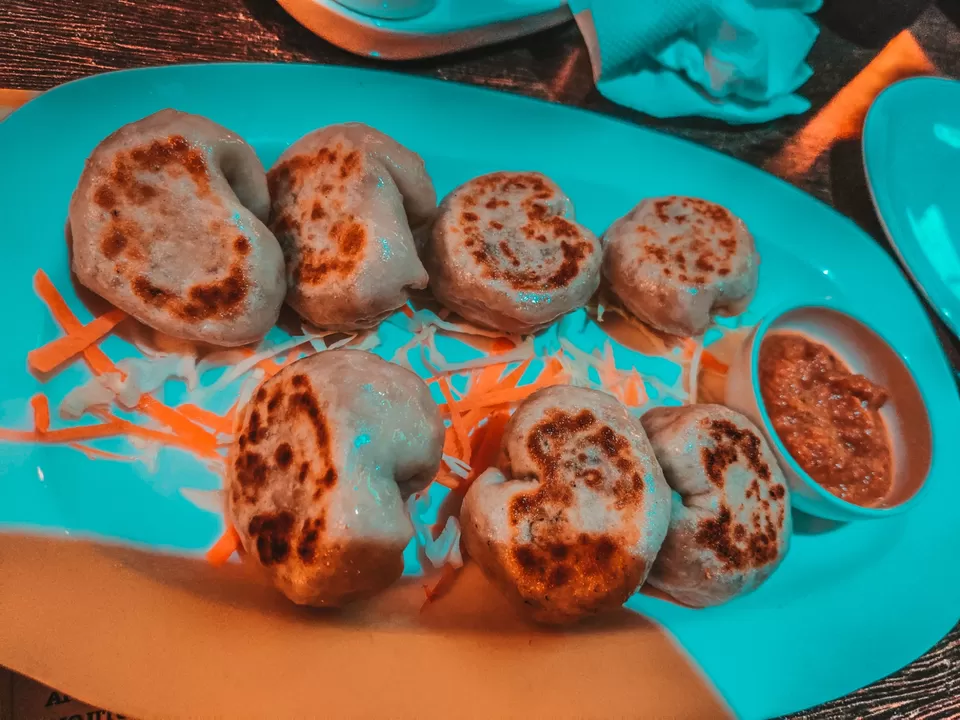 We reached Leh from Sarchu at evening around 5pm and decided to stroll down the market
Our impromptu booking option for stay was Zostel but it was fully occupied so stayed at this amazing hotel next to it - Karakoram Hotel which had fast working wifi and 24h hot water - A rare availability at all hotels in Leh!
After some research we found out that we cannot head to Nubra- Pangong trip directly and need to take the next day off to acclamatise and obtain the permits!
We thought it was the perfect opportunity to tick off bike riding in Leh and rented a bike for RS. 1000 for 24h for that evening till the next day.
Top Tips-
1. You cannot take your self driven / non- JK number plate car outside of Leh city and need to book the local taxis / tourist vehicles to go to Nubra and Pangong.
2. If you are doing a DIY book yourself tour like us, for the 2N / 3D trip to Pangong & Nubra you need to enquire at the Travel agency offices on the main market road and enroll your names for the shared car at a couple of places to ensure you are picked for the immediate next day in one of the groups if you don't have your own group.
They charge approx. 19,000 for the entire trip and find you travel partners to share the costs with a total of 5-6 travellers in one car.
Most of the vehicles available are Scorpio/ Xylo and quite comfortable for 6 travellers as well.
We enrolled at 2 places and got our booking confirmation the next day for this.
3. These agents also help you sort the permits - which also takes about a day to acquire as the permit office opens at 10am the next day whereas most of the tours leave at 8am so sort this with the travel company you book the Nubra - Pangong package from prior.
We went around Leh city to cover some spots nearby -
Shanti Stupa
Thiskey Monastery- visit at sunset time to get best views
Leh Palace - kind of in ruins now but has a nice view from the top
And decided to head to Alchi village about 70 kms from Leh
Some of the stops we took to the below attractions enroute Alchi were
- Pathar Sahib Gurudwara
- Sangam - confluence of Indus and Zanskar rivers (this was quite muddy during our visit and on research got to know that it only looks clean and beautiful in winters)
- Magnetic Hill - where you can rent drive dirt bikes and experience the magnetic force phenomenon
We finally made it to Alchi village to witness beautiful small white houses cutely tucked in the hills and a series of beautiful monastries!
It takes about 2 hours to get to Alchi with the above stops and about 1.5 hours to come back.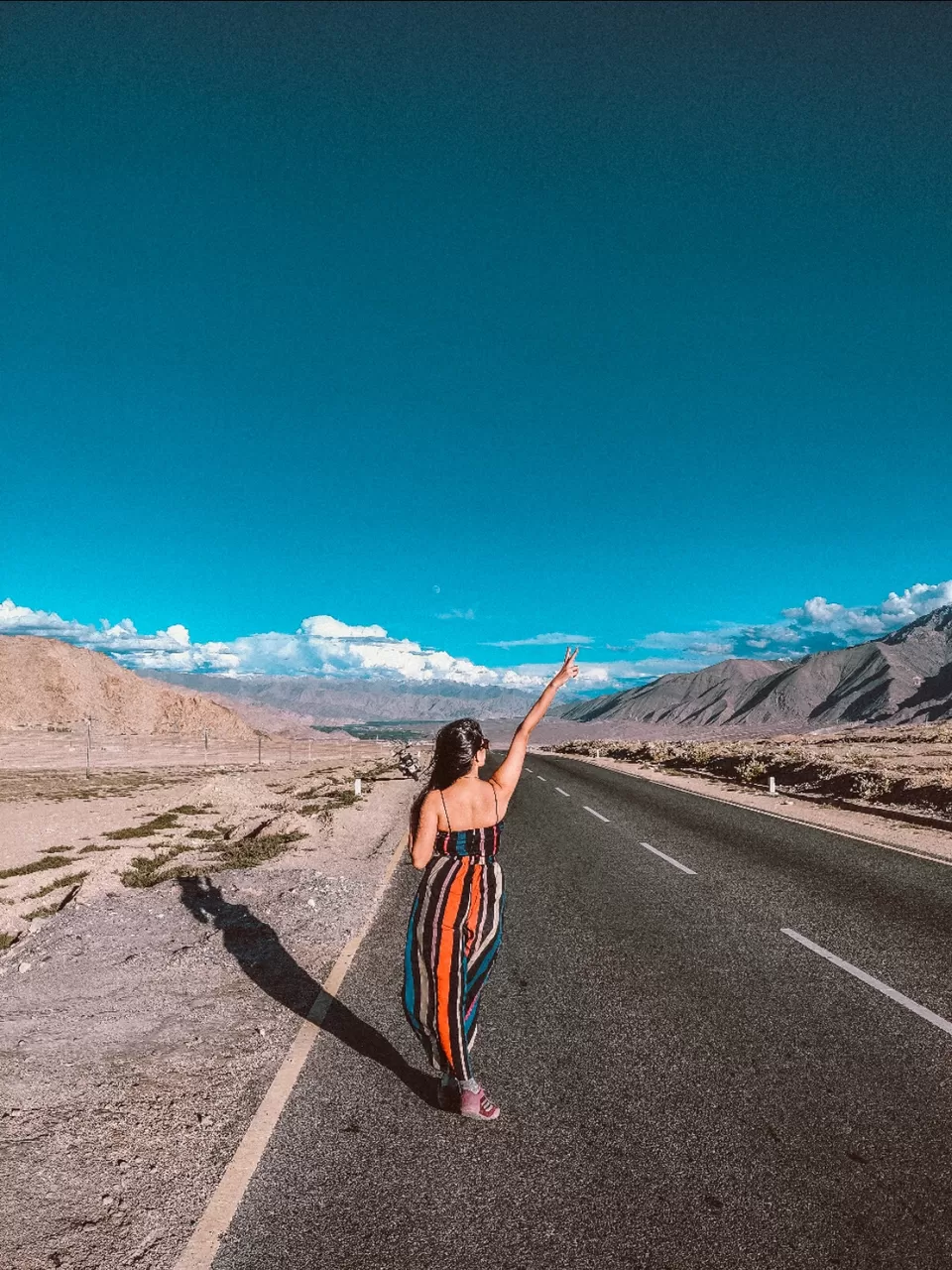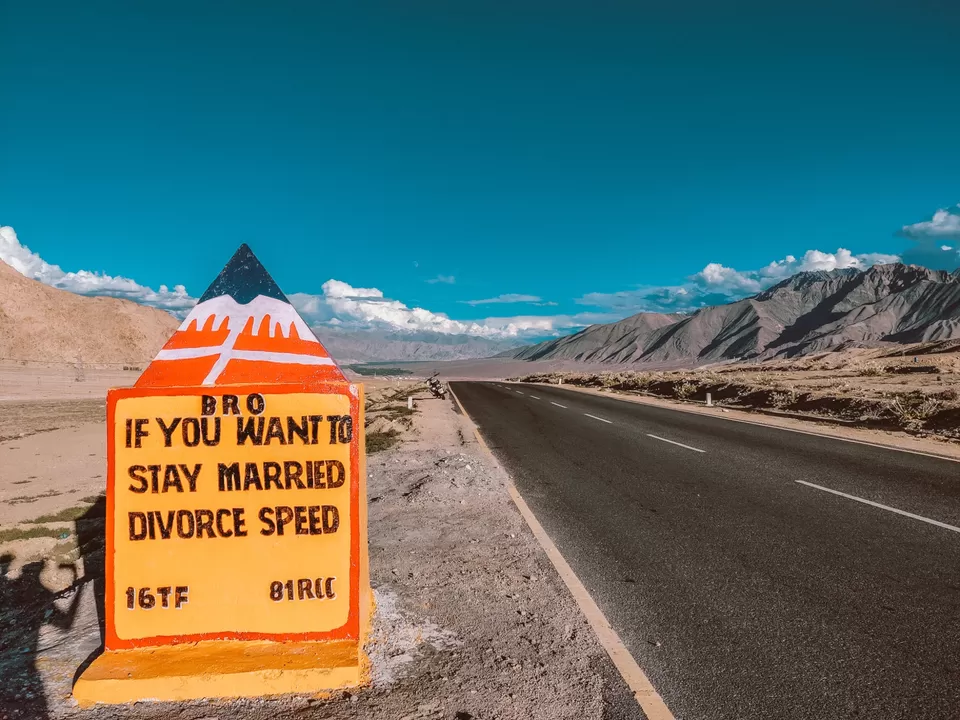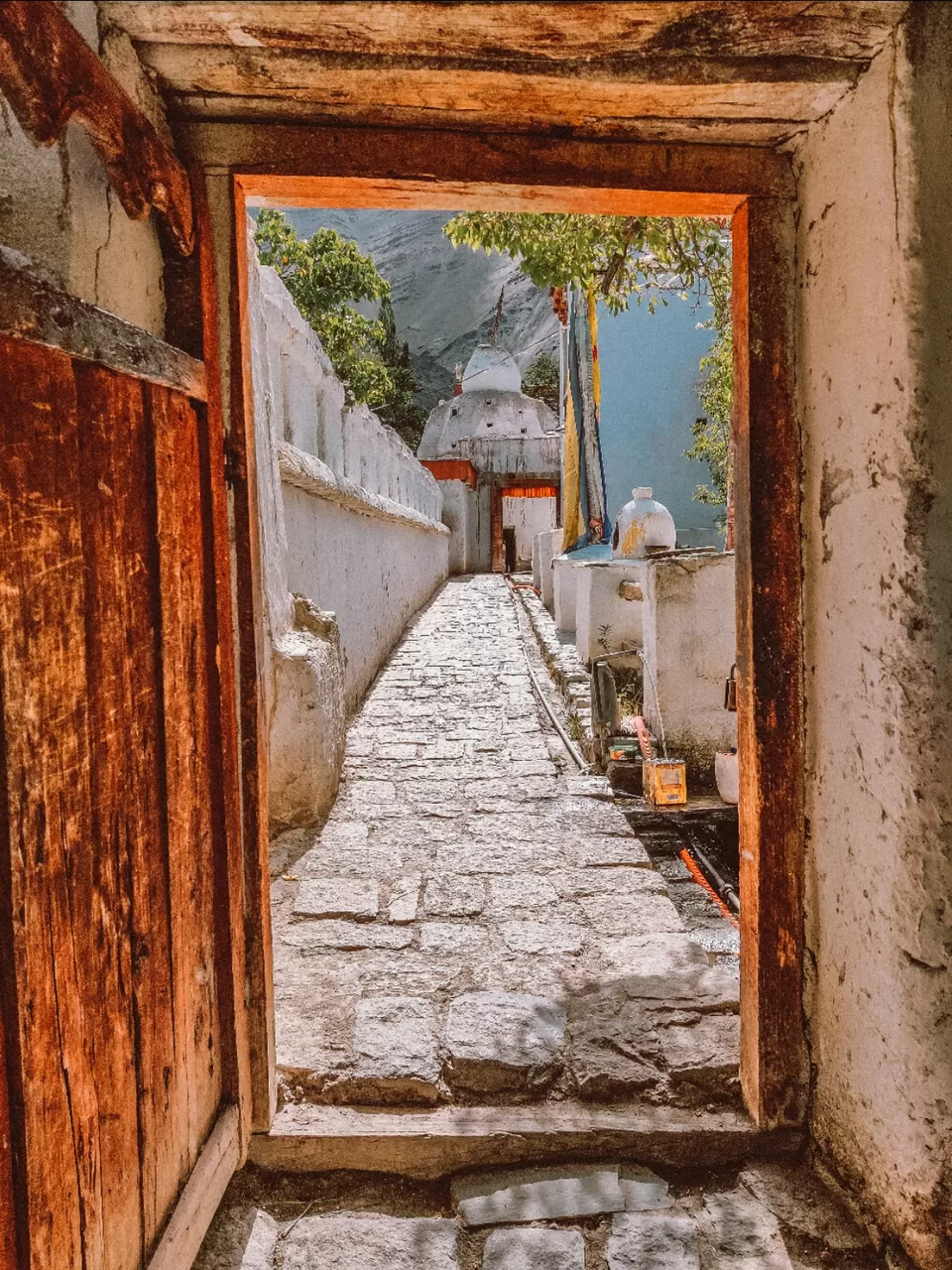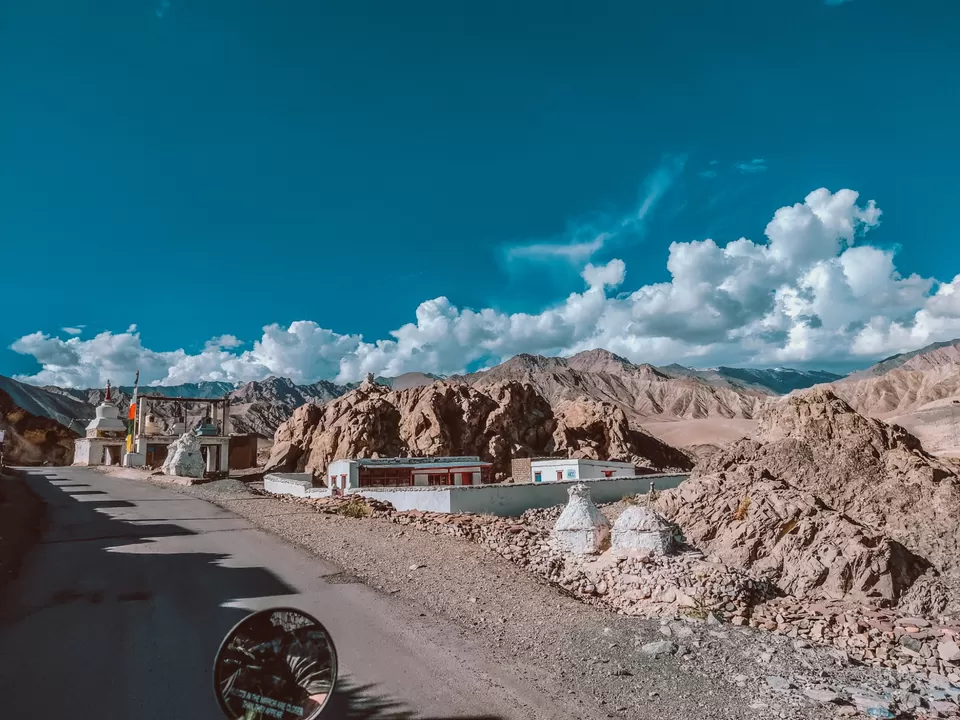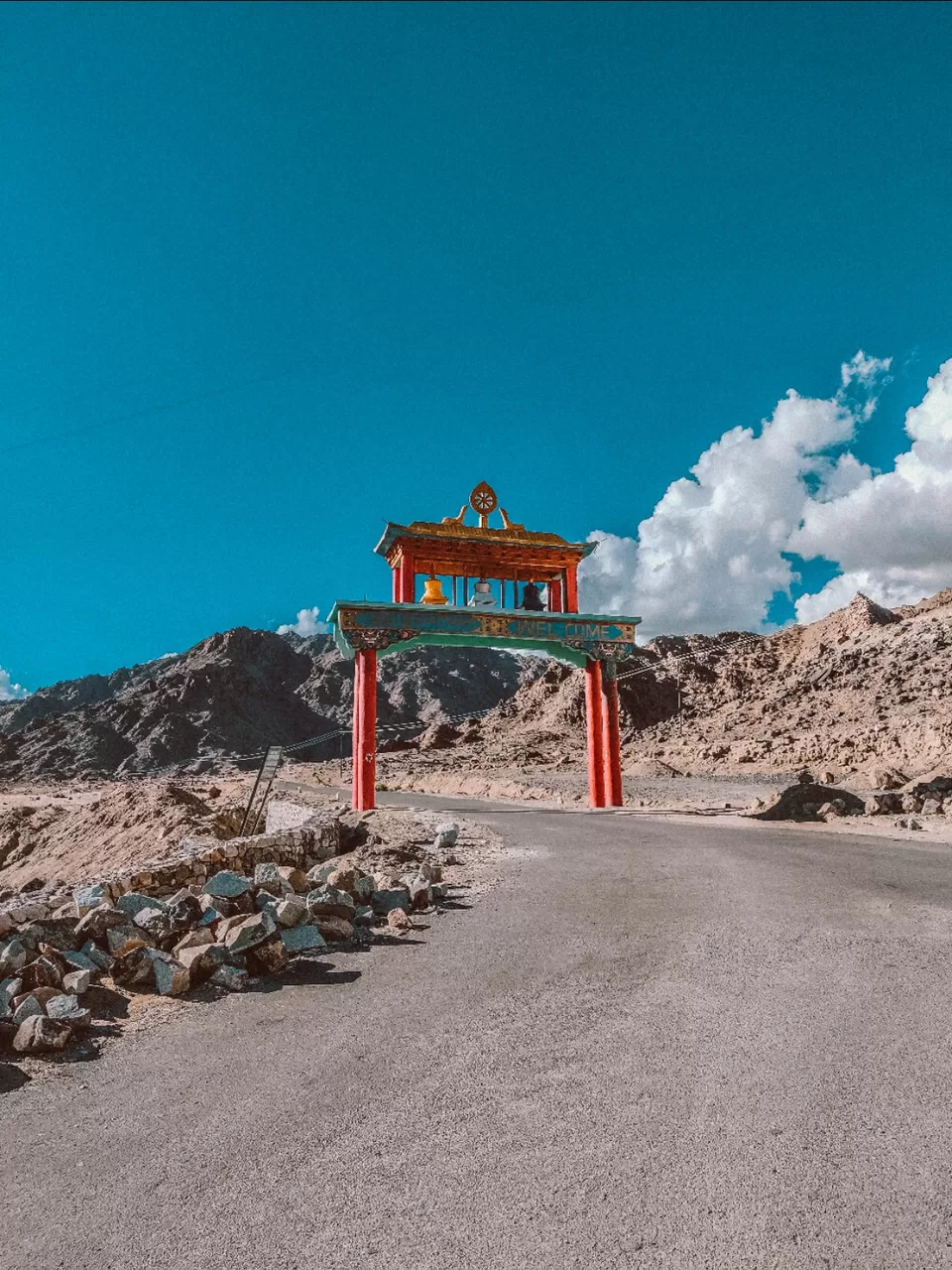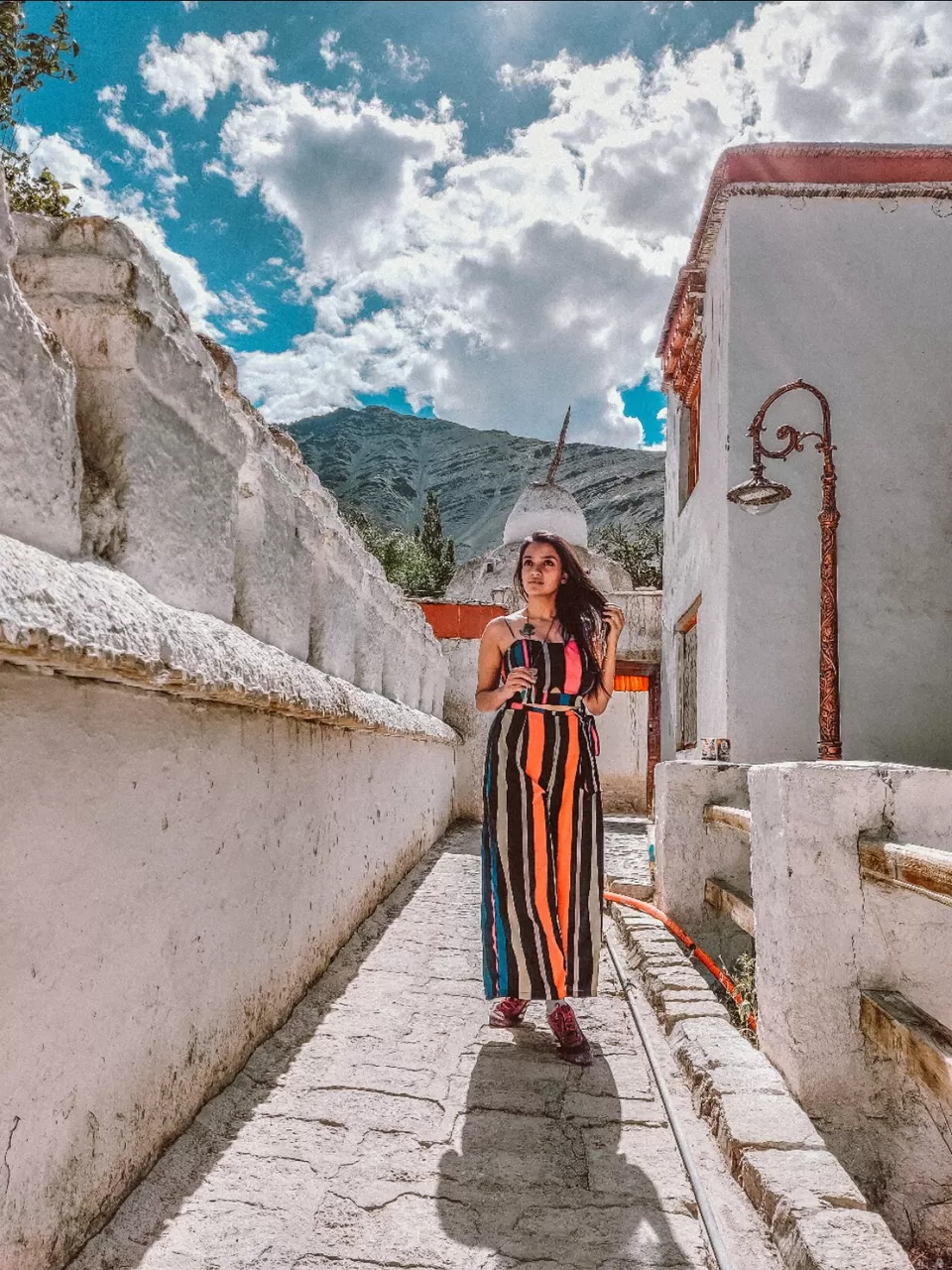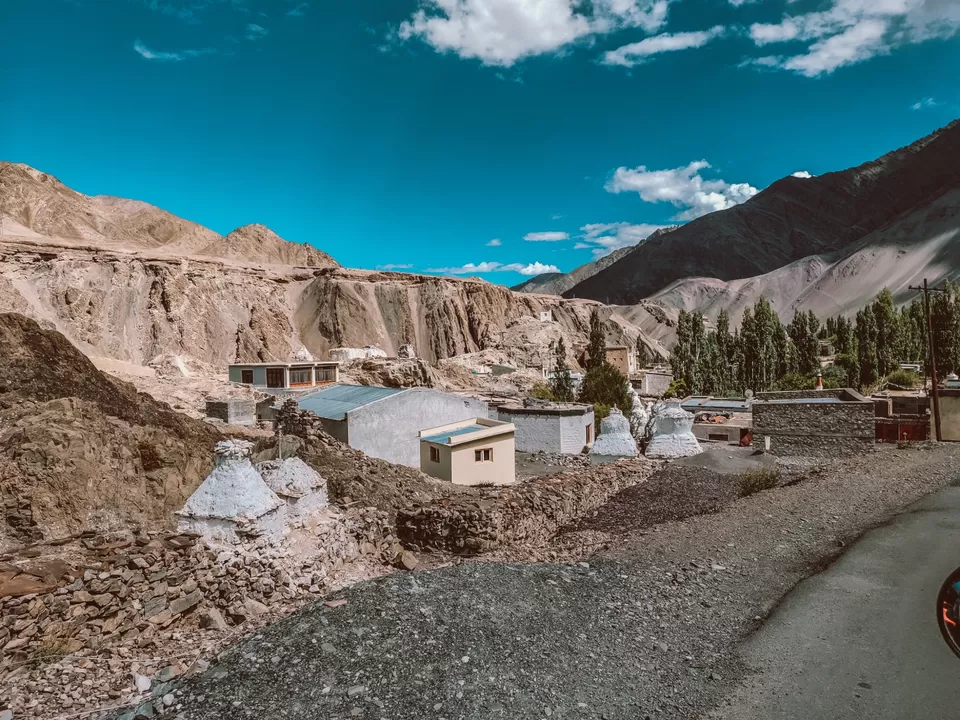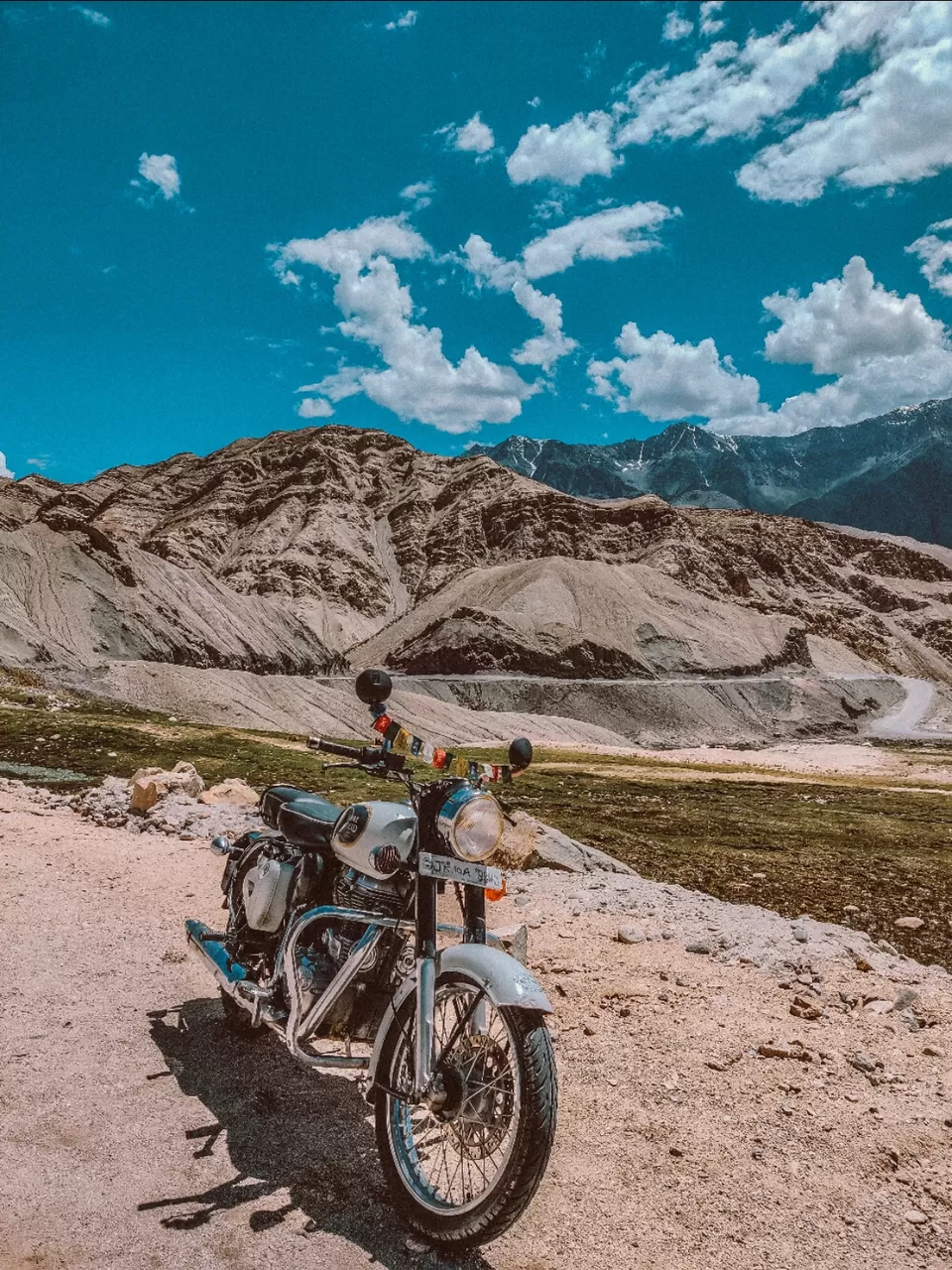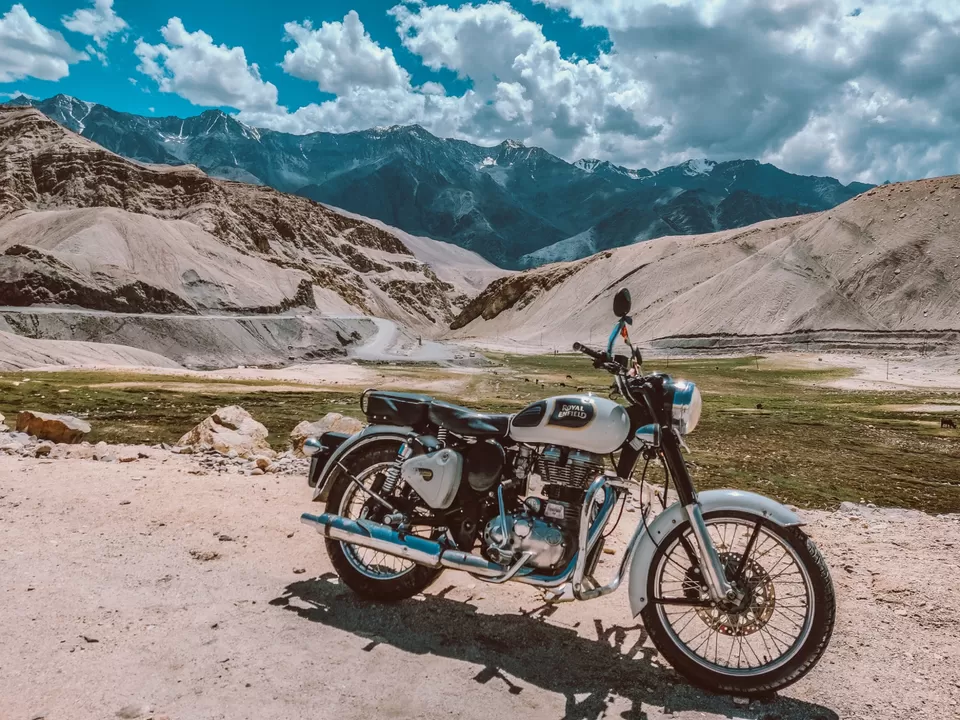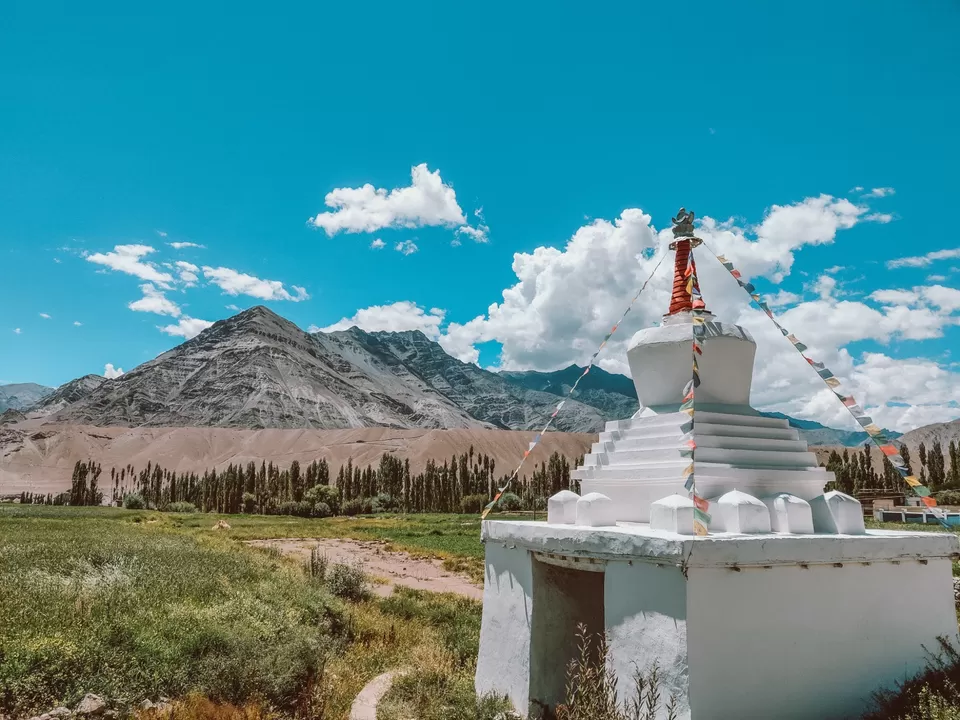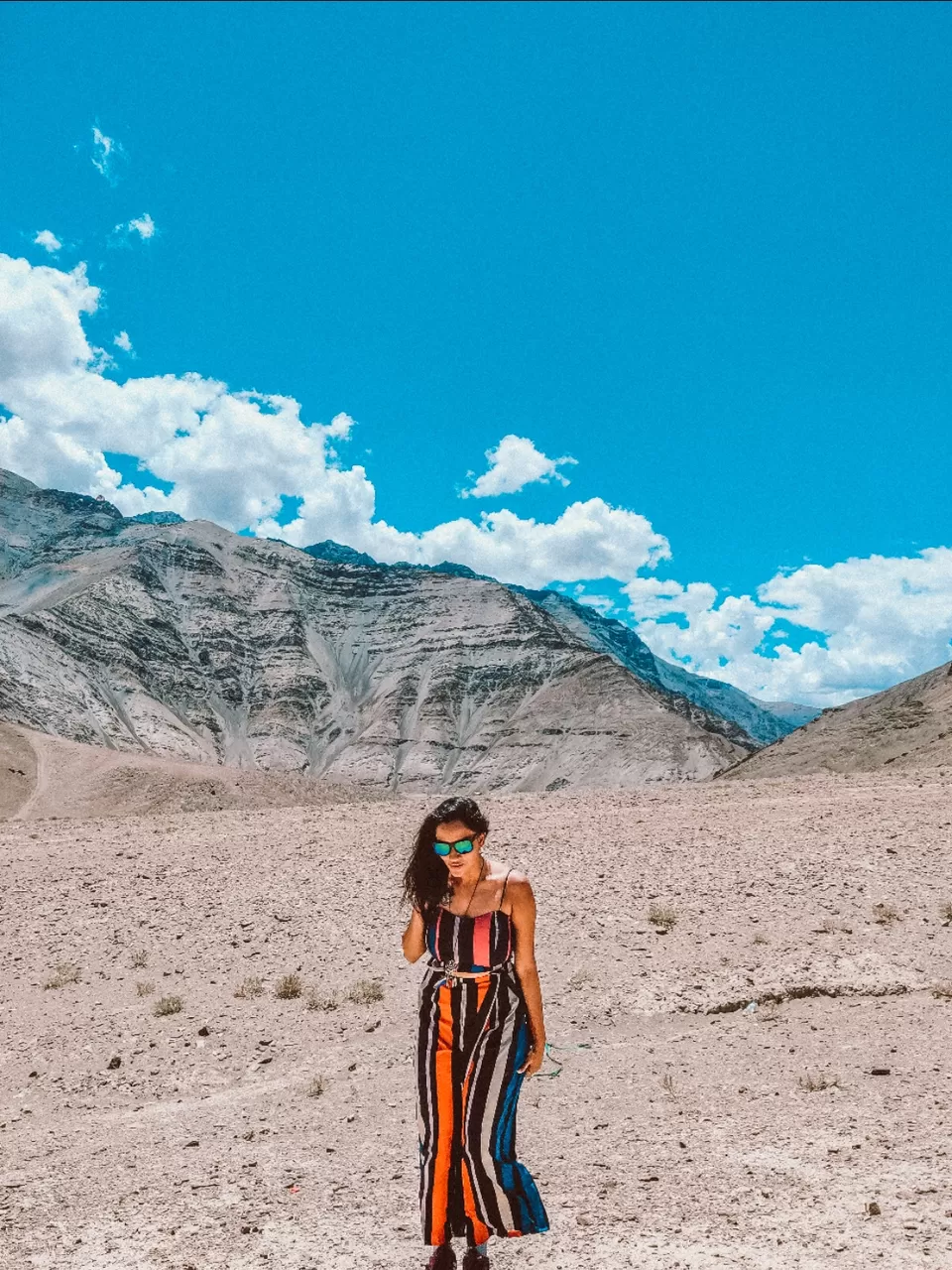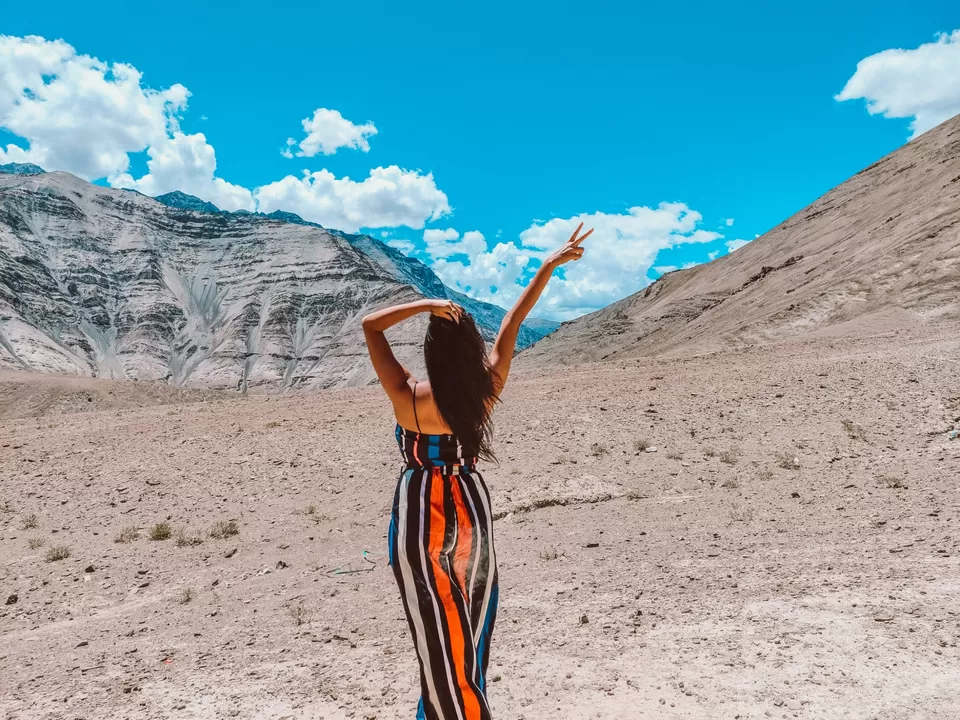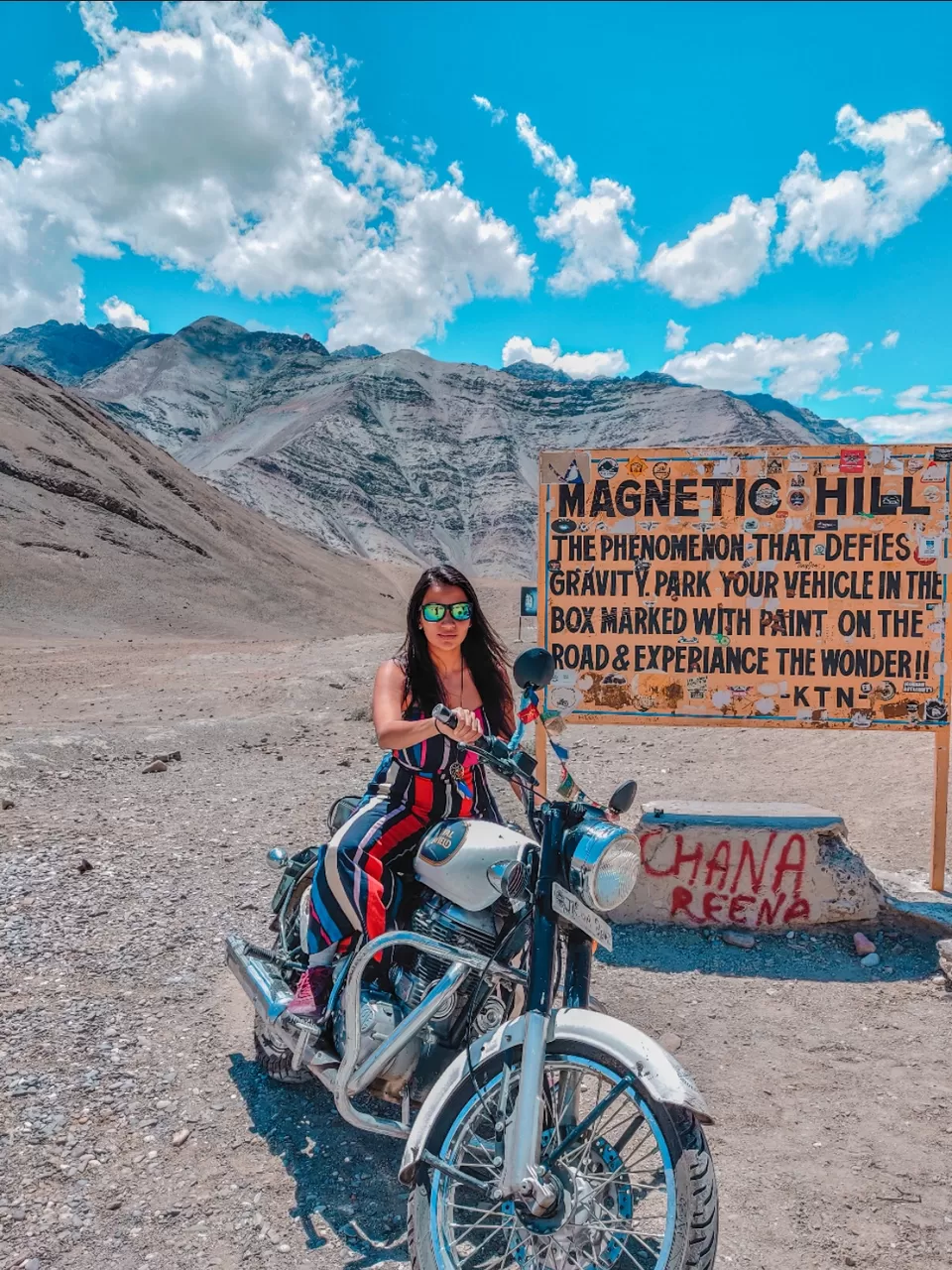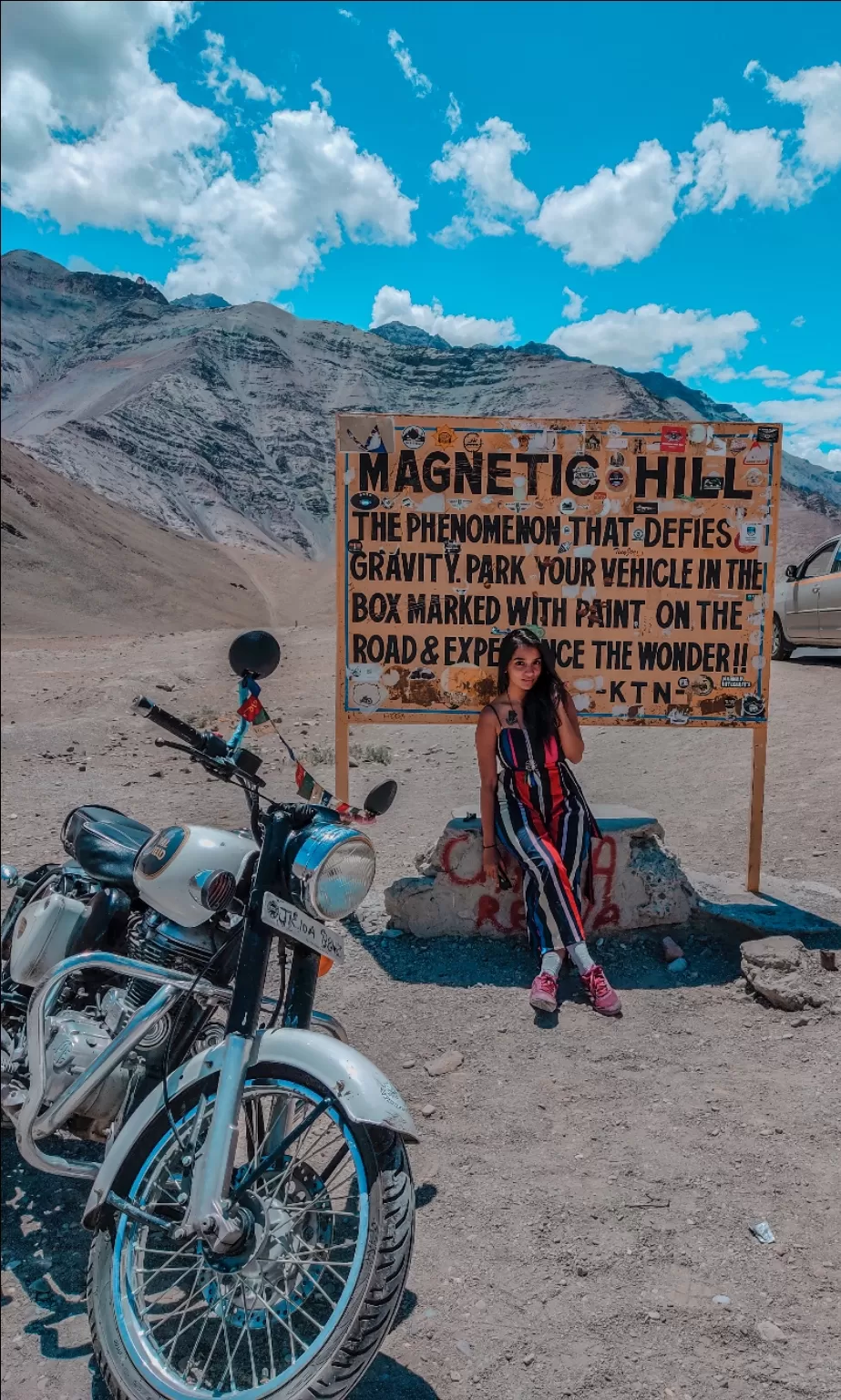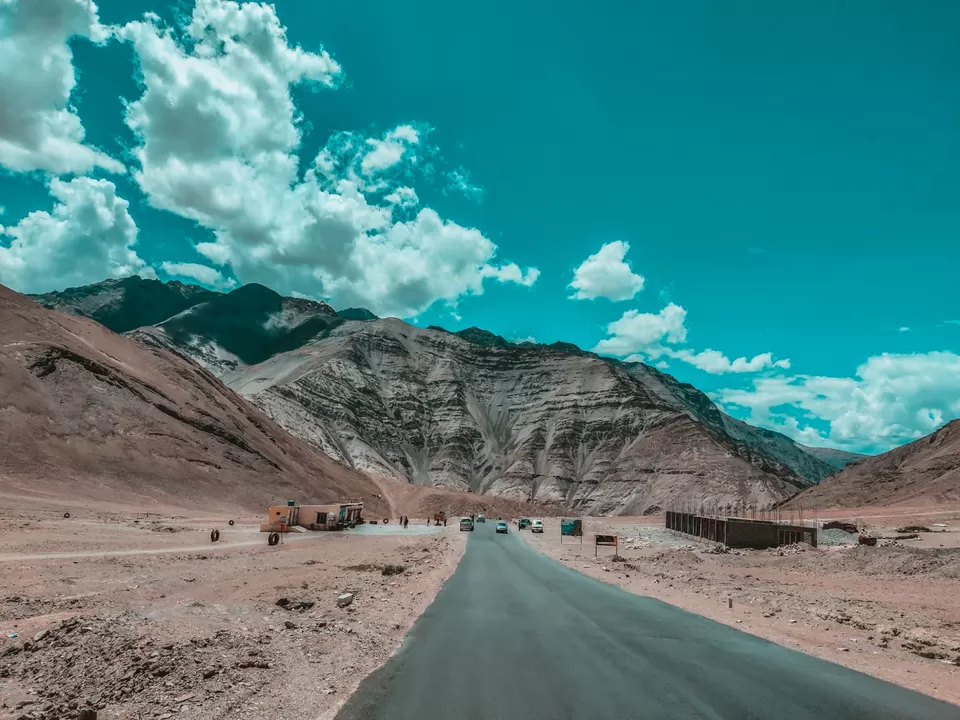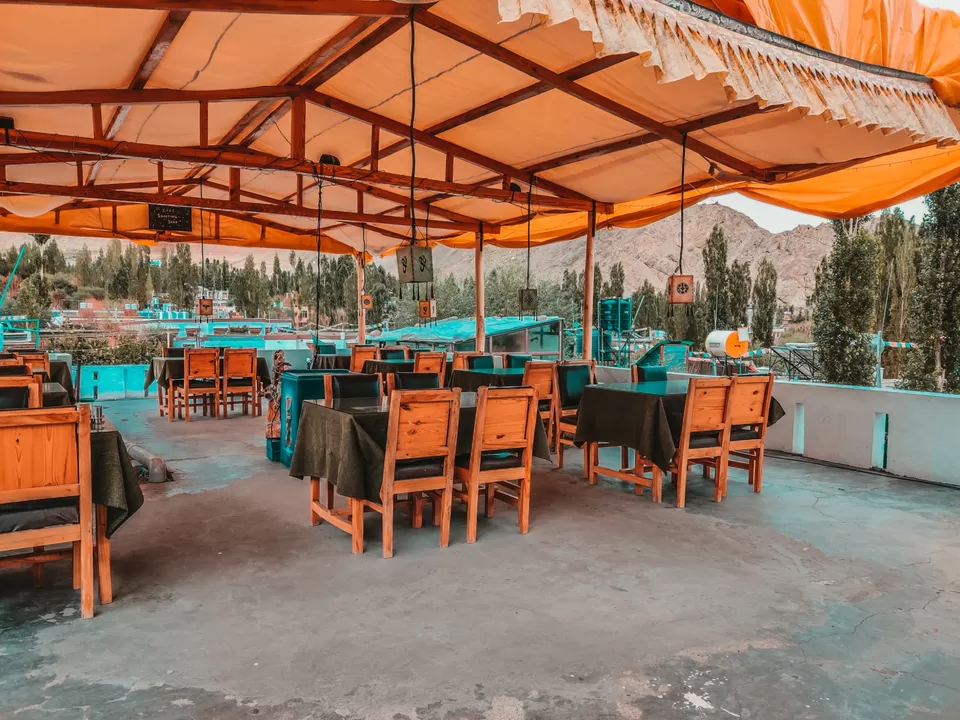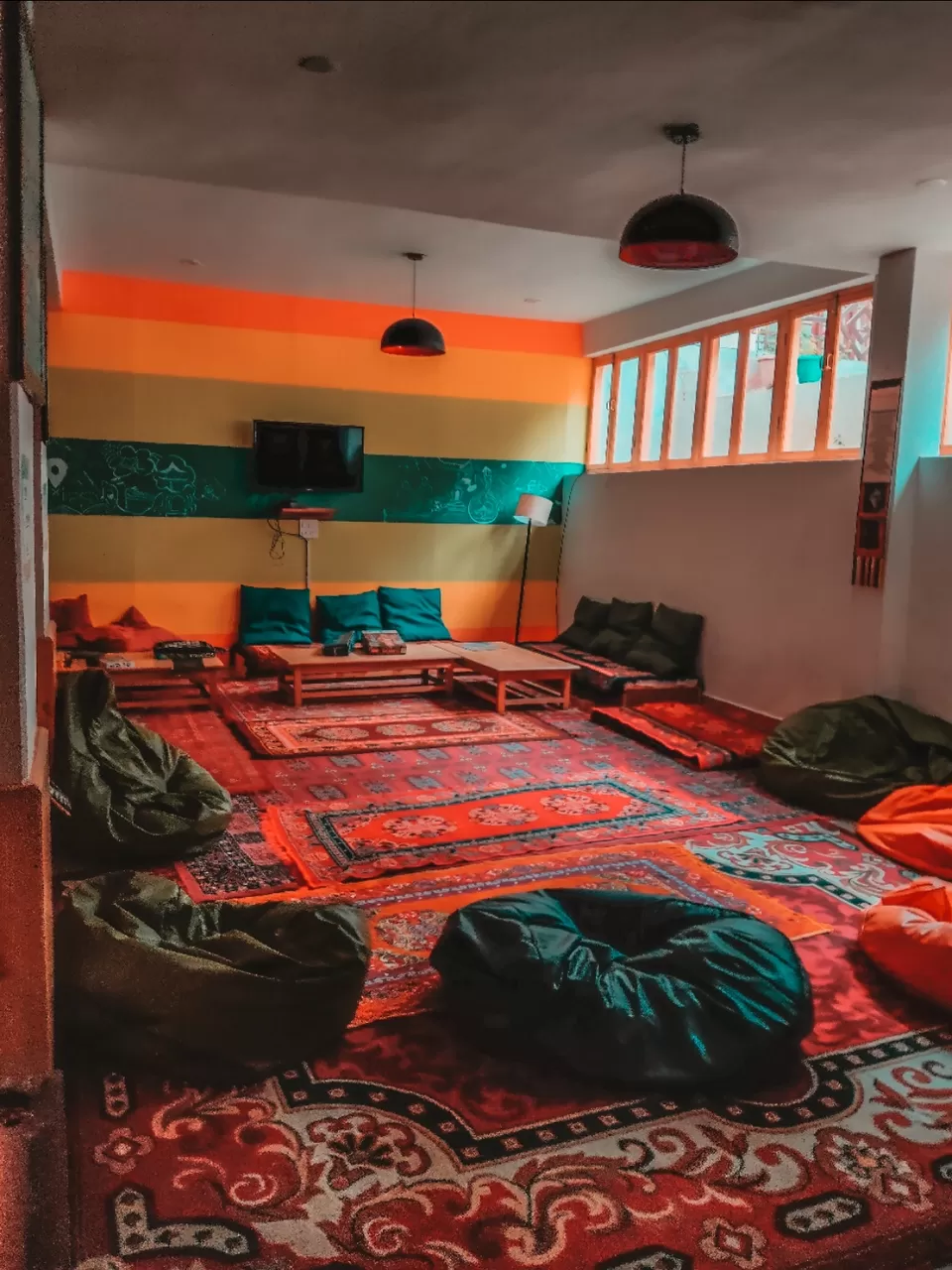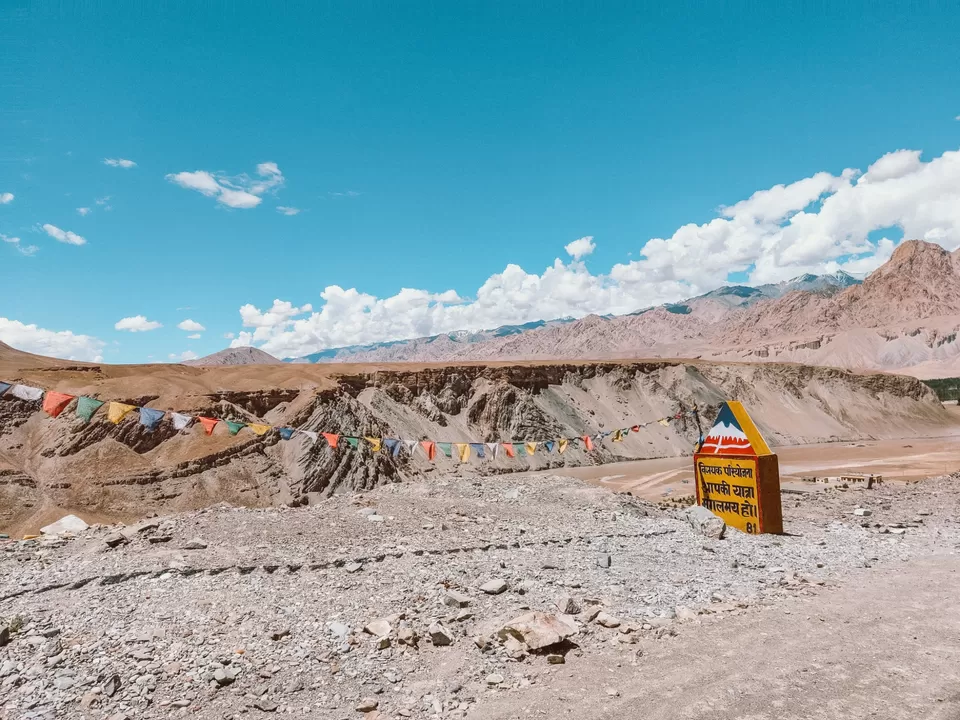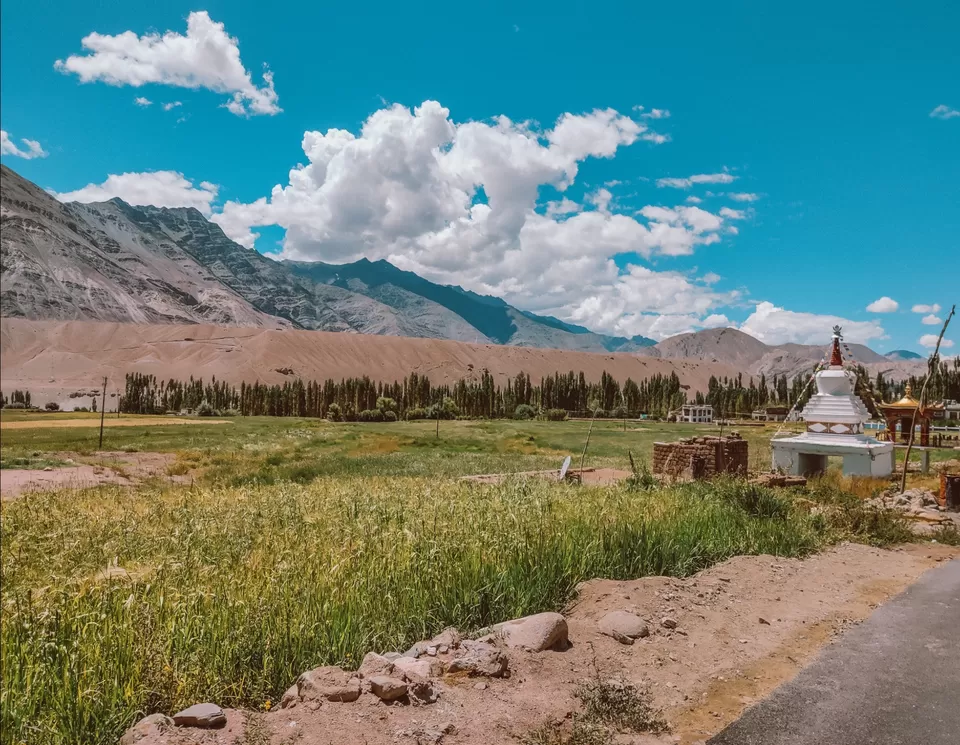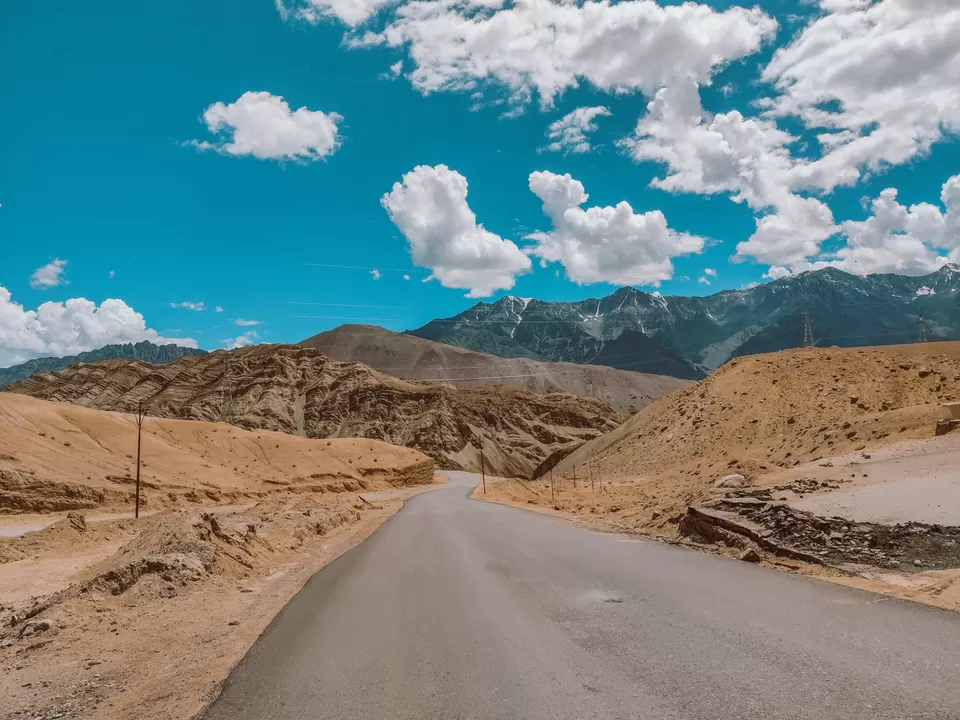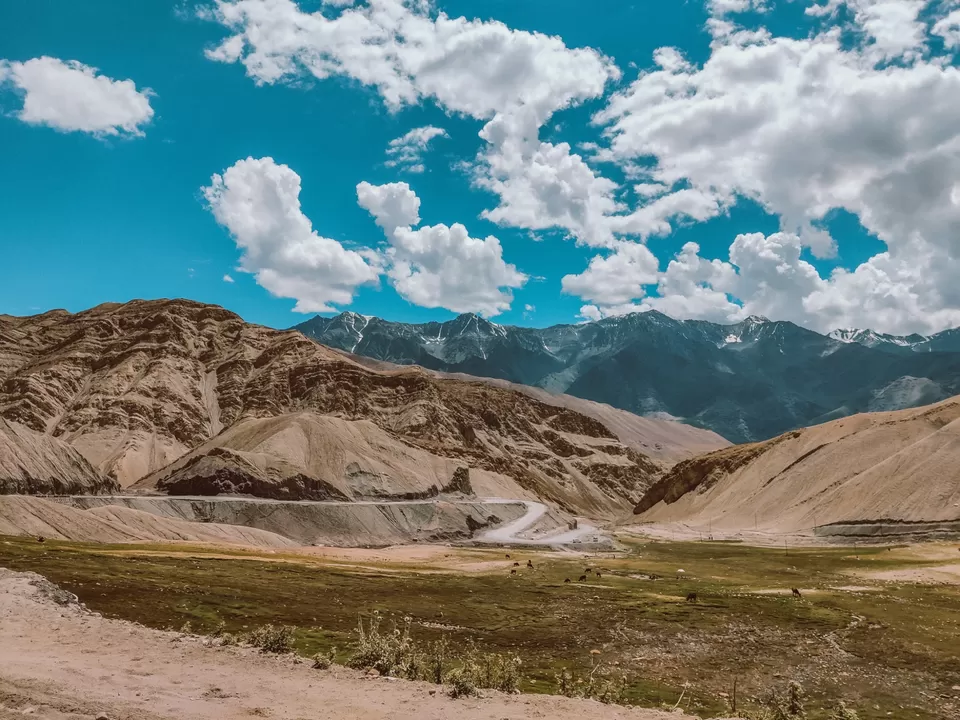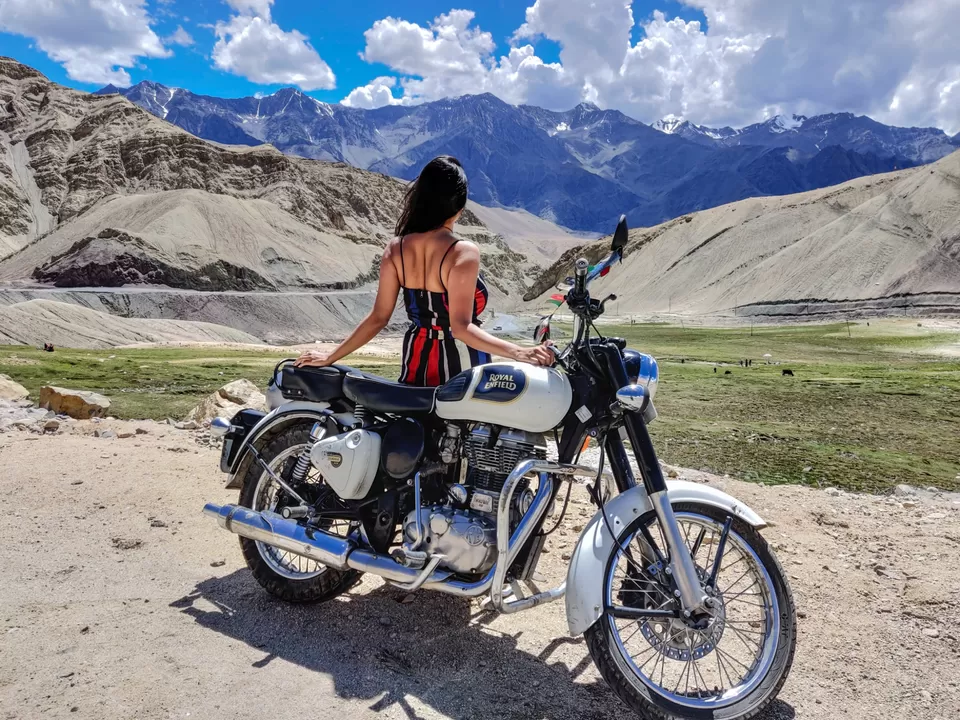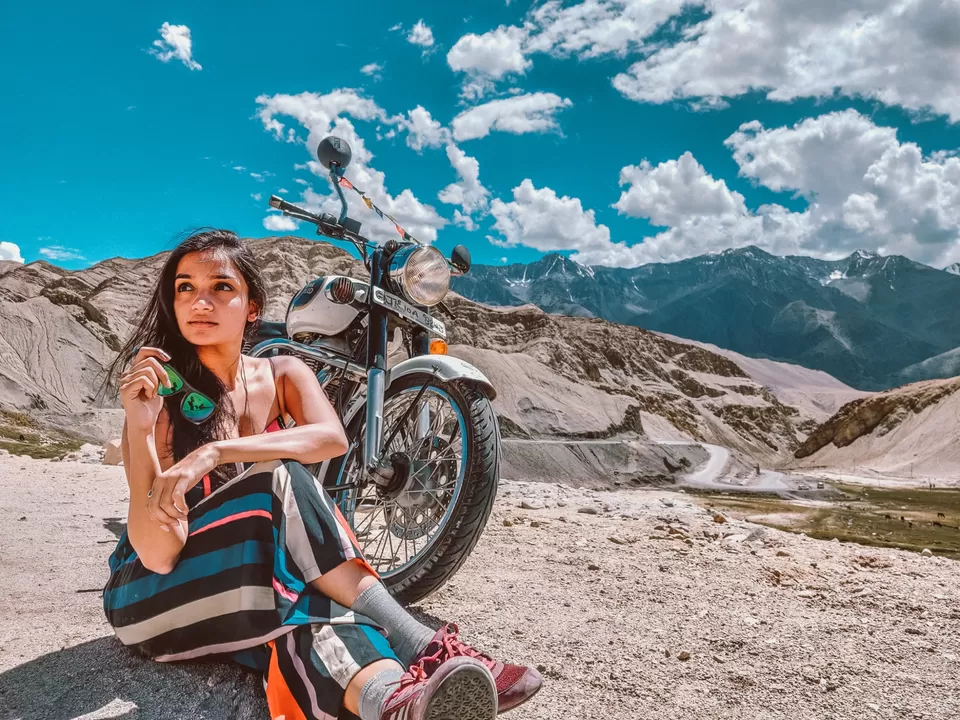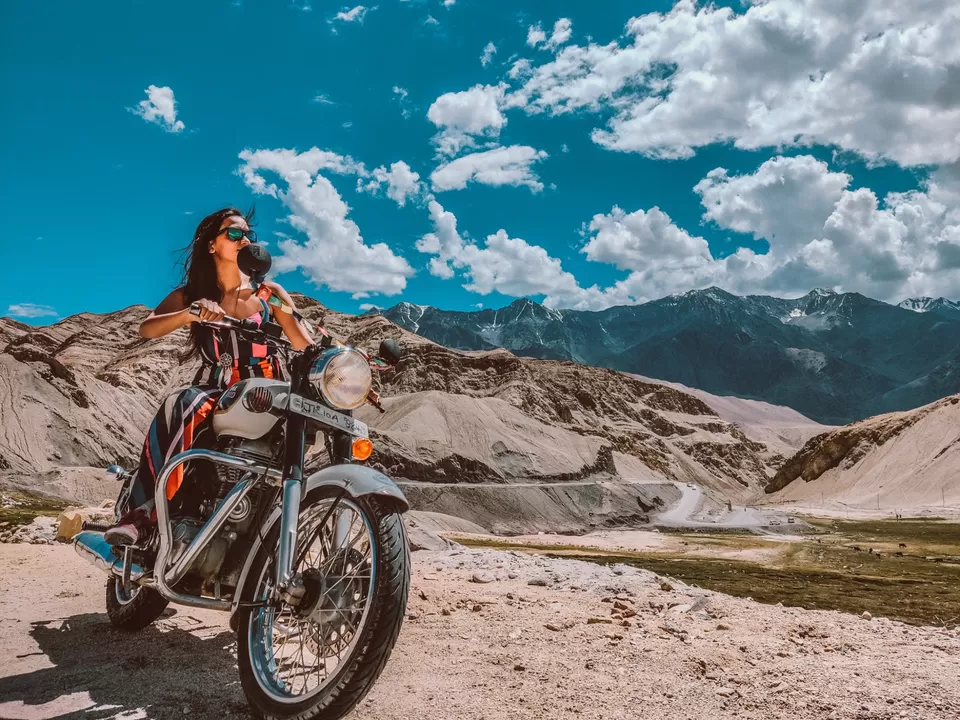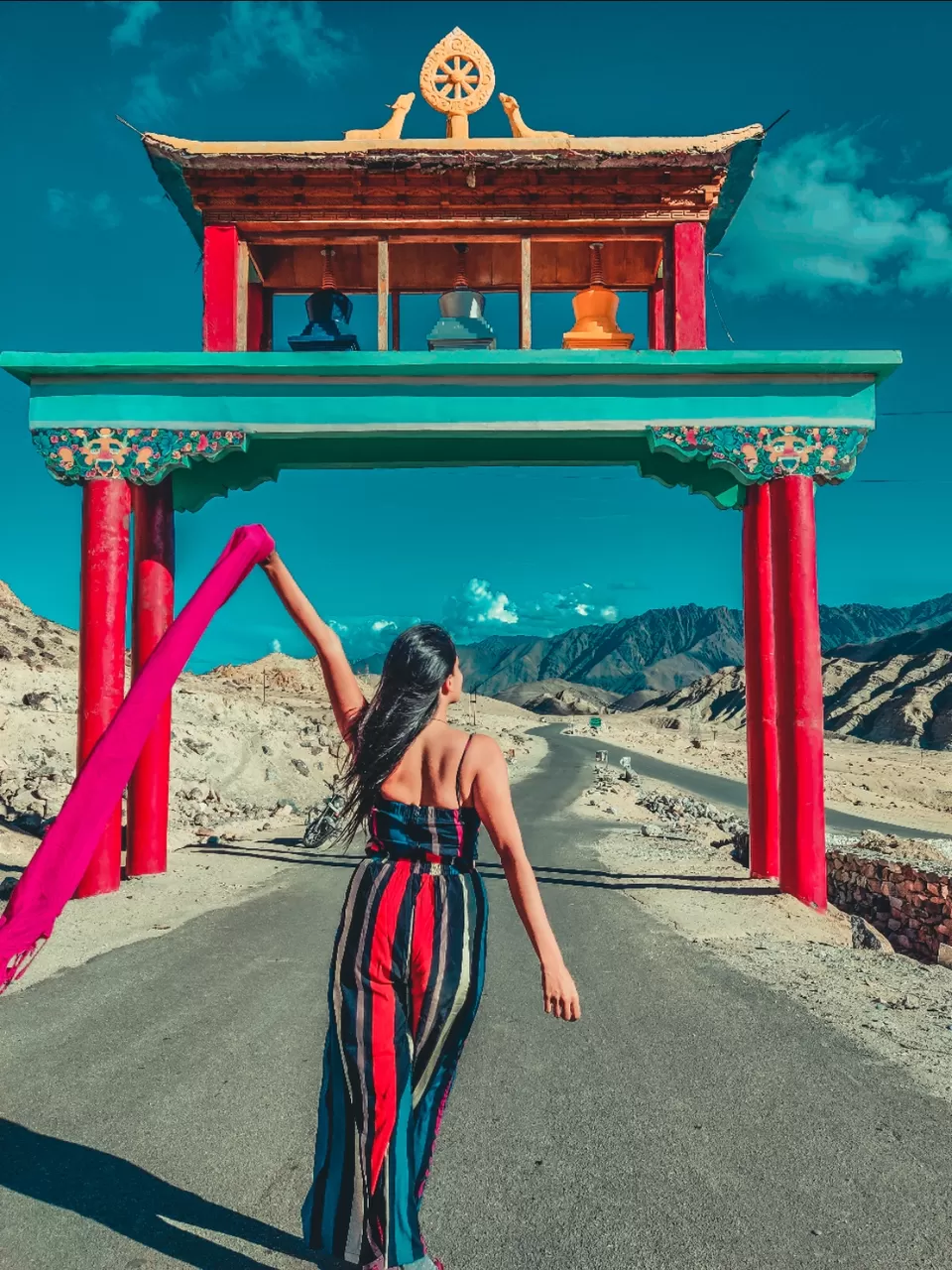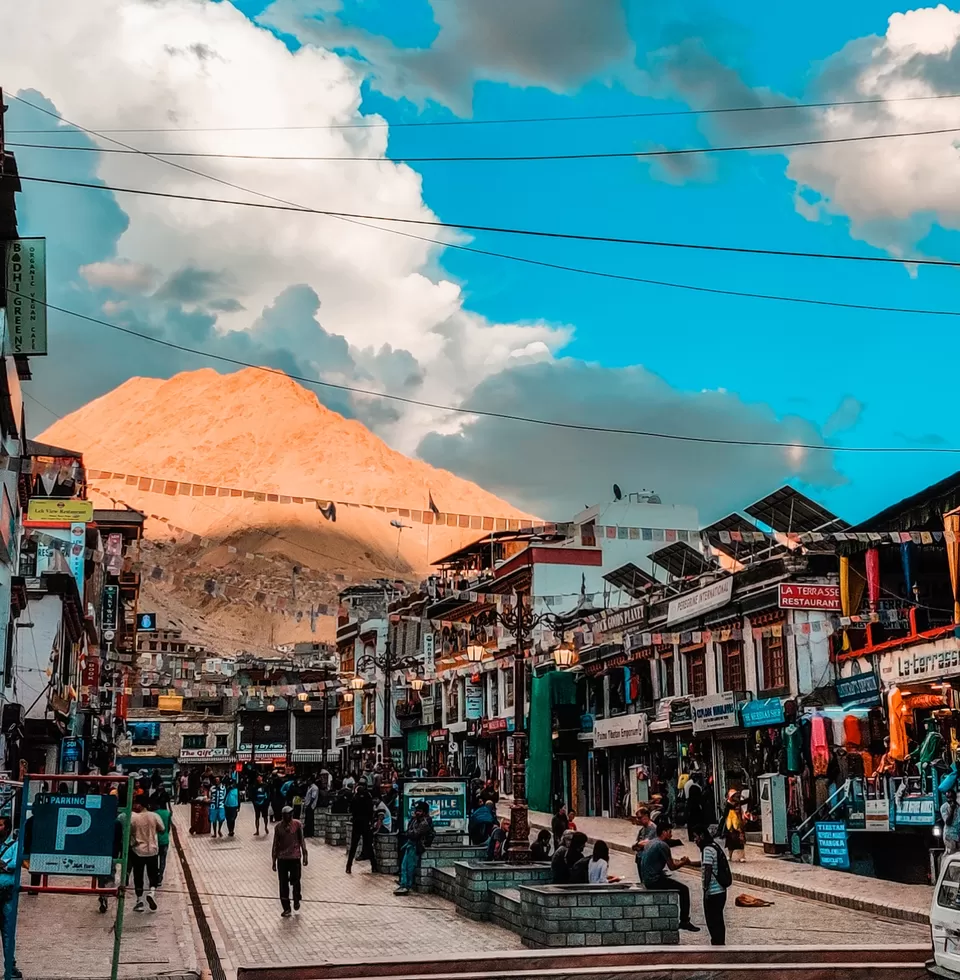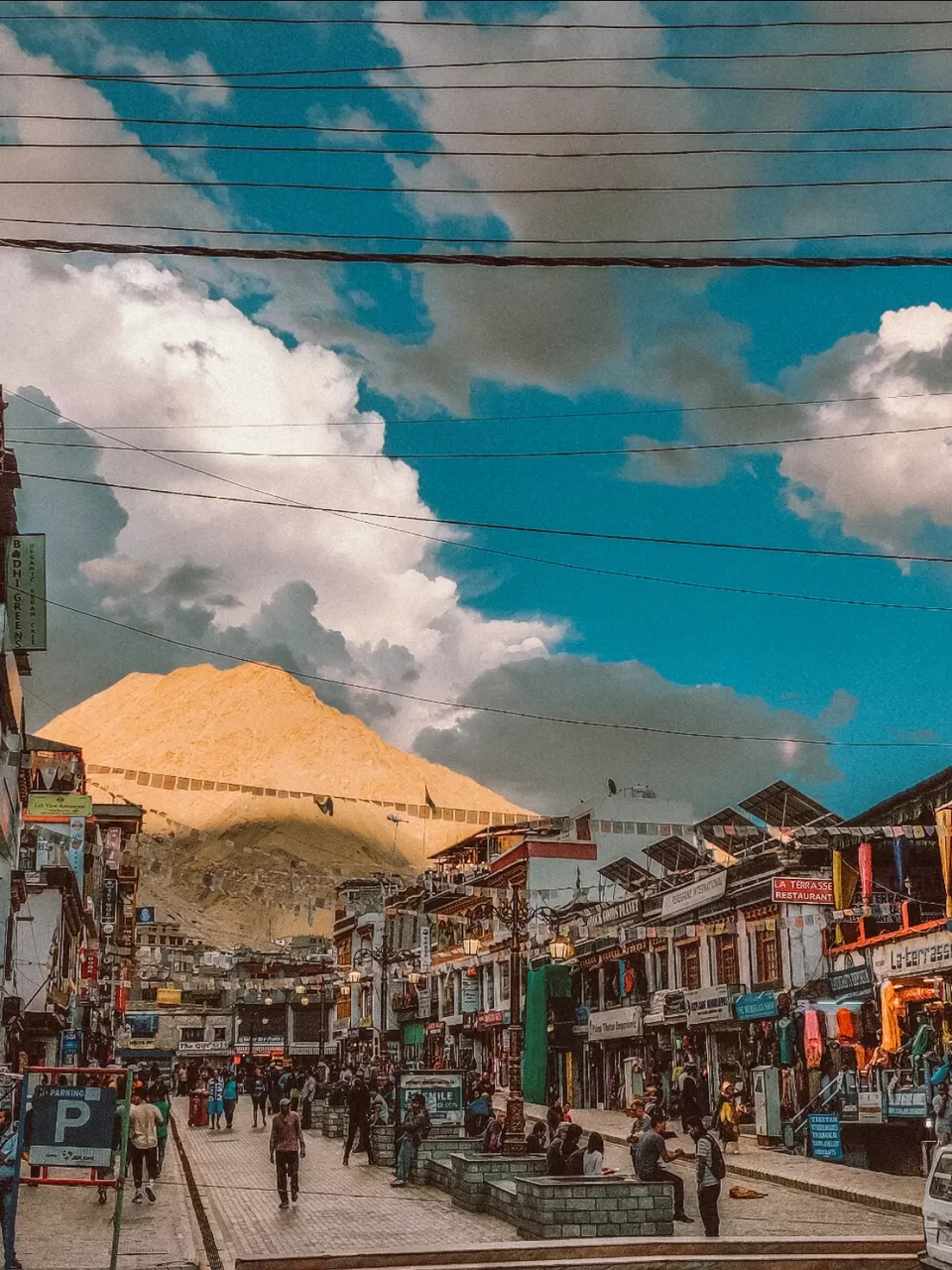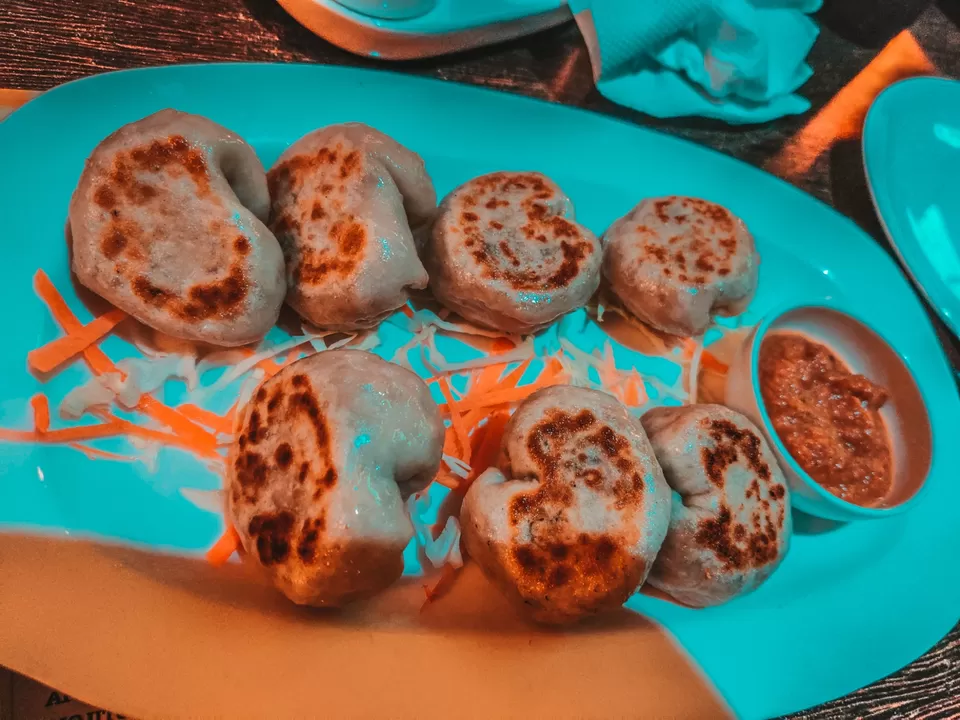 We were headed to Thiskey Monastery for sunset but couldn't make it in time to reach up so took this random stop off Spituk road by the river to witness this stunningly mindblowing sunset!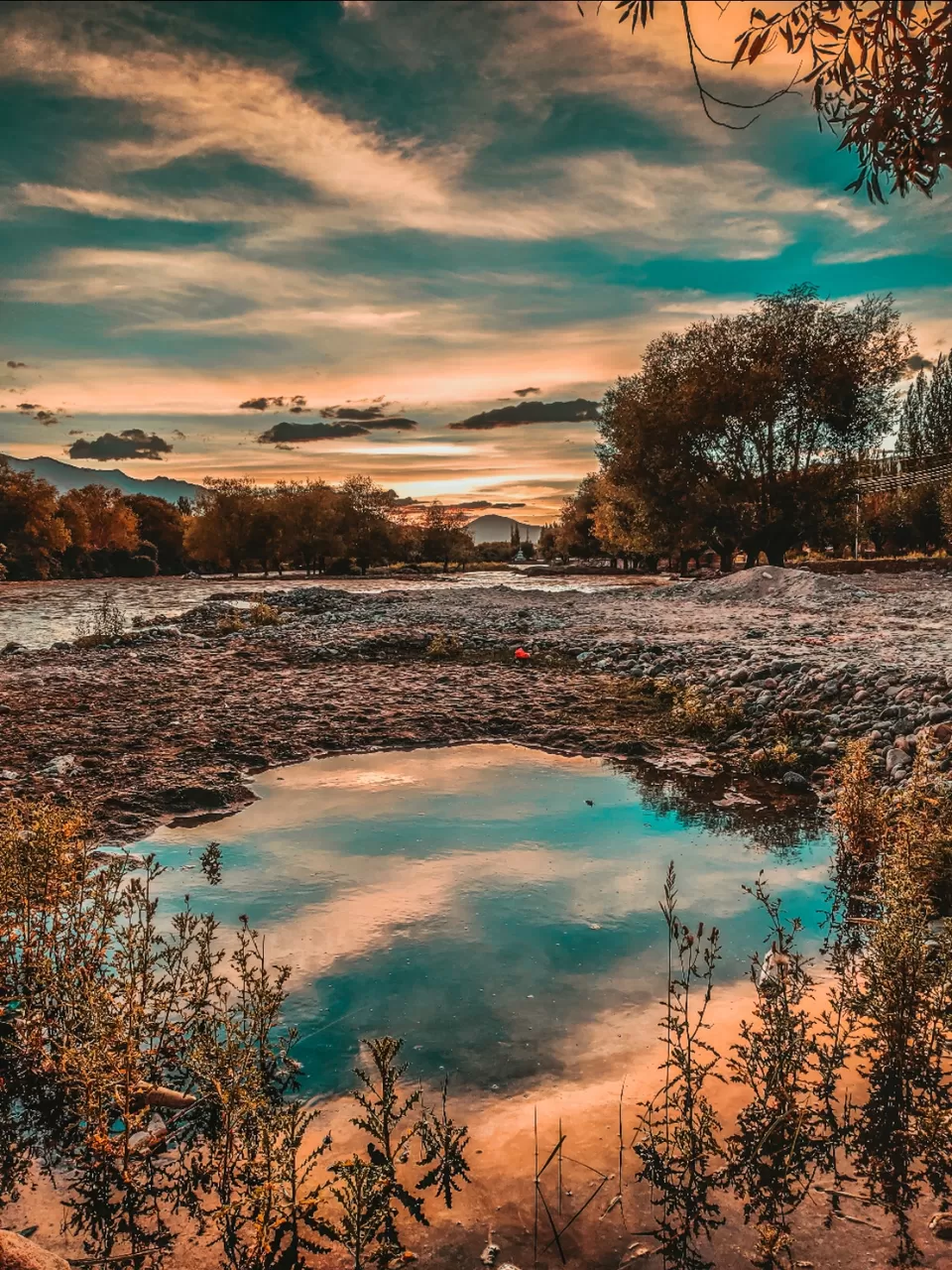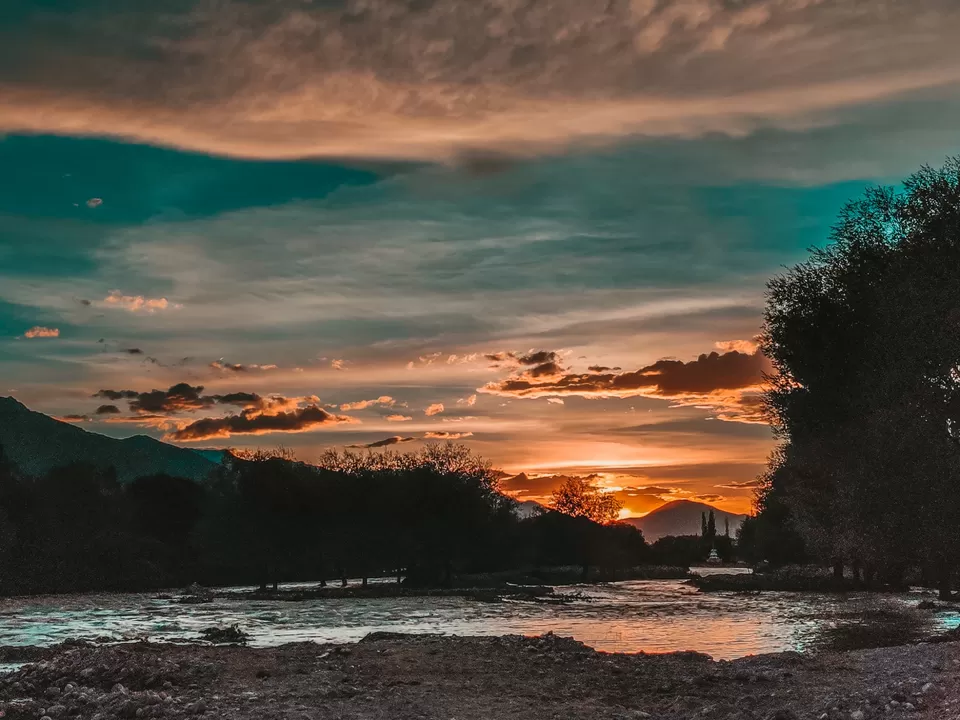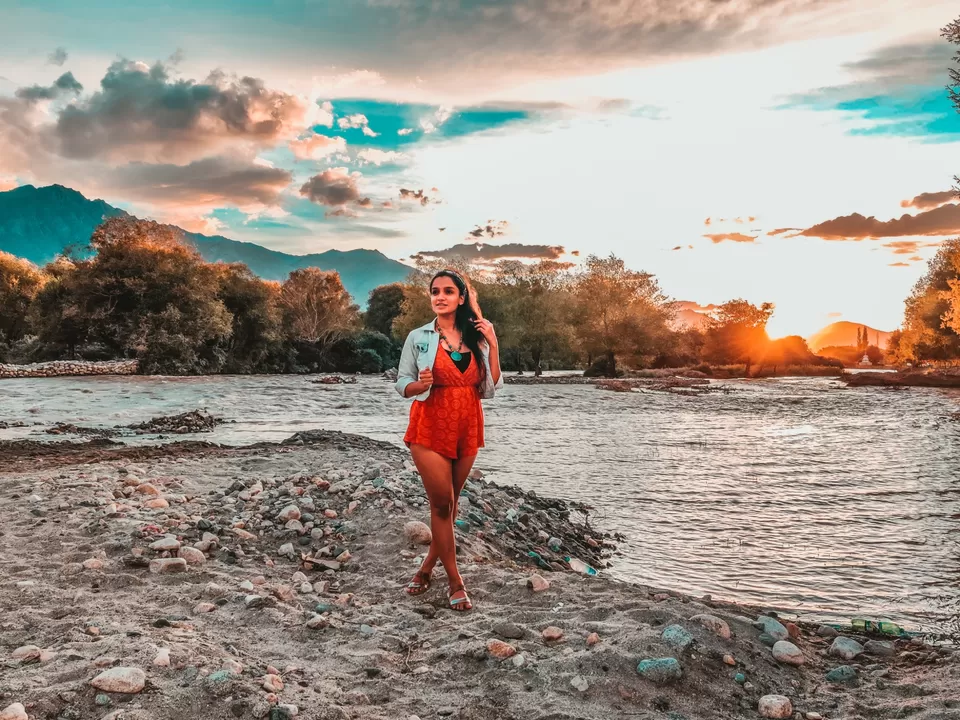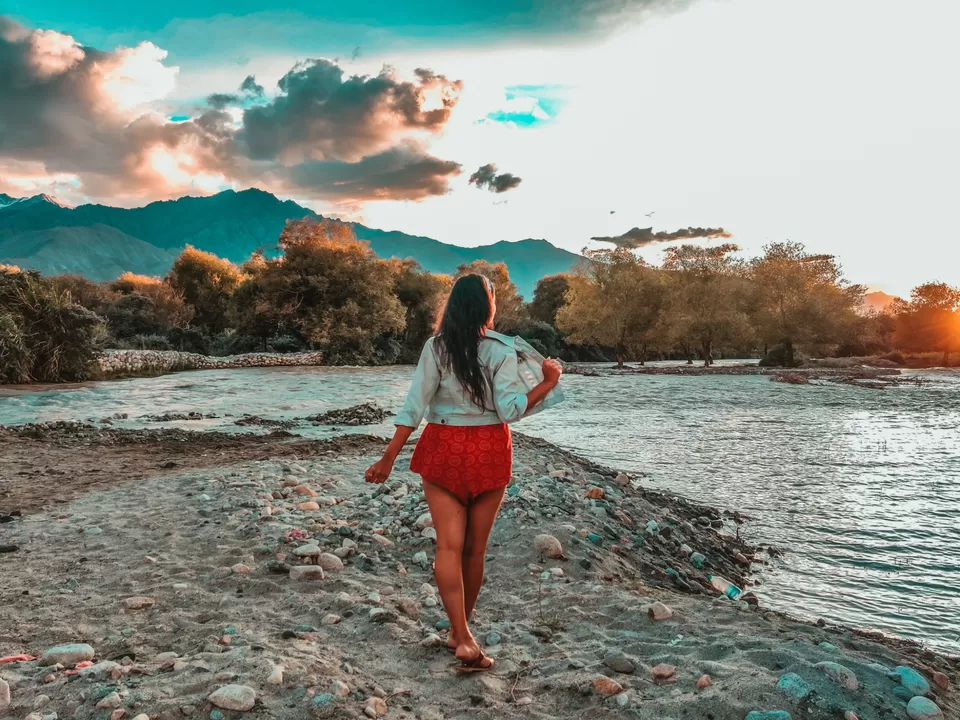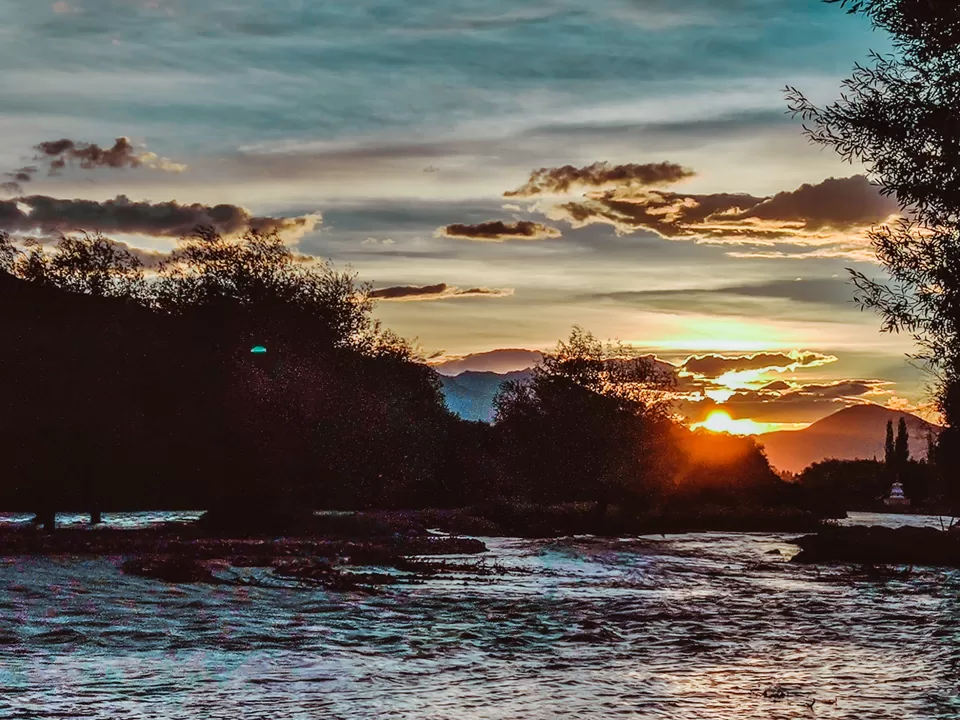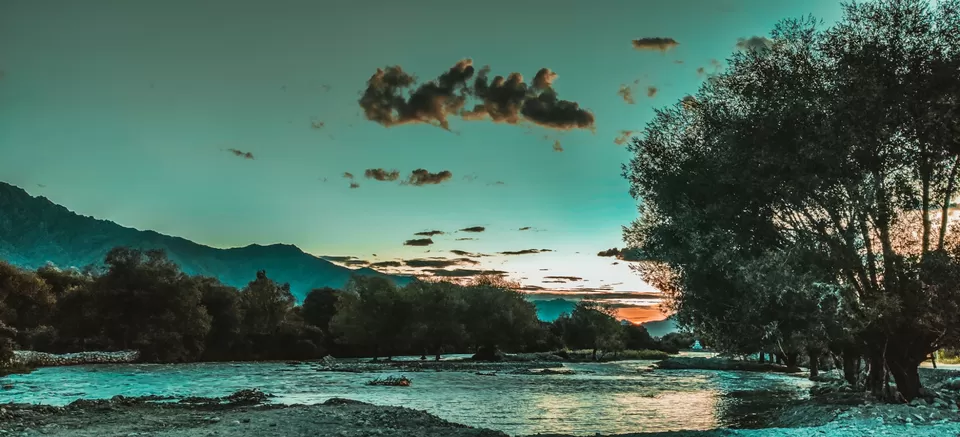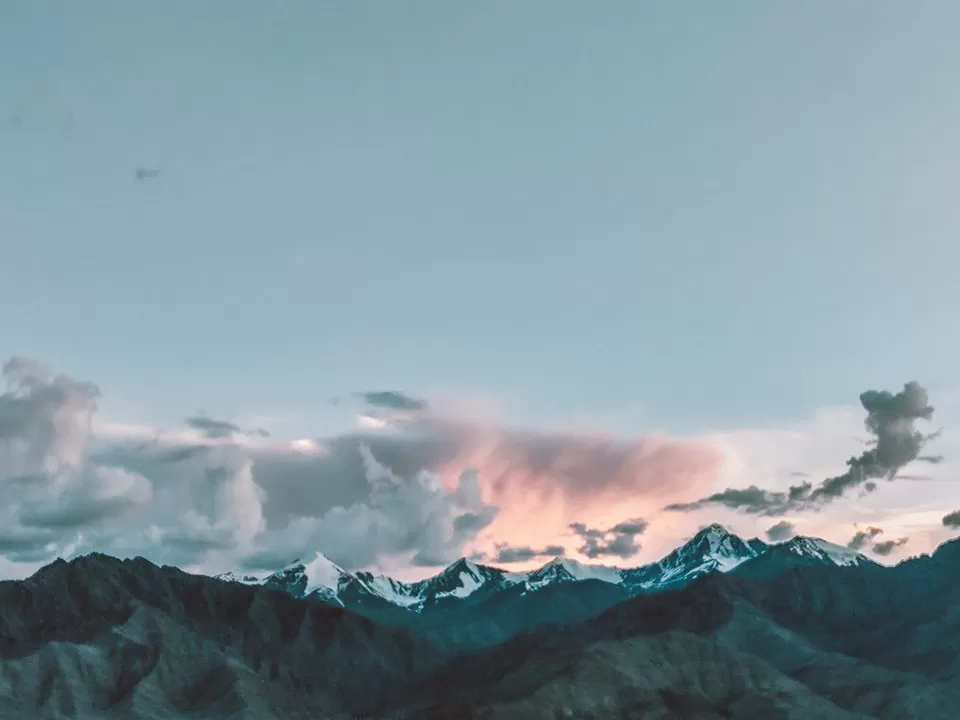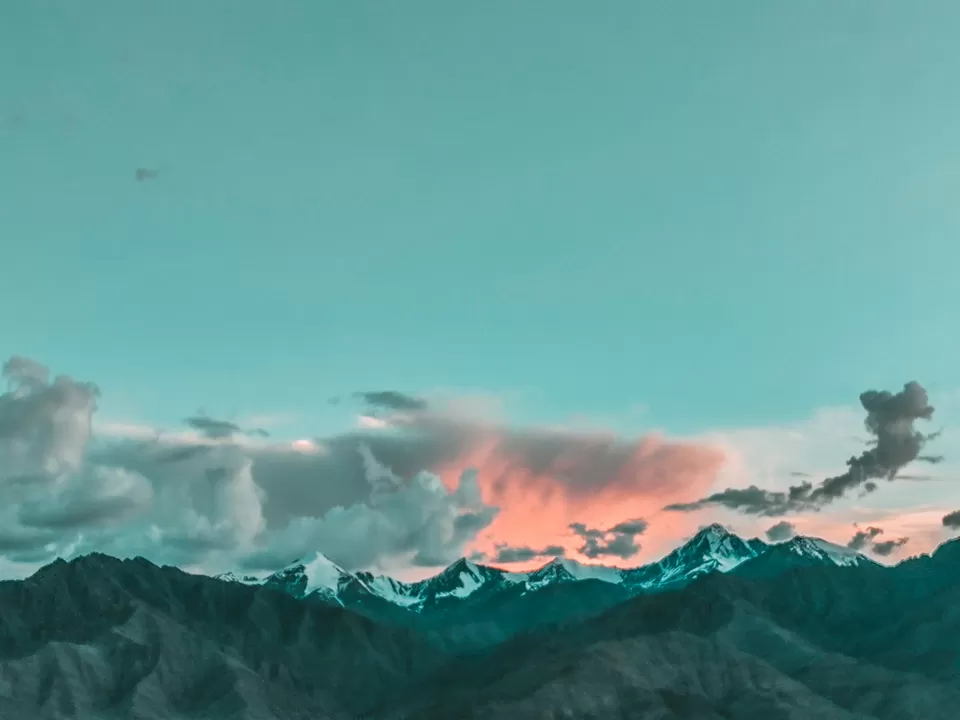 End your day with a perfect dinner at The Tibetian Kitchen- a dimly lit cozy place with candle light dinner setting and delicious food!
Do try their Thupka - I loved it so much that went back here for dinner the next day as well!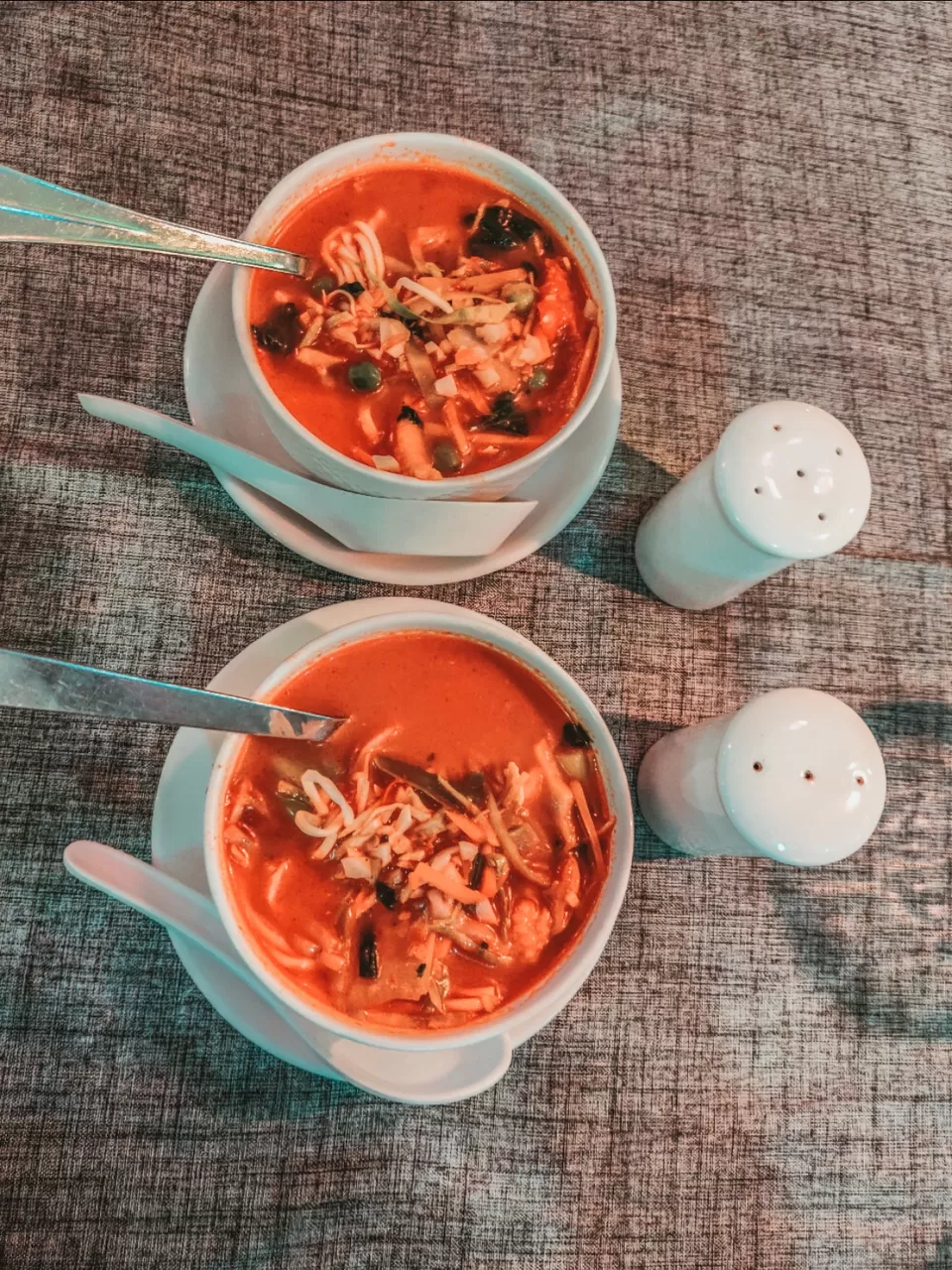 Leh - Nubra - 7 hrs drive including the attraction stops in between
We began our 2N/3D trip with a group of 5 fellow travellers to Nubra and Pangong starting at 8am.
Needless to say we were used to the scenic roads by now wherever we went!
Our first stop was at Khardung La Pass - termed as the highest motorable road in the world at 18,379 ft
A gateway to the Shyok and Nubra valleys, Khardung La is an absolute beauty and offers mindblowing panoramic views of glaciers and mountains around.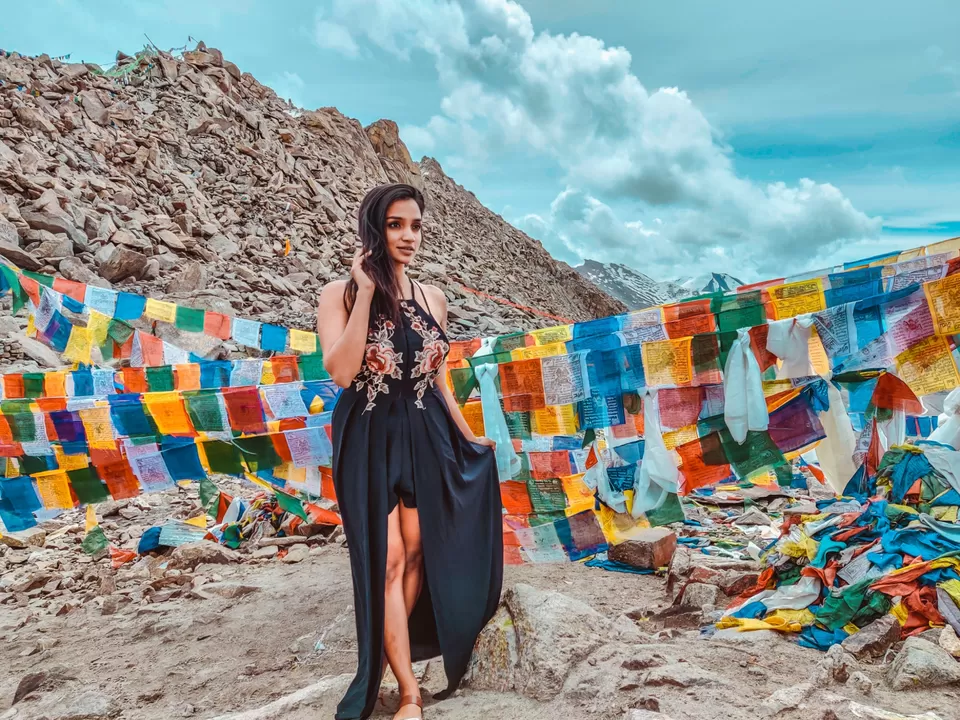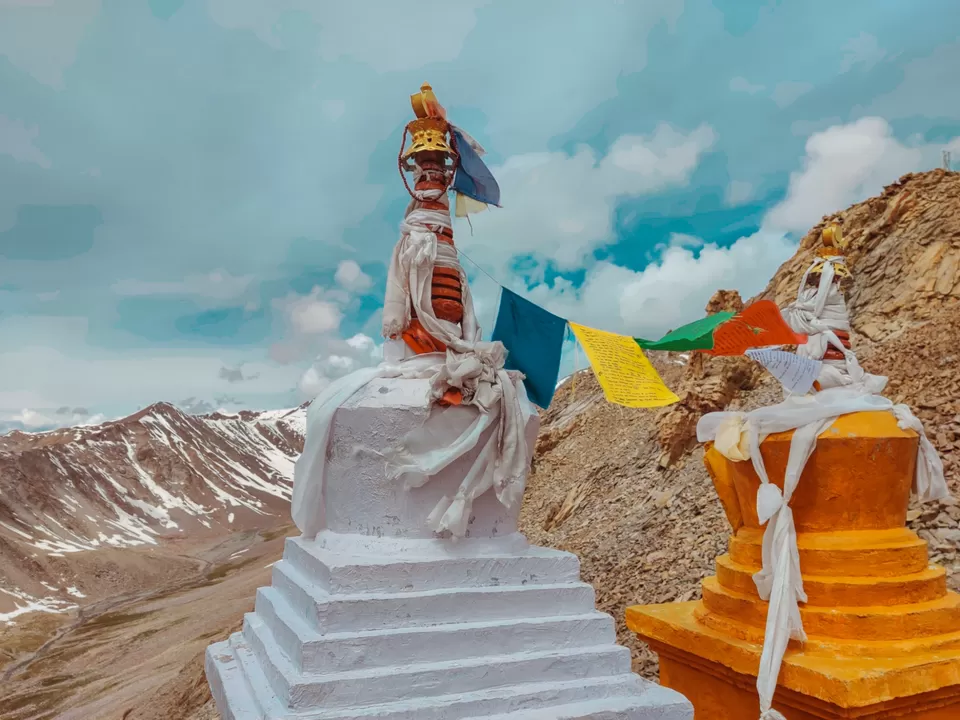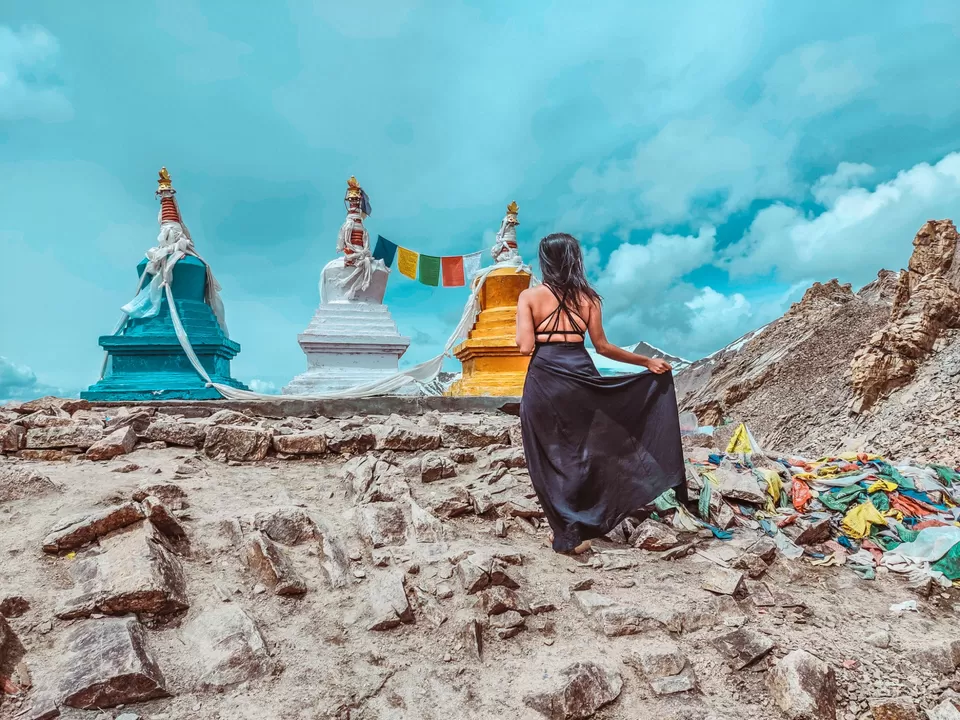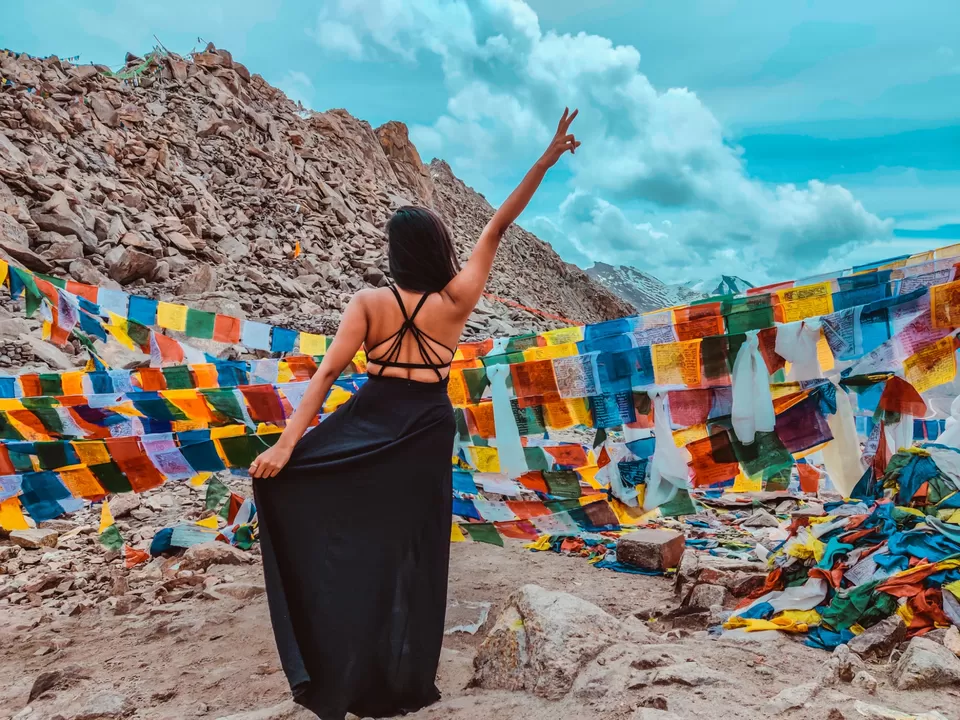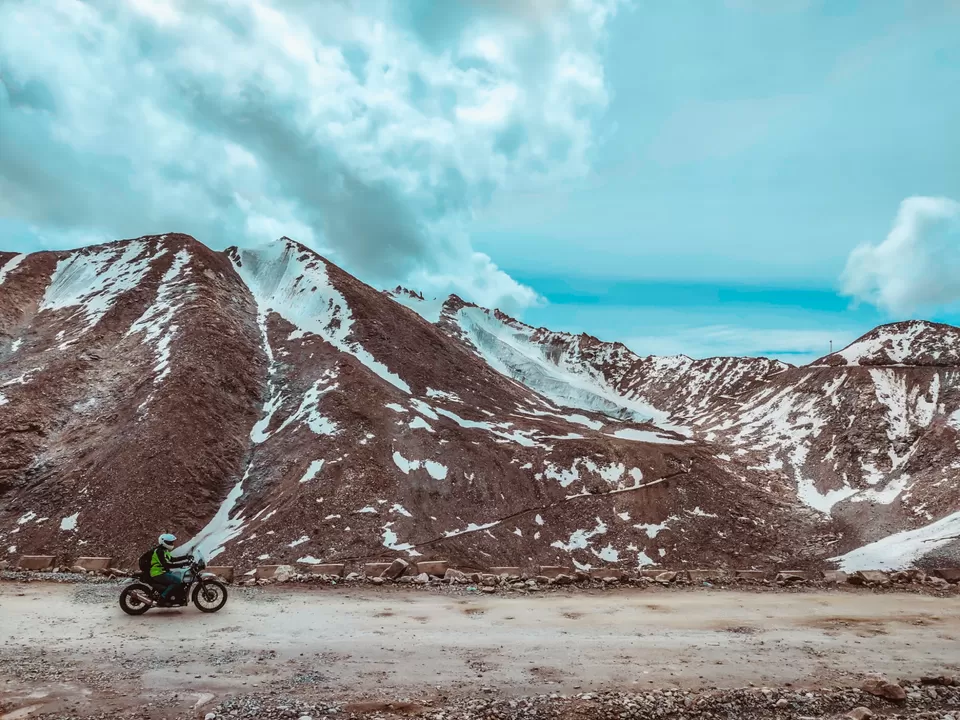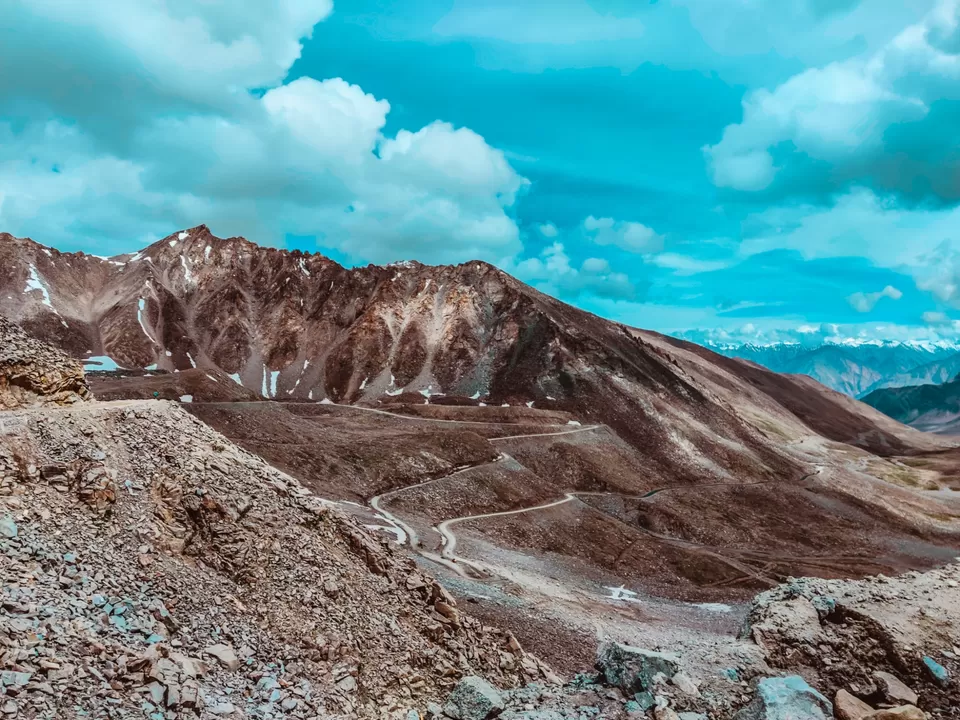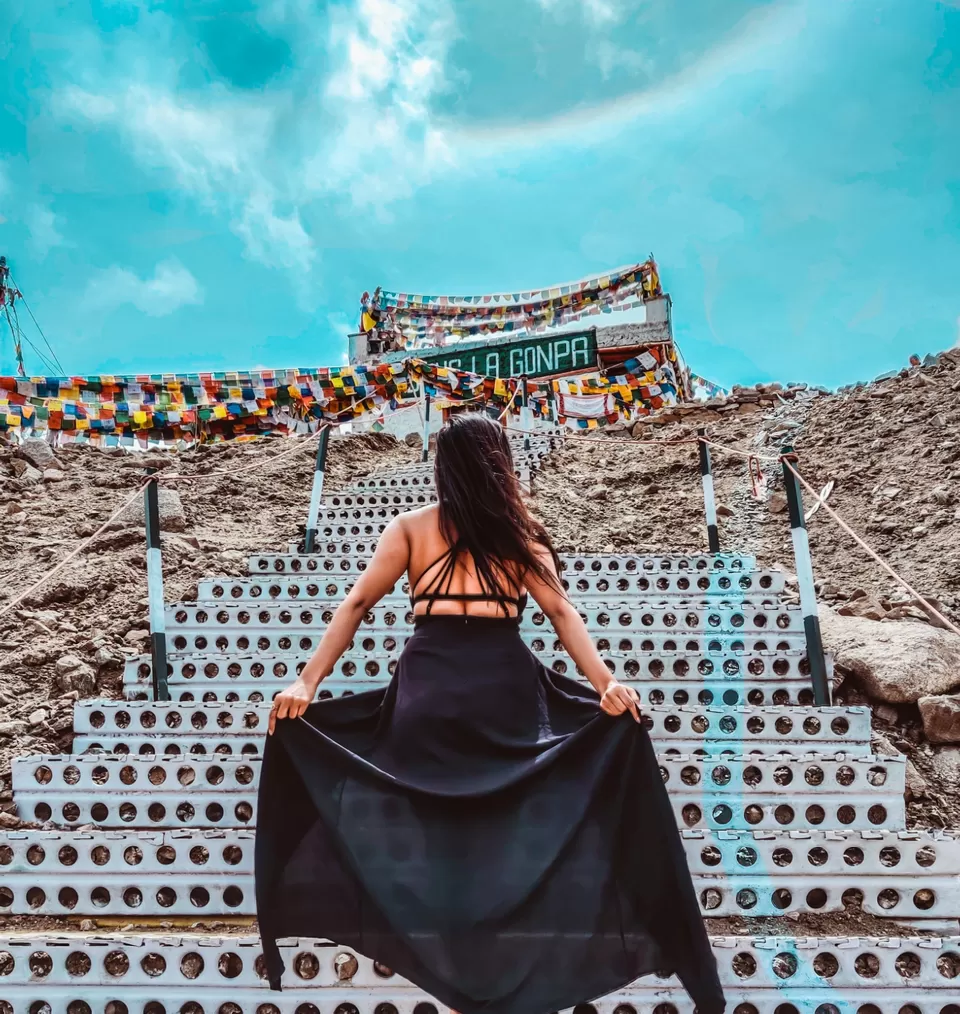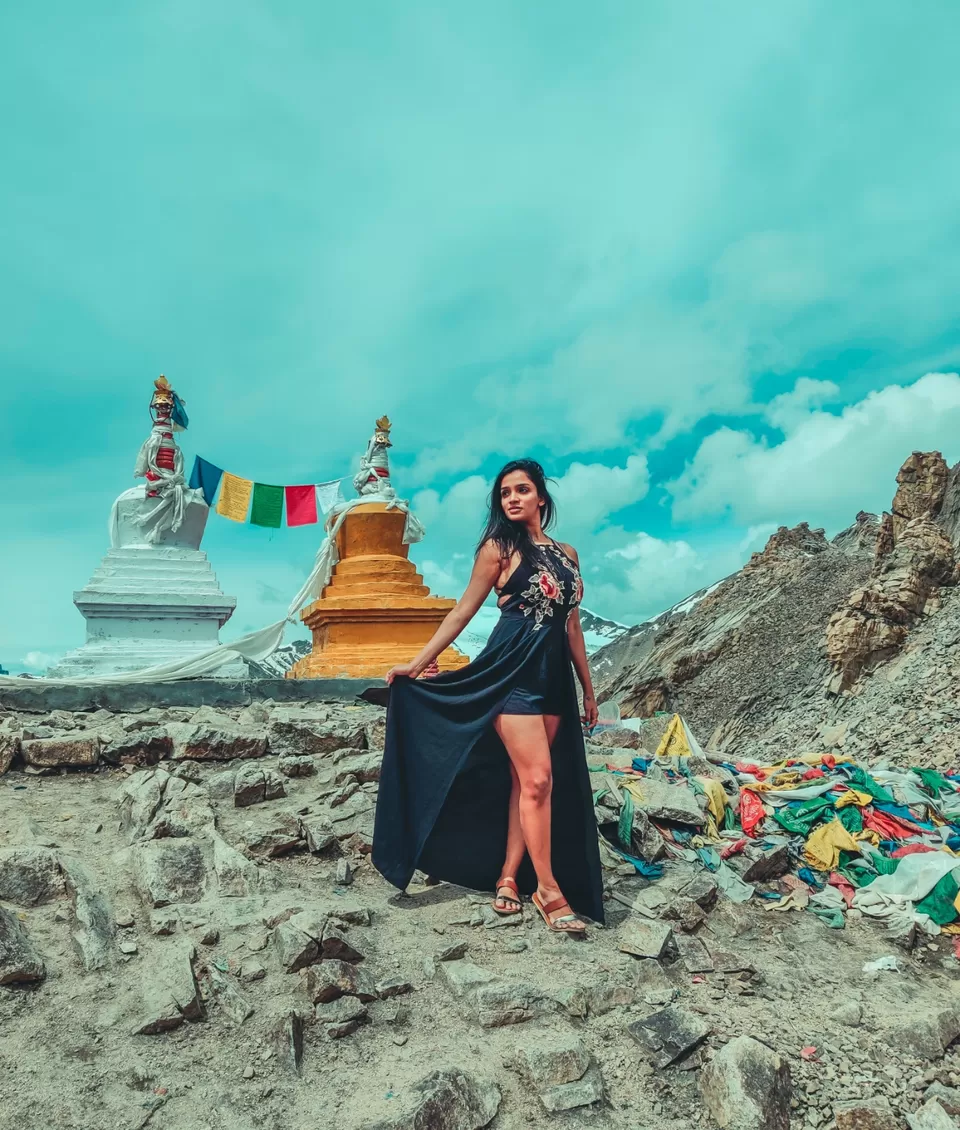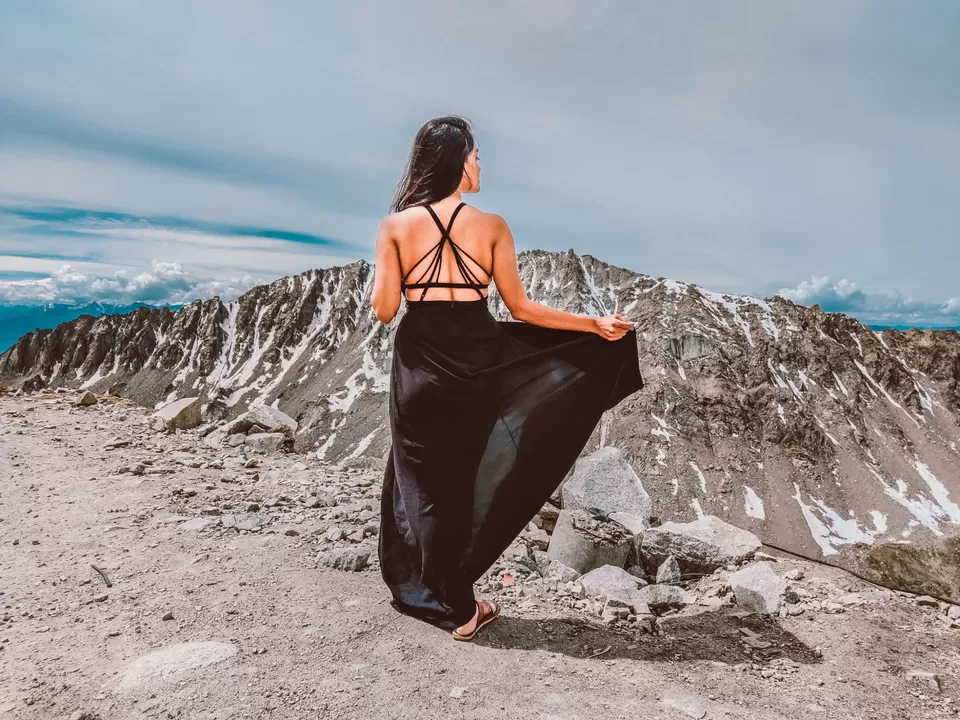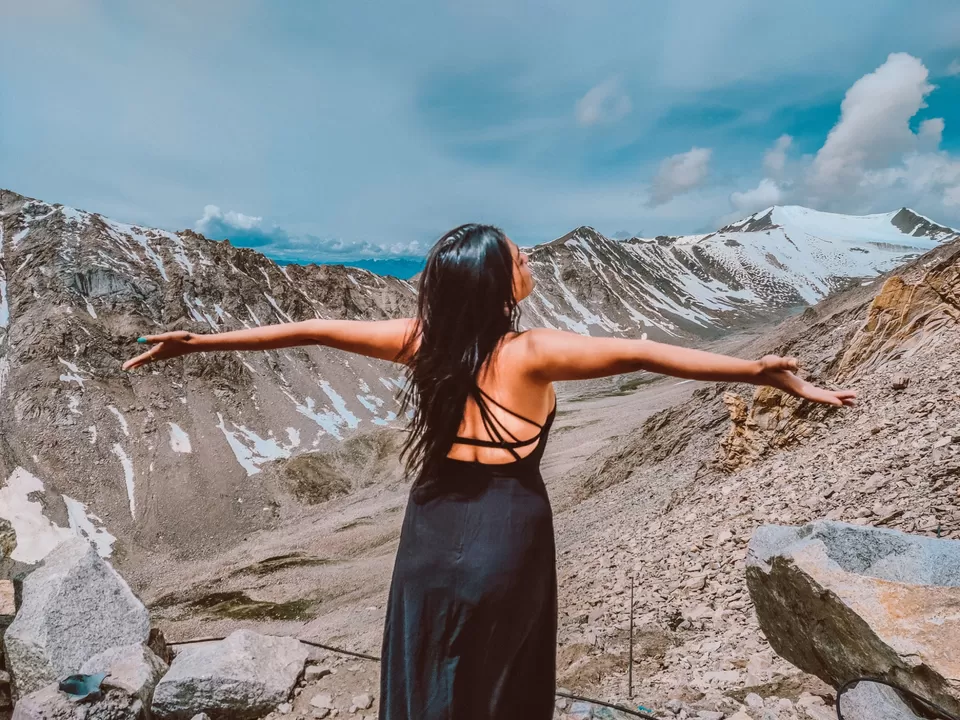 We continued the panaromic journey for 4 more hours with a lunch pit stop in between to reach the capital of Nubra - Diskit to visit the famous Diskit Monasteries and completely marvelled over the iconic grand Buddha statue, rainbows over the mountains and the marvelous beauty of the place!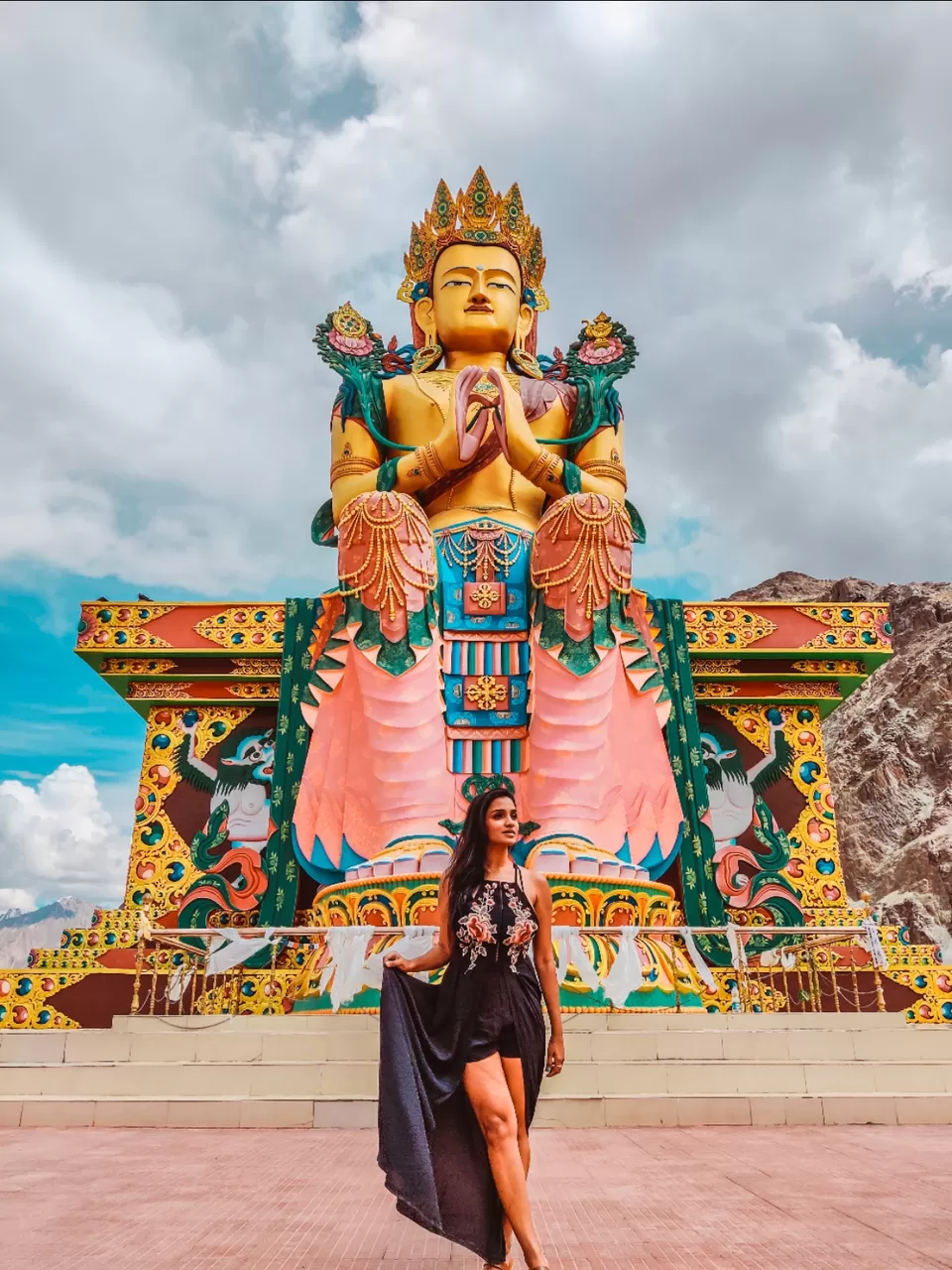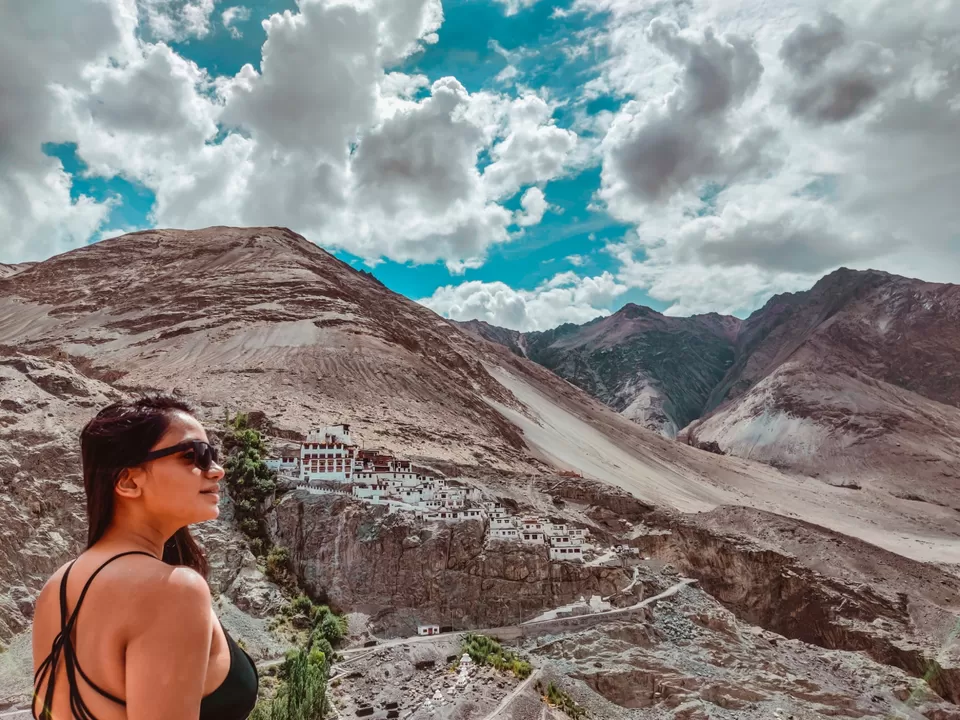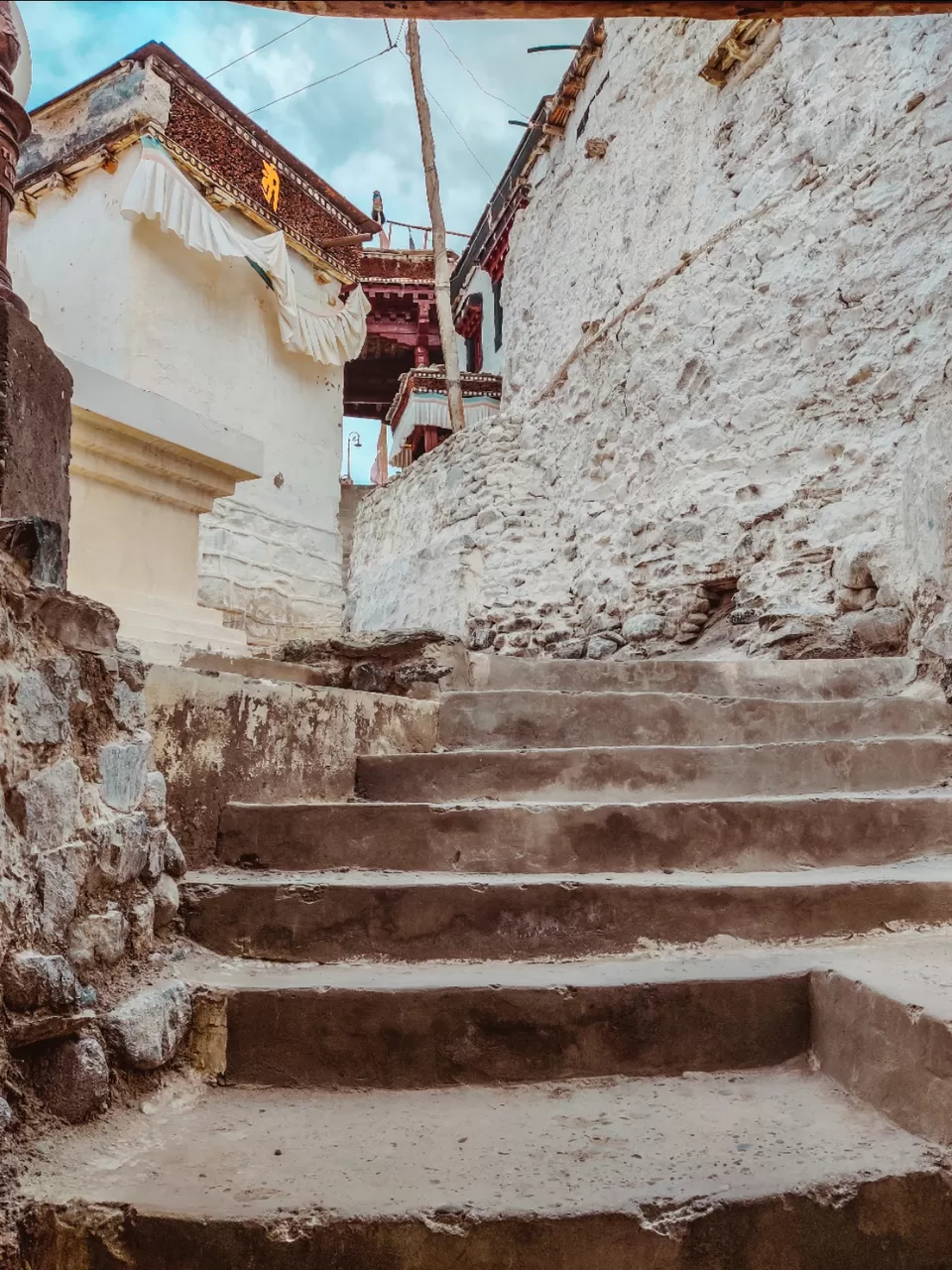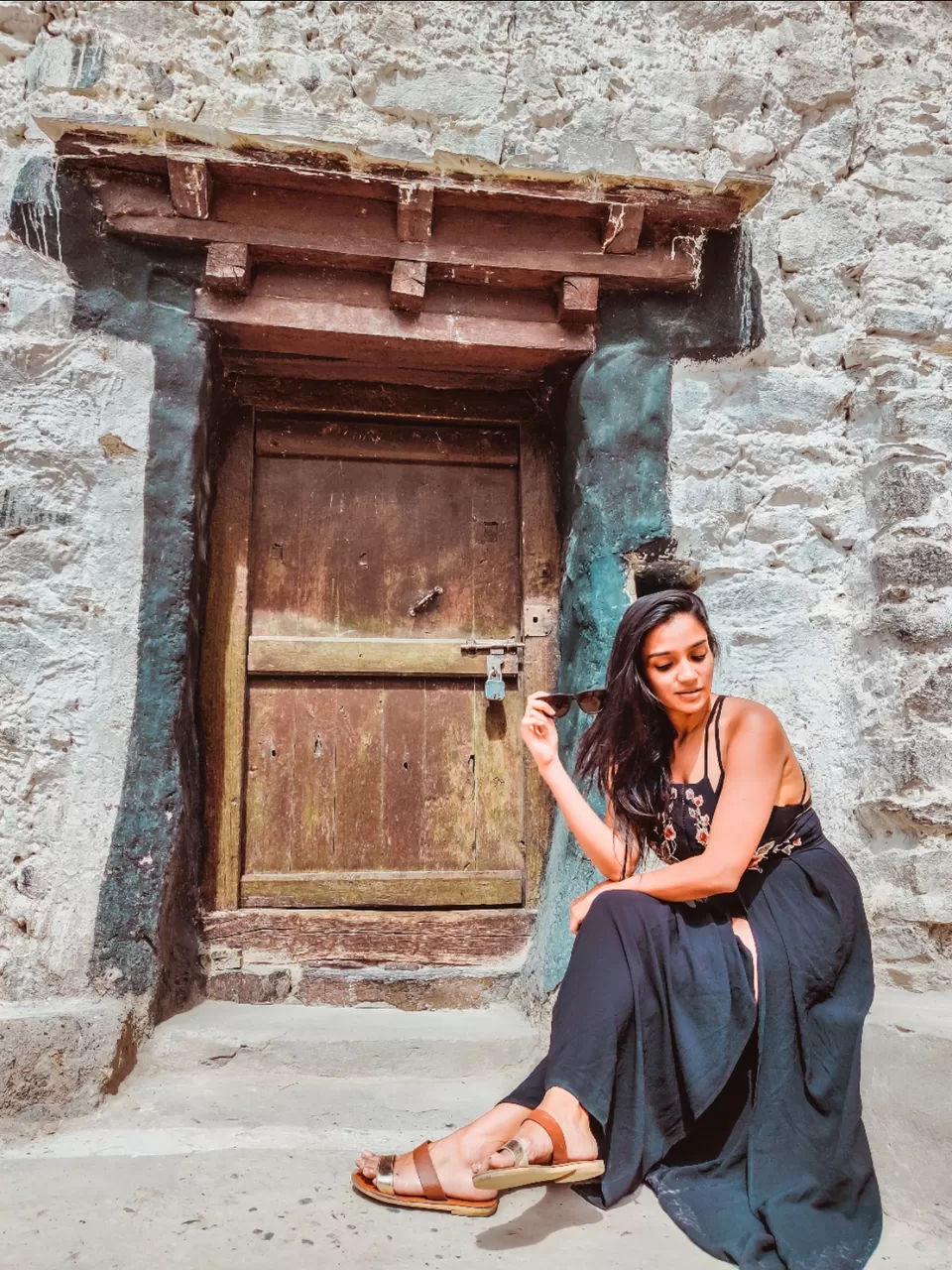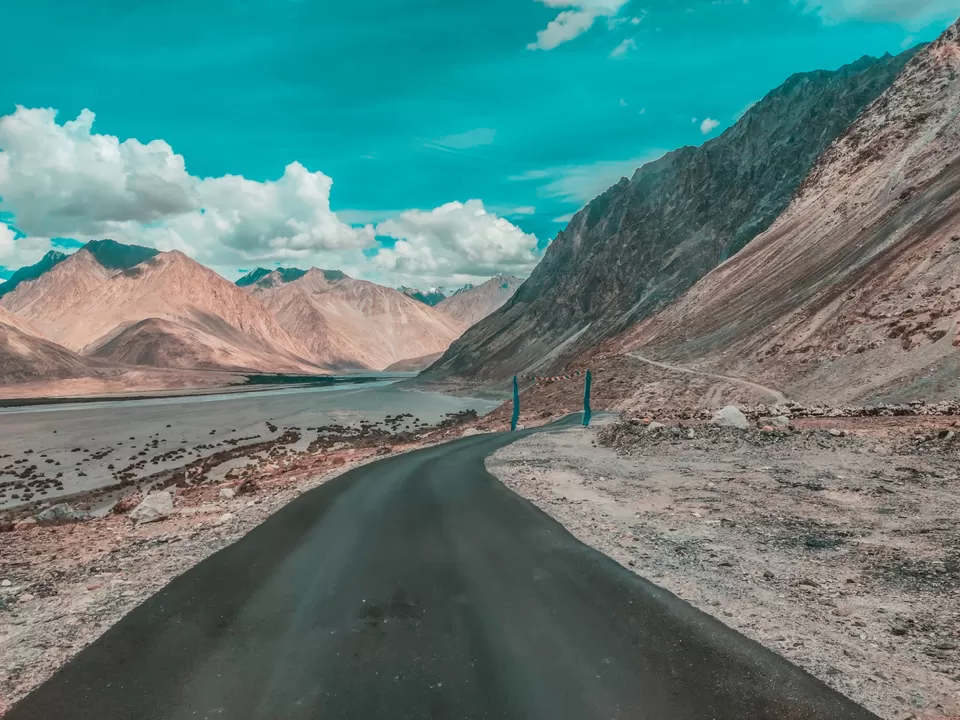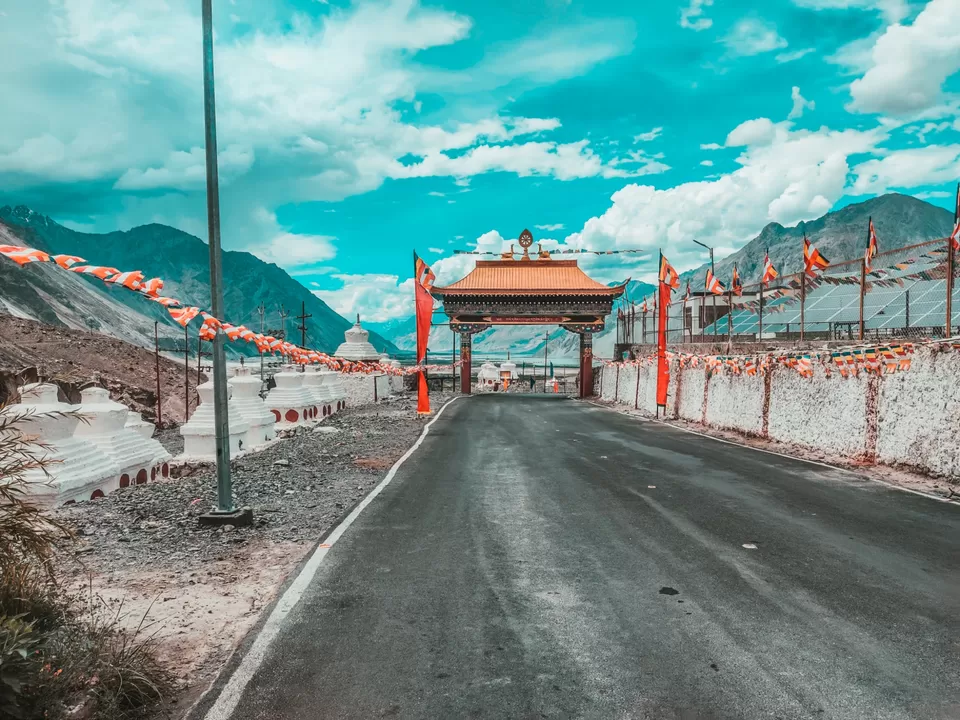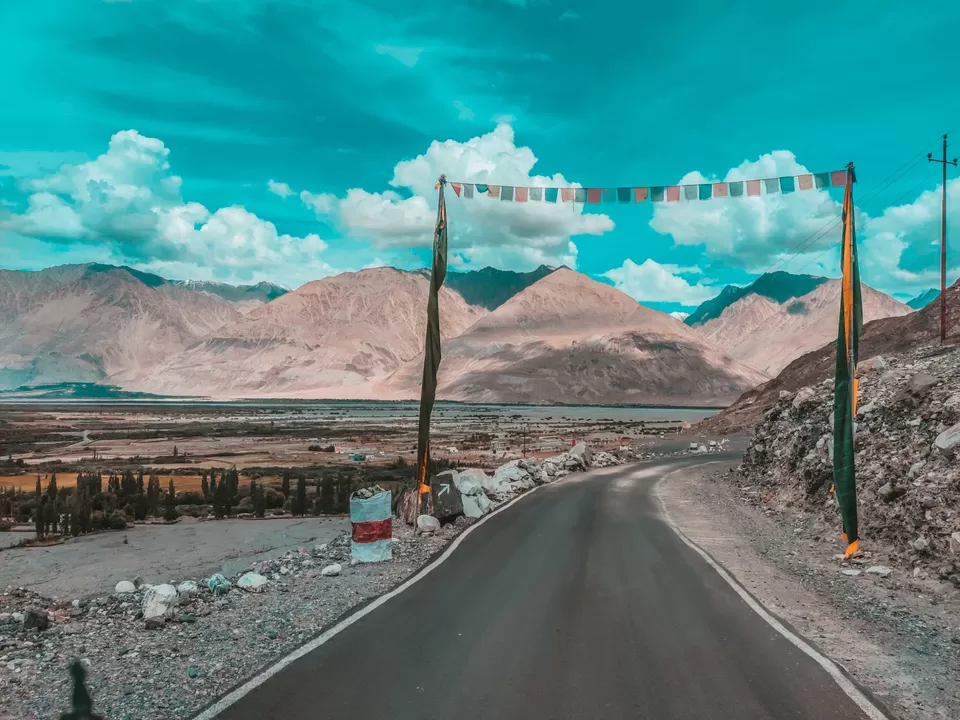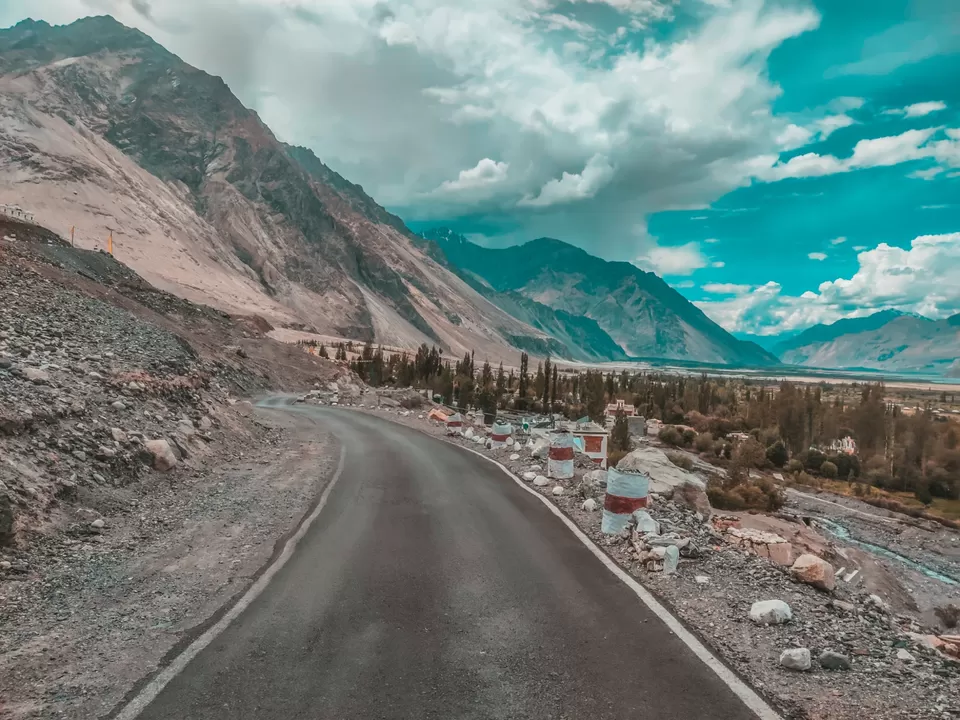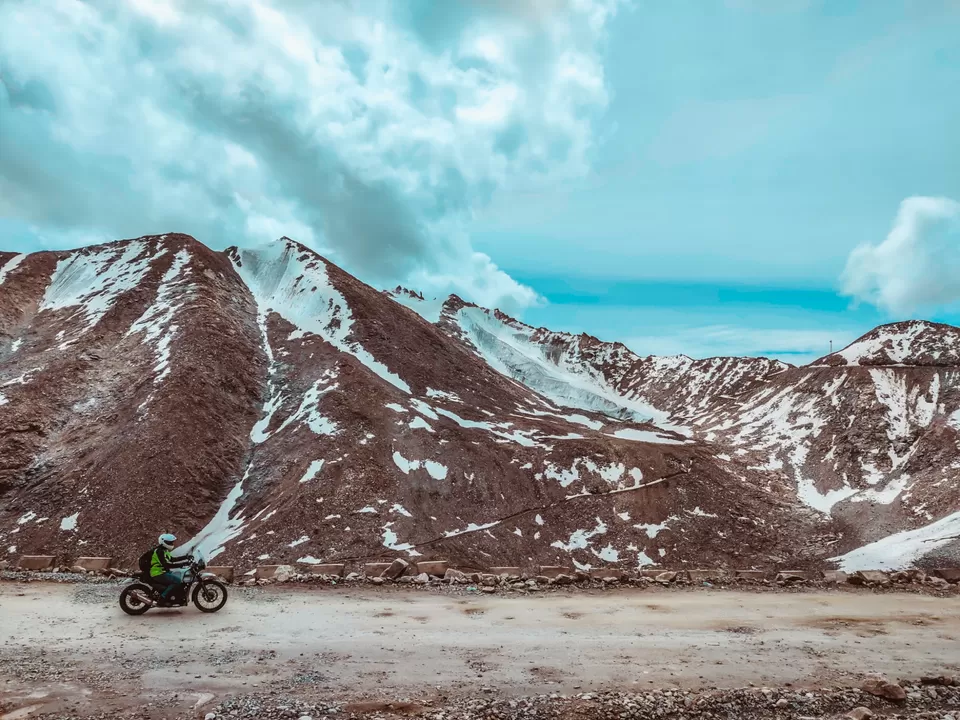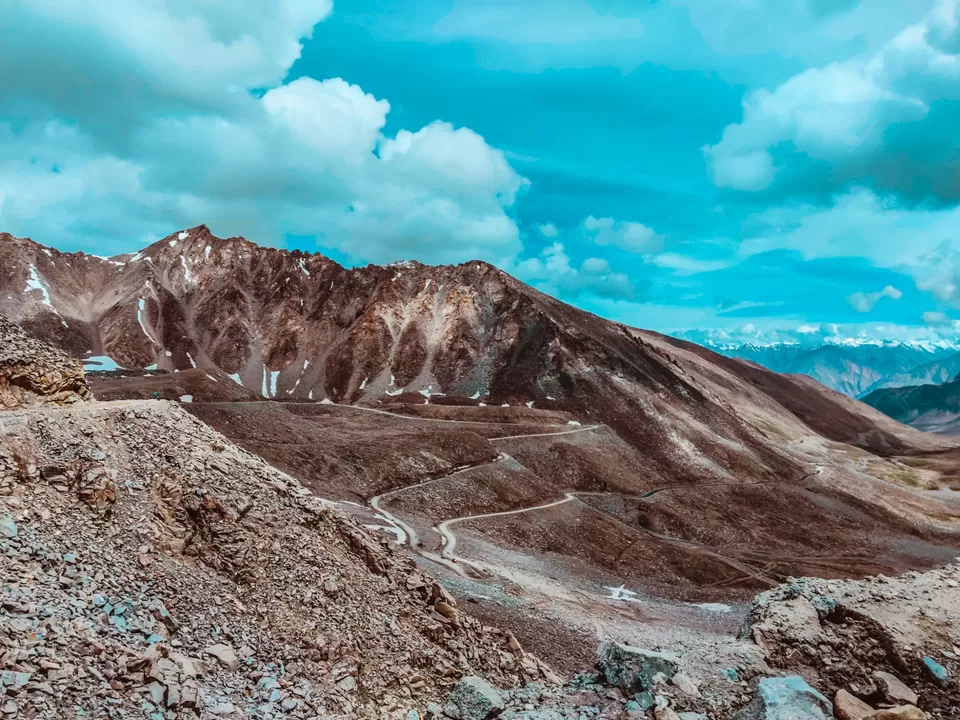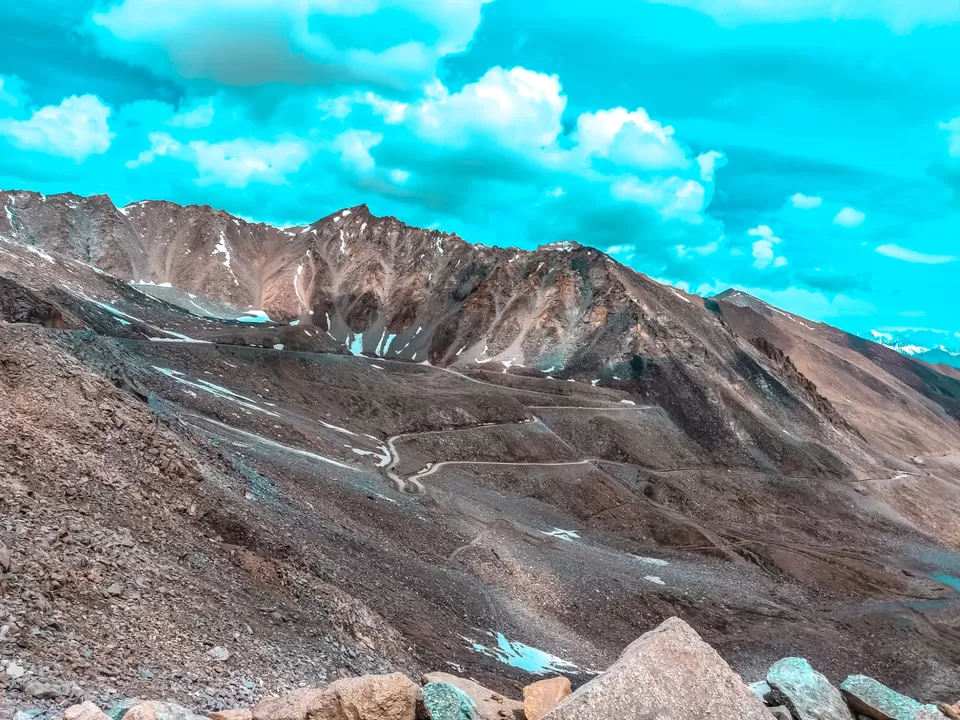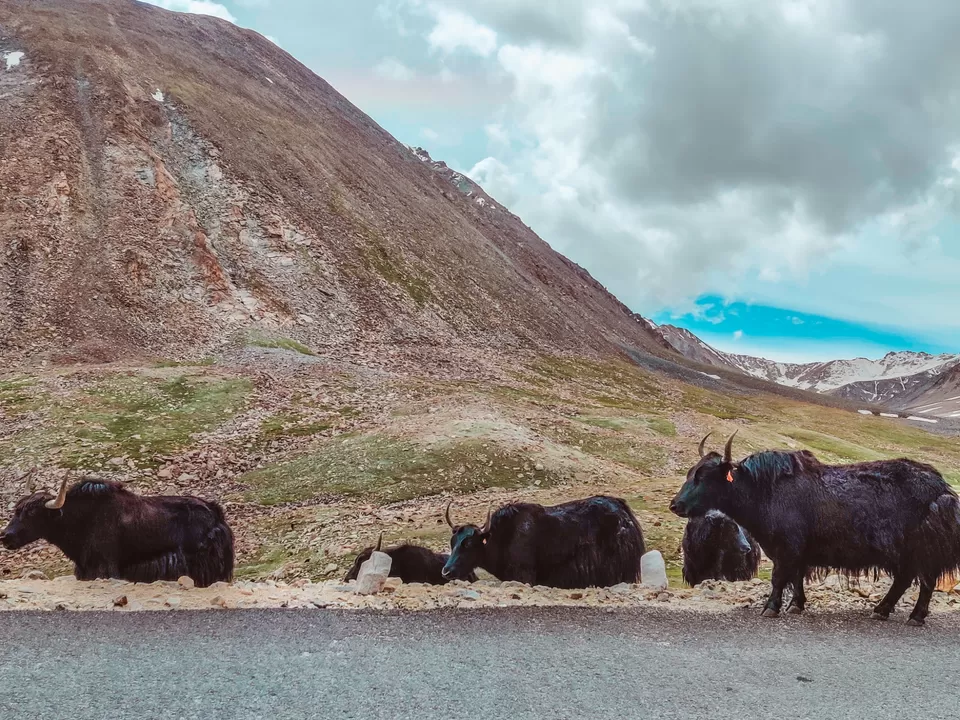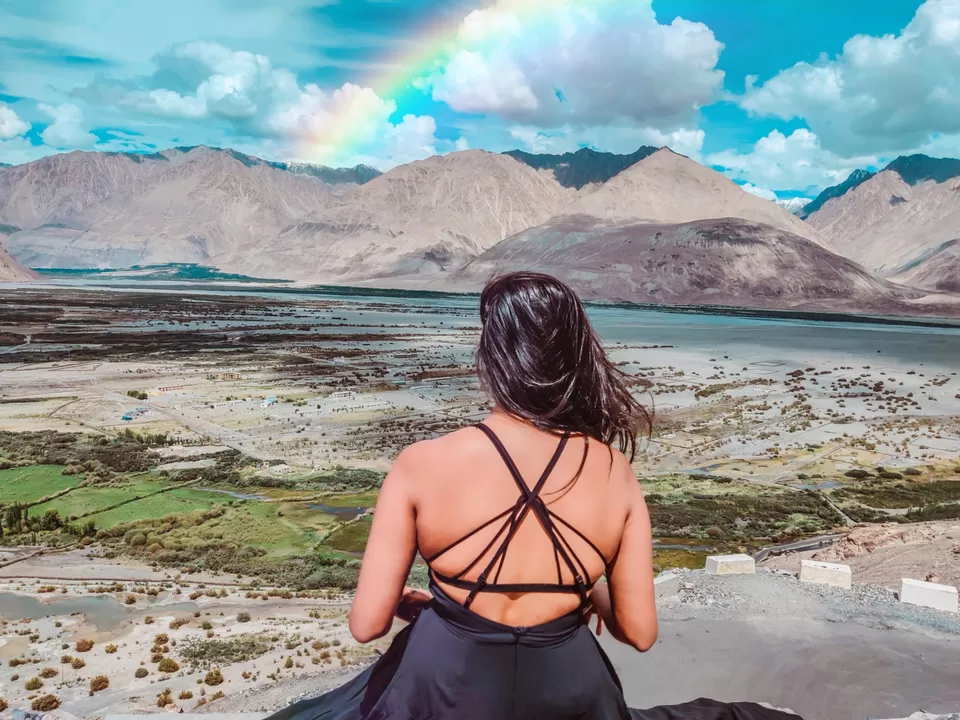 Booked yet another impromptu accomodation as per our driver's recommendation at The Himalayan Bunker Hostel.
It was one of the best accomodations of our trips - full of apple and apricot trees, hammocks laying by, a cute library cum games room and comfortable tents with attached bathrooms and the cherry on top- the site has a river flowing by too!
Perfect ain't it?
We paid Rs. 1200 for 2 with breakfast. They also had dorm tents starting from Rs. 400 for 6 bed sharing rooms.
Top Tips-:
1. Only drawback is this areas is the electricity mostly runs on generators from 7pm-12 am so you have to ensure you charge your devices and complete your dinner etc during this time!
2. Also, none of the areas after leaving Leh city could catch any phone network . Apparently only BSNL works in these areas and you don't get a BSNL SIM card instantly like other sims, so if you need to be on internet get this sorted before hand.
Also there's no wifi either in any of the hotels in the area!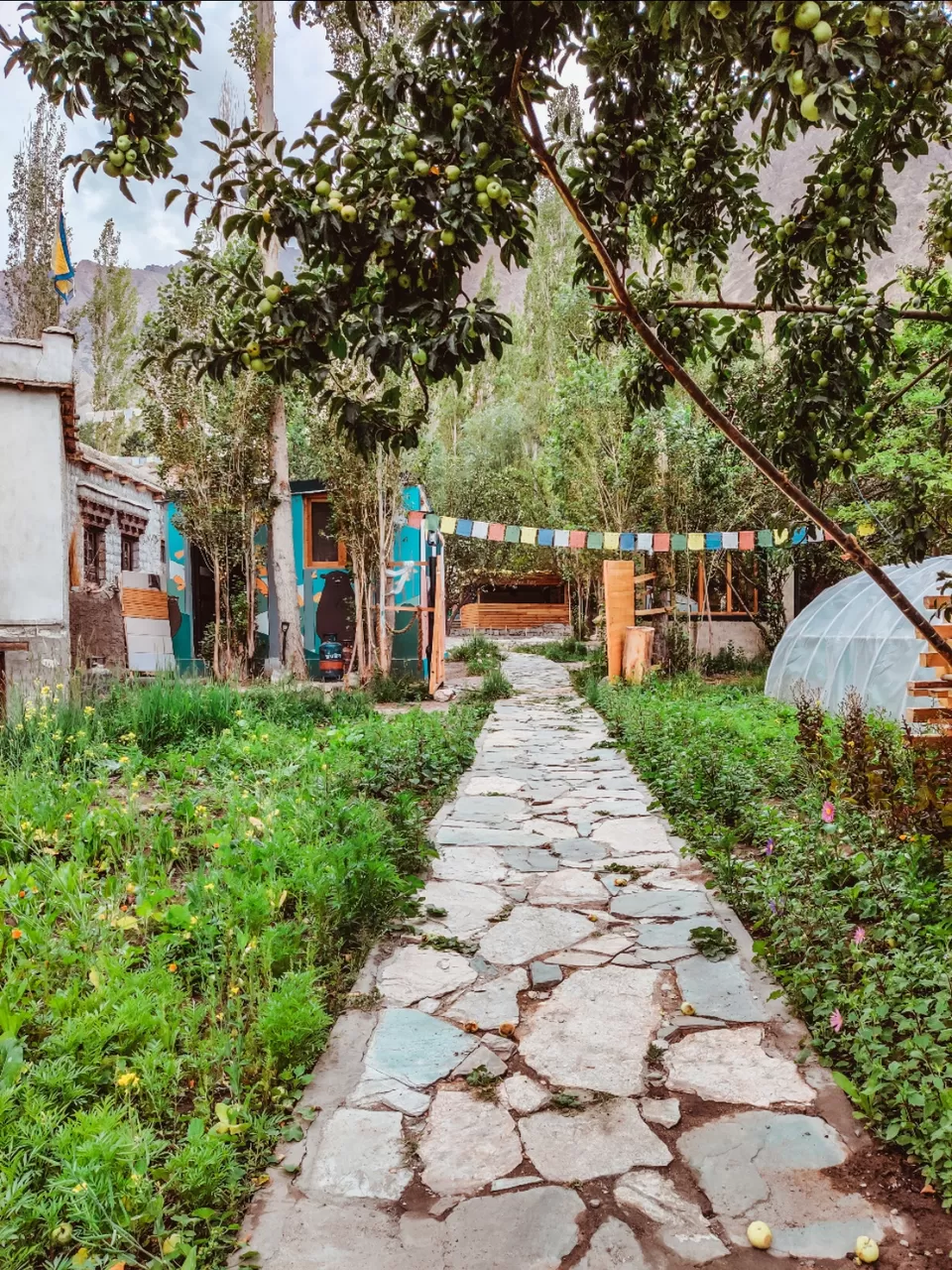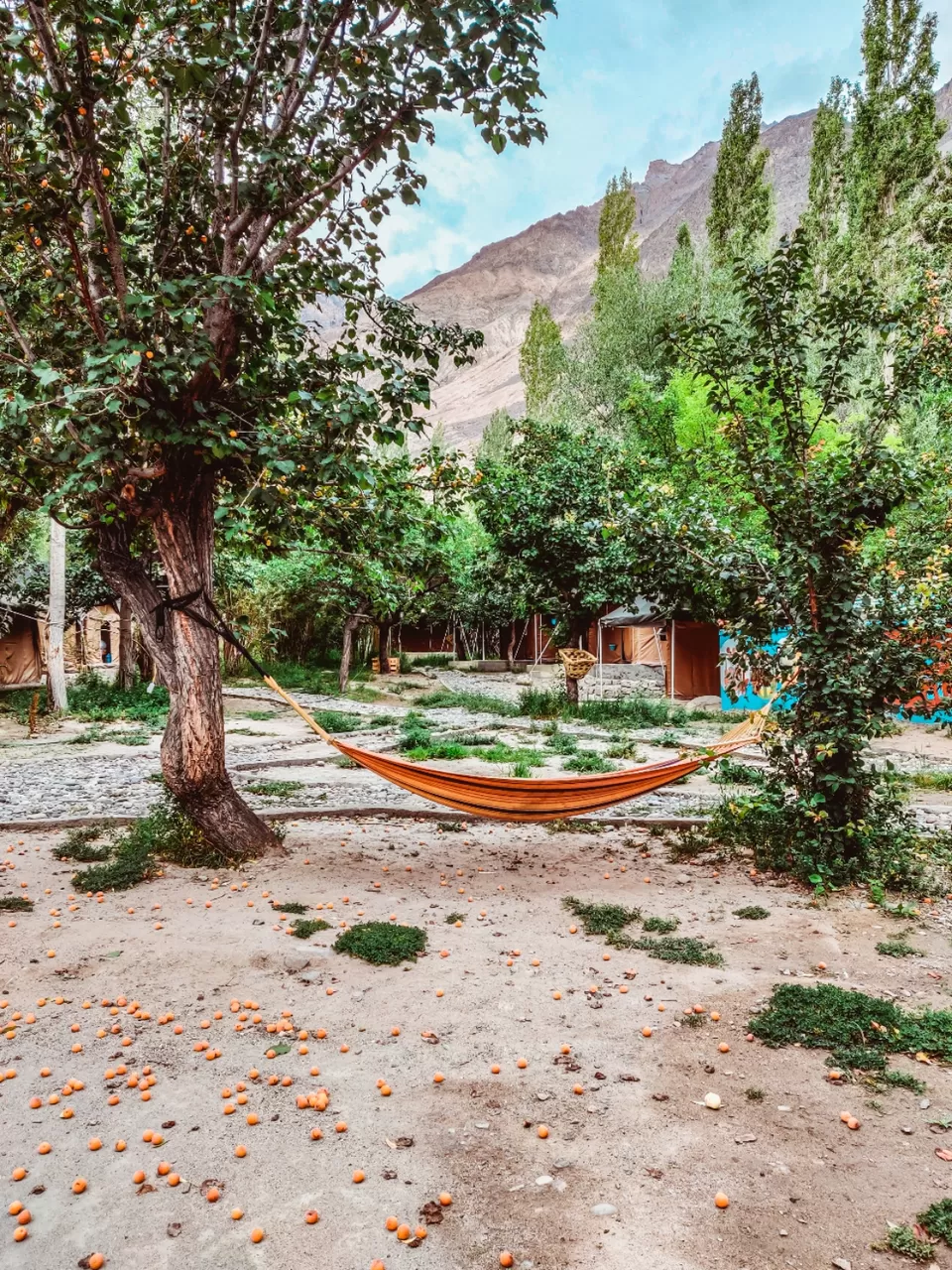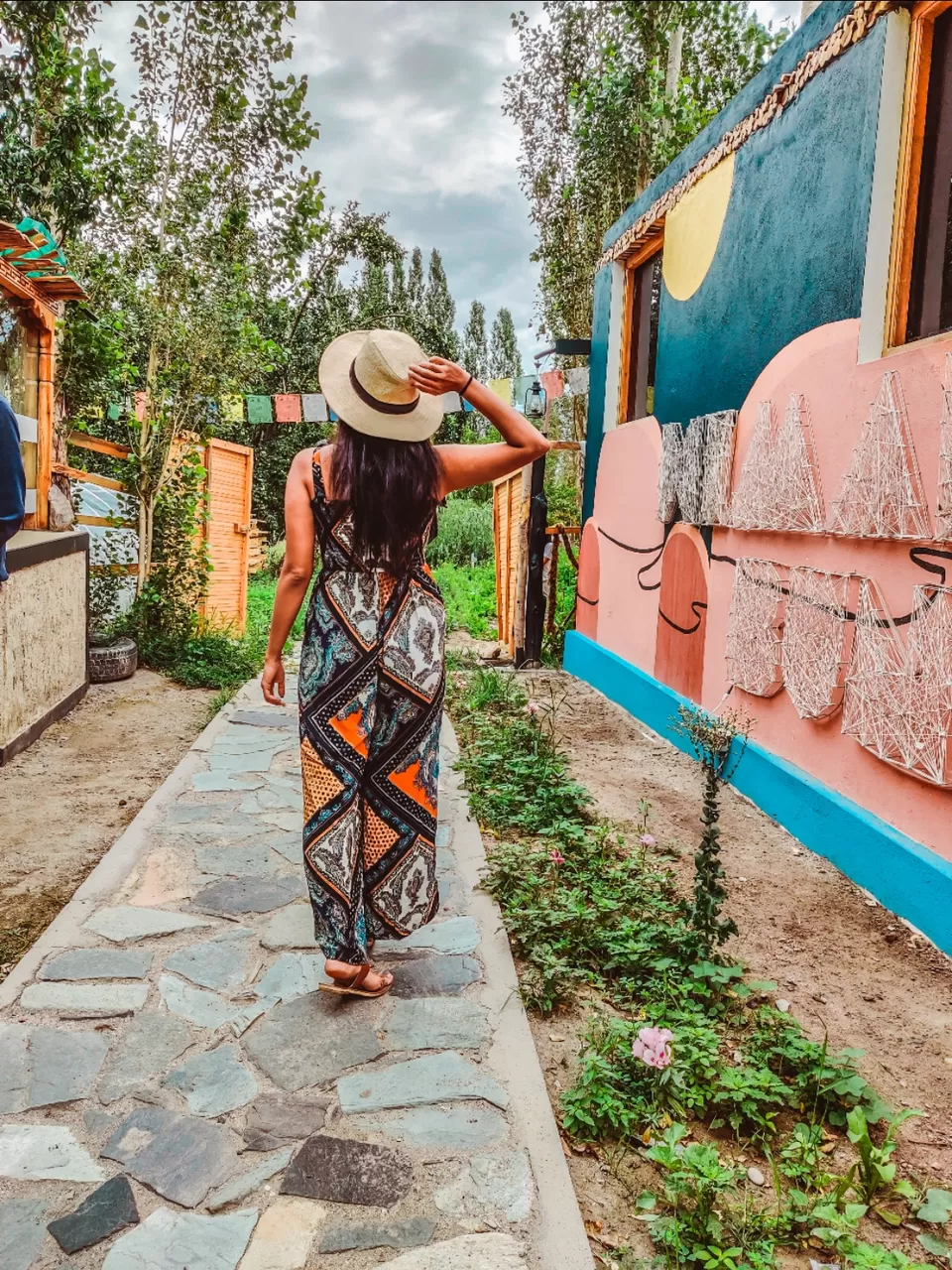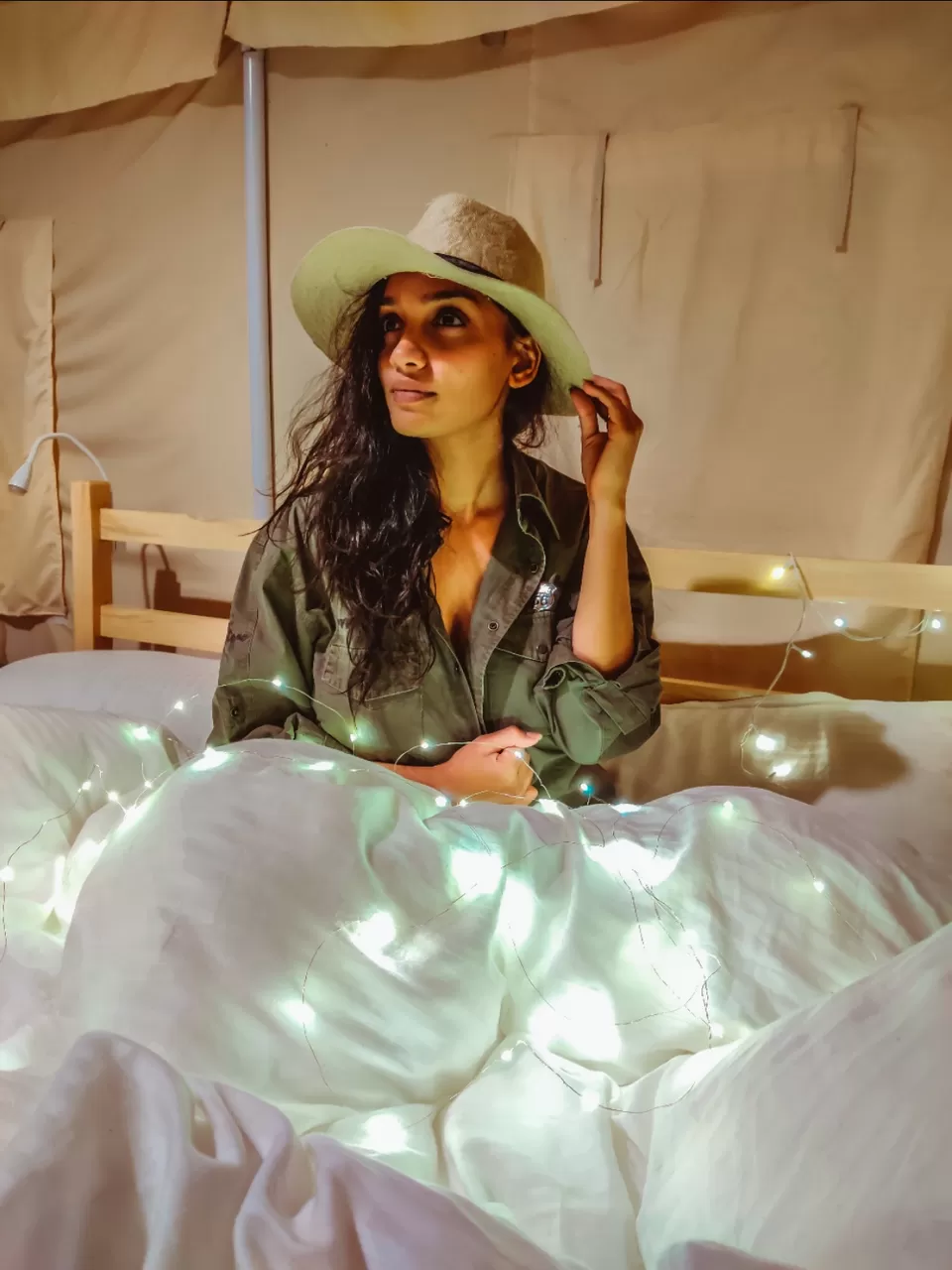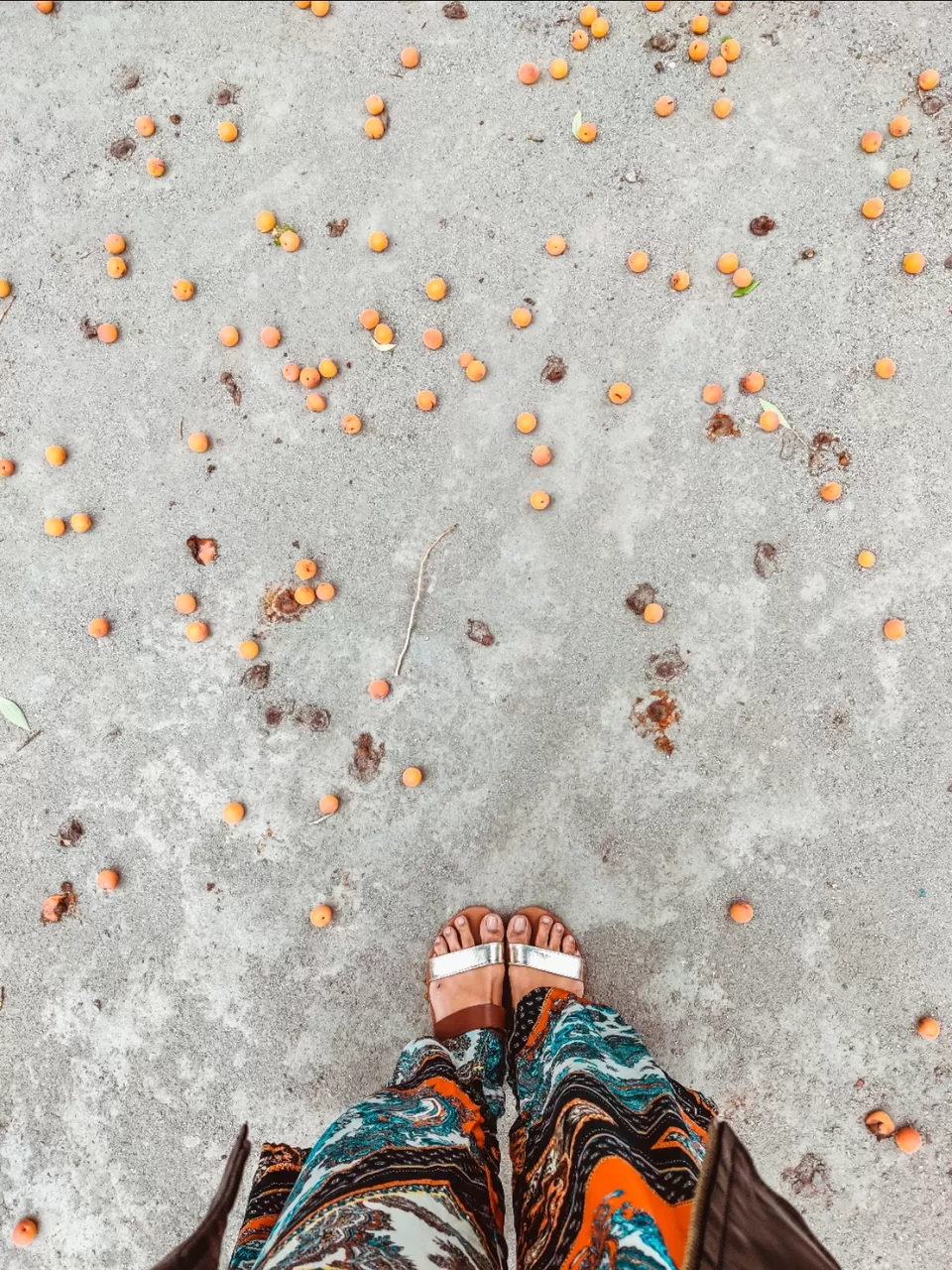 We set aside the evening to visit the Hundar Valley and take the camel safari!
The camel Safaris have to be booked in groups of 2-3 to get quick bookings as the system is quite unorganised with no queues to get in!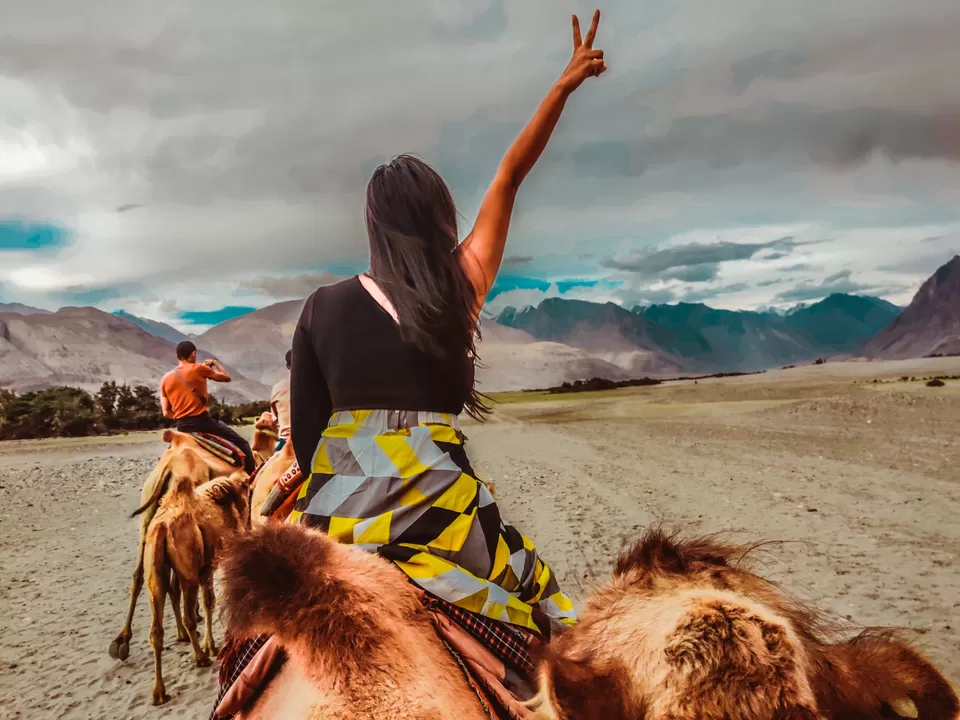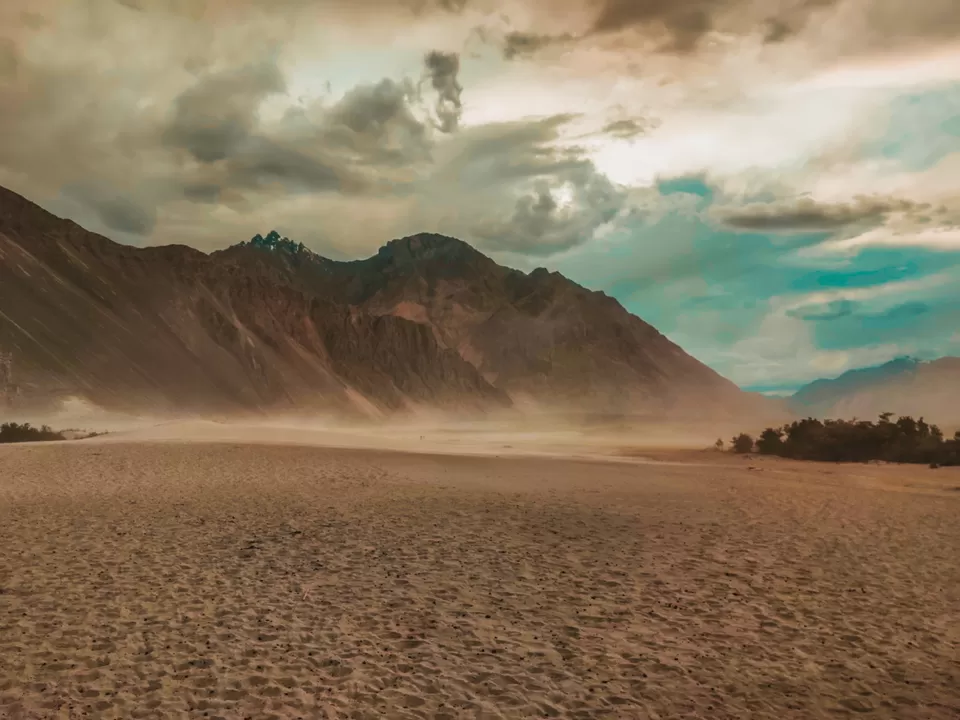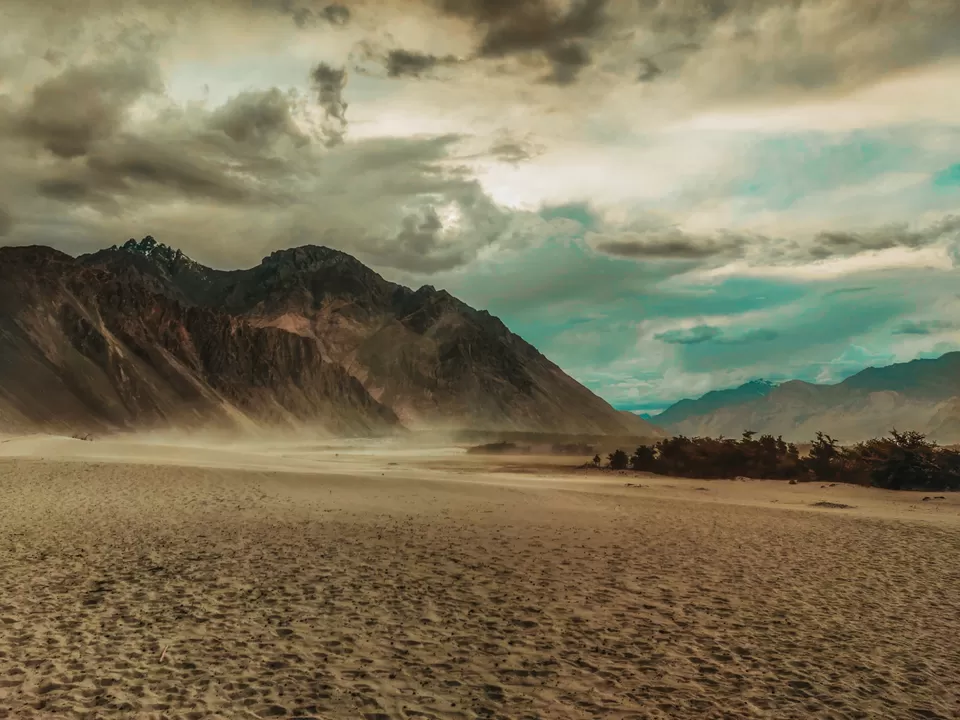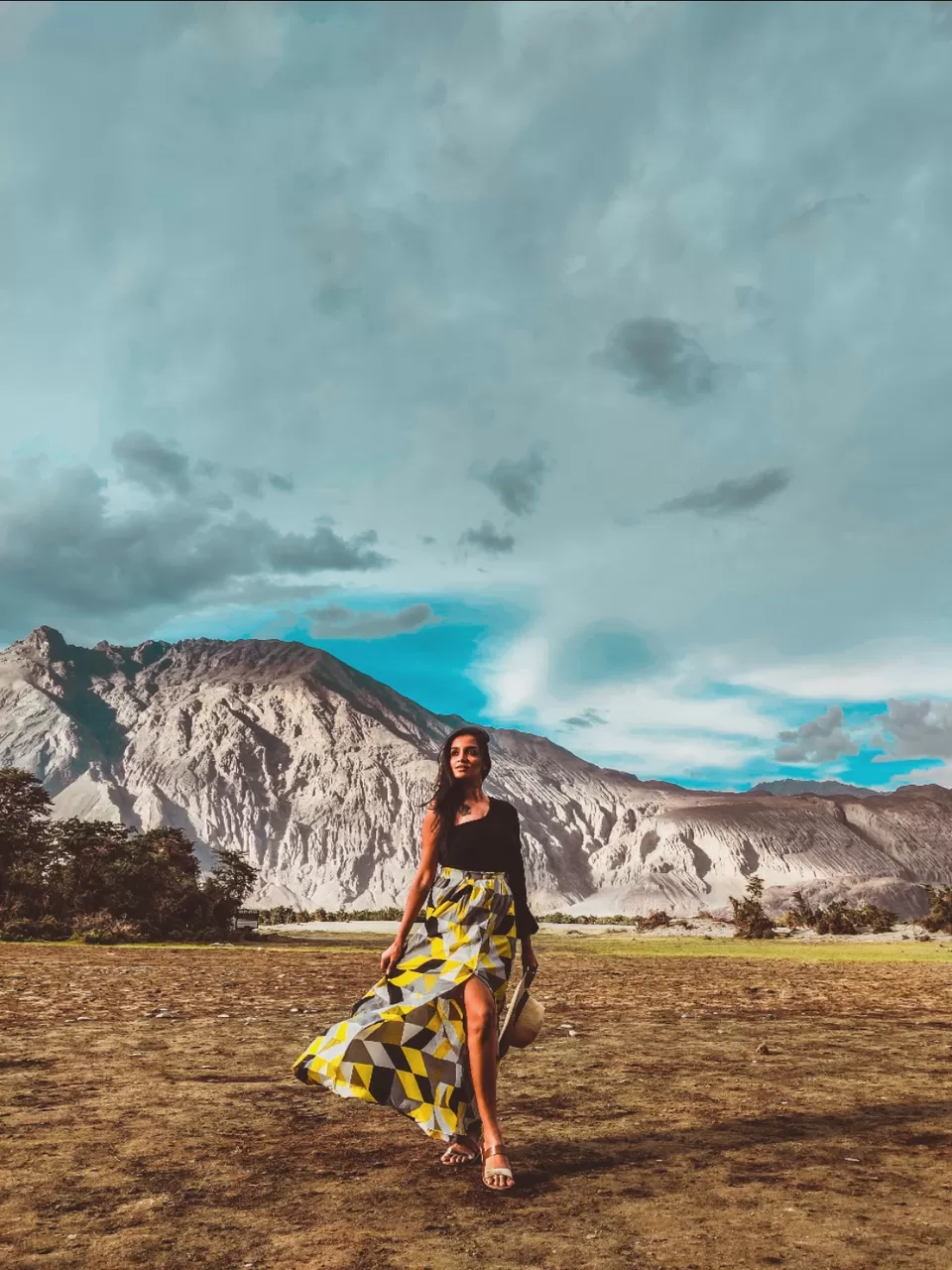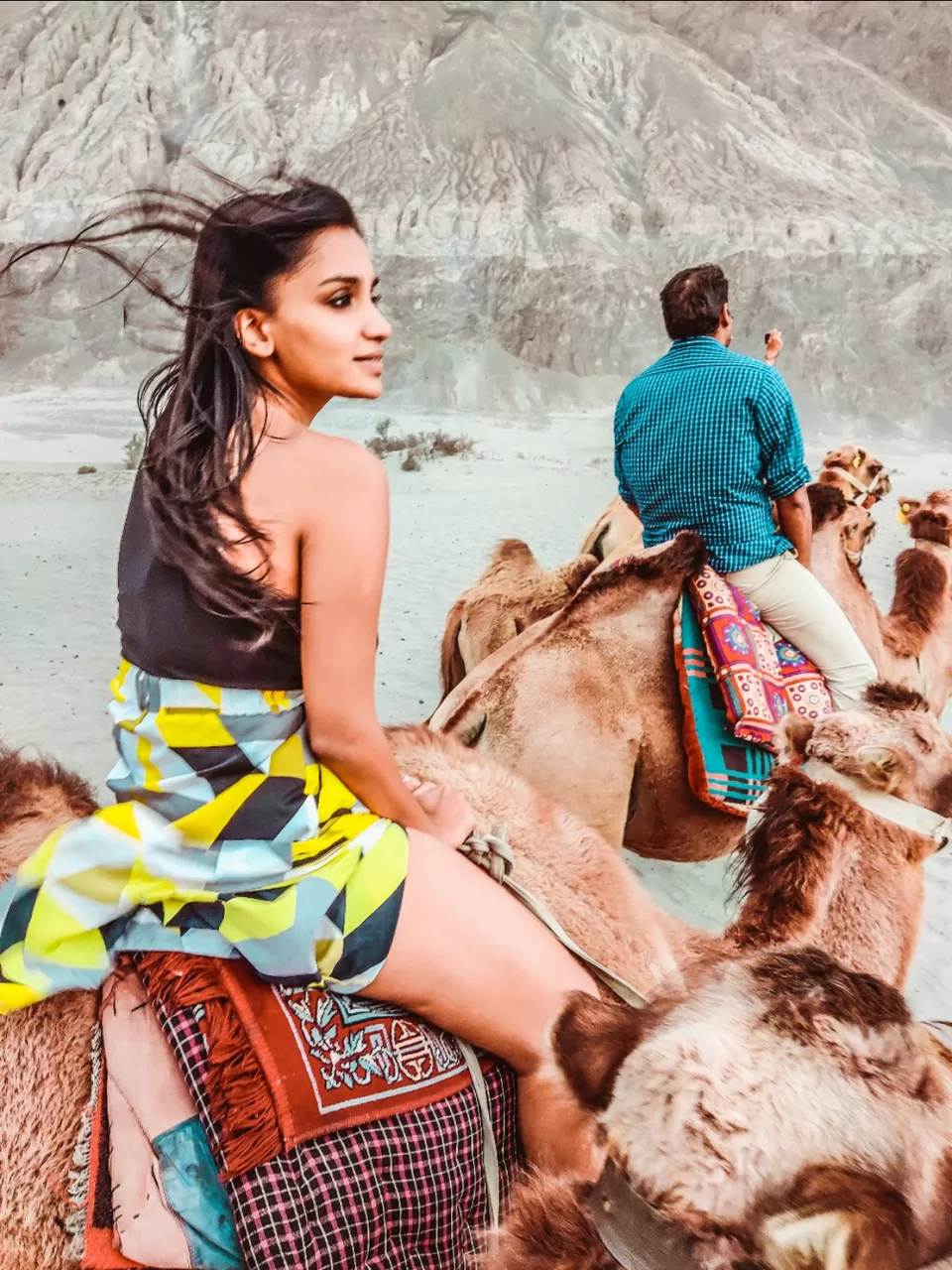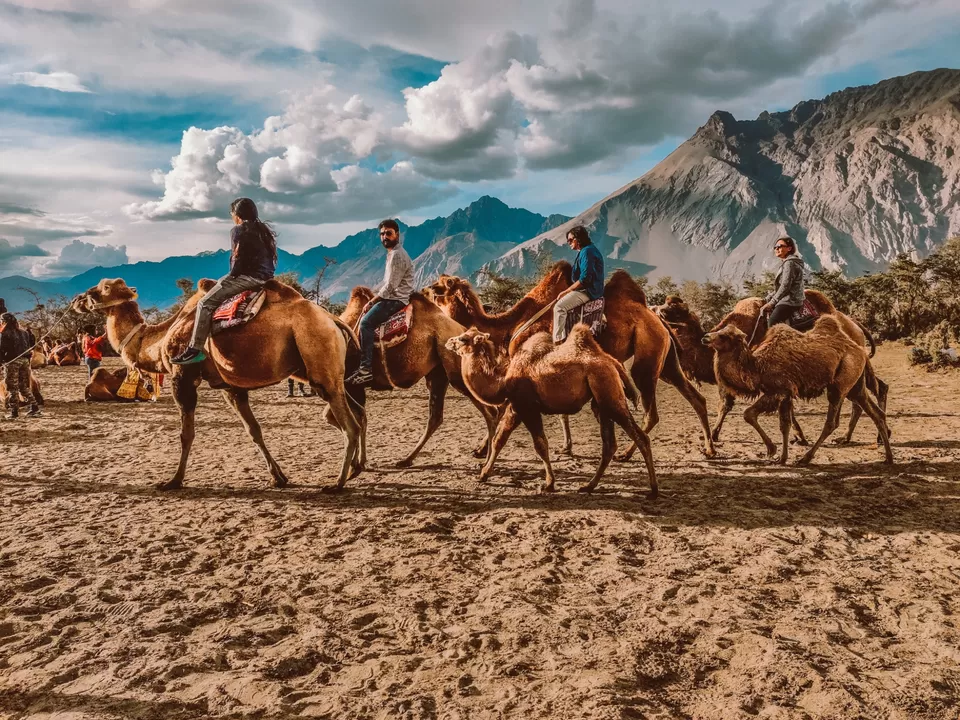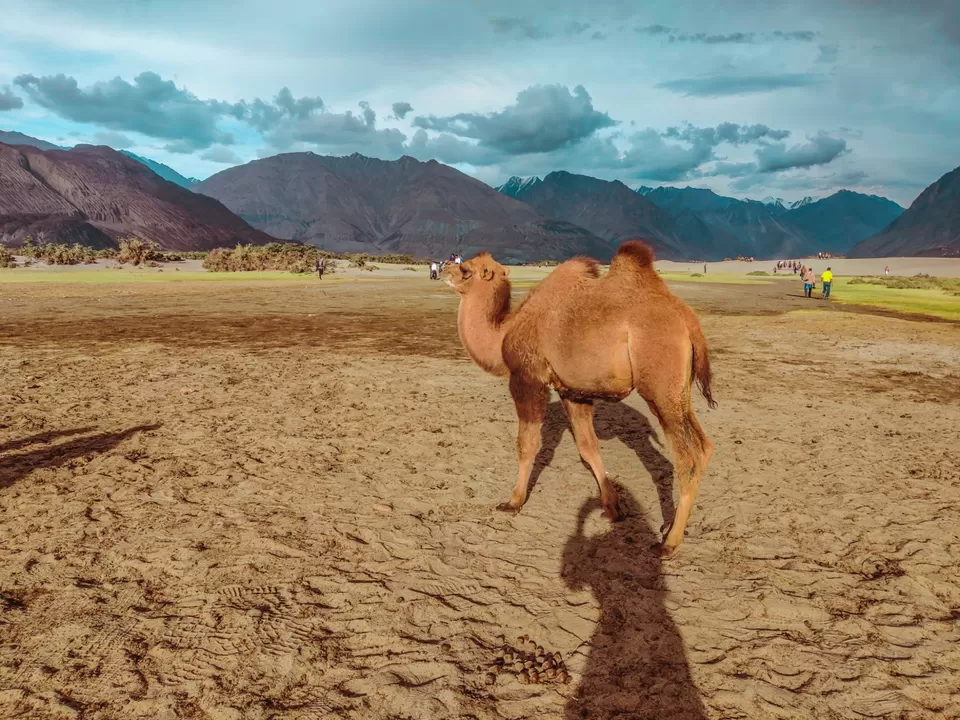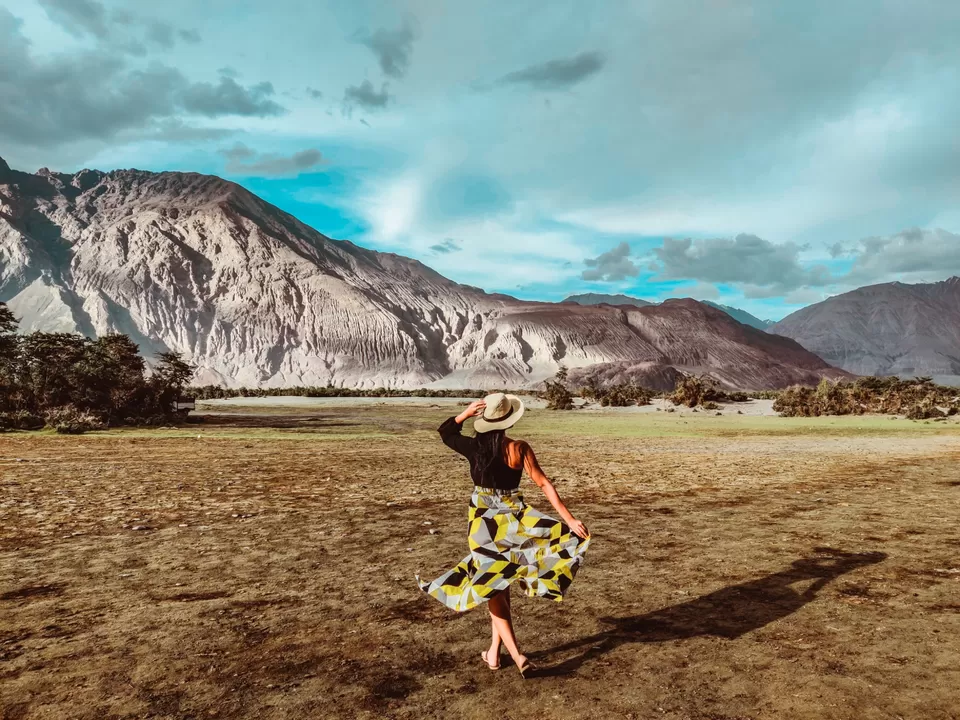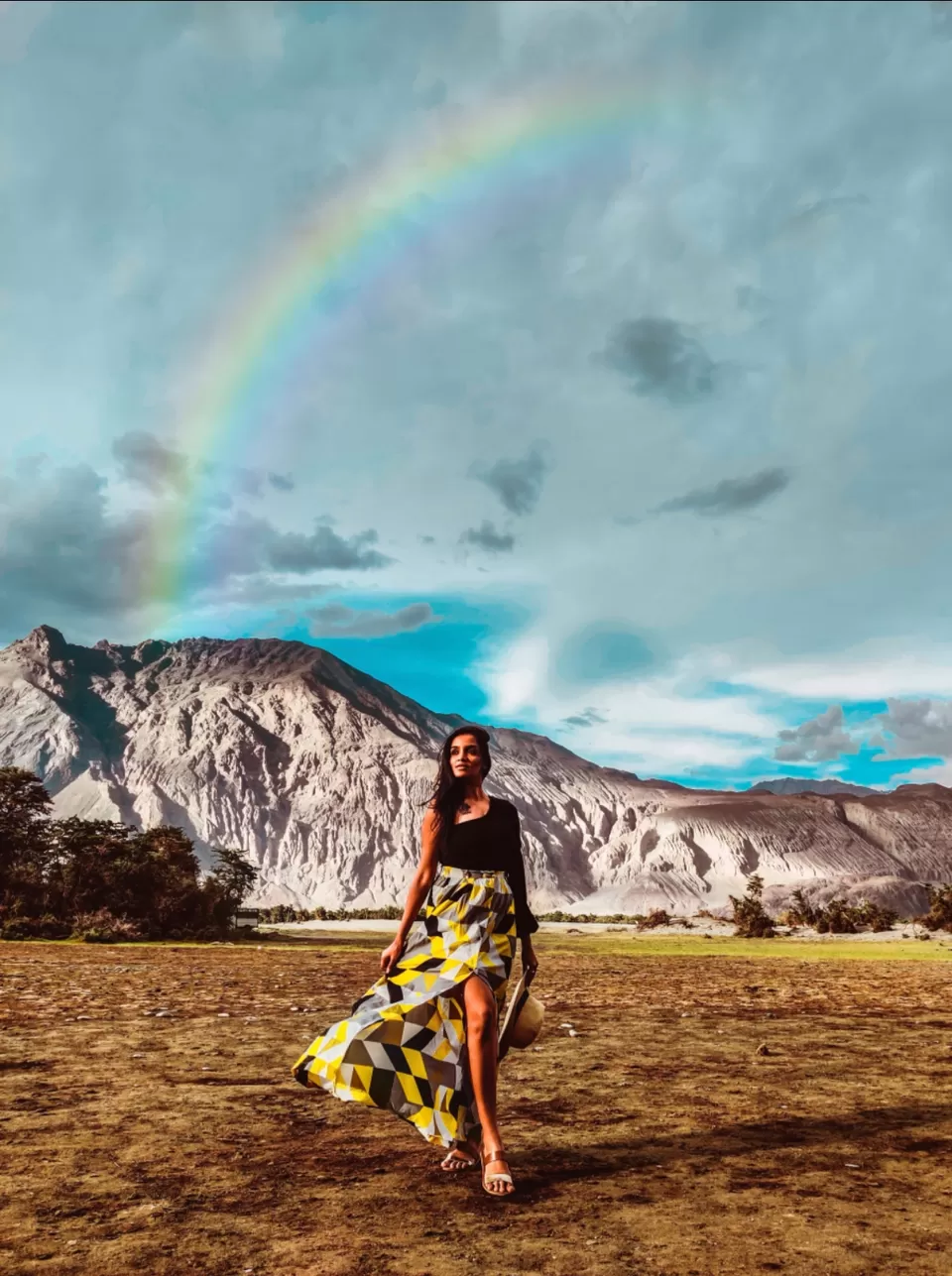 We ended the night watching some stunning Leh local dance performances with narrative of the life in Leh, their means of living and culture.
Nubra - Pangong - 6 hours drive with amazing views and okay roads.
Headway to our most awaited destination of the trip Pangong Lake !
A few rainbows, high water passes and 5.5 hrs later we got the first glimpse of the lake!
The lake has 3 dedicated settlement areas for camp sites luckily and the rest is just pristine blue expanses with mountain backdrops!
We waited by for lunch at the 1st camp and headed to the next one an hour later to book the campsite cabins at Phunsuk Native Campsite!
Got a brilliant deal of Rs. 1600 with dinner and breakfast with one of the most stunning views overlooking the Pangong Tso which made me wonder how exhorbitant the normal hotels with no extraordinary view are back home!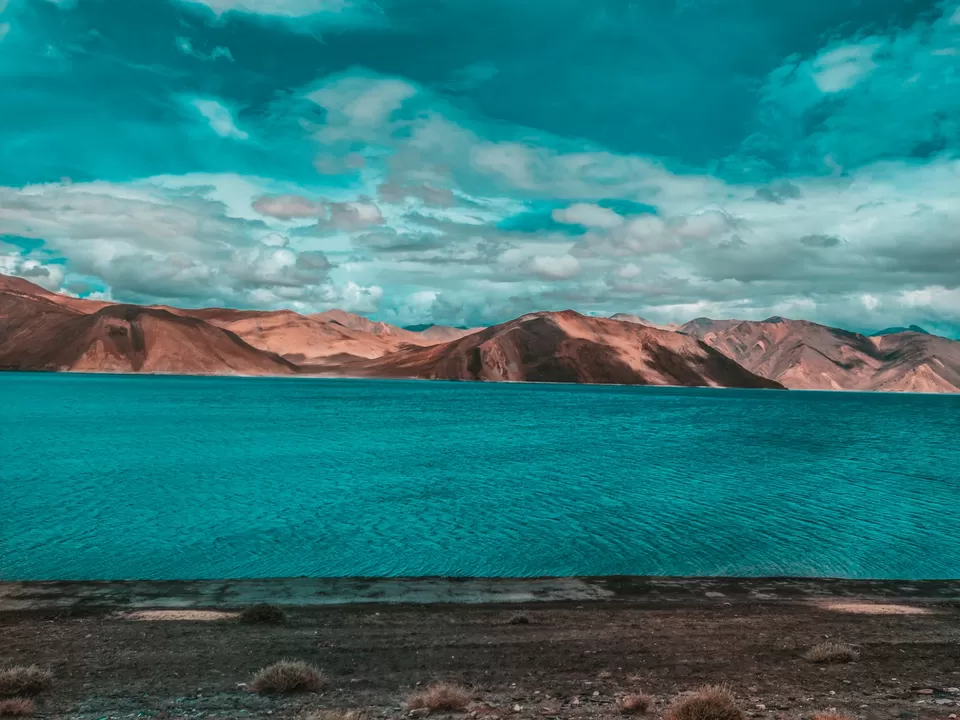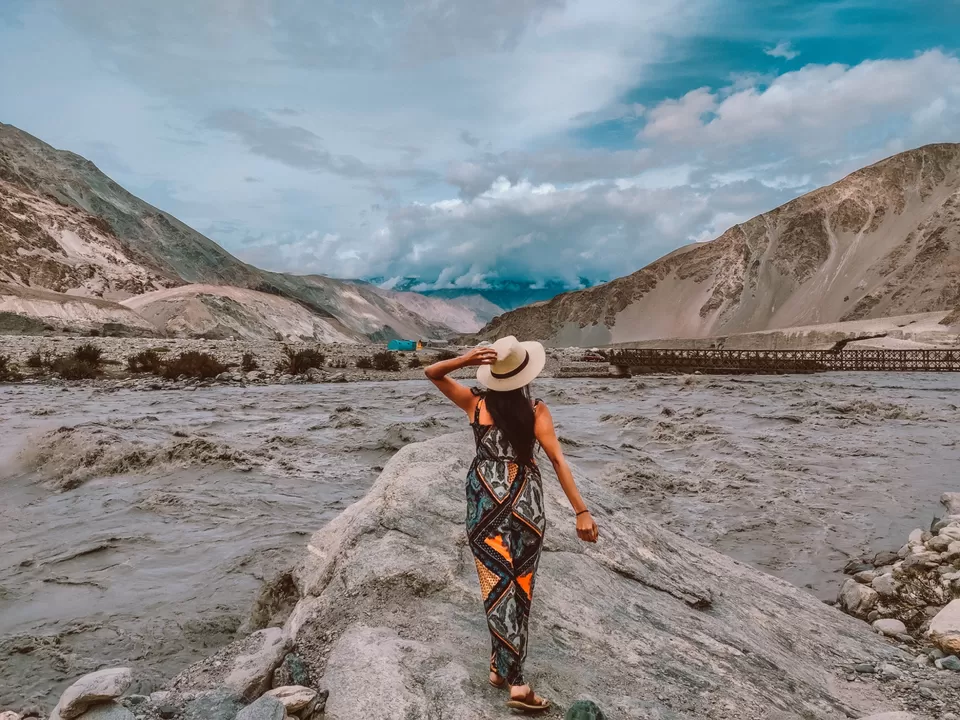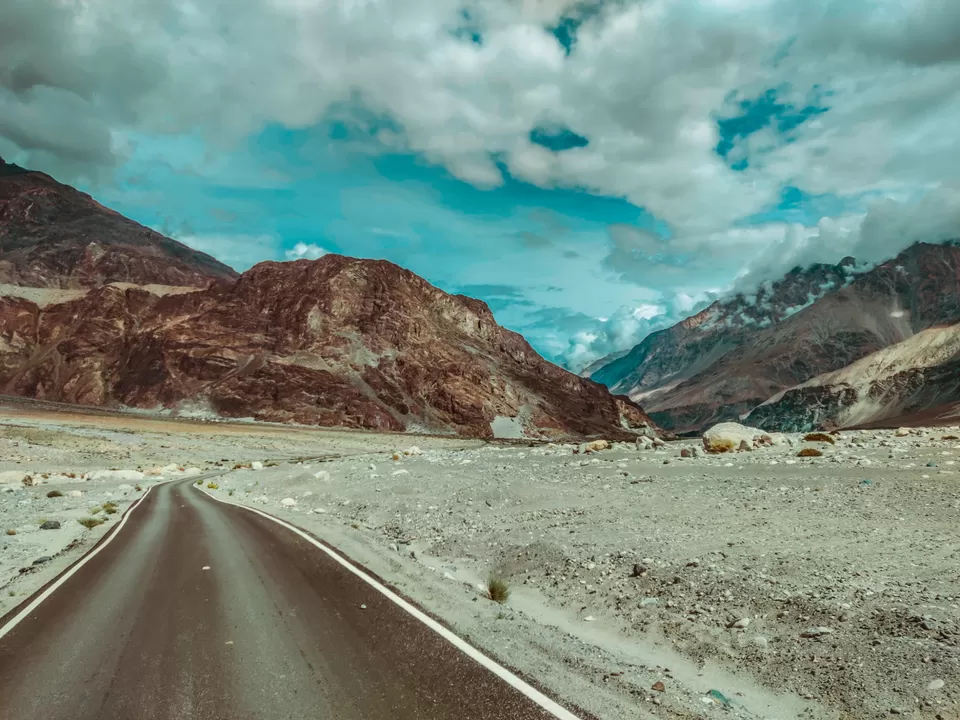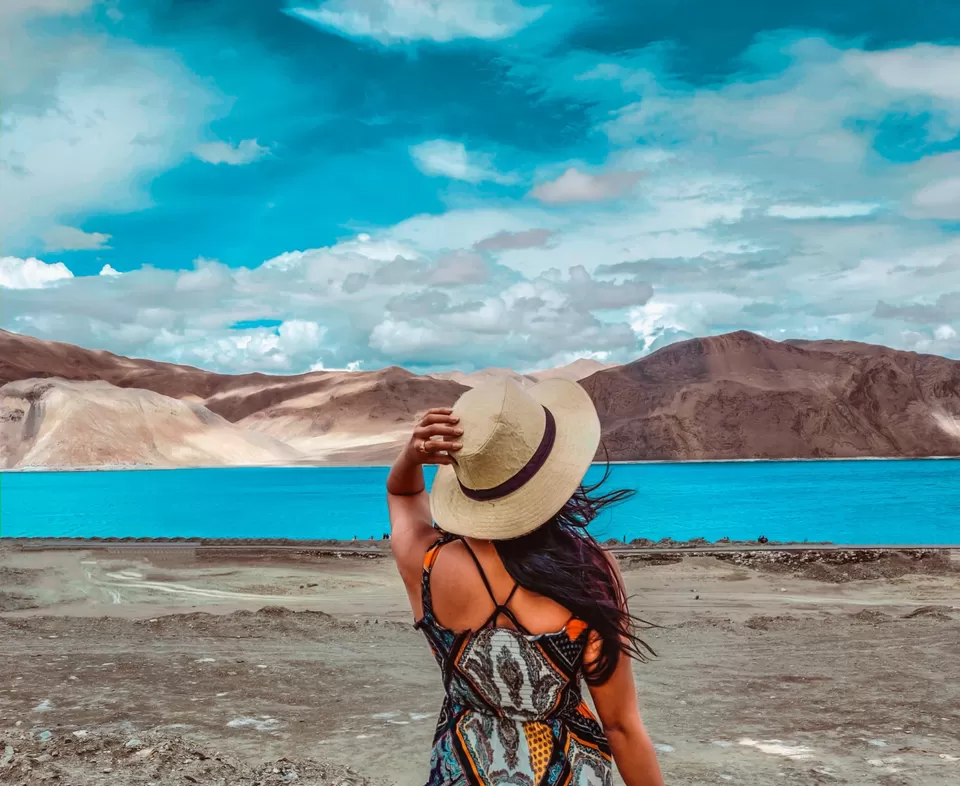 It was quite amazing how the colors of the lake changed during the different durations of the day by each hour we saw different shade of blue surface.
The sunsets that evening was one of the most stunning I have seen in quite a while followed by the starlit skies under the bonfire organized by the camp taking over! It was one million dollar star lit night!
You truly have to go to Pangong to understand the experience Pangong that even I felt was quite hyped when I often heard the stories!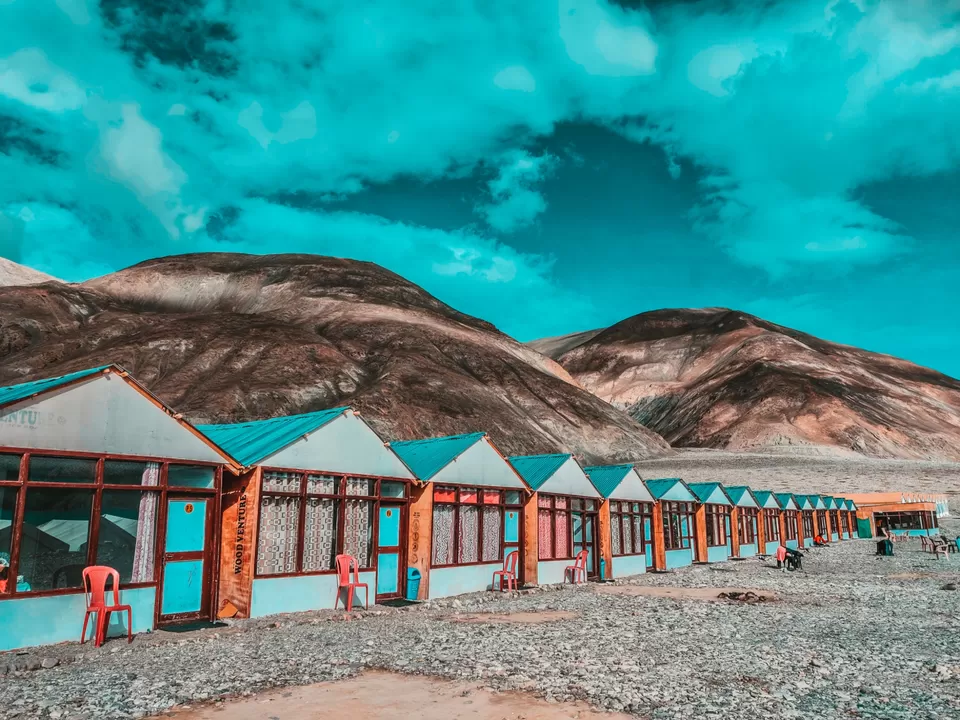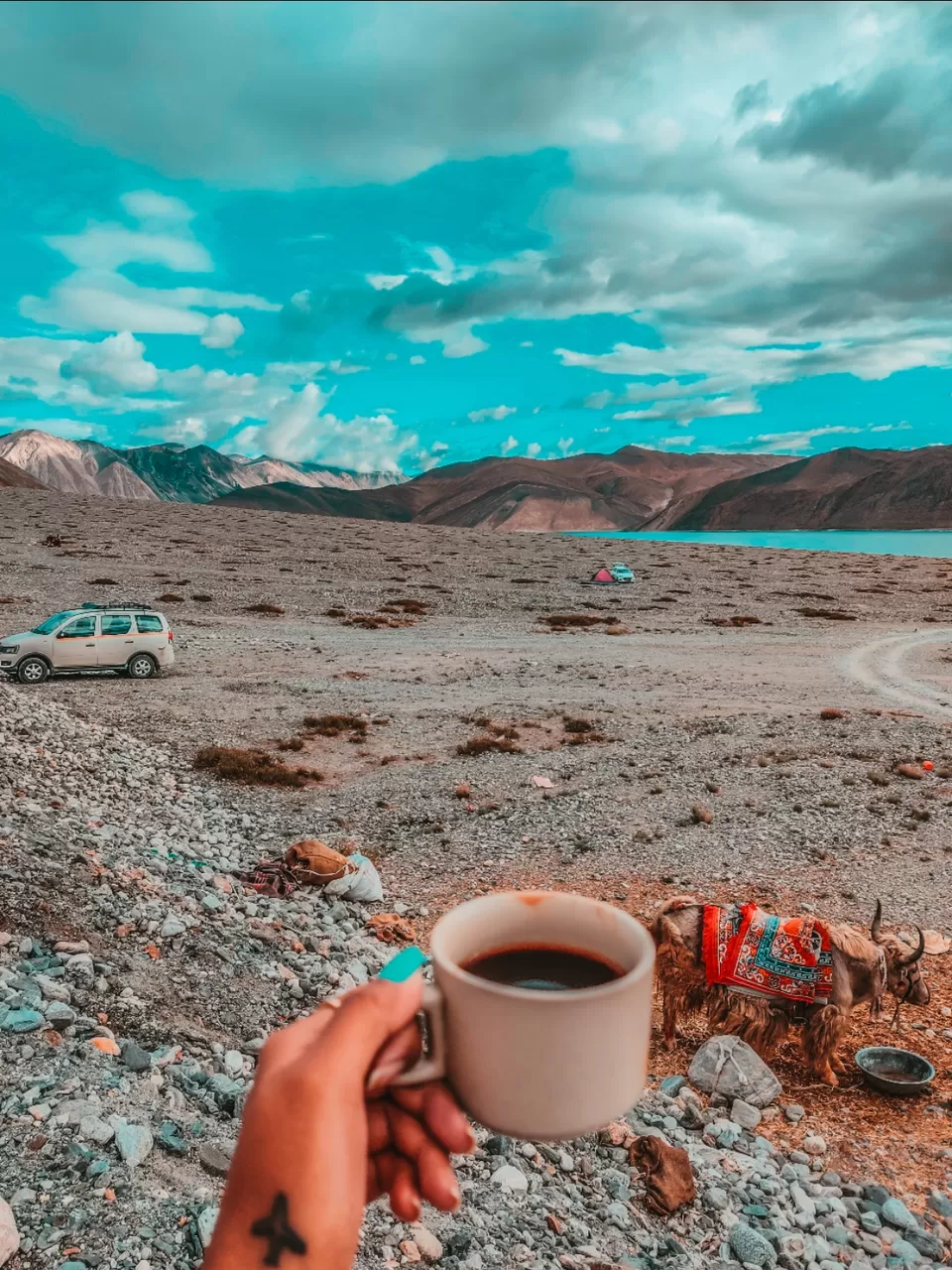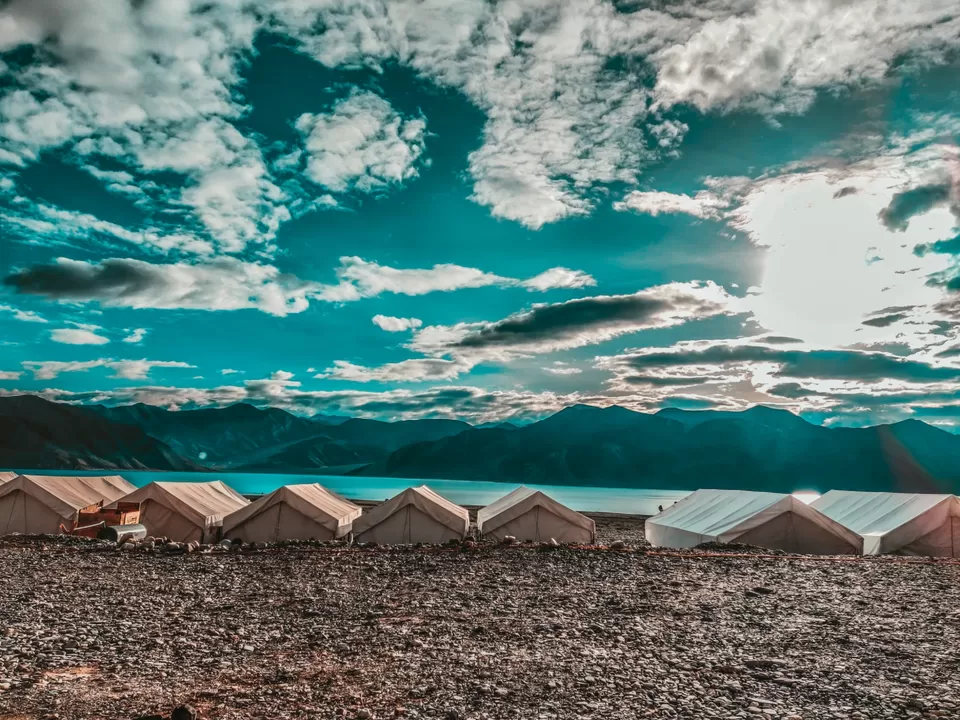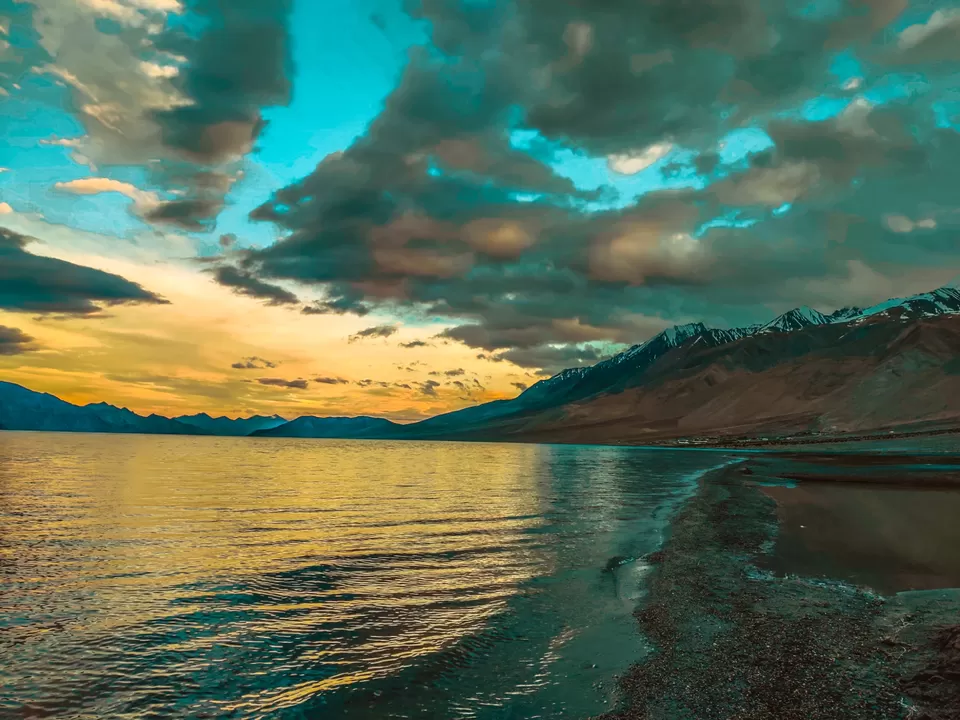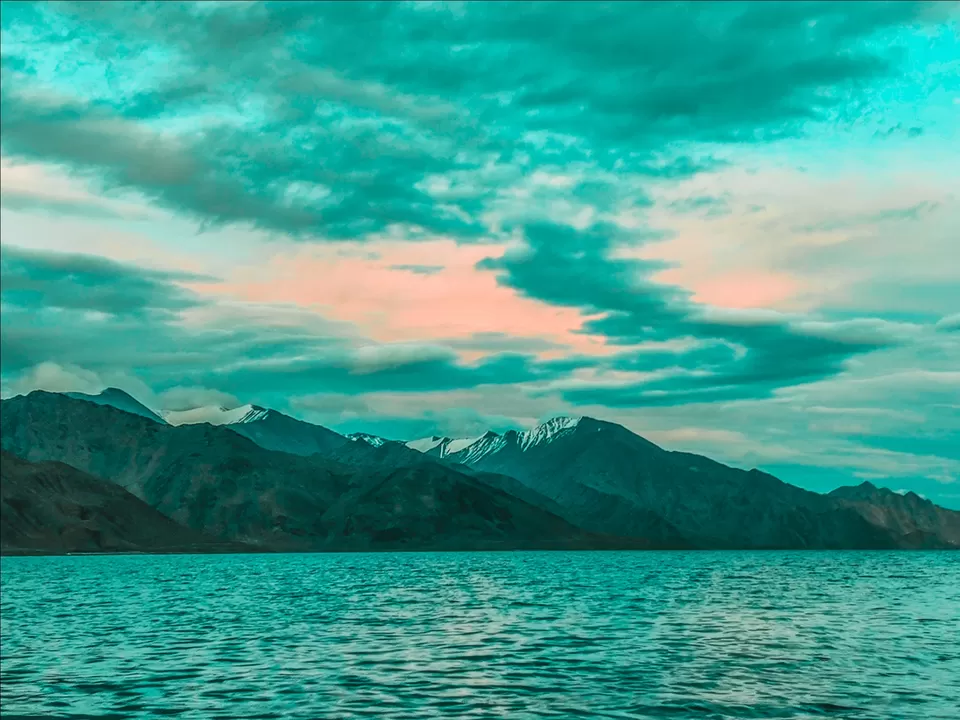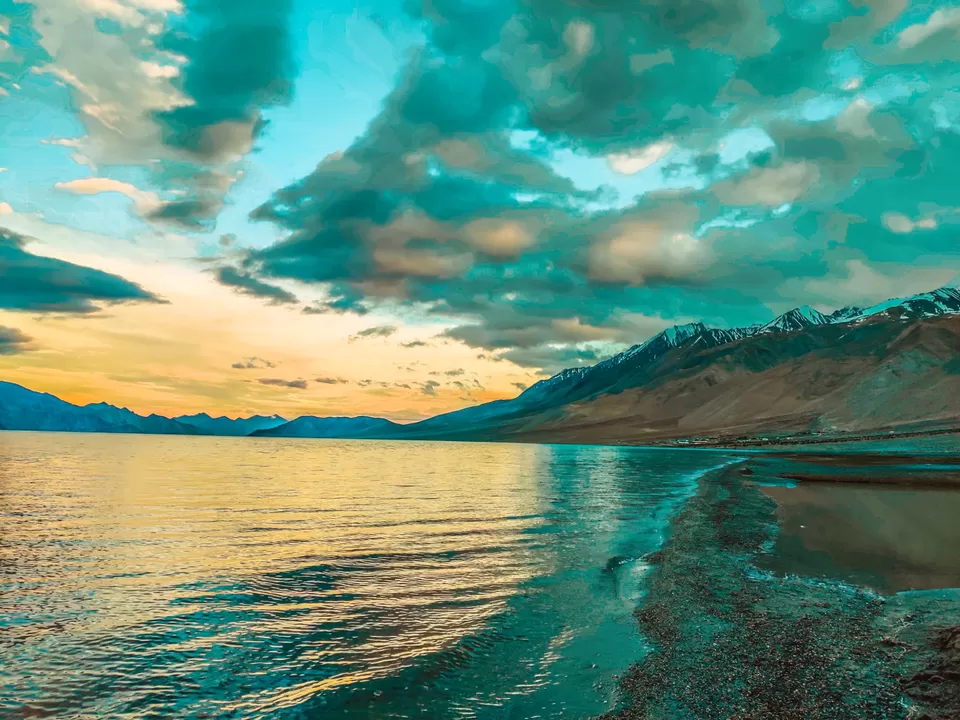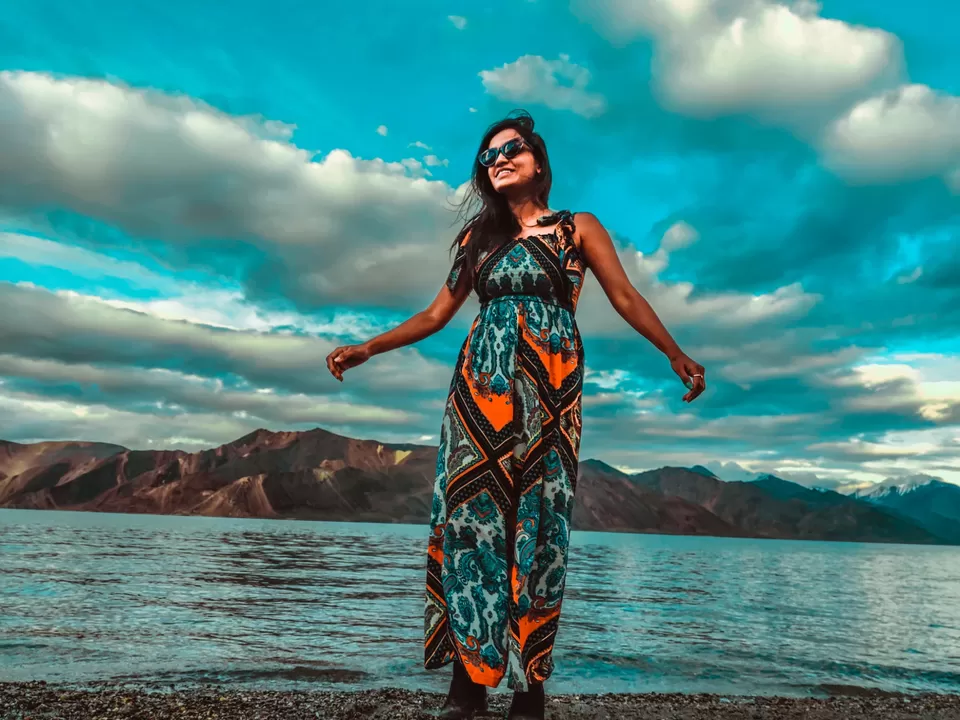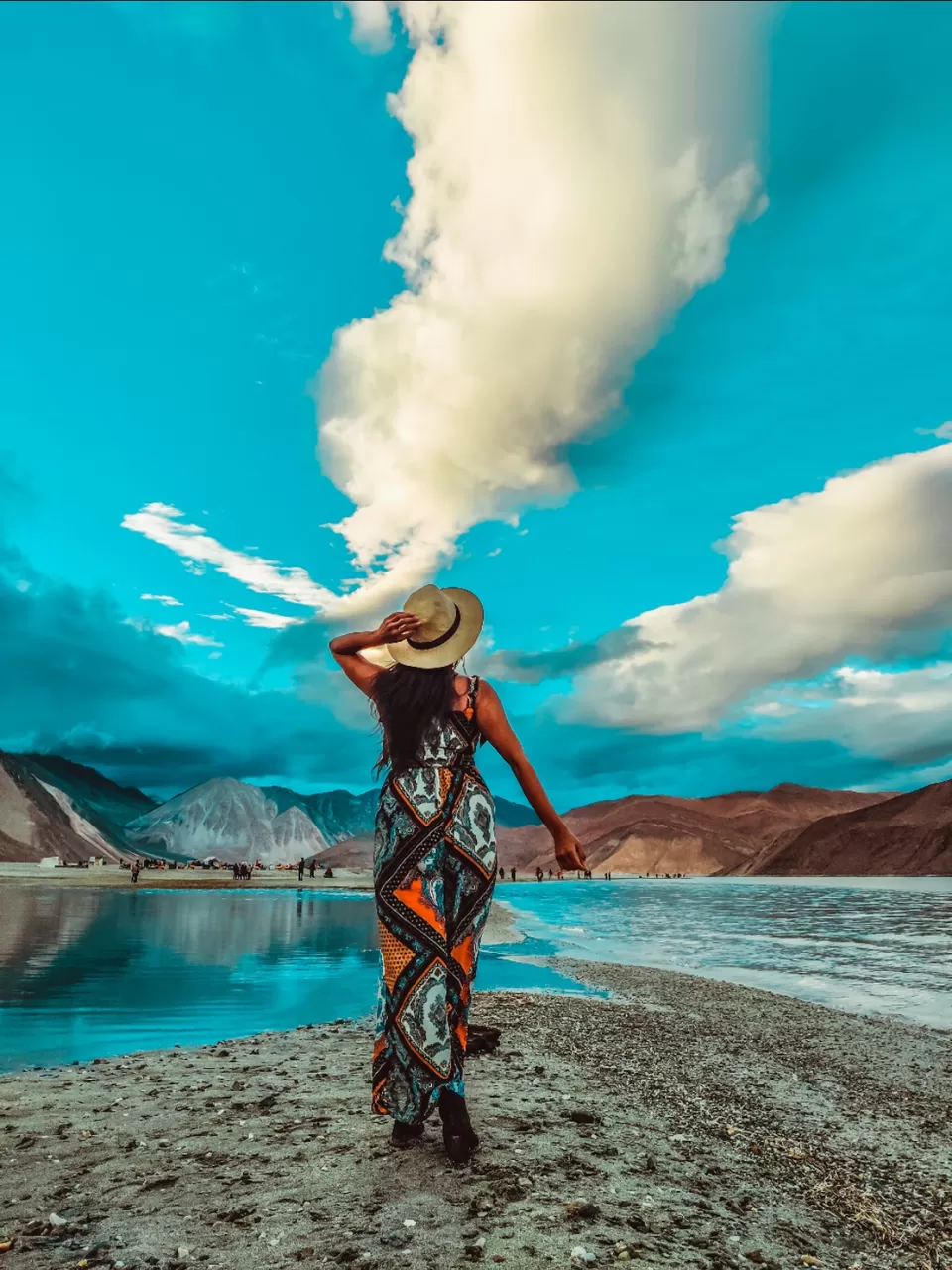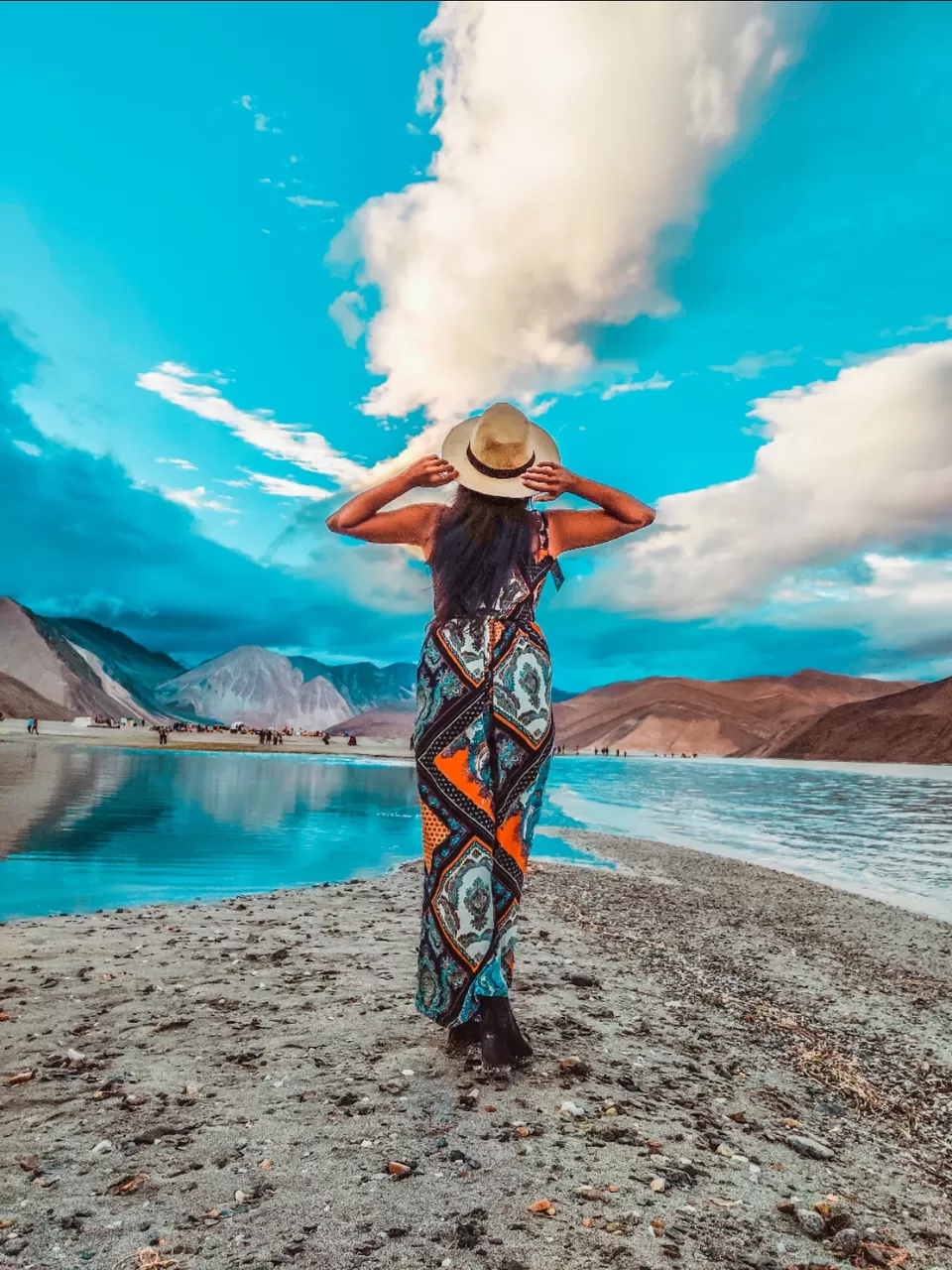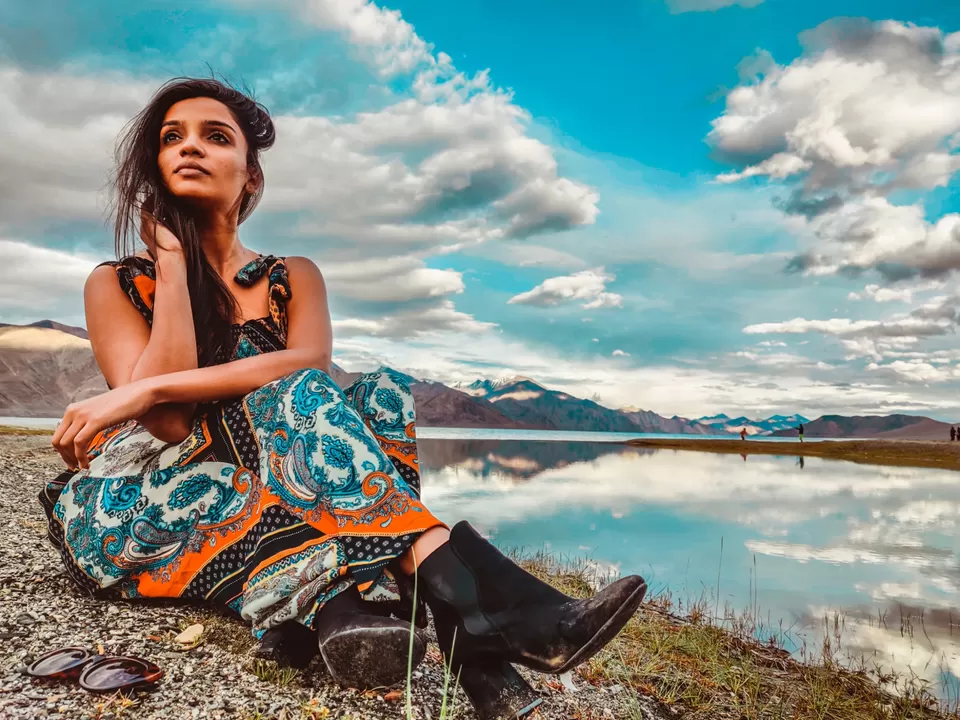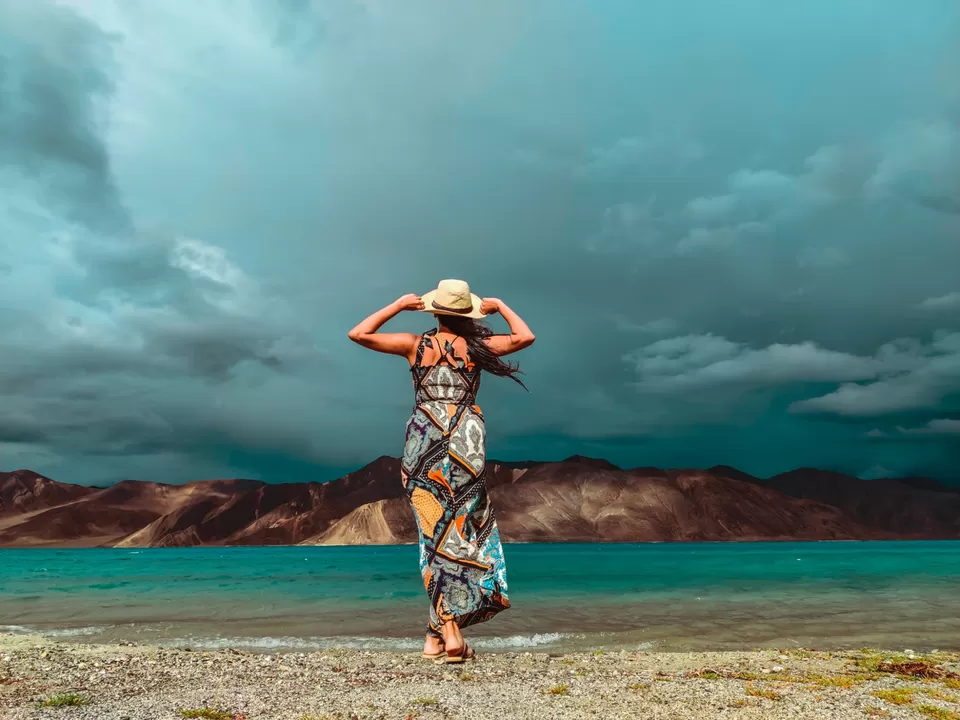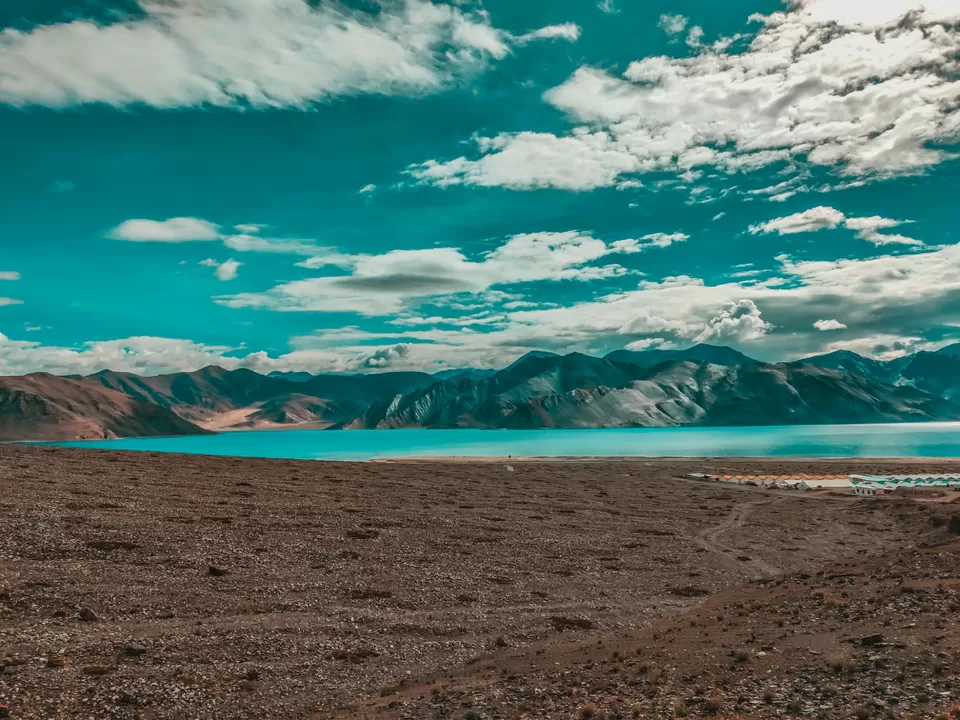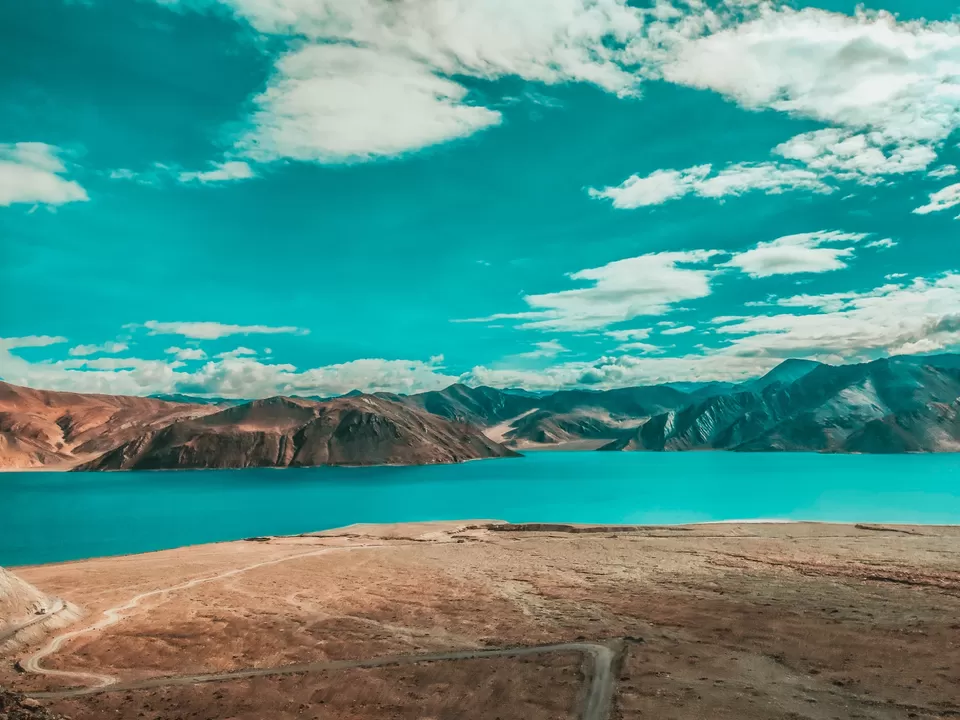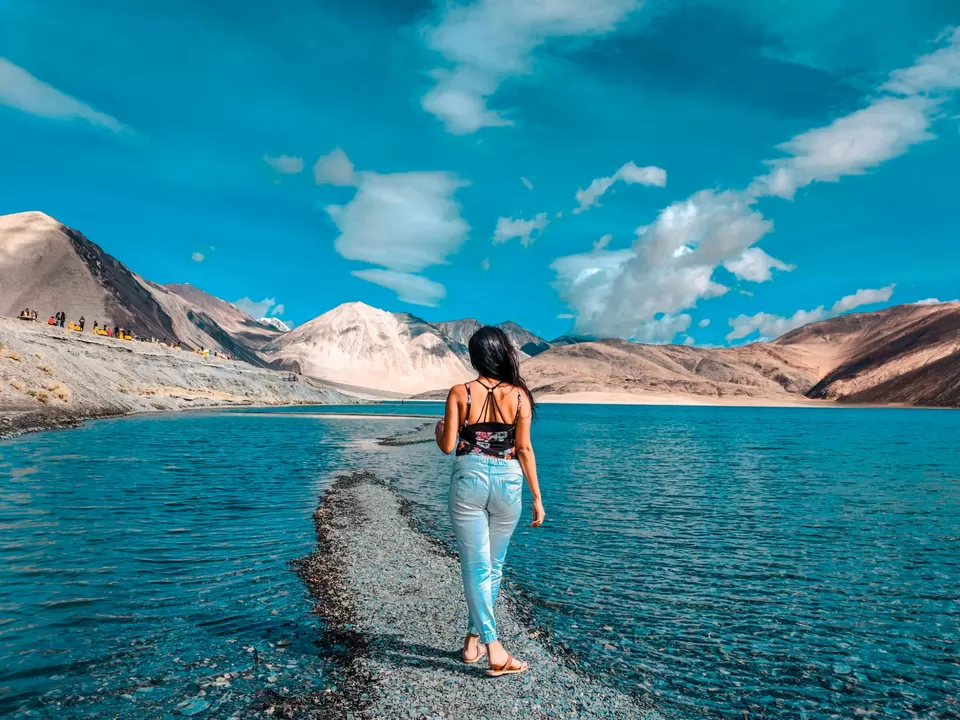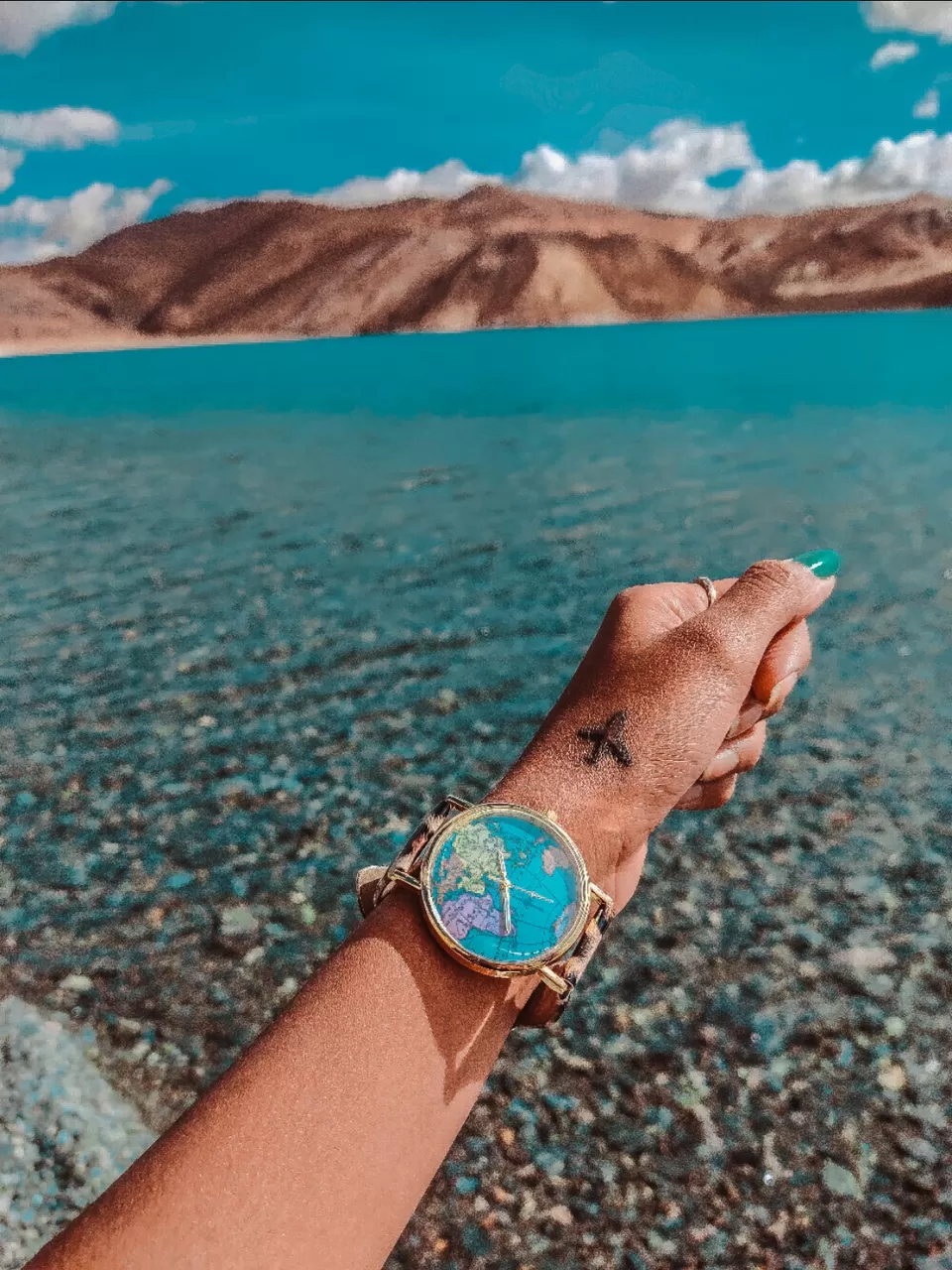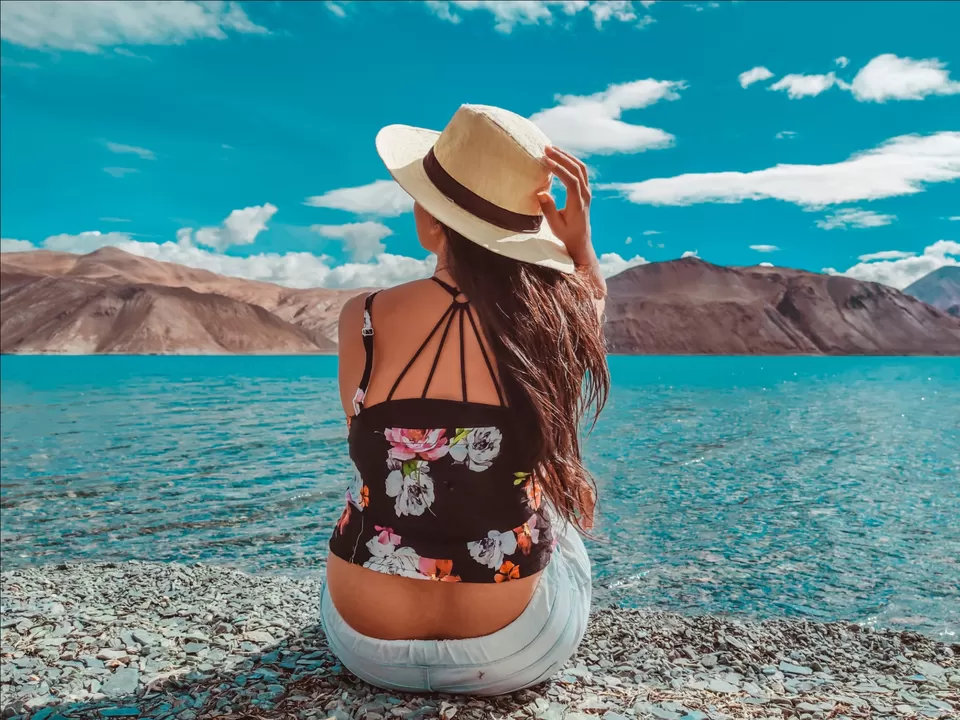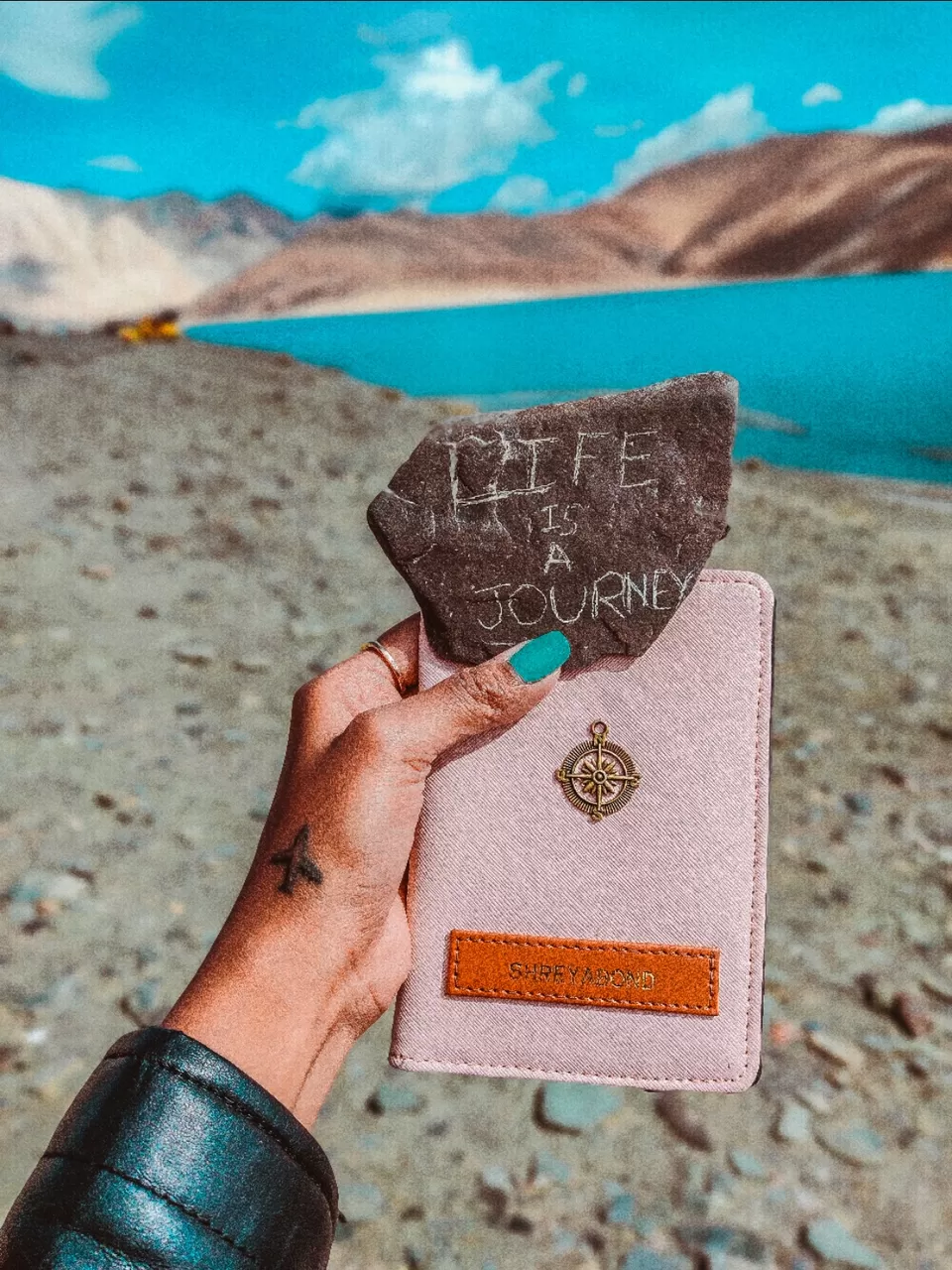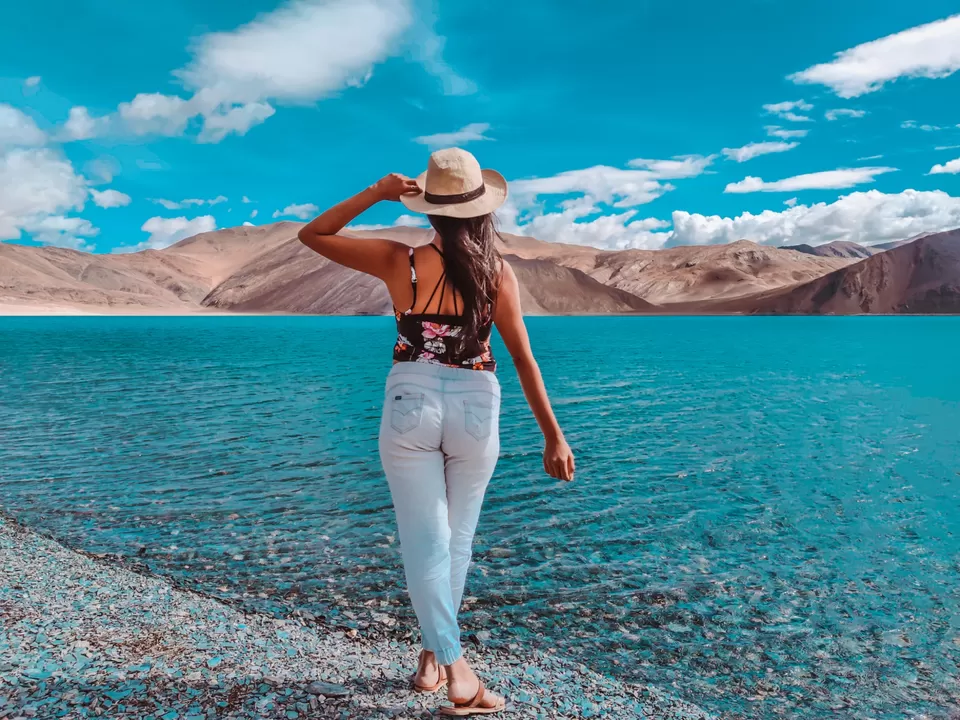 Time to bid adios to the most scenic day and memorable experience in a long long time!
Headed back to Leh from Pangong today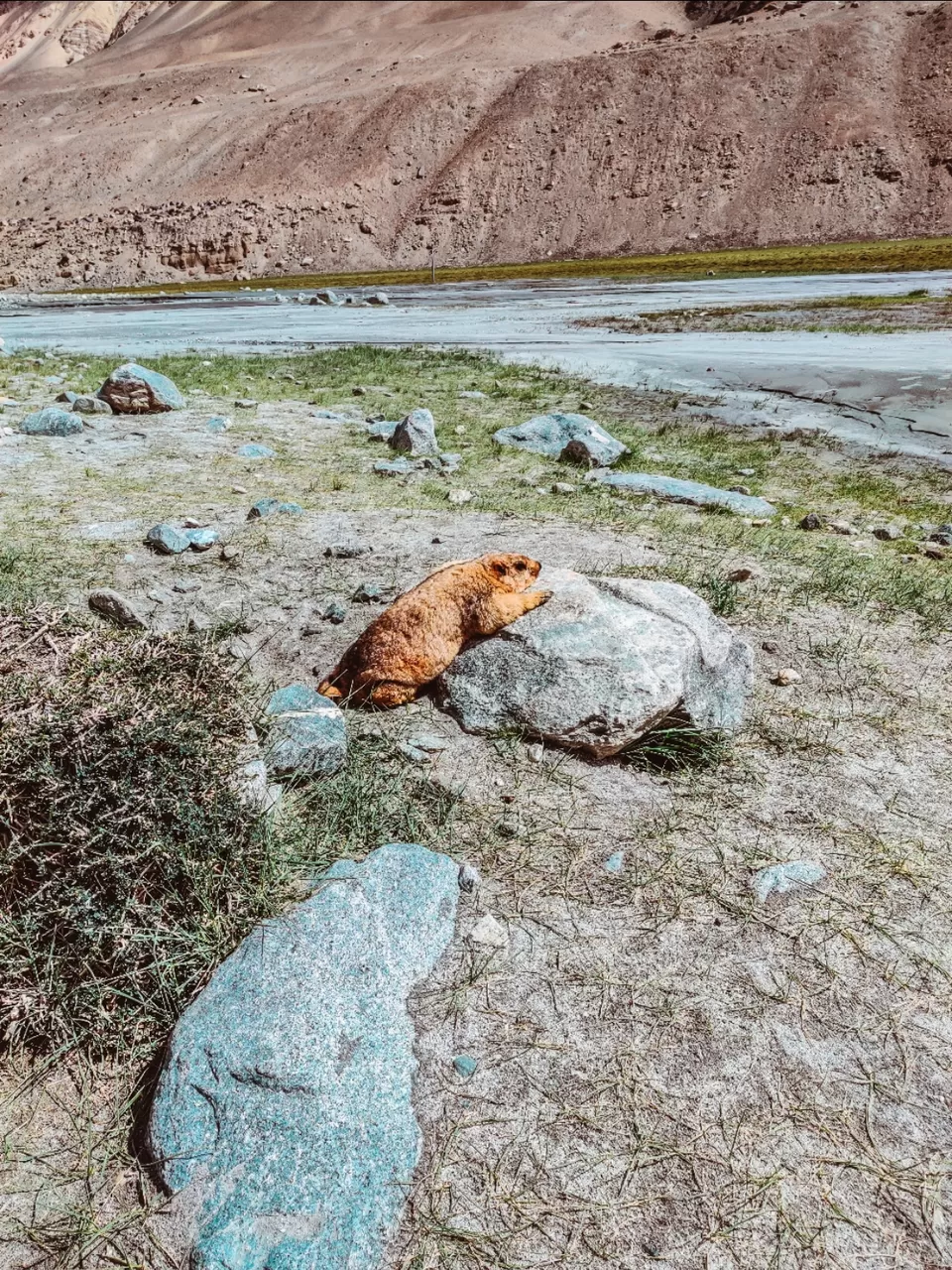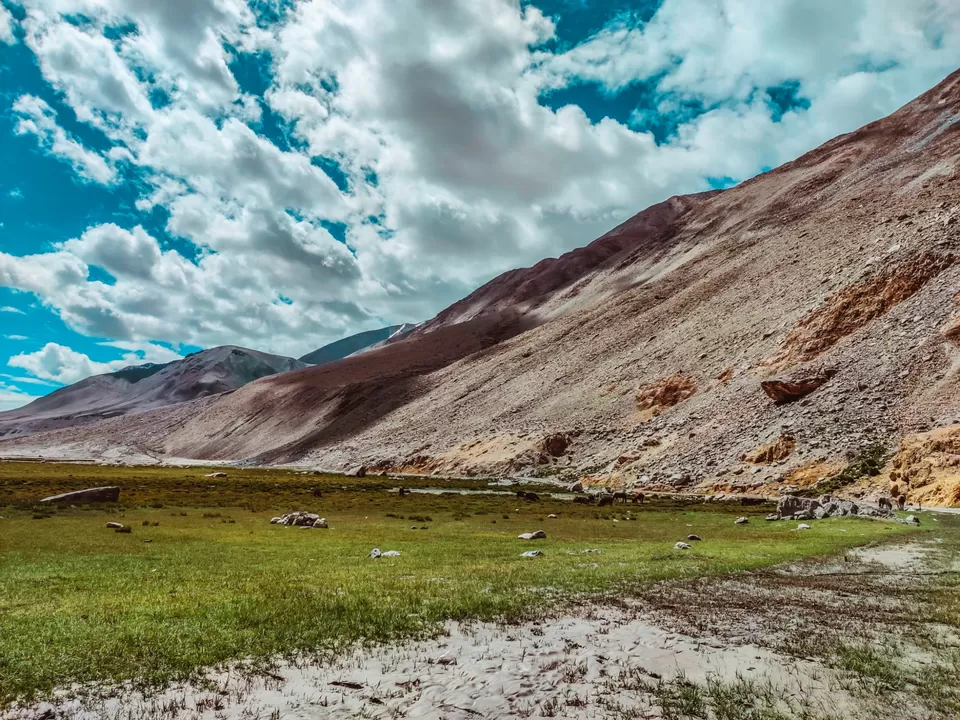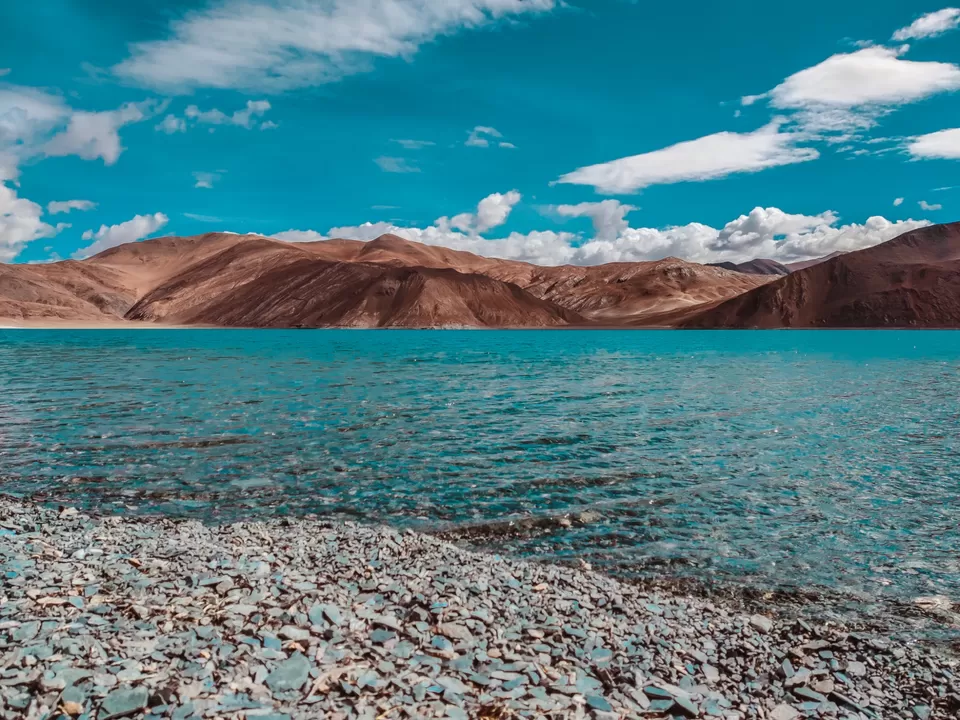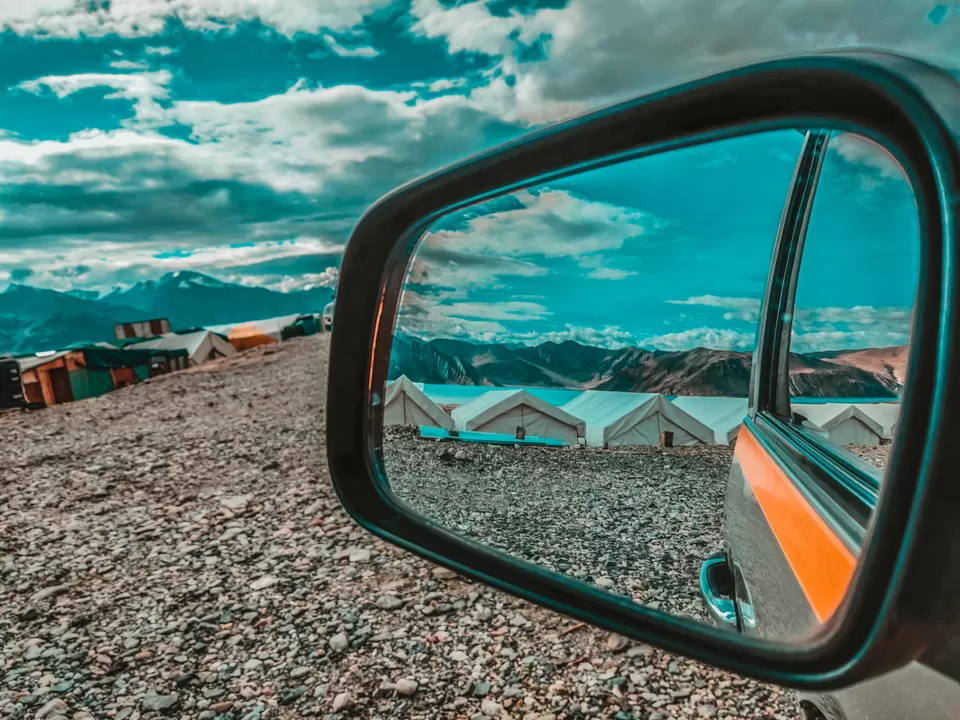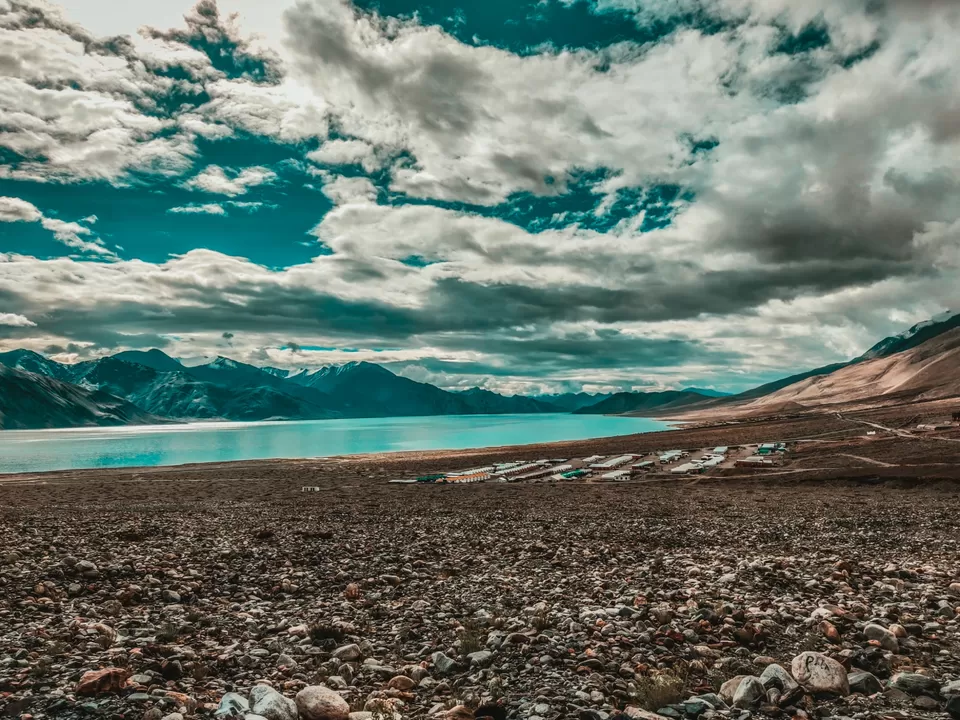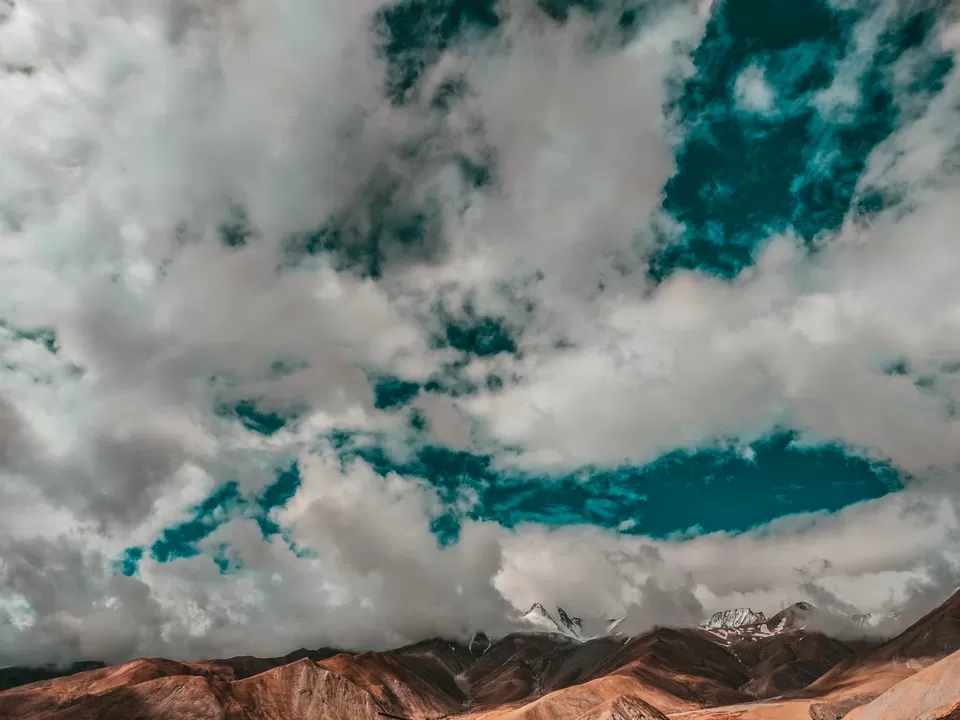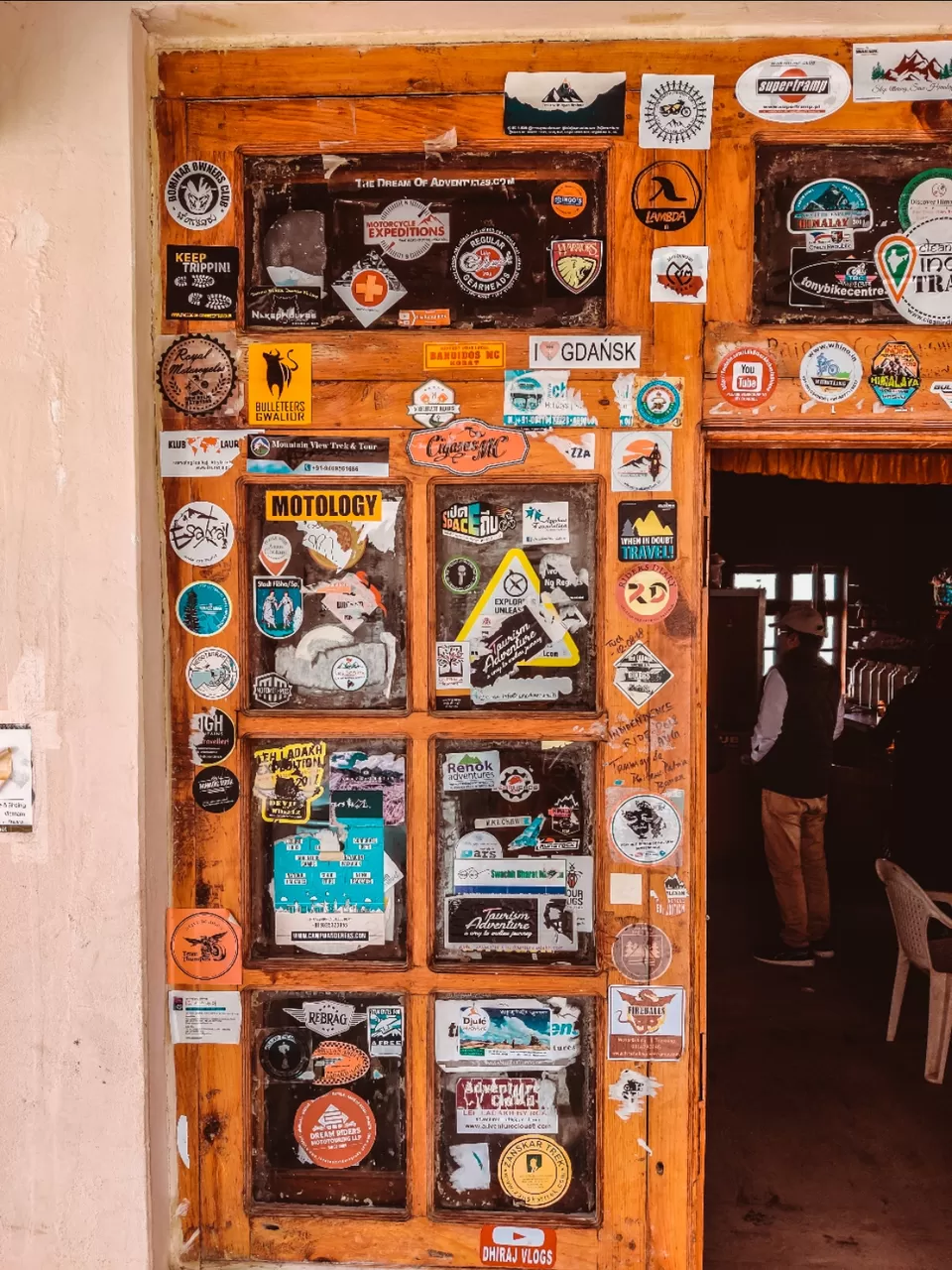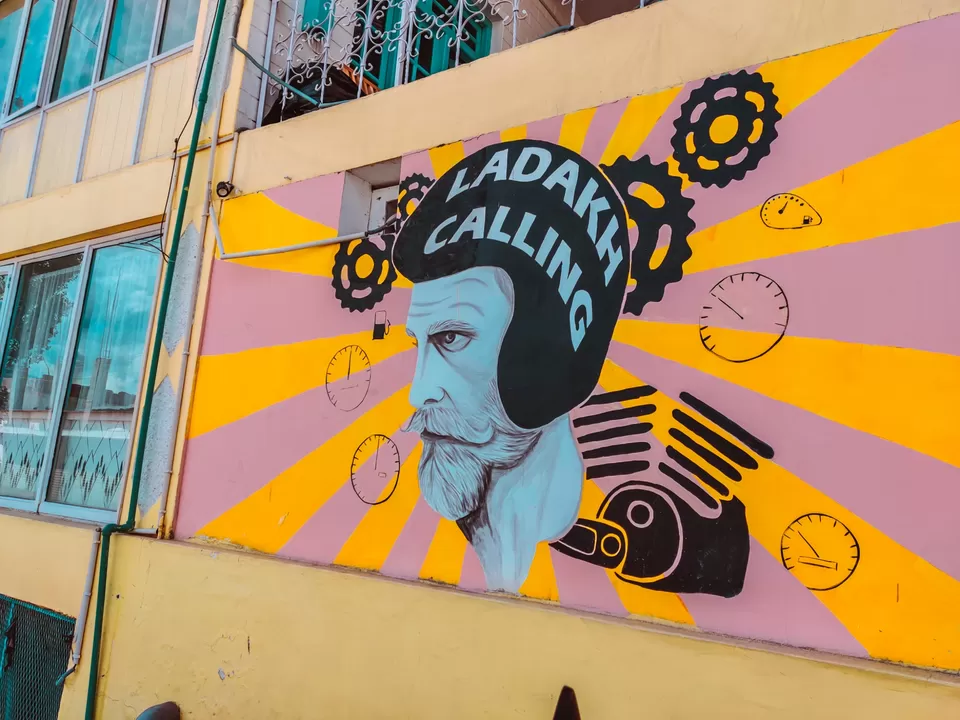 Day 8, 9, 10 we spent heading back to Delhi Via Leh.
The original plan was to go via Kargil- - Srinagar-Amritsar - Delhi but the route beyond Kargil- was still shut for tourists and none of the hotels were accepting any tourist bookings in Srinagar due to the curfew imposed after withdraw of article 370
So we had to take the Leh- Manali highway back to Delhi!