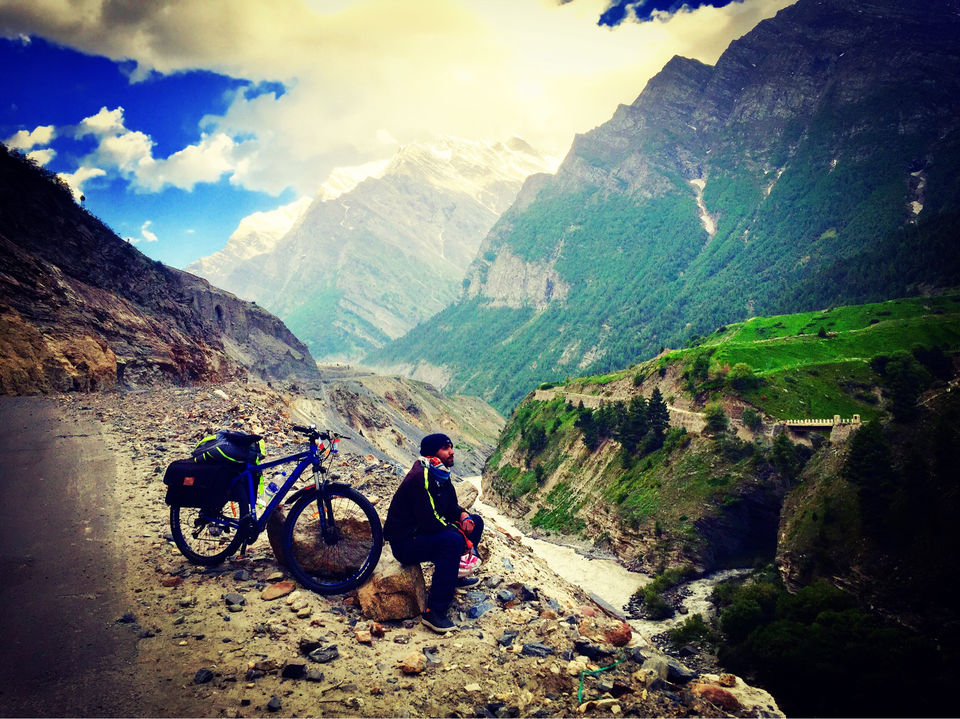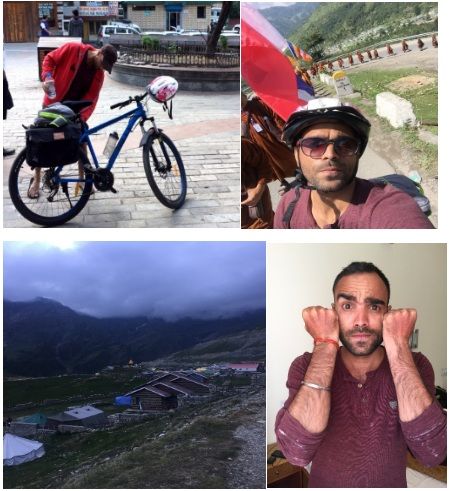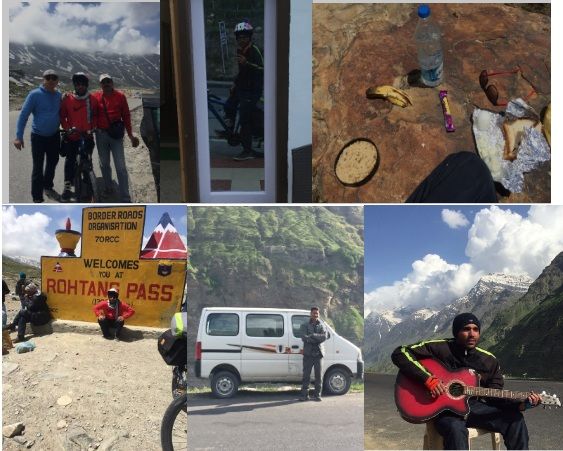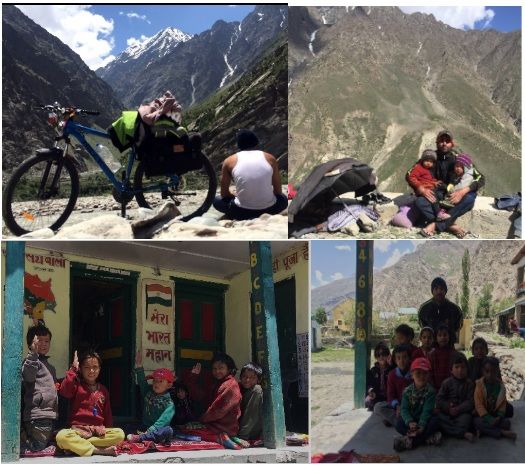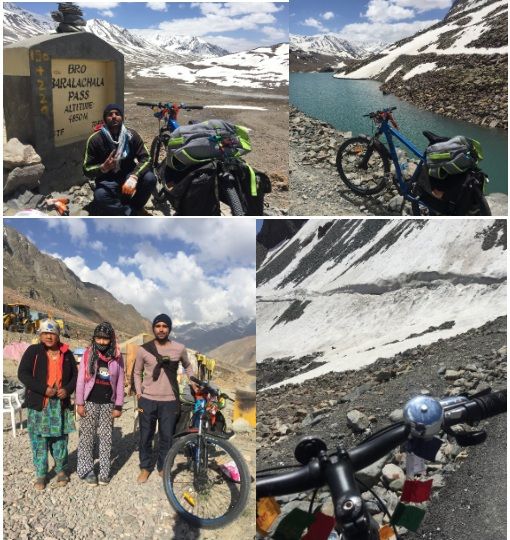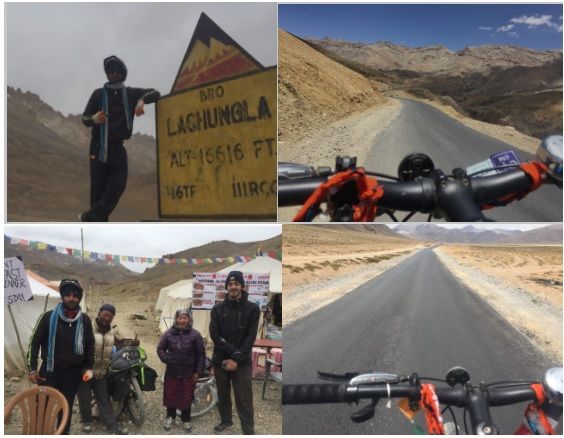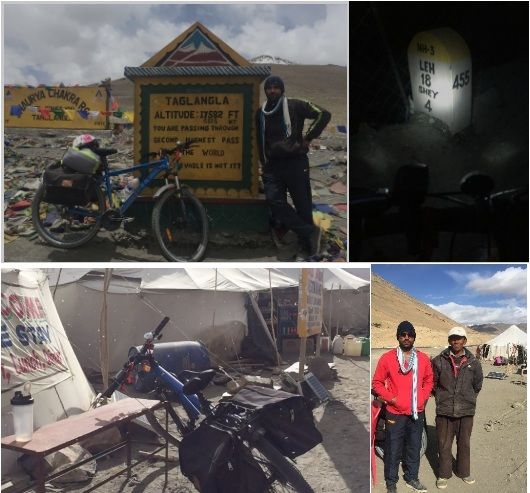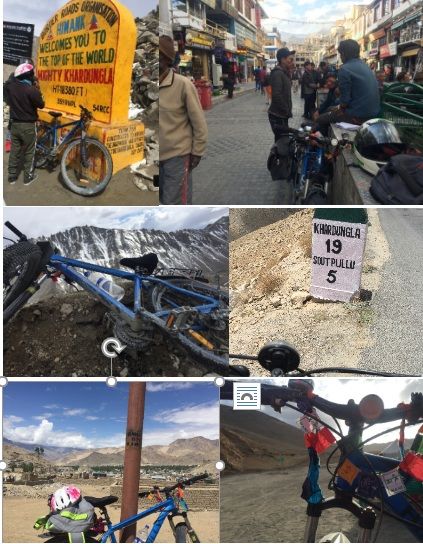 i lost my 3 kg weight towards the end of the trip i was looking like a beggar (validated by a white guy) but i was being perfectly fit throughout the trip Any body can do it ,this solo trip needs 90% your mental strength and 10 % physical preparation I had to give some weeks to cycling every day 10 miles i guess.
thank you :)
For any question you can comment below,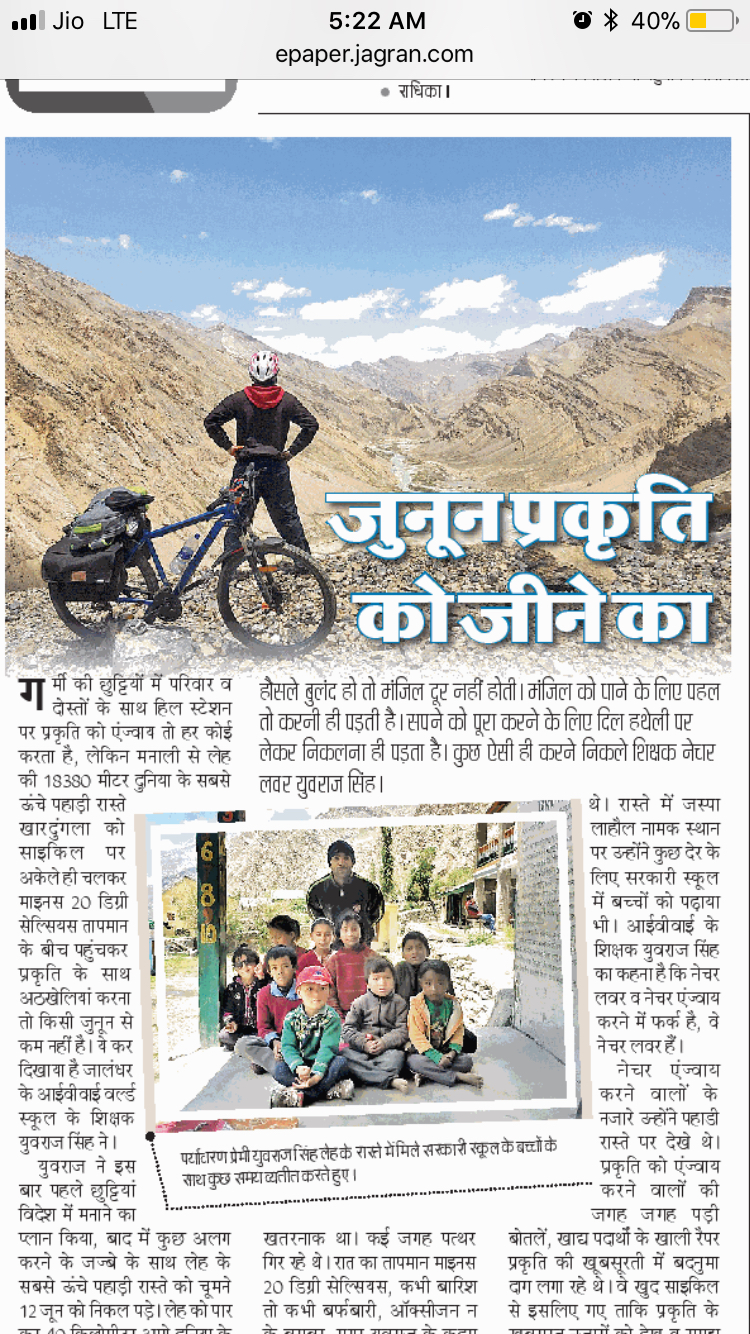 Solo trip by -yuvraj singh harsana.
This was a life time self exploratory experience for me which one cannot buy,it was like psychological, philosophical and divine ride which let me go in to deep down into innermost core of my soul and learn from immortal true principle of nature.
Hello everyone,My name is yuvraj singh harsana a bike commuter recently started going for long distances, I love and cherish diversity inside and outside me, that's how it started so It was month of June 2018,just like everybody I was also into my iPhone spending hours on travel websites to get a great deal or package after detailed checking for everything, what they were offering was a good for fun lover people, but my approach was little different perhaps entirely different so I stumbled on a blog about cycling manali to leh, this was exactly I wanted to do so I just started listing down all the things, I should take along with me, when I was all set I had 3 bags weigh 15 kg my weight 65 my cycle weight 18 kg. almost 100 kg ready to travel 500km in 7 days.
Day 1
I got down from the bus at manali bus stand around 6 in morning did not sleep pervious night, after assembling all the bags wore my helmet had 2 bananas and all set for the journey, I met a group of Buddhist pilgrims they were heading towards leh , sun was dropping fireballs I lost my cycling gloves so my hands got burn it was my first reality cheack, around 2 in noon I reached marhi amazing place weather took a sudden shift, it started raining so I decided to halt at marhi I stayed there in army camp, they did not give me permission to take a single photo but it was fun being with them.
i wanted to start early so quickly i had parathas in breakfast and wrapped up a slice of sandwich and headed up for rohtang pass made it in 3 hours, it was amazing downhill from rohtang for some miles and worst downhill road too, just before koskar locates in foothills of rohtang I stopped for a snack break and resumed till sissu, near sissu I planned my lunch break at roadside dhaba where I met mohan a guy with guitar, after the lunch I couldn't resist I sung a song till I went offbeat, a little fun time always works, from there I cud not stop my peddling till keylong,I cycled alongside with birds,rivers and epic mountains that feeling was nostalgic,happiness was overflowing so I had to call my bapu ji, keylong was the only place where i could get mobile network , I reached keylong around 6 pm , my plan was to stay at reasonable hotel As I crossed the welcome board of small town, I found newly opened small hotel, what a lovely dinner it was ,they made an amazing butter paneer masala after food I did not even take off my shoes I just slept on bed with surya namashkar position.
Alarm rang rushed out of my bed, had my paratha and black tea and headed for jisp,this was the time to witness wide mountains and a nice sunny day added an extra charm to it as the road comes to the level of river I started off road cycling to the beautiful alongside with river, I sat there for an hour just to gaze the immortal mountains topped with white shiny ice, Got a chance to fill water from natural spring, saw a government school at roadside I requested principal for let me meet some kids as he was so liberal finally ,I met some amazing kids the perfect incentive for me from my trip, as I moved ahead i saw out of nowhere there were two 3 year old twins were on the road, initially I was clueless than I saw group of ppl constructing road , I cud not stop myself I had to hold them both even though they seemed heavier than me this time I had no chocolates bananas was the only alternative to offer them after crossing jispa and patsio I reached at lower zing zing baar, there was a dhaba I took a black tea from an old lady she was so lovely she invited me for the dinner and arranged a place for me to spend a night it was freezing cold in night.
In morning I heard a voice from outside of my tent bhaiya bhaiya untie's daughter she came to woke me up and offered me a black tea, my fast meal of the day was the Maggie and bread, made my mood for quick peddling for baralacha pass, I enjoyed it most and reached in the giant sarchu one of the best landscape one this planet I reached there around 2 pm I spend my 3 hours just to take some pictures and talking to army person and yes of course off road cycling it was literally freezing cold and stormy evening in sarchu temperature was minus 15 i had already found a home stay brother raju facilitated me razai after razai for making me warm.
As I entered in the jammu and kashmire game has changed so the rules but the player was the same, the landscape became so beautiful and barren no vegetation and water springs this time call from nakeela pass through the ghata loops, 21 loops up hill in windy day, sun was on full throttle and I was having an extra (water)bottle, when I crossed 21 loops still I had to cycle 5 km to nakeela pass this was the only time I had to give an extra ordinary effort to make it, around 2 pm I reached at wisky nala after a small downhill from nakeela pass I met brajesh uncle, his home stay was amazing best dinner I have ever had in my life I had to kiss his magical hands, besides my tent paul a guy from Canada was coming from leh to manali solo cycling, brajesh uncle called him over tea we sat talked about sociology and other family stuffs.
i was just opening my eyes in morning saw outside my tent snow-falling, I sat quietly outside the tent with cup of black tea in my hand for a while, after a picture time with poul, we started our journey In opposite directions this time the eye opener lachungla pass was calling me I made lachungla around 12 noon was the easiest among all passes, I passed pang and reached the greatest of all time the one and only more plains, unfortunately it was the cloudy weather so I just sat there for an hour made some videos hoping for sun to come out and magic happened just for a while and then surya Devta Prakat hue , I was cycling on one of the highest 45 km plain seeing the widest and mind blowing landscapes of the earth totally detached from my soul and body, for a movement I could even see myself and mountains both from different dimensions, that was just an epic experience, towards the end of the more plain I stopped at the dibiring, found a home stay there was uncle rosha made Maggie for me I had an exhaustive day and amazing sleep too.
I woke up late around 10 am I saw snow falling again I was so excited about the tangangla pass I made tangangla pass around 3 pm initially I was planning to stay at upsi but then something happened, I had this weird idea of reaching leh in same day, I calculated it was possible only when i can do peddling phenomenally fast and continuously, so I did ,i crossed karu I crossed lato I crossed hemis and I reached leh late night 11.30 pm, I rod 160 km in single day including the world second highest motor-able pass arguably (because chine made world's second highest recently), It was mystical the love for Mother Nature and people who lives there, that kept me craving to explore some of worlds best landscapes in the world.
after reaching leh i met a guy name neema (meaning sun) who helped me to get a hotel room solely, it was impossible for me because it was summers vacation in India leh became the hottest tourist spot, before closing my eyes I had this feeling, do I really belong in this game I just pondered my wander lust increased addiction was in my breath,I was feeling high and I decided tomorrow is KHARDUNGLA Pass. (Extension of trip happened)
Technically it was An additional day for my trip but philosophically it was one of the biggest day of my life, when I woke up I saw it was raining I felt heartbreak ,it was worse than losing a lover I sat in hotel lobby ,was eating my bread and jam after 20 minutes I saw a ray of sunlight entered in the lobby and i turned the table, I called my dad said I am going for khardungla I did not listen his reply because I knew already what he was going to say su***r ke bachhe (son of pig in English language ) and other stuffs, so after the call I got (khardungla pass) permit from an agent and started cycling 7 in morning,I summit khardungla pass around 12 .30 pm and came back to leh around 2.30 pm i got broken my iPhone, It was an acute heart attack for me I rushed to leh market gave it to guy who promised me to fix it partially and turned it on,meanwhile I was sitting on road divider of leh market 10 mtr away from my cycle , just kept worrying about my phone for a physical comfort I came down on the road and sat with support against the road divider wall,
An old white guy came and stood front of me and looked down on me he took one-rupee coin from his purse gave it to me very politely, at that moment I was mute,confused,and overwhelmingly happy ,I kept gazing the coin back and forth……..
Frequent Searches Leading To This Page:-
manali tour package for couple, kullu manali holiday package from delhi, shimla manali tour package for couple, delhi to manali tour package for family