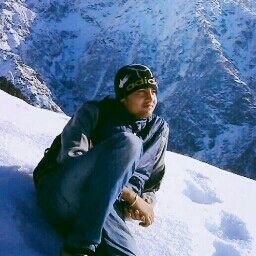 How often have you planned for a trip and it got cancelled?? It's not only you it happens with everyone and anyone when they plan something the plan gets hitched hiked in between. Planning a journey is not a typical thing to do. Journey plans are made for getting cancelled. I have been planning for a Goa trip since time immemorial, and haven't been to that place as of yet. In my point of view planning should not be done before any trip as journeys are for making memories, it's not that you are getting married or having kids that you need to plan.
Let's destiny decide what it has for you that is what I mean by adventure. Proving my point worth trying I am going to state few exciting things related with the unplanned journeys. Most of my journeys are unplanned, its like if you have to go somewhere now is the perfect time. The reason which I think makes the unplanned journeys more exciting are as follows:
1. Unplanned trips doesn't have any boundaries :
Unplanned trips have lots of opportunities to see around. It doesn't have any complications of going to some places at that particular period of time. It's like planning a journey and walking to see what it will lead to. There is no boundation of keeping intact with plan. Sometime getting lost is also necessary it adds to the excitement of the journey. And journeys which are planned makes it a dull affair.
2.The luggage on your back would be slightly smaller:
Unplanned journeys are those trips whose idea just flap in your mind. And you just prepare yourself to move out for a perfect destination. Unplanned journeys are usually decided with in a day or with in an hour sometime. So there is not much time to pack or carry a big luggage by your side.
3.The journeys consists of lots of unfolded surprise :
The definition of a perfect journey is something which keeps the element of surprise alive. And with unplanned journeys the surprise elements will always be available. The unplanned trips makes you more mature in handling the worse situations faced some where out in distant places. I remember how our unplanned Himachal trip resulted in we spending the night at the icy cold mountain but when the trip was over it was the best thing which happened to us.
4. Unplanned trips are there to make new friends:
While on an unplanned trip, it is quite obvious that to know about the new place you will spark a conversation with the fellow travelers who are completely strangers to you. This way a new bond and friendship starts every time you start up a conversation in an unplanned journey.
5.Unplanned journeys are short and less costly:
The most important fact which is worth noticing is planned journey always costs more as you will plan and pay for everything before hand and you know how and what to spend but in unplanned trips people tends to save their money as they never know when they will fall short of it. Unplanned trips make people adjust with the possibility of that present scenario. And the duration of these journeys are never on the larger side. Unplanned trips are short in duration but never short in excitement.
6.It awakens the adventurous you :
Because of the unplanned circumstances related with these types of trips the adventurous nature of the person awakens and he or she is now more acquainted about one inner self. The confidence level goes slight up on the successful completion of an unplanned journey.
7.These trips provide with lifelong memories:
The memories of an unplanned trip always gets intact in your mind and you never forgets about it. The successful completion brings an immense joy and the memory of it a shine the eyes. The more you go out in an unplanned way, the more you will be excited to opt for it. Always remember that memories never fades, you can relive it whenever you wish to.
8. Unplanned trips are more destined to happen :
Like I said first that plans are usually made to be broken but with unplanned trips its just the sudden emotion or excitement which lead to a decision for going on trip. I remember during my college days, I along with my friend made a sudden road trip plan to Rajasthan and we were ready for it within few minutes. So the probability of hitting the success is more with the unplanned journeys of life.
9.Lastly, it helps in having a better perspective of life :
These trips teaches the most important lesson of life, that everything is unplanned and what is destined will surely happen. The perception or perspective of seeing things changes. Unplanned trips mold a person in a more better way. It transforms a vagabond boy to a matured man.
When we plan everything in our life many unfolded chapters of unplanned things are waiting to be explored. And as we progress towards our life who knows what destiny has planned for us in a very unplanned manner.