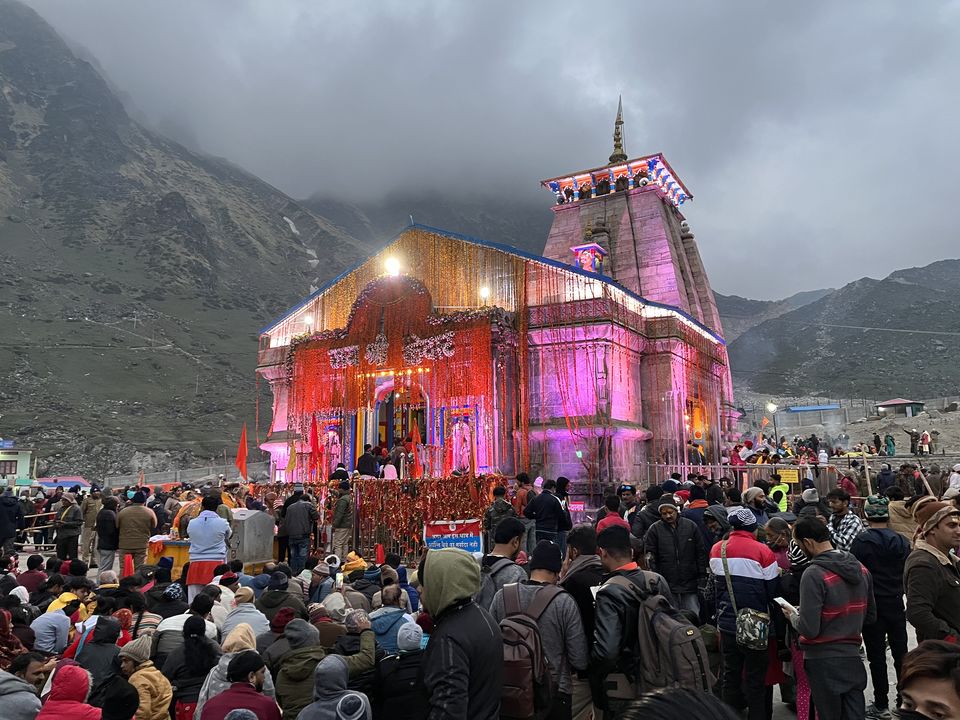 Day 1 - 6th May 2022 (Mumbai to Vadodara, Gujarat 400 kms)
Started off my solo bike trip on my Royal Enfield Standard 500 bullet from Mumbai at 6 AM. Took my first halt at a Parsi hotel called Hotel Ahura in Dahanu which has built a reputation for being a biker's hangout for short breakfast rides or long rides while travelling towards Gujarat. In case you plan to halt at this hotel, do not forget to have Bun Maska with chai.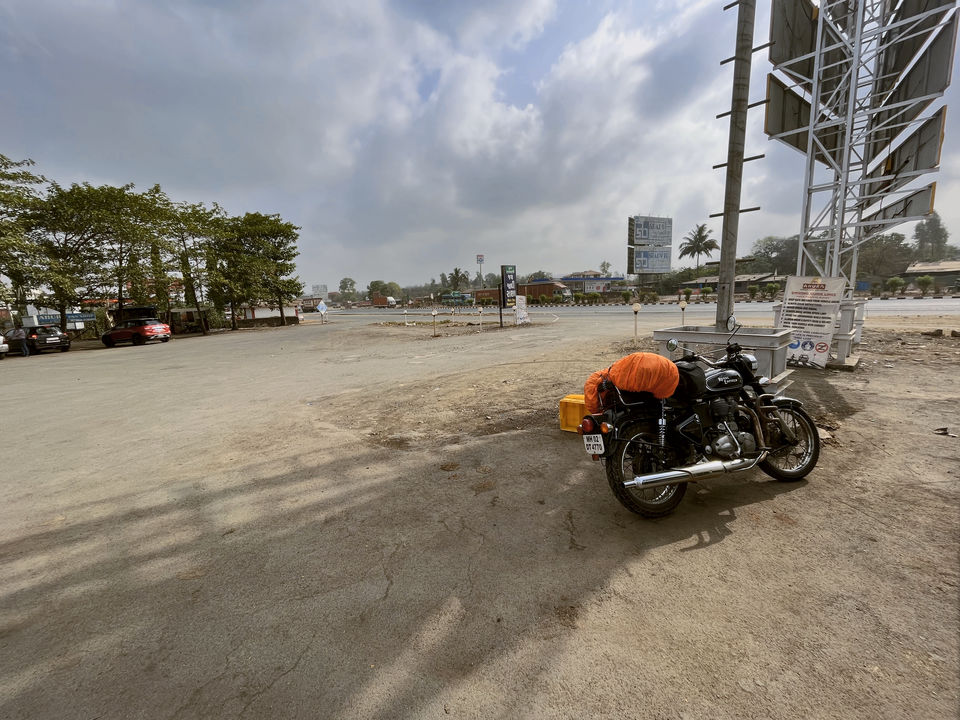 Going ahead from here, I rode till Vadodara, Gujarat (400 KMS from my start point) where I planned to stay for the night. This was primarily to have some relief from the scorching heat of the summers. I stayed at Hotel Marigold, a decent stay with a proper basement parking, albeit a bit inside in the city from the highway.
In the evening, it was all about exploring the streets of Vadodara and enjoying some street food along the way with some rejuvenating sugarcane juice.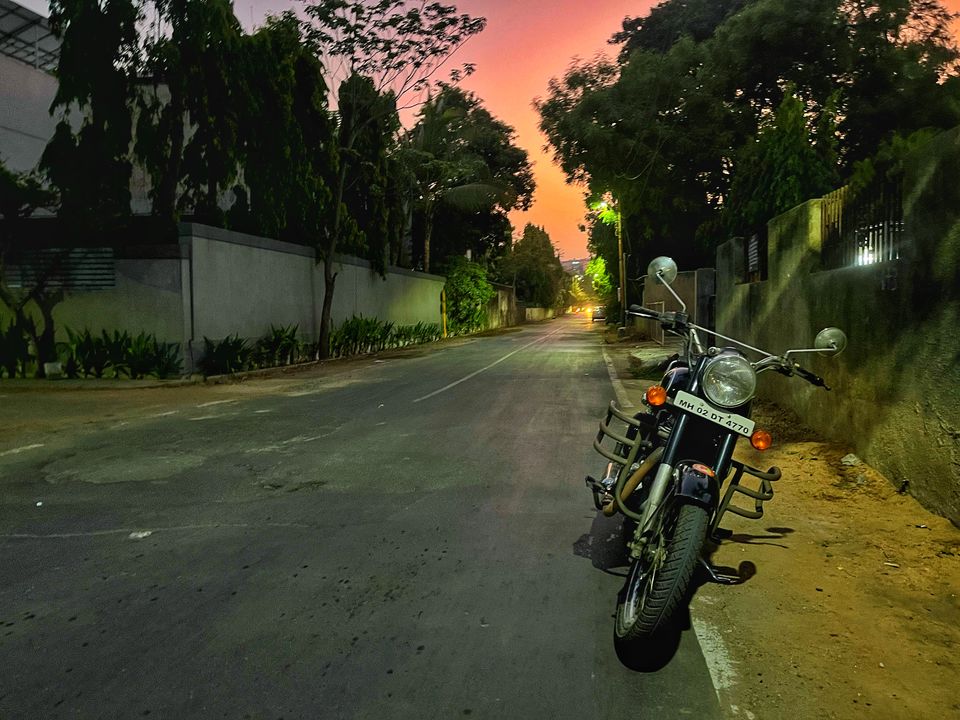 Day 2 - 7th May 2022 (Vadodara to Udaipur, Rajasthan 300 kms)
Checked out from the hotel around 7:30 AM and started my journey towards Udaipur, Rajasthan. The road condition was simply superb and the heat conditions were surprisingly manageable (34-37 degree Celsius) with limited halts.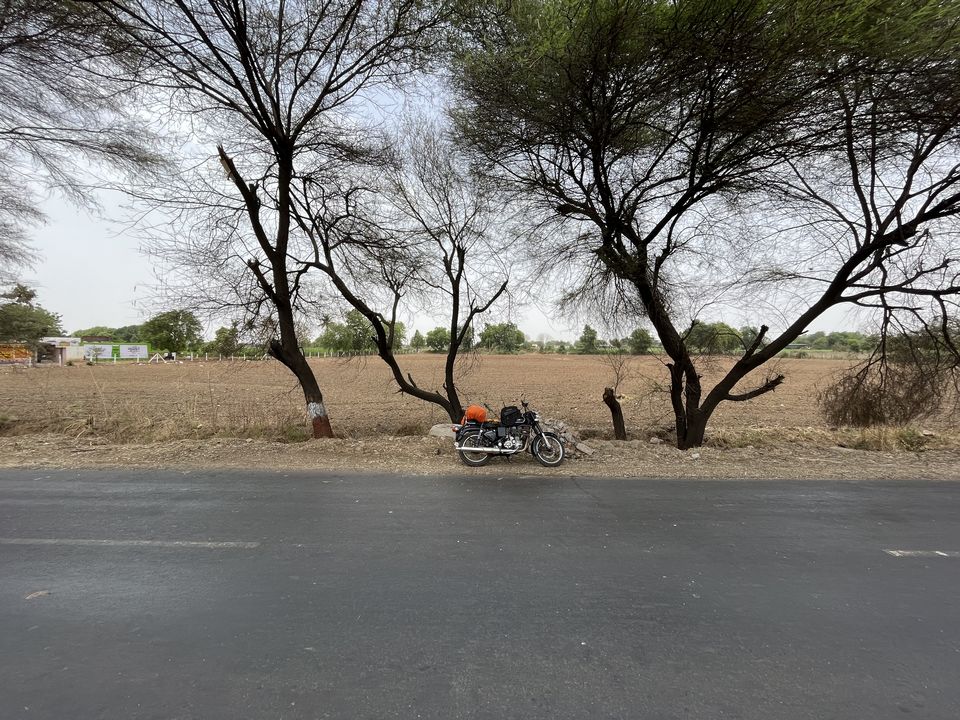 Had some basic dal rice & roti at a local dhaba along the way, a very cost efficient meal. Finally reached Udaipur from Vadodara (300 KMS) & took my night stay at Zostel Udaipur.
As a solo traveller, I always prefer staying in travellers/backpackers hostels. It is a cost efficient alternative with all the basic amenities. Unfortunately, Vadodara has no backpackers hostels (at least to my knowledge) & therefore, I had to book a room there. However, Udaipur and most of the rest of my trip did have hostels which made life easier.
In the evening, explored some nearby points and took sufficient rest for the next day's ride in the excruciating heat.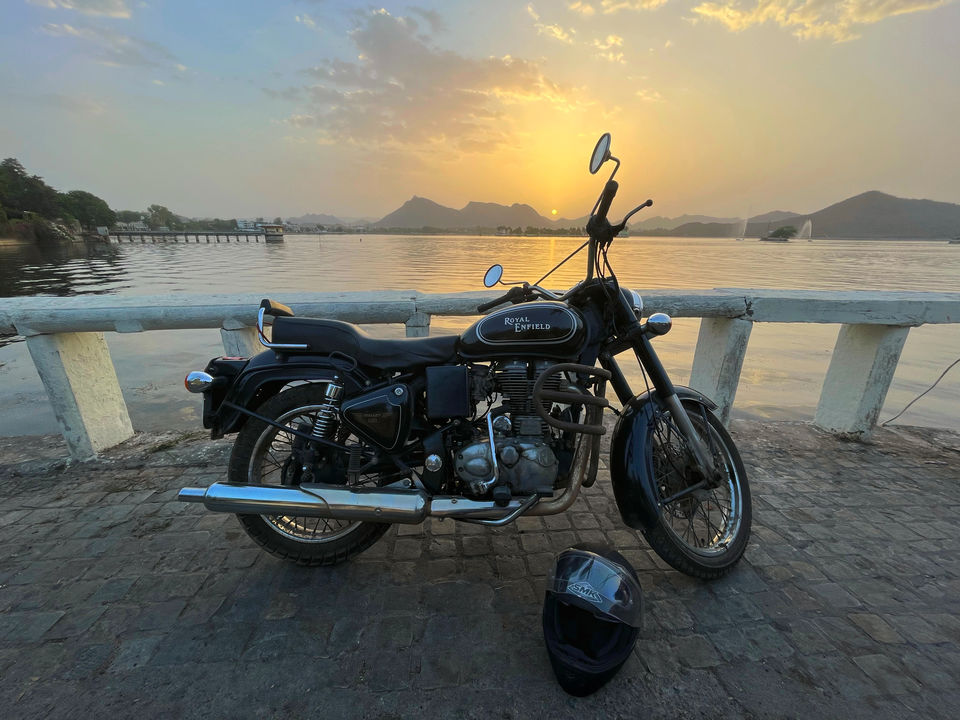 Day 3 - 8th May 2022 (Udaipur to Jaipur, Rajasthan 400 kms)
Left the hostel at 7:30 AM for my next stop for the night, which was Jaipur, Rajasthan. Again, the road conditions were awesome, but the heat (42-46 degree Celsius) was brutal. This led to me to extending my halts in order to let me and my motorcycle cool down.
Resorted to eating meals at local dhabas and finally reached Zostel Jaipur (400 KMS) after a time consuming ride.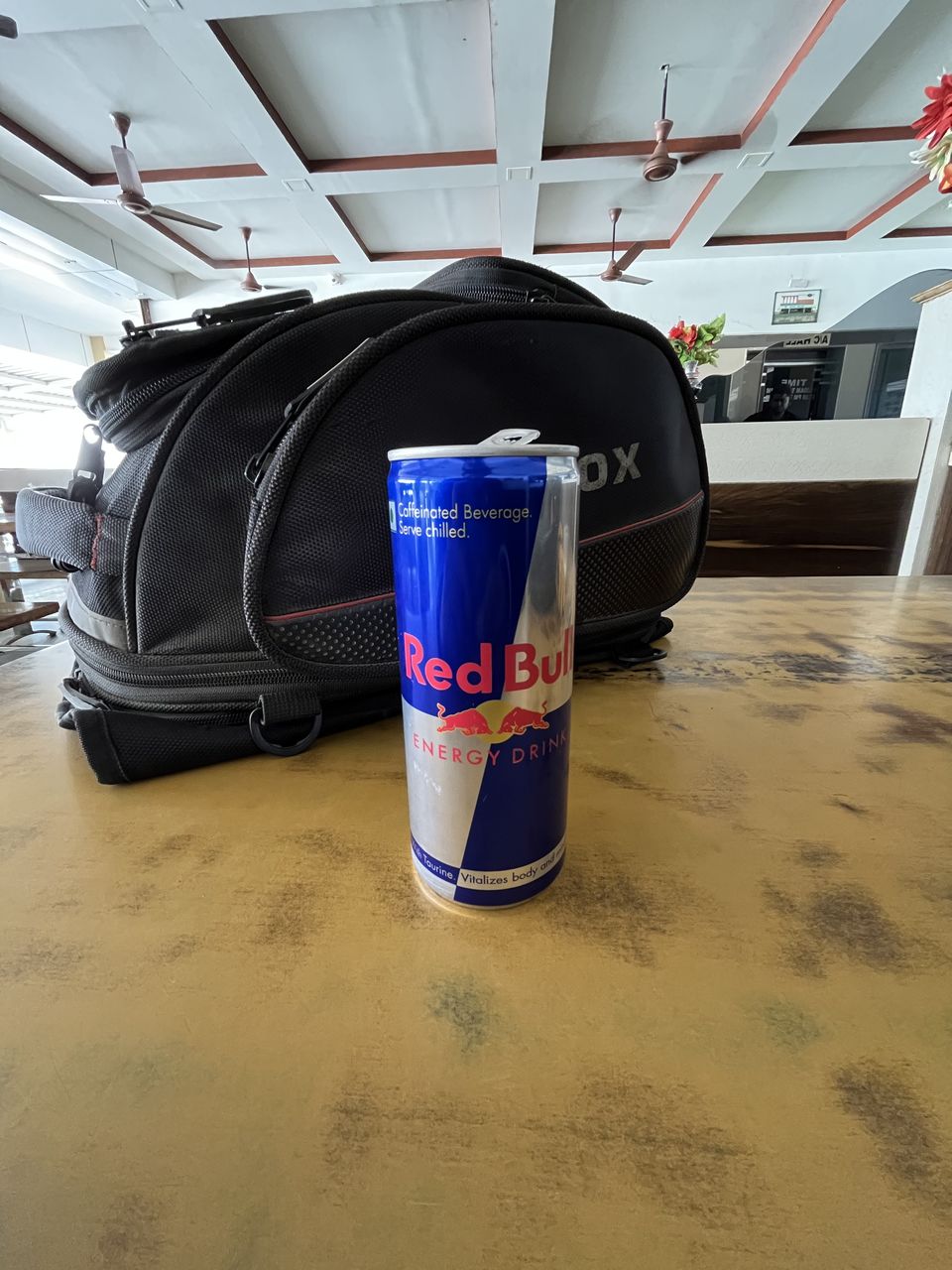 Tip: In heated summers, try to find some shade to park your bike (if possible) and for yourself every 100 KMS. Needless to say, keep yourself hydrated. Also, keep checking the air pressure in the tyres every 80-90 KMS to avoid any mishaps.
As with before, evenings were for exploring the streets and taking rest.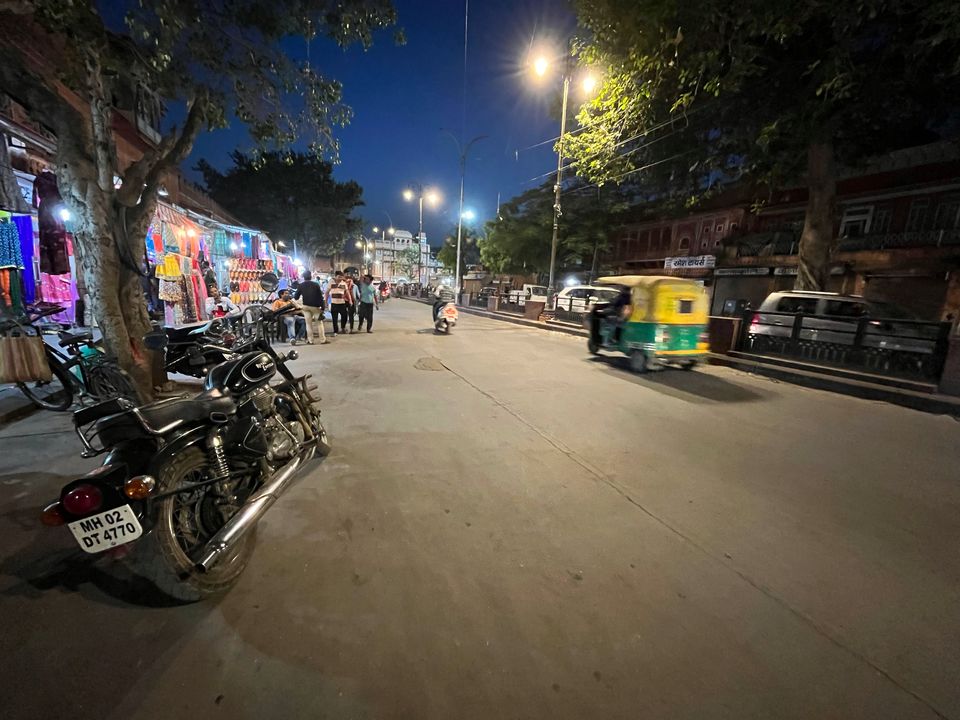 Day 4 - 9th May 2022 (Jaipur to Delhi 260 kms)
As I moved further up north from the Rajasthan border, the heat conditions again hit manageable levels. Thereafter, it was a pretty smooth ride till my night stay which was again, as you may have guessed, Zostel Delhi (260~ KMS).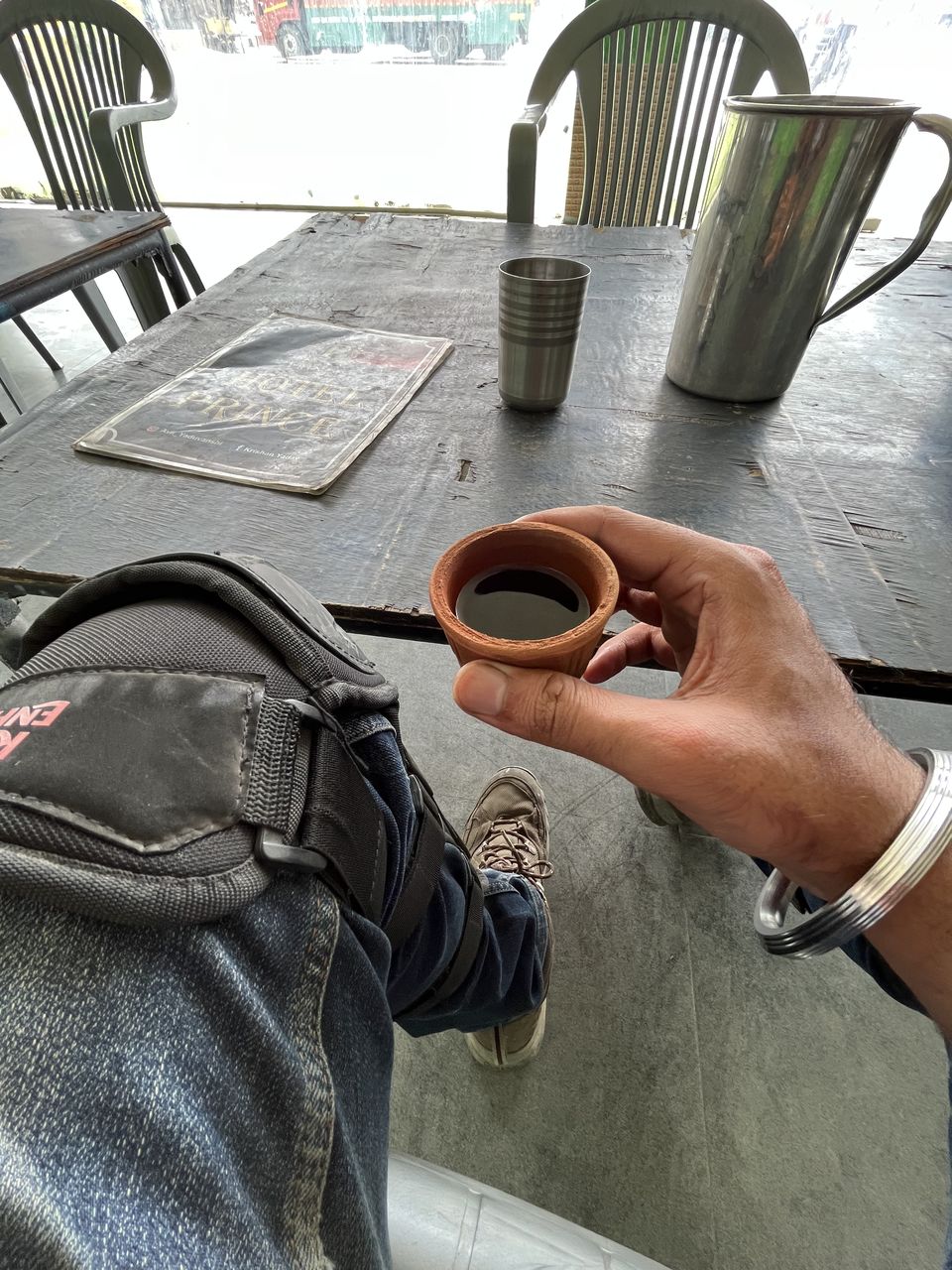 Day 5 - 10th May 2022 (Delhi to Rishikesh, Uttarakhand 250 kms)
Left at around 8 AM for my ride to Zostel Rishikesh, Uttarakhand which was 250 KMS from Delhi Zostel. As I mentioned before, in such heated conditions, do keep checking your tyre air pressure every 80-90 Kms, which I ironically missed for this ride. Thus, riding 150+ Kms had to face myself with a front tube puncture near the valve.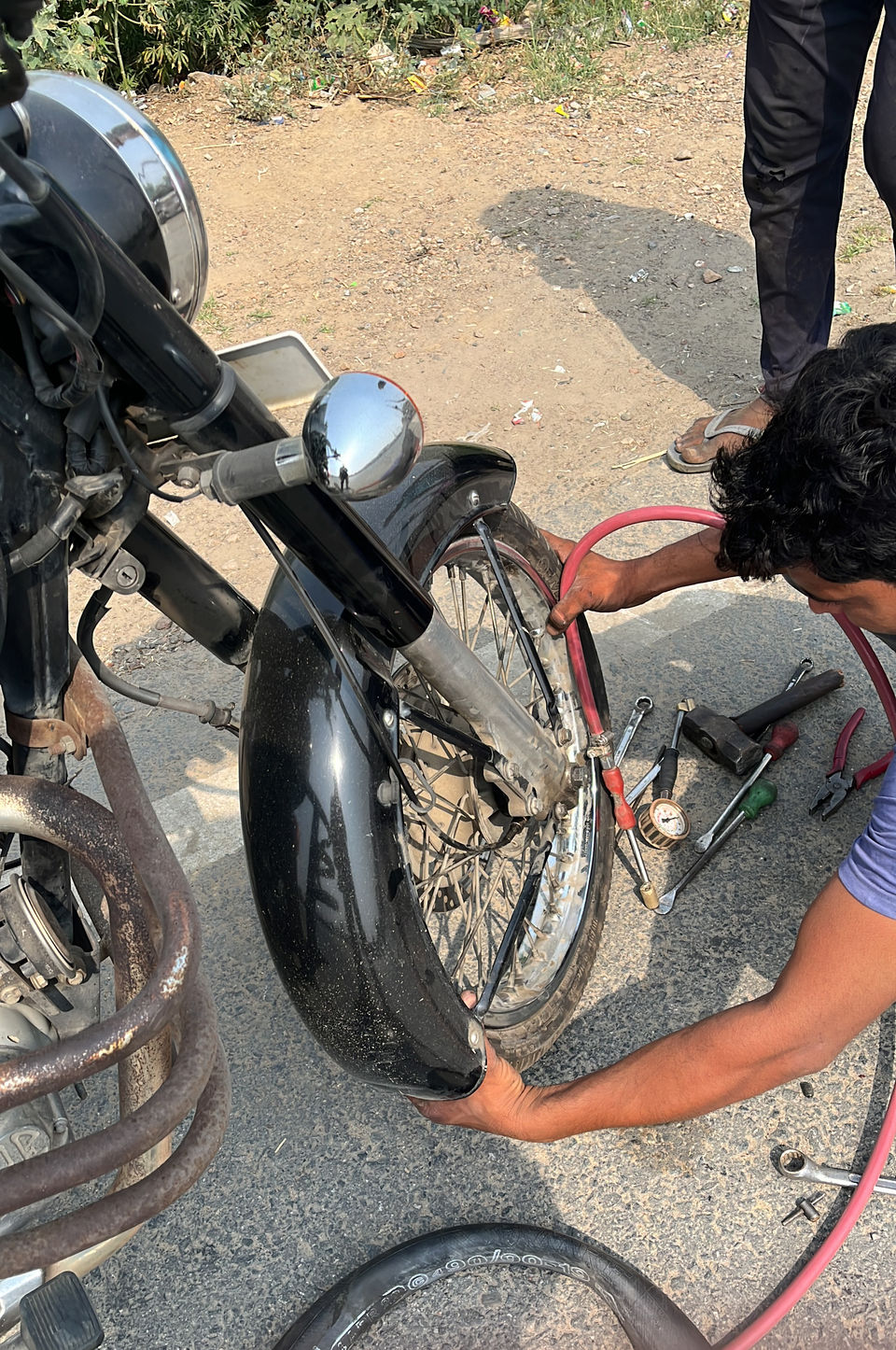 Luckily, I found a tyre repair just after I sensed something was wrong. Before the air was completely gone, I had managed to ride till the repair guy and eventually got the tube changed. I did carry spares with me (chain lock, clutch, throttle cable, bearings, etc); however, missed the pump and the puncture repair kit (seh lenge thoda xD).
Got the tube installed and soon found myself cruising on the highway again after this minor hiccup. Reached Rishikesh Zostel in the afternoon and man was the temperature a relief. As soon as I reached, it started raining heavily in Rishikesh and provided a much needed relief having ridden quite a few kms in the past few days in the heat.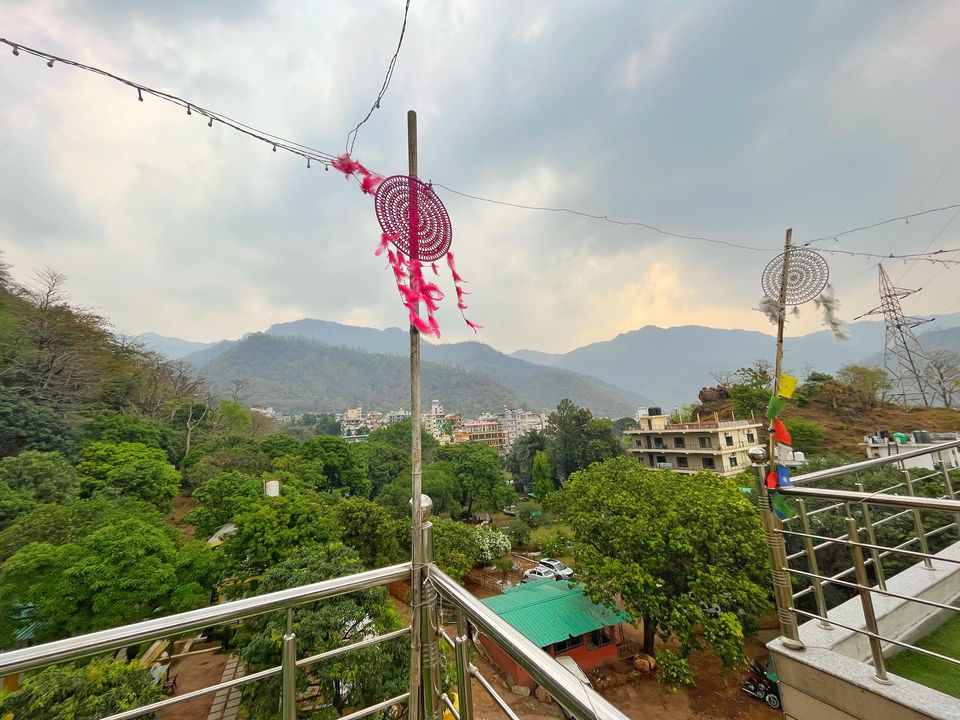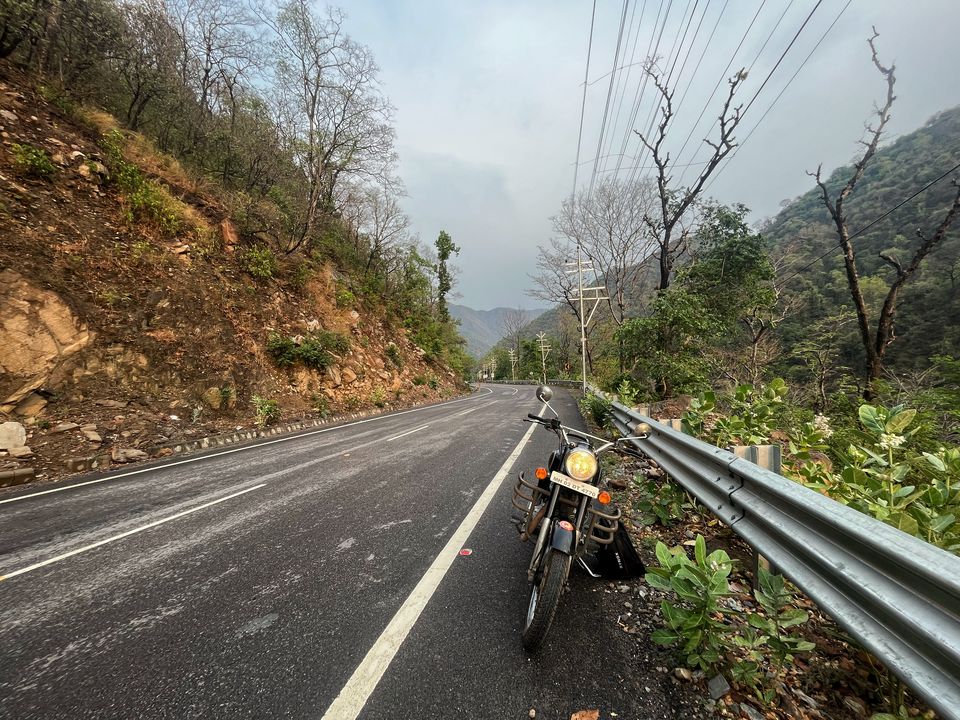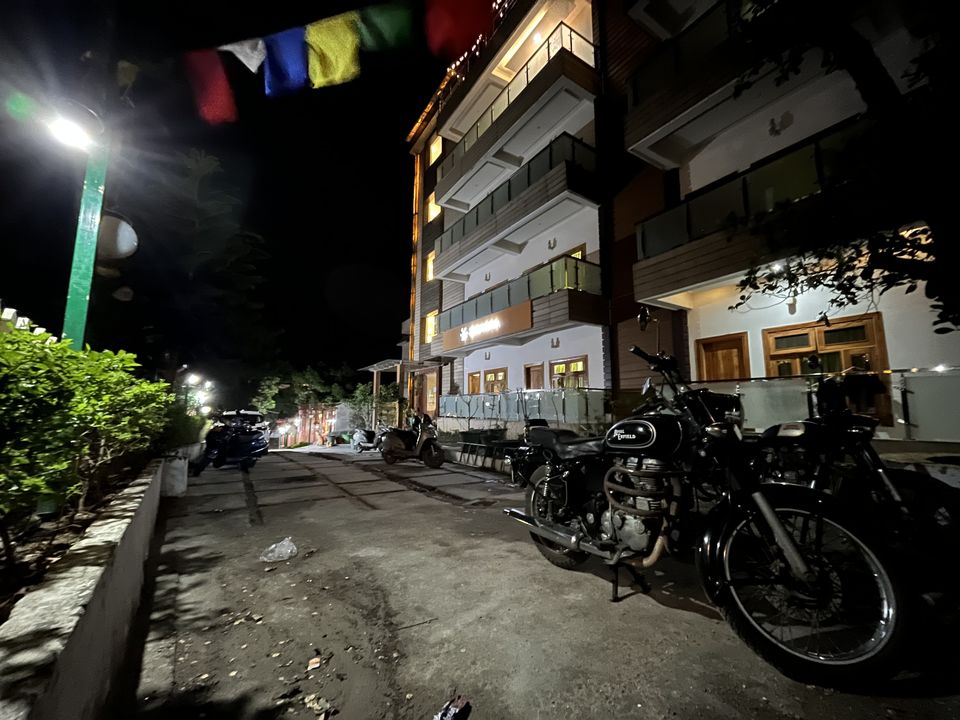 Day 6 - 11th May 2022 (Rishikesh to Sonprayag, Uttarakhand 200 kms)
This was perhaps the most beautiful 200 Kms of my ride along the Garhwal range of Uttarakhand. I will let my photos do the rest of the talking ;) .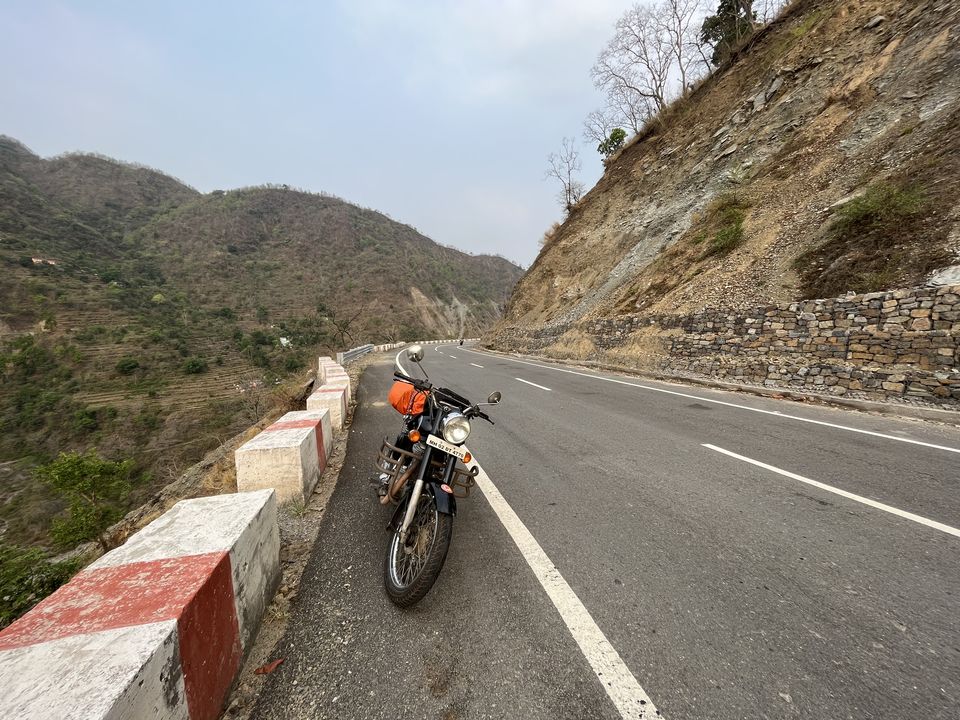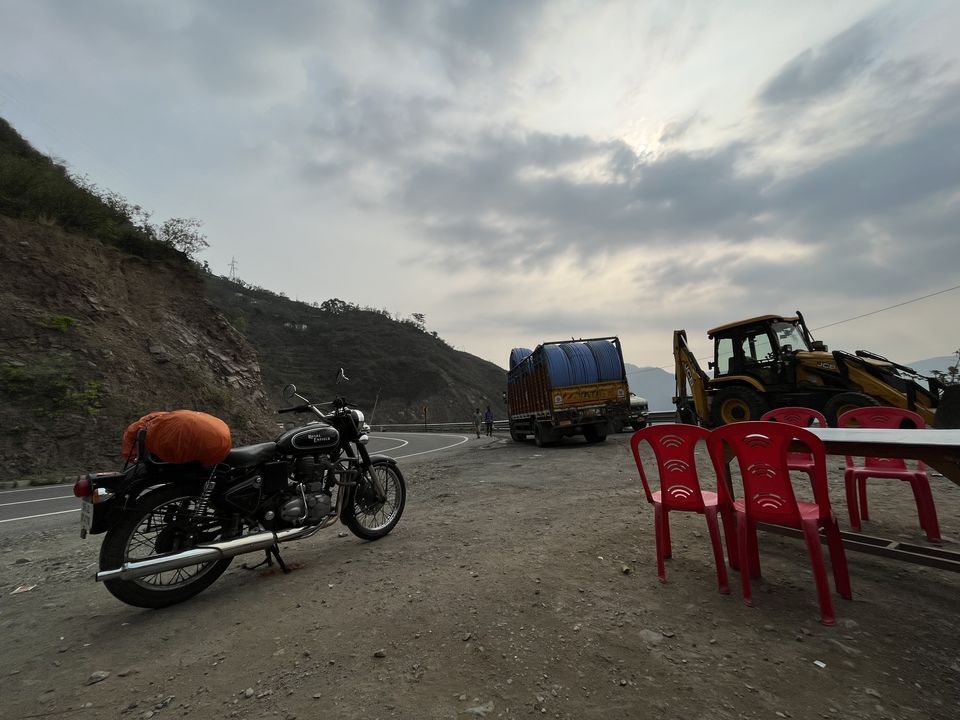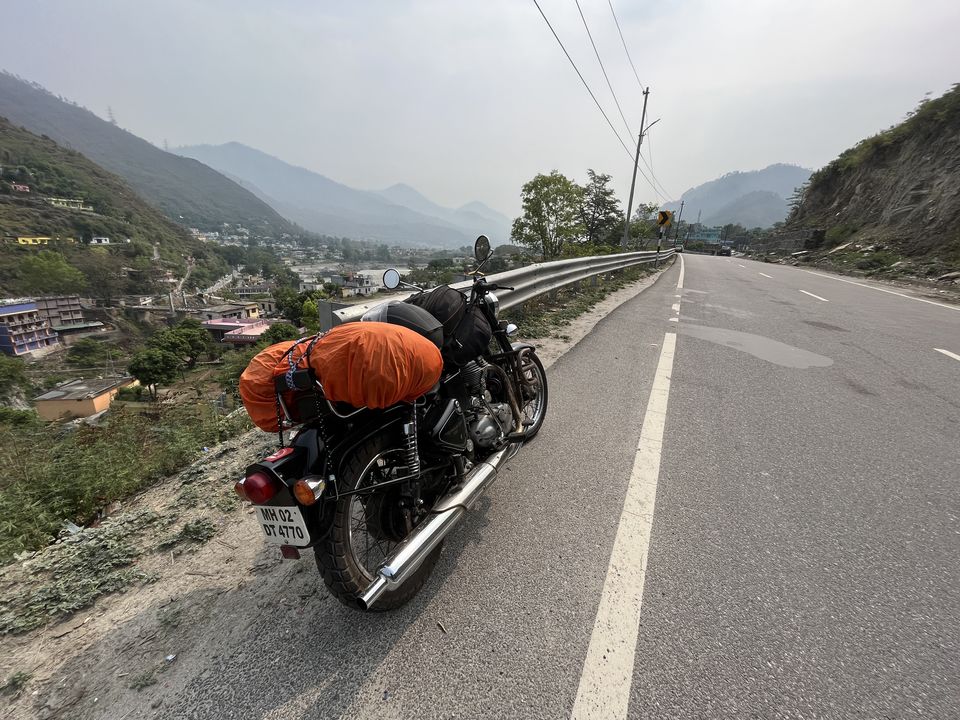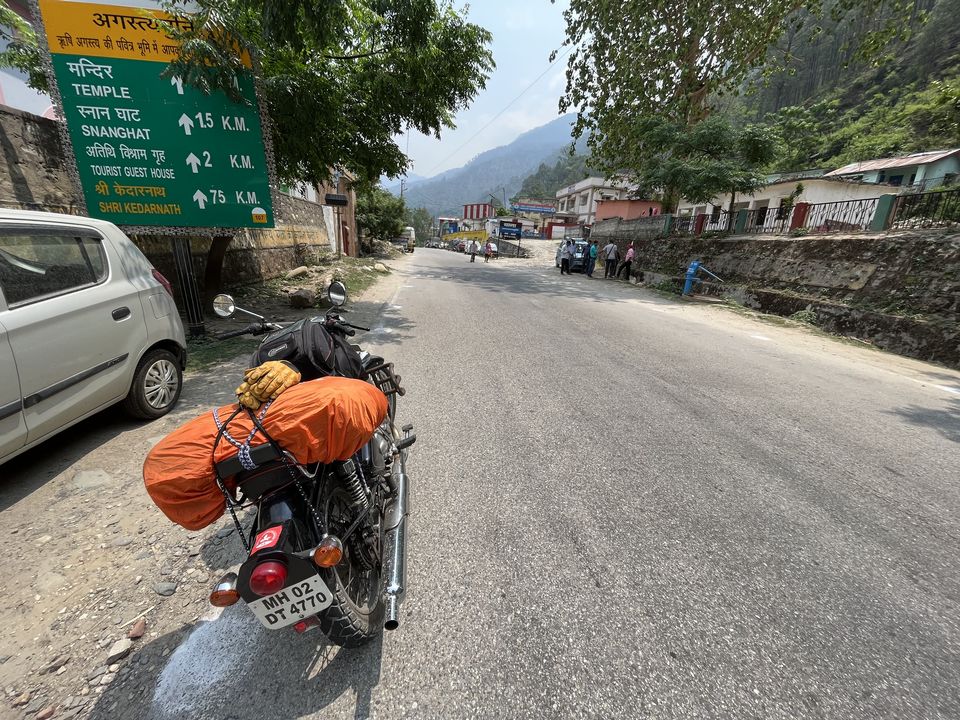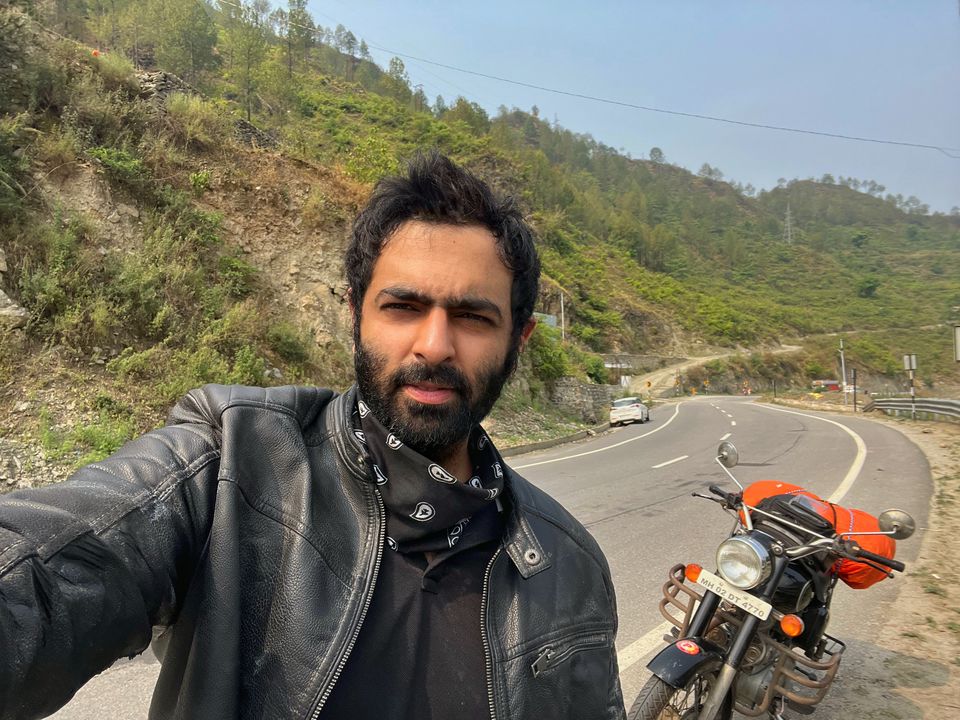 After reaching Sonprayag, you will have to park your motorcycle/vehicle in the government parking as no vehicles except Uttarakhand registered 2/4 wheelers are allowed till Gaurikund; post which no vehicles are allowed in entirety.
It is relatively safe, although I found my small rear reflector panel broken once I got back to my bike (really no big deal at all).
Then it was all about scouting around to find a decent stay; and as I have mentioned before, I would prefer staying in hostels. So I was able to find a dormitory worth Rs. 1,000 which was the cheapest option and relatively hygienic than the others. Also, found a locker facility at a shop called "DC Mobicare" where I kept by motorcycle gear & helmet and off loaded some of my stuff.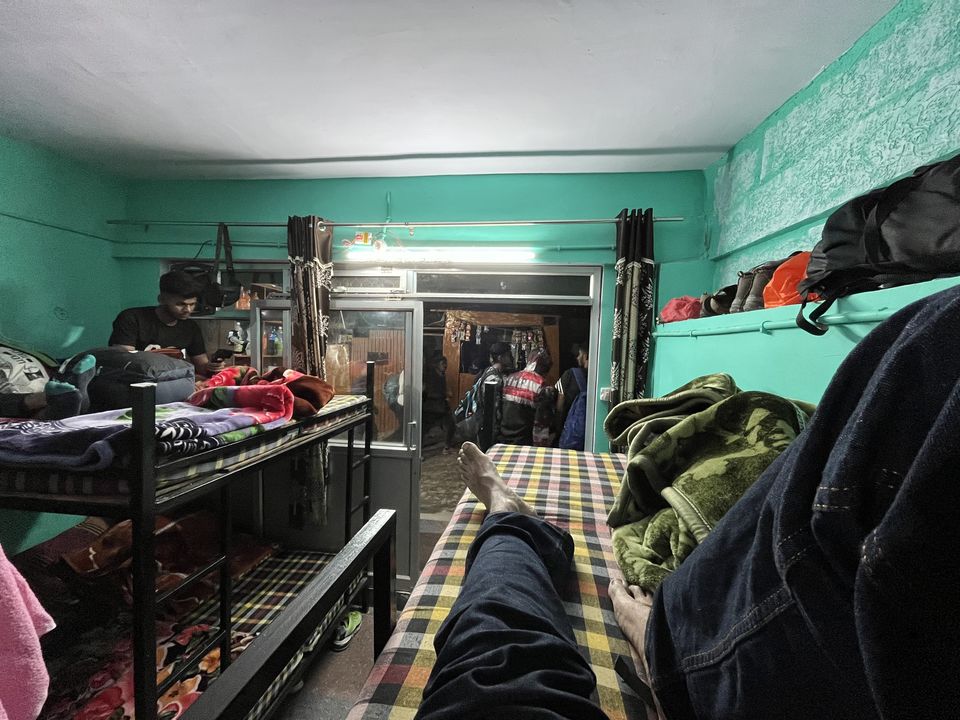 Day 7 - 12th May 2022 (Sonprayag to Kedarnath Temple, Trek up 20 kms)
Started off the trek at 3:30 AM from Sonprayag. Although I did off load some of my stuff into the locker facility, my rucksack was still pretty heavy and as a result, it took me a long and testing 12 hours to finally reach the Temple with that heavy rucksack on my back.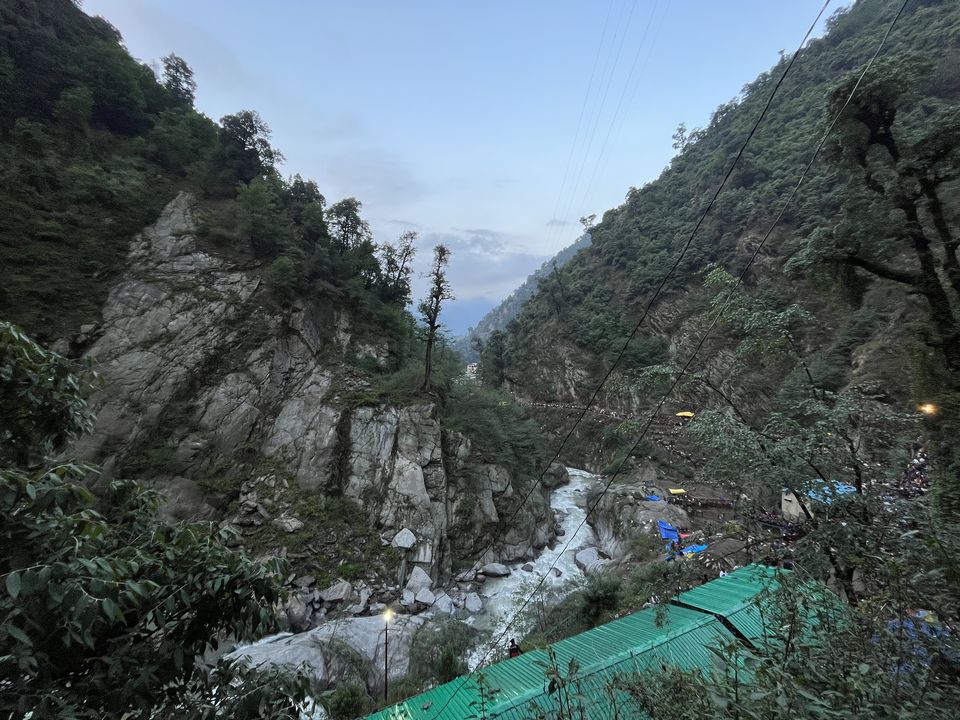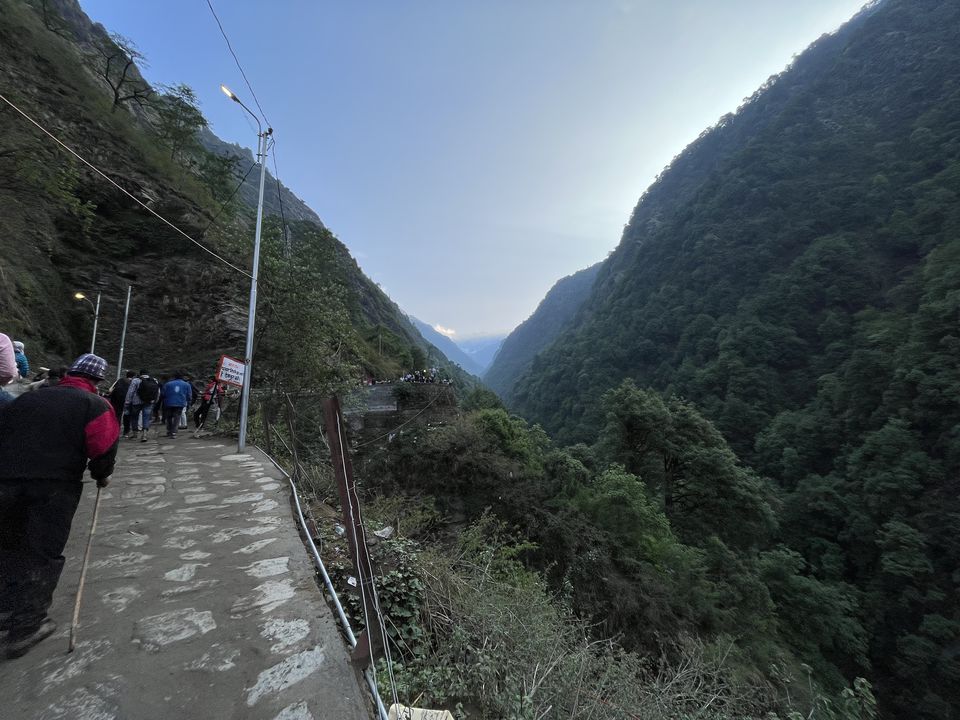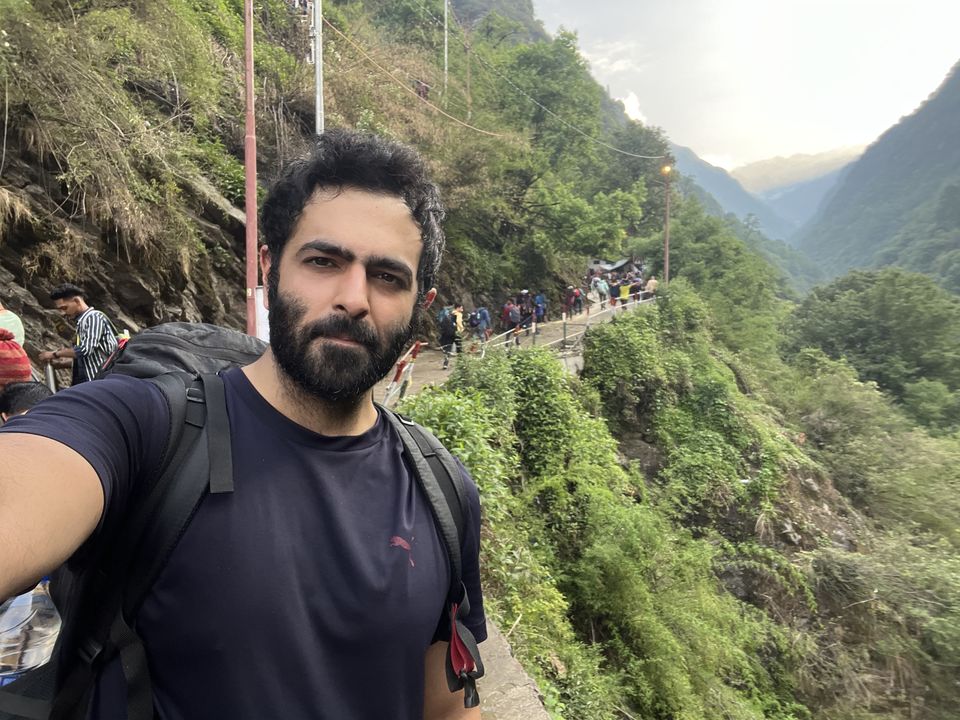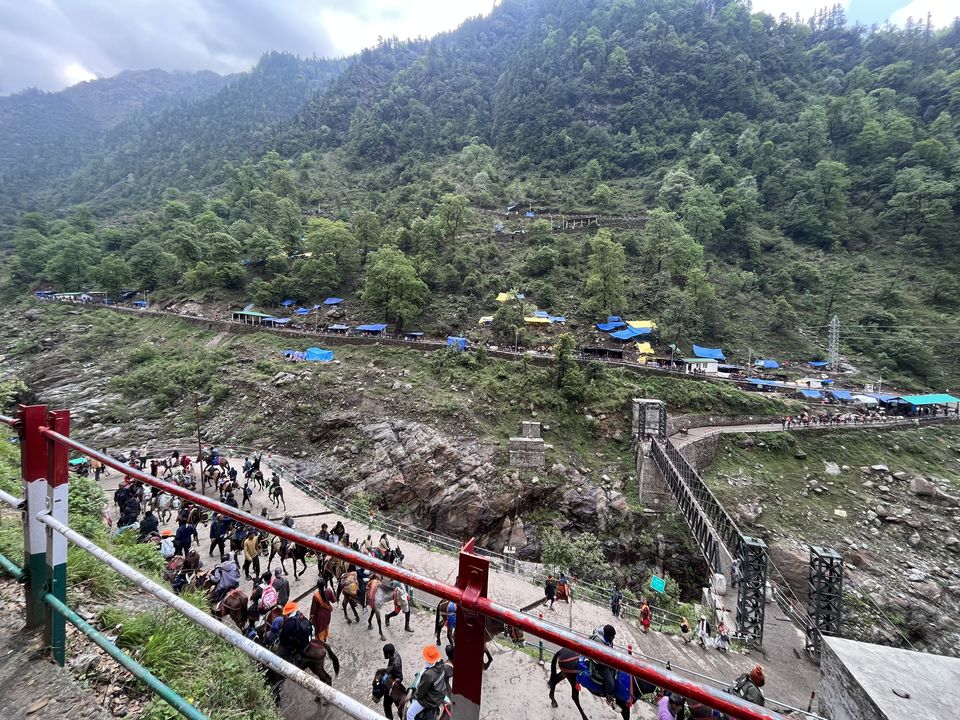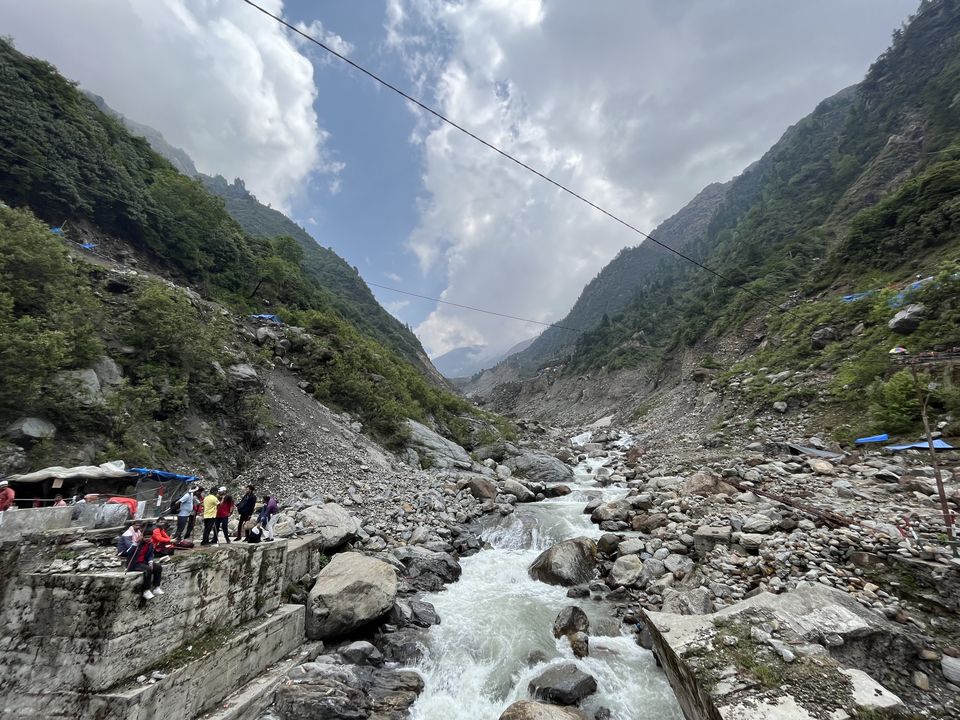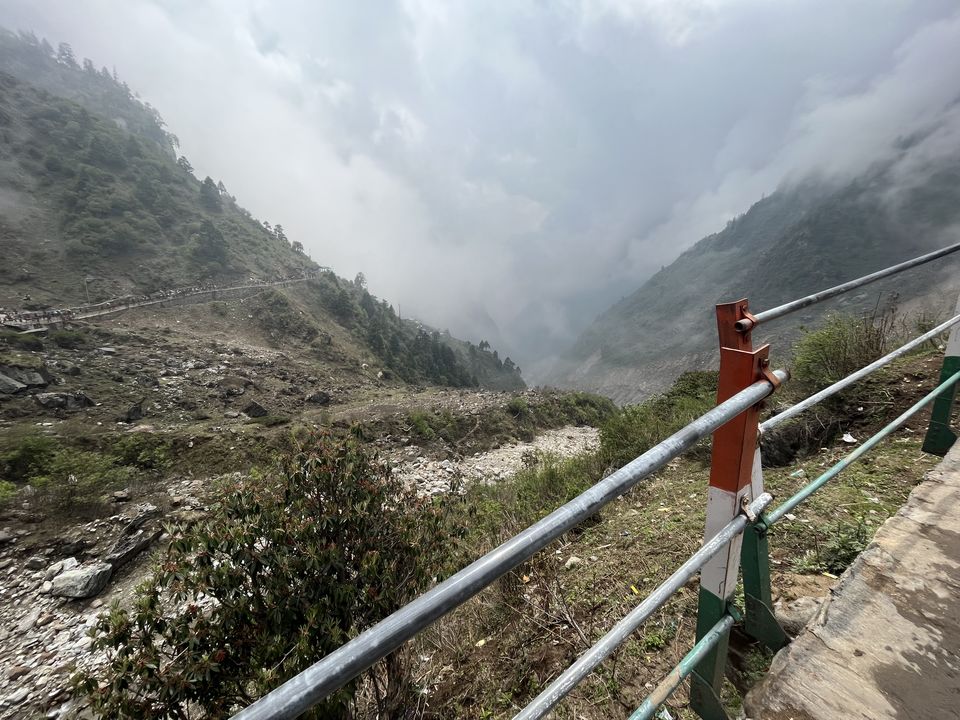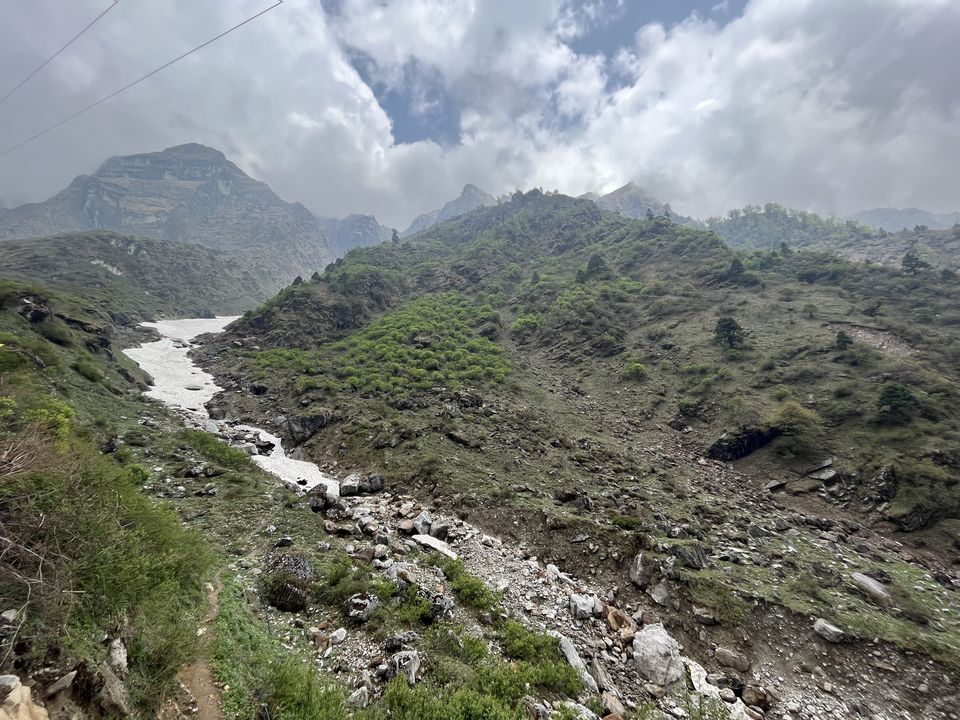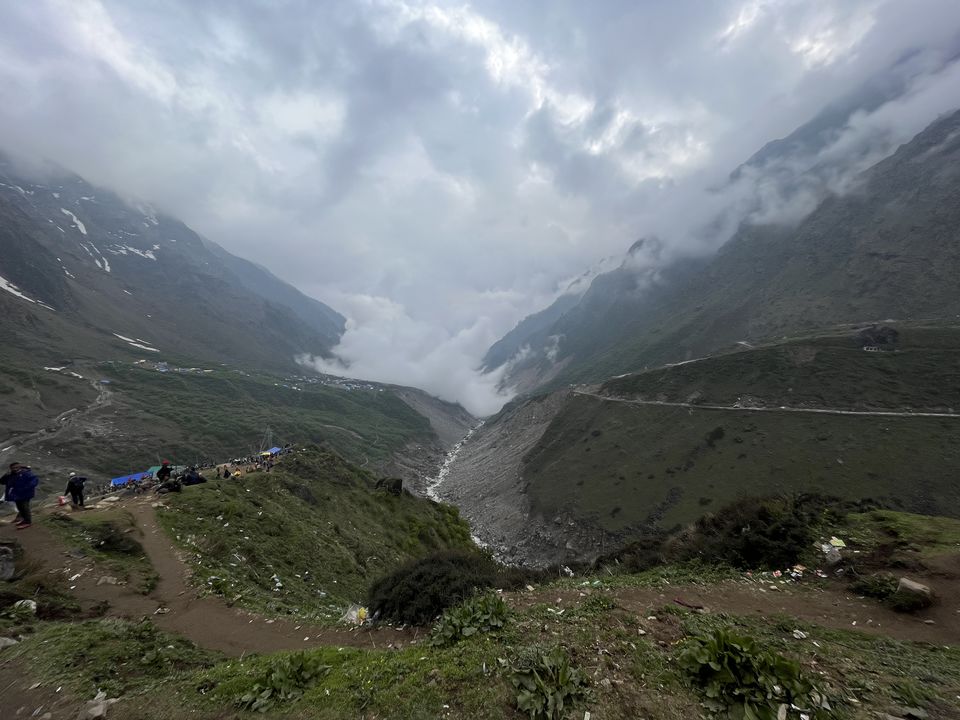 On seeing the temple from afar itself, the whole trip was worth the effort. There was a huge queue for the Darshan, but I eventually entered the Temple after a long wait in the queue, did the Darshan and attended the evening Aarti. This was epic! The positive aura surrounding this place is certainly brought a tear to my eye, thats when I looked up into the sky as the bells rang during the Aarti, and thanked for the good life.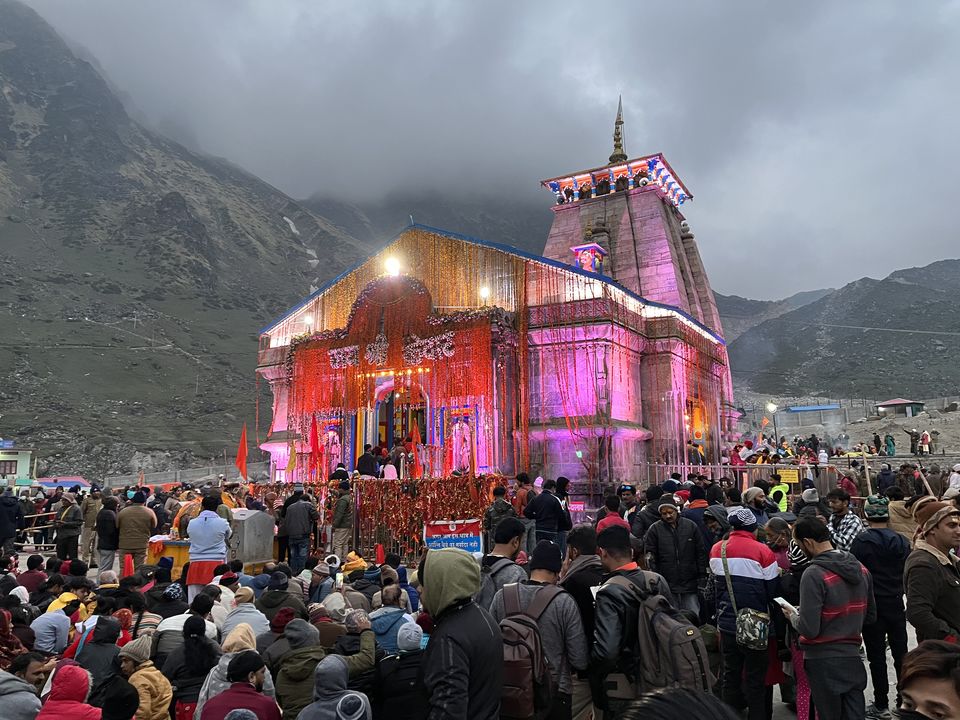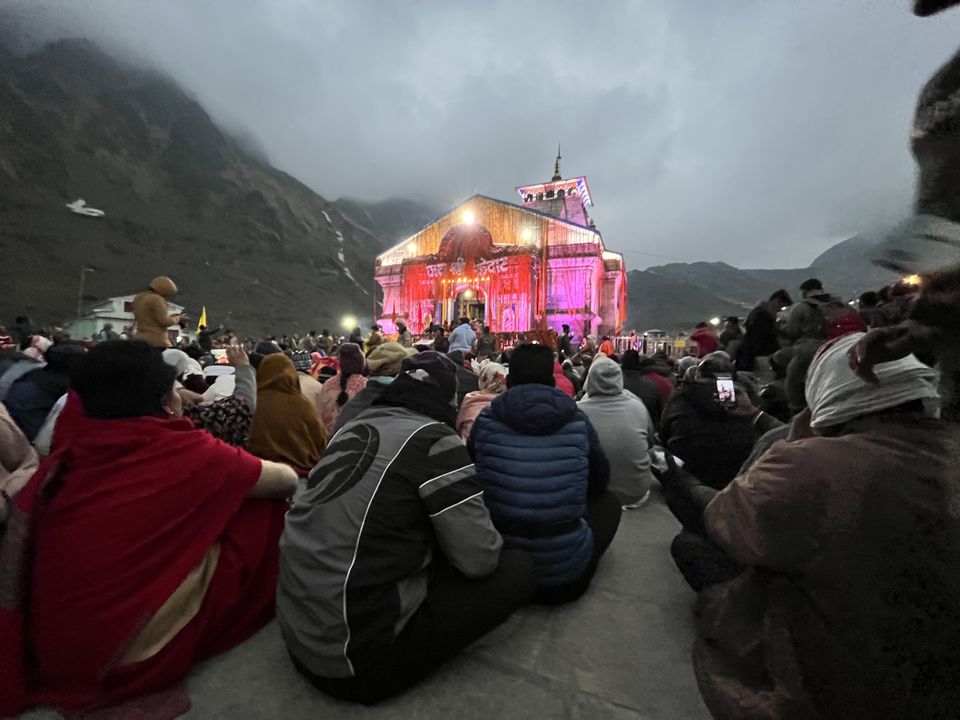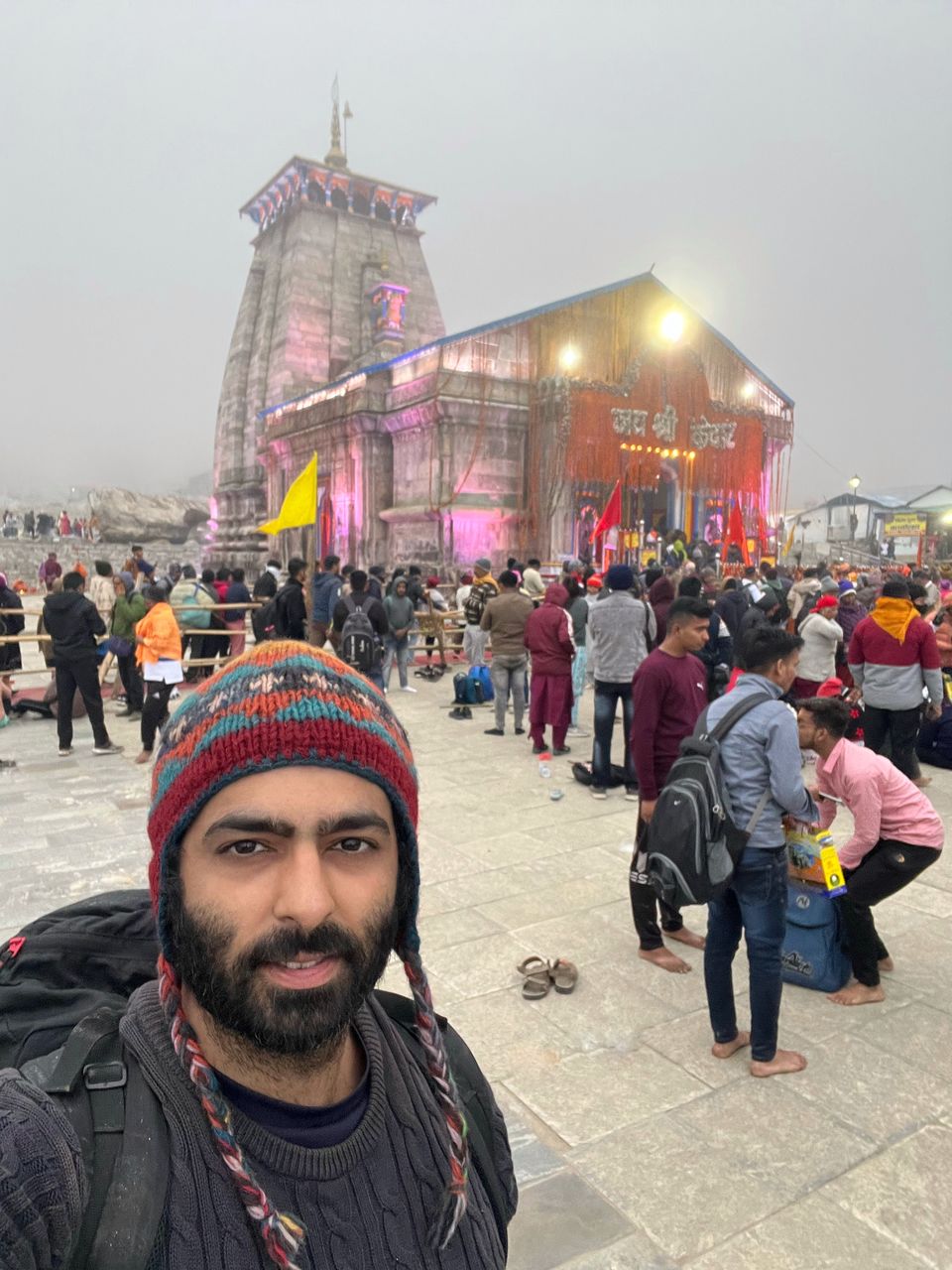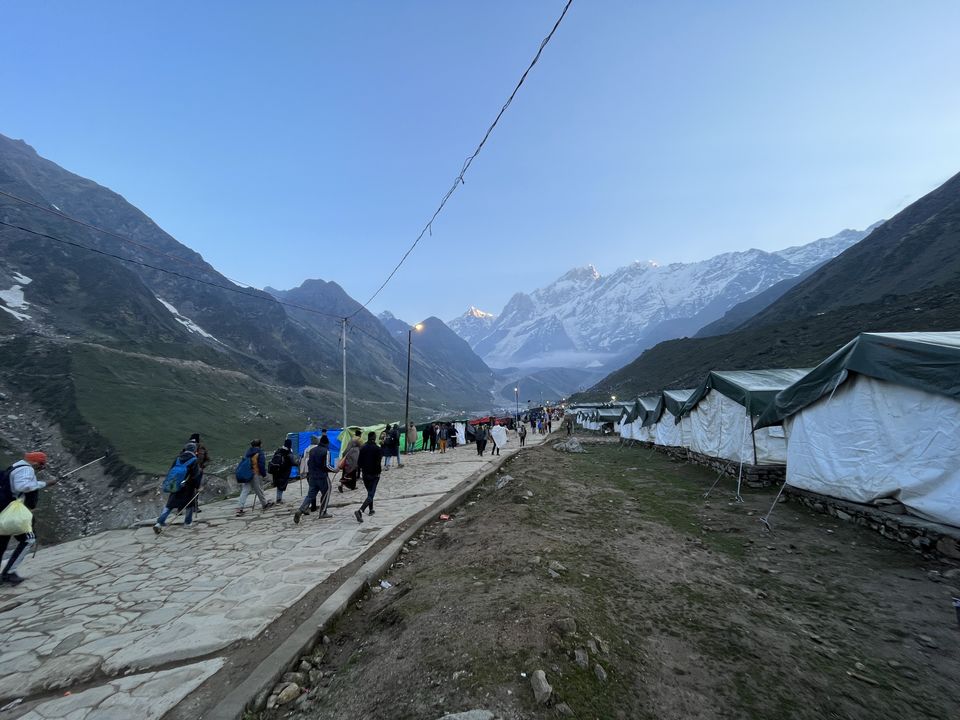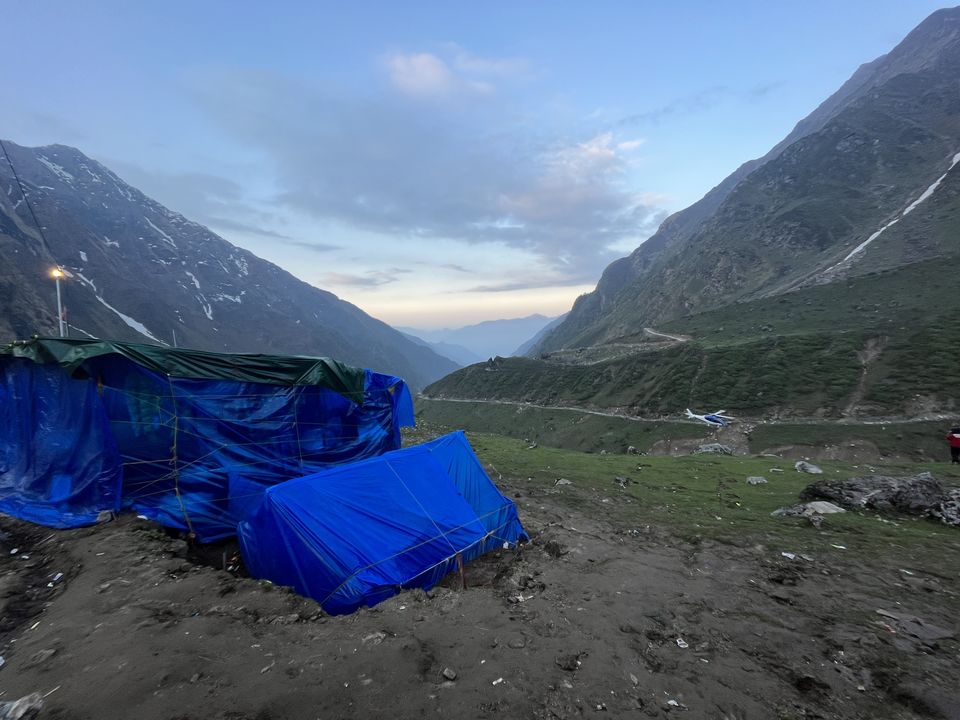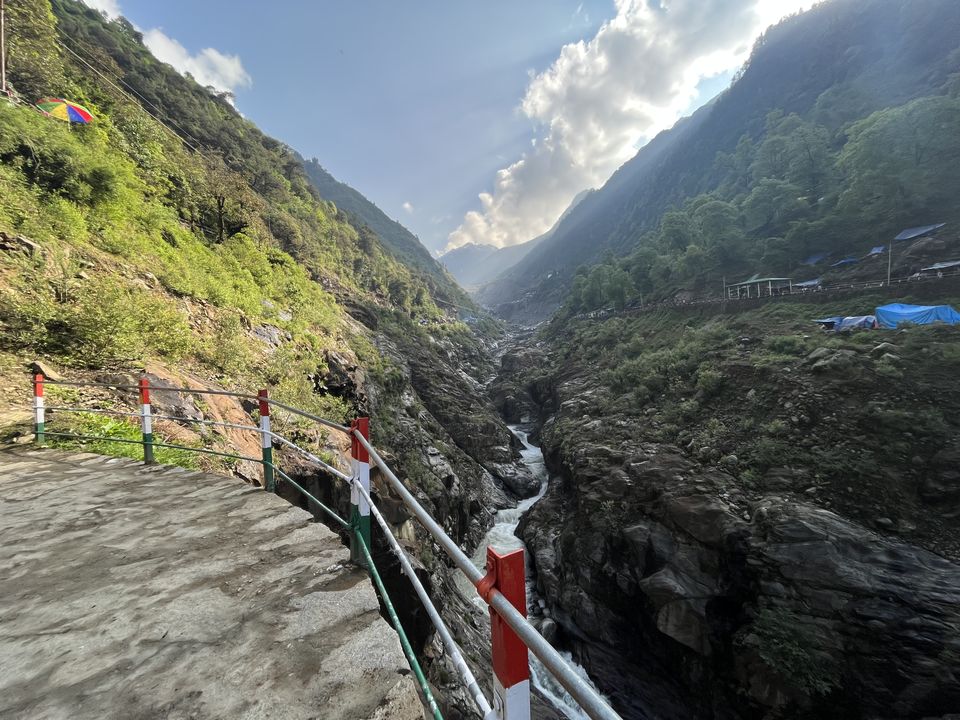 Day 8 - 13th May 2022 (Kedarnath to Sonprayag to Rishikesh, Trek down 20 kms & ride 200 kms)
I was staying in a tent for the night and left early morning at 5:45 AM for my trek down. The trek while getting down was relatively easier and was able to reach Sonprayag in 5 hours.
After reaching Sonprayag, I got my belongings from the locker facility, geared up, loaded by bags on the bike and then left for Rishikesh. I stayed at Moustache hostel, Rishikesh for the night.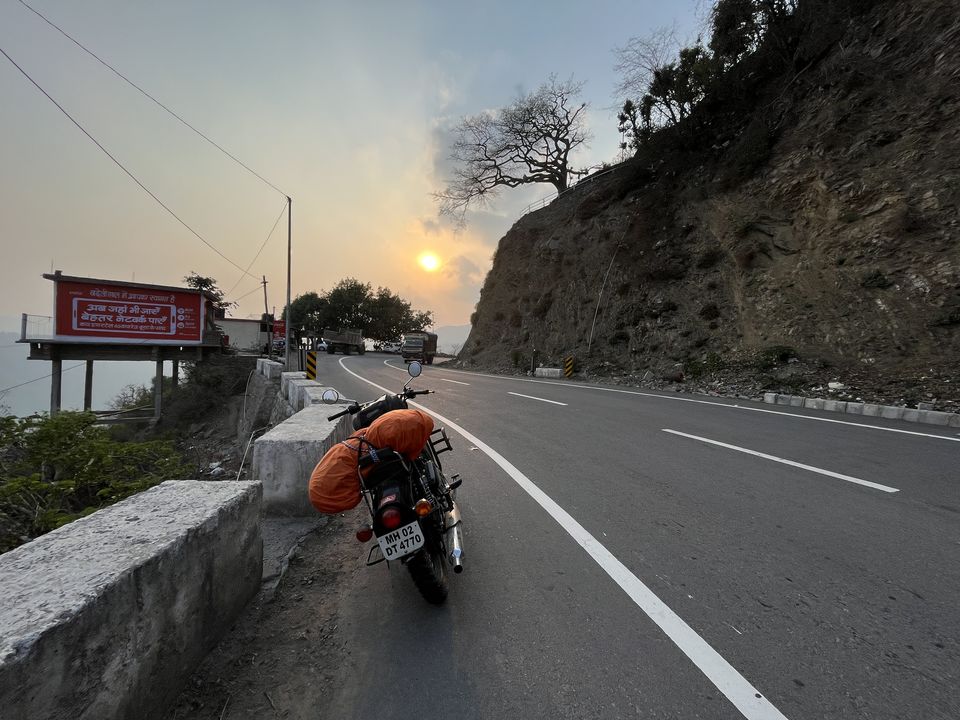 My return journey back to Mumbai was in a similar fashion, so I will only cover the important points and things to remember below.
Day 9 - 14th May 2022 stay - Moustache Hostel, Delhi
Day 10 - 15th May 2022 stay - Zostel Jaipur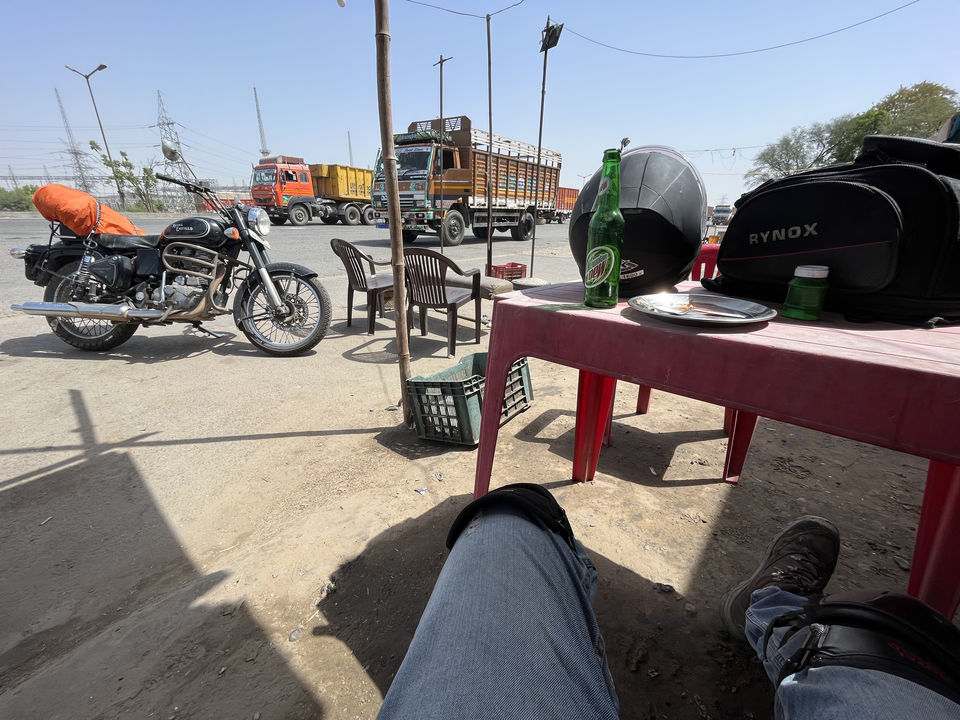 Day 11 - 16th May 2022 stay - Moustache Hostel, Udaipur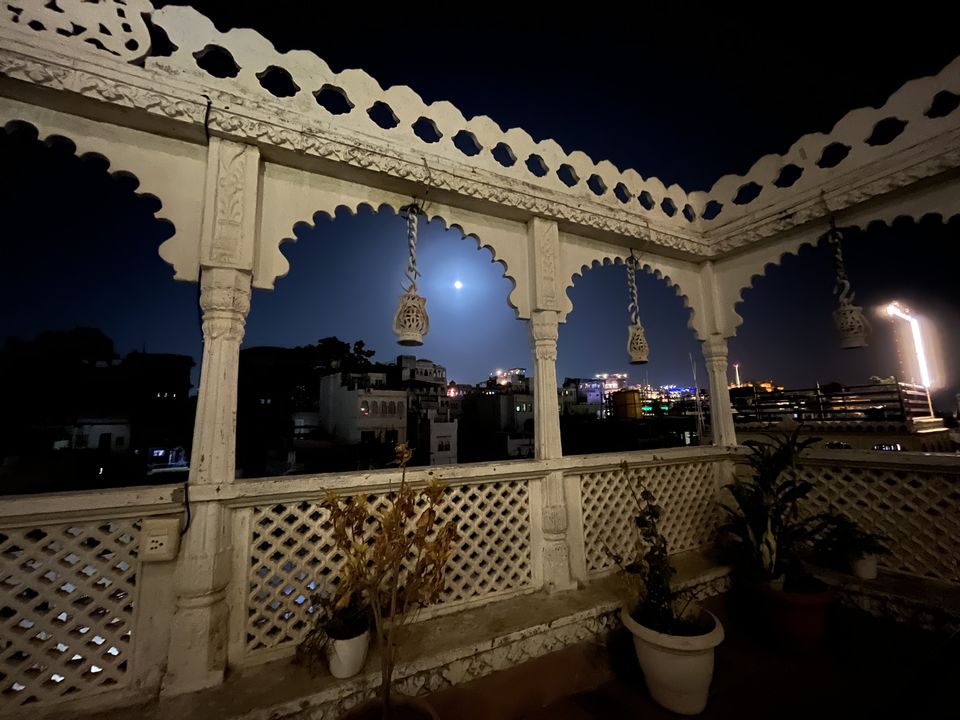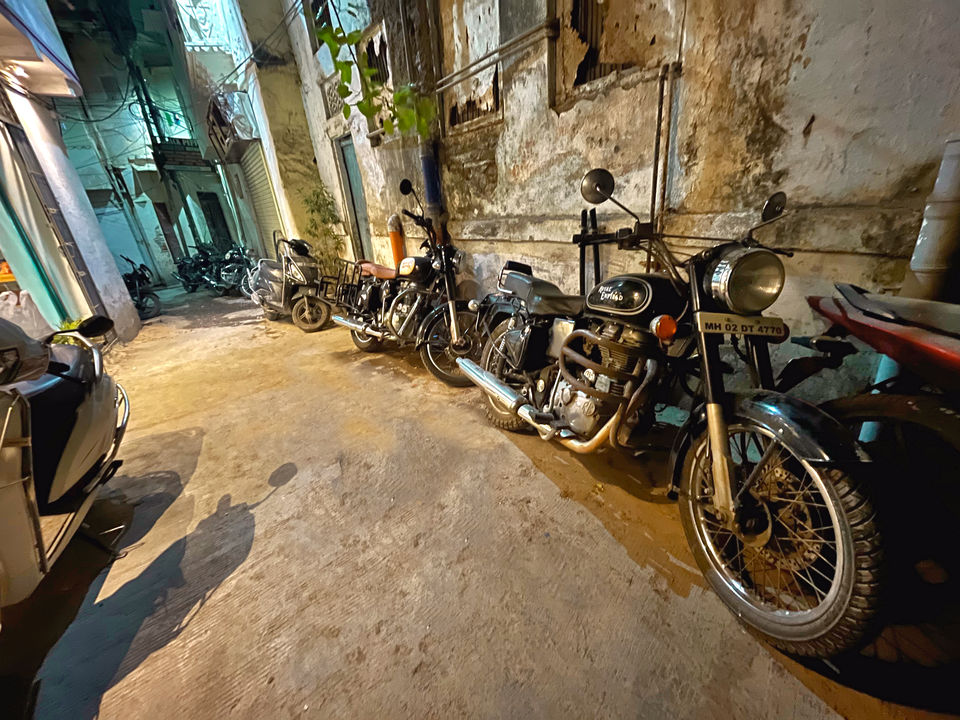 Day 12 - 17th May 2022 stay - Hotel Marigold, Vadodara
Day 13 - 18th May 2022 - Mumbai
Finally, after a successful solo trip on my trusty Royal Enfield Bullet, I reached home pushing my limits and gaining a rich experience. :D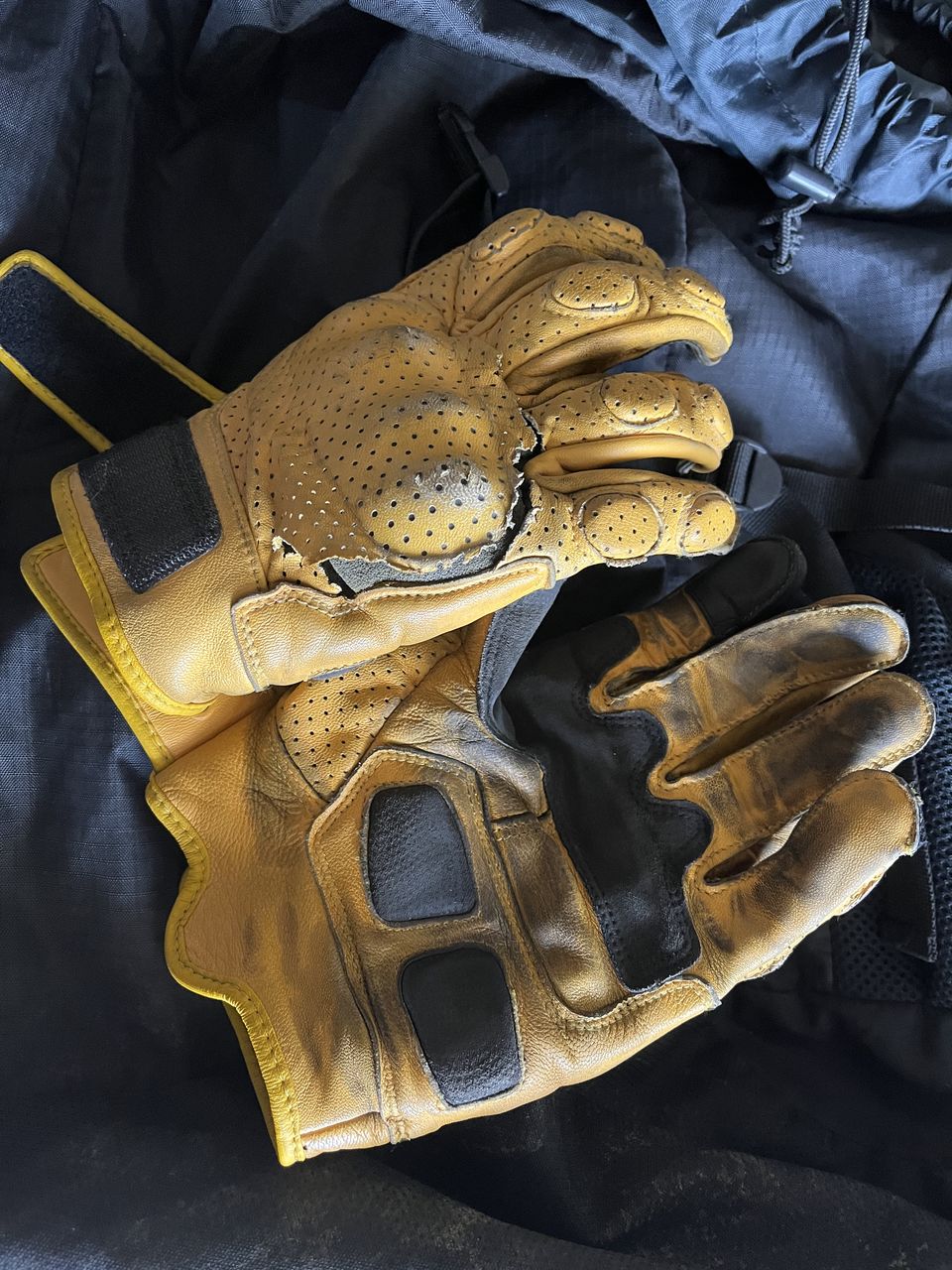 Points to note:
1. In heated conditions:
a. Keep a check on the tyre air pressure
b. Keep yourself hydrated
c. Do not use mobile navigation while exposing it to the sunlight for extended periods of time (I got a temperature warning on my phone atleast 5-6 times)
2. If you are planning to visit Kedarnath, please register yourself on the site below:
https://registrationandtouristcare.uk.gov.in
This is mandatory as you will be stopped and asked for the registration completion pdf while on your way to Sonprayag. In case you miss to do this, you can do it at the police check-post as well.
3. Apart from the above, I was not stopped for any kind of other checking at any state border (no covid related restrictions or in general)
4. Please check any covid related news / Char Dham news before you plan your trip
Thank you for your time.
Hope this was helpful; for any further help, you may comment below. I will try to respond as soon as possible.
Alternatively, you may reach out to me on my Instagram - @sahilrele
#solotrip #motorcyclediaries #kedarnath #royalenfield