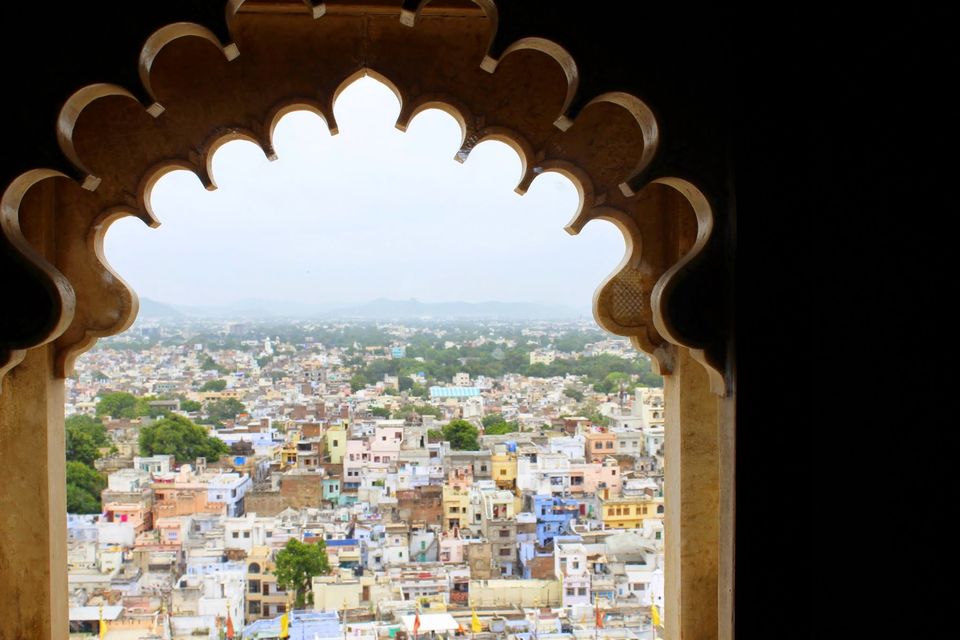 As the long weekend of 15th August approached us we panicked!! None of our plans had materialized. From Kashmir to Manali every place was booked. Rajasthan was instantly written off given the heat and the sun!! Thanks to weather apps and google, we chose Udaipur. Choosing Udaipur made way for another battle every decent hotel which could feature in MakeMytrips of the world was full on that weekend.
With the plan drawn we four started our road trip on 15th 4:00am from Gurgaon. The roads were clear and the weather was fabulous. Google Map was our sole guide on the road. The journey from Gurgaon to Udaipur was amazing; we just had to follow NH8 with little deviations towards to end of our journey. The highway is well equipped with food options and bars for people interested in grabbing beers:)!! Once close to Udaipur we took one wrong turn which took us to a hilly road, and that was indeed a beautiful mistake. It was scenic. With a little drizzle andbreeze, Udaipur city welcomed us!! With 4-5 halts the total travel time was 10hrs. We reached our hotel at about 2:00pm.
Now before I tell everyone how awesome my trip was ..let me tell you about our Hotel/Hostel "Zostel". Amazing place. If you don't stay in the many 5stars/7stars in Udaipur then i recommend that you should stay in Zostel. It's a hostel chain started by IIMC alumni. They have options of Dorms, Single Rooms and Double Room. The location is amazing. It is next to City Palace and just at the lake. We spent for 2 night which costed us 2.5K for two double room.
Day1 15th Aug: I fell in love with Udaipur the moment we enterted the narrow lanes in the heart of Udaipur. Anywhere you look you will see Handmade diaries, leather bags, antique shops. As we reached Zostel only by 2:30, by the time we had lunch and relaxed it was 5:00pm. Our day was nearly wasted in travel. Udaipur has such a huge list of TO DO Things that we could afford to waste any of the time left. We straight went to Baggore ki Haveli which is a stage for puppet shows and Rajasthani folk dances. It is very entertaining and not at all boring for people who usually feel that cultural is boring. Around Bagggore Ki Havelli is lake side view front, where one can sit and enjoy the lake views. The narrow and interesting lanes leading to the place are also home for German Cafe, korean Restaurant and Italian food. Dinner and drinks was planned at Zostel terrace at it has the most amazing view of the lake.
Day2 16th Aug: We start our day early and our first on the list is The City Palace. It took us more than 2 hours to cover the palace. Post this we went for lunch at Natraj. #Natraj is famaous for its Gujarat and Rajasthani thali. The place is as good and has some dishes better than that of Rajdhani. Post lunch we went to see the Monsoon Palace. If you dont have much time you could give this a miss. The place looks the best in Monsoon as the clouds cover most of the place. It is not maintained much and hence a little dirty. Then we went to Rana Pratap Memorial, a boat ride on the Fateh Sagar Lake. The boat ride on Lake Picchola is better than Fateh Sagar. We went back to Zostel and then our agenda was to try the famous street food in Udaipur. The top of our list was the famous "boiled egg bhurji" near Chetak Cinema. IT WAS YUMM!!
Day3 17th Aug: We left Udaipur post breakfast and reached Jaipur by 3:00pm. As all of us had been to jaipur number of times there were just limited things that we wanted to explore. We went to #Rawat for pyaz kachoris and khandvi. For people with a sweet tooth do try Mawa Kachori. Then we went to see the light and sound show at Amer Fort. It was mesmerizing. I have never seen history been told in such a spectacualr fashion. The narration makes you fall in love with Amer. The show happens in Hindi and English. I woud suggest to go for Hindi as the narration is done by Amitabh Bacchan. For dinner we went to #Handi and tried there famous Lal Maas curry. Post dinner we went to #Sharma Dhabha located at Sikar Road. Everything at the dhabha is good but we went only for Mawa Naan.
Day4 18th Aug: Back to Delhi. Only stopover @ Rao Dhabha on NH8.
PS: For people traveling by bus or train to Udaipur, you do have options to hire bike or scooty for local travel.