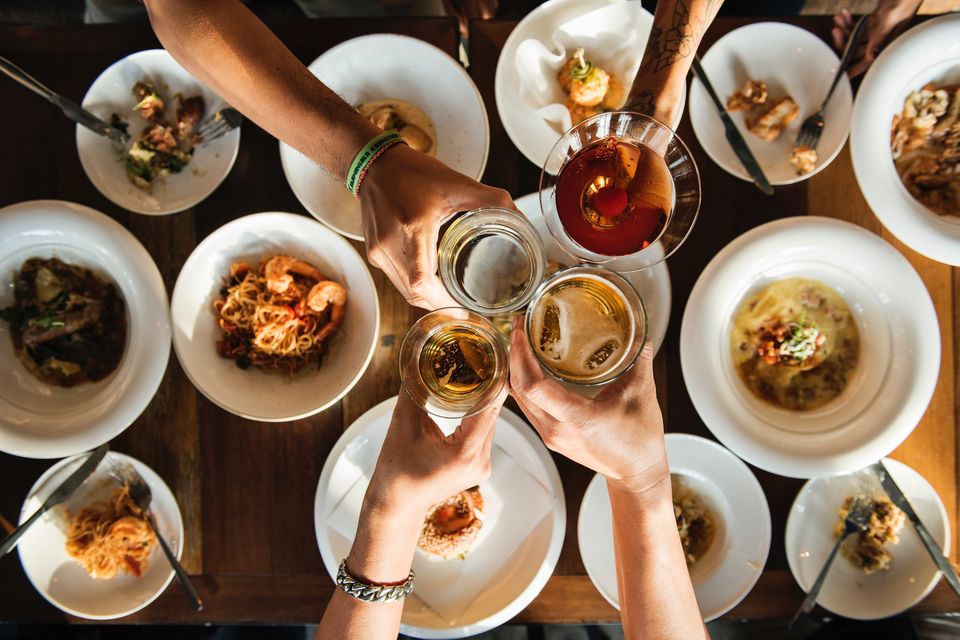 There is only one acceptable reason for not eating at a hotel buffet breakfast and that is if you're not staying at said hotel. And if you are on vacation, there's no reason to not be staying at a hotel that offers a breakfast buffet!
I have been in love with these lavish spreads for as long as I can remember. My first time trying was when I was 12 or 13 and my dad had a conference at a five-star in Jaipur. I tagged along for one night and then for breakfast next morning. The moment I entered the food hall, life as I knew it, changed. There were trays after trays of food and you could eat without restriction. I could feel my mouth watering and eyes bulging with excitement as I looked up to my father for the nod. Once I had it, there was just no stopping. I ate so much that day that I ended up being sick for the rest of the trip. But that only strengthened my love for buffet breakfasts.
At home my breakfast usually consists of eggs or cereal with a little bit of milk. When I am at a buffet spread however, my inner Cookie Monster comes out. And I don't just go for the cookies, to put it mildly. Also, hotel chains are my favourite in this respect. Even if you're not going to a five-star property, you can assume that you will end up getting a standard buffet menu that definitely doesn't lack variety.
I sadly also know many people who find buffets overwhelming or just a waste of money/resources. To them I say, you don't know the art of navigating a buffet spread. It requires skill, precision and a certain order of dealing that I am about to share with you today. Get ready for the culinary journey of a lifetime.
Step 1
Set your alarm for half an hour before the buffet begins in the morning. Usually 7.30am. This is crucial.
Step 2
Wake up in a panicked frenzy, afraid that you've missed the three-hour buffet spread window and will now have to survive on tidbits from the mini-fridge. Look at the time and relax that you still have half an hour to go before it even begins. Lie down for a bit again.
Step 3
Stumble out of bed at 9! There's only an hour left before they start clearing the stands! Get up! Get up! Get up! There's no time to freshen up! Just change out of your jammies and head straight for the goal.
Step 4
Shuffle into the breakfast hall. Look around to assess the situation – where do you see the maximum crowd, is there a queue in front of the toaster, which food items are being re-stocked, where are all your favourites, and so on. Once you have a rough idea of everything, look for an empty table preferably in a corner where you don't have the risk of running into anyone except maybe the waiter who is going to serve you coffee.
Step 5
Place your coat on the chair. You need to mark your territory. And then head on over to collect your plate and start gathering.
Step 6
Start with the lighter items first – fruits, muffins, pastries. If you're at a fancier place you might be able to find sushi, sashimi or just smoked salmon. Just fill your plate up to the brim (or whatever you can manage to eat, because we don't waste food here). Then head on over to the juice counter. Fill a glass with orange juice, while thinking about the other flavours but deciding wisely, and gulp it down so you can fill one more glass to take to the table. Oh and don't forget to grab a couple of those tiny packets of Nutella, butter and jam. Once those are taken away, you'll just be left wanting for more.
Step 7
Empty your plate of the delicious grapes, watermelon slices, and the plateful of pastries before heading to the plate counter again to pick up a fresh one for the next leg of your breakfast adventure. Skip the cereal. If you want to eat cereal at a buffet spread, I have lost faith in your existence. By now, all of those mysterious silver trays will have been restocked. Dash with your plate to the first one (try and cut the line if you can, it's just a lot of fun to see the look on people's faces). Open with apprehension. The first one has sautéed veggies. Meh! Move over to the next one.
Step 8
Open the second tray. Sausages! Jackpot! Take 3-4. Keep moving down the line, accepting hash browns, slippery fried eggs, pudding, cold cuts, and anything else you like. But make sure to reject beans and porridge on the grounds that you can't really be eating healthy on holiday. If you can find bacon, which is going to be tough in Indian hotels, pile half a kilo on to your plate too.
Step 9
Head on over to the toaster. Eye each type of bread carefully and then choose 4 different slices – one of each variety. Think about how you are going to finish so much food. Tell your rational brain to shut up and carry on. At this point, it is a boon if you have someone with you to share your gatherings. Take your plate of delicious, hot food over to your table and dig in.
Step 10
Take your own sweet time to finish everything on the plate (again, no wastage! If you know you won't be able to finish, you should've taken less to begin with). Once you're done, prepare for the next round. You are now going to try all of the unique and local food items. If you're staying in South India, give the idli sambar a try; if you're in Punjab, make sure to have a little bit of the choley bhature. Frankly, if you don't give regional cuisine a try, why are you at the buffet!
Step 11
Ensure that you've befriended at least one waiter who will serve you hot coffee throughout the meal instead of the watered down mess you will find at the coffee station. Use the coffee to gulp down as much food as possible. Once you're done with your regional/local round, unbutton the top of your pants and take a deep breath.
Step 12
Button up your pants again, slyly – you don't want the other 100 guests in the room to see – and then head back to your room. Sift through your luggage to find the bottle of Digene that you had packed (it's a sad day if you hadn't). Gulp down half the bottle and slump back into one of the chairs in your room. Wait for the Digene to show its effect so that you can get up and make your way to the bed where you will sleep off the food-hangover till you're digestive track gets ready for the next meal.
That my friends is how you experience gluttony at its finest. The point is to take your inner-foodie out for a spin sometimes. And I can vouch for the fact that there's no place better than a hotel's breakfast buffet to do that.
Want to find out more about indulgent food experiences? Read my experience of finding the best street food in Varanasi. And if you have something to contribute about your travels, write about it on Tripoto.