Breaking free from the twin clichés of being a 'Pensioner's Paradise' and the 'Oxford of the East', Poona (Pune) has quietly but quickly become one of India's hotbeds for nightlife, entertainment and a pervasive outgoing culture. While a fantastic live music scene brimming with great little bars, vibrant open-air venues, increasingly frequent gigs from major acts, and an always up-for-it crowd are the main reasons behind this reinvention, the city's eateries have also contributed strongly to this liberal resurgence.
Earlier confined to an intermittent weekend activity, eating out is now a large cultural movement, buoyed by the presence of some of the country's finest chefs, a hungry clique of hospitality impresarios, foreign influences in terms of both style as well as personnel, and a diversity in cuisines that spans Lebanese, Greek, Mexican and South Korean with effortless ease.
So you've found yourself in Poona for just a day and want to taste the diverse flavours of this charming western Indian city? Here's exactly what you would do…
*******************************
9.10 Perfect dinner finish at Spice Kitchen | After a lot of thought and wrangling over choices, the esteemed dinner spot has been granted to Spice Kitchen at the Marriott. Don't be put off by the fact that it's a 24-hour restaurant or by the fact that it's primarily known for its buffets.
In terms of diversity, mood and flavours, Spice Kitchen scores brilliantly. Spread out over a large interior space with a complementary smaller outdoor patio, the restaurant never feels too cold or anonymous but surrounds you with warmth and a welcoming vibe instead. The fact that there's almost always a crowd in here also ensures that necessary buzz that every great eatery requires.
From the a la carte selection, the Tandoori Roasted Chicken Kathi Roll makes for a delectable starter, crisp and bursting with Indian flavour. Now onto an Italian sojourn, where the Rucola Wood-fired Pizza is a rustic delight, brimming with flavours of Parma ham, tomatoes and parmesan. But the dinner buffet is a sophisticated, subtle affair too, where you may choose from grilled meats, oven-baked pizzas, excellent tandoori kebabs, and a divine dessert selection. Leaving you in just the mood to head up to the Marriott's rooftop lounge Pasha and call an end to your day-long culinary adventure in Poona.
020 66832345 | Pune Marriott Hotel & Convention Centre, Senapati Bapat Road
This selection has featured many of the city's enduring favourites. But to get a true-flavour of modern-day Poona, you must dive wholeheartedly into plenty of the new addresses and personalities that have taken the city by storm over the recent past, and continue to crop up with vibrant regularity.
Some have been around for a short while, while others are newborn and fresh to the world – but each is not to be missed. These include Dravida's Bistro at Dhole Patil Road, which serves what is easily the best South Indian in town. A perpetual fine-dining favourite continues to be Stone Water Grill in Koregaon Park, a sophisticated paean to the good life.
Greek hotspot Euriska has quickly established itself as a firm contender with its heady mix of throbbing nightlife and delicious Mediterranean fare. Olive within the Poona Club premises is a worthy companion to its Brandra predecessor in Bombay, offering up what many would consider to be an even more delicious and attractive proposition to its patrons with its fabled Sunday Brunch and an aesthetic centred on textured stone and pure white. While in Le Plaisir on Prabhat Road, Poona finally appears to have unearthed a homegrown, standalone gem equipped to match French and Italian chops with the larger hotel-based giants. Bon Appetit.
*******************************
Frequent searches leading to this page:-
eating places in pune, dinner places in pune, food places in pune, best lunch places in pune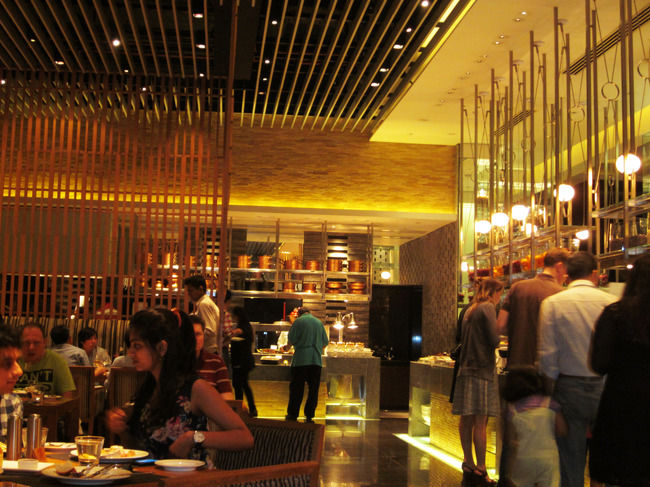 7.30 Breakfast at The Flour Works: They say well begun is half done and if you've commenced your morning with a hearty breakfast at The Flour Works, you're pretty much set for one excellent day. This lovely European bakery and café is a delicious affair, right from it's spaciously verdant outdoor space to it's music selections to it's offerings.
At Flour Works, the breakfast experience can be encapsulated in one word – eggs. Don't bother having them poached or scrambled or whipped into some sort of European omelette concoction and just go straight for the money shot – the Eggs Benedict. A soft, fluffy, sinful treat, it's not for nothing that Eggs Ben at FW has become the breakfast mantra for those in the know, ably finished off but naturally with a light Banana Crepe brimming with natural honey.
theflourworks.com | 020 2668 0474 | North Avenue, Kalyani Nagar
11.30 Snack at Vaishali | You don't get to be known as an institution for nothing. For over six decades now, the humble Vaishali has been a cornerstone of the Poona foodie guide. Grab yourself a seat in its perennially packed outdoor garden space or cosy rooftop area, and get a firsthand view of Poona's fabled college culture.
Vaishali is a few hops & steps away from the venerated Fergusson College, and as such attracts the college crowd like moths to a flame. As for what you're going to order, it's a toss-up between the crisp and filled-with-bhaji-goodness of the Vaishali Special Masala Dosa or for a more Maharashtrian touch, the light and yummy Sev Potato Dahi Puri. You're not going to go wrong either way.
www.vaishalihotel.in | +91-20-25531244 | Fergusson College Road
1.45 Lunch at Terttulia | For a perfectly lazy lunch, you're invited to probably the best among a wealth of cool eateries packed into Poona's bohemian quarter – Koregaon Park. This bistro/café/tapas bar is the ideal place in which to take a close friend or loved one and while away an entire afternoon.
Have a seat at the fresh and quirky outdoor shaded patio. You could begin your meal with one of Terttulia's fantastic sandwiches, and the charmingly named Aphrodite Panini - with feta, walnuts and mozzarella grilled in whole grain bread - is just the trick, arriving in style on a rustic wooden Italian bread plate.
For your mains, choose the Smoked Salmon 'n Cream Cheese Pizza with onions, capers and dill – a deliciously distinct set of ingredients that come together to form something special. All complemented of course by a stinging Orange Basil Mojito and the friendly chatter of a nice assortment of people.
eatdrinklove@terttulia.com | +91 20 2605 2180 | Lane No. 5, South Main Road, Koregaon Park
4.35 Afternoon tea at the Shisha Café | It's time to while away all earthly concerns under a sprawling and leafy canopy, within earthy wood-and-carpet environs and beside the soft murmur of jazz. The Shisha Café is a wonderful Indo-Iranian destination that compels you to laze away on comfy divans, surrounded by foliage and a mountainside kebab house feel, in the company of a cult following who simply can't do without their daily dose of Shisha.
A bohemian take on the traditional Indo-Iranian corner café that Poona is famous for, this place lulls you into submission with its constant supply of Irani chai served with dates, stirring Turkish coffee and wisps of fragrant shisha smoke. As you lay back, taking it all in, promise yourself you'll return on a Thursday night when the place turns into a bonafide live jazz venue featuring some of the purest jazz to be found anywhere in the country and an unparalleled ambience to boot.
http://shishajazzcafe.in | +91 20 65200390 | ABC Farms, Koregaon Park
7.10 Evening bite at Marz-o-Rin | Every city has places that are known as institutions. And then there are those that become legends. The humble Marz-o-Rin café is inextricably linked with the history, flavour and culture of Poona. Housed in a century-old heritage building, this time-worn café has retained the charm, homeliness and down-to-earth pricing that was its original trademark.
Sandwiches, rolls and burgers remain Marz-o-Rin's forte, and in a nod to changing food sensibilities, you can order all of these in whole-wheat and multigrain versions. Standouts remain the always nostalgia-inducing Green Chutney Sandwich, the Multigrain Paneer Roll and the Whole-wheat Chicken Burger with in-house Mayo. All washed down of course with the sensational Marz-o-Rin Cold Coffee.
To enjoy the café as you're meant to, take one of their tiny tables on the cute upstairs veranda and settle down with a slice of sugar-free plum cake, as the traffic below on MG Road rushes by obliviously.
www.marzorin.com | 020-26136690 | Bakthiar Plaza, Mahatma Gandhi Road