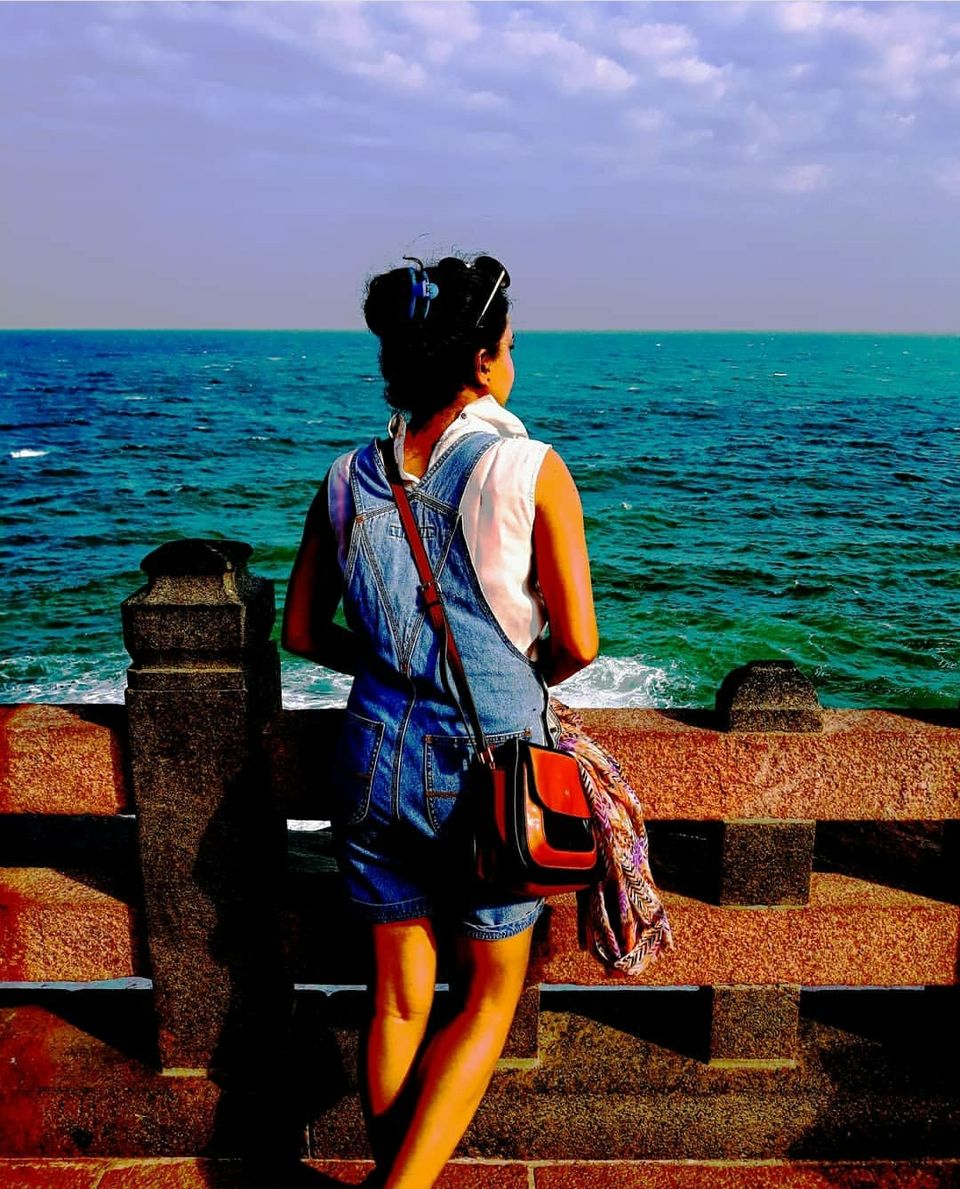 Yes I have a regular job and no, I have no intention to resign. But I still have managed to do a trip almost every month. The year 2018 was not a great year for me, rather it was one of the toughest years of my life. Though escaping from what was going on in my life was not possible, but escaping to some beautiful places kept me going on. My travel diary helped me to fight against some of my toughest times. That's why I follow this mantra "when nothing goes right, go on a trip". The year started with a trip to Kanyakumari and exactly one year later I got Leh'd with a stopover at one of the easternmost states of our country- Nagalad. So let's start my journey from Kanyakumari to (then) Kashmir.
Jan-Feb 2018: Kerala and Kanyakumari
It was my friend's wedding and my birthday on the same date. And also my first time to attend Kerala shaadi. Though it was a very short trip, but another friend and I didn't miss the chance to explore in and around of Trivandrum. One day we visited two beautiful beaches- Varkala and Kovalam. Both the beaches are very very beautiful. The beachside cafes and restaurants are the best place to chill out. Other day we visited Poovar Island after enjoying a brief backwater ride. From there we went to Kanyakumari, the southernmost point of mainland India. We took ferry to visit Vivekananda Rock memorial. Then we enjoyed the sunset and also the historical lunar eclipse along with blood moon on our way back.
February: weekend trip to Kaziranga National Park
I wanted to go on a jungle safari for a long time, in February finally I could make it. It was a great experience to see the one horned rhino for the first time that too in front our safari jeep, the elephants, different types of deer, birds, tortoises and many more. A road trip along with this jungle safari made my day.
April: a weekend bike trip to Jhalong-Bindu at Dooars, West Bengal
Jhalong and Bindu are two beautiful small hamlets nested in the Himalayas in Kalimpong district of West Bengal. Bindu is the last village on Indian side bordering Bhutan. We started our one day bike trip from Jalpaiguri town. The road which is cutting through mostly forests is definitely a must try for a road trip. India's second oldest dam is situated in Bindu. This place is famous for its landscape with hills, river and forests. Also on the way to Bindu from Jalpaiguri one has to cross the Gorumara National Park and if are lucky enough, you can get to see elephants or other animals crossing the road just like us.
May: Puri, Odisha
This trip was solely for relaxation as me and my girlfriends badly wanted our much needed break and this meet-up was to relieve our everyday stress. When I was on leave to visit my hometown Kolkata, we planned this trip. We booked a beach side hotel so that we can enjoy the view of the sea from our window while having our never ending chitchat. Since our sole interest was to chill, we didn't plan all the tours. Though we visited the famous Konarak temple along with the beautiful Chandrabhaga beach and the famous Jagannath temple. Though it was a very short trip, we didn't miss any chance of shopping and eating. On the day of our return we treated ourselves with authentic Bengali cuisines at "Sholo Ana Bangali" as we are.
June: Tuensang, Nagaland
In June I had to visit to Tuensang for some work. Initially, I was a bit skeptical about how it was going to be to stay in such a far flung place which is very interior, almost near India-Myanmar border. When I started my stay there, slowly I fell in love with the place, the weather, the people out there. Tuensang is a very beautiful small hilltop township and the weather is pleasant almost all the year except winter season and the rainy season prevails there almost 8 months. It is connected with State capital Kohima with daily sumo service and Dimapur(Airport and Rail head, Rajdhani stops here) with daily sumo service and night bus service. Though the journey is a hectic one, but getting the opportunity to stay among and with the local Naga people was really a great experience. Heli service is also there from Dimapur airport twice in a week. Gradually I started to mingle up with local Naga people and they are so welcoming. One family, who used to be my neighbours, have become my family away from my family. Because of them I got to explore the local culture and specially the local foods as most of the time I used to eat at their place only. And also the cultural as well as food exchange, as they never left me alone in any of my festival so that I don't feel sad and we used to have picnics with Bengali and Naga foods. Simply it was a paid STAYCATION which I enjoyed a lot.
August: Delhi-Amritsar
In August I visited Delhi for work and from there I along with my friend went to Amritsar during weekend. I have two friends from that place. So they took the charge of our Amritsar trip. They took us for a food tour. We tried the famous Amritsari Chhole-Kulche followed by a big glass of lassi, Amritsari fish, a lunch at Bon Gateau, a dinner at "Haveli" reastaurant. At midnight we visited the Golden temple. Amritsar trip without Amritsari jutti doesn't sound good. So we definitely can't miss that.
October: Mon, Nagaland
In October I visited Mon in Nagaland. Mon District of Nagaland is the home of famous "Headhunters" tribe Konyak. The must visit place is Longwa, a border side village, part of which falls in Myanmar too and also visit the King's house. This was also my paid trip.
November: Bachelorette trip to Vizag-Pondicherry
When your BFF is getting married, a bachelorette trip is a must do. Though we wanted to go to Goa, but we finally went to Pondicherry via Vizag. Day one we roamed around Vizag followed by a dinner party with dance. We enjoyed a lot. Then we left for Chennai by train. Next day early in the morning, we reached Chennai station. From there we took a cab for Pondicherry. They said it will take around 3 hours to reach Pondicherry. But me and my girlfriends are on a trip and there will be no adventure, how can it be possible? The car broke on the road!! After wasting more than one hour, finally managed to get another cab and reached Pondi. When we reached, it was raining there. We checked in the hotel. Pondicherry known as the French colony is a very beautiful union territory. We rented two scooty and then started our bon voyage. We visited Promenade beach, Serenity beach, Paradise beach, Aurobindo Ashram, Auroville, walked around the French settlements, visited the church. There are lots of beautiful cafes here and there to try definitely. We went to the Pasta Bar Veneto famous for its Pasta (p.s. try Tiramisu here), Cafe Xtasi(very renowned), the Belgian Waffle Co. and some other places too. We didn't plan any of the part of our trip, we just did whatever we felt like. And when you are with your BFFs, nothing more is needed to make a trip a rocking one.
December: Hornbill Festival at Kohima
The Hornbill festival of Nagaland, known as the "Festival of all festivals", is being organised every year from Dec 1 to Dec 10 at Kisama village near Kohima to showcase the indigenous cultures and foods of each of the 16 tribes of Nagaland. The different types of pork dishes with freshly made rice beer is a must try. You can also try some exotic food items also. There are various cultural programs also performed by different tribes.
January 2019: Chadar-Frozen river trek at Leh
In January, one of my wildest dreams came true!! I did Chadar frozen river trek, every adventure lover's dream trek. Walking on a frozen river, watching the water flowing under the hard ice cover on which you are walking very carefully watching your steps, slipping, sometimes falling, if Chadar is not well-formed, you have to climb the rocks during rerouting or walk through the freezing cold water, and the most challenging one is beating the -25 to -30 degree temperature during night and finally seeing the beautiful Nerak frozen waterfalls- is really once in a lifetime experience (though I would like to do it again). Trekking with your bestie and 10 odd people from every part of India, having ultimate fun, becoming part of this unforgettable experience with lots of beautiful memories with my "Chadar Family" is definitely "a walk to remember" always.
Thus my Kanyakumari to Kashmir trip happened a-round the year.
Many more are on the way, so keep reading!! Happy wandering!!! But please take good care of our Mother Earth too.