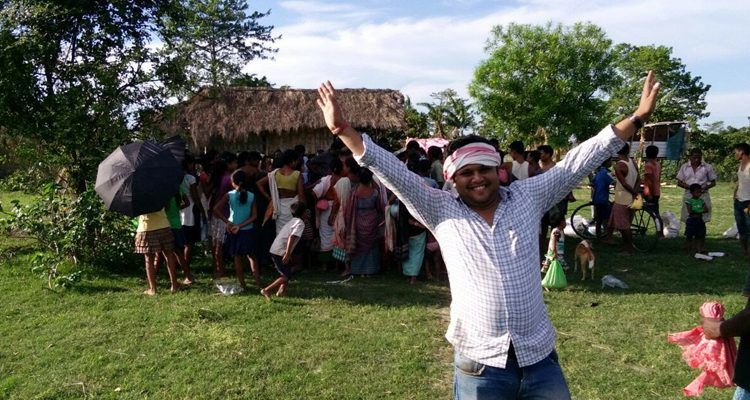 Responsible Tourism in Nagaland
By Imtiaz UllahSpecial Thanks - Prem Prakash (Founder, Sarvahitey NGO)
I have always wondered, wouldn't it be wonderful if we could positively impact the place when we travel. We can contribute in our own small ways, for eg. by not using plastic bags or throwing/ disposing them here and there, not wasting food, by not disrespecting the local ethos and customs, teaching local people skills that we are adapt in, and so on. These baby steps can make a humongous difference and the world will be a beautiful place to live in.
Our lives have become so busy that we have forgotten to enjoy the small but beautiful things in life. I sometimes wonder if the urge to become materialistically successful has completely overshadowed our innate desire of becoming a successful human being. Do we get enough time to travel? Juggling different priorities, I guess not! But we can definitely take out time from our busy schedules to read interesting travel stories, travel or follow our passion, thus widening our perspective in the process as well as refreshing ourselves. It is only fair to be ambitious to earn more and move up the corporate ladder, but don't be swayed away by it. We keep on running the rat-race without realizing what we are running after/ for. But the little time that you take out from your busy schedule to travel, broadens your perspective and mental faculties and in return, you end up acquiring more knowledgeable. Hence, its highly recommended to take out time, travel and broaden your horizon.I have been working in a corporate legal department for 10 years now and still love and enjoy my work. But, in my quest to becoming a successful human being, I also devote time to the NGO - Sarvahitey and also write for the magazine - The Traveller Trails. It fills me with contentment and meaning in life.I am curious to know if it is that difficult to done different hats? To juggle between work and priorities? However, I always believed in the saying: "Run the race that is worth running and know your goals". THE TRAVEL INDUSTRY HAS GROWN BY LEAPS AND BOUNDS AND ADDS SIGNIFICANTLY TO THE ECONOMY OF THE COUNTRY. FOR MANY COUNTRIES, TOURISM IS THE MAINSTAY AND THE BACKBONE OF THE ECONOMY. Most of us love travelling, exploring a new place, experiencing different culture and cuisine, meeting and mingling with the local/ indigenous people. This effectively adds to a refreshing perspective and generally speaking, it helps us in becoming better humans. But the question remains: How responsible are we while travelling? Are we sensitive enough to avoid those practices that would adversely impact a place? It's disheartening to see tons and tons of plastic being disposed off into the seas and oceans. Imagine the plastic waste that piles up in beautiful touristy places! Solution is: act before it is too late! Let our subsequent generations witness the beauty of nature. The pertinent answer to many questions is - Responsible Tourism.
Volunteers cleaning Tirthan Valley, Himachal Pradesh
Responsible Tourism is the concept of visiting a place as a tourist and trying to make a lasting positive impact on the environment, society, and economy. It generates greater economic benefits to the local people and enhances wellbeing of the local communities. It also contributes positively to the conservation of natural and cultural heritage, and proper care and maintenance of nature's diversity. THE LITTLE TIME THAT YOU TAKE OUT FROM YOUR BUSY SCHEDULE TO TRAVEL, BROADENS YOUR PERSPECTIVE AND MENTAL FACULTIES AND IN RETURN, YOU END UP ACQUIRING MORE KNOWLEDGE. HENCE, ITS HIGHLY RECOMMENDED TO TAKE OUT TIME, TRAVEL AND BROADEN YOUR HORIZON.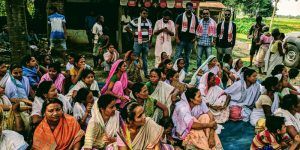 Through this post, I shall try to highlight the adventures, challenges and accomplishment of establishing libraries in remote areas of Nagaland, places of interest in Nagaland, a sneak- peek into Naga cuisine/ local drinks and festivals.
"Nagaland has always evoked a sense of mysticism and awe, intensified by the remoteness of its geographical location."
Nagaland is a mountainous state in northeast India, bordering Myanmar. It's home to various indigenous tribes, with diverse festivals and markets celebrating the culture of the different tribes. The capital city - Kohima, suffered heavy casualty during World War II which is commemorated by memorials in the Kohima War Cemetery. The Nagaland State Museum exhibits ancient weaponry, a ceremonial drum and other traditional Naga cultural artifacts.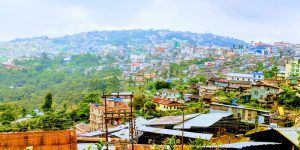 Kohima
With dreams of establishing libraries in Nagaland, we set out on our journey to one of the most remotest and less explored part of India.There were multiple questions flashing on our mind: How we will set up the library? What resources do we have? Will we get local support? Will the state government help us? Will insurgency problem in Nagaland act as an impediment? These questions were unanswered till we reached there. But we were undeterred by all these questions. As the saying goes: "When there is a will, there's a way."
Road trip from Guwahati to Kohima- 350 Kms / 7 hrs.After a heavy breakfast, we started our early morning drive from Guwahati via NH 37 and reached Nagaon in two hours approx, traversing 120 Kms. We were joined by some friends in Nagaon, and we decided to call it a day there. As I hail from Nagaon myself, I had a lot of memories of this beautiful place. This place has a strong historical and cultural significance in the history of Assam. It is in this place where the much revered saint - Shrimanta Shankar Dev took birth, in a place called Barduwa.Next morning, we commenced our journey from Nagaon to Nagaland.Route taken: * From Guwahati, take NH 37 to Nagaon, 120 Kms. * When you reach Nagaon Bypass, take NH36 from the roundabout and go directly to Dimapur via Doboka and Manja.The road from Nagaon to Dimapur is an absolutely pleasurable drive because of the thick forest and the elephant corridor where ones needs to be careful. Most part of the road except some patches are smooth, you can just zoomon in full acceleration of the throttle. The road leading to Kohima present a picturesque view and some scenic waterfalls. After about 7 hours of driving, we reached Dimapur.After an exciting road trip, we finally reached Nagaland and checked-in to the homestay booked for our local friends - Lima Asen and Asther Eye for us. In the evening, we had a delicious Naga meal arranged for us which comprised of red rice, bamboo shoot pork, smoked beef, fermented rice beer and chutney made from Naga Mirch aka The Ghost Chilli. This place is a indeed a gastronomical delight.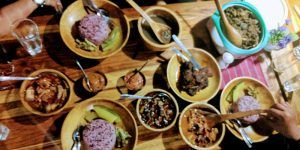 Enjoying delicious Naga cuisine
If you are a foodie, the Naga Cuisine is an absolute must in your list. It's significance is it complete diverseness from other mainland cuisines.
Next couple of days were spent in meeting local people, state authorities and officials from judicial circle. The local people were most welcoming and hospitable in nature. They understood the importance of libraries in these remote areas and it's impact on the local communities.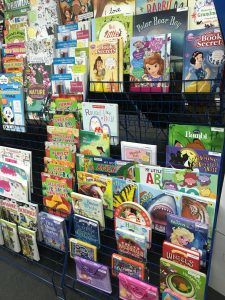 Books on display at one of the library established by NGO Sarvahitey in Nagaland
We were finally successful in reaching a collaboration with the State Legal Services and they assured us complete support in our endeavor of establishing libraries in various places of Nagaland. With the support of the local authorities, the State Legal Services and the various local tribes, we successfully established three libraries in Tuensang, Kohima Law College and the last in District Jail, Dimapur. These libraries were inaugurated under the aegis of Mr. L.S Jamir, serving Judge - Guwahati High Court and the Hob'le Chairman of State Legal Services, Nagaland. Prem Prakash from Sarvahitey NGO, also carried out the initiatives of Cleanliness Drive during his trek to the beautiful Dzukou Valley. This how we travelled for a cause and there is nothing more satisfying than bringing some positive change and impact to the community where we travelled to.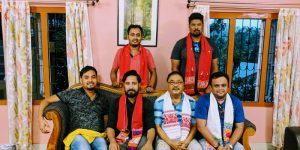 Meeting with local Community at Diphu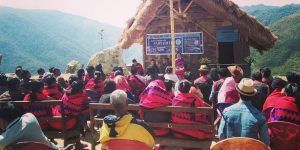 THINGS TO DO IN NAGALAND
GO TREKKING: As the terrain is mostly mountainous in nature, trekking should be in your to-do list here. The Dzükou Valley trek is the most popular trek here. Others places that you can trek to are: Veda Peak, Japfu Peak and Saramati Peak (a part of which falls in Myanmar). A carpet of wildflowers can be found on most of these trails, which are visually very delightful! Satoi Range is another unspoiled location, and a nature lover's paradise.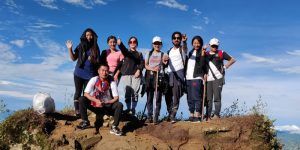 FAIRS & FESTIVALSNagaland is also the home of some of the most colorful festivals. Singing, dancing and drinking of locally prepared rice beer marks the essence of these Naga festivals. Sekrenyi is a festival that belongs to the Angami tribe. This festival signifies the end of the agricultural cycle and lasts for 10 days. Konyak Aoling is another festival that denotes the coming of the New Year among the Konyak tribe. This festival is celebrated in the month of April. Moreover, there are festivals like Ao Moatsu and the non-traditional tourism festival (like Hornbill) in May and October that draw huge crowd.Hornbill Festival: Hornbill is one of the most famous festivals of Nagaland and is celebrated by the locals with a lot of zeal. The festival is named after Hornbill, a peculiar species of bird in the state whose importance is reflected in their tribal music, dance and culture. The festival is one of the largest celebrations of the local warrior tribes of Nagaland. The festival is held at the Naga Heritage Village in Kisama, which is about 12 Kms from the capital of the Nagaland - Kohima.
NAGA CUISINENaga cuisine is known for its variety and simplicity. Just like their tribal culture and ancient traditions, their cuisine is distinct and stands apart from the rest of the regional cuisines in India. You will find many exotic ingredients such as fermented soybean, bamboo shoots and dry fish transformed into simple yet delicious dishes along with a plethora of ghost chilli chutneys and smoked beef. You need to travel to Nagaland to understand the richness of this cuisine.Rice Beer: Rice beer is a traditional drink for not only the Nagas but a major part of the North-East India population. The raw material for rice beer is quite expensive and the process involves a high quality sticky-rice which is dried and then placed into a container. This rice is then placed in a cauldron and brought to boil by placing it over the traditional Naga hearth. Once done, it is taken off the fire and mixed with yeast and left to be fermented. In two day's time, the beer is ready for consumption. TRAVEL INFO
BEST TIME TO VISIT: The climate of Nagaland is comfortable all throughout the year. The temperature of the state ranges from 16°C - 31°C in summer and 4°C - 24°C during winter season. The monsoon that spreads from the month of June to early September is marked by heavy showers.ENTRY PERMITS: Foreign tourists no longer require Protected Area Permit (PAP) to visit Nagaland since January 2011. However; they are required to register with the Foreigner's Registration Officer (FRO) of the District they visit or the nearest Police Station within 24 hours of their arrival. Domestic tourists should obtain Inner Line Permit (ILP) issued by the authority mentioned below.Entry permits for Indian Nationals (ILP):The Deputy Residential Commissioner, Nagaland House, New Delhi.Phone: +9111-23012296/ 23793673.HOW TO REACH: (By Air) Dimapur is the only airport in Nagaland at the moment. Direct flights connect this airport to Guwahati and Kolkata and thus connected to all other airports in India including Delhi.(By Rail) Dimapur has a railway station on the main line of the North East Frontier Railway. It is well connected to Guwahati and on the other hand, has direct train lines with most major Indian cities.(By Road) A number of taxis ply from Dimapur to Kohima throughout the day. Night buses connect Dimapur and Kohima to Guwahati and Shillong (Meghalaya).