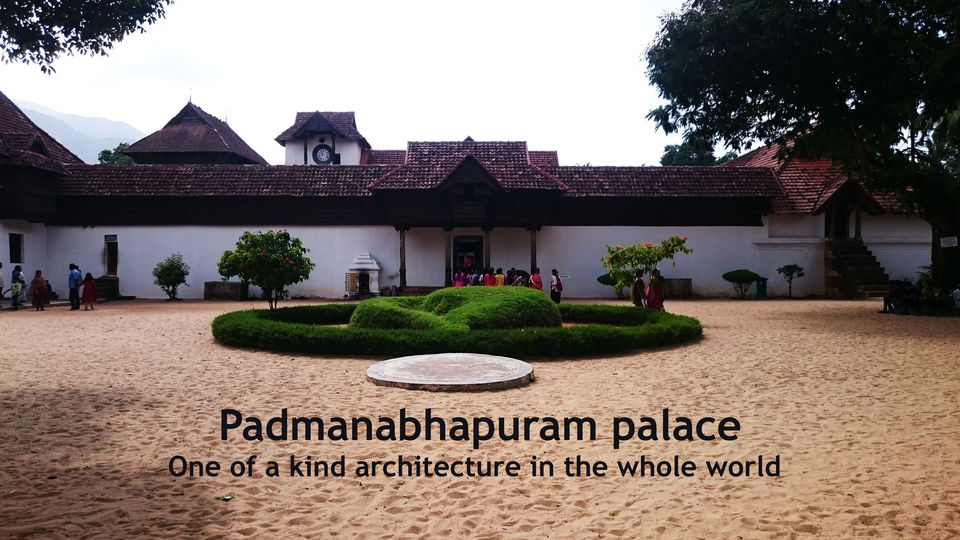 As soon as I entered the main gate of Padmanabhapuram palace, its aesthetic glimpse left me rapturous, While I was trying to froze the panorama in a photograph the guard interrupted me and asked to remove footwear and buy a ticket first. The front yard is nicely leveled with beige color sand. It was soothing to walk on warm sand ascribed to morning sunlight.
As soon as we entered first building complex we advanced towards beautiful verandah with illustrious intricately carved wooden interiors.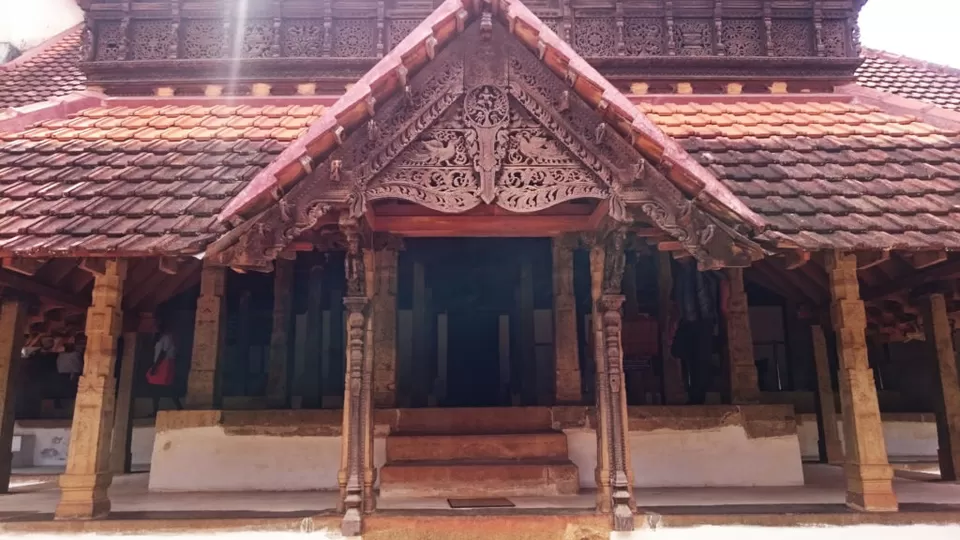 I am impressed by meticulous wood work and adore painstaking craved everydainty detail of Padmanabhapuram palace.
we proceed through narrow wooden stairs towards Mantrasala, the King's Council chamber. It has windows with colored mica and delicate lattice work is designed in such a way that it preserves council chamber from heat and dust and keep the place cool and dark.
The prodigious floor of Council chamber is also unique and the floor's finish and texture could not be duplicated in any other construction because of it's distinctive way of fabrication using a mixture of varied substances, including burnt coconut shells, egg white and so on.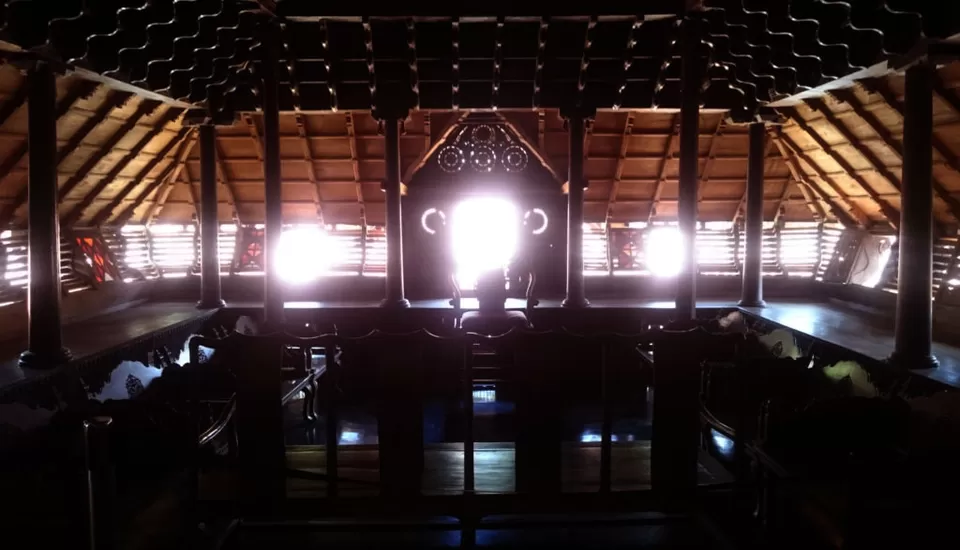 I am particularly impressed by the vaulting. The wooden roof with detailed symmetric pattern is marvelous. As the chamber is lit with only natural light from three direction the shadows and light were again creating pattern above the intricate work of Council chamber's ceiling.
Next we were at a big feasting hall which can accommodate around 1000 guests at a time. The feasting hall is plain and properly lit with natural light, the hall is supported with row of pillars.
True to its traditional Kerala style throughout the palace for proper ventilation and light for inner rooms there are inner courtyard, called 'Nalukettu' with sloping roofs from all four side and pillars supporting four corner to support the roof. The palace comprise lots of narrow hanging corridors to move between rooms.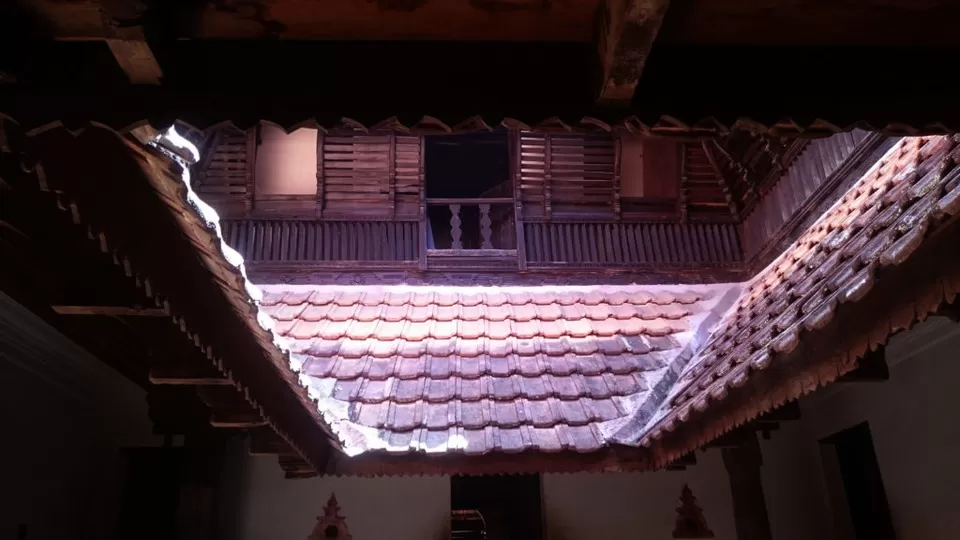 As the palace is huge and I was taking more then required time to explore because I wanted to document every possible thing, So Rajendra in the intervening period was taking rest at inner courtyard soaking the morning sun, when I captured this moment in below photograph.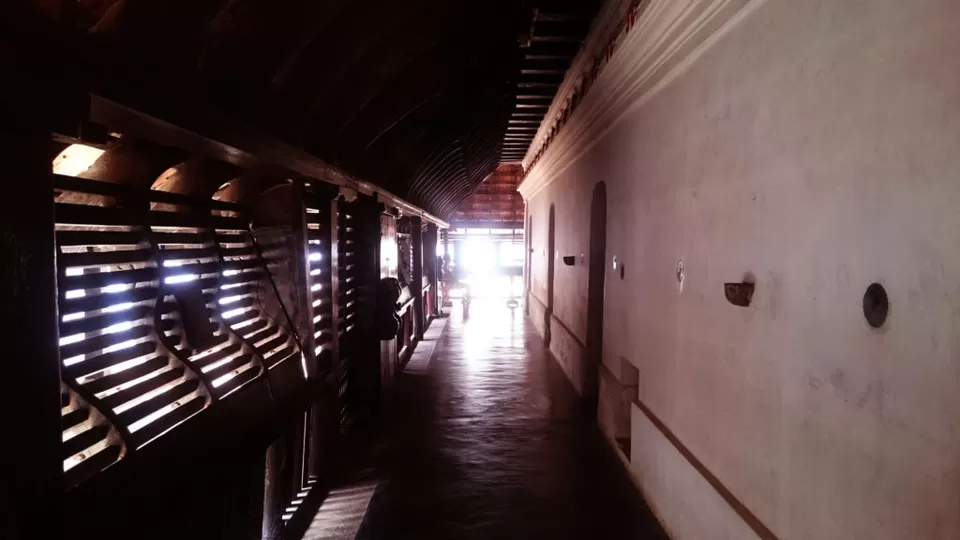 The corridors were designed in such a way that they keep indoors dust free and cool. Translucent light infuse through those antique wooden trelliswork and lit the corridors with natural light. There were holders on wall for candles which use to light up the palace at night.
Few ancient extant wooden beds made of medicinal wood are kept for display.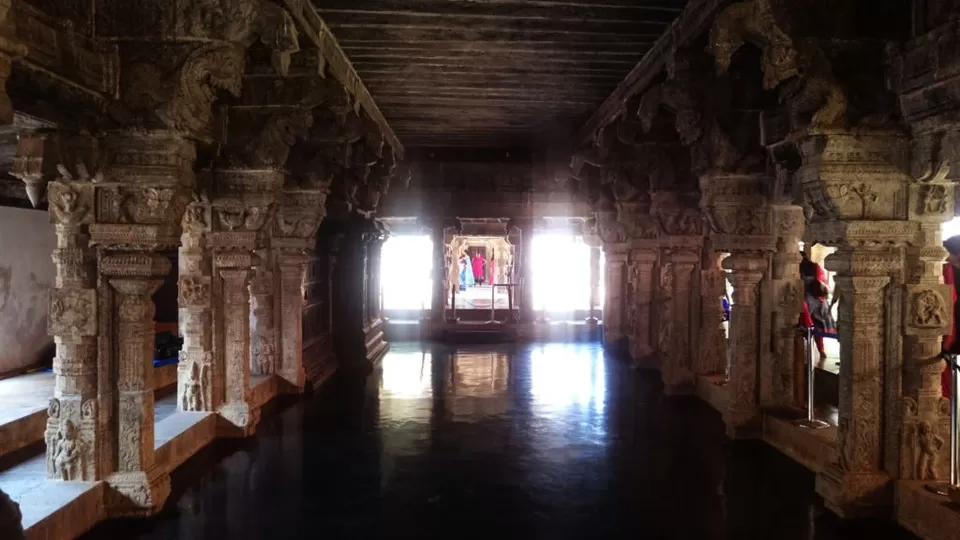 The fact that amazed me most is that the entire palace is illuminated with the natural light, there is almost no need of artificial lights and at the same time well ventilated. Other notable place is Mother's palace constructed around mid-16th century, oldest construction in the entire palace, designed in traditional Kerala style.
The Nataksala or the hall of performance is different from the structures as it is constructed using solid granite pillars and comprise gleaming black floor. There is a wooden cabin, with peepholes, where the women of the royal household used to sit and watch the performance.
Performance hall is a relatively new edifice, constructed at the behest of Maharaja Swathi Thirunal who ruled the Travancore from 1829 to 1846. He was a great connoisseur of arts, which consequently lead to construction of Nataksala.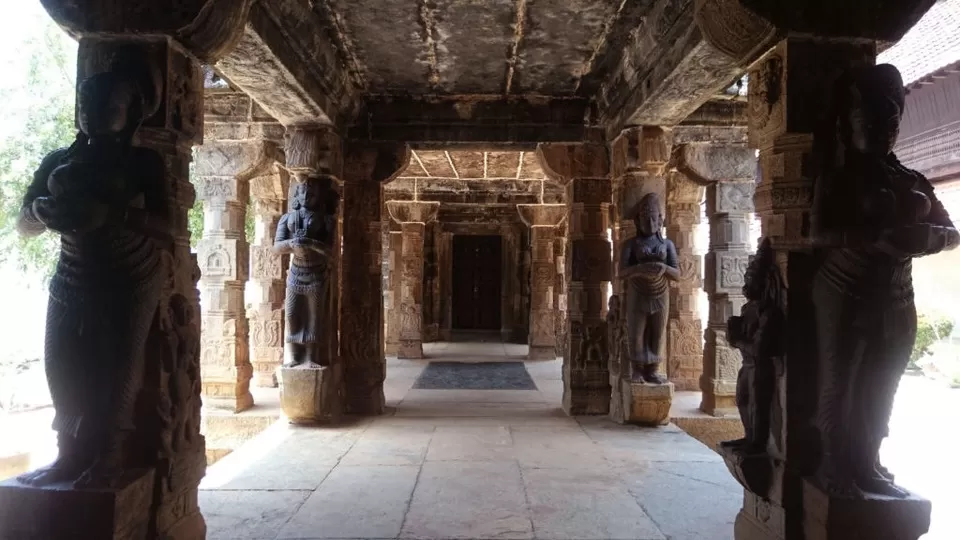 Other remarkable features were Chinese jars gifted by Chinese merchants, variety of weapons, gallery of paintings, 300 year old clock tower in the palace complex where the clock still keeps time, Southern palace now serving as a heritage museum, four storey central mansion.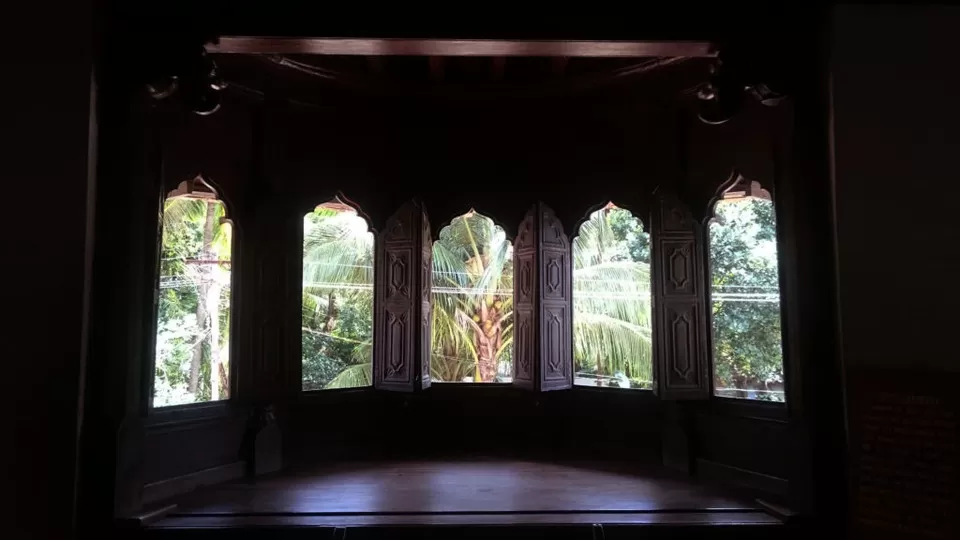 How to reach Padmanabhapuram palace
There are KTDC and few private run one day tour operators which cover Padmanabhapuram palace andall major attractions from Kanyakumari at very affordable price.
By Air - Nearest airport to Padmanabhapuram palace is the Trivandrum International Airport, located at 60 kms from the city. You can easily get state run bus as well as Taxi from Airport to palace.
By Train - Nagercoil (15km) is the nearest railway station. Kanyakumari (34 Km) is also a option to reach via train.
By Road - The palace is around 34 Km from Kanyakumari and 60 Km from Thiruvananthapuram.Both government and private run buses operates on regular interval, taxis and self drives cars are also available from Kanyakumari and Thiruvananthapuram. Road conditions are good and lots of restaurants and hotels are available on the way.
Distance from major cities
Kanyakumari 34 Km
Thiruvananthapuram 60 Km
Madurai 254 Km
Rameswaram 319 Km
Bangalore 673 Km
Chennai 717 Km
Best Time to Go
You can visit palace around the year.
During Monsoon you will be fortunate to see the majestic Veli Hills on full bloom as the palace is located at the foot of the Veli Hills. The surrounding are green and fresh.
Summer will be hot but the interiors of palace stays cool thats the way they are designed. So you won't face much problem if you are visiting Padmanabhapuram palace but the other places around the palace will be little difficult to explore.
Winter are perfect to explore the area in and around Padmanabhapuram palace.
Entry Timing : 9AM-4:30PM (closed on Monday)
1. I will recommend to take KTDC one day tour which cover Padmanabhapuram palace andfew more major attractions from Kanyakumari at very affordable price for budget travelers.
2. Have proper breakfast before visiting Padmanabhapuram palace because the palace is huge and you need to walk a lot, there is no option for food inside the palace.
We took around 3 hours to explore everything inside the property.
3. I found this yellow colored coconuts which I have not seen at other popular tourist places near beaches, the venders claimed that this coconuts water is tastier then normal one and sold it at very high price. But as it was unique to me so tried and yes they tasted good.
Top Nearby places to see
The southern most tip of mainland India is a charming city which offers very unique experiences. Kanyakumari is the place where you can witness Arabian sea and bay of bengal merging into Indian ocean and a beautiful sunrise above it. For more information check KANYAKUMARI: COMPLETE GUIDE FOR EXPLORING THE CITY WHERE TWO SEAS MEET AN OCEAN
Poovar is a hidden paradise. A boat ride through Mangroves will leave you spellbind and pristine golden beach is bewitching. There is a floating restaurant which adds another remarkable thing to do.
Other popular places are kovalum,Varakal,Thiruvananthapuram,ponmundi and sri subramanya swamy temple Tiruchendur.
This post was originally published on Do Ghummakad.