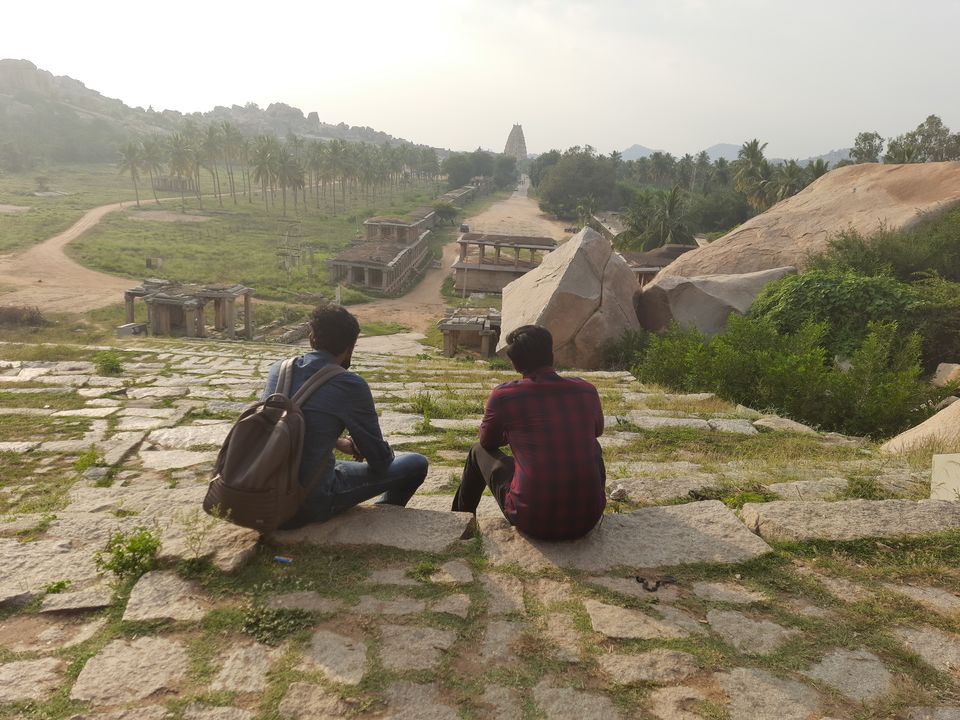 Hampi was decided as a stopover in our road trip from Pune to Bangalore. Why Hampi - well, though not exactly on the route towards Bangalore, a google search on Hampi, kind of made me curious as to why this town is a world Heritage site and also we thought it would be a good break since we were locked in our houses for 8 months due to Corona pandemic.
However, we were not sure whether to proceed with this destination especially in the midst of this pandemic and also we were not able to find any decent hotels/homestays on our dates until the last day. On the afternoon of Dec 1, we kind of got a room in a homestay which looked decent and kind of budget friendly (2 nights for around 4k ), which ultimately turned out to be decent.
Morning of Dec 2 - 530 am - We left from Pune and instead of the Pune Kolhapur Hubli Route, we took the Pandharpur Route which was a shorter route. I had not researched on this route and decided to take this route at the last moment and hoped Google Map doesn't lead us to something unusual. Roads till NH65 were topsy turvy and kind of restricted our car speed to 30-40kmph. After hitting the NH65, it was almost a smooth ride. As a thumbs rule, we keep our car speed between 70- 80kmph and don't go above it. Driving a car on the highway for such a long journey requires more patience and focus than the city traffic if the safety aspect is considered since anyone or anything can jump into say Hi :) on our IN national highways. I had used this speed strategy during my road trip from Delhi to Mumbai via Jaisalmer and trust me it will help you and the car.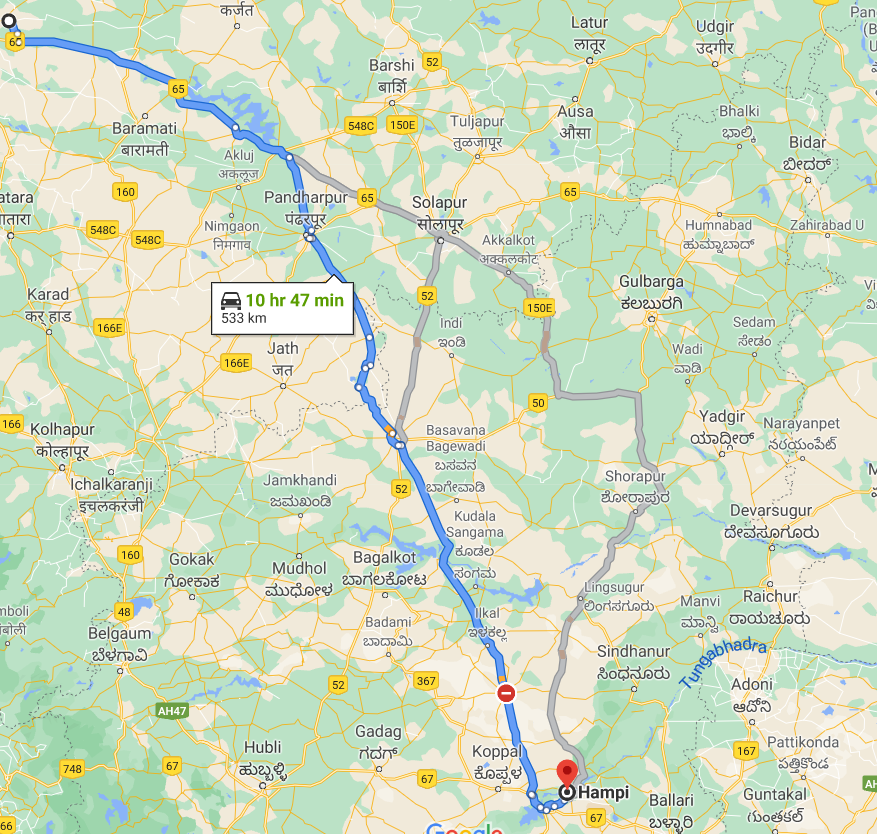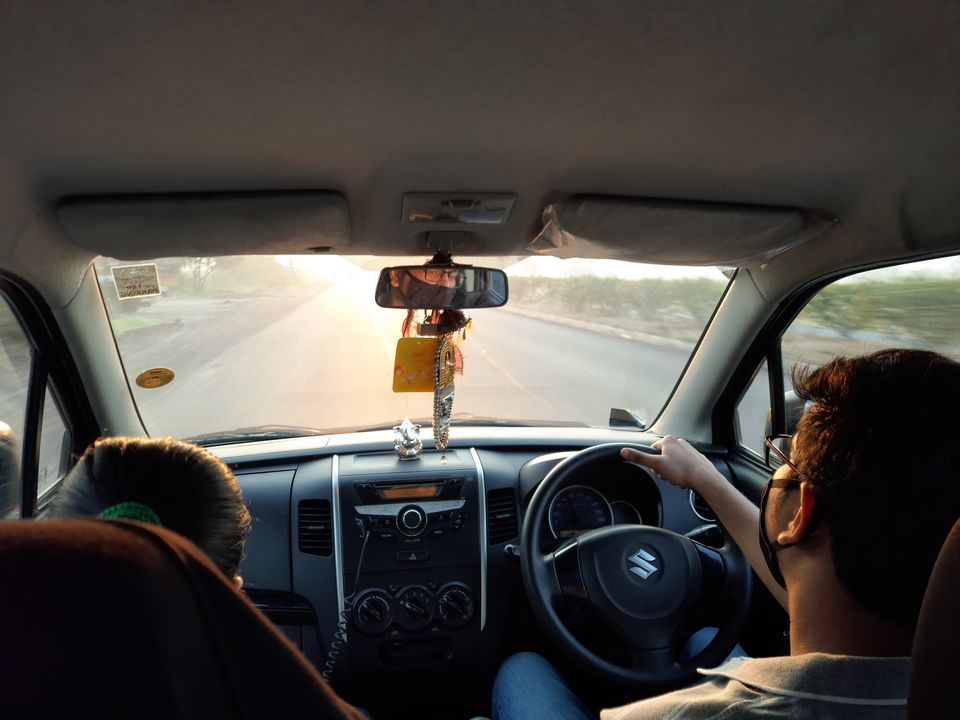 And the route turned interesting, once we entered NH561A as the next 100-200 kms, we routed through the villages of Maharashtra and Karnataka. I became a bit hesitant as we continued on the route, as the road breadth kept on decreasing from 30 feet to 20 feet to 10 feet in some places. After driving through various villages, we had to take a break and since in the villages we were unsure where to stop as the roads were narrow, we decided to stop at a farmers house where the neem trees gave us a good shade. But before deciding on the halt, we thought of asking the farmer whose house in front we stopped. The conversation with the farmer was really interesting as he didn't knew Hindi and only knew Marathi, and we knew only Hindi. So, using our experience of knowing some Marathi words (as we stayed in Mumbai for a couple of years) and bit of hand signals, we kind of relayed the question to the farmer and he agreed to let us park our car in front of his house for 30 min.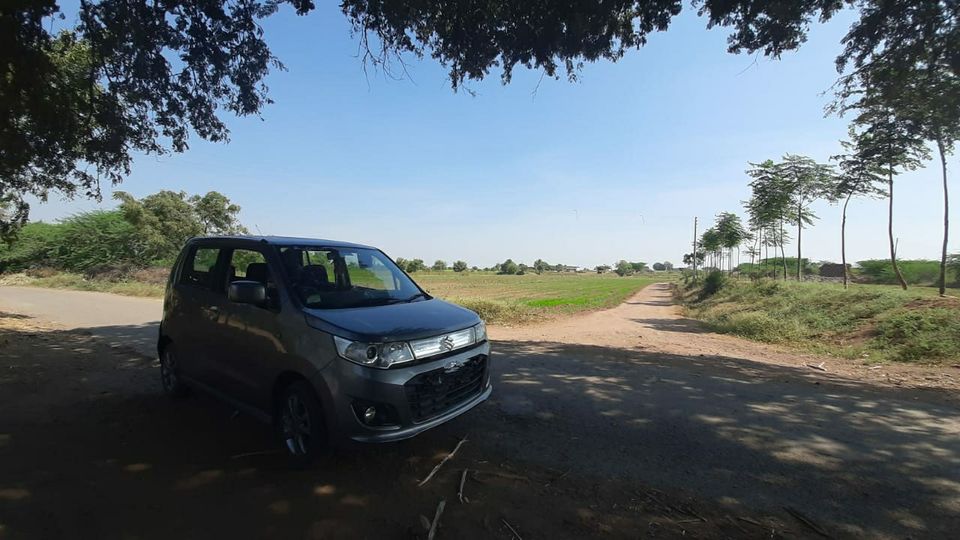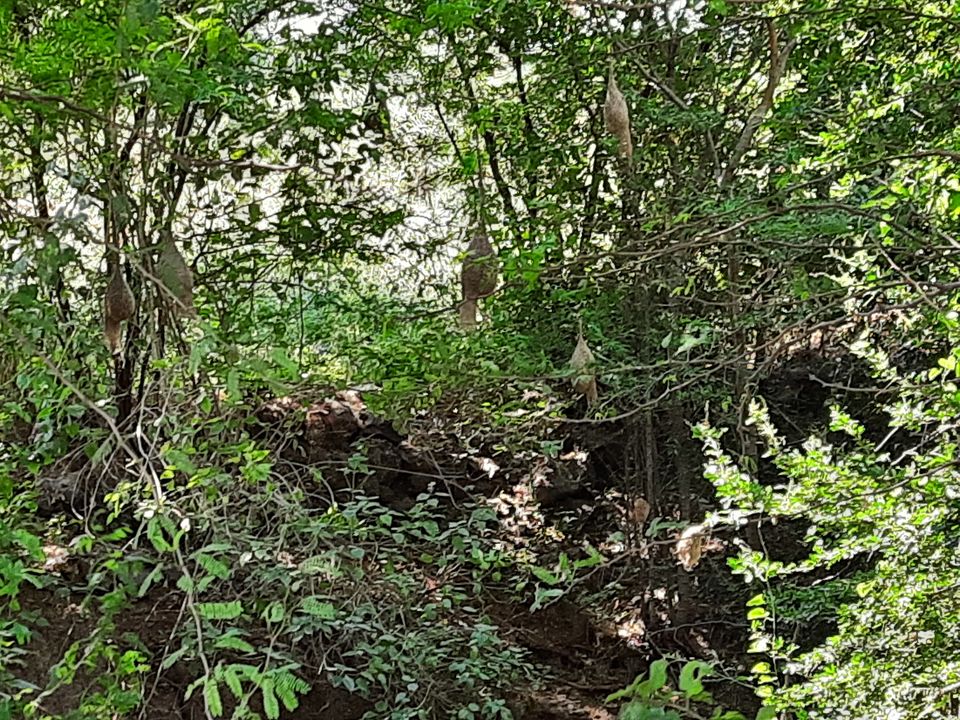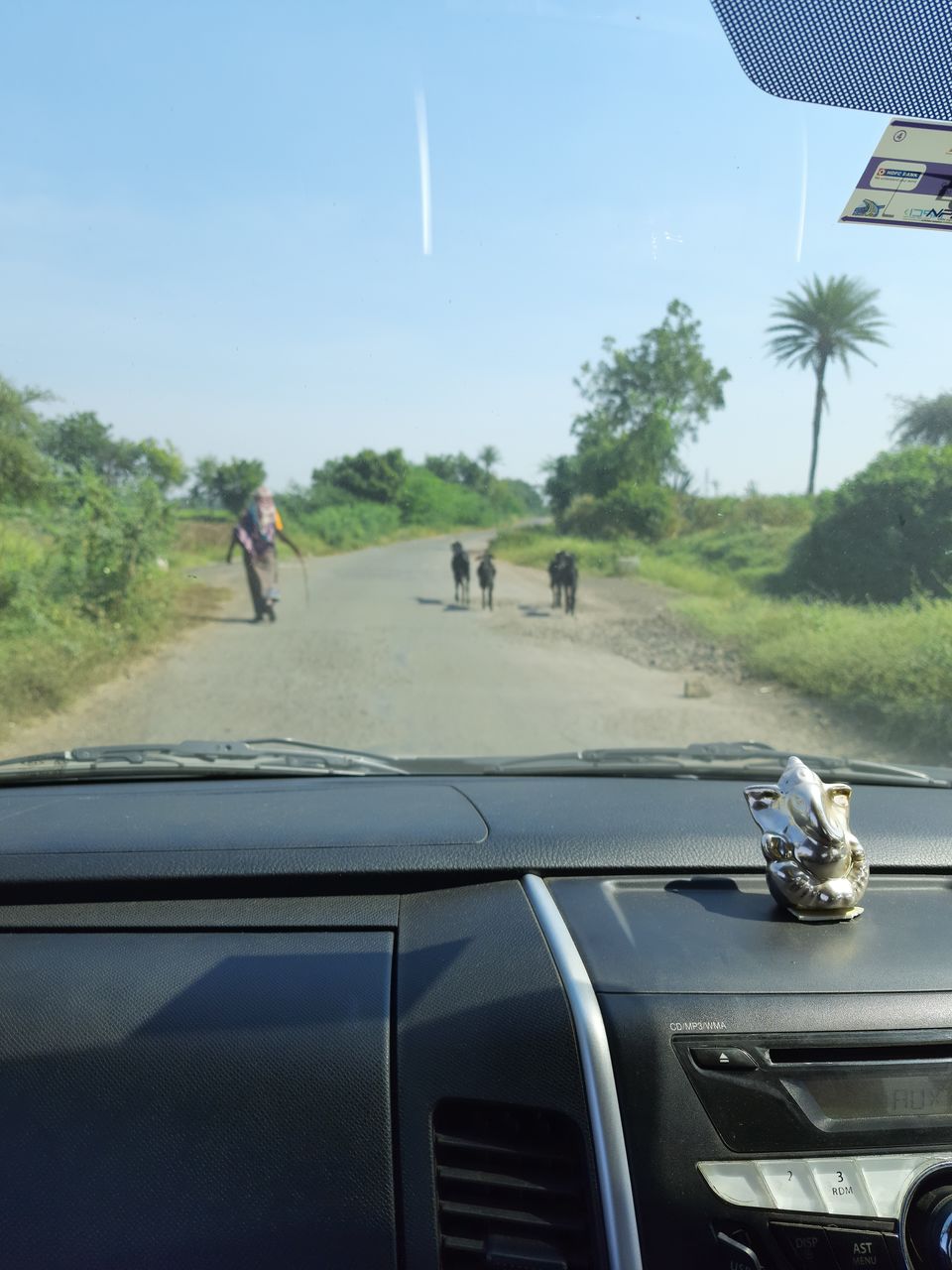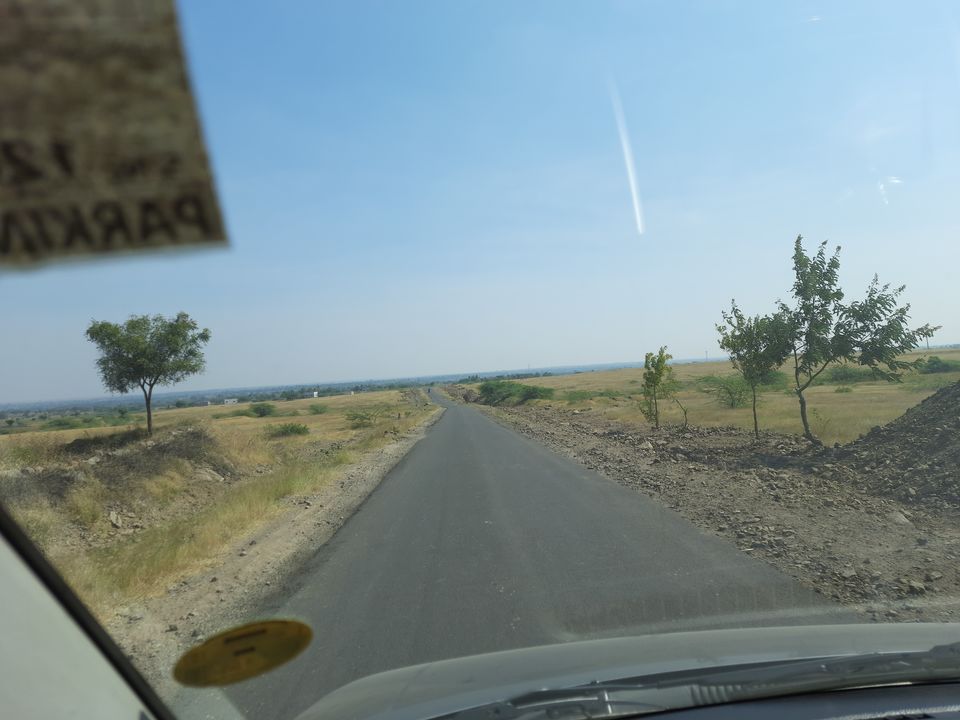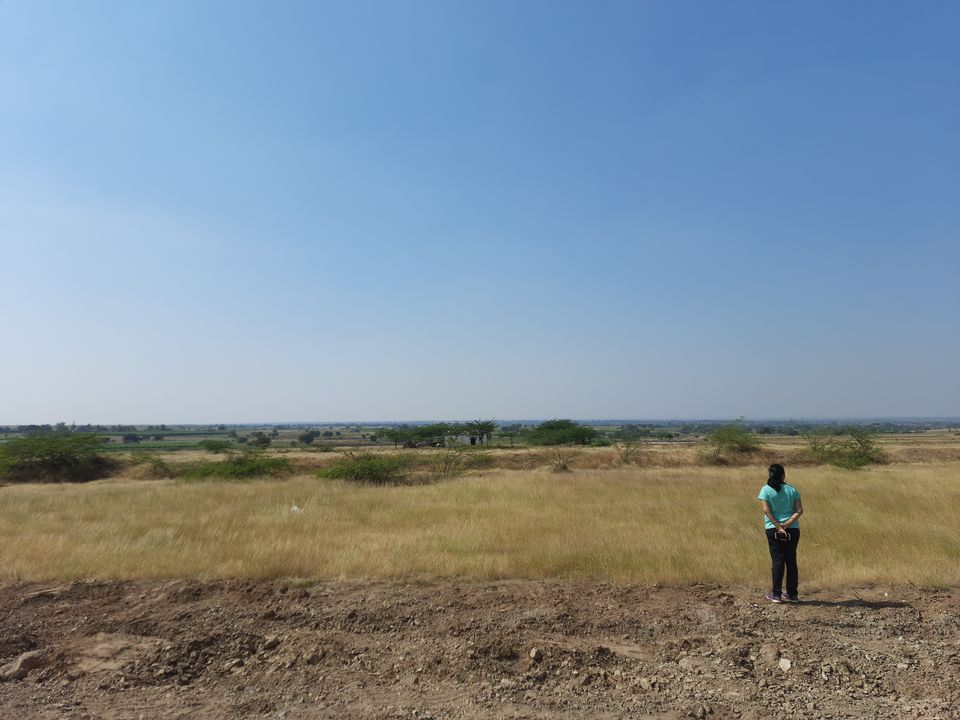 Me, my wife and her brother (who also was attending his online classes inside the car) took a good breather and enjoyed the greenery around. After a good 20-25 minutes, we continued our journey with many mini breaks to enjoy the lakes, landscapes, and what not. Soon after entering Karnataka, we reached NH 50 heading towards Hampi. The Landscape changed from acres of grass land in Maharashtra to hills of huge granite boulders which kind of hinted what we can expect in Hampi. After a 11-12 hour journey, we kind of reached the destination of homestay as per Google Map and it wasn't what we expected. Then we called the homestay owner and he took us via a short different route to his homestay and finally we reached our destination and from the outside it looked pretty decent. The room was also huge which had one double bed and one single bed and a huge bathroom which itself looked liked a hall. We rested for the rest of the night and looked forward to our trek in Hampi next day. We were not aware it will turn out to be a trek until we reached Hampi.
We got some info from our home stay owner regarding Hampi and he checked with us whether we need any guide. I kindly declined at that moment.
Next morning around 930am, we started towards Virupaksha temple, reached there in 10 min, parked our car and went inside the temple. The architecture was interesting from the outside itself and you could sense why it is a heritage site. Entering the temple premises, we got to see the amazing sculpture used in the making of the temple. I am not gonna go deep into what we saw inside the temple simply because we didn't hire a guide and there was no information provided at all unlike we see in monuments in Delhi. But we kind of over heard some interesting stories about the temple sculpture from the other guides who were explaining to their clients :). After spending some time, we started for the Stone Chariot which my office colleague had recommended not to miss. As soon as we got out of the temple, we googled where Stone Chariot is and the destination it showed was Vittala temple. And thus our trek began. After exploring some old structures outside the Virupaksha temple, we headed towards Vittala temple, a 3 km trek, which we realized after a walking for a km or so, but the route to it gave us a sneek peek of how the town of Hampi looked in the 15th century. A capital of the historical Vijayanagara Dynasty looked a deserted look now and how I felt dejected that such Heritage sites are not given atmost attention and some of the structures were not preserved by the locals and the government. I haven't mentioned the litter scattered around in some places. As we headed towards Vittala, we took breaks in between and enjoyed the landscape and some fun at the sculptures on the way. Finally we reached Vittala and immediately after entering I pondered over to see the Stone Chariot. We saw some registered guides and hired one of them. Guide gave us some interesting insights of the history of the place, sculptures and of course the Stone Chariot. By the time, guide finished his detailing about the place it was almost 340pm and then we decided to head back instead of going to the another part of the town; Lotus mahal and all. We walked back to our car parking point while discussing the history of the place and how amazing this place is. Even though the trek was tiring, it gave us an insight which sometimes history books can't give. You have to come, see and experience what this heritage town is about. I think we will have another trip to Hampi, this time from Bengaluru side, to cover the remaining places.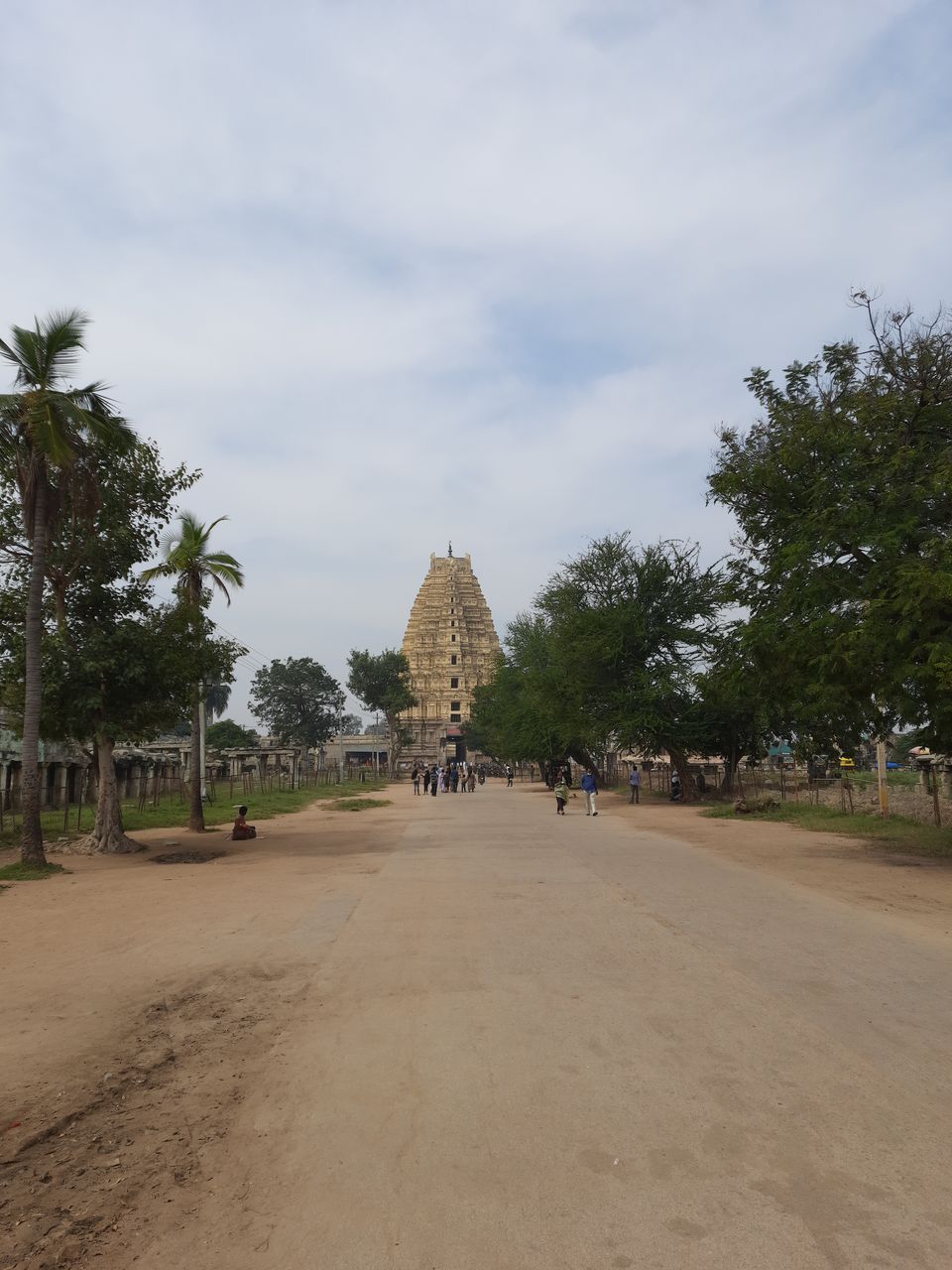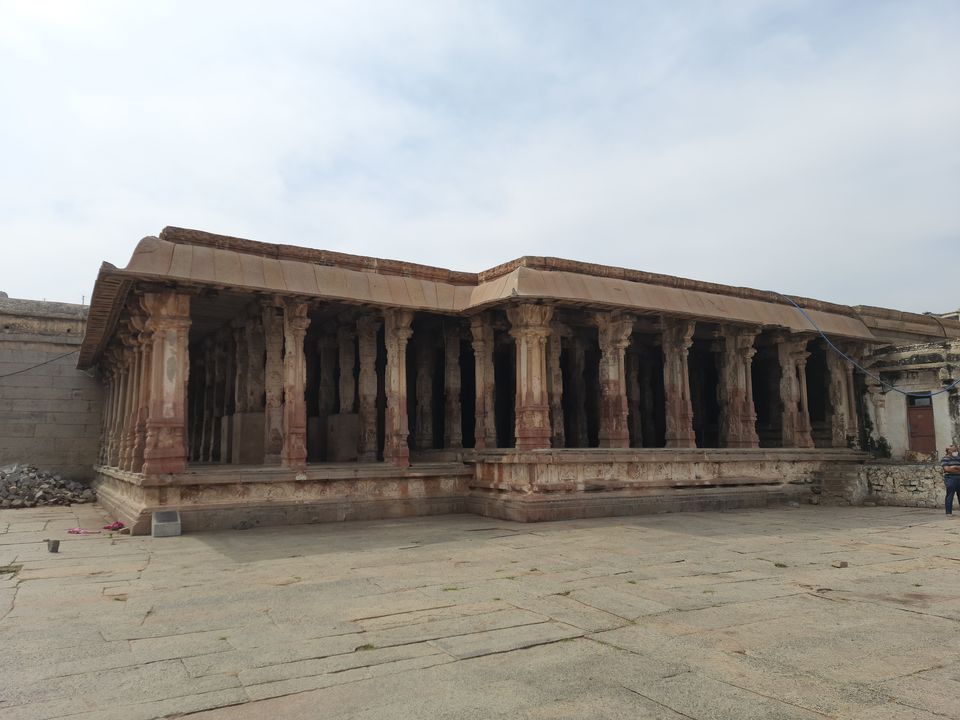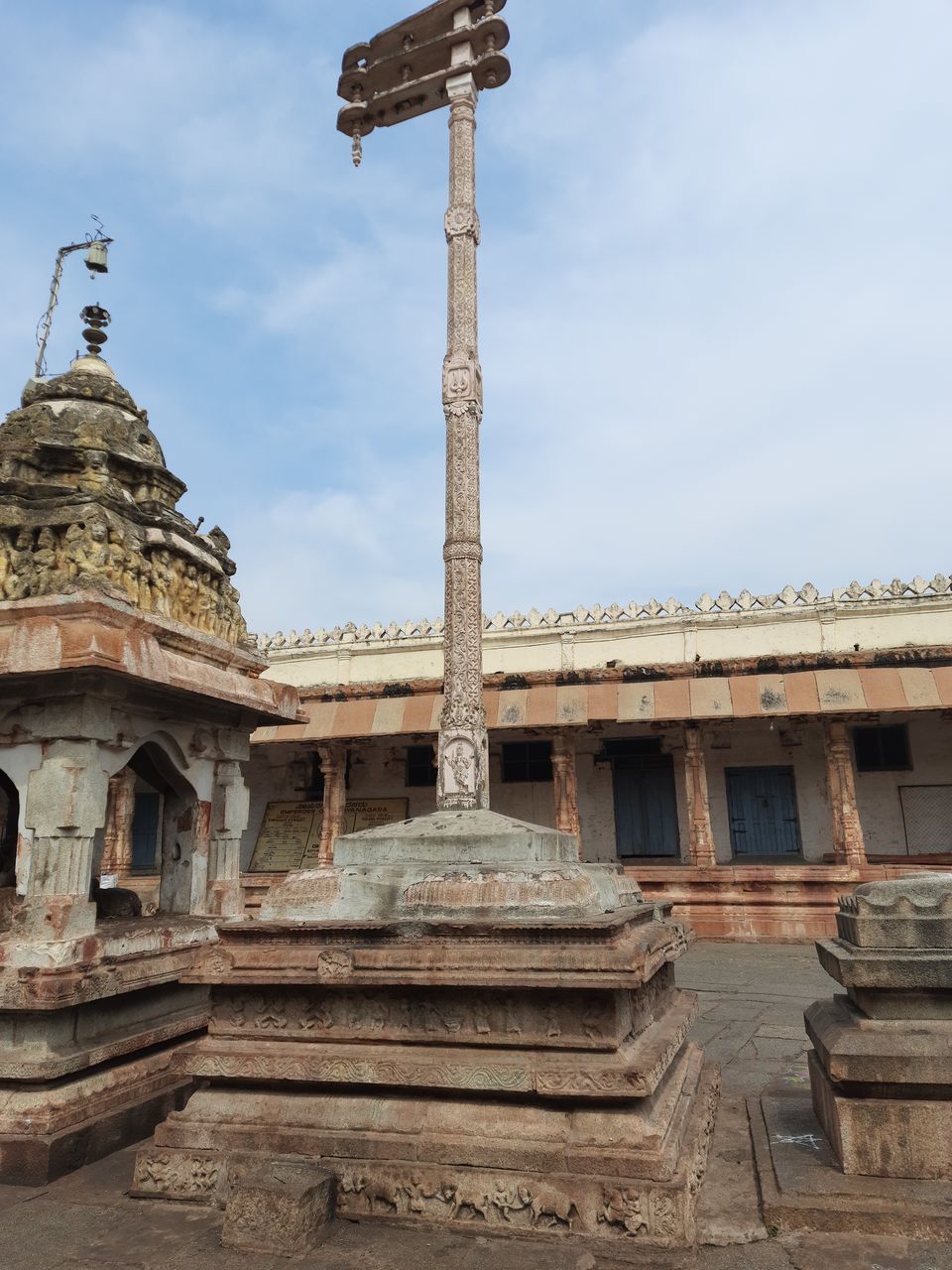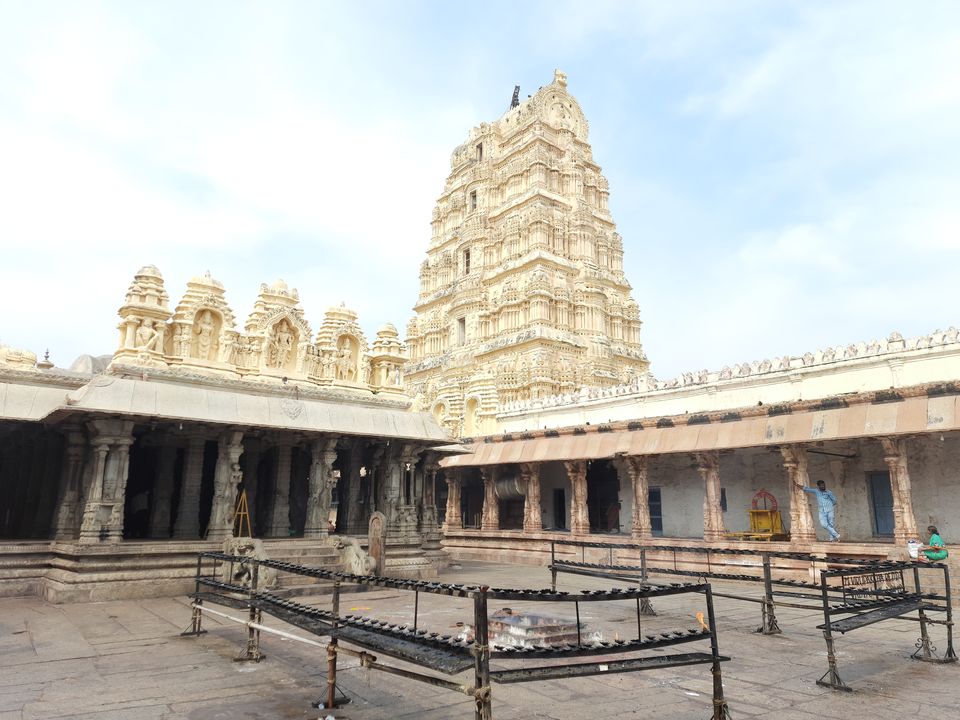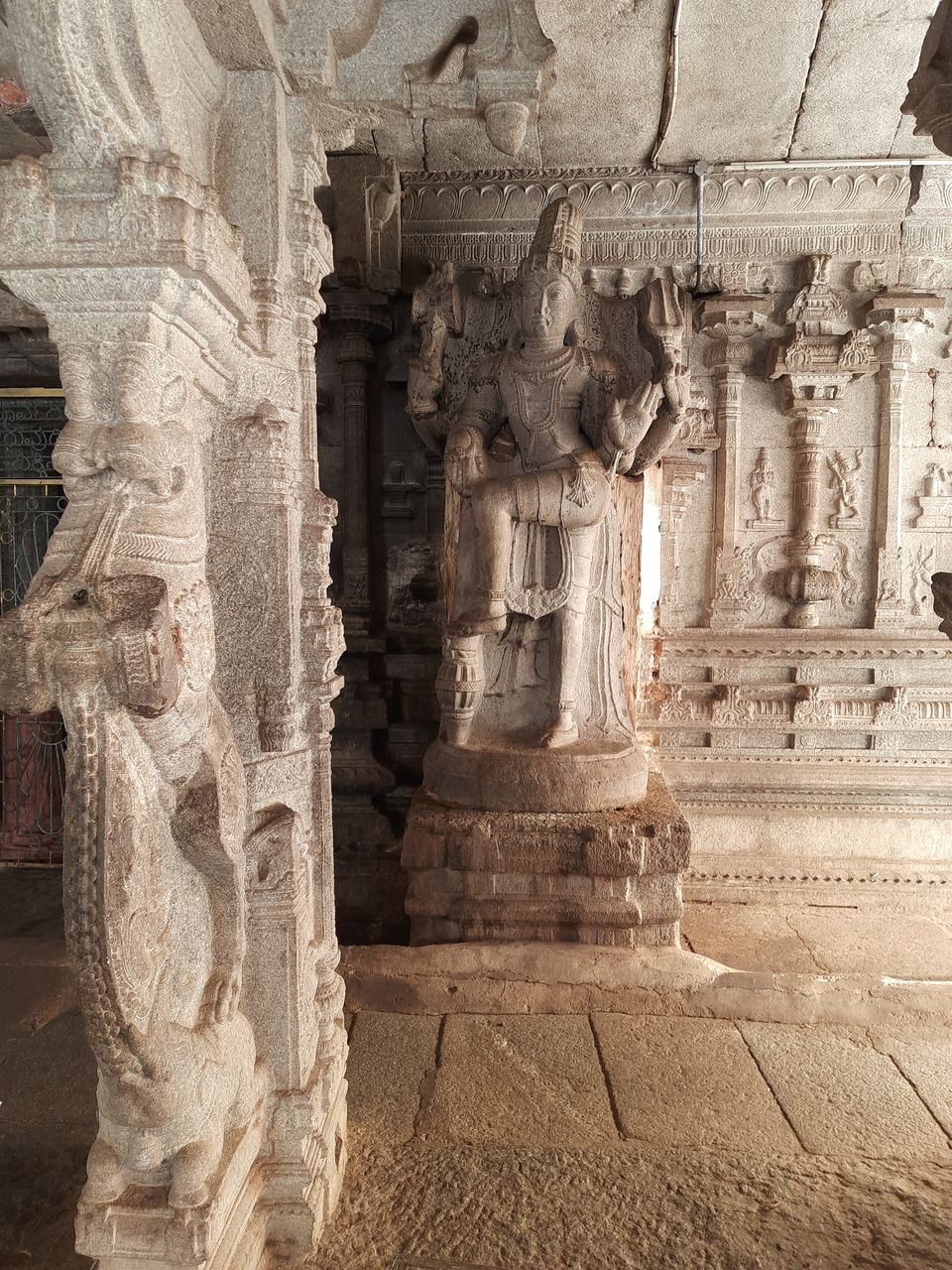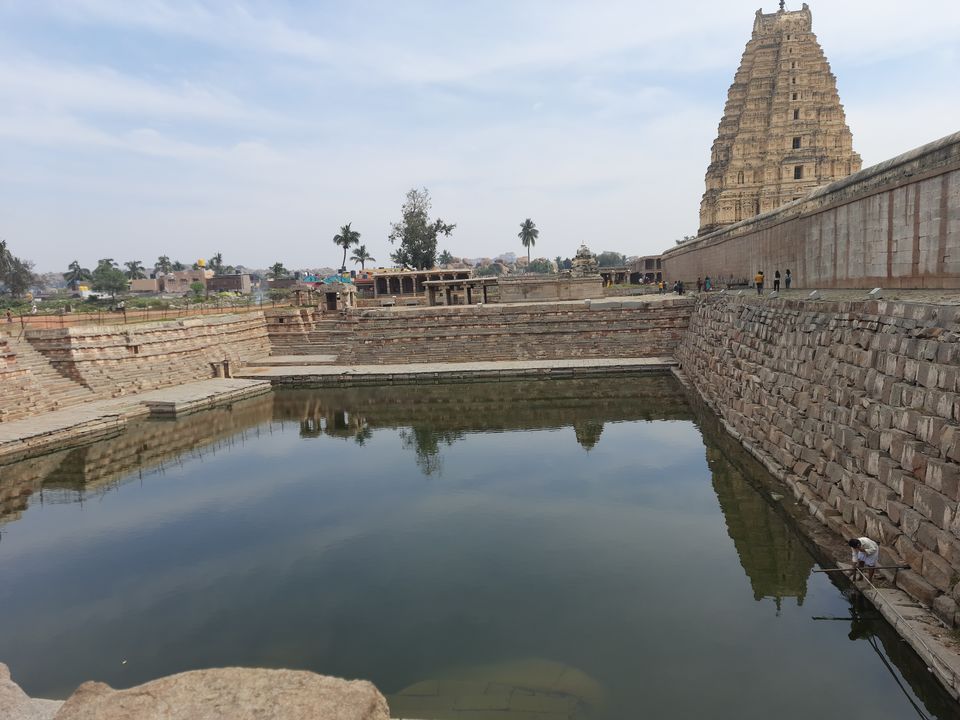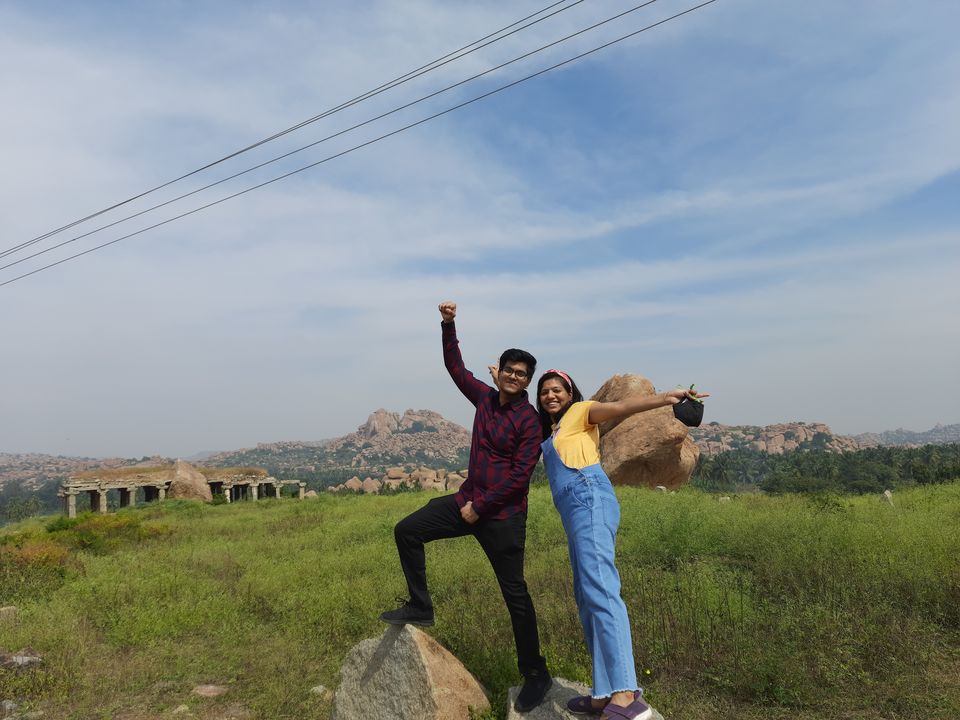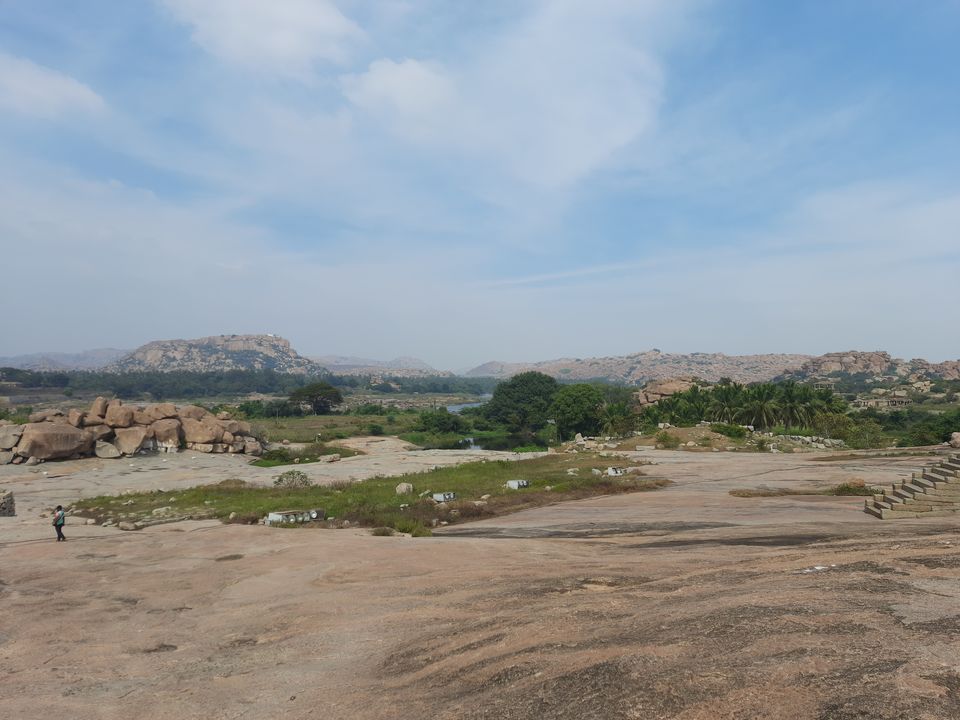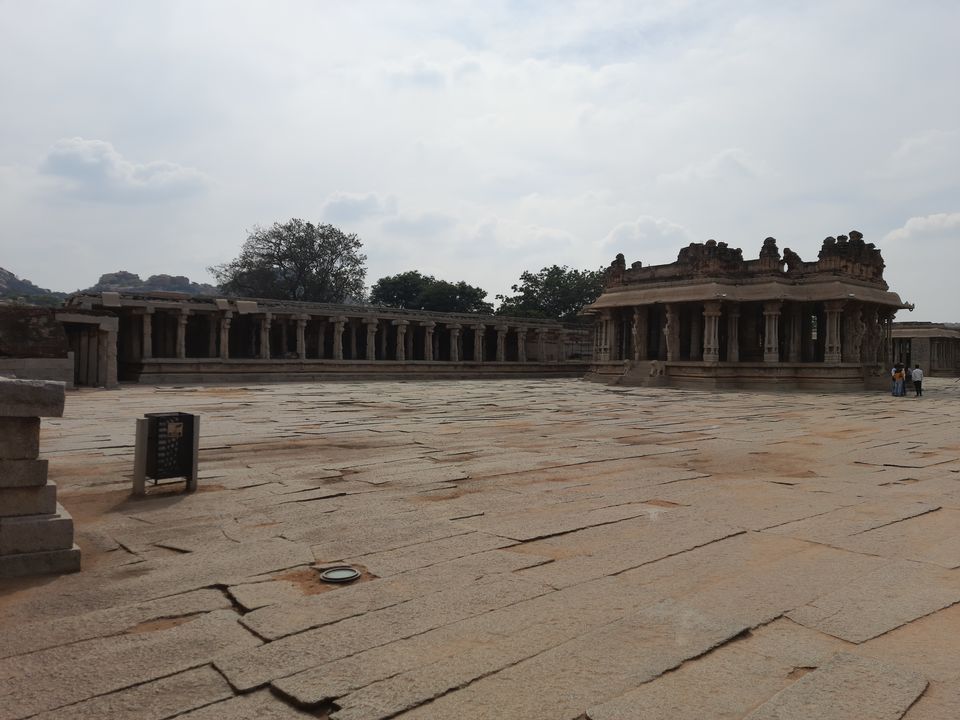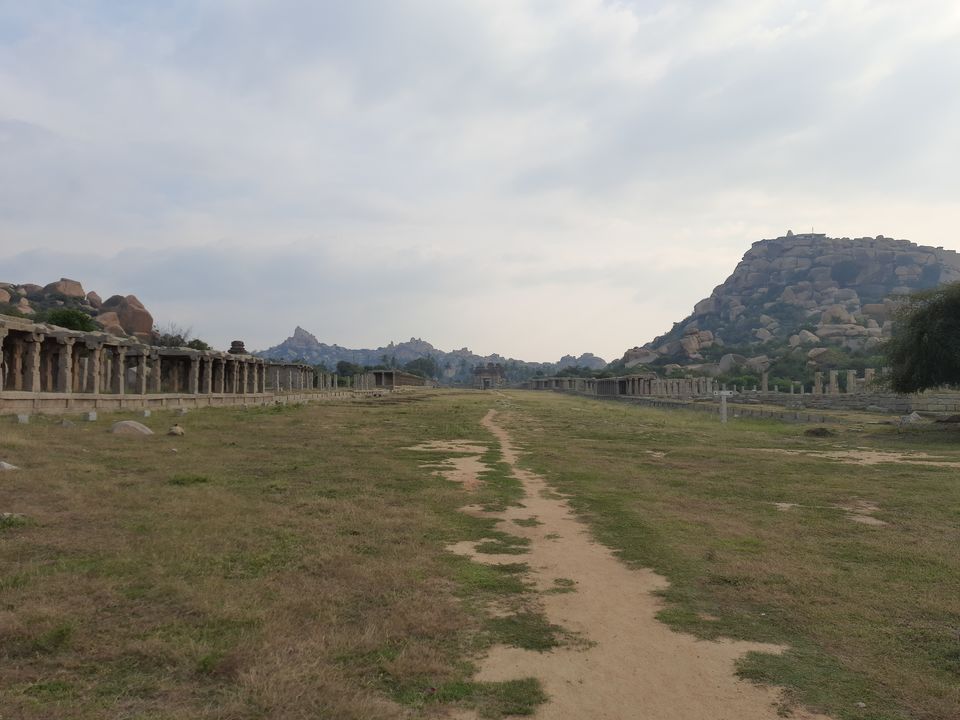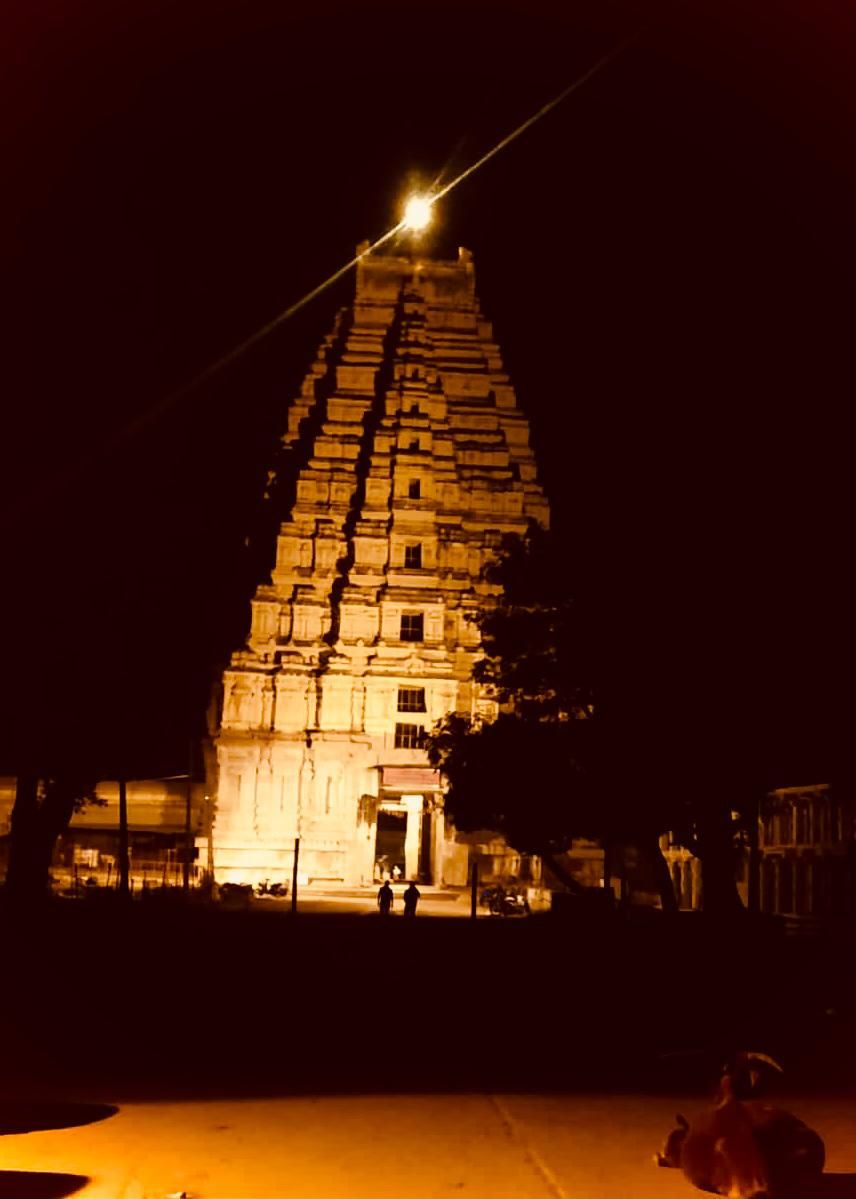 Next morning, we bid goodbye to the town and continued our journey to the city of Bengaluru. As expected, ride on the NH50 was smooth, with windmills on both sides and the greenery in between. Once we entered the city, focus turned to the traffic and out of the 1000 km journey, the last 50 turned out to be the most painful. People in Bengaluru know why and what I'm talking about.