It had suddenly started snowing the previous day when we were walking and by evening a few inches of snow-bed was formed. So we were using our buffer day today and waiting for the snow to melt. The next patch was too steep and narrow according to our trek leaders to walk on snow without crampons. Plus, we came to know in the morning eleven of the fifteen horses we had with our group (because we were too weak to carry our own luggage and kitchen stuff and tents etc; judge me if you want, but that's true) had ran away after it started snowing yesterday (firstly, they don't get anything to eat as everything is covered under snow; secondly, they can't walk on snow as it is slippery) and some of the staff members were off to search them.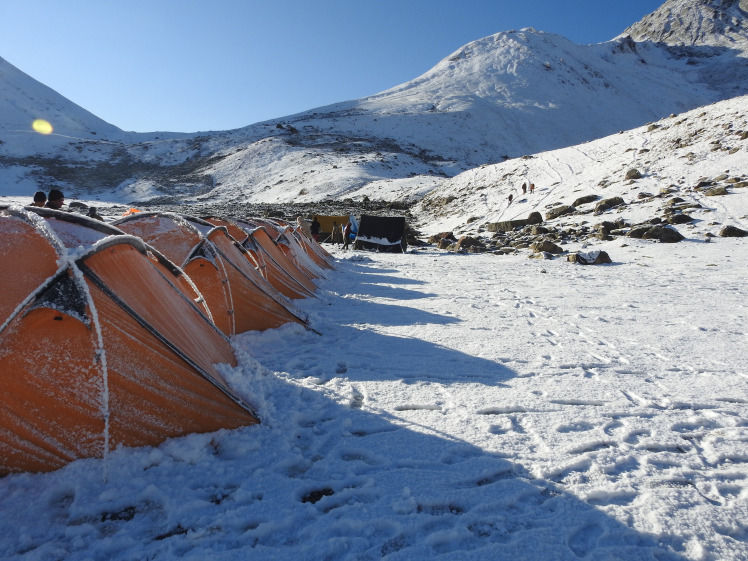 So the point is - this day was sunny, and the snow had started melting and we had spread out our sleeping bags to dry them and we were chilling around. Someone asked, "which trek will you go next?" People started talking about different treks. Someone said Roopkund is very beautiful, someone said Goechala is very tough and challenging and is the right next trek as a progression after this trek. The discussion started sounding like a meeting where bosses are discussing with HR what role will provide the right career progression to their employees; but an interesting one, where you re-realise that there are a lot of cool jobs to do! (I mean cool treks, I am not distracting from the subject)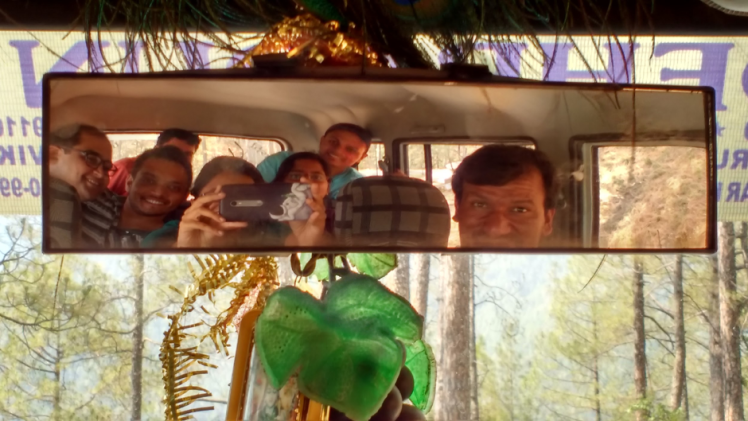 I heard a lot of cool things about Rupin pass. That was in September 2015. Today is 20th May 2016. I have reached Dehradun with a friend. Tomorrow two more friends will join us and we will leave for the base camp of Rupin pass trek.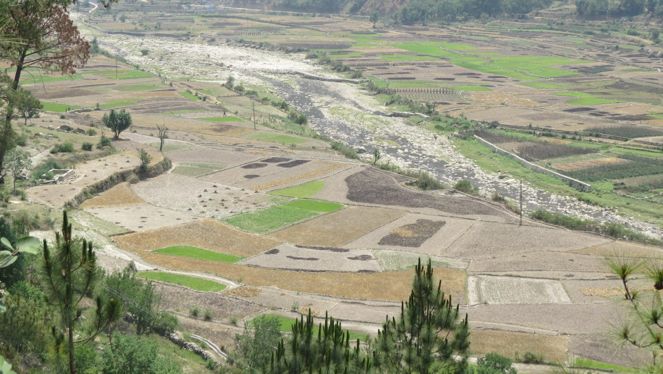 My friend and I reach Dehradun railway station. Prani has already kept her bag on a cab. We stuff our bags there. Jayanto also reaches after stuffing himself with Poori-Chhole. Prani seems to have identified our cab-mates as well. Turns out, that these six cabbies would remain best buddies over the entire trek.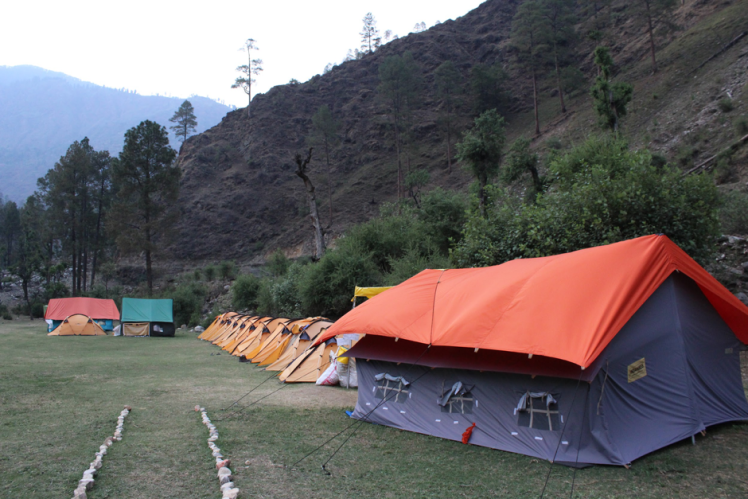 After registration and such formalities, we find ourselves sitting on the grass with our tea-mugs in our hands introducing each other. Our trek leader Vishal turns out to a pahadi himself, though new to Indiahikes. We have two more guides with us - Dashodbhai to lead and Lovely to sweep. Until now, in most of treks I did, I was one of those few people who had been trekking before. I was carrying the pride from all those treks with me. The intro starts and all my pride melts down. We have trekkers who had trekked to Chandrashila, Kashmir Great Lakes, Roopkund, Nandadevi base camp and even Stok Kangri. There is no single person who had not trekked in Himalaya earlier!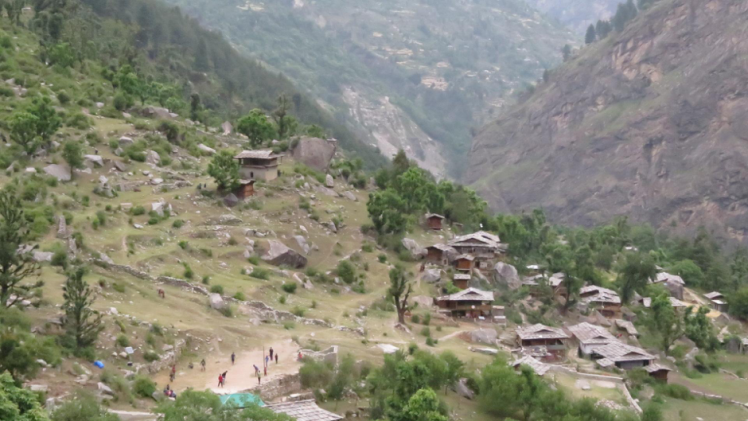 During all the treks, even during the last one with Indiahikes, I drank water from only streams and rivers. This time, they instructed us not to fill our bottles in the river at any camp. Instead they had a water-filter. Vishal also told us that we would spend the first two nights in home-stays and on the second day, most of our walk would be on easy motor way. We started thinking that it has started being very commercialised and they were being too protective of us. Slightly disappointed. We wanted a tough trek, so that we can go back and brag about it. Nobody can brag about drinking water from a filter and about walking on a motor road!
We didn't know we would get enough to brag about in coming days though...
Even though Vishal was a new trek leader (a month old in Indiahikes), he was good at his job. On the first day itself, he told us "I am going to be your best friend throughout this trek". All through the week, he used to hop between the leading guide and the sweeper talking to all the trekkers, encouraging us those who were lagging behind, sharing stories with us and at the same time, making sure we were alright.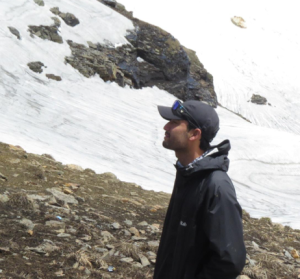 Once we reached the next campsite, he used to make us exercise, stretch compulsorily so that we wouldn't have much body-ache. He knew the right exercises, he knew his medicines and he knew how to discipline us too! I really admire the way he maintained the discipline in the group - be it about our food habits, be it wearing our socks and gloves in the cold weather, taking our medicines regularly or be it punctuality. For the first day or two, some of us couldn't get up on time or weren't ready on time, which delayed our trek. On the third, we were to get a nice little lecture from Vishal and to get punctual for the rest of our trek.
Every morning, Vishal used to tell us about the route that day.. which plants we would see, where we would cross a stream, where we would see a beautiful valley and so on.. And what I admire here is that he had never done this trek earlier, and still described the trail such wonderfully and with such a confidence..as if he were born there. We believed in every word of his!
Indiahikes is one of the few organisations who are committed to their fundamental principles. One of which is green trails. Every trekker is given an eco-bag to be tied to their waist. Trekkers are encouraged to pick up non-biodegradable wastes on the trail or campsite. The purpose is to leave the trails clean and green, as any of us would like to find them. All the non-biodegradable wastes generated on the treks is also brought back to the cities.
Indiahikes runs a unique internship for young enthusiasts, where they work towards creating green trails. We met two such interns in our first camp, in Sewa. They were studying in one of the IIMs. Unfortunately, when we asked them about their work, they seemed to be a little annoyed and told us that they would tell in a session they would conduct in the evening. This seemed a bit surprising. My usual experience is that people get really excited when asked about their work..specially when they were doing something uncommon. They do talk a lot about what they are doing and why they love it! There is also a special 'Green Trails' trek a couple of times every season (on every trail), which is dedicated to this mission!
Later on I gathered more about the internship. Interns stay in villages on or near the trail of a particular trek. They conduct sessions for villagers educating them about wastes, waste disposal, its ecological effects and such. They also worked with the village heads and Panchayat to create awareness among people, to create mechanisms for effective waste disposal in the villages and to solve problems around this issue.
Green trails is one of the reasons I find people at Indiahikes very respectable!
After the interns turned us down, we all dispersed. Some went to sleep, some went for a walk in the village, a lot of us some started playing cricket. My friend and I quietly picked up our cameras and sneaked out. A minute later, another trekker joined us. Seeing him, two more jumped out of their sleeping bags.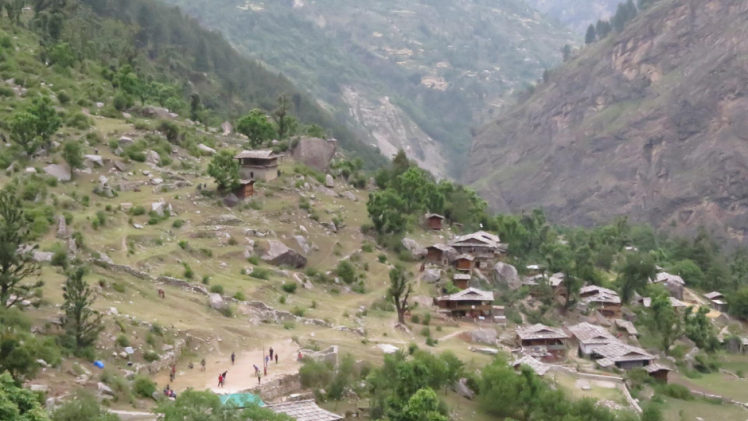 Five of us started walking uphill with our cameras in our hands. A sixth one ran behind us. These six people were the same cab-mates on our way from Dehradun. Turned out all of us shared a common hobby (apart from trekking) - photography! and all of us weren't so fond of cricket!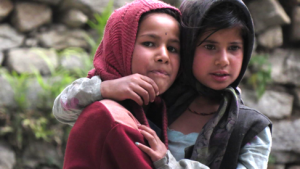 On the way, we found Ishani playing with the kids and singing with them. Some kids made us eat a sour tasting fruit..we loved it, though we don't know what it was till date! We clicked their pictures in return and walked further. There was a deserted wooden house uphill which we turned into our studio and the mountains in front our models. We did all kinds of experiments with our different kinds of cameras - ranging from a pocket camera to a DSLR. We tried our hands on all those.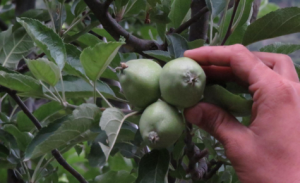 Uphill we found a treasure any of us had never seen before.. apple trees! The apples were very small and green still. We could not help but pluck one and shared among the six of us. Can't describe that joy!