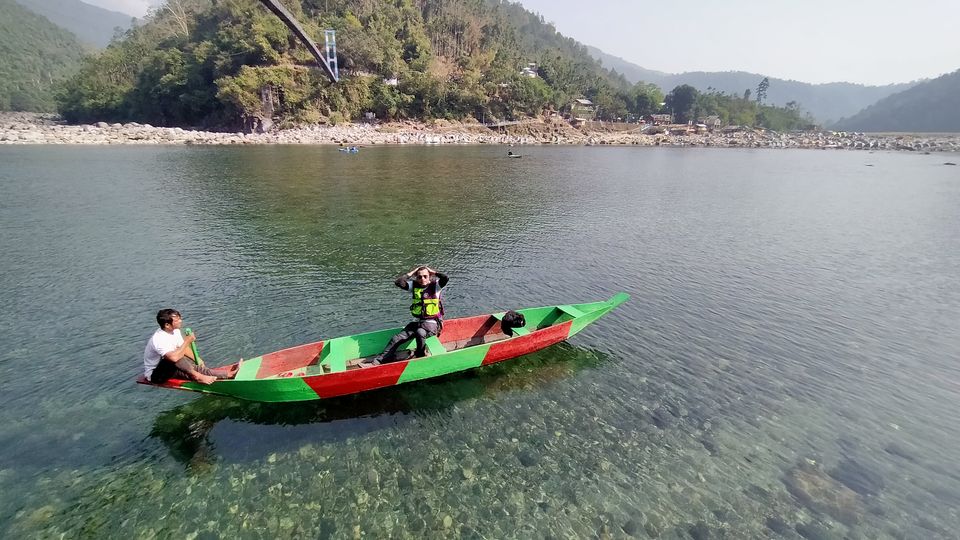 Time had arrived and I had a week in hand. After a 3 day ride for Hornbill Fest, this was gonna be a longish one. Not much of plan, the itinerary was fluid and I just wanted to have fun. So the aim was to enjoy the ride, visit places, catch-up with friends and party.
Day 1 :- 17 Dec 2022, Saturday.
Start Point - Kakching
Kakching is a newly created district in South Manipur. The Asian Highway passes through here to Moreh - the border town at Indo Myanmar border.
While the aim was to reach Maram (a small town in Senapati district) but luckily I was able to start a little early and could hit Kohima before the sundown. It's a pain riding from Imphal to Kohima, for 14 kms between Mao to Zakhama there's no road and each passing vehicle brings along a dust storm leaving one soaked under layers of soil.
Had a hot cup of tea followed by a hot water bath. Kohima was cold, as I got ready my old time buddy Priyaj (Koti, as we dearly call him), was there at the door on his new Benelli. We rolled down to his place and his better half welcomed me at the lawns which had one of the most beautiful panoramic view of the hill town. Hours passed around the bonfire gulping down whiskey and remembering our good times at Hyderabad 16 yrs back.
Day 2 and 3 :-
I was up in time, took some pics of this beautiful Offrs Mess, had a hearty breakfast and rolled down on my 'Sangai' to Dimapur. Oh man what a beautiful tarmac it is. As one rolls down from the streets of Kohima for about 10kms the highway turns into a two way newly laid tarmac. Dimapur was left behind in less than an hour. Entered Assam and the enchanting twisties of Karbi Anglong through this wildlife sanctuary never seemed to end. With Nagaon crossed the 'Sangai' was swiftly galloping towards Guwahati.
Lucky me to have not encountered much of a traffic crossing Guwahati to reach my destination at the Western end by 4pm where my biker brother Rakshak was desperately waiting. Joey ( his golden retriever) welcomed me with his sloppy kisses.
The evening was set for the FIFA World Cup Grand Finale. Rakshak had organised a gathering with some of his best friends. As the momentum of the match grew, so did our drinks. What a night it was. Cheers to the good times bro, for such times will always be cherished.
But the extended match and the scotch made us cancel our plan for Pobitra wildlife sanctuary. Some other time may be.
Guwahati has some nightlife too even on Mondays so our bikes (Sangai & Tisca) tore through the evening traffic of the city and evening started with an Old Monk on the decks of Alfresco Brahmaputra Cruise. Later we were joined by Vikesh ( My NDA Crsemate now a veteran) at the terrace bar of Maya Terra to gulp down few towers of freshly brewed beer.
Day 4 :-
Bikes were loaded and had a comfortable start for Shillong. Once out of the city chaos, Jorabat to Shillong is a beautiful ride. Our first and the only break was at scenic Umiam lake to click a few selfies.
Shillong at this time of the year was freezing but the temperature couldn't kill our enthusiasm. After a late afternoon lunch and a little rest at our guest rooms, we headed for Ward's lake. The traffic in the city crawls but the car owners over the years seem to have acquired admirable patience - U can't overtake in Shillong. But we bikers are lucky people riding through the gaps between the vehicles and that's allowed but it is taxing and the fun goes out of the window.
By evening we were enjoying the Winter Fest at the Wards lake. The evening had just started and the dinner was at a good friend's place at Laitkor. Despite the Google lady guiding us, the ride to Laitkor through endless traffic, many 'No Entries and One Ways' was not an easy task for us first timers in Shillong. A warm welcome by Abhijit and his wife and a bottle of Jack Daniels was worth all the efforts. Someone had told me that Huskies don't bark, they talk. But this bugger neither talked nor did he bark, before anyone could react my forearm was between his canines. (I recently fwd Abhijit an episode of the famous stand-up comedian Akash Gupta).
Riding back to our rooms in freezing cold at midnight was truly adventurous.
Day 5 :-
Cherrapunjee or Sohra (as it is locally known) is famed to be the wettest place on the planet Earth. The otherwise famous waterfalls had not much to flaunt during this time of year (December) and while Nohakalikai was still impressive, The Seven Sister Falls had dried out. The limestone caves didn't impress me much for I've been to better ones. A grand view of the neighbouring Bangladesh was worth it. Sohra was a disappointment and I'm sure this place would be something else during rains...So next time may be.
What we thoroughly enjoyed though was riding the 'Sangai' and the 'Tisca' and took some beautiful shots.
Overall an average day. Winded up the evening with few large of my favourite companion - Old Monk.
Day 6 :-
When we started off for Dawki, I had not imagined the day is gonna throw a hell of an adventure on us. The first 50 odd kms from Shillong passes through imposing huge mountains and the tarmac - I tell u is a dream to ride on. Post that, the road is bad and as we reached closer to Dawki, there's hardly any road. We had to confirm many a times if the track is taking us on the right route. After a full-on adventurous ride we were here at Dawki ogling mesmerized at the crystal clear water of Umngot river.
Since we had our plans to camp, our destination Shnongpdeng was further 12 kms upstream along Umngot.
We never realised that it was already lunch time and luckily there was this beautiful place Betelnut Resort where we had our stomachs full. This resort is beautiful and I would certainly recommend booking this place in advance if one is planning a stay at Shnongpdeng.
Post the lunch we reached the end of the road, parked our bikes and called for the guy with whom I had booked the tent stay. A boy came up to help us carry out luggage down to the banks of the river.
The camping site I'm sure must have been a beautiful place sans the crowd. Ok let me tell you about my observations of this site :-
1. Too much cluttered since anyone and everyone is trying to capitalise on the huge tourist rush.
2. There is only one common toilet for the entire crowd staying in camps at the home bank. Very unhygienic.
3. The camps on the far bank seem to be better managed and upclass. I'm sure they would be having toilet facilities. One can reach there by crossing the river over the suspension bridge.
4. There is another camp upstream which can be reached by a boat. This one looks really neat and I'm sure would be the best option if budget is not an issue.
5. Old people will have troubles walking on the stones at the river bank.
Let's get back to where we left. By the time we could satiate our eyes with the beautiful river, we found ourselves enjoying a hot cup of tea as the sun went down. Me and Rakshak chatted and made up a raugh plan for the next day's ride and a different world was unfolding along the banks of Umngot. The flickering Chinese LED lights had created a different ambiance. People mostly in large gps were settling down around multiple bonfires lit up by the camp guys.
Without wasting much time we 2 found a cosy corner and the Old Monk rounds started. My JBL speaker and those 70s rock anthems with the quietly flowing river were all at sync. A resourceful boy brought us some more liquor as the dinner was served.
The day's adventures had not yet ended and in a few minutes we found ourselves enjoying a drunk walk over the suspension bridge. I can't forget Rakshak pleading me to stop swinging the bridge as I laughed away like a kid. We stood there enjoying the enormous view of the camp site on both banks... Friends laughing together, some drunk like us, some sang incoherently but one common thing - everyone seemed to be enjoying the gift of life.
Day 7 :-
Morning looked chaotic. Even adventure seekers like me had no choice but to wait for my turn to crap. Anyways, next we were on this boat enjoying the ride of our life. As the boat went upstream under the suspension bridge, it was like entering a different world of Shnongpdeng - the one away from rush and chaos. There were kids enjoying the thrill of Cliff jumping while some college girls were more interested in clicking selfies with their colorful life jackets. There were Bong families some giggling away with laughter while some shouting on their kids trying to jump off the boat. One gets to experience the true nature of domestic travellers in such places and trust me it's satisfying.
The mesmerizing beauty of Umngot can't be done justice to with words, it has to be felt. Our boat slowly passed through stunning rock formations to the turning point - a small water fall. My jaws literally dropped seeing this beautiful fall as the water gushed down neatly taking over the peace which the river enjoyed downstream. Rakshak made some good Gopro videos of the site. Our boatman told us that one could get down here from the boat and trek up along the river to witness another beautiful waterfall. Some touring guides organise a picnic too for those interested. Sadly we didn't have the luxury of time for that experience. On our way back, we got to a side and took turns in clicking each other's pics floating over the unseen water of Umngot.
The bikes were loaded and we roared out of the village. We took a longish but scenic route through West Jaintia hills on our way back. This route bypassed Shillong and we joined the Guwahati road near Umiam lake through Umroi. And I promised myself that Someday during rains I would ride on this road to witness the vastness of these green meadows.
By night, despite the complicated electronics of Tisca testing our patience time and again we were back home at Guwahati.
Day 8 and 9 :-
Our TCS engineer boy Deepak (who knows KTM 390 inside out) and his beautiful wife Nikita (an Aircraft Specialist) who are very dear friends since we met during Hornbill Fest just a few days back were not ready to let me leave before I acknowledge her another speciality and that is cooking. All four of us relished a hearty breakfast into each other's company. What a lovely couple and all thanks to my riding passion that I meet such wonderful people.
By evening I was at Dimapur after purchasing a few Bamboo Beer mugs enroute. These Bamboo stuff is generally fabricated in a place called Barpeta which is west of Guwahati. I got to buy few more things in times to come.
On my last day of ride, I quietly passed through the beautiful Kohima (I've literally fallen in love with this City) saluting the martyrs as I rolled down next to the War Cemetery.
Again after fighting through lots of dust and negotiating some beautiful curves with a hot cup of Ginger Tea at Senapati and I was back at Kakching.
New experiences, sense of adventure and bonds of friendship was all I wanted to end the year 2022 with and trust me I was successful. Love u all.