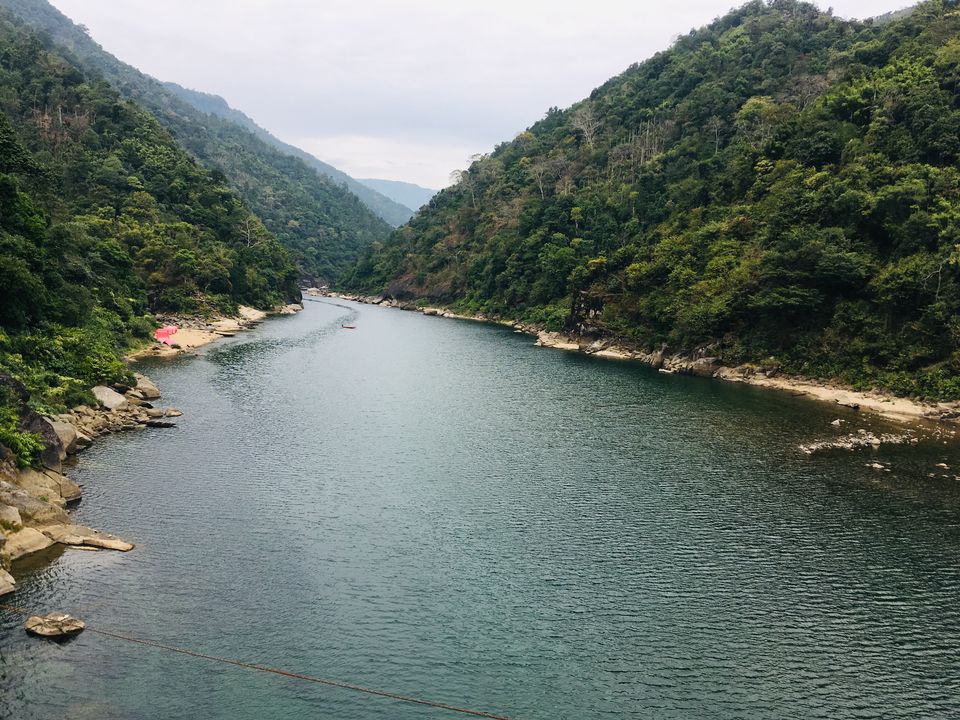 Just before 2 days of the date, we are not sure whether our dream to the "Adobe of Clouds"(Meghalaya) will still be in our long cherished dream or it will be a reality.
Finally, after overcoming all the hustle and bustle we group of 6 friends (Samir, Diya, Shaswat, Pihu, Joy, and Piku) reached Guwahati on 16th December, we chose the time to be December because of pleasant weather as well as to enjoy the chill of North East. We kick started our much awaited and most anticipated journey on the same day, this journey holds an additional significance as it's was our first trip to North Eastern part of India. We finalized our first destination as Dawki 180 Km drive from Guwahati, which we had planned to cover by 1 PM in the noon. We did all our bookings from hiring a car to booking hotels in each location beforehand as it will reduce the expense and also reduce the hassle of same day booking. The car we booked was for the entire trip and it reduced
After boarding the car at 10 AM from Guwahati our plan to reach Dawki by noon seems to had dwindled, whatever when enthusiasm is high hope stays high. Suddenly after an hour of journey, we all whooped inside the car seeing a large stretch of water body encircled with green hills Shiva (our driver) mentioned it as UMIAM LAKE/ Barapani(in local terms)the first view of our journey. Umiam Lake is a paradise for photographer and photo lovers we too didn't miss any chance to click from every angle of it until our Shiva bawled at us reminding we were getting late.
Enroute we got sight of some other enthralling views, and we didn't leave any chance to capture it. After around 5 and a half hours of drive over some lovely maintained roads and overcoming many kinky turns we reached Dawki at 3:30 PM, an utterly beautiful town in West Janitia Hills district of Meghalaya. By that time we were hungry as a wolf.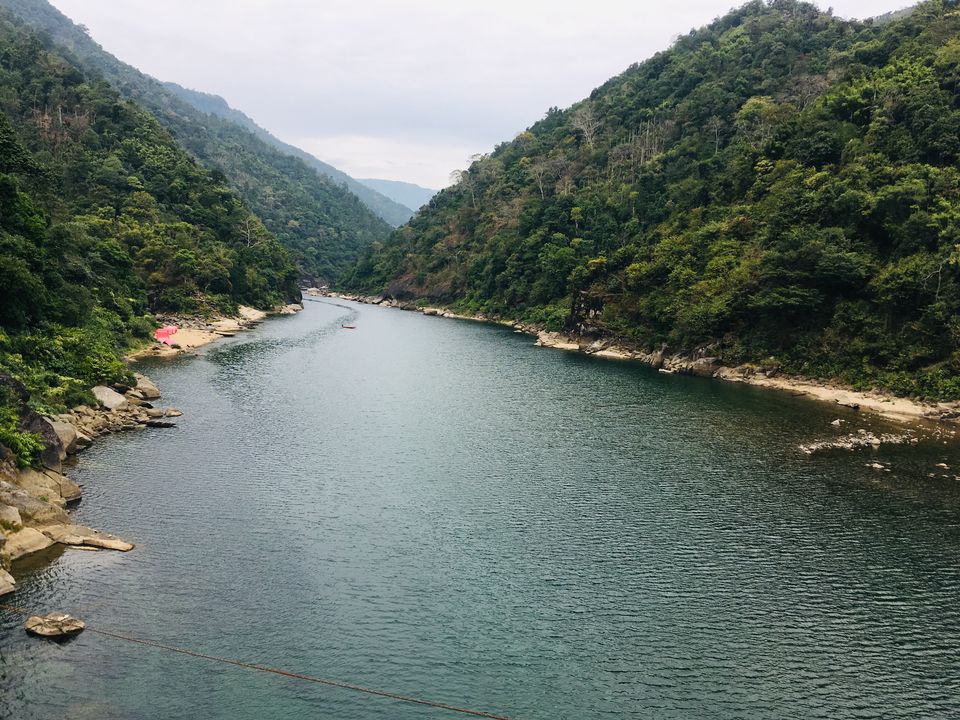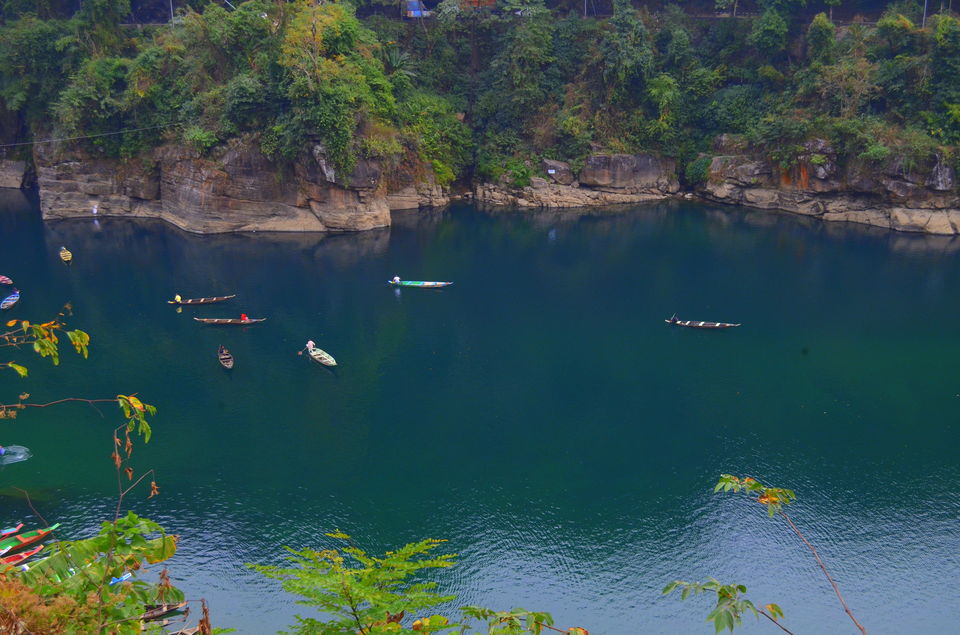 Our overnight stay was booked in a camping site on the bank of Umngot river which is situated in a small village named Sonnegpedong 15 km from main Dawki town, we booked the same through an online travel agency named Traveldglobe(http://www.traveldglobe.com/). Our day started with supper as we devoured it in mere 10 mins and this goes on for an hour after we finally satisfied ourselves .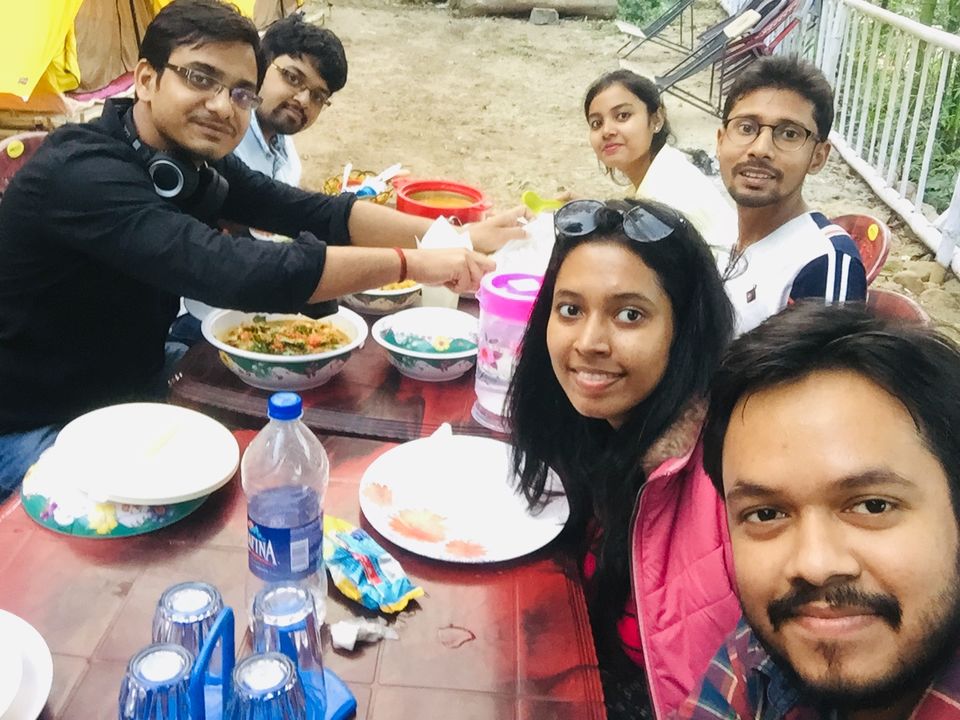 After lunch and dumping the bags in our camp we explored the small Sonnegpedong village, it was a very fascinating experience on interacting with the locals and at the same time little heart wrenching also on hearing about the hardships of their daily livelihood. To mention the area runs on solar power only, so after 5PM it was completely dark and we extended our day with bonfire along with some friendly activities, random gossips followed by dinner till around 9 PM and finally fell asleep enjoying burbling of Umngot water .
***I would like to mention that we couldn't do any river activities on Day 1 because we reached late and all these activities close by 4 PM.
Next Day started with a pleasant experience on waking up in the river bed, I and Diya woke up early than usual and began our day with clicking few photographs on river site and gossiping random stuffs with fellow visitors later joined by other four. It was such a place where you can spend your entire day just gazing at the astonishing beauty of the place. But we don't have scope for that as again Shiva reminded us of the time. Our second day's programme was the journey from Dawki to Cherrapunji via Mawlynnong village and Single root bridge, but shiva was only one unequivocal that we are not going to make to all places and we couldn't gainsay on it.
After breakfast and a special bath for two of us Shaswat and myself in Umngot river, we bid adieu to Dawki with exchanging pleasantries to the people from our travel partner for their prodigious hospitality on serving us.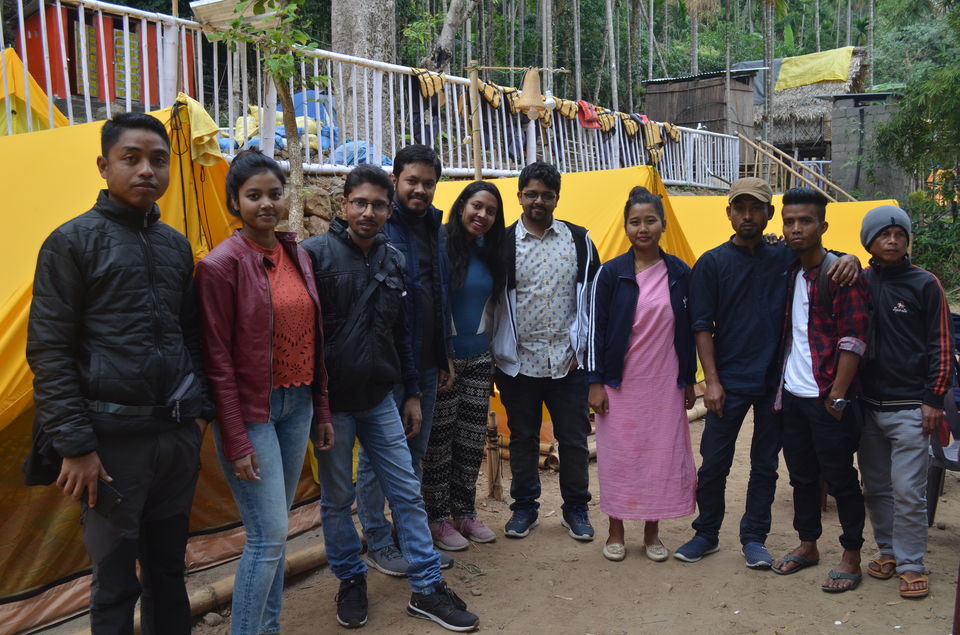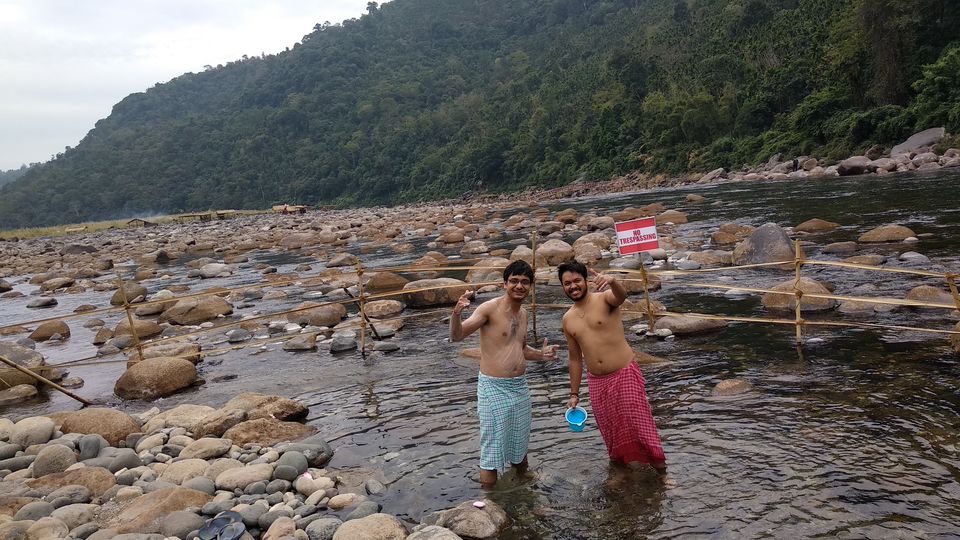 After an hour of uninterrupted journey from Dawki, we reached the site of Single-Decker Living Root Bridge. It was a nice place and we had to go down around 450 steps through shady stairs with sunlight making every possible attempt to peek in and after every 10 steps, it had dime stores in both sides. We finally got into the "Single-Decker root bridge" it was a pure natural dazzle but now with external man made support to withstand increasing crowd.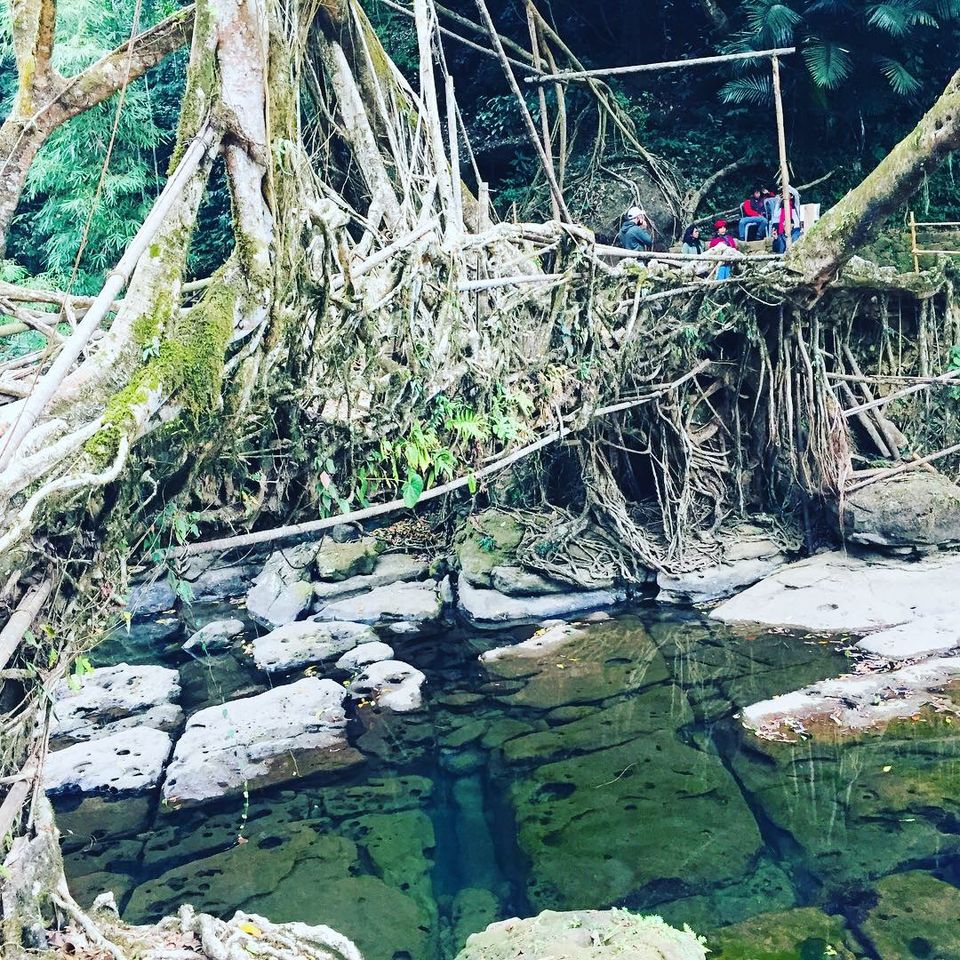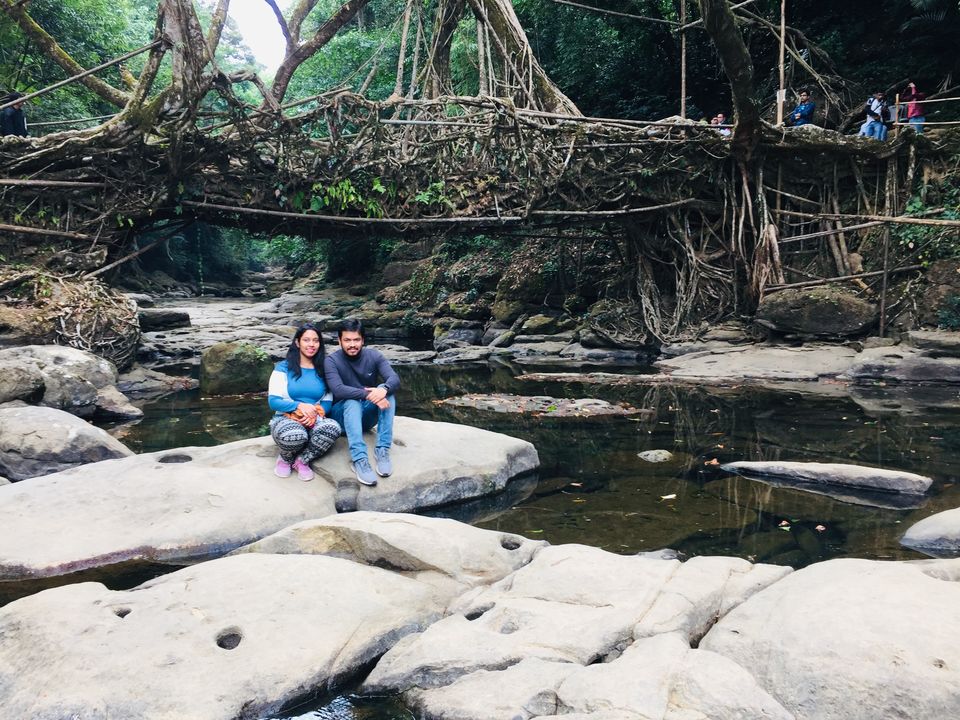 After clicking some photos we decided to leave for our next destination i.e. Mawlynnong Village or one can say Asia's cleanest village(according to Discover India Magazine published in 2003). We had a very high eagerness for that place because being in India word village gives us a shabby visualisation. Reaching there it didn't dissatisfy us either, the village was very organised and planned with proper disposal facilities to maintain it's cleanliness, we decided to roam around a bit and girls as usual got busy with their shopping.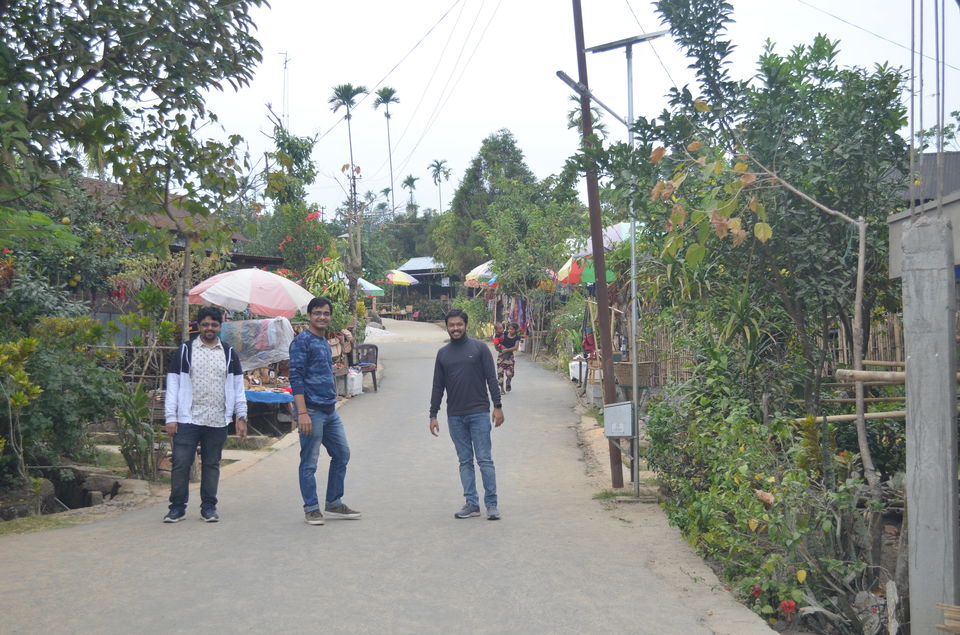 After a quick supper of chicken thali in a small eatery as it's easily available there, we headed out for Cherrapunji, and by this time we were running very late. One thing I forget to mentioned till now is that about the weather, so the temperature in Dawki and Mawlynnong was around 18-20 deg C whereas as we were approaching Cherrapunji we started to feel the chill and through that, we reached Sohra around 3 PM and it was extremely cold and rain was adding more to that. Shiva's prediction became true and due to lack of time and bad weather we had to discard many of our site visits, still, in spite of being crestfallen on missing out on many falls and caves visit we decided to enjoy it to fullest. Below are some snaps of view en route to Cherrapunji.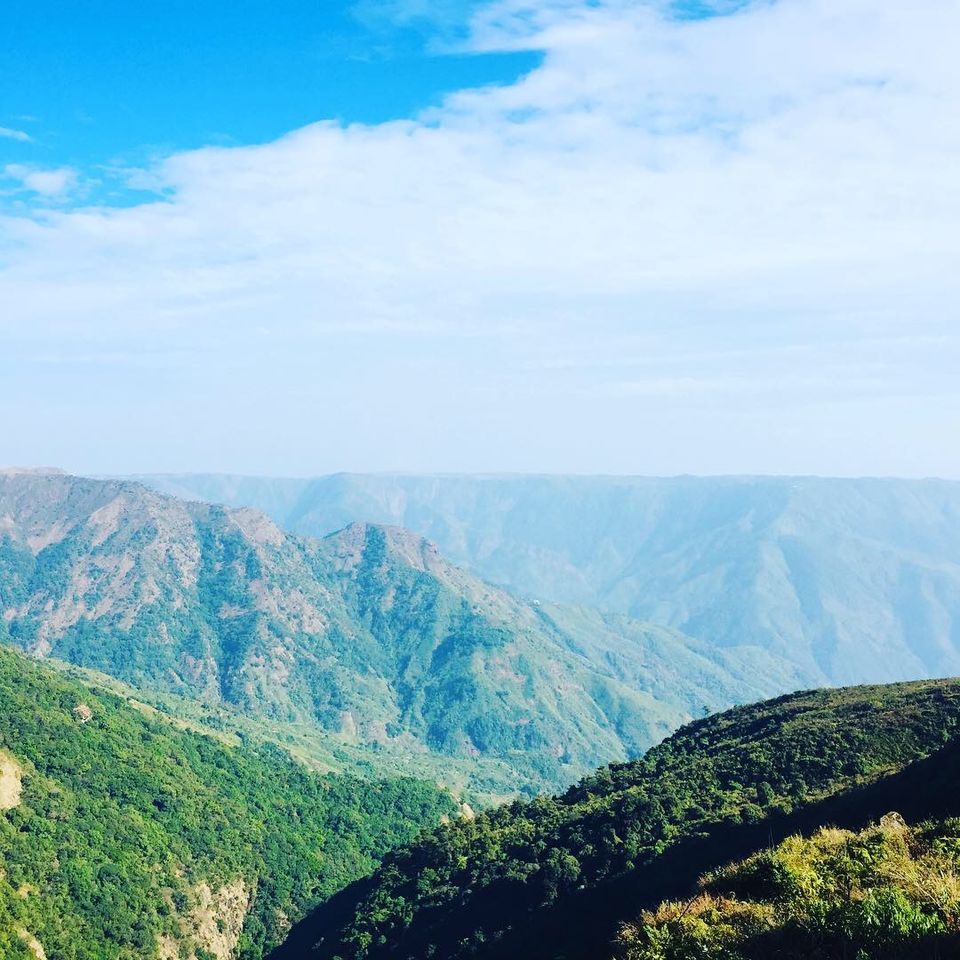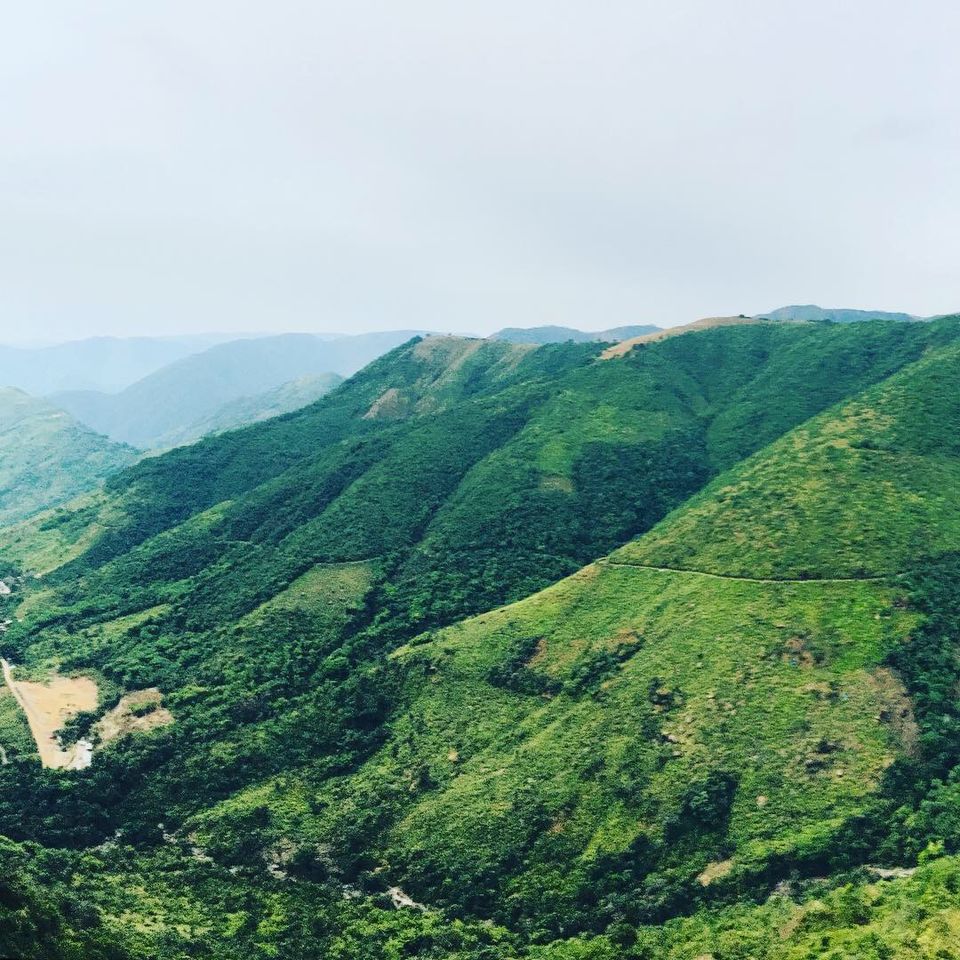 We made up our mind saying you got to enjoy the rain when you are in Cherrapunji. After spending some quality time and completing our snacks in shivering cold and drizzle we headed out for the "Scotland of East", Shillong our last destination of the day.
We entered Shillong with light drizzle and mercury dipping to 5-6 notches at around 7 PM. I was so exhausted after our day long programme that I had no enthusiasm left to explore Shillong that night. Still, Piku, Joy, Pihu and Shaswat executed their drinks plan.
Next morning we were now on the penultimate day and already melancholy feelings had began to encompassed each one of us and Piku already started recollecting past two days by hovering over his phone and DSLR gallery. With all these, we started our day in shivering cold with a nice English breakfast in our rooms. Our plan for the day was sightseeing in Shillong which includes Elephant falls, some view points and golf course after that return to Guwahati. We started first with Elephant falls, it was a nice site to view still in that cloudy gloomy weather.
Next we climbed up to Shillong view point, it's an area under Indian Air force surveillance also do note that all these sights have separate tickets of Rs.20-30 per head. By the time we reached Shillong view point it already started raining and view was totally covered with clouds but again that couldn't dampen our spirit and we still clicked numerous photographs from every possible angles inspite of drenching in rain. One such snap below.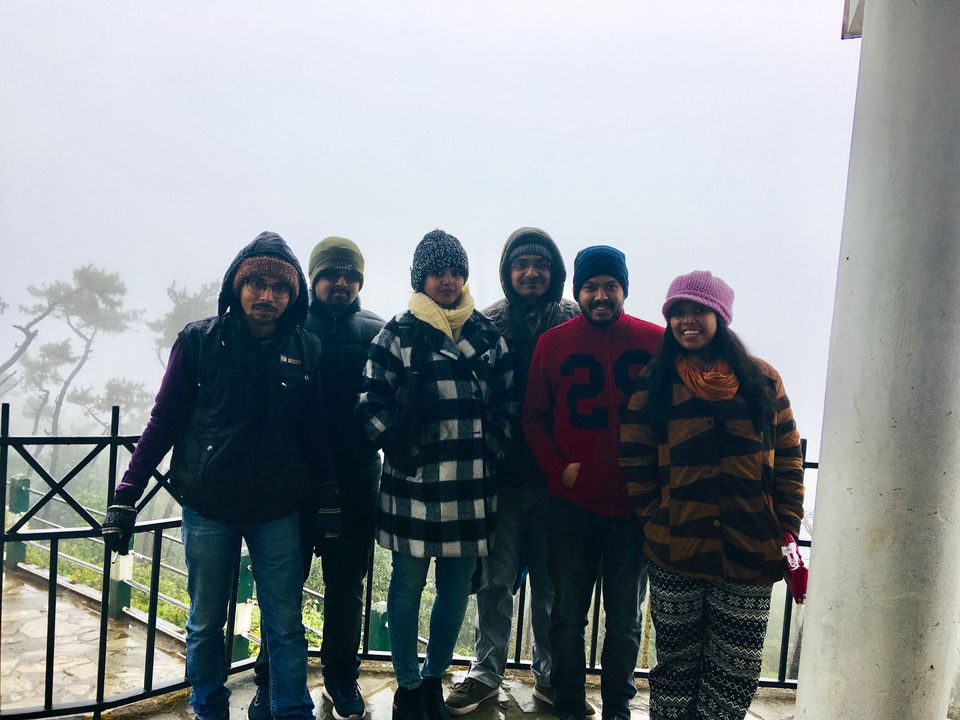 Continuous rain had cost us our Golf Course site visit as it would be very patchy, so on greater demand, we decided to head-out to Police Bazar (Centre Point of Shillong City) for some shopping, hopping, and lunch. Diya was the one more excited in shopping and had already planned luggage full of items to buy, other four more on hopping except me who was only looking forward to lunch. But at last we ended up completing the lunch only.
After spending some time in Police Bazar we bid adieu to Shillong and to our trip as we started for Guwahati, by that time dejection of ending holidays had encompassed us all and throughout the journey till Guwahati all of us were recollecting memories of the past three days and uttering random locations name for our next trip though we know it was a long way to happen.
We had reached Guwahati by late night and after an overnight stay in Guwahati, we started our day 4 with a visit to famous Kamakhya temple and after standing hours in the long queue we finally offered prayers and concluded our much awaited and most anticipated trip.
We had a flight in the afternoon and as the flight was taking off Guwahati I can see the blood red Sun setting down so as our enthusiasm, excitement, and thrill that we had when landed here 3 days ago. Throughout the hour-long Journey to Kolkata I was thanking each one of us in my mind for making the trip successful and memorable, Shaswat and Pihu for planning the trip,Joy for making the trip get executed because he was the one not sure to make it before two days, Piku for capturing memories in frame, Diya for making up my mind for the trip and entertaining us with her humourless jokes throughout the journey and to myself for executing most part of the trip. It was a nice short trip to one of India's most beautiful place with some enthralling sites, mesmerising atmosphere in total a splendid experience.
Now I will share the expenses per head(6 people)
Flight Fare (Up and Down journey) Kolkata-Guwahati- Rs. 7000
Dawki Camping package 1 day(includes three times food and accommodation)-Rs.1800/head
Shillong Hotel Double Bed(we took hotel Labang/zig zag road)-Total Rs. 1500 and Rs. 750/head
Guwahati Hotel Double bed- Total Rs.900 and Rs.450/head
Car Innova(same car throughout our journey) Total Rs.16000 and Rs.2666/head
Food(approximate)- Rs. 3000/head
All the hotels we booked had a complementary breakfast facility.
Total Cost per head on going via flight- Rs. 16000/head, the same amount can be much lower on travelling via train or if hotels are chosen a bit away from the centre of City.
Thanks for reading..........Adios!!!
Samiran
Some more from our gallery ( ***all the photos attached herein are captured from the people of our group's personal devices and doesn't hold for any plagiarism)
Frequent searches leading to this page:-
Living Root Bridge Walking Trek, Hiking Tour in Meghalaya, Trekking in Shillong, Meghalaya Sightseeing Tour Package, Exotic Shillong Tour Package