The exquisite Umngot river with its cerulean bluish-green water, snakes through Dawki in Meghalaya, shrouded in seclusion. Fringed by a wealth of lush green flora and stern vertical rock faces; the river flows through a small village called Shnongpdeng in Dawki and thereon into the plains of Bangladesh.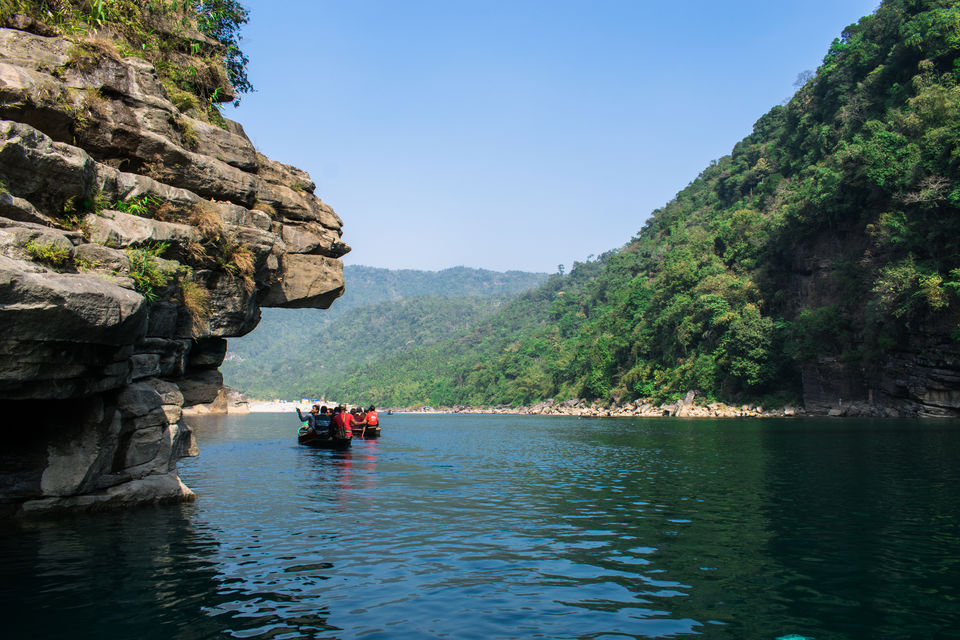 Boats glide along the crystal clear river which mirrors the sky, seemingly defying the laws of gravity to float on air. The silence of the place is so profound that it's deafening for wanderers from urban areas. After a while, however, you give in to the lazy rhythm of the river, the melody of birds and insects tittering in a chorus and leave behind the worries of the world along with your phone network.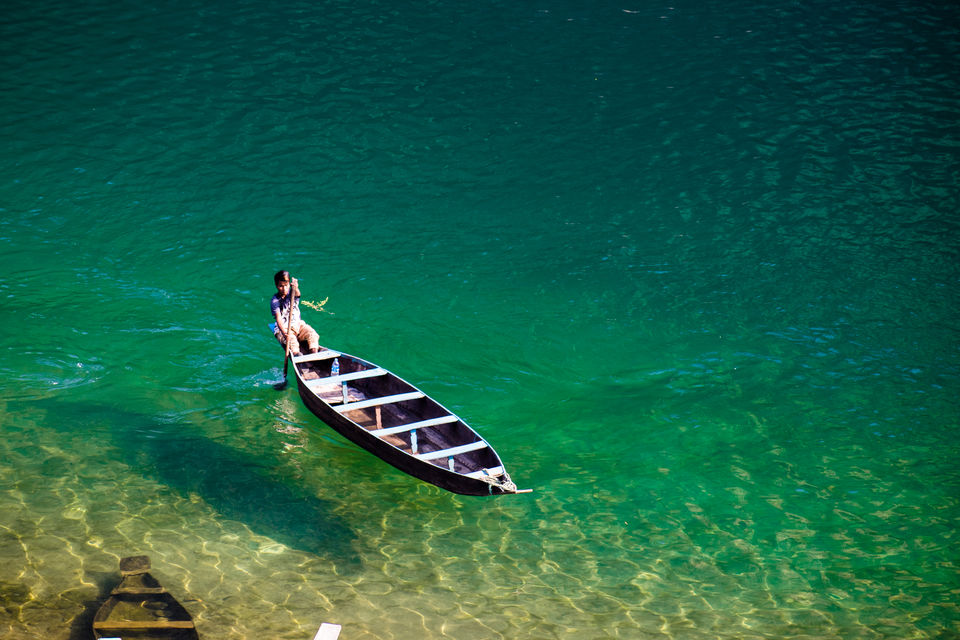 Since Umngot flows through both Dawki and its quaint village Shnongpdeng, we opted for the latter for its relative anonymity. We started off in the afternoon in high spirits for the three-hour long drive from Shillong to Shnongpdeng. Our hired cab raced past verdant soaring hills to the soothing strains of Bihu music that our driver Uttam da had thoughtfully turned on for us.
As we neared Dawki, Uttam da pointed out the India-Bangladesh border for us to see and all of us craned our necks out of our window to look at eagerly. There was no clear demarcated border and signboards were absent. From the heights we could see tiny dots of people moving around amidst brightly coloured umbrellas, spending a lazy day in the sun.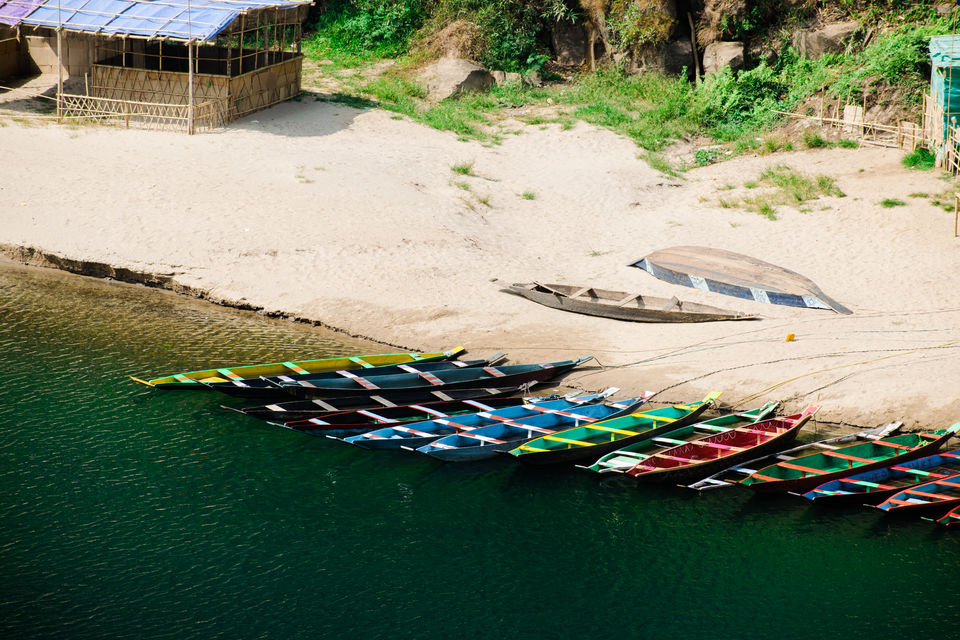 Inky darkness had spread by the time we reached Shnongpdeng. Our legs finally hit gravel and looking around we realised how secluded Shnongpdeng really was. There were a few lights shining from homestays and storefronts but otherwise, the place was wrapped in complete darkness. We made our way down treacherous steps to the bank of the glittering Umngot river where our tent was pitched.
A few minutes later, we were cheerfully huddled around a blazing bonfire warming our cold limbs. The wine was brought out, strains of guitar music filled the silence from a nearby group and the wind blew sparks from a nearby bonfire. I dug my toes into the sand and stared out at the river lazily shifting and gleaming under the moonlight.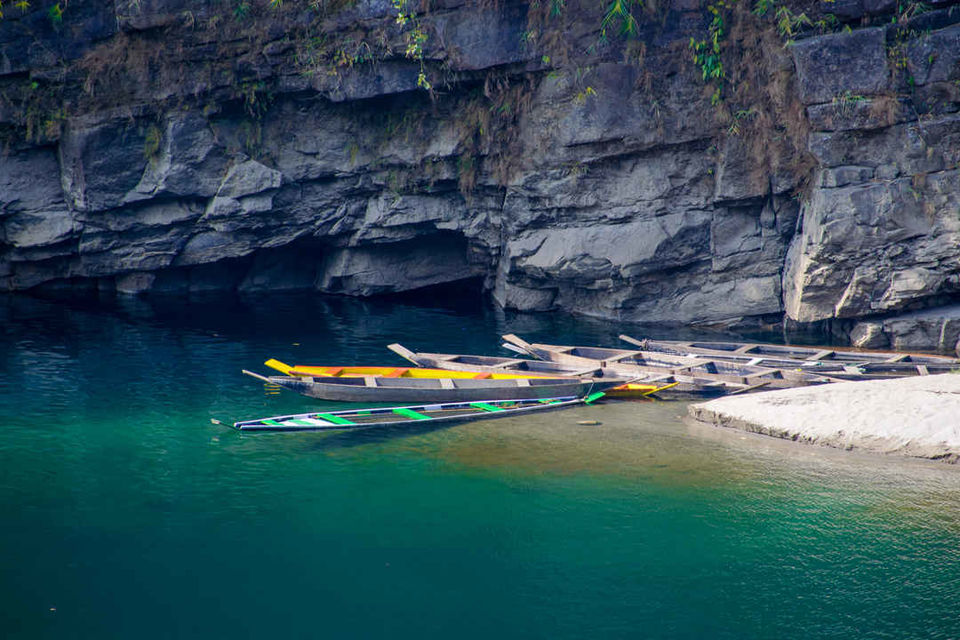 The streaming sunlight and some insistent rooster crowing roused us from sleep. The river, also known as Dawki, looked inviting and deliciously cool on a sunny day. Not wanting to waste any time, we headed towards the suspension bridge hanging over the river. The bridge would sway dangerously if too many people got on at once. Grab onto the rickety sides of the bridge and peer down to watch the river sparkle under the sun.
On a perfect day like this, a boat ride was in order. We found a boatman who promised us both breakfast and a boat ride. After tucking away several rotis and omelettes, we stepped into the boat and soon were gliding along effortlessly.
The water was so clear that I put my face to its surface and spotted fishes swimming away quickly. There was a strange, subterranean glow emanating from the emerald water, even as boulders rose from the riverbed to disturb the surface.
The rippling water was cool to touch and we had half a mind to jump in. It was pretty chilly though, so we dipped our feet into the slow current and were contented.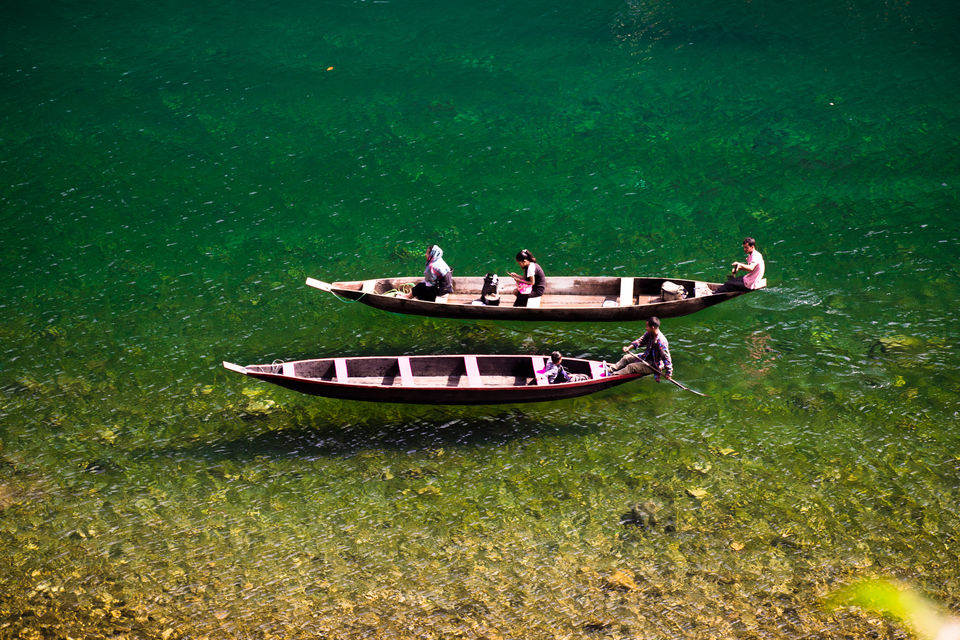 Our boatman rowed us towards a gushing waterfall, making the water around froth and bubble. We spotted one or two fishermen perched atop boulders in the middle of the river, lines cast, patiently waiting for a catch.
Children laughed gleefully from a scraggy cliff, diving into the clear water and surfacing with their bodies glistening under the sun. All was at peace.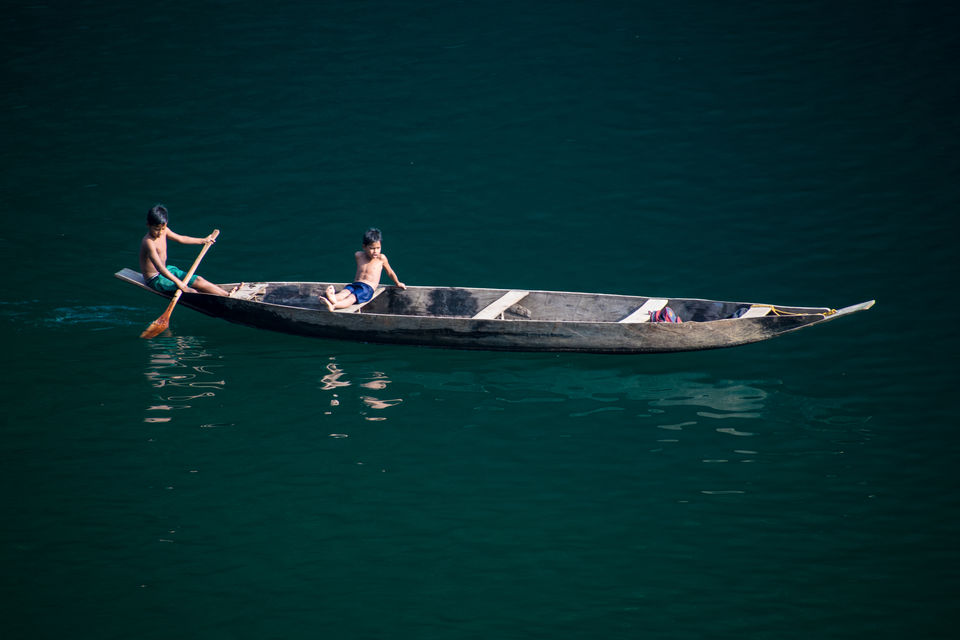 What to do at Shnongpdeng:
For the adrenaline junkies, there are options galore to feed their fix. Kayaking, cliff-jumping, snorkelling, scuba diving–you name it. Mornings are the best time to buckle up and indulge in these activities as they are only available from 10.00 am to 4.00 pm.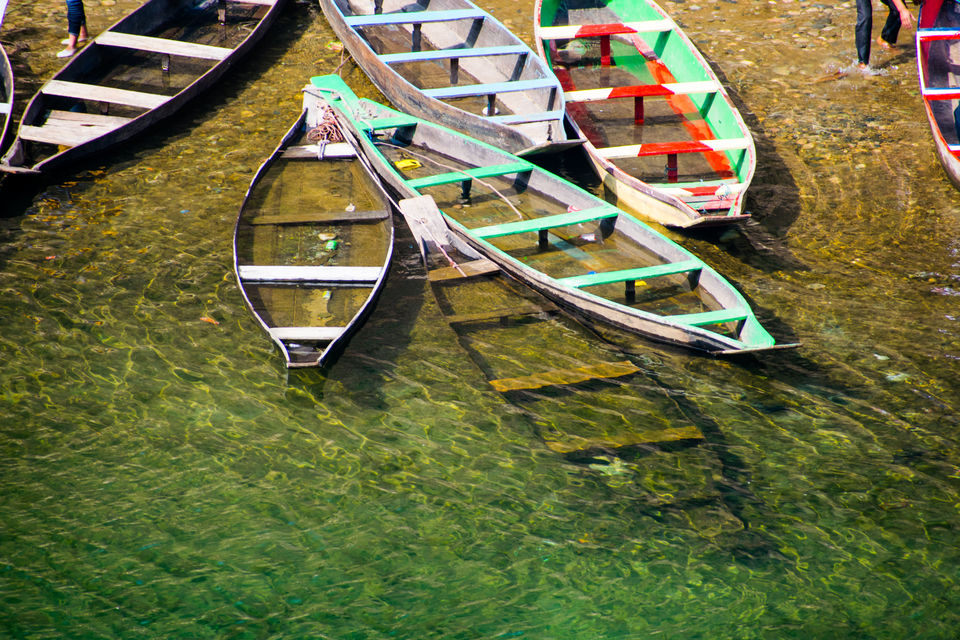 Nature lovers can opt for a soothing boat ride on the glinting river which costs Rs 700 and can accommodate 4-7 people. There are also a few short treks near the river where you can get an eyeful of lush green trees and sprightly butterflies fluttering around.
When to go:
November to May is the best time to visit Meghalaya. However, if you're a hopeless romantic when it comes to rain, monsoon will make the verdant valleys positively breath-taking.
Accommodation:
Since Shnongpdeng is a small village, the only options here are homestays and camping. If you want to be right next to the river, opt for camps - the view is glorious. The camp owners also provide piping hot dinner.
Camping cost for one day (inclusive of dinner) - Rs 1,200
Homestay for one day (exclusive of meals) - Rs 1,200 - Rs 1500
How to get there:
By road
Dawki is a 3-hour drive from Shillong. Buses and shared taxis are available from Shillong. If you're travelling in a group you can hire a car for Rs 3000. Shnongpdeng is 8 km away from Dawki. You can ask locals for details on getting a car.
By train
The nearest railway station is Guwahati station. Dawki is 180 km away from Guwahati.
By air
Take a flight from Delhi to alight at Guwahati airport. Airfare would set you back by Rs 3500 - Rs 2500 for a one-way trip.
Travelled to places which were a sight to behold? Narrate your experience here!
Puzzled about what should be next on your travel list? Check out Kitkat Travel Breaks on Tripoto here!
The readers are hereby informed that the views, thoughts, images and opinions expressed in the article belong solely to the author, and Nestlé India Limited assumes no responsibility or liability for any errors or omissions.