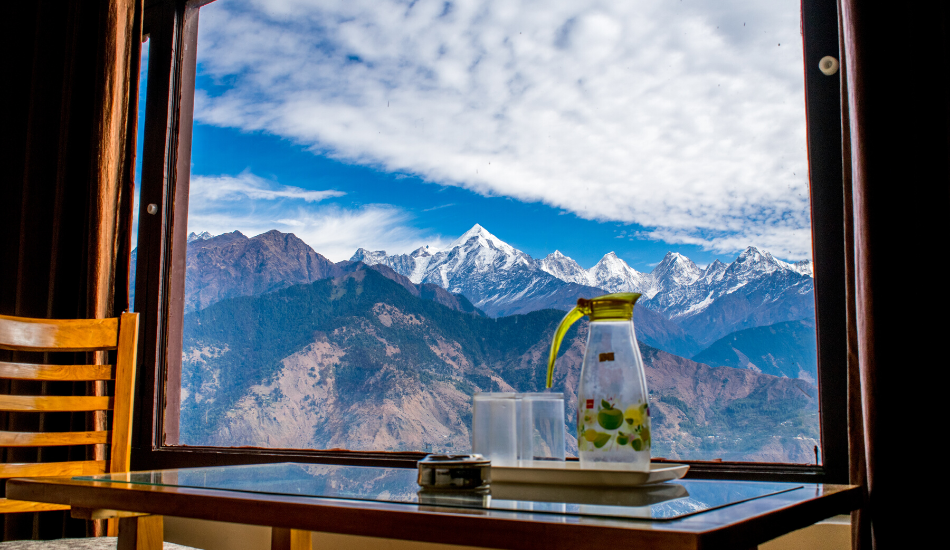 Step into the fairy tale land of India that comes alive covered with a blanket of snow during the winter season. Every time I see snow pictures on Instagram I start day dreaming right away. All I want to do is sit by the window, warming the palm of my hands hovering over the fireplace as I slowly sip a hot cup of chai or mulled wine! I mean if this isn't the perfect cosy night then what is? Instead of binging on Netflix, wouldn't you just love to watch the snow fall? And to experience this, we are lucky that India has so many places that are perfect for a white winter!
This winter, plan a trip to this winter wonderland of India and experience a white Christmas! Who says you have to go outside India to experience? I don't remember getting the same cup of kadak chai, momos and steaming hot Maggi in the Alps. We have chosen 10 post card perfect places for you to go with your family, friends or just by yourself! Get ready to watch the snow gently covering the ground, tempting us to believe that, fairy land exists!
It's time for warm blankets and hot chocolate!
1. Gulmarg - The one and only winter sports capital in Kashmir
Switzerland of India is what Kashmir is famously known as. And honestly why even compare? The hospitality of this fairy land in India, the food and the people are unmeasurable to any other place! And if skiing is on your bucket list, there is no better place then Gulmarg for it. Tick off your bucket list by staying at the world's third-highest ski resort!
Places To Stay: The Khyber Himalayan Resort & Spa, Shaw Inn, The Rosewood
Things To Do: Trekking, skiing (Ski Gulmarg), tour the garden of Rhododendrons
Elevation: 2,740 mts
2. Manali - Unbeatable winter destination
Even though many of you may think -- "Manali? How cliche!" I am confident you will still agree with the fact that it is the favourite place for travellers as well as winter lovers in India. With cosy cafes, bakeries, and beautiful resorts, Manali is one of the most sought out destinations. Wether you want to go for a honeymoon or with your kids, there are ample of activities to enjoy during the winters. And incase you want to experience the culture, Manali hosts its Winter Carnival every February offering delicious Himachali cuisine, folk dances, plays and lots of music to the visitors.
Places To Stay: The Anantmaya Resort, WelcomHeritage Urvashi's Retreat, The Culture Nation Hostel
Things To Do: Try mountain biking, snowboarding, sledging, trekking, hiking
Elevation: 2,050 mts
3. Ladakh - Needs no introduction!
No one needs an introduction to Ladakh. Famously known for places that will truly give you the peace of mind you need whilst you commune unclose with nature! This year many people have seen to be travelling to Ladakh, but have you been here during the winters? It's a completely different world!
Places To Stay: Hotel Omasila, The Grand Dragon Ladakh, Desert Himalaya Resort
Things To Do: Trekking, rafting, jeep safari, tour the garden of Rhododendrons, Snow leopard trek,
Elevation: 7,742 mts (highest)
4. Dalhousie - Welcome to Narnia
A real life 'Narnia' is exactly what Dalhousie is like! Adorned with lamp posts, mighty trees and cosy houses, this is winter wonderland! Go here with your loved ones and experience the utter romantic vibes.

Places To Stay: Grand View Hotel, Alps Resort, goStops Dalhousie, Zostel Dalhousie
Things To Do: Visit the Chamera dam, tour the wildlife sanctuary park
Elevation: 1,854 mts
5. North Sikkim - Paradise For Snow Lovers
Nothing can beat the charm of North Sikkim offering unparalleled experiences in the winter season. Covered with a blanket of snow, North Sikkim is home to a plethora of waterfalls and lakes. This place turns into a magical land making you hard to leave.

Places To Stay: Summit Khangri Karpo Retreat and Spa, Hotel Snow Queen, OurGuest Dhatup Homestay
Things To Do: Visit the Phodong Monastery, Gurudongmar lake, Zero Point
Elevation: 610 mts
6. Tawang - A Beauty in the land of Arunachal Pradesh
Home to some of India's highest mountains, Tawang is a blend of rich culture, cosy houses and delicious cuisine. Stay at a cosy BnB and watch the pristine white backgrounds. Tawang is one of the most visited places by tourists to experience snowfall in Arunachal Pradesh.
Places To Stay: Dolma Khangsar Home Stay, Come Inn Homestay, Dondrub Homestay, J.C Homestay
Things To Do: meditate at Taktsang Gompa, Hike at the Gorichen Peak, shop at the Tibetan Settlement Market
Elevation: 3,048 mts
7. Munsiyari - Unexplored Hill Station
A lesser explored place, still untouched with pristine views of the mountains, Munsiyari is just the right place if you like peace and tranquility. Evergreen forests showered with pearl white dust, Munsiyari is a lovely place to experience snowfall in India.
Places To Stay: Milam Inn, Hotel Bala Paradise, Vamoose Chandra Paradise
Things To Do: Skiing, camping, Nanda Devi trek, bird watching,
Elevation: 2,200 mts
8. Lambasingi - Let it snow in Andhra Pradesh
Lambasingi is the only region in Southern India that experiences snow! Now isn't that shocking? Far away from all the chaos the morning are misty, snow laded enchanting forests and a simple lifestyle that we all need to escape to. It is one of the best places for honeymooners, backpackers and solo travellers.
Places To Stay: Haritha Resorts, The Ananthagiri Hill Resort, Tyda Jungle Bells Resort
Things To Do: Trekking, camping, mountain biking
Elevation: 1,000 mts
9. Khajjiar
Located in Chamba district of Himachal Pradesh, Khajjiar has the most beautiful snow-covered meadows. If you want to experience the magic of Christmas, this laid back town will set you back in a relaxed state while keeping you in awe! This place is perfect for adventurous travellers who don't just want to sit cooped up in their warm cosy blankets. Opt for horse-riding or paragliding to experience the fairy tale vibe of this place!
Places To Stay: Hotel Devdar, Anjali Cottage, Gautam Guest House
Things To Do: Visit the wildlife sanctuary, horse riding, paragliding
Elevation: 1,920 mts
10. Lava - Nature lovers and trekkers paradise
Located in the subdivision of Kalimpong, Lava is a hamlet town. Experience snowfall as you enjoy the view of the famous Mt. Kanchenjunga, whilst listening to the chirping of birds.
Places To Stay: Yes Homes Pine Wood Resort, Hotel Orchid Lava, Neora Valley Jungle Camp
Things To Do: Visit the Neora Valley National Park, Spend some time in Rishyap
Elevation: 2,200 mts
Winters come with a blanket of unmatched charm. The romantic chilly nights and quiet mornings are something worth experiencing. This winters make sure to plan a trip to one of the above places along with your loved ones. Whether you wish to stay indoors or go on a trek, you will certainly return home refreshed and ready for a fresh start to 2022!
Let me know in the comments below which place is your winter favourite? Follow me on Instagram @curlytravelmess for such more travel stories and inspiration!
Ready to travel for free? Earn credits and redeem them on Tripoto's weekend getaways, hotel stays and vacation packages after the pandemic is over!
Watch travel stories come to life with Tripoto on Youtube!