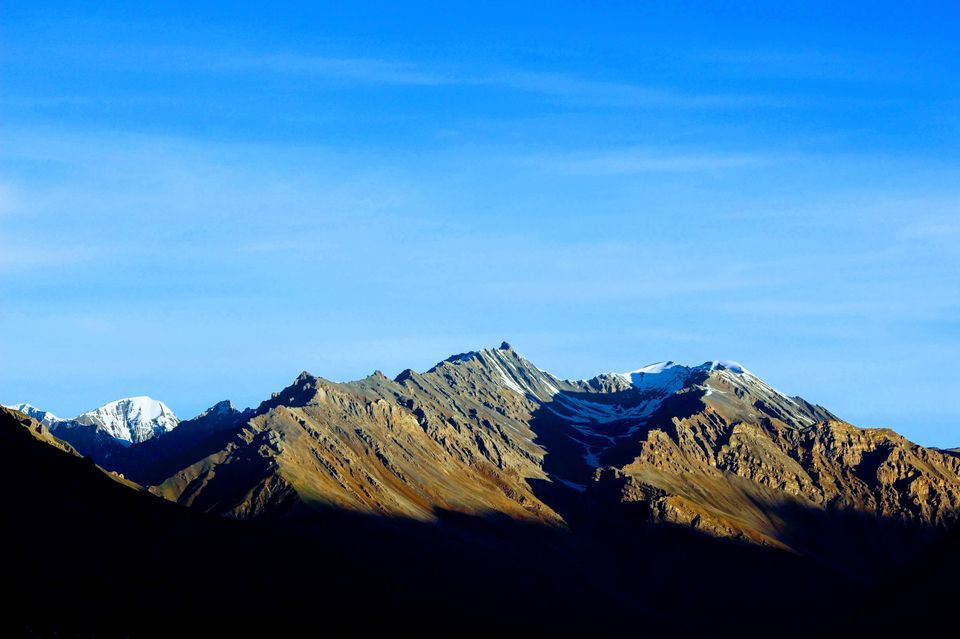 Spiti - the word is an emotion for most of them. No words are enough to describe the beauty of this place. I first came to know about Spiti from a colleague of mine and I immediately started to gather more information about this place. I was awestruck and mesmerized by it's beauty. Since that day I wished I could visit Spiti but never imagined that it will be this soon. My happiness knew no bounds and I was excited as well as thrilled. We decided to backpack with a travel group. It turned out to be a great decision since we had a chance to meet amazing set of people.
With all excitement we reached Delhi Airport and met other members of the trip. After having breakfast we started our journey to Narkanda. On the way we halted for lunch in dhaba where we had the most delicious and lip smacking parathas with generous amounts of butter. The weather was pleasant and this made a long journey to Narkanda more comfortable. After a long day, we had our dinner and camped at Narakanda. This was my first time camping and I was excited to stay in a tent ⛺
We woke up to the misty mountain views of Narkanda. Few meters from the camping spot we found a small board which lead to a cozy tea shop. There were few locals and we had a chat with them while having tea. After breakfast our long journey to Kalpa started. We stopped at few scenic places for taking pictures. Since it was dark we did not have a clear view of the Hydroelectric Power stations on way. We reached Kalpa late at night. Our host at the home-stay was waiting for our arrival and served the most delicious Rajma Chawal and roti for dinner.
I woke up to the most beautiful view. The mountains covered with snow and mist was a delight to the eyes. After having a delicious breakfast and tea we started our long journey to Tabo. We were supposed to visit Nako and Giu on our way, however, due to some unfortunate events we were stuck on way and had to miss these places. We halted at Tabo for the day.
After breakfast we headed straight to the Tabo Monastery which is one of the oldest monastery. The walls of the old monastery is covered with beautiful paintings. Next we headed straight to Dhankar Monastery. After visiting the monastery we had our lunch in one of the restaurants there. By night we reached Kaza. Like every other place, Kaza also had beautiful landscapes. We walked through the dark roads for sometime and relaxed by the side for sometime. The sky was clear and was dotted by the shining stars. You can keep gazing at the stars for hours and still feel that it's not enough.
With all energy we geared to visit few more places. Our first stop was at Langza. The Buddha statue in Langza is located at an altitude of 14,ooo ft and also this place offers a 360 degree view of stunning landscape.
Our next stop was at Komic, the highest village with motorable roads. Like every other monastery, Komic also has it's own beautiful monastery. Just next to the monastery we spotted few guys playing volleyball with the monks and we joined them for some fun.
Our last stop for the day before we returned to Kaza was Hikkim. The world's highest post office is located at Hikkim. Write letters to your loved ones from here (I was not sure if they will be delivered but to my surprise they reached safely but took some time). After posting the cards we headed back to Kaza for the night.
With same energy and excitement we packed our bags and left Kaza. On way, we visited Kibber and Chicham Bridge. Chicham Bridge is the the Asia's highest bridge. After capturing few pictures for memories we started our way back to Chandratal. By the time we reached Chandratal it was around 5:30 in the evening on most of them were in their way back after visiting the lake. We were the last ones to reach the lake and were slightly disappointed as we thought we will have less time to spend there. But when the sun started to set, the sky turned into beautiful shades of pink and yellow. Even though the winds were cold and harsh we were delighted by the mesmerizing view we witnessed by the lake.
We had to start very early in the morning (around 5:30) since it was informed that the roads to Manali were not in good condition. Even though the roads were not in good condition, like every other place the views and landscapes were beautiful. We reached Manali around 3:00 PM and after having lunch we boarded our bus to Delhi with a heavy heart. It was the end of one amazing trip with a happy bunch of people.
We reached Delhi in the morning. Since my flight back to Chennai was only at night, I had time to spare in Delhi. I spent time shopping at Sarojini Market. After dinner we boarded our flight with loads of memories and with a new set of friends that we made during our trip.
Pic credits: To all the members of my travel group