Surendrapuri- locally known as "Kunda Satyanarayana Kaladhamam" is situated near the famous Temple of Yadadri( Yadagirigutta), Yadadri- Bhuvanagiri district, Telangana, India. It is a mythological theme park, first of its kind in India. There are about 110 replicas of various temples located all over the country. Ramayana, Mahabharatha and Bhagavatha are depicted in the form of Idols in this Kaladhamam( Museum). Tourists come to this mythological awareness center from all over India.
One can reach this place from Hyderabad and Warangal. On my way from Hyderabad, it took just 50 minutes on the Hyderabad- Warangal Highway. The journey on the state highway was adventurous and took us away from the urban life. Once we cross Bhuvanagiri, which is the district headquarters, there is a left turn towards Yadadri, the abode of Lord Sri Laxmi Narsimha Swamy. On the way to Yadadri, to our right hand side, we observes a statue which is about 65 feet inviting us into the Surendrapuri temple complex. It is a double sided Hanuman- Shiva statue with Five faces.
As we move further, a beautiful entrance with Godess Gayatri Maa, the mother of vedas. We took the entry ticket which may seem too expensive but believe me after coming out of this museum, one can really think that they have paid too less than the worth of it. We enter inside the kaladhamam through the archway of elephant tusks and the mouth of the Lion. After the security check, one enters into the world of Mythological wonders which would leave this world far away at the entrance.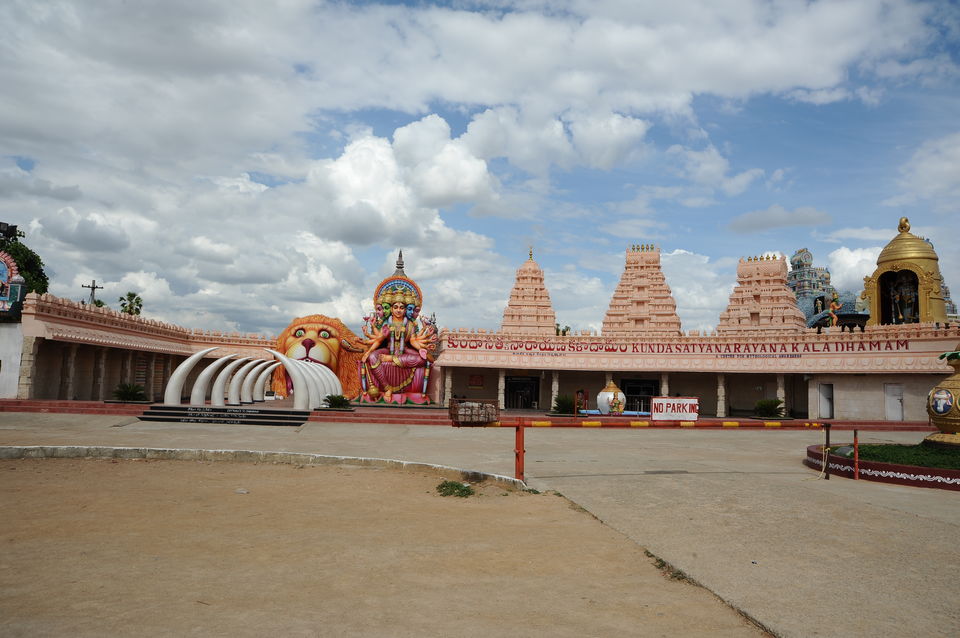 What not it has?? seriously, looking at each statue in this Kaladhamam one would not be able to praise the vision of the creator. Ramayan, Mahabharath, Bhagavath, the life of Buddha, Hanuman Charitha. The most important aspect of this Kaladhamam is the creation of Saptalokas(the seven divine worlds of Hindu Mythology). One would definitely feel that the creator must have visited all these lokas and created them here at this museum.
Kids would really enjoy passing through Crane's beak, elephant's trunk, walking in the water( Kailasa) for sometime. They would definitely feel hungry walking and having fun in the museum. Don't worry "there is a cafeteria inside the museum".

The special attraction of the Kaladhamam is the 36 feet "Vishwaroopam", the statue of Lord Krishna in his original form. The war scenes of Mahabharat was exactly depicted in the museum along with the sound effects, so that one can feel their presence during the war.
At last, we came to the end point where Lord Hanuman gives laddu to all the devotees. In the temple complex, the principle deity was " Shri Panchamukha Hanuman" which is about 16-feet. Other thing I observed here was, 9 different temples for 9 planets( Navagraha). To my knowledge, this is the unique thing where all the 9 deities are accompained by their consorts and vehicles in respective colors.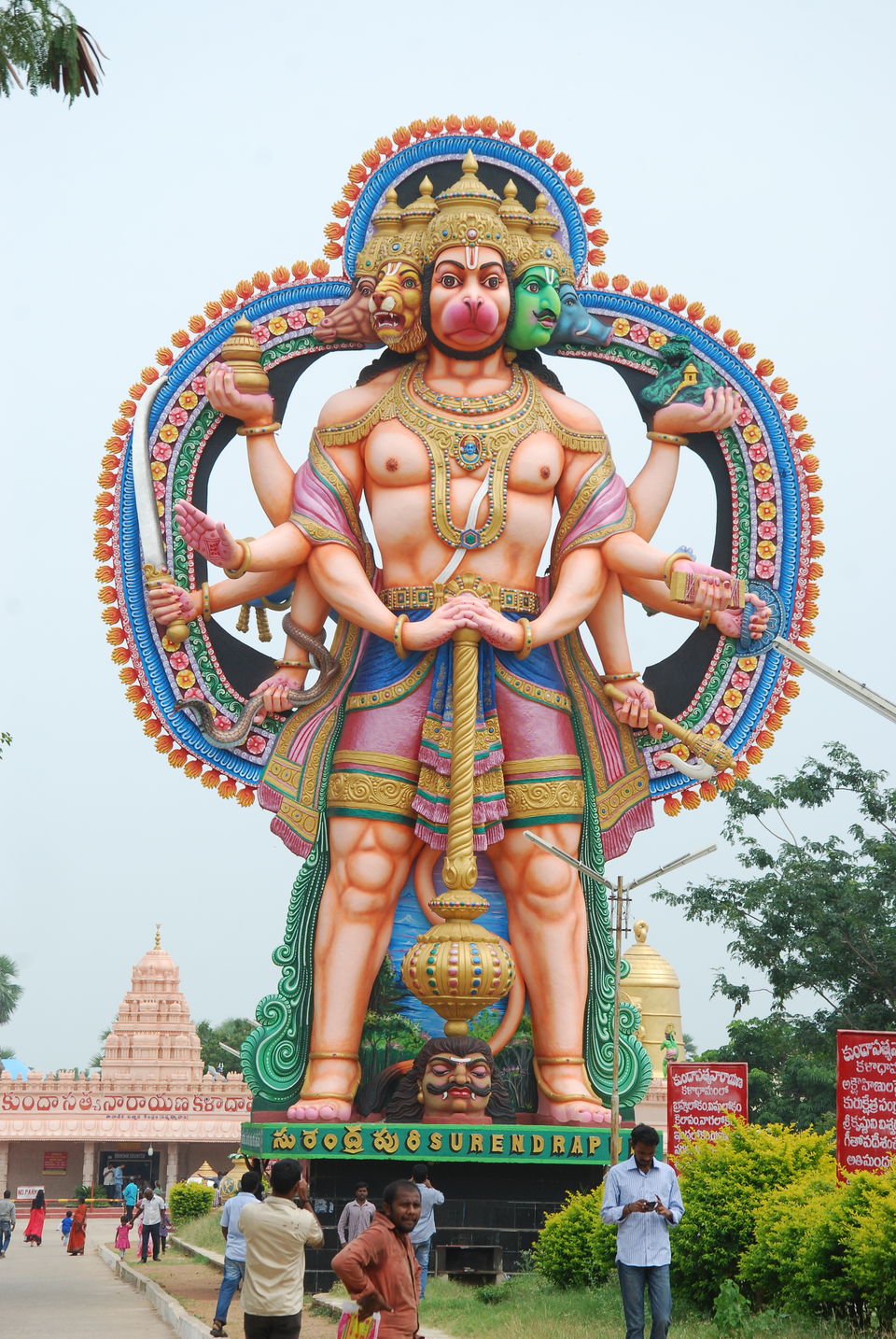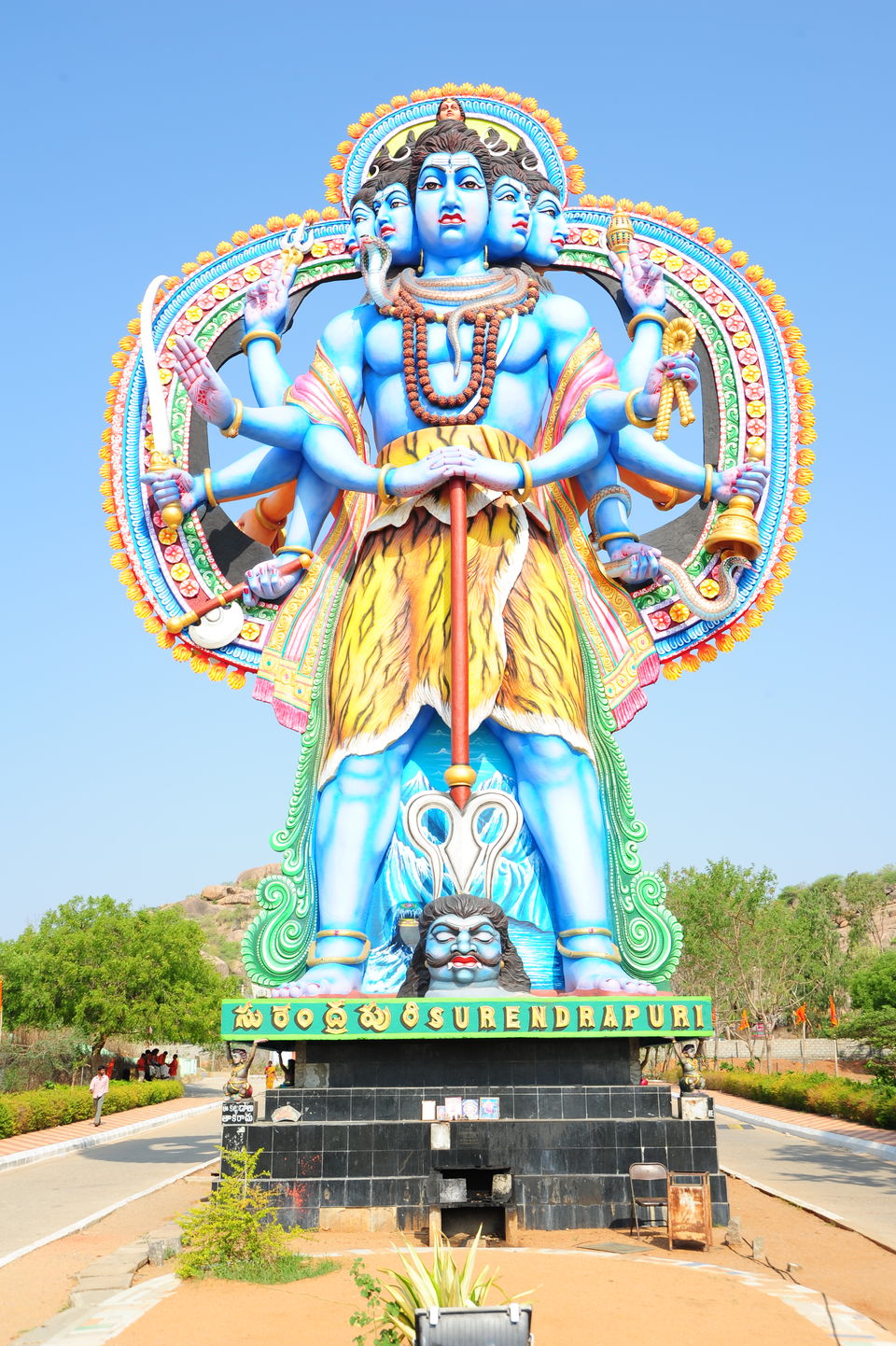 Frequent Searches Leading To This Page:-
surendrapuri temple surendrapuri telangana, surendrapuri from hyderabad, kunda satyanarayana kala dhamam timings, kunda satyanarayana kala dhamam (surendrapuri) bhuvanagiri telangana, kunda satyanarayana kala dhamam ticket price