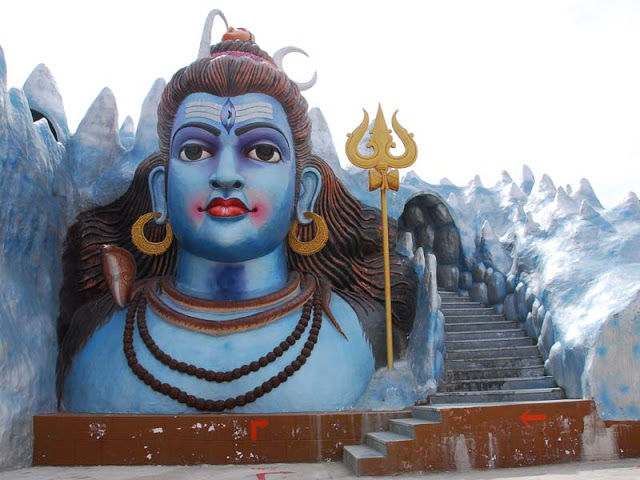 Before I tell you about this place, where it is and how to reach here, let me first introduce you to the zeal of 70 year old Sri Kunda Satyanarayana who is the master mind behind this mythological wonder.
Interestingly, Sri Kunda Satyanarayana neither had formal higher education nor any travel experience to distant pilgrim centers spread across the length and breadth of India. It was the death of his youngest Son Surendra Babu that sparked in him the idea to do something in memory of his son. But, he had to face a lot of financial crunch because of his retiring age, and not so supportive close circle. But he went ahead and after 12 years of constant hard work, his project took shape in the form of a Mythological Museum called Kunda Satyanarayana Kaladhamam at Surendrapuri near Yadagirigutta, some 58 Kilometers away from the capital city of Telangana, Hyderabad.
The Surendrapuri Mythological Park is one place where all the God's congregate to bless you!
All the Indian Epics like Ramayana, Mahabharata and Bhagavatam come alive here, since all the historical temples of India are recreated here. One can have the darshan of all the Gods here in one place. The confluence of Art and Religion is seamlessly infused into a divine oneness.
Have a walking tour across the 3 kilometer walkway and feel the holistic aura fill your senses seeing the 3000 statues of all the Gods and Goddesses within the confines of this wonderful vicinity. It's like entering into a celestial world of Indian mythology of culture and religion, which till now, you could only read in books, or rather gather tit bits through google.
The highlight of this Kaladhamam is the gaint 60" feet Panchamukha Hanuman with the heads of Vanara, Narasimha, Garuda, Sookara and hayagreeva which welcomes you into the realm of this serene vicinity of Surendrapuri, the name by which this place is called.
Similarly, at the hind side, you find Panchamukha Shiva with five faces of sadyojata, Vamadeva, Aghora, Tatpurusha and Eshana, bearing weapons in ten hands killing Tripurasura with his Trident.
The eight worlds mentioned in the epics are recreated here and you can have a feel of Bramhalok, Vishnulok, shivalok, Nagalok, Indralok, Yamalok, Narakalok, Patalalok. Like wise, one can visit all the important temples of India from Kashmir to Kanyakumari here.
Every child born and brought up in this culturally beautiful country called India is aware of the war of Mahabharat. B R Chopra's epic TV serial "Mahabharat" telecast on DD National during the year 1988 had cast a spell in the minds of children and adults alike.
Here in Surendrapuri, the padmavyuham has been set up which makes you feel as if you have entered the war of mahabharath and every story gives you a value to learn in life. How abhimanyu falls prey to the trick of kauravas because he went into the padmavyuh with half knowledge makes you realize that you should not do any work without knowing all the facts.
The statues narrate the epic tales and make it lively for the visitors and add a magical element in the form of Hanuman giving prasad with his own hands, and hot coffee made from the milk coming straight from the kamadhenu. Sounds interesting, right!
So, how does one reach this place?
If you are coming from other countries, just enter India from any port of entry and from there reach Hyderabad, the capital of the newly born Telangana State in the southern part of India, or just hop into a plane that lands you at Rajiv Gandhi International Airport (VOHS), Shamshabad, Hyderabad, one of the finest public-private venture, and the sixth busiest Airport in India.
And from here, book an "Ola Outstation" or an "Uber', the choice is yours. Of course, there are a number of State Run buses too, which take you in an hour and a half covering a distance of 58 kilometers on Warangal Highway.
This Kaladhamam is open Monday through Sunday from 09.00 AM to 07.00 PM and the Temples are open from 06.30 AM to 01.00 PM and from 03.00 PM to 08.00 PM with an entry ticket of INR 350/- per person.
For all of you, the aficionados of Indian culture, this place is a MUST VISIT. Drop in, to feel the epics, and meet the Gods, all in ONE PLACE!
Cover Picture Credit: https://debu7370.blogspot.in
Frequent Searches Leading To This Page:-
surendrapuri telangana, surendrapuri in hyderabad, surendrapuri from hyderabad, places to visit near surendrapuri, surendrapuri tourist places, surendrapuri day tour