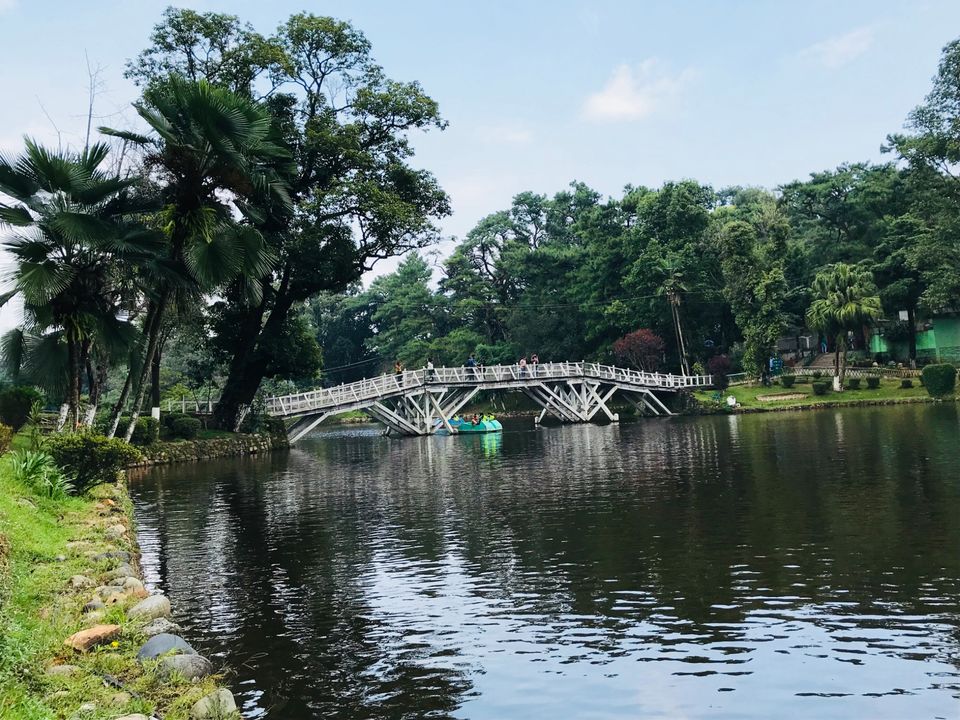 North east India is a bit understated part of our country that is still quite raw, which means that there's a lot you can explore! We went on a 13 day trip to 4 states- Assam, Meghalaya, Arunachal Pradesh and Nagaland. So here's a diary detail from my trip!

We took a midnight flight from Pune to Guwahati in Assam and boarded a cab straight to Kamakhya temple. After that we headed to Shillong where we had our stay booked. It is almost a 2.5 hour journey from Guwahati . Shillong has an awesome climate and serenity that shouldn't be missed. We stayed in the Mahadev Kola dham area (tip- do not trust Google maps too much!)
You can visit police Bazar and do some shopping if you wish to.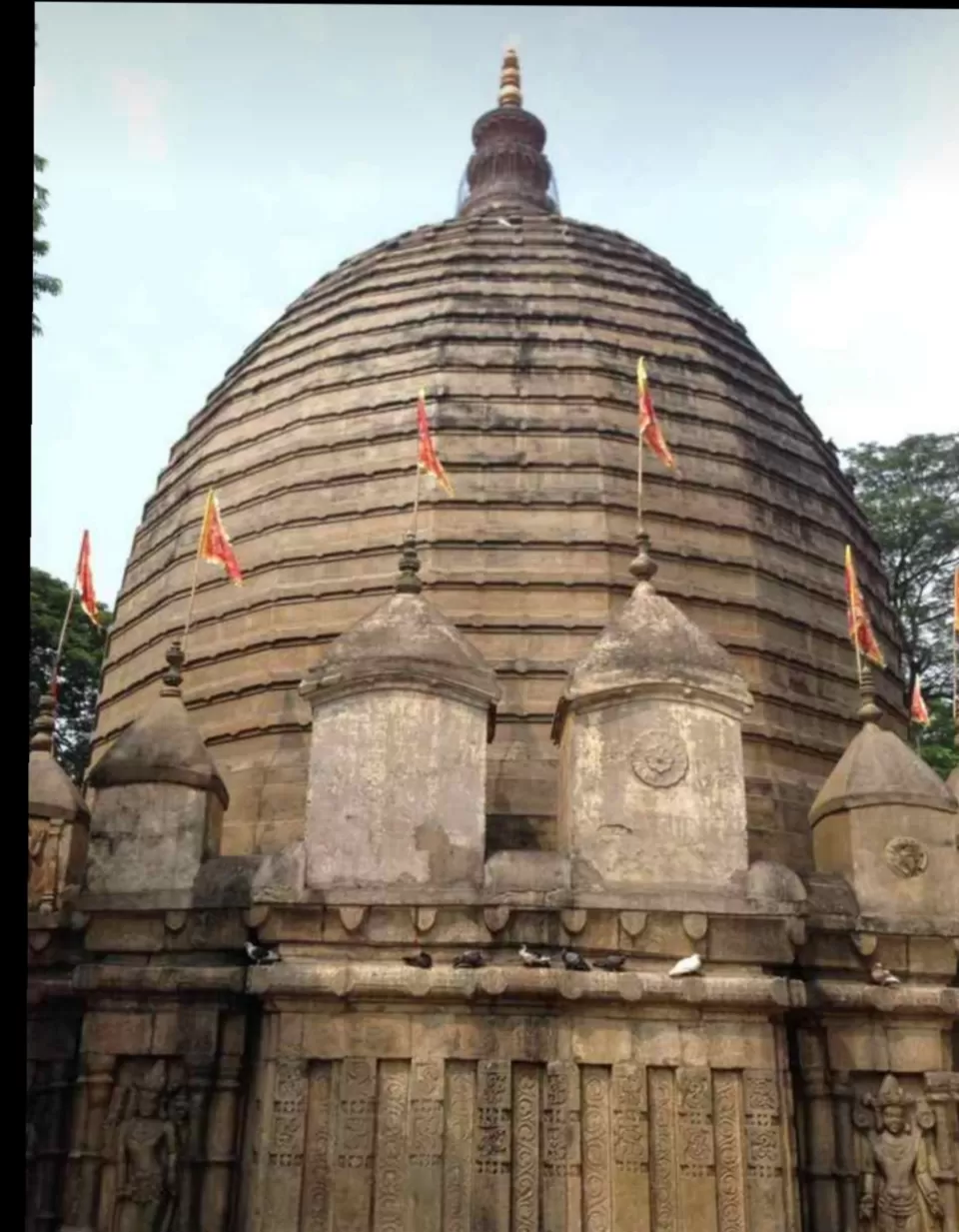 There are many places to visit in Shillong. Start with the sunrise in the early hours of morning! We visited Ka Phan nongliat zoo, then the Don Bosco church, wards lake, golf park and elephant falls. The Don Bosco museum is a must visit, for it hosts all the traditions of all the north east 7 sisters. The skywalk gives a complete view of Shillong from the top. In case the weather is clear, you shouldn't miss the Shillong view point.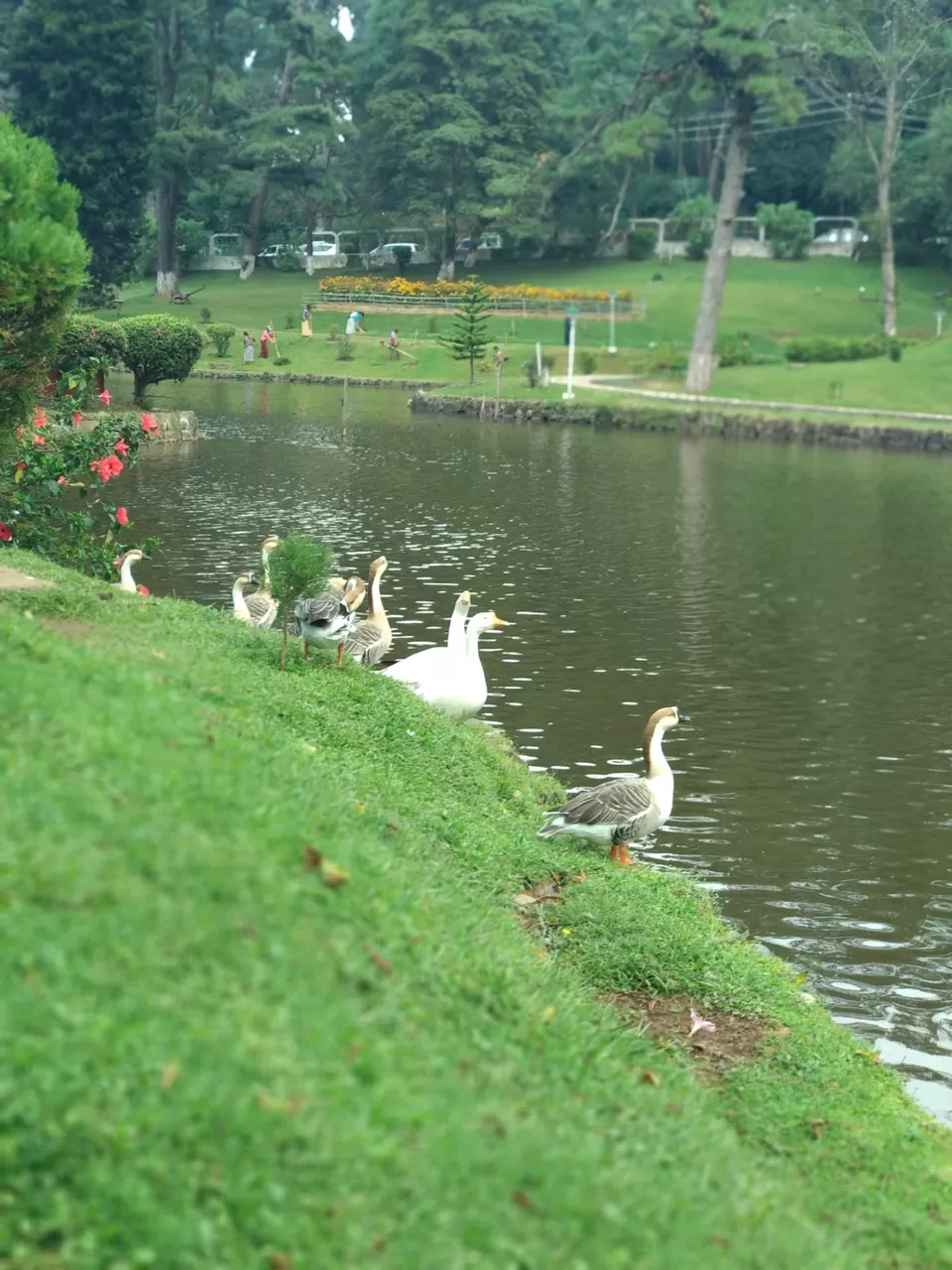 We took the state tourism bus at 8 am from Shillong to Cherrapunji that cover all the tourist spots in Cherrapunji. The bus takes halt at every stop for 15-20 mins which is enough for each of them- Mawkdok falls, nohkalikai falls, mawsmai caves , ramkrishna mission museum, 7 sisters falls are the best points to cover. Mot Palong point is the Bangladesh viewpoint which u may not get to see in case the weather is foggy. However, we ditched the tourism bus ans boarded a cab after lunch at Eco park, since we had to go Tyrna village for trek. From tyrna we trekked down (there are 3500 steps approx- takes an hour to reach down) to Nongriat to see the beautiful double decker root bridge and enjoyed rest of the evening in the clear waters. Here, in Nongriat you may have to compromise a bit on stay facilities.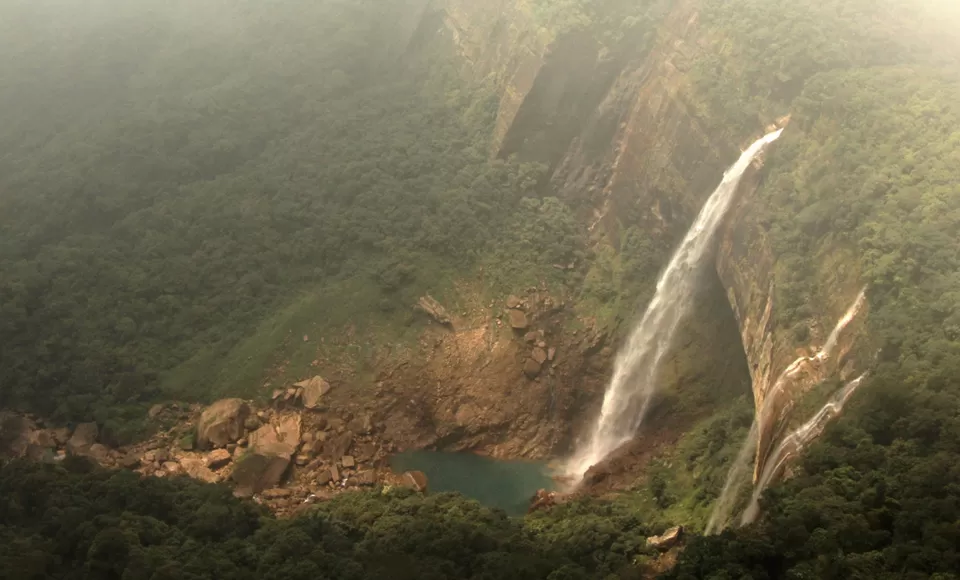 From the root bridge we trekked through the jungles and many bridges to reach the blue lagoon. The jungle here is beautifully dense. However, the epitome of beauty is rainbow falls which is ahead of blue lagoon. It's so called because at noon when the sun is overhead, the water disperses colours to form a rainbow. It could get difficult to get to the waters because of the Rocky climbs, but what's fun without adventure? This is the best place in Cherrapunji, if u are ready for a hard effort of trekking to this place. Beware of wiper snakes here! After having a fulfilling share of fun n adventure in the waters, we walked back to nongriat till noon and by the end of the day we had trekked up to Tyrna, and reached Cherrapunji.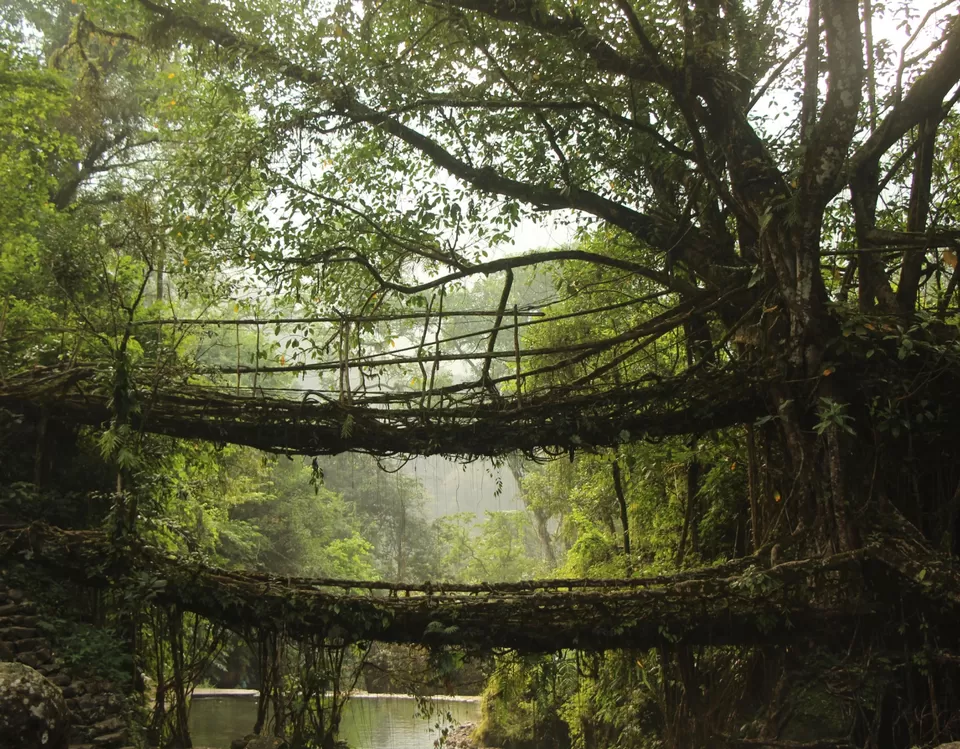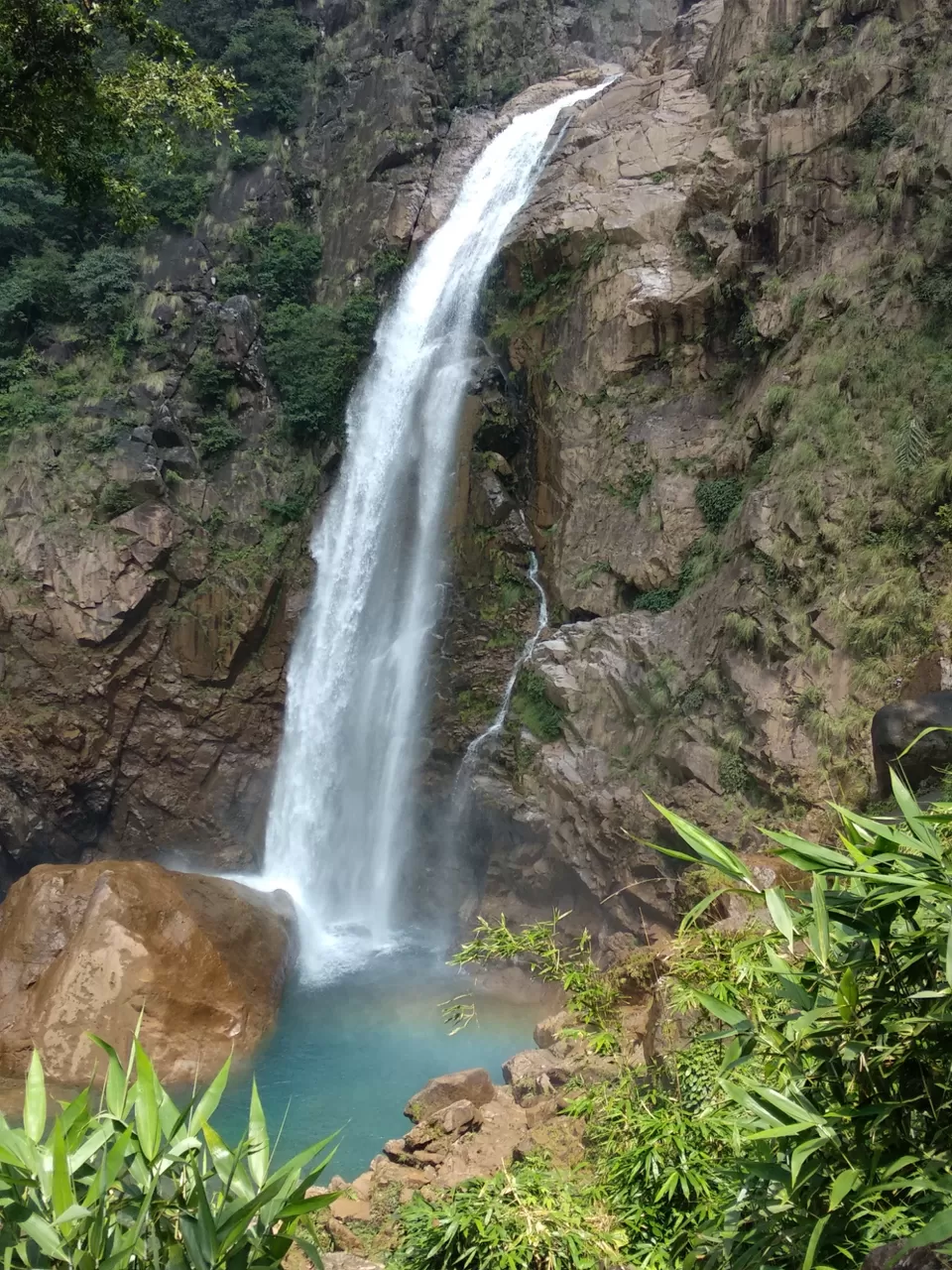 We headed for site seeing in Cherrapunji. You can board a cab or book a bike as per your wish. We visited the Indo Bangladesh border and Dawki which is the last village on Indian border. The waters of Dawki are praised to be crystal clear and a must visit place in Cherrapunji; but I must say it was a bit of disappointment. The locals said that the best time would be March- April to visit Dawki. There's a root bridge in Cherrapunji too, however u can skip this if you have done Tyrna. You must visit Mawlynnong which is said to be the cleanest village of Asia, have panipuri there and shop for bamboo articles that they make. We were staying at the market place here and I would recommend Golden spoon dhaba for food undoubtedly.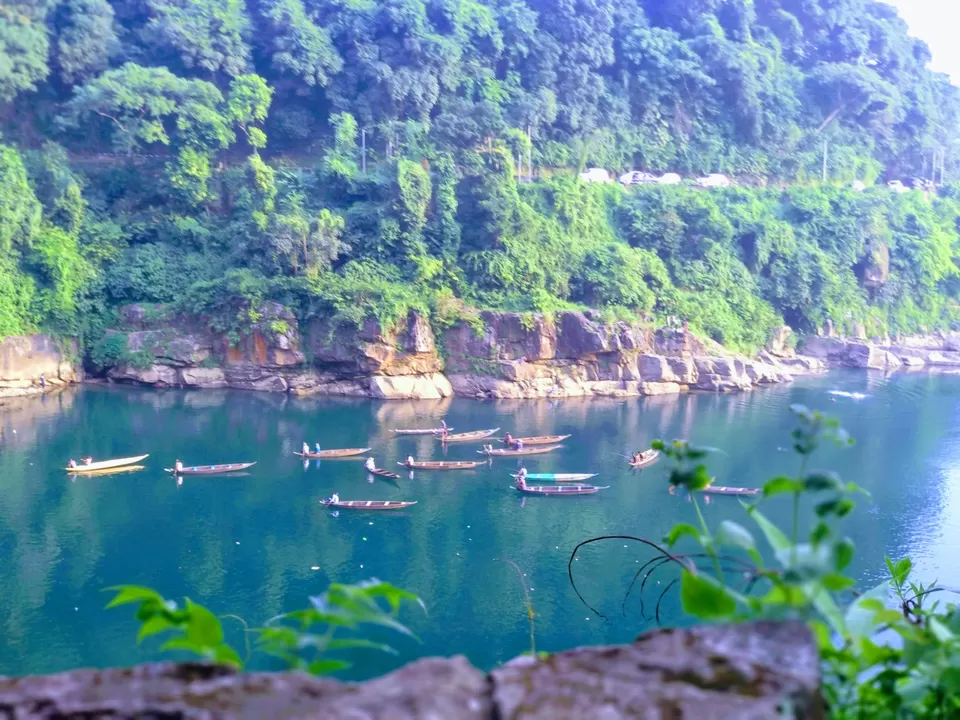 Since our next stop was Tawang in Arunachal Pradesh, we had to head back to Guwahati to board our chopper from Guwahati airport to Tawang. One needs to be really lucky since the helicopter ride gets cancelled if the weather is not perfectly good in Guwahati, itanagar or Tawang! We were the luckiest, since all flights before ours got cancelled. We flew over the mighty Bramhaputra, Bhutan and the vast Himalayas to finally land in the Tawang by noon. It's almost 1.15 hour flight which would otherwise had taken more than a day by road.
Tawang is blessed with a beauty beyond words. Our stay was booked at Tawang holiday. We visited the Tawang Monastery and had a nice coffee at Dharma coffee house. Tawang monastery is one of the largest in the world. Talk to the monks here and they'll feed in all about their faith in Buddhism, Dalai Lama and their life stories freely. Temperature here goes really low, so don't forget to carry ur winterwear. It was 2 deg. In the month of October.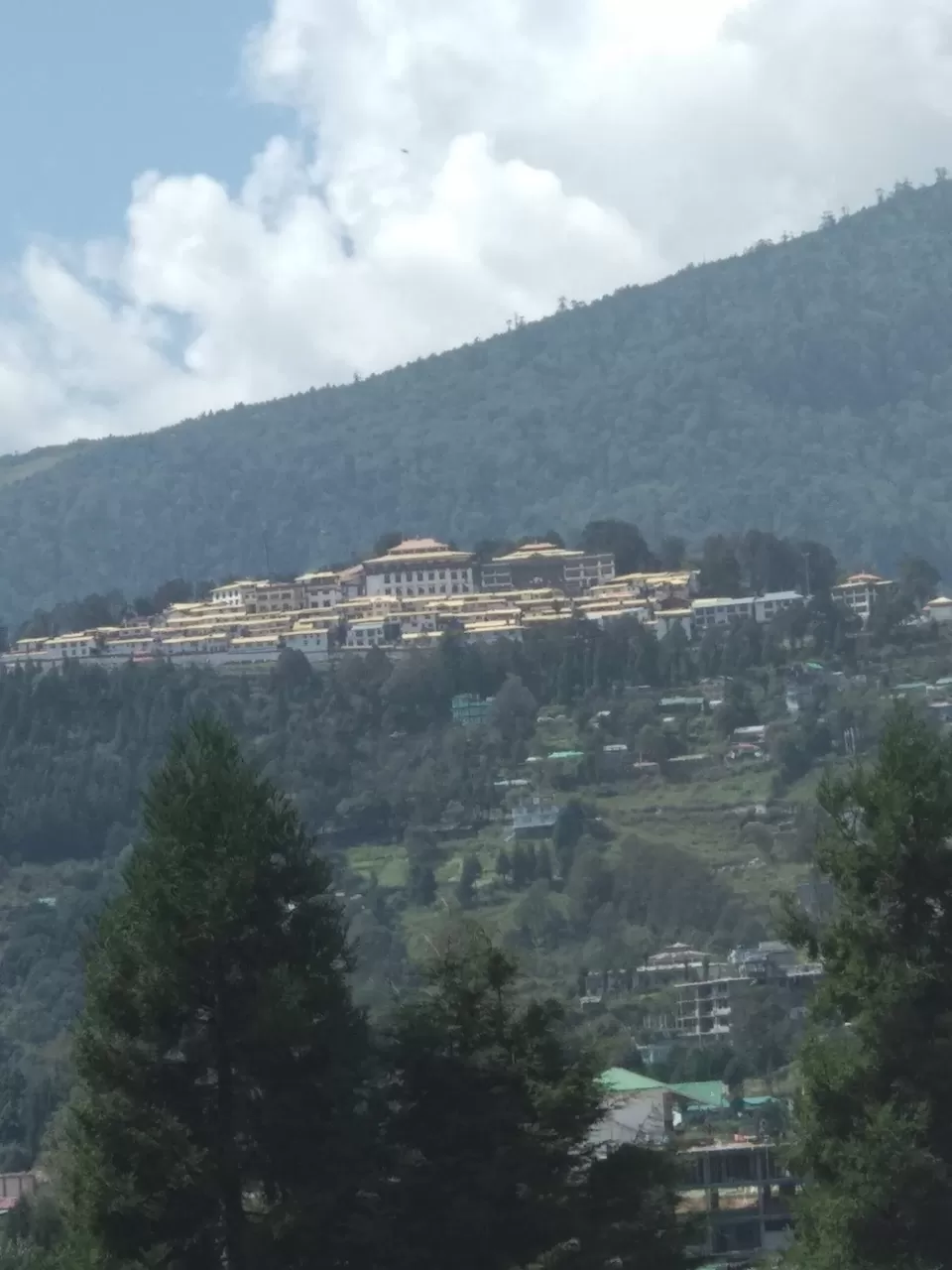 We booked a cab for touring around in Tawang. The road trip is an adventure in itself! we were blessed with an entertaining driver who rode us through the numerous clear transparent lakes and mountains covered with flowers and every shade of nature to Bumla pass where the Indo Tibet border is- at 15000 feet. During the Indo- China war in 1962, the enemy had penetrated deep into our country through Tawang. Every mountain here bears the signs of sacrifice by the soldiers of different regiments. Madhuri lake( Madhuri Dixit and SRK's Koyla was shot here), Shungatser lake, Nagula lake, Pangatengso lake are amongst the most beautiful places to experience in Tawang.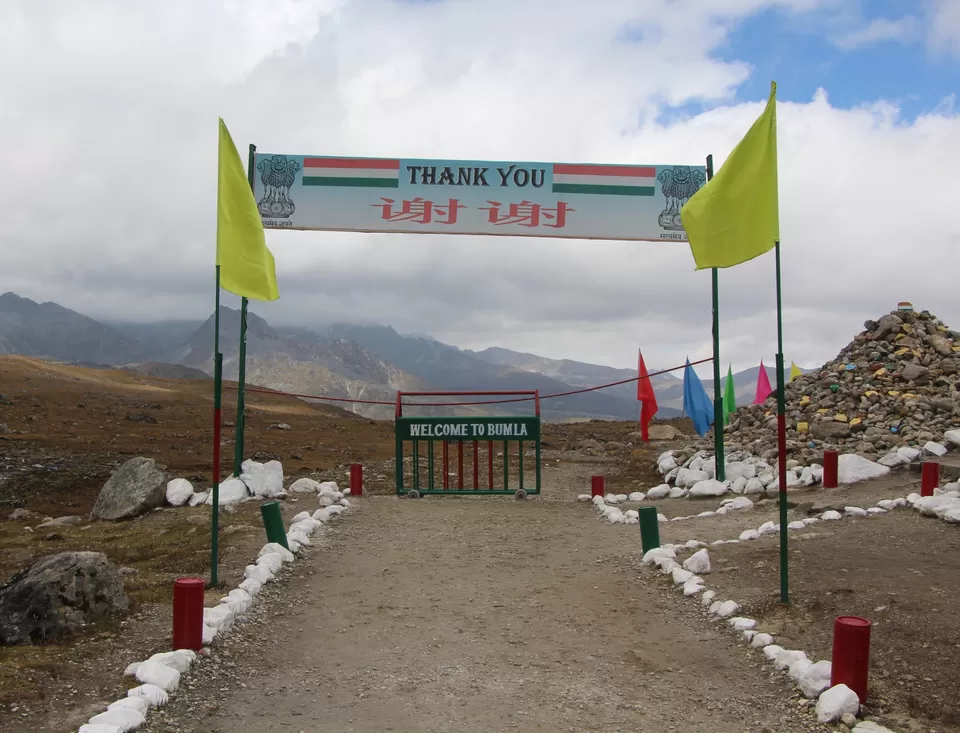 Tawang war memorial gives a glimpse of the Indo China war. Since the war, the army has had a strong presence in Tawang. Then we walked down to the birth place of the 6th Dalai Lama. The story of the branch planted by the then Lama is a symbol of faith that you would get to witness here. To add to the adventure, we trekked all the way up to Tawang monastery, again. You can read about the Lama history in the library here (open on weekdays). We were fortunate to be present at the Tawang singing competition and applaud the local talent.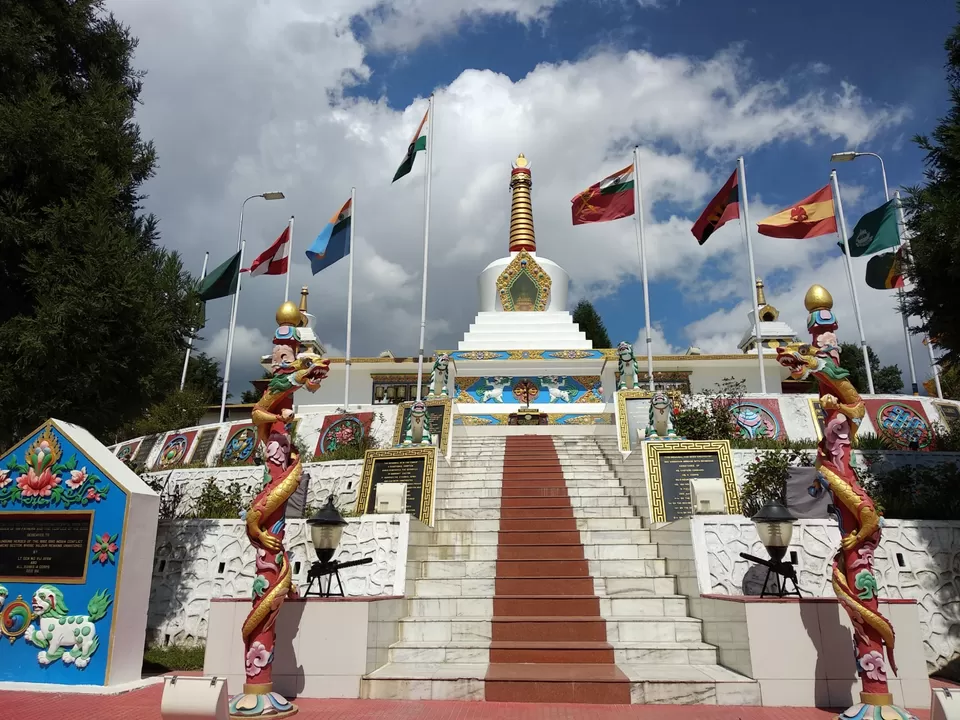 We hired a Sumo service to go from Tawang to Tezpur which is almost 10 -12 hour journey given the bad road condition. Since our next halt was at Majuli in Assam, we had to go to Jorhat from tezpur.
We took a Jeep to kamlabari in Jorhat from where we get ferry to the biggest river island, Majuli. The ferry ride is quite frequent so needn't worry about it! After 45mins boat ride we reached this bamboo island. The stay here gives you a experience of being close to nature, for the houses here are constructed in bamboo. Hire a bike/cycle or simply walk to the beautiful sunset point or sit in peace by the Riverside. The choice is yours!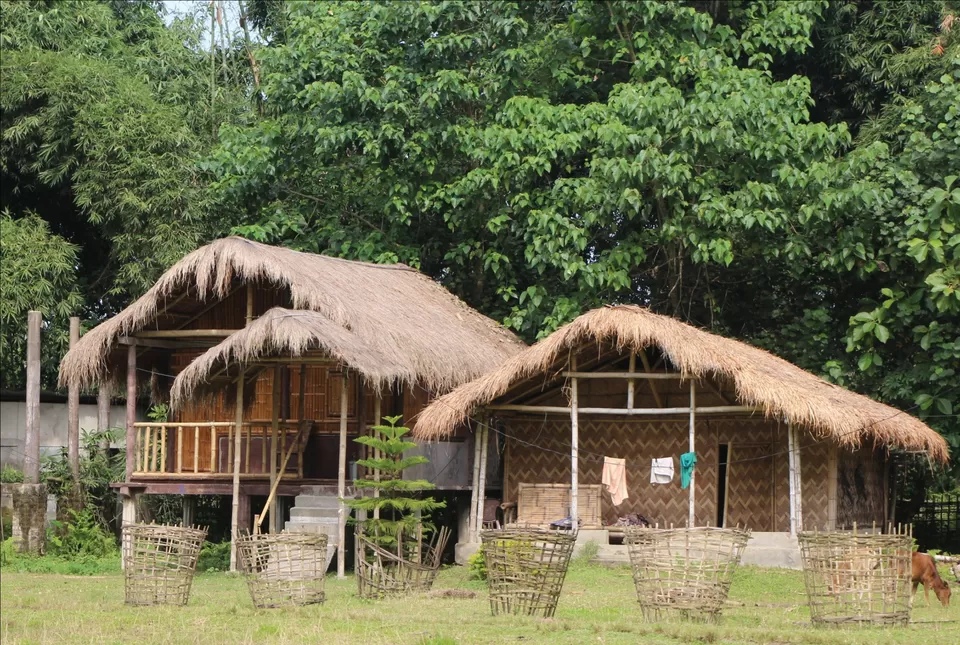 We asked for the map of places to see in Majuli and rode a bike to Samaguri satra- the mask making place, Kalambari satra. The missing village will make you understand how the people of Majuli make a living. We also spotted some migratory birds here! Unlike the other northeastern places that we had been to, Majuli demonstrates a faith in Garuda- the vehicle of Lord Vishnu. We took the last ferry at 4pm back to jorhat.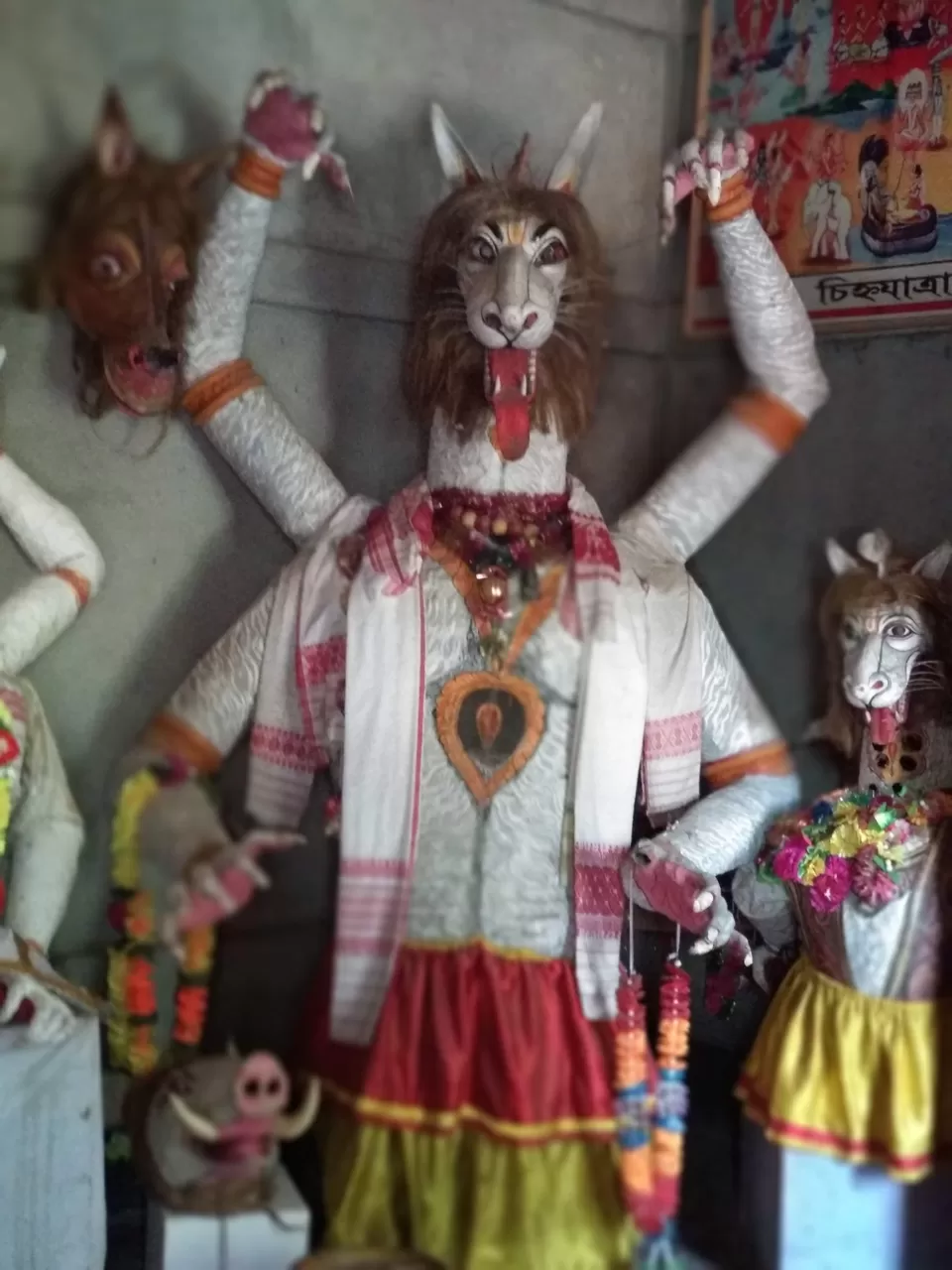 We took a train to Dimapur in Nagaland since our flight back to Pune was from here. In Dimapur, there's a place that even the locals are unaware of- the Triple falls in Chomukedima. We made friends with some teachers in the nearby college and hiked to the first of the Triple falls. This hike is all about making paths through the raw jungles and huge slippery rocks and small ponds and yes- leeches too! So do not dare to go without taking the locals here.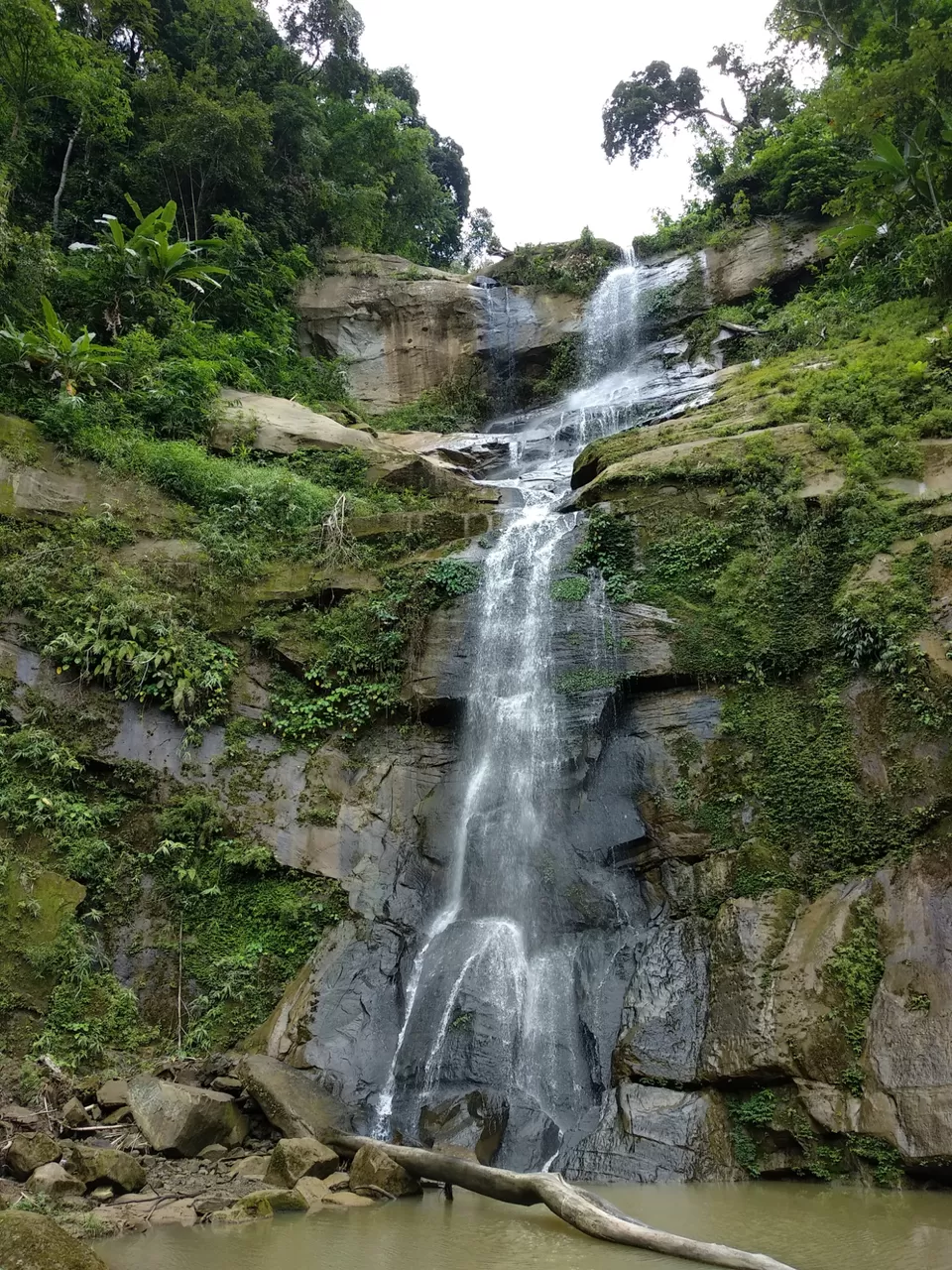 Flight from Dimapur to Pune with a halt in the city of joy, Kolkata. Kolkata was busting with enthusiasm since Durga pujo was just a couple of days ahead!
With this we ended the mesmerizing trip to the north east!
Things to remember- while planning your tours here remember that the sun rises too early (around 4.30) and sets around 5.30. so most of the places to visit shut down after 4. You need to start your day early.
-You need Inland permit to enter Arunachal Pradesh and Nagaland
-Tawang festival happens in the end of October, in case you are planning it during that period.
-If you have more time, you can explore Mon and Kohima in Nagaland, however the road conditions are too bad there.
-the famous hornbill festival happens in Kohima- the capital city of Nagaland, in the month of December.
-You might have to be little patient when it comes to communication with the locals.