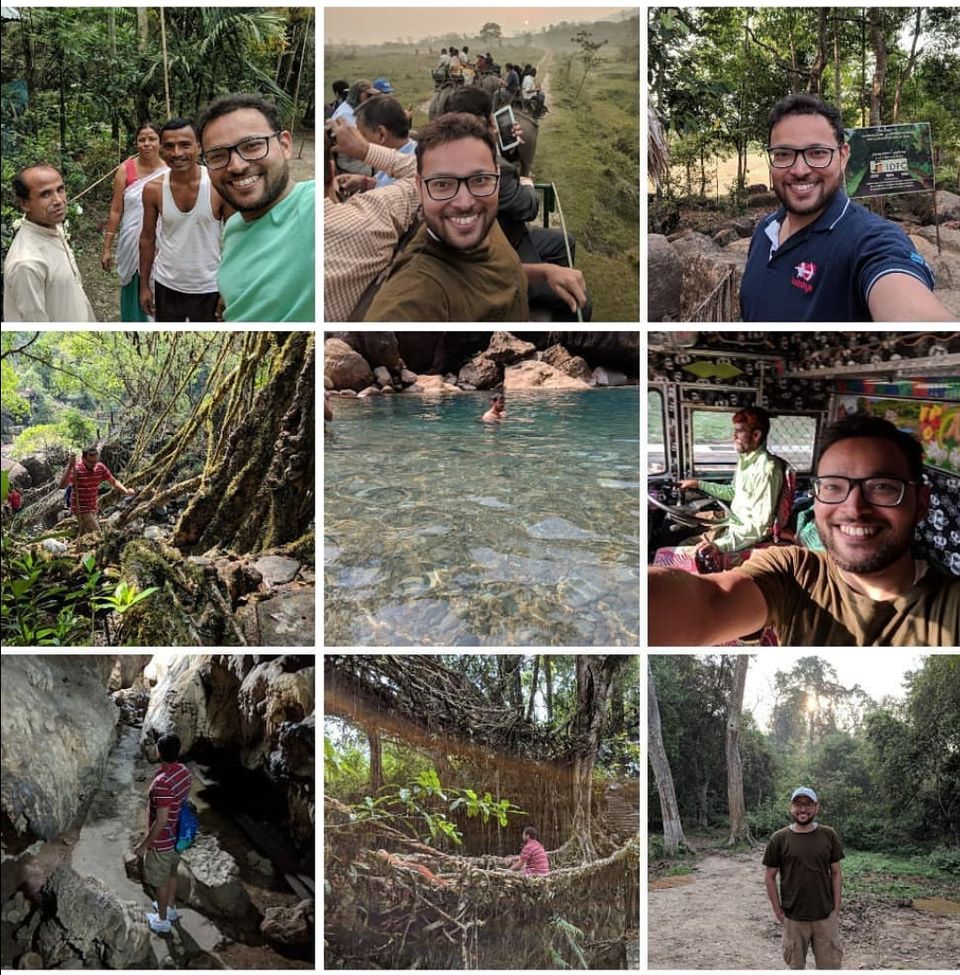 Guwahati to Shillong
Reached Guwahati airport in the morning and took a sharing taxi to Shillong (INR 500 pp).
Shillong to Sohra (Cherrapunjee)
Took a shared taxi (paid INR 400) from Shillong to Sohra. You can take a private taxi to Sohra. It will cost you INR 1200. Buses are available as well. There are a lot of homestays available at Sohra. Saimika is a famous one but I stayed in Green Valley Lodge. It costed me INR 700 per day but was not worth it. I would suggest Saimika resort. They have bunker beds too (INR 500 pp).
My second day started with heavy rains. Well, expect that as you are in the wettest place on Earth!! You can visit Mawsmai cave (it is a well lit limestone cave) and from there you can go to Nongriat.
Nongriat is famous for double decker living root bridge and it is one hell of a trek. The trek takes approx 5 hours (to and fro). If you are an adventurous person, you can go further from the root bridge to have a swim at the natural pool (a must dip !!) and further to rainbow falls (this requires overnight stay at rainbow falls, not really worth it). Take a local guide with you if you want to go further from the root bridge.
Nongriat is approximately 15 km from Sohra and no buses are available. So you might need a taxi for full day. A full day taxi can cost you approx INR 2200 to and fro from your Sohra hotel. If you are a bit lucky like me, you might be able to hitchhike with locals to reach there :)
On my return to Shillong, I took a stopover at the dramatic Nohkalikai falls. The highest plunge waterfall in India was a scenic beauty and an ethereal experience overall.
Buses are available to Shillong and taxi will cost you INR 1200 for full or INR 500 pp for shared.
Well, Shillong is beautiful (no doubt about it). And if you are lucky, you might even come across snow fall which covers the entire city with snow within half hour.
So after spending the night at Shillong(lot of hotels in the city center), I did some city tour and went to Umiam lake.
After spending 2-3 hours at Dawki, I decided to go to Mawlynnong. I couldn't find any bus to Mawlynnong from Dawki, so hitchhiked with a nice couple from Hyderabad as they were going to the same place. You can book a taxi for approx INR 1000-1500.
There are a lot of homestays available at Mawlynnong village. I stayed at Ha la tyngkong Home Stay and found the people there really hospitable and down to earth. In my overnight stay there, I enjoyed home-cooked food and their lovely company. The room cost is INR 500-700 pp.
Later I took a taxi to Dawki. You can get a taxi from the taxi stand at Anjalee cinema in Shillong. I am not sure if buses are available to Dawki. A shared taxi to Dawki costed me INR 500.
It is worthwhile to visit the Dawki-Bangladesh border and to boat on crystal clear water (INR 700 per boat for 1 hour ride, shared among 4 people/boat). It is one unique international border that I have seen, with 2 wooden poles marking the border!!
Mawlynnong is truly a clean and peaceful village. While there is no great adventurous activity to do here, you can enjoy your time exploring this sere village. I also happened to look at the Bangladesh border from a tree house, and I totally loved interacting with the locals. For the first time, I realized that the poor mobile network connection actually gave me immense peace :)
I would have loved to stay here more and enjoy this place (20 km inside in a jungle!), but had to travel back to Shillong.
There is only 1 bus that goes from Mawlynnong to Shillong, and it starts at 6 30 am. I missed this one (obviously!!), and got onto hitchhiking again, this time with the local tribals :)
What an experience!!
Overnight stay at Shillong.
I have already seen Shillong. So this time I had breakfast at Madras Cafe (great filter coffee !!), and took 12 pm bus from Meghalaya Transport Corporation bus stand to Guwahati.
Nominal price and good connectivity, I reached Guwahati by evening. Took a hotel at Paltan bazaar. Lot of options available. Approx INR 1000/ day.
After adequate rest at Guwahati, I decided to go to Kaziranga National Park. There are a lot of buses available from Assam State Transport Corporation (ASTC) bus stand at Paltan Bazaar. Try to take a bus in morning so you can reach Kaziranga during day time. I got down at Kohora market (Kaziranga) and took a lodge named Rhino Guest House. It was fine for INR 800/ day.
You can book your visit to Kaziranga National Park - Elephant ride (INR 950 pp for Indians) or on Jeep (INR 2000 for 4 people) - from any of these lodges.
After an amazing elephant ride at Kaziranga National Park, I headed for Majuli. Now, Majuli is the largest river island in the world, but it is slowly getting eroded. The place is flocked with foreigners, and you won't find many Indians here. The lifestyle is different from our city life and if you are into meeting people of different cultures, then this is a must-visit place.
From Kohora market (Kaziranga) I took a bus to Jorhat. It was approximately a 3-hour journey. From Jorhat bus stand, one needs to take a shared auto to Nimati Ghat.
A government ferry goes from Nimati Ghat to Majuli every hour (first ferry at 7 30 am and last ferry at 4 pm). Once you reach Majuli, the landscape changes, and so do people. I loved the cordiality and their simple living. There are a lot of Satras and I stayed at a guest house at Kamalabari Satra.
Majuli is a big island and you need atleast 2 days to roam around the place. The island is famous for neo-Vaishnavite culture, mask making, and Raas Mahotsav. You won't find this anywhere else. I met a Vaishnavi, who showed me around the place.
Well it was time for me to go back to Guwahati, so I bade adieu to the people and place. The return ferry to Jorhat goes from Kamalabari Ghat (first ferry at 7:30 am and last ferry at 3:30 pm). I took an overnight bus to Guwahati from ASTC Jorhat bus stand.
I reached Guwahati. This time took a premier hotel to relax :) As I had 2 days of my itinerary to spend in Guwahati, I roamed around the city and explored the place. You can visit Kamakhya temple (buses available from Paltan Bazaar).
There is a direct Volvo bus from ASTC Paltan Bazaar to airport. It runs almost every hour and takes 1 hour to reach Guwahati airport. Cost - INR 90 pp.
My amazing trip ended with my flight back to Delhi. This was my first solo trip and the best outing I could ever imagine. If you want to start your solo travel, I would suggest you start with the North East part of India. Saying that you will be spellbound by the beauty of this uncharted landscape and the lovely people, is still an understatement.
If you want to know more, reach me out on my Instagram Page and I will be happy to help. Keep traveling !!