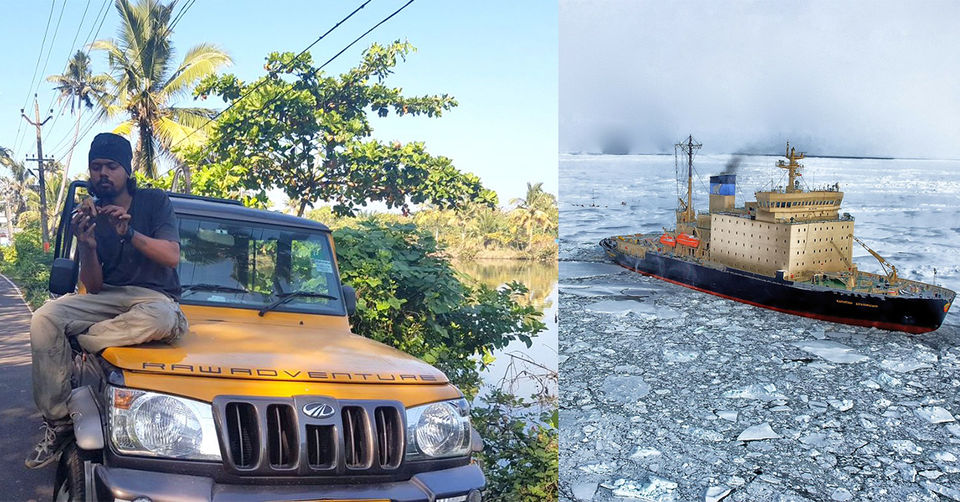 If you have ever had a desk job, you'd know what it feels like to gaze endlessly at the clock while all you can think about is travelling. Most of us, unfortunately, end up complying to societal norms, continuing to do things that we don't really want to. On the flip side, there are some who refuse.
Kerala based travel blogger Jithin S, also known as Trablogger, is a daredevil in his own right. Despite a successful corporate career and an ever more interesting stint working as a marine engineer, Jithin decided to follow his true calling – travelling. At an age when most of us are searching for that perfect job where we can 'settle down', Jithin is exploring the ends of the world, making one memory at a time. The seasoned wanderer is now fighting it out to be one of the 20 chosen travellers from around the world who will go for an annual polar expedition.
Click here to vote for Jithin!
I had the privilege of speaking to Jithin about his life and times and all that lies ahead. Here are some excerpts from the interview:
You were a marine engineer before you became a traveller. You were practically, always on the move. How and why did this need of taking to full time travel come about?
Rather than thinking about what I want in life, I've always preferred being clear about things I don't want. While working on the ship, I had this sudden realisation that I can't be doing this for a long time. The next thing I knew, I had quit. After that, the only sensible option was to use my savings to go to new places and that is exactly what I did.
Quitting a job to travel has almost become a trend of sorts. What are some of the harsh realities that nobody tells you about?
I quit my job in 2013 and to be frank, I'm not sure if it was even a trend at that time. On a personal level, I did it not to follow a trend but because I just couldn't do it. I had quit jobs earlier also because I found it difficult to be a part of the corporate culture. In fact, I have taken up quite a few travel related jobs on the way and I loved all of them! I've been a tour guide, managed backpacker hostels, designed trips and lead cycling tours to name a few – you just need to find what kind of work gives you personal as well as professional satisfaction.
As for the harsh realities of quitting a job to travel, there are many! To start off, there's the big uncertainty factor that the process brings along. Plus, if you're in India, you will also have to face societal pressure. Very few people understand this way of life while others are just concerned about you not having a "proper secure job".
Do you have your own set of travel hacks that kept you going through these testing times?
Well, I think travel in itself is the best hack to sail through tough times. The feeling of escapism that a new adventure brings about, is simply unlike anything else. Other than that, I am a big fan of couch surfing. I think it has been that one trick which helped me travel a lot more than I could have. Believe it or not, I was actually offered my first travel-related job while I was couch surfing in Mysore!
Even though this is not really a hack, but I would urge all travellers to be flexible and open to new things – trust me, it can completely change your entire travel experience.
For some, it's food, for others, culture – what is the one thing that you enjoy the most about travelling?
While traveling is liberating, it also comes with a lot of challenges. Facing these difficulties and overcoming them is something that I particularly like. I think it goes a long way in making a you a more confident person and a better human being overall.
I also identify myself as a people's person and I think that's why I also love meeting new people on the road. This is something that has widened my horizons and changed my perspectives about life. Also, I think you can learn everything about a place by just having a small conversation with a local.
One of the biggest challenges that every traveller faces is to keep themselves afloat. How do you manage that?
To begin with, I'm all for budget travel! For instance, I recently couch-surfed my way through South India for about three months and ended up spending only 15,000. To add to that, I also end up taking travel-related jobs on the go which only helps. I feel that is the best thing about travelling – as soon as you feel it's becoming yet another routine, you can simply leave!
Now that you've taken the big plunge, what is the one thing about marine travel that you miss the most?
Oh, I really miss the excitement of reaching a new port. I remember how thrilled I would be to just step out of the ship and venture into a faraway land, even if it was for a short period of time. Being out in the sea also exposes you to some of the most beautiful and surreal landscapes that you can ever witness – something that I dearly miss as well.
What's next for you on the travel front?
I am really looking forward to this grand adventure called Fjällräven Polar. It is an annual polar expedition conducted every year by the Swedish clothing brand Fjällräven. The person who gets the maximum votes from each region is selected for this adventure of a lifetime. I am participating in the 'rest of the world' category which makes the competition all the more challenging.
Inspired by Jithin's journey? Click here to vote for him in Fjällräven Polar and support his endeavours. You can also follow Jithin's adventures by heading over to his blog, Trablogger.
Share your travel stories with the ever-growing Tripoto Community by clicking here. Don't forget to check out Tripoto's YouTube channel for some amazing travel videos that will give you a dose of travel motivation.