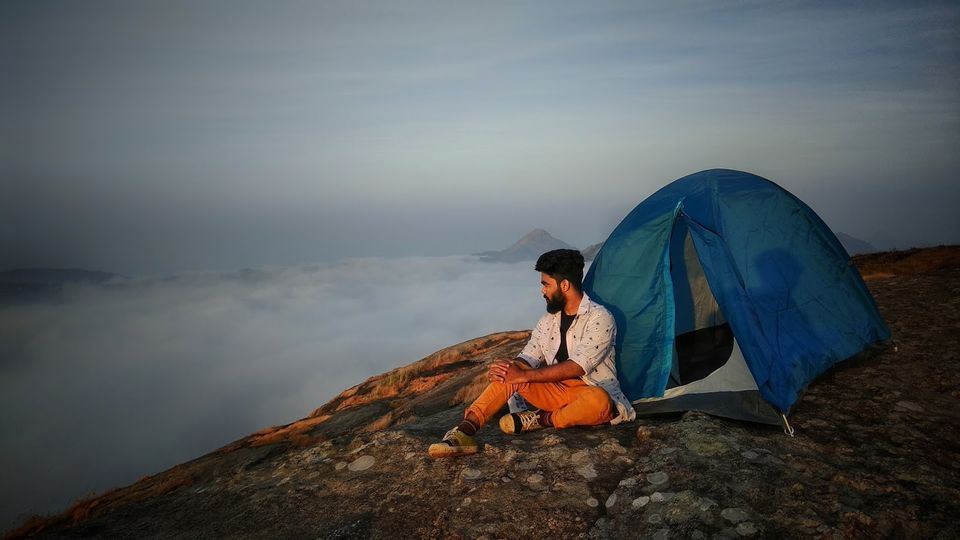 Ever cancelled a road trip because you thought you didn't have the 'right' kind of vehicle which could endure a long-ish drive on tricky roads? Well, it's important, the means of transport, isn't it? Most us would rather arrange a car with great performance, perhaps an SUV, because we don't want to risk our safety by using a machine that, we suspect, would break down.
But wait! This 23-year-old from Alleppey, an ex-employee at Cochin Refineries Limited, has a completely different opinion. "If travel is your only goal, the vehicle will never matter", states Sajin—the guy who travelled from Kerala to Nepal, on his scooter, covering close to a staggering 12,000km during his 53-day-long epic journey. Daring and interesting, isn't it?
We spoke to Sajin Satheesan about his astounding journey and he was candid in sharing experiences of his Nepal journey on his scooter. Here are some excerpts from his recent interview with us:
Who is Sajin Satheesan?
"I am a hotel management graduate from FCI in Kerala who worked at Cochin Refineries Ltd. for about one-and-half years. But I just couldn't suppress my love for travel. Then one day, this amazing idea of travelling northwards on my own scooter struck me. There were apprehensions, all of which faded away once I started the journey."
When and how you became the traveller you are now?
"I knew I always enjoyed travelling, even before I actually realised my love for travel around 3 years ago. It was in 2015 when I actually started exploring nearby places, sometimes with my friends and sometimes solo.
However, the mundane corporate life, the daily rush; all of it just seemed to choke me, mentally. I understood the risks, but I was really desperate to break free and travel to some place without a worry. So, one day I left my job, and then this Nepal trip on a scooter happened. It was such a relief, to travel without having to worry about going back to 'life within the cubicle'. And that's why I became who I am now."
From where did you get this idea of travelling from Kerala to Nepal on scooter? Did you have any companion?
"Well, I didn't get this idea from anywhere. It just came to my mind from nowhere. Perhaps, I realised I had no option but to stick to my scooter if I were to go for a road trip. I had already travelled to Hampi on a scooter with my friends, but this was a really long journey.
A road trip across India to a foreign land; apprehensions were definitely there, but I ultimately stuck to the belief that nothing is impossible if we have the will. And I did it! It felt great. My friend Jithin was my companion for this road trip who simply added to the fun."
What route did you take and what were the major attractions you visited during this journey?
"The [unplanned] route of the journey was Alleppey-Murudeswar-Gokarna-Goa-Mahabaleshwar-Mumbai-outskirts of Madhya Pradesh-Jaipur-Delhi-Chandigarh-Himachal-Leh-Srinagar-Delhi-Agra-Gorakhpur-Sonauli-Nepal.
I visited so many beautiful places and attractions that it's hard to put it in a few words, but the experiences that will remain etched in my memories are Golden Temple and the natural beauty of Kashmir and Nepal. Everything seemed even more beautiful and enjoyable on scooter."
What was the approximate cost per person for this trip?
"I think it cost around ₹75,000-80,000 per person. I had some savings while I was working and my journey was all about budget travel. Nothing lavish whatsoever."
What kind of problems did you face during the journey? Any suggestions to the readers who wish to go for such a road journey?

"Fortunately, major part of this 53-day long road trip was trouble-free. We knew our budget and our destination, so we kept things simple. Nevertheless, we were mentally prepared to face unfavourable situations. For proper communication, my friend had already installed a portable charger on our scooter, so charging the phone wasn't a problem.
The only major incident I can think of was when I and my friend were driving at night in Srinagar and a car started to chase us and block our way for no apparent reason. I thought we were in real trouble and might just end up getting looted, but we somehow managed to escape.
We learned our lesson: night rides can be dangerous. So, I'd suggest the readers to avoid driving at night and cover as much distance as you can before the sun goes down."
What are the two most memorable experiences you'd like to share with other travellers?
"During my 12,000km long journey on a scooter from Kerala to Nepal and back to Kerala, I had a fair share of both positive and negative experiences. But I still remember those two days that I spent in Golden Temple, Amritsar.
I stayed there for free, even had free food and water and all I had to do was a little amount of sewa. I was astounded by the magnanimity of the people in the temple and utterly impressed by their belief to be kind to others. Those days really changed me. I could feel happiness and be at peace. I think I couldn't have experienced such a vibe had I not travelled.
Second one was when I was in Nasik [near Harihar fort] and didn't have money because of unavailability of cash in any of the nearby ATMs. I and my friend were exhausted, hungry, and distressed. But then an old man gave us food, permitted us to pitch our tent near his store, and took nothing in return. I was overwhelmed with his selflessness. I can say that people in villages are very honest and do care, even for the strangers. Humanity still exists."
How do you sum up your travel experiences in one sentence?
"If travel is your only goal, nothing else matters; not even the vehicle."
This was young Sajin's journey on his scooter from Kerala all the way to Nepal, along with his friend Jithin.
If you too have exciting travel experiences of your own, write your story on Tripoto to share it with the world. Subscribe to Tripoto on YouTube to watch inspiring travel videos.