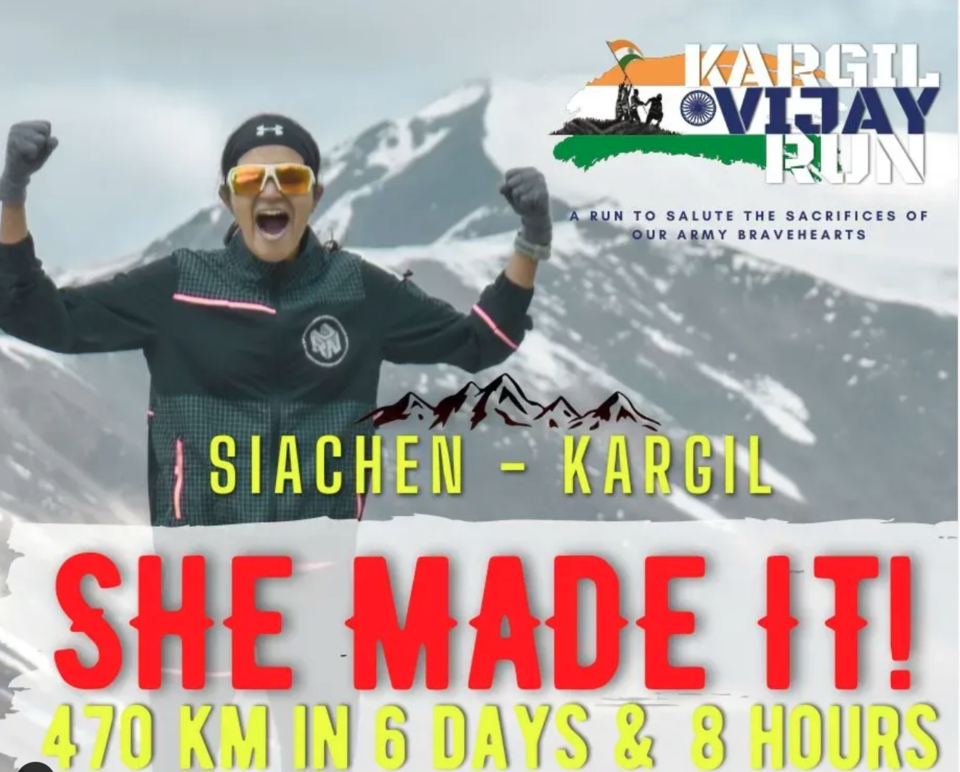 Indian ultra runner Sufiya Khan has done it again. A woman who is not shy from challenges has added another star to her achievements. Sufiya has completed the gruelling challenge of running from Siachen Base to Kargil War Memorial .
Sufiya adding love and achievements to her list as she continues running
This ultra runner braved the challenge and completed a whopping 470 km in just Six days and Eight hours. This achievement comes after being named in the Guinness book of records three times. She holds the records for covering the Manali-Leh stretch on foot in the year 2022, the fastest time by a female to complete the Golden Quadrilateral in 2021, and the fastest woman to traverse from Kashmir to Kanyakumari in 2019.
A tribute to the Kargil War Heroes in her own way
Sufiya has termed her this challenge as the "tribute run" dedicated to the sacrifices made by the brave-hearts of the Indian Army . The expedition began at Siachen War Memorial on July 17 and concluded at Kargil War Memorial, on July 23, ahead of the 23rd Kargil Vijay Diwas.
Kargil Vijay Diwas is commemorated every 26 July in India, to observe India's victory over Pakistan in the Kargil War for ousting Pakistani Forces from their occupied positions on the mountain tops of Northern Kargil District in Ladakh in 1999.
What were the challenges that she faced?
Indeed this wasn't an esay feat to achieve. During the expedition of 470 km Sufiya had to naviagte through difficult terrain and hostlie conditions. Her run began at an altitude of 3400m, reaching up to 5359m at Khardung La with oxygen levels dropping 40 to 60 percent and temperature dipping much below zero degrees.
Sufiya describes ultra running as her passion and she even quit her decade-long job as a ground staff at the Delhi airport in 2017 to pursue it. If this isn't the inspiring story of the day, then what is? Watch her unique salute here.
For more such travel tips, follow me on Instagram.
Ready to travel for free? Earn credits and redeem them on Tripoto's weekend getaways, hotel stays and vacation packages!