I don't know whether it can be granted the official status of "trend" yet, but in the last few years, I have seen a fairly large number of people visiting LADAKH – the land of high passes. The pictures on my Facebook feed from numerous friends amidst the most rugged mountains, artistic landscapes and the colorful lakes made it even tougher to resist planning this trip.
I always ensure that I end up visiting a few places in a calendar year and save from my pocket for that throughout the year and YES it is a conscious effort to save to travel.We were a group of 3 friends planning for this adventure and got our bookings done with K2K Expeditions where our adventure started from Srinagar and we were done and dusted in Delhi.So we planned to come together at the Srinagar Airport and embark on our journey of a lifetime.
Here is the checklist of items that we had on our mind and should be helpful to people travelling for the first time to the land of high passes:
Clothes:
3 Sweatshirts
3 t -shirts
3 Cargo/Joggers
Undergarments 5 pair
Socks 8 pair
GumBoots
Shoes Sports
Body Warmer 2 Pair Top and Bottom
5 Handkerchief
Skull mask
Face Mask
Sleeve's 1 pair
1 Cap
RainCoat
Empty Plastic Bags large in size.
Rider Gloves
Rider Equipment
Doctor Gloves
1 Lower
1 Jacket
1 Toilet paper roll
Cosmetics:
1 Sunscreen lotion spf 40 min
1 Moisturizing lotion
1 Lip Balm.
1 cold cream
Facewash/Paper Soap
Tooth brush/ Tooth paste
Wet tissue/Dry tissue
Moisturizer / Comb
Medicines/Common Items:
black poly bags small - just being environment safe
1 Pudín hara strip
1 Combiflam strip
5 ORS Solution
Moove/Iodex
Dettol
10 band aid
2 strip Diamox
So post the shopping was complete we finally kicked off this journey.
We boarded our flight at 10:30 am from IGI and were looking dumbfounded in a crowd that looked maddening on the Airport. We were going to miss this crowd in the next coming days as we headed to the sound of mean machines and the landscapes that awaited us.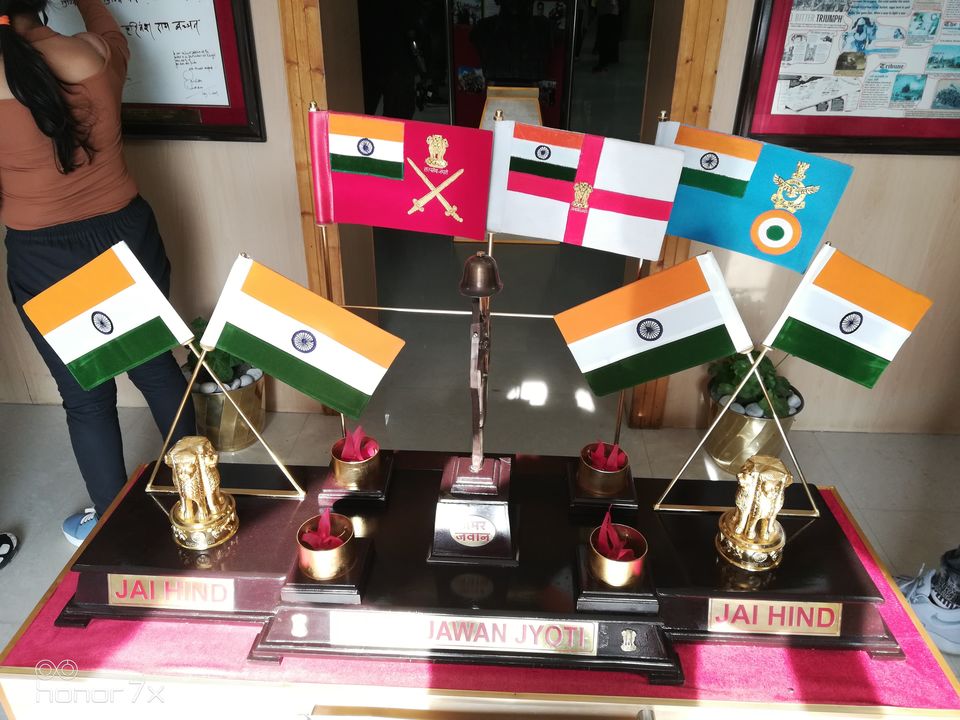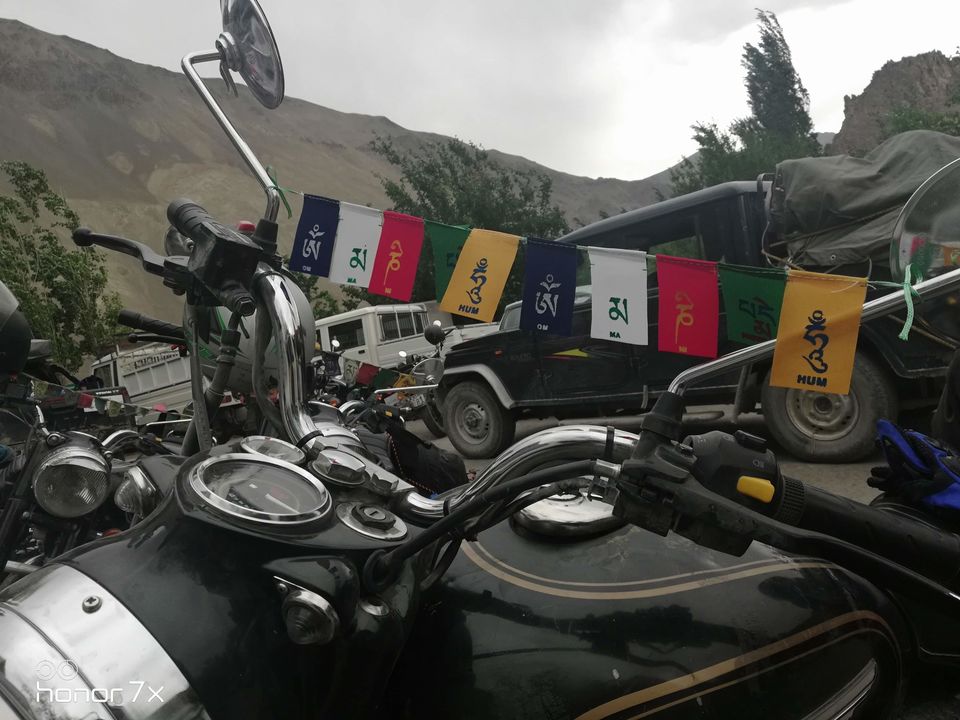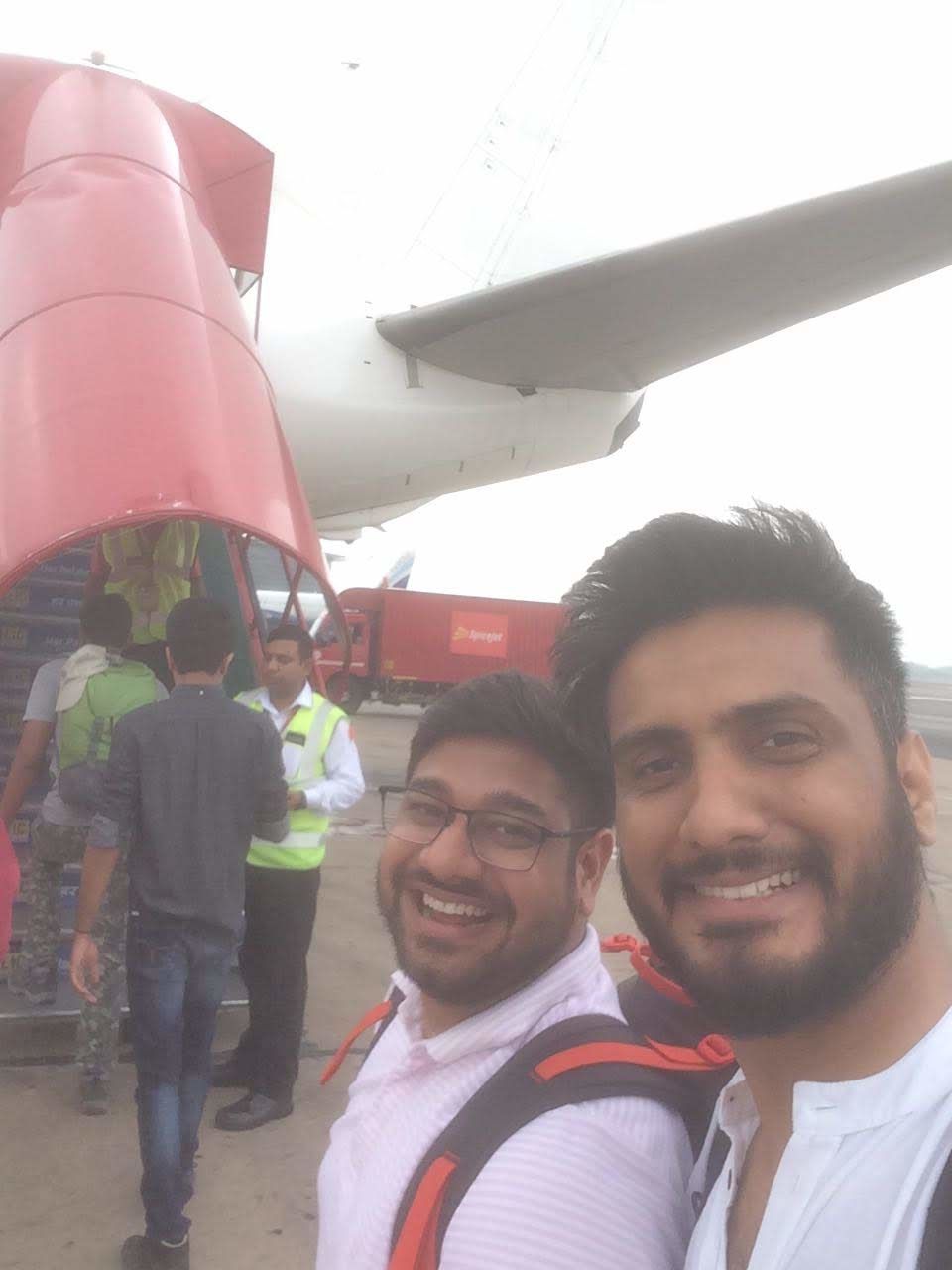 Srinagar: It lies in the Kashmir Valley on the banks of the Jhelum River, a tributary of the Indus, and Dal and Anchar lakes. The city is known for its natural environment, gardens, waterfronts and houseboats.We took a good meal on the way to Srinagar in front of the ever so popular Dal Lake.
As soon as you put your foot down on the magnificent land of sparkling rivers, deep green lakes, and sleepy towns, you can feel the magic in the air. This magic remains in the air, in the waters, and in each season of this sleepy hamlet.
Their we boarded our traveller from the tour agent and started heading towards Sonmarg.The journey from Srinagar to Sonamarg along Srinagar-Ladakh Road or National Highway 1D is spectacular. The journey is upwards of sixty miles long valley and deep rock-girt gorge to open grassy meadow land and village-dotted slopes.We reached Sonmarg in the evening hours took a good walk on the meadows and then rested and called off our DAY 1.
DAY 2:
Day 2 was the day where the adventure had to start.Our ride partners were shining - RE Standard 500 cc machines all roaring to get started for the next 10 days of tough ride.We were assigned our mean machines and then we headed to Kargil after fuelling our bike's tanks to the fullest and being part of a fleet of 40 vehicles had its own challenges on the first day, few slip's with fellow passengers to get started with and then wait game for lunch and tea breaks.
The target was to enjoy everything i.e. panoramic landscapes, tough terrains, thrilling drive, and overcoming hurdles. The drive through Himalayas in itself is sightseeing where at every juncture nature throw on us its abundance of beauty that fills us with awe.The most difficult section of this highway i.e. Zoji La (Zojila Pass) was few hours away and we were eagerly waiting for an encounter with it. The route set for the journey was straight forward.
First good sign of the day was absence of rain as it creates a difficulty in crossing Zoji La since this mountain becomes very slushy and is prone to landslides. This pass can get closed in no time when the weather is rainy. We left from Sonamarg @ 11:30 am. We crossed Baltal (an important place for pilgrimage to Amarnath yatra) @ 12:00 covering 17 KMs. After crossing Baltal uphill drive towards Zoji La started. We started negotiating twist and turns through the gravels with no sign of tarmac. The adventure of negotiating treacherous road through this pass with no barrier on mountain edge was undertaken cautiously by all of us. The view to the bottom would easily give goose bumps to the experienced of all as well. We could see ourselves approaching the snow capped mountains and glaciers with amazing landscapes all along the way. Slowly and steadily we climbed the hill after negotiating narrow roads and reached the zero point at Zoji La (alt 3528 mtrs) @ 1:00 p.m. thereby covering a distance of 24 KMs.
Drive towards Drass
The Drass valley starts from the base of the Zojila pass, the Himalayan gateway to Ladakh. We started enjoying this unique picturesque landscape that we had never witnessed before and were mesmerized by altogether a different view of Himalaya. The shadow of cloud gave an awesome appearance on those barren mountains as compared to other mountains. The road conditions were very good with less twists and turns and well laid tarmac. It felt like we were passing through a dreamy world.
Kargil War Memorial or Dras War Memorial
After covering 7 KMs from Dras we reached Kargil War Memorial built alongside the highway in remembrance of sacrifices done by our armed forces during 1999 Kargil war. The memorial is built on the foothills of Tololong Hill and has a huge epitaph with names of all the officers and soldiers who gave supreme sacrifice in the war. Kargil Vijay Diwas is celebrated on 26 July every year at the memorial.
We took rest in Kargil the same day.