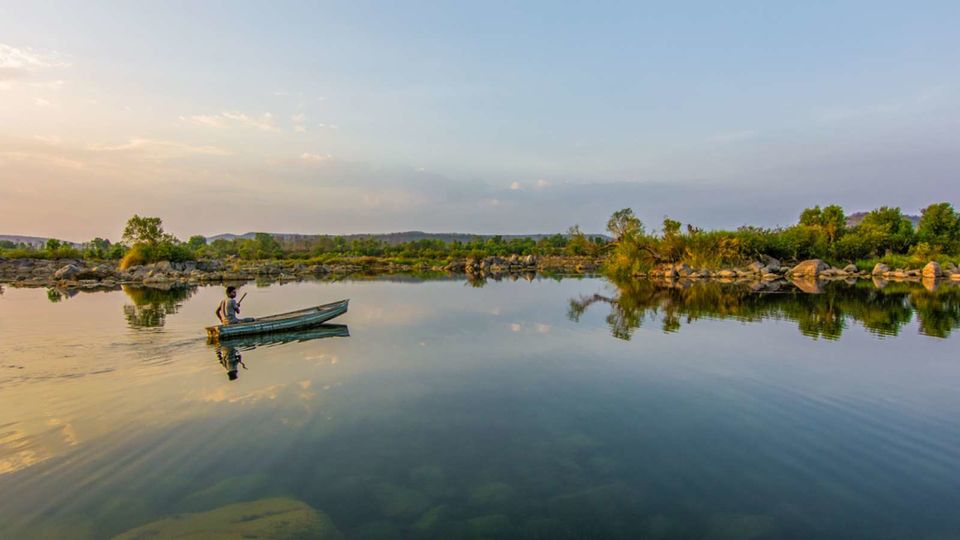 Fifteen minutes away from the Panna Tiger Reserve and around half-an-hour from the famous Khajuraho Temples in Madhya Pradesh is a beautiful resort that is the answer to all your weekend woes. This slightly secluded property is nestled in the lap of nature with the hills surrounding it on one side and farms and forests on the other. Located strategically on the banks of River Ken, it makes for the perfect place to unwind after a hectic week.
Ideal for
The gorgeous Camp Panna is perfect for romantic getaways or a relaxing outing with family and friends. Given its location and proximity to Khajuraho and the Panna Tiger Reserve, it provides travellers with the right mix or relaxation and sightseeing activities for a fulfilling trip.
About Camp Panna
V Resorts Camp Panna offers two types of accommodations – deluxe AC rooms and luxury tents. The deluxe rooms boast of a minimal but chic decor complete with all modern amenities including air conditioning, hot water, WiFi and a tea and coffee maker. There's a small sit out area outside each room offering beautiful views of the river and wildlife. The luxury tents on the other hand are for those looking for a more authentic wildlife experience. Although they too are furnished with a study table, attached dressing room and washroom.
The resort also has an in-house restaurant that serves traditional dishes and some continental items. Breakfast is usually a part of the base package with lunch and dinner being available at an extra charge.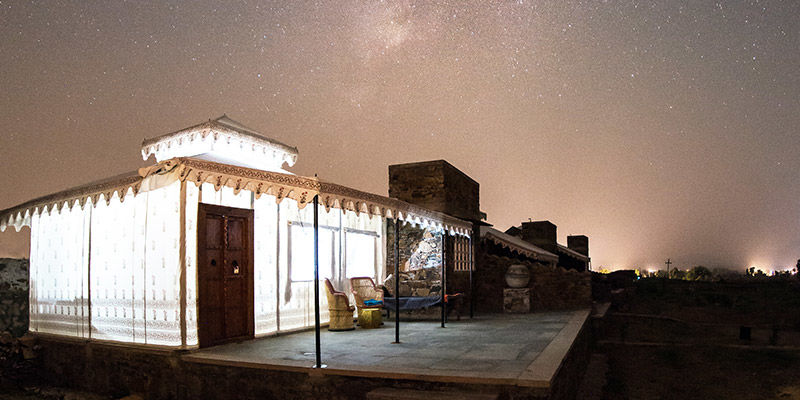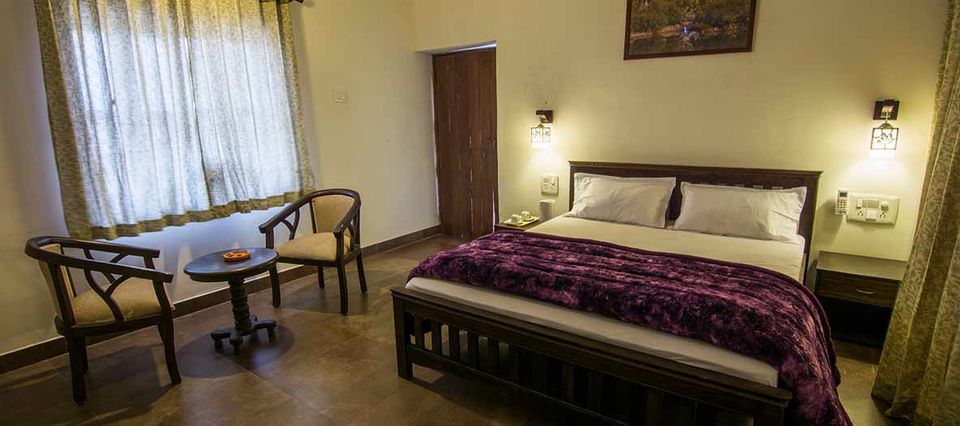 Cost
The price for a one-night stay starts at ₹3,199 for the deluxe room and ₹3,899 for the luxury tents. Breakfast is included in the base package.
Best time to go
November to May are the best months to visit Camp Panna, as summers here are excruciatingly hot and temperatures can rise over 45°C. Winters are comparatively cooler. It is especially recommended to visit the area during the month of March, when the flora and fauna in the region are in full bloom.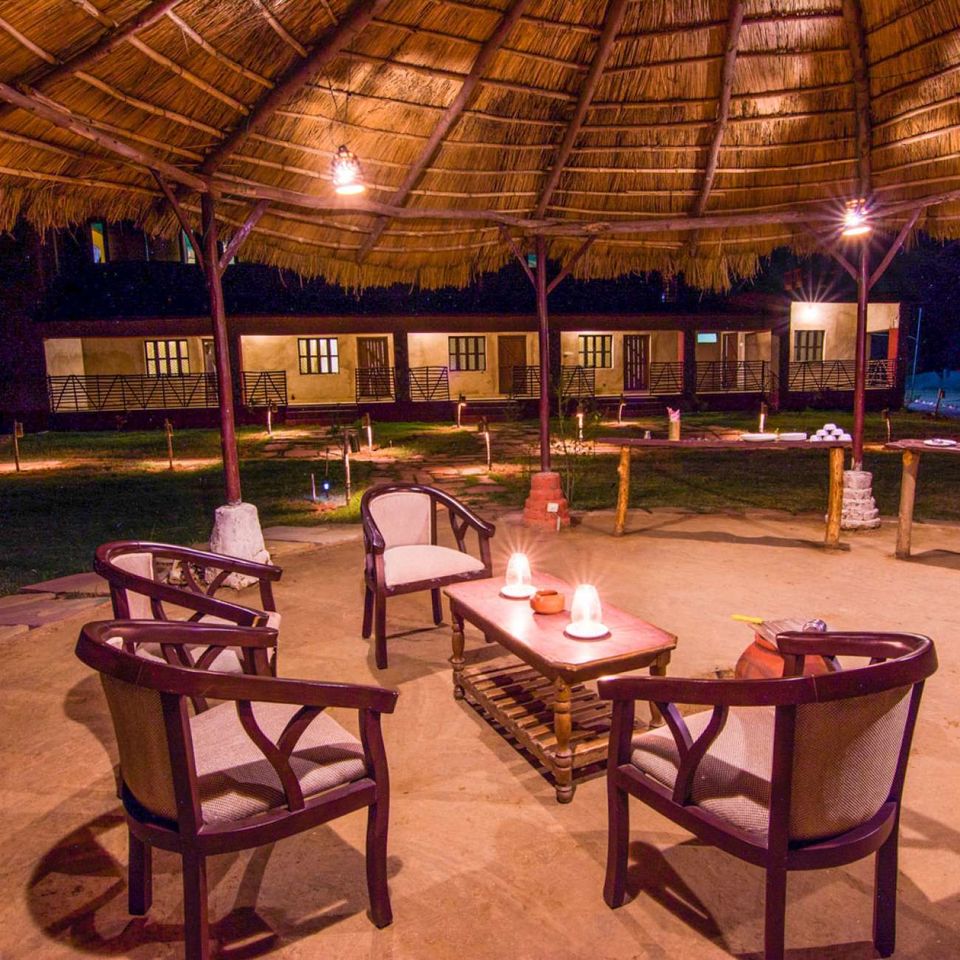 How to get there
Given its strategic location, V Resorts Camp Panna is easily accessible by air, train and road.
By air: The closest airport is in Khajuraho, which is about 25km from the resort. From there, you can hail a cab or a bus to reach Camp Panna.
By train: Satna is the closest railway station, about 50km away, which is well connected to most major cities in the country. There are daily trains from Delhi, Kolkata, Bangalore and Chennai. From there, buses ply regularly to Panna and you can also book a taxi.
By road: Panna has a well-built network of roads connecting it to the rest of the state. It is connected to Delhi via NH-2. Buses and taxis ply regularly to Panna and can be booked in advance online.
What to do around
V Resorts Camp Panna's location is one of its main attractions. Just 15-minutes from Panna Tiger Reserve and 30-minutes from Khajuraho, it offers guests a host of activities they can indulge in during their stay.
When staying at the resort, one can choose to spend the day boating and fishing in River Ken. There is a spa on offer where one can indulge in some personal relaxation time. You can end the day with a candle-light dinner organised by the resort. You can also enjoy special pottery-making sessions at the resort.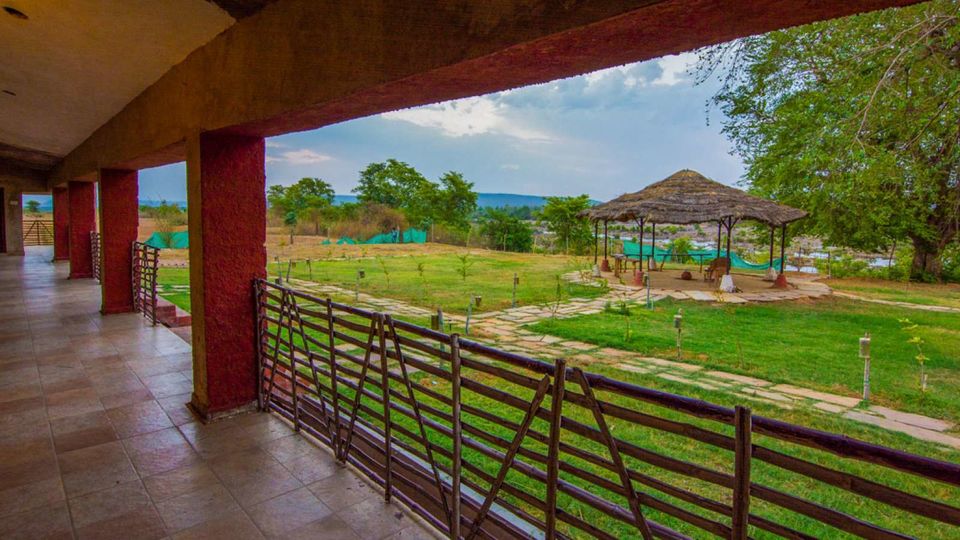 If you want a little more adventure, you can opt for a wildlife safari at the tiger reserve, visit the dam, take a trip to the famous Panna diamond mines, or spend a day admiring the architecture at Khajuraho.
All photos sourced from V Resorts.

Looking for other weekend getaways near Delhi? Choose from these great resorts for your next trip.
V Resorts Jungle Lodge Ghanerao
Nestled between the Kumbhalgarh National Park and the Aravallis, V Resorts Jungle lodge Ghanerao is a century-old hunting lodge that has been converted into a tastefully-designed modern-day jungle camp. Located less than 5km from the Ghanerao village, here one can experience the rural Rajasthani lifestyle at its finest in addition to experiencing the very best that nature has to offer.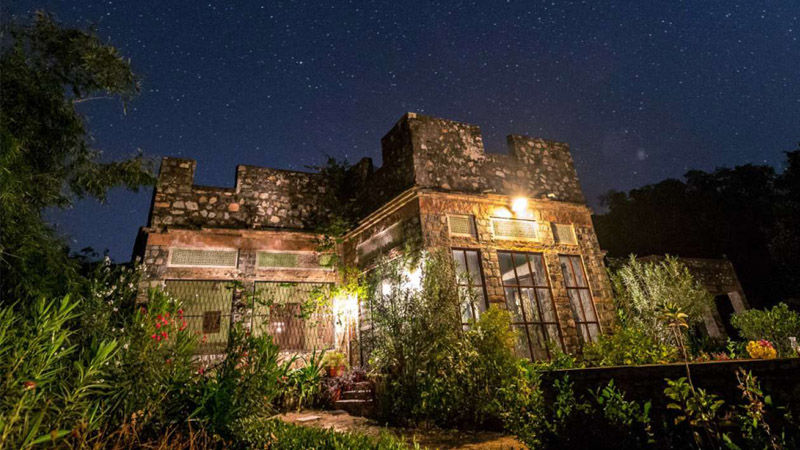 V Resorts The Dukes Den Corbett
One of the finer properties in the area, V Resorts The Dukes Den Corbett is the very definition of experiencing luxury on a budget. Located on the shores of River Kosi and surrounded by dense forests all around, it gives guests an unparalleled experience of nature and the wilderness without giving up on comfort.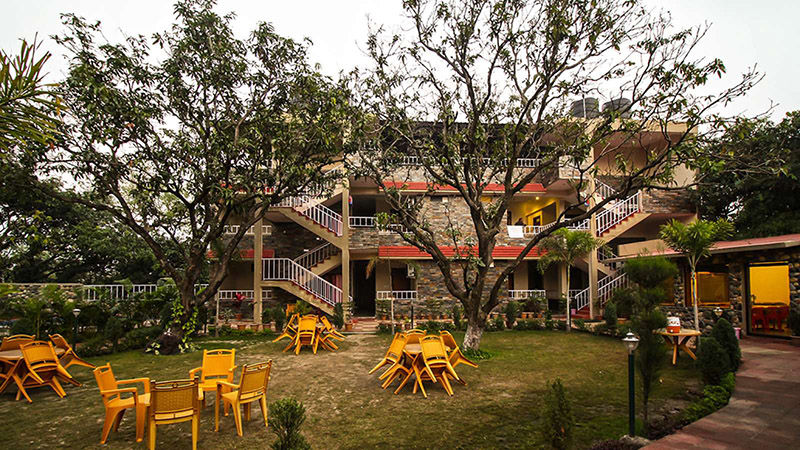 In association with V Resorts.