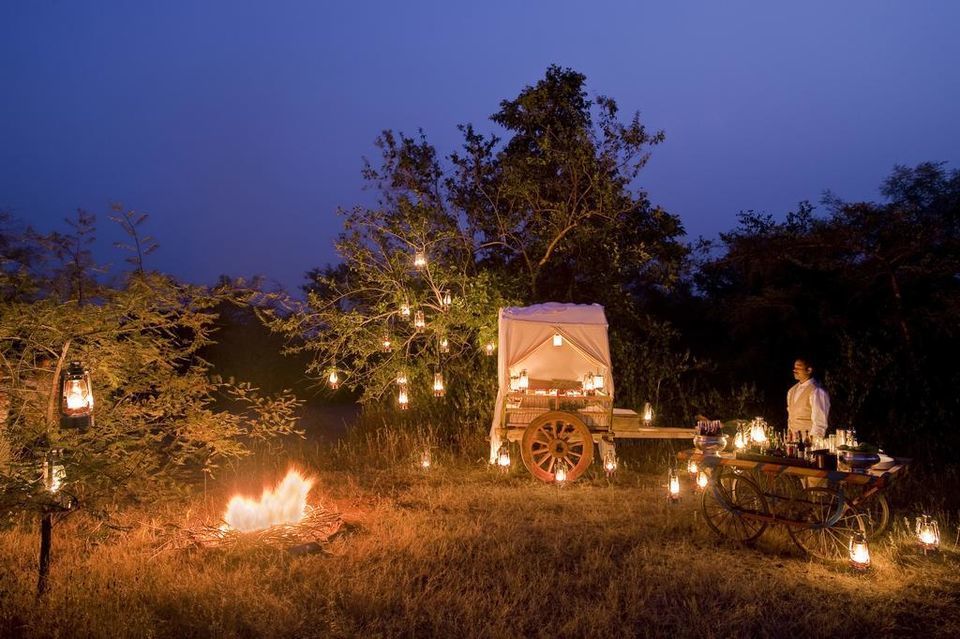 If you're planning on the perfect romantic getaway with your better half, how do you fancy the idea of staying at an idyllic lodge, set in a secluded spot, far away from the din of city life, in a surreal natural setting?
A cluster of charming stone cottages perched atop a small hill, overlooking a dense emerald green forest, with a pristine waterhole nearby. That's what dreams are made of, right? Throw in the fact that this waterhole serves as the perfect spot for exotic wildlife sightings, and it may seem like too good of a deal to be true. But Taj's Safari Lodge in Panna National Park, spread across 200 acres of private jungle, with breathtaking views of the Vindhya Hills, makes it possible.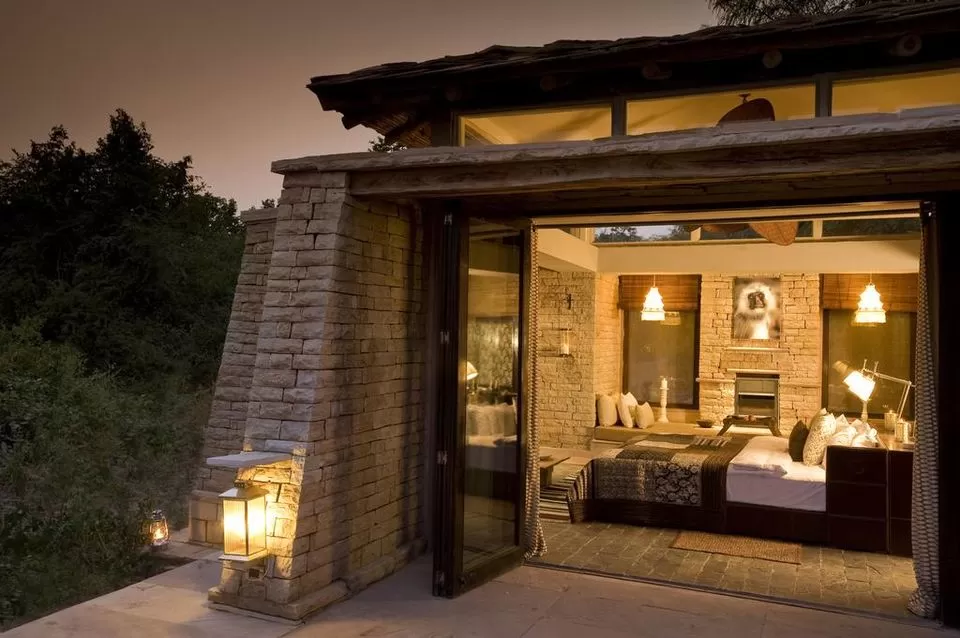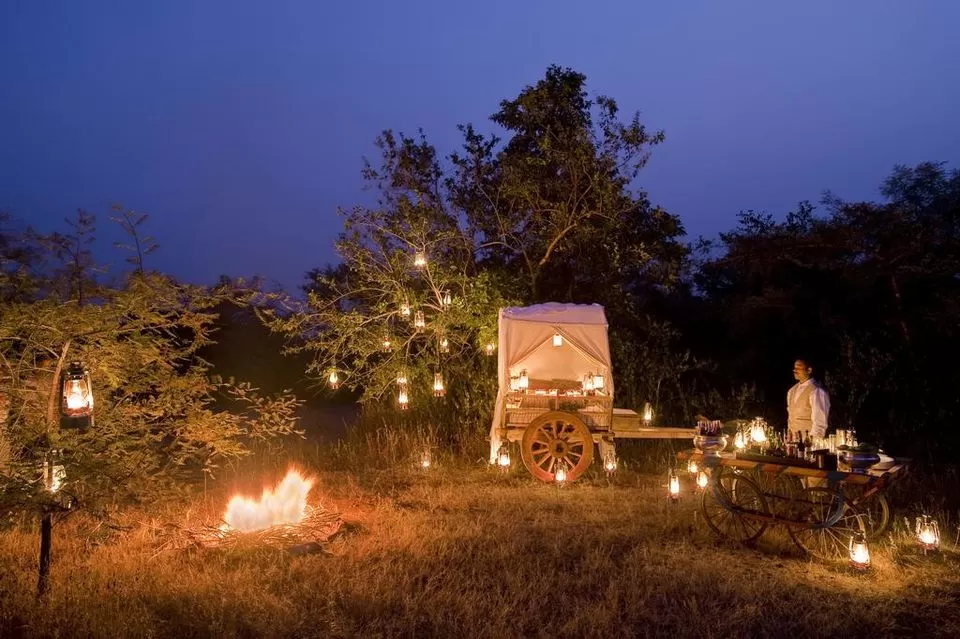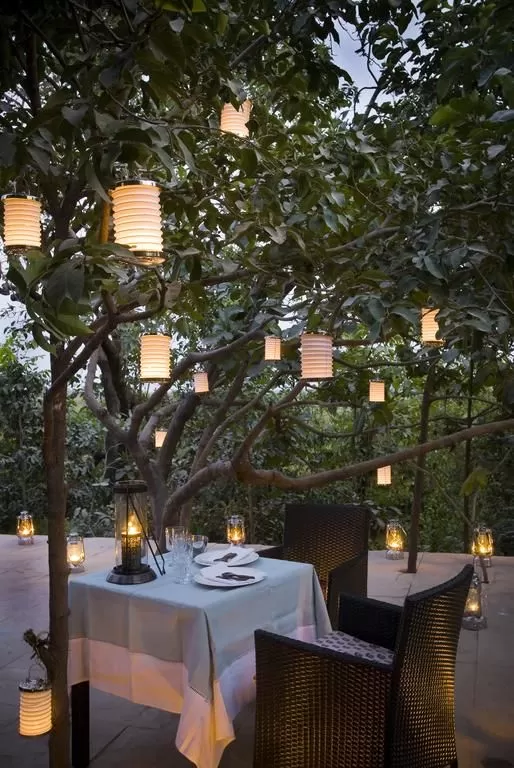 Ideal for
This serene luxury resort set in the middle of wilderness, is ideal for couples who want to spend some quality time together and keep their celebrations exclusive.
About the property
The lodge comprises of 12 private cottages, along with a common area where guests can lounge around. The cosy, warm and luxurious interiors of these cute and rather lopsided cottages offset the rustic, rough and chunky exteriors, creating an endearing contrast!
The interiors boast of different textures, owing to the usage of dry-packed Panna stone masonry that prides itself in not using cement, and is tastefully decorated in shades of rich mahogany, deep taupe and cream, adding comfort and warmth to these spacious and airy rooms with walls made of stone. Each cottage has a massive private stone verandah and a luxurious washroom, with a dramatic central shower. Winding flagstone pathways lead to these cottages. The gazebos outside are great to lounge around in, and are heavily influenced by the erotic Khajuraho temples nearby.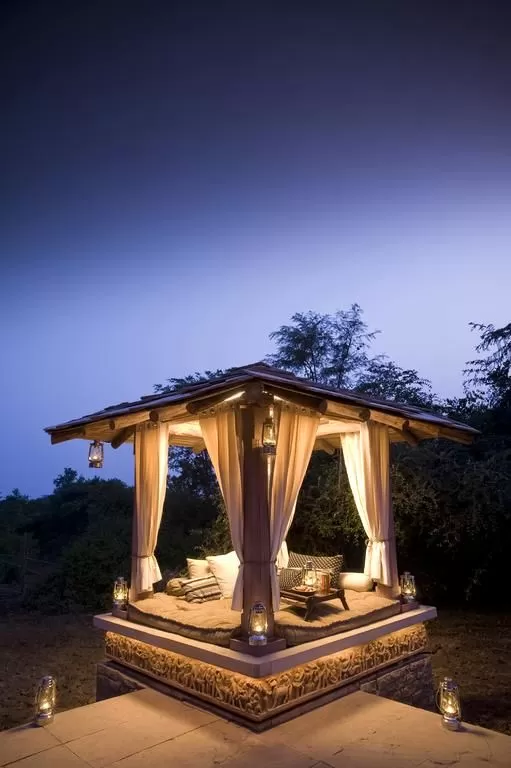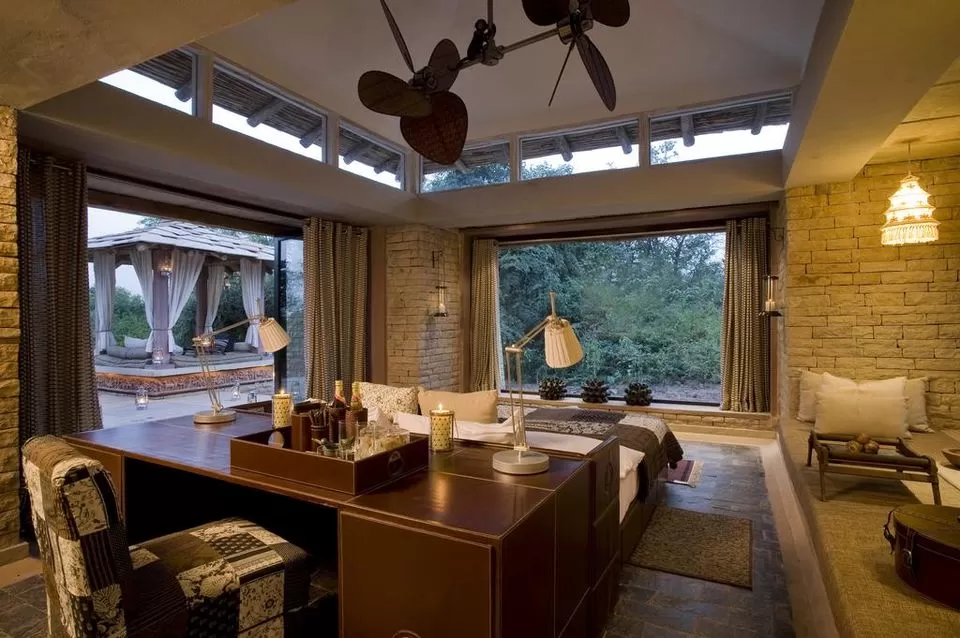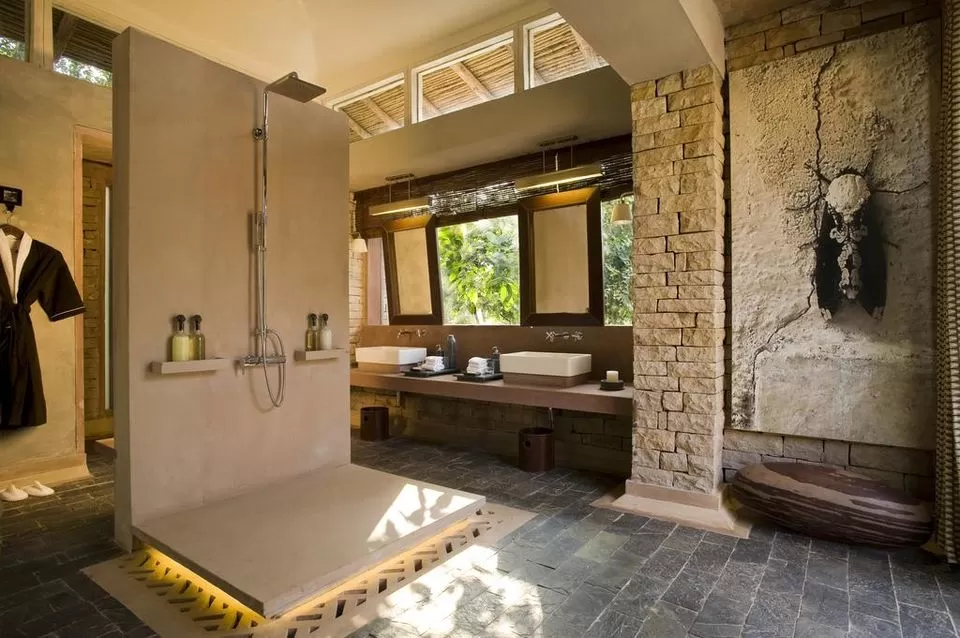 Food
On arrival, guests are greeted by a very courteous staff at the entrance with a refreshing drink.
Organic and fresh ingredients are used for all meals and the food is heavily influenced by Bundelkhand-style cuisine. You can choose to eat in the dining room on the terrace verandah or ask for the food to be delivered to your cottage.
The menu consists of some of the most scrumptious treats for your taste buds. River sole cooked in a rich yoghurt marinade with hints of saffron, garlic and ginger, and glazed wild gooseberries served with cheese are some of the lunch favourites.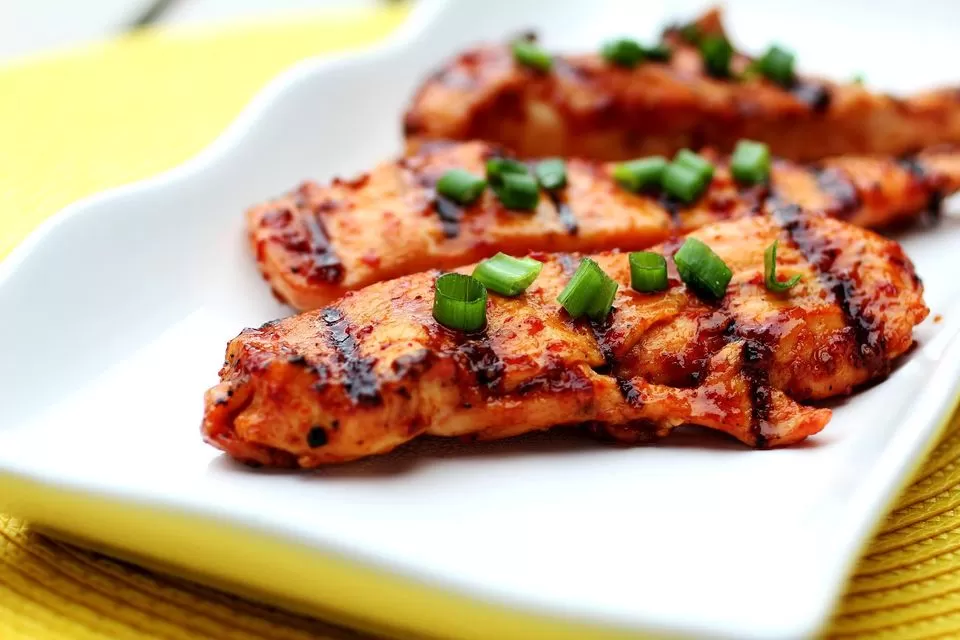 Another delightful tradition followed at the lodge is a signature palanquin dinner with arrangements made for the couple to be seated in a romantic setting in intimate ox wagons. The menu consists of chicken seekh kebab, roasted tandoori mushrooms, tandoori breads, chicken tikka masala, minced lamb, green lentils and grated paneer cheese. Tarts in flavours such as honey and date, rose, coconut and caramelised banana are also served.
Cost
The price for the cottages starts at ₹27,000 per night (for two), and breakfast is included in this.
Best time to go
The best time to visit is between the months of November to April as the weather is perfect – pleasant and cool. Summers are incredibly hot with temperatures soaring up to 45 degree Celsius, and not ideal for a holiday.
What to do here
Guests can go on romantic nature walks around the sprawling property and can choose to be accompanied by the hotel's trained naturalist, who will help them identify birds and animals in the surrounding areas.
River cruise on Ken River
Guests can go for boat rides on Ken River, very close to the lodge. Watch out for exotic water birds and crocodiles soaking up the sun on the rocky banks of this gorgeous river.
The Panna National Park is home to some of the most exotic flora and fauna. It is a must visit for anyone who wishes to learn about the rich biodiversity of Central India. Some of the animals you can spot here are wild cats, deer, sloth bears, chital, chowsinga, sambhar, vultures and cheetals. The hotel gives you the the option of being accompanied by their expert trained naturalist. You can opt to travel in a Tata open safari vehicle to enjoy your experience to the fullest.
Pashan Garh also serves as the perfect base to explore the wondrous Khajuraho temples, or the 'Temples of Love', only 1 hour 20 minutes away from the safari lodge. These beautiful medieval structures are considered a UNESCO World Heritage Site and are the largest group of Hindu and Jain temples in the world. They're known for their strong erotic theme and intricate architecture.
Getting there
New Delhi is the nearest metro city to the lodge, which is around 682km away.
By air: Panna Airport is currently non-functional. The closest working airport is Khajuraho Airport, which is around 43km away and takes close to 1 hours 7 minutes by road. You can book a cab from the airport to Panna.
By train: You can book an overnight train from New Delhi to Khajuraho (Khajuraho Railway Station or KURJ) covering an approximate distance of 634km. You can book a cab from the railway station at Khajuraho, to cover the remaining distance.
By road: Drive down a distance of 682km via the Taj Express Highway, which should take you around 11 hours 32 minutes to cover.
All hotel images have been sourced through www.booking.com
Have you recently been to any hidden resorts that are worth a share? If yes, don't forget to let the Tripoto Community know!