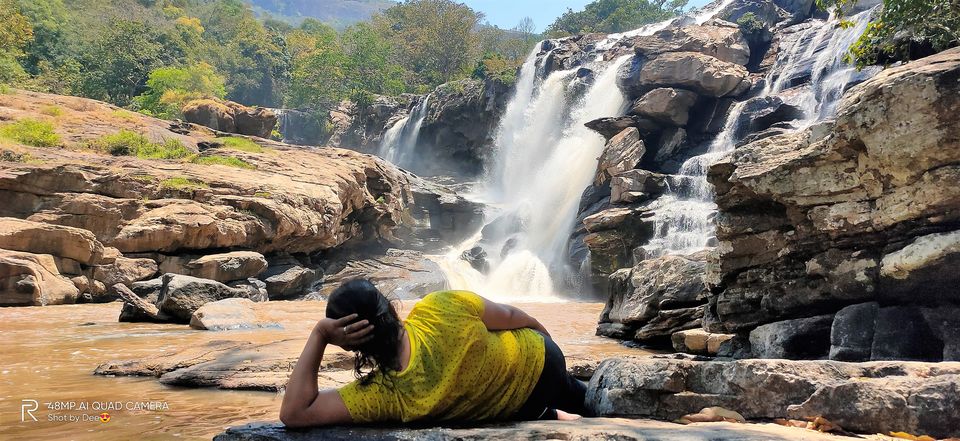 A coterie of five nemophilists 🌳🌴🛤🏕 Yes ! that is us, indeed! embarked to explore the thrills of Chinnar Wildlife Sanctuary by delving deep into the thick jungles of Western Ghats. The extensive presence of wild animals, specially elephants added to the anticipation. 🐘🐘🐘
Excitement hung high as we started our early drive🚙from Coimbatore on a quiet Sunday morning. The drive was smooth and fast, once we crossed the L&T bypass road, as we cruised along the well laid, new road connecting Pollachi. And yeah ! The first pit stop - Hotel Amutha Surabhi bang on NH 83, satisfying us with crispy vadas, aromatic pongal and yummy dosas washed down with authentic filter coffee ☕. With ample parking spaces, hygenic wash rooms and tasty grub, Amutha Surabhi makes an ideal choice for highway travellers 👌👍
Soon we reach the Anamalai Tiger Reserve Check post, the entry way to the jungle. The 110-km trip to Thoovanam Waterfalls from Coimbatore is picturesque with added dose of adventure, making it an ideal day outing. Map link for reference : https://goo.gl/maps/9xt8ADdt2FtBRDgn9
Navigating through the serpentine roads among the deciduous verdant wilderness was eye pleasing, with all of us on alert, looking for the elusive pachyderms 🧐🤠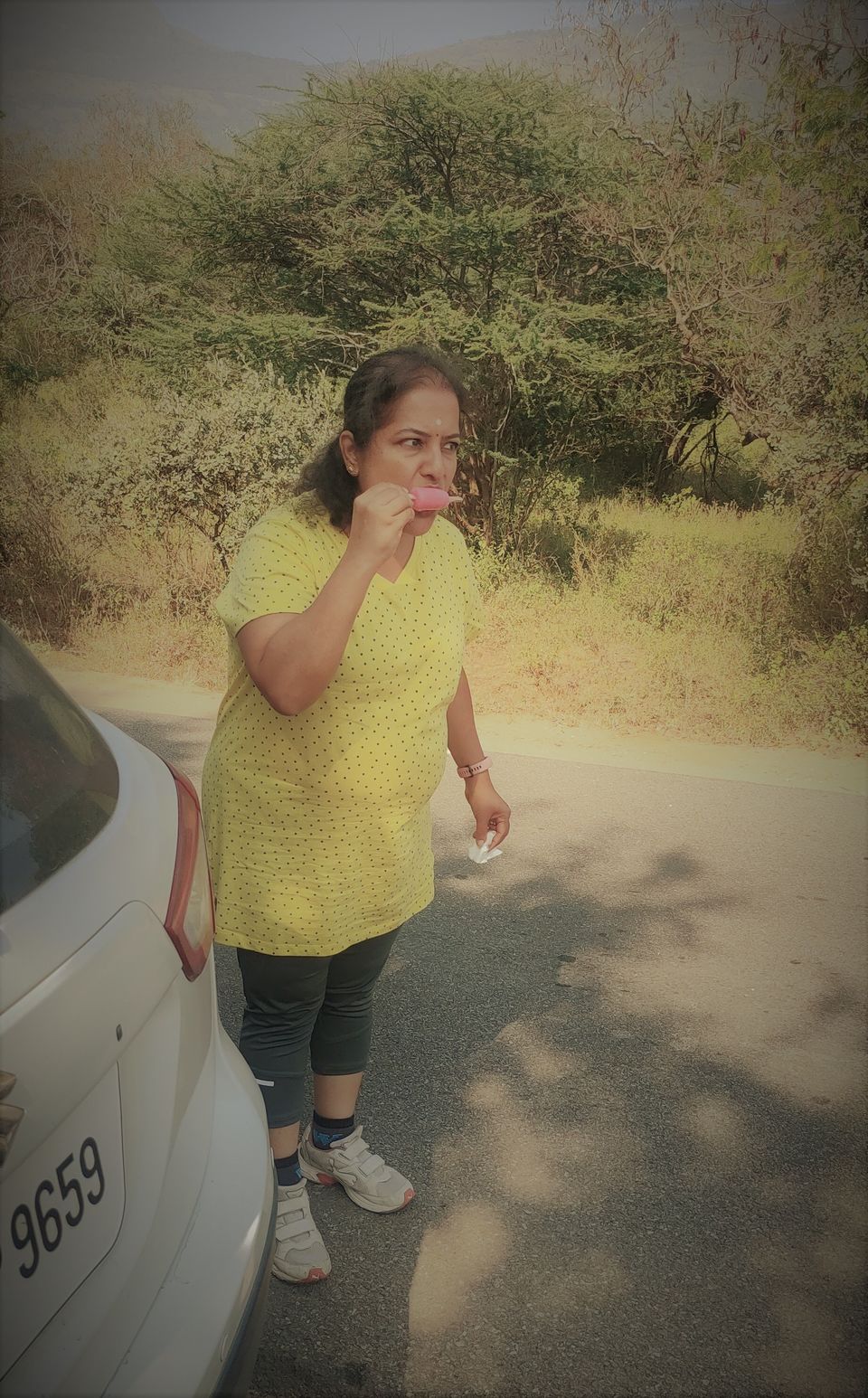 Instead, we spotted an ice lolly seller 🍡🍢 speeding on his moped. We flagged him down and bought ice pops in the middle of the jungle, Crazy isn't ? 🤪😜 while the seller looked apprehensive and nervous as he kept saying ''we are standing on elephant corridor. I have seen them cross over here many times. We must clear this area fast, you can spot one anytime soon''. We spotted few peacocks and deer....But no ele...🐘
As we were enjoying the scenery on both sides with small streams and waterfalls here and there, the Alampetty Ethnic Cafe board popped out of nowhere, nestled among the greenery, the start point of the trek. A charge of Rs.300/- per head for the guide, gets you a local tribal trek lead, who knows these woods like the back of his hand. Trek is conducted between 8.00 AM and 3.00 PM everyday.
Thoovanam Waterfalls is a moderate-level, 4 km trek one-way, from Alampetty Eco-tourism office. The trail offered a melange of challenging terrains that is sure to enrapture trekkers ⛺. With water, snacks and change of clothing in our backpacks, we treaded the jungle path, getting animated and stirred up, now and then, by the balls of elephant poop 💩💩 on the way. But no ele....🐘
After 15 minutes of trek, the dense canopy of trees shut out all the outside noise with its meditative silence. The susurration of tree branches, rustling dry leaves under our foot and bird songs embraced me, rendering me speechless. Ahh ! A gurgling noise of water ! Delightful !
We reached a rivulet with cool clear waters, gracefully making its course through the rocks and boulders. Alright ! Photo break ! we play in the cool waters and then, kept moving. The guide enlightened me with details of the diverse flora and fauna of the area, whenever prompted.
Manoeuvring through ridges, climbing over fallen tree trunks and scrambling across boulders led us to heaven on earth - the bewitching view of a glorious white flow, cascading from nearly 25 m of height, crashing loudly over the rocks at the bottom, generously fed by the Pambar River. The droplets sprayed by the force of the flow, glitters in sunlight proffering a surreal ambience, one that could only be felt. 😊😍
I fell into a trance, a state of rasasvada - the apt word, with my mind drifting into void, with nothing but the enormity of nature unfurled in front of my eyes. I lay in drunken stupor over a rock, absorbing the sound, smell and scenes of the wild nature, with nothing but pure bliss filling my soul. ''The best things in life are free'' I reminisce when my eyes fell on the log cabin, just above the falls. What a spot to spend a night ! The log cabin can be rented through Alampetty forest office.
We got into the chilling waters, shivering initially until our bodies adjusted to it. Splashing and swimming in the cool swirls turned so addictive, that none of us wanted to leave. But when our bellies grumbled...We had no choice. 🤣🤣Reluctantly we began the daunting uphill climb, pushing the body out of its inertia.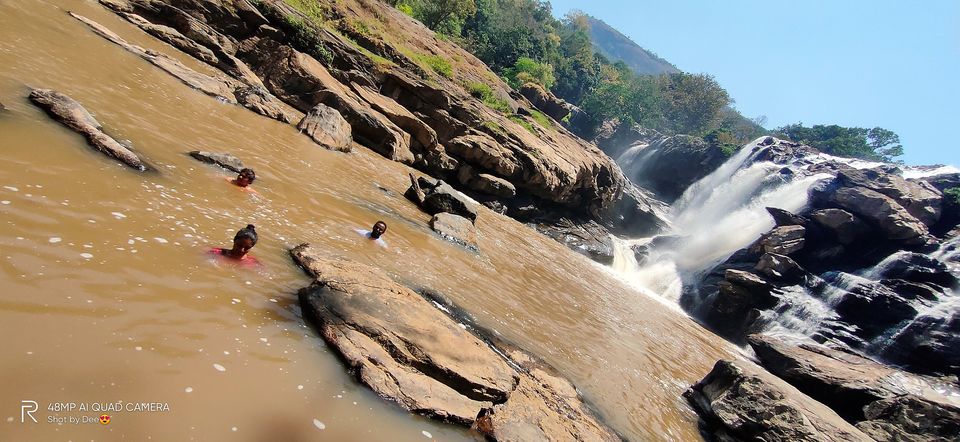 The heat rays of the Sun had dwindled considerably, as we huffed our way up. Look! A bright blue-black bird on the grass! Resembled a crow, but smaller in size! I stood still, watching him hop across, when he startled me with his musical whistling noise...wow....It is the Malabar Whistling Thrush, I learnt later. And the bright orange fur ball zipping fast - those are Minivets, extremely pretty with vivid colours.
Finally we reached the first stream which we crossed on our way down, when the hydrophiles decided to soak in the waters, again. I lay on a rock enjoying the cool breeze, when a big, black, flurry creature scurried through the tree top. The guide caught my sight and said that was a Malabar Giant Squirrel, quite commonly found in these forests. Quite big for a squirrel, though !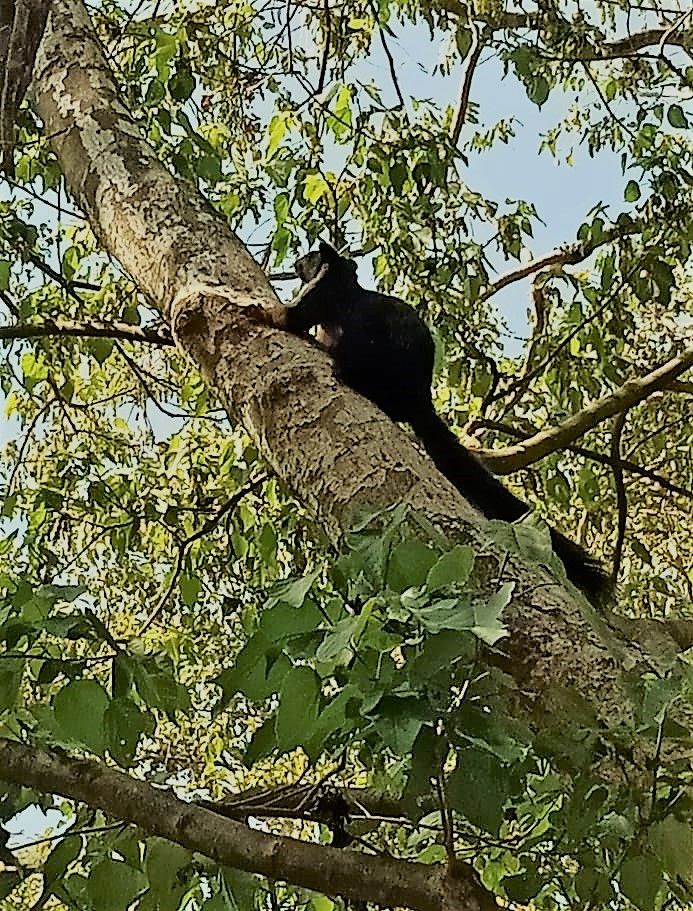 We drove towards Marayoor, just 10 kms from Thoovanam Waterfalls in search of food. The winding hill roads were so inviting that we kept going till Kanthalloor, famous for fruit orchards - apples, oranges, strawberry, passion fruit and so on, but they were not in bloom. During season, these fruit farms permit visitors to walk through their trees for a nominal charge and you can buy the produce from them.
It had turned quite dark as we reached Chinnar Wildlife Sanctuary, that we could spot herds of spotted deer, sambar deer and wild boar on the verges, emboldened by dusk. As we turned a curve, ripping of shrubs and trampling sounds were clearly heard on the side of the road, assuring us of an elephant gang lurking in the shadows. We could not get a clear view, in spite of straining our eyes, that we finally gave up. No ele....🐘
Watch the short video of the trip :
https://www.facebook.com/104209374393644/videos/1111791825996825
If you are visiting Munnar or Thoovanam Waterfalls from Coimbatore, check out the picturesque Kattalai Mariamman Temple, just 5 km from Chinnar check post in Kodandhur village. The temple lies inside the jungles surrounded by hills, that one has to hop on to the jeep or pickup truck run by Forest Department, to reach it. Devotees are permitted only on Tuesdays, Thursdays, Sundays and new Moon days. We had to skip this place, due to shortage of time. If you would like to explore further, the Anakottapara Park on Marayoor-Kanthalloor road is worth a visit. The presence of Dolmens / Muniyara, dwellings or burial chambers from Neolithic era is the main highlight here, apart from astounding views of valley.